---
Kotaku Wednesday, January 12, 2022 12:50 PM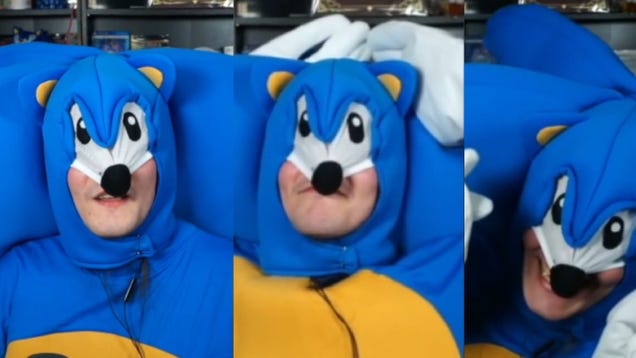 The speedrun world record for co-op Sonic the Hedgehog 4: Episode II has been broken during this year's Awesome Games Done Quick, which is made all the more impressive when you learn one of the players was wearing an ill-fitting bootleg Sonic outfit, complete with oversized floppy gloves.

---
Kotaku Wednesday, January 12, 2022 12:35 PM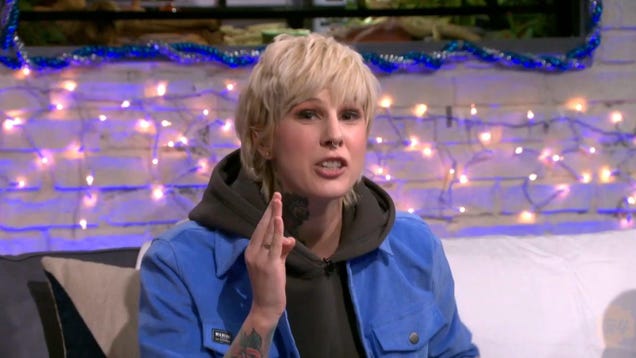 Cult-hit gaming channel G4 has only been back for a few months after its nearly decade-long hiatus, and already the hosts are fed up with some of the assholes in the audience. Former esports commentator and new Xplay co-host, Indiana "Froskurinn" Black, specifically called out the crude sexism of viewers, online…
---
Kotaku Wednesday, January 12, 2022 12:20 PM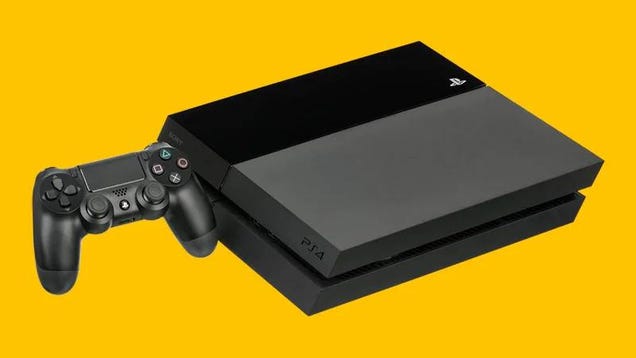 It's been slightly over a year since the PlayStation 5 launched, and it's still incredibly difficult for anyone to get their hands on Sony's flagship console. The company's solution to this shortage? Sony is planning to produce more PlayStation 4 consoles this year. Wait, what?
---
Kotaku Wednesday, January 12, 2022 11:00 AM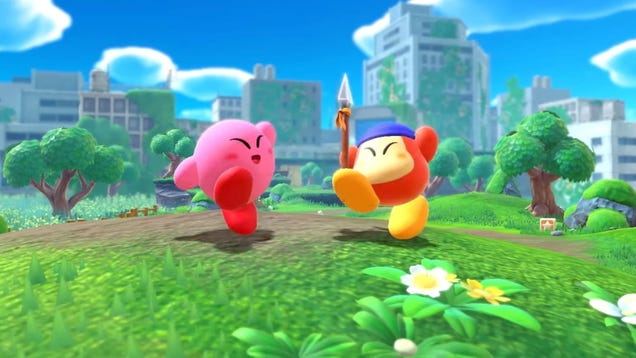 Kirby and the Forgotten Land, the next mainline game in the adorable franchise, finally has a release date, and it's not too far out. The open-world, 3D game is slated to drop on March 25, and ships with co-op multiplayer that looks similar to Bowser's Fury.

---
Kotaku Wednesday, January 12, 2022 8:17 AM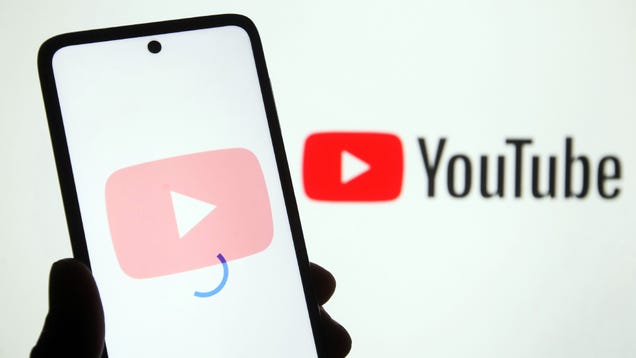 These days, side hustles are more common than ever. But one firefighter in Wakayama, Japan is being punished for his double life as a gaming YouTuber.

According to Mainichi and AFP, the 33-year-old firefighter uploading 314 videos between December 2020 to October 2021. The fire-fighting YouTuber typically played…
---
Kotaku Wednesday, January 12, 2022 6:30 AM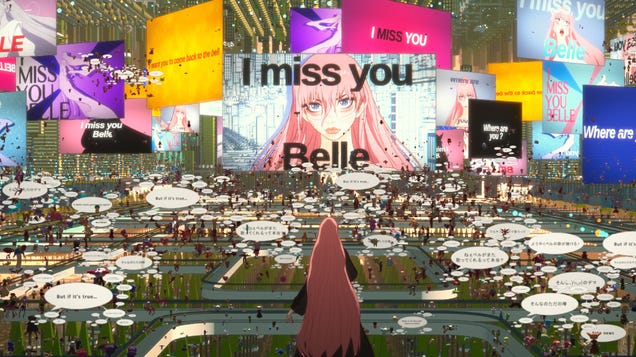 While watching Belle, the latest feature from Mamoru Hosoda, two movies kept racing through my mind: Disney's animated Beauty and the Beast, and Hosoda's own Summer Wars—and for good reason. Belle takes a classic fairy tale and filters it through the virtual world in which we live.
---
PCGamesN Wednesday, January 12, 2022 12:39 PM
Monster Hunter Rise is out now on PC, and it's bringing a wealth of enormous creatures to defeat, wide open spaces to explore, and cute Palicos and Palamutes to befriend and fight alongside. You might never have played a Monster Hunter game before, but you can easily jump in here - Monster Hunter Rise requires no prior experience with the series to fully enjoy every aspect of it, and even introduces new mechanics like the Wirebug which veterans of the series will be learning right alongside newcomers.
Monster Hunter Rise has something for every action game fan, whether you love exploring every nook and cranny of an open world by yourself, or teaming up to take down epic bosses with your friends online. And with 14 upgradeable, wildly different weapons to choose from, providing plenty of choices for melee fighters and ranged warriors alike, you can hunt monsters in whichever way you feel most comfortable.
There's plenty to dig into when it comes to Monster Hunter Rise, so let's dig into what you can expect to enjoy no matter your taste - and if any of this piques your interest, don't forget that you can buy it on Steam from today.
Upcoming PC Games
,
Best PC RPGs
---
PCGamesN Wednesday, January 12, 2022 12:37 PM
New Destiny 2 players can now breathe a sigh of relief as Bungie has adjusted the Dares of Eternity dungeon so they won't be thrown in before they learn to defend themselves.
Bungie explains in a patch post that Dares of Eternity's power level has been reduced to 1,100 and that players won't be automatically launched into the dungeon before they acquire a heavy weapon. The first tweak is handy as New Light players start Destiny 2 at a power level of 1,000. Initially, Bungie set dares of Eternity's power level to 1,150 so you could barely scratch the enemies you were coming up against. Various Dares of Eternity foes also have shields that can only be broken with certain types of heavy weapons - you can see how under-levelled players with none of the appropriate guns might struggle.
While the situation wasn't ideal, veteran Destiny 2 players rose to the challenge. Senior community manager Dylan 'dmg04' Gafner put a call out to experienced players on Twitter to lower their power level and hop into the dungeon to pull New Lights to safety, promising an emblem as a thank you to those who did.
Destiny 2: Beyond Light review
,
Destiny 2 exotics
,
Play Destiny 2
---
PCGamesN Wednesday, January 12, 2022 12:33 PM
Nvidia released the RTX 3080 over a year ago, but it's still next to impossible to upgrade your GPU without selling a kidney (which we definitely don't recommend). Fortunately, you can now rent one through the green team's cloud gaming service and it might surprise you that the GeForce Now RTX 3080 membership really does stack up against the real deal.
If you're familiar with the original Priority membership, then this works in the same way. For the uninitiated, though, GeForce Now's a little different to your usual cloud gaming service, relying on your own library rather than supplying you with a rotating roster of games like Xbox Game Pass Ultimate. This is designed to give you ownership of what you can play rather than sticking a deadline on when you can play until.
The RTX 3080 membership is perhaps the biggest upgrade to GeForce Now since Nvidia switched on RTX for Priority members in 2019. It now falls in line with the suped up resolutions and frame rates that even the latest consoles are capable of, including 1440p at 120fps on PCs, 1600p at 120fps on Mac, and up to 4K at 60fps with HDR on Nvidia Shield devices. And this is to say nothing of longer sessions of up to eight hours, better adaptive sync technology, and a lower system latency.
RTX 2070 Super review
,
RTX 2060 Super review
,
Best graphics card
---
PCGamesN Wednesday, January 12, 2022 12:02 PM
Want to know what the best Bren loadout is in Warzone Pacific? The Bren is currently one of the best Warzone guns right now, and there's a specific way you need to set it up in order to bring out its maximum potential. The stock version of this light machine gun doesn't perform well from a distance, but we've discovered a loadout which completely transforms the weapon.
Using the best Bren loadout, we can turn this weapon into a monster at mid-to-long range by increasing its accuracy and stability. Our attachments won't convert the LMG into one of the best Warzone snipers, but you should have no problem attacking enemies from a distance. As long as you don't mind carrying a heavy weapon around Caldera or Rebirth Island, the Bren is capable of earning plenty of Warzone Pacific victories.
We highly recommend pairing the Bren with a close range weapon like the best PPSh loadout to dominate at all ranges. If you have a feeling you're about to be flanked by a rival squad, switch to your close range option to blow your enemies away. Here's everything you need to build the best Bren loadout in Warzone Pacific.
---
PCGamesN Wednesday, January 12, 2022 11:28 AM
We know precious little about Frontier Developments' forthcoming Warhammer Age of Sigmar RTS game. It hasn't even been formally announced yet - it was 'revealed' in a short blurb in an investor relations post back in 2020, which at the time projected a release window for the company's 2023 fiscal year. Now it seems Frontier has pushed it back to the next fiscal year, anticipating its launch sometime between June 1 and December 31, 2023.
First spotted by Eurogamer, Frontier's latest Interims Results and Trading Update includes an announcement of the delay and a brief explanation, which says the additional development time will "further improve the quality and longevity of the game, and overall make it more successful." The update also says the board has accordingly adjusted its revenue expectations for the 2023 fiscal year, anticipating between £130 million and £160 million during the period.
Beyond that, there's not much to tell - we don't know what it looks like, we don't even have a title yet. But given the possibilities created by Age of Sigmar's weird multidimensional setting and its more customisable ruleset, there's plenty of reason to be excited by the prospect of whatever it is Frontier is cooking up.
---
PCGamesN Wednesday, January 12, 2022 11:16 AM
Trying to find the best XM4 class setup in Warzone? This assault rifle is incredibly versatile as it can be built in three distinct ways: as a sniper support, as an SMG, and as a long range assault rifle. Part of what makes the XM4 so appealing is its fast ADS speed - this has made the weapon a popular pick in the battle royale game.
When comparing this weapon to some of the best Warzone guns, the XM4 has the damage output and accuracy to rival the top assault rifles. The only downfall is the recoil pattern which takes some time to adjust to, but this can be mastered over time. There's no doubt that if you could take the XM4 into Vanguard Royale that it would decimate the competition.
We've built the XM4 as a traditional assault rifle which can be used both with SMGs and as a sniper support weapon. If you want to try a new weapon alongside the best LC10 loadout or Kar98k, the XM4 provides players with a powerful alternative to the current meta rifles. Here's everything you need to know about the best XM4 loadout in Warzone Pacific.
---
PCGamesN Wednesday, January 12, 2022 11:12 AM
God of War has at last come to PC this very day. Right now, in fact. If you're based on our home platform and yet to dive into Kratos and Atreus' journey across the realms of Norse mythology, which originally arrived as a PlayStation exclusive back in 2018, then you might be looking to find out if it's worth your hard-earned pennies. The good news is that PC reviews are now pouring in, so we can find out how well it's fared with the critics.
In our own God of War PC review, Ian Boudreau scores it a hearty nine out of ten, calling it a "lavishly produced game, from its tectonic boss fights to the fastidious attention to detail that enables its seamless storytelling". He concludes that it's "big, brash, and surprisingly poignant", arriving on PC in "fine shape", urging prospective fans not to "pass up this chance to play a console classic". You can catch the full review through the link above.
Elsewhere, the action-adventure game is currently sitting at an impressive score of 93 on review aggregate site Metacritic, with most write-ups so far posting scores in the 80 to 100-out-of-100 range, with a good few at the top end of that scale. So, it seems the PC version has been very warmly received across the board, like a welcome goblet of winter mead.
---
PCGamesN Wednesday, January 12, 2022 11:07 AM
The best graphics cards are still in short supply, with options like Nvidia's new GeForce RTX 3080 12GB model also costing as much as an entire gaming PC. Thankfully, there are still plenty of gaming laptops out there that boast the green team's RTX 3000 graphics tech, and HP's Omen 15 has over $400 off right now.
Amazon is listing the HP Omen with a 21% discount, down to $1,499.91 from $1,899.99. The portable powerhouse features an RTX 3070 laptop GPU at its core, a discrete card that's more than capable of running the latest games. The laptop also comes with an AMD Ryzen 7 5800H CPU, 16GB DDR4 RAM, and a speedy 512GB NVMe SSD that will provide quick access to your Steam library on the go.
While the HP Omen offers pleasing performance, it's housed within a sleek, black shell. The laptop's four-zone RGB keyboard is also a head-turner, and its panels 165Hz refresh rate could put many gaming monitors to shame at your next LAN event.
Best SSD for gaming
,
How to build a gaming PC
,
Best gaming CPU
---
PCGamesN Wednesday, January 12, 2022 12:46 PM
Since its PlayStation 4 launch in 2018, Santa Monica's God of War has been included on countless 'best of' lists, often as an all-timer. It was indisputably a killer app for the PlayStation 4, and an impressive demonstration of just how far Sony's console could be pushed. Now, nearly four years later, it's arriving on PC - Kratos' bearded glory has faded a little, but only just. God of War is not only a solid hack-and-slash romp through a refreshingly weird spin on Norse mythology, it's also a gentle rumination on fatherhood and generational trauma.
We catch up with Kratos, the legendary Ghost of Sparta and son of Zeus, in an uncharacteristically quiet moment. He and his young son Atreus are gathering firewood in a forest in the lands far to the north. There's snow on the ground and grey running through his thick beard, making it clear that this story is set far away in both time and space from the original series.
As we arrive back at the family's small, secluded cabin, we learn that this simple chore serves a grim purpose: Kratos was gathering wood for a funeral pyre for his departed wife, Faye. Her wish was for her ashes to be scattered from the highest peak in the land - setting Kratos and Atreus out on a much longer journey than they realise.
---
PCGamesN Wednesday, January 12, 2022 10:31 AM
GSC Game World is delaying STALKER 2's release to December 8. The developer has taken to Twitter to explain that the extra development time is needed to fulfil the team's vision and get the game to a state everyone is content with.
"STALKER 2 is the biggest project in the history of GSC, and it requires thorough testing and polishing," the statement reads. "We are convinced that development should take as long as necessary, especially in the case of such a project. This decision is not an easy one, but we are doing the best possible to deliver you a game that can live up to the expectations."
It's not all bad news, though. GSC Game World says that more information, updates, and showcases are coming throughout the year, so you'll see plenty of the upcoming PC game before it eventually releases. We've had a few trailers so far that show off the graphics engine, with one even featuring a cameo from the series creator.
---
PCGamesN Wednesday, January 12, 2022 10:11 AM
Looking for the Genshin Impact 2.5 release date? Following the release of the 2.4 update and introduction of Shenhe and Yun Jin, dataminers and beta testers are already sifting through every available clue about the next Genshin Impact update.
As with most new updates, players can expect a new Genshin Impact character to appear on an upcoming Genshin Impact banner in 2.5 - from beta information, this will be Yae Miko, the elegant kitsune priestess who appears as part of the Inazuma storyline. The 2.5 update will also include plenty of new events, items, enemies, and NPCs.
There are also several outfit redesigns coming in the next update - these aren't event exclusive Genshin Impact skins, but instead modified versions of default outfits for Jean, Amber, Rosaria, and Mona. Outside of China, these alternate outfits are optional - you'll be able to keep the default option if you prefer. Below, we've collected everything we know about the Genshin Impact update - but bear in mind that this information is unconfirmed, based on unreleased gameplay, and is therefore subject to change before release.
Play Genshin Impact for free
,
Genshin Impact character tier list
,
Genshin Impact leveling guide
---
PCGamesN Wednesday, January 12, 2022 10:01 AM
Want to know how to unlock the Welgun in Warzone Pacific? The Call of Duty Vanguard and Warzone Pacific mid-season update has arrived, introducing an Attack on Titan bundle, numerous balance changes, and a brand new SMG to the game. The Welgun can reliably take down enemies in multiplayer using just four bullets, though we expect the weapon to behave differently when it makes its way to the battle royale game.
The Welgun is only available in Vanguard's multiplayer and Zombies mode right now, but it's coming to Warzone Pacific later this week. It's always worth unlocking the latest weapons right away as they tend to join our best Warzone guns list. The Cooper Carbine is a great example of this - this weapon launched at the beginning of the season and has already established itself as one of the best Warzone assault rifles.
There are three ways to unlock the Welgun: you can complete a challenge in Vanguard's multiplayer mode, finish a challenge in Vanguard Zombies, or purchase a weapon bundle for COD Points. If you don't own Vanguard, you can't unlock the Welgun until a separate challenge appears in Warzone Pacific next season. Here's what you need to do to unlock the Welgun in Warzone Pacific.
---
PCGamesN Wednesday, January 12, 2022 9:54 AM
Want to know where to collect the telescope parts in Fortnite? It's not even the scheduled start of the season challenges for week six of Fortnite Chapter 3 Season 1, and there's already a challenge that you can complete right now. Like the other season challenges, it gives you valuable experience that you can use to unlock Fortnite skins or free Fortnite V-bucks in the battle pass.
After landing in the archipelago towards the east of the map, you're set a challenge to destroy and collect telescope parts. Unlike challenges where you need to destroy the Fortnite signal jammers or discover the Fortnite device, you can find the telescopes throughout the island. Once you find a telescope, use the harvesting tool to break it down for the parts. You only need to find three telescopes to complete this challenge, but you have to locate them all in the same match.
To help you complete this challenge, here's a map showing all of the available telescope locations in Fortnite, and details of the most optimal route to finish it quickly.
Fortnite V-Bucks
,
Fortnite Skins
,
Fortnite Creative Codes
---
PCGamesN Wednesday, January 12, 2022 9:28 AM
While Genshin Impact's new characters typically grab the headlines when a new update hits, there are also plenty of limited-time events to freshen up your day-to-day playing experience. Windtrace is one of the more popular modes, and it's returning to the anime game tomorrow.
The limited-time game works a lot like a Prop Hunt game mode, which you may recognise if you've spent any time in Garry's Mod, Fortnite, or even Call of Duty. It's essentially hide-and-seek, though the hidden can turn themselves into objects to make it harder for seekers to find them. Windtrace follows that same formula, though you've also got some powers and abilities thrown into the mix. Alongside the ability to transform into objects, Rebels can lay bait, become transparent, and quicken their movement. Hunters, meanwhile, can use a sensor to see if a Rebel is hiding in the area or use the 'Mysterious Hunch' ability to discover the direction towards one.
Playing the Prop Hunt-like mode will reward you with Windtrace coins, which leads to goodies like primogems and more. While the daily amount is capped to 1,200 on the first day, that'll eventually rise to 6,000.
Play Genshin Impact for free
,
Genshin Impact character tier list
,
Genshin Impact leveling guide
---
PCGamesN Wednesday, January 12, 2022 9:01 AM
The developers behind Citadel: Forged With Fire have revealed their next project, which you may get your hands on soon if you're lucky. Leap is a high-mobility FPS game where 60 players duke it out on hoverboards, inflatable tubes, and mechanical moose in team-based action. It's all quite zany, as you'll find out from watching the trailer below.
Before you leap into battle, you'll have a choice of two employers - the United Earth Defence Coalition or the Exo-Terrans. There are four classes to pick from, too, with each of them having a different balance of power, agility, and defence to complement their abilities. You can call in orbital strikes, set up automated turrets, or guide a cruise missile into an enemy's gob. There are heaps of maps, and you have other mobility tools alongside the previously mentioned vehicles like jetpacks and grappling hooks.
The trailer gets the game's tone across pretty well. A mercenary is simply floating along in a lake while a narrator tells you how violent and unruly his species are. The narrator ponders if this is the first cybernetically enhanced warrior to commune with nature before the poor chap gets blown up.
Upcoming PC Games
---
PCGamesN Wednesday, January 12, 2022 7:30 AM
Inscryption, the deck-building roguelike from developer Daniel Mullins Games and publisher Devolver Digital, has hit an impressive new sales milestone. The indie game, which only launched in October last year, has now broken the magic one-million-copies-shifted mark.
"The stoat wants you to know that Inscryption has crossed one million copies sold," Devolver announces on Twitter, thanking fans - well, "all of you, the brave squirrels", as the publisher puts it - and the game's developer. Given the game only launched on October 19, 2021, that means it's hit the one million sales mark in less than three months - an impressive feat for an indie.
For context, Hellblade: Senua's Sacrifice - which was billed as something of a 'triple-A indie' - sold a hefty 500,000 copies in around four months and hit the one million mark the June following its August 2017 release. It Takes Two, the winner of 2021's GOTY at the Game Awards, meanwhile, hit an eye-watering one million sales approximately a month after launch - so it seems Inscryption has landed somewhere in the middle of this in its sales performance so far, which is pretty darn impressive.
---
PCGamesN Wednesday, January 12, 2022 7:21 AM
Nvidia's already got a few clever tools within its box of RTX tricks, and it just announced that it'll be adding a few more via a Game Ready Driver. If you own one of the green team's GPUs, you'll soon have access to a new downsampling feature dubbed DLDSR, and a bunch of Freestyle filters to boot.
Deep Learning Dynamic Super Resolution, or DLDSR for short, is essentially an AI-powered version of Dynamic Super Resolution. Just like DSR, the tech renders games at a higher resolution to enhance quality before reducing things down to match the user's native resolution. However, in a similar way to DLSS, the new tool promises to balance performance and downsampling capabilities, with results at 2.25x factor that match DSR's 4x factor capabilities.
In addition to quality-enhancing tools, Nvidia's also working with reshade filter creator Pascal Gilcher on three depth-based Freestyle filters. The first of the lot, SSAO (Screen Space Ambient Occlusion), enhances shadows near 3D object intersections. There's also DOF (Depth of Field), a blur effect that applies to object distance. Lastly, SSRTGI (Screen Space Ray Traced Global Illumination) simulates the effects of ray tracing by improving shadows and lighting in-game.
RTX 2070 Super review
,
RTX 2060 Super review
,
Best graphics card
---
PCGamesN Wednesday, January 12, 2022 6:23 AM
2022 is here, League of Legends fans, which means another year packed with gameplay updates, new champions to welcome to the MOBA game, and plenty of new skins. League of Legends patch 12.1 has headed to live servers, bringing a handful of item and champ changes and some snazzy new Elderwood skins. Now, it's time to see what the second patch of the Season 12 League of Legends patch schedule will bring.
The big news for 12.2 is the arrival of brand-new champion, Zeri. It seems she might have made a slightly premature debut as her universe and biography pages (which went live January 4) appear to have now been taken down, though we have an idea of what she's all about from the details that were offered in these when live. As reported by Surrenderat20, Zeri will be known as The Spark of Zaun, and will be a marksman champ who "channels her electric magic to charge herself and her custom-crafted gun". We don't know anything about her abilities beyond a few hints in the bio and universe info, but you can check out a fuller description in Zeri's section below.
Patch 12.2 also brings a whole bunch of new champion skins. Akshan and Janna are getting Crystal Rose skins, while Elise is getting a Withered Rose style. Then there are plenty of Porcelain and Firecracker skins to go around for others. You can take a look at all of these in the notes below.
Best LoL Champions
,
League of Legends patch 12.2
,
LoL tier list
---
PCGamesN Wednesday, January 12, 2022 7:28 AM
God of War finally comes to gaming PCs on January 14, 2022, just short of four years after its release on PS4, and now developer Sony Santa Monica has revealed what your rig needs to pack in order to play it. It seems like the wait might even be worth it, too, this PC port granting you access to plenty of graphics settings and exclusive features.
We've known since its announcement that the Nordic epic will feature Nvidia DLSS and AMD FSR upscaling technology, so you can boost fps, which truly makes use of God of War's uncapped frame rate. Nvidia Reflex is also no surprise, and should make the game more responsive when you're stringing combos together. DLSS uses Tensor Cores, so you won't be able to enjoy it if you're running anything less than an RTX graphics card, but Reflex is available to anyone using a GeForce 900 series GPU or later, and FSR is ready for everyone - regardless of hardware.
There's also a wealth of PC-specific features, such as higher detail assets and rendering resolutions, enhanced Ground Truth Ambient Occlusion (GTAO), and Screen Space Directional Occlusion (SSDO) effects. Even more impressive, storage requirements are actually 10GB lower than initial estimates, at a lean 70GB.
Best SSD for gaming
,
How to build a gaming PC
,
Best gaming CPU
---
PCGamesN Wednesday, January 12, 2022 10:40 AM
Super People is a brand-new battle royale game with a twist, where each super-soldier has their own class type and array of specialised abilities with which to take out their opponents. Rather than starting with nothing and building from there, your character will already have remarkable strengths (and a few weaknesses) by the time they drop into the map.
Each has their own special move that can be activated at the peak of their strength, meaning a game can turn in seconds. As such, choosing your class type is a highly important decision that could be the difference between a crushing loss and a victorious win.
We've put together a quick guide for each class type, laying out their main perks and ultimate skill to help you understand the tools at your disposal. You don't get to choose which class you play as in each game - that's randomly decided for you at the start of every match - but with an understanding of each class, the gameplay becomes more strategic and enjoyable.
---
PCGamesN Wednesday, January 12, 2022 10:09 AM
What are the best upcoming games to keep an eye on this year and the next? Hope, anticipation, agony, and elation - it's the endless cycle of emotions we go through during the annual PC release schedule.
Year in, year out, games - via Steam and otherwise - are produced in such varying degrees of quality that not a single one of them is destined for certain success. Masterpieces are released alongside utter disasters, series are born while others dwindle and, occasionally, a game actually lives up to our expectations.
So how can we possibly navigate the dizzying number of announcements, trailers, and teases to find which of the upcoming PC games we should devote our finite supply of hype to? Us old PCGamesN sages have been round the videogame block plenty of times already, so we're perfectly placed to tell you about the titles you should be saving your pennies up for. Below you'll find the upcoming PC games you should keep on your radar, as well as their expected release dates.
---
PCGamesN Wednesday, January 12, 2022 10:55 AM
What are the best new PC games 2022? Perhaps you have just been paid, bank account fat with virtual dosh, or you simply want to get caught up with the latest PC games because they are, well, new and shiny.
It is all well and good starting another daring round of PUBG, taking on a new 100-hour Football Manager save, or yet another The Elder Scrolls V: Skyrim adventure but, as much as we love setting mammoths ablaze, there are plenty of the latest PC games that will more than supply your gaming fix. You don't want to be the person who isn't In The Know now, do you?
These days, new PC games pour onto Steam at a frankly dizzying rate, making it impossible to keep up with them all. Thankfully, us kind folk at PCGamesN have separated the wheat from the chaff when it comes to recent PC releases. So, below you will find every new PC games for which you should be saving up your pennies. This list is updated regularly to include the latest releases.
Valheim system requirements
,
Valheim building tips
,
Valheim progression guide
---
Rock Paper Shotgun Latest Articles Feed Wednesday, January 12, 2022 11:30 AM
Valorant Episode 4 has kicked off, bringing with it new agent Neon who - like that famous blue hedgehog - goes fast. They're able to sprint and slide around maps at blistering speeds, which might seem at odds with the game's tactical pace, but they fit into the roster nicely. Thing is, you've got to be brave enough to get the most out of their move set, which rewards ballsy plays over careful corner turns. It's safe to say I struggled to break out of my tentative shell, but when I did? Hoo boy, what a thrill.
---
Rock Paper Shotgun Latest Articles Feed Wednesday, January 12, 2022 11:13 AM
Given that we've still only seen scraps of S.T.A.L.K.E.R. 2 after years of development and with launch supposedly mere months away, I suppose it's not a surprise to hear the game is delayed. The developers, GSC Game World today announced that they've pushed the launch back by seven months, giving the first-person explore-o-shooter a new release date of the 8th of December. It's the usual perfectly sensible reason: they want it to be good, and they think it needs more time to be good.
---
Rock Paper Shotgun Latest Articles Feed Wednesday, January 12, 2022 11:00 AM
Fatherly axe-'em-up God of War is out on PC this week, and I've been dragging my disappointing son around the Nine Realms to see how it copes with the jump from PlayStation to Windows. The answer: pretty well! Like previous marquee Sony port Horizon Zero Dawn, this is a game that already looked lovely on console, and the extra muscle of even a modest PC rig can deliver sizeable boosts to both visual quality and frames-per-second.
---
Rock Paper Shotgun Latest Articles Feed Wednesday, January 12, 2022 11:00 AM
In the eight year gap between 2010's more conventional sexy gore fest God Of War 3 and this new and improved action-dadventure God Of War, the angry Ancient Greek warboy Kratos handed in his god-killing badge and gun to live in Norse mythology's woods with his wife Faye and their son Atreus. When Faye dies, Kratos & Son go on a journey to scatter her ashes from the top of a mountain. This becomes a micro rumination on familial relationships, a macro world-saving epic of legendary proportions, and a hack and slash fest that'll have you grinning from ear to ear. On balance, then, I am Team Fridge Faye.
I played this God Of War on its previously exclusive release on PlayStation in 2018, and it lived in my memory as a 70 hour poetic battle between gods and monsters. Revisiting it again on PC, it turns out that it's actually only about 20 hours long, but it looms so large as an experience that turning it off at the end feels like stumbling into daylight, having spent many weeks in a firelit, sweaty hunting lodge in a Norwegian pine forest, slamming mead and singing songs about warriors tearing goats in two. There are a lot of big warriors in God Of War. There are a lot of very big things in it in general: statues, dragons, big angry rocks. And a big man, because the titular Kratos, as a yardstick to measure size, is already incongruously big, just so many sacks of salted beef held together by leather armour.
---
Rock Paper Shotgun Latest Articles Feed Wednesday, January 12, 2022 9:00 AM
Much has been made of how long games take to complete this week. After Dying Light 2 developers Techland boasted that it would take 500 hours to fully complete the game over the weekend, the internet's collective groan over the revelation was reportedly heard from the far reaches of space. Personally, I think it's a preposterous figure for a single-player game, but as someone who also maintains an active spreadsheet of all my various playtime stats (yes, really), it also got me thinking. Is 500 hours really so nonsensical in the grand scheme of things? I asked the team what their most played game on Steam is to find out.
And as it turns out, Dying Light 2's 500 hour completion time ain't got nothing on some of our favourite time hogs...
---
Rock Paper Shotgun Latest Articles Feed Wednesday, January 12, 2022 8:12 AM
Seminal battle royale shooter Playerunknown's Battlegrounds is now free-to-play, inviting all stag and hen parties to parachute into holiday resorts for paintballing which accidentally uses real guns. Folks who previously paid for PUBG: Battlegrounds (the new-ish official name replacing Plunkbat) have been grandfathered into the new Battlegrounds Plus account tier and receive receive some edgy virtual clothes too. Everyone else, hey, in you come.
---
Rock Paper Shotgun Latest Articles Feed Wednesday, January 12, 2022 7:58 AM
To celebrate anime series Attack On Titan and its impending final series and Call Of Duty's next big update, they both decided that a totally normal crossover was in order. Soon, Call Of Duty: Vanguard and Warzone will play host to a cursed set of Attack On Titan cosmetics, including gun bits and an Operator skin. They are frightening and confusing. Please avert your eyes.
---
Twinfinite Wednesday, January 12, 2022 12:19 PM
---
Twinfinite Wednesday, January 12, 2022 12:01 PM
Earlier today, OnceLost Games revealed a brand new trailer for their upcoming open-world RPG, The Wayward Realms. In the trailer, a narrator speaks of a mysterious lullaby that details the events of the past, present, and future for the game's world. You can check out A Lullaby for yourself down below. The video's description provided […]
The post The Wayward Realms Gets a Soothing New Trailer Called A Lullaby appeared first on Twinfinite.
---
Twinfinite Wednesday, January 12, 2022 11:34 AM
---
Twinfinite Wednesday, January 12, 2022 11:17 AM
---
Twinfinite Wednesday, January 12, 2022 11:00 AM
God of War on PC God of War is one of the biggest PlayStation exclusives to get a PC release, but what exactly is in store for PC players who decide to join Kratos on this new adventure before Ragnarok arrives? Well, honestly, it's the exact same gameplay experience as it is on consoles. Though, […]
The post God of War PC Review – Ragnarok Waiting Room appeared first on Twinfinite.
---
Twinfinite Wednesday, January 12, 2022 10:54 AM
---
Twinfinite Wednesday, January 12, 2022 10:36 AM
---
Twinfinite Wednesday, January 12, 2022 10:05 AM
---
Twinfinite Wednesday, January 12, 2022 8:38 AM
---
Twinfinite Wednesday, January 12, 2022 7:22 AM
---
Siliconera Wednesday, January 12, 2022 12:30 PM
---
Siliconera Wednesday, January 12, 2022 12:00 PM
---
Siliconera Wednesday, January 12, 2022 11:30 AM
---
Siliconera Wednesday, January 12, 2022 11:01 AM
---
Siliconera Wednesday, January 12, 2022 10:30 AM
---
Siliconera Wednesday, January 12, 2022 10:00 AM
---
Siliconera Wednesday, January 12, 2022 9:30 AM
---
Siliconera Wednesday, January 12, 2022 9:00 AM
---
Siliconera Wednesday, January 12, 2022 8:30 AM
---
Siliconera Wednesday, January 12, 2022 8:00 AM
---
Siliconera Wednesday, January 12, 2022 7:30 AM
---
Siliconera Wednesday, January 12, 2022 7:00 AM
---
Siliconera Wednesday, January 12, 2022 6:00 AM
---
Destructoid Wednesday, January 12, 2022 12:30 PM
---
Destructoid Wednesday, January 12, 2022 11:45 AM
---
Destructoid Wednesday, January 12, 2022 11:30 AM
---
Destructoid Wednesday, January 12, 2022 11:00 AM
---
Destructoid Wednesday, January 12, 2022 10:00 AM
---
Destructoid Wednesday, January 12, 2022 9:00 AM
---
Destructoid Wednesday, January 12, 2022 8:21 AM
---
Destructoid Wednesday, January 12, 2022 6:00 AM
---
PC Invasion - FeedDDD Wednesday, January 12, 2022 12:30 PM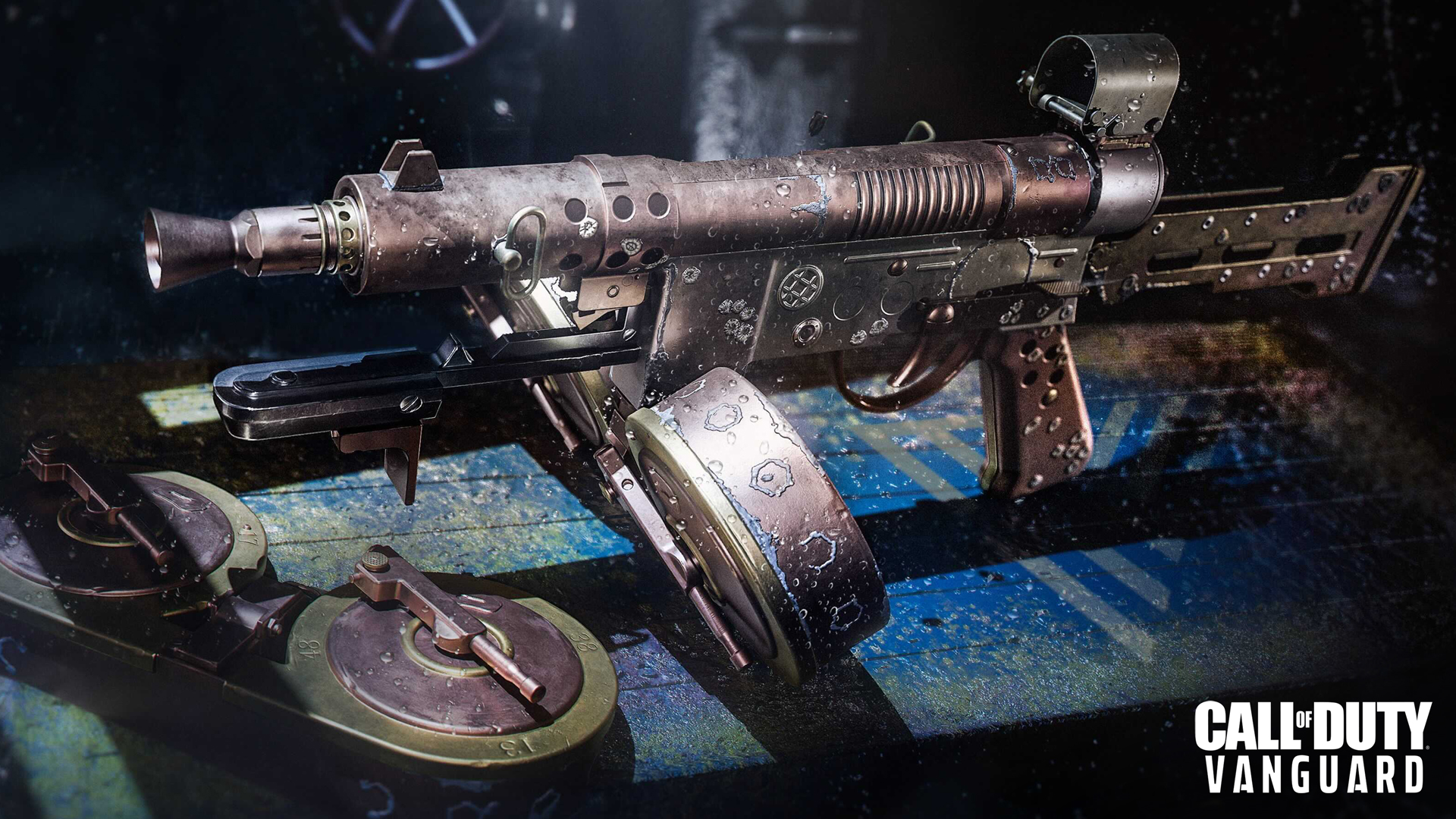 The Call of Duty: Vanguard mid-season update is here. As a part of the update, Call of Duty is gearing up to release an Attack on Titan bundle to celebrate the anime's final season. While we wait for that, a new weapon has been added into the mix named the Welgun. Already, the Welgun is showing its dominance on the battlefields of Vanguard and, with the best attachments, you can build a show-stopping class. The Welgun is a fully automatic submachine gun that is capable of taking out enemies at up to medium-range distances. To unlock the weapon, you have to complete a challenge. This requires you to earn 10 kills with a submachine gun while aiming down sight in a match 15 times. You should get the challenge completed in very little time using submachine guns such as the powerful MP40 or the M1928. If challenges are not your thing, you can always buy the gun as a part of the Reserved Steel bundle. This Welgun build will focus on improving the fire power and accuracy to make the ...
---
PC Invasion - FeedDDD Wednesday, January 12, 2022 11:00 AM
It was a big deal when Sony began porting some of its exclusive PlayStation games to PC. As the company puts out some of the highest-budget, best-made games around, the possibilities were very promising. Though when it came time to release the first couple of games outside the PlayStation brand, we got a couple of somewhat bland open-world games instead of anything that really showed the true potential of the surprising development. But God of War is here now. It's not only the best game in its series, but it was one of the best of the last decade, making it a true must play for anyone that hasn't gotten to experience it yet — even nearly four years after its initial release. If you've never played a God of War game before, this is kind of a soft reboot, so that doesn't matter. All you need to know is that there's this demigod named Kratos who became a god by killing the everloving shit out of other gods. No familiarity is required even if bits of...
---
PC Invasion - FeedDDD Wednesday, January 12, 2022 9:30 AM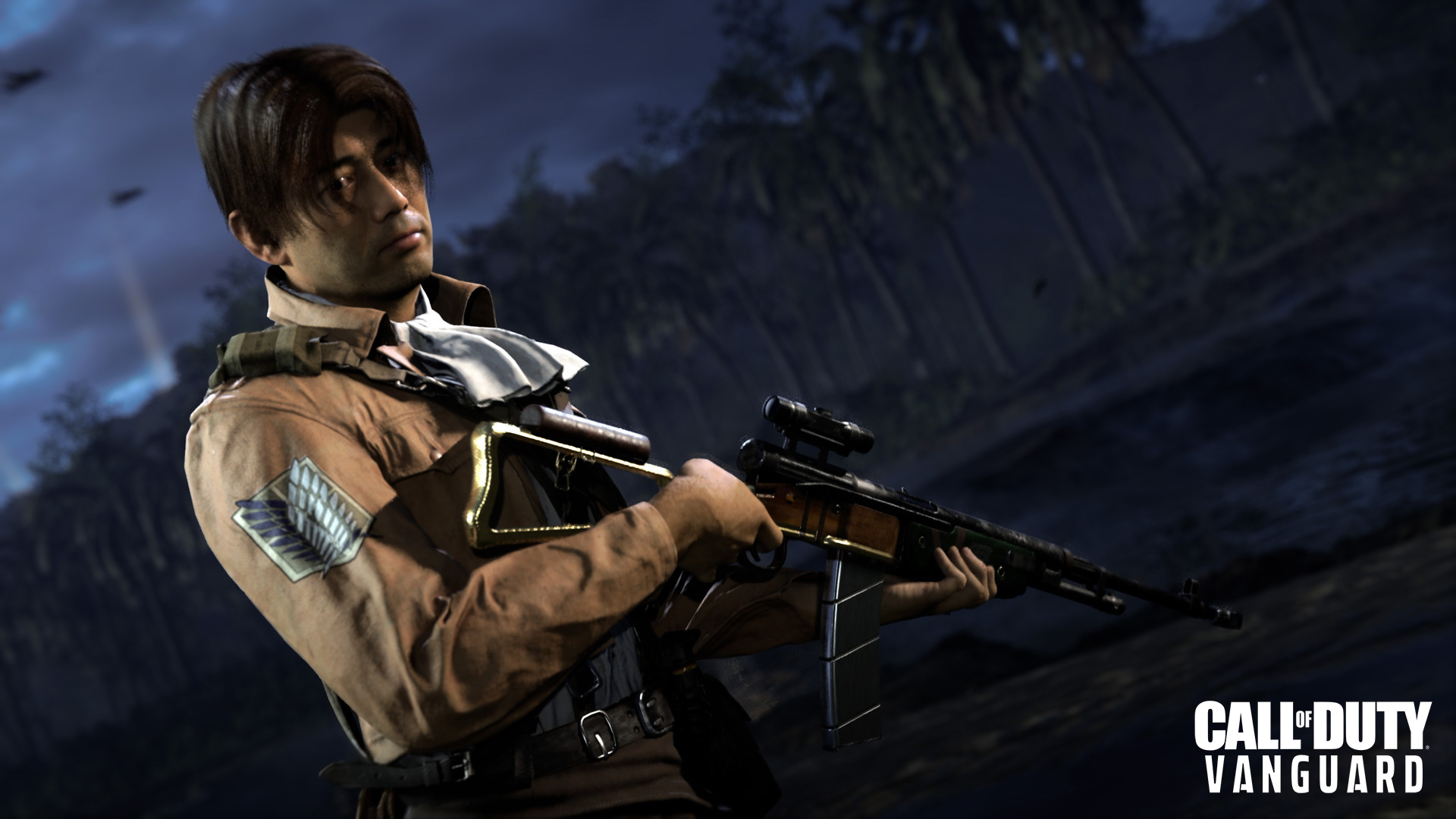 Call of Duty: Vanguard and Warzone Pacific Season One has reached its mid-season update. This has introduced the new Welgun submachine gun, with more content to come. And some updates may take you for surprise. If you are both a Call of Duty and an Attack on Titan fan, an eye-catching bundle is on its way to the in-game store. Call of Duty and the popular anime are having a crossover between the two to celebrate the show entering the second half of its final season. The Attack on Titan bundle will be available in both Vanguard and Warzone Pacific. In total, it will contain 10 items themed around weapons and gear from the anime franchise. The Tracer Pack: Attack on Titan-Levi Edition bundle contains numerous cosmetics that will be familiar to fans. It includes a Captain Levi Ackerman-inspired operator skin, as well as three weapon blueprints that you can take to the battlefield. The Titan Piercer blueprint resembles the blades that are used in the show. If that was not enough, you ca...
---
Tabletop Gaming News Wednesday, January 12, 2022 12:00 PM
---
Tabletop Gaming News Wednesday, January 12, 2022 11:00 AM
---
Tabletop Gaming News Wednesday, January 12, 2022 10:00 AM
---
Tabletop Gaming News Wednesday, January 12, 2022 9:00 AM
---
Player Assist | Game Guides & Walkthroughs Wednesday, January 12, 2022 12:40 PM
Loba is one of the most versatile Legends in Apex Legends. Her utility is unmatched as she is able to provide her teammates with items, attachments, weapons, and ammunition at any given time. In Season 11, Loba did not receive any nerfs at all. The cooldown for her Ultimate is still low making her one […]
---
Player Assist | Game Guides & Walkthroughs Wednesday, January 12, 2022 11:55 AM
Live and breathe underwater with the power of the conduit in this guide on how to activate a conduit in Minecraft. Ever thought about building underwater bases and structures in Minecraft? With hard work and dedication, certainly, anything is possible. But with the conduit? Even better. Generally, being underwater alone poses a lot of problems […]
---
Player Assist | Game Guides & Walkthroughs Wednesday, January 12, 2022 10:45 AM
Forza Horizon 5 lets players customize almost any part of their car – down to even the inner and outer rim color. The insane amount of customization makes Forza Horizon 5 such an addicting game for car enthusiasts. Most mere mortals can not afford the best cars in Forza Horizon 5 in real life, but […]
---
Player Assist | Game Guides & Walkthroughs Wednesday, January 12, 2022 9:18 AM
Split is one of the most claustrophobic maps in VALORANT. The tight corners and multiple elevation changes make it a very hectic map to play in. Information gathering is a very important aspect of playing in Split. Unfortunately, because of Split's tight corners and numerous walls, our favorite recon specialist, Sova, might not see much […]
---
Player Assist | Game Guides & Walkthroughs Wednesday, January 12, 2022 8:06 AM
After hours in the game, Alphen and the rest of the gang finally face off against the ever-so-creepy Red Woman. At this point in the game, the Red Woman is one of the most challenging bosses there is, and beating it can be quite the challenge, especially if you are under-leveled or if you lack […]