---
Kotaku Sunday, January 30, 2022 6:15 PM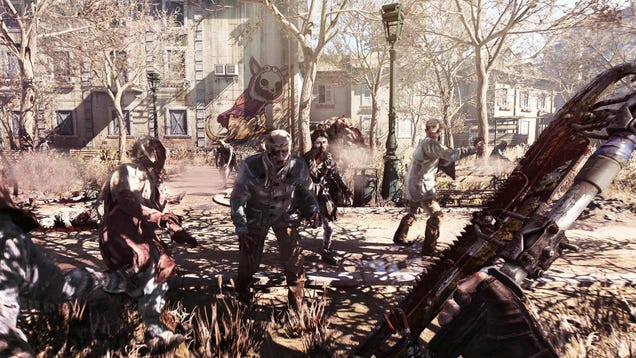 Zombies! Love or hate 'em, they are still a big part of pop culture. And later this week the next big zombie game, Dying Light 2, releases for Xbox, PlayStation, and PC.
---
Kotaku Sunday, January 30, 2022 5:15 PM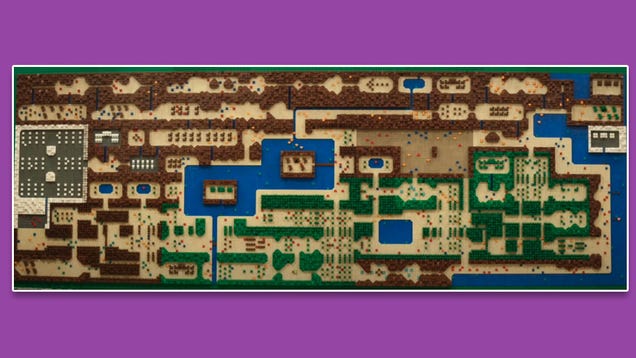 If I dumped 25,000 Lego bricks and pieces in front of you and gave you a few months to build something with them, what would you make? You'd probably be more concerned that I dumped all that plastic on you. But one Zelda fan and Lego builder took all those blocks and created a marvelous looking recreation of the…
---
Kotaku Sunday, January 30, 2022 4:23 PM
While it was teased in December, the first full trailer for the upcoming Halo TV series was just released and it looks, if nothing else, very expensive.

---
Kotaku Sunday, January 30, 2022 2:11 PM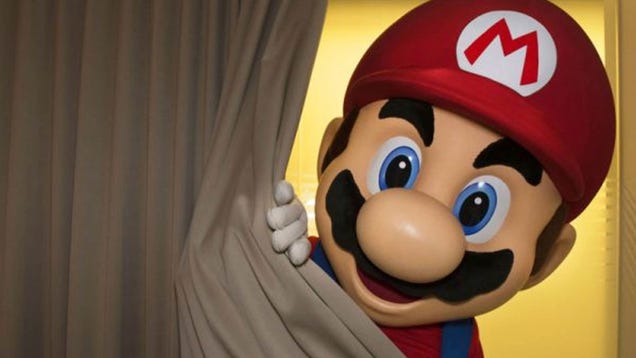 A YouTube channel that uploads video game soundtracks has reportedly been sent over 1300 copyright blocks in one day. This news isn't shocking if you know Nintendo's track record when it comes to fan creations and communities, but it's still a frustrating situation as much of the music that is removed from YouTube is…
---
PCGamesN Sunday, January 30, 2022 1:40 PM
There are plenty of fantastic Star Wars games on PC, and now one of the best in recent years is free on Steam. Space sim Star Wars: Squadrons is indeed free-to-play as of now - but you better be quick, because it's only for the next 48 hours.
Star Wars: Squadrons released in 2020 and was immediately lauded for being a fresh and enjoyable update of classic Star Wars sims like X-Wing, TIE Fighter, and - erm - X-Wing vs TIE Fighter. Given that it's also one of the only triple-A Star Wars games to be released by EA - and that a sequel probably isn't coming anytime soon - it's good that Squadrons exists.
Now anyone who doesn't own Star Wars: Squadrons - and didn't pick it up as part of an Amazon Prime Gaming deal in October - can now try the latest Star Wars space sim entirely for free on Steam (thanks VG247), although only for the next two days.
Star Wars: Squadrons review
,
The bst space games on PC
,
The best airplane and flying games on PC
---
PCGamesN Sunday, January 30, 2022 12:38 PM
By all measures, the recent release of Halo Infinite last year has been enormously popular, but there have also been a fair few complaints from players about the multiplayer - including about the prices of items in the in-game store. Developer 343 Industries seems to agree, saying that the store is "not delivering on value, quality, or price".
Since the multiplayer launched in November, Halo Infinite's multiplayer has been popular but has had a lot of problems. The Halo team at 343 has promised that a proper fix for the Big Team Battle mode's various issues is coming this week, but Infinite's cosmetics store will also be seeing some improvements.
The team has already begun rolling out changes to the store's prices, but now, in a new blogpost, senior community manager John Junyszek acknowledges that the team was "in recognition that we were not delivering on value, quality, or price" with the store. Changes are coming, and if they don't hit during Season 1 then they should "positively impact Season 2 right off the bat".
Halo Infinite release date
,
Halo Infinite system requirements
,
Halo Infinite ranks
---
Twinfinite Sunday, January 30, 2022 5:08 PM
---
Twinfinite Sunday, January 30, 2022 4:44 PM
---
Twinfinite Sunday, January 30, 2022 4:30 PM
---
Twinfinite Sunday, January 30, 2022 4:00 PM
---
Twinfinite Sunday, January 30, 2022 1:04 PM
---
Twinfinite Sunday, January 30, 2022 12:52 PM
---
Siliconera Sunday, January 30, 2022 5:00 PM
All Nippon Airways is now flying an airplane featuring characters from Demon Slayer. Starting January 30, 2022, the airplanes began flying from Haneda Airport in Japan. Videos of the jet plane are available to watch on ANA's official Tiktok account.
Each side of the airplane has different designs. One side features Tanjiro, Nezuko, Zenitsu, and Inosuke in the midst of battle. The other side features Tanjro in a black and white, calligraphy-style design. ANA originally announced the collaboration in late 2021 and has been teasing the airplane's full design via social media. In addition to the new hull designs, the planes also sport various Demon Slayer-themed travel goods and assortments during the flight.
If you'd like to see more, the #鬼滅の刃じぇっと Twitter hashtag comes up with posts showing off the airplane's exterior, interior, and promotional goods.
https://twitter.com/ANA_Group_News/status/1487325985616072705?s=20&t=xQlY7vEDs5Ys-n5tlq05gA
ANA has collaborated with other anime and video game companies in the past. A frequent collaborator is The Pokemon Company, the most popular example being the Pokemon Jet promotional airplanes. The Pokemon airplanes have since been transferred to Japanese regional airlines like Air Do, which continue to operate airplanes featuring designs of Kantonian and Alolan Vulpix.
The Demon Slayer ANA airplane began flights on January 30, 2022. There is no confirmed end date or flight route for the collaboration airplanes.
The post ANA Demon Slayer Airplane Begins Flights appeared first on Siliconera.
---
Siliconera Sunday, January 30, 2022 3:00 PM
Most shopkeeping games in my Steam library revolve around earning money to pay off debts. There's nothing wrong with those; they've provided me with several hours of enjoyable gaming. But sometimes you want something a little different. In walks Strange Horticulture with its intriguing take on the genre, weaving mystery and adventure into the mix.
Strange Horticulture sells plants, fungi, and herbs to aid (and abet?) customers who darken your door. Some have serious ailments, such as insomnia or memory loss. Others have more nefarious reasons for coming to you. Things start out small. You have a limited supply of plants and your botany guide only contains information on about a dozen varieties. Correctly identifying plants rewards you with new pages for your guide. Need a quick break from the stream of visitors? Your cat Hellebore is always around for pets (oh that purring!) whenever you'd like.
[caption id="attachment_913116" align="aligncenter" width="600"]
So many plants![/caption]
There are ways to grow your available stock. Sometimes it's as simple as heading to a location mentioned in a friendly letter. Customers may provide clues or directions to new discoveries in exchange for services rendered. The dawn of each day also comes with hints as to where new plants can be found. As someone drawn to puzzle-solving games, this might be the highlight of Strange Horticulture. I love figuring out which plants my customers want, but decoding cryptic riddles gets both sides of my brain working double time.
I absolutely love determining what sort of riddle is in front of me. Some messages are coded (like the image below), pointing to locations on the map as starting points or hidden to the naked eye. When I can't immediately figure out the pattern I like to serve a customer or two and let my thoughts stew in the back of my brain. I keep a tiny notebook next to me when I'm working through games like these. There are notes scrawled and scratched out, underlined and circled. Handy tools open up along the way. Experimenting with them can lead to new breakthroughs. I may have exclaimed "Got it!" a few times to no one in particular, and I hope to do it a few times more.
Strange Horticulture might just be my favorite shopkeeping game to date. The gameplay is perfectly balanced. I can serve customers as I wish and search for exotic flora for my greenhouse at my leisure. Everything is scored to the patter of varying types of rain. And if I am ever so stumped that I don't know where to go next, that handy hint button is just a click away. Plus, there's a murderer running around, a coven in danger, and some weird group threatening me if I don't join them. It's a lot more interesting than rustling up enough cash to pay the rent before the loan shark comes to crowbar my knees.
Strange Horticulture is available for PCs via Steam. A demo covering the first two days is available.
The post Strange Horticulture Tests Your Deductive Skills appeared first on Siliconera.
---
Siliconera Sunday, January 30, 2022 1:30 PM
For a limited time, Nijisanji will have goods of Lazulight in their new outfits. As a reminder, Lazulight consists of Pomu Rainpuff, Finana Ryugu, and Elira Pendragon. Orders are open from the Nijisanji website from January 29 to February 18, 2022.
There are two kinds of Lazulight merchandise that you can buy from the Nijisanji website. There are acrylic stands that cost $19.35 each, and badges that cost $8.80 each. The scheduled release window is around late March. Additionally, the website lists the shipping as 2200 JPY ($19.10), though the pricing may change depending on country.
Lazulight debuted their new models on January 29, 2022. All three of them have a mix of Asian and lolita aesthetics in their outfits, with the cross fronts, big sleeves, and frills. Pomu looks like a wa-loli maid, with her hair in twin braids. Meanwhile, Elira has short hair and Finana has her long hair in twin buns.
Nijisanji EN launched Lazulight in May 2021 as the English branch's first unit. All three girls follow a fantasy theme, with Pomu a fairy, Elira a dragon, and Finana a mermaid. The nature theme carries over to the next unit, Obsydia. It is currently unknown when and if Obsydia or other Nijisanji EN units will receive new 3D models and outfits. The newest unit, and the only one with male VTubers, from Nijisanji EN is Luxiem, who debuted in December 2021.
The Nijisanji Lazulight goods are available until February 18, 2022 via the company's official website.
The post Nijisanji Will Release Goods of New Lazulight Outfits appeared first on Siliconera.
---
Siliconera Sunday, January 30, 2022 12:00 PM
All Elite Wrestling is releasing three new Street Fighter collaboration t-shirts. Each t-shirt features one AEW pro wrestler duking it out with a popular Street Fighter character. The standard t-shirt is available for $37.99 until February 9, 2022, at 1 p.m. Eastern.
There are a total of three t-shirts featuring pro wrestlers Britt Baker, Bryan Danielson, and Darby Allin. Baker faces off against Chun-Li, Danielson against Sagat, and Allin against Dhalsim. Each t-shirt only comes in one color, with Danielson's t-shirt in red and the rest in all black. Designing the shirts is Nerds Clothing, a company that Capcom has collaborated with in the past to release Mega Man and Street Fighter merchandise.
https://twitter.com/PWTees/status/1487455620425035781?s=20&t=EwoZaSDm4k_SnovauAilYA
[gallery columns="4" ids="914519,914520,914521,914522" link="file"]
All Elite Wrestling is a relatively new pro wrestling organization founded in 2019. AEW has previously signed popular wrestlers such as Kenny Omega.
Street Fighter has collaborated with various other brands in the past. Many of these include other video games such as Mega Man X DiVE, Monster Hunter Rise, and even Fortnite. While a pro wrestling collaboration may seem the odd one out of the bunch, don't forget that there's also an official Street Fighter cookbook.
The AEW Street Fighter collaboration t-shirts will be available via the official AEW website until February 9, 2022. Each t-shirt will cost a standard price of $37.99.
The post Street Fighter AEW Collaboration T-Shirts Pit Pro Wrestlers Against Characters appeared first on Siliconera.
---
Pivotal Gamers Sunday, January 30, 2022 3:21 PM
Hello folks. Giveaway.su is giving everyone the opportunity to win on Match Three Pirates II. Read on for their offering. A new giveaway of a new game! Today we are giving away 1500 Steam keys for "Match Three Pirates II" game. Steam account with level 5, Twitter account and Discord account are required to get the key from this giveaway. A few words about Match Three Pirates II Enjoy t...