---
Kotaku Monday, June 6, 2022 3:45 PM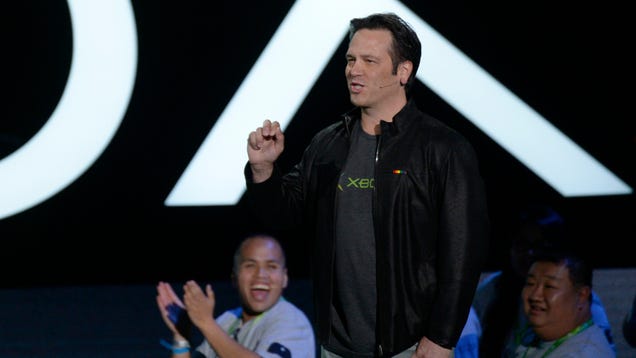 Microsoft executive vice president of gaming Phil Spencer recently played Nintendo 64 classic Banjo-Kazooie, according to his Xbox Live account. But where most might simply see a public figure enjoying a bit of nostalgia, a specific brand of diehard took it as a personal wink and a nod from the Xbox head of things to…
---
Kotaku Monday, June 6, 2022 3:10 PM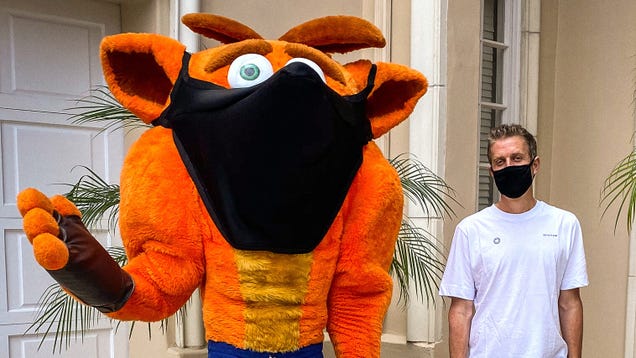 With E3 2022 canceled, there's a vacuum at the center of the video game marketing season. Many eyes are on Summer Game Fest for being both the lengthiest and the widest-ranging presser on the horizon. But the host, Geoff Keighley, recently saw fit to temper expectations ahead of the show, saying that it won't be flush…
---
Kotaku Monday, June 6, 2022 2:55 PM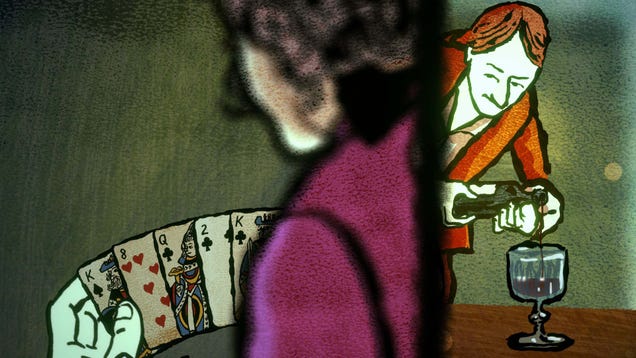 I'm on a ship, the waves rocking the boat as I deal cards to a former pirate and my friend (who is also my accomplice). We are trying to cheat this ex-pirate out of information and travel costs via a card game. To help us win, I use a small shiny object on the table to slyly peek at each card that is dealt and signal…
---
Kotaku Monday, June 6, 2022 2:20 PM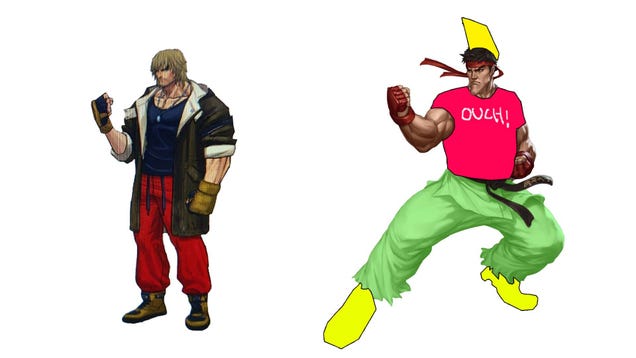 While many in the fighting game community were happy to finally see Street Fighter 6 in action during last week's PlayStation State of Play, a very vocal majority of FGC connoisseurs who enjoy the games for their, err, riveting storylines have been absolutely reveling in the sorry state of former golden boy Ken…
---
Kotaku Monday, June 6, 2022 2:05 PM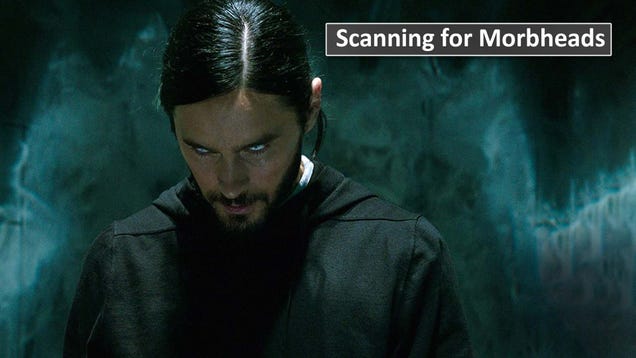 After weeks of Morbius memes dominating the internet, Sony had the strange idea to bring Jared Leto's living vampire back to more than 1,000 theaters this past weekend. Maybe the PlayStation maker was hoping for Morbius to reveal itself as a The Room-style cult classic here, but the bloodsucking superhero flick bombed…
---
Kotaku Monday, June 6, 2022 12:50 PM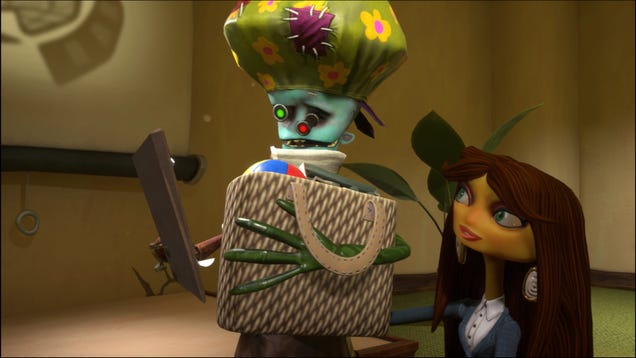 It should be no surprise to anyone that the very mention of "trigger/content warnings" is likely to spark politically driven, reactionary rejections that whine about "snowflakes" and spoiled experiences. Years of poisoning the well in this area have made the terms frustratingly charged. But if we move on from the…
---
Kotaku Monday, June 6, 2022 11:45 AM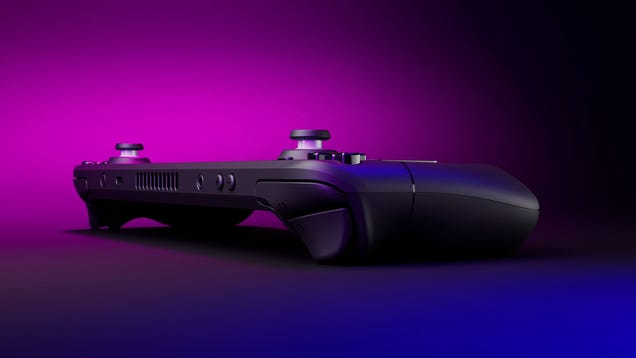 Valve's Steam Deck promises all the same handheld freedom as the Nintendo Switch, but with vastly more powerful tech under the hood, capable of running the most lavishly produced AAA games. A few months in, according to a blog post from Valve, it turns out everyone's just using the thing to play a bunch of those "this…
---
Kotaku Monday, June 6, 2022 10:00 AM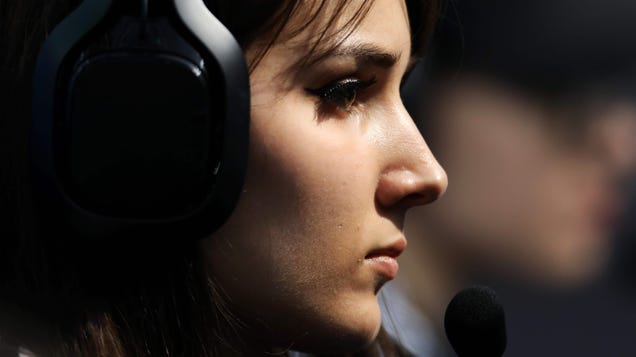 Your voice is revealing—it can give up a constellation of personal details, including your age, where you're from, and how you're feeling. This isn't always an issue and can even be a benefit. Your voice can let you bond with a stranger from your hometown, your friend's voice fills you with relief when you hear it on…
---
PCGamesN Monday, June 6, 2022 2:34 PM
So, you've beaten Elden Ring. And you've beaten new game plus. And you've done it in 20 hours, with no armour, and without taking any damage from Malenia. Yeah, well, now you're going to have to do it all again, only this time you'll be thirsty. And starving. And slowly dying from the plague. That's right: Elden Ring is a survival game now.
Scott Mooney, better known as Grimrukh, the Soulsborne modder responsible for the upcoming (and unofficial) Dark Souls sequel Nightfall, has just completed his latest project Elden Ring: Survival Mode, which releases June 6.
Survival Mode brings a range of extra features to FromSoftware's latest masterpiece, including new materials for crafting and additional means for upgrading weapons. The most significant addition however is the introduction of Fallout: New Vegas-style thirst, hunger and disease mechanics, which challenge you to consistently eat and drink to maintain your health, and hunt down cures for region-specific illnesses. Roaming too long in the Altus Plateau for example will set your stomach rumbling and demand you cook something to eat, whereas the dizzying heat in Caelid brings dehydration, fatigue, and blood-sucking parasites, a bit like sitting in a beer garden at the end of July.
The best Elden Ring builds
,
Elden Ring bosses
,
The best Elden Ring classes
---
PCGamesN Monday, June 6, 2022 2:25 PM
If you're after more of Destiny 2's red border weapons in the the MMO game's Season of the Haunted, YouTuber Skarrow9 just made the process much easier. Destiny 2's red border weapons, officially called Deepsight Resonance weapons, were incredibly difficult to come by when the Witch Queen first launched, and they're still quite rare even in Season of the Haunted. It makes weapon crafting rather difficult and nigh impossible if you're hoping to craft some of the new Opulent weapons.
Skarrow said their exploit came about by chance, as they and some friends tried to figure out easier ways of obtaining Deepsight weapons in the new weekly quest. It works only in a few specific instances, namely, the Bound in Sorrow quest stages that require Bound Presence, so while you can grind for Deepsight Opulent weapons, it won't work for other dungeons or quests.
On the bright side, you'll get plenty of Opulent weapons and much more Opulent Umbral Energy for focusing your weapons than usual. That's a good thing, considering it takes over two dozen Opulent Umbral Energy to focus a weapon in Season of the Haunted.
Destiny 2: Beyond Light review
,
Destiny 2 exotics
,
Play Destiny 2
---
PCGamesN Monday, June 6, 2022 12:47 PM
If you're on the hunt for the best gaming monitor for your gaming PC setup, you'll no doubt have noticed LG displays taking up spots on many a shortlist thanks to their top tier specs. Thankfully, you don't need to spend as much as you might think in order to bag one of these screens for yourself, thanks to a triple-digit-discount from Best Buy on the LG-32GP83B.
As part of the company's 'UltraGear' lineup, the LG-32GP83B packs all the features you could want from a gaming monitor, including a crisp 1440p resolution and superfast 165Hz refresh rate. Better still, its 32-inch Nano IPS panel not only produces wonderfully vivid colours, but also boasts a 1ms grey-to-grey response time for a great looking and ultra responsive gaming experience.
If that's not enough, the LG-32GP83B is Nvidia G-Sync compatible, so you never have to endure the input lag of VSync or bear witness to the eyesore that is a torn frame. Still want more? Well, you'll be pleased to know it supports HDR10 too.
Best SSD for gaming
,
How to build a gaming PC
,
Best gaming CPU
---
PCGamesN Monday, June 6, 2022 12:32 PM
Following a series of nose-to-tail patches since launch, Battlefield 2042 update 1.0 arrives tomorrow, June 7, to set the multiplayer game up for the start of its first season. This update, which somewhat confusingly resets the version number to 1.0.0, also fixes a number of remaining bugs and makes some welcome quality-of-life improvements to the troubled FPS.
EA/DICE says that players should find that animations and movement are much smoother overall, thanks to "multiple improvements to soldier gameplay". The hit registration issues that have plagued Battlefield 2042 have also been addressed with improvements to weapon netcode and some balance changes that include boosts to bullet velocity for designated marksman rifles and light machine guns, and better accuracy for shotguns.
The patch also adds some new ways to earn XP in matches, DICE says. You'll now get XP bonuses for taking out an enemy who has recently wounded or killed a member of your squad, and when a teammate takes out a vehicle you've damaged and kills the crew.
Battlefield 2042 review
,
Best multiplayer games on PC
,
Best FPS games on PC
---
PCGamesN Monday, June 6, 2022 12:17 PM
The Minecraft 1.19 release date is now confirmed and ready for play, but new details and a trailer for the Minecraft The Wild update reveal a very different kind of patch - as it looks like it'll turn the sandbox game into a horror game.
As Mojang revealed last month and just confirmed, the big Minecraft The Wild update release date is down for June 7, which will include a lot of new features - including the new wisp-like mob the allay, which was the winner of the last Minecraft Live vote and is making its debut soon.
While there are several new biomes to conquer, such as the "majestic" mangrove swamp that the allay lives in, the most interesting is the Deep Dark - which Mojang describes as "scarier than its already terrifying name implies." This is home to the Warden, a powerful mob that hunts you in the darkness using sound. The Deep Dark is essentially the Mines of Moria, and the Warden is its creepy Balrog. Just you try digging too greedily, and too deep.
Minecraft console commands
,
Minecraft skins
,
Minecraft mods
---
PCGamesN Monday, June 6, 2022 11:58 AM
Valve has revealed the top ten most-played Steam Deck games in May, and they're unsurprisingly all verified. While the portable powerhouse is capable of running both big-budget and indie releases, it looks like most Deck owners are opting to play the latter for longer on the handheld.
In a Steam Deck update post, Valve reveals ten of the handheld's most played games alongside its progress verifying games on the handheld. The storefront giant clarifies that four entries on the list were previously either classed as Unsupported or Playable, which suggests achieving Verified status boosted their popularity on the portable.
Valve's top Steam Deck games list is presented in alphabetical order, but the YouTube channel Gaming on Linux has reorganised the list based on playtime. Naturally, this gives us an idea of what everyone's playing on the go in terms of genre and scale. As you'd perhaps expect, Elden Ring sits atop the throne for last month, but the majority of the list actually features some of the best indie games.
Best SSD for gaming
,
How to build a gaming PC
,
Best gaming CPU
---
PCGamesN Monday, June 6, 2022 11:10 AM
In advance of the big reveals at Summer Game Fest, Square Enix has rather offhandedly confirmed Just Cause 5 - or, at the very least, that a "new title" in the Just Cause open-world game franchise is in development, presumably at regular developer Avalanche Studios.
Just Cause 4 arrived way back in December 2018 to semi-enthusiastic reviews, and since then we haven't heard a peep out of the franchise - except for the possibility of a Just Cause movie from the creator of John Wick. More recently, Square Enix confirmed in May that it was selling many of its Western studios to Embracer Group, including the makers of Deus Ex and Tomb Raider.
Just Cause and Rage 2 developer Avalanche Studios was not part of that sale because Square Enix doesn't own them - but the publisher does own Just Cause. Now, in an investor briefing for the fiscal year (thanks, ResetEra), Square Enix confirms that "the Just Cause franchise will remain our IP," and furthermore, it is "developing a new title in the franchise."
Just Cause 4 release date
,
Just Cause 4 system requirements
,
Just Cause 4 review
---
PCGamesN Monday, June 6, 2022 10:32 AM
Are you wondering where to find Fortnite Tover tokens? With the start of Fortnite Chapter 3 Season 3, it's time for the popular battle royale game to celebrate with a summer party. Now that the good guys have banished the Imagined Order from the island, everyone wants to let loose, including Darth Vader. So where better to do it than on the ruins of IO's base?
As part of the new season, there are new Fortnite skins to unlock on the battle pass, one of them being Snap. In a similar vein to previous character skins, you need to find the locations of all of the Fortnite Tover tokens to unlock new parts for Snap.
Each of the named areas in the list below has three Tover tokens for you to find, but they're not always in easy-to-reach places. While a fair amount of Snap's parts are available right now, there are more arriving in the coming weeks, so it's best to get a headstart so you don't have to find all of them later.
Fortnite V-Bucks
,
Fortnite Skins
,
Fortnite Creative Codes
---
PCGamesN Monday, June 6, 2022 9:59 AM
Intel Meteor Lake is set to arrive next year, but you might need to upgrade your motherboard when it does. Rumours suggest the blue team's next best gaming CPU lineup will use a new socket, a factor that could make the jump from Alder Lake more expensive.
According to renowned hardware leaker Moore's Law is Dead, Intel Meteor Lake CPUs may ditch LGA 1700, which suggests Raptor Lake will be the last generation to support the socket. While the new design is supposedly only slightly larger than LGA 1700 in terms of footprint, it'll potentially include 50% more pins than the current-gen standard.
MLID claims Meteor Lake uses an LGA 2551 socket, but an additional Benchlife leak clarifies that it's actually LGA 1851 (via Videocardz). The insider info suggests that the 2551-pin version could be a BGA variant, but says it'll likely not be used for desktop products.
Arc Alchemist GPUs - everything we know
,
Raptor Lake CPUs - everything we know
,
Best gaming CPU
---
PCGamesN Monday, June 6, 2022 10:13 AM
The GOG Summer Sale has kicked off and it's brought with a bunch of free games, a major publisher to the DRM-free line-up, and one of the best horror games on PC. Yes, Sega has finally joined the storefront, and it's brought with it an Alien Isolation GOG release - with more to come.
The next big GOG sale has launched and runs from June 6 all the way to June 27, with the usual selection of great deals. GOG also confirms that there will be at least five separate game giveaways during the Summer Sale. You can pick up the classic horror adventure game Sanitarium right now to keep for free, as long as you grab it within 48 hours, and Warhammer 40,000: Chaos Gate is also free - and seemingly separate from the announced five.
Perhaps the bigger news is that Sega is finally joining GOG.com. The Alien Isolation collection is its initial offering, which consists of the ultimate Alien game and all seven (!) DLC packs. It launches as part of the sale for 75% off, so it's a good deal if you haven't sampled the delights of having the locker you were hiding in ripped open and your face chewed off by a toothy space phallus yet.
Alien: Isolation review
,
Best horror games on PC
,
Best VR games
---
Rock Paper Shotgun Latest Articles Feed Monday, June 6, 2022 2:56 PM
Hello folks. Sorry it's been so long since I've written one of these Letters From The Editor. Things have been… manic, to say the least. Manic in the traditional 'busy' sense (hello Elden Ring, PAX, V Rising and now notE3 planning), but also in the 'man, there are so many cool things I want to talk to you about but aren't quite ready to announce yet' sense. I've been on the cusp of writing about these things every single month since, err, March, but then something falls through, the weeks go by, and we're back to square one again. So I'm sorry about that, I really am.
What I'm writing to you about today still isn't one of those exciting things, unfortunately, but it is nonetheless very important. When we relaunched our RPS Supporter Programme last year, we did so on June 17th, which means its one-year anniversary is just around the corner. It also means that those of you who signed up for our yearly supporter tier will be coming to the end of your subscription soon, and I wanted to explain a little bit about the renewal process as it's… err, a bit convoluted. Sorry again about that.
---
Rock Paper Shotgun Latest Articles Feed Monday, June 6, 2022 11:45 AM
Over the past few weeks I've sampled so many retro-styled FPSes, I'd class it as a form of training. I'm now attuned to their look, their pacing, their good and bad points. So, it came as no surprise when I found myself testing out the closed alpha of yet another of their ilk: Ripout, an upcoming sci-fi horror FPS that's very Doom 3.
What's nice is that vidbud Liam joined me! Both because he's a fan of the FPS genre and to be present with a jar in hand, lest I crumbled into dust. Thankfully this didn't happen and we had a pretty swell time, I'd say. It's early days for the game but there's potential there.
---
Rock Paper Shotgun Latest Articles Feed Monday, June 6, 2022 11:24 AM
CD Projekt have thrown the doors open on the GOG Summer Sale today, and hiding in plain sight is Creative Assembly's space survival horror Alien: Isolation. The scary stealth 'em up is the first of a series of games published by Sega that are going DRM-free on GOG. Two Point Hospital and Warhammer 40,000: Space Marine – Anniversary Edition will be joining the store at an unspecified date too.
---
Rock Paper Shotgun Latest Articles Feed Monday, June 6, 2022 9:00 AM
Every weekend, indie devs show off current work on Twitter's #screenshotsaturday tag. And every Monday, I bring you a selection of these snaps and clips. This week, my eye has been caught by several high-speed first-person shooters, some good wizarding, and a cute mushroom friend.
---
Rock Paper Shotgun Latest Articles Feed Monday, June 6, 2022 8:04 AM
Pop your collar because EA and Maxis have confirmed that the next expansion for The Sims 4 is growing a bit hairy thanks to the return of werewolves on June 16th. The Sims 4: Werewolves is the 12th game pack released for the ever-growing life sim so far, and will add the new world of Moonwood Mill, which is simply heaving with the canine monstrosities. Howl at the trailer below.
---
Twinfinite Monday, June 6, 2022 3:10 PM
Sonic Frontiers has us feeling very very blue.
---
Twinfinite Monday, June 6, 2022 2:45 PM
Here is when Warrior Nun season 2 comes out on Netflix.
---
Twinfinite Monday, June 6, 2022 2:30 PM
It's time to race with beloved Disney characters in Speedstorm!
---
Twinfinite Monday, June 6, 2022 2:28 PM
Here is where to find Reality Seeds in Fortnite and how to use them.
---
Twinfinite Monday, June 6, 2022 2:23 PM
All of us are dead Season 2 has just been announced. Find out more about the release date and window inside.
---
Twinfinite Monday, June 6, 2022 2:14 PM
The Sandman finally has a release date for Netflix.
---
Twinfinite Monday, June 6, 2022 2:06 PM
Are you curious about Geno? Us too!
---
Twinfinite Monday, June 6, 2022 2:00 PM
Locke and Key Season 3 finally has a release date on Netflix.
---
Twinfinite Monday, June 6, 2022 2:00 PM
Here is the release date for Money Heist: Korea - Joint Economic Area on Netflix.
---
Twinfinite Monday, June 6, 2022 1:42 PM
Seriously, never trust Umbrella.
---
Twinfinite Monday, June 6, 2022 1:29 PM
During the first day of its Geeked Week show, Netflix provided the first look at the work being done for the One Piece live-action show.
---
Twinfinite Monday, June 6, 2022 12:49 PM
Square Enix CEO Yosuke Matsuda commented enthusiastically on the performance of Final Fantasy XIV, and expects further success.
---
Twinfinite Monday, June 6, 2022 12:29 PM
Wednesday Addams is heading to Netflix in a brand new series.
---
Twinfinite Monday, June 6, 2022 11:51 AM
If you're in search of exotic weapons, we've got you covered.
---
Twinfinite Monday, June 6, 2022 11:49 AM
Today Microsoft and Mojang released another new trailer of the upcoming The Wild Update that will release tomorrow
---
Twinfinite Monday, June 6, 2022 11:35 AM
Here is what you need to know about what FieldSENSE is in Madden 23 and what systems can use it.
---
Twinfinite Monday, June 6, 2022 11:16 AM
The loot of Fortnite legends... and probably myths, too!
---
Twinfinite Monday, June 6, 2022 11:08 AM
Can you name 'em all?
---
Twinfinite Monday, June 6, 2022 11:07 AM
Square Enix CEO Yosuke Matsuda provided interesting information about upcoming games, the Just Cause franchise, and NFT/Blockchain investment.
---
Twinfinite Monday, June 6, 2022 11:07 AM
These are the best Xbox Series X JRPGs that you can play right now in 2022.
---
Siliconera Monday, June 6, 2022 3:00 PM
I'm okay at card games. Better at things like Pokemon Trading Card Game and Yu-Gi-Oh than Blackjack, to be sure. I suck at shuffling too. But after some hours playing Card Shark on the Switch, I felt overconfident and daring. Like maybe I could pull off the Three-card Monte! Perhaps I could ensure a certain person would get all high-value cards when dealing? Okay, probably not. But this game made me feel confident in my virtual self!
Card Shark follows an individual who falls in with a con-man called Compte de Saint-Germain. After helping him cheat at a game in an inn, things go horribly awry. Your former employer is killed, and you're essentially framed. But the Compte takes you on as a partner, and the two of you head to the Court of Miracles. It's a place where essentially the unwanted in France end up. While you will be conning folks out of money, you'll also be supporting this community and gathering information about the monarchy.
Now, the name in Card Shark may make you think this is actually about playing cards in some way. Nope! Rather, you're trying to cheat your opponent while keeping them from getting too suspicious. Your goal is to get both money and information. Before games, the Compte might teach you a new grift to use against a mark. Maybe it will be a way to signal what cards are in play? Perhaps you're trying to ensure cards appear in certain places when you deal them? These involve brief minigames. So when you play Three-card Monte, like I mentioned earlier, you'll actually be going through a rhythm game. Others might involve keeping track of when to pick up certain cards or perform certain actions, and in what order to perform certain movements.
As for suspicion, it sort of acts as a timer. If you aren't smooth when pulling off a con or take too long, the mark catches on. While being "off" once or twice won't ruin an endeavor, consistently messing up will cause the gauge to fill to dangerous levels. Which in turn foils your plot. As I was playing Card Shark on the Switch, I was a bit concerned about it. For example, when attempting to ensure the Comte would always get the highest cards in his hand when dealing, I messed up quite a bit in practice! Figuring out the right direction to pick them up in got tricky!
But there is an extra cushion that can help if there's a particular short-con that stumps you. Card Shark offers multiple difficulty options. The normal one is fairly forgiving when you're first picking up these tricks. But it isn't the end of the world if, for a particular game, you make things a bit easier or turn hints on. It's a nice bit of accessibility if you're enjoying the story and most of the minigames, but one is getting you down. It is a shame that not every card trick is going to be great, but I enjoyed more of them than not.
Because really, Card Shark is the kind of game in which someone could be in it for only the adventure and ambiance. It possesses such a distinct look. It feels vintage and like it keeps with the classic French time period. The characters are interesting and expressive. For example, I'm a big fan of the Compte and avatar's expressions throughout the story. (Especially when the Compte's look is saying a lot about the size of donation you might make to the "Court.") The card games themselves suit the moment, but are also clear when conveying information. So even if there was a situation where I wasn't "feeling" the current trick, finding out what would happen next made it worth going through it.
Card Shark is a game that made me feel daring, and I was glued to my Switch trying to outsmart my opponents. Yes, every once in a while I'd come across a con I didn't enjoy as much as the others. But considering the assortment of tricks you learn and the way the challenge grows, it still can feel very satisfying. Especially since the story that happens while taking advantage of marks is so compelling.
Card Shark is available for the Nintendo Switch and PC. A demo is available.
The post Review: Card Shark Makes You Feel Daring and Slick appeared first on Siliconera.
---
Siliconera Monday, June 6, 2022 2:45 PM
There's new Monster Hunter Rise Sunbreak concept art from Capcom, and this one shows a litter of baby Lunagaron "puppies." In some images, they're being tended to by their parent. In others, they're going about their daily lives. There's even one showing a sense of scale for a juvenile version of the fanged wyvern on its hind legs.
Things begin in the top right corner with a pair of Lunagaron puppies and a parent nearby tending to the babies. The two are playing together, with one biting the other. The parent nearby offers a sense of scale to show how its young would look alongside the fanged wyvern. Below it are two images that give a better idea of how a baby would look. One features it running, while the other shows it on its hind legs.
The right-hand side of this Monster Hunter Rise Sunbreak concept art shows further interactions between the Lunagaron and two baby puppies. In one, the parent is presenting the two with some food. The image above it shows a parent would carry a baby by gently grabbing the scruff of its neck. The one below shows a little Lunagaron biting.

Capcom revealed Lunagaron as one of Monster Hunter Rise Sunbreak's new monsters during The Game Awards 2021. We also already know what its armor set will look like in-game.
Monster Hunter Rise is available for the Nintendo Switch and PC, and the Sunbreak expansion will arrive on June 30, 2022.
The post Monster Hunter Rise Sunbreak Art Shows Baby Lunagaron 'Puppies' appeared first on Siliconera.
---
Siliconera Monday, June 6, 2022 2:00 PM
There's a new JoJo's Bizarre Adventure: All-Star Battle R video out, and this one features Stardust Crusaders character Mohammed Avdol. He's one of Jotaro's allies in that part of the story. His trailer shows him fighting alongside his Stand Magician's Red.
As the name suggests, Magician's Red is a fire-based Stand. It has a shorter range than other characters' ones in the story. So both Mohammed and Magician's Red fight with kicks and punches. However, the Crossfire Hurricane attack is executed from a distance, as are a few other special attacks.
Are you ready to turn up the heat in battle?

Mohammed Avdol and his Stand, Magician's Red are coming to #JJASBR. pic.twitter.com/Ddg6j6xECM

— JoJo's Bizarre Adventure: All-Star Battle R (@jojo_games) June 6, 2022
This marks three JoJo's Bizarre Adventure: Stardust Crusaders videos from All-Star Battle R to show up. Jotaro Kujo's appeared first. Noriaki Kakyoin's followed it.
As for other characters, three prominent JoJo's Bizarre Adventure: All-Star Battle R videos showed up. One is for Jonathan Joestar, another is for Johnny Joestar, and the third stars DIO.
JoJo's Bizarre Adventure: All-Star Battle R will come to the Nintendo Switch, PlayStation 4, PlayStation 5, Xbox One, Xbox Series X, and PC on September 2, 2022. People will get to test it out on the PS4 and PS5 via an upcoming demo.
The post Mohammed Avdol JoJo's Bizarre Adventure: All-Star Battle R Trailer Debuts appeared first on Siliconera.
---
Siliconera Monday, June 6, 2022 1:30 PM
A new Fire Emblem Heroes Feh Channel appeared on June 5, 2022, and it included a Book 6 video, a series of Three Houses events tied to Fire Emblem Warriors: Three Hopes, and Ascended Florina. Essentially, it covered all changes and updates in the immediate future.
Things kicked off with a video showing Fire Emblem Heroes Book 6 events. Alfonse and Ash are under attack by the goddess Embla. It is then that the god Askr appears to assist them. We then see Alfonse and Veronica fighting one another.
For those who just want to see the new Book 6 Fire Emblem Heroes movie outside of the Feh Channel, here's the separate trailer for that.

As for Fire Emblem Heroes' Three Houses-themed events ahead of Fire Emblem Warriors: Three Hopes, that will involve banners and a chance to get a free hero. Between June 8-23, 2022, 13 banners with characters from the game will appear. Each one will give people one free pull. You also can pick one of the focus heroes if you draw from one 40 times. However, each banner will only be around four days total.
There is also an A Hero Rises: Garland Moon Cup event. Between June 5-12, 2022, people can log in to pick the Fire Emblem: Three Houses unit they'd like to get for free in Fire Emblem Heroes. You can do so seven times. After voting closes, the five-star character who received the most votes from all players during the event will be given to everyone for free.
After that, a Fire Emblem: The Blazing Blade banner with Ascended Florina was introduced. Letizia, Guy, Kent, and Sain will also be on the banner with her. That will show up on June 8, 2022. People will have until June 29, 2022 to get them from that banner. Guy will also be given away twice as Book 6 midpoint quest rewards during that same time period. People will also be able to get Limstella as a Grand Hero Battle reward between June 9-17, 2022.
Here's the full Fire Emblem Heroes Feh Channel for June 5, 2022. The end of it goes over an upcoming Aether Raid special season.

As a reminder, the last Ascended Hero in Fire Emblem Heroes was Ishtar. She appeared in Genealogy of the Holy War and Thracia 776.
Fire Emblem Heroes is available for Android and Apple iOS devices. The Ascended Florina Fire Emblem Heroes banner will be available June 8-29, 2022.
The post New Fire Emblem Heroes Feh Channel Introduces Changes, Ascended Florina appeared first on Siliconera.
---
Siliconera Monday, June 6, 2022 1:00 PM
The PS4 and PS5 versions of Kemono Friends 3 have appeared in Japan. Sega and Appirits launched the title as a free-to-play game on the Japanese PlayStation Store. This game is an RPG where players can collect anthropomorphized characters modeled after various animals.
Sega initially revealed Kemono Friends 3 as a mobile game in 2019. The game launched on Android and iOS devices in the same year. In 2020, the company released the title on DMM Games, which also makes it playable on PCs.
Appirits noted that the PS4 and PS5 releases of Kemono Friends 3 are completely different from the mobile and PC versions. There is no save transfer feature from the mobile version, so all players on the PlayStation release will start fresh. In-game events and campaigns will also run separately between the PlayStation and mobile versions.
Kemono Friends 3 is the second series game to appear on consoles after Kemono Friends Picross on Nintendo Switch. The franchise originated from a mobile game that Nexon launched in 2015. All prior entries before Kemono Friends 3 and the Picross game were available exclusively on mobile devices. However, Kemono Friends Picross remains the only game that is available worldwide in English. The PlayStation Store page noted that Kemono Friends 3 only supports the Japanese language.
Kemono Friends 3 is available on PS4, PS5, Android, iOS, and PC via DMM Games in Japan.
The post Kemono Friends 3 Appears on the PS4 and PS5 in Japan appeared first on Siliconera.
---
Siliconera Monday, June 6, 2022 12:30 PM
When Splatoon 3 comes out, it will include all basic weapons from the first two games. Leading up to bigger announcements, Nintendo's gone over some of the ones coming back. The latest video clips show off Splatoon 3 slosher bucket ones like the Explosher and Tri-Slosher.
First, Nintendo showed how the Tri-Slosher will look. It debuted in the first Splatoon. Back then, it was more circular. Now, the weapon will have more of a rectangular shape in Splatoon 3.
Nevertheless, behold the Tri-Slosher! This bucket weapon has three compartments, allowing a multidirectional splat with great coverage. And it seems the bucket-like design has been updated! It's more…buckety…somehow. Help—the word "bucket" has lost all meaning! pic.twitter.com/ZnFK6vzGFS

— Splatoon North America (@SplatoonNA) June 6, 2022
After that, it showed off the Explosher. This one debuted in Splatoon 2 and is more of a long-range Slosher. It also looks a lot like it did in the last game.
Before I visit Linguistics to see if they can help me forget the word "bucket," let me show off the heavy-duty Explosher. It fires exploding ink and it looks REALLY tough. There's a psychological advantage to showing up to a Turf War battle with nothing but a scary bucket! pic.twitter.com/OYkO30AB6J

— Splatoon North America (@SplatoonNA) June 6, 2022
Nintendo's gradually been going over some of the returning Splatoon 3 weapons over the past few weeks. For example, at the beginning of May 2022 the Classic Squiffer, E-liter 4k, and Splat Charger appeared. It showed off the Splat Roller and Dynamo Roller at the end of May 2022.
Splatoon 3 will debut on the Nintendo Switch on September 9, 2022.
The post Splatoon 3 Explosher and Tri-Slosher Slosher Weapons Shown appeared first on Siliconera.
---
Siliconera Monday, June 6, 2022 12:00 PM
We already knew the new Sailor Moon Uniqlo shirts would come to Japan on June 6, 2022. At the time, there wasn't an exact North American launch date. Now, the company revealed those shirts are available everywhere. People outside Japan can get them too. However, while they are guaranteed to be at the official website, they might not appear in all stores.
All three of the Uniqlo Sailor Moon Eternal movie shirts are available in women's styles, rather than unisex t-shirts. Their sizes range from XXS to XXL. Each one costs $19.99. Each one calls back to characters in the series.
The first one is a white shirt with no design on the back. It reads "Pretty Guardian Sailor Moon Eternal" at the top. Below it are colored silhouettes for the main scouts. From left to right, Super Sailor Jupter, Super Sailor Mercury, Super Sailor Chibi Moon, Super Sailor Moon, Super Sailor Mars, and Super Sailor Venus appear.

The second shirt is a black one with Luna on the front. The night sky is used to fill in her silhouette. She still has her trademark moon on her forehead. Underneath her, the text reads, "Pretty Guardian Sailor Moon Eternal."

The final shirt is the only one with designs on the front and back. It is a white shirt with a small crescent moon on the front on the upper left. On the back is an image of Usagi transforming into Super Sailor Moon. The text here reads, "Guardian of love and justice, Super Sailor Moon. Moon Crisis Make Up. Pretty Guardian Sailor Moon Eternal."

As for the series' story, the Sailor Moon Cosmos movies will appear in 2023. These will close out the story by going over the Shadow Galactica arc. Sailor Moon Crystal and Eternal are available on Netflix.
The Uniqlo Sailor Moon Eternal shirts are now available in Japan and North America as of June 6, 2022.
The post Sailor Moon Uniqlo Shirts Make Their June 2022 Debut appeared first on Siliconera.
---
Siliconera Monday, June 6, 2022 11:30 AM
There's new FFVII Remake concept art, and this shows how each character frog form looks when they are suffering from the toad status effect. This happens when a Sahagin, Sahagin Prince, or Malboro inflict the status on characters during a fight. However, people can also get an Enfeeblement Ring to make party members become frogs.
First, here's the FFVII Remake concept art showing characters like Aerith, Barret, Cloud, and Tifa in their frog forms. In this version, each one has identifying features showing who they are. Cloud has a small Buster Sword. Aerith's is wearing a bow. Tifa's is wearing her outfit and has markings that resemble her gloves. Barret's wears sunglasses and something on its right arm. It is also more muscular.
[caption id="attachment_929311" align="aligncenter" width="400"]
Cloud, Aerith, Tifa, and Barret[/caption]
Next, the FFVII Remake frog status art focused on Sonon and Yuffie. Sonon's has a staff on its back, while Yuffie's wears a headband, bracer, and shuriken.
[caption id="attachment_929312" align="aligncenter" width="400"]
Sonon and Yuffie[/caption]
One close-up shows how each frog's face differs when the toad status effect is in effect in FFVII Remake. Cloud and Barret are in the first row. Tifa and Aerith are in the second. Yuffie and Sonon are at the bottom.

Finally, Square Enix wrapped things up by showing what the status effect looked like in the original game.

Quite a few other pieces of art came up over the past few months. For example, the last FFVII Remake character to show up in one of these drops was Biggs. His concept art looked closer at his gun. Others looked at the Beginners' Hall and Sector 5 Slums.
Final Fantasy VII Remake is available for the PlayStation 4, while FFVII Remake Intergrade is out on the PlayStation 5 and PC.
The post FFVII Remake Frog Status Character Concept Art Shared appeared first on Siliconera.
---
Siliconera Monday, June 6, 2022 11:00 AM
There won't just be an Xbox and Bethesda Games Showcase in June, as Microsoft announced it will be followed by an extended look at titles. This will come up two days after the June 12, 2022 presentation. It will be called the Xbox Games Extended Show. People will be able to watch it via sources like Twitch and YouTube at 10 a.m. PT/1 p.m. ET/7 p.m. CET on June 14, 2022.
There aren't any specific details about which Xbox One and Xbox Series X games could show up during the June 2022 Xbox Games Showcase Extended. However, it will involve deeper dives into titles. There will be more trailers for games headed to Microsoft platforms. Apparently developers will appear to talk more about announcements too. We also know how long this additional presentation will be. It will spend 90 minutes going over the news.
As a reminder, the Xbox presentation isn't the only one appearing on June 12, 2022. The PC Gaming Show will also appear that day. It will come up after it. People can catch it at 12:30 p.m. PT/3:30 p.m. ET/9:30 p.m. CET.
The Xbox and Bethesda Games Showcase will appear on June 12, 2022 at 10 a.m. PT/1 p.m. ET/7 p.m. CET, and the extended show will appear on June 14, 2022 at 10 a.m. PT/1 p.m. ET/7 p.m. CET.
The post Xbox and Bethesda Games Extended Show Will Appear After the June 2022 Showcase appeared first on Siliconera.
---
Siliconera Monday, June 6, 2022 10:30 AM
A new SNK crossover mobile game will appear worldwide, including in Japan. Nuverse has revealed the Japanese version of SNK: All-Star Fight, which will be known as SNK Fight! Path to the Strongest. The game's closed beta test will run on Android devices in Japan from June 22 to July 1, 2022. The company also announced Fall 2022 as the Japanese release window for the mobile game, which will also be available on iOS devices.
SNK: All-Star Fight will be an RPG featuring characters from SNK franchises depicted in 3D with cel-shading. The roster will feature not only the company's fighting games like The King of Fighters, Samurai Shodown, and The Last Blade, but also the run-and-gun game series Metal Slug.
Nuverse had previously revealed the Chinese and English versions of the crossover mobile game. It held a closed beta test for the English release on May 17-26, 2022.
SNK has been working with other companies to release mobile games based on its franchises. However, the fact that many of them have All-Star in the title may cause some confusion. The company previously worked with 37Games to release a mobile crossover RPG titled SNK Allstar in 2019. The latter shut down the game in Japan in late November 2021.
SNK also worked with Netmarble to produce The King of Fighters All Star, a beat 'em up action game with RPG elements that appeared in Japan in 2018 and globally in 2019. This game is still in active service as of this writing. It is also famous for adding guest characters from other company franchises, such as Tekken, Dead or Alive, Guilty Gear, and Street Fighter.
SNK: All-Star Fight will be available for Android and iOS devices worldwide. The mobile game will have a Fall 2022 launch window in Japan.
The post SNK: All-Star Fight Will Launch in Fall 2022 in Japan appeared first on Siliconera.
---
Siliconera Monday, June 6, 2022 10:00 AM
Sometimes after new Genshin Impact story quests or events, HoYoVerse will share videos of important scenes. Well, another one has appeared. This time, the Genshin Impact Perilous Trail video features spoilers regarding actions Xiao takes at the end of the quest. It appears at the very end of the questline, so those who haven't completed it yet might want to hold off on watching it.
Editor's Note: The new Genshin Impact video features spoilers regarding things Xiao does during the story in the Perilous Trail Archon Quest.
Things in this video happen right as Xiao is about to help everyone escape the deepest part of The Chasm. After Yelan activates the device, Xiao channels his power into it to act as something of an elevator and get everyone to safety. As he does, the fallen souls of soldiers from 500 years ago attempt to maintain their promise to let nothing escape The Chasm.
As that happens, there's a Genshin Impact story scene hinting at what Xiao did before the Perilous Trail quest began. In it, he's meeting with Zhongli to discuss his reasons for visiting The Chasm and get approval to do so. Zhongli warns him about the danger. Due to things seeming dangerous, Xiao uses what is left of his power to send the group to the surface and safety. As he falls back into the abyss, Zhongli appears to save him as well. Everyone reunites in Liyue, while Zhongli watches.

This is the second Perilous Trail video to appear. The first one featured spoilers regarding the Yaksha in Genshin Impact.
Genshin Impact is available for the PlayStation 4, PlayStation 5, PC, and mobile devices. A Nintendo Switch version is in development.
The post Genshin Impact Perilous Trail Video Features Story Spoilers Starring Xiao appeared first on Siliconera.
---
Siliconera Monday, June 6, 2022 9:00 AM
Kati will have justice. Acquire is working on DLC for Akiba's Trip: Undead & Undressed (a.k.a. Akiba's Trip 2). The new addition comes nearly nine years after the game was originally released in 2013 and 2014 on PS3 and PS Vita. The DLC, which was announced on June 5, 2022, will add a new story route for one of the playable characters.
Check out the announcement teaser below.
https://www.youtube.com/watch?v=uZ_HhpFcbJE
Akiba's Trip: Undead & Undressed is an open-world action game structured similarly to Acquire's Way of the Samurai series. Players roam an accurately rendered version of Tokyo's Akihabara neighborhood, hunting down "Synthisters," vampire-like superhuman creatures. The Synthisters walk among the regular humans, preying upon the lifeforce of tourists, cosplayers, and the unsuspecting masses crowding the famous district. The player is turned into one of them and teams up with an impromptu gang known as the Akiba Freedom Fighters to investigate the incidents and bring peace to Japan's nerd haven. The game was notable for its location-accurate use of stores and establishments from real-life Akihabara, as well as its "Strip Action" combat. Players fight Synthisters, but need to defeat them by tearing off their clothing and exposing their bodies to sunlight.
The new route for Akiba's Trip: Undead & Undressed is called the "Kati Route" and focuses on Kati Räikkönen, a partner for the player character and the only heroine in the game without a story route of her own. The original release of Akiba's Trip 2 contained multiple endings based on the player's pursuit of one of four heroines: Touko Sagisaka, the player's childhood friend, Shizuku Tokikaze, the player's savior, Rin Tokikaze, Shizuku's sister, and Shion Kasugai, genius president of a pharmaceutical company. Kati is a foreign student from Finland, who visited Japan to study and engage in her love of anime and JRPGs. She dresses in a hand-made maid outfit for kicks.
Akiba's Trip: Undead & Undressed is available for PS4, PS3, PS Vita, and PC, and the "Kati Route" DLC is in development, though an English release of the add-on is not yet confirmed. The first Akiba's Trip title was localized and released on Switch, PS4, and PC in 2021 as Akiba's Trip: Hellbound and Debriefed. Check out Siliconera's official review.
The post New DLC for Akiba's Trip: Undead and Undressed is in the Works appeared first on Siliconera.
---
PC Invasion - FeedDDD Monday, June 6, 2022 4:00 PM
The launch of Diablo Immortal into open beta has not gone smoothly for Blizzard. While users say the game certainly feels like a more streamlined Diablo on mobile and PC, there is a key variable between it and its predecessors: microtransactions. Developed by Chinese mobile game developer NetEase, Diablo Immortal is free to play with MTX in mind. Ahead of launch, there was concern that Diablo Immortal would stray deeply into the murky waters of "pay to win," or P2W. According to recent reports, it's looking to be true. Min-maxing in Diablo Immortal can apparently come at a high cost, with some reports saying it can take $100,000 or more to max a character — and the fan backlash has already begun. At the center of the issue are in-game items known as Legendary Gems. These are awarded to players as a way to level up their characters' gear after reaching endgame. Legendary Gems have tiers (up to five stars), and the top-rated ones are doled out as chance drop...
---
PC Invasion - FeedDDD Monday, June 6, 2022 2:30 PM
Square Enix quietly confirmed that a new game in the Just Cause series is in development. This was announced during a Square Enix investor briefing and shared on ResetEra. The report doesn't say much regarding Just Cause, but it does confirm that the company is "at work developing a new title in the franchise." This new Just Cause game is assumed to be in development at Avalanche Studios. Since the developer has helmed the series since 2006 with the first Just Cause, it isn't much of a leap to assume that it will also develop another game. It's also worth mentioning that Square Enix sold the majority of its western studios in May. However, since it never owned Avalanche Studios, their working relationship is seemingly unchanged. Just Cause is coming back The Just Cause franchise has given players a sandbox of destruction for years. The sheer amount of carnage in each of the games is undeniably a lot of fun. But with Just Cause 4's release in 2...
---
PC Invasion - FeedDDD Monday, June 6, 2022 1:00 PM
Fortnite Chapter 3 Season 3, is here and we are Vibin'. There is a new battle pass featuring Darth Vader, map changes, and more. The new season certainly feels fresh, with an array of new and returning items joining the island. Let's break down what new content is in Fortnite Chapter 3 Season 3. There is a new biome on the island named the Reality Tree. It can be found at the new Reality Falls point of interest, which is filled with purple trees and bouncy mushrooms. Also, the Reality Tree is spreading Reality Seed Pods which grow in the same place each match. Every time you weed them, you'll get better loot, so keep going until you get Mythic items. Moving around the map in Fortnite Chapter 3 Season 3 If you are a fan of the Ballers, you're in luck because they are back. Some changes have been made, as they now have more health, float on water, and run on battery power. You can grapple and roll your way to victory, and there is even a Screwballer amuseme...
---
PC Invasion - FeedDDD Monday, June 6, 2022 12:30 PM
Recent evidence suggests a remaster of the classic James Bond tie-in could finally be on its way. Recently, activity on TrueAchievements showed a possible Rare developer has seemingly unlocked an achievement for GoldenEye 007's remaster. This suggests that the game is actively being tested and could be announced soon. Of course, this news isn't surprising if you've kept an eye on GoldenEye 007's strange history. There have been rumors circulating for years at this point regarding the existence of a remaster. And for the last few months, we've seen various hints at a possible release. However, we haven't heard anything from Rare or Xbox that confirms or denies its release. That's admittedly unsurprising when considering the legal mess surrounding the game. However, achievement activity for GoldenEye 007's remaster does spark intrigue. Will we finally get a remaster of GoldenEye 007? GoldenEye 007 is often considered one of the most ...
---
PC Invasion - FeedDDD Monday, June 6, 2022 12:15 PM
Mojang Studios is combining both versions of Minecraft together. And this new package will be called Minecraft: Java & Bedrock Edition. When purchased, it will provide access to both the Java Edition and Bedrock edition of the popular sandbox survival game. It will be available for purchase on June 7 when it replaces the current offerings. But what about if you already own one version of Minecraft? Thankfully, Mojang has that covered. Anyone who owns one of the versions will receive the other version for free. This will be done through an automated process after the new edition is released. Although the blog post does say that this process may take a few days. Both versions will continue to support cross-play. For Java Edition, that means users on Windows, Linux, and macOS can play together, while Bedrock Edition supports cross-play between PC, Xbox, and PlayStation. This is a nice feature, as it means that you can play with friends who are on console without having to buy t...
---
Tabletop Gaming News Monday, June 6, 2022 3:00 PM
---
Tabletop Gaming News Monday, June 6, 2022 2:00 PM
---
Tabletop Gaming News Monday, June 6, 2022 1:00 PM
---
Tabletop Gaming News Monday, June 6, 2022 12:00 PM
---
Tabletop Gaming News Monday, June 6, 2022 11:00 AM
---
Tabletop Gaming News Monday, June 6, 2022 10:00 AM
---
Tabletop Gaming News Monday, June 6, 2022 9:00 AM
---
Player Assist | Game Guides & Walkthroughs Monday, June 6, 2022 4:00 PM
Mohg, Lord of Blood, is one of the last shardbearers most players will fight in Elden Ring, and despite being an optional boss, his fight is one of the thematically and visually coolest bosses in the game, becoming the favorite of many players. The contrast between the bloody ruins of the boss arena and the […]
---
Player Assist | Game Guides & Walkthroughs Monday, June 6, 2022 3:00 PM
Long before your time as a Tarnished came to be, a fearsome dragon lurked in Liurnia of the Lakes in The Lands Between. The dragon consumed sorcerer after sorcerer, unable to satiate his appetite. Eventually, his body became warped from ingesting the Glintstones worn and used by the sorcerers, shaping his scales to become hardened […]
---
Player Assist | Game Guides & Walkthroughs Monday, June 6, 2022 2:00 PM
When used correctly, Initiators can open up a world of possibilities for their team. The Duelist is arguably the most popular Agent Role right now in VALORANT. This should not be too surprising, as many VALORANT players come from other tactical shooting games such as CS: GO, where players are used to just fragging out […]
---
Player Assist | Game Guides & Walkthroughs Monday, June 6, 2022 1:00 PM
There are many Tarnished you will face in your travels across Elden Ring. Many will be friendly, but most just want to see you meet a grisly fate. One of these Tarnished that you will face twice in the game is Roundtable Knight Vyke. He was the only other Tarnished to almost make it to […]
---
Player Assist | Game Guides & Walkthroughs Monday, June 6, 2022 12:00 PM
Long before your time as Tarnished, the now lost people of Nokron, Eternal City, created what is called Silver Tears. These are seemingly harmless enemies at first, seeing as how they're literal blobs until you walk into their proximity. They can choose to take on a human-like form and generate their own weapons from almost […]
---
Player Assist | Game Guides & Walkthroughs Monday, June 6, 2022 11:00 AM
Elden Ring has several bosses, many of which can be a challenge when you bump into them unexpectedly. One of these bosses is the Full Grown Fallingstar Beast (that's a mouthful). It has tricky melee attacks that are hard to read in the heat of battle. Combined with its difficult-to-dodge gravity magic, taking down this […]
---
Gaming Instincts – Next-Generation of Video Game Journalism Monday, June 6, 2022 3:48 PM
---
Gaming Instincts – Next-Generation of Video Game Journalism Monday, June 6, 2022 3:32 PM
---
Gaming Instincts – Next-Generation of Video Game Journalism Monday, June 6, 2022 3:06 PM
---
Pivotal Gamers Monday, June 6, 2022 9:24 AM
What's up all? gamehag is giving everyone the chance to win on multiple titles. Read on for their offering. Get the reward Random CD-Key. To get this key your Steam level must be at least 3. Last minute notes Login with your gamehag account, complete all steps to get your key. So hustle. Click on the button below to get you started. As simple as that! And remember, you can find all active Gi...
---
Level Up Monday, June 6, 2022 12:59 PM
About nine months after its release, <a href="https://www.gameinformer.com/review/nickelodeon-all-star-brawl/nickelodeon-all-star-brawl-review-almost-ready-for-slime-time" target="_blank" rel="noopener">Nickelodeon All-Star Brawl</a> is getting a…
---
Level Up Monday, June 6, 2022 10:08 AM
Last weekend's <a href="https://www.gameinformer.com/2022/06/04/pokemon-go-fest-2022-is-underway-here-are-the-rare-catches">Pokémon Go Fest</a> delivered two days of catching fun, along with the…
---
Level Up Monday, June 6, 2022 10:08 AM
Summer Game Fest kicks off in earnest this week, and one of the biggest presentations…