---
Kotaku Saturday, February 4, 2023 10:00 AM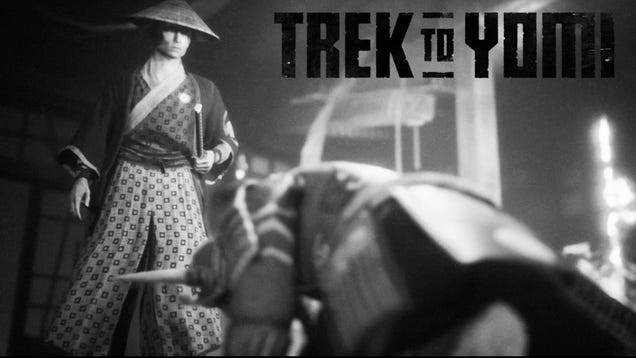 ---
PCGamesN Saturday, February 4, 2023 1:02 PM
Over the years, it's become apparent many of Destiny 2's monetisation tactics are based on mobile game strategies that reward grind and time-gate content. Unfortunately, finding ways to maximise a player's time in the game hinders its status as one of the best free PC games available if the primary focus isn't first on making the experience overall enjoyable.
Destiny 2 classes
,
Destiny 2 exotics
,
Destiny 2 builds
---
PCGamesN Saturday, February 4, 2023 12:19 PM
Valve announces a new Steam sale is on the way for all you puzzle-lovers out there. If you're a fan of real head-scratchers, room escapes, mysteries, and more of the best puzzle games on PC in 2023, you're in luck. It might be a little way off still, but in just a couple of months the PC gaming platform is holding a dedicated showcase for some top puzzlers with discounts galore.
MORE FROM PCGAMESN:
Steam FAQ
,
Steam family sharing
,
Steam in-home streaming
---
PCGamesN Saturday, February 4, 2023 12:16 PM
I'm never going to stop writing about the best Skyrim mods. Every single day someone creates a mod that's truly special, whether it's in keeping with the lore of Tamriel or so ludicrous for a fantasy RPG game that I can't help but spotlight it. This time it's the latter as a, let's be real, genius modder has introduced the cold inhabitants of Skyrim to a pizzeria run by skeletons.
MORE FROM PCGAMESN:
Skyrim mods
,
Play Skyrim
,
Games like Skyrim
---
PCGamesN Saturday, February 4, 2023 10:54 AM
The WoW Dragonflight patch notes for February 7 have been updated by Blizzard, giving us a look at some of the changes coming to World of Warcraft next week. The latest expansion has been a huge boon to one of the most beloved and best MMORPGs, and multiple classes are set to receive some sizable buffs as Blizzard continues its class tuning following the release of WoW Dragonflight patch 10.0.5 in late January.
MORE FROM PCGAMESN:
WoW Dragonflight tier list
,
The best WoW addons
,
WoW Dragonflight review
---
PCGamesN Saturday, February 4, 2023 9:53 AM
Now that it's finally here, players are discovering a lot about the Dead Space Remake. The horror game is filled to the brim with secrets, easter eggs, and opportunities to maximise your chances of survival, but absolutely nothing could have prepared me for a Dead Space sea shanty… and no, I'm not even kidding in the slightest.
MORE FROM PCGAMESN:
The best horror games on PC
,
Dead Space Remake review
,
Dead Space system requirements
---
Twinfinite Saturday, February 4, 2023 11:00 AM
The first third of the Winter 2023 anime season is done, and these are the shows left standing.
---
Twinfinite Saturday, February 4, 2023 9:16 AM
Two times in a row?
---
Siliconera Saturday, February 4, 2023 3:00 PM
Being unable to understand a language, while being around people only speak it, is a powerless feeling. To be so lost and unable to comprehend what's going on, and not even be able to voice that and properly ask for assistance, can be terrifying. Compound that with being an amnesiac and trapped in a small home with a stranger, and you're left in a haunting and intimidating situation. That's 7 Days to End with You, an indie from Lizardry newly available on the Nintendo Switch. And yes, it's as unsettling as you might imagine.
Initially, it maybe doesn't seem that bad. The person here with you isn't hostile. She seems willing to talk to you. She'll follow you around the home as you explore together. If you use the point-and-click interface to call attention to objects, she'll say some words you can use to help figure out what she calls them. You can cobble together a rudimentary understanding of sorts. It's even possible to assist with chores each day, by helping to cook meals or tend flowers. Cooking is a bit more difficult, since you need to first figure out the words for colors and certain sorts of items and liquids. But gardening involves pictures and words, which helps with figuring out actions.
But even so, there's something that just doesn't seem right in 7 Days to End with You. It sneaks up on you. When you first leave the room and head into the hall, there's a mirror. I figured, "Great! A way to learn new words!" Or that maybe when I'd see myself and point at it, the woman accompanying me would say my name. Maybe it'd even trigger something and unlock a memory? But it's shattered. I can tell I'm a person, but nothing more. Strikingly, it seems like it was done in such a way that someone purposely smashed it. Like they punched or attacked the mirror, rather than some accident that caused it to fall down.
Then, there's the upstairs. There's a study. But… something is off. Initially, it seems like it could be some normal, scientific endeavors. Sure, there's a huge vial with some liquid over a burner. There are books and materials, including a large one on a stand. However, there's also a spine on the floor. Unidentifiable objects, perhaps creatures, seem to be preserved in formaldehyde. But also, the person with me doesn't seem upset when I go there? She doesn't react the way she does when I attempt to leave the house. So maybe I'm overreacting. Maybe alchemy is No Big Deal in the world of 7 Days to End with You. Perhaps a house ain't a home unless you got some human remains?
Oh, but I did gloss over the times when this new partner does show emotion in 7 Days to End with You. You can go anywhere in the house. Anywhere at all. But you can't leave it. If you try, she forcibly stops you. But you can tell things aren't dangerous outside. If you go to the window in the bedroom, you can see clean waters and a city. She even tells you that people live there. (At least, that's what I've sussed out. There are still newspapers from varying periods of time, so civilization appears intact. But for some reason, I can't leave. This woman won't let me leave.
Of course, I'm leaving things out here. If I say too much, it'd spoil things. And while 7 Days to End with You is obtuse and difficult to work out at times, so much so that I turned to assistance from others to figure out a few words I couldn't decipher on my own, it's absolutely fascinating. Not to mention 7 Days to End with You maintains a haunting atmosphere throughout, especially on the Switch.
7 Days to End with You is available on the Switch and PC.
The post 7 Days to End with You Cultivates an Unsettling Atmosphere on the Switch appeared first on Siliconera.
---
Siliconera Saturday, February 4, 2023 2:00 PM
Otsutsuki Isshiki will be the next DLC character to join the roster of Naruto to Boruto: Shinobi Striker. He is part of Season Pass 5, which focuses on Legacy characters. Other shinobi who are part of this Season Pass include Madara Uchiha (Six Paths) and Naruto Uzumaki (Baryon Mode). Those two are already available in the game.
In the trailer for Isshiki in Naruto to Boruto: Shinobi Striker, he shows off his repertoire of techniques. Aside from Vast Dark Heavens and Karma, he can also use Sukunahikona. You can also let your original ninja learn these techniques if you set Isshiki as your master. Training Points you get from training with him can also net you his outfits, face paint, and the Husk Honorary Title.
Here is the trailer for Otsutsuki Isshiki:
https://twitter.com/Narutovideogame/status/1621573241763516421
Sukunahikona is a defense ninjutsu that will let the user nullify enemy projectives. It also activates Transportation Ninjutsu in response to a close-range attack, and you can also deal damage if you press a button at the right time. Karma deals damage to a single target that it marks, and you can also teleport behind them. Finally, Vast Dark Heavens rains boulders down from the skies. The ensuing shockwave can disable lock-on, status checks, and Chakra detection.
Naruto to Boruto: Shinobi Striker is readily available for the PS4, Xbox One, and Windows PC. There is no date yet as to when Otsutsuki Isshiki will appear in Shinobi Striker. He will cost 438 JPY if you get him separately.
The post Otsutsuki Isshiki is the Next Naruto to Boruto: Shinobi Striker DLC Character appeared first on Siliconera.
---
Siliconera Saturday, February 4, 2023 1:00 PM
The Second Blooming event is now live in Genshin Impact, adding the Lisa outfit A Sobriquet Under Shade to the game. It's free! But also, it's only free for a limited time. Which might leave someone wondering, "How do I get this Lisa skin in Genshin Impact before time runs out?" Fortunately, now that February kicked off, it's easy to get it in a single gameplay session.
How to Get the Lisa A Sobriquet Under Shade Skin in Genshin Impact
First, you need to have gotten to Sumeru. Have you been? Lovely place. You need to have gotten to Adventure Rank 20, finished the Prologue Archon Quest "Song of the Dragon and Freedom" in Mondstadt, gone through Lisa's Tempus Fugit Chapter: Act 1 story quest, and completed Effendi's "Corps of Thirty Recruitment" in Sumeru. Of those, Effendi's quest is the easiest. (It's just a quick chat to open up the Sumeru Reputation system.
Once you've done all that, you can start A Librarian's Long and Carefree Vacation. This will involve working for the Akademiya to investigate a Ley Line issue in Sumeru's Domain of Buried Roots. When you go to speak to Gafoor about it, you'll also see Lisa in the A Sobriquet Under Shade Genshin Impact skin, which makes her look like a scholar from the Akademiya.
From there, actually earning the outfit is pretty easy. There are five challenges in this domain, called My Name is Violet, Museum of Innocence, One of a Thousand Nights, Cavemen, and Street Spirit. As of February 4, 2023, all five are immediately available. Each challenge pits you against three waves of enemies with three different teams of characters and selected buffs for each team. There are four "trial" characters, two five-star and two four-star, for each one. When you build a team, some characters will carry over to additional teams. So you need to look at the enemies you'll face, the characters you have, and the trial characters available to ensure success. You'll then get Primogems, Hero's Wits, Mora, weapon ascension materials, and Mystic Enhancement Ores for completing each challenge.
Now, as for how to get that Lisa skin in Genshin Impact, you should get it no problem as long as you go through each of those five challenges once. The two requirements are to face each one of them, and get at least 10,000 points total during the course of the event. By the end of the first challenge, I'd already passed 5,000 points, so you should hit at least one of the requirements by the time you're done with either Museum of Innocence or One of a Thousand Nights. From there, it's just taking the time to face the other challenges, then going to the menu to claim the skin by February 13, 2023.
Genshin Impact is available for the PS4, PS5, PC, and mobile devices. The Second Blooming event is available until February 13, 2023. After it ends, people will be able to purchase it for 1,680 Genesis Crystals, a paid currency, from the in-game shop.
The post How to Get the Lisa Skin in Genshin Impact appeared first on Siliconera.
---
Siliconera Saturday, February 4, 2023 12:00 PM
Sword Art Online Progressive: Scherzo of Deep Night is the latest retelling of the SAO story focusing on not only the Aincrad arc, but Asuna's experiences in the game. However, while the first one was more of an introductory experience, this sequel has the luxury of doing something different. That means the SAO Progressive movie 2 has a far different feel to it, one that at time can almost feel leisurely, as we get to see characters reacting to new challenges as they prepare to reach a new floor ahead of new year's.
This sequel begins in the midst of a floor boss fight. The Aincrad Liberation Squad and Dragon Knights Brigade teamed up to take down the fourth floor boss, alongside players like Asuna, Kirito, and Argo. After a rough battle, the characters of SAO Progressive movie 2 succeed. Everyone heads to the fifth floor, and it seems there's a chance for a faster rate of progression, but more chances to "enjoy" life in Aincrad. There's even a New Year's party planned in a few days. However, it isn't long before Asuna and Kirito realize there's another danger ahead, and they'll need to take action.
https://www.youtube.com/watch?v=xMZQ9s1lU2M&ab_channel=CrunchyrollCollection
The way Asuna and Kirito's relationship is showcased throughout SAO Progressive movie 2 is a perfect example. Things begin with that massive fight as floor 4 is cleared. But after that, we see what daily life is like for these partners. They enjoy a meal together. They go relic hunting. They comfort each other after terrifying situations. They discuss how they'll handle the floor 5 boss.
Another one of these more relaxed scenes between characters comes up during a scene at the bathes between SAO Progressive movie 2. It firmly establishes the friendship between Asuna and Argo. There's genuine appreciation between the two characters, as well as respect and concern. When the two test each other, we get an amazing "fight," but we also see how the two grow and share because of this more lighthearted encounter.
Even scenes with Mito aren't exempt from this sort of treatment. Once Asuna heads to meet with her, the conversation isn't awkward or tense. It's more like a relaxed reunion. They catch up. Asuna is happy for Mito, and likewise Mito seems to feel the same. As they reconnect and the moment goes on, we get to better appreciate their relationship and what the two have been through. Not to mention what they might continue to experience as the story goes on.
https://www.youtube.com/watch?v=aa-f3Qc6rrs&ab_channel=CrunchyrollDubs
This isn't to say SAO Progressive: Scherzo of Deep Night is bereft of action, drama, and tension. There are definitely critical moments, fun fight scenes, and drama. But as a whole, SAO Progressive movie 2 takes the time to show happier and more solemn moments between characters. The result means that those more heartfelt moments stand out even more. When Kirito and Asuna's relationship comes up. When Mito considers her past. I felt it more, because there's this contrast. At the climax, there's this incredible fight scene with Asuna, Kirito, and the party they've prepared, with an incredible dynamic and choreography.
Sword Art Online Progressive: Scherzo of Deep Night is a heartfelt sort of movie that depends on prior knowledge of the films. Which actually turns out to be a good thing! Because it isn't bogged down with explanations and scene-setting, it can explore important moments in this retelling. This means we can better appreciate the SAO Progressive movie 2 characters and their relationships and interactions. We can explore their motivations. We can see how they feel about one another. It also means there can be a balance and less of a sense of danger and pressure throughout this latest film.
Sword Art Online Progressive: Scherzo of Deep Night is now in theaters outside Japan. People can stream past SAO anime adaptations on Crunchyroll. Yen Press handles the light novels and manga.
The post SAO Progressive Movie 2 Shows Quieter Moments Between Characters appeared first on Siliconera.
---
Gamer Empire Saturday, February 4, 2023 11:22 AM
The first thing that you will usually have to build in RimWorld is walls. These are necessary to make rooms and keep your pawns safe […]
---
Gamer Empire Saturday, February 4, 2023 10:23 AM
RimWorld has an amazing cast of randomly generated colonists that you can get and help survive. However, at one point, you might start wondering if […]
---
Gamer Empire Saturday, February 4, 2023 9:31 AM
The developers of RimWorld have decided that many of the best items in the game are almost impossible to get. Medicine is one of the […]
---
Tabletop Gaming News Saturday, February 4, 2023 9:29 AM
The OP, a gaming company, recently held a tournament at Mox Boarding House in Portland and Seattle. The tournament was part of their Road to Gen Con 2023 series, which is designed to give players the chance to compete for prizes and gain experience in competitive gaming. Players competed in games such as Magic: The Gathering, Dungeons & Dragons, and Star Wars: Destiny. The tournament was a success, with many players enjoying the competition and camaraderie. The OP looks forward to continuing their Road to Gen Con 2023 series and providing more opportunities for gamers to come together and have fun.
---
Tabletop Gaming News Saturday, February 4, 2023 9:29 AM
TT Combat, a popular tabletop gaming company, has released their newest miniature figure: Lady Law. This figure is part of the Wild West Exodus range and is the first female lawman in the game. She is a powerful character with a unique backstory, and her arrival marks an exciting new chapter for the game. Players can look forward to adding her to their collections and experiencing all that she brings to the table.
---
Tabletop Gaming News Saturday, February 4, 2023 9:29 AM
The Middle-earth Strategy Battle Game is thriving, according to a recent update from Games Workshop. The game has seen an increase in players and new content since its launch in 2019, with new rules, models, and expansions released regularly. Players can now choose from a variety of armies, including the forces of Mordor, Isengard, and Rohan. The game also features a range of scenarios and campaigns for players to enjoy. Games Workshop has also announced plans to continue expanding the game, with more models and rules coming soon.
---
Tabletop Gaming News Saturday, February 4, 2023 9:29 AM
In a recent announcement from Warhammer Community, it has been revealed that the legendary Primarch Angron is set to face off against some of the greatest warriors in the galaxy. The Red Angel will be taking on challengers from all corners of the universe in an epic duel to determine who is the strongest. This event promises to be one of the most exciting spectacles in the history of the Warhammer universe and fans are eagerly awaiting the outcome. Who will be able to survive a duel with the Red Angel? Only time will tell.
---
Tabletop Gaming News Saturday, February 4, 2023 9:29 AM
The Warhammer 40,000 Grand Narrative is the latest event to take the world by storm. This massive gaming event brings together players from all over the globe to battle it out in a thrilling and immersive narrative-driven campaign. Players will be able to join forces with their friends and allies to create unique stories and experiences as they fight for control of the galaxy. The event also features an array of exciting activities such as painting competitions, tournaments, and more. With its expansive universe and engaging story, the Warhammer 40,000 Grand Narrative is sure to be one of the most exciting events of the year.
---
Tabletop Gaming News Saturday, February 4, 2023 9:28 AM
The Warhammer Community recently featured the work of a talented painter who used gallons of red paint to create an impressive miniature of Angron, the Primarch of the World Eaters. The painter, known as 'The Red Angel', used a combination of airbrushing and brushwork to bring the model to life, creating a stunningly detailed piece that captures the character's ferocity and power. The article also includes tips from the painter on how to achieve similar results with your own models. Fans of Warhammer are sure to be impressed by this incredible work of art.
---
Tabletop Gaming News Saturday, February 4, 2023 9:28 AM
Mantic Games has released a new board game, Dungeon Adventures, that is sure to excite fans of fantasy and adventure. Players take on the role of daring adventurers exploring a dungeon filled with monsters, traps, and treasures. The game features an innovative card-based system that allows players to customize their characters and create unique stories as they progress through the dungeon. Reviews of the game have been overwhelmingly positive, praising its immersive gameplay and creative mechanics. With its exciting setting and engaging gameplay, Dungeon Adventures is sure to be a hit with gamers of all ages.
---
Tabletop Gaming News Saturday, February 4, 2023 9:28 AM
TT Combat, a popular tabletop gaming company, has announced the launch of their newest game, Raise the Dead. This game is a wrestling-themed miniatures game that allows players to create their own teams of undead wrestlers and battle it out in the ring. Players can customize their wrestlers with different moves and abilities, as well as choose from a variety of arenas to fight in. The game also features an innovative dice system that adds an element of chance to the battles. With its unique theme and exciting gameplay, Raise the Dead is sure to be a hit with gamers everywhere.
---
Tabletop Gaming News Saturday, February 4, 2023 9:28 AM
TT Combat, a popular tabletop gaming company, has released a teaser for their upcoming Ottoman Corsairs range. The range will feature a variety of models and miniatures inspired by the Ottoman Empire, including ships, infantry, and cavalry. TT Combat is known for their high-quality products and attention to detail, and fans are eagerly awaiting the release of this new range.
---
Tabletop Gaming News Saturday, February 4, 2023 9:28 AM
Cryptozoic Entertainment has released a new limited edition version of their popular Harley Quinn: The Suicide Squad trading card set. The MC Pink & Black Edition features a unique design with pink and black backgrounds, as well as exclusive cards featuring the characters from the movie. This special edition set is limited to only 500 sets and includes one autograph card per box. Fans of the movie will be excited to get their hands on this rare collectible.