---
Kotaku Thursday, April 27, 2023 6:05 PM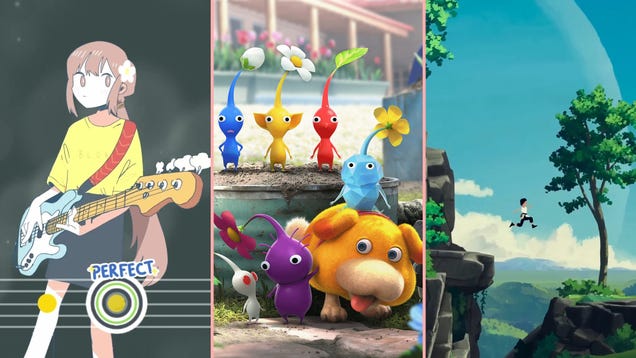 Not every video game needs to be a punishing test of reflex and perseverance. Some games aspire to put you in a state of pure bliss, focusing on wonder and enjoyment instead of competition and reaction times. If you're looking for just such a chill experience this year, a number of exciting, cozy titles on the horizon…
---
Kotaku Thursday, April 27, 2023 5:34 PM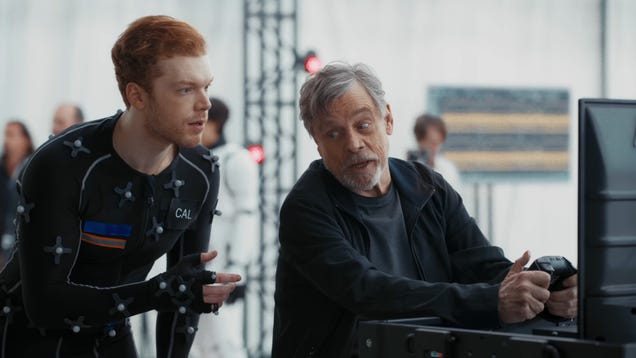 Star Wars Jedi: Survivor is almost here. The highly anticipated sequel arrives April 28, and to help you all get more excited (and to help Survivor lead Cameron Monaghan), Mark Hamill, aka Luke Skywalker himself, is here to offer some advice on how to be a Jedi. I'd listen to the man. He has some experience with…
---
Kotaku Thursday, April 27, 2023 4:15 PM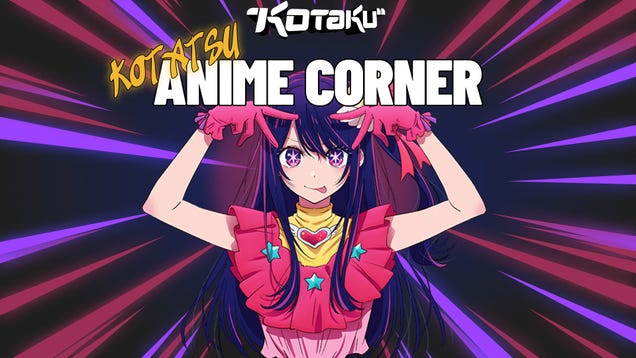 ---
Kotaku Thursday, April 27, 2023 3:54 PM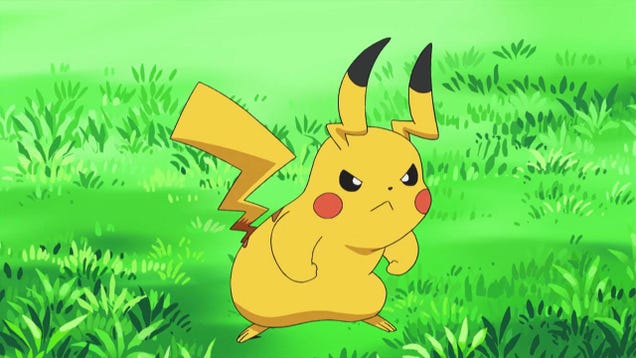 Normally, a new line of plushies from the already merchandised-to-death Pokémon industrial complex wouldn't be that noteworthy. However, the Pokémon Center in Japan is selling a new line of plush toys called "My Pikachu" that do have one pretty remarkable characteristic. Unlike the vast majority of plush toys, these…
---
Kotaku Thursday, April 27, 2023 3:45 PM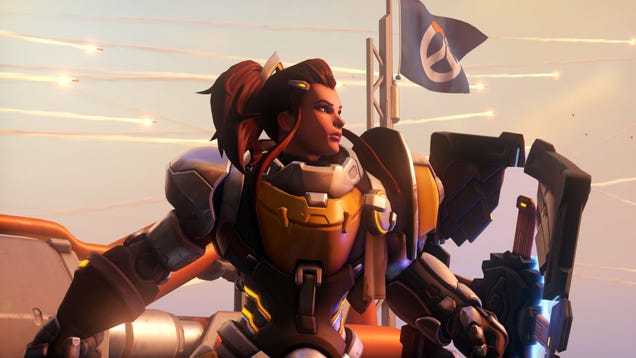 Overwatch's Brigitte, a plucky, tanky support character first introduced to the hero shooter in 2018, has always stood apart from her counterparts on the game's roster. In comparison to both the other support characters and many other female characters in the first-person shooter, she's got more HP, and a more average…
---
Kotaku Thursday, April 27, 2023 3:10 PM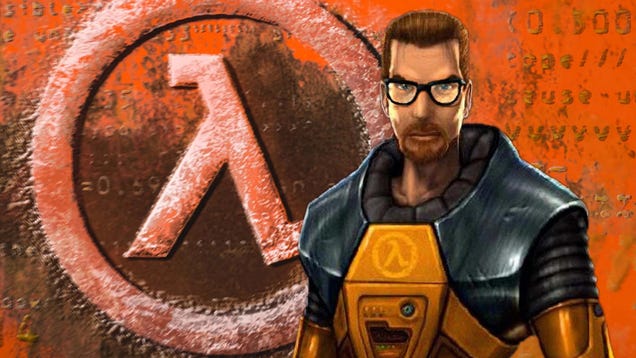 As a human being on the internet reading a video game website, I probably don't have to explain to you the long wait for Half-Life 3, the shooter sequel Valve continues to not make, and all the memes it's spawned. But it seems that, even if it won't make the long-awaited threequel, Valve doesn't want you all to forget…
---
Kotaku Thursday, April 27, 2023 2:25 PM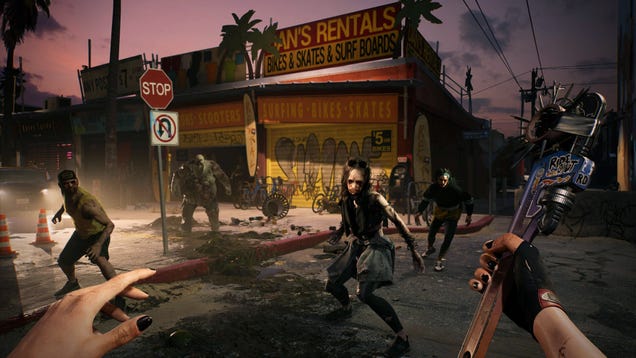 Dead Island 2's zombie-stocked netherworld is a lot easier to weather with friends, so it's helpful that the game prioritizes multiplayer just as much as the original Dead Island did. But even so, this bloodbath of a sequel approaches co-op differently in a few important ways.

---
Kotaku Thursday, April 27, 2023 1:23 PM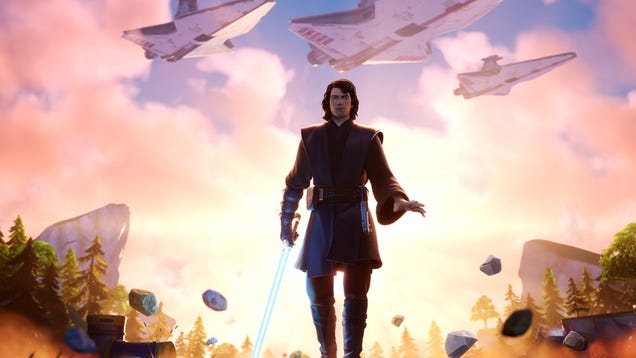 Fortnite is adding to its extensive Star Wars collaboration collection with a brand-new (and very sexy) Anakin Skywalker skin. The skin will debut on May 2, just two days before Star Wars Day (which is May the 4th, duh).

---
Kotaku Thursday, April 27, 2023 1:15 PM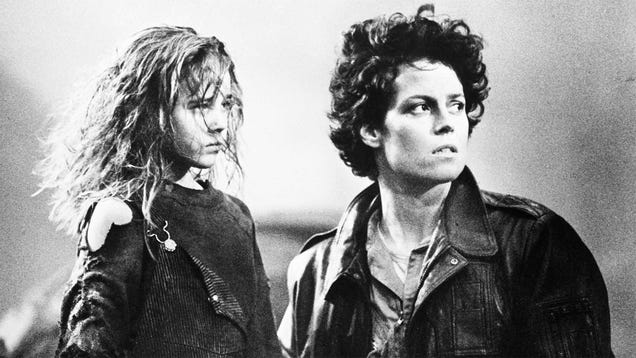 In case you were one of the few Alien fans holding your breath for the sci-fi film legend Sigourney Weaver to reprise her role as Ellen Ripley in a future project, you can stop suffocating yourself because the Hollywood actress just made it abundantly clear that "that ship has sailed."
---
Kotaku Thursday, April 27, 2023 12:35 PM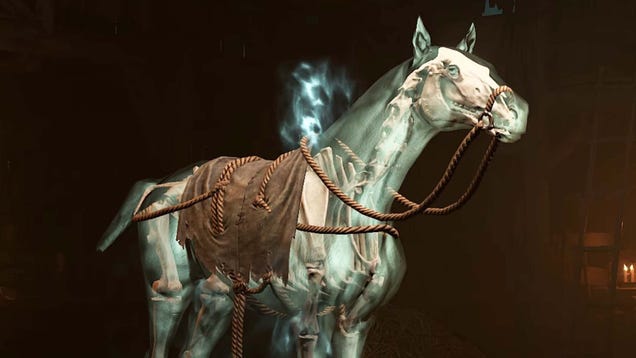 From the moment Blizzard announced Diablo IV in 2019, it teased the ability for players to ride mounts. This would be a series first, and it seemed like a cool feature to include. But now, Blizzard has confirmed that you actually won't get to ride a mount right away in its upcoming loot-filled Diablo adventure.
---
Kotaku Thursday, April 27, 2023 12:25 PM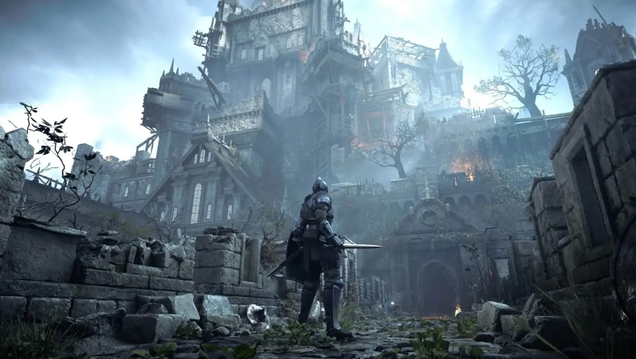 Did you know most people don't actually finish video games? A game like Elden Ring can sell 20 million copies, but if you look at the trophy completion percentage, only a little under half of the people who bought the game on PlayStation actually saw it through to the end. There are a lot of reasons for this, many of…
---
PCGamesN Thursday, April 27, 2023 4:30 PM
How do you do a Honkai Star Rail reroll? Getting the best possible characters at the beginning of your journey in Honkai Star Rail can be both tricky and rewarding. If you didn't get lucky with your initial roll after playing the tutorial, can you re-do the process and try again? Thankfully, you can, though not without exercising some patience.
The free PC game will likely go down well with Genshin Impact fans, and as with most gacha offerings out there, luck plays a major role in your ability to compose the best Honkai Star Rail team. If you're looking to find out who to pull for, you'd be wise to check out our Honkai Star Rail tier list, then you might have to suck it up and go through the process of rerolling in Honkai Star Rail.
MORE FROM PCGAMESN:
Honkai Star Rail codes
,
Honkai Star Rail characters
,
Honkai Star Rail tier list
---
PCGamesN Thursday, April 27, 2023 4:20 PM
Want to know how to download Honkai Star Rail? Before you're able to build your team, buy your ticket, and go on an intergalactic journey, you'll need to do the boring bit. We've got the easiest way for you to download Honkai Star Rail, and what PC platform the game is available on.
The free PC game from Hoyoverse is already proving to be an exciting prospect for strategy game fans, and with the game now live, it's a great time to get stuck in. With that, this is how to download Honkai Star Rail on PC.
MORE FROM PCGAMESN:
Honkai Star Rail codes
,
Honkai Star Rail characters
,
Honkai Star Rail tier list
---
PCGamesN Thursday, April 27, 2023 5:26 PM
Looking for a Honkai Star Rail tier list? Judging the best Star Rail characters is tricky. After all, the game's only just launched, and balancing will likely differ between recent beta tests and the first public version. In addition, its gacha mechanics make it challenging to circle in on getting the characters you want in your party. However, there are already some clear front runners to watch at launch.
The real point of a Honkai Star Rail tier list is to rank your pulls against the consensus from the free PC game's already burgeoning community. Players have already begun speculating who will be the top characters overall, who will excel against bosses, and who's great when farming for materials. Of course, with more banners set to arrive in future, similar to Genshin Impact, we'll see new Honkai Star Rail characters appear in the tier list. You can also redeem Honkai Star Rail codes to get some free pulls, but for now, here are the initial tier list rankings for the best Honkai Star Rail characters at launch.
MORE FROM PCGAMESN:
Honkai Star Rail codes
,
Honkai Star Rail characters
,
Honkai Star Rail tier list
---
PCGamesN Thursday, April 27, 2023 3:19 PM
Destiny 2 game engine complaints are rampant among frustrated Guardians due to a seeming influx of bugs, server crashes, and gameplay issues. However, Destiny 2 content creator Datto, who has more than 1.2 million followers on YouTube and 725,000 followers on Twitch that tune in regularly to watch him play Bungie's popular FPS game, shares a thoughtful, if blunt, opinion on the matter in a video titled "Destiny 2: You don't know anything about game engines."
Throughout the 25-minute video, Stefan 'Datto' Jonke, who has been covering the game since its very early days, offers an honest response to ongoing player suggestions that "Destiny 2 needs a new game engine."
MORE FROM PCGAMESN:
Destiny 2 classes
,
Destiny 2 Lightfall review
,
Destiny 2 builds
---
PCGamesN Thursday, April 27, 2023 2:37 PM
April 27, 2023: We looked for new Project Mugetsu codes and doubled checked our active list.
Want all the new Project Mugetsu codes? The anime combat game has taken Roblox by storm as of late, meaning you're likely on the hunt for active PM codes that will give you the edge against your opponents in the heat of battle. The codes in our list down below serve up a nice variety of wonderful gifts, ranging from mastery and gold boosts to free spins and rerolls. It's important to redeem them as soon as they drop, as they won't remain active forever.
Creating a fresh character in the free PC game can be tough, and having to fight Hollow to level up can be a grindy process, so getting a bunch of gifts as you begin your journey will make the Bleach-inspired Roblox anime brawler a much more enjoyable experience. If you're a fan of blocky creative endeavours, check out the best Roblox games in 2023 and our list of Roblox promo codes for free clothes. Below you'll find all the latest PM codes to help you out with the Easter update and beyond, including information on the rewards you'll get for redeeming each one.
MORE FROM PCGAMESN:
Best Roblox games
,
Roblox promo codes
,
Roblox music codes
---
PCGamesN Thursday, April 27, 2023 3:51 PM
Looking for all the active Honkai Star Rail codes? If you're just starting your adventure through developer Hoyoverse's latest anime epic, you might be wondering if there are any codes at launch for freebies to give you the edge in battle. Thankfully, Hoyoverse has delivered, and we've gathered all the active HSR codes in our list down below.
With the game now out in the wild, players are digging into the characters, world, and tactical turn-based combat. We've got a handy Honkai Star Rail tier list and information on the latest Honkai Star Rail banner, too. Here's what to expect from Honkai Star Rail codes, as well as info on how to redeem them, what free rewards they'll provide, and where to find them in future.
MORE FROM PCGAMESN:
Honkai Star Rail codes
,
Honkai Star Rail characters
,
Honkai Star Rail tier list
---
PCGamesN Thursday, April 27, 2023 1:59 PM
The new Genshin Impact Baizhu web event, Herbal Remedies, will have Genshin Impact players making medicine to obtain Primogems as a reward. It's a small amount, but you'll need all the free Primos you can get if you're looking to pull for Baizhu and Kaveh during the second half of Genshin Impact version 3.6 after their banners go live in the anime game next week.
Genshin Impact codes
,
Genshin Impact character tier list
,
Genshin Impact leveling guide
---
PCGamesN Thursday, April 27, 2023 12:54 PM
A massive, free Dead Cells update gives one of the best roguelike games on Steam a trim and spruce up with new weapons, a dedicated speedrun mode, and additional training options, alongside the introduction of the Dead Cells Castlevania DLC bosses to its boss rush mode. Dead Cells patch notes 34.0 also include plenty of rebalancing, so read on for the full details.
MORE FROM PCGAMESN:
Best roguelike games
,
Best indie games on PC
,
Best soulslikes
---
PCGamesN Thursday, April 27, 2023 12:30 PM
The RazerBlackWidow V4 Pro makes me wish more gaming keyboards were chock-full of customisation options. Its macro keys, remappable functions, adjustable RGB lighting, and more make for a solid package, all backed up by a class-leading 8,000Hz polling rate. However, this powerful level of performance comes at the cost of ditching wireless connectivity.
MORE FROM PCGAMESN:
Razer Viper V2 Pro review
,
Razer Barracuda Pro review
,
Razer Enki Pro review
---
Rock Paper Shotgun Latest Articles Feed Thursday, April 27, 2023 4:47 PM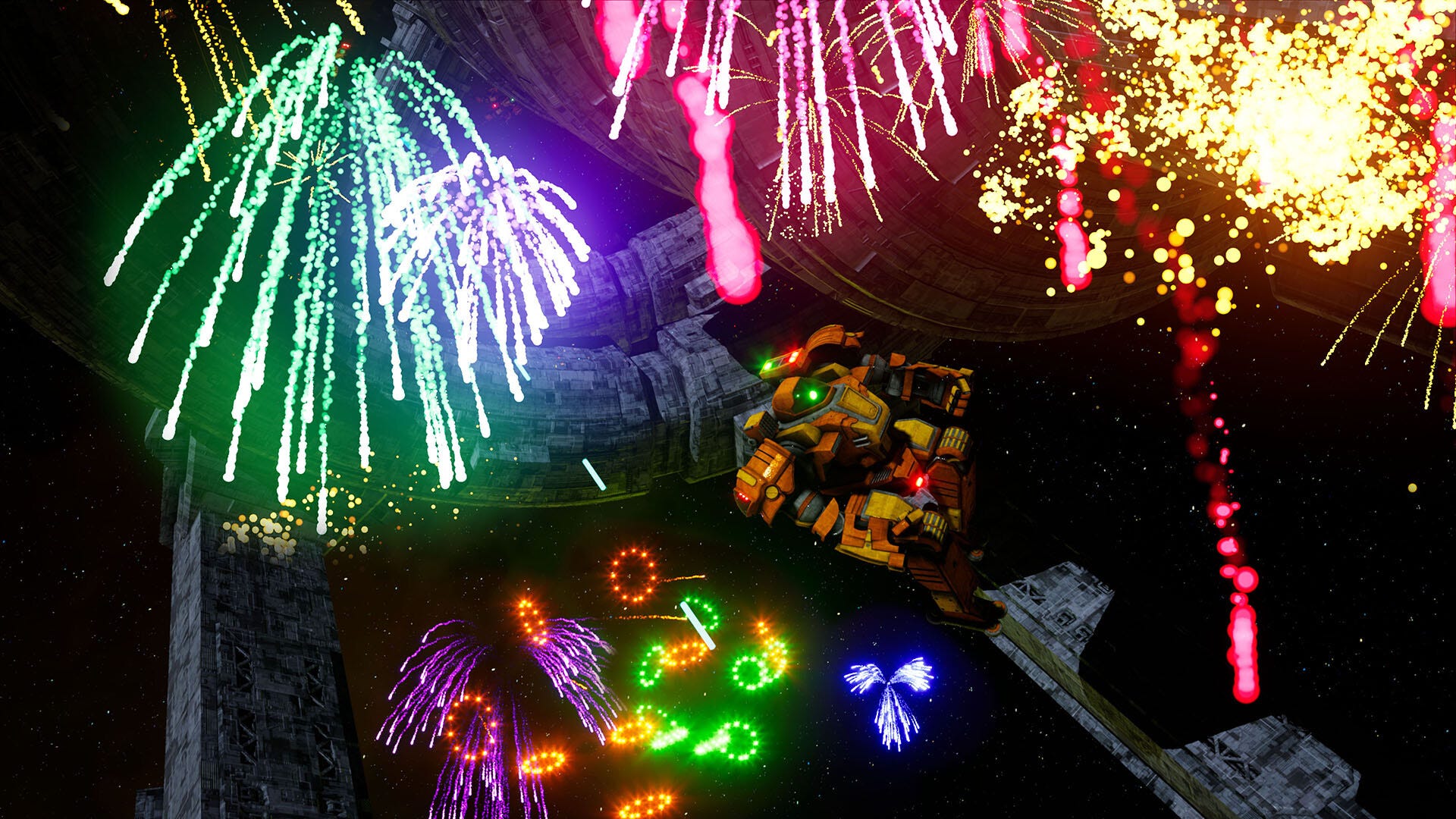 I spent time last week watching old, Japanese PlayStation game adverts after puzzler Humanity referenced them in its own trailer. Among those adverts were several for Fantavision, a little-loved colour-matching puzzle game about firework displays from 2000.
Imagine my surprise when today Fantavision showed up on Steam.
---
Rock Paper Shotgun Latest Articles Feed Thursday, April 27, 2023 3:57 PM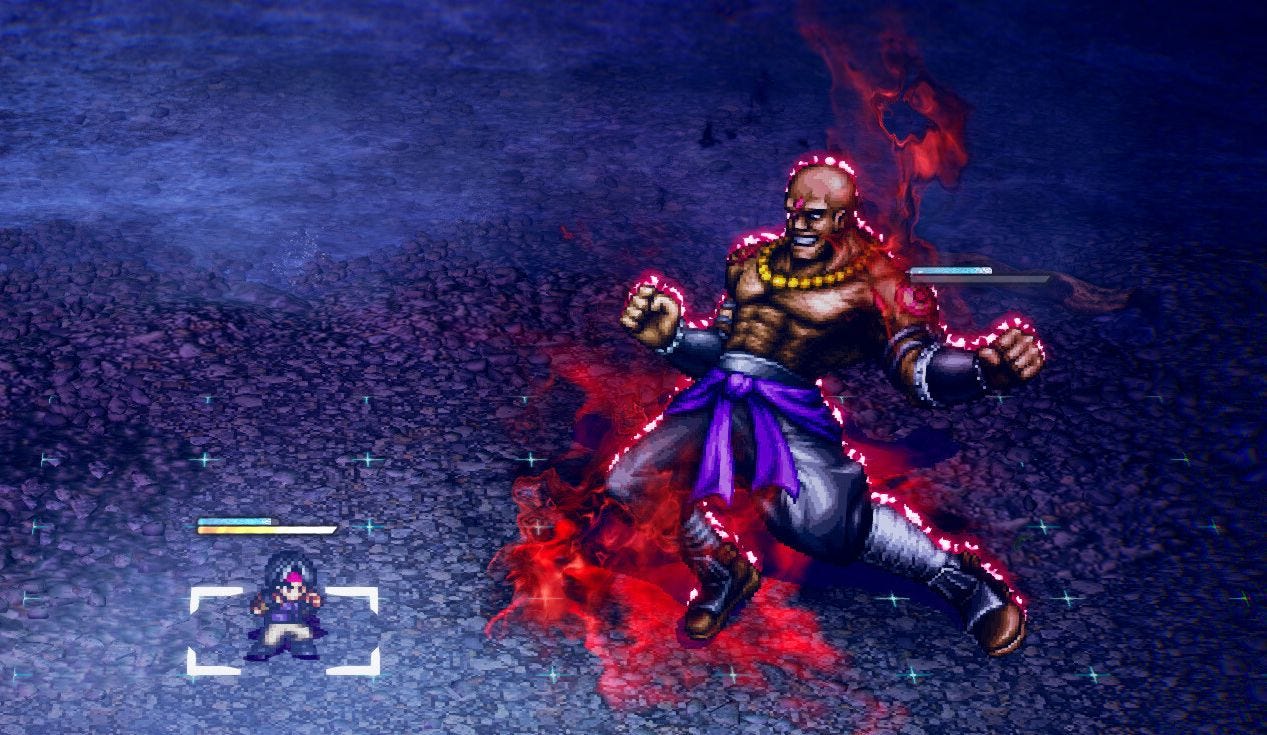 Live A Live was originally released in 1994, but only on SNES and only in Japan. It was short as far as Square Enix JRPGs from the period go, but was unique in that it featured 8 inter-connected stories set across 8 time periods.
Last year, a remake brought the game to Nintendo Switch, and as of today it's also available on Steam.
---
Rock Paper Shotgun Latest Articles Feed Thursday, April 27, 2023 3:13 PM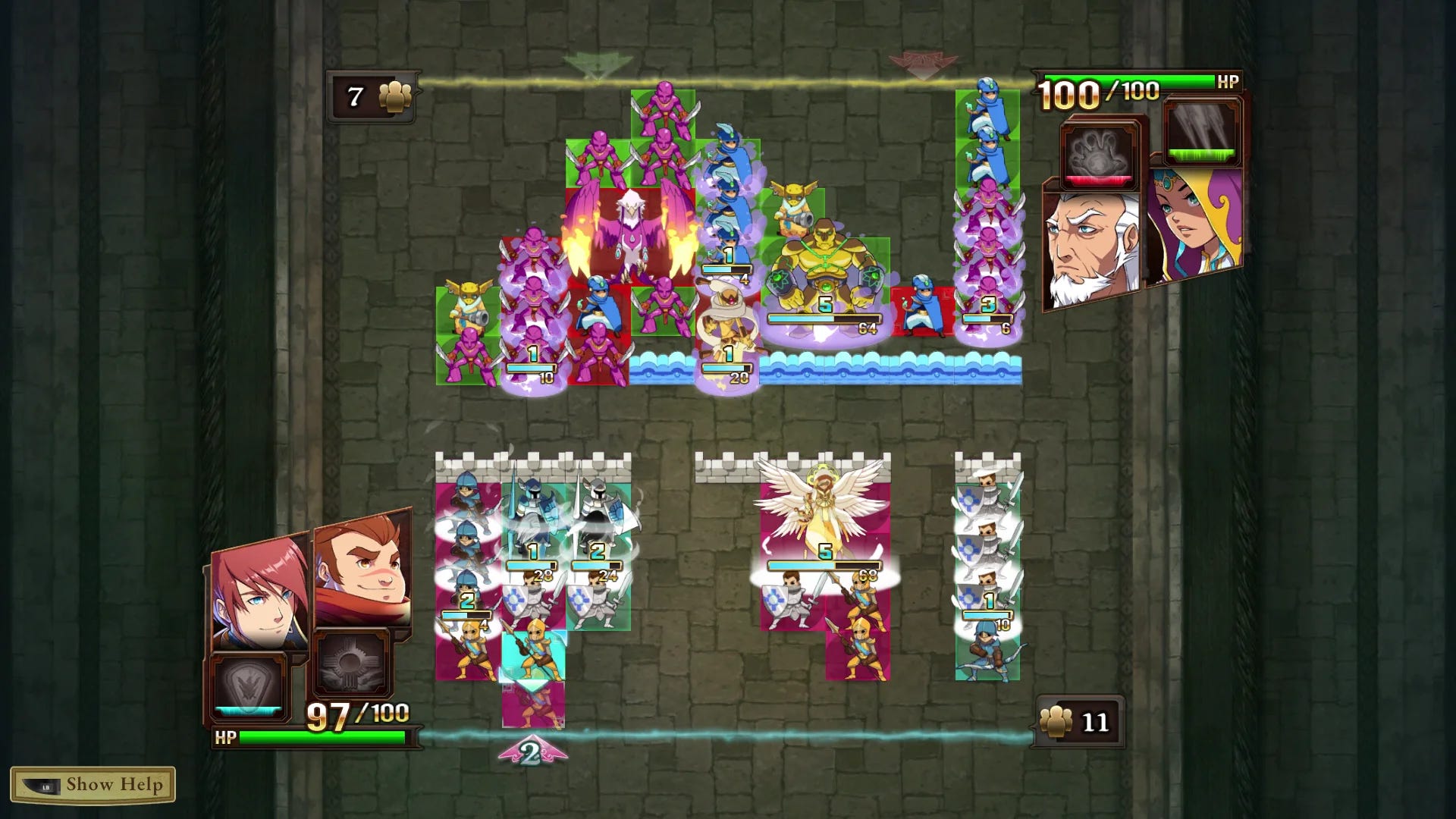 Long before indie outfit Capybara Games made a name for themselves with Sword & Sworcery or Below, they made a puzzle-strategy game with the Might & Magic license for Ubisoft. Might & Magic: Clash Of Heroes was a surprise delight on Nintendo DS in 2009 and an HD release made its way to PC in 2011.
Now it's getting a Definitive Edition release courtesy of Dotemu, with updated character art, quality-of-life improvements and rebalanced multiplayer.
---
Rock Paper Shotgun Latest Articles Feed Thursday, April 27, 2023 2:57 PM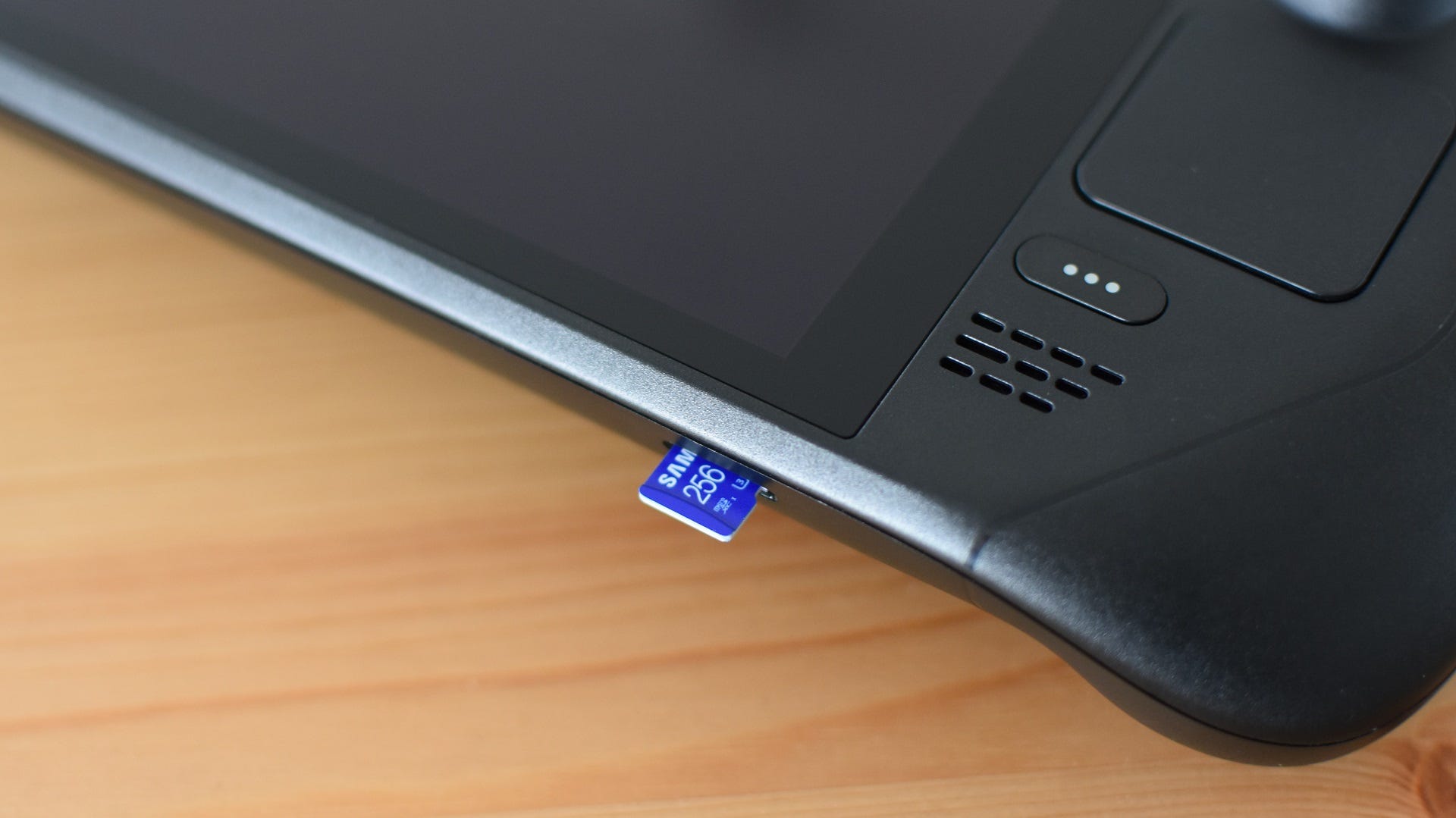 Samsung's Pro Plus memory cards are our top pick for the Steam Deck, so I thought you'd like to know that the giant 512GB cards are now down to £39.99 at Amazon UK, making it a good time to upgrade your Steam Deck game storage if you haven't already.
---
Rock Paper Shotgun Latest Articles Feed Thursday, April 27, 2023 2:40 PM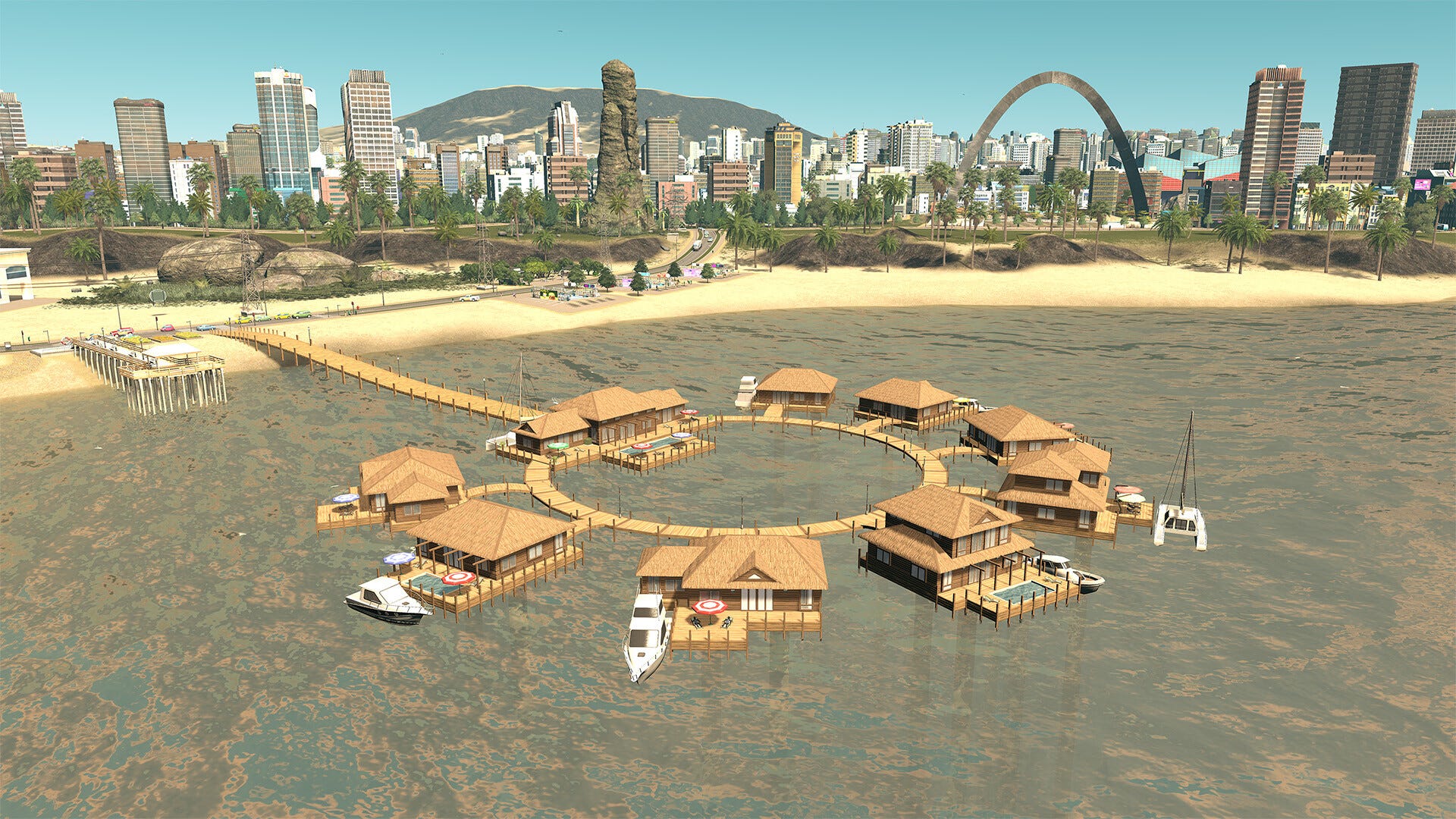 Cities: Skylines 2 was announced in March and is due for release later this year. As a result, the next expansion for Cities: Skylines is also its last. Hotels & Retreats is a "mini-expansion" that adds hostels, cabins, hotels and luxury resorts to make your city friendlier to tourists.
---
Rock Paper Shotgun Latest Articles Feed Thursday, April 27, 2023 2:36 PM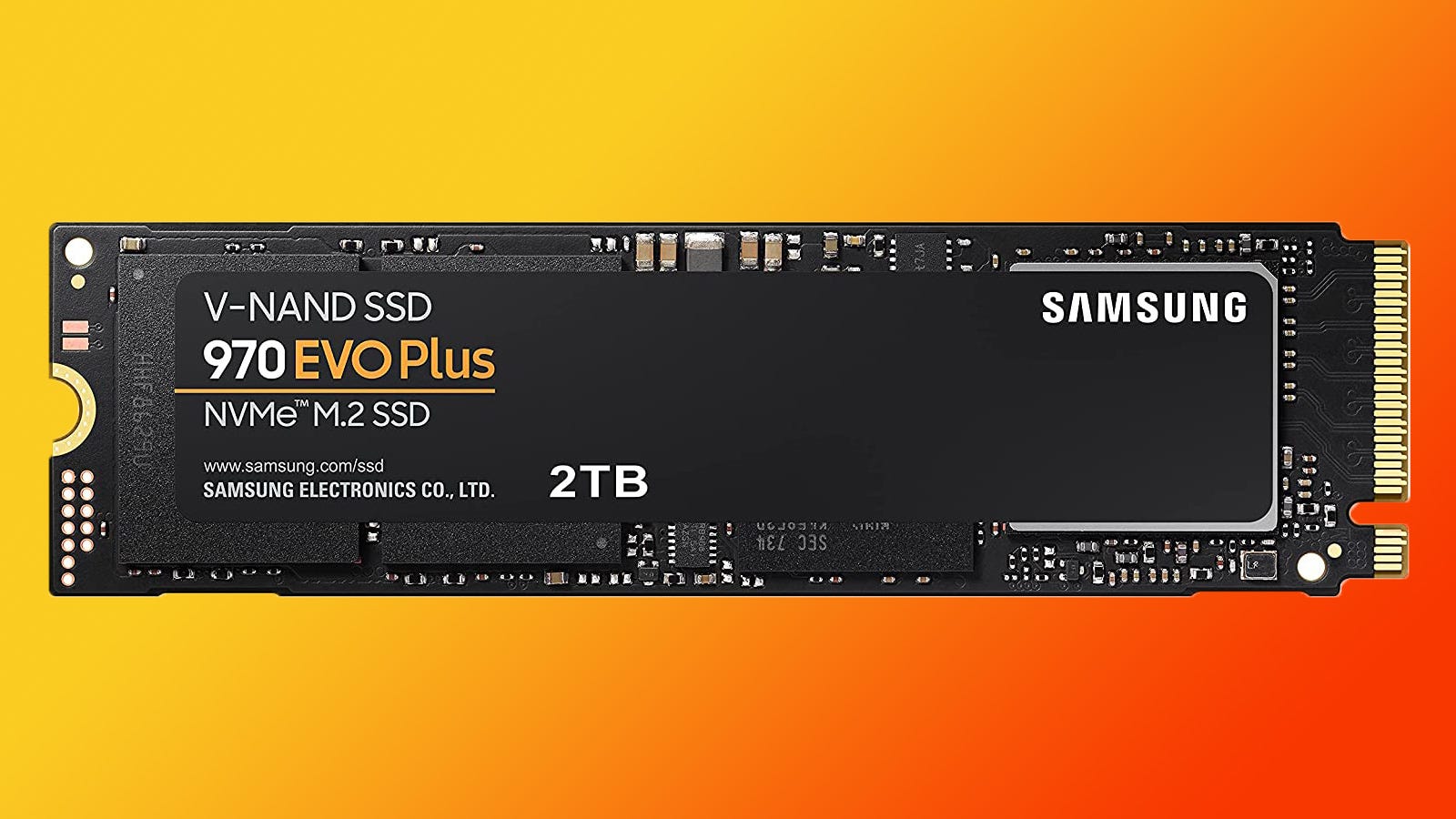 Samsung's 970 Evo Plus 2TB SSD is an almost legendary SSD, offering great real-world performance at a reasonable price. Recently the largest 2TB size has dropped from £145 to £99.99, making it significantly more affordable to add a ton of fast NVMe storage to your PC or laptop.
---
Rock Paper Shotgun Latest Articles Feed Thursday, April 27, 2023 1:00 PM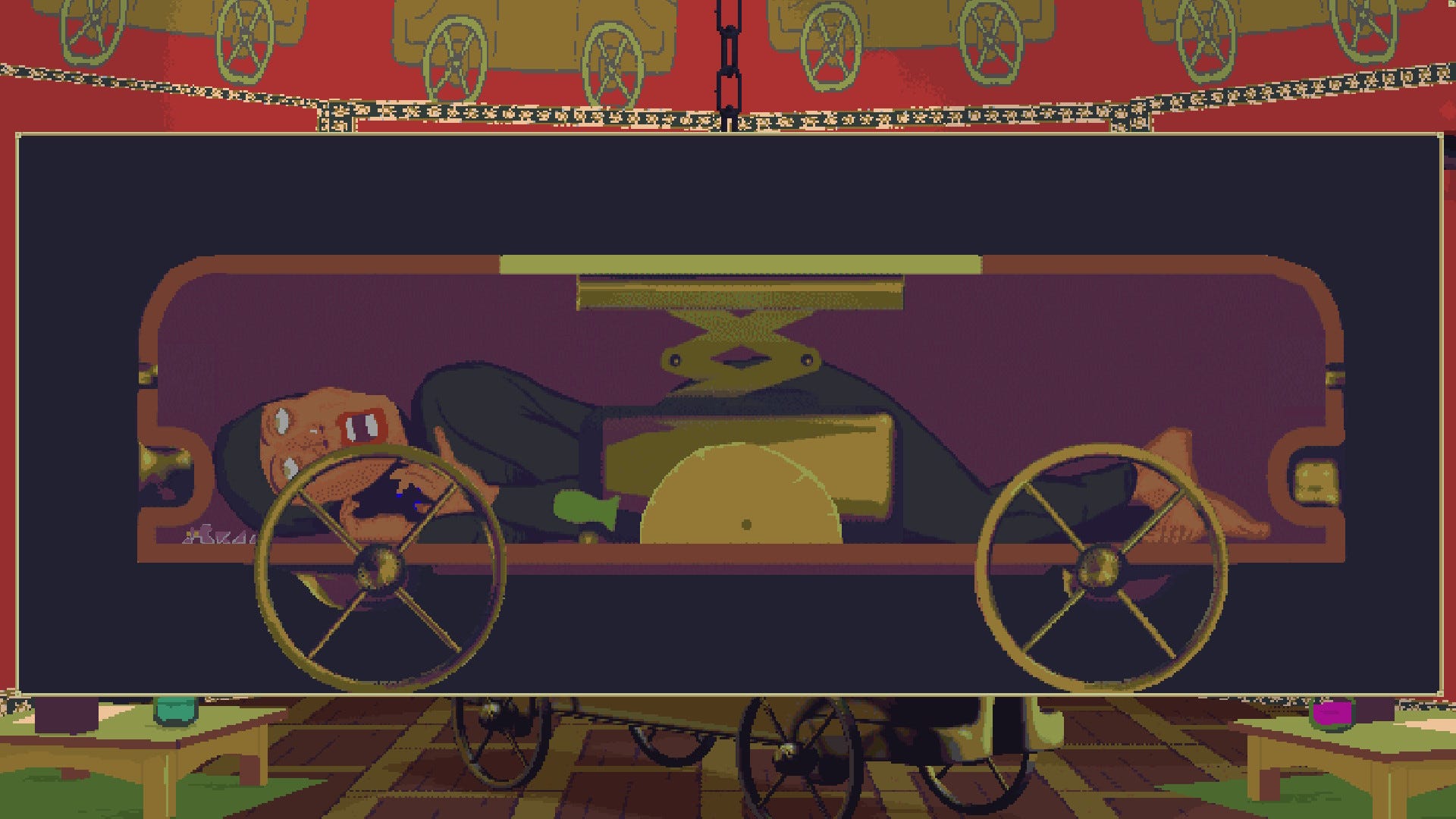 The Case Of The Golden Idol was one of my favourite games of 2022, but one twist I didn't see coming from the heir to Obra Dinn's detective crown was more of it, or more of it so soon, for that matter. Happily, developers Color Gray Games have announced a new DLC pack is coming for The Golden Idol next week called The Spider Of Lanka. Set in 1741, a year before the first scenario of The Golden Idol proper, this trio of new cases looks set to shed extra light on the titular idol whose mysterious powers set the original game in motion. I'm afraid I can't tell you much more than that, as most of the announcement details have been slapped with big black REDACTED marks. Have a watch of the reveal trailer below instead.
---
Rock Paper Shotgun Latest Articles Feed Thursday, April 27, 2023 12:46 PM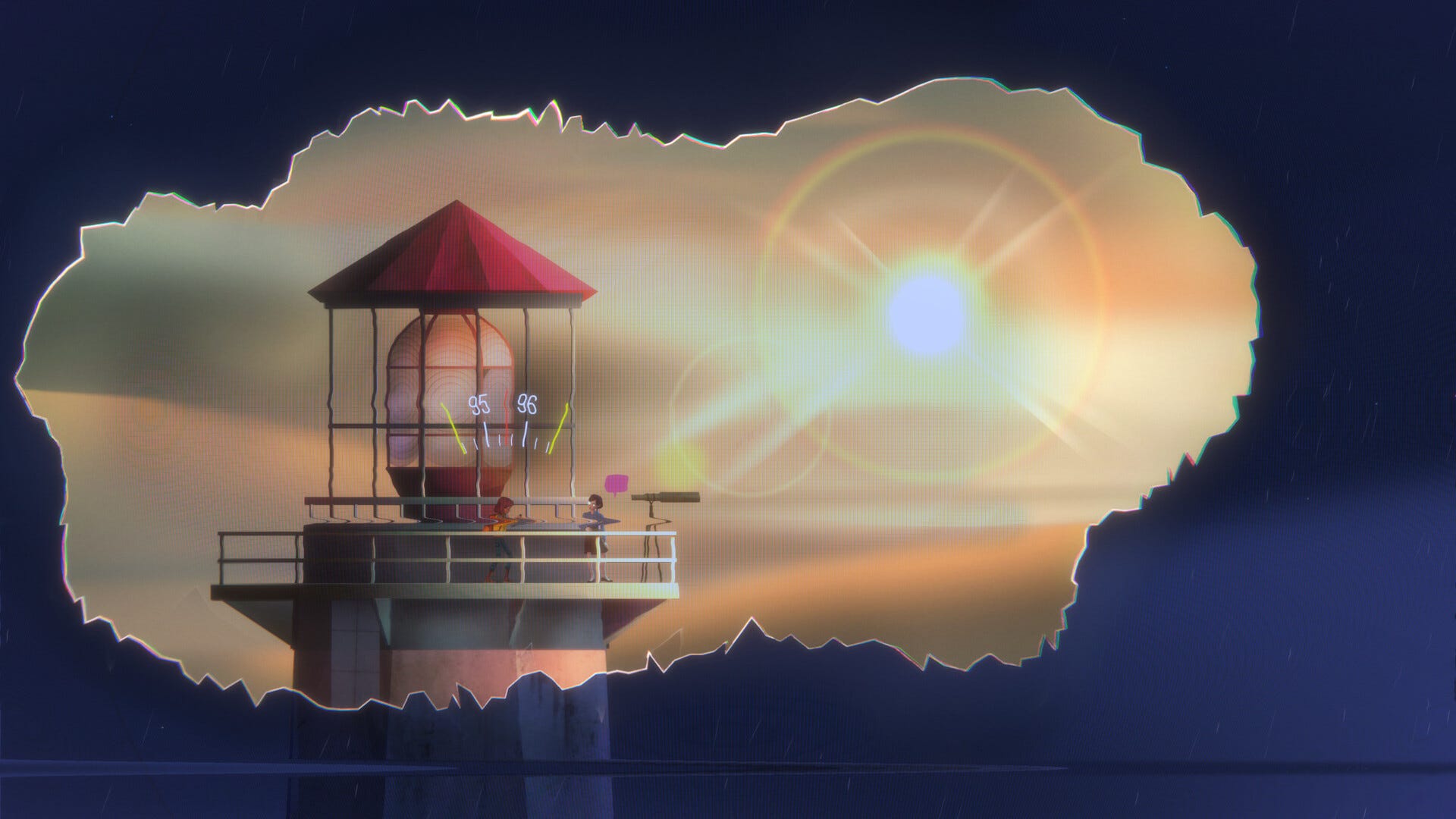 Between the spooky reality tears of Oxenfree II: Lost Signals and the chrono-bending clue hunts of Crime O'Clock, we at the Electronic Wireless Show podcast have had time travel on the brain. Clever game mechanic, or narrative copout? Maybe both? Maybe neither? Or maybe it's just a reason for Nate and I to gush about Titanfall 2's singleplayer campaign while Alice considers the temporal implications of save scumming. To know the answer, you yourself must travel back to the past, specifically Tuesday, when we recorded it.
---
Rock Paper Shotgun Latest Articles Feed Thursday, April 27, 2023 12:15 PM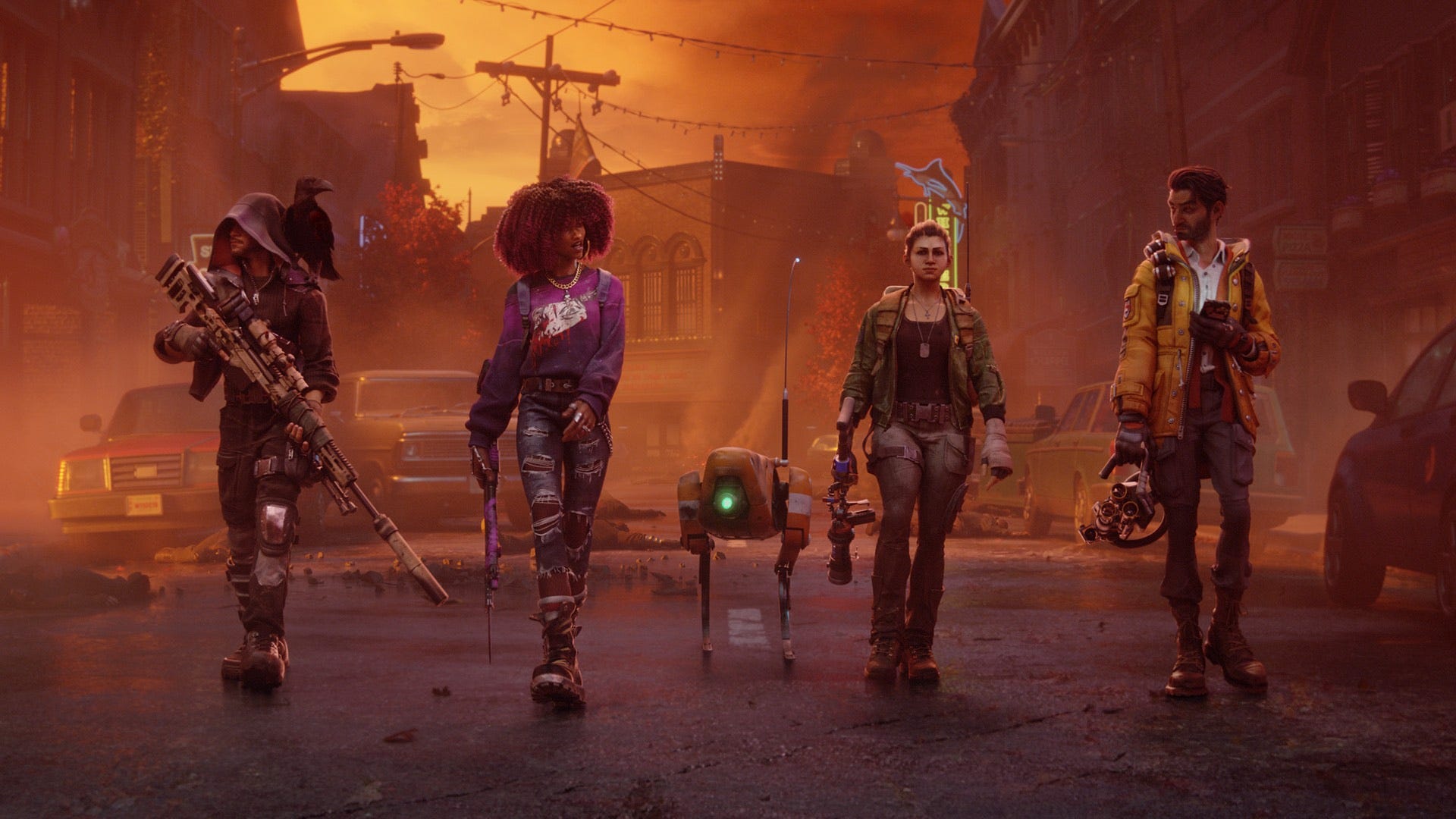 Grab a holy cross, maybe make some friends, and spray yourself with gross garlic water. Vampire-hunting shooter Redfall is only a mere week away, so developers Arkane have dropped a fun launch trailer to celebrate. It gives us another look at the titular rural town, haunted by fanged monsters, violent cultists, and psychic anomalies that distort the environment in weird and wonderful ways.
---
Twinfinite Thursday, April 27, 2023 3:11 PM
You still might need a spare hard drive.
---
Twinfinite Thursday, April 27, 2023 1:06 PM
The Force (Mythics) is strong with this one.
---
Siliconera Thursday, April 27, 2023 5:30 PM
Nerbuz is one of the major characters in Fire Emblem Heroes' Book VII, and she'll now be a playable character. Nintendo announced she is the latest unit to join in the new Mythic heroes banner. Starting on April 28, 2023, people can pull for the character.
Nerbuz is classified as a blue "beast" character and cavalry unit in the game. This means if she's only near beasts and dragons, she'll transform and have different stats. Her kit includes her Horn of the Land weapon and new skills like Fruit of Life and Alarm Atk/Spd.
Here are the other focus units on the banner:
Arval: Cycle Keeper
Ash: Retainer to Askr
Byleth: The Fodlan Star
Claude: King of Unification
Deirdre: Fated Saint
Ganglot: Death Anew
Mirabilis: Daydream
Plumeria: Lewd Dream
Shez: Sharpest Blades
Tiki: Awakened Blood
Triandra: Nightmare
Here's the full Mythic Hero Nerbuz: God of the Land Fire Emblem Heroes banner video. As usual, it notes that there is an opportunity to "spark" on this banner and be guaranteed one of the focus units if you pull 40 times. However, this is limited to Feh Pass subscribers.
https://www.youtube.com/watch?v=A1q-_WVkTLw&ab_channel=NintendoMobile
Fire Emblem Heroes is available for Android and Apple iOS devices, and the Nerbuz Mythic banner will run April 28, 2023 through May 11, 2023. Previously, more Three Houses characters appeared.
The post Next Fire Emblem Heroes Banner Adds Playable Nerbuz appeared first on Siliconera.
---
Siliconera Thursday, April 27, 2023 5:30 PM
You don't need to change characters' weapons or armor in Honkai: Star Rail. Rather, additional buffs and bonuses come from equipping Light Cones and Relics. The former are acquired through pulling on gacha banners. However, if you're looking for how to get Relics in Honkai: Star Rail, you'll actually need to play the game to find or earn them.
How to unlock Relics in Honkai: Star Rail
It takes a bit before you can even start getting Relics in the game! You need to get to the Trailblaze Mission "In the Withering Wintry Night" and finish its "Ones Fallen into the Abyss" task on Jarilo-VI. This involves being at Trailblaze Level 14 and helping Seele save the miners.
How to get Relics in Honkai: Star Rail
Well, an almost effortless way to get Relics is to take part in missions and storyline stuff. This is because as you explore places like Jarilo-VI, you might get one of these pieces of equipment from Bountiful Chests found in the world or Trailblaze Missions. There will also be World Shops in each location, which would let you use Hertaerums at Herta Space Station, Shields at Jarilo-IV, or Strale at Xianzhou Lofou to buy them. However, you will need to hit certain Trailblaze Levels to be able to buy them. So the Musketeer of Wild Wheat set will be at Herta Space Station's shop, but you need to be at Trailblaze Level 20 to buy it, for example.
However, there is a faster way to acquire Relics for characters in the early game. The Caverns of Corrosion at locations like Herta Space Station and Jarilo-VI let you fight for them. These involve using 40 Trailblaze Power to access.
Here are all the Caverns of Corrosion locations on Herta Space Station and Jarilo-VI, as well as the Relic Sets in them:
Path of Drifting is at Jarilo-VI's Corridor of Fading Echoes and features Musketeer of Wild Wheat and Passerby of Wandering Cloud
Path of Gelid Wind is at Herta Space Station's Storage Zone and features Eagle of Twilight Line and Hunter of Glacial Forest.
Path of Holy Hymn is at Jarilo-VI's Great Mine and has Band of Sizzling Thunder and Knight of Purity Palace
Path of Jabbing Punch is at Jarilo-VI's Everwinter Hill and features Champion of Streetwise Boxing and Thief of Shooting Meteor
Once you get to a high enough Trailblaze Level, you can also head into Herta's Simulated Universe to earn Relics. However, that is down the road a ways. Upon immediately hitting Trailblaze Level 14, going through Caverns of Corrosion is the most helpful method.
Honkai: Star Rail is available for PCs and mobile devices. It will also come to the PS4 and PS5 eventually.
The post How to Unlock and Get Relics in Honkai: Star Rail appeared first on Siliconera.
---
Siliconera Thursday, April 27, 2023 5:00 PM
Netflix shared a trailer going over what's coming regarding anime releases for May 2023. The main announcements are the arrival of Yakitori: Soldiers of Misfortune and Ultraman: Final Season. In the video, you can see scenes from both series along with confirmed release dates. ULTRAMAN's last season will be released on May 11, 2023, and Yakitori will begin streaming on May 18, 2023.
Check out the Netflix Anime announcements for May 2023 below.
https://youtu.be/uzb6sh6MztE
Yakitori: Soldiers of Misfortune is a science fiction series based on the light novel of the same name written by Carlo Zen, author of The Saga of Tanya the Evil. The series will be set on a future version of Earth and tell the story of Akira, a young rebel who joins the "Yakitori" military unit. It is known for its high casualty rate.
On the other hand, the final season of Ultraman will also arrive in May 2023, confirmed shortly after the release of the second season in 2022. This final part will close the story of the original Ultraman's son, Shinjiro Hayata, and will solve several of the remaining mysteries about the giants of light.
In addition to the previews of the new series, the video also mentioned the arrival of new trivia-type content on the YouTube channel related to anime that can be watched on the platform such as Baki, Romance Killer, and The Daily Life of the Immortal King.
Netflix will also air an anime adaptation of Me & Roboco. This sci-fi comedy has been running weekly in the Shonen Jump since 2020.
Ultraman: Final Season joins the Netflix anime lineup on May 11, 2023 and Yakitori: Soldiers of Misfortune will air on May 18, 2023.
The post Netflix Shares Yakitori, Ultraman: Final Season Anime Teasers appeared first on Siliconera.
---
Siliconera Thursday, April 27, 2023 4:30 PM
Ateam revealed the next new guest character for the second Hololive Valkyrie Connect event will be Ouro Kronii. In preparation for the event, she will be doing a special livestream along with Takanashi Kiara going over some details about the crossover. This stream will go live on April 27, 2023 at 2pm PT/5pm ET.
Check out the announcement from Valkyrie Connect's official Twitter account here below.
https://twitter.com/vconnect_en/status/1651519051502587904?s=20
Ouro Kronii is the second confirmed guest character of this new Hololive Valkyrie Connect event after Hololive Fantasy's Houshou Marine. Her character's official art wasn't shared yet, but people can expect to see that during the presentation with Kiara. However, details about her kit and abilities likely won't come up until either just before launch or after the crossover begins.
This marks half of this next event's new confirmed characters. There will be two representatives for Hololive's Japanese and English branches. This follows the pattern from the initial one. For the first Hololive Valkyrie Connect collaboration in May 2022, the guest stars were Takanashi Kiara, Ina'nis Ninomae, La+ Darkness, and Pekora Usada, all of which returned with Awakened versions in January 2023.
Valkyrie Connect is currently available for PCs and mobile devices.
The post Ouro Kronii Confirmed for 2nd Hololive Valkyrie Connect Event appeared first on Siliconera.
---
Siliconera Thursday, April 27, 2023 4:00 PM
Sony and Square Enix revealed the Final Fantasy XVI a limited edition PS5 DualSense controller and a PS5 cover featuring a special FFXVI design in Japan. The already announced PS5 bundle will also appear there. These items will be available in limited quantities on June 22, 2023. Pre-orders for the PS5 bundles, DualSense controller, and PS5 cover open in Japan on May 4, 2023. As a reminder, both Final Fantasy XVI PS5 bundle editions will include a digital download code for the game.
The Final Fantasy XVI + PS5 console bundle will cost 67,980 JPY (or roughly $507 USD). Meanwhile, the Final Fantasy XVI + PS5 Digital Edition console bundle will cost 56,980 yen (~$425 USD.) The FFXVI Limited Edition DualSense Wireless Controller will cost 8,980 yen (~$67 USD). The PlayStation 5 Limited Edition FFXVI cover will be available in two variations, for PS5 consoles with disc drives and for PS5 digital editions for 7,980 yen (~$60 USD).
You can take a better look at the Final Fantasy XVI DualSense controller and the PS5 cover in the gallery below.
[gallery link="file" ids="961054,961055,961056"]
Final Fantasy XVI is the latest numbered title in the long running RPG franchise. Square Enix has been sharing some clips of the game, including main protagonist Clive using some of his Eikon abilities in combat.
Final Fantasy XVI will come to the PlayStation 5 on June 22, 2023. There will be a six-month exclusivity period. The PS5 console bundles will be available for pre-order from May 4, 2023. A pre-launch celebration will be held on June 11, 2023 in Los Angeles, California and will be streamed online.
The post Final Fantasy XVI Limited Edition PS5 Controller and Console Cover Shown appeared first on Siliconera.
---
Siliconera Thursday, April 27, 2023 3:30 PM
Once you get to Jarilo-VI's Underworld area in Honkai: Star Rail, you'll automatically get pulled into a campaign quest with Hook called "Hide-and-Seek." Basically, to advance the story, you'll need to get the trust of the Moles and play the game with them to reach the Fight Club. It isn't the most challenging hunt, but here's where I found everyone to help you speed through this segment.
First, here's where Hook is when you're searching for her during the "practice" session for the "Hide-and-Seek" Honkai: Star Rail quest.
[gallery columns="1" size="full" ids="961034" link="file"]
Once you find Hook, then the real Honkai: Star Rail hide-and-seek portion of the quest will begin. The characters are in this limited area. Both Hook and one of the Moles sidekicks are at the far ends of the map. However, the sidekick Julian is hiding in plain sight in the middle of the map, disguised as an adult man, and March 7th will point out in a scripted scene that you should talk to him.
[gallery size="full" ids="961035,961036,961037" link="file"]
After finding all three kids, Hook will lead you to the Fight Club. This is a short walk down the street. Once it's done, you get 300 Trailblaze EXP, 3 Adventure Logs, and 4,000 Credits.
Honkai: Star Rail is available for the PC and mobile devices. PS4 and PS5 versions are on the way.
The post How to Find Kids in the Honkai: Star Rail Hook Hide-and-Seek Quest appeared first on Siliconera.
---
Siliconera Thursday, April 27, 2023 3:00 PM
Resident Evil is an expansive series, with upwards of two decades worth of titles having releases since its inception in the late 1990s. While there are more than a handful of mainline games, 10 counting Resident Evil 0 and Resident Evil: Code Veronica X, the series has seen it's fair share of spin-off titles. This has included competitive first person shooters, multiplayer focused survival titles, and rail shooters. While there are many, these are among the best Resident Evil spin-off games worth checking out in some capacity.
Resident Evil Outbreak
Arguably ahead of its time, Resident Evil Outbreak is a online multiplayer Resident Evil game where players can pick one of several characters to escape Raccoon City. Each character has their own strengths and weaknesses, which groups will need to plan around when completing objectives. Additionally, Outbreak features unique locales for players to explore, and while zombies remain the bread and butter enemy, Outbreak has its own plethora of frightening foes to encounter. It also featured an infection mechanic, which when bitten by zombies would increase your infection rate until you'd eventually turn. It'd only make sense for Capcom to give Resident Evil Outbreak a third chance, since multiplayer games are hugely popular. Either way, it'd just be great to have Outbreak on something that isn't the PlayStation 2 at this point.
Resident Evil: Code Veronica (X)
While I don't consider Resident Evil: Code Veronica X a spin-off game, it's labeled as one. Starring Claire Redfield, Resident Evil: Code Veronica X extrapolates on another founding family of the Umbrella Corporation. Additionally, her brother Chris Redfield appears as a side character, along with Albert Wesker, the then series antagonist. This game provides some important character development for the pair, which helps create a more rounded experience when playing Resident Evil 5. It's definitely one of the hardest Resident Evil games in the series, but worth playing since it's story is largely significant to the overarching plot of the original first six games. While Capcom hasn't made any announcement to remaster or remake the game, a fan made demo for a remake was previously made available on PC.
Resident Evil Gaiden
No longer part of the Resident Evil canon, Resident Evil Gaiden was a Game Boy Color exclusive. It featured Barry Burton, Leon S. Kennedy, and a mysterious young woman known as Lucia as the three protagonists. Set on an infected cruise ship, Leon and Barry are set with investigating the events that led up to the eventual outbreak. Combat was QTE based, with players using ranged and melee weapons to take down zombies and other gruesome monsters on the ship. However, like Code Veronica X, Resident Evil Gaiden is extremely punishing. It's also extremely hard to find. That said, it's worth giving it a shot if you manage to find a way to play the game, just for the fun twist at the end.
Resident Evil Survivor
The first first person perspective title in the Resident Evil series, Resident Evil Survivor (or Gun Survivor) is set after the events of Resident Evil 2 and Resident Evil 3. It features amnesiac protagonist Ark Thompson as he uncovers secrets about the Umbrella Corporation. Like Code Veronica X, playing Survivor enhances your experience with later titles in the series. But it isn't a necessary title to understand the events of the mainline games. That said, some elements of Gun Survivor do get a very brief nod in Resident Evil 0, and Ark Thompson does have a little bit of backstory with series protagonist Leon S. Kennedy.
The post Appreciating the Resident Evil Spin-Off Games appeared first on Siliconera.
---
Siliconera Thursday, April 27, 2023 2:30 PM
Masahiro Sakurai shared development secrets from the first Kirby game. In the latest video on his YouTube channel Masahiro Sakurai on Creating Games, he shared some facts about the development of Kirby's Dream Land. Many details shared in the video were originally seen in a presentation given at the Kirby 25th Anniversary concerts in 2017. Sakurai shared them with a wider audience to celebrate the 100th video on his channel.
https://www.youtube.com/watch?v=ZUY2AtBD6Sk
At one point in the video, Sakurai shows off the original dev kit that was used to make the games Kirby's Dream Land and Kirby's Adventure. It was a special Famicom called the Twin Famicom, and all development took place with this device. Sakurai shows off the sprites and menus used in development. He also treats us to a bonus cat appearance.
Throughout the video he shows off how enemy designs were made specifically to save space. He reveals that all enemy movement was manually programmed by Sakurai himself. He also shows off the original design document for Kirby's Dream Land, featuring an early concept for the Super Smash Bros damage system.
Sakurai previously looked back at Kirby's Dream Land in another video on his channel as part of his Game Concepts series. He also shared stories about other Kirby games.
The post Masahiro Sakurai Shares Early Kirby Game Development Secrets appeared first on Siliconera.
---
Siliconera Thursday, April 27, 2023 2:00 PM
Sony announced that the PSVR2 will be available in local stores soon. The headset had previously only been available through Sony themselves as part of the PlayStation Direct program.
https://twitter.com/PlayStation/status/1651571903574966275
Sony did not specify which retailers will carry units. At the time of writing, only the UK retailer ShopTo confirmed that it will be stocking the headset from May 12, 2023. Other retailers in other countries have yet to confirm availability.
PSVR2 released on February 22, 2023, as an exclusive for the PS5. It's an upgrade on the original PSVR featuring new controllers built around the features of the DualSense, such as adaptive triggers and haptic feedback. It also boasts stronger eye tracking and headset feedback, along with 3D audio.
PSVR2 launched with more than 30 compatible games within its first month, including the flagship launch title Horizon: Call of the Mountain. Other games compatible with the system include Tetris Effect, Kizuna AI and Gran Turismo 7. Resident Evil Village also received a free update alongside the release of PSVR2 that added a VR mode specific to the headset. PSVR2 is available for $549.99.
PSVR2 is now available for PS5, and will become available in local stores as retailers announce availability.
The post PSVR2 Will Soon Be Available in Local Stores appeared first on Siliconera.
---
Siliconera Thursday, April 27, 2023 1:30 PM
When new playable characters join Genshin Impact, HoYoVerse holds web events to "introduce" them, and the one for Baizhu is Herbal Remedies. It is now available online for players until May 3, 2023. During it, your goal is to figure out how to make medicines alongside the doctor. If you complete all three prescriptions, you can get 2 Mystic Enhancement Ores, 3 Nagadus Emerald Fragments, 40 Primogems, and 20,000 Mora.
How to complete the Genshin Impact Herbal Remedies web event
The event begins with Changsheng warning Baizhu not to work too hard and wear himself out, and he then mentions getting a new apprentice to assist him at Bubu Pharmacy. From there, you'll need to click the Prescription button to check the medicines you need to make for Uncle Tian, Master Lu, and Hongdou. Images for the three ingredients needed appear. There's also an option to unlock additional "special" prescriptions via experimenting with the ingredients you have.
After that, you click the Medicine Box. This shows the ingredients available for the various remedies. You'll need to drag the right ones into the pot next to Baizhu to create the potion. Up to five can be added to make a brew. You'll then be able to make the recipes shown in the Prescriptions section to complete the task. There are only pictures shown in the hints and no names, but each item corresponds to things you'd find in Liyue like Qingxin and Violetgrass. So, for example, the Uncle Tian prescription would involve a Lotus Head, a Qingxin, and three Lizard Tails.
Here are the reward tiers for this event:
Complete Uncle Tian and Master Lu's Brews: 3 Mystic Enhancement Ores and 20,000 Mora
Complete Uncle Tian, Master Lu, and Hongdou's Brews: 3 Nagadus Emerald Fragments and 40 Primogems
Share Qiqi's Flier: Wallpaper
Genshin Impact is available on the PS4, PS5, PC, and mobile devices, and the Herbal Remedies event runs until May 3, 2023. As for in-game events, A Parade of Providence is live now.
The post Genshin Impact Herbal Remedies Web Event Involves Making Medicine with Baizhu appeared first on Siliconera.
---
Siliconera Thursday, April 27, 2023 1:00 PM
An official The Legend of Zelda: Tears of the Kingdom Switch microSD memory card is being released by SanDisk. Released in partnership with Nintendo, the 1TB microSD features a design based on the Hylian crest. It is officially licensed for use with the Nintendo Switch. It releases on May 12, 2023, alongside the game itself. It will retail for $149.99 and is now available to pre-order on Amazon.
The microSD card comes with 1TB of storage and boasts write speeds of up to 90MB/s and read speeds of up to 100MB/s. These speeds may vary during actual use.
The microSD card could be useful for players of Tears of the Kingdom. The game is currently listed on the eShop as being roughly 16GB in size. That's about half the standard internal storage space – 32GB – for the base Switch model and the Switch Lite.
Here's how it will look:
[gallery columns="2" size="full" ids="961009,961010" link="file"]
It's not the first official Nintendo Switch microSD memory card SanDisk released. Previously, the company offered licensed Super Mario cards with Super Star and Super Mushroom designs. It also released an Animal Crossing design. SanDisk will also put out a 64GB microSD card featuring a Yoshi egg design on the same day as the Tears of the Kingdom card.
The Legend of Zelda: Tears of the Kingdom releases for Nintendo Switch on May 12, 2023. The official Tears of the Kingdom microSD card launches on the same day.
The post Official Tears of the Kingdom Switch microSD Memory Card Releases in May appeared first on Siliconera.
---
Siliconera Thursday, April 27, 2023 12:30 PM
The Might & Magic: Clash of Heroes strategic puzzle RPG from Capybara Games and Ubisoft is getting a Switch, PS4, and PC Definitive Edition from Dotemu. There's no release date, beyond "coming soon." The company shared a trailer showing off some of the updates, such as the new character portraits, and confirming there will be DLC and the 1v1 and 2v2 online multiplayer.
Might & Magic: Clash of Heroes features characters from the Academy, Haven, Inferno, Necropolis, and Sylvan factions, each with their own traits and abilities. You match their units to unleash attacks or erect barriers to both damage your opponent and protect yourself. Both the campaign and multiplayer involve working through these sorts of matches and puzzles to survive and succeed. The Definitive Edition adds the I Am the Boss DLC and new Euny the Archdruid boss. It will also look better, with visual enhancements, and all 15 characters get new character art.
Here's the first trailer for the game.
https://www.youtube.com/watch?v=98cOgxfUa4Q&ab_channel=Dotemu
Might & Magic: Clash of Heroes Definitive Edition will come to the Nintendo Switch, PS4, and PC via Steam "soon." It is also available on the DS, PS3, Xbox 360, and PC. It also appeared on mobile devices at one point.
The post Might & Magic: Clash of Heroes Definitive Edition Heads to Switch, PS4, PC appeared first on Siliconera.
---
Siliconera Thursday, April 27, 2023 12:00 PM
Koei Tecmo updated Atelier Ryza 3 on all platforms, and the new patch adds a Legend Maximum Difficulty and a way to change the game's background music (BGM). Both of these are free additions. All you need to do is update it on the PS4, PS5, Switch, or PC, and they'll be available.
With regards to the Legend difficulty level in Atelier Ryza 3, Gust and Koei Tecmo didn't explain how it will affect enemy strength and playable characters. However, it did remind players that once the patch is applied, they can change to it at any time. To switch, head to the options menu. Then, go to the Difficulty section under Game Settings. You can then select Legendary from there.
[caption id="attachment_960992" align="alignnone" width="1200"]
Image via Koei Tecmo[/caption]
As for the BGM, you can find this option when Ryza visits her desk at one of her Ateliers in Atelier Ryza 3. The Diary menu, which also allows you to change characters' outfits, now allows you to choose which music will be played. When the free Atelier Series Legacy BGM Pack appears, you can access its songs here. That is expect to launch by June 2023.
Here are the full April 27, 2023 Atelier Ryza 3 patch notes from Gust and Koei Tecmo.
Additional Maximum Difficulty Patch.

Added an option to change in-game BGM.This function can be accessed through the Diary in any atelier and allows the player to change the BGM that plays at specific scenes during the game.

Fixed an issue that prevented players from unlocking the "Your own answer" achievement or trophy on PlayStation®5, PlayStation®4, or Steam® after completing Patricia's quest in a specific order.

Fixed an issue where Klaudia's "Klaudia, the Artist" quest failed to occur under certain circumstances.

Fixed an issue where it was sometimes impossible to continue the "The Underworld Forest" quest after being defeated in a battle against the Deranged King.

Fixed an issue where, regardless of the gathering level or tools equipped, a "key" symbol is displayed on gathering points signifying that gathering requirements are not met.

Improved compatibility with the new DLC.

Other minor adjustments and bug fixes.
Atelier Ryza 3 is available for the PS4, PS5, Switch, and PC. 300,000 copies have been sold since its March 22, 2023 launch.
The post Atelier Ryza 3 Maximum Difficulty Legend and BGM Patch Arrives appeared first on Siliconera.
---
PC Invasion - FeedDDD Thursday, April 27, 2023 6:44 PM
If Jedi: Survivor is your first foray with Cal Cestus in the Star Wars galaxy, you'll want to know what the differences are between difficulty settings. Enemies are not pushovers in this franchise, and you'll find yourself one with the Force many times over at higher difficulties. This is why you probably don't want to be overly ambitious with the difficulty level you take on in your first playthrough. This franchise is likened to Dark Souls, after all. All of the difficulty setting differences in Jedi Survivor There are five difficulty settings to choose from in Jedi: Survivor. Your options are Story, Jedi Padawan, Jedi Knight, Jedi Master, and Jedi Grand Master, which are listed from least to greatest difficulty. Developer Respawn Entertainment added the Jedi Padawan option in this game, which felt a bit lacking from Jedi: Fallen Order. The main differences between difficulties apply to how aggressive enemies are, how much damage they deal, and how much time youR...
---
PC Invasion - FeedDDD Thursday, April 27, 2023 6:25 PM
One of the fan-favorite mechanics in Star Wars Jedi: Fallen Order was the combat. It's not easy and would require timing to get the perfect parry. This trend continues in Star Wars Jedi: Survivor, only this time combat is richer. Cal Kestis has grown, and this growth can be seen in combat. He can now dual-wield, or use a lone saber. However, having different lightsabers, you'll unlock different stances akin to Ghost of Tsushima. These stances can help you switch between the lightsaber modes, like dual or one lightsaber. This guide will teach you how to switch between a one-sided and two-sided lightsaber in Star Wars Jedi: Survivor. How to switch between a one-sided and two-sided lightsaber in Star Wars Jedi: Survivor Early in the game, you'll be able to earn 3 stances which include single, double-bladed, and dual wielding. As you get through the story, you can unlock 2 additional ones, cross-guard, and lightsaber with blaster. Switching between stances can be done somewhat on th...
---
PC Invasion - FeedDDD Thursday, April 27, 2023 5:54 PM
You probably already know that to even play the newly released Honkai: Star Rail, you will need to log into an account. Of course, a HoYoverse account will easily let you accomplish this. But if you have an account for certain social media sites, namely Facebook and Twitter, you can use those as well. But what if you have a Google Play account and you would rather play Honkai: Star Rail that way? Does the game even allow you to do this? Fortunately, Honkai: Star Rail does include an option to log in using a Google Play account. The game makes the process of doing this incredibly easy on mobile devices, as that version of the title automatically links the account for you. If you want to experience the game on PC using Google Play, however, you will have to link your account for the service with your HoYoverse account first. How do I link my Google Play account? To accomplish this, you first have to head to the options menu, go over to "Account," and select it. From there, ...
---
PC Invasion - FeedDDD Thursday, April 27, 2023 5:24 PM
Warframe has been around for a decade and counting, thanks to ongoing content updates and a free-to-play model that keeps players busy gathering gear and resources to overcome the Grineer menace. Some of those resources are harder to find than others. Here is our guide on how to get Silphsela in Warframe. Warframe: how to get Silphsela Silphsela is a precious resource used for crafting. If you've spent a lot of time playing the game recently, you may already have some in your inventory but not recall quite where you found it. To get Silphsela in Warframe, seek out the Sun Silph plant. It resembles a sunflower and glows with bright light. You'll know it when you see it, but finding the remote locations where it grows can prove quite the challenge. Screenshot by Digital Extremes The Sun Silph plant is exclusive to the Duviri region. You'll find it in that region's westernmost areas, growing low to the ground. Once you do locate the plant, just walk up to it and ha...
---
PC Invasion - FeedDDD Thursday, April 27, 2023 5:05 PM
Star Wars Jedi: Survivor is packed to the brim with new features, all things that have expanded from the first entry. Like having an open world and a new combat system to accommodate the dual lightsabers, you may see the sequel has a ton more to offer than the first game. Of all the new things, Star Wars Jedi: Survivor will have mounts. Not all will do the same thing and may benefit you in certain ways. Read this guide to learn about all the mounts in Star Wars Jedi: Survivor, like the speeder, glider, and other animals. Star Wars Jedi: Survivor: All mounts speeder, glider, and animals To help you get around the large levels in the game, Respawn has included a few mounts to make getting from point A to point B less tedious. Most if not all mounts are acquired through the story, so you won't miss out on using them. They are as follows: The Relter: One of the first animals you come across is this air-based mount. You'll be able to glide with it by grabbing its legs. While movements a...
---
Gamer Empire Thursday, April 27, 2023 3:38 PM
When building an empire in Stellaris, you have a lot of choices in the direction you can take your empire. You can be a devouring swarm consuming all life in the galaxy; right through the spectrum to a one-planet pacifist empire. Of all the paths you can take, none is more mysterious than the psionic […]
---
Gamer Empire Thursday, April 27, 2023 2:38 PM
When the Overlord expansion was released in May 2022, a new megastructure called the Quantum Catapult got introduced. The Quantum Catapult has the power to shoot your ships across the galaxy in a single jump. This is much quicker than traversing the hyperlane network. Recommended Read: What Is Trade Value in Stellaris? The tactical advantage […]
---
Gamer Empire Thursday, April 27, 2023 1:50 PM
Though Stardew Valley is a farming simulator, one of the biggest priorities in the game is money. Once you manage to make some money, you can buy a lot of crops, buildings, and animals. Which will make you even more gold in return. The best way to make money in Stardew Valley, however, is by […]
---
Tabletop Gaming News – TGN Thursday, April 27, 2023 8:00 PM
Dungeon Murder, the latest game from the creator of Rock Runners, Scott Johnson, is now on Kickstarter. With 20 days still to go, the campaign has already raised over $20,000 from its initial goal of $10,000. Dungeon Murder is a fast-paced game designed for 2-5 players. It features a large deck of cards with various …
---
Tabletop Gaming News – TGN Thursday, April 27, 2023 6:00 PM
Void Knight Games' Kickstarter campaign for "Forgotten Depths – The Ever Chamber and Other Adventures" is now on Kickstarter, having already raised over $15,000 from a $12,000 goal with 27 days left to go. The campaign, which ends on May 25, promises four fantastic expansions to enhance gameplay, as well as a reprint of the …
---
Tabletop Gaming News – TGN Thursday, April 27, 2023 4:00 PM
Kill Team: Gallowfall is the final expansion of the current season and promises to be a thrilling experience for players. The game is set on the Gallowdark, a space hulk that has survived and grown for thousands of years. The Gallowdark is being torn apart by explosions, and players must navigate the rapidly deteriorating environment …
---
Tabletop Gaming News – TGN Thursday, April 27, 2023 3:00 PM
Fantasy Flight Games has announced the arrival of the Psylocke Hero Pack for Marvel Champions: The Card Game, adding a new playable hero to the game's roster. Psylocke, also known as Betsy Braddock, is a powerful telepath and skilled martial artist, making her a force to be reckoned with in any battle. The Psylocke Hero …
---
Tabletop Gaming News – TGN Thursday, April 27, 2023 2:00 PM
WaterSpire, a Kickstarter campaign featuring 3D printable buildings and miniatures for tabletop role-playing games and figurines, has exceeded its initial goal of £500 by raising over £14000 with 22 days still remaining in the campaign. The campaign ends on May 19. WaterSpire is a project that was inspired by the love for Venetian architecture and …
---
Tabletop Gaming News – TGN Thursday, April 27, 2023 1:26 PM
Armada players, get ready to set sail on the high seas for some ghostly and pirate-infested action! Mantic Games has just announced the release of their new supplement book, Seas Of Dread, which will be available for pre-order starting tomorrow. This new supplement book promises to add plenty of exciting new features to the already …
---
Player Assist | Game Guides & Walkthroughs Thursday, April 27, 2023 4:04 PM
Four-letter words are easier to remember than random numbers, anyway. Custom IGNs or In-Game Names are commonplace used in online games these days. In-game names allow players to address one another in-game and help players find and add other players they want to add to their in-game contacts or friends list. VALORANT employs IGN like […]
---
Player Assist | Game Guides & Walkthroughs Thursday, April 27, 2023 3:00 PM
Pokemon Legends: Arceus is a much-awaited addition to the Pokemon series, presenting a fresh take to the well-loved franchise. The game is a semi-open-world, action role-playing game in the ancient Sinnoh region, which was then known as the Hisui region. The Galaxy Expedition Team, simply called the Galaxy Team, will let the player join the […]
---
Player Assist | Game Guides & Walkthroughs Thursday, April 27, 2023 2:00 PM
Try chasing the bad guys for once. Tons of Random Events in GTA 5 give the GTA 5 world a sense of life and realism. Some NPCs will ask for a ride, while others are even smart enough to try and lure you into a trap. One of the Random Events you'll encounter around the […]
---
Player Assist | Game Guides & Walkthroughs Thursday, April 27, 2023 1:00 PM
Clear tight corners and cubbies and lead your team to victory on Fracture. Fracture is arguably VALORANT's most unique map with its never-before-seen H-shaped layout that gives the Attacking team instant access to flanking lanes toward either A-site or B-site on the map. While the layout seems to give the Attackers the advantage, the Defending […]
---
Player Assist | Game Guides & Walkthroughs Thursday, April 27, 2023 12:00 PM
Pokemon Legends: Arceus brings a new spin to the popular franchise. It is a semi-open-world action role-playing game set in the ancient Hisui region, the past version of the modern Sinnoh region. The Galaxy Expedition Team, also known as the Galaxy Team, will allow the player to join the Survey Corps to help keep the […]
---
Gaming Instincts – Next-Generation of Video Game Journalism Thursday, April 27, 2023 4:02 PM
---
Gaming Instincts – Next-Generation of Video Game Journalism Thursday, April 27, 2023 3:30 PM
---
Gaming Instincts – Next-Generation of Video Game Journalism Thursday, April 27, 2023 3:21 PM
---
Gaming Instincts – Next-Generation of Video Game Journalism Thursday, April 27, 2023 3:03 PM
---
Level Up Thursday, April 27, 2023 12:10 PM
The live-action Twisted Metal TV series got its first poster today, courtesy of <em><a href="https://www.ign.com/articles/twisted-metal-poster-peacock-playstation-series?utm_source=twitter">IGN</a>,…