---
Kotaku Monday, April 10, 2023 5:15 PM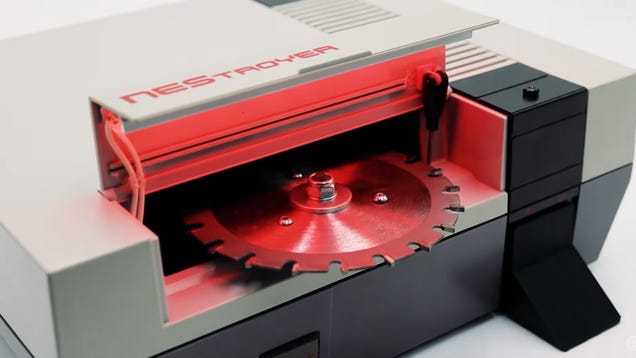 Some retro gaming enthusiasts are so preoccupied with what they could build, they won't stop to question if they should. One such diabolical maker has combined his love of retro consoles with his expertise in 3D printing and robotics to build the NESdestroyer: a repurposed NES console shell with a fully mobile,…
---
Kotaku Monday, April 10, 2023 4:42 PM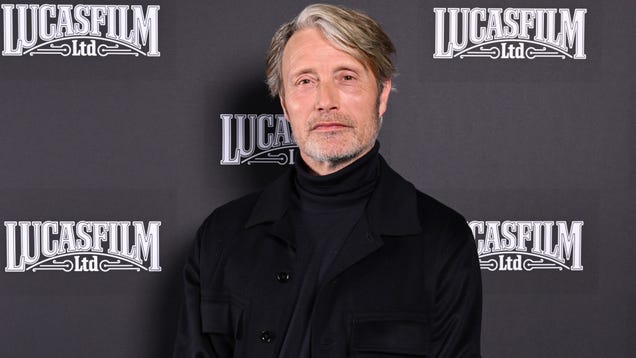 Despite being called the Star Wars Celebration, this past's weekend's event didn't just showcase a bunch of trailers and panels from a galaxy far, far away. The event also hosted a panel for LucasFilm's upcoming Indiana Jones movie, Indiana Jones and the Dial of Destiny starring Harrison Ford. The big bad in the new …
---
Kotaku Monday, April 10, 2023 4:30 PM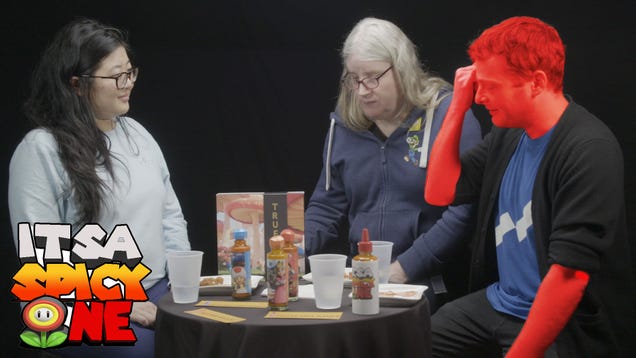 ---
Kotaku Monday, April 10, 2023 3:40 PM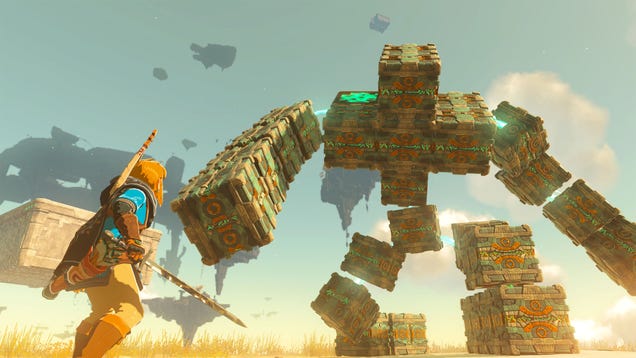 A massive The Legend of Zelda: Tears of the Kingdom artbook leaked in February, and Nintendo hasn't forgotten. The Switch maker is currently trying to subpoena Discord, where images from the artbook first started making the rounds, to force the social media platform to disclose the identity of one of the users alleged…
---
Kotaku Monday, April 10, 2023 2:55 PM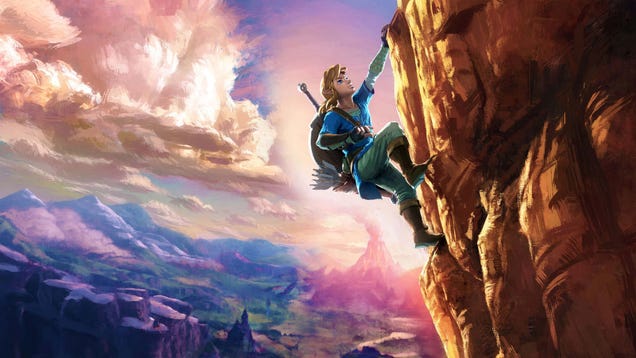 When it comes to ranking Nintendo's Legend of Zelda series, you're really just ranking a group of top-tier games. A list ranking the Zelda series is a list of bangers, and even the "worst" entry is better than most other games. So don't get mad if your favorite is on the lower half of this list, it's standing…
---
Kotaku Monday, April 10, 2023 2:50 PM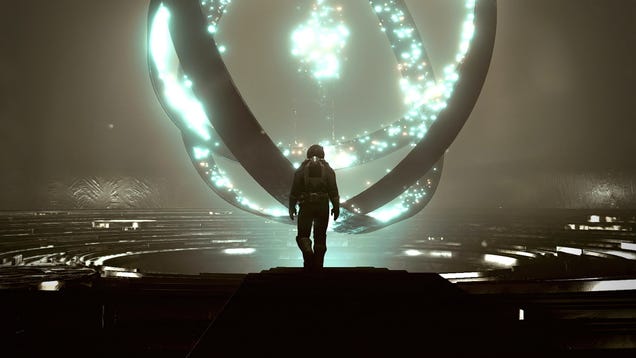 The wait for Bethesda's Starfield, first announced in 2018, has felt like interstellar travel itself. But the journey is nearly over: On September 6, 2023, Starfield will finally arrive on Xbox Series X/S and Windows PCs. Promising an ambitious scale and signature Bethesda role-playing, there's a lot to look forward…
---
Kotaku Monday, April 10, 2023 2:15 PM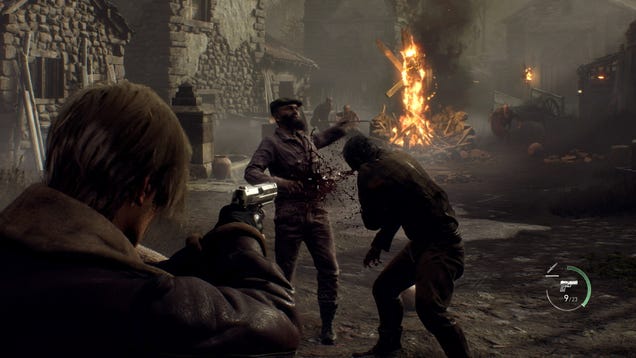 Capcom's Resident Evil 4 remake is bursting with secrets and unlockables, things like extreme weapon upgrades and hidden gems hanging over your head, waiting to be found and taken. But in the case of unlimited ammo (which has been a discoverable feature in RE4 since the original game released, it's not an exploit like…
---
Kotaku Monday, April 10, 2023 2:10 PM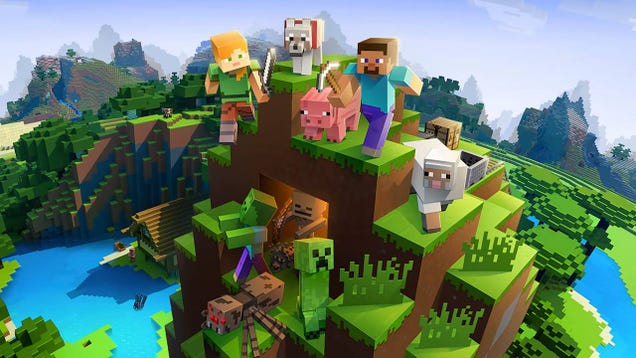 This weekend, the U.S. military was faced with a massive document leak that could have a significant impact on the war in Ukraine, and officials say that it's one of the "most damaging in decades." The leaks originated from a small Discord server, and then spread to a popular Minecraft one.

---
Kotaku Monday, April 10, 2023 11:55 AM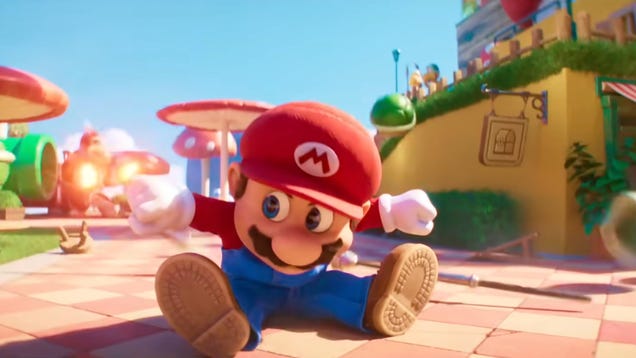 Whether you've seen The Super Mario Bros. Movie or not, you've undoubtedly heard Chris Pratt's fairly normal-sounding voice as the titular plumber. Initially derided for sounding nothing like the Mario we've come to know from the games, Pratt has put his own spin on the character. But in his quest to find the perfect…
---
Kotaku Monday, April 10, 2023 11:42 AM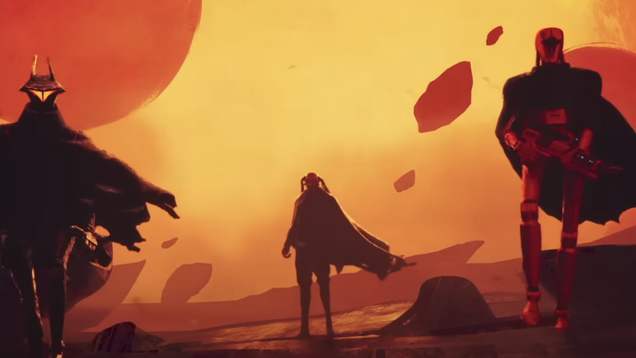 During Monday's Star Wars Celebration event, we got to see the new trailer for the popular Star Wars anime series, Star Wars: Visions Volume 2 and boy howdy was it stunning.

---
Kotaku Monday, April 10, 2023 11:35 AM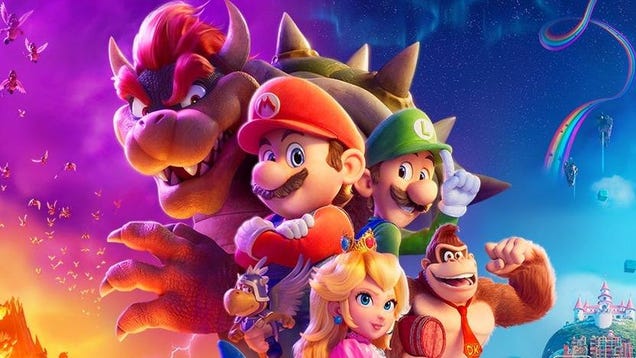 The Super Mario Bros. Movie just wrapped up its first box office weekend and made a ton of money in the process. Its five-day opening run brought in $204.6 million in the U.S. and $377 million globally, beating Sonic the Hedgehog, which previously held the record for the "highest grossing" video game movie debut.…
---
Kotaku Monday, April 10, 2023 10:30 AM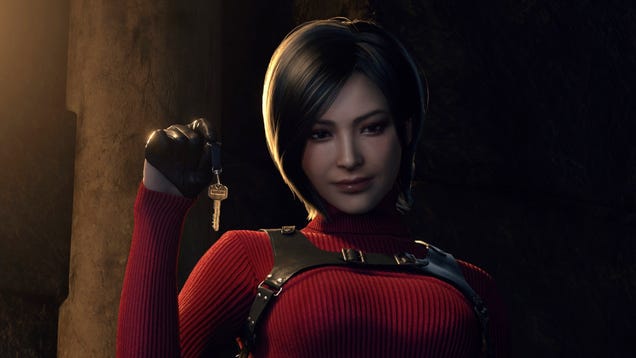 The Resident Evil 4 remake isn't a one-to-one clone—it's a sharper copy, with gameplay tweaks, dialogue changes, and new voice actors, including Resident Evil: Welcome to Raccoon City actress Lily Gao reprising her role as red dress assassin Ada Wong.
---
Kotaku Monday, April 10, 2023 10:20 AM
Ahead of its April 28 launch, developer Respawn Entertainment shared one last look at Star Wars Jedi: Survivor, complete with a Stormtrooper force thrown directly into a TIE-fighter. It also showed off Cal's return to Coruscant, his home before the Jedi were wiped out at the end of the Clone Wars.
---
PCGamesN Monday, April 10, 2023 4:29 PM
I won't sugarcoat it; I am not a fan of Valorant map Haven. Initially, I thought it was because it had three sites, but then Riot rolled out Lotus. The triple-point layout still contributes to why Haven matchups make me groan, but there's another reason why Lotus is less annoying its FPS counterpart; in fact, it can even verge on being a fun - but only every now and then.
MORE FROM PCGAMESN:
Valorant Night Market dates
,
Valorant ranks order, distribution, and ranking system explained
,
Valorant crosshair codes
---
PCGamesN Monday, April 10, 2023 1:55 PM
A Destiny 2 bow does more damage at higher frame rates, according to the YouTube account Cheese Forever and confirmed by Destiny Bulletin, which claims to have tested the bow and found it does an extra tick of damage at higher hertz per second in the FPS game. Leviathan's Breath, a heavy Exotic Void bow available at the Monument to Lost Lights and originally introduced as part of the game's Shadowkeep expansion, is quickly becoming a meta weapon due to changes in the game's overall sandbox.
Destiny 2 classes
,
Destiny 2 Lightfall review
,
Destiny 2 builds
---
PCGamesN Monday, April 10, 2023 10:29 AM
It goes without saying that Motive's Dead Space Remake is one of my contenders for the best horror game of 2023 - and there's been some good ones so far. Putting a new spin on the iconic Ishimura adventure, one developer has unveiled their Dead Space Demake, which is available for free right now.
MORE FROM PCGAMESN:
The best horror games on PC
,
Dead Space Remake review
,
Dead Space system requirements
---
PCGamesN Monday, April 10, 2023 10:59 AM
Capcom has removed controversial anti-cheat Denuvo from now-iconic horror game Resident Evil Village, mirroring fellow Japanese titan, Square Enix.
MORE FROM PCGAMESN:
Resident Evil Village review
,
Resident Evil Village bosses guide
,
The best horror games on PC
---
Twinfinite Monday, April 10, 2023 5:35 PM
Choose your own adventure!
---
Twinfinite Monday, April 10, 2023 3:26 PM
Tokyo is about to look a whole lot different.
---
Twinfinite Monday, April 10, 2023 3:02 PM
Will Cyno notice the difference?
---
Siliconera Monday, April 10, 2023 6:00 PM
Nijisanji Indonesia (or Nijisanji ID) announced the graduation of four of the agency's Vtubers. The graduations will happen through the months of May-July 2023. The four livers that are graduating are ZEA Cornelia, Taka Radjiman, Siska Leontyne, and Amicia Michella. The announcement came through the official Nijisanji ID Twitter account. The four livers also commented on the announcement through their main Twitter accounts.
In addition, the official social media accounts and YouTube channels of the livers will gradually close after their graduation dates. Sales of merchandise will also cease.
These are the exact graduation dates for each of the four Nijisanji Indonesia livers:
ZEA Cornelia: May 14, 2023
Taka Radjiman: May 28, 2023
Siska Leontyne: June 15, 2023
Amicia Michella: July 16, 2023
ZEA Cornelia and Taka Radjiman both debuted on September 13, 2019, and they belong to the first wave of Nijisanji ID livers. Meanwhile, Amicia Michella debuted as part of the second wave on December 18, 2019. Siska Leontyne debuted on August 8, 2020 with the the fourth wave of Nijisanji ID.
ZEA Cornelia responded to the announcement with a Tweet in English, Indonesian, and Japanese. In it, the liver said that she wanted to explore what she could do next outside of Nijisanji. Taka Radjiman also thanked his viewers and fans for all the years of support. Meanwhil,e Siska Leontyne and Amicia Michella mirrored the sentiment, and added that the Vtubers still have some time left until their graduation, and will make the most out of it.
In other Nijisanji news, the company recently started a YouTube series featuring both English and Japanese livers from the company, highlighting their differences and similarities.
The post Nijisanji Indonesia Announces the Graduation of 4 Vtubers appeared first on Siliconera.
---
Siliconera Monday, April 10, 2023 4:00 PM
When I was a kid, my family would always take trips up to the northwoods. My grandpa and uncle both fished, which could mean heading out on the boat early in the morning, perhaps even if it was raining lightly. Being out on the water at such odd hours, on a large, isolated lake in the woods, could be equal parts peaceful and unnerving. Dredge is a horror game that leans heavily into that, with elements that encourages repetitively scouring fishing spots and shipwrecks for resources, while also hinting at the unsettling nature of being alone, or not so alone, in the watery wilderness.
Dredge begins with a fisherman in a boat and an advertisement saying Greater Marrow is looking for people to come and fish in the area. However, something happens. You awake on the docks of Greater Marrow, with the Mayor noting you hit the rocks and crashed. After getting a boat and a bill, you head out to start your new task of fishing, casting out nets, collecting from crab pots, and dredging shipwrecks to make money and improve your boat and capabilities, all while learning more about the area and assisting inhabitants on different islands.
However, the actual story of Dredge is told as you explore the ocean and your fishing travels take you to different ports and regions in the game. You may hear about a missing mayor from one town. A strange individual in a solitary mansion will bid you to recover missing items from shipwrecks. You'll learn about a family crest taken by a creature of the depths. Sometimes the fish you catch will be wrong. A lot is happening here, with some of the horror stories in the game being isolated incidents and others tying into larger concerns.
The basics of Dredge are simple, though the things you need to do in the game change based on the time of day. During typical daylight hours, let's say 5am to 6pm, things are peaceful. The sun will be out. You'll see areas in the water where you can fish or dredge for materials. Fishing involves pressing in time with indicators to catch creatures, while dredging involves pressing a button to switch between rows and avoid gaps. You want to fill up the space on your boat efficiently enough to bring back your catches and treasures to sell and materials to use to unlock improvements for your boat or research new equipment to buy. You can also use nets or crab pots to get more items. When you stop at various ports, you might also see people around to talk to and assist with additional side quests. For example, a grieving father may ask for a belt buckle from his son who drowned when a ship crashed. A person might ask you to deliver materials to a new homestead.
However, when night falls, Dredge becomes a game that embraces horror. Rocks that weren't there during the day can appear out of nowhere. Strange, giant fish, clouds of energy, and waterspouts can pursue you. Crows can attack, stealing fish you've caught. Your boat can take damage, perhaps even enough to sink you and end your journeys. And if you don't rest, this unease, reflected by a gauge at the top of the screen, means these occurrences can bleed over into waking hours.
It becomes more than just a fishing game, but rather a game about resource management to make greater strides. The additional islands surrounding Greater Marrow can take more than 12 hours to reach, if you haven't upgraded your engine, which could leave you limping into a port once you try to make the trek out there. You'll come to realize that precautions that keep you safe at night, like lights, draw in the very things that can kill you. When you start fishing up questionable catches, taking them to certain people can make you realize others also know something is "wrong," but are handling it in different ways. It's incredibly unnerving and unsettling, but without jump scares. Rather, you'll sometimes encounter moments where you know things are wrong and you're in danger, but you can't exactly address it properly to save yourself.
But at the same time, the balance is there in such a way that it almost lets you pretend this is a normal, pleasant fishing game. The fact that the two sides of the experience are balanced so well makes Dredge more enjoyable. People interested in fishing games might be pleased because of all of the upgrade paths and different sorts of fish. (Even pursuing the ones that are tainted is interesting, since you don't know if or when you might discover the variants.) People who enjoy horror games might find themselves drawn to the way Dredge teases its otherworldly elements and lets you happen upon what's going on as they explore.
Another thing I didn't expect is for Dredge to be as accessible a horror and fishing game as it is. There's a dedicated section in options designed to help make it easy for people to play, without toning down the difficulty in most cases. You can set the colors for emphasized, important, positive, and negative text. You can turn the option to toggle the Radial menu for abilities and equippment. You can set text speeds and pop up durations. You can adjust motion smoothing and the turning deadzone. Also, if you are having trouble fishing, there's a "relaxed" mode that guarantees you will catch a fish, even if you fail. It's all very accommodating, but doesn't negatively affect gameplay.
Dredge not only manages to be a compelling fishing game that constantly urged me to scour every part of the option, but also is a great horror game with fantastic ambiance. It is perfectly unsettling, with things going awry when you least expect them. It makes you want to tempt fate by sounding a siren or using lights while on the water alone at night, even though you know whatever's sounding a horn back at you doesn't mean you well.
Dredge is available on the Nintendo Switch, PlayStation 4, PlayStation 5, Xbox One, Xbox Series X, and PC.
The post Review: Dredge Sends You Fishing in the Horrifying Depths appeared first on Siliconera.
Created for techradar.com@quicklydone.com | Web Version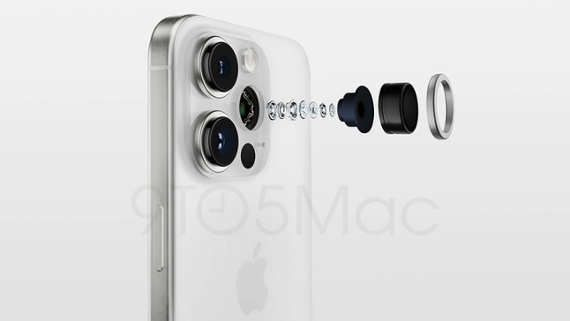 This could be the iPhone 15 Pro (9to5Mac)
High-resolution, detailed renders of the iPhone 15 Pro have leaked out from a usually reliable source, and there's a lot to pore over: a bigger camera bump, a switch from Lightning to USB-C, and a new deep red color we haven't seen before.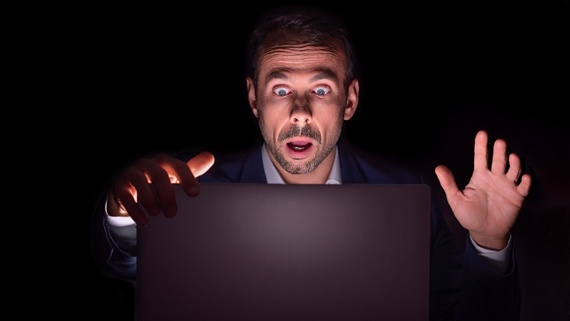 Our response to ChatGPT's work (Javidestock / Shutterstock)
There's lots that AI chatbots like ChatGPT can do very well, but maybe don't ask them to redesign your operating system. One of the TechRadar team let it loose on a Windows desktop revamp, and the results were spectacular – spectacularly bad.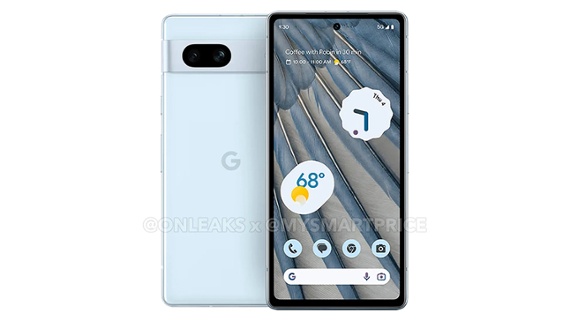 The new blue shade for the Pixel 7a (OnLeaks / MySmartPrice)
The iPhone 15 Pro isn't the only phone we have leaked images of today, as official-looking shots of the Google Pixel 7a have also made their way online. There's a new color here too, a light blue that is a welcome change to the standard gray and white.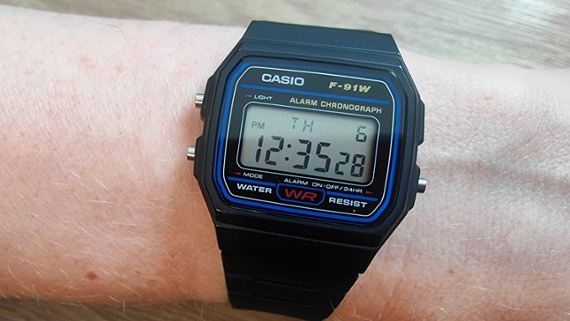 Small but mighty: the Casio F-91W (Future)
There are no apps, no phone notifications, no GPS tracking capabilities for runs and cycles, and no step counting features – so why exactly is the back-to-basics Casio F-91W a current favorite of Matt Evans, TechRadar's fitness, wellness, and wearables editor?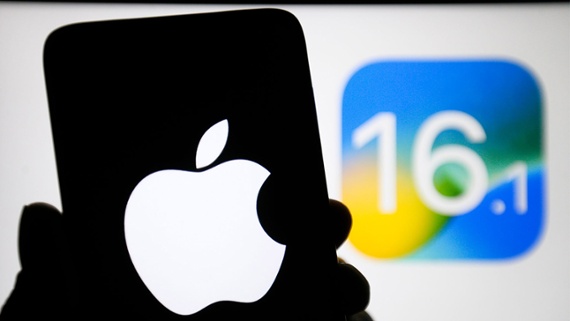 There's more to iOS 16 than you might have realised
Easter is just about done for 2023, but these Easter eggs can be found any time of year. Follow our guide to discover some of the little secrets Apple has left in its mobile operating system – including a nod to the late Apple boss Steve Jobs.
Sharing TechRadar with your network keeps the quality of content high and these newsletters free.
Help Spread the Word
SHARE
Or copy and share your personalized link:
smartbrief.com/techradar/?referrerId=mvaKglYwVl
© Future Publishing Limited. Reg No. 2008885 England.
Quay House, The Ambury, Bath BA1 1UA.