---
Kotaku Friday, March 11, 2022 6:00 PM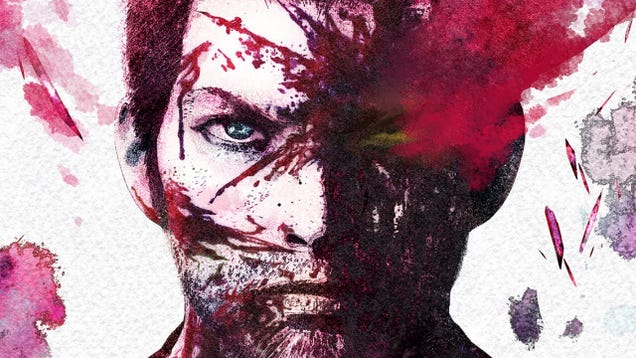 Since its announcement during E3 2021, Team Ninja's Stranger of Paradise Final Fantasy Origin has been a hotbed for shitposts and memes. These memes primarily involve out-of-context scenes of protagonist Jack Garland's music tastes and his unbridled obsession with killing "Chaos".
---
Kotaku Friday, March 11, 2022 5:45 PM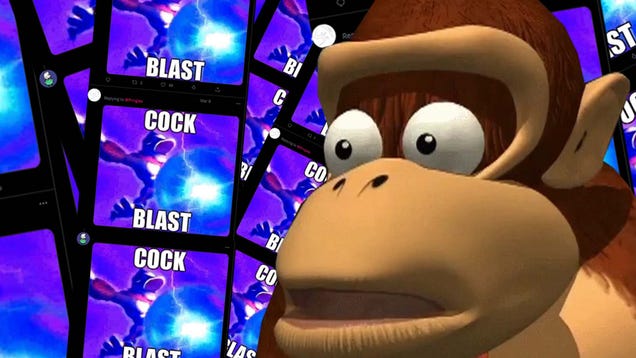 If you check out the official Pringles Twitter account right now, you'll notice an odd pattern in the replies. Folks are responding to every boring tweet about new flavors and favorite snacks with an image of Donkey Kong that makes it look like he is shooting lightning out of his crotch. Emblazoned across this…
---
Kotaku Friday, March 11, 2022 5:30 PM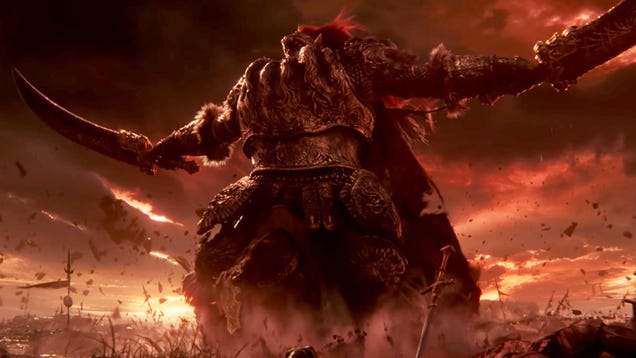 I'm nearing 60 hours with Elden Ring and, frankly, I still have no idea what's going on story-wise. Like previous Souls games, the lore FromSoftware crafted with Game of Thrones author George R.R. Martin is a mess of proper nouns and vague insinuations. One thing I do know, however, is that a boss known as General…
---
Kotaku Friday, March 11, 2022 5:05 PM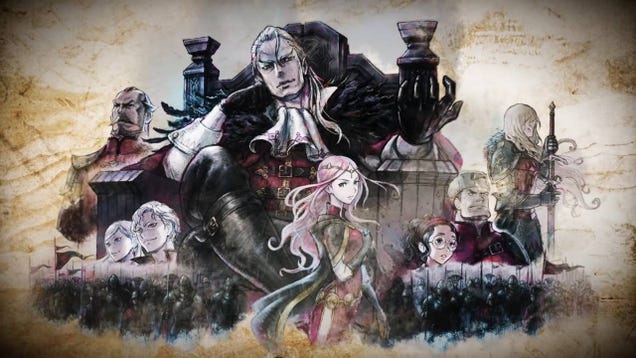 If you go into Triangle Strategy thinking that it's going to be like Fire Emblem or Final Fantasy Tactics, then you're in for a rough time. The latest turn-based strategy game from Square Enix is actually neither of those. It takes heavy inspiration from Tactics and Octopath, but Triangle is solidly its own beast. If…
---
Kotaku Friday, March 11, 2022 4:50 PM
Elden Ring has been hacked. Maybe that comes as no surprise, considering Souls games often have copious issues with game-breaking exploits. But this is no ordinary hack. No, Elden Ring is just the latest FromSoft game to be targeted by a notorious Souls hacker with a particular penchant for invading players' worlds…
---
PCGamesN Friday, March 11, 2022 6:48 PM
Valheim's next major update is all about the Mistlands, transforming the area from an awkward Early Access placeholder to a proper biome with its own creatures and other challenges - and its own weapons, as it turns out. The devs at Iron Gate have only offered tiny teasers on the Mistlands so far, and this new update is similarly small - a brief look at a new weapon that'll be introduced with the biome update.
That new weapon is the Mistlands bow, which the devs revealed in a speed modelling video showing just how new Valheim items are made. "There will be plenty of new weapons added to Valheim in the Mistlands update," the devs say in the YouTube description, "and while it's a ways away still we wanted to show you something we've been working on!"
Alas, there are no details yet on how this weapon will work or how you'll get it - but judging by the design, it's a safe bet it'll involve crafting with some bones.
Valheim system requirements
,
Valheim building tips
,
Valheim progression guide
---
PCGamesN Friday, March 11, 2022 5:45 PM
Lost Ark remains wildly popular on Steam, but the MMORPG is not without its issues - and one of the big one problems comes from bots. The devs have already banned a million bots, but in a new 'top issues' report, they acknowledge that this is just a first step. More bans are coming, as are some other changes to help stem the bot tide.
"Following this initial massive ban wave, we are continuing to regularly roll out additional bans to clear out more bots from the game," the devs say in the announcement. "Beyond that, we are also working on internal methods and tools to make it much more difficult for bots to enter the game, especially at the current rate they are being created. These updates will soon be on their way to the game."
The devs also note that they've changed some rapport and guide quest rewards from gold to silver in an effort to "prevent the abuse of these systems by botters and gold farmers".
Best MMOS and MMORPGs on PC
,
Upcoming PC games
,
Best fantasy games on PC
---
PCGamesN Friday, March 11, 2022 5:01 PM
Few games represent a genre boom the way Axiom Verge serves as a poster child for indie Metroidvania games. Thomas Happ's tribute to classic Metroid launched in 2015, and the sequel had been a long time coming. Axiom Verge 2 finally launched last year across a wide variety of platforms, including PC, but at the time it was an Epic Games Store exclusive. Now, it seems, the exclusivity is about to run out.
The Steam page for Axiom Verge 2 went live today, promising an August 11 launch on Valve's platform. As you could probably guess, that marks the one-year anniversary of the game's original launch on Epic (and Nintendo Switch and PlayStation 4). There's no price yet listed on the store page, though the game costs $19.99 USD on Epic.
I adored the original Axiom Verge, and while the sequel didn't capture my heart to quite the same degree (Deedlit in Wonder Labyrinth turned out to be the Metroidvania king of 2021 - outside of Metroid itself, anyway), it does provide an engaging, labyrinthine story, a fascinating set of hacking mechanics, and a massive world that's both challenging and fun to explore.
---
Twinfinite Friday, March 11, 2022 4:57 PM
---
Twinfinite Friday, March 11, 2022 4:11 PM
In anticipation of the upcoming 2022 release of their brand new RTS game, Shiro Games has unveiled some brand new information about one of the game's most clever factions: The Smugglers. The Smugglers are experts at focusing on vulnerable, easy prey and extracting the most of it. On the battlefield, they take some time to […]
The post Dune: Spice Wars Details The Smugglers' Unique Traits & More appeared first on Twinfinite.
---
Twinfinite Friday, March 11, 2022 3:42 PM
---
Siliconera Friday, March 11, 2022 3:00 PM
Weekly Shonen Jump has been around for more than 50 years, and dozens of iconic manga franchises have called it home. What's your favorite Shonen Jump series? Here are our selections.
---
This is a very hard question! I like so many different series from Jump for so many reasons. For example, Haikyu!! is a series I recommend to literally anybody because it's just full of charming characters and it has such an engaging plot. But if I had to choose one that's my favorite, I'd probably pick Gin Tama.
I don't think it's an overstatement to say that Gin Tama had a huge influence on my sense of humor, and so many of the jokes from Gin Tama are ones that I still use to this day. There are definitely a few that get lost in translation, but the visual gags are still enough to get the meaning across. It's the perfect mix of comedy, action, and sentimentality. Gin Tama truly is a show for the whole family... though the not-safe-for-work jokes might be a little awkward to watch with your parents. — Stephanie
Laugh at me if you like! But my fave was, and perhaps still is, Bleach. We didn't get Weekly Shonen Jump in my country until Viz implemented its worldwide subscription model in 2018. Before then, I got my weekly dose of what at the time seemed like the absolute coolest comic anyone could get by scrolling through shady, ad-choked pirate sites and illegal scanslation hubs. The experience stayed long after I grew up and became able to afford officially licensed volumes.
To this day, Tite Kubo's style is inimitable. Few things trigger a bout of nostalgia in someone who was still a teen in 2002 like seeing the Captains of the Gotei 13 lined up in assembly. All this makes the news about the Thousand-Year Blood War anime adaptation or the new chapters in recent Jump issues all the more welcome. — Josh
Jujutsu Kaisen is my favorite series by far. I came in fairly late, since I only started reading after the prequel movie came out. On the surface, it may seem like your run-of-the-mill shonen action series. But to me, Jujutsu Kaisen's strong suit comes from its commentary on Japanese social issues. It addresses things like misogyny, generational trauma, societal depression, and so much more. The characters are wonderfully complex! And even minor characters are given opportunities to grow and be part of the overarching narrative. It's no wonder that Akutami cites Bleach and creators like Junji Ito as major influences.
I was also initially worried that watching the anime beforehand would have taken some of the impact away from the manga, but I was dead wrong. If anything, Akutami's art style is enjoyable on an entirely different level. At times it borders on almost a rough draft-like quality, but I think it adds to the flavor. With the anime's second season coming in 2023, it's the perfect time to get into the series. — Andrew
I like reading sports-themed manga titles like Captain Tsubasa during my childhood. But I have especially fond memories about Eyeshield 21. It did well in introducing American football to not only Japan but also worldwide manga fans. It also delivered the story and game rules in a comical and entertaining way.
I also like how Eyeshield 21 converted a character's strength in other fields to fit their role positions in a football team. For example, Monta was a baseball player who was only good at catching balls before the football team recruited him as a wide receiver. It also had several console games released in Japan in the early 2000s. But a part inside me feels hollow since I haven't seen another game based on the title ever since. — Kite
I'm going to go with Chainsaw Man. Yes, this is a more recent release. However, it can be incredible. It's visceral. It's silly. And it's versatile. You can go into it with expectations of how the story should go, and then foreshadowing and twists you wouldn't expect.
What also makes it so exciting is the way its story is developing. It is looking like the second part could feel different from the first, and I can't wait to see what happens next. — Jenni
---
What is your favorite Shonen Jump series? Let us know in the comments or on Twitter! And read our other handy roundtables for more thoughts from the Siliconera team.
The post Our Favorite Shonen Jump Series appeared first on Siliconera.
---
Destructoid Friday, March 11, 2022 7:45 PM
---
Destructoid Friday, March 11, 2022 7:00 PM
---
Destructoid Friday, March 11, 2022 6:00 PM
An approachable, engaging, sometimes long-winded tactical experience Triangle Strategy is very nostalgic, in some ways. It utilizes HD-2D art to...
The post Review: Triangle Strategy appeared first on Destructoid.
---
Destructoid Friday, March 11, 2022 5:00 PM
---
Destructoid Friday, March 11, 2022 4:15 PM
---
Destructoid Friday, March 11, 2022 3:30 PM
---
Destructoid Friday, March 11, 2022 3:00 PM
---
PC Invasion - FeedDDD Friday, March 11, 2022 6:15 PM
Enthusiast Gaming has once again teamed up with e.l.f. Cosmetics in January to start the newest season of Rising Stars. Dubbed Rising Stars: Collegiate Edition, the event, which began on February 26, brought in a group of people competing to become the next big content creator. And tomorrow, you can watch the Rising Stars: Collegiate Edition semi-finals in which six contestants vie for a $100,000 USD contract when they join the Luminosity Gaming roster. You can catch the action starting tomorrow, March 12, at 5 PM ET. The show is being broadcast via Twitch at both Luminosity's channel, as well as e.l.f. Cosmetics' gaming channel. So far, six contestants have been eliminated. The final group compete for the main prize, the second- and third-place winners walk away with a $2,500 USD college grant. And all contestants, regardless of who makes it, receive "a limited-edition collection of e.l.f.'s OG products." The college grant has been provided by e.l.f. Cosmeti...
---
PC Invasion - FeedDDD Friday, March 11, 2022 4:30 PM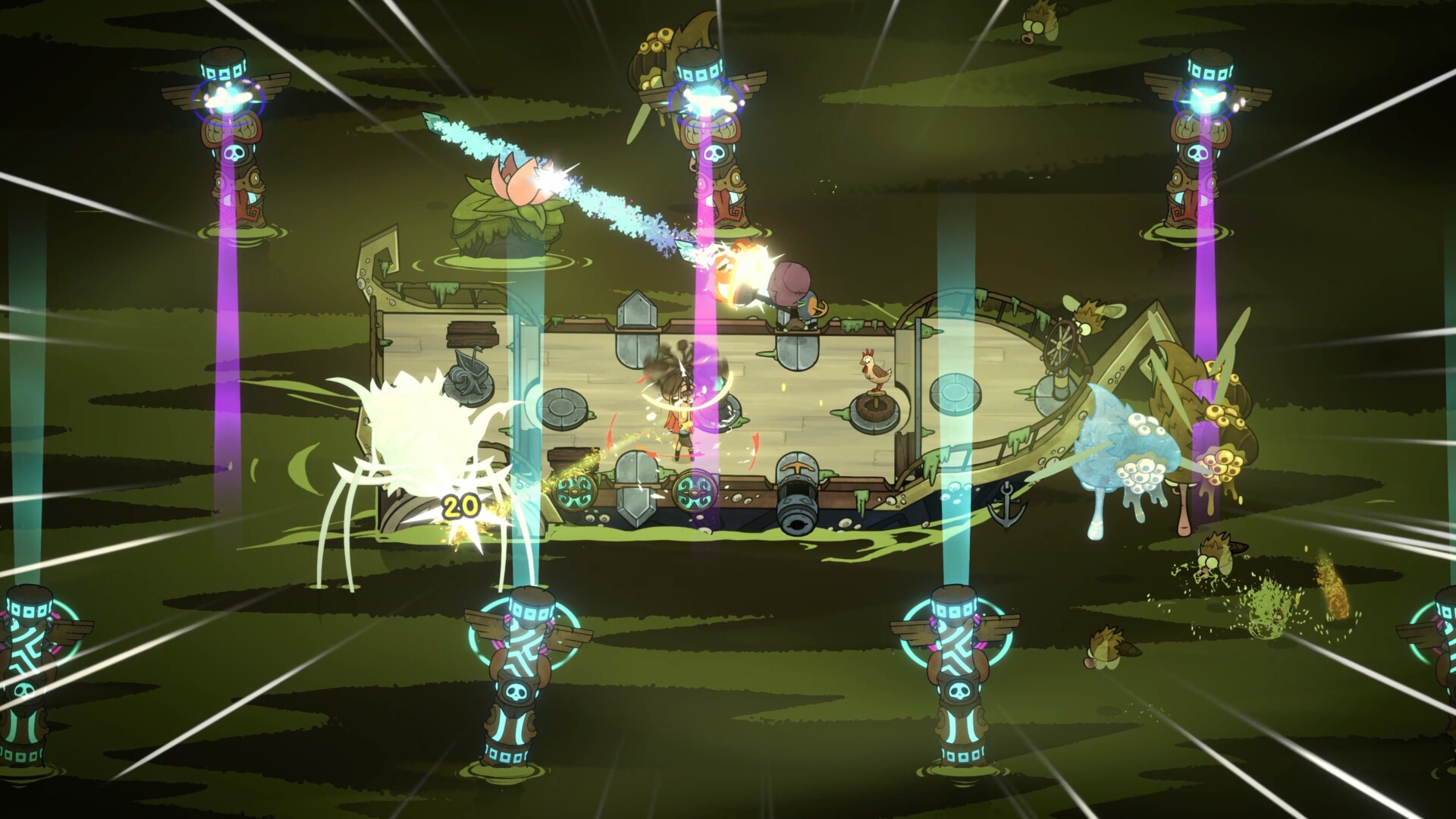 Although rogue-lites have become incredibly prevalent in recent years, indie developers still find new ways to take on the genre. Ship of Fools, a brand new co-op rogue-lite from developer Fika Productions, serves as a strong example of this. The game displays the action from a top-down perspective, much like other rogue-lites, but it focuses specifically on ship combat. Those of you who had the displeasure of playing the pirate level from Sly 3: Honor Among Thieves, which required players to walk around a ship and man the cannons to take down enemies, will probably find the gameplay of Ship of Fools familiar. But, since this game bases itself entirely around the concept, it will likely come out much more polished. According to a press release, Ship of Fools stars a group of seafaring fools who embark on perilous, procedurally-generated journeys across the seven seas. Along the way, they will have to deal with scores of "dangerous sea creatures and mega-goliaths" as they...
---
PC Invasion - FeedDDD Friday, March 11, 2022 3:30 PM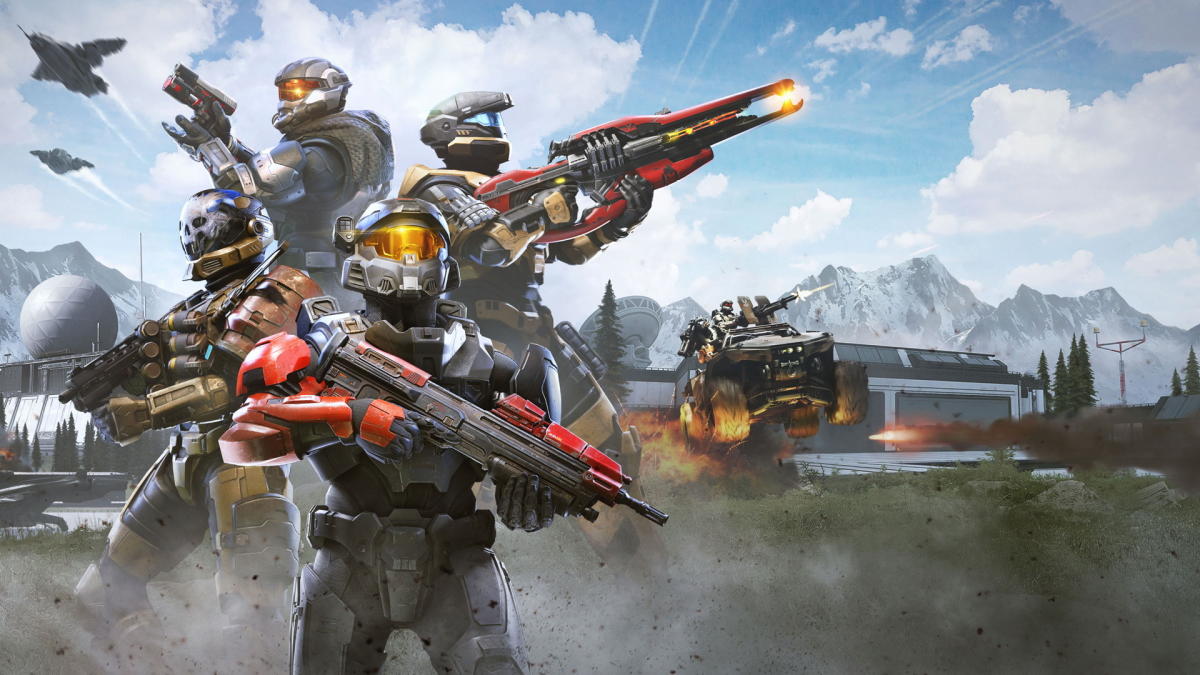 The Steam Deck is finally in the hands of some lucky customers who were able to be part of the first wave of releases. However, those fans have come to find out that potentially large portions of their Steam library are currently unsupported on the Steam Deck, and that list now includes the likes of the Halo and Gears of War. In a post on the Steam store, Xbox Game Studios revealed which of its first-party games will be compatible with the Steam Deck. Games that are verified for the Steam Deck include Death Loop, Psychonauts 2, and Prey. Meanwhile, XGS states that games such as Sea of Thieves, Quantum Break, and Forza Horizon 5 are currently in a playable state. Unfortunately, due to issues with anti-cheat, Gears 5, Halo: The Master Chief Collection, Halo Infinite, and Microsoft Flight Simulator X are all unsupported on Valve's latest device. It won't include your entire library This news may be disappointing, but it doesn't come as a complete surprise. Former Halo developer...
---
PC Invasion - FeedDDD Friday, March 11, 2022 3:00 PM
Following today's developer livestream, publisher Electronic Arts has confirmed that the Dead Space remake is heading for an early 2023 release window. It's far sooner than expected, considering how new the game looked during the first livestream. However, there were rumors floating around about it showing next year. When I heard the rumor, I thought it would be nice to see the game that quickly. Well, I can confirm that it does feel nice. EA announced the release window news via Twitter. It didn't include a lot of additional detail. All we know is that the Dead Space remake will release early next year. Of course, that is the projected time of launch. There's always a chance we'll see a delay. And considering how the last year has been, I wouldn't bet any money. Here's hoping, though. The date was revealed right after the surprisingly lengthy developer livestream, where EA Motive dove into the game's audio. Just like with the v...
---
Tabletop Gaming News Friday, March 11, 2022 6:00 PM
---
Tabletop Gaming News Friday, March 11, 2022 5:00 PM
---
Tabletop Gaming News Friday, March 11, 2022 4:00 PM
---
Player Assist | Game Guides & Walkthroughs Friday, March 11, 2022 3:30 PM
Who said you couldn't do lineups around Split? Split is known by many players as one of VALORANT's most claustrophobic maps. No other map can compete with Split when it comes to the sheer number of consecutive close corners present around the map. Coupled with narrow entryways and chokepoints, Split is definitely not a lineup-friendly […]
---
WGB, Home of AWESOME Reviews Friday, March 11, 2022 3:46 PM
The Batman is an origin story. Not the one you're thinking of which we've seen depicted in film and comic form more times than Superman has abused his X-ray vision powers to spy on hot singles in his area. Director Matt Reeves doesn't show us yet another slow-motion shot of Martha Wayne's pearls scattering across a grimy alley as some low-life guns her and her husband down, leaving the crying Bruce Wayne to swear vengeance and grow up to wear a gimp suit with ears. No, in The Batman, Bruce has already been battling crime for 2-years. He's still young, hot-headed and prone to losing control. He's Vengeance, but he's not The Batman. Not yet. Not until the credits roll on this excellent new telling of the Dark Knight.
---
Pivotal Gamers Friday, March 11, 2022 8:20 PM
What's up all? itch.io holds a new giveaway for Towards The Pantheon. Let's hear them out. Get Towards The Pantheon for FREE! A few words about Towards The Pantheon The Sworn Light have been gaining power throughout the world through divide and conquer tactics. While the humans, felines, electropunks, and ghosts argue amongst themselves, The Sworn Light are taking advantage of each sit...
---
MonsterVine Friday, March 11, 2022 4:13 PM
Square Enix has released a list of changes and additions that have been made to their massive-multiplayer RPG, Final Fantasy XI, for the month of March. The update swapped-out the Records of Eminence objectives, and made the following changes to Ambuscade: The foes in Normal and Intense Ambuscades have been swapped out.* As such, the corresponding […]
The post Final Fantasy XI Receives March Update appeared first on MonsterVine.