---
Kotaku Saturday, April 30, 2022 10:30 AM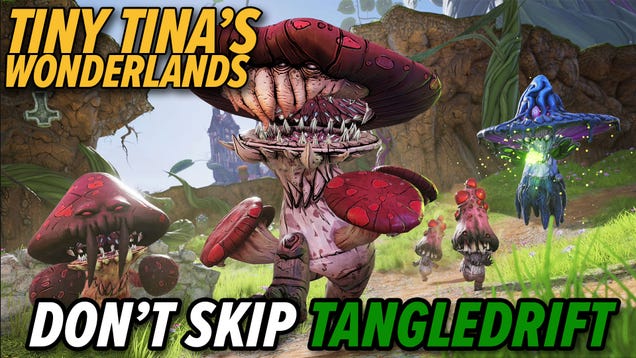 ---
PCGamesN Saturday, April 30, 2022 12:59 PM
Haiku the Robot is a new platform game in the style of hack-and-slash Metroidvanias like Hollow Knight, and apparently, even fellow indie games are tired of the wait for that game's sequel - as this Haiku the Robot Silksong Easter egg suggests.
Hollow Knight: Silksong, the follow-up to Team Cherry's beloved action-adventure game, was announced back in 2019 and there hasn't been much announced about the sequel since - other than a couple of silky songs and the promise that it'll only come out "when it matches the quality" of Hollow Knight.
Three years later and fans are impatient to hear more about the game, and apparently, fellow 2D indie games like Dark Souls are too. Haiku the Robot is highly influenced by Hollow Knight and was just released this week, so it's impressive that players have already discovered its Silksong Easter egg. You can examine a statue in a graveyard that features the haiku, "to those in the distant future, should you find my grave, I ask this: is Silksong out yet?"
---
PCGamesN Saturday, April 30, 2022 11:37 AM
Despite last year's Jurassic World Evolution 2 being good we still kind of prefer the original management game - and now, the best Jurassic World game is available for the pauperly sum of just $1, with the complete edition and all expansions available for not much more than that.
With the new Jurassic World: Dominion trailer hopefully getting you hyped up to play some dinosaur games on PC, you might want to find out if you can do better at managing the little Godzillas than John Hammond, Claire Dearing, et cetera. If so, Jurassic World Evolution is still probably your best bet - and right now, it's a cheap bet too.
While it's been given away free on the Epic Games Store previously, this is the cheapest the Steam version of the building game has ever been - just $1 / 71p for the base game with the Humble Jurassic bundle. You can also get a few DLC dinosaur packs if you pay over the average.
Jurassic World Evolution tips
,
Jurassic World Evolution enclosure guide
,
The best building games on PC
---
Rock Paper Shotgun Latest Articles Feed Saturday, April 30, 2022 5:55 PM
Late last year, block-and-slasher Minecraft Dungeons introduced seasonal events in which solo players could fight through escalating floors of a big, shifting tower. Now the second seasonal event is live, Luminous Night, which lets you fight through that same tower at night with new biomes, enemies and rewards.
---
Rock Paper Shotgun Latest Articles Feed Saturday, April 30, 2022 5:31 PM
The Bethesda launcher is closing its doors on May 11th, which means players need to migrate any games they own on the platform to their new home on Steam. It turns out that the process isn't going well for some players, however, with reports of deluxe editions and DLCs going mission, and others receiving outright errors.
---
Twinfinite Saturday, April 30, 2022 2:08 PM
Publisher CFK and developer Frontier Aja released a new trailer of the upcoming Touhou Project game Koumajou Remilia: Scarlet Symphony.
---
Twinfinite Saturday, April 30, 2022 1:35 PM
Sabotage Studio continues to release intriguing clips of the RPG Sea of Stars on the weekends, and today a new video has been revealed.
---
Twinfinite Saturday, April 30, 2022 1:12 PM
Netmarble released more English trailers of Level-5's online JRPG Ni No Kuni: Cross Worlds, focusing on some of its playable classes.
---
Twinfinite Saturday, April 30, 2022 12:08 PM
Today is a fairly big day for Microsoft Flight Simulator news, with relevant releases, reveals, and announcements on the menu.
---
Siliconera Saturday, April 30, 2022 5:00 PM
The "Ichiban Kuji Kirby 30th Anniversary Deluxe Collection" will appear in Lawson and Ichiban Kuji Online stores starting May 21, 2022. There are a total of eight types of products that you can pull for from the lottery. It will also have a Double Chance Campaign that increases the chance for people to obtain the A Prize, which is the Kirby alarm clock. [Thanks, Dengeki Online!]
The full list of prizes that are in the Kirby 30th Anniversary Deluxe Collection is:
A Prize: Victory Dance! Alarm clock
B Prize: Twinkle☆ anniversary plush
C Prize: Spring Breeze☆ mascot (3 variations)
D Prize: Riding on the Spring Breeze☆ glass collection (6 variations)
E Prize: Commemorative design towel ~Start of an adventure~ (7 variations)
F Prize: Key motif charm ~I won't forget this memory~ (6 variations)
Last One Prize: Always best friends calendar
Double Chance Campaign: Victory Dance! Alarm clock (30 total)
There is also a YouTube video that shows off how the products look like. For example, you can see that the Kirby alarm clock has three Kirbys moving along to his victory song. You can also see that the C prize mascot looks like Kirby swallowing a Waddle Dee that does not look too happy with its predicament.
You can take a closer look at the prizes in the video below.
https://www.youtube.com/watch?v=4LTYNWh4-pc

The Ichiban Kuji Kirby 30th Anniversary Deluxe Collection will appear in Lawson and Ichiban Kuji Online starting May 21, 2022. It will cost 650 JPY per try.
The post Kirby 30th Anniversary Ichiban Kuji Will Have Dancing Alarm Clock appeared first on Siliconera.
---
Siliconera Saturday, April 30, 2022 3:00 PM
There are certain shows that soar because the stars are special. They have qualities that make you care about them. You want them to succeed. You connect with them. That's why the Spy x Family anime adaptation is such a compelling watch, as its primary cast of characters work on so many levels. Their personalities are wonderful, their "secret" identities are exciting, and the dynamic is a joy to watch.
The Spy x Family dynamic is one we've seen in thrillers before. Twilight, a spy, is tasked with a mission demanding he go undercover. This means assembling a fake family. Which, again, isn't too out of the ordinary. We've seen other forms of media in which more than one member has a clandestine occupation, perhaps without the other members knowing, too. But what makes this one so unique is that we have an observer in the daughter, Anya, who is aware of everything due to being psychic.
There's an earnestness to each of the Spy x Family characters. Loid Forger is a legendary spy. He's brilliant, capable, observant, and strong. But despite the occupation, he's a genuinely good person. He's a spy to make the world a better place. But he also locked a lot of himself away. Which means as he bonds with the family, he starts to become more human and connect to them. Yor Forger is equally observant and smart, with incredible reflexes and strength. But she's also shy and a bit socially inept, as she'll be ogling a guillotine, wondering about blood getting on certain color outfits, and consider mass murder as a way to escape an embarrassing situation. They're both impressive individuals, but they're human. Which makes them fun to watch. Especially as they grow as individuals due to living as a family together.
And then there's Anya. She's exceptional in her own right, due to being a psychic. She's genuine. Her parents amuse her with their antics, even though they're deadly. She idolizes them and wants to aid in their endeavors. However, she's also just a child. One who might not even be six, as she claimed to get Loid to adopt her. Which means her naïveté gets the better of her. She'll call out her dad's "lies" in her mind as they come up. When she's eavesdropping on folks' thoughts, she'll unintentionally react. Also, she can get overwhelmed by thoughts. It's a lot for her to deal with during the Spy x Family anime.
The dynamic with the characters is especially evident once episode 3 of the Spy x Family anime comes around. This is because that's when we finally see the trio interact as a family for the first time. Anya immediately takes to Yor as her new mother. Loid attempts to get them ready for the interview to blend in, which means experiencing the theater, a museum, and fine dining. They begin working together. Even unintentionally, it happens, as the three work together to help a stranger. They pool together their strengths for the greater good. In so doing, we see how much they all need each other.
There are three people who aren't perfect. They're unique and searching for something. They each have a "mission" of their own. And in the Spy x Family anime, we get to watch them grow and accomplish these goals together. It is equal parts comedic, heartwarming, and thrilling. And it is all because Loid, Yor, and Anya are so well developed.
The Spy x Family anime adaptation is streaming both dubbed and subbed on Crunchyroll. The manga adaptation is being released outside Japan by Viz Media.
The post The Spy x Family Anime Succeeds Because of Its Characters appeared first on Siliconera.
---
Siliconera Saturday, April 30, 2022 1:30 PM
Furyu will release a 1/7 scale figure of Kurumi Tokisaki from Date a Live IV. This version of Kurumi will be wearing a shiromuku, which is a traditional all-white Japanese wedding kimono. The version that Kurumi wears in the figure is slightly altered for a more modern aesthetic. Pre-orders will open from April 30 and end on July 7, 2022. [Thanks, Hobby Dengeki!]
There is a red gradation effect on the bottom of the inner kimono, and the outer edges of the outside layer are red and black. She also has in her right hand Zafkiel's flintlock pistol, and she is holding onto the sleeve of the shiromuku with her left hand. While the traditional shiromuku kimono has a hood-like headdress, Kurumi is instead wearing a more gothic lolita-style one.
[gallery columns="4" ids="925739,925740,925741,925742" link="file"]
This is not the only Kurumi figure on the horizon. Good Smile Company showed off an unpainted prototype of a Date a Live III Kurumi Tokisaki figma during WonHobby 35. At the same time, it showed a figma of Tohka Yatogami. The Tohka figure is open for pre-order on the Good Smile Company website. It will come out in Japan in December 2022, and February 2023 for North America.
The Date a Live IV Kurumi Tokisaki (Shiromuku Version) 1/7 scale figure will be available for pre-order until July 7, 2022 via the F:NEX website. It will cost 28,380 JPY, which is around $218.65. F:NEX does not offer overseas shipping.
The post Kurumi Tokisaki Shiromuku Figure Pre-Order Opens appeared first on Siliconera.
---
Siliconera Saturday, April 30, 2022 12:00 PM
The official Fullmetal Alchemist The Final Chapter Twitter account shared new stills of King Bradley and his family, including his son Selim Bradley. The new images accompanied an interview with actor Hiroshi Tachi and Kokoro Terada, who play King Bradley and Selim Bradley. Notably, Tachi discussed the "interesting" dynamic between the two characters. [Thanks, ryokutya!]
Note: This article includes Fullmetal Alchemist spoilers.
Fullmetal Alchemist: The Final Chapter – Scar the Avenger is the first film in a two-part live-action film series, set to debut later this year. The movies will pick up where the last live-action film left off in 2017. Scar the Avenger and The Last Transmutation will feature a cast of popular Japanese actors. Last month, the Twitter account released a series of stills featuring these actors playing characters such as Van Hohenheim, King Bradley, Ling Yao, and Olivier Mira Armstrong.
The latest series of Fullmetal Alchemist live-action stills focus on King Bradley and his family, including Selim Bradley. The two characters are also known as Wrath and Pride, respectively. Wrath and Pride are two Homunculi that play an important part in Fullmetal Alchemist's story. Importantly, Selim is the second-in-command of the Homunculi, and is arguably King Bradley's senior. To this, Hiroshi Tachi commented that, despite being vastly different in age, Terada was a "brilliant actor" that was "able to immediately immerse himself into the world's setting."
Terada, a 13-year-old child actor, stated that one of his favorite scenes was when Selim was able to be a regular kid around King Bradley and his wife. In order to differentiate his two personalities, Terada explained that he focused on changes in voice depth. When acting as Pride, Terada also focused on acting arrogant and looking down on people.
Check out the Fullmetal Alchemist live-action stills below.
[gallery ids="925747,925746,925748" link="file"]
The Fullmetal Alchemist: The Final Chapter – Scar the Avenger live-action movie will premiere in Japanese theaters on May 20, 2022. The second new entry, The Last Transmutation, will debut on June 24, 2022. There is no confirmation of an English or Western release.
The post Fullmetal Alchemist Live-Action Stills Show King Bradley and His Son appeared first on Siliconera.
---
Siliconera Saturday, April 30, 2022 10:30 AM
CFK released a launch trailer for Koumajou Remilia: Scarlet Symphony, showing off some gameplay. The launch trailer also outlines some of the bonus materials included in the game's limited edition box set. The set will include a CD of the game's original soundtrack, as well as a 34-page illustration and design booklet. It will cost ¥7,000 (about $53). [Thanks, 4Gamer!]
Koumajou Remilia: Scarlet Symphony is an HD remaster of the 2009 Japanese fan-made doujin game Koumajou Densetsu: Scarlet Symphony. It is a side-scrolling Castlevania-style Touhou game, and follows protagonist Reimu Hakurei in her fight against the residents of the Scarlet Devil Castle. CFK initially announced it would release the game for Nintendo Switch and PC in 2021, before pushing the release to 2022.
Notably, the HD remaster will include full voice acting. The launch trailer showcases some snippets of each character's voice lines. Furthermore, the game will include bonus content that did not appear in the original release. The game will include subtitles in six languages.
The limited edition will only be available for the Nintendo Switch version. The set will include a physical version of the game, a 34-page illustration and design booklet, a special illustrated acrylic plate, and two CDs including 27 songs from the game's original soundtrack. Both the box art and acrylic plate will feature illustrations by artist Banpai Akira. The set can be purchased through various Japanese online retailers such as Amazon and Animate, each with its own unique bonuses.
You can check out the Koumajou Remilia: Scarlet Symphony launch trailer below.
https://youtu.be/V-qQwTXR6Vo
Here are the items included in the limited edition:
Koumajou Remilia: Scarlet Symphony will release for the Nintendo Switch and PC via Steam on July 28, 2022. The limited edition will cost ¥7,000 (about $53).
The post Koumajou Remilia Scarlet Symphony Launch Trailer Released appeared first on Siliconera.
---
Destructoid Saturday, April 30, 2022 3:00 PM
---
Destructoid Saturday, April 30, 2022 2:15 PM
---
Destructoid Saturday, April 30, 2022 1:00 PM
---
Destructoid Saturday, April 30, 2022 11:00 AM