---
Kotaku Saturday, June 4, 2022 9:00 AM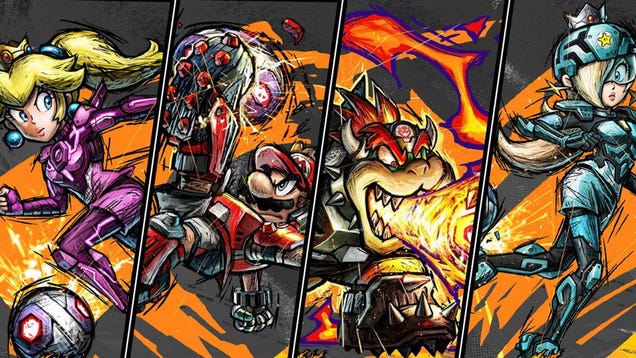 It's time once again to answer the age-old question: Who is the best soccer player among all the Mario characters? And thankfully on June 10 Mario Strikers: Battle League will provide us with yet another opportunity to solve one of life's great mysteries.
---
PCGamesN Saturday, June 4, 2022 1:26 PM
There are Doom ports to everything under the sun, from Game & Watch to Minecraft to a digital camera, so being able to run the classic FPS game on a regular PC isn't that impressive - but it is if you've barely turned it on. The latest Doom port allows you to run it directly from a PC BIOS firmware, making Doom more important than Windows.
Doom is one of the most famous all-time classic old PC games and it's still perfectly playable today, but for some reason, the entire world is obsessed with bringing it to as many platforms as possible - from tiny PCs to a SEGA Genesis to a restaurant. And now, it's playable as part of a system BIOS.
Coreboot is an open-source BIOS system firmware, and update 4.17 is out today (via Toms Hardware). It supports a load of new motherboards, a new bootloader, and, yes, Doom. Users can create 'payloads' to add ROM code to Coreboot, including some basic games that load up in the linear frame-buffer - and now, someone's made Doom for it.
Doom PC release date
,
Play Doom
---
PCGamesN Saturday, June 4, 2022 1:43 PM
Epic Games confirmed the Fortnite Chapter 3 Season 3 release date at the start of the current season. Unfortunately, we don't know the story details for the battle royale game's new season, but right now, there's a war between the Seven and the Imagined Order, set to conclude in the Fortnite Chapter 3 Season 2 end event.
No matter who wins this final battle, the Fortnite Chapter 3 Season 3 release date will be upon us as the dust settles. So what can players expect? It's highly likely that the Collider, the enormous spire in the centre of the map, may change everything as we know it. We also reckon that the appearance of Sideways weapons, last seen at the end of Chapter 2, indicates that the Cube Queen is somehow still involved.
There are certainly more questions at this time than answers. Will Tilted Towers get rebuilt or eradicated? Was there a deeper meaning behind the secret Klombo snow mounds and Klombo sand mounds? And perhaps the most important question on fans' minds: will No Build mode become a permanent game mode after Chapter 3 Season 2? Of course, all will become clear when Fortnite Season 3 begins, but for now, here's everything we've managed to dig up about the new season.
Fortnite V-Bucks
,
Fortnite Skins
,
Fortnite Creative Codes
---
PCGamesN Saturday, June 4, 2022 12:22 PM
With Summer Game Fest coming up fast, studios have begun teasing their upcoming games for reveals at the not-E3 event. The latest is from Frostpunk and This War of Mine developer 11 Bit, which just announced a reveal of its next game for the PC Gaming Show with a teaser trailer - as well as confirming that it has three games in development, along with Frostpunk 2.
Today, 11 Bit Studios revealed a tiny highly-teasing teaser trailer for a brand new game that the studio plans to reveal during the PC Gaming Show on June 12. The rather sinister teaser, which you can see below, shows a man waking up in a hospital bed and the quote from surgeon Alexis Carrel, "Man cannot remake himself without suffering, for he is both the marble and the sculptor." Creepy stuff.
11 Bit is also working on another new game codenamed Project 8, which it revealed back in 2018 and is still apparently being worked on. The only thing for sure is that it's not a management game or a city-building game like Frostpunk.
Best city-building games
,
Best survival games
,
Upcoming PC games
---
PCGamesN Saturday, June 4, 2022 10:23 AM
The new Vampire Survivors update 0.7 hits on June 9, just in time for Summer Game Fest, and it'll bring stage 5 to the roguelike game - as well as likely more insanity. Other than a new level, the Vampire Survivors patch notes confirm new power-ups and an additional weapon, plus its evolution.
The 0.7.0 update for the vampire game has an ETA of June 9 and the patch notes are now available on the Vampire Survivors Discord - but, as fans know by now, the patch notes are deliberately vague. The 0.6.1 update notes claimed "less content than usual," for example, and it turned out to be the game's biggest, craziest patch yet.
Developer Poncle confirms the "first iteration" of the proper Stage 5, two new Arcana abilities, one new weapon and its evolution, and one new power-up. There's a lot unsaid here, as usual, as "one new weapon" could easily be swarms of angry cats. There will also be a toggle to turn off Golden Egg bonuses, as well as some bug fixes for them not working, and power-up costs will now increase by a flat rate rather than a percentage.
The best survival games on PC in 2022
,
Vampire Survivors weapon evolution guide
,
The best Vampire Survivors build
---
Twinfinite Saturday, June 4, 2022 1:59 PM
Third-party developers had a few Microsoft Flight Simulator releases and a juicy reveal in store for us today.
---
Twinfinite Saturday, June 4, 2022 11:54 AM
Today Pearl Abyss released a short teaser trailer showing off the awakening version of the new class Drakania for the first time.
---
Twinfinite Saturday, June 4, 2022 11:24 AM
The western and Japanese arms of Nintendo released new trailers of the upcoming fantasy soccer game Mario Strikers: Battle League.
---
Twinfinite Saturday, June 4, 2022 9:46 AM
A Wordle a day keeps the... word doctor away?
---
Siliconera Saturday, June 4, 2022 3:00 PM
Sometimes you want to play the field. Other times, you just aren't looking for romance and want to surround yourself with good friends. Giving players the freedom of choice, and a lot of choices at that, is what makes Arcade Spirits: The New Challengers such an enjoyable visual novel.
As the game introduces new potential partners, you'll be presented with First Impressions. This determines whether or not you want to be friends, enemies, or keep things open for some quality flirting. I chose not to get tangled up with my rival Hunter. They'd been my online battling partner for so long that keeping things platonic made sense to me. When I showed up at the arcade to meet my potential teammates, I figured it best not to overwhelm myself. This meant sticking to the friendship route with Grace and Domino. Grace was just too sweet and reserved for me, whereas Domino's off-kilter demeanor was a bit of a turn-off.
This meant things were open with the dashing Locksley, pulls no punches Zapper, pack parent Rhapsody, and the cool and mysterious Jynx. Early on, I focused on activities that let me get to know each of these four more. As I got to know my team members, I found myself leaning harder into the story threads offered by Rhapsody and Jynx. These two were my front runners for the first playthrough companionship. Making story choices that put me with either one were always the priority. This is how I learned of Rhapsody's gamer block, their fall from grace as a pro player, and career pivot to shoutcasting. The loss of confidence in their gaming skills made me want to lift them back up, get them back up on the podium.
But then I spent more time with Jynx. I was already intrigued by this racing game enthusiast. The way she spoke of in-universe game Fast Cars reminded me of the days I spent attached to the Initial D machine at my favorite arcade. She introduced me to her cat, Mynx, which was clearly a huge step for her. We played Fist of Destruction 2 together whenever time to play the mini-game arose. When shit hit the fan, she smacked me back to reality.
Whether or not you decide to mix work with pleasure is your call. Managing and playing in an esports team is stressful enough. It's completely understandable to limit your extracurriculars. And yes, this is an LGBTQ+ friendly experience. You can woo everyone or no one, and if you make just the right choices there's even a polyamorous ending in your future. With so many options, there is no wrong way to enjoy this visual novel. I love that Arcade Spirits: The New Challengers never pressures you into flirting or dating. The understanding that not every person wants love injected into their visual novels makes this appealing to a wider audience. My positive experience makes me a little sad that I didn't catch on to this series earlier.
Arcade Spirits: The New Challengers is available now for PlayStation 4/5, Xbox One/Series X, Nintendo Switch, and PC.
The post Date (or Don't) Your Arcade Spirits: The New Challengers Teammates appeared first on Siliconera.
---
Siliconera Saturday, June 4, 2022 1:00 PM
Leon S. Kennedy is apparently not one to skimp out when it comes to fashion. The Schott sheepskin leather bomber jacket, which Leon wears in the upcoming RE4 Remake, is available for purchase for $1,495. [Thanks, @Jawmuncher!]
Eagle-eyed Resident Evil fans first noticed the jacket's existence after spotting a disclaimer at the end of the recent RE4 Remake reveal trailer. The disclaimer stated that Leon's brown sheepskin jacket appeared "with permission from Schott NYC," a clothing brand based in the US. The brand has been producing high-end jackets since 1913.
https://twitter.com/Jawmuncher/status/1532509925158576128
Specifically, Leon's jacket is the Classic B-3 Sheepskin Leather Bomber Jacket. A modified version of the jacket was reportedly worn by American pilots during World War II. The jacket is shearling, and the inside is woolen while the outside is suede. The jacket also comes in black and gold. Interestingly, the jacket first appeared in the beta version of RE4, but was replaced in the final version of the game.
Collecting high-end jackets appears to be a hobby for the counter-terrorist federal agent. Back in September 2021, Capcom announced it would sell an official replica of Leon's jacket from Resident Evil Infinite Darkness, which cost over $1,000.
The RE4 Remake Leon Kennedy bomber jacket from Schott is available for $1,495. The jacket is available via the Schott NYC website, and ships internationally.
The post Leon's Bomber Jacket from RE4 Remake Costs $1500 appeared first on Siliconera.
---
Siliconera Saturday, June 4, 2022 11:00 AM
Bandai Namco Pictures has reportedly greenlit a live-action adaptation of the Tiger & Bunny series for a third time. Producing the series in partnership with Bandai Namco is SK Global, the film company behind feature films such as Crazy Rich Asians and Moneyball. Unlike the previous two failed ventures, however, SK Global aims to produce it as a series rather than a film. [Thanks, Variety!]
Tiger & Bunny first appeared as an anime series in 2011 from animation studio Sunrise. The series later received one-shot manga, video game, and stage play adaptations, as well as two animated feature films in 2012 and 2014. More recently, the anime's second season released on Netflix in April 2022.
This is the third time Bandai Namco has attempted to produce a live-action adaptation of the popular anime series. Previous attempts involved production companies such as Imagine Entertainment and Global Road Entertainment. Both of Bandai Namco's previous deals fell through when its respective partners collapsed, resulting in the IP's rights reverting back to Bandai Namco.
The Tiger & Bunny live-action series will have M. Raven Metzner, the executive producer of Marvel TV series Iron Fist's second season, adapting and show-running. Other executive producers include the producer of the original Tiger & Bunny anime series, Ozaki Masayuki.
Filosophia CEO Tetsu Fujimura will also be an executive producer. Fujimura's previous work includes the Cowboy Bebop live-action series, the upcoming One Piece live-action series, and the Ghost in the Shell live-action movie. Fujimura reportedly stated that development is already underway. He also said the show will be pitched to broadcasters and streamers, including Netflix.
The post Tiger & Bunny Live-Action Adaptation Greenlit for a Third Time appeared first on Siliconera.
---
Siliconera Saturday, June 4, 2022 9:00 AM
On June 4, 2022 Pokemon GO will have the Pokemon GO Fest 2022 event, with increased spawn rates and bonuses. There will also be a rotation of habitats, which change at different times of day, so there's a variety of Pokemon to catch. Pokemon GO Fest 2022 will run from June 4 to June 5, 2022.
While there is a ticket you can purchase in order to get certain bonuses, all players will get the chance to enjoy the higher spawn rate of Pokemon during the Fest. However, there are certain Pokemon that you can only obtain with an Incense from a ticket. The habitats rotate on a global schedule, and you will be able to check the time in-game. Each spawn will last an hour. The spawns for each habitat, as well as their times are:
City Habitat (9 a.m. PT/12 p.m. ET, 1 p.m. PT/4 p.m. ET)
Alolan Grimer
Baltoy
Bronzor
Flower costume Pikachu
Galarian Weezing
Golett
Gothita
Hitmonchan
Klink (Ticket Incense)
Litten
Magnemite
Pidove
Trash Cloak Burmy
Trubbish
Unown B, G, O, U (Ticket Incense)
Plains Habitat (10 a.m. PT/1 p.m. ET, 2 p.m. PT/5 p.m. ET)
Axew
Buizel
Drilbur
Dunsparce
Flower costume Pikachu
Girafarig
Larvitar
Litleo
Numel
Patrat
Rufflet
Shelmet
Torkoal (Ticket Incense)
Trapinch
Unown B, G, O, U (Ticket Incense)
Rainforest Habitat (7 a.m. PT/10 a.m. ET, 11 a.m. PT/2 p.m. ET)
Binacle
Chimchar
Flower costume Pikachu
Karrablast
Mudkip
Pancham
Rowlet
Seedot
Shroomish
Skrelp
Slakoth
Tropius (Ticket Incense)
Turtwig
Unown B, G, O, U (Ticket Incense)
Venipede
Tundra Habitat (8 a.m. PT/11 a.m. ET, 12 p.m. PT/3 p.m. ET)
Bergmite
Cubchoo
Flower costume Pikachu
Galarian Darumaka
Galarian Mr. Mime (Ticket Incense)
Meditite
Piplup
Popplio
Spheal
Swinub
Omanyte
Unown B, G, O, U (Ticket Incense)
Vanillite
Wailmer
Wingull
Pokemon GO is available on mobile devices. Pokemon GO Fest 2022 will run from June 4 to June 5, 2022.
The post Here Are the Habitat Spawns for Pokemon GO Fest 2022 appeared first on Siliconera.
---
Level Up Saturday, June 4, 2022 10:04 AM
Happy Pokémon Go Fest, trainers! We have two long days of catching Pokémon in front…