---
Kotaku Tuesday, July 5, 2022 7:15 PM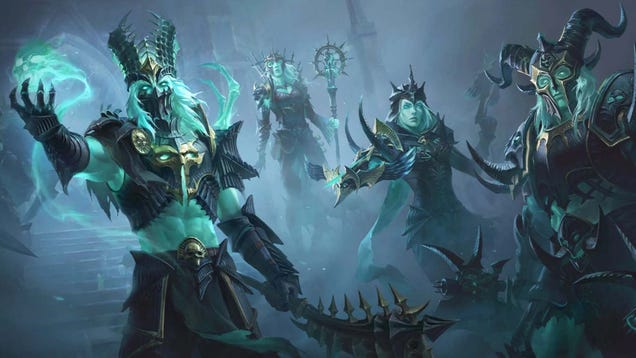 In its first month of release Blizzard's controversial new mobile game, Diablo Immortal, has racked up nearly $50 million in reported revenue across 10 million downloads. Even as debates and criticism swirled around the free-to-play RPG, data shows that the game has made at least $1 million a day since launch.
---
Kotaku Tuesday, July 5, 2022 6:10 PM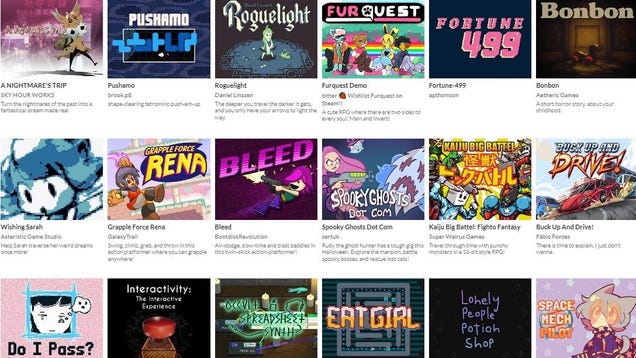 Game designer Caro Asercion has marshaled together a massive itch.io bundle giveaway to help raise money for abortion funds throughout U.S. states where reproductive health is now, or soon will be, illegal following the Supreme Court's overturning of Roe v. Wade. It's just $10, and includes hundreds of games as well…
---
Kotaku Tuesday, July 5, 2022 6:01 PM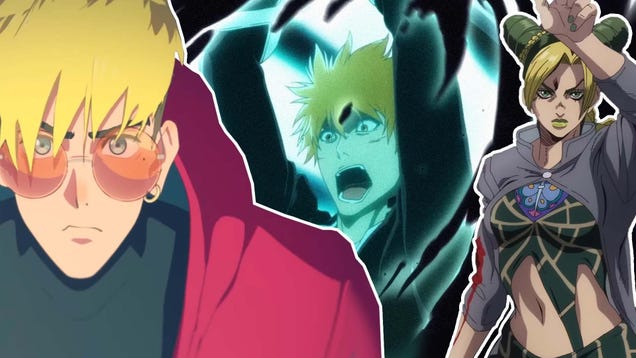 Last weekend, Anime Expo, the "largest celebration of Japanese pop culture in North America," featured a treasure trove of announcements and trailers to satiate otaku… at least until next year's event.
---
Kotaku Tuesday, July 5, 2022 3:55 PM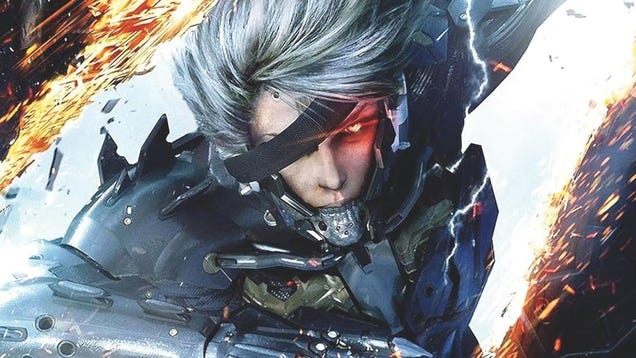 In a week filled with fantastic live speedruns at Summer Games Done Quick 2022, a one-hour playthrough of Metal Gear Rising: Revengeance still turned heads. Even more remarkable was the encore, unlocked through community donations: a frantic race through the game's Blade Wolf DLC campaign which ended up setting a…
---
Kotaku Tuesday, July 5, 2022 3:10 PM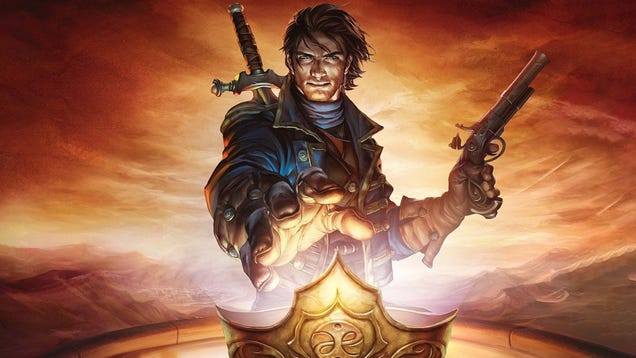 Microsoft announced this week that, starting in October, it will stop providing monthly free Xbox 360 games as part of its Games With Gold program. Emails announcing the news have started going out to Xbox Live subscribers, and Microsoft promises it will continue to give out free Xbox One games moving forward.
---
Kotaku Tuesday, July 5, 2022 3:00 PM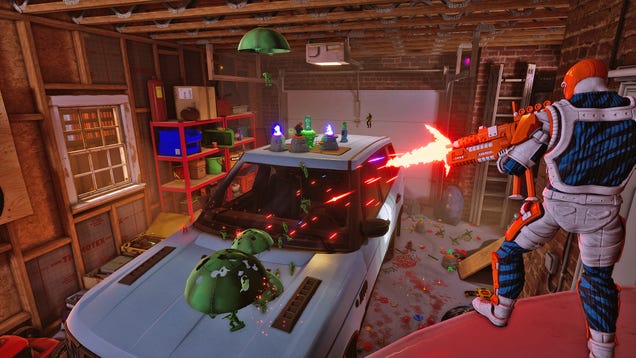 Over the past week, the gaming world has been obsessed with an indie shooter coming to Xbox, treating it with the fervor (and wildfire social media metrics) of a forthcoming AAA tentpole. But here's the weird part: This game's already out. It's been playable on multiple platforms for years.

---
PCGamesN Tuesday, July 5, 2022 7:15 PM
An up-and-coming Final Fantasy XIV roleplay group decided the best way to bring newcomers to its upcoming summer bash in the MMO Game was to advertise, but the usual methods simply wouldn't do. Instead of shouting on the streets of Limsa Lominsa or wooing passerby on the steps of Ul'dah, the Rain nightclub bought a few billboards in Texas and California, letting the party-minded Warriors of Light know where to go once July 9 rolled around.
The best MMOs on PC
,
FFXIV Reaper job guide
,
FFXIV Sage job guide
---
PCGamesN Tuesday, July 5, 2022 6:02 PM
The final World of Warcraft raid is usually designed to be more difficult than those that came before in the expansion, as you'd expect from a big last battle. There tends to be a significant gap between the final content drop and the next expansion, and it helps to keep WoW guildies engaged in the game with something meaty while they wait. The final Shadowlands raid, Sepulcher of the First Ones, seems to have overegged the pudding, though. As we previously reported on the last round of raid tuning, only 264 guilds had beaten the entire raid on Mythic difficulty. Since the last round of nerfs, this number jumped to 443. It's a respectable number, but still well under the 700-odd who cleared Ny'alotha, the Waking City by this point, final raid of the venerable MMORPG's previous expansion.
Best MMORPGs on PC
,
The best WoW addons
,
WoW Classic leveling guide
---
PCGamesN Tuesday, July 5, 2022 6:17 PM
A fresh Destiny 2 weekly reset is upon us. As a premier live service game, one of the main ways that Bungie keeps players coming back to Destiny 2 is with its weekly resets. These typically offer a content refresh across the space game's various planets, raids, and dungeons, along with minor bug fixes and changes to address outstanding player concerns. The reset often includes new seasonal mission content or updates to existing in-game activities for players who own the seasonal content. And, with ongoing weekly updates to the Nightfall, the Crucible playlist, campaign missions, in-game activities and bounties, there's more to track than ever.
The Destiny 2 weekly reset takes place at the same time each week. There's often some server downtime around the reset, so you should take note of that if you're unable to log into the game at precisely that time. Once the reset begins, you'll have a full week to explore all the changes before Bungie rolls out another set of changes on the same day and time the following week.
Here, we're offering Destiny 2 players a recap of all the weekly reset changes so you know what shiny new activities to prioritise while grinding for loot.
Destiny 2 classes
,
Destiny 2 exotics
,
Destiny 2 builds
---
PCGamesN Tuesday, July 5, 2022 6:13 PM
Want to know what this week's Destiny 2 Nightfall weapon is? Each week you've got a chance at a different weapon for completing Nightfall Strikes, and ever since Season of the Lost, fan-favourite legacy weapons from the original Destiny have been added to the rotation. Two new weapons were introduced into the pool in Season of the Risen, so it's more important than ever to know in advance the Nightfall weapon schedule.
In case you don't know what the Destiny 2 Nightfall weapon means, Nightfall: The Ordeal is a playlist available in the Vanguard menu, alongside the basic Strike playlist. Each week, a different Strike is chosen as the Nightfall, and offered in five escalating difficulties, with harder enemies, challenging modifiers, and enemy power levels cranking up.
The coveted Nightfall weapons have a chance to drop from any Nightfall Strike difficulty, but it's far more likely at higher levels. Your best bet for farming each week's Nightfall weapon is to set the Strike to Master difficulty, according to YouTuber Aztecross. You should also note that there's no automatic matchmaking above Hero difficulty, however, so you'll need to get a squad together.
Destiny 2 classes
,
Destiny 2 exotics
,
Destiny 2 builds
---
PCGamesN Tuesday, July 5, 2022 3:26 PM
It looks like Nintendo may bring Mario Kart to PC, or at least one version of it. The Mario Kart Tour Community Discord dug into the Mario Kart Tour's most recent update, which ResetEra user MondoMega picked up on, and found a set of strings that seem to point to a Mario Kart Tour PC port. These include recognition for mouse inputs, along with a set of emulation strings, but it's probably safe not to expect (legitimate) forms of Nintendo games playable on PC anytime soon.
---
PCGamesN Tuesday, July 5, 2022 2:28 PM
The Red Dead Redemption remaster is canceled, a new report from Kotaku says, along with the long-rumored Grand Theft Auto 4 remaster, both of which Kotaku's Zack Zweisen said were in development for several years. It corroborates a rumor from Rockstar leaker Tez2 that surfaced on July 4 and confirms the reason was, indeed, the poor reception of Rockstar's Grand Theft Auto Trilogy - Definitive Edition in late 2021.
Red Dead Redemption 2 PC review
,
RDR2 PC legendary animal hunts
,
RDR2 money guide
---
Rock Paper Shotgun Latest Articles Feed Tuesday, July 5, 2022 6:57 PM
The Ryzen 5 5500 is one of AMD's latest Ryzen 5000 processors, but a strong competing Intel lineup means it's already gotten a 33% reduction on Amazon, dropping from £176 to £113. This six-core twelve-thread chip is a solid upgrade over the likes of the Ryzen 5 3600 from the previous generation, but mostly makes sense in a new budget gaming build or as an upgrade for an older Ryzen 1000 or Ryzen 2000 system.
---
Rock Paper Shotgun Latest Articles Feed Tuesday, July 5, 2022 6:39 PM
The AMD Ryzen 7 5800X has hit $275 at Amazon, an incredible price for an eight-core sixteen-thread CPU that ranks among the best for gaming and content creation. That's nearly a $100 less than the same CPU cost last year, when we trumpeted that the processor had reached $369 in a one-off sale and $175 below the chip's US MSRP.
---
Rock Paper Shotgun Latest Articles Feed Tuesday, July 5, 2022 5:52 PM
Ubisoft Forward is returning this September. Ubisoft's very own not-E3 livestream will "reveal updates and news on multiple games and projects", Ubisoft say. Before that - on this Thursday July 7th, even - the publisher are going to broadcast an in-depth look on their lost-at-sea live service pirate 'em up Skull And Bones.
---
Rock Paper Shotgun Latest Articles Feed Tuesday, July 5, 2022 5:13 PM
Rockstar have reportedly shelved plans for remasters of Red Dead Redemption and GTAIV after the poor reception of Grand Theft Auto: The Trilogy - The Definitive Edition. The trilogy, which released late last year, was a technical disaster and heavily criticised despite high sales.
---
Rock Paper Shotgun Latest Articles Feed Tuesday, July 5, 2022 4:46 PM
It's been a while since we've written about Smite, so if you've forgotten: it's a third-person MOBA about duelling gods in which players control the likes of Anubis and Zeus. That makes it a slightly odd fit for new characters like Invader Zim or Rocko from Rocko's Modern Life, but well, that's what is coming later this month, alongside a handful of other Nickelodeon characters.
---
Rock Paper Shotgun Latest Articles Feed Tuesday, July 5, 2022 4:12 PM
Silent Hill 2 fans have been slowly working away at an Enhanced Edition PC mod for years now, and its latest update introduces some substantial new features. Those additions include an installer and launcher which make it easier to get started, better AI-upscaled full-motion videos, and a fix for a crash and stutter bug that has plagued the horror classic since it first released on PC in 2001.
---
Twinfinite Tuesday, July 5, 2022 9:26 PM
Fight evil in the moonlight with Psyduck and Pikachu.
---
Twinfinite Tuesday, July 5, 2022 8:56 PM
Making full use of your guesses.
---
Twinfinite Tuesday, July 5, 2022 8:51 PM
Growing your knowledge.
---
Twinfinite Tuesday, July 5, 2022 8:46 PM
Let's take a look at what comes with Call of Duty Modern Warfare 2 Vault Edition & Where to Preorder It.
---
Twinfinite Tuesday, July 5, 2022 8:22 PM
Vecna's ready for the ball.
---
Twinfinite Tuesday, July 5, 2022 8:06 PM
Today Square Enix announced the release dates and revealed a new trailer of its upcoming action JRPG Valkyrie Elysium.
---
Twinfinite Tuesday, July 5, 2022 7:41 PM
Today Atlus released its daily trailer of the upcoming JRPG Soul Hackers 2, focusing on the demonsthat will be featured in the game.
---
Twinfinite Tuesday, July 5, 2022 6:31 PM
The Final Fantasy XIV community often sparks some amazing feats of creativity, and today we see a brand new one.
---
Twinfinite Tuesday, July 5, 2022 5:54 PM
A Wordle a day keeps the... word doctor away?
---
Twinfinite Tuesday, July 5, 2022 5:29 PM
Today Square Enix implemented update 6.18 on its popular MMORPG Final Fantasy XIV, bringing forth Data Center Travel.
---
Twinfinite Tuesday, July 5, 2022 4:41 PM
Find the perfect creative Minecraft base idea for you!
---
Twinfinite Tuesday, July 5, 2022 4:39 PM
Final Fantasy XIV has become extremely popular over the past few years, and you may happen to see some peculiarly related billboards.
---
Twinfinite Tuesday, July 5, 2022 4:06 PM
Wondering how to get Iridium in Stardew Valley. Then, here's what you need to know. Iridium is a valuable metal in the game and has many uses.
---
Twinfinite Tuesday, July 5, 2022 3:36 PM
Valorant's upcoming esports competition gets an exciting new trailer.
---
Twinfinite Tuesday, July 5, 2022 3:25 PM
Here is how to make Sea Lanterns in Minecraft.
---
Twinfinite Tuesday, July 5, 2022 3:21 PM
Choosing the right gun for the task at hand is vital to becoming successful. Here are the best guns in COD Mobile so far in 2022.
---
Twinfinite Tuesday, July 5, 2022 3:14 PM
Collect the Legacy Ingredients through Pete in Roblox's Wacky Wizards.
---
Siliconera Tuesday, July 5, 2022 3:00 PM
Some games are so neat, succinct, and tidy. Everything is laid out in front of the player. You know what they're getting into when you start playing. It's a treat. Little Noah: Scion of Paradise, Granblue Fantasy creator Cygames' roguelike, is a delightful adventure that can be enjoyed in large or small doses, gradually filling someone up. It's a fantastic surprise.
Little Noah might look familiar, at least in terms of its appearance. That's because The original version of the game, which people might know as Battle Champs, was a Clash of Clans sort of game with Akihiko Yoshida and Hitoshi Sakimoto involved. LIttle Noah: Scion of Paradise features the same alchemist protagonist Noah, as well as her airship and Lilliput champions. However, in this adventure she happens upon ruins, an amnesiac cat, and a power-hungry villain named Greigh while searching for her lost father. In the process, it hints she'll be pulled into a world-changing adventure.
Alchemy, the flow of mana, and otherworldly magic centered in mystic ruins serves as the background for this roguelike. Why is the dungeon different each time you enter? Magic! Why is Noah going into it? Magic! (Specifically, mana to fix her airship and answers regarding her dad and new cat-friend Zipper.) Why are so many enemies strong? Magic! It's a good excuse to fall back on, really. Also, it conveniently offers a reasonable explanation for why Noah is even able to summon Lilliputs to fight for her.
Because Noah isn't technically the one fighting in Little Noah. When you leap down from the airship into the ruins, you'll start with three Lilliputs after landing. So she'll set off with Huey, Ratty, and Thump. As she happens across chests, alchemy pots, and shops in the ruins, she'll be able to acquire new Lilliputs. She'll also find crystals that can increase her attack prowess in different ways and accessories that offer bonus effects. All of these increase her overall power level, which starts out at D when first jumping down. By getting duplicates of Lilliputs, their strength increases and they eventually get a passive ability. The first five Lilliputs placed create a combo of attacks against enemies. The other two on A and X will use a skill with a cooldown period.
This means there are many factors that determine the success of a run. After going through the ruins, which feels like platforming segments with lots of foes to beat up and occasionally bonus challenges, you'll face branching points and bosses. Falling in battle turns all of your earned accessories and Lilliputs into mana for repairs. Said repairs actually go toward investing in skill trees that boost stats, grant Noah abilities like a mid-air Aether Thrust dash or option to guzzle HP-restoring potions, and add stations on the airship to let you prepare more for a run. So after each excursion, you're spending time rebuilding and regrouping.
But the nature of the combo systems means that a lot also relies on working with what you are given in Little Noah. You can let the game automatically choose a lineup. But each Lilliput has its own strength rating, type of attack, and element. So in one of my better runs, I had the wind-type Chuck and the fire-type Flame Dragon. Chuck performs a wind uppercut in a combo that launches an enemy (and Noah) into the air. The Flame Dragon uses a fiery dive bomb attack. So if you place them one after another, Chuck knocks them up and Flame Dragon knocks them down. Since you don't know who you'll get, the opportunity to experiment means seeing how certain sorts of moves interact. And, since most moves are quite accommodating and Lilliputs are plentiful, it's pretty easy to find formulas that work.
I also found that it is sort of possible to "game" the system. Even if you aren't technically strong enough for an area, Little Noah is good about telegraphing attacks. This is especially true for bosses. You'll sometimes get a shadow showing the range of an attack before it hits, so you can Aerial Thrust away or use Noah's burst for extra damage and temporary invisibility. Even ordinary foes follow certain patterns that are easy to remember. (Especially when they are ones who are already in your party as Lilliputs, so you know how they work.) Considering how responsive it is, with tight controls, customizable combos, and options to dash out of danger, it feels like it is always pushing you forward instead of holding you back.
Another perk is that Little Noah is a roguelike that lays everything out well. The only sense of confusion I experienced was wondering if something was wrong upon loading up the Switch version's save files. (There will be about 30 or so seconds of a black screen, sometimes with audio and no visuals, before it finishes and brings you back to the action.) All of the information is clearly laid in front of you when exploring. You can see hints about what features are in surrounding rooms. In the main menu, the Lilliputs' attacks are clearly defined. There are even images showing the range of attacks, to help when preparing possible combos. The doors to the next areas will hint at things you might find in that part of the ruins. Upgrade trees are clear about what to expect from them. Whenever you make a choice, you're fully aware of the consequences.
I'm shocked at how enjoyable and well-executed LIttle Noah: Scion of Paradise is. Its a roguelike that ticks all the right boxes. It is approachable, but still challenging. You can go in knowing you'll grow slightly stronger, but the unpredictability of which Lilliputs you'll and randomization keeps things fresh. The enemies can be quite strong, but it is possible to learn patterns and survive through proper planning and insight. It is a fantastic game and one of 2022's better surprises.
Little Noah: Scion of Paradise is available for the Nintendo Switch, PlayStation 4, and PC.
The post Review: Little Noah has a Winning Formula appeared first on Siliconera.
---
PC Invasion - FeedDDD Tuesday, July 5, 2022 7:15 PM
All through last week, speedrunning enthusiasts had a whole host of electrifying, mind-boggling runs to enjoy thanks to the Summer Games Done Quick charity marathon. As previously mentioned, this particular marathon marked the first time the Games Done Quick organizers held an in-person SGDQ event since the start of the COVID-19 pandemic over two years ago. This decision gave the event a great deal of significance. And judging by the total donation numbers, it seems to have paid off. According to the official GDQ website, Summer Games Done Quick 2022 managed to accumulate around $3.05 million USD in donations to Doctors Without Borders. It's a new record for the summer version of the event. Upon watching one of the many runs that took place during this year's SGDQ, viewers will inevitably notice how different they feel compared to the online-only runs of recent years. The return of a live audience meant that runners and other attendees could finally play off each other in a...
---
PC Invasion - FeedDDD Tuesday, July 5, 2022 7:00 PM
The pandemic and the quarantine that followed hit all of us hard, and on every conceivable angle: from personal, emotional, to even financial. There was a time during 2020 where it felt like things were never going to go back to normal. Even now, things still aren't 100% what they were pre-March 2020, but it's starting to look up. With vaccines and boosters widely available, this year has seen the return of many major offline gaming events. For the fighting game community (FGC), the most notable events this year have been Combo Breaker 2022 and CEO 2022. Perhaps no other gaming communities was hit as hard by the lack of offline events than the FGC. Offline events are the lifeblood of the community and, at least back in 2020, most games didn't have the netcode to replicate the offline experience. Thankfully that has changed, with most modern games implementing rollback netcode to some degree. Plus, services like Parsec have made it so that players from all over could e...
---
PC Invasion - FeedDDD Tuesday, July 5, 2022 5:33 PM
Cuphead: The Delicious Last Course has arrived, and we have a whole set of guides to help you with beating this tough-as-nails game. The expansion brings seven challenging boss fights. And for each of which, we created a list of tips and tricks to help you earn that precious "Knockout!" Check out the review, and then dive right in. Cuphead: The Delicious Last Course — Guides and features hub Cuphead: The Delicious Last Course review — Cuphead: The Delicious Last Course is a tasty treat for fans, bringing new and imaginative boss battles and greater challenges. Cuphead: The Delicious Last Course — Glumstone the Giant — Knock this burly brute down to size. Cuphead: The Delicious Last Course — Moonshine Mob— How to navigate a brawl between a bug mob and the fuzz. Cuphead: The Delicious Last Course — Esther Winchester— Take flight against this ornery cowgirl. Cuphead: The Delicious Last Course — The Howling Aces — This fight ...
---
PC Invasion - FeedDDD Tuesday, July 5, 2022 5:00 PM
Giant Software's Farming Simulator series has garnered a lot of acclaim over the years. As the series grows in size and complexity, Giants has been able to work with a growing number of official brands from all over the world. Now, yet another licensee will soon have its machinery featured in Farming Simulator 22 for the first time. The Swedish-manufacturer Volvo and Giant Software have formally announced their partnership and teased some of the in-game equipment that will be coming to Farming Simulator 22. While most in the public space know Volvo for its road vehicles, the company's overall portfolio is far larger than that. Fans of bus and truck simulators very well know that Volvo also produces heavier vehicles, thus explaining its appearance here in Farming Sim. Heavy lifting As shown off in the new announcement teaser, a logging crane is seen in action primarily in real-life, but then the scene transitions to some brief in-game footage. While such forestry equ...
---
PC Invasion - FeedDDD Tuesday, July 5, 2022 4:30 PM
Before the official reveal of Grand Theft Auto: The Trilogy – The Definitive Edition, fans feverishly shared rumors about its existence. The excitement at that time made sense considering the collection was to touch up some of the most beloved entries in the series. As soon as the collection came out, however, that excitement immediately turned into horror as players discovered a product riddled with technical problems and baffling design choices. This naturally led to a massive amount of backlash from both fans and critics. In fact, the backlash may have influenced Rockstar Games' future plans. A recent Kotaku report suggests that Rockstar has scrapped potential remasters of GTA IV and Red Dead Redemption precisely because of GTA: The Trilogy's disastrous reception. According to the report, Rockstar's decision applies to all remakes and remasters for the time being. The report specifically references a tweet posted by user Tez2, who author Zack Zweizen de...
---
Gamer Empire Tuesday, July 5, 2022 5:50 PM
The Nintendo Switch has something for everyone, from engaging RPGs to exhilarating shooters. And the best part? Many of these critically-acclaimed titles are surprisingly affordable. Recommended Read: Best Fighting Games For the Nintendo Switch That way, you can enjoy riveting adventures without breaking the bank. Here's our list of the best Nintendo Switch games that […]
The post 8 Best Nintendo Switch Games That Cost Under $10 appeared first on Gamer Empire. It was written by Jack Roque.
---
Tabletop Gaming News Tuesday, July 5, 2022 6:00 PM
---
Tabletop Gaming News Tuesday, July 5, 2022 5:00 PM
---
Tabletop Gaming News Tuesday, July 5, 2022 4:00 PM
---
Tabletop Gaming News Tuesday, July 5, 2022 3:00 PM
---
Player Assist | Game Guides & Walkthroughs Tuesday, July 5, 2022 6:00 PM
Minecraft's latest update, the 1.19 Wild Update, introduced several new items in the game, such as mud bricks, mangrove wooden planks, echo shards, and frog lights. Many of these new items are pretty difficult to obtain, and some are very valuable, like the echo shards, which you can use to craft recovery compasses. After the […]
---
Player Assist | Game Guides & Walkthroughs Tuesday, July 5, 2022 5:00 PM
One of the Shrines in The Legend of Zelda: Breath of the Wild is the Raqa Zunzo Shrine or Raqa Zunzo's Blessing. The Shrine itself is no challenge at all. As you enter the Raqa Zunzo Shrine, Link will be able to access the shrine's chest, and he can access the altar and talk to […]
---
Player Assist | Game Guides & Walkthroughs Tuesday, July 5, 2022 4:00 PM
Pokemon Legends: Arceus is set in olden times in the Pokemon world when it was rare to find harmony between people and Pokemon. Set in the Hisui region, modern-day Sinnoh, you will join the Galaxy Expedition Team (Galaxy Team for short) as a member of the Survey Corps stationed in Jubilife Village. You will be […]
---
Player Assist | Game Guides & Walkthroughs Tuesday, July 5, 2022 3:00 PM
This guide aims to teach players the five ways they can use to prevent themselves from getting lost in Minecraft 1.19. Being an open-world sandbox game, Minecraft has constantly proven to have one of the most extensive maps, even topping most open-world games to date. Since the game starts with world generation, the map players […]
---
Gaming Instincts – Next-Generation of Video Game Journalism Tuesday, July 5, 2022 4:29 PM
---
Gaming Instincts – Next-Generation of Video Game Journalism Tuesday, July 5, 2022 4:08 PM
---
Gaming Instincts – Next-Generation of Video Game Journalism Tuesday, July 5, 2022 3:15 PM
---
Gaming Instincts – Next-Generation of Video Game Journalism Tuesday, July 5, 2022 2:31 PM
---
MonsterVine Tuesday, July 5, 2022 2:39 PM
Fire Emblem Warriors: Three Hopes is a fantastic musou game that fans of Three Houses will want to check out. There's a ton of content present, and while the technical performance is inconsistent, the variety of mechanics and strong core gameplay make this a must-play for genre fans and newcomers. Fire Emblem Warriors: Three Hopes […]