---
Kotaku Monday, August 29, 2022 5:20 PM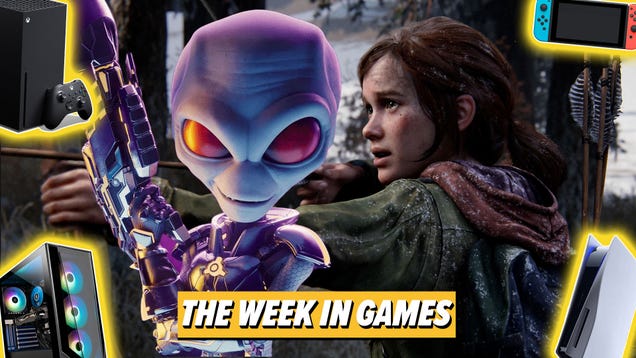 ---
Kotaku Monday, August 29, 2022 4:56 PM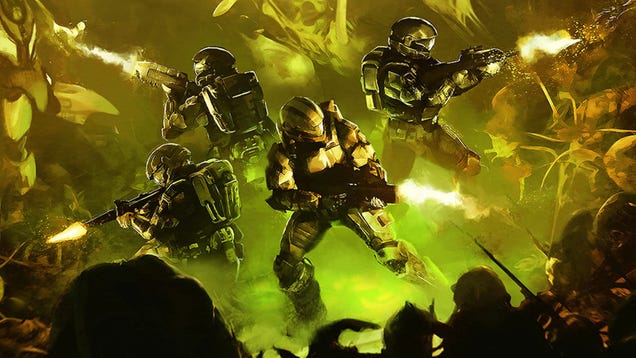 Since it was released in 2014, Halo: The Master Chief Collection received a variety of updates and tweaks, including maps and modes that in some cases were never in the original games. But one thing that wasn't added were in-game microtransactions. That could change soon, however, as Halo developers 343 Industries…
---
Kotaku Monday, August 29, 2022 4:00 PM
After being thoroughly underwhelmed with Digimon Survive's insufferable dialogue and bland characters, I braved the time-consuming Japanese RPG waters once again by diving headfirst into its release date competitor, Xenoblade Chronicles 3. Although I initially got into the series to ironically enjoy the painfully…
---
Kotaku Monday, August 29, 2022 2:00 PM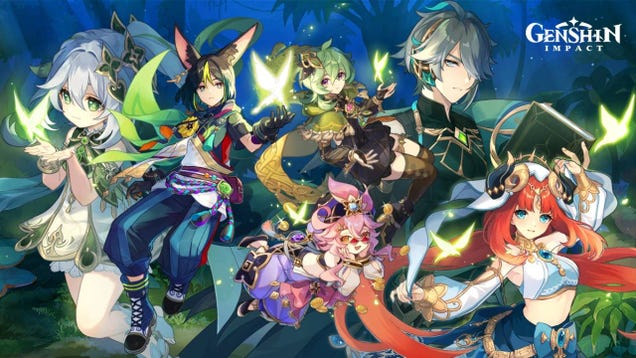 When Genshin Impact's annual update finally arrived last week, I was expecting minor tweaks to its open world formula. Instead, the Sumeru region feels like an entirely different game. As I zipped around the forest canopy in every direction, I started to forget about the main quest and my daily farming routine.…
---
Kotaku Monday, August 29, 2022 1:35 PM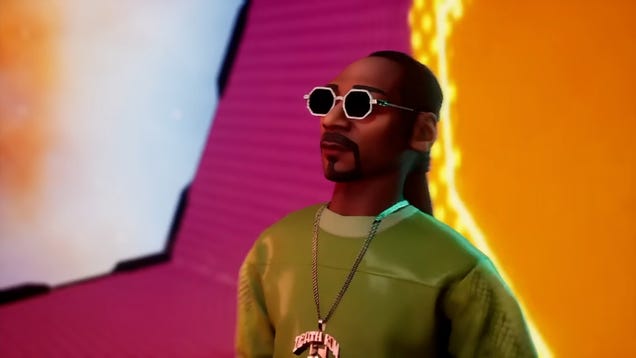 Forget pivots to Jersey and re-pivots back to Brooklyn's Barclays Center. MTV's Video Music Awards is hedging its bets on a new savior: NFTs. Last night, megawatt rappers Snoop Dogg and Eminem jointly performed at the show…as their Bored Ape Yacht Club digital avatars.

---
Kotaku Monday, August 29, 2022 1:29 PM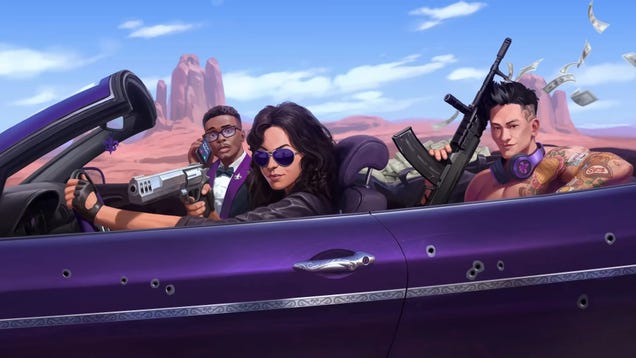 Before I played the latest Saints Row game, confusingly titled just Saints Row, I expected a shitshow. On YouTube, I saw countless, popular channels calling it soulless, dead, and the worst game of 2022. Reviews from various outlets weren't much better. Yet after putting about 14 hours into the game on Xbox Series X,…
---
Kotaku Monday, August 29, 2022 11:50 AM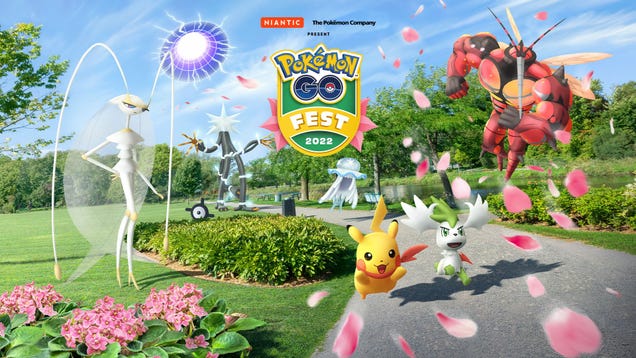 As has been chronicled on Kotaku, my journey into Pokémon GO has been one that began two years ago in lockdown-induced happiness, and then slowly descended into disappointment after disappointment. However, this weekend, despite what appear to be Niantic's best efforts, I finally experienced Pokémon GO at its absolute…
---
Kotaku Monday, August 29, 2022 11:25 AM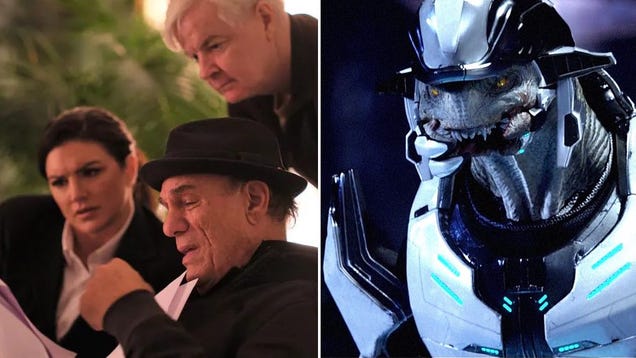 Over the weekend, a trailer for a blatantly right-wing biopic about president Joe Biden's son, Hunter Biden, made the rounds. It looks all kinds of bonkers. Also, it's directed by a voice actor from Bungie's Halo trilogy. Hey, let's all give it up for the gaming angle!

---
PCGamesN Monday, August 29, 2022 5:24 PM
If you've ever thought a Skyrim pixel art game would be amazing, you're not alone, as one indie developer is billing their new work in progress World of Anterra is inspired by Bethesda's ubiquitous RPG game, but made with pixel art. Developer 81monkeys recently launched a Kickstarter campaign for Anterra with a goal of $99,555, and it seems the open-world game is gaining quite a following already. Just a few days into the campaign, World of Anterra already has more than 800 backers and, at the time of writing, is just about halfway to its goal.
Skyrim mods
,
Play Skyrim
,
Games like Skyrim
---
PCGamesN Monday, August 29, 2022 1:34 PM
Mafia on Steam is free for a short while, developers 2K are giving the original open-world game to commemorate the original game's 20th birthday. The game will be free to claim on Steam from 1-5 September, so make sure to mark it in your calendars lest you forget and miss out.
Mafia: Definitive Edition review
,
Best open-world games
,
Best sandbox games on PC
---
PCGamesN Monday, August 29, 2022 1:09 PM
The League of Legends Summoner's cup has officially been unveiled by Riot Game, marking the beginning of a multi-year deal between the MOBA game and Tiffany & Co. who will design and create the trophy for the winning team each year at the Worlds tournament.
Best LoL Champions
,
League of Legends patch 12.16 notes
,
LoL tier list
---
PCGamesN Monday, August 29, 2022 12:40 PM
It seems like we're seeing a new Genshin Impact leak every day, and the latest Genshin Impact version 3.1 leaks are getting a bit out of hand with showing off the new update's content. This one provides a detailed look at Sumeru's upcoming desert region and, more specifically, we see several rooms inside one of Sumeru's large desert temples in a lengthy walkthrough.
Genshin Impact codes
,
Genshin Impact character tier list
,
Genshin Impact leveling guide
---
PCGamesN Monday, August 29, 2022 12:01 PM
The Back 4 Blood Children of the Worm release date is almost upon us, and there's a new trailer that offers the best look yet at what we'll be facing in Act 5 of the zombie co-op game. The trailer introduces Prophet Dan, a moustache-wearing, shotgun-toting Irish preacher who wants to rescue his flock from the deranged cult that's actively working to help spread the Ridden virus.
Back 4 Blood review
,
The best co-op games on PC in 2021
,
The best zombie games on PC in 2021
---
PCGamesN Monday, August 29, 2022 11:58 AM
Fortnite Crew September has been revealed, and while last month saw us getting Wolverine in Epic'sbattle royale, this time around we're getting an original character in the form of Loveless. Despite sharing a name with a play from Final Fantasy VII, and a character from Happy Feet, this version of Loveless is actually a super cool playing card character.
Fortnite Refer a Friend
,
Fortnite Chapter 3 Season 4 speculation
,
Fortnite Dragon Ball event details
---
PCGamesN Monday, August 29, 2022 10:36 AM
This Minecraft Redstone chicken mini-game is incredibly weird. It's not as though we're unused to seeing strange Redstone contraptions; after all, we've witnessed MS Paint being recreated in the game thanks to it, and even things as cool as the Ghostbusters theme song, but it doesn't usually involve chickens like this.
Minecraft console commands
,
Minecraft skins
,
Minecraft mods
---
PCGamesN Monday, August 29, 2022 10:32 AM
WoW Dragonflight is set to land in Blizzard's venerable MMORPG later this year, but for the moment it's still in alpha testing. A recent alpha build quietly added a set of new accessibility options - an interact key, "action combat", and most importantly, a hold-to-cast option. Every Warcraft veteran knows that the game is hardly friendly to those with RSI or other joint issues, as most classes need to be keeping up a continuous stream of key presses to keep their rotations optimal. This new option should improve the game experience for all players, especially those with physical disabilities.
Best MMORPGs on PC
,
The best WoW addons
,
WoW Dragonflight preview
---
PCGamesN Monday, August 29, 2022 10:09 AM
Fans of turn-based tactics can look forward to a Wartales Great Gosenberg free expansion arriving in September, which introduces a bustling merchant city to the down-to-earth RPG game. The expansion will see your band of grubby mercenaries taking to the streets of Gosenberg, a medieval city inspired by the wine regions of France that's filled with secrets to uncover and people to win over.
PCGamesN took a glimpse at what players can expect to find in Great Gosenberg at a Gamescom preview event. The city is built around its wine production, which is the most precious commodity in Gosenberg as well as its main source of commerce. It's a traditional medieval city with a fair amount of wealth, but its varying architecture shows the class divide in the region. The city is split into two regions, separated by a canal, and features building designs that you won't find anywhere else in Wartales. Step across the bridge, and you'll be immediately aware of the difference between the rich upper classes and the common folk.
Upon visiting Gosenberg, you'll discover that one of the seven wealthy aristocrats who rule the city has been murdered - leaving you tasked with unceovering the killer. You can ask for help from everyone in the city, either employing barters or doing quests for people in return for information. With a university and a library, Gosenberg is a hive of knowledge - but some people might be a little economical with the truth. If you believe someone is perverting the course of justice, you can take them to trial, but be warned that you will be expected to pay compensation if it turns out you've besmirched their good name for no reason.
The best tactical rpgs on PC
,
The best turn-based strategy games on PC
---
Twinfinite Monday, August 29, 2022 5:59 PM
Today third-party developers had assets and reveals to share about upcoming add-ons for Microsoft Flight Simulator.
---
Twinfinite Monday, August 29, 2022 4:46 PM
A guide that lists every character that has died in House of the Dragon and Fire & Blood.
---
Twinfinite Monday, August 29, 2022 4:10 PM
Find out who the vicious Crabfeeder is in House of the Dragon.
---
Twinfinite Monday, August 29, 2022 3:55 PM
The developers of The Callisto Protocol teased a "big event" in the game that is likely to impress.
---
Twinfinite Monday, August 29, 2022 3:20 PM
He'll always be here.
---
Twinfinite Monday, August 29, 2022 3:16 PM
These are all of the Demon Slayer Arcs in order.
---
Twinfinite Monday, August 29, 2022 3:11 PM
I need some Me Time after this movie.
---
Twinfinite Monday, August 29, 2022 2:59 PM
Learn about the Khaled Al-Asad MWII Pre-Order Bundle for Warzone and Vanguard.
---
Twinfinite Monday, August 29, 2022 2:29 PM
The stage is set.
---
Twinfinite Monday, August 29, 2022 2:27 PM
Speak with Katheryne to unlock Sumeru Daily Commissions!
---
Twinfinite Monday, August 29, 2022 1:36 PM
A guide that explains whether or not Mysaria was pregnant in House of the Dragon.
---
Twinfinite Monday, August 29, 2022 1:36 PM
A guide that explains whether or not Alicent Hightower is chosen as the king's new wife.
---
Twinfinite Monday, August 29, 2022 1:26 PM
The joint Kickstarter campaign for the JRPGs Armed Fantasia and Penny Blood by the creators of Wild Arms and Shadow Hearts has been launched.
---
Twinfinite Monday, August 29, 2022 1:25 PM
It does seem like the right time for a new Mafia game to be on the way.
---
Twinfinite Monday, August 29, 2022 12:56 PM
The hunter and their character customization appear in a new Marvel's Midnight Suns trailer.
---
Twinfinite Monday, August 29, 2022 12:29 PM
Today Sony Interactive Entertainment and Naughty Dog released a new trailer about their upcoming game The Last of Us Part 1.
---
Twinfinite Monday, August 29, 2022 11:56 AM
Clan Elysium achieves the third world first in a row in Destiny 2 with the King's Fall Raid.
---
Twinfinite Monday, August 29, 2022 11:53 AM
This battle pass looks insane and will help rehab Battlefield 2042's image for sure.
---
Twinfinite Monday, August 29, 2022 11:49 AM
Recent Megan The Stallion interview indicates the musician may appear in She-Hulk.
---
Twinfinite Monday, August 29, 2022 10:59 AM
These are the best anime of September 2022 you should watch.
---
Siliconera Monday, August 29, 2022 12:00 PM
More details about the temporary Jujutsu Kaisen-themed attractions in Universal Studios Japan have appeared, this time featuring the restaurant. The SAIDO Japanese Restaurant will temporarily convert into the Jujutsu High School Cafeteria between September 2022 and July 2023. In addition to an exclusive menu inspired by the manga and anime franchise, the restaurant will also have a photo spot featuring a Clone-oid statue of Satoru Gojo.
The restaurant will offer a special menu containing meals and beverages such as a panda-decorated parfait for the event's duration. The venue will also sell a drink bottle shaped after a 3D photo box featuring Yuji Itadori, and a barbecue-flavored popcorn bucket with Satoru Gojo's design.
[gallery columns="2" ids="934478,934479" link="file"]
USJ coined the term "Clone-oid" to refer to its technology that allows them to produce lifelike statues of fictional characters. It had previously made Clone-oids of Attack on Titan characters, which it displayed as early as 2015. People who order the eligible menu entries in the upcoming Jujutsu Kaisen restaurant will be able to take a photo with the Satoru Gojo Clone-oid. The venue will also offer a specially designed photo folder for an extra fee.
The restaurant will be one of the numerous Jujutsu Kaisen attractions that will appear at Universal Studios Japan for a limited time. The venue will also have a 4D attraction with an original story that visitors will experience exclusively at the ride. Both the restaurant and attraction will be available from September 15, 2022, to July 2, 2023.
The post Jujutsu Kaisen USJ Restaurant Will Include a Satoru Gojo Photo Spot appeared first on Siliconera.
---
Siliconera Monday, August 29, 2022 11:00 AM
It's time for Konosuba to explode back onto screens. On Friday, Kadokawa teased the first look at Konosuba: An Explosion on this Wonderful World!, a spin-off show starring Crimson Arch Wizard Megumin. The show broadcasts in 2023. [Thanks, ANN!]
Check out the teaser below.
https://www.youtube.com/watch?v=N_vwcq-sGI8
The Konosuba: An Explosion on this Wonderful World! teaser shows off the inciting incident in young Megumin's career. As a child, Megumin was saved by an older magician. Her savior wielded the ultimate offensive spell: Explosion. Ever since then, Megumin has been so devoted to acquiring and mastering the spell that she vowed to "cast Explosion once a day or die," even when a single casting drains her magic so thoroughly that she collapses into a heap.
The Konosuba: An Explosion on this Wonderful World! adapts the light novel series of the same name. Megumin and her self-declared rival Yunyun star, and its story covers their lives before meeting Konosuba protagonist Kazuma Satou. In the series, Rie Takahashi will reprise her role as Megumin. She also plays Mash in Fate/Grand Order and Emilia in Re:Zero. Aki Toyosaki will also be returning as Yunyun. Her other roles include Justine and Caroline in Persona 5 and Yui in K-On!.
The anime will be produced by Studio Drive (whereas Studio Deen and J.C. Staff animated the main series and film, respectively). Much of the staff from the main Konosuba series will return, however. These include director Takaomi Kanasaki, lead writer Makoto Uezu, and character designer Koichi Kikuta. The same staff is working on the third Konosuba season as well.
Konosuba: An Explosion on this Wonderful World! premieres in 2023. The first two seasons of Konosuba are available on Crunchyroll and other services. The Legend of Crimson movie aired in 2019. Yen Press publishes the source novels and their manga adaptations in English.
The post Konosuba: An Explosion on This Wonderful World! Spin-off Anime Teased appeared first on Siliconera.
---
Siliconera Monday, August 29, 2022 10:00 AM
Cover has officially revealed that VTuber Sakamata Chloe will be the fifth and newest member of the Hololive music unit UMISEA. Sakamata Chloe debuted alongside fellow unit members in their latest single, "It Comes Ryuuu And It Goes Kyuuu". A music video is available to watch on YouTube, and the single is available on various music streaming platforms. [Thanks, Famitsu!]
UMISEA is a music group consisting of several talents from Hololive and Hololive EN. Its members include Gawr Gura, Houshou Marine, Ninomae Ina'nis, Minato Aqua, and the newly-joined Sakamata Chloe. As the group's name suggests, each unit member shares some connection to the ocean. In Sakamata Chloe's case, her clothing and mascot resemble an orca. Her fans are also typically compared to zookeepers.
Aside from her work with Hololive UMISEA, Sakamata Chloe also has her own solo music career. Earlier this month, she released her own single "Jinsei Reset Button Pochi". In addition to two other original songs, she occasionally hosts karaoke streams and has frequently mentioned her passion for music.
The release of group's latest single, "It Comes Ryuuu And It Goes Kyuuu", also comes with a new music video. The music video features the five members sailing on a boat, after which it crashes and leaves Marine, Aqua, and Chloe stranded on an island.
You can check out the music video for "It Comes Ryuuu And It Goes Kyuuu" below:
https://youtu.be/VOFOmeHAmfk
UMISEA debuted with its first song, "Domination! All the World Is an Ocean" back in September 2021. The group has also frequently appeared in collaboration streams as well as their own short animation series.
You can listen to "It Comes Ryuuu And It Goes Kyuuu" via iTunes, Apple Music, and Spotify.
The post Sakamata Chloe Joins Hololive Music Unit UMISEA appeared first on Siliconera.
---
PC Invasion - FeedDDD Monday, August 29, 2022 4:30 PM
When the live-action TV adaptation of Capcom's ever-popular Resident Evil series came to Netflix last month, it didn't exactly set the world on fire. The show received a mediocre 55% critic score and a downright scathing 26% user score on Rotten Tomatoes, with many taking issues with its loose interpretation of the source material and generally messy storytelling. Couple that with some rather subpar ratings, and you have a recipe for yet another adaptation failure. Inevitably, this led to the Resident Evil show being canceled only six weeks after it initially aired, with no plans for a second season. According to Deadline , the show's inability to accrue viewer ratings and audience reception that offset the costs of production served as the main factor behind Netflix's decision to cancel it. Although the series did manage to pull in a decent "72.7 million hours viewed for its opening weekend," it did not receive a significant bump in hours viewed in...
---
PC Invasion - FeedDDD Monday, August 29, 2022 2:30 PM
The original Mafia turns 20 years old today, and publisher 2K Games is celebrating. Not only is the 2002 open-world game going free on Steam this week, but now we know another one is in the works. To coincide with the giveaway announcement, developer Hangar 13 has confirmed that a new Mafia game is in the works. However, we won't hear about it for quite some time. "I'm happy to confirm we've started work on an all-new Mafia project! While it's a few years away and we can't share anything more right now, we're really excited to keep working on this beloved franchise and to entertain our players with new stories," said Roman Hladík, Hangar 13 general manager, in an interview today. This is, however, confirmation of a game we may have already heard about. Back in March, the founder of Hangar 13, Haden Blackman, stepped down from his role. Amid the news of his departure, it was reported that the developer was working on a Mafia preque...
---
PC Invasion - FeedDDD Monday, August 29, 2022 1:45 PM
From September 1 to September 5, Mafia will be free for all Steam players. This was announced earlier today on 2K's official Twitter account, which received a makeover to celebrate the series' 20-year anniversary. While long-time fans of the series are likely to own the original Mafia already, those who haven't played it yet can pick it up without any cost. Mafia was developed by Illusion Softworks and released on August 29, 2002. It's easy to compare it to other crime-centric open-world games like Grand Theft Auto. However, the Mafia series has always been more serious and story focused in comparison. Its attention to realism makes it a pretty unique experience even to this day. For example, the police will fine you for speeding or running a red light, so keep the road rage in check. The original Mafia is a cool look back to early 2000s gaming and is well worth grabbing for free during the Steam promotion. Grab Mafia for free next month Mafia is a cult...
---
PC Invasion - FeedDDD Monday, August 29, 2022 12:36 PM
WCCFTech has shared some leaked information regarding AMD's upcoming Ryzen 7000 Series reveal which goes live later today. This presentation will include details on AMD's upcoming next-generation products, including the prices for Ryzen 7000. We've been hearing mixed reports about AMD's upcoming launches over the last few weeks, though AMD should finally clear things up later today during its livestream. The information shared by WCCFtech shines a light on some interesting developments ahead of time. First up, it looks like AMD's X670 motherboards won't launch until September 27. This means that early adopters of the Ryzen 7000 won't be getting the accompanying motherboard until two weeks after the new CPUs launch on September 15. The cause of this delay is apparently due to BIOS issues. Additionally, it seems that PCB layouts for the X670 and X670E motherboards required last-minute redesigns. As for the B650 boards, those are apparently...
---
PC Invasion - FeedDDD Monday, August 29, 2022 12:00 PM
Call of Duty: Vanguard's fifth and final season is well underway. The update has introduced fans to a new map set in New York, the return of some well-known villains, and more. Over in the Pacific, players have been trying out new items such as Rage Serum and taking part in the limited-time event. Of course, a new season means that there are new weapons to try out. One of these new weapons is known as the RA 225 submachine gun. To get your hands on it, all you have to do is reach tier 31 of the Season Five battle pass where you will unlock it for free. With the best attachments, you can build a strong RA 225 class to take into your next Vanguard match. The RA 225 is lightweight and has quick handling. The weapon will thrive the most in close- to medium-range fights. Therefore, it will suit maps with opportunities to get up close and personal with the enemy. Maps such as Shipment, Das Haus, and Hotel Royale are just a few examples, among many others. Predominantly, this class will...
---
Tabletop Gaming News Monday, August 29, 2022 5:00 PM
---
Tabletop Gaming News Monday, August 29, 2022 4:00 PM
---
Tabletop Gaming News Monday, August 29, 2022 3:00 PM
---
Tabletop Gaming News Monday, August 29, 2022 2:00 PM
---
Tabletop Gaming News Monday, August 29, 2022 1:00 PM
---
Tabletop Gaming News Monday, August 29, 2022 12:00 PM
---
Tabletop Gaming News Monday, August 29, 2022 11:00 AM
---
Player Assist | Game Guides & Walkthroughs Monday, August 29, 2022 6:00 PM
We have a compilation of all the Roblox Hot Wheels Open World codes accessible. By inputting these codes, you can obtain coins and more. A Roblox game called Hot Wheels Open World was created by Hot Wheels Official by Gamefam. Enhance and personalize them, take part in races or socialize with friends. To get going, […]
---
Player Assist | Game Guides & Walkthroughs Monday, August 29, 2022 5:00 PM
Roblox: Anime Masters is a clicker game in which you become a powerful fighter by tapping to acquire Energy. When you've accumulated enough Energy, you can reborn your character into a more powerful one to gain even more Energy more quickly. In this game, you will do manual punching and dashing, and you can also […]
---
Player Assist | Game Guides & Walkthroughs Monday, August 29, 2022 4:00 PM
Allutionistics Studios created the game Roblox: Masters of Speed where you can collect coins by attacking coins around the map, and run to gain steps and XP to move quicker. Paths and pets can be purchased using coins. Completing courses and winning races will reward you with gems, which you may spend to buy pets […]
---
Player Assist | Game Guides & Walkthroughs Monday, August 29, 2022 3:00 PM
All of the available Roblox Highrise Tycoon codes may be found in our collection. You can get gold, cash, and more by entering these codes. Roblox Highrise Tycoon, also known as Highrise Simulator, Billionaire Simulator, and initially Highrise Tycoon, is a Highrise Simulator video game created by Dream Labs. To gain wealth and expand your […]
---
Player Assist | Game Guides & Walkthroughs Monday, August 29, 2022 2:00 PM
We may have every Roblox Hatman Simulator code that is currently available. By entering these codes, you'll receive energy and boosts. TGames created the Hatman Simulator experience for Roblox. Players in this game must gather and put on hats in order to obtain additional Energy. Codes for the Hatman Simulator are a free and simple […]
---
Player Assist | Game Guides & Walkthroughs Monday, August 29, 2022 1:00 PM
VALORANT fans are finally getting a water-type Poke- Oh, wait, wrong game. Fans are finally getting some leaks on the newest VALORANT Agent. The previous patch has already named the newest Agent in the VALORANT lore (Varum Batra) and Patch 5.04 have given fans confirmation about Agent 21 who turned out to be a former […]
---
Player Assist | Game Guides & Walkthroughs Monday, August 29, 2022 12:00 PM
Roblox: Immortal Sword Legends is a game developed by Nester Games to bring the best Swordman out of you! The gameplay is just simple! All you have to do is click to gain strength. Open eggs to unlock unique pets and unlock new worlds. Click to move your sword, gain power, gather cash, and upgrade […]
---
Player Assist | Game Guides & Walkthroughs Monday, August 29, 2022 11:00 AM
To assist you in getting free goods, we've put together a complete list of all current and working Roblox Gym Tycoon codes. In most Roblox muscle games, you are constructing your muscles. In Gym Tycoon, you assist others in becoming buff. Gym Tycoon is a gym construction game developed by The Buff Boys in which […]
---
Player Assist | Game Guides & Walkthroughs Monday, August 29, 2022 10:00 AM
In Roblox: Little World, you start out as an adorable bug and must evolve by collecting fruit and training in the open world. In this Roblox game, you must always be on alert for dangerous bosses such as spiders, rats, and frogs. That's why you have to train your bug to survive on your journey […]
---
Gaming Instincts – Next-Generation of Video Game Journalism Monday, August 29, 2022 4:50 PM
---
Gaming Instincts – Next-Generation of Video Game Journalism Monday, August 29, 2022 4:19 PM
---
Gaming Instincts – Next-Generation of Video Game Journalism Monday, August 29, 2022 3:56 PM
---
Gaming Instincts – Next-Generation of Video Game Journalism Monday, August 29, 2022 3:25 PM
---
Level Up Monday, August 29, 2022 12:53 PM
Mafia celebrates its 20th anniversary today, and in a new blog post by Hanger 13,…