---
Kotaku Friday, May 13, 2022 3:50 PM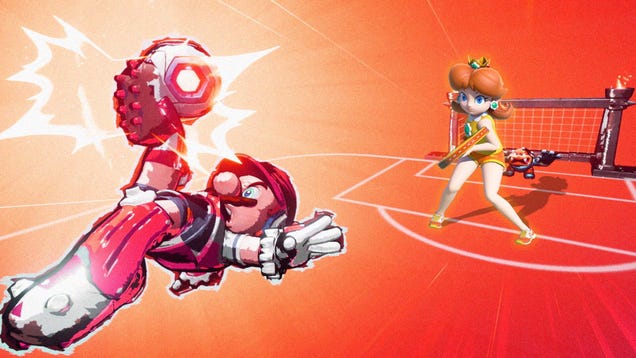 Nintendo fans are currently up in arms, but not over graphical downgrades or Pokédex revamps. Nope, this time, it's over a shunned character in an upcoming game, and not even an A-lister at that: Princess Daisy isn't in Mario Strikers: Battle League.

---
Kotaku Friday, May 13, 2022 3:35 PM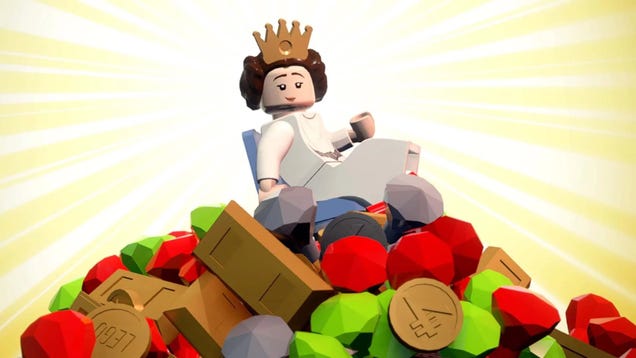 Lego Star Wars: The Skywalker Saga did something very few games have done over the last few years: It topped April's NPD Switch sales chart, becoming the first non-Nintendo published game to do so in over a year. And Skywalker Saga not only topped the Switch sales charts last month, but the charts of all other…
---
Kotaku Friday, May 13, 2022 2:45 PM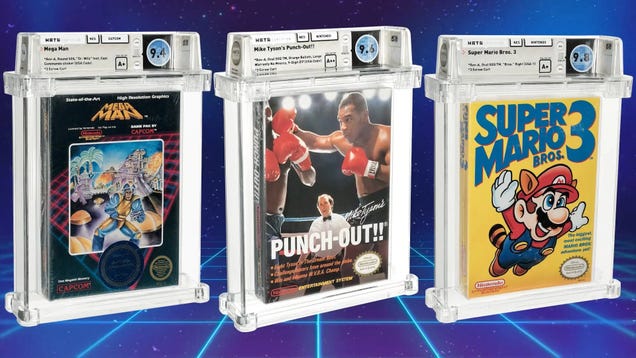 The market frenzy leading to record-breaking prices for retro games appears to have slowed since last year, but frustration over the collectible grading firm at the center of the spike hasn't. Earlier this week a number of Wata Games customers filed a class action lawsuit attempting to put an end to some of the…
---
Kotaku Friday, May 13, 2022 2:35 PM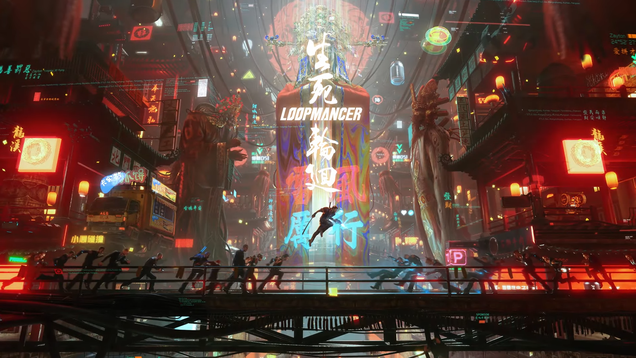 Loopmancer is what would happen if a cyberpunk Sleeping Dogs was made into a Groundhog Day-esque roguelite.
---
Kotaku Friday, May 13, 2022 2:25 PM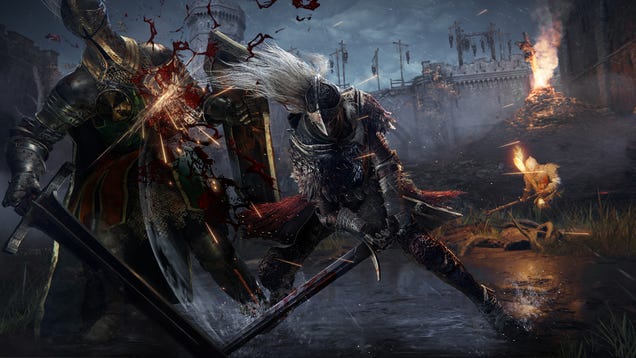 Recent NPD figures reveal that FromSoftware's latest grueling action-RPG, Elden Ring, is toppling over literal titans as it outsells Call of Duty: Vanguard, challenges Cyberpunk 2077, and, as Forbes' Paul Tassi highlights, has shipped up to "half the lifetime sales of the entire Dark Souls trilogy'' while leaving its…
---
Kotaku Friday, May 13, 2022 12:35 PM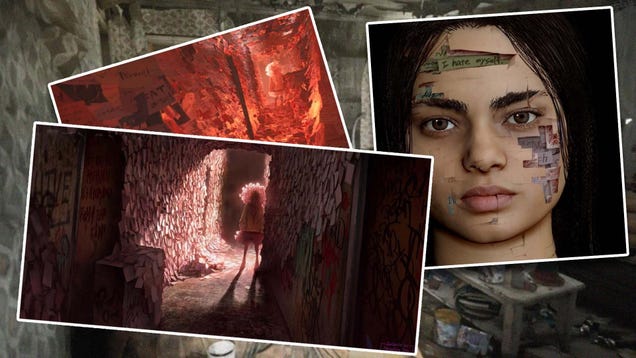 A well-known leaker who goes by the username Dusk Golem has obtained and shared several images from a supposed in-development Silent Hill game on Thursday. The screens, posted to Dusk Golem's Twitter account, weren't up for long. According to the leaker, Konami swiftly swooped in to take those images down, though the…
---
Kotaku Friday, May 13, 2022 12:01 PM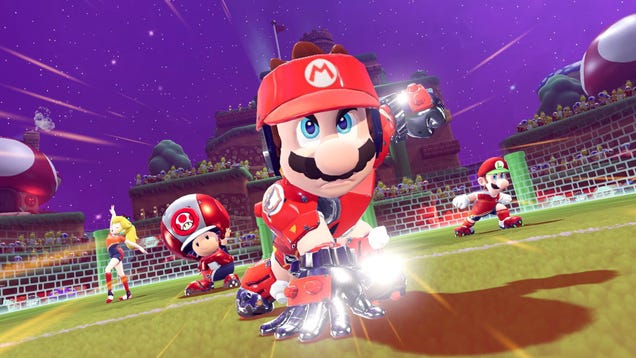 Following yesterday's delay of Redfall and Starfield, Microsoft's two big blockbusters for the year, the release slate for the back half of 2022 might seem especially barren. Pop quiz: Have you been paying attention to the Switch?

---
Kotaku Friday, May 13, 2022 10:30 AM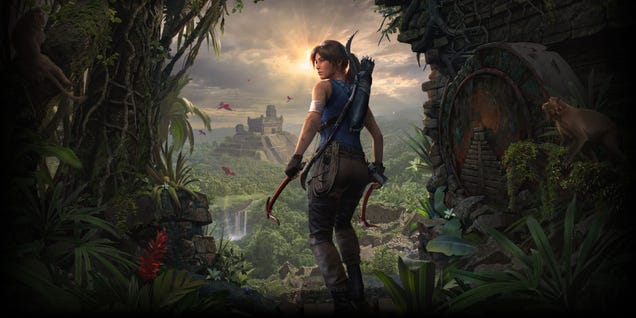 You know what no one could ever have predicted? That a market based on imaginary ownership of infinitely duplicable jpeg images might not be end-game, long-term sustainable. As The Wall Street Journal reported, the NFT market is "flatlining," down 92 percent from last September. Now we're seeing a far wider…
---
Kotaku Friday, May 13, 2022 9:30 AM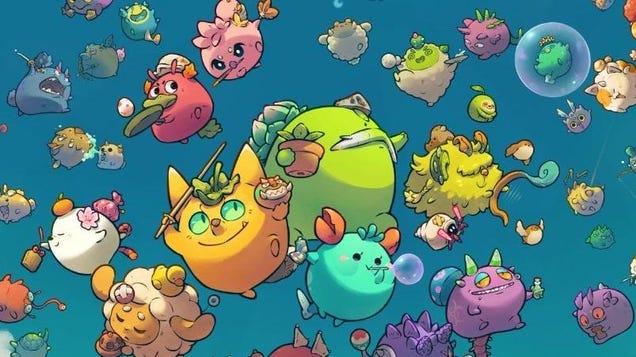 Crypto markets are bottoming out and nothing's immune, not even the potions critters use to breed in the Pokémon-style collectathon Axie Infinity. Called Smooth Love Potions, the currency has been trending down for some time now as players flood the market with it. For the first time in its history, however, it's now…
---
PCGamesN Friday, May 13, 2022 3:35 PM
After recently awakening from a year-long slumber, The Division 2 will be free to play over the coming weekend, starting now. That means you'll be able to hop into a Washington, DC that's been ravaged by a lethal bioengineered disease and partially reclaimed by nature, free to hoover up all the weapons and armour the multiplayer game can throw at you.
The free weekend coincides with the start of The Division 2 Season 9: Hidden Alliance, which picks up in the aftermath of agents' confrontation with former commander Faye Lau at Camp White Oak. You'll be able to run missions from the DC campaign with True Sons enemies and manhunt targets swapped in for the usual baddies.
The free weekend will also be a chance to check out Season 9's new multiplayer PvE mode, Countdown. In Countdown, two teams of four agents work together in order to stabilise a power plant that's about to go into lockdown, then fight their way to the extraction point. It can be accessed via The Division 2's megamap, just under the icons for Kenly College and The Summit.
The Division 2 PC review
,
The Division 2 build guide
,
The Division 2 brand sets
---
PCGamesN Friday, May 13, 2022 1:39 PM
Xûr is Destiny 2's Exotic gear merchant. He appears every weekend to sell the game's most coveted items in exchange for Legendary shards, but if you're a casual player with limited shards to spend, it can be hard to know which of his wares is most worth your investment. That's where we come in.
As of June 12, 2020, it appears that Xûr is back to providing random rolls - so the Exotic merchant is providing more excitement than he has in a long time. Xûr appears every Friday at 10am PDT / 1pm EDT / 6pm BST, and will stick around until the Tuesday reset. We'll update this guide shortly after he arrives, so if you're reading this, you need only read on to learn where he is, and which are the best items he's selling this week.
Now we're in Beyond Light territory, but Xûr's first appearances have been at the usual spots - so maybe don't expect too many surprises from the merchant in the new year of Destiny content.
Destiny 2: Beyond Light review
,
Destiny 2 exotics
,
Play Destiny 2
---
PCGamesN Friday, May 13, 2022 1:14 PM
One of the big things about Deathloop is that it looks extremely cool at all times. The FPS game was our pick of the year in 2022, and in addition to featuring two memorably cool playable characters, there's a groovy and striking visual style throughout. Now you can show that off with precision, thanks to the addition of a new photo mode in the latest Deathloop update, which also adds an impressive suite of new accessibility features.
Deathloop's new photo mode includes an impressive array of options for setting up your perfect screenshot. In addition to the usual positioning controls for the camera, you also have options for the visibility of the player character and NPCs - you can shut those off if you're just interested in scenery shots. Colt and Julianna can also be posed, and you'll have access to all the unlockable outfits included in whichever edition of Deathloop you own.
The accessibility options can be found under a new category in the main menu, which itself has been streamlined for more accessible navigation, particularly with the keyboard and directional buttons. Accessibility options are grouped into four categories: visuals, gameplay, interface, and menus.
Deathloop review
,
Pre-order Deathloop
,
The best FPS games on PC
---
PCGamesN Friday, May 13, 2022 1:05 PM
If you've ever wondered how you'd fare in the stressful circumstances of a failing spaceship, new space survival simulation game Tin Can helps you find out. Soaring through space in the titular Tin Can, a tiny escape pod full of failing systems, you must manage your power resources and shift components around in an attempt to keep yourself alive until you can reach safety.
Forced to evacuate from a colony transport ship, you are left drifting in your pod with no sign of rescue. Much like popular space game FTL: Faster Than Light, you must now decide which systems are crucial for your survival at any one time. Can you afford to switch off the emergency lights to make sure the oxygen generator stays up and running? Is it okay to disable temperature control to ensure that the radiation shielding is solid?
Your character, controlled from a first-person perspective, will suffer what developer Tin Can Studio describes as 'real medical symptoms' as a result of problems aboard the ship, rather than relying on heath bars to determine your current status. A lack of oxygen, for example, will make the player breathe faster and will also cause your vision to blur and your movements to slow until you eventually lose consciousness.
Best space games
,
Best survival games
,
Best simulation games
---
PCGamesN Friday, May 13, 2022 12:34 PM
We've had our first glimpse of the Zenless Zone Zero characters we'll be playing as in Hoyoverse's new action-RPG game, which was recently announced. It's immediately clear that this is going to be a different style of anime game than Genshin Impact with guns, anthropomorphic animals, and a contemporary cityscape featuring prominently in the announcement trailer. We don't know much about this new "urban fantasy" adventure, but its exuberant cast of characters were shown off in plenty of detail.
First off, a little context. In Zenless Zone Zero, players take the role of a 'Proxy', a person that is uniquely able to enter and explore 'Hollows', which are dimensional rifts that have caused the destruction of the wider world. Hollows are also inhabited by roaming monsters called Ethereals, and as a Proxy, you can form a squad drawn from a diverse cast of Zenless Zone Zero characters to embark on expeditions into these rifts.
Why? That part's a mystery for now, but one thing we do know is that the last surviving city of humanity - New Eridu - has survived partly because it has managed to find a way to exploit the Hollows for valuable resources, and there are plenty of factions in New Eridu that want to maximise these opportunities. So basically, the answer is loot. For now, let's take a look at everything we know about the characters of Zenless Zone Zero.
Zenless Zone Zero characters
,
The best anime games on PC
---
PCGamesN Friday, May 13, 2022 12:26 PM
Choosing the best gaming motherboard for your gaming PC can make all the difference when it comes to getting the most out of your rig's components. After all, there's little point investing in parts like the best gaming CPU from the 12th Gen Intel Core or AMD Ryzen 5000 series if your new processor doesn't have access to a chipset that can unlock its full performance potential.
The best gaming motherboard for you will ultimately depend on what you expect from your system. Do you plan to overlock? How many USB ports do you need? Will you buy another one of the best SSDs for gaming in the near-future? These are all important things to consider when sorting through the several chipsets available at varying price points.
One of the biggest differentiating factors between Intel and AMD right now is support for PCIe 5.0 and DDR5 gaming RAM. Currently, Intel is the only manufacturer to support the latest standards, but this will change when new AMD Ryzen Zen 4 CPUs arrive on the scene later this year.
Best SSD for gaming
,
How to build a gaming PC
,
Best gaming CPU
---
PCGamesN Friday, May 13, 2022 12:16 PM
Want to know more about the upcoming Genshin Impact events? A new version of Genshin Impact arrives every six weeks, complete with new characters, quests, and events. It's difficult to keep track of which events are currently running and if there are any new ones coming soon, so here's a schedule for all current and upcoming Genshin Impact events.
There are usually a number of Genshin Impact events running simultaneously, and they aren't just in-game events. When a new Genshin Impact character joins the game, the devs launch a web event at the same time - players learn about the latest characters through an interactive story told through a web browser. The rewards for completing different events range from in-game items like primogems and mora, to real life prizes like mouse mats and plushies.
Just like the Genshin Impact banners, most events are only available for a limited time, so it's worth participating as soon as you can. New events are usually added to Genshin Impact after an update, but it's worth keeping an eye out on this page as the devs do like to surprise the community.
Play Genshin Impact for free
,
Genshin Impact character tier list
,
Genshin Impact leveling guide
---
PCGamesN Friday, May 13, 2022 12:14 PM
The Minecraft community is replete with different kinds of players, some of which aren't happy with the upcoming Minecraft update. You've got the best Minecraft mods that bring cool new elements to the game for others to enjoy, including turning mobs into Lego. There are the Redstone masters that make incredibly complicated games and contraptions just because they can. Minecraft builders enjoy the artistic side of the game. And then you've got everyone else, most of whom just like playing the game as the developers intend.
For that last group especially, every Minecraft update from Mojang is essential to how the building game evolves. While we're all waiting for Minecraft 1.19 The Wild update, we also already know that two of the things players were looking forward to in this update, namely fireflies and birch wood forests, aren't included in 1.19, even though it's possible they'll come along later down the line.
A lot of players aren't happy about these losses though, with fireflies, in particular, being something that people were excited about. It's not like everything's been stripped out, but you can see why players are unhappy at losing a creature that would completely change the ambience of a biome at night. This frustration is palpable on the internet in general, but especially when it comes to comments on the last two snapshots.
Minecraft console commands
,
Minecraft skins
,
Minecraft mods
---
PCGamesN Friday, May 13, 2022 12:06 PM
The best WoW addons can make everyday activities like questing and trading much easier. World of Warcraft's core UI is functional, sure, but it often lacks a certain something special. Ask anyone who has been mocked for using it after their party found out and they will tell you exactly where it falters.
The default UI doesn't provide you with enough information at a glance during a raid, it's too large on the screen so that it takes up to much screen real-estate, and it can be really clunky with all the windows popping up everywhere which you aren't able to better arrange. WoW addons can fix all that.
Fortunately, expansive add-on support fills that gap, providing you with thousands of different options for how you want your game to look. Some add-ons are aimed at avid raiders, while others tackle those all-important professions. With so many options, it's tough to know what add-ons are worth your time. We've dug deep and tracked down the best of the bunch for general, all-purpose use. Each add-on will make your World of Warcraft experience far more pleasant, whether you're a raider, tradesman, or simply keen to level up fast.
Best MMORPGs on PC
,
The best WoW addons
,
WoW Classic leveling guide
---
PCGamesN Friday, May 13, 2022 12:01 PM
Looking for Genshin Impact codes? MiHoYo's charming open-world game is notoriously addictive, and if you're anything like us, you're constantly on the lookout for more Genshin Impact primogems and other goodies.
Gathering currency in Genshin Impact can be quite the grind - while you can earn mora and primogems by completing quests such as daily commissions, an injection of extra funds will always be gratefully received. Fortunately, the developers MiHoYo occasionally send out free gifts in the form of Genshin Impact codes that can be redeemed online.
These Genshin Impact codes are released periodically. They frequently appear in MiHoYo's special programs that reveal information about future updates coming to the game soon, but are also released to celebrate milestones or to coincide with Genshin Impact events. Most codes also only work for a limited time - so it's a good idea to redeem them as soon as possible in case you miss out. Codes can only be redeemed once per account. Here are all the current Genshin Impact codes for April 2022, and how to redeem them.
Play Genshin Impact for free
,
Genshin Impact character tier list
,
Genshin Impact leveling guide
---
PCGamesN Friday, May 13, 2022 11:53 AM
The Logitech G300s is proof that you don't have to break the bank to buy a reliable rodent. Sure, it lacks fancy RGB lighting, but it'll still provide you with one of the best gaming mouse experiences. While the G300s isn't particularly pricy to begin with, you can currently snag the gaming PC peripheral for a steal, as it's going for less than $15 on Amazon.
Over on Amazon US, you can grab Logitech G300s for $14.99, thanks to a 63% discount. For context, some of the best mouse pads for gaming cost over $20, and this cheap clicker doesn't skimp on quality. Not only does it use a gaming-grade optical sensor, but it also includes nine programmable buttons that will come in handy while playing MMORPG games like FFXIV.
The G300s also features an ambidextrous design, so you won't have to worry about finding a left-hand mouse. Unlike other gaming mice, Logitech's cheap and cheerful clicker opts for a symmetrical ergonomic shape, something that should prevent strain while working from home and playing the best PC games.
Logitech G Pro Wireless review
,
Logitech G PowerPlay review
,
Logitech G502 Lightspeed review
---
PCGamesN Friday, May 13, 2022 11:31 AM
Another content update is on the way for Assassin's Creed Valhalla, which just wrapped up its springtime Ostara Festival. All that's known about it so far is that it adds a new structure to build in the home settlement of Ravensthorpe, the armoury, and that for the time being, it's the final item on the current content roadmap for the open-world game.
"Something interesting is coming soon," the official Assassin's Creed account tweeted, along with an emoji of crossed swords. The tweet included a quick video clip that shows the armoury transforming from a log cabin in the forest outside of Ravensthorpe.
Ubisoft has said that the armoury will add in the gear loadout system similar to the one that was added to Assassin's Creed Odyssey around the launch of the Fate of Atlantis DLC, with update 1.20. That system allowed players to spend in-game currency to unlock loadout slots, which could come in handy for managing Valhalla's burgeoning equipment list - there's a lot of gear to find out there at this point, after three DLCs and a weighty main campaign.
Assassin's Creed Valhalla review
,
How long is Assassin's Creed Valhalla?
,
Buy Assassin's Creed Valhalla
---
PCGamesN Friday, May 13, 2022 11:34 AM
Looking for Roblox promo codes? There are all sorts of promo codes from Roblox events and giveaways out there, that grant you free virtual goods like clothes and items. No need to fork out cash for accessories; new codes are added all the time, so you can keep your Roblox character looking fresh.
Roblox promo codes won't hang around forever, though - they're only valid for a limited time, so be sure to redeem them as soon as you discover one you haven't used yet. Redeeming them is simple - log in to the Roblox website and navigate to their promo codes page, where you can enter your code, and the item will automatically be added to your account straight away.
Promo codes aren't the only source of free items, though; you can also find free Roblox stuff in the avatar shop. There are far too many to list, but there are hundreds of items available for nothing: simply click the 'get' button next to their catalog listing to add them to your account. Be sure to check back here regularly, as we'll update this page whenever new Roblox promo codes are released.
Best Roblox games
,
Is Roblox shutting down?
,
Best Minecraft seeds
---
PCGamesN Friday, May 13, 2022 11:13 AM
Evil Dead: The Game creeps its way onto the Epic Game Store today, and it comes armed with Nvidia DLSS. While the game shouldn't give your gaming PC too much of a frame rate fright, the green team says its AI upscaler can boost fps by up to 85%, meaning you're less likely to be dead by dawn.
According to an Nvidia DLSS press release, Evil Dead: The Game gets a groovy performance boost on the company's best graphics cards. Internal benchmarks indicate that the upscaling tool increases frame rates beyond 60fps on the RTX 3060, RTX 3070, and RTX 3080, while the RTX 3080 Ti's frames skyrocket to an average of 122fps. In other words, if you're using an RTX GPU, you'll be able to strike a balance between performance and visuals while playing at higher resolutions.
If you're planning to play Evil Dead: The Game on a gaming laptop, then DLSS might also come in handy. Mobile RTX 3000 series cards also get a 60fps boost using the tech, meaning you'll be able to live out your Bruce Campbell boomstick fantasies at 1440p with 'Epic' settings enabled.
Best SSD for gaming
,
How to build a gaming PC
,
Best gaming CPU
---
PCGamesN Friday, May 13, 2022 11:04 AM
The World of Warcraft: Dragonflight expansion is still some way off, but we might have got a hint about the WoW: Dragonflight release date thanks to an upcoming prequel novel for the MMORPG's next major outing. Amazon has posted a listing for an 'Untitled Dragonflight Prequel' written by Ballantine, with a release date of November 22.
In the past, prequel novels for World of Warcraft expansions have been released three to four months prior to the actual expansion. This would suggest that Blizzard is planning a release date around March 2023 for Dragonflight. This lines up nicely with a forum post from a Blizzard community manager saying that Shadowlands Season 4 is due to arrive later this year.
World of Warcraft: Dragonflight is set in the Dragon Isles, and features a new draconic race, the Dracthyr, which uses its own unique class called the Evoker. While no details are given on the novel, it will almost certainly serve as an introduction to both the Dracthyr and the Dragon Isles, the latter of which has its veil of secrecy lifted at the start of Dragonflight - allowing dragons and players to visit the isles for the first time in-game.
Best MMORPGs on PC
,
The best WoW addons
,
WoW Classic leveling guide
---
PCGamesN Friday, May 13, 2022 10:20 AM
Looking for details on the latest CS:GO update? Whether it's new weapons and maps, or minor tweaks to the game's core arsenal, staying on top of the meta is key to dominating this competitive FPS.
Counter-Strike: Global Offensive isn't updated like other esports. While the likes of League of Legends and Rainbow Six Siege spend weeks testing every small change, CS:GO's biggest updates typically come out of the blue. While Dota 2 reinvents itself every few months, CS:GO's updates are so subtle you might not even notice them logging in from day to day. To help facilitate you in noticing this, we are going to track the latest CSGO updates that hit live servers in this post.
Each time Valve make significant patches to the game, we will let you know what is worth worrying about, what isn't, and also provide as full a changelog as we are able to. But before we crack on with the latest CS:GO update, we should mention that we'll only be adding new patches as and when they are finally deployed to live servers. Anyway, on with the changelog.
CS:GO console commands
,
CS:GO tips
,
CS:GO smokes
---
PCGamesN Friday, May 13, 2022 10:07 AM
While news that Starfield is delayed into 2023 has certainly come as a disappointment, fans eagerly awaiting Bethesda Game Studios' new space game have been tracking down any information they can on Starfield guns. As you explore the stars, you'll want a trusty weapon or two by your side, and we can expect a variety of types on offer for players to collect. One Reddit thread has compiled all the images of weaponry shown in Starfield media to date.
The weapons that have been shown so far are fairly limited in number, with only a couple of clear renders, and additional guns appearing in promotional artwork - including one showing large weaponry mounted on a defensive tower. This has led to much speculation as to the types of weapons that will show up in the RPG game. The guns shown to date appear to mostly be long barrel weaponry with a modern-day or slightly futuristic look.
Guns are far from the only thing that Starfield fans have their eye on, with Bethesda recently revealing the first Starfield companion and the names of several Starfield factions. We also have some details on the Starfield cities that you can visit on your travels, and modders already are gearing up to produce Starfield mods once the open-world game releases.
Starfield release date
,
Best space games
,
Elder Scrolls 6 release date
---
PCGamesN Friday, May 13, 2022 9:55 AM
AMD Zen 4 may be set to steal the best gaming CPU crown, as new claims hint that the next-gen chips will trump the Ryzen 7 5800X by up to 24%. The performance increase whispers follow Raphael gaming PC processor leaks that indicate a 10% bump above the current-gen chip.
Sources close to Moore's Law is Dead say AMD Zen 4 CPUs boast a 15-24% IPC (instructions per cycle) increase over Zen 3. In addition, the chips will supposedly arrive with a 14% clock speed uplift, while single-thread abilities could be enhanced by up to 37%. The new specs are accompanied by "massive" I/O upgrades above Zen 3, including DDR5 RAM compatibility and PCIe 5.0 support.
Potential performance aside, MLID's latest video includes new release windows. The insider claims that Ryzen 7000 Raphael chips are scheduled to show up in the second half of 2022, while Dragon Range and Phoenix are set to arrive in Q1 2023. Threadripper 7000 Storm Peak is included in AMD's release date lineup, it's further back in the queue with a potential first half of 2023 slot.
Zen 4 CPUs - everything we know
,
RDNA 3 GPUs - everything we know
,
Best gaming CPU
---
PCGamesN Friday, May 13, 2022 9:43 AM
Genshin Impact developer, Hoyoverse, has another game on the way, but before you can sign up to the 'tuning test' beta, you'll need to make sure your gaming PC meets the Zenless Zone Zero system requirements. Much like its cousin, the upcoming action RPG game is headed to both Windows and smartphones, but it's a bit more demanding and could leave some Genshin fans behind.
The Zenless Zone Zero system requirements have something in common with its predecessor in that they aren't exactly the most detailed. They don't mention a specific model gaming CPU aside from Intel Core i5 or greater, which is unhelpful given different generations can widely vary, and there are no AMD Ryzen equivalents here.
Hoyoverse is more specific about its graphics card recommendation, listing an Nvidia GeForce GTX 970 as the baseline here. Once again, it doesn't give great instructions for AMD fans, but we've got you covered: you should be able to run the game with an AMD Radeon R9 390 or greater, but you might get away with earlier models like the R9 290 and other 4GB VRAM variations.
Best SSD for gaming
,
How to build a gaming PC
,
Best gaming CPU
---
PCGamesN Friday, May 13, 2022 9:33 AM
Want to know what the best Warzone Pacific guns are? Warzone Pacific Season 2 Reloaded completely changed the battle royale game by unifying the Vanguard Royale and Battle Royale playlists together. This means players no longer have to use Vanguard weapons if they own any of the guns from Modern Warfare and Black Ops Cold War, and we're continuing to reap the rewards in Season 3. Rebirth Island has also gone through radical changes, adding new areas to encourage players to explore the map.
Picking out the best Call of Duty Warzone Pacific weapons can be difficult, especially with over 100 different options to pick from across three games. The latest weapons added to the FPS game are usually underpowered to avoid them dominating the meta early on, but we highly recommend unlocking every weapon as early as possible. Occasionally there's one or two weapons that manage to launch with completely broken stats, so it's worth keeping an eye on this page to find out which guns are currently performing well.
Warzone Pacific is surprisingly well balanced these days, but there's always going to be a few outliers that manage to outperform the rest of the guns in their weapon type. Here's everything you need to pick the best Warzone Pacific guns.
---
Rock Paper Shotgun Latest Articles Feed Friday, May 13, 2022 12:51 PM
AMD's FSR 2.0 upscaler is out now – in only one game, Deathloop, but still. This is a big moment for the heavily upgraded FSR (FidelityFX Super Resolution), as it's basically attempting to fight Nvidia's rival DLSS (Deep Learning Super Sampling) with some of its own tactics. There's none of Nvidia's machine learning enhancements, but whereas FSR 1.0 was a simple spatial upscaler – meaning data used for upscaling a frame could only come from within the frame itself – FSR 2.0 uses a temporal upscaling technique similar to that of DLSS. This allows it to draw data from previous frames as well, producing a sharper, higher-quality image.
The lack of machine learning also has the upside of keeping FSR 2.0, like FSR 1.0, compatible with any reasonably recent gaming GPU. Nvidia may make most of this generation's best graphics cards, but you won't need something brand new and super powerful to let FSR 2.0 boost your frame rates. To find out how well it works, compared to both DLSS and FSR 1.0, I reinstalled Deathloop and gave all three upscalers a whirl.
---
Rock Paper Shotgun Latest Articles Feed Friday, May 13, 2022 12:30 PM
A bit later than planned, but we're back once again for another edition of The RPS Time Capsule, in which the RPS Treehouse undergoes a collective mind-melting experiment to pick their favourite, bestest best games from a specific year to be preserved and saved until the end of time. This month, we've shifted our game preservation gaze to 2009, so read on below to find out which games made the cut, and which have been cast off into the eternal games bin.
---
Rock Paper Shotgun Latest Articles Feed Friday, May 13, 2022 12:01 PM
While fads come and go, mech games continue to simmer pleasantly away without ever taking over or going away. The latest one I've finally made some time for is Ignited Steel Colon Mech Tactics, a turn-based tactical game with a light sprinkling of FTL.
Despite appearances, it's quite mildly roguelike, and those of you who dig a complex strategic challenge or skin of your teeth type survival story aren't quite the right audience. This one is a more forgiving affair, and yet not easy or simply enough that I ever got bored. It's a good time.
---
Rock Paper Shotgun Latest Articles Feed Friday, May 13, 2022 11:25 AM
Liam and I have given Overwatch 2's PVP beta a whirl and it's been... interesting. Both of us have come away with mixed feelings, especially around that big "2". Does it really seem like a sequel? To answer that question, we've teamed up in this article like a Müller and its corner to mingle our thoughts in word form. Of course, if you'd rather hear us grumble at each other in glorious video form, you can watch that down below.
---
Rock Paper Shotgun Latest Articles Feed Friday, May 13, 2022 10:30 AM
"The fleet does the flying, the marines do the dying," says CCP boss Hilmar Veigar Pétursson. "I love Starship Troopers."
Pétursson is hardly the first person to profess an affection for Paul Verhoeven's cult military satire. But he is one of the few with command of his own company of science fiction game developers. For well over half of Eve Online's existence, he has led CCP in an effort to create the perfect spin-off shooter - stubbornly chasing the dream of a playable Starship Troopers, even as those brave young prototypes have been cut down by unimpressed players, one after the other.
---
Rock Paper Shotgun Latest Articles Feed Friday, May 13, 2022 10:08 AM
Historical real-time strategy threequel Age Of Empires III: Definitive Edition will see the arrival of a 'casual-friendly' mode that shifts the focus from combat to economic success in its latest DLC pack, Knights Of The Mediterranean. Developers Tantalus Media and Forgotten Empires have revealed that the DLC will also feature new Italian and Maltese civilisations, an allegiance-shifting diplomacy mode and a variation on random maps based on historic European wars.
---
Rock Paper Shotgun Latest Articles Feed Friday, May 13, 2022 8:30 AM
The Lego games I'm most familiar with are the licensed property games - yer Lego Indiana Joneses and yer Lego Star Warses where you run around a continuous level smashing things. Lego Bricktales is more akin to last year's extremely cute geometric puzzler Lego Builder's Journey, in that you're exploring detailed, colourful brick dioramas, and solving puzzles by bulding things out of titular hot-property block. In Bricktales, though, it's way more granular. You're whisked away into a separate building screen to construct and stress test things like bridges and beams to support a platform, for example. You have a set number of different shaped and sized bricks to work with.
From playing a preview build of the first level - a jungle, home to some lost explorers - the thing that impresses me most about Bricktales is just how much it's like building things with actual Lego. It sounds stupid to say, but them little bricks are really astonishingly realised. It all looks so much Lego it's sort of surprising that you can't reach through the screen and pick it up. It's amazing. It's the closest thing to Lego you can get outside of actual Lego - which is the problem. It just kind of makes you miss Lego.
---
Rock Paper Shotgun Latest Articles Feed Friday, May 13, 2022 8:24 AM
Saber Interactive have launched their cinematic co-op survival horror Evil Dead: The Game today, Friday the 13th. No idea why they chose that date. Must be Bruce Campbell's birthday or something.
---
Twinfinite Friday, May 13, 2022 3:07 PM
It's no secret how massively popular Demon Slayer has become since it premiered in 2019. The series has shown off a rather large number of characters, but there is certainly a definitive ranking for where they all place we will be taking you through. Here's our ranking of the more memorable characters in Demon Slayer. […]
---
Twinfinite Friday, May 13, 2022 2:57 PM
As Moon Knight draws to a close, the future of the MCU's latest superhero is still in flux. The final episode tied up most of the loose ends while raising a number of questions about the future of this series and its characters. Here are five of the most pressing questions that we still have […]
---
Twinfinite Friday, May 13, 2022 12:49 PM
Nippon Ichi Software released another trailer of the upcoming real-time strategy JRPG GrimGrimoire OnceMore.
---
Twinfinite Friday, May 13, 2022 12:22 PM
Who doesn't love the Yakuza series' craziest character Goro Majima? Today (it's May 14 in Japan) is his birthday, and Japan is celebrating.
---
Twinfinite Friday, May 13, 2022 11:30 AM
Ever wanted your own adorable Aloy Nendoroid figure, complete with an even more adorable Watcher mini-figure? Well, The Good Smile Company has got you covered, as they just unveiled a brand new collectible of everyone's favorite protagonist from Horizon Forbidden West. This Aloy figure stands in at approximately 100mm (3.94 inches) in height and features […]
---
Twinfinite Friday, May 13, 2022 10:53 AM
Today Atlus released a survey to poll its fans, and for the first time, the survey for North American was launched at the same time as Japan.
---
Twinfinite Friday, May 13, 2022 10:35 AM
One of the more underrated and unsung gaming evolutions has been taking place in the sniping genre. Fans of these games have gone from shooting in a straight line to focusing on their breathing, taking in to account bullet drop and all the other subtle techniques for fast becoming the world's best sharpshooter. Good sniper […]
---
Twinfinite Friday, May 13, 2022 10:32 AM
Just a day after releasing its first official teaser, Netflix is giving fans of the Resident Evil franchise another joyful video, and this time, it is all about the T-Virus. The trailer goes into detail about the origins of the virus, which was created as a miracle drug that seeked to bring joy to patients […]
---
Twinfinite Friday, May 13, 2022 10:21 AM
While it may not have seemed like it to many people back in high school, sports and anime go hand-in-hand. Whether it is Run With the Wind or Haikyuu, some of the best shows in the genre revolve around sports. That's why it is so cool to see the NFL's Los Angeles Chargers show off […]
---
Twinfinite Friday, May 13, 2022 10:20 AM
Today Koei Tecmo and Nintendo revealed a new trailer of their upcoming Musou-like action JRPG Fire Emblem Warriors: Three Hopes.
---
Twinfinite Friday, May 13, 2022 9:26 AM
When the title for the newest Doctor Strange film was released, it seemed certain that a film titled Doctor Strange in the Multiverse of Madness would be bursting with cameos. Although some fans may have left the film disappointed with how many cameos were in the film, there were still plenty of fun surprises along […]
---
Twinfinite Friday, May 13, 2022 9:20 AM
Today MICA Team shared new trailers and details of its upcoming tactical role-playing game Reverse Collapse: Code Name Bakery.
---
Siliconera Friday, May 13, 2022 2:30 PM
There's news about the Horizon Forbidden West Aloy Nendoroid. Pre-orders for the figure are now open. Aloy won't be alone, though. The Horizon Forbidden West figure will come with a little Watcher too. She will cost ¥6,500/$59.99. She will show up first in Japan in October 2022. In December 2022, people will see her in North America.
As usual, the Aloy figure comes with three face plates. One expression is a neutral, smiling one. Another has her closing her eye to aim her bow. The third features her yelling. She can be equipped with a bow and arrow or a spear. You can also set up different backgrounds. One sheet is based on the Focus effect. The packing insert also features a background design with Sunwings. While the scale isn't accurate, the tiny Watcher looks like it does in Horizon Forbidden West.
Here's a closer look at the Aloy Nendoroid and her Watcher buddy.
[gallery columns="5" ids="926949,926950,926951,926952,926953" link="file"]
To compare, here's how the concept art for the figure looked.
#WonHobby34 Figure Update!

Good Smile Company
Horizon: Forbidden West
Nendoroid Aloy

Web Gallery: https://t.co/XwomwUaJyG#HorizonForbiddenWest #nendoroid #goodsmile pic.twitter.com/RoqkqfqnNV

— GoodSmile_US (@GoodSmile_US) October 2, 2021
The Horizon Forbidden West Aloy Nendoroid will come to Japan in October 2022 and North America in December 2022. Pre-orders are open until June 22, 2022. Horizon Forbidden West is available on the PlayStation 4 and PlayStation 5.
The post Horizon Forbidden West Aloy Nendoroid Comes with a Watcher appeared first on Siliconera.
---
Siliconera Friday, May 13, 2022 2:00 PM
Rather than getting in the robot, PUBG Mobile players will be fighting alongside an Evangelion icon in a new crossover. Starting on May 19, 2022, they will appear in-game. People who take part in the Core Circle mode can fight alongside EVA-01 against the Sixth Angel. People will also be able to get cosmetic items like plugsuits.
Here's how it will work. Once the Evangelion PUBG Mobile event kicks off, they will need to find EVA-01. The EVA will head off to fight the Sixth Angel, which is heading to attack Spawn Island. You'll be able to watch the fight while facing foes, and also be able to get different supplies depending on the phase of the fight.
There will also be cosmetics during this Evangelion crossover, and those will show up before the event begins. The armor, backpacks, parachutes, and plugsuits will start appearing on May 14, 2022. It is unknown which items might require purchases or if some could be earned.
Anime crossovers aren't uncommon in PUBG Mobile. Some other series that showed up in the game are Black Lagoon, Jujutsu Kaisen, and Sakura Wars.
PUBG Mobile is available for Android and Apple iOS devices. The Evangelion PUBG Mobile crossover will run May 19, 2022 through June 19, 2022.
The post PUBG Mobile Evangelion Crossover Stars EVA-01 and Sixth Angel appeared first on Siliconera.
---
Siliconera Friday, May 13, 2022 1:30 PM
Another Fire Emblem Warriors: Three Hopes trailer is here, and this time the stars are Blue Lions characters from Faerghus. They all might look a bit different than before, though. This is because this new story's setting involves them in both clothing from their academy days and new outfits, as well as slightly older character designs. The video introduces each person, then shows them in a fight.
Things kick off with Holy Kingdom of Faerghus prince Dimitri. It shows his character model up close and portrait first. Then, it shows him attacking a group of enemies. From there, the other Blue Lions Fire Emblem Warriors: Three Hopes appear one after another. Dedue follows him, then Mercedes, Ashe, Felix, Annette, Sylvain, and Ingrid. As there will be multiple paths to follow in-game, one could involve the player siding with the Fire Emblem Blue Lions cast.
Prior to this, other Fire Emblem Warriors: Three Hopes characters got moments in the spotlight. There's a new original avatar for the player named Shez. Arval is connected to them. In Japan, there have also been sporadic reveals. Some of the last ones showed off Dimitri and Dedue.
Fire Emblem Warriors: Three Hopes will come to the Nintendo Switch on June 24, 2022.
The post Fire Emblem Warriors: Three Hopes Faerghus Trailer Focuses on Blue Lions Characters appeared first on Siliconera.
---
Siliconera Friday, May 13, 2022 1:00 PM
A Genshin Impact The Wonderful Animals of Teyvat photo contest is here, and people who enter can get free Primogems. It kicked off on May 13, 2022. This is the sort of event that takes place outside the game. However, you have to play the game to take part.
Here's how it will work. The goal with the The Wonderful Animals of Teyvat photo contest is to take pictures of creatures with the "wildlife" designation in Genshin Impact. Animals, birds, and fish all apply. (Those are also the sorts of creatures someone could catch with an Omni-Ubiquity Net gadget or buy from Chubby and place in the Serenitea Pot.) Creatures like Crystalflies and reptiles should also apply. These all must be taken in the wild in Inazuma, Liyue, or Mondstadt
Once you take an in-game screenshot that applies, you need to take to social media like Twitter. There, you have to post the image with your UID, nickname, and both the #GenshinImpact and #TheWonderfulAnimalsOfTeyvat hashtags. You can enter more than once. The contest will close on May 25, 2022. HoYoVerse will then judge the entries. One first place winner will get 3,000 free Primogems to spend in Genshin Impact. The three folks in second place will get 1,000 Primogems. Finally, five people in third place will get 500 Primogems. Winners will be revealed on May 31, 2022. This sort of reward is common, as it was also offered for the October 2021 co-op photo contest.
Genshin Impact is available for the PlayStation 4, PlayStation 5, PC, and mobile devices. It will also come to the Nintendo Switch. Its 2.7 update is delayed. The Genshin Impact The Wonderful Animals of Teyvat photo contest will run May 13-25, 2022.
The post Genshin Impact The Wonderful Animals of Teyvat Photo Contest Begins appeared first on Siliconera.
---
Siliconera Friday, May 13, 2022 12:30 PM
Atlus just opened up a new survey about its games. However, this time it is only asking for feedback from people in the United States. Those who participate will then be taken through a questionnaire that can take 45 minutes. However, once you supply an email and start, you can return to pick up where you left off if you close the browser tab, then come back to it.
The Atlus survey starts out in the typical way. It asks people if they are in the United States, requests an email address, asks about their gender identity, and asks for an age. After basic demographic information is collected, it gets into gaming questions. It asks about systems owned, services subscribed to, how often someone plays on consoles, and TVs used. It also asks what makes people download games or why they play them and preferred genres.
Once you pass the 35% point, the survey starts asking about Atlus and Sega games. Among the titles mentioned are Persona entries, SMT games, Project Re Fantasy, and Etrian Odyssey. It also asks about games from companies like Sony, Square Enix, Nintendo, and Bandai Namco. It's after this point that it will start asking about things like ports of the company's titles for other platforms and more specific feedback about its games and series.
These kinds of surveys are a regular thing for the company. There was one in early 2021 going over the same sorts of topics. Another asked about merchandise based on its series.
The Atlus games survey is available for people in the United States to take until May 15, 2022.
The post Atlus US Games Survey Takes 45 Minutes appeared first on Siliconera.
---
Siliconera Friday, May 13, 2022 12:00 PM
Sega Sammy released its Fiscal Year Ended March 2022 Results Presentation on May 13, 2022. Among the details were figures going over income from its free-to-play titles. It turns out Hatsune Miku was the queen between January 2022 and March 2022. Hatsune Miku: Colorful Stage had the highest sales out of its free-to-play games during that period.
Here's the full announcement. Exact income for the period between January and March 2022 wasn't revealed. However, Sega did confirm that the Hatsune Miku rhythm game outperformed the MMO Phantasy Star Online 2: New Genesis and mobile game North Star Legends Revive.

Hatsune Miku: Colorful Stage is a rhythm game involving the Vocaloids' interactions with high school musicians. There are five groups, called Leo/Need, More More Jump, Vivid Bad Squad, Wonderlands x Showtime, and Nightcord at 25:00. Each one has its own aesthetic and style. (So Vivid Bad Squad is hip-hop, while More More Jump is an idol group.) Songs can feature Vocaloids performing alone or alongside the voice actors for members of those groups. As you level up characters you've earned, you'll also get to see more of each group's story. There are also regular events that involve new storylines and let people earn new characters. There's no stamina system, and the gacha involves earning new character cards for your five-character groups.
Hatsune Miku: Colorful Stage is available on Android and Apple iOS devices worldwide. In Japan, it is known as Project Sekai: Colorful Stage.
The post Hatsune Miku: Colorful Stage Sega's Top Performing F2P in Early 2022 appeared first on Siliconera.
---
Siliconera Friday, May 13, 2022 11:30 AM
Not one, but two members of the Thirteen Flame-Chasers are about to become playable. HoYoVerse announced the Honkai Impact 3rd 5.7 release date and details, and among the reveals was an Eden Golden Diva battlesuit. The other MANTIS joining this time around is Aponia Disciplinary Perdition. Fittingly enough, the Elysium Everlasting open world area and new Elysia storyline will appear as part of Story Chapter XXIX. Everything arrives on May 19, 2022.
Eden Golden Diva will be an IMG Honkai Impact 3rd battlesuit. She uses guns to attack. However, as she is a musician, one of her attacks will involve her summoning a harp. Among the Thirteen Flame-Chasers, she's ranked fourth, just below Aponia.
Finally, a new event is coming after the update. This will involve fighting Latent Hunters. One reward a person could earn is the Gale Hunter Bright Knight: Excelsis outfit. The other is Golden Diva fragments.
Here's the official Honkai Impact 3rd 5.7 release date and update trailer.

There's also a new Hyperion Lounge to watch. It shows off Aponia and Eden's movesets. It also explains how to get things like Eden's Echo of Paradise guns and High Baroque Maestro Stigma Set.

Honkai Impact 3rd is available for PCs and mobile devices. The 5.7 release date is May 19, 2022.
The post Honkai Impact 3rd 5.7 Release Date Set, Adds Eden Golden Diva appeared first on Siliconera.
---
Siliconera Friday, May 13, 2022 11:00 AM
The FFXIV housing lottery system will finally be fixed. Director and Producer Naoki Yoshida issued a new update on the ongoing issue. He confirmed that, as expected, the FFXIV maintenance to fix the broken first lottery will occur on May 16, 2022. He also announced that the second housing lottery will be held on May 26, 2022.
Yoshida confirmed that all of the fixes went through. Once the maintenance is done, all lottery results data will be restored. This means any home that previously displayed the messages "there were no participants in this lottery" and "the winning number is… 0. May you have better luck next time" in error will now have proper winners. People can check in after maintenance to see if they won and claim their house.
This means there is a new schedule for the FFXIV housing lottery system. Once the second one begins, it will follow the typical nine-day period. The first five days are when you bid on properties during the Entry period. The next four are the Results period when you find out if you won and acquire your new home. Here's how it looks.
May 16, 2022: FFXIV maintenance.
May 26, 2022: First housing lottery cycle Results period ends and purchases must be finalized by 7:59 a.m. PT/10:59 a.m. ET/4:59 p.m. CET.
May 26, 2022: Second housing lottery cycle Entry period begins at 8 a.m. PT/11 a.m. ET/5 p.m. CET.
May 31, 2022: Second housing lottery cycle Results period begins.
June 4, 2022: Second housing lottery cycle Results period ends.

Final Fantasy XIV is available for the PlayStation 4, PlayStation 5, and PC. The FFXIV maintenance will take place on May 16, 2022, and the second housing lottery will begin on May 26, 2022.
The post FFXIV Housing Lottery Maintenance Arrives Next Week, Next Cycle Dated appeared first on Siliconera.
---
Siliconera Friday, May 13, 2022 10:30 AM
Toei Films released a new trailer for Shin Kamen Rider, giving viewers the most substantial look yet at the film and Kamen Rider 2. Previous teasers served more as callbacks to the aesthetic of the original 1971 TV series.
Check out the trailer below.
https://www.youtube.com/watch?v=U40IUnxsgls
The Shin Kamen Rider trailer consists of mostly new footage, showing off Kamen Rider (played by Sosuke Ikematsu) and Ruriko Midorikawa (played by Minami Hamabe) in costume. Kamen Rider is also shown fighting, riding his Cyclone motorcycle, and performing while wearing the trench coat first seen in concept and promotional art for the film. The trailer also gives viewers glimpses of the monsters Man Spider and Wasp Woman, both with new, updated designs. Members of Shocker, the villainous organization that kidnapped Takeshi Hongo and turned him into Kamen Rider are shown briefly.
Finally, the trailer shows another man (played by Tasuku Emoto) who appears in a seemingly identical Kamen Rider uniform confronting Takeshi. The man is Hayato Ichimonji, known in the original series as Kamen Rider 2 (or Kamen Rider No. 2). In the original series, Kamen Rider 2 was a second cyborg super-soldier constructed by Shocker to defeat Kamen Rider 1, but became Kamen Rider 1's ally and partner.
https://twitter.com/Shin_KR/status/1524952371599933445
The official Twitter account also promoted the Shin Kamen Rider trailer by debuting a pair of new posters. The first poster features English-language text describing Kamen Rider. The second poster reveals that the reboot's version of Shocker is actually an acronym for "Sustainable Happiness Organization with Computational Knowledge Embedded Remodeling." A QR code on the SHOCKER poster links to the "Official SHOCKER App" on the Japanese Google Play Store and Apple App Store. The app promises daily updates from "SHOCKER Staff" as well as showing off emblems and logos for SHOCKER fans, and clips from the trailer.
Shin Kamen Rider debuts in Japanese theaters in March 2023. Hideaki Anno and Shinji Higuchi's Shin Ultraman film opened in Japan on May 13, 2022.
The post Shin Kamen Rider Trailer Shows Kamen Rider 2 appeared first on Siliconera.
---
Siliconera Friday, May 13, 2022 10:15 AM
Bandai Namco released a ton of Naruto to Boruto: Shinobi Striker news about what to expect in 2022, as there's a new roadmap that includes Season Pass 5 DLC. The game, which launched in 2018, passed 10 million accounts. As such, going into this year will mean new characters, rebalancing, stage renovations, and Inn adjustments. It also confirmed it will take actions against cheaters and suspend their accounts.
Things kicked off with details about the Season 5 Pass for Naruto to Boruto: Shinobi Striker. The theme for it is "legacy." It will feature five new characters. Silhouettes showed up to tease the new Masters. One appears to be another version of Naruto. Another could be Kisame.
The next part of the Naruto to Boruto: Shinobi Striker roadmap will involve stage renovations. This will change how Konohagakure will look. A Chakra Jump will be part of that. That will arrive in both Summer and Fall 2022. The Ninja Tools Shop and Inn will also be on the way.
Here's the full trailer going over the announcements.

And here is the Naruto to Boruto: Shinobi Striker roadmap image.

As a reminder, the last Naruto to Boruto: Shinobi Striker Season 4 Pass added characters like Kawaki and Nagato.
Naruto to Boruto: Shinobi Striker is available for the PlayStation 4, Xbox One, and PC, and Season Pass 5 DLC will appear in 2022.
The post Naruto to Boruto: Shinobi Striker Season 5 Pass DLC on New Roadmap appeared first on Siliconera.
---
Siliconera Friday, May 13, 2022 9:30 AM
A new set of Yakuza-themed colognes will appear in Japan, and it will feature Goro Majima. Sega and Fits Corporation revealed that these fragrances will go on sale at select Japanese stores on May 14, 2022.
The colognes will come in two varieties based on Goro Majima's appearances in different Yakuza titles. The Night Emperor version, which has a calm musk and fruity floral fragrance, will be based on Majima's youngest canonical appearance in Yakuza 0. The Mad Dog of Shimano will have a mad floral fragrance and take inspiration from his most recent appearance in Yakuza: Like a Dragon. Each cologne will be available individually at 3,300 yen (~$25.55).
A Limited Edition box, available at 6,600 yen (~$51), will contain both colognes. It will also come with an aroma stone modeled after the Majima Crest.
[gallery columns="4" ids="926892,926893,926894,926895" link="file"]
The Goro Majima-inspired Yakuza colognes will be available at Don Quijote and Yodobashi Camera stores around Japan from May 14, 2022. The two-in-one limited edition will exclusively appear at select Don Quijote branches. People who purchase both items separately at other stores will be able to apply for delivery of the limited edition box and the Majima Crest aroma stone by uploading their receipts before May 31, 2022.
This marks the second collaboration between Sega and Fits on creating Yakuza-themed colognes. In late 2020, the companies sold the first two colognes inspired by the Yakuza series protagonists, Kazuma Kiryu and Ichiban Kasuga.
The entire Yakuza series, including Yakuza 0 and Yakuza: Like a Dragon, is available on PlayStation 4, PC, and Xbox One.
The post Yakuza Goro Majima Colognes Will Appear in Japanese Stores appeared first on Siliconera.
---
Siliconera Friday, May 13, 2022 9:00 AM
Sword & Shield: Astral Radiance, the newest Pokemon Trading Card Game set, introduces the game to the world of Pokemon Legends: Arceus. You'd be forgiven for thinking that was the last set, Brilliant Stars, which debuted alongside the game and featured Arceus itself in all its branding! But nope, it's this one. So if you're a fan of that world and its new creatures, you'll find a lot to love here.
It does make for something of a straightforward release. There's no room for weird pulls here, as The Pokemon Company had to give you Irida, Adaman and Kamado. The starter lines, with their new final evolutions? Yeah, that's a large percentage of the set's card count. We'll see the deeper cuts later.
For now, though? You probably want to see these. Each of the Hisuian starters shift types, as they do in their digital forms. To make this work, the first two evolution steps use fully colorless attacks. This could be interesting! It makes them easier to splash in their original forms too, and anything that makes deck-building more creative is a win for the game.
The introduction of a new world is a great time to do some scene-setting, and the mix of Trainers here does its best. We'll probably see more Hisui locations in the future, but the first few are flavorful. Jubilife Village lets players go home and regroup, essentially, getting a new hand of five cards and ending their turn without attacking. Temple of Sinnoh neutralizes Special Energy, making for more of a brutal test of inner strength. Makes sense for Legends' boss battles!
As with most Western sets, there's a bit of shuffling of the cards' Japanese release order, which means you'll find a few Galar leftovers here too. It's particularly funny to see a few Single Strike and Rapid Strike cards. After all, Legends' battle mechanics fit with these ideas even better than Isle of Armor. It's probably the last gasp of the designation, though. We wish these "factions" would see more sustained support, so they could become more competitively viable long-term. Instead, they're largely fleeting flavor.
Also returning here is a Trainer Gallery subset. These cards have fun art! Most of them are from older regions, but Kleavor and Wyrdeer do show up and provide some Hisui representation. Between these and the wealth of fun submissions to the Illustration Contest, it really does make us wonder why there are so many boring entries in the common and uncommon ranks.
While it's in no way practical and likely never going to see actual play, Astral Radiance includes a ludicrous combo that you really only get to see in TCGs. Regigigas' Ancient Wisdom ability lets you accelerate energy retrieval and play by three a turn, but only if all five other Regi creatures are on the table. So hey, if you want to run six energy types and no Pokemon V-level sweepers for a chance at an Exodia-level combo that doesn't really win you the game? You can. Sometimes it's good for a collectible card game to have silly gimmicks, so we're pleasantly amused.
Also fitting well with the Legends debut is the return of "shiny" Pokemon to the TCG. Dubbed "Radiant" this time, they're one-per-deck, and they have some fun effects attached. Radiant Hawlucha, for example, psychs up your Active Pokemon from the bench to do more damage to VMAX creatures. Since it's so much easier to get shiny variants in Arceus, their presence here pairs well. Still: they're rare, and there aren't many of them yet. We're guessing there will be a handful of Radiant cards in each set for years to come.
As yet another physical set launches with Pokemon TCG Live branding, we wonder: is this the one that launches with the new digital platform? We haven't heard much since the beta in February, and it feels like it might just be ready. Fingers crossed?
The latest Pokemon Trading Card Game expansion, Sword & Shield: Astral Radiance, launches on May 27, 2022. For more coverage of the Pokemon TCG, check out our archive.
The post New Pokemon TCG Set, Astral Radiance, Brings Hisui to Life appeared first on Siliconera.
---
Destructoid Friday, May 13, 2022 4:00 PM
---
Destructoid Friday, May 13, 2022 3:30 PM
---
Destructoid Friday, May 13, 2022 3:15 PM
---
Destructoid Friday, May 13, 2022 2:30 PM
---
Destructoid Friday, May 13, 2022 1:30 PM
---
Destructoid Friday, May 13, 2022 1:00 PM
---
Destructoid Friday, May 13, 2022 12:30 PM
---
Destructoid Friday, May 13, 2022 12:00 PM
---
Destructoid Friday, May 13, 2022 11:30 AM
---
Destructoid Friday, May 13, 2022 11:00 AM
---
Destructoid Friday, May 13, 2022 10:00 AM
---
PC Invasion - FeedDDD Friday, May 13, 2022 2:30 PM
It looks like a new addition to the Silent Hill franchise could be on the way after a few images of a potential new game leaked. A tweet from AestheticGamer (previously known as Dusk Golem) shared multiple images from a Silent Hill game currently in development. AestheticGamer prefaced the tweet by saying, "There's a lot I'm not sharing for now." However, it wasn't long before the images were taken down via a DMCA notice. Ironically, this has seemingly given the leak some more credibility. It's worth noting that AestheticGamer previously leaked information about Resident Evil Village in 2020 that was later proven correct. But, as with all leaks, take the following information with a healthy dose of skepticism. After all, leaks and rumors about Silent Hill have run rampant over the last few years. Another week, another leak The leaked images didn't reveal too much about the supposed Silent Hill title. The first showed a very messy room wi...
---
PC Invasion - FeedDDD Friday, May 13, 2022 2:00 PM
Following a teaser earlier in the week, the Genshin Impact developer has revealed Zenless Zone Zero, a stylish action RPG all about guns, swords, and cat ears. The reveal was paired with a trailer showcasing the characters, setting, and enemies. You'll make your way to New Eridu, where creatures occupy a "sub-Hollow disaster." The game looks funky and cool; a far cry from Genshin Impact's fantasy setting. And you can try Zenless Zone Zero ahead of release with a closed beta you can sign up for today. Developer HoYoverse describes the game as an "urban fantasy." Really, it kind of takes the Phantasy Star approach by blending fantasy elements with high tech. It's set in a post-apocalyptic world. New Eridu is a shelter city, created to save humanity following a "calamity." You face off against creatures using weapons like blades and firearms, and it's all pretty flashy. Like with Genshin, Zenless Zone Zero follows a cast o...
---
PC Invasion - FeedDDD Friday, May 13, 2022 1:30 PM
Developer Blizzard provided some insight into its thoughts on the current state of Overwatch 2. A recent developer blog identifies specific heroes that need some work. It also addresses some of the problems with the current weakest role in the game, support. Blizzard hears players loud and clear and intends to buff supports as the Overwatch 2 beta continues. Following the small adjustments to Ana and Baptiste's ammunition and the hilarious addition of Zenyatta's flying kick, Mercy and Moira are up next. Regarding Mercy, Blizzard wants to address her mobility. More specifically, her "super jump," which is an unintended technique that players can utilize to gain height quickly when using Guardian Angel. The developer wants to change this technique into an ability in order to improve accessibility and to "accentuate it." As for Moira, she is performing relatively well in Overwatch 2, but that doesn't mean she isn't without her problem...
---
PC Invasion - FeedDDD Friday, May 13, 2022 12:30 PM
The Pirate is the second class available in Rogue Legacy 2 that uses a gun. Unlike the Gunslinger, however, this privateer throws out traditional firearms in favor of a heavy-caliber cannon. The Cannon is actually a hybrid weapon, as it uses both melee and ranged attacks. Getting to grips with this unique combination can take some practice. Due to this, the Pirate class isn't the easiest class to use, but our guide on its Weapon, Ability, and Passive will help you get the most out of it as you play Rogue Legacy 2. Unlocking the Pirate requires your castle to be at level 42. This and the Astromancer are the first classes you can unlock after level 36. If you've already unlocked the Dragon Lancer, the only other upgrade needed to access the Pirate is the Blast Furnace. This castle upgrade is fairly expensive, though, so you'll need to put together a strong run beforehand to earn enough gold to purchase it. Cannon The Cannon is one of the most unusual weapons in Rogue...
---
PC Invasion - FeedDDD Friday, May 13, 2022 11:30 AM
Call of Duty: Vanguard Season Three introduced new content with the Mayhem map, a trophy system and more. Meanwhile, Operation Monarch has kicked off in Warzone Pacific, which has seen King Kong and Godzilla join Caldera. Through the season, Sledgehammer has put out patches to fix various issues in multiplayer. Just two days after the last update made changes to low-caliber magazines, another patch has arrived. The latest Vanguard patch makes stability fixes associated with server disconnects, weapons, game modes, and more. The first stability fix has addressed an issue that caused server disconnect errors in private matches. This would occur with the competitive ruleset enabled. In the Arms Race game mode, destroying the final enemy base while enemies are in the zone should no longer cause a UI error. If you have made it to Prestige 5 and beyond, you should now be able to see the correct prestige emblem across the menus. No more problems unlocking weapon camos in Call of Duty: ...
---
Tabletop Gaming News Friday, May 13, 2022 3:00 PM
---
Tabletop Gaming News Friday, May 13, 2022 2:00 PM
---
Tabletop Gaming News Friday, May 13, 2022 1:00 PM
---
Tabletop Gaming News Friday, May 13, 2022 12:00 PM
---
Tabletop Gaming News Friday, May 13, 2022 11:00 AM
---
Tabletop Gaming News Friday, May 13, 2022 10:00 AM
---
Tabletop Gaming News Friday, May 13, 2022 9:00 AM
---
Player Assist | Game Guides & Walkthroughs Friday, May 13, 2022 3:07 PM
Pokemon Legends: Arceus is set in olden times in the Pokemon world when it was rare to find harmony between people and Pokemon. Set in the Hisui region, known as the Sinnoh region in modern times, you will join the Galaxy Expedition Team (Galaxy Team for short) as a member of the Survey Corps stationed […]
---
Player Assist | Game Guides & Walkthroughs Friday, May 13, 2022 2:00 PM
The rumors were spot on, as Riot nerfs Chamber in Patch 4.09. We will go over the patch notes in this article. A few weeks ago, news about Chamber's nerfs highlighted a major change in how the Sentinel Agent can use his Trademark ability. Riot Games was reportedly planning on removing one of Chamber's Trademark […]
---
Player Assist | Game Guides & Walkthroughs Friday, May 13, 2022 1:00 PM
One of the Shrines in The Legend of Zelda: Breath of the Wild is the Kah Yah Shrine or the Quick Thinking. The Shrine itself requires Link to press on two pressure plates by getting on two moving platforms, each with its challenges requiring quick thinking and actions to reach the altar. However, before Link […]
---
Player Assist | Game Guides & Walkthroughs Friday, May 13, 2022 12:08 PM
Got a Logitech or Thrustmaster steering wheel laying around? Find out how to use it for GTA 5 in this guide. Vehicles have always been an integral part of the Grand Theft Auto franchise's gameplay. After all, what fun would a 'heist' game be without appropriate getaway vehicles anyway? Since driving around Los Santos takes […]
---
Player Assist | Game Guides & Walkthroughs Friday, May 13, 2022 11:26 AM
Very few games manage to define a genre, and Visceral Games Dead Space pretty much raised the bar for survival horror. With the remake announced last year, we now have a release date for the reboot of one of the scariest sci-fi games out there. As per the official announcement, Dead Space is set to […]
---
Player Assist | Game Guides & Walkthroughs Friday, May 13, 2022 11:16 AM
Respawn Entertainment's Star Wars Jedi: Fallen Order was so well-received that fans couldn't wait for the sequel, but even if we haven't gotten an official reveal yet, word is going around that the official title for the Fallen Order sequel has leaked. According to Bespin Bulletin (as well as Grubbsnax), the official title for the […]
---
Player Assist | Game Guides & Walkthroughs Friday, May 13, 2022 11:07 AM
The Resident Evil franchise has come and gone from the cinemas, and with Milla Jovovich moving on to Monster Hunter films, Netflix is having their stab at a Resident Evil adaptation. Just in, we have a new trailer for the Resident Evil series. Here's the storyline: The story takes place over two timelines. The first […]
---
Player Assist | Game Guides & Walkthroughs Friday, May 13, 2022 11:00 AM
Wreak havoc on Haven with these must-have Fade lineups. The recent Sova nerfs have pushed Fade ahead of the staple Initiator in the Agent tier list, and it's not difficult to see why; Fade enters the VALORANT roster with a host of crowd control abilities at her disposal. Fade's Prowler ability can force enemy players […]
---
Gaming Instincts – Next-Generation of Video Game Journalism Friday, May 13, 2022 3:40 PM
---
Gaming Instincts – Next-Generation of Video Game Journalism Friday, May 13, 2022 3:09 PM
---
Gaming Instincts – Next-Generation of Video Game Journalism Friday, May 13, 2022 2:42 PM
---
Gaming Instincts – Next-Generation of Video Game Journalism Friday, May 13, 2022 2:13 PM
---
Gaming Instincts – Next-Generation of Video Game Journalism Friday, May 13, 2022 1:00 PM
---
MonsterVine Friday, May 13, 2022 2:00 PM
Have a Nice Death is the latest indie exploratory platformer with roguelite elements, but fear not, it's quite unique. The cynical take on the afterlife combined with sharp visuals and quick, exciting gameplay makes for an enjoyable (and pretty funny) trip through Death Incorporated. In Have a Nice Death, you play as Death himself. After […]
---
Level Up Friday, May 13, 2022 1:46 PM
Nickelodeon All-Star Brawl is getting three new characters over the next several months. Today, players…
---
Level Up Friday, May 13, 2022 10:38 AM
Arma fans may want to clear Tuesday, May 17, from their calendars. Developer Bohemia Interactive announced…
---
Level Up Friday, May 13, 2022 10:27 AM
April 2022 will go down as a historic month for Nintendo's Switch console because it's…
---
Level Up Friday, May 13, 2022 8:50 AM
The NFL's Los Angeles Chargers has revealed its upcoming 2022 season football schedule in the best way…
---
Level Up Friday, May 13, 2022 8:30 AM
If you've played Elden Ring, then you're familiar with the strange occurrence that happens when you…