---
Kotaku Thursday, December 22, 2022 7:00 PM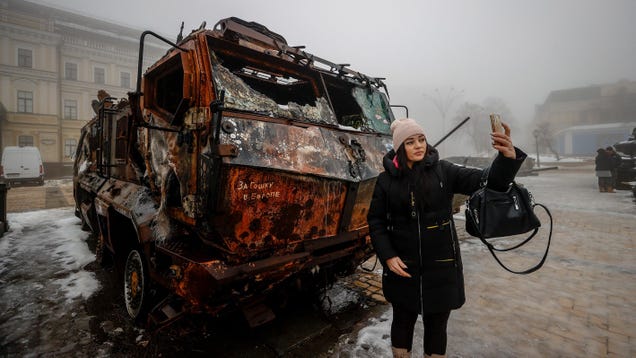 It feels like forever since the war in Ukraine began, but it hasn't even been a year; Russian tanks rolled across the border in February, just ten months ago. Yet what was once headline news has now blurred into the background for most of us, a conflict that for the rest of the world is now simmering three scrolls…
---
Kotaku Thursday, December 22, 2022 6:40 PM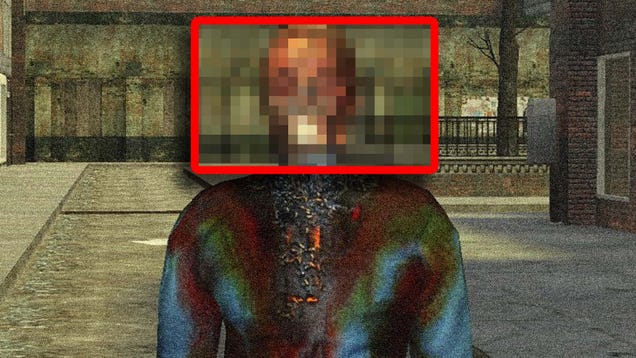 If you've played Half-Life 2 or Source engine mods, you've likely seen the in-game model "Corpse01.mdl." The burnt corpse appears multiple times in Half-Life 2's sewers and other parts of the game, and modders often used it in fan projects. All is well, yes? Well, it was until recently, when fans noticed that the…
---
Kotaku Thursday, December 22, 2022 6:15 PM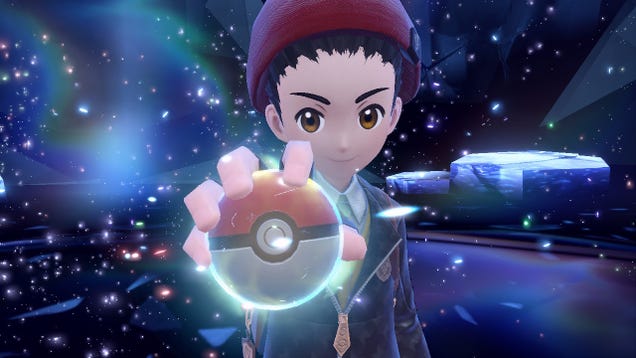 Defeating the Elite Four and the regional champion in battle is a rite of passage in most Pokémon games, and that includes Scarlet and Violet. These are supposed the most-powerful Pokémon trainers in the Paldea region, and overcoming them and their teams is the only way to become the regional champion yourself.

---
Kotaku Thursday, December 22, 2022 5:49 PM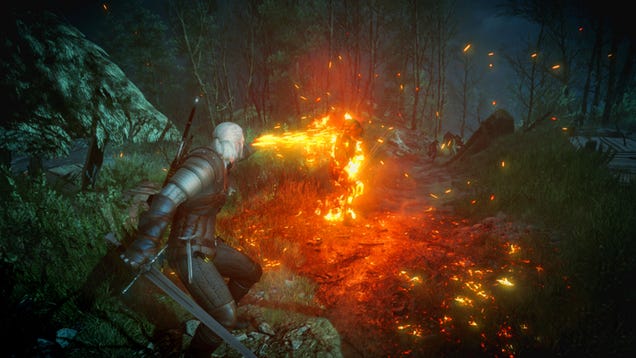 A Witcher's most common tools of the trade are their steel and silver swords. But as students of the magical world they live in, they can also cast simple spells, or Signs. The Witcher 3 gives you five signs to cast in battle, each with varying magical attacks and defenses. The latest update to the game also gives you…
---
Kotaku Thursday, December 22, 2022 4:00 PM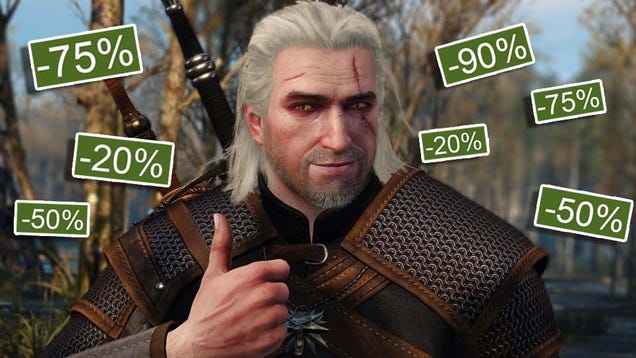 It's not truly the holidays until Gabe Newell flips the switch over at Valve HQ that activates the digital storefront's annual winter sale. This year the sale runs from today until January 5. To help you get to take advantage of this massive sale, I've dug through Steam to find 30+ deals worth checking out.
---
Kotaku Thursday, December 22, 2022 3:20 PM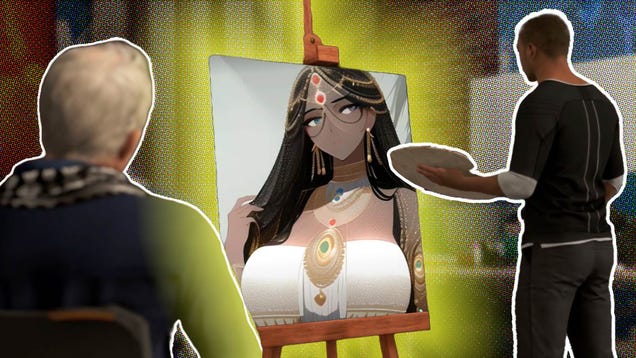 Those kiddos are at it again with their TikTok trends. The latest fad on the mobile app is actually quite hilarious because they're tricking its anime ai filter into giving them comedically large boobs.
---
PCGamesN Thursday, December 22, 2022 5:24 PM
Destiny 2 Revision Zero holders are using an exploit to bypass a time-gating feature that should prevent them from shooting all 50 of the game's newly-introduced security drones. The exploit allows them to earn an exotic Sparrow seemingly in advance of the developers' intention, as the game appears to limit player access to some in-game areas where they can find these drones.
The Destiny 2 Revision Zero exotic quest dropped this week for all Destiny 2 season 19 pass holders. The new pulse rifle features shield-piercing rounds, which are meant to break the shields of the game's powerful barrier champions. However, upon earning the weapon from the exotic quest, players quickly realised they could use the gun to shoot security drones that have recently appeared around the map.
MORE FROM PCGAMESN:
Destiny 2 classes
,
Destiny 2 exotics
,
Destiny 2 builds
---
PCGamesN Thursday, December 22, 2022 4:40 PM
The Division 2 now has a Steam release date, and it'll be almost three years after the Tom Clancy-branded looter-shooter MMO arrived on Ubisoft Connect and the Epic Games Store. The Division 2 is set to launch January 12 on Steam, and it'll kick off with Season 10, which is currently underway on existing editions of the game.
MORE FROM PCGAMESN:
The Division 2 PC review
,
The Division 2 build guide
,
The Division 2 brand sets
---
PCGamesN Thursday, December 22, 2022 3:34 PM
It's not often you get a patch that removes graphics from a game, but an option added in the latest Dwarf Fortress update does exactly that. The latest patch, which updates the Steam edition of the Ur-colony management game to 50.04, adds 'classic mode,' which removes the new colourful sprites and displays Dwarf Fortress in its original ASCII glory.
MORE FROM PCGAMESN:
The best games like RimWorld and Dwarf Fortress
,
The best city-building games
,
The best survival games on PC
---
PCGamesN Thursday, December 22, 2022 3:01 PM
A hefty new Baldur's Gate 3 hotfix is out, hot on the heels of Patch 9, which introduced the new Paladin D&D class. The hotfix adds some welcome new features to the RPG game, such as pings for the minimap, and it also prevents characters in gaseous form from being shoved over cliffs.
MORE FROM PCGAMESN:
Baldur's Gate 3 release date
,
Baldur's Gate 3 races
,
Baldur's Gate 3 classes
---
Twinfinite Thursday, December 22, 2022 7:14 PM
Waiting for Gadot.
---
Twinfinite Thursday, December 22, 2022 6:01 PM
Next stop, Uncanny Valley!
---
Twinfinite Thursday, December 22, 2022 5:45 PM
The Gooch is back!
---
Twinfinite Thursday, December 22, 2022 5:27 PM
Wait, you mean you didn't already dream of Nic Cage on the regular?
---
Twinfinite Thursday, December 22, 2022 4:50 PM
The mane attraction.
---
Twinfinite Thursday, December 22, 2022 4:49 PM
Some pretty big discounts right in time for Christmas.
---
Twinfinite Thursday, December 22, 2022 3:42 PM
Terrifying toilet tales, take two!
---
Twinfinite Thursday, December 22, 2022 3:39 PM
Song Kang-ho professes interest in a new type of character.
---
Twinfinite Thursday, December 22, 2022 3:38 PM
It hasn't exactly worked out as hoped.
---
Siliconera Thursday, December 22, 2022 8:30 PM
In an interview with Famitsu and Dengeki Online, Final Fantasy XIV Director and Producer Naoki Yoshida talked about the Ultimate Raids in the of upcoming Patch 6.3 of the MMORPG. New info will be revealed during the next Letter with the Producer Live on December 23, 2022 [Thanks, Famitsu!]
The fifth entry in the FFXIV Ultimate Raids will release two weeks after the release of Patch 6.3, coming out in early January 2023. Yoshida will reveal more details on its theming and combat mechanics. The broadcast will take place on December 23, 2022 at 3 a.m. PT/6 a.m. EST. Yoshida said that they don't intend for the new Ultimate raids to be more difficult than the previous one, Dragonsong's Reprise, considered the most difficult raid.
Yoshida also stated that it would be easy for players to guess what would be the theme for the new FFXIV Ultimate raids. The previous Ultimate raids, Dragonsong's Reprise, was planned for 5.X updates. However, due to the impact the COVID pandemic had on the development team, the raid had to be delayed until after the release of Endwalker. For this reason, the FFXIV development team has been very sensitive to deliver information too early.
Ahead you can read a specific quote from Yoshida on the topic:
If I talk about the theme without having a clear image of how (the raid) would work that could lead to a discrepancy between the players' expectations and the final product. That's why I didn't mention anything in the previous Letter with the Producer Live.
Final Fantasy XIV is available on the PC, PlayStation 4, and PlayStation 5. Patch 6.3 of Final Fantasy XIV Endwalker is coming out in January 2023.
The post FFXIV Ultimate Raids Teased Ahead of Letter from the Producer LIVE appeared first on Siliconera.
---
Siliconera Thursday, December 22, 2022 6:00 PM
Final Fantasy XIV Director and Producer Naoki Yoshida talked with Game Watch in an interview based on the latest Letter From the Producer Live broadcast. In it, he talks about the origin of the name "Gods Revel, Lands Tremble" for Patch 6.3 of Final Fantasy XIV Endwalker, along with going over the story content coming in the next update. [Thanks, Game Watch!]
It seems like Yoshida and the FFXIV team had difficulties coming up with the name for the new update. In his interview with Game Watch, he said that "Gods Revel" refers to the second part of the Alliance Raid, Myths of the Realm, originally released with Patch 6.1. However, this wasn't enough of a novelty to name this patch. The inclusion of Eureka Orthos, the newest Deep Dungeon and the first one since Stormblood, completed the full meaning behind the name of Patch 6.3. Yoshida also said that the "tremble" aspect in the title isn't just there to give a flashy impression. It was chosen to signify that there is something unknown stirring beneath, as well.
The new update will see the Warrior of Light joining Alphinaud and Alisaie for the first time in the story since the finale in Final Fantasy XIV Endwalker. They will join forces for the new main scenario Dungeon, Lapis Manalis. Located in the east of Garlemald, Yoshida mentioned that this is not exactly a new area, but didn't reveal more as to avoid spoilers. Players will also have the chance to see more of Zero, a voidwalker originating from The Thirteen, and will see whether she will grow or not after making contact with a world of light.
Patch 6.3 of Final Fantasy XIV Endwalker, titled "Gods Revel, Lands Tremble," will continue the MMORPG's story in early January 2023. Final Fantasy XIV is available on PC, PlayStation 4, and PlayStation 5.
The post Final Fantasy XIV Patch 6.3 Name Explained, Story Content Detailed appeared first on Siliconera.
---
Siliconera Thursday, December 22, 2022 5:00 PM
HoYoVerse released a brief teaser for what the second half of Genshin Impact Version 3.3 will look like. We already knew Raiden Shogun and Ayato would each be a limited five-stars on each rerun banner, along with their signature weapons. Now the four-stars for them appeared too. Windtrace and Ley Line Overflow will also come back for players to get some free rewards.
Rosaria, Sayu, and Kujou Sara will also be on the Raiden Shogun rerun banner and Ayato one in Genshin Impact. All four of them are available permanently, but there will be a higher chance of pulling them in the second half of version 3.3. Both Raiden Shogun and Ayato can each work as a sub DPS or main DPS, depending on their build and the party composition. Raiden Shogun is an Electro polearm user, whereas Ayato is a Hydro sword user.
The two weapons that will be available are the signature weapons for Raiden Shogun and Ayato. The Engulfing Lightning Polearm grants an attack boost based on a character's Energy Recharge. The Haran Geppaku Futsu boosts Elemental DMG and increases Normal Attack DMG when you use your Elemental Skill. While these two weapons play well with Raiden Shogun and Ayato's natural kit, they are useful on other characters as well.
Previously, HoYoVerse revealed the return of Windtrace. The Windtrace event is like Prop Hunt and hide-and-seek, and has been a recurring event for several Versions now. A new event called Across the Wilderness will also occur, and it will give the usual rewards of Primogems and Experience Books. This will be a cross-country time challenge in which you collect as many balloons as possible within a time limit. It will run from January 3 to January 13, 2023.
Genshin Impact is available on the PS4, PS5, Windows PC, and mobile devices. The Raiden Shogun and Ayato rerun banners will appear in Genshin Impact on December 27, 2022.
The post Raiden Shogun and Ayato Genshin Impact Rerun Banners Detailed appeared first on Siliconera.
---
Siliconera Thursday, December 22, 2022 4:00 PM
Sega announced free Holiday Cheer Suit DLC is available for Sonic Frontiers. It will feature new Christmas-themed outfits and accessories. The picture on the Sonic the Hedgehog Twitter account shows him wearing a Santa hat and jacket. In order to put on the DLC, you simply need to access the Extra Content submenu from the Title Menu.
In the roadmap that Sega released for upcoming Sonic Frontiers content, the Holiday Cheer Suit DLC Santa outfit for Sonic was not one of the items on the list. This is likely because it does not count as a major update to the game, compared to new playable characters or modes. Like the Monster Hunter DLC, the Holiday Cheer Suit, as well as all upcoming additional content, will be free.
Sonic Frontiers is the latest mainline Sonic the Hedgehog title. Though it still has classic platformer stages, this one plays a bit more like an open-world RPG. It has received some mixed reviews from critics, but time will tell how opinions towards the game change as Sega releases more patches and DLC.
Sonic Frontiers is available for the PS4, PS5, Xbox One, Xbox Series X, Windows PC, and Nintendo Switch, and the Holiday Cheer Suit DLC is available for free.
The post Sonic Frontiers Free Holiday Cheer Santa Suit DLC Arrives appeared first on Siliconera.
---
Siliconera Thursday, December 22, 2022 3:30 PM
In an interview with Game Watch ahead of the Letter from the Producer Live LXXV broadcast, Final Fantasy XIV Producer Naoki Yoshida, or Yoshi-P, talked about the upcoming overhaul of the Paladin job. Yoshida said that Paladin is a reflection of "old FFXIV," and that they want to make sure it doesn't struggle to keep up the pace when compared to other tanks. [Thanks, Game Watch!]
Yoshida mentioned that Paladin is a job that was introduced during "old FFXIV," when the job system itself was added. The plan of the development team is to make the rotation for Paladins match the homogenized rhythm that characterizes modern FFXIV, while keeping the identity of the job as a defensive powerhouse intact.
Some Paladin players worried that this could result in abilities like "Hallowed Ground" being less useful, but Yoshida clarified that the problems with the job lie elsewhere. The plan is to streamline the extra prerequisites needed to set up a good rotation for Paladin compared to other tanks, making the job more viable overall.
Here is a specific quote from Yoshida from the Game Watch interview:
This overhaul is not about making it inconvenient or making it the same as other tank jobs, but about retooling the current system of the Paladin job, which has been distorted considerably by the excessive buildup. So it is not about taking only Hallowing Ground and doing something about it.
Final Fantasy XIV is available on PC, PlayStation 4, and PlayStation 5. Patch 6.3 of Final Fantasy XIV Endwalker is coming out in January 2023.
The post Final Fantasy XIV Yoshi-P Talks About Paladin Overhaul in Patch 6.3 appeared first on Siliconera.
---
Siliconera Thursday, December 22, 2022 3:00 PM
Scaramouche is one of those characters whose presence was often teased in Genshin Impact before his playable debut as the Wanderer. He showed up initially in Unreconciled Stars, offering another hint at what a Fatui member could be like in the game. After that, he disappeared until we reached the Chapter 2 Archon Quests, which hinted at his origins and motivations. Now that his storyline resolved in the Sumeru Archon Quests, we really get an idea of how well HoYoVerse developed his character arc and told his story in Genshin Impact in a satisfying way that goes from heartbreaking to hopeful.
Editor's Note: There will be spoilers for the Scaramouche and Wanderer storyline in Genshin Impact below.
A good way to think of it is to consider how Scaramouche changed since his introduction, and how closely his development as a person progressed compared to traditional character arcs in games, movies, and shows. When we meet him in Unreconciled Stars' "The Crisis Deepens" event, he initially seems pleasant and helpful. That facade drops in "What the Skies Conceal, the Water Reveals," when Mona realizes at a glance the danger he poses. It's only then that he reveals both times, he aimed to eliminate the Traveler in the name of getting rid of an obstacle. By the time this storyline ends with "Where Ancient Stars Align," he's discovered a truth about the world of Teyvat that we, as players, still don't know as of the 3.3 update. That new knowledge helped intensify a goal and increased his awareness of the nature of the world. He now needs to know more, abandoning the idea of possibly facing the Traveler, for the sake of knowledge.
This falls in line with most progressions of character arcs in storytelling. You begin with an introduction. You set the stage for who someone is and provide an initial impetus. In this case, we know Scaramouche is a member of the Fatui. We know all Fatui see the Traveler as a potential blocker to their plans after the events in Mondstadt. We realize in his initial appearances, he's set on aiding his organization's cause. However, by the end of the event, we see the beginnings of his new adventure and tale. He has a goal, which is to find information, and a new sense of purpose after learning a truth about the world.
Once we get to the "Omnipresence Over Mortals" Archon Quests and Inazuma, we begin to learn much more about Scaramouche's motivations and new goals. In each new region, we see a Fatui Harbinger going after the Gnosis of the Archon there. While we don't always see Scaramouche here and in the Hues of the Violet Garden Irodori Festival, it's in these sections that we start to see his goals solidify and understand his aims. Throughout the chapters and events, we come to learn that Scaramouche isn't human. He's a puppet made by the Archon Ei and predecessor to the original Raiden Shogun, one she uses in current events. She tossed him out. We learn multiple times before being recruited by the Fatui, he'd been betrayed. A friend who seemed to consider him human hurt him. A child he befriended and promised to remain with died.
This means throughout Scaramouche's life, he's known two things. He's an artificial construct. Perhaps even one considered a "failure," as Ei decided not to use him when he cried after being made and was abandoned. He's also been repeatedly abandoned and betrayed when attempting to live alongside and be a human. Upon joining the Fatui, he became as much of a member as the Balladeer as he was both a tool to the organization and an experiment for Dottore. Upon finally getting a Gnosis, the thing he would have possessed if Ei had chosen him as her puppet rather than the Raiden Shogun, he's poised for the big moment. Scaramouche got the thing that could give him his goal of power. And in Chapter 3's Dreams, Emptiness, Deception, we see Dottore in Sumeru is helping Scaramouche hit that next step of actual godhood. Akasha Pulses, the Kalpa Flame Rises sees him get what he wants as the Shouki no Kami.
But as unsettling a prospect that is, not to mention terrifying, given we've seen the ease with which Scaramouche can be cruel and the disregard for other people, even this moment is heartbreaking in its own way. After years of being seen as and feeling like an "other," then finally getting what he might have felt is his birthright due to his creation, the Traveler rips that away from Scaramouche. It's a necessity to be certain, for the sake of Genshin Impact's story and the safety of the other characters and world, but also because it again progresses his arc. He had his goal. He got what he wanted. But it wasn't enough. Things need to shift. He needs to learn more and do more. He needed to grow.
Scaramouche gets the chance to do so in the Inversion of Genesis interlude in Genshin Impact, and it is then that the player is rewarded with both the satisfying payoff and "Wanderer." Because it's here that we get that gradual falling of action to a resolution that, while not a completely happy ending, offers a resolution to the climax that came throughout the Sumeru Archon Quest and the hope of a new beginning. Through Nahida's fable, we get to better understand what Scaramouche went through throughout his life. When he gets to head to Irminsul, it's as much to his benefit as the Traveler and Nahida's. Not only do they get to try for more information about the Traveler's sibling, but he gets to learn more about Dottore's influence throughout his life. That one betrayal… wasn't. Niwa Hisahide, the first person to treat Scaramouche as a human, was always true to him. That Niwa died because of Dottore. That even back then, Dottore was preparing to use Scaramouche as a toy and tool for his own experiments. We witness his pain and heartbreak during the revelation, as well as an extreme reaction to try and set things right by erasing his own existence.
It's through those actions that we learn even more about Teyvat and see Scaramouche's second chance as The Wanderer in Genshin Impact. He did what he hoped would be the "right" thing. He tried to save Niwa. But we learn it isn't possible to so easily remove someone or something from the world. Also, that Dottore's evil couldn't be undone, even with such a dire choice. That Scaramouche would still exist as The Wanderer, and those memories would be reclaimed.
But with that finale, we reach the greatest part of Scaramouche and The Wanderer's character arc in Genshin Impact. We see him accepted by two others. Throughout all events and Archon Quests, he's given the Traveler no reason to trust or help him. He's been antagonistic at best and dangerously malicious at worst. However, the Traveler sticks by him throughout Inversion of Genesis. They even help him regain his memories as The Wanderer, once he notes that is what he wants. When he's recovering from the realizations and moments, they even block a murderous blow from Shouki no Kami to save him. By the end of those storylines we see The Wanderer moving forward with his life, accepting a new role as an ally to the Traveler and Nahida, and perhaps becoming a better person. Moreover, we get this hint that maybe he hasn't forsaken connections after all, as he's interacted peaceably and amicably with the Traveler. If you even pull for him on his banner, his voice lines read like those of a friend.
Genshin Impact is available for the PS4, PS5, PC, and mobile devices, and the Wanderer banner that adds Scaramouche as a playable character is available until December 27, 2022.
The post The Scaramouche to Wanderer Genshin Impact Character Arc is Satisfying appeared first on Siliconera.
---
PC Invasion - FeedDDD Thursday, December 22, 2022 8:24 PM
If you've found the skate park in High on Life and want to complete the challenge, it's a bit trickier than it looks. You need to score enough points in order to win a chest, so we're going to break down exactly what you need to do to easily get a high score and prove that you've got what it takes to not skate in a skate park or something. If you haven't found the skate park (why are you even looking this up?) then getting to it is quite simple. You'll need to have eight warp crystals which can be found in warp bases or chests. Once you have those, go to Blorto's food stall in Blim, which is right near your house. Then just trade the crystals for a skate park warp disc. Once you have that, you can go to any warp location. I prefer the ones in the Out-outskirts near the Schlooper wreck (this is the same biome that features Dreg City), as there are two warp points right near the door you create with the Bounty5000. Screenshot by PC Invas...
---
PC Invasion - FeedDDD Thursday, December 22, 2022 5:22 PM
High on Life, the latest release by Justin Roiland's Squanch Games, is mostly a linear affair. You play as a bounty hunter working to save humanity from the alien threat, G3, which wants to use people as drugs. Yeah, it's a bit odd. However, despite the story being somewhat to the point, the game is semi-open world and there are plenty of other tasks to do. In fact, there are side quests. And one of them, which stars a farting alien musician, needs to be tackled early on. Here's how to get the 'A Starfish is Born' achievement in High on Life. As mentioned, this particular quest is best started early in your adventure. You can begin it halfway through your game without much issue. However, if you waited until the end to clean up quests, this one might evade you. High on Life: How to get 'A Starfish is Born' achievement To start the 'A Starfish is Born' in High on Life and get the achievement, you'll need to have gotten past the...
---
Player Assist | Game Guides & Walkthroughs Thursday, December 22, 2022 5:00 PM
We have a compilation of all the Roblox Catwalk Show codes that are currently in circulation. By inputting these codes, you can obtain various rewards, including free cash and more. The MetaMake company created the Roblox Catwalk Show as a platform-specific experience. The object of this game is to create the perfect costume by choosing […]
---
Player Assist | Game Guides & Walkthroughs Thursday, December 22, 2022 4:00 PM
Roblox: Anime Clone Tycoon is a building-type game where you can upgrade your base and make your favorite anime characters work to gain coins. You can also make your characters level up the power of your base or send them to battle to earn some points that will be used in adding some characters to your […]
---
Player Assist | Game Guides & Walkthroughs Thursday, December 22, 2022 3:00 PM
This is a brand new Roblox game based on – yes, you read it right… ANIME! Roblox: Anime Destroyers is a 3D quest-type Roblox game with smooth graphics and easy leveling mechanics to make players enjoy their adventure. With Yen as their currency, players can collect it by questing or defeating other pirates. You can use this Yen to […]