---
GamersHeroes Wednesday, February 2, 2022 1:02 PM
Players will once again be able to visit Arcadia Bay with the release of the Life is Strange Collection. In honor of this release, Gamers Heroes takes a look at a cosplay of a key character in the series, Chloe Price.
The post Cosplay Wednesday – Life is Strange's Chloe Price appeared first on GamersHeroes.
---
GamersHeroes Wednesday, February 2, 2022 1:02 PM
---
GamersHeroes Wednesday, February 2, 2022 1:02 PM
---
Kotaku Wednesday, February 2, 2022 7:20 PM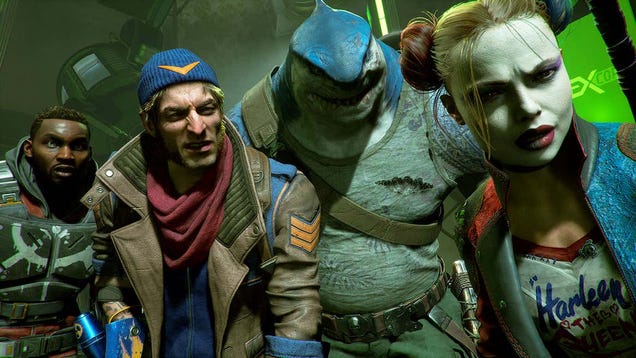 Your calendar is not lying, it's only the first week of February, but according to reports Warner Bros. have decided to get in early and kick the upcoming Suicide Squad game all the way into 2023.

---
Kotaku Wednesday, February 2, 2022 6:20 PM
For the last few years, a Guitar Hero player called Schmooey was widely believed to be the best in the world, having racked up achievements and displayed feats that other players thought impossible. A discovery made last year, however, shows there was a very good reason for that.

---
Kotaku Wednesday, February 2, 2022 4:55 PM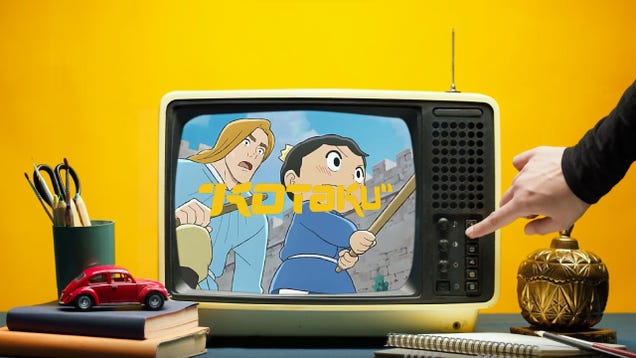 There's a bunch of anime packed into the winter season but not a lot of time to watch them all. That's where the otaku of Kotaku have your back. Welcome to Kotaku's Anime Revolution, presented by Acura. Each week, we'll take a look at one of the hottest shows of the winter season and put them through the three episode…
---
Kotaku Wednesday, February 2, 2022 4:49 PM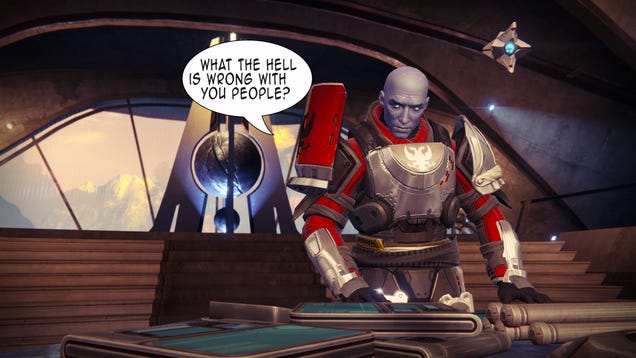 Yesterday, Bungie revealed a bonkers new Exotic gun coming to Destiny 2 later this month in The Witch Queen: a grenade launcher called Parasite that shoots live Worm rounds (alien parasites shaped like giant slugs). It was an instant hit among the loot game's faithful and has also ignited a debate over whether Destiny…
---
Kotaku Wednesday, February 2, 2022 3:00 PM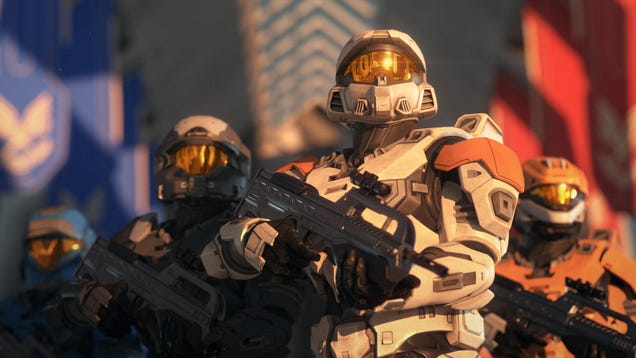 Yesterday, Halo Infinite's samurai-themed "Fracture: Tenrai" event returned for a third round, looking much like it did for its second outing. For some players, it's another excuse to hop into a fun event with meaningful rewards. But for others, it's an underbaked game spinning its wheels.
---
PCGamesN Wednesday, February 2, 2022 6:57 PM
Stardew Valley brought explosive popularity to the genre created by Story of Seasons (or Harvest Moon, if you're properly old-school), and since then we've seen indie games take the farming genre in about a million new directions. But the newly-announced Elusive People goes to a place I haven't seen from a farming game before - a very tiny place.
In Elusive People, you play as a tiny person trying to survive in a normal-sized house. You grow food in a watering can, and have to forage in the kitchen to find tools like spades (spoons) and ploughs (forks). In a press release, the devs describe it as "Arrietty by way of Stardew Valley", and there's as much stealth as farming to be done here.
It seems the basement where your farm is located will be safe, but to gather supplies elsewhere in the house you'll have to sneak around, evading the attention of both the homeowner and their housecat. There are friendly faces to be found around the house, too, however.
---
PCGamesN Wednesday, February 2, 2022 6:18 PM
The original Puzzle Quest was a surprising mix of RPG game and puzzle game that took the industry by storm over a decade ago, and though follow-ups have been surprisingly sporadic in the years since, we're at last getting another major sequel in the near future. Puzzle Quest 3 is officially due to hit Steam (and mobile) this March.
Puzzle Quest 3 launches into Steam Early Access on March 1, and it will be free-to-play. You still match coloured gems to power your attacks in RPG style battles, going back and forth between strategising the puzzle elements and the actual combat. You can choose from five character classes with their own powers, and you'll gather loot and experience to keep getting stronger as you go.
The game's been available in mobile betas for some time, but the Steam Early Access release is an effort to optimise and balance the game for PC players. The final release is expected within a year, but the game's story will be playable from start to finish from day one of Early Access.
---
PCGamesN Wednesday, February 2, 2022 5:52 PM
Madcap 2006 sandbox game Garry's Mod just got a minor update that adds a nice new feature. Now players can activate Steam's chat filters in the in-game chat, and Garry's Mod will apply whatever rules you've enabled in Steam's chat settings. It's a game (is it a game?) that's always been very weird, but now at least you can keep your chat from getting too aggressively weird.
With the latest update installed, Garry's Mod has a new option available in the chat's filters section. Along with the tick boxes for filtering joins and leaves, server messages, team changes, and the like, now there's a box labelled "Filter Profanity (Steam settings apply)". Checking this box will pull the rules you've set up in Steam for chat filtering.
This means you can set up chat to censor profanity and slurs with alternate characters, allow profanity but censor slurs, or to turn off filtering completely. There's an option to exempt your friends from the filters' rules, and you can add any words you like the 'allow' and 'ban' categories.
---
PCGamesN Wednesday, February 2, 2022 5:22 PM
Rust's February update is seasonally appropriate for February (in the northern hemisphere, at least), but while the arctic features are the headline attractions, there are some notable technical changes - including a major performance fix. The devs at Facepunch say you should see much more stable frame rates as of this February 3 update.
Recent updates have introduced an issue where frame rates would dip for no apparent reason, and the issue would be worse the higher your base frame rate was. "After doing a bunch of profiling," the devs say in a press release, "we noticed that there were some significant stalls on the render thread and our tree impostor system was most likely the cause of the issue, even though the population had only been tweaked very slightly recently."
The devs say that "with the fix, frame rates should be a lot more consistent again (as long as what's being rendered is consistent) and should overall be slightly higher in general, particularly in areas with a lot of bushes and trees like Bandit Camp."
Best survival games
,
Rust commands
,
Rust vehicles
---
PCGamesN Wednesday, February 2, 2022 3:51 PM
A new cosmetic pack for Call of Duty: Warzone has been disabled until further notice. Developer Raven Software has shut down the battle royale game's new Lunar New Year-themed Tracer Pack: Year of the Tiger, after hearing reports from players that the pack was causing crashes.
As Charlie Intel reports, the Tracer Pack: Year of the Tiger sells for 1,000 COD Points (or about $10 USD), and includes the Tiger Blueprint for the STG-44 assault rifle. That comes with a vibrant tiger-themed skin for the weapon, plus two weapon charms, two calling cards, and the Tiger's Dance watch. Like all tracer packs, it also includes a visual effect for rounds fired from your weapon - in this case, fireworks.
One of these items, it seems, was crashing Warzone and causing other glitches. In some cases, it seems to have actually ruined matches, and it's bad enough that Raven has now stepped in and disabled the pack completely while it works out the issue.
---
PCGamesN Wednesday, February 2, 2022 1:29 PM
The Minecraft devs are prepping the way for the 1.18.2 patch, which will feature a round of bug fixes before Mojang moves on to finalising the Wild update. For now, that means we're getting a smaller series of (semi-)weekly beta snapshots, and snapshot 22w05a brings us what the devs call a "small squishing (that's a word, right?) of bugs".
A visual glitch with water blocks has been in the game since at least 2012, when it was noted on the Minecraft bug tracker. Placing water diagonally from another water block would result in a graphical issue. It's a purely cosmetic problem, which is likely why it's lingered so long, but hey - it's finally fixed now.
This sort of thing isn't all that uncommon - in the snapshot cycle leading up to 1.17, we got multiple fixes for ancient bugs. But this is pretty much the most interesting thing in the patch notes for today's snapshot. There's a reversion to a previous badlands change to "avoid causing generation changes and chunk borders. This change will be re-introduced later."
Minecraft console commands
,
Minecraft skins
,
Minecraft mods
---
PCGamesN Wednesday, February 2, 2022 1:17 PM
February 2, 2022 The description for a video showcase of Ghostwire: Tokyo has revealed the official release date.
Spooky looking horror game Ghostwire: Tokyo now has an official release date, following its delay last year. In the description for a video showcase set for February 3, Tango Gameworks says Ghostwire: Tokyo will launch March 25.
In a message posted to Twitter last year, Tango Gameworks obliquely referenced the difficulties presented by the preceding year's work-from-home requirements due to the COVID-19 pandemic. "We want to get the game in your hands as soon as possible so you can experience the unforgettable version of a haunted Tokyo that we've been hard at work building," the studio wrote. "At the same time, we're also focused on protecting the health of everyone at Tango."
Ghostwire: Tokyo was first announced at publisher Bethesda's E3-adjacent showcase in 2019, and got a better look at some in-game footage during the PlayStation 5 reveal event last year. The footage shows a surreal version of modern-day Tokyo that's inhabited by malevolent spirits. It's a first-person game, and you'll be using a range of paranormal powers to defend yourself from the bloodthirsty ghosts plaguing the city.
---
PCGamesN Wednesday, February 2, 2022 1:05 PM
Windows 10 is failing to update on some PCs and laptops, but the cause might actually be more annoying than the scheduler we all loathe. After an investigation into why some devices aren't completing patches properly, Microsoft says it might take your system a total of eight hours in order to achieve a 'fully up to date' status.
Fortunately, it's not quite a full working day without a lunch break. David Guyer, program manager for Windows Updates in Endpoint Manager, explains in a blog post that you need "a minimum of two continuous hours," followed by another "six total connected hours" to successfully download and install the patch in the background.
Collectively, this is called the "minimum Update Connectivity measurement," and approximately 50% of outdated devices aren't clocking in the necessary hours to bring them up to speed according to Guyer's data. In fact, 25% of devices running a serviced build of the operating system are still more than 60 days behind on security updates.
Microsoft DirectX Raytracing
,
Microsoft Hololens hands-on
,
Windows Game Mode preview
---
Twinfinite Wednesday, February 2, 2022 5:34 PM
---
Twinfinite Wednesday, February 2, 2022 4:38 PM
---
Twinfinite Wednesday, February 2, 2022 1:05 PM
According to Bloomberg, Suicide Squad: Kill the Justice league, is being delayed into sometime in 2023. The game, which is being developed by Rocksteady the team behind the acclaimed series of Arkham Batman games, was originally slated to release sometime in 2022. Considering the lack of news since its announcement back in August of 2020, […]
The post Report: Suicide Squad: Kill the Justice League Delayed Until 2023 appeared first on Twinfinite.
---
Siliconera Wednesday, February 2, 2022 3:00 PM
Arceus summoned you! You're chosen to take on a task! It means going to the all new Hisui region! What do you do? Well, apparently it means getting a job. Pokemon Legends: Arceus is Game Freak's latest spin-off experiment. It asks what happens when elements of the traditional formula are mixed with Pokemon GO and Monster Hunter. The result might sometimes feel a bit tedious and not quite be what you'd expect, but it's promising!
Almost immediately after (literally) dropping into Pokemon Legends: Arceus, players are put to work. Professor Laventon, this region's researcher, lost three starters. After easily catching them, the people of this world realize you have a remarkable trait. You aren't afraid of Pokemon. To stay in Jubilife Village, you need to make yourself useful to the Galaxy Expedition Team. That means helping them in their goals. Namely, you research Pokemon by battling, catching, and interacting with them to complete the first Hisui Pokedex, help the Diamond and Pearl clans to encourage relations between them and Galaxy, and maybe complete the requests of some folks in the village.
Jubilife Village pretty much acts as your primary hub in Pokemon Legends: Arceus. You have a home where you can store items and change clothing. The town, which can grow as the game goes on and complete side-quest requests, features shops, crafting station, place to buy experience-bestowing candy, a training area where you can learn moves, a farm for growing berries and crops, a hair salon, a clothing store, a trading post for special items and exchanging Pokemon, pastures for Pokemon you've caught, and a photo studio. When you're ready to head out into the wild, you check in with a member of the guard to pick a region to visit. When you do, you can also select one of the base camps you've unlocked as your starting point. The world map will also show if there are any Outbreaks, which mean an increased swarm of one kind of Pokemon is present.
This means visiting biomes with all sorts of wild Pokemon. There are a lot of wide, open spaces. In many instances, there aren't too many points of interest. A private beach might only be home to three or four Spheals at a time. A large swamp could only have two Hippowdons inside. Once I gained access to Pokemon I could ride, I'd often rely on them to make it easier to traverse the expanses. Especially since, in later areas, things can get a bit repetitious. I didn't expect the Aipoms family, the Bidoof family, the Drifloon family, and the Shinx family to be so widespread. It feels a lot like Monster Hunter! You choose where you're going. You're in that enclosed space. You see the creatures in the field. They react to your avatar. You gather resources for crafting items or fulfilling quests. Camps become places to arrange your party, rest, or store stuff. Also if you want to leave, you have to go through a check-in with Professor Laventon to assess your progress, see how much money your actions earned, and build up your rank. (Your rank replaces gym badges and determine if Pokemon listen to you and you have access to certain recipes.)
So how do you make yourself useful to the Survey Corps? Well, you encounter a lot of Pokemon. To completely and 100% fill a Pokedex, you must tick enough items in a list of possible research activities to get the level of it to 10. The obvious ways to increase that number are battling and catching Pokemon. But there can be other actions too! For example, seeing it use a specific move in battle could be one. Which you could accomplish by catching one of your own, making sure that attack is in its movelist, and fighting with it. (Pokemon don't forget moves here. You can choose which four are active from the menu at any time.) Feeding them can increase your knowledge. Even knocking a Burmy out of a tree works! Initially, it's novel and fun. I found that after a while, it got pretty tedious. Especially if it involved a Pokemon that's a rare spawn (the "baby" Pokemon are good examples).
You also take on the main story quests, which involve aiding the Diamond and Pearl clans. While similar, they're not on the best terms with each other. Each one worships and tends to Pokemon "Nobles" in Hisui. Except some of them are falling into a frenzied state. Coincidentally, you're the only person capable of calming them down. The path to easing their burden always involves meeting one Warden and Noble that unlocks a new transportation method, then another that involves a more active battle. When one of those fights comes up, your avatar will be running around an arena pelting the Pokemon with balms until it wears itself out enough to be fought by one of your Pokemon. Once you do that, it temporarily pauses so you can pelt it with more balms. These range from interesting to frustrating. But as the Coronet Highlands encounter taught me, you can retry or even continue your battle with your existing progress if you do fall in the fight, so there's that!
But the things you'll probably be doing most often is playing Pokemon Legends: Arceus like you would Pokemon GO. To be clear, you can fight wild Pokemon. You might have to in many cases! Some species are hostile. Not to mention the Space Time Distortion fields that bring in high level, uncommon Pokemon will have groups of one-to-three wild characters attacking you on sight. (This becomes a fight where you send out one Pokemon to deal with multiple opponents.) But it can also save a lot of time to just… try and catch everything instead. You have a lot of tools for more peaceful options. You can throw food to distract them. There are balls of mud and snow. You can craft or buy different kinds of Poke Balls for various situations. There are items to temporarily obscure your footsteps or appearance. If you take advantage of those, you can focus on a Pokemon, toss a ball over (preferably from behind), and hope for the best. It can even work on Alpha Pokemon, which are larger, stronger, and more aggressive than usual! It might also mean you'll use Pokemon you wouldn't expect. My Gastrodon Ningguang accompanied me for much of my journey because, well, I managed to catch the level 30-something Pokemon when most every other character in my party was around level 15.
Now, I mentioned this is a title that plays around with what a Pokemon spin-off can be. This means that, well, it might not be perfect! I experienced a few bugs as I played. When a hostile Pokemon targets you, there's an alert showing you're in danger. In my case, two times it didn't go away! Each time that happened, I headed to a base camp. That's essentially a designated "safe space." After I did my tasks and took a rest to heal my Pokemon and advance the time of day… the alert was still there! It's frustrating, because it means you're hearing the sound, seeing the icon, and prevented from fast traveling. I also missed seeing Cyllene during one event segment, because the screen went entirely grey. The fog weather effect could use a bit of tweaking perhaps, as once when I encountered it I couldn't make out anything around me.
There are also some side-quests that don't always feel well thought out or get incredibly tedious. For example, some of them require Pokemon of extraordinary sizes. This means you'll need to hope for a random Alpha encounter with one after aiding the frenzied Noble in the area where it often spawns, then catch that. Many quests also involve completed Pokedex entries. Which is fine if its for an incredibly common character like Starly. It isn't as much fun if it is for a rarer character like Cherrim.
Pokemon Legends: Arceus is quite an experimental game, and I'd say it is mostly a success. There are some elements that aren't quite there. Which is true of most games, I suppose. It might start feeling like a job once the novelty of getting a Pokedex entry to "10" wears off. (I certainly felt like it was getting to be work and abandoned completionism by the Crimson Mirelands.) But while it isn't perfect, it shows a lot of promise! It's a fantastic first step for what future Pokemon spin-offs could look like. It's certainly more refreshing than some recent mainline games, and I felt more excited each session playing than I did with Pokemon Shield or Pokemon Brilliant Diamond. I wouldn't say it's the most essential installment or should be someone's first experience with the series, but people who love Pokemon should really play it.
Pokemon Legends: Arceus is available for the Nintendo Switch.
The post Review: Pokemon Legends: Arceus Puts Players to Work appeared first on Siliconera.
---
Siliconera Wednesday, February 2, 2022 1:30 PM
A Ghostwire: Tokyo Showcase will air on February 3, 2022, and the YouTube description for it revealed the game's release date. As expected, it will show up in March 2022. The exact release date is March 25, 2022. There is also a chance to get early access on March 22, 2022 and extra items if someone gets the Deluxe Edition.
A Ghostwire: Tokyo Showcase will air on February 3, 2022, and the YouTube description for it revealed the game's release date. As expected, it will show up in March 2022. The exact release date is March 25, 2022. There is also a chance to get early access on March 22, 2022 and extra items if someone gets the Ghostwire: Tokyo Deluxe Edition.
It seems the Ghostwire: Tokyo Deluxe Edition primarily consists of cosmetic items. People who get that version will be able to dress Akito differently with a Shinobi Outfit or Streetwear Fashion Pack. There will also be a Kunai in the pack for him to wield. The announcement confirmed that people will need to get a digital copy of that edition to play three days early.
Here's the official link to the Ghostwire: Tokyo February 2022 showcase.

And, in the event Sony changes the YouTube description, here's a screenshot of the details.

The Ghostwire: Tokyo release date is March 25, 2022. It will be available on the PS5 and PC. People who get the Deluxe Edition will be granted early access on March 22, 2022.
The post Ghostwire: Tokyo Release Date Set, Showcase Announced appeared first on Siliconera.
---
Siliconera Wednesday, February 2, 2022 1:00 PM
The Fire Emblem Heroes 5th anniversary is upon us in 2022, and to commemorate it Intelligent Systems and Nintendo shared art in honor of it. All of the designs are from artists who previously worked on the game. They depict a number of characters who've shown up over the years as units. In many cases, their "alt" designs are used. There are 15 images total.
In each case, the artists who designed these Fire Emblem Heroes 5th anniversary works of art previously contributed character designs. For example, Daisuke Izuka contributed a work featuring Fire Emblem Heroes original characters Gustav and Henriette in their Days of Devotion (Valentine's Day) outfits. Izuka contributed art for both the mobile game and Cipher card game. Senri Kita contributed art of Marth. In addition to her work here, she worked on mainline installments like Fire Emblem: Path of Radiance and its direct sequel Radiant Dawn.
Here's the full gallery of Fire Emblem Heroes 5th anniversary art.
[gallery columns="5" ids="914864,914865,914866,914867,914868,914869,914870,914871,914872,914873,914874,914875,914876,914877,914878" link="file"]
This is one of many changes coming as part of the Fire Emblem Heroes 5th anniversary. There will be login bonuses and activities. People can vote for which free unit might be doled out as part of A Hero Rises 2022. The Choose Your Legends Round 6 winners were also announced.
Fire Emblem Heroes is available on Android and Apple iOS devices.
The post Fire Emblem Heroes 5th Anniversary Art Shared appeared first on Siliconera.
---
Destructoid Wednesday, February 2, 2022 6:00 PM
---
Destructoid Wednesday, February 2, 2022 5:00 PM
---
Destructoid Wednesday, February 2, 2022 4:00 PM
---
Destructoid Wednesday, February 2, 2022 3:00 PM
---
Destructoid Wednesday, February 2, 2022 2:00 PM
---
Destructoid Wednesday, February 2, 2022 1:30 PM
---
Destructoid Wednesday, February 2, 2022 1:15 PM
---
Destructoid Wednesday, February 2, 2022 1:00 PM
---
PC Invasion - FeedDDD Wednesday, February 2, 2022 7:50 PM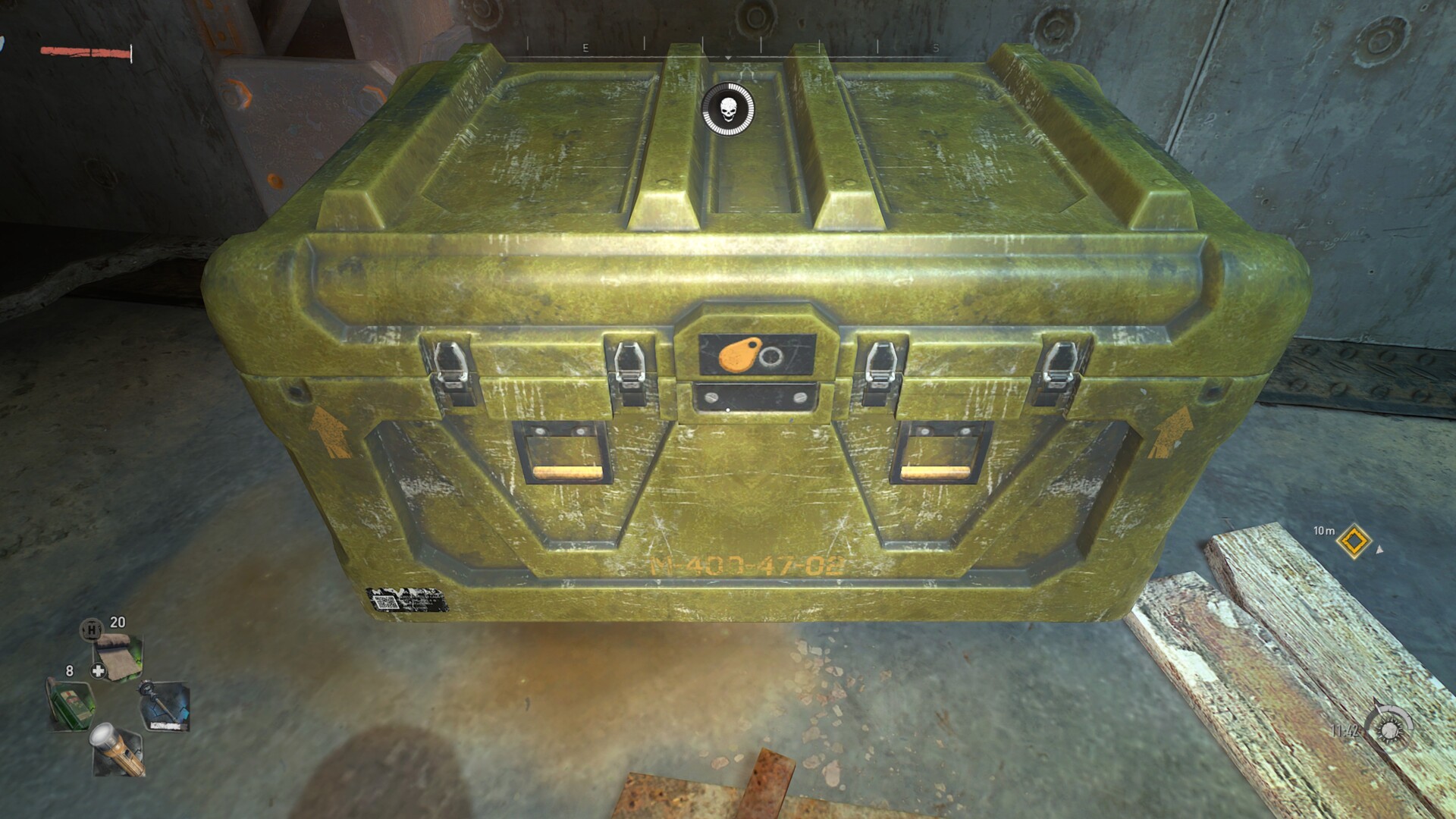 Lockpicking is a fairly common mechanic in certain games, and you'll do this often in Dying Light 2. Whether you're just trying to loot chests, or you're running past enemies to open a doorway, it's imperative that you have the tools of the trade. More importantly, you need to do the process correctly. Otherwise, Aiden could waste those items or end up dead. Here's our Dying Light 2 lockpicking guide to help you with lockpick crafting and upgrades. Note: We'll have a Dying Light 2 guides and features hub soon, so stay tuned. Dying Light 2 lockpicking guide – How to craft and upgrade your lockpicks You'll learn the lockpick blueprint fairly early on in the campaign. You're told how to do it by Hakon during a mission called Makers of the Plague since you need to break into a hospital. For reference, 3x lockpicks require 5x scrap (which is a material that's easy to find). So, how exactly does lockpicking work in Dying L...
---
PC Invasion - FeedDDD Wednesday, February 2, 2022 7:40 PM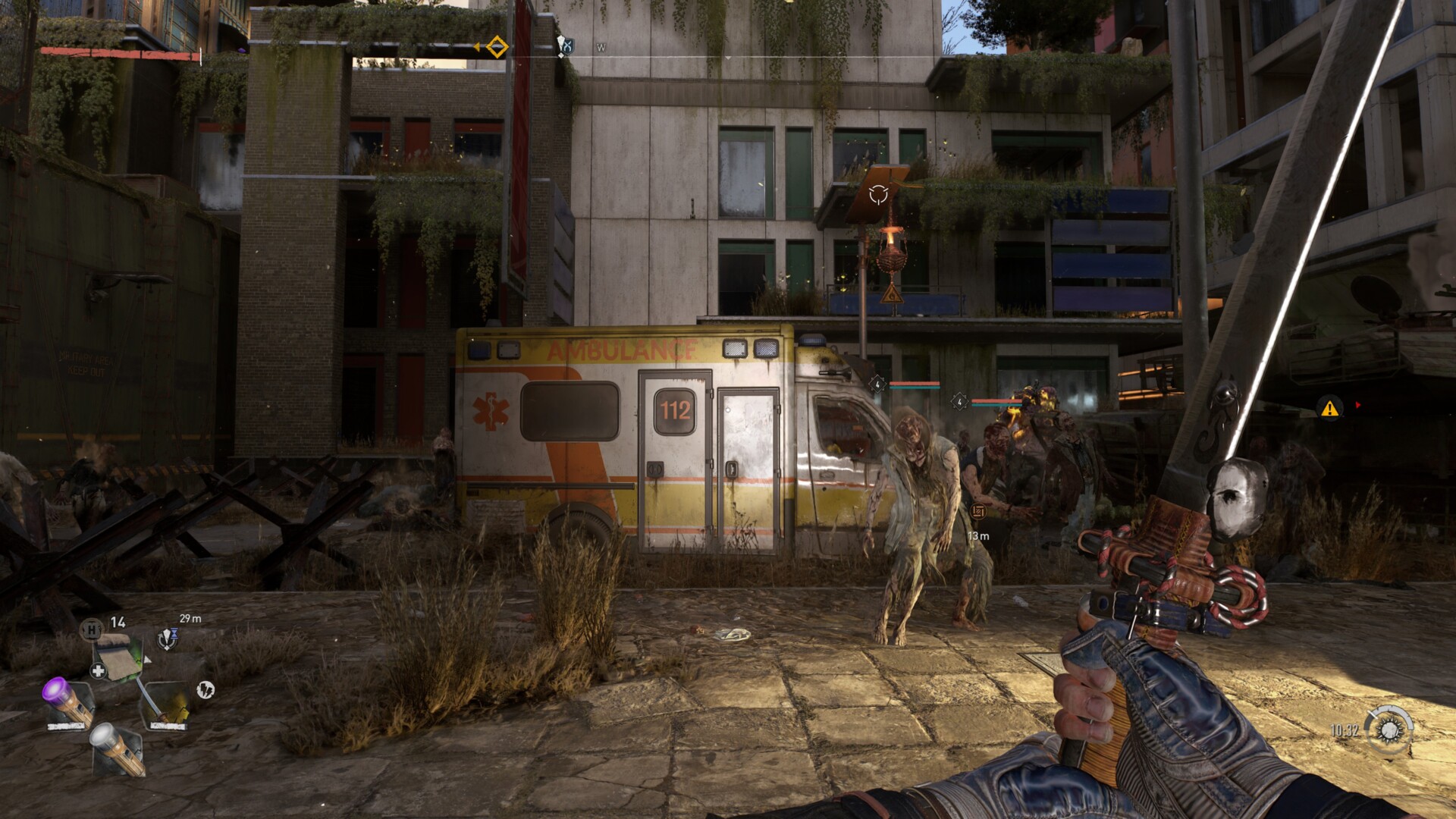 The most straightforward way to heal your character in Dying Light 2 is by finding a bed and sleeping in it. However, when you're out and about in The City, you'll definitely need a few items that can keep you in tip-top condition. Here's our Dying Light 2 healing guide to help you with medicine and military medkits, as well as their upgrades. Note: We'll have a Dying Light 2 guides and features hub soon, so stay tuned. Dying Light 2 healing guide – Medicine and military medkits Medicine is the more common healing item in Dying Light 2. You'll receive the crafting blueprint during the tutorial stage of the game. Each medicine requires 1x honey and 2x chamomile. Don't worry since these materials are plentiful, and you'll often spot them while checking out rooftops or Nightrunner Hideouts (seen in the image below). Likewise, medicine is often sold by vendors or found via exploration. As for upgrades via the Craftmaster NPC, you...
---
PC Invasion - FeedDDD Wednesday, February 2, 2022 7:30 PM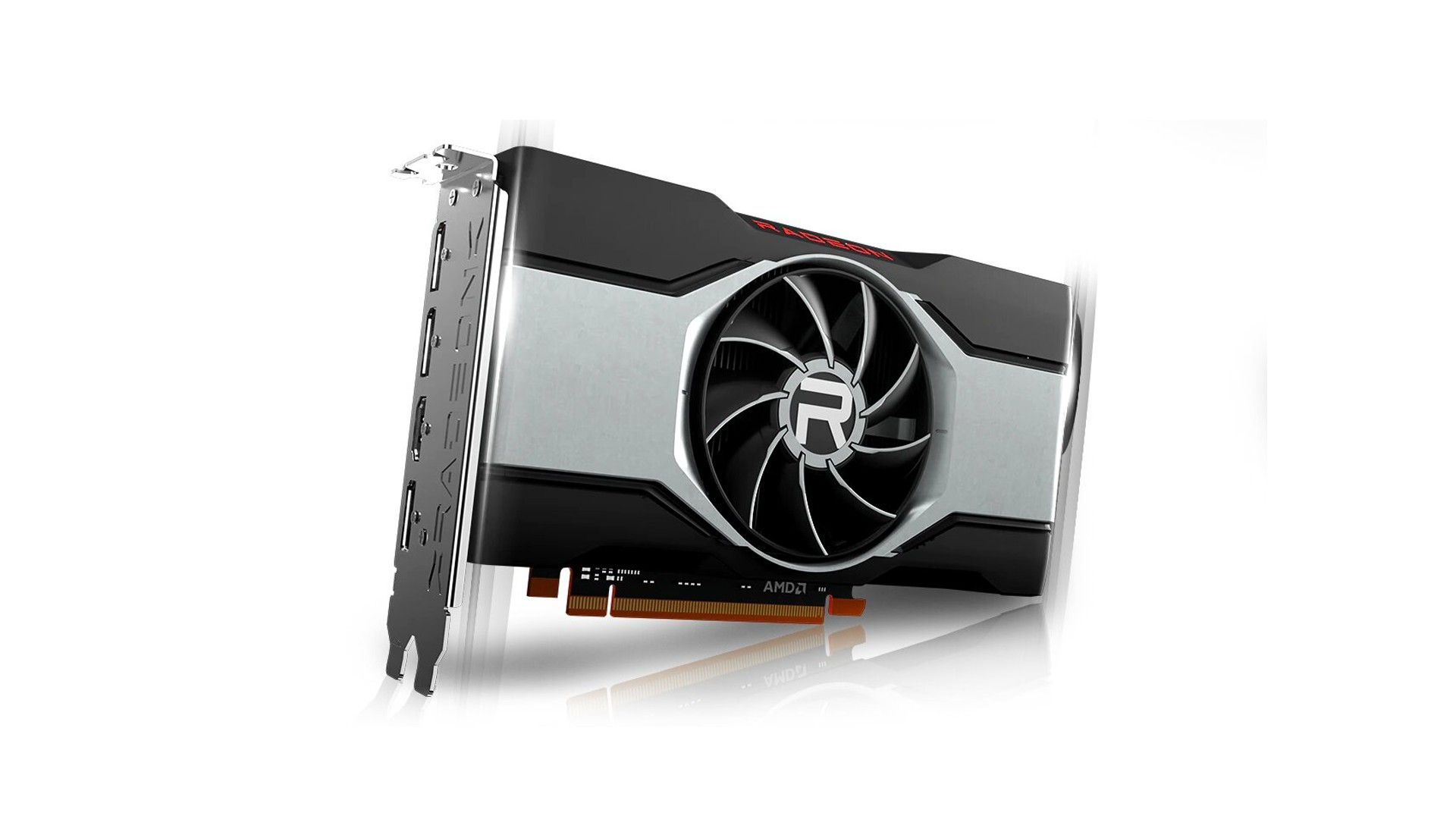 Some information has recently come out that suggests AMD could release refreshed models for some of its Radeon 6000 Series graphics cards along with another entry-level option. Twitter user @greymon55 says that AMD will release the "RX 6500 in May," with the graphics card allegedly featuring a far more affordable price point. The leaker also suggests that there will be a larger refresh for the Radeon RX 6000 lineup that yields improved gaming performance. The RX 6500 is a rumored alternative to the RX 6500 XT. Allegedly, it'll be priced around $130 USD at MSRP, making it much cheaper than the $199 USD price tag of the 6500 XT. For the most part, it seems that the RX 6500 will be based on the RX 6400 specs. This means that it may have 768 stream processors and 4GB of GDDR6 memory. If not for the disappointing performance of the 6500 XT, an even cheaper option would be considered a smart move on AMD's part. Unfortunately, we're awaiting the release of th...
---
PC Invasion - FeedDDD Wednesday, February 2, 2022 7:15 PM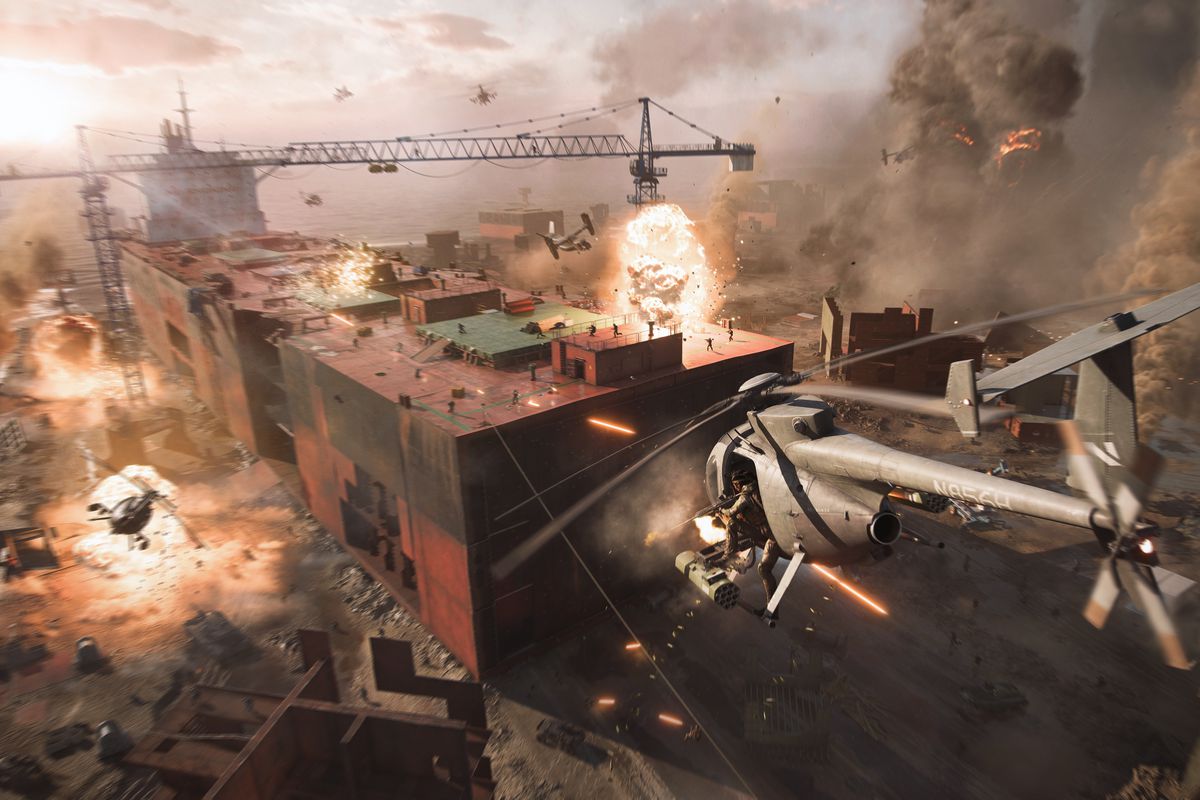 Many players have always had fairly unfavorable views of EA, but as of late, it seems that those negative sentiments have heightened. Last year's launch of Battlefield 2042, by all accounts, did not go well. Various issues, including its downright crippling glitches, resulted in a middling reception from critics and a considerably worse one from fans. EA CEO Andrew Wilson's support of NFTs, which have received widespread opposition from many players and developers, only made the company look worse in the public eye. It appears that EA has acknowledged its dwindling PR, as not only did Wilson express disappointment with the launch of Battlefield 2042, but he also appears to have walked back his support of NFTs. As reported by Seeking Alpha, Wilson's comments came from a call held to discuss EA's earnings during the third quarter of the company's fiscal year. He noted that EA "did have a challenge in Q3 as the launch of Battlefield 2042 did not meet...
---
PC Invasion - FeedDDD Wednesday, February 2, 2022 6:45 PM
The Suicide Squad may have been one of DC's more successful films, but that fan momentum may be hard to carry over to the world of video games. Rocksteady's Suicide Squad video game was slated to release sometime in 2022, but Warner Bros has reportedly delayed the game to sometime next year. Looks like players will have to wait a little longer until they get their hands on playable King Shark or Harley Quinn. This report comes from a story on Bloomberg, according to "people familiar with its development." According to the story, this seems to be an ongoing issue with Warner Bros' games, as other big projects from the Lega, Harry Potter, and Batman universes have also been pushed back from 2021. These projects were delayed with production holdups as a result of the coronavirus, so it's likely more developmental issues are being stirred up by the pandemic as well. Superhero mayhem The report is given more credit after a tweet from WarnerMedia...
---
Tabletop Gaming News Wednesday, February 2, 2022 6:00 PM
---
Tabletop Gaming News Wednesday, February 2, 2022 5:00 PM
---
Tabletop Gaming News Wednesday, February 2, 2022 4:00 PM
---
Tabletop Gaming News Wednesday, February 2, 2022 3:00 PM
---
Tabletop Gaming News Wednesday, February 2, 2022 2:00 PM
---
Player Assist | Game Guides & Walkthroughs Wednesday, February 2, 2022 4:17 PM
Humans tower over insects and other critters, but when the tables turn, you'll have to run from the gigantic insects. In Grounded, you play as shrunken humans to avoid death by insects, and using natural resources is essential to your survival. If you want to make a shelter, you'll need floors and stairs. However, these […]
---
Player Assist | Game Guides & Walkthroughs Wednesday, February 2, 2022 3:17 PM
In the base Division 2 game, players can get to Level 30 via the leveling system, and levels afterward improve your Gear Score instead. With the game's expansion, Warlords of New York, this level cap has been increased to 40. Additionally, the improved leveling sequence allows players to upgrade their base skills after they reach […]
---
Player Assist | Game Guides & Walkthroughs Wednesday, February 2, 2022 2:21 PM
Mir4 is a unique NFT game in the sense that it is an MMORPG. Although other upcoming NFT games venture into MMORPGs, Mir4 is one of the first ones. The fact that it is a popular series in Korea makes Mir4 something to consider. There are many plans for play-to-earn features in the game, but […]
---
Player Assist | Game Guides & Walkthroughs Wednesday, February 2, 2022 1:31 PM
Fracture is one of the smaller maps in VALORANT. However, despite being a smaller map, the entire map's skybox is relatively open and clutter-free, allowing players to set up molly lineups for post-plant play easily. Killjoy's Nanoswarm Grenade is an underrated post-plant lineup molly, which is understandable because the Nanoswarm Grenades already have a manual […]
---
Latest Games on Play iDev Games Wednesday, February 2, 2022 4:26 PM
This is a short test program for the Welcome To... Chichester series...
---
Latest Games on Play iDev Games Wednesday, February 2, 2022 4:21 PM
Hunt, survive, and deal with a forest that is no longer the home that you used to know....