---
Kotaku Friday, December 23, 2022 2:00 PM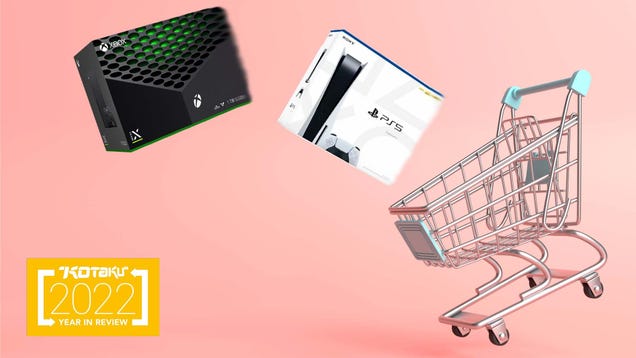 After two years on the market, you'd probably think scooping up a PlayStation 5 or Xbox Series X would be simpler by now.

---
PCGamesN Friday, December 23, 2022 3:39 PM
When we first checked out Ark Survival of the Fittest back in 2016, battle royale games were still fairly niche - they were the province of modded game modes and custom Arma servers. That's all changed a lot since then, and Studio Wildcard's entry in the genre now has a prototype version available on Steam with loads of quality of life and other updates, six years later.
---
PCGamesN Friday, December 23, 2022 2:42 PM
The new Marvel Snap Vormir location introduced this week seems to be causing some headaches for the free game, and not only for the cards that get sacrificed there. The card game's latest location appears to be causing some delays when each player's cards are revealed, with animations loading and playing only after an extended pause.
MORE FROM PCGAMESN:
The best card games on PC
,
The best superhero games
,
The best multiplayer games
---
PCGamesN Friday, December 23, 2022 2:34 PM
Destiny 2 Trials of Osiris, Bungie's weekend PvP showdown that attracts the game's most dedicated players, grants some of the best loot the game has to offer. The most skilled players can even earn Adept weapons, which have greater stats when masterworked and feature an additional perk slot. However, there's a catch: you must win seven games without a loss to gain access to the Lighthouse to collect that treasure.
But, if you're up to the challenge, then it's time to equip your best Destiny 2 Warlock build, best Destiny 2 Titan build, or best Destiny 2 Hunter build for a chance at glory in the arena.
If you're new to Trials or just want a refresher on what's new in the game mode, our Destiny 2 Trials of Osiris guide has everything you need to know.
MORE FROM PCGAMESN:
Destiny 2 classes
,
Destiny 2 exotics
,
Destiny 2 builds
---
Rock Paper Shotgun Latest Articles Feed Friday, December 23, 2022 5:22 PM
Hear that? Christmas bells are ringing, carolers are caroling, and GTA Online players are being pounced on by an atrociously-named Grinch parody. He's one of several Christmas treats now stocked on the streets of Los Santos, which also pack snowmen to destroy, rooftop shootouts and, for some reason, superpowered beasts getting chased by serial killers.
---
Rock Paper Shotgun Latest Articles Feed Friday, December 23, 2022 2:31 PM
Dasher the reindeer has found a side gig in 20 Minutes Till Dawn, a neat survive 'em up that's like Vampire Survivors but with guns you have to aim. She's been added as a human woman in a festive coat who intermittently turns into an invulnerable deer that can charge about the screen, plunging into enemies that would normally kill you in a heartbeat. She might be a little overpowered, but hey, it's Christmas.
---
Twinfinite Friday, December 23, 2022 7:41 PM
He's gonna put some dirt in your eye.
---
Twinfinite Friday, December 23, 2022 5:06 PM
This must be the present that accidentally got left behind so it will be delivered late.
---
Twinfinite Friday, December 23, 2022 4:55 PM
Get a bit of extra mileage out of spooky season.
---
Twinfinite Friday, December 23, 2022 4:35 PM
Stranger Things could be getting the Cyberpunk Edgerunners treatment.
---
Twinfinite Friday, December 23, 2022 4:29 PM
Chadwick Boseman, Forever.
---
Twinfinite Friday, December 23, 2022 3:23 PM
Here's the 10 most likeable characters in Pokemon Scarlet & Violet
---
Twinfinite Friday, December 23, 2022 3:02 PM
I have such weird feelings about this.
---
Twinfinite Friday, December 23, 2022 2:51 PM
Sports Story dropped out of nowhere, as an early Christmas gift for fans.
---
Siliconera Friday, December 23, 2022 7:00 PM
Developer Tianren Lab posted the first gameplay trailer for Code: Pupil, a new action-platformer it's working on. Targeted for mobile platforms, the game is
designed to invoke a Chinese urban fantasy aesthetic. The game is also open for pre-registration in China. [Thanks, Superpixel!]
Check out the Code: Pupil gameplay trailer below.
https://www.youtube.com/watch?v=2bWtt_8p1Hs
Code: Pupil is centered around the idea of supernatural elements hiding in the shadows of the Zhongpu District, a small nine-block neighborhood under the jurisdiction of Kowloon City. Controlling various characters, players will gather supernatural clues while pretending to film the neighborhood to uncover hidden elements and the truth in the city's nooks and crannies.
The gameplay also involves side-scrolling exploration, interaction, combat, and platforming. Players will interact with characters in Live2D-animated cutscenes, and take on powerful bosses. Different characters also have different gameplay styles and gimmicks. One character appears to activate a ranged attack, which puts a reticle onscreen to "shoot" enemies like a shooting gallery. Another sequence involved moving and collecting items in behind-the-back 3D perspective, as well.
Tianren Lab also announced that feedback from an earlier preview test phase will be incorporated into the game's final release. The game does not yet have a firm release window, though a 2023 debut in China is likely. International release plans have not yet been announced.
Code: Pupil is in development for iOS and Android devices.
The post Code: Pupil Gameplay Trailer Debuts as Pre-Registration Opens appeared first on Siliconera.
---
Siliconera Friday, December 23, 2022 6:00 PM
Wanted: Dead, a new character action game from developer Soleil, stars a Hannah Stone, a cyborg cop working in Hong Kong. But you might not know that from the game's new music video. Instead, the video traces the backstory of a different character named Cinammon, who works at a diner frequented by Stone and her unit.
Check out the video below.
https://www.youtube.com/watch?v=kmR9TIuT7Vc
Set to Donna Summers' "She Works Hard for the Money," the Wanted: Dead music video establishes the atmosphere of the game's grungy, yet futuristic setting. Hannah Stone also shows up during the vid to order seemingly every item off the menu. Cinnamon's job doesn't end with her shift at the diner, though. With side gigs at a bar, and a cabaret, her days and evenings are full even before she takes some time to care for her kids. That being said, it doesn't say too much about the game itself.
A more substantial look at what players will actually encounter can be found in the Wanted: Dead pre-order trailer uploaded last week.
https://www.youtube.com/watch?v=V6aeZnsBZBc
The pre-order trailer, which features much more of Hannah Stone's activities, does include a few in-game looks at Cinnamon and her diner. Created by developers with experience working on the likes of Ninja Gaiden and Devil May Cry, Wanted: Dead blends melee slashing and third-person shooting. Anime cutscenes and minigames round out a look at life in Soleil's stylized vision of future Hong Kong, where even cops work outside the law.
Wanted: Dead will release on PS4, Xbox One, Xbox Series X|S PS5, and PC on February 14, 2023.
The post Wanted: Dead Animated Music Video Focuses on Cinnamon's Life appeared first on Siliconera.
---
Siliconera Friday, December 23, 2022 5:00 PM
Sony Santa Monica Studio confirmed that the God of War Ragnarok new game plus mode is coming in Spring 2023. The news came courtesy of the studio's official Twitter account. That could put the launch window between March and June 2023. The game first debuted on November 9, 2022 for the PS4 and PS5.
New game plus mode won't be a first for God of War when it comes to Ragnarok. 2018's God of War received its own new game plus mode about four months after its April 2018 launch date. In that entry, the feature allowed players to start the game over from the beginning, but keeping their earned equipment and abilities. The mode also unlocked new crafted armor sets for the father-son pair and refreshed the attack patterns of the Valkyries. Even new content, like timed Realm Tears, was introduced to challenge experienced players.
Besides God of War Ragnarok, new game plus modes are a common feature in games. They allow players to repeat content while benefitting from the effort they put in completing the game the first time. New game plus modes can also be used to heighten challenge for veteran players who "have it all." For example, the new game plus mode in Demon's Souls features significantly strengthened enemies, and on the first few cycles is considered more difficult than the base game overall.
God of War Ragnarok is available for the PS4 and PS5. The original game is available on the PS4 and PC.
The post God of War Ragnarok New Game Plus Mode Coming in 2023 appeared first on Siliconera.
---
Siliconera Friday, December 23, 2022 4:30 PM
Nintendo showcased Lucina's abilities as an Emblem in the upcoming Fire Emblem Engage. Lucina, also known as the "Emblem of Awakening," is a holy princess who believes in hope and never falls to despair. Lucina is best suited paired with a front row fighter. However, her gimmick lies on providing incredible offensive and defensive support to nearby allies.
Lucina comes from the world of Fire Emblem Awakening, conquered by the Fell Dragon Grima. Because of this, the beauty of Elyos can easily distract her, as this land is still fighting darkness and remains with hope. Here is a conversation between Lucina and Etie, a knight from the Kingdom of Firene:
https://twitter.com/FireEmblemJP/status/1606199795848081408
Lucina's Synchro Skill is called "Dual Strike." It allows any unit to perform a Chain Attack regardless of class. The further Lucina's attack range, the more chances to stack a Chain Attack. Her Link Weapon, "Noble Rapier," inflicts massive damage to Mounted units and those carrying Heavy Armor. "Bond Shield" is Lucina's Engage Skill. It has a high chance of nullifying damage aimed at adjacent allies. When Lucina is paired with a unit that uses Martial Arts, "Bond Shield" will always activate. "All For One" is Lucina's Engage Attack. It allows all allies within two squares to participate in Chain Attacks. It can lead to massive damage depending on the player's formation. Because of the benefits she can confer, Lucina works best surrounded by allied units, acting as their commander.
https://twitter.com/FireEmblemJP/status/1606200715734441985
Yuu Kobayashi voices Lucina in the Japanese dub for Fire Emblem Engage. She is best known for her roles as Valdi in Xenoblade Chronicles 3, Luka Urushibara in Steins;Gate, and Sasha Blouse in Attack on Titan.
Fire Emblem Engage will come out worldwide on January 20, 2023 for the Nintendo Switch.
The post Fire Emblem Engage's Lucina Awakens the Power of Her Allies appeared first on Siliconera.
---
Siliconera Friday, December 23, 2022 4:00 PM
Gungho Online Entertainment announced an upcoming crossover between Puzzle & Dragons and JoJo's Bizarre Adventure. It will start from December 26, 2022 and end on January 9, 2023. During this event, players will get the chance to pull for characters from entries like Phantom Blood and Stone Ocean. [Thanks, 4Gamer!]
In total, there will be over twenty characters in the JoJo's Bizarre Adventure collaboration for Puzzle & Dragons. They are, in alphabetical order.
Bruno Bucciarati
Caesar Zeppeli
DIO
Dio Brando
Ermes Costello
Foo Fighters
Giorno Giovanna
Jean-Pierre Polnareff
Jolyne Cujoh
Jonathan Joestar
Joseph Joestar
Josuke Higashikata
Jotaro Kujo
Kars
Koichi Hirose
Narcisco Anasui
Noriaki Kakyoin
Okuyasu Nijimura
Robert E. O. Speedwagon
Trish Una
Vinegar Doppio
Weather Report
Yoshikage Kira
[gallery columns="6" ids="944755,944756,944757,944758,944759,944760" link="file"]
The first time you obtain Jolyne, you can obtain the JoJo's Bizarre Adventure Dress-up Drop, and when you first get Dio Brando, you can get the BGM set. As well, when you defeat enemies in the event dungeon, you can get Collaboration Discs. Inside of the dungeon, you can face off against major enemies from Battle Tendency to Stone Ocean.
With the Discs, you can exchange for characters from the collaboration. Finally, in the Monster Exchange within the game, you can obtain Rohan Kishibe & Heaven's Door, as well as the Bow and Arrow.
While JoJo's Bizarre Adventure: Stone Ocean (Part 6) is the latest part to have an animated adaptation, the manga finished Part 8 (JoJoLion) in 2021 after ten years. This is part of the new timeline of the series, which started in Stone Ocean. Part 9 of JoJo's Bizarre Adventure, JOJOLands, will start from February 17, 2023.
Puzzle & Dragons is available on mobile devices, and the JoJo's Bizarre Adventure event will run from December 26, 2022 to January 9, 2023.
The post Puzzle & Dragons Will Hold a JoJo's Bizarre Adventure Event appeared first on Siliconera.
---
Siliconera Friday, December 23, 2022 3:30 PM
Two spin-offs of the Tomb Raider series are coming to the Nintendo Switch next year. Developer Feral Interactive is working on porting the Lara Croft games to Nintendo's platform.
According to tweets by Feral Interactive's official account, the developer will bring the two Lara Croft games to Switch in 2023. Feral has experience in porting console and PC titles to Switch and mobile platforms. It ported versions of Rome: Total War, Medieval II: Total War, and Alien: Isolation, among others.
The games were spin-offs from the Tomb Raider franchise that originally launched for the Xbox 360 and PS3 in 2010. Then in 2014, both appeared for the PS4 and Xbox One. Unlike the main Tomb Raider titles, which are third-person action titles with a behind-the-back perspective, the Lara Croft games played out in a top-down, isometric viewing angle. They focused on cooperative play and puzzle-solving rather than combat and traversal. They were also unconnected from the "rebooted" Tomb Raider games took a more cinematic storytelling approach.
In 2010's Lara Croft and the Guardian of Light, Lara teams up with an ancient Mayan warrior named Totec. The two must team together to bring an ancient evil back under control after Lara's loss of an ancient, cursed artifact.
The sequel, 2014's Lara Croft and the Temple of Osiris, Lara teams up with rival Carter Bell, as well as ancient Egyptian avatars of the gods Isis and Horus. The game supported four-player co-op, and tasked players with protecting the world from the advent of the evil god Set.
The two Lara Croft games will come to Nintendo Switch in 2023. They're also available on the PS3, PS4, Xbox 360, Xbox One, and PC.
The post Lara Croft Games' Switch Ports Coming in 2023 appeared first on Siliconera.
---
Siliconera Friday, December 23, 2022 3:00 PM
It's the time of year to reflect. Especially as we start thinking about things we did or experienced. As in the last few years, 2022 definitely featured a game remake or remaster or two (or ten), which could make narrowing down the best a little difficult! So we decided to go over these types of titles as a group and see what everyone in the community had to say too.
---
Well I know what my answer should have been! While I continue my months-long sigh over here, I've been comforting myself with Tactics Ogre Reborn. There's a lot it could have done better (like patch up that sprite work), the gameplay is refined from its already top-notch PSP revision and well worth hundreds of hours of your life. — Graham
I'm going to go with Chrono Cross: The Radical Dreamers Edition as the best game remaster of 2022. Square Enix did an amazing job with its remasters this year, and I missed this game! Also, its accessibility features really help when you have less time on your hands. I loved being able to speed through battles. Plus... it meant we ended up seeing a Super Famicom Satellaview localization in 2022. — Jenni
Since Graham already cited Tactics Ogre Reborn for me, I find myself split on my favorite "reheated game" of 2022, rather than remake or remaster. First off, calling The Stanley Parable: Ultra Deluxe a mere "remaster" would be a truly great understatement. And yet, it's also not quite a "remake," straddling the strange territory between a reissue of a game you've seen before and something akin to a true sequel. I shan't say more, lest I spoil the fun, but you should play both the original and Ultra Deluxe when you get the time, in that order.
Meanwhile, The Last of Us Part I is very much more the typical revisit to a game that isn't even that old. The content is largely identical, so much so you'd be hard-pressed to tell the two apart if you aren't looking at them side-by-side. But at the same time, it's a beautiful revisit, and the additional options for accessible play lay a good bottom line for what games should all have. — Josh
Graham, Jenni, and Josh put me to shame. I've spent very little time playing games in 2022, and they've managed to pick up no less than four titles I wanted to indulge in. But you could almost substitute Graham's points on Tactics Ogre with my pick, Final Fantasy VI Pixel Remaster. I've not fully coalesced my thoughts on the Pixel Remasters, but it has been the perfect opportunity to finally play this seminal JRPG I missed as a child. And yes, it came out this year (and coming to Switch and PS4 in 2023 ), and why yes, it has been a really long year, hasn't it. — Khai
It's a simple pick for me. Crisis Core: Final Fantasy VII Reunion was an amazing remaster of an already great game (and I say this as someone who is pretty lukewarm towards all games in the FFVII extended universe), which may make it seem like a weak pick by comparison for best one of 2022. However, with all the changes made to the controls, giving the game an ease of access compared to it's PSP release along with other quality of life improvements, it's set a standard for Square Enix remasters going forward.
But what really elevated it for me, was revisiting Zack's story, and having that opportunity to do so. Crisis Core may have it's moments where it's really just goofy, but Zack's journey is an important one and lays the foundation for the events of the entire Final Fantasy extended universe. Not only that, but it's handling of propaganda, and watching Zack come to realize what SOLDIER stands for under Shinra (and what Shinra actually is), is done fairly well - the more absurdist elements aside.
So while I'd love to give to Tactics Ogre: Reborn, as it's still one of my favorite SRPGs of all time, Crisis Core really gripped me. — Kazuma
The post What's the Best Game Remake or Remaster of 2022? appeared first on Siliconera.
---
Siliconera Friday, December 23, 2022 2:30 PM
A manga adaptation of Needy Streamer Overload started serialization on December 23, 2022. The full title is, loosely translated, Needy Streamer Overload: Absolute Revolutionary Disease: Midnight Streaming Love <3 Ame-chan and P's 100 Days of Despair. Choborau Nyopomi is the mangaka behind it. [Thanks, Famitsu!]
Choborau Nyopomi is a mangaka who specializes in surreal humor. Her previous works include Ai-Mai-Mi and Magical Somera-chan. You will be able to read it from the official Twitter account for WSS Playground. The manga will be a slice-of-life comedy that presents Ame-chan and P's relationship in a different light than it is in the game.
https://twitter.com/infowssJP/status/1606092277444747266
The official anthology for Needy Streamer Overload will appear as a physical tankobon from December 23, 2022. It will cost 649 JPY after tax, which is about $4.90. The anthology was originally an online-exclusive. Finally, a second wave of Needy Streamer Overload goods will appear in the official store. You will be able to purchase them until January 20, 2023.
Needy Streamer Overload is available on the PC and Nintendo Switch, and the manga is available to read online. In commemoration of the manga, as well as how sales for the game have surpassed 700,000 copies worldwide, there is a sale for the game on Steam and the eShop.
The post Needy Streamer Overload Manga Starts Serialization appeared first on Siliconera.
---
Siliconera Friday, December 23, 2022 2:00 PM
The next two JoJo's Bizarre Adventure Stone Ocean Nendoroids are Narciso Anasui and Weather Report, and both will debut at about the exact same time. Good Smile Company opened pre-orders for both figures. Each one will be ¥5,478/$38.99. In June 2022, they will appear in Japan. Then in August 2023, both will show up in North America.
The Narciso and Weather Nendoroids each come with three face plates. Each one has one with a stoic expression, one with a smiling one, and a third angry, shouting one. They also come with extra hand and leg parts. Weather has clouds with weather effects to represent his Stand's abilities. Narciso also comes with some Diver Down Stand effect parts.
Here's how the Narciso figure looks:
[gallery columns="4" size="full" ids="944859,944860,944861,944862" link="file"]
And here is Weather Report:
[gallery columns="4" size="full" ids="944863,944864,944865,944866" link="file"]
There is also a Good Smile Company direct pre-order bonus for both the JoJo's Bizarre Adventure Stone Ocean Narciso Anasui and Weather Report Nendoroids. Narciso comes with an extra face plate. Weather comes with a set of three extra items that include a Stand Disc, snail, and frog.
[gallery columns="2" size="full" ids="944857,944858" link="file"]
Both the JoJo's Bizarre Adventure Stone Ocean Narciso Anasui and Weather Report Nendoroids will show up in Japan in June 2022. Their North American debut will follow in August 2023. Pre-orders for each one will close on March 2, 2023.
The post Stone Ocean Weather Report and Narciso Anasui Nendoroids Arrive in 2023 appeared first on Siliconera.
---
Siliconera Friday, December 23, 2022 1:30 PM
Cover's been sharing various holiday-themed items as December 2022 came to a close. For example, there's an advent calendar. The latest thing to appear is more music. Hololive EN released a Mori Calliope, Ceres Fauna, and Nanashi Mumei song cover of the Hatsune Miku song "Suki! Yuki! Maji Magic."
Here's the full music video for the "Suki! Yuki! Maji Magic" Hololive EN song cover. There are animated chibi versions of each character that come up as they sing their parts. As this was originally a "Snow Miku" song, they each get outfits inspired by the Hatsune Miku SNOW MIKU 2014 Winter Festival for certain parts.
https://www.youtube.com/watch?v=bbJqGGRQ32k&ab_channel=hololiveEnglish
To compare, here's the original "Suki! Yuki! Maji Magic" song by Mitchie M. The track doesn't appear in any of the Hatsune Miku Project Diva games, but it did show up in Bang Dream! Girls Band Party.
https://www.youtube.com/watch?v=79N1O0lF0GY&ab_channel=MitchieM
This is the second Hololive EN song cover to appear for the 2022 holiday season. Gawr Gura, IRyS, Takanashi Kiara, and Watson Amelia performed "Snow Halation" from Love Live.
There's also another Hololive EN performance coming tonight. Tempus' Magni Dezmond will perform a holiday song medley at 6pm PT/9pm ET on December 23, 2022.
A Very Maggin Holidez Song Medley🎄🎵
6pm PST/ 9pm EST/ 11am JST

Vocals: Magni Dezmond
Mix: Tachibana Music @TCBNmusic
Video: Vide @generic_NPC
Art: Mugicha @mugimugigo

Premiere ➡️ https://t.co/OE35ZAIytO pic.twitter.com/dYQJDyiDUt

— Magni Dezmond🧤 @holoTEMPUS (@magnidezmond) December 23, 2022
The post Next Hololive EN Holiday Song Cover is 'Suki! Yuki! Maji Magic' appeared first on Siliconera.
---
Gamer Empire Friday, December 23, 2022 5:55 PM
Like in many other Roblox games, you can join private servers in Shindo Life. Using a private server, you can play without a lot of […]
---
Gamer Empire Friday, December 23, 2022 4:14 PM
Once you join or create your own kingdom in Mount and Blade 2: Bannerlord, you will need to work with the other clans of the […]
---
Player Assist | Game Guides & Walkthroughs Friday, December 23, 2022 3:00 PM
Franklin delivers some goods for Barry. Throughout GTA 5, Franklin, Michael, and Trevor will have random encounters with a middle-aged marijuana legalization activist named Barry. Grass Roots – The Pickup is the second mission in Strangers & Freaks involving Franklin and Barry. We have outlined everything you need to know about Grass Roots – The […]
---
Player Assist | Game Guides & Walkthroughs Friday, December 23, 2022 2:00 PM
The Purple Undead Monster is still standing guard for the Mad King. The Exploration Achievements found in the Codex feature additional objectives you can complete for Hilts. There are several Exploration Achievements for each zone in Diablo Immortal, ranging anywhere from 4-8 Achievements per zone and each with varying objectives that players can complete anytime. […]
---
Player Assist | Game Guides & Walkthroughs Friday, December 23, 2022 1:00 PM
The Sims 4: Seasons is an expansion pack that features all four seasons and different types of weather. Most players consider this pack a must-have since it can add depth to the world of Sims, making it more dynamic and true to life. The DLC also lets you add various holidays and social events that […]