---
Kotaku Tuesday, February 15, 2022 5:40 PM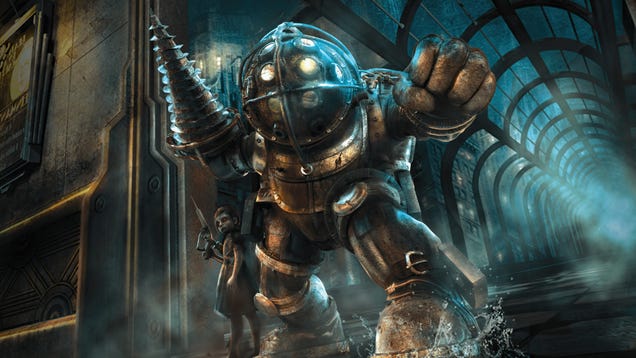 If any of you are even old enough to remember 2008, it was a time where you could read the headline "Gore Verbinski Making BioShock Movie" and it wouldn't be a Hard Drive gag, but an actual thing.

---
Kotaku Tuesday, February 15, 2022 3:50 PM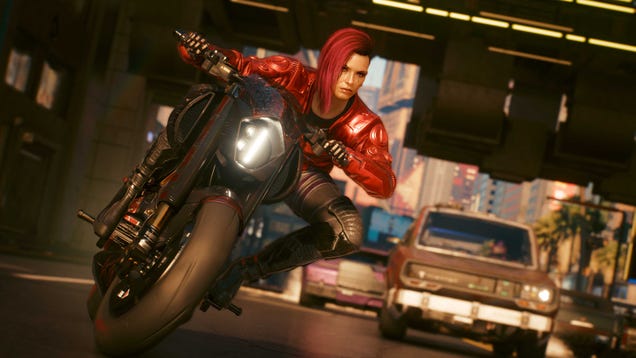 At long last, the proper next-gen versions of Cyberpunk 2077 are here after they were rolled out alongside a massive update for the game. Like previous blockbusters that have leapt between console generations, the news once again highlights how much smoother this all is on Xbox compared to PlayStation.

---
Kotaku Tuesday, February 15, 2022 1:53 PM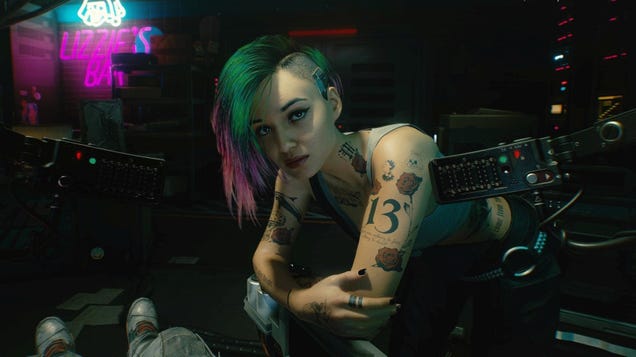 CD Projekt Red revealed a ton of long-awaited improvements coming to Cyberpunk 2077 today in patch 1.5, including more in-depth romances with its intriguing cast of NPCs. The changes might not turn the beleaguered open-world sci-fi RPG into a full-fledged dating sim, but they'll hopefully make the game's short-lived…
---
Kotaku Tuesday, February 15, 2022 12:07 PM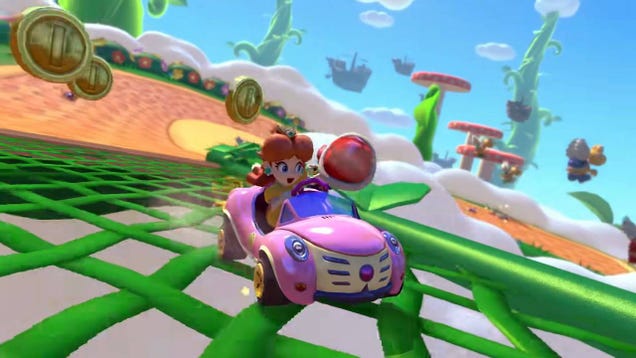 If you're not planning to buy the Booster Course Pass for Mario Kart 8, don't worry. You're not completely out of luck. The new premium tracks will be randomly available for players playing Global or Regional races online. If one of your friends owns a copy of the DLC, you don't have to purchase it when you're playing…
---
Kotaku Tuesday, February 15, 2022 11:40 AM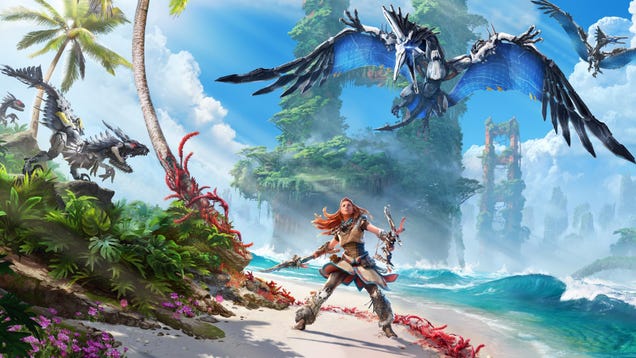 The embargo for Horizon Forbidden West has lifted, which means reviews have dropped before the game launches on February 18. Our review praised the game for its many improvements, including overhauling the rather uninventive climbing puzzles. And the wider critical consensus suggests that this sequel is a big success…
---
Kotaku Tuesday, February 15, 2022 11:25 AM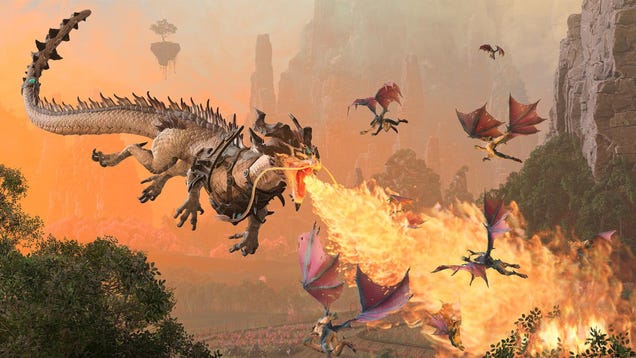 Following a banner start to the year, Xbox Game Pass kicked off February not by continuing the streak but by purging some of its best games. Nothing major is getting the boot. But nothing huge is really coming, either. Here's everything coming to Microsoft's Netflix-for-games in the coming weeks:

---
Kotaku Tuesday, February 15, 2022 11:06 AM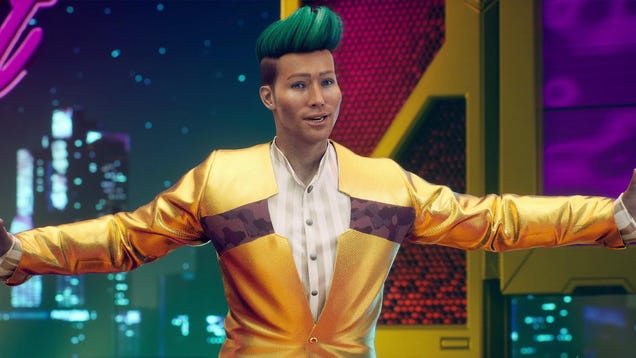 CD Projekt Red's Keanu Reeves fanfic, Cyberpunk 2077, might finally be complete. A massive update to the game rolls out today, alongside its release on PlayStation 5 and Xbox Series X/S, CDPR said in a glacial, minutiae-packed livestream on its Twitch channel today.

---
PCGamesN Tuesday, February 15, 2022 5:24 PM
A lot of electronic devices are pretty hard to keep in decent repair - without sending them back to the manufacturer, anyway. Game consoles are no exception, but Valve has already been pretty committed to making Steam Deck a more open platform than the traditional game console, and today the company has provided some details on how you'll be able to get those replacement parts.
"Today, we're announcing that iFixit will be one of the authorized sellers of Steam Deck replacement parts," Valve says in the announcement, "as well as replacement parts for the Valve Index VR products. We are still hammering out the details, and will be sharing more info on this soon."
In addition to its replacement part store, iFixit also provides information and a bit of activism when it comes to repairing your own devices. Alongside today's announcement, iFixit has published a teardown video mostly praising the Deck's friendliness to home repair efforts - outside of battery replacement, anyway.
Steam Deck – everything we know
,
Best Steam Deck games
,
Which of Valve's Steam Decks should you pick up?
---
PCGamesN Tuesday, February 15, 2022 4:26 PM
Announced at today's Panel from Hell, the long-requested Barbarian class is finally making its way to Baldur's Gate 3 with the early access RPG's Patch 7. That's not all, of course, as the new update adds a treasure trove of new features, changes, and bug fixes to the DnD game that you'd struggle to fit inside a bag of holding.
As with all classes in Baldur's Gate 3, the Barbarian has two subclasses, based on those found in the Dungeons & Dragons Fifth Edition Player's Handbook: Berserker and Wildheart. As you might expect, the Berserker subclass is all about harnessing your frenzied rage to recklessly inflict as much damage as possible on anything unfortunate enough to cross your path. With the ability to attack twice in one turn with their melee weapons, as well as enhancing their improvised weaponry abilities, the Berserker should make for an extremely violent and valuable member of any party.
Wildheart, on the other hand, is most similar to the Totem Warrior primal path found in the tabletop game. This subclass has access to a selection of five 'bestial hearts' that have transformative effects on a Barbarian's rage ability. Bear heart, for example, increases damage resistance, whereas wolf heart grants a party-wide buff to attack rolls, in addition to offering unique abilities like 'Eagle Strike' and everyone's favourite spell: Speak with Animals.
Baldur's Gate 3 release date
,
Baldur's Gate 3 races
,
Baldur's Gate 3 classes
---
PCGamesN Tuesday, February 15, 2022 1:57 PM
The full package of Hearts of Iron IV DLC would currently run you $159.85 USD. That's small potatoes next to other Paradox games like Europa Universalis IV or Crusader Kings II, but like those games, the devs are now offering a cheaper way to get into all of that additional content at once with a subscription service.
You can subscribe to Hearts of Iron IV DLC for $4.99 / £3.99 / €4.99 per month, as long as you already own the base game. The subscription includes all currently-released DLC, as the devs explain in the announcement, including Together for Victory, Death or Dishonor, Waking the Tiger, Man the Guns, La Resistance, Battle for the Bosporus, No Step Back and cosmetic packs, as well as future releases.
Of course, this is all optional if you want to keep buying DLC the traditional way. You will continue to own all your old packs (well, as much as you can 'own' any digital product), and you'll still be able to purchase new DLC packs in the future, too.
The best Hearts of Iron 4 mods
,
The best WW2 games on PC
,
The best grand strategy games on PC
---
PCGamesN Tuesday, February 15, 2022 1:50 PM
In case you didn't get the memo, Q1 is the new peak season of the videogames release calendar. It kicked off early in the month with the long-awaited Dying Light 2 (check out our review here), but Total War: Warhammer 3 is just around the corner (likewise) and Elden Ring is waiting for us at the end of the month, too. Amid all the chaos, the Western release of Lost Ark has become the fifth game to ever record 1 million concurrent players on Steam. So yeah, it's been a very busy start to 2022.
Fortunately, our crop of carefully curated indies features a few relaxing games so you can enjoy some downtime between nullifying Nurgle hordes and parkour zombie-slaying. We've got a meditative ocean exploration game, a grappling puppy platformer, a melancholic match-3 RPG, and much more - maybe not something for every taste, but it's definitely an eclectic mix.
So, keep reading for our top indie gaming picks of February 2022.
Best RPG games
,
Best card games
,
Best indie games
---
PCGamesN Tuesday, February 15, 2022 5:13 PM
Want to know how to complete the Halo Infinite weekly challenges? Every week you can unlock a free cosmetic for your Spartan. To get this new look, you have to complete a list of challenges, and play a lot of matches. These challenges also give you experience points you use to level up the Halo Infinite battle pass.
Challenges can be found in the battle pass menu and it lists the current active challenges and upcoming challenges. Each challenge is colour-coded by difficulty, so bright grey challenges are the easiest, the bluish-grey challenges are of medium difficulty, and the bright blue ones are the most challenging. One of the upcoming challenges will take its place when you complete a challenge, though which challenge it is, is random.
Once you've completed each challenge, you're given one more challenge before you can claim your weekly reward. This challenge is the same for everyone. In this guide, we'll give you tips on how to complete the Halo Infinite weekly challenges in your queue, explain what the weekly ultimate challenge is, and what the weekly ultimate challenge reward is for this week.
Halo Infinite release date
,
Halo Infinite system requirements
,
Halo Infinite ranks
---
PCGamesN Tuesday, February 15, 2022 12:34 PM
Want to know how to get electronic parts at a Fortnite Mole Team drill site? This week's season challenges include visiting three of the IO Mole teams who recently dug up through the map. All five have now surfaced, with IO guards patrolling some rather expensive looking equipment that you can destroy.
These drill sites are also where you need to go to complete one of the story challenges; so far, these challenges ask us to destroy and collect Fortnite telescope parts and destroy Fortnite signal jammers, and retrieve access cards to deliver to drop zones in Fortnite Seven Outposts. In addition, this week brings us new challenges that give us the Fortnite Foundation skin, and Fortnite Haven masks.
Here are all of the known Fortnite Mole Team drill sites, and how to identify the antenna you need to demolish at each location. You only need to destroy one or two antennas to get enough electronic parts to complete the challenge and get closer to some free Fortnite V-bucks and new Fortnite skins via the battle pass.
Fortnite V-Bucks
,
Fortnite Skins
,
Fortnite Creative Codes
---
PCGamesN Tuesday, February 15, 2022 12:22 PM
Final Fantasy XIV's server congestion issues have largely subsided following Endwalker's release, so Square Enix is bringing back automatic housing demolition. Basically, your FFXIV house is getting toppled over if you're away from the MMO for too long.
The developer explains in a blog post that the auto-demolition timer will work in one of two ways when it returns on March 9. If you've visited your humble abode over the suspension period, it'll be reset entirely on March 9. If you haven't, though, you'll have the same amount of time left on your timer as you did when Square Enix suspended it last December.
Housing is always in high demand for Final Fantasy XIV as there's rarely enough space for everyone. Even if you do get a plot of land, it's usually down to hours of sheer persistence, as this video from YouTuber Pint wonderfully captures. While we're getting another housing district in Ishgard during the post-Endwalker content cycle, though, Square Enix decided to remove the auto-demolition timer on current houses when servers got so congested that many struggled to play the game for a good week or two.
The best MMOs on PC
,
FFXIV Reaper job guide
,
FFXIV Sage job guide
---
PCGamesN Tuesday, February 15, 2022 12:20 PM
It's been a long time since Star Wars: The Old Republic got either a new expansion or an epic CG cinematic trailer, but today the popular online MMO is getting both. The new Star Wars 'Disorder' trailer is available now, bringing back the star of The Old Republic's very first trailer and setting up the story of the Legacy of the Sith DLC - which is also out today.
While it's still one of the best Star Wars games on PC, Star Wars: The Old Republic is most famous for its incredible series of cinematic CG trailers. The game's initial announcement trailer, 'Deceived', introduced players to the Sith Lord Darth Malgus and is possibly the best Star Wars trailer ever made. It even got an official 4K remaster in the build-up to the new expansion.
The new trailer 'Disorder' brings back Malgus alongside the Jedi Sa'har Kateen, who will presumably play a large part in Legacy of the Sith, and her master Denolm Orr - who might not. Set on the planet Elom, it involves a mysterious artefact that Malgus wants for some sinister purpose.
Best Star Wars games
,
Free MMOs
,
Best MMOs
---
PCGamesN Tuesday, February 15, 2022 12:38 PM
Want to know what this week's Destiny 2 Nightfall weapon is? Each week you've got a chance at a different weapon for completing Nightfall Strikes, and as of Season of the Lost, you can now get fan-favourite legacy weapons from the original Destiny. Two more of these weapons arrived in Season of the Lost, so it's more important than ever to know in advance the Nightfall weapon schedule.
In case all these words are new to you, Nightfall: The Ordeal is a playlist available in the Vanguard menu, alongside the basic Strike playlist. Each week, a different Strike is chosen as the Nightfall, and offered in five escalating difficulties, with harder enemies, challenging modifiers, and enemy power levels cranking up.
The coveted Nightfall weapons have a chance to drop from any Nightfall Strike difficulty, but it's far more likely at higher levels. Your best bet for farming each week's Nightfall weapon is to set the Strike to Master difficulty, according to YouTuber Aztecross. You should also note that there's no automatic matchmaking above Hero difficulty, however, so you'll need to get a squad together.
Destiny 2: Beyond Light review
,
Destiny 2 exotics
,
Play Destiny 2
---
PCGamesN Tuesday, February 15, 2022 12:10 PM
Lost Ark is now up and running, and aside from a few server issues at launch (and let's be honest, how many MMOs manage to avoid these problems?), the game's proving very popular, with players becoming enchanted by its world and the experience that it provides.
With the game's launch at the end of last week, Lost Ark is still in its early days for the West and if you want to be among the first players to conquer its lands, check out our Lost Ark beginners guide. If you've not yet signed up and missed out on your chance to get hold of a Founder's Pack, you might be interested in grabbing a Starter Pack instead.
There are three different Lost Ark Starter Packs, with each one more expensive than the last. They each contain a nifty selection of in-game items that can help to make your first steps into the world of Akesia a little easier and more enjoyable. Below, you'll find a summary of the Apprentice, Explorer, and Vanquisher Starter Pack. Check them out for an idea of which one might be the most suitable for you.
Best MMOS and MMORPGs on PC
,
Upcoming PC games
,
Best fantasy games on PC
---
PCGamesN Tuesday, February 15, 2022 1:37 PM
It's been a few weeks since the release of Tom Clancy's Rainbow Six Extraction and since then, many fans have been enjoying the opportunity to battle it out with parasitic aliens in this exciting new FPS game. If this is one of the games you think looks good, but are waiting until it's a bit cheaper before you buy it, you're in luck, because it's just received its first official discount with 25% off in the Ubisoft store.
This game is quite a departure from what fans may expect from the Rainbow Six series, due to its inclusion of overtly science fiction-based enemies and storylines. Nonetheless, as a spin-off of the game Rainbow Six Siege, it maintains that same level of top notch gameplay and will feel familiar to returning fans, even as it does cross into new frontiers.
One of the biggest draws of Rainbow Six Extraction is the fact that you can join your friends as you battle against otherworldly foes. As a co-op game, you'll most likely want to play it in the early days of its release so that you and your teammates can progress together. With this discount, you can enjoy the feeling of being amongst the first players, while also not having to pay quite as much as day one buyers.
Best SSD for gaming
,
How to build a gaming PC
,
Best gaming CPU
---
PCGamesN Tuesday, February 15, 2022 11:40 AM
So you want to know how to drive a Fortnite Quadcrasher to Pinnacle Peak for the season challenge? This latest feat may not exactly turn the popular battle royale into a racing game, but powering up to the peak is going to be nice and scenic, not to mention the great view you'll get when you arrive.
Quadcrashers are a dime a dozen in Fortnite Chapter 3, but a great spot to grab one is by a hut that's situated to the south of the lake near Logjam Lumberyard. This means you'll be on the opposite side of the mountain where, at the bottom, there's an IO base at Covert Caverns. Pinnacle Peak is at the top of that mountain, so all you need to do is drive your quad up there to complete the challenge. It shouldn't be too hard - there are plenty of roads that lead near the top, but parts can be a bit steep. You might need the Quadcrasher's boost ability, which you trigger using the spacebar key.
In case you're having trouble visualising everything, Logjam Lumberyard, the lake, and Covert Caverns are all in the snowy northwest of the map. Make sure to check out the visual aid we've prepared below.
Fortnite V-Bucks
,
Fortnite Skins
,
Fortnite Creative Codes
---
PCGamesN Tuesday, February 15, 2022 11:31 AM
We're less than two weeks away from the Steam Deck's release date, and excitement surrounding Valve's portable gaming PC has never been higher. However, many users remain uncertain as to how their Steam games will run on the Deck, if at all. Thankfully, in lieu of an official solution from Valve, the community has decided to take things into their own hands.
Introducing CheckMyDeck, a project by Reddit user Flexxyyy that allows you to check how compatible your Steam library is with the Steam Deck. It also works with your Steam wishlist, meaning you can check a game's verification level before you decide to buy it. It's worth noting that while Valve is making steady progress in checking every Steam game, it still has a long way to go, so it's worth looping back around to the site as new games get verified.
You need to have a few details to hand in order to use the site, but we've put together a guide down below that you can follow.
Best SSD for gaming
,
How to build a gaming PC
,
Best gaming CPU
---
PCGamesN Tuesday, February 15, 2022 11:14 AM
The latest Chivalry 2 DLC is out now and it's "one of the largest yet" for the medieval multiplayer game. Chivalry 2: House Aberfell is a free update that adds a large-scale 64-player map, the ability to steal pigs and peasants, a new class, a huge Highlander sword - and "weaponised bees".
The sequel to Middle Ages multiplayer brawler Chivalry: Medieval Warfare released in June last year exclusively on the Epic Games Store, and has been steadily adding new content updates ever since. Today's update House Aberfell adds another massive new 64-player Team Objective map based around the Highlands of Scotland.
New map 'The Raid on Aberfell' is described as "the ultimate medieval battlefield" and features "the Agatha Knights invading the birth land of the Mason Order's King Malric". The trailer's below, but the map isn't the only addition Aberfell brings to Chivalry 2. For starters, there's a new playable character class - the Druid, which comes complete with a powerful staff melee weapon and a variety of animal-based headwear.
Chivalry 2 preview
,
Everything we know about Chivalry 2
,
The best multiplayer games on PC in 2021
---
PCGamesN Tuesday, February 15, 2022 11:17 AM
CD Projekt Red has gone live with today's teased Cyberpunk 2077 reveal stream so now we've got a good idea of what the studio has in store for its dystopian RPG next with Patch 1.5. Alongside the shiny new next-gen updates coming up for our friends on console, the game's next major patch will introduce improved AI, rebalances to combat and the economy, and more - including, excitingly, the option to change V's appearance post-character creator.
A point of frustration for many players since the game launched back in December 2020 has been that once you're out of the Cyberpunk's character creation screen and into your adventures in Night City, that's it - you can't alter your V's appearance mid-game. You can kit them out with an extensive array of new clothes and accessories, but their core appearance - including any piercings you've picked out for them - will stay the same throughout your playthrough.
As CDPR explains in its reveal stream (below), though, Patch 1.5 will now let you change your V's appearance at any point. All you'll need to do is head to V's apartment and interact with the bathroom mirror, and you'll see a new option appear that lets you re-enter the character creation screen.
Cyberpunk 2077 review
,
Cyberpunk 2077 lore & universe
,
Buy Cyberpunk 2077
---
Rock Paper Shotgun Latest Articles Feed Tuesday, February 15, 2022 5:48 PM
A handful of popular Cities: Skylines mods have been banned from the Steam Workshop by developers Colossal Order. One, "Network Extensions 3", violates the Steam Subscriber Agreement by "discriminating against specific Steam users" blocking them from using it, Colossal Order say. Another mod, "Update From Github", aimed to circumvent the Steam Workshop entirely by allowing updates to mods to be installed directly form Github while "making changes to existing Workshop subscriptions without the user's knowledge."
Complicating matters somewhat is a sea of rumours about what else the mods contained, and a series of counter-allegations about Colossal Order from the creator of the mods.
---
Rock Paper Shotgun Latest Articles Feed Tuesday, February 15, 2022 4:55 PM
Team17 CEO Michael Pattison has addressed allegations by staff that the company underpays and overworks staff, and failed to address HR complaints. In a company-wide meeting held last Friday, details of which were shared with Eurogamer, Pattison said that "action has to be taken."
---
Rock Paper Shotgun Latest Articles Feed Tuesday, February 15, 2022 2:31 PM
Larian Studios have always been a little vague on when Baldur's Gate 3 will leave early access because, well, that's how early access works. At one point they had suggested 2021 might be a possibility, then they said they were aiming for 2022, and now they're expecting the fantasy RPG will be finished in 2023. This news came alongside tonight's 'Panel From Hell' livestream focused on Patch 7, where Larian revealed the Barbarian class and the Improvised Weapons system which lets you wield even enemies as weapons.
---
Rock Paper Shotgun Latest Articles Feed Tuesday, February 15, 2022 2:30 PM
Baldur's Gate's most famous barbarian wasn't actually a barbarian at all. Technically speaking, Minsc was a ranger - a man of the woods who just happened to spin into a rage during battle, hitting friend or foe for extra damage, while ignoring blows that would fell a tree. It was a classification that came with its benefits: since every ranger was entitled to an animal companion, Minsc had justification for his connection to Boo, the "miniature giant space hamster" that lived in his inventory. But the primary reason for the misnomer was a gap in the rules of Dungeons & Dragons.
"Second edition didn't have the barbarian class," remembers lead designer James Ohlen. "Baldur's Gate 2 used third edition classes, but by then, it was too late."
Larian Studios, the current custodians of the series, don't have any such issues. Working with D&D's fifth edition, which has full and flavoursome rules that allow players to embody barbarians, the developers have adapted the class for use in Baldur's Gate III. It's a typically meticulous transposition that holds true to the tabletop game's definition of what makes a barbarian boil: "More than a mere emotion, their anger is the ferocity of a cornered predator, the unrelenting assault of a storm, the churning turmoil of the sea."
---
Rock Paper Shotgun Latest Articles Feed Tuesday, February 15, 2022 1:02 PM
Paradox Interactive are notoriously enthusiastic about DLC, often releasing years of expansions and add-ons for their big strategy games rather than leaping straight into sequels. So as an alternative to spending £100-odd for all a game's DLC, Paradox have started dabbling in letting players pay monthly fees to play them. The next game to start such a DLC subscription service is Hearts Of Iron IV, launching today. Like the others, it'll charge £4 per month. Or alternatively, you can still just buy DLC for keepsies.
---
Rock Paper Shotgun Latest Articles Feed Tuesday, February 15, 2022 11:35 AM
CD Projekt Red have finally launched Cyberpunk 2077's long-awaited Update 1.5, which for us here on PC means newness including a rebuild of the perk trees, AI improvements, the ability to change V's appearance, new apartments to buy, and loads more. Oh, and Update 1.5 will bring the long-awaited next-gen version to PlayStation 5 and Xbox Xeriex XS.
---
Twinfinite Tuesday, February 15, 2022 5:17 PM
Today, Netflix unveiled seven new character portraits for season 3 of its original series, The Umbrella Academy. In the image, each character appears with their back to the screen, with some unique differences here and there. You can check them out for yourself right here. The Umbrella Academy is based on the 2007 Dark Horse […]
The post The Umbrella Academy Reveals New Season 3 Character Posters appeared first on Twinfinite.
---
Twinfinite Tuesday, February 15, 2022 4:47 PM
---
Twinfinite Tuesday, February 15, 2022 3:22 PM
---
Twinfinite Tuesday, February 15, 2022 1:15 PM
---
Twinfinite Tuesday, February 15, 2022 1:10 PM
11 years after its launch, Star Wars: The Old Republic is getting another brand new DLC expansion following on from 'Legacy of the Sith.' It's called Disorder, and today a new cinematic trailer tees up the adventure to come. Here's an overview of the expansion's key features: Story The war between the Galactic Republic and […]
The post Star Wars: The Old Republic 'Disorder' Expansion Teased in New Trailer appeared first on Twinfinite.
---
Twinfinite Tuesday, February 15, 2022 1:04 PM
Earlier today, the Sony San Diego YouTube channel released yet another trailer for the studio's upcoming baseball game, MLB The Show 22. Most of the trailer features the Coach character from past MLB The Show Trailers as well as the game's cover athlete, Shohei Ohtani. But the trailer also introduces a bunch of Coach's family […]
The post New MLB The Show 22 Trailer Details Online Co-Op Modes appeared first on Twinfinite.
---
Twinfinite Tuesday, February 15, 2022 12:36 PM
---
Twinfinite Tuesday, February 15, 2022 12:31 PM
Netflix and 2K have just announced that a BioShock movie adaptation is currently being worked on. Not many details have been provided at this point but the announcement itself is big news, especially since BioShock is often given praise for its story and world. The initial info came from official Netflix and 2K Twitter accounts. […]
The post BioShock Movie Adaptation Is in the Works at Netflix appeared first on Twinfinite.
---
Twinfinite Tuesday, February 15, 2022 11:44 AM
Ever since Dune was released in theaters and on HBO Max last October, fans have been dying to get more of Denis Villeneuve's take on this epic franchise. Thankfully, it didn't take long for them to announce Dune: Part Two was already a thing, as they announced it merely a week after the film's North […]
The post Dune: Part Two Will Have A lot More of House Harkonnen appeared first on Twinfinite.
---
Twinfinite Tuesday, February 15, 2022 11:10 AM
---
Twinfinite Tuesday, February 15, 2022 11:01 AM
With the release date just around the corner, excitement for Horizon Forbidden West is at an all-time high, as fans can't wait to jump back into this chaotic and exciting post-apocalyptic world filled with robot dinosaurs. To celebrate the upcoming release, Guerilla has just announced that they are releasing a brand new Horizon Forbidden West […]
The post Horizon Forbidden West LEGO Tallneck & Aloy Coming May 2022 appeared first on Twinfinite.
---
Siliconera Tuesday, February 15, 2022 5:50 PM
More live-action Sonic the Hedgehog media is on the way, with a Sonic 3 movie and live-action show on the way. The Paramount+ show will appear in 2023. There's no release window yet for the next movie.
Here's the statement from Satomi announcing Sonic movie 3.
We are delighted to announce that the third Sonic theatrical film and the first live-action Sonic series for Paramount+ are being actively developed. We've got a remarkable partnership with Paramount, and we are excited to continue expanding the Sonic the Hedgehog franchise with them. 2022 is shaping up to be a significant year for the franchise with the second film being released this April, as well as Sonic Frontiers, the highly anticipated video game title, coming this holiday. Sonic has been beloved by fans across the world for over 30 years and we look forward to continuing to bring memorable moments and experiences to them for many years to come.
Sonic movie 2 will appear on April 8, 2022. That installment will bring in familiar faces like Tails and Knuckles. While Colleen O'Shaughnessey will voice Tails in the game, Idris Elba will be Knuckles. Knuckles is also confirmed to appear in the upcoming Paramount+ TV show. Sonic Frontiers is expected to release during the holiday 2022 season.
The post Sonic Movie 3 and Live-Action Series Announced appeared first on Siliconera.
---
Siliconera Tuesday, February 15, 2022 3:00 PM
In most otome games, we're in situations where the lead wouldn't mind being in a relationship and things might develop naturally. Idea Factory International's played around with titles in which that isn't exactly the case and the bachelors might not be "perfect." (Cupid Parasite is a good example.) Variable Barricade is another Switch otome game with that sort of set up, but this time it manages to pair a confident, outspoken heroine, imperfect love interests with some interesting backstories, and an attempt to be a bit more interactive rather well.
Hibari Tojo is an heiress. She's intelligent and logical, but also might be a bit curt around people and unwilling to let them in. Her grandfather decided that it's time for her to find a fiance, and he's picked out four men for her to perhaps eventually marry. Except… each one has a fatal flaw. For example, one is a "walking debt generator" and another attempted to commit marriage fraud. (Also, her grandpa completely aware of their shortcomings.) So she's now living with all of them and her butler. She's adamantly decided she wants nothing to do with them or her grandfather's scheme.
However, as you can probably guess, things aren't exactly as they seem. Because while yes, the idea of someone trying to start arranging a marriage for their 17-year-old granddaughter is a bit odd, there's more to it. Especially since, while Hibari is absolutely great and a fun heroine to watch, she has a fatal flaw of her own. Which makes for some delightful platonic and romantic interactions with Ichiya, Nayuta, Shion, and Taiga. It also means the conversations between the bachelors are also pretty great. (Especially since the RABI hidden camera segments allow for more of these.) For example, early on there's a point when the guys are throwing a barbecue to get to know Hibari. Every element of it is a comedy of errors. From the initial one-on-one conversations between Hibari and the bachelors to seeing what happens when all four attempt to pull things off. It's silly fun.
This is helped by an entertaining script. It's handled very well. The dialogue is great. Getting to see characters interact with Hibari and each other is just delightful. Certain folks are more entertaining and endearing than others, though. I found I had the best times when Ichiya, Nayuta, and Taiga were somehow involved in current events. I did notice a few small issues. However, those could be stylistic choices. (For example, Shion says "fun" with three Ns, but he was taunting Taiga at the time and it could have been intentional to reflect that.)
Variable Barricade is also one of those Idea Factory Otomate otome games in which the company attempts to add some interactive element so you aren't just reading text. (Think about Dairoku: Agents of Sakuratani's "fights.") The gimmick here is a board upon which you can see possible scenes. The idea is you see how to unlock the ones you want to experience. It means at a glance, you can see where CGs are and get an idea of possible events. There's also a general idea of how things connect. You get the common board, as well as ones for different bachelors. It organizes information fairly well. I thought of it more like a flow chart to constant check in with things.
Variable Barricade also tracks affection and your path in one of the most entertaining manners. The choices you make when on a specific character's board could fall into the reason or romance categories. Rather than affection meters, you essentially see equipment. Picking romance responses levels up the love interest's weapon for breaking down Hibari's barricade. Going with reason makes her walls stronger, so his attempts to get closer fail. While the general responses to situations leading up to that change conversations, the major encounter when that "battle" takes place can more drastically change the response and tone.
Also, I was a huge fan of pretty much every ending I saw in Variable Barricade. There's one route I'm not a fan of, which in turn changed how I felt about a member of the cast. But this is a rare Switch otome game in which I felt like every ending you earned could feel pretty satisfying. It's a pleasant surprise!
Which is a good way to think of Variable Barricade in general. The whole game is a pleasant surprise. Given the premise, I wasn't sure if I'd take to it. I mean, a grandfather deciding his high school-aged granddaughter is ready to be engaged and sending her to live with four suitors he selected? It gave me pause. But I really loved how things turned out. Hibari is a fantastic heroine, the bachelors are often a lot of fun, and its great pacing means Variable Barricade is a great way to spend some evenings.
Variable Barricade will come to the Nintendo Switch on February 24, 2022.
The post Review: Variable Barricade is a Great Romantic Comedy appeared first on Siliconera.
---
Siliconera Tuesday, February 15, 2022 2:00 PM
The four Fiends of Chaos will be back in Stranger of Paradise: Final Fantasy Origin, and now we have a better idea of what to expect from Marilith. She was the Fiend of Fire in the original Final Fantasy. Her role will be reprised here, and she'll use some familiar sorts of attacks.
Here's the reveal of Marilith's official Stranger of Paradise Final Fantasy Origin art and some in-game screenshots. In addition to being able to deal damage with fire, it noted that she'll be able to petrify her foes. While she didn't possess that exact sort of ability in the original game, she would be able to paralyze opponents during boss fights.
"But you woke me from my slumber!"

Awaken, Marilith.

Stranger of Paradise @FinalFantasy Origin's Fiend of Fire uses her six arms and long tail to launch a barrage of confounding and swift attacks. Don't look her in the eyes, lest you fall foul of her petrifying "Stone Gaze". pic.twitter.com/sdnsrrtUmM

— STRANGER OF PARADISE FINAL FANTASY ORIGIN (@fforigin) February 15, 2022
Marilith showed up in multiple Final Fantasy games after her debut. She's shown up as a boss encounter in both mainline games and spin-offs.
Stranger of Paradise: Final Fantasy Origin will come to the PS4, PS5, Xbox One, Xbox Series X, and PC via Epic Games Store on March 18, 2022. People who pre-order a digital copy will get early access on March 15, 2022.
The post Stranger of Paradise Final Fantasy Origin Version of Marilith Detailed appeared first on Siliconera.
---
Siliconera Tuesday, February 15, 2022 1:00 PM
The latest My Hero Academia fighting game is heading to a new platform, as My Hero One's Justice 2 is now out on Google Stadia. Bandai Namco shared a new trailer alerting folks to its increased range. This marks the series' debut on the platform. The original My Hero One's Justice was limited to consoles and PCs.
Here's the trailer going over the My Hero One's Justice 2 Stadia version. Aside from confirming the release, it mainly shows existing footage from the game.
Show off what it takes to be a Pro Hero on @GoogleStadia.#MHOJ2 is available now on Stadia. Order today: https://t.co/ASHRpTTxB4 pic.twitter.com/HD71SusGDy

— Bandai Namco US (@BandaiNamcoUS) February 15, 2022
The product listing isn't live on the Stadia storefront yet. As such, it isn't known if this version will be up-to-date with current DLC at launch. The Season Pass 2 add-ons are rolling out at the moment. The most recent one to join the roster is Kurogiri. There are still two more characters set to appear as fighters as part of this season pass. That will bring up the total number of extra characters to 10.
My Hero One's Justice 2 is available on the Nintendo Switch, PS4, Xbox One, PC, and Google Stadia.
The post My Hero One's Justice 2 Stadia Version Appears appeared first on Siliconera.
---
Siliconera Tuesday, February 15, 2022 12:00 PM
Another Fire Emblem-like tactical game is heading to the Nintendo Switch. The Dark Deity Switch port release date has been set. Folks will be able to go through it on the go starting on March 17, 2022.
Like Fire Emblem, Dark Deity is a grid-based strategy game. As you send units into fights, they level up. Eventually, you can even change characters' specialties. Relationships can form as they fight alongside each other. Also, rather than permadeath, characters who fall in a fight take on Grave Wounds that reduce their stats going forward.
When Dark Deity comes to the Switch, it might look and feel different. This is due to some adjustments and rebalancing done between the PC and console release. The 28 maps ended up getting new art. Its equipment and abilities also ended up being adjusted.
There's also a new Dark Deity release date trailer. The video shows what its story segments, maps, and battle segments all look like. It also shows the relationship-building elements. At the 45 second mark, it starts going over the remastered maps. Also, while the trailer is entirely in English, the game also will include Chinese, French, German, Italian, Japanese, Korean, and Spanish language options.

Dark Deity will come to the Nintendo Switch on March 17, 2022. It will cost $24.99, the same price as the immediately available PC version.
The post Fire Emblem-like Dark Deity Switch Release Date Set for March 2022 appeared first on Siliconera.
---
Siliconera Tuesday, February 15, 2022 11:30 AM
Stranger of Paradise Final Fantasy Origin Director Daisuke Inoue took to the PlayStation Blog to discuss the game's jobs. Much of it was an overview. For example, he confirmed 27 will be available and briefly discussed the Breaker, Dark Knight, Ninja, Paladin, Sage, Thief, Tyrant, and Void Knight jobs as well. Most notably, he talked about how Breaker is based on the Odin summon from past Final Fantasy games.
Here are Inoue's comments on how Odin influenced the Breaker job in Stranger of Paradise FInal Fantasy Origin.
For example, taking inspiration from the Odin Summon in previous Final Fantasy games, we came up with the idea of something that would let the player break and take out enemies in a single hit.

We thought about how to do this, and ended up creating an entire job around it – what would become the Breaker.
He also briefly mentioned one of the Breaker's key abilities. When equipped, Zantetsuken becomes available. Inoue noted, "The Breaker's unique action allows you to summon the Zantetsuken to break your foes and try for one-shot kills."
Stranger of Paradise: Final Fantasy Origin will come to the PS4, PS5, Xbox One, Xbox Series X, and PC via Epic Games Store on March 18, 2022. People who pre-order a digital copy will get early access on March 15, 2022.
The post Stranger of Paradise Final Fantasy Origin Breaker Job is Inspired by Odin appeared first on Siliconera.
---
Siliconera Tuesday, February 15, 2022 11:00 AM
A Final Fantasy VII event based on the original PlayStation game is heading to FFVII The First Soldier, and it will result in special enemies coming to the game. In the new Letter from the Devs update, it confirmed opponents based on the classic Cactuar, Scorpion Sentinel, and Shinra Security Officer will show up. They'll appear alongside classic FFVII character and Chocobo skins.
These three FFVII The First Soldier enemy will be tied to additional rewards. The announcement didn't show any pictures of the items. It did mention that the data pieces they drop can be used to get them.
In the lead up to the new event, Square Enix and Ateam showed off footage comparing the new and old models. This clip shows the original boss fight, then looks at it in FFVII The First Soldier.
3 Days to FFVII Collab!

We've recreated some nostalgic scenes, take a look

PLUS!
1. Follow this account (@FFVII_FS_EN)
2. Retweet this post
5 winners each day (total of 20) will be drawn to get 1,500 Shinra Credits!#FF7FS #FF7R pic.twitter.com/5s9J8TTjxc

— FINAL FANTASY VII THE FIRST SOLDIER_EN|FF7FS (@FFVII_FS_EN) February 13, 2022
As a reminder, Cloud, Tifa, Aerith, and Barret skins will be a part of this event. Red XIII will appear in some capacity too. People will be able to change the appearance of a Chocobo to make it look like a classic one too.
Final Fantasy VII The First Soldier is available on mobile devices, and the classic FFVII skins and enemies will arrive on February 16, 2022.
The post FFVII The First Soldier Special Enemies Will Appear During Classic FFVII Event appeared first on Siliconera.
---
Destructoid Tuesday, February 15, 2022 5:00 PM
---
Destructoid Tuesday, February 15, 2022 4:00 PM
---
Destructoid Tuesday, February 15, 2022 3:00 PM
---
Destructoid Tuesday, February 15, 2022 2:30 PM
---
Destructoid Tuesday, February 15, 2022 2:00 PM
---
Destructoid Tuesday, February 15, 2022 1:30 PM
---
Destructoid Tuesday, February 15, 2022 1:00 PM
---
Destructoid Tuesday, February 15, 2022 12:30 PM
---
Destructoid Tuesday, February 15, 2022 12:00 PM
---
Destructoid Tuesday, February 15, 2022 11:30 AM
---
Destructoid Tuesday, February 15, 2022 11:27 AM
---
Destructoid Tuesday, February 15, 2022 11:00 AM
---
PC Invasion - FeedDDD Tuesday, February 15, 2022 5:30 PM
If you were wondering if The Texas Chain Saw Massacre multiplayer game was going to be a lot like Dead by Daylight and Friday the 13th, then, of course it is. Instead of copying elements from Resident Evil 7 and making a game about hiding in a creepy farmhouse from a deranged family, you get to get murdered by players of higher skill than you. It's certainly asymmetrical horror, but The Texas Chain Saw Massacre isn't going to be exactly what you think. The team makeup is quite a bit different than what other similar games offer. Namely, you won't be playing as a sole killer hunting a small group of unlucky survivors. Instead of doing things the newish old-fashioned way, players will be put on two teams: one with three killers and the other with their four victims. The killer team will be comprised of Leatherface, The Hitch-hiker, and The Cook, while the survivor team will be comprised of four jabronis that are likely squishy and easy to cut up. Since it's tea...
---
PC Invasion - FeedDDD Tuesday, February 15, 2022 5:00 PM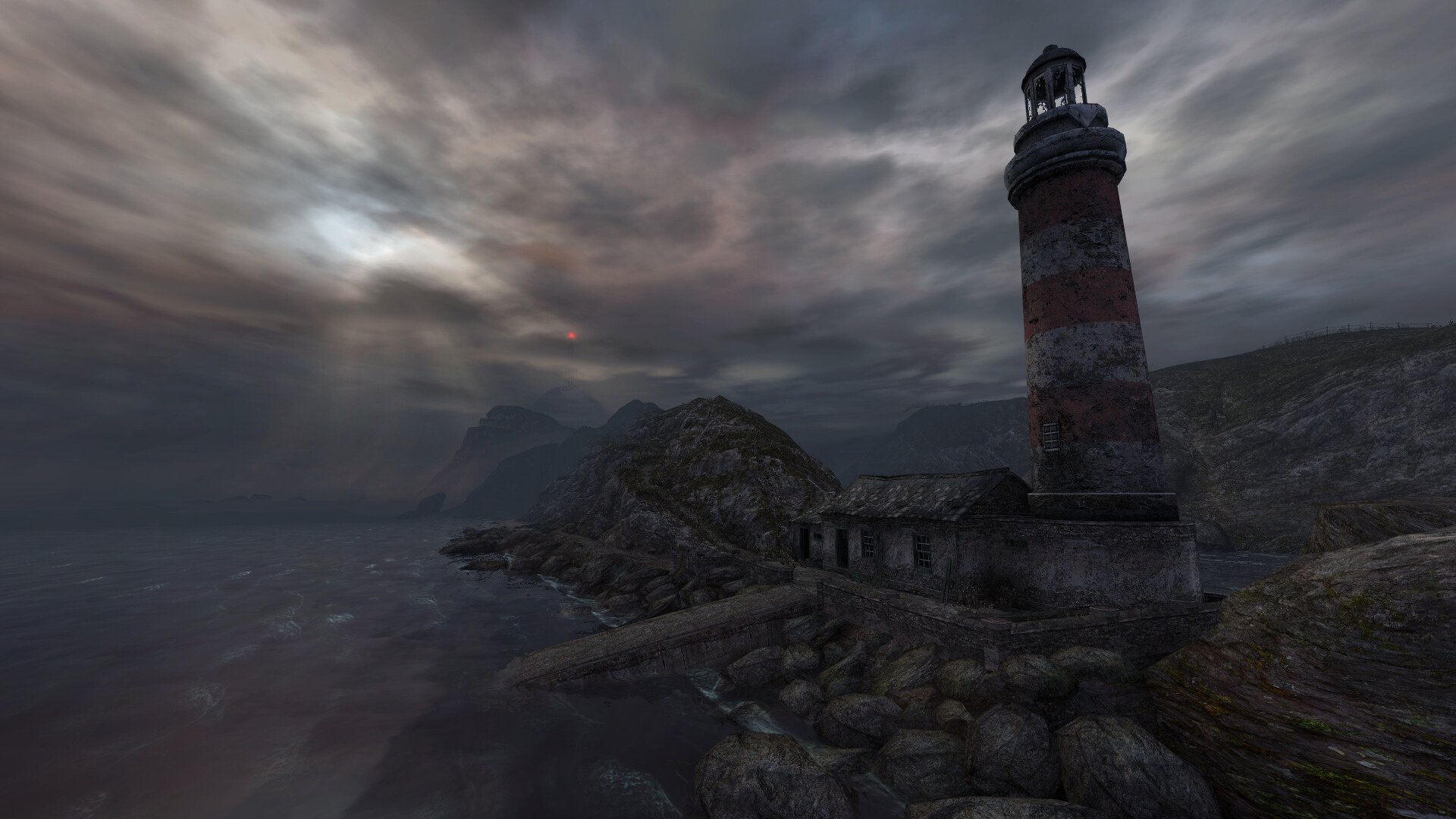 For a while, I had never heard of the walking simulator, which is a genre that sounded dangerous when I considered the lack of walking I do. These story-based games, something like What Remains of Edith Fitch, have definitely risen in popularity over the past couple of years, and gaming has changed for the better because of it. To celebrate Dear Esther's 10th anniversary, the game is free until the end of today. In Dear Esther, you're placed on a remote island in the outer land of Hebrides. In this desolate world, you hear a voice that begins to read parts of a letter, starting with "Dear Esther." This first-person game is famous for its full, story-driven experience, choosing to abandon the typical gameplay beats you'd find in other games. If you're looking for a stunning narrative experience and want to join the debate on whether these games are actually games, then download Dear Esther as soon as you can. Writing a letter The 10th annive...
---
PC Invasion - FeedDDD Tuesday, February 15, 2022 4:00 PM
Cyberpunk 2077 received its latest update today via patch 1.5, coming to next-gen consoles and PC, as well as PS4 and Xbox One. The patch (originally planned to release last year), addresses various technical issues while also adding in new weapons, apartments, and balancing improvements to the game. Cyberpunk 2077 had a pretty rough time over the last year or so, but CD Projekt Red has at last managed to add in more features that were promised before the game's launch. So far, the developer has stuck to the roadmap that was established back in January 2021, but delays did occur along the way. Furthermore, there are still a lot of improvements and free DLC's that have yet to come, as well as larger and more substantial updates to introduce new features and storylines to the game. While Cyberpunk 2077's 1.5 patch doesn't quite offer anything substantial in those regards, it does feature a few welcome changes, particularly for PC players. Night City has ...
---
PC Invasion - FeedDDD Tuesday, February 15, 2022 4:00 PM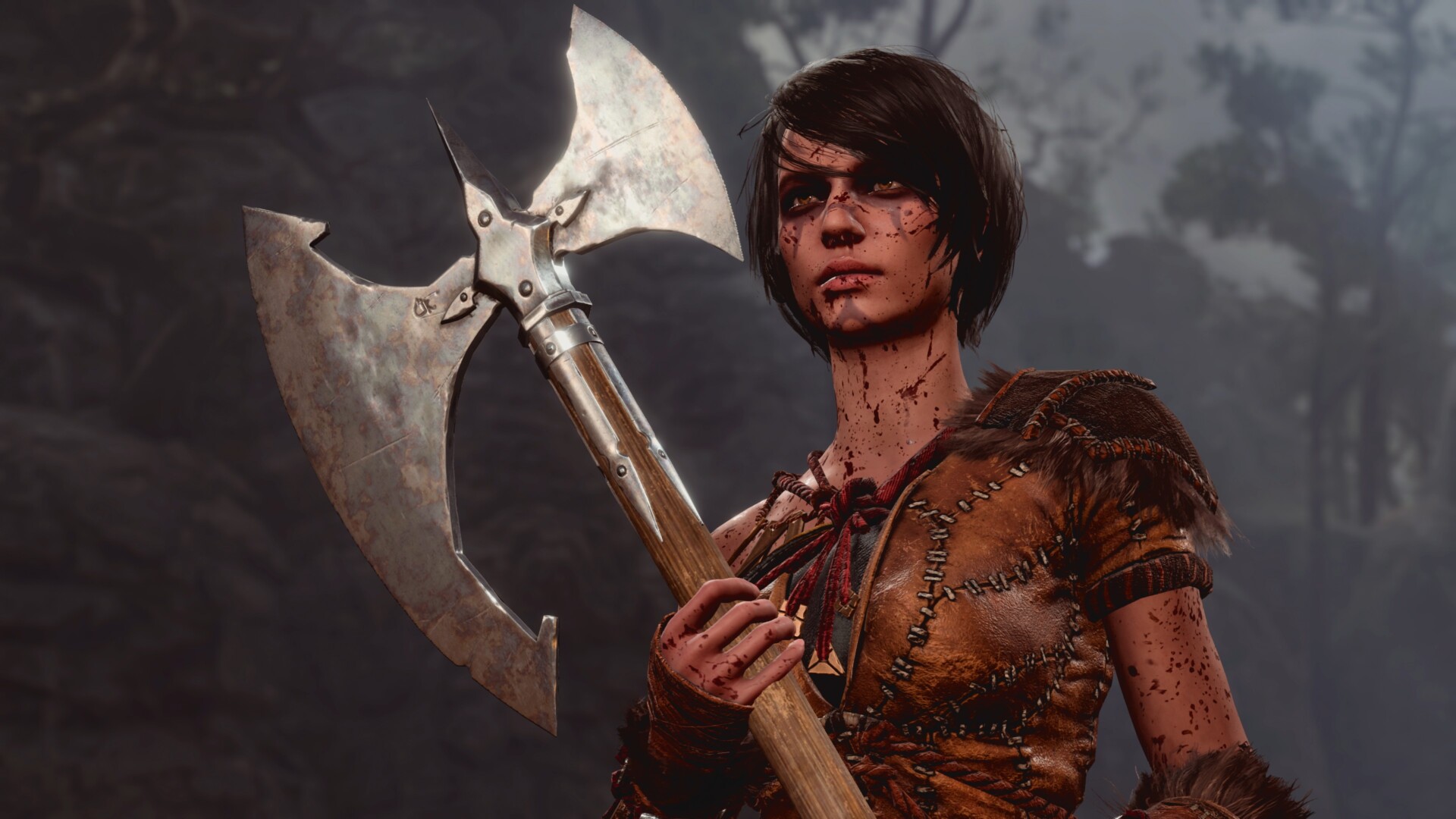 Larian Studios had its fifth Panel From Hell earlier today to go over what's coming next for the third Baldur's Gate. For the most part, fans will soon have a new character class to play and apparently, a new sport: tossing goblins. That 'sport' is actually a skill for the Barbarian, who joins the cast of Baldur's Gate 3 when Patch 7 arrives later today. The Barbarian class is the big news for the game. This wild and violent character is, according to the team, "fueled by nature's fury, and boasting chaos energy louder than a thousand reality TV stars combined." You get two subclasses, the Wildheart Barbarian and the Berserker Barbarian. The former requires you to choose and protect a Bestial Heart, which offers "combat abilities and facial piercings depending on their choice." The latter is, of course, your dyed-in-the-wool Barb, using Frenzy to grant new, violent abilities. If you aren't a fan of weapons or objects...
---
PC Invasion - FeedDDD Tuesday, February 15, 2022 3:30 PM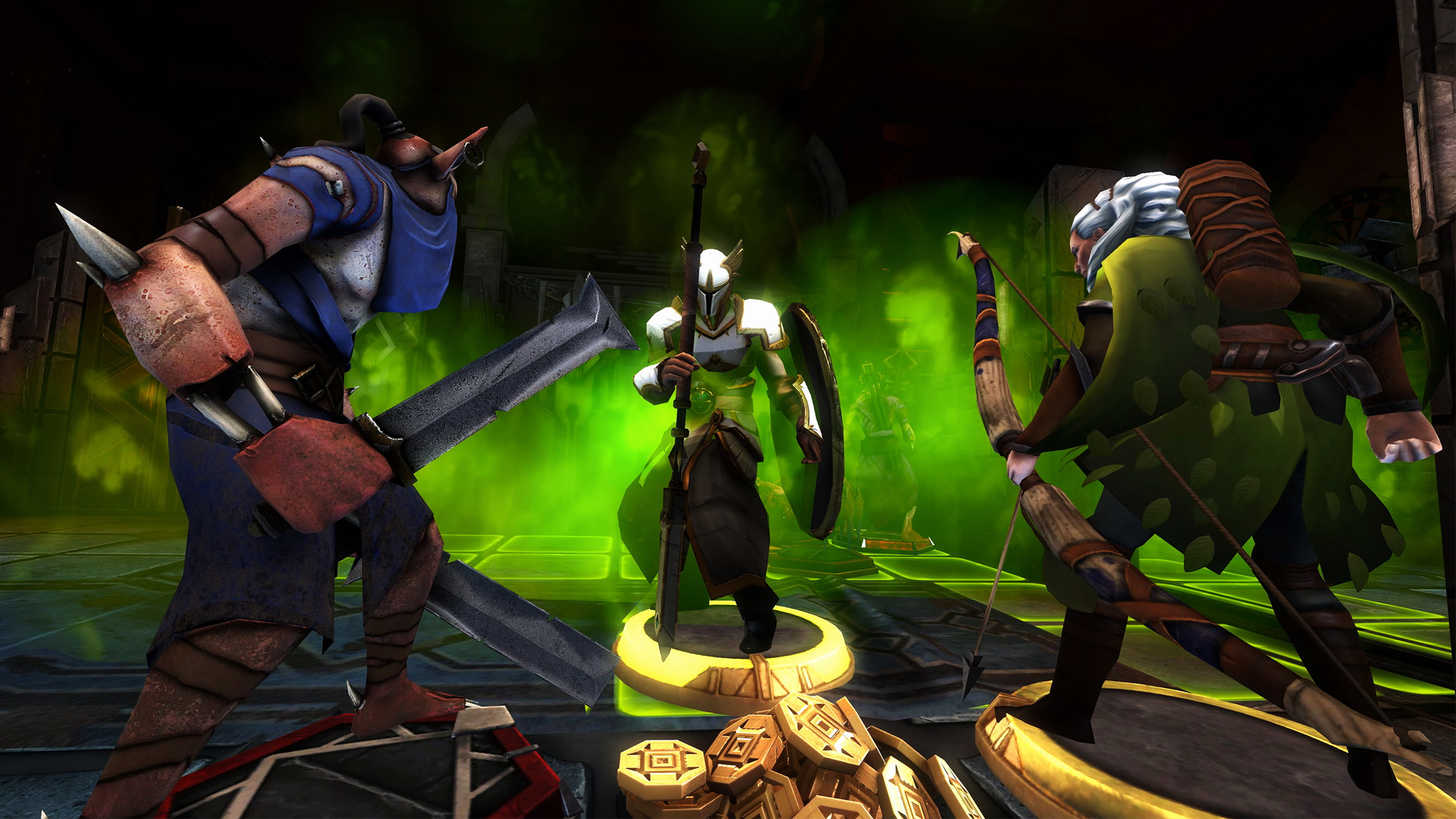 I've never been one for tabletop games, and despite my geeky demeanor, I never had the privilege to join a rousing session of Dungeons & Dragons. The passionate developers for Demeo: PC Edition let me know that the classic tabletop RPG was an inspiration when they first developed Demeo for virtual reality. Recently, I had a chance to preview the upcoming PC version of Demeo. As soon as you enter the game environment, you can tell that Demeo is supposed to emulate a tabletop environment. Unfortunately, while I don't share the developers' glee for the fantasy adventure frequently played in basements around the world, I can say Demeo: PC Edition was still a blast when I had the chance to play it. Demeo: PC Edition is a four-person co-op adventure, so it's best to corral some of your friends together to work your way through the game. There's everything you'd imagine in a tabletop-inspired game like this: dice rolls, figures you can move ac...
---
Tabletop Gaming News Tuesday, February 15, 2022 5:00 PM
---
Tabletop Gaming News Tuesday, February 15, 2022 4:00 PM
---
Tabletop Gaming News Tuesday, February 15, 2022 3:00 PM
---
Tabletop Gaming News Tuesday, February 15, 2022 2:00 PM
---
Tabletop Gaming News Tuesday, February 15, 2022 1:00 PM
---
Tabletop Gaming News Tuesday, February 15, 2022 12:00 PM
---
Player Assist | Game Guides & Walkthroughs Tuesday, February 15, 2022 11:22 AM
The Witcher 3 is one of the most popular games of our generation. It is the perfect mix of combat, crafting, exploration, decision-based story outcomes, role-playing, and open-world gameplay. With hundreds of awards under its belt, CD Projekt Red discovered a shaft of gold and fame through Geralt as he traverses the life of a […]
---
Pivotal Gamers Tuesday, February 15, 2022 12:22 PM
Hello folks. itch.io holds a new giveaway for Strange Toilet. Read on for their offering. Get Strange Toilet for FREE! A few words about Strange Toilet In the McCoyneach's neighborhood a murderer is on the prowl. They did not expect that this evening they would face something ugly… [Minimum requirements] Dual Core Processor 3GhzGraphics Card with 1GB Memory Ram: 4 GB Hard Drive Space: ...
---
MonsterVine Tuesday, February 15, 2022 3:00 PM
Spencer and Diego talk about the hellishly rad Nintendo Switch port of Dusk, and its demake, Dusk '82! The Wrap-Up is a MonsterVine original audio series where our reviewers discuss the games they've been playing and to get a more personal perspective. iTunes – Google Play – Soundcloud  MonsterVine · The Wrap-Up: Dusk (Switch) and Dusk '82
The post The Wrap-Up – Dusk (Switch) and Dusk '82 appeared first on MonsterVine.
---
MonsterVine Tuesday, February 15, 2022 2:09 PM
Dusk '82 is a delightful puzzle game that takes the world of Dusk and makes it into a fun little throwback. It's not the longest or most complicated title, but it serves as a perfect side-dish to Dusk if you want another taste of its unique world. DUSK '82 Developer: David Szymanski Price: $7 Platform: […]
The post Dusk '82 Review – Chip's Hellish Challenge appeared first on MonsterVine.
---
MonsterVine Tuesday, February 15, 2022 12:00 PM
Dusk is probably the coolest shooter I've ever played, and it's just perfect on the Nintendo Switch. The shooting is satisfying, movement is fast and smooth, and the visuals and sound are next level. All this, combined with an inimitable atmosphere makes Dusk the most badass shooter on the Switch. DUSK (Switch) Developer: David Szymanski […]
The post Dusk (Switch) Review – So Anyway, I Started Blasting appeared first on MonsterVine.
---
Level Up Tuesday, February 15, 2022 12:42 PM
Dune: Spice Wars is an exciting prospect for real-time strategy fans and enthusiasts of the…
---
Level Up Tuesday, February 15, 2022 12:15 PM
If you were waiting to play CD Projekt Red's latest RPG, 2020's Cyberpunk 2077, on…