---
Kotaku Sunday, December 18, 2022 5:15 PM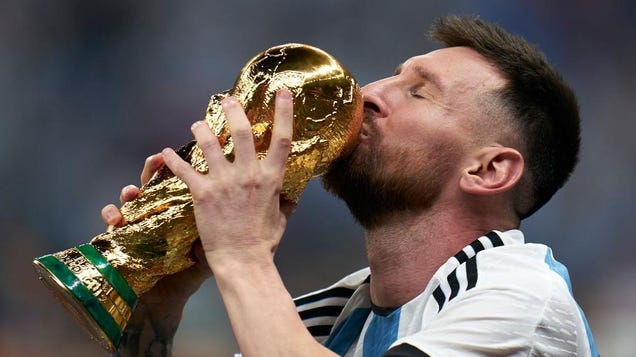 Like a lot of other people around the world, streamer xQc put a bet on the World Cup final earlier tonight. Unlike a lot of other people, however, he claims he threw down half a million dollars, then publicly bragged about it before kick-off.

---
PCGamesN Sunday, December 18, 2022 12:09 PM
The questions we don't ask about games are often the ones that require the most explanation. Questions like, 'How does Tamriel function across the Bethesda RPG games with very little in the way of food sources?' Well, a new Skyrim mod aims to address exactly that. I've already looked at how Skyrim in real life would be hell, putting Tamriel's coldest region in financial doom, so now let's see how to fix it.
MORE FROM PCGAMESN:
Skyrim mods
,
Play Skyrim
,
Games like Skyrim
---
PCGamesN Sunday, December 18, 2022 12:09 PM
It looks like High on Life Steam sales are off to a very strong start. The irreverent comedy FPS game from Squanch Games, founded by Rick and Morty co-creator Justin Roiland, has pushed past Call of Duty Modern Warfare 2 and FIFA 23 to take second place behind the Steam Deck on the weekly top sellers list, as reported by SteamDB. Perhaps even more impressive is that the High on Life release also saw the game come to Microsoft's PC Game Pass subscription service, yet this hasn't stopped it from selling big on Steam as well.
MORE FROM PCGAMESN:
Should you kill 5-Torg in High on Life?
,
Should you stab Gene in High on Life?
,
High on Life mission list
---
PCGamesN Sunday, December 18, 2022 11:18 AM
Valheim Mistlands update 0.212.9 has arrived on the public test branch for the viking survival game, and it aims to make the dangerous biome a little safer to explore - though it won't make ballistas any less dangerous to be around, despite some player outcry. The Valheim Mistlands update arrived on public servers on December 6 after several weeks in public testing, and players have been terrorised by the region's Seekers and flying Gjalls ever since.
Valheim system requirements
,
Valheim building tips
,
Valheim progression guide
---
Twinfinite Sunday, December 18, 2022 4:38 PM
Jump Festa 2023 was full of surprises.
---
Twinfinite Sunday, December 18, 2022 1:19 PM
Square Enix could learn a lesson or two from them.
---
Siliconera Sunday, December 18, 2022 3:00 PM
A good way to describe Aka is a game about seeing where the wind takes you. There are quests you can do. There is land you can farm. However, you can also lay on a beach and gaze into the sky. You might also go to nap on top of a large capybara. You have options, and there's nothing telling you what to do or when, even though time does gradually pass. It's a chance to kick back, but it also means that it can be aimless and more than a little frustrating.
Aka only knew battle. The red panda, like many, fought in the War. Once it ended, there's the question of what's next. After time spent fighting and bloodshed, it is time to be useful for another reason. So, Aka heads to an island "paradise" another fellow soldier, Thom, mentioned. There comes an opportunity to relax and live a kinder existence.
As a freeform sort of game, you can do what you want in Aka. You carry a sword, but only use it to do things like cut grass or craft. There is a farming element, but you don't sell goods for money. You use them for occasional recipes to fulfill requests. You can place furniture and decorations in certain spaces, if you like. People are there to talk to, though you might not get incredibly close to all of them. There are also four small islands to explore, with points of interest on each.
But while no boundaries or obligations makes for a peaceful life simulator, it sometimes doesn't make for a good game. A good example is the farming mechanic. Thom says to check in for tips when you start planting. However, there's a whole ecosystem approach in which certain plants placed next to each other is necessary for optimal growth and survival. But all Thom talks about is how carrots and onions should be next to each other to keep pests from killing them. Beeatrix gives you flower seeds to plant, but I couldn't just till a spot of land and place a tulip seed. There's a card game you can play with the Inventor, but there's no tutorial explaining what you are trying to do or how it works. Too much is left unsaid.
There are also literally no boundaries sometimes. Aka is a game with an isometric perspective. However, it isn't always clear where the barriers are or platforms begin or end. There will be invisible walls occasionally keeping you from falling off of some spaces, but not others. This is especially a problem at the edges of islands, as more than a few times I'd fall off of the side of a spot, then "land" in another screen as it turned out that was the end of the map and entrance to another location. But then, maybe Aka's sense of direction is just bad? Sometimes, I'd find when I was trying to water or plow one spot of land, I would hit another instead?
More inventory room, both in your Aka's room and on-hand storage, would also be appreciated. You can hold items. You will find a lot more than that. Some items are even ones that, after you grab them, can't be placed in a space in the world. For example, I found a totem early on. I took it. Once I got out of its cave and outside Aka's home, I couldn't just… set it down as a decoration outside. Into a valuable inventory space it went. Did you collect a lot of tin can trash? Or maybe items that you just don't want anymore? You need to spend time heading to town to visit the one dedicated recycling center and garbage can.
The nature of Aka also means it is a game in which you don't get to really know everyone. While Aka is friends with Thom and we'll see insights into the past, we don't really get to know the island neighbors. There's the illusion of community, but you don't connect in the same way you do in titles like Animal Crossing or Stardew Valley. Yes, the koala I play music with on the beach is cool, but I just know we jam together. There are wasted opportunities here.
Aka is also an incredibly buggy game. When I first started playing on the Switch, it crashed a few times while exploring. When I was fulfilling a quest to repair a boat, the necessary requirements remained on-screen even after the NPC disappeared. Aka would sometimes get locked in a position performing an action. While I'd be able to move still, it would be impossible to take any additional actions unless I quit and reloaded the game.
Aka on the #NintendoSwitch has some... issues. (This happened even while trying to change equipment and pressing B.) pic.twitter.com/k5zxLi7Zjo

— Jenni Lada (@JMariye) December 16, 2022
The idea of Aka is fine, but the execution isn't there. It is a pretty and relaxing enough game when it works. However, it often isn't behaving as it should, which really gets in the way of taking it easy.
Aka is available for the Nintendo Switch and PC.
The post Review: Aka is a Game That Sets Players Adrift appeared first on Siliconera.
---
Siliconera Sunday, December 18, 2022 12:00 PM
Square Enix decided to show off how an iconic mascot character will look in its new Final Fantasy game. On December 17, 2022, the company shared a video clip of a Moogle in FFXVI. This is a brief video of the familiar face. We don't get to see how Clive reacts to it. However, we do get to see it, hear it, and watch its animation for the first time.
The FFXVI Moogle is fairly traditional. It features a brown nose, purple wings, and an orange pom-pom on its head. Unlike past depictions, the pom-pom here isn't furry. Rather, it seems more like a smooth, spherical orb atop its antenna.
12月18日は、 #FF35th の記念日クポ!

モーグリも登場する #FF16 はご予約受付中クポ~https://t.co/6BciWXwG6l pic.twitter.com/b4F5DvVmBV

— FINAL FANTASY XVI (@FF16_JP) December 18, 2022
We already knew that people would get to see a Moogle or two in FFXVI. Creative Director Kazutoyo Maehiro confirmed it in an interview. However, at the same time he emphasized the goal of ensuring the creatures and monsters appearing in the game wouldn't be "overly comical."
Final Fantasy XVI will release on the PlayStation 5 on June 23, 2022. It will be exclusive to the console for about six months. After that, it could come to other platforms.
The post See and Hear the FFXVI Moogle for the First Time appeared first on Siliconera.
---
Siliconera Sunday, December 18, 2022 11:30 AM
People will get to try the new One Piece game before buying it. As Jump Festa 2023 ended, Bandai Namco shared a new trailer and announcement. Three days ahead of the One Piece Odyssey release date, a free demo will appear. People on the PS4, PS5, and Xbox Series X will be able to get the trial to test out the RPG.
It seems like the One Piece Odyssey demo will offer a slice of the game from the beginning. People can save as they go through the early part of the adventure. Then, if they do buy the full title, they can pick up where they left off.
As for the new One Piece Odyssey trailer, it is called "Memories." It hints that the Straw Hats will be revisiting their past adventures. They'll revisit memories alongside new character Lim after getting to Waford. Snippets from Alabasta, Water Seven, Marineford, and Dressrosa all show up in the new video. However, the Marineford and Dressrosa segments are the focus this time around.
https://www.youtube.com/watch?v=2KYiJzKUw5U&ab_channel=BandaiNamcoEntertainmentAmerica
The One Piece Odyssey release date is January 13, 2023, and the demo will appear on January 10, 2023. The full game will come to the PS4, PS5, Xbox Series X, and PC.
The post One Piece Odyssey Demo Will Appear Ahead of Its Release Date appeared first on Siliconera.
---
Siliconera Sunday, December 18, 2022 11:00 AM
As part of the Jump Festa 2023 announcements, there were multiple updates regarding the Hell's Paradise: Jigokuraku anime adaptations focusing on its characters and upcoming release. First, it will appear on both Crunchyroll and Netflix worldwide when it debuts in April 2023. There's also a new Hell's Paradise trailer showing off some of the voice actors cast. The official website and Twitter account are also live.
Here's the first Hell's Paradise anime trailer.
Anime "#HellsParadise"
First PV with the main cast members' voices!

Streaming on Netflix and Crunchyroll from April 2023!
* For detailed territories please refer to each platform's official website.#hellsparadise #jigokuraku #地獄楽 #MAPPA pic.twitter.com/0S7dhePJXl

— Hell's Paradise EN (@HellsParadiseEN) December 18, 2022
Here's a full voice actor cast listing of all the confirmed Hell's Paradise: Jigokuraku characters so far.
Aza Chobe: Ryohei Kimura
Gabimaru: Chiaki Kobayashi
Tamiya Gantetsusai: Tetsu Inada
Yamada Asaemon Fuchi: Aoi Ichikawa
Yamada Asaemon Sagiri: Yumiri Hanmori
Yamada Asaemon Toma: Kensho Ono
Yuzuriha: Rie Takahashi
Each voice actor also offered some commentary on their role, which appeared alongside official art of their character.
[gallery columns="7" size="full" ids="944078,944079,944080,944081,944082,944083,944084" link="file"]
Hell's Paradise is set in the Edo period. On the island of Shinsenkyo, there is apparently an elixir of life. The shogunate are desperate to claim it, but have had no luck so far. So, it is sending criminals alongside executioners to get it. If they get it, they will be pardoned. Gabimaru the Hollow and his executioner Sagiri are among the two sent to retrieve it.
The Hell's Paradise: Jigokuraku anime will begin airing on Crunchyroll and Netflix in April 2023. Viz Media localized the manga.
The post Hell's Paradise: Jigokuraku Anime Gets Characters Trailer, April Release appeared first on Siliconera.
---
Gamer Empire Sunday, December 18, 2022 2:28 PM
Taptap Heroes is one of those RPG mobile games where you'll encounter and get your hands on a bunch of unique heroes throughout your adventures. […]