---
Kotaku Tuesday, July 4, 2023 3:35 PM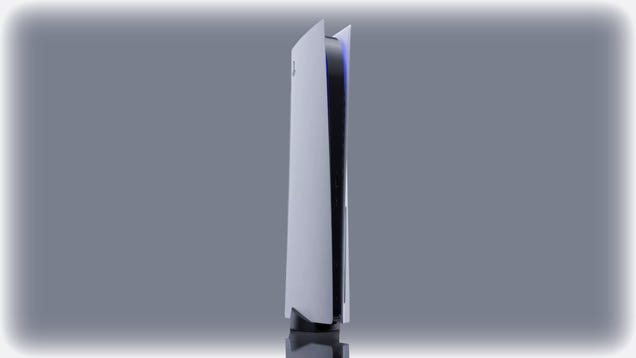 It'd be fairly weird if Sony didn't announce a PlayStation 5 Slim in the coming months. The console will be three years old by then, and that's generally the pattern. But it'd definitely very weird if instead Microsoft were the company to reveal it. Which might be what just happened.

---
Kotaku Tuesday, July 4, 2023 12:25 PM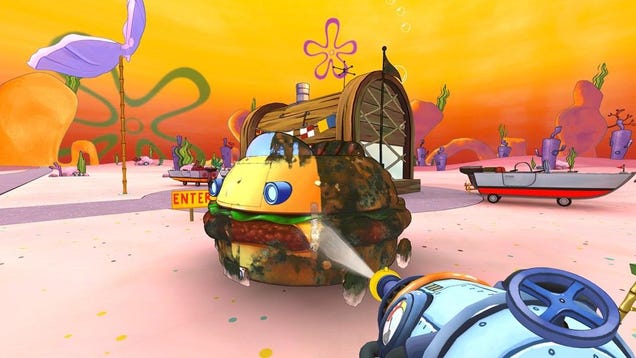 The rise and rise of 2022's PowerWash Simulator is everything that's right with video games. It's a game about washing the dirt off stuff, delivered with absolute sincerity, and extremely well made. It got me through a horrible bout of Covid, as I meticulously scrubbed every fleck of dirt from adventure playgrounds…
---
Kotaku Tuesday, July 4, 2023 10:10 AM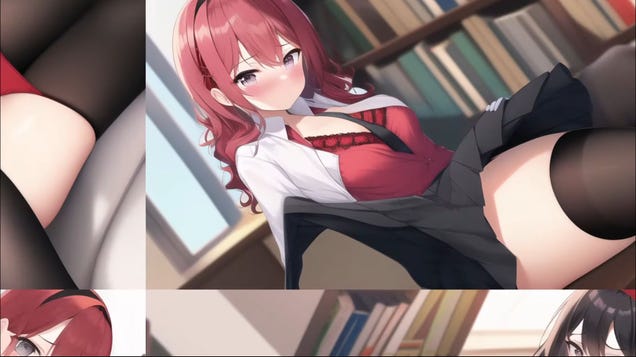 Last week, there was wide speculation that Valve might be intending to ban games that use AI-generated content, following a post on Reddit that suggested the practice was not being allowed. However, this seems not to be the case—at least, it's nowhere near that simple—following a statement given to Polygon from Valve…
---
Kotaku Tuesday, July 4, 2023 9:00 AM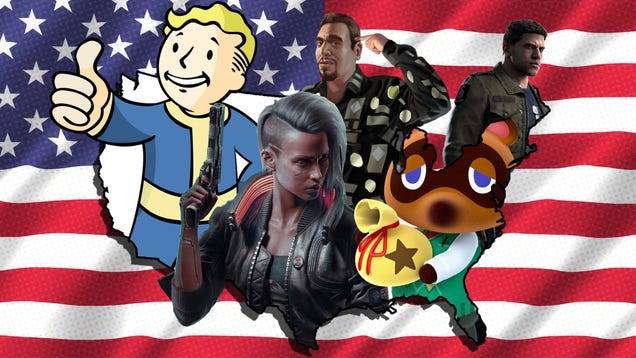 America is complicated, to put it mildly. Writers, filmmakers, songwriters, and other artists have been grappling with the complexities of this multifaceted nation for as long as it has existed. And in recent decades, games, too, have begun engaging with what America stands for, what it strives to be, and what it…
---
PCGamesN Tuesday, July 4, 2023 3:33 PM
What are The Password Game answers? If you've ever frustratingly bashed your keyboard as you try to find the most secure password available that will appease the many rules required of you, The Password Game might just be the one that tips you into pure rage. The new browser-based game from coder Neal Agarwal is frustrating minds globally, but we've discovered some handy tips and potential answers if you're truly stuck.
The Password Game looks easy enough to begin with, presenting itself as just a box that asks you to choose your new password, and reminds you that it needs capital letters, numbers, and special characters. This browser game takes a turn, though, when it begins asking about things like algebra and the current phase of the moon. It's amongst one of the more mind-melting free games we've played recently.
MORE FROM PCGAMESN:
The Password Game answers
,
Best free games
,
Best free Steam games
---
PCGamesN Tuesday, July 4, 2023 2:50 PM
Dead by Daylight is the horror game that just keeps on giving, from its new characters to its regular updates. Behaviour Interactive has even more content on the way, including some balance changes and more exciting new features. The Dead by Daylight developers have just posted an update on the upcoming additions, detailing some of the character tweaks and bigger news like the addition of survivor disconnect bots powered by AI. Players have been struggling with disconnected survivors in DBD for a good while now, making this a welcome addition.
MORE FROM PCGAMESN:
DBD killer tier list
,
Best horror games
,
DBD codes
---
PCGamesN Tuesday, July 4, 2023 1:39 PM
Baldur's Gate 3 is one of this year's most highly anticipated RPG games, exciting fans of Dungeons & Dragons with its unique gameplay style and choice of classes. One thing that Larian Studios had not previously shown is necromancy from Baldur's Gate 3 in action. The developers took to TikTok earlier today to do just that, posting a video of a necromancer character's powers in all their skeleton-summoning glory. Following the video, many of us have been left with even more questions than before about the class.
MORE FROM PCGAMESN:
Baldur's Gate 3 release date
,
Baldur's Gate 3 races
,
Baldur's Gate 3 classes
---
PCGamesN Tuesday, July 4, 2023 1:24 PM
July 4, 2023: Added two new Anime Souls Simulator codes for update 24 and meeting a new threshold. Old codes now expired.
What are the new Anime Souls Simulator codes? Anime Souls Simulator tasks you with building your own army of powerful heroes, then imbuing their weapons with souls to take on fearsome bosses. You might find that the road to greatness is a little too long when you're first starting out, so we've tracked down the latest Anime Souls Simulator codes to help you grow in power faster than ever.
Our list of up-to-date Anime Souls Simulator codes delivers a treasure trove of free items straight to your inventory and a variety of rolls and spins to help you swap out your weaker heroes. If you're partial to anime and manga-inspired games across the Roblox platform, we've also got the latest Anime Adventure codes, Slayers Unleashed codes, and even Ro Ghoul codes to help you stay one step ahead of your fellow Robloxians.
MORE FROM PCGAMESN:
Best Roblox games
,
Roblox promo codes
,
Roblox music codes
---
PCGamesN Tuesday, July 4, 2023 1:27 PM
July 4, 2023: We added new Da Hood codes for the Independence Day celebrations and checked for expired codes.
What are the new Da Hood codes? You need tons of cash to equip yourself with the best weapons on these mean streets, whether you're a criminal that's ransacking banks and shops across the city or a cop trying to stop this crime spree in its tracks.
Da Hood is a third-person shooter game you can play on the Roblox platform, and you can earn cash by either robbing places or catching criminals in the act. No matter if you decide to side with the robbers or cops, you'll find that having lots of cash can help you take advantage. If you're in need of further freebies, we've also got the latest Blox Fruits codes, Anime Adventures codes, and Shinobi Life 2 codes to redeem.
MORE FROM PCGAMESN:
Best Roblox games
,
Roblox promo codes
,
Roblox music codes
---
PCGamesN Tuesday, July 4, 2023 12:54 PM
The release of the Nvidia GeForce RTX 4060 has brought with it plenty of custom designs, as is to be expected for any GPU. Colorfire are no exception, but its Meow series of cards are a whisker ahead of the competition.
MORE FROM PCGAMESN:
RTX 4070 review
,
DLSS explained
,
Best graphics cards
---
PCGamesN Tuesday, July 4, 2023 12:49 PM
July 4, 2023: Moved the expired codes to the new expired section and added two new codes.
What are the new Clicker Mining codes? The digging simulator tasks you with mining your way through a quarry, discovering treasures, gathering gems, opening chests, and upgrading your equipment along the way. Each new section of the earth comes with its own mining challenges, tougher ground that requires better tools, and more power to break.
The Roblox game has a healthy following; players with staggering amounts of power behind each swing; players that have seen things you wouldn't believe. A slow start in the free PC game quickly develops into a mining flurry, with each swing of your pickaxe improving your strength, enabling you to forge on ever deeper. Below are the latest Clicker Mining Simulator codes to help you with your underground adventures.
MORE FROM PCGAMESN:
Best Roblox games
,
Roblox promo codes
,
Roblox music codes
---
PCGamesN Tuesday, July 4, 2023 12:33 PM
The Division 2 will be seeing a wave of suspensions soon, as the MMO game has been fraught with players exploiting a glitch Ubisoft is yet to fix. With two week bans or more being handed out to players, and some potentially even being banned completely from playing, Ubisoft wants to level The Division 2's playing field.
MORE FROM PCGAMESN:
The Division 2 PC review
,
The best multiplayer games
,
The best MMOs in 2023
---
PCGamesN Tuesday, July 4, 2023 12:32 PM
What are the best FPS games on PC? From the classic physics chaos of Half-Life 2 to Halo Infinite's beautifully rendered worlds, these are the finest FPS games. For more than two decades, FPS games have been the driving force of the PC games industry. They've let us travel from the depths of Hell in Doom to the outer reaches of space in Titanfall 2. Others have taken us on a detour through the likes of Half-Life 2's zombie-infested Ravenholm, while some have embraced futuristic cities.
Some of these games are old, others are new, and all are great. Wolfenstein 2's amazing campaign; Rainbow Six Siege's tight tactical multiplayer; Overwatch 2 and its vast array of amazing heroes. No matter what sort of virtual gunplay you're after, the following titles will satisfy your itchy trigger finger. So crack those knuckles, and get ready to make every shot count. These aren't only just the best FPS games, some of these entries are included in our best PC games too.
MORE FROM PCGAMESN:
Titanfall 2 class guide
,
Titanfall 2 PC port review
,
Titanfall 2 campaign review
---
PCGamesN Tuesday, July 4, 2023 12:30 PM
There's nothing quite like a nice little Diablo 4 farming spree. Slaughtering demons and descending upon their mangled corpses to loot them of their best gear is exactly what the action RPG game is all about; especially if you're looking to bag yourself one of those mythical Diablo 4 unique items. However, finding a good farming spot in Diablo 4 is essential, and I have news for you: this ain't the one.
MORE FROM PCGAMESN:
Diablo 4 builds
,
Diablo 4 review
,
Diablo 4 classes
---
PCGamesN Tuesday, July 4, 2023 12:29 PM
Want to know about the Phantom Liberty release date? The upcoming Cyberpunk 2077 expansion, dubbed a "spy-thriller" by developer CD Projekt Red, promises to drop you in a brand-new part of Night City. As V, a Cyberpunk for hire, we'll be spying around and fighting military forces along with our new buddy, FIA Agent Solomon Reed, played by Idris Elba.
We first saw the expansion during The Game Awards 2022, but there's still so much we don't know about this upcoming RPG game expansion. Judging by CD Projekt Red's past games, there's a good chance Phantom Liberty will redeem Cyberpunk 2077 after its rather shaky start, with the potential for the game to end up on our best PC games list by the end of the year. Here's everything we know about Cyberpunk 2077 Phantom Liberty so far.
MORE FROM PCGAMESN:
Cyberpunk 2077 review
,
Best Cyberpunk 2077 mods
,
Buy Cyberpunk 2077
---
PCGamesN Tuesday, July 4, 2023 12:19 PM
How do you get a Fortnite Nitro Drifter? One of the new futuristic vehicles from last season is a variant of the regular cars seen in previous seasons, each with sleek, futuristic designs. However, unlike other sports cars, they don't have a nitrous tank to speed up at the press of a button, instead requiring you to drift to build up boost charge.
You can find the Fortnite Nitro Drifter everywhere on the Fortnite map, but the most accessible place to find one in the battle royale game is on the race track north of Mega City. Once you've boarded a Nitro Drifter in Fortnite, you'll soon realize it acts like a regular car in many ways, with similar durability and maximum speed stats. However, as the car's name implies, there is a way you can drift around corners and get a boost of speed, just like the karts in Mario Kart. This is how to drift with a Nitro Drifter in Fortnite.
MORE FROM PCGAMESN:
Fortnite Chapter 4 map - key locations
,
Free PC games
,
All Fortnite Chapter 4 weapons
---
PCGamesN Tuesday, July 4, 2023 12:23 PM
What does Starfield food do? You've got to keep your energy up while you're being a big damn hero, but how do you do that in Starfield? Food, of course. One of our favorite pass times is chomping down on anything in our eye line - the fact that Starfield takes so much pride in its recreation of food is music to our ears.
After the Starfield Direct, the excitement for the Starfield release date has almost reached fever-pitch, and rightly so. The space game looks to be more polished than anything else we've seen from Bethesda in the past, and with any luck, it'll be high up on the list of the best PC games come the end of the year.
MORE FROM PCGAMESN:
Starfield release date
,
Starfield companions
,
Starfield system requirements
---
PCGamesN Tuesday, July 4, 2023 12:15 PM
July 4, 2023: We added new AUT codes to our list.
What are the new AUT codes? If you're trying to get ahead of the competition in A Universal Time, we've collated all the latest codes for free skin crates. We'll also run you through exactly how to redeem all the active A Universal Time codes and where you can find more for the action-packed, anime-themed hit.
A Universal Time has been around for a while, but it's erupted in popularity recently following a major update. If you're searching high and low for further Roblox freebies, we also keep regularly updated lists of Blox Fruits codes, Project Slayers codes, and even Anime Adventures codes. Now, let's run through all the A Universal Time codes and the rewards they'll net you.
MORE FROM PCGAMESN:
Best Roblox games
,
Roblox promo codes
,
Roblox music codes
---
PCGamesN Tuesday, July 4, 2023 12:11 PM
When is the Genshin Impact Lyney banner? As the 4.0 update draws closer, Hoyoverse has begun drip marketing the characters due to take the spotlight in the oceanic Fontaine region. We've got all the latest speculation surrounding the Genshin Impact Lyney banner release date, as well as the abilities of its starring character.
The Genshin Impact Lyney banner includes several new characters arriving in Genshin Impact as part of the upcoming 4.0 release date, but the eponymous Lyney has already proven to be a fan favorite since his initial tease way back in 2020. Lyney is a five-star Pyro character and court magician that employs his powers of deception and a trusty bow to dish out a pyrotechnic burst of AoE damage. Sporting a wealth of magical props that are sure to steal the show in any team comp, you'll want all the codes you can get your hands on to successfully pull him from the Genshin Impact Lyney banner.
MORE FROM PCGAMESN:
Genshin Impact codes
,
Genshin Impact character tier list
,
Genshin Impact leveling guide
---
PCGamesN Tuesday, July 4, 2023 12:06 PM
Want the best Overwatch 2 settings? Making sure you have the optimal Overwatch 2 settings when you run Blizzard's FPS game will help improve visual performance as well as your own. After all, the best way to make sure you see your opponent before they see you is with the right graphics settings and frame rate.
Overwatch 2 has more demanding requirements than its predecessor, so once you've ensured you have the right setup and best graphics card to handle the Overwatch 2 system requirements, set the free PC game up to give the very best performance - and make sure you never miss a shot.
MORE FROM PCGAMESN:
All Overwatch 2 characters
,
Best Overwatch 2 settings
,
Overwatch 2 tier list
---
PCGamesN Tuesday, July 4, 2023 12:14 PM
Where is the The Butcher in Diablo 4? You might have heard of some players having gone up against the legendary Butcher while he's nowhere to be found in your game, and your confusion as to his location isn't misplaced. We, too, took a while to find the Butcher, and it turns out there's a good reason.
The Butcher turns up in Diablo 4 randomly, so it could take a while for you to come against the hulking killer. This does mean you don't have to worry about going after him specifically, and you can just work through the campaign until you find the boss. It doesn't matter which of the D4 classes you choose as The Butcher will appear for any, and his unique drop can be wielded by any class, too. He is a tough foe though, so make sure whichever class you choose, you're using the best build when you go up against the D4 Butcher.
MORE FROM PCGAMESN:
Diablo 4 builds
,
Diablo 4 review
,
Diablo 4 classes
---
PCGamesN Tuesday, July 4, 2023 12:03 PM
How do you respec in Diablo 4? Leveling up allows you to assign skills to your character, but did you know you can spend some money to get them all back? Doing this allows you to try different abilities to see what they can do. In a game like Diablo 4, having an efficient build is essential if you want to best Lilith and her hordes of blood-crazed maniacs, but what happens if you put too many skill points into stuff that isn't useful?
The best builds that Diablo 4 offers are second to none, and thankfully, there is a way to refund and re-specialize your character once your skill points have been spent. Being able to respec your character can help if you're taking on a new area - your current build could be ineffective against a particular brand of horror - or, simply, if you've got buyer's remorse about those skeleton warriors. Bone up on how to respec your character so you can perfect your Diablo 4 class and make the best Diablo 4 builds if you aren't happy with your current choice.
MORE FROM PCGAMESN:
Diablo 4 builds
,
Diablo 4 review
,
Diablo 4 classes
---
PCGamesN Tuesday, July 4, 2023 12:34 PM
Who are the Honkai Star Rail characters? Following in the footsteps of Genshin Impact, Honkai Star Rail includes an ever-expanding roster of characters. From bubbly extroverts to brooders with a dark past, there's no end to the number of fan favorites we can expect to encounter on our Trailblazing expedition. Thankfully, we've collated them all into one handy guide, so you can keep track of who they are and how they appear in the story.
Most of the characters in Honkai Star Rail are available to pull from banners right now, though the free PC game also has a variety of upcoming characters scheduled to appear as well. Some of them will achieve greatness at the top of the Honkai Star Rail tier list, while others will still win plenty of fans thanks to their great personality. Either way, we highly recommend farming Stellar Jade and redeeming the latest Honkai Star Rail codes if you plan to pull them all.
MORE FROM PCGAMESN:
Honkai Star Rail review
,
Honkai Star Rail codes
,
Honkai Star Rail tier list
---
PCGamesN Tuesday, July 4, 2023 12:18 PM
Searching for the best Honkai Star Rail Tingyun build? There's always a negative connotation attached to gacha games, but occasionally you can find one or two inexpensive characters that have no problem keeping up with the big boys.
Tingyun is one of those truly special F2P units that can justify their spot in the party among the five-star cast of Honkai Star Rail characters. When you see Tingyun in action, it's easy to see why she has earned a top spot on our Honkai Star Rail tier list. She's one of the best support characters in Honkai Star Rail, providing damage buffs and energy regeneration without the need to pull on banners. Here's everything you need to know about creating the best Honkai Star Rail Tingyun build.
MORE FROM PCGAMESN:
Honkai Star Rail review
,
Honkai Star Rail codes
,
Honkai Star Rail tier list
---
PCGamesN Tuesday, July 4, 2023 12:17 PM
How do you unlock Diablo 4 mounts? These four-legged friends are the best way of getting from A to B in Sanctuary and are perfect if you're above walking. Mounts are the fastest mode of transportation in the ARPG outside of the fast travel system, and we're here to help you unlock them as soon as possible.
While rewarding, exploring the Diablo 4 map can eventually turn into a chore, especially if you're grinding gear to perfect the best Diablo 4 builds. Equipping a mount cuts down your travel time, and lets you concentrate on the most important thing: killing everything in sight. Diablo 4 is one of the best PC games this year – as our Diablo 4 review details – so here's how to unlock mounts.
MORE FROM PCGAMESN:
Diablo 4 builds
,
Diablo 4 review
,
Diablo 4 classes
---
PCGamesN Tuesday, July 4, 2023 12:12 PM
Where can you find Minecraft cherry blossom trees? If you've ever wanted to decorate your house in a gorgeous pink wood set, your wait is finally over. The Minecraft 1.20 update introduced cherry trees, and, of course, they're beautiful.
These pink-petaled trees have long since been a fan favorite of Minecraft players, having appeared in many of the most popular Minecraft mods, so it's no surprise that Mojang Studios has finally decided to add it to the vanilla game itself. It's just one of the features of the Minecraft 1.20 update, including the Minecraft Live mob vote winner, the Sniffer, new bamboo building blocks, a Minecraft camel, armor trims, and the long-awaited Minecraft archeology system. But enough about those; here's everything you need to know about Minecraft cherry blossom trees, the Cherry Grove biome, and everything else pink!
Minecraft seeds
,
Minecraft skins
,
Minecraft mods
---
PCGamesN Tuesday, July 4, 2023 11:55 AM
What are the best PC games available today? From triple-A world-beaters like GTA V to enchanting indie releases such as Rocket League, these classics are the biggest games across Steam, Epic Games Store and more.
Finding the top PC games is no easy task. There are, you may have noticed, quite a lot of them. From the 50,000 plus Steam games to… all those other platforms you love so much, there has never been more choice available to the discerning PC gamer.
MORE FROM PCGAMESN:
The best Elden Ring builds
,
Elden Ring bosses
,
The best Elden Ring classes
---
PCGamesN Tuesday, July 4, 2023 11:51 AM
What are the best Baldur's Gate 3 weapons? In Dungeons and Dragons games, weapons come in all shapes and sizes. While many characters can wield a simple proficiency dagger or club, it takes a degree of skill to master using the more complex martial weapons such as a Battleaxe.
Depending on which of the many Baldur's Gate 3 classes your party members specialize in, there are different factors to consider when determining which are the best in the RPG game. Some have enhanced damage output if they hit an enemy, while others come with a unique weapon skill. Finding the rarest gear in Baldur's Gate 3 will take you into uncharted territory and even dangerous dungeons. So as you take that long rest at one of the game's camps, it may be worth looking at our top picks below for the locations where you can find the best weapons.
MORE FROM PCGAMESN:
Baldur's Gate 3 release date
,
Baldur's Gate 3 races
,
Baldur's Gate 3 classes
---
PCGamesN Tuesday, July 4, 2023 11:54 AM
What is The Day Before release date? When its first trailer dropped back in 2021, The Day Before blew people away with its gritty open-world set in the United States following a deadly pandemic. A survival MMO, the game will see players exploring the world, scavenging for resources in the abandoned metropolis of New York City and the lush countryside outside it, all while taking down (or hiding from) infected, zombie-like enemies, and other players alike.
The devs switched to Unreal Engine 5 which pushed the release date to 2023, but we're finally approaching the day we'll be able to explore the post-apocalyptic Big Apple that Fntastic has crafted. If The Day Before manages to look and play remotely like the trailer footage, it could join our list as one of the best PC games. With all that out of the way, let's take a look at everything we know about The Day Before, including trailers, news, and gameplay.
MORE FROM PCGAMESN:
Best PC survival games
,
Best PC zombie games
,
The Day Before release date
---
Rock Paper Shotgun Latest Articles Feed Tuesday, July 4, 2023 12:00 PM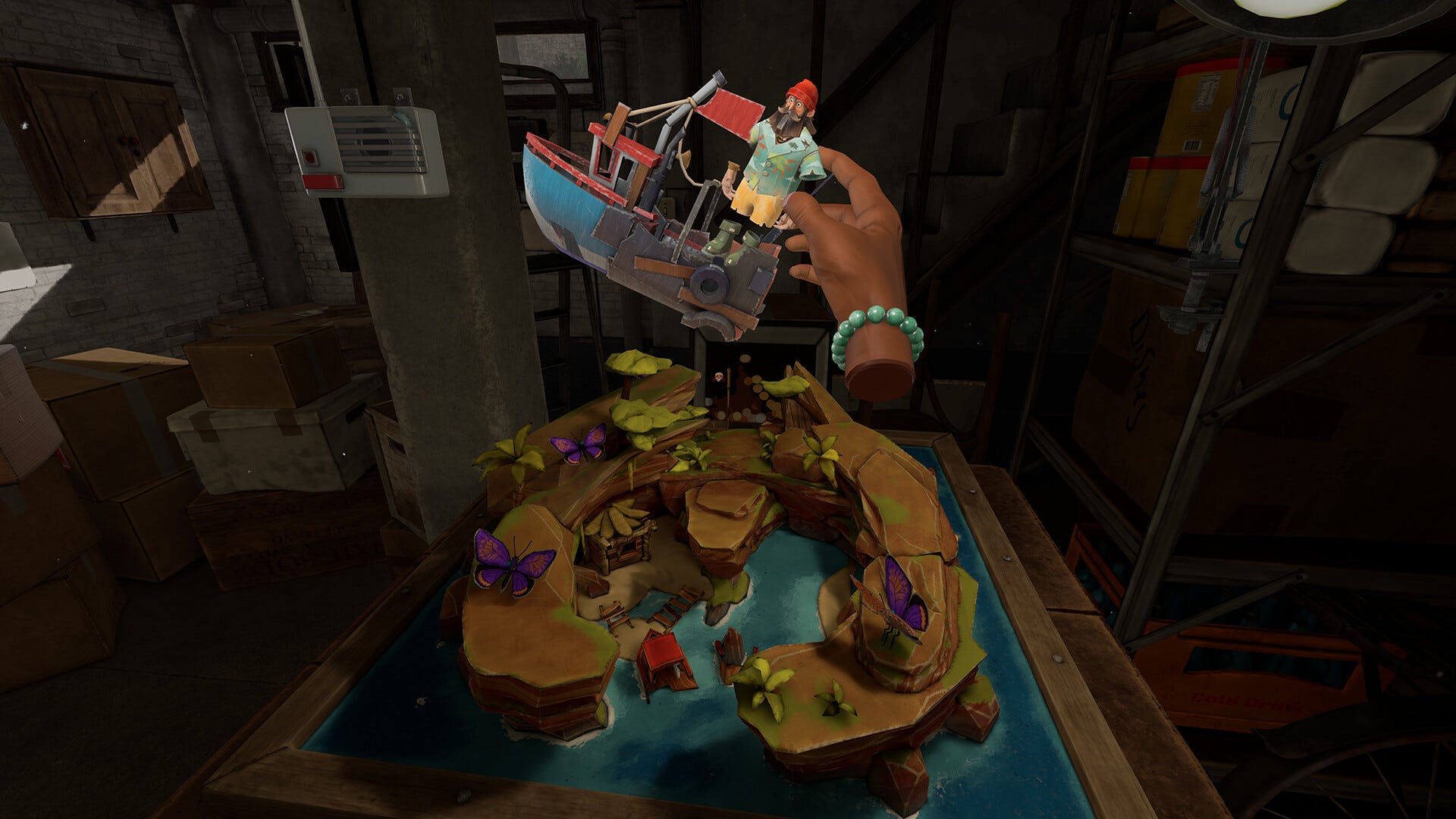 Thrilling as it may be to swing a lightsaber or shoot a headcrab in stereoscopic 3D, the VR experiences I crave most are those which use the tech to fold my brain into entirely new shapes. 2019's A Fisherman's Tale was one of those. An unassuming first-person puzzler about a puppet fisherman living in a lighthouse, it dazzled with its incredible deployment of VR's unique sense of perspective and scale. It's the kind of game that, if it featured a psychotic AI and some cake memes instead of a beard in a yellow anorak, would have been heralded as a revolution in play.
It would have been easy to follow-up A Fisherman's Tale in the same way, make a bigger game with a few new gimmicks and a comedy lobster voiced by Stephen Merchant. But that isn't what developer InnerspaceVR has done. Instead, Another Fisherman's Tale bends your neural pathways in entirely new forms, offering a completely different kind of puzzling. The results are equally innovative and almost as interactively satisfying - although a lack of refinement in the latter category is a deflating puncture in the game's dinghy.
---
Rock Paper Shotgun Latest Articles Feed Tuesday, July 4, 2023 11:40 AM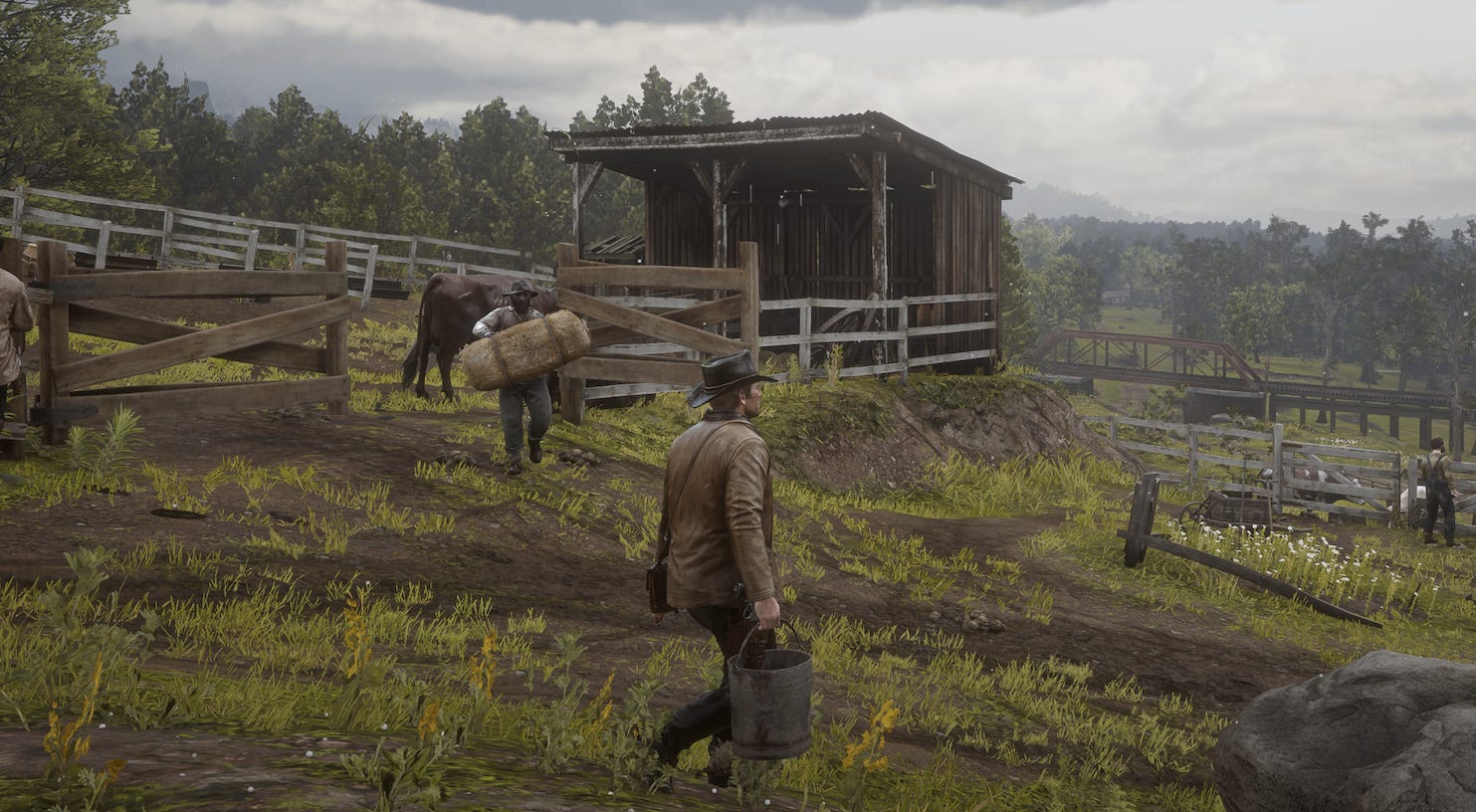 Red Dead Redemption 2's modding scene had already flipped the wild west on its head with mods that turned Arthur Morgan into a firebender or a plain old sheep. That's all well and good, but Read Dead 2 is a game about some gruff dude simply trying to get on with his life. That's why I'm intrigued by the recent Jobs mods that turn the game into a mundane work search, just as Rockstar intended.
---
Rock Paper Shotgun Latest Articles Feed Tuesday, July 4, 2023 11:33 AM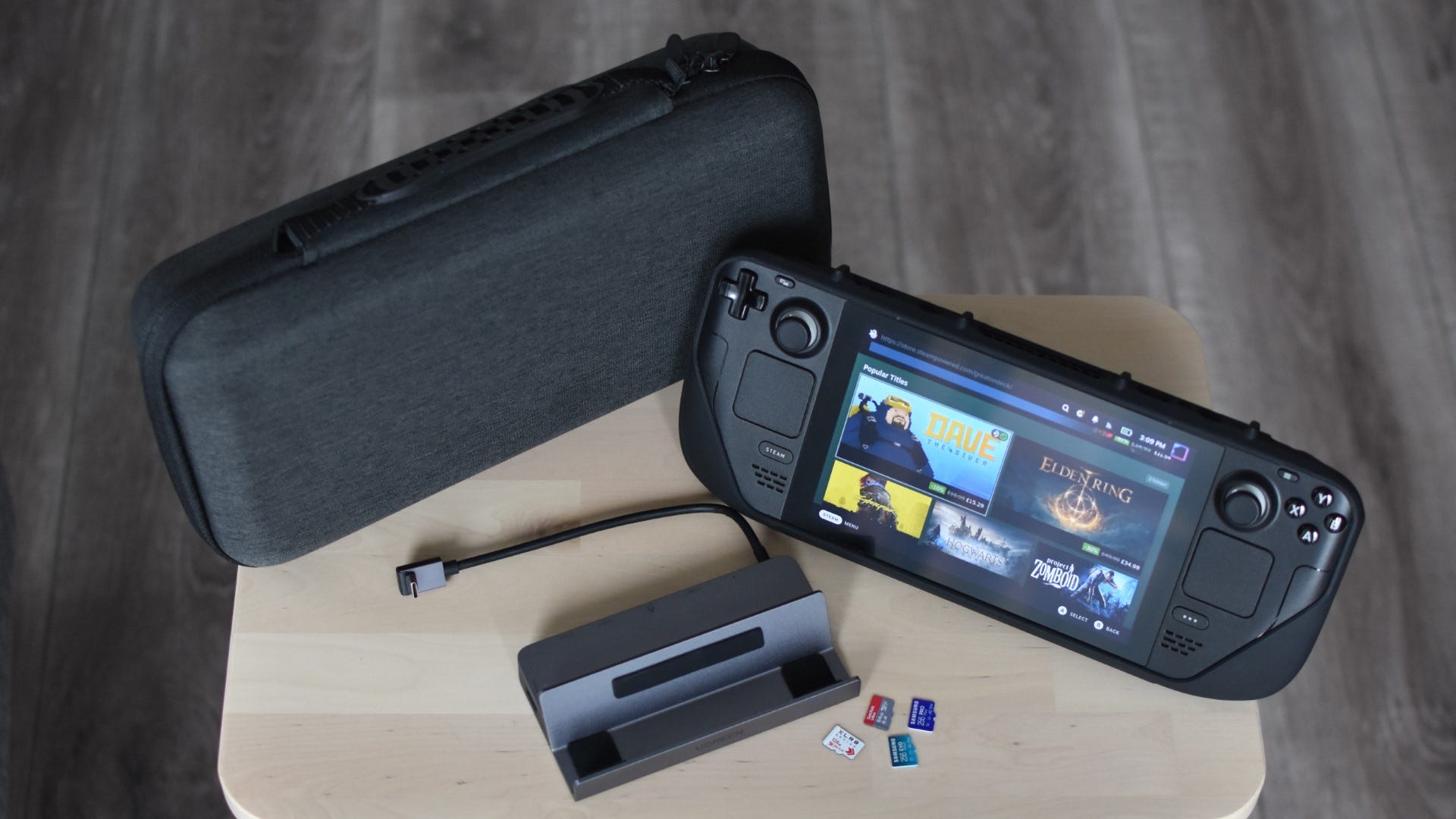 Unlike previous occasions, this year I'll be returning from the discount mines with a haul of the best early Amazon Prime Day 2023 Steam Deck accessories deals. It seemed fitting, given that we've recently established what the best Steam Deck accessories actually are, and that the Steam Summer Sale has knocked up to 20% off the handheld itself – likely producing a freshly minted group of new owners.
---
Rock Paper Shotgun Latest Articles Feed Tuesday, July 4, 2023 9:22 AM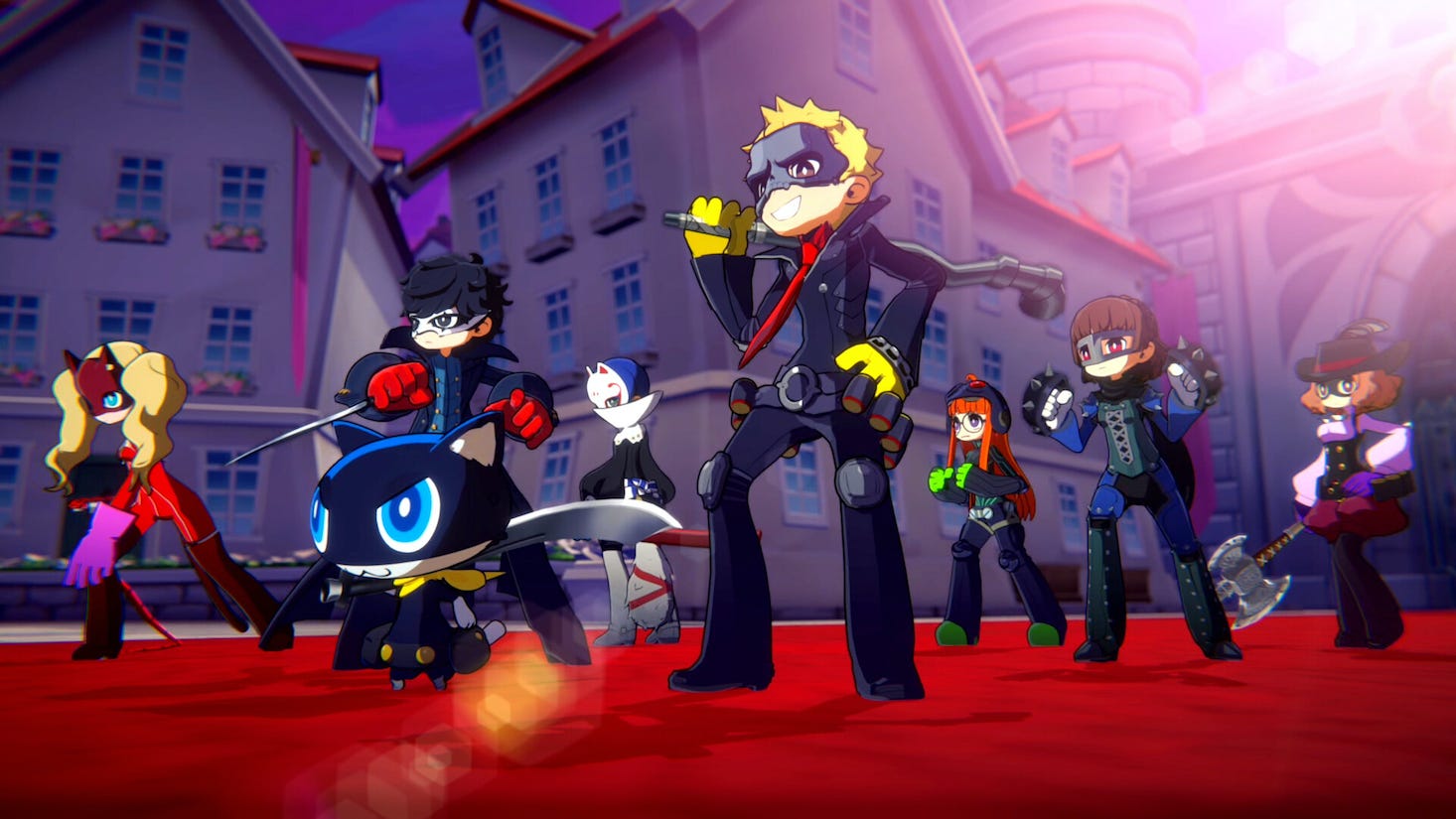 Grid-based strategy spin-off Persona 5 Tactica's latest trailer introduces a new member to The Phantom Thieves: Erina. Or maybe she's just a temporary friend. Atlus describe her as a "mysterious revolutionary with a strong sense of justice," although it's not yet clear what we're revolting against, aside from vaguely-French demons. Check out the new gameplay trailer.
---
Rock Paper Shotgun Latest Articles Feed Tuesday, July 4, 2023 9:17 AM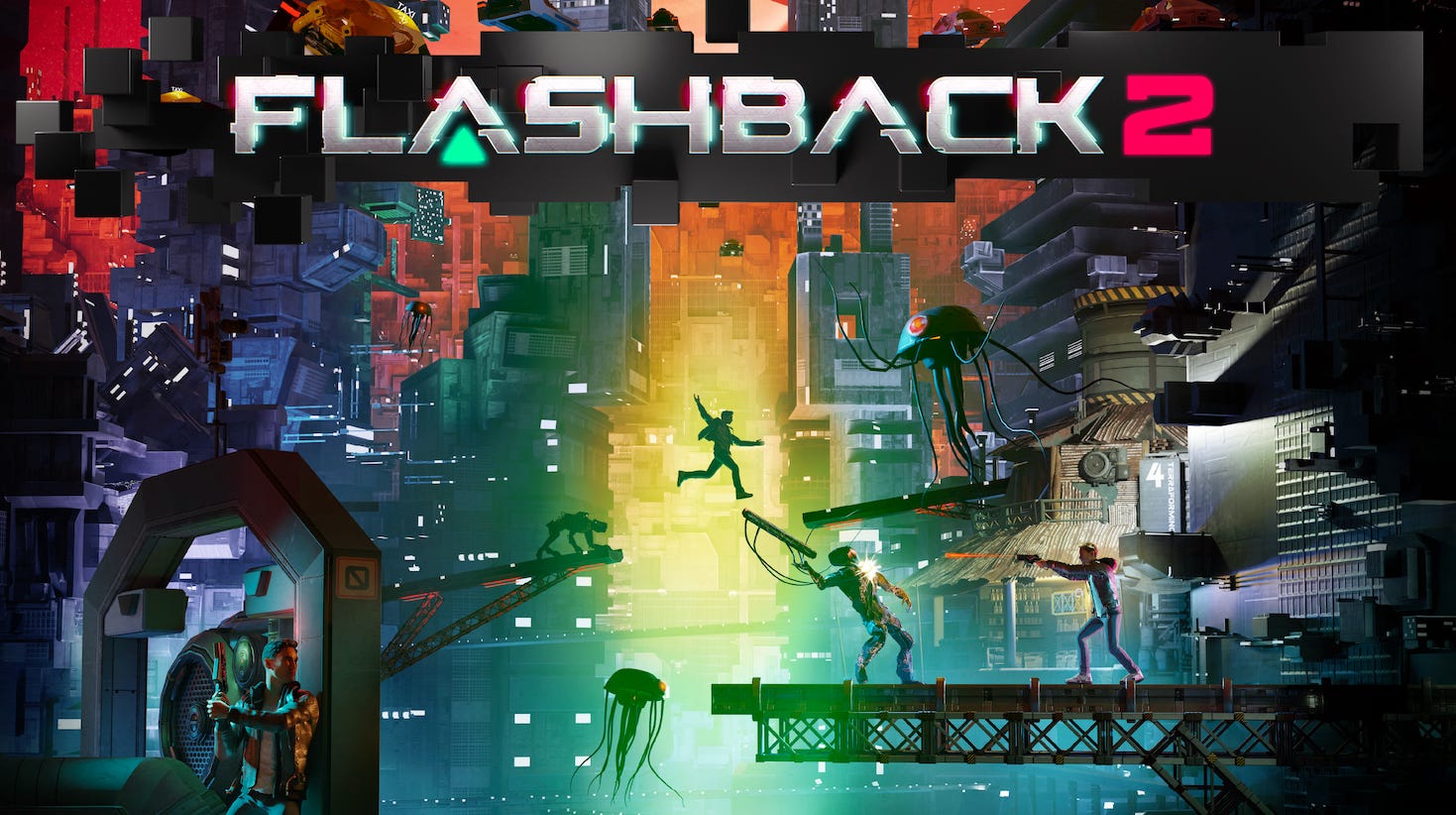 The latest Flashback 2 trailer literally flashes back to 1992's Flashback. Yesterday, the action-platformer sequel dropped a trailer showing off a lush jungle level that's strikingly similar to the original game's opening environment, but this time things have been high-qualified with pretty sun rays, explosions, and dodge rolls aplenty. Get some deja vu below.
---
Rock Paper Shotgun Latest Articles Feed Tuesday, July 4, 2023 9:00 AM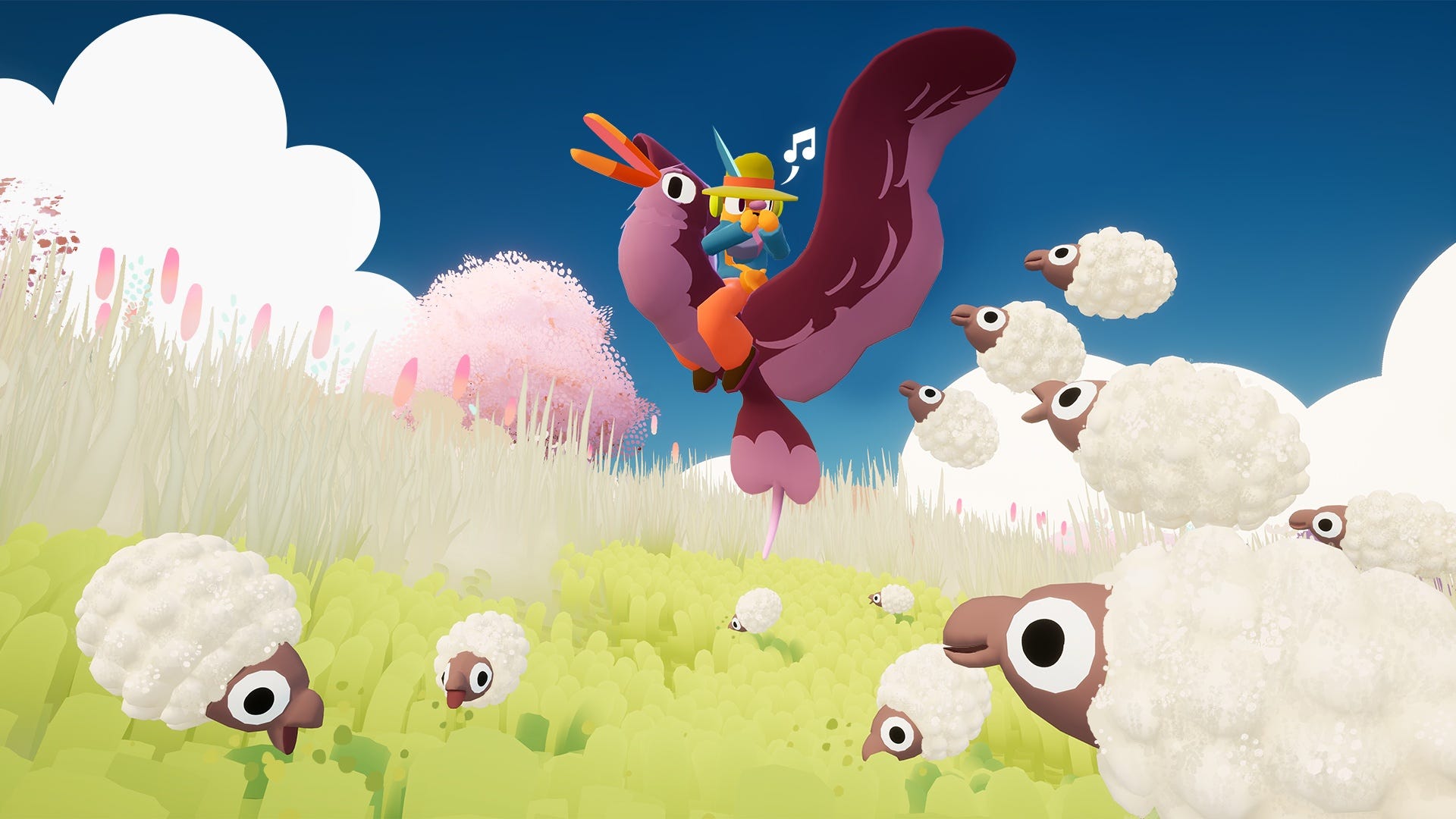 Flock is the next game from the makers of Wilmot's Warehouse, Hohokum and I Am Dead, but ever since it was announced last year, I've been wondering about exactly what kind of game it is. The first trailer revealed lots of strange, whimsical environments, equally whimsical-looking beasties and a little person flying around on the back of a giant bird herding them around in delightful swoops and swirls. We also saw some sheep grazing in a meadow before they, too, started to fly alongside your wilder, more abstract animal pals. But the question of what you do in Flock remained unanswered - until last week, when developers Hollow Ponds showed us a little bit more of their creature collecting game during the Annapurna Interactive Showcase stream.
There, they revealed that we'll need to collect and charm these creatures to get them to join our respective flocks, and that we'll be able to do so in co-op with a pal. It looks intensely charming, but it still left me with lots of unanswered questions. So I spoke to devs Ricky Haggett and Richard Hogg to find out more. Naturally, there are some things they're not ready to reveal about Flock just yet, but they did tell me that you'll start on top of a mountain and will be wending your way down it with your flock of sheep.
---
Twinfinite Tuesday, July 4, 2023 9:00 AM
Which video game skin is your favorite?
---
Siliconera Tuesday, July 4, 2023 3:00 PM
The amount of exposition and explanation you get in a manga when a story begins varies from mangaka to mangaka. Especially with a magical girl manga, as you might now right away how a character got their powers or it could remain something of a secret for quite a few chapters or volumes. Magical Girl Incident, a Zero Akabane series localized by Yen Press, is going with the latter approach. Everything's left as a mystery from the start, which means the reader ends up as clueless about what's going on as protagonist Hiromi Sakura. However, at the same time, I find it really suits the situation.
Magical Girl Incident begins with the absolutely ordinary Hiromi. He always wanted to be a hero of sorts and help people. However, instead he ended up a "corporate drone" salaryman. He works an ordinary job alongside his friend Yuzuru Saotome, dealing with an insensitive, ignorant boss, attempts pushed overtime, and all sorts of corporate nonsense. After saving a child from getting hit by a truck when retrieving a ball from the street, he later finds he can't stand back and just watch as that same kid is about to be attacked by a supernatural monster. He steps in and is seemingly fatally injured.
Except Hiromi then gets back up, but this time as a magical girl. He's more powerful. He has increased agility and a higher jump than usual. His whole appearance and voice changes. However, he has no idea how or why it happened, and neither do we. Which makes it all the more fascinating
[gallery columns="1" size="full" ids="971376" link="file"]
Especially since Akabane takes advantage of it to have it become a plot point. Once Yuzuru finds out Hiromi's secret, part of the result is them trying to figure out what's going on. They attempt to determine what triggers the transformation, for example. The two also essentially end up working together to figure out what Hiromi's new heroic lifestyle will look like. However, that also means encountering a mysterious young woman who seems connected to the events going on and more monsters.
Everything is incredibly vague, and I can't get over how well it suits the series. Hiromi is completely in the dark about what's going on. We're in the same position as him, and it means we get to figure out what happens alongside him. It allows for a bit more impact when discoveries come up or even more mysteries present themselves.
As an aside, I also like the way Magical Girl Incident sort of parallels Cardcaptor Sakura. This is due to the fact that both Hitomi and Sakura have a rich benefactor and friend, Yuzuru and Tomoko, on their side. It means in this manga we get to see what would happen in a more realistic situation when a magical girl has access to an ally with money and power. The result is immediate access to equipment like a helicopter and the ability to close off a road so Hitomi can deal with an enemy without civilians getting hurt.
The entirety of Magical Girl Incident volume 1 feels like it is setting up the manga. I even wonder if volume 2 is going to provide the answers yet. It feels like there's still more opportunities for things to build up. Not to mention at this point, I'm more interested in seeing the characters develop and continue to react to Hiromi getting to finally be a hero as a magical girl. I'd be happy if some of the bigger reveals don't start appearing until the end of the second volume or even further ahead in the future.
Magical Girl Incident volume 1 is now available via Yen Press, and the next volume of the manga will appear on September 19, 2023. It will end its run in Japan in July 2023.
The post Magical Girl Incident Manga Starts with Surprises appeared first on Siliconera.
---
Siliconera Tuesday, July 4, 2023 12:00 PM
When you head into a life and farming sim like Story of Seasons: A Wonderful Life, you might wonder if some of the bachelorettes or bachelors are better or worse marriage candidates than others. Here's the good news about this installment… there are a lot of great people here! Many of these characters are lovable! Which is great for a newcomer looking for someone to (virtually) date and marry. Still, let's briefly go over some of them.
[caption id="attachment_970954" align="alignnone" width="1200"]
Screenshot by Siliconera[/caption]
The best bachelors and bachelorettes to romance in Story of Seasons: A Wonderful Life
Almost every bachelor and bachelorette in Story of Seasons: A Wonderful Life is a wonderful love interest you won't regret marrying. Cecilia adores you, so much so that she'll likely be at four hearts by the end of spring without getting any gifts. (It happened for me!) Gordy is shy, and it's great to watch him gradually open up to you. Gustafa is friendly and constantly singing. Lumina feels so innocent and open to nature. Matthew's going through some stuff, but eventually can trust you with his concerns. Molly is so charming and friendly, and it really feels like you can be her chance at love.
Basically, all six of these folks are fantastic. They'd make a wonderful spouse. They are all the best, they all want to know and help you. They all can feel like they care. Their heart events show genuine progression of a relationship. You can see their reactions change, sometimes slightly over time, to you. Getting to know them is a good time.
[caption id="attachment_970956" align="alignnone" width="1200"]
Screenshot by Siliconera[/caption]
Story of Seasons: A Wonderful Life love interest who isn't a Bad Partner, but is a Bad Parent
Nami is a person who takes some time to get used to other people. That's totally fine! Some folks are like that. She's generally a good person, once she finally does warm up to the player character. However, she's not a great mom, in case that matters to you or would affect your choice. She can be a good partner, though!
[caption id="attachment_970957" align="alignnone" width="1200"]
Screenshot by Siliconera[/caption]
The worst Bachelors and Bachelorettes person available as Story of Seasons: A Wonderful Life love interests
It's Rock.
Rock has no job. He has no prospects. He will yell at Hugh for "killing" a turtle that is still alive. He'll try and "fight" your dog. Even Rock's parents will ask you if you're sure you want to be with him.
You are a fantastic person. You have great taste in video games, if you're here reading about Story of Seasons: A Wonderful Life. There is a whole village of people who want to love you. You deserve better than a lifetime spent with Rock.
Story of Seasons: A Wonderful Life is available for the Switch, PS5, Xbox Series X, and PC.
The post Most Story of Seasons: A Wonderful Life Marriage Candidates Are Amazing appeared first on Siliconera.
---
Siliconera Tuesday, July 4, 2023 9:00 AM
Mineko's Night Market is a game we've seen appear and reappear over the years. Following its reveal in 2017 and Nintendo Indie Showcase appearances after, we've essentially seen it grow. Now ahead of its September 2023 debut, we spoke to Meowza Games Co-founder Brandi Kobayashi about Mineko's Night Market's characters, cats, and crafting.
What got you into developing video games?
Brandi Kobayashi: Video games have always been a huge part of both of our lives, so the interest in making them was always there. Brent [Kobayashi] was hired as an artist at Tiny Speck, who made the game Glitch, and later he moved on to an art director position at Spry Fox (Alphabear, Road Not Taken). We had the idea for Mineko's Night Market while on vacation and immediately started experimenting. Shortly after, Meowza Games was born!
When did you start work on Mineko's Night Market?
Kobayashi: The earliest we started experimenting was around 2015-2016. For the first few years, it remained a side project while we had other full time commitments. By 2017, we debuted our first demo at Day of the Devs at GDC. Through the years, the project has seen many design iterations before we finally settled on what it ended up becoming.
Mineko's Night Market first ended up brought up online back in January 2017.
[caption id="attachment_971108" align="alignnone" width="1200"]
Image via Meowza Games[/caption]
How did COVID and other issues as an indie developer affect and influence its development?
Kobayashi: Logistically, COVID didn't present too many new obstacles, as we had already been accustomed to working from home since around 2012. As was the case for most of our peers, it has been mentally isolating as most of our social interactions came from the game dev community with the various meet-ups/cons and those were more or less shut down during Covid.
How many different characters will players encounter while at the market? How deep are the interactions, and how varied can the relationships get?
Kobayashi: Since the night market is full of activities, players will have several ways to interact with townsfolk: Barter with them as they shop your crafted wares, buy food and treats from various booths run by other townsfolk, and participate in market events such as cat races, plays, parades, and more. If the player has built up friendships with certain townsfolk, they will then barter at higher prices when shopping at the player's booth.
Cats are obviously a big deal in Mineko's Night Market. How did you work them into lores and puzzles?
Kobayashi: It's been a dream of ours to make a game featuring a ton of cats since we both love them, but are highly allergic! We've always been fascinated by Tashirojima, the Japanese island filled with cats so when we started conceptualizing ideas for the game, this island was always at the top of our inspirations for setting.
How involved is the crafting system in Mineko's Night Market? Are there quality of life features to help with creating items you've worked with before or a favoriting system?
Kobayashi: Though crafting is a big part of Mineko's Night Market, we've kept the mini games as short micro games and don't require the player to make hundreds of any individual recipe. Perfect versions of crafted items sell at a higher price at the market and failed versions of any craft can eventually be recycled for spare resources later in the game.
[caption id="attachment_971109" align="alignnone" width="1200"]
Image via Meowza Games[/caption]
What was the most challenging feature to implement into Mineko's Night Market?
Kobayashi: Early in our prototyping phase, we decided to experiment with using 2D assets in a 3D environment. At this stage of development we were tweeting occasional updates on the project and in one instance tweeted a gif showing the 2D/3D environment in engine. Through this, we learned that a number of our industry friends working on games such as Knights & Bikes, Jenny LeClue, and Wild at Heart, were employing similar methods in their pipeline. Through discussions with these folks, we learned of the similar and different ways each of us were ultimately solving the same problems.
Is there any character or concept you wanted to get into Mineko's Night Market and couldn't, and what or who is it?
Kobayashi: One of the features we were excited about early on in development was a Cat Racing League. During the first Night Market of the game, the player gets to participate in a cat race (players riding on cats) in the market's Main Event. When we showcased this feature for the first time at the Day of the Devs demo event, it was well received and we dreamt up the idea of expanding on this feature with various courses around the island and a ranking system to become the ultimate cat race champion. Hopefully [it's] an idea to revisit in the future!
Mineko's Night Market will come to the Nintendo Switch and PC on September 26, 2023.
The post Interview: Talking About Mineko's Night Market's Cat, Characters, and Crafting appeared first on Siliconera.
---
PC Invasion - FeedDDD Tuesday, July 4, 2023 1:44 PM
If you're looking to remove Genshin Impact, this should be straightforward. However, due to the large plethora of text on the screen, the instructions may get buried underneath all that. Each device the game is on has its own method, and it does not give you any indication of how to uninstall Genshin Impact. But we at PCI have figured out all the ways to remove the game completely. This may get you into Honkai Star Rail faster, which may be the better game between the two. Read on for help on how to uninstall Genshin Impact across all devices. Genshin Impact: How to uninstall the game on all devices As mentioned, the game is available on several platforms. This guide will cover the following: PC Mobile PlayStation Each platform has its own way to do this, but don't worry, they're all pretty easy. Uninstalling Genshin Impact on PC On a computer, there are multiple ways to remove Genhsin Impact. The first method is going by uninstalling from the Control Panel. This g...
---
PC Invasion - FeedDDD Tuesday, July 4, 2023 12:33 PM
After 20 years since the original release, Harvest Moon, now called Story of Seasons, is back in action. Anyone who is a fan of the hit game Stardew Valley would surely love one of the games that highly inspired it. This familiar farming gem Story of Seasons: A Wonderful Life originally released on GameCube and PlayStation 2 in 2003, making this a long-awaited remake and review. The Story of Seasons franchise had a few rocky titles in the modern day, but there's no doubt that the charm from two decades ago is still present within this remake. Like most in the series, you start a new life at your grandfather's old farm. In the country town of Forgotten Valley, you get to customize your farmer, choose the animals you take care of, and grow numerous different crops. Not only that, but there are multiple different citizens of the Valley, some who are single and ready to mingle. The main purpose and goal of this Story of Seasons game is to find someone to marry by the end of you...
---
PC Invasion - FeedDDD Tuesday, July 4, 2023 12:26 PM
Negotiating a deep sea merperson rescue, harvesting the bountiful seas, and running a successful Sushi restaurant all come within the skills of Dave the Diver. This beautiful indie game lets you become the master of the seas and culinary lands, all rendered in stunning 8-bit glory. Dave the Diver is a wonderfully addictive game from MINTROCKET that lets you harpoon your way to victory. However, some bits of the game are a little confusing, such as the Auto Supply setting in Dave the Diver; it is never really explained how it works, so here's your answer. How to use Auto Supply in Dave the Diver Screenshot by PC Invasion Auto Supply is something I didn't know how to use until slightly later on in the game. It is never really explained, but once it's understood, it will save you a ton of fish and money. Bancho is typically elusive about it. Auto Supply in Dave the Diver allows you to select only one of a certain fish dish. Then the game will automatically supply the re...
---
PC Invasion - FeedDDD Tuesday, July 4, 2023 12:00 PM
If we could talk to fish, what do you think they would say? Would it be profound, eye-opening secrets of the deep, or would it just be incredibly boring? I feel the latter, but what do I know? In Dave the Diver, you take on the role of deep-sea explorer and hunter-gatherer. Your journey through the watery depths results in a need to converse with fish people living in fear of the end of days. To do this, you're going to need to collect together a few materials, also conveniently located underwater. Dave the Diver will need to find a microphone to start with in order to transmit the bubbles and squeaks. Where to find the Microphone in Dave the Diver Screenshot by PC Invasion Diving deep into the depths of the Blue Hole will reveal many a mystery. In a previous trip, you will have had to enter into the wrecked cargo ship. This was the location for the Dave the Diver and the Giant Squid battle. Once again, you will need to return to the shipwreck to recover the Microphone. ...
---
PC Invasion - FeedDDD Tuesday, July 4, 2023 11:25 AM
It's a Marlin Party in Dave the Diver, and it's up to your to find and catch the delicious, spikey-nosed fish for the sushi bar. In this beautiful game from MINTROCKET, you get to take on the role of harpoon fisherman, underwater ambassador, and sushi restaurant dogsbody. Catching the various fish located in and around the ever-changing blue hole will reward you with cash, prestige, and the ability to upgrade your gear and sushi bar. Each fish has its own patterns, methods of being caught, and hangouts, so knowing how to catch each is essential to keep the crowds happy. How to find and catch Marlin in Dave the Diver Screenshot by PC Invasion Marlin is a predator in the seas and highly prized by fishermen the world over. Their long nose and sharp fin provide them with incredible speeds and a weapon to boot. Usually, they can be found in warmer seas and make for an impressive haul. In Dave the Diver, you will have to catch a few of these beasts for the Marlin Part...
---
Tabletop Gaming News – TGN Tuesday, July 4, 2023 4:00 PM
Games Workshop has revealed the latest addition to its Age of Sigmar skirmish game series, Warcry, in a new starter set titled Warcry: Crypt of Blood. This fast-paced, bloodthirsty combat game showcases an epic clash between the blazing golden armoured Stormcast Eternals of Xandire's Truthseekers and the menacing vampiric nobles of the Crimson Court. Warcry …
---
Tabletop Gaming News – TGN Tuesday, July 4, 2023 3:00 PM
Japanime Games is thrilled to announce the pre-order availability of its newest skirmish wargame, Japanime Tactics: Granblue Fantasy, expected to release in September 2023. A competitive wargame that encourages players to utilize characters from their beloved franchises, Japanime Tactics has ignited excitement among fans. The Granblue Fantasy starter set marks the initial launch of the …
---
Tabletop Gaming News – TGN Tuesday, July 4, 2023 2:08 PM
In a recent announcement, Brother Vinni Miniatures has unveiled its latest character: the Tired Knight. This new piece, designed specifically for the SAGA tabletop game but versatile enough for other wargames, offers players an exciting addition to their collections. Designed and cast in Brother Vinni's studio, the Tired Knight is a single character miniature featuring …
---
Tabletop Gaming News – TGN Tuesday, July 4, 2023 10:15 AM
And we've made it to Tuesday. If you're in the USA, such as myself, Happy 4th of July! As for everyone else, I still hope you're having a happy Tuesday. Currently in Atlanta, Mother Nature is setting off her own brand of fireworks with the storms rolling through. My power's gone out (briefly) twice so …