---
GamersHeroes Monday, April 4, 2022 1:39 PM
LEGO Star Wars The Skywalker Saga features tons of characters to unlock, puzzles to solve, and more. This LEGO Star Wars The Skywalker Saga Walkthrough Guide Collection lists all of the different guides we've got for the entire game, all in one place, so you can browse and explore freely.
The post LEGO Star Wars The Skywalker Saga Walkthrough Guide Collection appeared first on GamersHeroes.
---
GamersHeroes Monday, April 4, 2022 1:13 PM
---
GamersHeroes Monday, April 4, 2022 12:31 PM
---
GamersHeroes Monday, April 4, 2022 12:30 PM
Want to unlock all of the characters in Tuanul Village on the planet Jakku? This LEGO Star Wars Skywalker Saga Tuanul Village Character Unlock Guide walks you through how to unlock all of the characters that are hidden in this small village on Jakku, including how to unlock the rumors so you have save yourself some studs.
The post LEGO Star Wars Skywalker Saga Tuanul Village Character Unlock Guide appeared first on GamersHeroes.
---
GamersHeroes Monday, April 4, 2022 12:30 PM
Niima Outpost is one of the regions in Jakku Space, there are 4 characters to unlock here. This LEGO Star Wars Skywalker Saga Niima Outpost Character Unlock Guide will tell you everything you need to know about each of the four characters in this region so you can track them down, complete the Side Mission, and unlock them for us.
The post LEGO Star Wars Skywalker Saga Niima Outpost Character Unlock Guide appeared first on GamersHeroes.
---
GamersHeroes Monday, April 4, 2022 12:27 PM
---
GamersHeroes Monday, April 4, 2022 12:27 PM
Want to unlock all of the characters on Cantonica in Canto Bight? This LEGO Star Wars Skywalker Saga Canto Bight Character Unlock Guide will walk you through the process of unlocking each of the characters that are available to unlock in the Canto Bight region. There are a total of 4 characters you can unlock at this location.
The post LEGO Star Wars Skywalker Saga Canto Bight Character Unlock Guide appeared first on GamersHeroes.
---
GamersHeroes Monday, April 4, 2022 12:27 PM
---
GamersHeroes Monday, April 4, 2022 12:26 PM
The Uscru District has 6 unique characters to find and unlock. This LEGO Star Wars Skywalker Saga Uscru District Character Unlock Guide will tell you where to find all of the different characters you can unlock in the Uscru District as well as any tips on completing difficult side missions and other objectives.
The post LEGO Star Wars Skywalker Saga Uscru District Character Unlock Guide appeared first on GamersHeroes.
---
GamersHeroes Monday, April 4, 2022 12:25 PM
---
Kotaku Monday, April 4, 2022 7:50 PM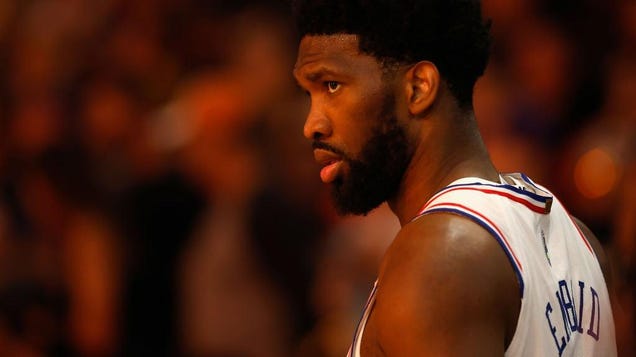 Joel Embiid is a gift to the game of basketball, a guy who is one of the best players in the NBA and a real chance to be named the league's MVP this year. He is an unstoppable force on the court, so it may not surprise you too much to know he's just as relentless off it as well. Even when he's playing video games.…
---
Kotaku Monday, April 4, 2022 5:01 PM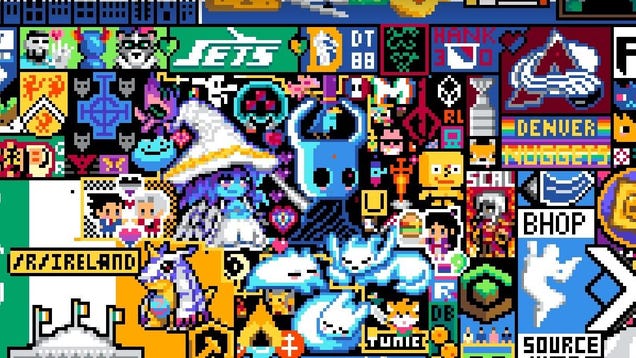 Who produced this amazing pixel art of Elden Ring's Ranni sitting next to the protagonist of Hollow Knight, and why? The answer is r/Place, a Reddit battlefield where anyone can place a dot and change the course of meme history. In an era where so much of the modern internet is trash, r/Place has returned and it's…
---
Kotaku Monday, April 4, 2022 4:00 PM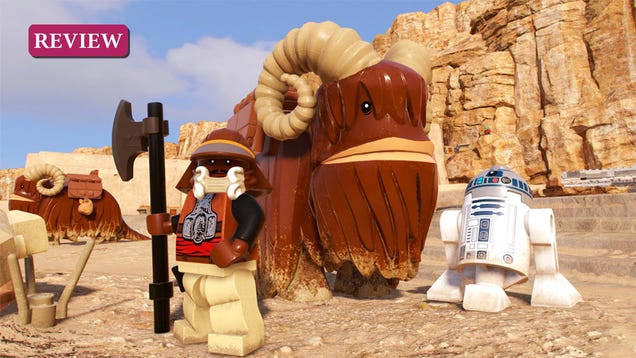 I love Star Wars, like a lot. Since the movies first excited my imagination I've spent far too much money on this franchise, buying up games, books, comics, and Lego sets. So, understand that what I'm about to say comes from a place of pure love and care: Star Wars is really silly and dumb. And because of this, it's…
---
Kotaku Monday, April 4, 2022 3:10 PM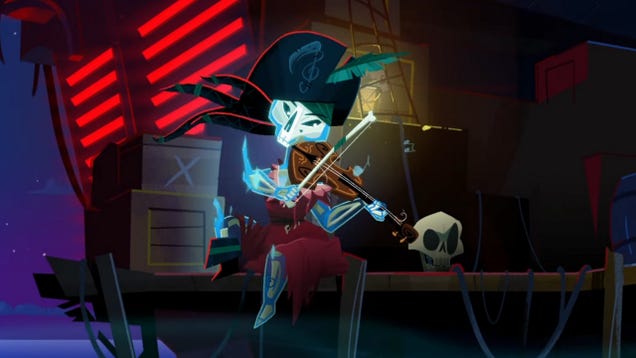 Monkey Island, the iconic point-and-click adventure series developed by genre heavyweights Ron Gilbert, David Grossman, and Tim Schafer, is coming back to life in 2022 with Return to Monkey Island. Better yet, Gilbert and Grossman are in charge once again, ending a 30-year absence from the franchise they helped create.

---
Kotaku Monday, April 4, 2022 2:00 PM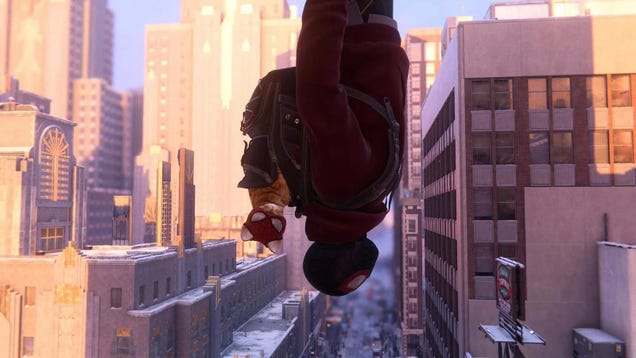 When Sony's revamped version of PS Plus launches in June, its priciest tier will cost twice as much as what you're currently paying. But there's a way to slash that in half: If you can secure a year of PS Now now, you'll be able to temporarily lock in the new service at a lower price point. Unfortunately, perhaps…
---
Kotaku Monday, April 4, 2022 12:42 PM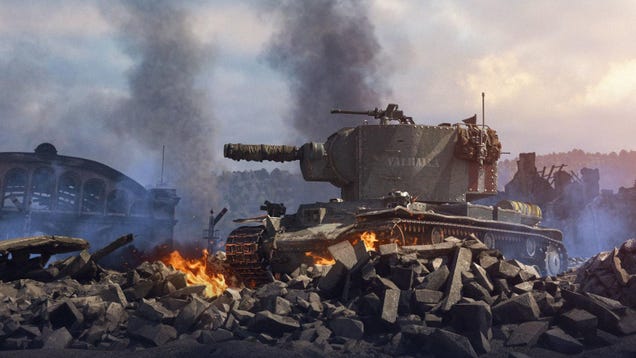 Hit freemium developer Wargaming is abandoning its operations in Belarus and Russia over the invasion of Ukraine, now in its 39th day. The World of Tanks maker said it has turned over live operations of its games in both countries to its now-former studio in Russia and will "not profit from this process either today…
---
Kotaku Monday, April 4, 2022 12:15 PM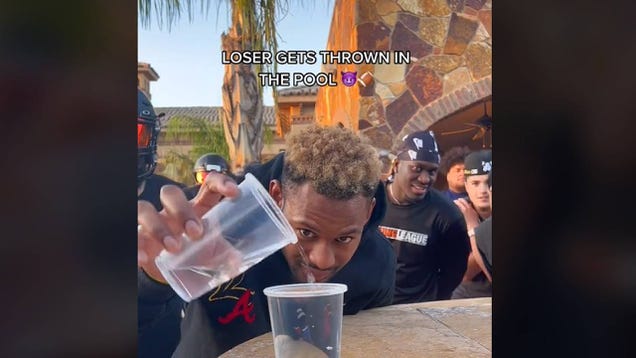 Here's how one guy ended up thrown into a swimming pool in front of millions of viewers. On Friday, professional NFL player JuJu Smith-Schuster was recorded taking the "water cup challenge" on TikTok. It was the most nerve-wracking two minutes of Jenga I've ever endured. No matter how full the cup got, it was…
---
PCGamesN Monday, April 4, 2022 7:15 PM
Epic has donated all Fortnite proceeds from the first two weeks of the launch of Chapter 3 Season 2 to support relief efforts in Ukraine. Now that the charity effort has come to a close, Epic has confirmed that the full total has reached $144 million. That money is being donated to Direct Relief, UNICEF, the UN World Food Programme, the UN Refugee Agency, and World Central Kitchen.
Fortnite Chapter 3 Season 2 launched on March 20. On March 21, Epic had raised $36 million. On March 22, the number hit $50 million. On March 25, it was $70 million. On March 29, it reached $100 million. On April 3, the last day of the donation drive, the total hit that final high of $144 million. As a charity effort, that's fantastic, and it also gives us a pretty good idea of how much money Fortnite rakes in around a season launch.
The new Fortnite season is full of tanks, armoured vehicles, and themes of invasion and resistance. While that was all likely designed long before Russia's invasion of Ukraine got underway, the theme was still unfortunately timed.
Fortnite V-Bucks
,
Fortnite Skins
,
Fortnite Creative Codes
---
PCGamesN Monday, April 4, 2022 6:22 PM
Lost Ark's finally getting new classes, starting with the Lance Master - which is going to be renamed the Glaivier for the worldwide version of the game. The devs have revealed a new roadmap laying out what to expect through April and May, including two new classes, a new continent, and the start of Legion Raid content. But some plans are subject to change depending on how the MMO's players are progressing.
April will introduce the Glaivier class, a new Martial Artist option which can swap between Focus and Flurry stances for a balance between powerful strikes and rapidfire assaults. April will also take us to the continent of South Vern, a new bit of Tier 3 content with an item level requirement of 1340.
In May, we'll get the Destroyer class for Warrior, which is basically all about smashing things with a giant hammer. There'll also be a new weekly activity in Trial Guardian Raids. You can take on three Trial Guardians each week, with a 'Scale of Harmony' effect applied so that you have to face your enemy at an appropriate item level.
Best MMOS and MMORPGs on PC
,
Upcoming PC games
,
Best fantasy games on PC
---
PCGamesN Monday, April 4, 2022 5:08 PM
Last week, Activision Blizzard told employees it would end its vaccine mandate for workers returning to the office. Some employees protested the choice, announcing a walkout for Monday, April 4 (today, as this story goes live). Now, members of ABK Workers Alliance have announced that Activision Blizzard has reversed course, and now intends to let individual studios set their own vaccination and testing policies.
"ABK Leadership has heard our voice, and on Friday after our demands went public, they walked back on the immediate removal of the Vaccination policy, and are now allowing studios to create their own policies," ABK Workers Alliance says in a statement on social media today. "We are currently aware that four Studios have reversed course, and have a vaccination/testing policy in place. We believe that by continuing to speak loudly, we can make a difference!"
Activision Blizzard said in a statement on Friday (via Polygon) that "for the majority of our employees, we are still operating under a voluntary return to office opportunity". The company also said it "will not retaliate for any decision to participate in this walkout".
WoW Shadowlands review
,
The best WoW addons
,
WoW Classic leveling guide
---
PCGamesN Monday, April 4, 2022 5:03 PM
A new season of the enduring action RPG game Diablo 3 is gearing up to kick off. Season 26 will get underway April 15 at 5pm local time across all time zones, and it'll be the first season to introduce a brand new activity (more on that below). Before that, however, you can expect an update patch to arrive April 12, which includes updates to greater rifts, some item balances, and a few bug fixes.
Season 26 brings with it the Echoing Nightmare. This new activity challenges players to seek out the cries of fallen Nephalem and to try to succeed where they failed. The Diablo team says this means "an intense, densely packed, increasingly challenging event" that will test players' ability to remain in the fight.
During Season 26, you'll be able to earn rewards that previously had only been available during Season 14, which includes the boots and pants components of the Conqueror Set. There's also a series of themed portrait frames and an archangel-themed pennant available. There are new rewards, too: the Rakkis' Remembrance portrait frame and a pet called the Toothsome Trooper, which carries a large lollipop in its loathsome little hands.
Diablo 3 builds
,
Diablo 3 Necromancer skills
,
Diablo 3 Necromancer beta
---
PCGamesN Monday, April 4, 2022 3:41 PM
If you've been thinking the land of Skyrim needs to be a bit more civilised, you're in luck: a classic mod that turns Skyrim into a city-building game has finally been updated to work with the Skyrim: Special Edition.
Modder Ripvanwinkle111 first published their 'RTS for Skyrim' mod in 2012, and while it falls short of turning Skyrim into a full-on strategy game, it does let you create functional towns from scratch by constructing buildings and assigning villagers to work in them and defend the settlement. You can also assign villagers to the local militia and have them pull guard shifts and follow patrol routes you designate.
Now the mod has been updated, and there's a version available for Skyrim: Special Edition. The mod lets you place houses, workshops, and stores, and then recruit villagers and merchants to manage them. Villagers will pay taxes and forage for food in the wilderness, and you can even recruit them as followers. The mod allows you to recruit up to 200 of them, so you can build up a truly bustling little city using this mod.
Best Skyrim mods
,
Skyrim: Special Edition mods
,
Skyrim: SE system requirements
---
PCGamesN Monday, April 4, 2022 4:00 PM
Minecraft and Civilization 6 aren't necessarily games that you'd put together. Minecraft's a sandbox game. Civilization 6 is a 4X game,. They're not what you'd consider fast friends. Despite that, while the way you interact with the world is different in each, the core concepts of exploration, survival, and building are integral in both games. And there's never a limit to the possibilities of Minecraft builds.
If you're willing to commit enough time, you can actually recreate parts of Civilization 6 in Minecraft. In fact, a pair of Redditors is continuing to do so. LookosZero and their friend ChuteNNN have been recreating the wonders of Civ 6 for some time now, and have most recently recreated the Great Library.
The Great Library is an interpretation of the Egyptian Library of Alexandria that boosts your science in a variety of different ways. The monument isn't particularly great in the game itself, but that doesn't stop it from being visually striking thanks to a wonderful combination of columns and the mighty statue atop it.
Minecraft console commands
,
Minecraft skins
,
Minecraft mods
---
PCGamesN Monday, April 4, 2022 1:35 PM
It looks like details around the Dead By Daylight 6th anniversary event have leaked. The birthday celebration will likely drop in the multiplayer horror game in June, and if these rumours are accurate, will feature new maps, characters, and "community challenges".
According to various details uncovered by multiple dataminers like Leaks By Daylight and DBDLeaks, Dead By Daylight's sixth anniversary celebration is expected to include a new Anniversary tome with two new maps, as well as new killer and survivor. The newly-introduced community challenges will include things like breaking 2 million pallets, or succeeding at skill checks 10 million times.
The survivor is said to be an original character named Haddie Kaur, who would have the ability to blind killers. The killer has not yet been named, and it's unclear whether it'll be an original or licensed character - though, typically, a licensed killer would not be paired with an original survivor. Either way, the killer is expected to be able to enter and exit lockers, and have a perk related to pallets.
Dead by Daylight Killers
,
Best horror games
,
Play Dead by Daylight
---
PCGamesN Monday, April 4, 2022 12:36 PM
How do you make a crafting station in Terraria and start brewing potions? Although you can find these consumable items in the world hidden in pots, chests, or from enemy drops, it's always useful to keep some handy. To craft your own potions, you'll need to make a crafting station.
Terraria potions come in the form of healing or mana recovery, or they can grant special buffs such as decreasing enemy spawn rate or slowing falling speed, especially useful for taking on bosses. There are a few different types of potions - food and drink, recovery, and buffs - which can usually be crafted, found in the world, or bought from an NPC. Flasks are also a type of potion that provide battle effects, such as imbuing your weapon with fire or other elemental damage - you can only create these at an imbuing station.
When you start out in Terraria, having a couple of basic recovery potions is the best way to venture out further into the world, so first, you'll want to make a crafting station in Terraria. Here's how.
Terraria Journey's End release date
,
Best games like Minecraft
,
Best survival games
---
PCGamesN Monday, April 4, 2022 12:36 PM
The Witcher season 3 has entered production, and Netflix has revealed a summary of the new season's plot. We've got a behind-the-scenes image, as you can see above, featuring Henry Cavill, Freya Allen, and Anya Chalotra on a break in full Geralt, Ciri, and Yennefer dress. The location is snowy and there's a horse, so there's your big single-scene spoiler for today.
"As monarchs, mages, and beasts of the Continent compete to capture her, Geralt takes Ciri of Cintra into hiding, determined to protect his newly-reunited family against those who threaten to destroy it," the official plot blurb goes. "Entrusted with Ciri's magical training, Yennefer leads them to the protected fortress of Aretuza, where she hopes to discover more about the girl's untapped powers; instead, they discover they've landed in a battlefield of political corruption, dark magic, and treachery. They must fight back, put everything on the line - or risk losing each other forever."
A third season of the show was announced - with a very quick teaser video - before season 2 was even released. Showrunner Lauren Schmidt Hissrich told TechRadar last year that the new season would largely be based on Time of Contempt, the second full novel in Andrzej Sapkowski's series.
The Witcher is still hugely atmospheric
,
The making of The Witcher
---
PCGamesN Monday, April 4, 2022 12:21 PM
Microsoft's latest operating system might be shiny and new, but an AdDuplex report for March suggests more people are choosing to update Windows 10 than upgrade to Windows 11. According to the Windows update data, only 20% of gaming PCs and laptops made the jump with an OS revamp, while 21% are making do with an alternative refresh.
At the moment, over 50% of users have chosen not to update Windows 10, and 80% of PCs still haven't made the upgrade to Windows 11. Since February 7% more users have downloaded build 21H2, but the number of people upgrading to the brand new iteration of Windows only increased by 0.4%.
It's worth noting that while some users might ignore the chance to install Windows 11 for free, strict TPM requirements mean the upgrade isn't available on some PCs. There is a workaround for machines that don't meet Microsoft's system requirements, but the latest build of the OS will brandish unsupported hardware with a watermark and Windows updates will be unavailable.
Microsoft DirectX Raytracing
,
Microsoft Hololens hands-on
,
Windows Game Mode preview
---
PCGamesN Monday, April 4, 2022 7:17 PM
It's not an April Fool's joke - the 'real' Monkey Island 3 is coming from the adventure game series' original creators, and the Return to Monkey Island release date is down for this year. It's a collaboration between Lucasfilm Games and Devolver Digital and is set after the events of Monkey Island 2.
On April Fool's day, Monkey Island series creator Ron Gilbert posted a joke on his Grumpy Gamer blog that he's "decided to make another Monkey Island", which no one took seriously. Today, Return to Monkey Island is announced, with Gilbert confessing that he "felt bad about the April Fools' joke, so over the weekend I whipped up the game so no one was disappointed".
Return to Monkey Island is the sixth game in the long-running pirate game series, however, it'll be canonically set as an alternate Monkey Island 3. Ron Gilbert has stated many times that LucasArts' own Curse of Monkey Island - which was made after he left the company - took the series in a very different direction from how he envisioned it, so his third game will pick up after Guybrush is trapped as a little kid in the Big Whoop carnival at the end of Monkey Island 2.
---
PCGamesN Monday, April 4, 2022 12:23 PM
A group of fans is making a Terraria mod that ought to scratch the itch of any Pokémon fan who fancies some creature catching on our native platform. We may never get an official Pokémon game for PC with all the typical bells and whistles you'll see in Scarlet or Violet, but that's not stopping modders from filling the void.
Terramon is an upcoming mod for Terraria that'll feature plenty of pocket pals, catching, and battling. One of the developers tells me that it's been in development since 2019, though work is on and off. "It's not my main focus which is why even now, in 2022, it's barely completely finished," Jamz tells us. "It's more of a passion project I work on when I have time. Sometimes when I have bursts of energy I'll work on it for longer."
The mod's conception arrived as another project went awry, with Jamz believing that a mashup of Pokémon and Terraria would "just fit well together". You can currently play a work-in-progress version of the mod, though Jamz says it's essentially just a "pets mod with some unique features like a catching mechanic and advanced user interfaces".
Terraria Journey's End release date
,
Best games like Minecraft
,
Best survival games
---
PCGamesN Monday, April 4, 2022 12:02 PM
We've officially entered the second quarter of 2022, and Valve has confirmed Steam Deck Q2 pre-order customers should receive order emails starting this week. The handheld gaming PC pioneer also asks Q1 customers to check either their email or the Steam desktop app, as you'll only have 72 hours to purchase the portable.
Steam Deck Q2 preorders will be processed between April and June, which means Valve appears to be on track. As a result, eager fans have celebrated the only way they know how – by posting memes. On Twitter, one fan shares a Kung-Fu Panda gag that reads "my time has come", while another uses an Elmo Rise gif to herald the fact they're in the Q2 tranche of pre-orders.
Of course, some fans are still battling with Valve's expected order availability information, as some Steam Deck pre-orders were previously shifted to Q3 2022. This means that if you jumped on the bandwagon slightly later than everyone else, the portable might not reach your palms until as late as September.
Best SSD for gaming
,
How to build a gaming PC
,
Best gaming CPU
---
Rock Paper Shotgun Latest Articles Feed Monday, April 4, 2022 5:13 PM
Crucial make some of the best SSDs in the industry, and here at RPS we have a particular fondness for their portable SSDs, which are both reasonably priced and way faster than any flash drive or portable hard drive that you've ever tried. Several of their drives have been discounted for Easter in the UK, so we've rounded up a few of our favourites for your enjoyment.
First up: the Crucial X8. This drive is the fastest portable option that the Idahoan company offers, with read speeds up to 1050MB/s and sizes of 1TB and 2TB - and both options are top deals on Amazon UK right now. The 2TB model is actually the better value here, and it's well worth getting if you like keeping a large amount of files ready to go - whether that's game installs or Ultra HD videos. I personally use the 1TB model to move video files from my PC to the TV downstairs to watch, and it's surprising how quickly you can fill up a 1TB drive with 4K footage. In Katharine's testing back in 2020, she found it performed better than competing Samsung drives while costing less.
If you don't need as fast a drive, and instead want to max out your capacity, then the Crucial X6 is half the speed and darn near half the price. You can also get it in some truly massive sizes, from 500GB all the way up to 4TB. Happily, some of those giant models are on sale, with the flagship 4TB model costing £252 - just £100 more than the X8 for double the storage. You can also get it with a USB-C to USB-A adapter for £262, but I don't think that's a particularly compelling offer.
---
Rock Paper Shotgun Latest Articles Feed Monday, April 4, 2022 4:35 PM
The WD Black SN850 is one of the best-reviewed NVMe SSDs on the market, one of those 'second-gen' PCIe 4.0 drives that can hit blistering read speeds of up to 7000MB/s. Today, the heatsink-equipped model is down to a historic low price of £140 for a 1TB model, or £255 for a 2TB model. Either way, you're getting a top-spec drive at a very competitive price.
The SN850 is a drive that we've tested and recommended here at RPS, with RPS head honcho Katharine dubbing it 'the best PCIe 4.0 SSD we've tested yet' after it debuted early last year. I've double-checked the 'best SSD for gaming' archives, and it turns out that there haven't been any better PCIe 4.0 SSDs since then either. Go figure. The SN850 wins plaudits for its game load times, which are routinely among the best we've recorded, but also for its longevity with a five year warranty.
What makes this deal particularly good is that we normally see discounts on the heatsink-less model, but this is the version with a heatsink. The two flavours are pretty similar in performance - most reviews I've seen only notice a difference after a sustained load - but this is definitely the premium version and the one you want to get. This is particularly handy if you're putting this drive into a PC motherboard that doesn't have its own NVMe SSD heatspreaders, or into a PS5 where a heatsink is recommended. As DirectStorage becomes ever more of a thing and NVMe SSDs start to become fully utilised for PC gaming, that difference could become rather more important!
---
Rock Paper Shotgun Latest Articles Feed Monday, April 4, 2022 3:25 PM
A number of Activision Blizzard employees plan to stage a walkout today, whether in-person or virtually, to protest the company's plans for employees returning to the office amidst an ongoing global pandemic. The company initially announced last week that they would no longer require people be vaccinated in order to return, then seemed to quickly walk this back a bit in response to many employees saying excuse me, what. An employee group had announced a walkout before Actiblizz's change of heart, and apparently are going ahead today to continue conversations about safe workplaces and the option to work from home.
---
Rock Paper Shotgun Latest Articles Feed Monday, April 4, 2022 12:34 PM
One of the coolest mod ideas is GTBike V, which basically lets you turn Grand Theft Auto V into Zwift, pedalling a bike in the real world to ride a virtual bike around Los Santos. Now a new version has added multiplayer, letting you trundle around the same city independently or join up for group rides. It almost makes me want to get the kit to hook my bike up.
---
Rock Paper Shotgun Latest Articles Feed Monday, April 4, 2022 12:10 PM
Halo Infinite officially launched last December, receiving rave reviews from critics and fans - including Brendan's review here at RPS. It peaked with over 200k viewers on Twitch. And for many content creators like Kevin Lynch, aka KevinKoolx, December marked their best month ever in terms of engagement on YouTube and Twitch. Halo, after a decade of somewhat divisive releases, was back. It's hard to overstate how impressive a feat this was, since the Halo fanbase is almost as divided as the Star Wars one - a seemingly trivial topic like the inclusion of sprint is just one of many decade-long points of contention. But somehow with Halo Infinite 343 Industries created an experience that almost every type of Halo fan could rally behind. But now, just four months after launch, Infinite is struggling to retain its playerbase.
Now the Twitch peaks are below 10k and dropping, with the averages even lower. Lynch says February was his worst month views-wise in over a year. You'd expect some tail off after launch for any game, but every content creator I've spoken to echoes this sentiment: engagement for Infinite is abnormally low for a live service-game at the beginning of its multi-year journey, especially for a franchise as big as this. The game plays great, so what's the problem? I spoke to a number of different streamers and content creators to get their point of view.
---
Twinfinite Monday, April 4, 2022 5:03 PM
Today third-party developers have revealed new updates about their upcoming add-ons for Microsoft Flight Simulator.
---
Twinfinite Monday, April 4, 2022 4:46 PM
Coromon on PC It's hard to talk about new entries in the monster tamer genre without bringing up Pokemon as a comparison, but Coromon — even with a few notable faults — feels like a significantly updated version of those GBA-era games thanks to some unique features that modernize it enough so that it doesn't […]
---
Twinfinite Monday, April 4, 2022 4:02 PM
As a game that is all about large scale 1-on-1 boss battles, it is only natural to wonder what a game like Elden Ring might look like if it were a arcade fighter like Tekken 7. Just imagine the insane combos a character like Rhodan would look like in that style. Thanks to the magic […]
---
Twinfinite Monday, April 4, 2022 3:45 PM
Online cooperative multiplayer game Deep Rock Galactic will be receiving another downloadable content pack of cosmetic skins alongside the game's second season when it goes live at the end of the month, developer Ghost Ship Games revealed today. The Robot Rebellion Pack gives players four sets of unique armor with one for each class and […]
---
Twinfinite Monday, April 4, 2022 3:26 PM
"The magic of old must be preserved. No matter how feared." If you're into collecting statues and love Dragon Age, then the exact same principle applies to this terrifyingly beautiful Morrigan statuette that Dark Horse Direct now has available for pre-order. Standing in at 7.5 inches tall, with a base measurement of 3.5 inches, this figure […]
---
Twinfinite Monday, April 4, 2022 2:04 PM
Guacamelee and Severed developer Drinkbox Studios announced today that its latest game, Nobody Saves the World, will be launching for Nintendo Switch, PlayStation 5, and PlayStation 4 next week on April 14. The action RPG originally released last January for Windows PC, Xbox One, Xbox Series X|S, and Xbox Game Pass. The game will retail […]
---
Twinfinite Monday, April 4, 2022 1:07 PM
Earlier today, the FocusEntertainment YouTube channel released a brand-new trailer that revealed the release date for the PS5 and Xbox Series X|S versions of SnowRunner. And if you think that this game looks very similar to Spintires, then that connection makes sense because this game is the next iteration of the off-road trucking driving franchise. […]
---
Twinfinite Monday, April 4, 2022 12:20 PM
Koei Tecmo revealed a new heroine that added to the roster of their popular free-to-play game Dead Or Alive Xtreme: Venus Vacation.
---
Siliconera Monday, April 4, 2022 3:00 PM
Preparing Rune Factory games for a worldwide audience is quite an undertaking. After all, these are large games with all sorts of events. The mix of life sim and RPG elements means tons of text. To help understand what that meant for Rune Factory 5 and its characters, Siliconera spoke with the Localization Manager John Wheeler and Assistant Localization Manager Lori Snyder. After all, XSEED did note in first localization blog that there were 1.5 million Japanese characters in the game between the script and system text.
Jenni Lada: How familiar with the Rune Factory series were you before you started working on the localization
for Rune Factory 5?
Lori Snyder: I'm a big fan of the series—I've been enjoying the Rune Factory games ever since the first was released a little more than 15 years ago! I've played each title to some extent and am pretty familiar with the series lore/stories of each Rune Factory, which was a big help for when we were working on Rune Factory 5!
John Wheeler: I played countless hours of Rune Factory and Rune Factory 2, and I worked as the project manager for the new content in Rune Factory 4 Special after joining XSEED Games. I'm familiar with the series, but I can't compete with Lori. She handled the localization of the retrospective art book included in the
Rune Factory 4 Special limited edition.
About how long did the localization process for Rune Factory 5 take?
Snyder: We began receiving localization materials, like character information and early text files, around February 2020. Since the game was a massive undertaking to localize with over 1.5 million Japanese characters and over a month's worth of voice recording to accommodate, it took about two years to complete the localization for this title from those early notes to our final release.
How closely did you work with the development team in Japan?
Snyder: In order to deliver the best Rune Factory localization possible, we worked very closely with the developers, with the localization department at Marvelous in Japan as our liaison. We were often asked for feedback on certain aspects of the game, such as how to implement same-sex marriage and how the game's main story beats would be received by western audiences. In fact, while creating design documents is generally done on the developer side, for same-sex marriage implementation and localization, the XSEED side was asked to help with a prospective design document so that these new features could be included, and the developers were able to use that as a reference for same-sex marriage in the final game.
Among the Rune Factory 5 marriage candidates, Fuuka is a bit unusual since English isn't her first
language. What sorts of challenges did this present for the localization?
Snyder: One challenge for Fuuka was that we wanted to make sure her language didn't alienate her from the player or the rest of the cast. In Japanese, she spoke with very simple "gau gau" sounds, which we felt wouldn't work in the English version. Simple growling noises would be redundant and wouldn't help the player connect with her as well as the other marriage candidates.
Adrienne Beck, one of our translators for this title, suggested creating a functional language for Fuuka, and our team helped flesh the language out to a point where it had a massive list of vocabulary and grammar. However, another huge challenge after establishing this language was keeping it consistent, so when localization quality assurance time came around, members of the team had to keep an eye on Fuuka's language as well as the English text so that it remained consistent for all of her dialogue. She has a whole lot to say in her language, so we had an entirely separate text-fix checklist just for her!
Was it more difficult to find a "voice" for certain Rune Factory 5 characters over others?
Wheeler: As Lori described, were-animal character Fuuka's "language" presented the most time-intensive challenge, but I've been so happy to see how fans have reacted to it thus far.
Besides Fuuka, the character we agonized over the most early in the localization process was Captain Livia. She has a unique way of speaking in Japanese that ties into her character's backstory, and we spent a long time discussing how to properly capture her voice in English in a way that would keep the spirit of the original but sound natural.
Which Rune Factory 5 character's dialogue was the most difficult to localize and why?
Wheeler: I worked on translating the main story, and the character I had the most trouble with was the bandit Oswald. He has an idiosyncratic speech style that somewhat mirrors the performance of Chafurin, the actor who voices him in Japanese, that was very difficult to render in English. (Chafurin's delivery is so iconic that the voice actor SungWon Cho immediately recognized him when listening to reference files for recording Oswald.) Oswald's final dialogue is very entertaining in English, thanks to the efforts of our editors.
Rune Factory 5 allows same-sex relationships with marriage candidates. How did this affect the localization process and events for each gender?
Wheeler: The development team implemented unique text for anything that needed to be updated in the Japanese, and in general we were able to use gender tags—special localization programming tags that insert a different word such as "boyfriend" or "girlfriend" depending on the player character's gender—to tailor the English even further.
One event we discussed a lot while we were planning the same-sex marriage text was a Priscilla romance event where she (spoiler alert!) asks the player to take on the role of a prince in a skit she writes. We were concerned that this reinforcement of traditional roles would feel unnatural, but the scene itself pokes fun at those roles—with Hina telling Julian he should play a princess—and in the end it felt perfectly sweet regardless of if the player had chosen Ares or Alice. It's one of my favorite events in the game.
Compared to past localizations you've worked on, how difficult would you consider Rune Factory 5 in comparison?
Snyder: While my part in Rune Factory 5 was a bit smaller than other key members of the team, I will say this is the biggest project I've worked on to date, and it presented some of the biggest challenges I've worked on at XSEED Games so far.
My role in Rune Factory 5's localization mainly involved the in-game script and voice recording, but the script itself took the summer of 2020 to complete, and voice recording alone took a month and a half!
After that, my main goal during LQA (localization quality assurance) was checking through all of the voice clips to make sure they matched the context of the scenes they were used in, and that took quite some time to check and implement as well! There was a lot going on these past two years for Rune Factory 5 alone, but I can at least say I learned a ton from the experience!
Rune Factory 5 is available for the Nintendo Switch.
The post Interview: Localizing Rune Factory 5's Characters appeared first on Siliconera.
---
Siliconera Monday, April 4, 2022 2:00 PM
Capcom shared another Monster Hunter Rise Sunbreak video, and this one features the Marionette Spider. It is a new variety of Endemic Life in the game. This means a Hunter can pick it up while on a mission, then use it against a monster to take advantage of the situation. In this case, you'll use the spider's silk as something of a leash.
Here's the full clip. The idea is to use the Marionette Spider to snare a creature in Monster Hunter Rise Sunbreak, then drag it to a part of the environment to hurt it. When the monster runs into a wall, for example, it will then damage it. In turn, that helps with defeating the opponent.
Meet #Sunbreak's Marionette Spider!

Their silk can be used to pull a monster into a desired direction.

Hunters, you know what to do...

BONK pic.twitter.com/anxY20pGMC

— Monster Hunter (@monsterhunter) April 4, 2022
As a reminder, there is a Puppet Spider in the base game. Should someone use that kind of Endemic Life, you could immediately start riding a wyvern.
In the meantime, there are some other Monster Hunter Rise Sunbreak videos available. However, those don't have to do with new gameplay elements. Rather, they showed off some armor sets folks can create. One pair showed off the Blood Orange Bishaten and Shogun Ceanataur equipment. In another, people could see what Garangolm and Lunagaron armor would look like.
Monster Hunter Rise is available for the Nintendo Switch and PC, and the Sunbreak expansion will arrive on June 30, 2022.
The post See How to Use a Monster Hunter Rise Sunbreak Marionette Spider appeared first on Siliconera.
---
Siliconera Monday, April 4, 2022 1:00 PM
There's a new Fire Emblem Heroes music video designed to promote the game, and it features Ash and Veronica with the summoner. In it, the three "perform" a remixed version of a track from the title. "Lonely Puppeteer" is a major theme in Book 6 of the story, with both heroines featuring promptly in the latest chapters.
Here is the Fire Emblem Heroes music video. Given the season, this is a "Lonely Puppeteer (Spring Remix)" take on the tune. Ash plays the guitar during it. Veronica is on the violin. The Summoner is more of a background character here, as they only play the tambourine while the other two characters perform.

As for the song, people might remember hearing that recently. "Lonely Puppeteer" is the music that appears in the background of the Fire Emblem Heroes Book 6 opening movie. You can watch that below and compare the two. Keep in mind that it does show how the latest installment in Fire Emblem Heroes begins, with the Summoner, Ash, Veronica and Elm in the midst of a fight.

Fire Emblem Heroes is available on Android and Apple iOS devices. The most recent April 2022 banner added a Legendary version of Nanna.
The post Fire Emblem Heroes Music Video Stars Ash and Veronica appeared first on Siliconera.
---
Siliconera Monday, April 4, 2022 12:30 PM
The otome game reincarnation anime My Next Life As A Villainess: All Routes Lead To Doom! will be continued in a film next year. The announcement came at the tail end of the "Spring Catarina Festival" fan event held on April 3, 2022. Production is already under way, with a release window set in 2023. [Thanks, ANN!]
Based on the light novel series by Satoru Yamaguchi and Nami Hidaka, My Next Life As A Villainess got an anime adaptation that first aired in 2020. A second season followed in 2021.
The series focuses on Catarina Claes, a noble daughter from a magical kingdom. After a head injury, Catarina recalls her past life. She was once a Japanese teenager obsessed with otome games. In fact, the world she was reincarnated into happens to be her favorite otome game. Unfortunately, the in-game version of Catarina Claes happened to be nasty villain character. She who died or went into exile in every possible story route. To avoid her doom, Catarina pledges to live her life as best as she can, upending the plot-ordained relationships and otome game tropes along the way.
https://www.youtube.com/watch?v=GA8DRyBfjLc
A teaser trailer for the My Next Life As A Villainess anime's film appeared on the official website. It begins with a short recap of Catalina's adventures, narrated by her inner voices. The action pauses on an image of Catalina. However it is one with a more openly villainous expression, in sharp contrast with the much nicer Catalina seen in the series so far. The screen changes to say that the "Doom Flags" aren't gone yet, promising more to come in the film.
The My Life As A Villainess anime is available to stream on Crunchyroll and other services. The film will debut in 2023. A game based on the series was released for the Nintendo Switch in Japan on December 23, 2021.
The post My Next Life As A Villainess Anime Movie Planned for 2023 appeared first on Siliconera.
---
Destructoid Monday, April 4, 2022 7:00 PM
---
Destructoid Monday, April 4, 2022 6:00 PM
---
Destructoid Monday, April 4, 2022 5:00 PM
---
Destructoid Monday, April 4, 2022 4:30 PM
---
Destructoid Monday, April 4, 2022 4:00 PM
---
Destructoid Monday, April 4, 2022 3:30 PM
---
Destructoid Monday, April 4, 2022 3:00 PM
---
Destructoid Monday, April 4, 2022 2:30 PM
---
Destructoid Monday, April 4, 2022 2:00 PM
---
Destructoid Monday, April 4, 2022 1:30 PM
---
Destructoid Monday, April 4, 2022 1:00 PM
---
Destructoid Monday, April 4, 2022 12:30 PM
---
Destructoid Monday, April 4, 2022 12:00 PM
---
PC Invasion - FeedDDD Monday, April 4, 2022 5:30 PM
Halo Infinite and its free-to-play multiplayer have been in a rough spot since the game launched. Due to the persistent lack of fresh content and updates, players have begun to feel increasingly frustrated. Halo Infinite's developer, 343 Industries, is well aware of this as it tries to meet the expectations of the player base. Fortunately, 343 Industries' latest Outcomes Report for Halo Infinite Season 1 has some uplifting information. This report contains information on the maps and playlists we'll see when Halo Infinite Season 2 releases, as well as developer responses to player feedback. The report itself is very thorough and shows that 343 Industries knows these problems exist. It dives into a lot of things, including matchmaking issues in Ranked modes, accessibility options, problems with audio, and so much more. Season 1's outcomes report is absolutely worth the read when you get a chance. Outlining the problems in Halo Infinite The report is dens...
---
PC Invasion - FeedDDD Monday, April 4, 2022 4:15 PM
As you likely already know, George R.R. Martin, the renowned author behind A Song of Ice and Fire, collaborated with developer FromSoftware to make Elden Ring. It seems fair to say that his involvement with the project contributed greatly to the immense success that the game enjoys today. Evidently, publisher Bandai Namco took note of this , as it recently reached out to another fantasy novelist, specifically the creator of the popular Mistborn series, Brandon Sanderson, and invited him to collaborate for the next Soulsborne project. Sanderson held a live stream last week in which he opened the package that Bandai Namco sent to him. It included a whole host of Elden Ring merchandise and, more significantly, a letter containing the company's Soulsborne proposal. In a statement that will likely excite fans, Sanderson confirmed that he also wants to collaborate on such a project, and he even has a specific pitch in mind that he plans to share with the company whenever he has the...
---
PC Invasion - FeedDDD Monday, April 4, 2022 3:30 PM
New character skins from NieR: Automata and NieR Replicant are now available to buy in PUBG. The Nier crossover will let fans of the free-to-play battle royale play as 2B and 9S from NieR: Automata, as well as Kaine and Nier from NieR Replicant. The Nier crossover event is live in the game right now, but getting a hold of the skins will be expensive for players. You'll have to spend 2080 G-Coins to unlock 2B and Kaine, while 9S and Nier will set you back 1500 G-Coins. A bundle that includes all the characters will cost 5450 G-Coins, which is equivalent to just under $50 USD. The skins will be available until April 29. In addition to the character skins, the unusual crossover will provide players with Nier-themed items, like a Nier parachute, Emil's Head, an Emil spray, a YoRHa spray, and a Magic Circle spray. PUBG and Nier are trying to branch out Fortnite has proven that creating exciting crossover skins is a major draw for players. Call of Duty recently trie...
---
PC Invasion - FeedDDD Monday, April 4, 2022 2:30 PM
The Monkey Island franchise is set to make a surprise return this year with the reveal of a new entry. Devolver Digital just announced Return to Monkey Island, a follow-up to the older games in the pirate-themed adventure franchise such as The Secret of Monkey Island and Monkey Island 2: LeChuck's Revenge. The teaser trailer for Return to Monkey Island doesn't give away any story details. However, it does reveal that Terrible Toybox, the developer behind Thimbleweed Park, is working on the game alongside Lucasfilm Games and Devolver Digital. Return to Monkey Island will release later this year. The team came back together for Monkey Island Ron Gilbert, one of the creators behind Monkey Island, wrote a blog post on April Fools' Day that mentioned his plans to create a new game in the franchise. Understandably, many took this as a joke, but it turns out that it was a clever trick to surprise fans. Gilbert wrote, "For 18 years the Grumpy Gamer blog has been April Fo...
---
PC Invasion - FeedDDD Monday, April 4, 2022 12:30 PM
Belarusian developer Wargaming has announced that it is leaving Russia. As posted on its official LinkedIn page, the World of Tanks developer has decided to discontinue all business in both Russia and Belarus. It has transferred the management of its live games to Lesta Studio in a move that it anticipates will cause it to "suffer substantial losses." Additionally, Wargaming has begun the process of closing down its studio in Minsk, Belarus. This decision follows a strategic review of its worldwide operations. Following the invasion of Ukraine by Russia, several companies have withdrawn to avoid supporting the Russian markets. Wargaming continued on to confirm that its live games will remain available in Russia and Belarus during the transition period. That includes World of Tanks, World of Warships, and World of Warplanes. The publisher intends to complete the transition as fast as possible while ensuring the safety of its employees. (Source: LinkedIn). A big risk...
---
Tabletop Gaming News Monday, April 4, 2022 6:00 PM
---
Tabletop Gaming News Monday, April 4, 2022 5:00 PM
---
Tabletop Gaming News Monday, April 4, 2022 4:00 PM
---
Tabletop Gaming News Monday, April 4, 2022 3:00 PM
---
Tabletop Gaming News Monday, April 4, 2022 2:00 PM
---
Tabletop Gaming News Monday, April 4, 2022 1:00 PM
---
Player Assist | Game Guides & Walkthroughs Monday, April 4, 2022 3:00 PM
A young-looking man in a green robe who freely wanders the streets of Mondstadt is one of the city's many local bards. Venti is an unknown bard who seems to come from nowhere and one who would sometimes sing ancient songs while at other times would hum unfamiliar ones that no one has ever heard […]
---
Player Assist | Game Guides & Walkthroughs Monday, April 4, 2022 2:00 PM
One of the Shrines in The Legend of Zelda: Breath of the Wild is the Ketoh Wawai Shrine, or the Ketoh Wawai's Blessing. The Shrine itself is no challenge at all. As you enter the Ketoh Wawai Shrine, Link will be able to access the Shrine's chest, he will be able to access the altar, […]
---
Player Assist | Game Guides & Walkthroughs Monday, April 4, 2022 1:00 PM
Minecraft is a sandbox game where mobs roam all over the world in all three dimensions—in the Overworld, in the Nether, and the End. Mobs come in different types based on how they interact with the player. There are passive mobs that are helpful to the player, neutral mobs that remain passive as long as […]
---
Pivotal Gamers Monday, April 4, 2022 6:00 PM
Hello fellow gamers. MMOHuts is giving all the chance to win on Black Desert. Read on for their offering. We've partnered with Pearl Abyss to celebrate the upcoming launch of Black Desert Online's upcoming expansion, Eternal Winter, on April 6! The Black Desert franchise is Pearl Abyss' open-world action MMORPG franchise with cutting-edge visuals and skill-based combat redefining...
---
Pivotal Gamers Monday, April 4, 2022 5:00 PM
What's up all? itch.io holds a new giveaway for Emberglass. Their message follows. Get Emberglass for FREE! A few words about Emberglass Welcome to the open world, mini-metroidvania of your dreams. Last minute notes Login with your itch.io account, follow the on-screen instructions to add it to your library. Still here? Click on the button below to claim your prize. It couldn't be any ...
---
Pivotal Gamers Monday, April 4, 2022 1:30 PM
What's up all? MMOBomb is giving you the opportunity to win on Black Desert. Their message follows. To celebrate the upcoming Eternal Winter expansion, Pearl Abyss and MMOBomb have partnered up to get our users a special gift pack for Black Desert. Each pack unlocks a Game Pass, Kuku Pet, Combat & Skill EXP and more! Get your key now! Please note the base game is required. A few words ab...
---
Pivotal Gamers Monday, April 4, 2022 12:11 PM
Hello folks. Alienware Arena is giving you the chance to win on Camp Canyonwood. This is what they say. Camp Canyonwood Beta Key Giveaway Welcome to Camp Canyonwood! Grab a key to play Camp Canyonwood's beta on Steam! Build and manage the summer camp of your dreams, where you'll teach campers to chop, fish, hike, and more while protecting them from threats both natural and superna...
---
MonsterVine Monday, April 4, 2022 1:45 PM
Devolver Digital and Terrible Toybox have announced Return to Monkey Island, the long-awaited next entry in the Secret of Monkey Island series. Ron Gilbert and Dave Grossman have written the game, while the music has been done by Michael Land, Peter Mcconnel, and Clint Bajakian. There's not a ton of info at the moment, but a short […]
---
Level Up Monday, April 4, 2022 12:22 PM
Monkey Island's long hiatus is finally coming to an end, and its creator is returning…