November's PlayStation Plus Games will be revealed today, but what will they be?
It's time for our monthly guessing game of 'What's on PlayStation Plus this month?'. However, that has been spoiled somewhat as we already know but we can't tell you else Sony will put us in the naughty corner. Hopefully someone else will spot the same leak as us and then we can source them and they get the blame.
Until then I can tell you without a shadow of a doubt that it won't be Spider-Man, don't believe those silly tabloids who insist it's going to be Spidey or God of War every single month, ignore their hollow words. We will update this post as Sony officially announce the games at 4.30pm / notice they've leaked the games and hastily try to cover it up.
The store links for the October PS Plus games are below, you have a week to grab them.
Earlier this week it was revealed that PS5 launch title Destruction AllStars would be removed from sale and will now be part of the February 2021 PS Plus line up.
Hi everyone – we wanted to share a quick update on our plans for Destruction AllStars. We've decided to move the game's release from November 2020 to February 2021, where it will be included for two months in PlayStation Plus at no additional cost.

Destruction AllStars is a multiplayer game that's at its best when you're competing with gamers online from all around the world. We want as many people as possible to experience the mayhem on PS5, and what better way to do that than to provide the game to our PlayStation Plus members?

Next week, we'll return with a brand-new trailer and more details on the game, so you'll know exactly what to expect when you download it in February.

This may be disappointing news for some of you who were looking to play the game at launch, but we hope you understand the decision. For those of you that have already pre-ordered the game, be it via PlayStation Store, PlayStation.com, or at retail, your purchase will be refunded.

Thank you for your continued support, we look forward to seeing you in the arena in February!
This explains why we have seen so little of the game, it was less than a month away from launch and all that has been released to the public is a trailer. The game is being developed by Liverpool-based Lucid Games and leaves the PlayStation 5 launch window looking very sparse.
---
PS5 pre-order sales beat first three months of PS4 sales in 12 hours, says Sony
Sony has stated that the pre-order sales for the PS5 have been higher than the numbers for the PS4, and by a considerable amount. According to Jim Ryan, the first 12 hours of PS5 pre-order sales outstripped the sales of the PS4 in its first 12 weeks on sale. These figures are limited to the United States but with how pre-orders were performing across the world with retailers selling out stock quickly that could be the picture everywhere.
In an interview with Reuters, Jim Ryan said:
"The demand as expressed by the level of pre-order has been has been very, very considerable. It may well be that not everybody who wants to buy a PS5 on launch day will be able to find one."
The PS5 was made available to pre-order in mid September following Sony's PS5 showcase. However, the company was criticised due to how it handled the pre-order process with little warning to consumers despite stating people would be given plenty of notice. Sony apologised but then did similar with the second wave of pre-orders. Sony has stated it will be upping production for the PS5 to try and meet demand for the Christmas rush to meet demand and compete with Microsoft's Xbox Series X|S.
We have a PS5 to test and today Jim wrote about his first experience with the DualSense and Astro's Playroom, which will be a free title for all PS5 owners. In the article, Jim wrote:
As a first experience of PlayStation 5, it's a great one, the nods to the past adding to the joy of getting to finally go hands on and experience what Sony's grand vision for the next generation is. It's just a taster so far, having received and unboxed our PlayStation 5 review unit today, but we can't wait to get stuck in to experience and share more over the coming days and weeks.
---
Apex Legends Season 7 is called Ascension, new hero and map announced
Respawn has announced the details for Apex Legends Season 7, and it is called Ascension. The new season will add a brand new hero called Horizon and she will be able to manipulate gravity after a run in with a black hole. Alongside Horizon there will be a new map and that map is Olympus. Olympus is a city in the clouds floating above the planet so one misstep will see you falling from the city right down to the planet surface, and you likely will not survive that.
The description for the new Stories from the Outlands short reads:
"Nearly a century ago, Dr. Mary Somers was hired to solve a cataclysmic energy crisis. Her search for answers would take her to the edge of the universe. Before Mary left Olympus, she promised her son she'd return. But was it a promise she'd be able to keep?"
The new character and the new map are just two of the things that will be added. The third item will be the vehicle called the Trident. The Trident will be able to transport a full squad quickly across Olympus, cutting down that travel time. Respawn will also be adding a Club system so player can group together to build their own communities. There will be a new battle pass for Ascension with 100 items, a new season of Ranked, and the release on Steam too.
Source: EA
---
The Season of the Hunt announced to kick off Destiny 2: Beyond Light
Bungie have revealed the next season for Destiny 2 and it all kicks off on November 10th when the next expansion, Beyond Light, launches. However, the is Season's story mission and new Wrathborn Hunts activity will commence the week after on November 17th.
They have also revealed the roadmap for the rest of the year which you can see below.
"Starting with Season of the Hunt, most of the Seasonal content and all of the sweet gear will be sticking around for all of year 4," say Bungie. "We hope this alleviates some of the FOMO that has been present with past Seasons. Now you can jump back in and experience past Seasons' story, activities, and loot anytime during year 4."
Bungie have been hinting that the Darkness (not the pop rock band with Justin Hawkins on lead vocals) is going to disrupt everything we have thought about the game, which has always suggested that Light is the only way to go. Is the Traveller as benevolent as we have always thought?
There are also rumours of a live event to begin the expansion, and that Guardians may be returning to the original Tower from Destiny 2.
Bungie have previously explained some of the new technical improvements that will be coming in the forthcoming expansion, Beyond Light. When that launches on November 10th a fair chunk of content will be vaulted including Strikes, Raids, and entire planets including Mars and Mercury, and to facility the huge change you are going to have to redownload the entire game again.
"We know this will be painful for those with slower or metered internet connections, and we're sorry about that. To help mitigate this, we're planning to enable Beyond Light preloads sometime in the evening of November 9, Pacific Time, which should give everyone at least 10 hours to download before the gates open," say Bungie.
The good news is the new version of the game should be 30-40% smaller, clocking in at around 59GB to 71GB depending on the platform you play on. The rebuild of the game also means that Bungie should be bale to patch bugs quicker and also gives them more development time per season.
The game will also be changing to a "Physics Host" rather than a "Mission Host" which means new raids, strikes and other missions can be more complex than they are now. "The Physics Host knows exactly where enemy combatants are and what actions they recently performed – while the Mission Host only knew how many combatants were alive in a squad and what that squad was generally trying to accomplish," say Bungie. This also means you will be able to meet your Fireteam in the Tower much faster, but they do warn there may be one or two bugs in the old missions that are left in the game after Beyond Light launches.
Source: Bungie
---
Xbox Game Pass November line up includes Double Fine remastered titles
Microsoft has confirmed the line up for the games that are being added to Xbox Game Pass over the next few weeks across console, PC, and mobile. Helping to lead this charge is Double Fine's catalogue of remastered titles including Grim Fandango, Full Throttle, and Day of the Tentacle. If you fancy a bit space mining then you can play Deep Rock Galactic across all three platforms. Or, there is Ark Survival Evolved. In fact there are quite a few games and you can view the full list below.
Carto (Console & PC) – October 27th
Day of the Tentacle Remastered (Console & PC) – October 29th
Five Nights At Freddy's (Android, Console, PC) – October 29th
Full Throttle Remastered (Console & PC) – October 29th
Grim Fandango Remastered (Console & PC) – October 29th
PlayerUnknown's Battlegrounds (Android) – October 29th
ScourgeBringer (Android) – October 29th
Unruly Heroes (Android, Console, PC) – October 29th
Celeste (Android, Console, PC) – November 5th
Comanche (PC) – November 5th
Deep Rock Galactic (Android, Console, PC) – November 5th
Eastshade (Android, Console, PC) – November 5th
Knights & Bikes (Console & PC) – November 5th
Ark: Survival Evolved: Explorer's Edition (Android, Console, PC) – November 17th
As some games are added to the Xbox Game Pass service, others are removed. Leaving on October 30th are:
After Party (Console)
LEGO Star Wars III (Console)
Rise & Shine (Console)
Tacoma (Console & PC)
The Lord of the Rings: Adventure Card Game (Console & PC)
The Red Strings Club (PC)
Microsoft added new Xbox Touch Controls to more games on the service as well. Those games were Dead Cells, Gucamelee! 2, Hellblade: Senua's Sacrifice, Hotshot Racing, Killer Instinct, New Super Lucky's Tale, Slay The Spire, Streets of Rage 4, Tell Me Why, and UnderMine.
Source: Microsoft
---
Astro's Playroom is more than a PS5 and DualSense demo, it's a PlayStation celebration
We couldn't think of a better way to start your PlayStation 5 adventures than with Astro's Playroom. This pack-in platformer comes pre-installed and ready to play for everyone who owns a PS5, flexing the next-gen system's key features and being an absolute nostalgic blast in the process.
Compared to Crash Bandicoot or Kratos, Astro Bot may not have the same calibre as a PlayStation mascot yet, thanks to this Asobi-developed demo, makes a perfect ambassador for the PlayStation 5 and the DualSense controller.
Firing up our PS5 console for the very first time, we dove straight into Astro's Playroom and the first of the four stages it offers – Cooling Springs. Now, for those who played the superb Astro Bot: Rescue Mission, expect a pang of deja vu here. This is basically a non-PlayStation VR follow-up, albeit one that has been deliberately shrunk to show off some DualSense features.
Before being introduced to our robotic friend you'll get to see just how Sony's gamepad has evolved since the DualShock 4. The combination of audio and haptic feedback combined with those adaptive triggers will come as a genuine surprise, really helping to boost that sense of immersion.
Just about every action in Astro's Playroom will trigger a cascade of sound and haptic effects, the controller's rumble having far more finesse than before, vibrating certain parts of the pad instead of making the whole unit shake in your palms. It's an impressive advancement.
In one section you'll suit up as an android amphibian, using the touchpad to yank the zip on Astro's new costume. From there, Playroom briefly turns into a side-scrolling platform in which you tilt your DualSense, pulling down on the right trigger then releasing to jump. The subtle vibrations and mechanical noises – paired with the slight resistance from the adaptive trigger – give this action far more impact than a simple button press. We're excited to see how other developers implement the controller's new features as they look to dial up the atmosphere.
This is more than just a simple controller demo and tutorial though. It might be small, but it has the hallmarks of a full production with coins, collectibles and some surprisingly nostalgic easter eggs to be found here.
Astro's Playroom serves two purposes – easing you into the PS5 ecosystem while celebrating the PlayStation's long legacy. Instead of gathering useless gubbins, the items you unlock are actual pieces of PlayStation hardware, Cooling Springs reminding us of the PSP camera, the PS3 Sharpshooter and more, appearing almost lifelike as they float in suspense.
As a first experience of PlayStation 5, it's a great one, the nods to the past adding to the joy of getting to finally go hands on and experience what Sony's grand vision for the next generation is. It's just a taster so far, having received and unboxed our PlayStation 5 review unit today, but we can't wait to get stuck in to experience and share more over the coming days and weeks.
---
Cyberpunk 2077 delayed again, now out in December
Guess what? Cyberpunk 2077 has been delayed yet again, this time being pushed back by 21 days to a new 10th December release date.
We have important news to share with you pic.twitter.com/qZUaD6IwmM

— Cyberpunk 2077 (@CyberpunkGame) October 27, 2020
Their twitter explanation from Adam Badowski and Marcin Iwinski cites the huge challenge of preparing the ambitious game for so many consoles.
"The biggest challenge for us right now is shipping the game on current-gen, next-gen and PC at the same time, which requires us to prepare and test 9 versions of it (Xbox One/X, compatibility on Xbox Series S|X, PS4/Pro, compatibility on PS5, PC, Stadia)… while working from home."
They also address the fact that the game recently went "gold"
"Some of you might also be wondering what these words mean in light of us saying we achieved gold master some time ago. Passing certification, or 'going gold', means the game is ready, can be completed, an has all content in it. But it doesn't mean we stop working on it and raising the quality bar. On the contrary, this is the time where many improvements are being made which will then be distributed via a Day 0 patch. This is the time period we undercalculated."
Of course, all of this means that we can slap another three weeks of mandatory overtime onto what CD Projekt Red's staff have already been pushed into at the end of September.
Originally, Cyberpunk 2077 was planned for an April 2020 launch before being pushed back to September, then November and now December. For those keeping track, the game was formerly announced way back in 2012 before the first cinematic teaser was shown in January 2013.
So, Cyberpunk 2077 will now be out for Xbox One, PS4 and PC on 10th Decmeber. It will be playable on Xbox Series X | S at that point – the consoles coming out on 10th November – and on PlayStation 5 on November 11th/19th, but next-gen enhancements will not be there on day one. The game could take some advantages next-gen beyond simple backward compatibility, but for ray tracing and other more integral enhancements, we'll have to wait.
Source: Twitter
---
Ubisoft and Netflix are teaming up for a live-action Assassin's Creed show
Ubisoft have turned to Netflix as a partner for a new live-action Assassin's Creed series, hoping to make the jump out of the bubble of video games somewhat more successfully than their last attempt.
It's actually multiple projects, though, with the main live-action show to be joined by an animated and an anime adaptation. They're looking for some showrunners to manage these, but Ubisoft Film & Television's Jason Altman and Danielle Kreinik will be executive producers.
"For more than 10 years, millions of fans around the world have helped shape the Assassin's Creed brand into an iconic franchise," said Jason Altman, Head of Ubisoft Film & Television – Los Angeles. "We're thrilled to create an Assassin's Creed series with Netflix, and we look forward to developing the next saga in the Assassin's Creed universe."
As alluded to, this hasn't been Ubisoft's first attempt at branching out from video games. There was the Assassin's Creed movie which came out in 2016, starring Michael Fassbender in an original story designed to compliment and expand the series' mythology.
It didn't exactly set the box office alight, underperforming at its opening and only grossing $240 million worldwide off a $125 million budget to turn a small profit. It also didn't capture the imaginations of reviewers, getting an 18% approval rating on Rotten Tomatoes and an average rating of 3.9/10. It might be better than many video game adaptations, but not exactly a smash.
Here's hoping Netflix can do better.
Source: Ubisoft
---
FIFA 21 for PS5 and Xbox Series X|S will launch in December
If you're picking up a PlayStation 5 or Xbox Series X|S with the expectation that FIFA 21's next-gen upgrade would be there on day one, you've got another thing coming. EA have announced that FIFA 21's next-gen version will be out for both PS5 and Xbox Series on 4th December.
However, that doesn't mean you can't still play FIFA 21 on those systems. If you buy the current generation PlayStation 4 or Xbox One versions of the game, you'll be able to play those versions via backward compatibility until 4th December, and the download an upgraded version of the game on 4th December via EA's Dual Entitlement scheme.
Whther you buy the physical copy or digital copy, you'll be able to download a separate version of the game simply by visiting the respective storefront. Physical purchasers will still need to have the disc in the drive in order to play. EA will also allow you to upgrade from a disc version to a purely digital version if you've bought a PlayStation 5 Digital Edition or Xbox Series S. In those cases, you'll need to contact EA support at help.ea.com to validate your purchase using your account information.
There is a divide between the two generations of the game in terms of player progression. Progress that you make in FIFA 21 Ultimate Team and Volta Football are tied to your EA account that is associated with your PSN or Microsoft account. You can take this back and forth between generations and console. However, progress made in all other modes, including Online Seasons, Co-Op Seasons, Career Mode, Pro Clubs, will be locked to the platform and generation you're playing on.
Compared to Microsoft's Smart Delivery, EA's Dual Entitlement is a time-limited upgrade offer, that in the case of FIFA 21 will start on 4th December and run through to the launch of FIFA 22. Obviously that game's release date has not been confirmed, but would be expected to arrive in the usual late-September launch window that FIFA games have traditionally targeted.
In our current gen FIFA 21 review, Aran wrote:
On the pitch, FIFA 21 is an incremental improvement over FIFA 20, but doesn't address some of the biggest issues with defending and the high-scoring matches this leads to. With Volta still missing a certain spark and Ultimate Team not really changing much, it's the Football Manager-inspired Career mode that takes the biggest step forward. It's still a good football game, but it feels like the real focus is on next-gen.
Source: EA
---
Show off your Flesh Helmet in the No Man's Sky Halloween event – Update 3.05 patch notes inside
I don't think anyone had "flesh helmets" on their No Man's Sky update bingo card, and yet here we are. The Halloween Update for Hello Games' interstellar features flesh helmets, space jellyfish, and more spooky things, just in time for Halloween.
Halloween Event

Horrific Flesh Helmet
Tougher Freighters
Harsher Abandoned Freighters
Exclusive Spooky Currency
Halloween Decals
New Titles
Quicksilver on Freighters
Scary Base Parts
Personal Space Jellyfish

Patch Notes:https://t.co/hzCZhsy5N2 pic.twitter.com/tK3XogcQrf

— Sean Murray (@NoMansSky) October 26, 2020
OK, so flesh helmets might have put one very particular image in your mind's eye, but set that aside, because what Hello Games really means is that you can pop a flesh-hungry parasite on your head. You can stop clutching your pearls now.
You obtain this by mining for a new strange material called Tainted Metal, which can be found in the corroded hulls of derelict freighters. These have been given a bump up in difficulty, filling them with stronger, faster and deadlier versions of the aliens that typically roam them, as well as seeing the security systems going into overdrive.
Get enough Tainted Metal and you can take it to scrap dealers to trade for Orange Pustules and Detoxified Slime to dress up your bases, Wriggling Companions to take with you on your journeys, as well as the Horrific Flesh Helmet.
Here's the full No Man's Sky Update 3.05 patch notes:
Derelict freighters have been rebalanced for increased challenge.
Low temperatures are more extreme, security systems are tougher and more efficient at locating intruders, aliens are more aggressive, and all hostile lifeforms are more difficult to defeat.
Added the possibility of looting Quicksilver to derelict freighters. This will be available for the next few weeks.
The scrap dealer on Space Stations now stocks a range of base parts, decals, banners and a Horrific Flesh-Helmet.
The scrap dealer now trades in a new black market currency, Tainted Metal, which can be salvaged from derelict freighters.
The scrap dealer also now stocks Repair Kits.
Added two new player titles, which may be earned via in-game achievements and selected at the Appearance Modifier.
Improved the notification icons shown when entering freighters and derelict freighters.
Fixed an issue that caused hostile creatures to fall through the floor of derelict freighters.
Fixed an issue that caused derelict freighter doors to take too long to open.
Fixed an issue which could cause derelict freighter messages to linger after leaving the freighter without fully exploring it.
Fixed an issue which caused the Lost in Space mission to linger after leaving a derelict freighter.
Fixed an issue that could occasionally cause the guild envoy and scrap dealer rewards for completing a derelict freighter to be the wrong way around in Korvax systems.
Fixed an issue that could cause derelict freighters to despawn if the player attempted to fix or install technology on their ship while at a distance.
Fixed an issue that could cause aquatic fauna to be listed as "extinct" when discovered.
Fixed an issue that could occasionally prevent creatures from spawning where or as often they should.
Fixed an issue that could cause teleporters to display the wrong galaxy name for some early galaxies.
Fixed an issue that prevented the Exocraft mining laser from harvesting resources from terrain deposits.
Fixed an issue that could cause freighter base parts to be unpowered when constructed in specific locations within the freighter.
Fixed an issue that could cause weather effects to occur beyond the planetary atmosphere.
Fixed an issue that could cause frigate expeditions to reward deprecated products.
Introduced a memory-management optimisation and fixed a number of memory-related crashes on console.
Fixed some rare crash issues.
Source: No Man's Sky
---
God of War can run at 60fps on PS5, but at what resolution?
Santa Monica Studio have revealed that their critically acclaimed God of War reboot will be able to shoot for 60fps gaming through the PlayStation 5's Boost Mode, and that you'll be able to carry on exactly where you left off by copying your save files over from PlayStation 4.
That's great to see confirmed, but… it's not exactly surprising and does come with some standard caveats to consider.
Whether you're picking up the game for the first time or looking to finish that NG+ save, God of War (2018) on the #PS5 will offer:

Up to 60 FPS using the 'Favor Performance' video option
Save Transfers – start right where you left off on the PS4!

— Santa Monica Studio Is Hiring (@SonySantaMonica) October 26, 2020
First off the point about save transfers. Carrying your progression from current to next-gen has been fumbled by Sony, with cross-gen titles such as Assassin's Creed Valhalla seeing Ubisoft and others have to create a bespoke cloud storage with which they can let you transfer your progress across. Meanwhile, the developers of other games such as Dirt 5 and Yakuza Like a Dragon do not have such an infrastructure behind them on PlayStation, leaning on standard Smart Delivery on Xbox to allow you to take all your progression with you from one version of the game to the next. Unless you want to start over, it's a bit of a minefield for cross-gen games.
God of War is not a cross-gen game though, and the standard backward compatibility rules apply. You can copy all your PlayStation 4 save files over to PlayStation 5 via USB storage, the system data transfer tool or the PS+ cloud storage. A good reminder, but that's the default behaviour
And so too is what Santa Monica Studio tout the game's performance. They not "up to" 60fps performance for one thing, and also state that you need to be using the 'Favor Performance' mode in the video options. In other words, this isn't an update to the game, but rather applying the PS5 Boost Mode to the existing performance mode found on PlayStation 4 Pro.
The PS4 Pro has two options available, with a checkerboarded 4K resolution that targets 30fps, and the 'Favor Performance' mode that drops the game resolution to 1080p and unlocks the frame rate. On PS4 Pro, as per Digital Foundry's God of War analysis, this typically saw the frame rate in the "mid to upper 40s" during battles. The expectation is that the PS5 can power through to a solid 60fps in the vast majority of situations while playing at 1080p. Honestly, we'd expect the PS5 to be able to do much more than this.
By contrast, Ghost of Tsushima has a PS5-specific performance mode that will let it target 60fps, going beyond what the PS4 Pro is able to offer. The PS4 Pro still has a performance mode, but this drops the resolution from 1800p to 1080p while maintaining the same 30fps target. We'll have to wait and see what the PS5 mode is able to offer in terms of resolution, but again, we'd hope
So, all in all, good to have confirmed, and good for those who'd like to play this game at a high and steady frame rate, but this is what we can expect as the minimum across all backward compatible titles on PS5.
Source: Twitter
---
Cats suck. Despite what Tuffcub might tell you, dogs are empirically better than cats. It's just a fact*. So much so that it forms the entire premise of the game Double Pug Switch.
You play Otis, a sleepy, dim-witted pug who's snoozing in the professor's lab on day. As you lie there, your blood nemesis, the cat Whiskers, decides to tear a hole in space. More specifically, Whiskers sees two vials of portal fluid on the desk and decides that they'd look better on the floor. You know, because cats are evil.
After smashing the vials and sucking you both into a new dimension, your owner, the professor, somehow manages to call you and explain what's happened. You're occupying not only this new dimension, which is inexplicably a platformer, but also a third, parallel dimension. Not only this, but you seem to have acquired the ability to move between the two, which will come in extremely useful.
Lord Sker, as the maniacal Whiskers is now known, has somehow already taken over these two dimensions and strewn the world with deadly spikes. You, being a pug — sadly one of nature's least intelligent doggos — sees this as an opportunity to hurtle forward, towards this gauntlet of death traps, at breakneck speed.
It's a truly bizarre premise with which we find ourselves. I love dogs, I love platformers and I even love dimension-shifting platformers. Unfortunately, Double Pug Switch, a dimension-shifting platformer based on the premise that cats are little balls of evil and doggos are the saviour of all mankind, is not particularly good.
I first came across this game at a convention in 2018. Having played it, I asked the dev what they were going for. A game which is hard as nails but featuring a cute as heck doggo is pretty much what I was told. This, in and of itself, is a fine premise, but that alone does not make a game good.
Challenging games can be great, but what something like Dark Souls has that this game lacks is the ability to adapt, improve and overcome. Double Pug Switch is controlled entirely by two buttons: one to jump and the other to swap. The game is a side-scroller and Otis runs at a defined speed, stopping for nothing, meaning that your control comes down to three basic options: a hop, a jump and a switch. Much like Sonic the Hedgehog back in the day, you need to make split-second decisions — the difference is that Otis doesn't drop rings if he hits something detrimental to his health, he simply dies and respawns.
This happens a lot in Dog Murder Simulator. As mentioned, the game is meant to be hard, but the severity of the challenge just feels obnoxious. One level, fairly early on, has no checkpoints and is lined with spikes just to ratchet up the difficulty. The difficulty is only made worse by sticky feeling controls that throw off your split-second timing, causing you to jump too late or switch dimensions too slowly, killing yourself in the process. The result is that ultimately, Double Pug Switch is not fun to play.
That's not to say that the game isn't without its merit. Otis is ostensibly cute. As you run around, trying not to die, you pick up gold and purple coins which can be spent on a selection of dandy hats (because gamers and dog owners love hats). Hunting out the rarer purple coins and picking them up is genuinely challenging and something that fans of the game will no doubt love doing. The problem is the level select screen doesn't tell you which levels you've found all of the coins in, only if you've had a perfect run.
Some of the early levels are fairly well designed, and when you come across something new — like the portals which change dimension for you or the thing that makes you tiny for no reason — there is both intrigue and challenge to be found. No doubt, it would be fun to collect all the purple coins in a speed run without dying, but if you're the galaxy brain capable of working around everything that is against you here, you clearly have better things to do with your time than playing this game. Go solve global warming or something.
Finally, there is the ultimate deal-breaking bug to contend with. After completing a particularly difficult level in the second of the game's five worlds, I returned to the level-select screen to spend my hard-earned cash. I was horrified to see that the game had deleted my progress. I played through the section again, utterly furious, but I would not fault anyone who instead deleted the game and asked for a full refund.
*Not a fact.
---
Star Wars Squadrons is getting free Madalorian Season 2 cosmetic DLC
Back in August Ian Frazier, Creative Director on Star Wars: Squadrons, said the following.
Never say never, so to speak, but as far as our philosophy goes we're not trying to treat the game as a live service. We don't want to say, 'It's almost done!' and then dribble out more of it over time, which to be honest is how most games work these days. So we've tried to treat it in kind of an old-school approach saying, 'You've paid the $40, this is the game and it's entirely self-contained. We're not planning to add more content, this is the game, and we hope you understand the value proposition.
Well never seems to have come around rather quickly as the game is getting some free DLC to tie in with the launch of The Mandalorian Season 2.
"We've worked with Lucasfilm to bring a few Mando-themed goodies to Star Wars: Squadrons. The Mandalorian is something that has often been a source of inspiration for us due to its close proximity to our game's timeline, so it only felt natural to pay homage to it," said EA, "But of course, we know there's a particular new cosmetic most of you are hoping for…"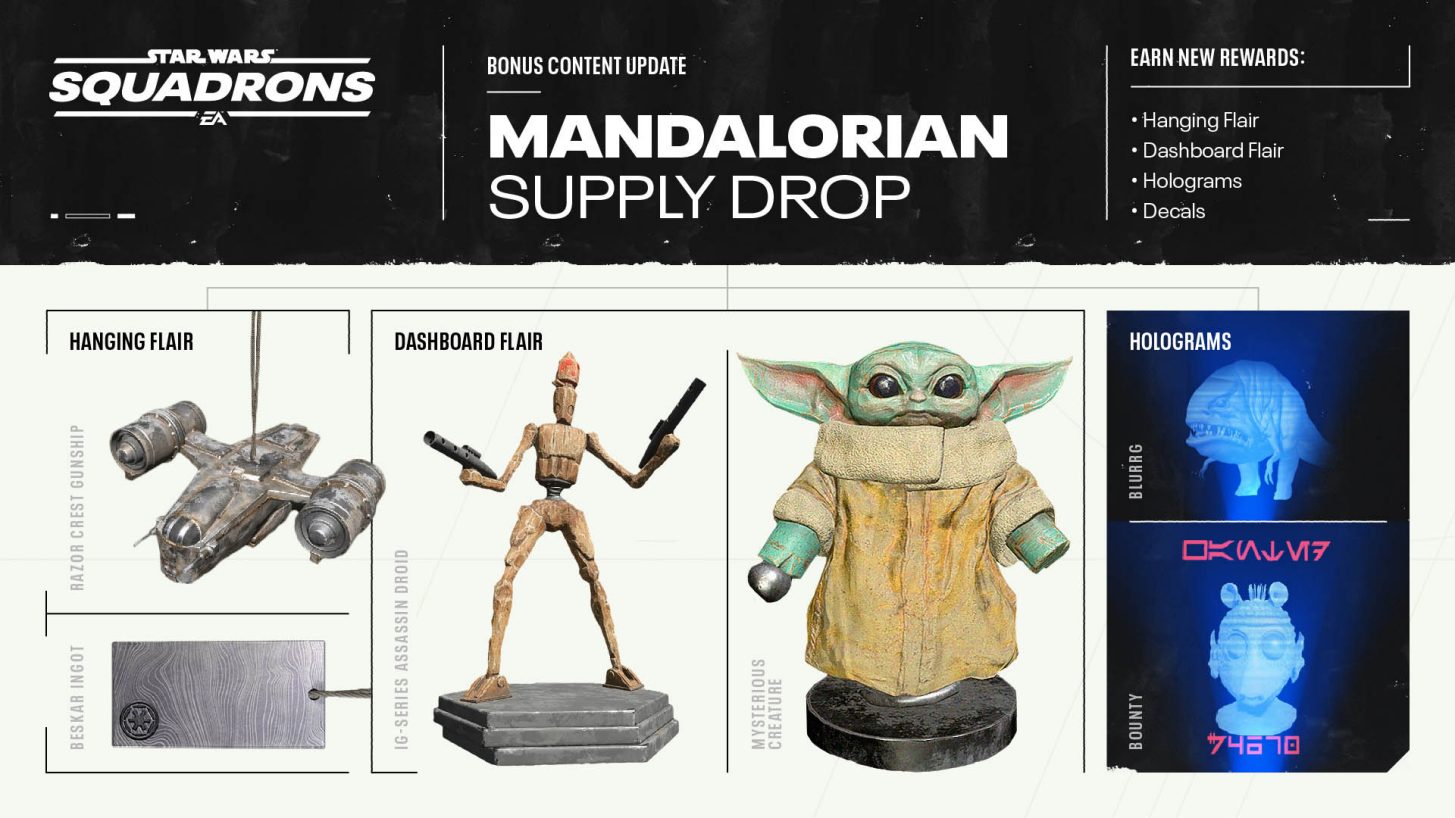 "Paying homage to the iconic character, we've made sure to create this wonderful new dashboard decoration based on a "Mysterious Creature." This figure can adorn any dashboard across the New Republic's starfighters, meaning the fan-favorite Tuggtar bobblehead now has a rival! Both factions will receive one hologram, one decal, one dashboard flair, and one hanging flair, meaning eight new cosmetics in total for you to unlock."
The new cosmetics will be available on October 28th when a new patch for the game will be available.
This is the second piece of The Mandalorian Season 2 in less than 24 hours, yesterday a Mandalorian Xbox Controller & Xbox Pro Charging Stand Set was revealed.
Source: EA
---
WRC 9 free 'Blind Jumps' update adds more special stages, photo mode and more
Nacon and KT Racing have revealed the content of the first free update for WRC 9. The update is out today, bringing with it more special stages, a new driver and the promise Photo Mode for the game.
The six new special stages have been added to the Neste Rally Finland rally, the fastest rally of the season and particularly challenging for the number of blind jumps that they feature. Be sure to listen to your co-driver!
Alongside that, you can tackle it with the new driver in the game, New Zealand's Hayden Paddon and co-driver John Kennard, who race in the Hyundai i20 WRC.
Lastly, there's the new photo mode, which does exactly what you'd expect it would in this day and age.
A second free update will come soon, bringing with it the co-op Co-driver Mode. More details on that will be shared soon, as will the details of the timing surrounding the free upgrades to PlayStation 5 and Xbox Series X|S, not to mention the Nintendo Switch release.
For now, WRC is available on Xbox One, PlayStation 4 and PC via the Epic Games Store.
We rather enjoyed the game at its release in September. Tom said in our WRC 9 review:
With driving that is now on par with the competition, WRC 9 will keep sucking rally fans back in for more. Elements around the core rallying action could still do with some added finesse, but when the basic premise is so solid, those issues fade into the background. At last, Kylotonn has delivered on the promise of authentic driving experience, and for a rallying game, I think that is the single most important element.
It's going to be interesting to see how the jump from current to next-gen can further the game. At the very least, we can look forward to another set of additional stages for Rally Portugal.
Source: press release
---
Oddworld: New 'n' Tasty Nintendo Switch Review
Despite its title, there's nothing new about Oddworld: New 'n' Tasty anymore. This 2020 Switch release is a port of the 2014 ground-up remake of the 1997 classic, Oddworld: Abe's Oddysee. Even though it's now half a decade old, this Nintendo Switch flavour is certainly tasty. It may not have had the same level of polish as our latest 1997 remake, Final Fantasy VII, but the loving attention to detail in this game continues to shine through.
I remember playing Abe's Oddysee as a kid. My little brother picked up a cheap copy at a petrol station during one of our family trips to France and, along with my cheap French copy of Soul Reaver and my big brother's copy of Tomb Raider — all of which in French — provided hours of entertainment. Certainly the best 50 Francs we each ever spent.
Now, a couple of decades later, I've grown up and the original game has certainly aged in that time as well. I'm pleased to say that this facelift has helped the game's legacy age well. Built from the ground up, in much the same way as Crash Bandicoot and Spyro were more recently, New 'n' Tasty is a faithful recreation of the original, modernised for current graphics and control systems.
For those of you who missed the game the first few times around, Abe's Oddysee told the story of the mudokon Abe, a slave working at RuptureFarms meat processing factory — a dark, foreboding citadel taking in the planet's various creatures and pumping out death and smog. Our model "employee", as he defines himself, accidently overhears a board meeting detailing how his owners are going to lift profits after their latest product line has gone extinct: Mudokon Pops. Rather than profits being made of the backs of his brethren, they will be made from them.
Abe escapes and sets about on a mission to rescue as many of his kin as Mukokonly possible. What ensues is a platformy romp through more death pits and mine fields than you would think practically reasonable. Since Abe is, shall we say, less than gifted offensively, rescuing each and every one of your species from the grips of RuptureFarms becomes a challenging trawl through the world's secret areas, using your brains to not only solve puzzles but mind-control your gun-toting captors and psychically open portals to help your friends escape.
Dark though this all seems — and the subject matter is about as dark as it gets — the juxtaposition of this fumbling idiot, with his endearing "hello" and "follow me" is the perfect salve, making this game the instant classic that we all know and love. Abe's charm is such that, even today, when I greet my friends en français, the intonation of my "salut" matches that which my little brother somehow dug out of a bargain bin.
This all said, the fact that this game is a port of a remaster of a great game does not make it great in itself. So, the question is how well does this Switch port hold up?
I'm genuinely pleased to say that it holds up admirably well on Switch. Games about injustice will never go out of fashion. Slavery and genocide are as much an issue as ever before, and you could argue that it is more in the public eye than it was when the game was first released. The comic overlay of Abe chuckling at his own farts — an actual in-game mechanic — doesn't detract from that. Instead, you have someone fighting injustice while still being able to find light in the life around him. That, I must admit, is an admirable quality in anyone.
The typical question of graphical compromises hangs over all Switch ports, but there have honestly been far more challenging ports of this game to PlayStation 3 and PlayStation Vita. New 'n' Tasty on the Switch is great to look at and holds up well compared to the full fat PS4 version. Given what games looked like in 1997, any Switch port is going to look infinitely better and whether you're playing handheld or on the big screen.
The only real issue the game has is with the sticky controls. The advent of the analogue stick wasn't kind to the 2014 remake original port and this issue has not only persisted in the Switch version, but it's made worse by the Switch's notoriously drifty sticks.
Platformers invariably demand precise controls, but Abe often has other plans, and these generally involve Abe refusing to stand up (left stick) or let go of a hot grenade (right stick). Fortunately, the quicksave function makes life a lot easier here, as you're going to accidentally die quite a lot. That's only compounded if you have stick drift, and while that's obviously not the game's fault, I can't help but think that mapping movement to the D-pad would have been a much better idea.
---
The Mandalorian Xbox controller is very expensive and it doesn't have a share button
Microsoft's cottage industry of limited edition Xbox controller has been going strong for the last few years, and their latest effort is one of the coolest and most likely to get fans throwing money at the screen, but there's a catch. Actually, there might be a few catches for Star Wars and Xbox fans to consider while they're reaching for their wallets.
The Mandalorian Xbox Controller & Xbox Pro Charging Stand Set is a neat looking tie in to the continuing adventures of The Madalorian TV show that took the world by storm with floods of Baby Yoda memes at the end of 2019. While the show's second season will debut on 30th October, the controller will be released on 31st December.
The Mandalor is not a race, it's a creed and well, it's also now a controller.https://t.co/9AprFvYuyn pic.twitter.com/lTN3aSO9sC

— Xbox (@Xbox) October 26, 2020
The release date could be one catch, but the price could be another. This set will put you back an eye-watering £169.99. Sure, it's a limited edition design, but a regular Xbox controller is priced at £54.99 and the charging stand with a battery is £39.99. That's £75 for a fancy chrome paint job on a game pad.
Oh, and here's the other catch: it's not the new Xbox Series X|S pad, but the outgoing second generation Xbox One controller. While Microsoft have decided to let all Xbox One pads be forward compatible with Xbox Series X|S and next-gen games, the new pad has been subtly tweaked to better accommodate smaller hands, it's got newly textured triggers, USB-C for cabled play and charging, and a Share button in the middle to make capturing screenshots and videos less awkward. You get none of that here.
So, the Mandalorian Xbox controller is coming months after the start of The Mandalorian Season 2, it's crazy expensive, and it's the old design? I don't know about you, but I'd have other priorities when it comes to exceedingly expensive accessories at the start of the next generation.
Source: Microsoft
---
PS5 exclusive Destruction AllStars will now come to PlayStation Plus this February, pre-orders will be refunded
Well this is odd, Sony have decided PlayStation 5 launch game Destruction AllStars will no longer be available this November and will now be released in February. Games regularly miss their release dates, that is nothing new, however Destruction AllStars is to be removed from sale completely and will now be given away as part as the February 2021 PlayStation Plus line up .
Here's more from Pete Smith from Sony.
Hi everyone – we wanted to share a quick update on our plans for Destruction AllStars. We've decided to move the game's release from November 2020 to February 2021, where it will be included for two months in PlayStation Plus at no additional cost.

Destruction AllStars is a multiplayer game that's at its best when you're competing with gamers online from all around the world. We want as many people as possible to experience the mayhem on PS5, and what better way to do that than to provide the game to our PlayStation Plus members?

Next week, we'll return with a brand-new trailer and more details on the game, so you'll know exactly what to expect when you download it in February.

This may be disappointing news for some of you who were looking to play the game at launch, but we hope you understand the decision. For those of you that have already pre-ordered the game, be it via PlayStation Store, PlayStation.com, or at retail, your purchase will be refunded.

Thank you for your continued support, we look forward to seeing you in the arena in February!
This explains why we have seen so little of the game, it was less than a month away from launch and all that has been released to the public is a trailer. The game is being developed by Liverpool-based Lucid Games and leaves the PlayStation 5 launch window looking very sparse.
Source: PS Blog
---
Watch Dogs Legion PlayStation trophy list confirmed
With Watch Dogs Legion launching on PlayStation 4, Xbox One, PC, and Google Stadia in just a few days, we've gotten our hands on the full PS4 trophy list.
There are a total of 40 PlayStation trophies up for grabs including the platinum. Of course, if you want to avoid any story and content spoilers then it's probably best to gloss over the list and wait for these trophies to pop naturally.
For those who have bagged the platinum for both Watch Dogs and Watch Dogs 2, you should already have a good idea how this achievement list shakes out. Ubisoft have a cluster of story-related trophies here as well as your usual completionist/grindy trophies along with some cool extras that should take you off the beaten path.
| | | |
| --- | --- | --- |
| Trophy Name | Description | Rarity |
| Completionist | Get all other Trophies | Platinum |
| Brave New World | Complete "Operation Westminster" | Bronze |
| The Future Is Bright | Complete the 404 Storyline | Bronze |
| Long Live The Queen | Complete the Kelley Storyline | Bronze |
| Hacker, Tailor, Soldier, Spy | Complete the SIRS Storyline | Bronze |
| When Good Men Do Nothing | Complete the Albion Storyline | Bronze |
| Divided We Fall | Complete the DedSec Storyline | Gold |
| The One That Got Away | Complete "Finding Bagley" | Bronze |
| In The Nick of Time | Complete "Change of Heart" | Bronze |
| A Roof Over Your Head | Complete "Royal Treatment" | Bronze |
| England For Everyone | Complete "Parks and Reclamation" | Bronze |
| A Dish Best Served Cold | Complete a Revenge Mission | Bronze |
| Making Friends | Recruit an Operative after completing "Reporting For Duty" | Bronze |
| Rise Up | Turn one borough into Defiant state | Silver |
| Take Back London | Turn all the boroughs into Defiant state | Gold |
| Hidden Trophy | Continue playing to unlock this trophy. | Bronze |
| Every Walk of Life | Have a team of 20 Operatives with different occupations | Silver |
| Meta-Gaming | Recruit a Video Game Designer | Bronze |
| Down To The Wire | Perform 5 stealth takedowns with a Professional Hitman | Silver |
| Death From Above | Kill 5 Albion guards using Dive Bomb | Silver |
| NO NOT THE BEES | Neutralize 10 Albion guards using Bee Swarms | Silver |
| Hack The Planet | Propagate a hack across 8 targets at once | Silver |
| Shaken Not Stirred | Disable weapons of 5 Albion guards at once using the Spy Watch Gadget | Silver |
| Power To The People | Have your followers neutralize a total of 3 Albion guards | Silver |
| Paint Me Like One of Your… | Stun Clan Kelley members 5 times with paintball gun headshots | Silver |
| Throw The Book At Them | Perform 5 arrest takedowns | Silver |
| The Royal Tour | Enter Buckingham Palace's restricted area disguised as a Royal Guard | Silver |
| You Don't See Me! | Escape a Pursuit Level 5 doing a Statue Emote | Silver |
| Could've Made National | Complete Kick up challenge intermediate 1 | Bronze |
| Bullseye | Complete a Darts game in every Darts location | Bronze |
| Piece de Resistance | Complete a Paste Up in every Paste Up location | Bronze |
| Bottom's Up | Drink at least once in every Drink location | Bronze |
| DedSec Delivery | Complete 20 Parcel Fox Delivery Missions | Bronze |
| All About Aesthetic | Buy a Weapon Skin | Silver |
| Re-Wrap My Whip | Buy a Vehicle Paint | Silver |
| Fresh Threads | Spend 100 000 ETO on Clothes in shops | Silver |
| Fully Kitted | Unlock all Upgrades | Silver |
| Locked And Loaded | Purchase all the upgrades for every weapon | Silver |
| Oral History | Collect 50 Audio Logs | Silver |
| Magpie | Collect 15 Relics | Silver |
Watch Dogs Legion is the third game in the Watch Dogs franchise and will launch this Thursday on October 29th. Those who purchase a copy of Watch Dogs Legion will be entitled to a next-gen upgrade for free whether transitioning from PS4 to PS5 or Xbox One to Xbox Series X|S.
Following Legion, Ubisoft's next – and last – major release for 2020 is Immortal Fenyx Rising. Originally titled Gods & Monsters, we've spent some hands on time with the mythological adventure.
---
Ghost of Tsushima: Legends – Assassin Class Guide & Techniques
Of the four classes Ghost of Tsushima: Legends has to offer at launch, it's easy to see why many players are drawn to the Assassin.
In stark contrast to the noble art of swordplay, you'll look to deceive your enemies at every given opportunity, embodying what it truly means to be a Ghost.
Aside from having some of the coolest headgear Ghost of Tsushima: Legends has to offer, the Assassins are the most lethal class in terms of raw damage output and, like the Samurai and Hunter, has a flashy ultimate power that can slice through small patrols like they were hot butter.
Assassin Overview
It goes without saying that Assassin players should be trying to land as many assassinations or critical strikes as possible. To initiate one of these moves you need to remain unseen by the target, a square button prompt appearing when assassinations are available.
The difficulty here is that once you've been spotted, your character will default back to sword attacks. It's not such a problem when playing the story driven two player missions in Ghost of Tsushima: Legends, though survival runs are a different story.
To play the Assassin well you need to regain the element of surprise, even when locked in combat with them. Disengaging, then coming back is certainly an option though this eats up valuable time and can put pressure on allies defending control points. Therefore, you'll need to rely on Ghost Weapons such as smoke bombs to cut their line of sight as well as your class ability, Toxic Vanish.
Knowing how to stagger enemies is another important lesson for Assassins and this can leave them prone to a lot more damage, should you equip the right perks. Staggering is done by depleting the white bar above an enemy's health – once broken, they will be stunned for a few valuable seconds. There are plenty of ways to do this including heavy katana attacks (Water stance blades work best) as well as certain Ghost Weapons.
For tougher targets – including elite Oni – you won't be able to one-shot them with an assassination, instead performing a critical strike though this can dole out some hefty damage. Being able to identify and react to staggered enemies is key as you can chain together multiple strikes as long as your timing is spot on. Ranking up and assigning certain perks can make you an even more proficient silent killer – we'll talk about these below.
Assassin Techniques
| | | | |
| --- | --- | --- | --- |
| Name | Type | Rank Required | Description |
| Shadow Strike | Ultimate | 0 | Enter the shadows and strike enemies from a distance |
| Toxic Vanish | Class Ability | 1 | Vanish in a cloud of poison smoke that deals Stagger damage to nearby enemies |
| Critical Hit | Perk | Slot 1 | 2 | Inflict 30% more damage during assassinations |
| Experienced Assassin | Perk | Slot 2 | 3 | Stealth attacks are faster and quieter |
| Shadow Storm | Perk | Slot 3 | 5 | Shadow Strike gains 2 extra strikes |
| Super Strike | Perk | Slot 1 | 7 | Perform a stronger Stealth Attack dealing 2x normal damage |
| Light Step | Perk | Slot 2 | 9 | Damage of status effects increased by 25% |
| Explosive Arrow | Class Ability | 10 | You are silent when running |
| Chain Vanish | Perk | Slot 3 | 11 | Successfully assassinating an enemy while vanished re-activates vanish and refreshes the duration |
| Assassin Unleashed | Perk | Slot 1 | 14 | Decrease class ability cooldown by 15% |
| Opportunist | Perk | Slot 2 | 16 | Deals 50% bonus assassination damage to Staggered enemies |
| Legendary | Perk |Slot 3 | 18 | Increases the number of Legendary items you can equip by 1 |
Group vanish is a handy class ability to have, acting as a free get out of jail card when trapped in a desperate moment. However, Toxic Vanish is one of the best tools in your arsenal due to its combined health and stagger damage.
Super Strike should be your first perk choice. In doing so, you'll now have a triangle button prompt when approaching an enemy from behind, doubling your damage. This can be combined with Opportunist (perk slot two) for an additional 50% damage from these attacks, making you a huge threat to those tougher Oni and Mongol fighters.
Unless you have a pair of Legendary Items you are dead set on equipping, you should be taking Chain Vanish as perk 3. As we've discussed before, your main job is to stagger enemies then follow up immediately with assassinations so having the power to pop your Toxic Vanish twice in rapid succession is a must-have, really.
---
---
Neon-lit lights smothered in anti-establishment graffiti flash past as you effortlessly take down five enemies before they ever knew you were there. Where most games would have such a moment play out during an action-packed cutscene, Ghostrunner gives you the tools to pull off movie quality moments of action in the run of play. It's honestly astounding.
You are Ghostrunner, a purpose-built killing machine and the last line of defence against a bloodthirsty tyrant. You and 100 of your kind are exterminated in the opening chapters of the game, but somehow you survived. Starting off at the bottom of a post-apocalyptic cyberpunk city overrun with electronically enhanced goons and robots, it's your job to climb you up out of the depths and ascend to confront the evil dictator.
Ghostrunner is really something special. The way in which it presents its combat system is incredibly freeing. Every encounter hinges on the fact that a single hit leads to death, demanding total accuracy at all times. Fortunately, movement and combat are both incredibly fluid. As the Ghostrunner, you can deliver devastating blows with your samurai sword, dodge around enemies while in bullet time, and even deflect bullets and projectiles back at them.
That's without taking into account the Mirror's Edge style first person movement which enables you to run along walls, wall jump and eventually use electronic rope to attach to anchor points around the world. The movement system is incredibly smooth, both in combat and during the challenging platform sections scattered across the city.
As you grow more confident with the game, I found myself relying less on bullet time and instead using acrobatic abilities to their full effect. In one instance, I took down a group of enemies while wall-running and deflecting their bullets back at them.
There are also occasional puzzle sections which relate to upgrades and pickups. These puzzle sections typically teach you how to use a new ability or progress the narrative, but they never take you away from the action for too long. Fortunately, the puzzles are never too difficult and usually just take a little tinkering before you solve them. Upgrades unlocked later in the game make your Ghostrunner even more formidable, improving on your arsenal and adding to it. At one point you unlock a force push ability which can deflect projectiles back at enemies, making you feel like Neo from the Matrix.
Those aforementioned platforming sections really are very fun. The freedom of movement mixed with the elevated sections of wall runs and grapple points almost feel like they should be in a cutscene, but they aren't. There are occasional issues with physics where Ghostrunner would suddenly jolt from a wall through no fault of my own. Fortunately, this rarely happened and never frequently enough to cause frustration. For those looking for an extra challenge while traversing the city, there are numerous secrets to be found in hard to reach places rewarding players with collectibles, additional lore and skins for Ghostrunner's sword.
The only real problem I have with Ghostrunner in its current form is a major lack of accessibility options. Many puzzles throughout the game require colours to solve, but there aren't any colour-blind options available. This could be especially frustrating during puzzles which include the colour yellow. I'd have also liked to see more accessibility options around the platforming and combat. Something akin to Celeste's customisable physics would have made Ghostrunner a lot more accessible to a wider variety of ability levels.
I think it's also worth noting that this is a game that really feels like it's been built for mouse and keyboard, even though it's coming out across PC, Xbox One, PS4 and Switch at the same time. I've tried using my Xbox One gamepad a few times and just found it a lot more difficult to do what I wanted. I'm not sure if tweaking the sensitivity could have fixed the issue, but at the moment mouse and keyboard feels like the only way to get the most out of Ghostrunner's fluid combat and traversal system.
Ghostrunner is a visual treat that runs fantastically on my PC. Playing on an RTX 2060 with DLSS (Nvidia's impressive upscaling software) I ran the game at max settings at a solid 120 FPS and upwards. If you're looking for what next gen might look like on PC, it is undoubtedly something like Ghostrunner. An excellent original soundtrack by Daniel Deluxe accompanies all the action, making the futuristic city feel even more cyberpunk than it already does.
---
Family is a game that celebrates indie music in the 80's and 90s. Players are tasked with piecing together the details of the music scene by listening to as many songs and radio interviews, and by piecing together several pieces of text. Playable through web browser (via itch.io), Family is a short, but sweet experience that offers something a little different.
Music takes the centre stage in Family and for good reason. Although the game is undoubtedly a celebration of indie music from before the turn of the millennia, all of the songs are original creations by developer Tim Sheinman and have been inspired by the sounds of the scene. Each song is also accompanied by gorgeous cover art that really brings them to life. There's a tangible feel to the music in this game, something that is further enhanced by the variety of the songs. What makes this all so impressive is that Family has been created by just one person.
While listening to each of the songs, it's your task to piece together each band and figure out who is who. A sort of family tree like chart sits at the bottom of the screen, showing how each of the bands are connected. Should you figure out who the guitarist is in one band, you might pick up a clue that they moved somewhere else. Family is filled with these subtle hints and figuring them out on your own like an investigator or journalist is absolutely sublime.
As someone who has been in and out of the same band numerous times over the past few years, I can attest to just how unpredictable band life can be. Family captures that atmosphere perfectly, telling the story of how impassioned the act of being in a band is and how it is, just as the title of the game suggests, like a family. The finer intricacies of how each band started, grew, developed and eventually split up are exceptionally well written, so much so that it would be easy to believe that every band featured in Family is real.
It isn't all arguments and break ups, though. Family is a celebration of a very real scene of indie music in the late 80s and early 90s. Many of the bands of the time faded into obscurity after tasting short lived success with a few singles, but the love for that scene and those bands lives on to this day. For the past two years I've attended the At The Edge of the Sea festival hosted by one of the best indie bands of that time period, The Wedding Present. For two days in the middle of August, the scene that Family so compellingly recreates shows that it's alive and well, as other bands of the era reform in front of a crowd of forty somethings all looking to relive their teenage years.
What I'm trying to day is, Family is a heartfelt celebration of an imaginary indie music scene which is inspired by a real one. This is what makes Family so fascinating, endearing and believable. What could have been a very simple browser-based puzzle game is instead a piece of fiction which captures your passion for music and reminds you of a time before digital downloads or Spotify, a time when bands grafted and built passionate, dedicated fans within a small community.
---
Patches cut load times for The Last of Us Remastered, Until Dawn and more… on PlayStation 4
Sony's first party studios seem to be laying the foundations for support on the next generation PlayStation 5 with patches to a number of PlayStation 4 exclusives that, by happy coincidence, dramatically improve the loading times on PlayStation 4 as well.
One of the most notable examples of this comes from The Last of Us Remastered, where the initial loading time has dropped from 90 seconds to just a shade under 14 seconds on PS4. You can see this in action here:
Similar patches have been reported for God of War and God of War 3 Remastered, and for Supermassive's spooky adventure Until Dawn.
The speculation is that these games are being updated to be able to take advantage of the Boost Mode on PlayStation 5, detecting the more powerful hardware and enabling new performance profiles for resolution and frame rate. It's already been confirmed that Ghost of Tsushima will run at 60fps on PS5 thanks to Boost Mode, but it's something that is being selectively applied. Games that do not recognise the PS5 hardware will only be able to use the additional power to boost up to the programmed maximum resolution and frame rates available for PS4 Pro.
So how has this affected the PS4 load times? Well, it's likely that as developers are revisiting the games to add PS5 support, they're also able to implement the newer loading techniques that they've learnt through the PlayStation 4 generation – Ghost of Tsushima is noted for its short loading times already – and potentially also some newer compression techniques available to the PS5.
In general, the PS5 is almost universally compatible with PS4 games, with just a handful of games noted for not working on the newer console through backward compatibility.
There's been a lot coming out of Sony's camp around the PlayStation 5 UI reveal, which showcased the speed of the system, the Control Centre overlay that provides access to pretty much all system features while in game, the new PlayStation Activites and card-based interface, and more. A part of the change is that the PlayStation Store will be baked into the main system software and not be a separate app.
There have also been other foundational changes made over the last few weeks. The PlayStaiton 4 was updated to system software 8.00 making fundamental changes to how parties and messages work to tie into the new philosophy behind social interactions on PS5 – much to the chagrin of some users – and the standalone PS Messages mobile app is being discontinued as the feature will be integrated back into a new PlayStation App on smartphone.
The PS5 officially launches next month, arriving in the US and other select territories on November 12th, then everywhere else (including the UK) on November 19th.
Source: YouTube, Twitter via VGC
---
Removing your Facebook account will also wipe your Oculus games and credit
Facebook recently tied the social media platform to their VR platform, Oculus, requiring you to have a Facebook account to access the Oculus store. As the two companies are linked if you delete your Facebook account then you will also lose access to your Oculus Store games and credit.
While this may seem odd you have to remember than Facebook and Oculus are the same company, if you delete your PlayStation account then you lose access to all your games and credit as well. If you have an older Oculus device and have not linked your account to Facebook then you will not be affected but original Oculus accounts will be not be supported by 2023 so you will have to move to Facebook before then.
Over the weekend there were reports that Facebook was banning Oculus users who add more than one VR headset to their account. This stemmed from a comment from an Oculus Support Representative but has been corrected by the Oculus Support Twitter account.
In an effort to quickly respond to customer questions, we provided incorrect information about multiple device ownership, so we wanted to clarify a few points: Using the same Facebook account on two or more Oculus headsets simultaneously will NOT get your account "banned." Having the same account registered to two or more headsets is not against the Facebook Terms of Service.
Oculus recent released the Oculus Quest 2 with prices starting at $299 / £299 for the 64GB model, $100 / £100 cheaper than the original Quest. An upgrade to a 256GB model will cost $399 / £399, while there's also a Quest 2 Elite Strap available for $49 / £49, and the strap with battery pack and carrying case for $119 / £119, both of which can enhance its comfort and portability. You might want that battery, since the headset is still only rated for 2-3 hours of play time…
The headset is now powered by a Qualcomm Snapdragon XR2 with 6GB of RAM. There's also 1832×1920 pixels per eye (a significant step up over 1440×1600 in the original), and while there's only 72Hz support at launch, 90Hz will be coming via an update down the line.
In general, the headset has been made smaller and lighter – it's now 503g vs 571g – and it comes with updated Oculus Touch controllers that are also a touch smaller.
---
This year has seen a remarkable resurgence for the ancient and storied genre of the scrolling beat 'em up. As a lifelong fan of the genre – my first love was Captain Commando and his loveable band of misfit heroes – this is very good news indeed. 9 Monkeys of Shaolin is the latest from Sobaka Studios, the team responsible for bringing the violent adventures of the viscera loving and very vicious warrior monk known as Vasily kicking and screaming to life in their 2017 game 'Redeemer'. When I reviewed that game I was left impressed by the cathartic carnage on offer, so I was understandably excited to see what Sobaka could do with the walking duff 'em up formula.
One thing is clear about Sobaka Studios from their recent output; this is a team that really love warrior monks. 9 Monkeys of Shaolin is veritably filled to the brim with monks. There's more monks than you can shake a staff at. You take control of one particular monk, Wei Cheng (unless playing in co-op, where the other player takes on the role of bonus monk Daoshan). After witnessing his entire village massacred by some evil pirates, Wei Cheng becomes a monk in an effort to track down the villainous scurvy swine and attain vengeance for his recently departed pals.
And that's pretty much all the excuse you need to roam over twenty-five different levels; biffing, bopping and brawling with a veritable horde of baddies in your way. There is a story, one that is delivered primarily by talking heads that spout nonstop exposition from the beginning of a cut scene to the end. It's a rather dry yarn and one that, thankfully, can be entirely ignored in favour of getting stuck straight into the fisticuffs.
And what fisticuffs they are! Sobaka Studios certainly knows how to craft combat that feels hefty, impactful and carries a sense of real weight and momentum. Attacks are built around basic combos and charged moves, a successful flurry sending foes spiralling through the air to crunch through a pile of detritus in an extremely satisfying manner.
Unlike a traditional 2D brawler that sees enemies attack only on a horizontal plane, 9 Monkeys instead offers 3D movement within its stages. This adds a neat additional challenge when it comes to managing space and channelling enemies towards your furious fists and fearsome feet. It's an aspect of the game that is fully explored with the magic seals, a series of abilities that can suck enemies toward you or send them bouncing into the sky, ready to receive a devastating air combo. This is a game all about forcing your foes into the right position to open them up to a dizzying array of attacks.
This is not your standard scrolling brawler where the most you can expect is a couple of combo strings and an occasional special move. Instead, the developers have wedged so many attacks into the controller set-up that it's almost creaking under the pressure. There were moments when my fingers and thumbs were regularly entwined in poses that just shouldn't be possible as I tried to memorise the different attacks and powers that are regularly unlocked. But, once it clicked, I couldn't help but be impressed. 9 Monkeys of Shaolin offers some of the most deep and delightful combat systems I've ever seen in a game of its genre.
It's unfortunate then, that some absolutely daft design decisions have been made that serve to undermine this good work. First off, the visuals. Now, there's nothing initially wrong with the big, bold and chunky character aesthetic. What does become a problem is the insistence that levels take place so often at night or in dark caves where everything and everyone is obscured in shadow. Trying to tell which monk shaped silhouette is you, which is your co-op partner, and which is an enemy becomes impossible, resulting in that excellent combat turning into random button mashing and a hope for the best. Even in daylight there's an issue, the character models often blending into one. Frequently my partner and I lost track of our avatars entirely, two bald men armed with staffs and wearing robes in slightly different shades of blue are easy to mix-up it turns out. Quite why the player characters aren't highlighted in some way to distinguish them is beyond me.
Then there's the issue of the cursed green tea. Now, don't get me wrong, I enjoy a slurp of a tasty tea pig as much as the next person – so the tea itself isn't really the problem. In fact, collecting tea is entirely necessary as it helps boost your health meter or charge your Qi. The problem is that the icon that displays the tea you've collected sits in the bottom left – and bottom right in co-op – corner of the screen. I can't tell you the amount of times my monk ended up obscured by that stupid tea meter, resulting in, yet again, more uninformed button mashing.
I was also left flustered by the maddeningly inverted difficulty curve. 9 Monkeys of Shaolin starts out as a steep challenge. This is exacerbated by some torrid difficulty spikes that come out of nowhere, the second boss in particular is an absolute horror. Then, all of a sudden, as you level-up your character traits and unlock new abilities, the game becomes an absolute cake walk. The latter stages, rather than providing a culmination that matches the players heightened skills, are instead breezed through with barely an effort. Green tea drops, which in early stages are extremely limited, are soon found brewing everywhere. It's like having a fight in a trendy café; only missing a millennial with a man bun and ironic facial hair, sat at his laptop pretending to write important things.
Level design can be imbecilic. One particular stage requires a player to have to navigate a flight of stairs, despite the flight of stairs being obscured by a wall and the next flight of stairs. Resulting in much unintentional hilarity as two deadly warrior monks are unable to clamber up some stairs, repeatedly appearing on the same floor they started on. Those monks make the Daleks look like stair climbing aficionados in comparison. Then there's the issue that the game refuses to lock the borders of its screen whilst you see off the baddies. The amount of time my partner and I got stuck off screen after landing a combo was ridiculous.
And yet, despite all these flaws, I mostly, kind of, enjoyed my time with 9 Monkeys of Shaolin. Its hub area, in which you can level-up and launch into a stage, provides a welcome change to the standard scrolling brawler formula, local co-op is – as always – a joyful and welcome addition to any game, and the combat is brilliant when you can actually see what's going on. You've just got to ignore an awful lot of problems in pursuit of the good stuff.
---
DIRT 5 multiplayer party modes revealed
Codemasters have revealed a bunch of details about the DIRT 5 multiplayer features and modes, including a suite of party modes that should appeal to longterm fans of the series.
The core multiplayer is based around 12-player online events, and with full cross-generational support for PlayStation 4 to PlayStation 5 and for Xbox One to Xbox Series X|S. There's straight up racing through all the circuits and the game's 10 locations, but as in previous Dirt games, you can break this up with some party modes, with the game featuring a few unique, purpose-built arenas for each mode.
The three objective-based events are Vampire, King and Transporter.
Vampire is just a little bit like Outbreak from Dirt 3. One play from the lobby is designated as the Vampire at the start of a round and must hunt down and make contact with other cars to turn them into Vampires as well. It's a classic game of keep-away.
King is a little like Vampire, but in reverse. Your aim is to hunt down and bump into the King in order to steal the crown, and then to run away and avoid the other players. You'll earn point for holding onto the crown, but the King also leaves a trail of coins behind for other players to snap up. Two crowns will spawn in the arena and will automatically reset if a player manages to hold onto it for a set amount of time.
Finally, Transporter is about capturing an object and then taking it to a designated place to score points, while avoiding all the other players who are trying to do the same thing. The twist? Holding onto an object for longer will score you more points, so will you risk going for a big score, or a quick and easy dunk?
It all sounds like nice and zany stuff, and comes alongside an expansive career and the user-generated content of the Playgrounds mode. Codemasters Cheshire are pulling out all the stops when filling the game with content.
Dirt 5 is out for PlayStation 4, Xbox One and PC on 6th November, with free upgrades within a console family to Xbox Series X|S on 10th November, and to PlayStation 5 on 12th or 19th November. Both next-gen consoles feature native 4K and performance modes that deliver up to 120fps gameplay, but it was recently confirmed that save data would not transfer between PS4 and PS5, but that data will transfer between Xbox One and Xbox Series X|S.
Source: PS Blog
---
G.I. Joe Operation Blackout Review
There's a resurgence of games based on 80's toys going on at the moment. In the past few weeks we've had Zoids, Transformers, and now GI Joe has joined the party in Operation Blackout. The game finds Cobra attacking the Joe's across the globe, leaving the world under the jack boot of Cobra Commander and our heroes either locked up or scattered across the planet. The few remaining Joe's must team up, save their pals, and stop Cobra from unleashing the Free Will Nullifier, a large bell made from the core of a meteorite which has been melted down and moulded using ancient tablets.
The game is a third person shooter with split screen local co-op built in, each mission giving you a choice of a couple of characters who each come with their own weapons and special moves. GI Joe was one of the first toy lines to make the ladies as bad ass as the men so you get a nice mix of characters and, like the old Transformers War for Cybertron game, you get to play both sides of the story, controlling either the Joes or Cobra.
Cobra Commander, Storm Shadow, Destro, Baroness, Snake Eyes, Duke, Scarlett, Lady Jaye are all playable, as are some of the more minor characters such as Mainframe. Sadly my favourite, Snow Job, is locked up and you can't play him and giggle at his name.
The best thing about the game is the story which is told through voice acting that is delightfully over the top, and animated comic style panels between missions. It's proper Saturday morning kids cartoon fun with ridiculous missions that make no sense (Cobra already rule the world, why do they need a Free Will Nullifier?) and plenty of double crosses and surprises. While you're running about other characters keep in touch via comms to progress the story and there's some nice banter, although Snake Eyes remains stoically silent which leads to some amusing situations where team mates just assume he said something.
Sadly the actual game is rather lacking. It's a cover shooter, with plenty of barriers and things to hide behind, but no actual cover mechanic so you just have to run about and hide. Not that you need to do that much as the enemy AI is very basic, they either run straight at you or just jiggle around in a small area moving from side to side making them annoyingly hard to hit, especially with grenades.
The weapons you get to wield are equally hit and miss, some are quite effective, others barely dent the enemies and take ages to reload. Thankfully you can find other weapons in each level and swap them out. Special moves fall into the same category; some of them are very useful and launch drones which take down enemies for you, others barely seem to have any effect whatsoever.
Each character also has a melee move but they lack weight, and it's difficult to tell when you have hit the enemy. It's also disappointing that ninjas Snake Eyes and Storm Shadow are lumbered with using guns rather than running about and hacking and slashing.
Boss battles are peppered throughout the game and are really quite tiresome as the bosses take a huge number of hits before they go down. Just like the grunts they either run straight at you and circle around, or do the exact opposite and continue to run away from you as you chase them. There are also a couple of driving sections in which you career down paths avoiding mines and rocket towers while taking out other tanks and flying enemies. It's fun the first time but gets repeated twice more, as do many of the locations in the game.
As usual you can find bonus items to unlock including comics and skins and there's also a stab at multiplayer. Unfortunately it's local only but supports up to four players via split screen and has death match and capture the flag modes. It's a nice addition but without online play it's severely limited.
---
Custom PS5 plates are being sold by third party company The Plate Station
When the PS5 launches and people get it they will be getting a console that has white faceplates. It is the only official option from Sony currently though the company has confirmed that the faceplates for the PS5 are swappable. Now, a site has popped up and it is offering four alternative colours for PS5 plates, though it has to be stated that these are all unofficial and have not been licensed by Sony. The options offered by the site called The Plate Station are Chromatic, Cherry Red, Matte Black, and Indigo Blue. These colours are similar to some of the colours that the PS4 was available in.
The prices for each one are £32/€34.95/$39.99. According to the site's FAQ the company will be shipping the plates from November 12th and delivery should take 5-7 days. The FAQ confirms that the plates will not have the PS logo on them as these are third party plates. The FAQ also states that purchasers cannot mix and match colours at ordering, as the sets come in one colour each. The matte black edition will only be available until the end of 2020, but if the company sees high demand then more will be released. The reason for the pictures being renders and not actual photos of the product is because the prototypes are being created, but Plate Station states that it will be releasing images soon.
In terms of the PS5 warranty, the Plate Station states that changing the plates should not impact any warranty players have with Sony for the PS5 as the plates are removable and can be changed. It makes sense because it is likely Sony will release their own plates eventually for PS5 owners to purchase. The Plate Station is based in the UK but the plates themselves are being manufactured in China.
Source: PlateStation
---
Interview: CoLD SToRAGE on the sound of future racing – from Wipeout to Pacer
Future racing has a sound beyond the distinctive hum and whine of antigravity engines. It's one that thumps, grooves and rumbles its way into your ears before snapping away in your synapses; electronic beats that lie deftly in tune with every drift, chicane, and explosion. This is of course the legacy of Wipeout, the game that defined what future racing looks, feels and sounds like. Sitting at the heart of it was the music of CoLD SToRAGE, an in-house, solo project from musician Tim Wright that stood toe to toe with the Chemical Brothers and wasn't found lacking. Now future racing is set for a glorious return to centre stage with Pacer, and alongside members of the Wipeout team, CoLD SToRAGE has returned to the genre that they helped define. We were lucky enough to talk to Tim about how it all came about, and about his work on one of the most iconic games of all time.
---
TSA: How are you doing today?
Tim: Honest answer? Pissed off with Covid-19 and the way it's screwing with me, my family and the World, but likewise so grateful that to date it's not affected me as much as it has so many others. I have a bulging disc in my back which means I have numb toes and tingling legs, but other than that I'm in pretty good condition for a 53 year old man! I'm trying to take better care of myself, and make good use of being at home a lot more just now… working on new music and re-working and re-mastering old tracks for release on Bandcamp and Spotify.
TSA: What did being part of the original Wipeout mean to you at the time?
Tim: At the time, it was just another game to work on. There were many great games coming out of Psygnosis ( Sony Liverpool ), and it was fun to work on most of those games. WipEout was a new experience for me, that much is true. I was not a fan of acid house, techno, trance or any form of dance music, and here I was… tasked with providing a load of music for this new game. Not only that, but my stable-mates were Orbital, Leftfield and the Chemical Brothers… no pressure then!
I worked my butt off on that music, and I never really thought I was getting it right… and then one evening, I was stood outside my studio with the door open wide – I always liked to step away from my speakers and hear the music from a distance – and my fellow in-house musician Mike Clarke came over. He said, "Is that your track?", Yeah…" I replied. "Nice job" he said, nodded and walked off. Mike is not easily impressed, so it was comforting to hear that from him.
Your question asks about being part of the team though… and truth be known, at times I felt like I wasn't really. I was sat alone in my studio most of the time, and although I'd go down and play the latest build of the game, and chat with the team there was always a bit of distance there, more so because when I was done on WipEout I was moved onto the next game, before WipEout was properly finished.
That's just how things worked out. Come to think on it, that was actually quite a good thing for me, because if a game did well and you'd worked on it, you were in-line for a bonus in your pay-packet, so as a musician I worked on many games… some didn't even get out the door, which was tough on the development team that worked on it. But because I worked on so many, my bets were hedged and overall I'd usually make good money from bonuses, but on the flip-side, I never 100% felt like I was at the core of a game's development. Swings and roundabouts eh?
TSA: Did you know early on just how impactful the game would be, and how important the music would be to its success?
Tim: Not really… not at first. But after it had been out there a month or two, and we saw how much it had changed the perception of gamers… from back bedroom geeks to after-party gamers, it was clear that PlayStation was moving into the living room and even into club lounges. The music side of things, that didn't really hit home until WipEout 2097/XL, when there was a groundswell of musicians wanting their music in the game. Getting well know artists on board for the first game had been more of a challenge.
TSA: It's been a few years since you last worked on a game soundtrack, how did your involvement in Pacer come about?
Tim: It had been about 3 or 4 years since I'd been heavily involved in a game soundtrack, and in fact PACER was already a project I'd worked on back in 2015/16, it had just taken some time to really get to the point where I was asked to contribute a lot more. I was originally signed up to just provide a single track, and maybe do some P.R. and even a live appearance on-stage as part of the launch. However, none of that came to pass, and I'd forgotten all about it, until the game was re-branded and I was approached to create more music, in-game stings and sound effects too.
The last game I was really deeply involved with was Gravity Crash by Just Add Water, and in the intervening time I'd concentrated more on my other businesses, whilst still producing audio albums like Ch'illout" and a Shadow of the Beast up-mix album.
TSA: How did it feel returning to a genre that you helped to define?
Tim: I returned to this style with a hint of trepidation. My biggest competitor when it comes to writing music "in the style" is of course me, because new works are always compared to your existing catalogue, and that back-catalogue already has a bunch of memories attached to it. But after I'd gotten over that initial worry, it was fun to just forget WipEout ever existed and just treat it as a brand new game or genre, and a brand new assignment… then I could just get on with it and blue-sky.
TSA: What kind of influences and instruments did you want to draw in this time out?
Tim: I've been using Propellerhead ( now Reason Studios ) Reason since version 4.0. I know it like the back of my hand, so it doesn't get in the way at all – I just use it like a third hand most of the time. I did purchase some new plug-ins recently, so it was fun to try those out in the mix… synths, effects and also so 3rd party VSTs too. But most of the time I find myself going back to firm favourites like the Subtractor Analog synth and just stacking up lots of those to make fat dynamic leads and bass sounds.
One thing I do enjoy doing a lot more these days, is adding noise and distortion to pads and lead sounds, just in a subtle way to give them more bite and top-end… it's sometimes hardly perceptible, but it adds to the density of the mix. In terms of musical influence, I guess whatever I'm listening to at the time might creep in, but consciously there was nothing that really pushed me in any particular direction.
One thing I didn't do was, to listen to the other artists first – I didn't want to try to fit in with some other style, because then why have me on board? Much better that there is a diverse selection of music I think.
TSA: What's changed for you and your music since the original Wipeout? Has your process changed?
Tim: Oh yes… massively! Back when I was composing the original WipEout tracks, everything was outboard, so a rack of synths, samplers, and mixing everything analogue, and only then finally sampling it digitally.
The fact that I had a finite palette to select from meant that I leant heavily on sample CD collections, to source breakbeats and spot effects.
It's fair to say, my production skills were pretty basic back then too… I would listen to my tracks and then listen to some music that I liked, or in a similar genre just to see if my music was lacking in bass, compression, top-end, variety and so on. I was pretty cautious and also constantly aware of the other well known acts that I was sharing a virtual stage with, so it was quite an exciting and adrenaline driven time.
Since then, I've slowed down with age – as we all do. I've become more confident in my mixing skills and also to a degree accepted that things will never be 'perfect' they will be what they will be – when you get to the point where you feel the music is telling it's story in the 'clearest voice' it can, then stop.
TSA: How impactful do you think music in games is?
Tim: In general? Well… that a bit of "how long is a piece of string" question. Some in-game music can stir your heart, make you cry, laugh or even get pretty mad!
Some game music is bloody awful ( not often ) and doesn't suit the game at all. If you mean, do games need music… a kind of Devil's advocate question, then I'd say that there are games with no music, just as there are films where there is title music, but none within the film, and they still work.
TSA: Beyond Wipeout, which of your game soundtracks did you enjoy working on the most?
Tim: Recently? I would say "Gravity Crash". I was given a great budget and plenty of time to develop the music and sound effects for that game. I was super proud of the soundtrack and also the additional music I composed for the associated music album – it was great fun to work on too.
TSA: Has working on Pacer reignited a love for game soundtracks? Is there a genre out there you'd still like to tackle?
Tim: I've always loved working on game soundtracks… just as much as I do stand-alone music albums, it's a different challenge, a different mind-set. As for a genre to try, yeah… I'd love to write another soundtrack in a more orchestral style, and maybe something I've never done, like Reggae maybe?
A huge thanks to Tim for taking the time to talk about his work. You can check out his latest game soundtrack endeavours in Pacer, which releases on the 29th of October for PS4, Xbox One and PC, or head on over to CoLD SToRAGE's Bandcamp page to check out some of his incredible portfolio.
---
The PS4 version of Night Call has been cancelled
Developer Monkey Moon has announced that it is cancelling the PS4 version of its mystery title Night Call. The reasons for this is that Night Call had poor sales on the other platforms it was released for, there were issues with porting, and that has meant the studio cannot afford to make the PS4 version. The confirmation of this cancellation of Night Call on PS4 came via a statement on Twitter, and you can read what Monkey Moon had to say below.
"Dear Playstation players, we're super sorry to announce that the PS4 version of Night Call is officially cancelled. Given that the game didn't sell quite well on other platforms + issues we encountered with our porting partners we won't be able to deliver Night Call on PS4. Please note that we're probably as disappointed as you are. But we just can't afford it."
The game is set in Paris with the main character being accused of being a serial killer as they were the last person seen with the most recent victim. You need to find the actual killer before the cops close in and pin the entire affair on the main character. The character is a taxi driver and each passenger may offer clues as to what has actually happened, and how to clear your own name from the mess. There are over 70 characters in the game and through each playthrough the killer's identity will change so you can never be 100% certain that the person in your cab isn't the killer.
Night Call was released in 2019 for PC via Steam, GOG, and Xbox Game Pass for PC. Night Call was then added to the Xbox Game Pass for consoles earlier this year.
Source: Twitter
---
Ghostrunner will have free PS5 and Xbox Series X|S upgrade, trophy list revealed
505 Games and All In! Games have announced that the wall running combat title Ghostrunner will be released on PS5 and Xbox Series X|S in 2021, with those buying the game on PS4 and Xbox One getting a free upgrade to the next gen version. The game itself is being developed bynOne More Level, 3D Realms and Slipgate Ironworks. Ghostrunner will be released on Tuesday, October 27th for PS4, PC, Xbox One, and Switch. The trophy list for Ghostrunner has also been confirmed, and you can check out the list below. Beware that they do contain spoilers.
GR Project Complete (Platinum) – Obtain all the other trophies
R is for Running (Gold) – Complete a level without dying
Finish Line (Gold) – Complete your climb up the Tower
Out of Order (Silver) – Decommission Tom
Back to Hell (Silver) – Defeat Hel
Artificial Selection (Silver) – Defeat the Keymaster
About Adam (Silver) – Collect all audiologs
One Man's Trash (Silver) – Collect all story items
A Fine Addition (Silver) – Complete your sword collection
Junkrunner (Gold) – Collect every single collectible item in the game
Longrunner (Bronze) Run 42 kilometers
Where Are My Keys? (Bronze) Kill 1000 enemies
Triple A (Silver) – Kill 4 enemies with a single use of Blink
Wave of Mutilation (Silver) – Kill 3 enemies with a single use of Surge
Control Freak (Silver) – Force enemies to kill 4 of their allies using Overlord
Unstoppabel Force (Bronze) – Kill 3 enemies with a single use of Tempest
Hit Me If You Can (Gold) – Block Warden's attack 5 times in a row
I Call It Luck (Silver) – Block 5 projectiles in a row using your sword
Sword to a Gunfight (Silver) – Kill 30 enemies with projectiles reflected using your sword (Reflect module required)
Strike (Bronze) – Kill 3 enemies at once witah a falling Drone
Homerunner (Bronze) – Kill an enemy with a projectile reflected by Tempest
Push It To The Limit (Bronze) – Fill up GR-SCP so that there are no empty slots left
Sword Runner (Silver) – Kill 5 enemies within 10 seconds using just your sword
Why Not Both (Silver) – Use 2 different special abilities within 10 seconds
Pre-empative Strike (Bronze) – Kill a Splitter before it manages to split itself
Running Out of Breath (Silver) – Save the residents of Sector Five
Upgrades Not Mandartory (Silver) – Kill 10 enemies in a row without using Sensory Boost
Wallrunner (Bronze) – Kill X enemies right after jumping off a wall
Improvise, Adapt, Overrun (Silver) – Kill a sniper without getting near him
Dead In The Air (Bronze) – Kill 3 Sluggers using Blink, while they are in the air
More Than Human (Silver) – Kill 23 enemies in a row without dying
Can't Run, Can't Hide (Bronze) – Kill 5 enemies with your special abilities, while they are protected by a Beacon Shield
Perfection (Bronze) – Unlock your full potential!
Running Wild (Bronze) – Use dash, wallrun, slide and gap jammer within 1 second
Source: Press Release/PSNProfiles
---