---
Kotaku Friday, May 5, 2023 5:50 PM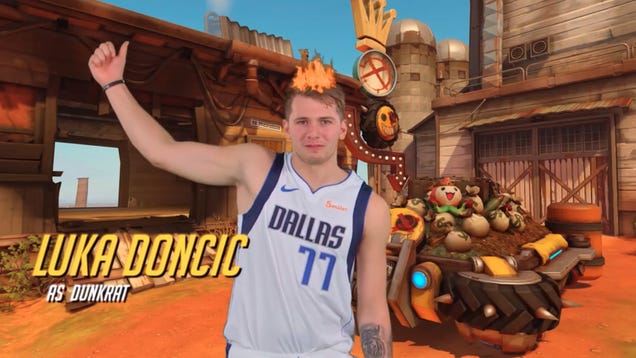 Last night I was scrolling through TikTok in the midst of an edible comedown, and I stumbled upon something so ridiculous, so cringe, so brilliant, that I couldn't believe I had yet to see it before. It's called Maverwatch, and it's a 2018 hype video for the NBA's Dallas Mavericks that features its star players…
---
Kotaku Friday, May 5, 2023 5:19 PM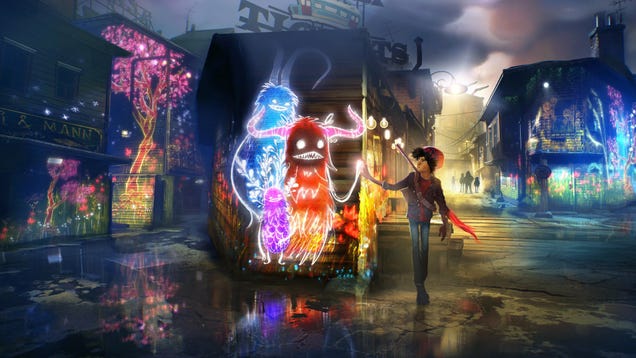 Sony has quietly closed down PixelOpus, one of its first-party PlayStation Studios. Based in San Mateo, California, the studio was responsible for 2014's Entwined and 2019's Concrete Genie.

---
Kotaku Friday, May 5, 2023 4:55 PM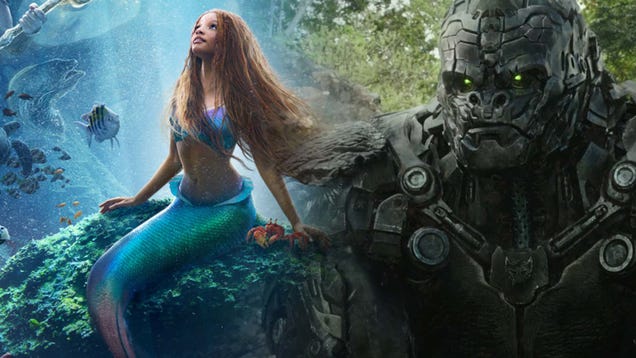 The Little Mermaid live-action remake and Transformers: Rise of the Beasts—two of the biggest upcoming movies of 2023—don't share much in common. However, an apparent film projector accident at a theater showing Guardians of the Galaxy Vol. 3 led to the trailers for the two films playing at the same time. The end…
---
Kotaku Friday, May 5, 2023 4:20 PM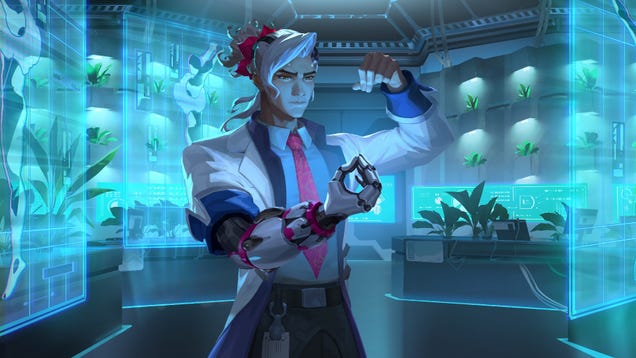 Lifeweaver has been in Overwatch 2 for just under a month, and already the plant-based support hero has had some pretty significant reworks in both his control scheme and abilities. Personally, I've had a much better experience with the character since his last update, but it sounds like Blizzard is planning more…
---
Kotaku Friday, May 5, 2023 4:05 PM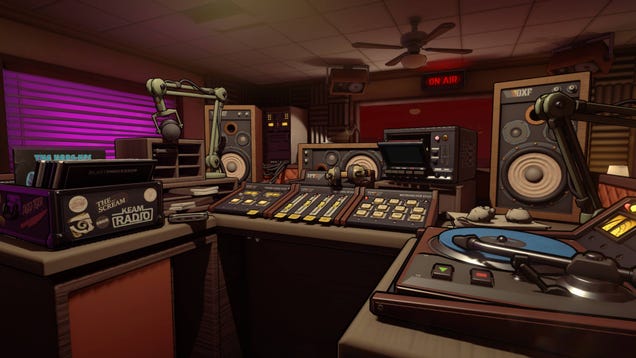 Indie developer Team17's Killer Frequency, out June 1, surprises me by having some of the best, most convincing voice acting and dialogue I've witnessed in a horror game. It's a tragicomedy set in a radio station in the '80s, and this necessitates a schmooze-y charm for its characters, but I'm impressed by how well it…
---
Kotaku Friday, May 5, 2023 3:00 PM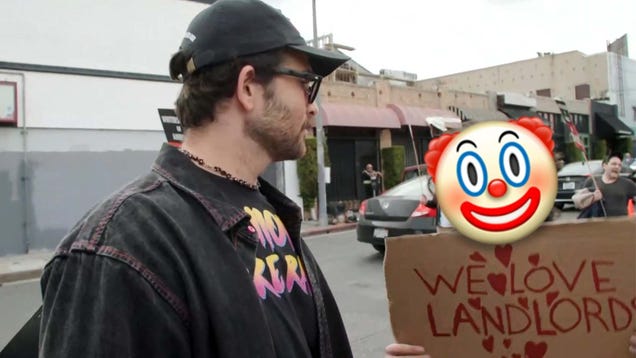 Matan Even, the trolly kid who stealthed his way onto The Game Awards stage last December to shout out former U.S. president Bill Clinton, is back. This time, though, he crashed socialist Twitch streamer Hasan "Hasanabi" Piker's May 4 livestream at the WGA writers' strike picket line in Hollywood, California. Why?…
---
Kotaku Friday, May 5, 2023 2:45 PM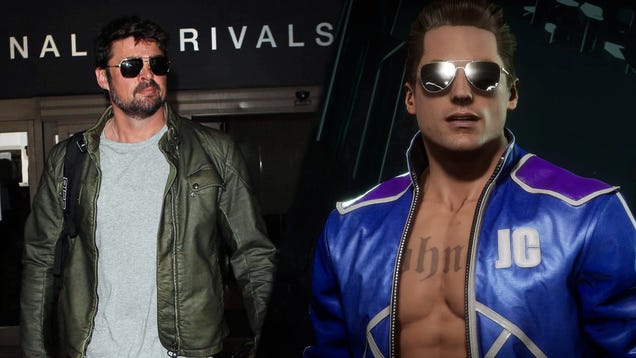 It sounds like the Mortal Kombat movie sequel has found its Johnny Cage in The Boys and The Lord of the Rings actor Karl Urban.

---
PCGamesN Friday, May 5, 2023 5:29 PM
Looking for a Honkai Star Rail tier list? Judging the best Star Rail characters is tricky. After all, the game's only just launched, and balancing will likely differ between recent beta tests and the first public version. In addition, its gacha mechanics make it challenging to circle in on getting the characters you want in your party. However, there are already some clear front runners to watch at launch.
The real point of a Honkai Star Rail tier list is to rank your pulls against the consensus from the free PC game's already burgeoning community. Players have already begun speculating who will be the top characters overall, who will excel against bosses, and who's great when farming for materials. Of course, with more banners set to arrive in future, similar to Genshin Impact, we'll see new Honkai Star Rail characters appear in the tier list. You can also redeem Honkai Star Rail codes to get some free pulls, but for now, here are the initial tier list rankings for the best Honkai Star Rail characters at present.
MORE FROM PCGAMESN:
Honkai Star Rail codes
,
Honkai Star Rail characters
,
Honkai Star Rail tier list
---
PCGamesN Friday, May 5, 2023 3:23 PM
Destiny 2 season pass prices will increase from 1000 Silver to 1200 Silver with the launch of Destiny 2 season 21, titled Season of the Deep. The price increase is concerning, given that Bungie already increased the cost of its expansions when it launched Destiny 2 Lightfall in February. Lightfall launched at $50 / £40 for the base expansion, up from $40 / £25 for the previous year's The Witch Queen. However, Destiny 2's approach to the newest season pass price hike in the FPS game seems exceptionally smarmy, given that there's no in-game option to purchase exactly 1200 Silver, which is how much the season will cost players.
Destiny 2 classes
,
Destiny 2 Lightfall review
,
Destiny 2 builds
---
PCGamesN Friday, May 5, 2023 5:32 PM
May 5, 2023: We checked for new Honkai Star Rail codes ahead of the weekend.
Looking for all the active Honkai Star Rail codes? If you're just starting your adventure through developer Hoyoverse's latest anime epic, you might be wondering if there are any codes at launch for freebies to give you the edge in battle, such as Stellar Jade, Credits, or Logs. Thankfully, Hoyoverse has delivered, and we've gathered all the active Honkai Star Rail codes in our list down below.
With Honkai Star Rail now out in the wild, players are digging into the characters, world, and tactical turn-based combat. As such, we've put together an expert Honkai Star Rail tier list and information on the latest Honkai Star Rail banner, too. But now, without further ado, here's what to expect from every Honkai Star Rail redeem code, as well as info on how to redeem them, what free rewards they'll provide, and where to find more of them.
MORE FROM PCGAMESN:
Honkai Star Rail codes
,
Honkai Star Rail characters
,
Honkai Star Rail tier list
---
PCGamesN Friday, May 5, 2023 2:06 PM
The Genshin Impact Prime giveaways are about to end, which means that players who have been following along will soon receive the exclusive Wings of the Starlit Feast glider to use in the anime game. The eighth and final loot drop for this Amazon collaboration is now live, and once its availability period ends on May 25, players who have redeemed all eight giveaways will see the glider in the in-game mailbox.
MORE FROM PCGAMESN:
Genshin Impact codes
,
Genshin Impact character tier list
,
Genshin Impact leveling guide
---
Twinfinite Friday, May 5, 2023 4:30 PM
You should make sure you do these six things ahead of time to make the most of your Tears of the Kingdom experience.
---
Siliconera Friday, May 5, 2023 9:30 PM
A new The Quintessential Quintuplets TV special anime series has been announced. Titled The Quintessential Quintuplets ∽, the new series will adapt Fuutarou's Summer Arc, an original arc that wasn't depicted in the previous anime series. The new series will release on summer 2023. Additionally, the new special anime will have a limited-time theatrical screening for a period of three weeks in Japan that will start on July 14, 2023. A new key visual has been revealed as well.
The new Quintessential Quintuplets TV special series focuses on main character Fuutarou's last summer vacation before his high school graduation. Fuutarou informs the quintuplets that he will be taking a break from his part-time tutor job to focus on studying for an upcoming test. The Nakano quintuplets are sad that they won't be seeing Fuutarou before their graduation, when suddenly they receive a phonecall from Fuutarou.
You can take a better look at the new key visual for the new Quintessential Quintuplets anime series here:
Additionally, the opening and ending songs for the new Quintessential Quintuplets series have been announced. The opening song is called "Gotoubun no Mirai," while the ending song is called "Takaramono." Both theme songs will be performed by the quintuplets as well. An album with both songs has been announced. It also includes the songs "The Only One in the World" from the upcoming game The Quintessential Quintuplets: My Five Promises With Her, and "My Hero" from The Quintessential Quintuplets: Gotopazu Story.
As a reminder, Mages announced that The Quintessential Quintuplets: Gotopazu Story has been delayed to June 2023, and the company showed the game's opening animation.
The Quintessential Quintuplets ∽ will premiere in Japan on summer 2023. A limited-time theatrical screening will start in Japan on July 14, 2023, and it will last three weeks.
The post The Quintessential Quintuplets New Anime Series Announced appeared first on Siliconera.
---
Siliconera Friday, May 5, 2023 5:00 PM
Nintendo frequently shared screenshots showcasing new mechanics and elements that will appear in the upcoming The Legend of Zelda: Tears of the Kingdom, and the latest one features a mysterious symbol. The new screenshot posted on the official Japanese The Legend of Zelda Twitter account focuses on a mysterious looking stone door with a floating Ultrahand symbol found in one of the new Sky Islands.
The tweet in question shows Link in front of a stone door decorated with two dragon stone carvings that are projecting a symbol similar to that of Link's new Ultrahand ability. The tweet is accompanied by a Japanese caption that translates to "We found something mysterious in one of the Sky Islands again. What is this mysterious pattern that stands out?"
The door and symbol are standing over a sand pool with perfect waves. This might indicate the location of a new shrine or hidden treasure, and the Ultrahand symbol might be a requirement to activate it. We won't know for sure what this mysterious symbol is until May 12, 2023, when The Legend of Zelda: Tears of the Kingdom will come out.
The other mysterious element that Nintendo showcased was a screenshot of a giant gacha machine located in one of the Sky Islands that have appeared all throughout Hyrule. Judging from the mini map in the screenshot of the gacha machine, and the most recent screenshot of the stone door, both elements seem to be located on the same Sky Island.
The Legend of Zelda: Tears of the Kingdom comes out on May 12, 2023 for the Nintendo Switch.
The post Nintendo Showcases Mysterious Symbol in Tears of the Kingdom appeared first on Siliconera.
---
Siliconera Friday, May 5, 2023 4:30 PM
As you go through Honkai: Star Rail, you might see a blue bubble called a Memory Bubble around. However, approaching one to investigate it won't net any reaction early on. This is because you actually need to speak to one of Herta's dolls on the station to figure out what's going on. Fortunately, once you do go through the conversation, it's easy to start reading through these events and picking up extra Credits.
I unlocked the ability to view any Memory Bubble in Honkai: Star Rail by talking with the Herta puppet in the Storage Zone. I was at Trailblaze level 21 when I finally got around to doing so. She's standing at the point below, and you need to cross the light bridge to reach her. It's the same puzzle found in "Signs of Fragmentum III". After you get to her and agree to the NDA, you'll get the ability to view any Memory Bybble in Honkai: Star Rail.
[gallery size="full" ids="961849,961992,961993" link="file"]
Actually checking one out is fairly easy. All you need to do is approach it and select "Touch the Memory Bubble." The screen will go back, and you'll be able to read through someone's experience on Herta Space Station. You'll then also get 1,000 Credits for your find. There are 20 total, adding up to 20,000 Credits. Finding them all gets you the Sensory Socialization achievement and five Stellar Jades.
Honkai: Star Rail is available for PCs and mobile devices, and PS4 and PS5 versions are in development.
The post How to View a Honkai: Star Rail Memory Bubble appeared first on Siliconera.
---
Siliconera Friday, May 5, 2023 4:00 PM
Nintendo announced a way to see more The Legend of Zelda: Tears of the Kingdom at an official launch livestream. Ahead of its debut, there will be a presentation that runs just over two hours. This presentation will also feature members of the Nintendo Treehouse staff and additional gameplay. People can start watching at 6:45pm PT/9:45pm ET on May 11, 2023, leading up to 12am ET on May 12, 2023.
Here's the official announcement. A follow-up notice confirmed there will be four gameplay segments during the stream.
Get ready Legend of Zelda fans! We will be hosting a special livestream leading up to the @NintendoNYC midnight launch of the Legend of #Zelda: #TearsOfTheKingdom.

Tune in on 5/11, starting at 6:45pm PT/9:45pm ET to watch Nintendo Treehouse: Live & more!https://t.co/jRT5Suqrjl pic.twitter.com/wrORKEonxv

— Nintendo of America (@NintendoAmerica) May 5, 2023
While there haven't been any additional streams, we have seen a lot of Tears of the Kingdom details lately. Nintendo showed off new cooking options in-game. There will be a portable pot that lets Link cook anywhere. You also have a recipe book to keep track of food you can make. There also seems to be some kind of gacha machine on one floating island.
The Legend of Zelda: Tears of the Kingdom will come to the Nintendo Switch on May 12, 2023, and the launch livestream will begin at 6:45pm PT/9:45pm ET on May 11, 2023.
The post The Legend of Zelda: Tears of the Kingdom Launch Livestream Set appeared first on Siliconera.
---
Siliconera Friday, May 5, 2023 3:30 PM
Hololive's Mori Calliope confirmed the last session of "Mythbreakers" will air on May 5, 2023. This will end a series of role-playing livestream among the Hololive English Myth's talents based on the World of Darkness TTRPG. In addition, a recap stream hosted by Calliope aired three hours before the last session. That began at 11am PST/2pm ET on May 5, 2023
Check out the announcement of the "Mythbreakers" TTRPG last session from Mori Calliope's Twitter account here below. The recap stream went through all the adventures of the Mythbreakers campaign from the start leading up to the last session.
https://twitter.com/moricalliope/status/1653856918610534400?s=20
Mythbreakers is a tabletop role-playing campaign played by Hololive English's first-generation members. It follows the stories of Tiara (Takanashi Kiara), Yuul B. Awlright (Ninomae Ina'nis), Watoto (Watson Amelia), and Scout (Gawr Gura), as they confront supernatural dangers in the city of Mythton. Mori Calliope leads the sessions as the Game Master.
There have been 11 streams dedicated to the Mythbreakers campaign including character creation, tutorial, and playing sessions. The first livestream explaining the game and creating the character for each member aired on May 25, 2021. The last playing session aired on Dec 7, 2021.
The Hololive English official Twitter account also announced the "Mythbreakers" finale and released a new "#holoEN3DRepeat" animation video in commemoration of it.
https://twitter.com/hololivepro_EN/status/1654320010716753921?s=20
There may be some surprises prepared for this last session of "Mythbreakers". Back on April 19, 2023, Calliope tweeted that the campaign finale will feature other members, so it is possible that other Hololive VTubers may join as special guests such as IRyS or even some of the second-generation's Council members like Ouro Kronii or Nanashi Mumei.
The "Mythbreakers" final session will air on Mori Calliope's YouTube Channel on May 5, 2023. The rest of the main playing sessions can also be found on Calliope's channel.
The post Hololive Myth's Mythbreakers TTRPG Finale Announced appeared first on Siliconera.
---
Siliconera Friday, May 5, 2023 3:00 PM
A small, provincial city is plagued with vampires and cultists, with all escape barred off by some strange supernatural force that overcame this previously quaint place. A ragtag group of heroes are the only thing standing between this bloodthirsty threat and the end of humanity as we know it. If it sounds like a mid-1980s B horror flick, that's because this is what Redfall is, and it doesn't pretend to be anything different. Bold in its approach that feels strangely steeped in nostalgia, it retreads old ground, but often stumbles over poorly implemented game mechanics that leave this game feeling unfinished and under realized. And while Redfall was delayed to its 2023 launch, it feels like this game could have spent more time in the oven.
Editor's Note: The reviewer played through Redfall with the day one patch, which affected the overall review and score.
The narrative beats of Redfall are relatively interesting, though it is not entirely unique or novel in its execution. Vampires and cultists took over the town of Redfall, with the appearance of these bloodsucking monstrosities appearing after a medical experiment gone awry has transformed the town and its denizens for the worse. The premise is barebones enough to allow for some interesting environmental storytelling, with certain items and notes placed deliberately around the map to inform you about how things got to where they are now and what the people that lived in the town were like before everything went to hell in a handbasket. The town itself feels lived in, and the presence of the cultists turned your average run-of-the-mill suburban homes into haunts full of vampires and televisions broadcasting messages from a mysterious figure known as the "Hollow Man." Sound design helps create a deeply unsettling atmosphere in some of these homes, with static noise and sometimes ominous chanting from the Hollow Man filling numerous rooms in houses, basements, and even local mom and pop shops.
[caption id="attachment_961745" align="alignnone" width="1200"]
Screenshot via Siliconera[/caption]
While the environments feel lived in and the town itself feels well constructed, it's littered with only a handful of enemy types. Cultists are your standard human enemies that carry weapons you cannot pick up, because you can only find them as loot in boxes, drops from vampires, or obtain them as purchasable items from an in-game weapon's merchant. The AI is laughable, even with the day one patch, and they sometimes spin around in circles or endlessly climb cliffs in an attempt to get to you, making them easy targets. Vampires have a little more variety, but most will teleport to you and slap at you with their claws. Some will siphon blood from you, which is can be annoying at higher difficulties if you don't have high level guns, or throw orbs of dark energy your way. You will need to stakes to kill them, which feel like they should come in limited supply, but are plentiful enough to eliminate vampires as any real threat. This makes encountering them just as boring as running into cultists.
Since Redfall functions on the looter shooter method of obtaining weapons, you'll be scavenging for guns with random passives and levels to continue to deal significant damage to your enemies. There isn't a huge drop off in terms of damage at higher difficulties, but you can feel it later on. The single-player mode was easy enough for me to tear through, but when I began adding other players into the mix, that's when the game began to unravel at the seams. It took several attempts to get one friend into a lobby, with them needing to be re-invited several times as their game would keep crashing. Eventually they did make it in, but as all four of us began to progress the game we started encountering a lot of visual bugs and technical issues. This included frozen character animations, replicated player character models, and even one player appearing to phase through the ground from my perspective. Certain menus would also bug out, and I ended up getting stuck on the map screen because someone had continued a quest while I was in a menu, with me being unable to actually quit the game manually. Progress in multiplayer is also tracked based on the host, and progress is not shared between those in the lobby. This means you would need to play the game four times in order to complete the campaign for everyone.
[caption id="attachment_961744" align="alignnone" width="1200"]
Screenshot via Siliconera[/caption]
Each player character possesses their own unique skills, which you think would improve your general multiplayer experience. But some characters are more useful than others. I played Jacob for most for my time in Redfall, and he ultimately felt the most useful. Him being in proximity to other player characters would increase their headshot damage, and his ultimate ability is a sniper rifle that automatically tracks enemies. Devinder's ultimate ability is also extremely useful for making quick work of groups of vampires, but the characters that suffer from a lack of more utility focused offensive abilities are Remi and Layla. They feel like true supports. Which you think would make them the most valuable assets to the group, but Layla's umbrella ability blocks any outgoing and incoming damage, including your own bullets. This makes her skill feel arguably less useful when you can just run away from enemies that are shooting at you, or snipe them from a distance. Remi can heal, but it's locked to her ability, which takes longer to charge than using a med pack and those are plentiful around the map. It feels like there wasn't a clear balance between characters, which makes it feel like Redfall's gameplay only favors two out of its four leads.
Redfall is a culmination of things. It's a multiplayer shooter, an homage to folk horror and various vampire myths, and a looter shooter all in one package. However, it does none of these things particularly well, and feels thin as a result. It's an amalgamation of ideas that could work in concept if given more time, even though I'm personally adverse to my experience being dictated by gun levels and arbitrary passives slapped onto my firearm of choice. RPG level up mechanics and skill trees feel sufficient enough to incentivize players to grind. It's a game that's fun with friends, but that in and of itself is a low bar to cross. Anything can be fun with friends under the right circumstance, and solo-play is a mostly mindless affair. Those looking for a meatier experience and something more in line with what Arcane has released in the past will be sorely disappointed. And as Redfall lacks any actual depth in terms of narrative or gameplay loop, it's a hard game to recommend. But who knows, maybe six months to a year down the line, it could be a completely different and more engaging game. That's just the time we live in.
Redfall is available for Xbox Series X and PC.
PC Specs
NVIDIA GeForce RTX 3080
32 GB RAM
AMD Ryzen 9 5900X 12-Core Processor
The post Review: Redfall Fails to Deliver appeared first on Siliconera.
---
Siliconera Friday, May 5, 2023 2:30 PM
Like March 7th, Dan Heng is a great, free, four-star Honkai: Star Rail character who can easily become one of your best assets with many different Relic sets and Light Cone builds. The thing with him is to remember two things. You want him to be as fast as possible so he attacks often. You also want him to be dealing a lot of damage.
What are the best Light Cones for a Dan Heng build in Honkai: Star Rail?
I'm going to go ahead and borrow a lot of my recommendations for Seele here, because Dan Heng works similarly. You want him attacking often. So Adversarial, a three-star Light Cone, increases his speed by 10% after each enemy he beats. I'd also go with Darting Arrow, as it boosts his attack by at least 24% temporarily after beating an enemy.
As a four-star option, I went with River Flows in Spring since it's… all I have. It boosts Dan Heng's speed by at least 12% and damage by 24% until he takes damage, but then brings that buff back after his next turn. The Only Silence Remains Light Cone with him actually on it is good too, as it at least increases his attack by 16% and, if there are one or two enemies around, increases his critical rate by at least 12%.
Also like Seele, In the Night is the best five-star option. As its description notes, "Increases the wearer's CRIT Rate by 18%. While the wearer is in battle, for every 10 SPD that exceeds 100, the DMG of the wearer's Basic ATK and Skill is increased by 6% and the CRIT DMG of their Ultimate is increased by 12%. This effect can stack up to 6 time(s)."
[gallery columns="1" size="full" ids="961963" link="file"]
What is the best Relic set for a Dan Heng build in Honkai: Star Rail?
There are only two Relic sets to consider initially for the best Dan Heng builds in Honkai: Star Rail. One is Musketeer of Wild Wheat. You can buy the one each of the four-star pieces of this set at Herta Space Station or get it from Cavern of Corrosion: Path of Drifting at Jarilo-VI's Corridor of Fading Echoes. Two pieces will increase his attack by 12%, while four pieces increase his speed by 6% and attack damage by 10%. I've found it's the default "The Hunt" character equipment.
Also great is the Eagle of Twilight Line Relic set. This one increases wind damage by 10% with two pieces and advances the user's action by 25% after they use their Ultimate with four. Again, both suit Dan Heng well, since he deals wind damage and you want him acting as often as possible. It's at the Cavern of Corrosion: Path of Gelid Wind at the Herta Space Station's Storage Zone.
Honkai: Star Rail is available for PCs and mobile devices, and PS4 and PS5 versions are in development.
The post Dan Heng's Best Relic Sets and Light Cones Speed Him Up appeared first on Siliconera.
---
PC Invasion - FeedDDD Friday, May 5, 2023 6:55 PM
Honkai: Star Rail lets players enjoy a sprawling adventure in space, with numerous locations, monsters, and quests. To strengthen your characters, you'll need to gather gear, which requires you to farm. And farming requires you to use Trailblaze Power. Here is our guide outlining the best ways to use Trailblaze Power in Honkai: Star Rail. Note: We'll have a Honkai: Star Rail guides and features hub soon, so stay tuned. Honkai Star Rail – best ways to use Trailblaze Power Your Trailblaze Power refills at the slow rate of 1 point every 6 minutes. You can add 60 points to your supply by using Fuel or by spending Stellar Jades. You still don't want to waste it. As we noted in our beginner's guide for Honkai: Star Rail, you also don't want to leave too much Trailblaze Power just sitting around, either. It stops replenishing once you meet or exceed the limit. To make the most of your Trailblaze Power, start by spending it on activities ...
---
PC Invasion - FeedDDD Friday, May 5, 2023 5:55 PM
Honkai Star Rail introduces Hook fairly early on, as you explore the underground portions of Jarilo-VI. She participates in several adventure missions, and you can invite her to be a guest on your ship. You also can add her to your roster, if you happen to draw her. Here is our guide on the Relics, Light Cones, Eidolons, and abilities you need to create the best build for Hook in Honkai Star Rail. Note: We'll have a Honkai: Star Rail guides and features hub soon, so stay tuned. Best build for Hook in Honkai Star Rail: Relics, Light Cones, Eidolons and Abilities Hook is an interesting character who follows the Destruction path and uses the fire element in her attacks. Her usefulness is somewhat limited, since characters such as the Fire Trailblazer are also readily available. Still, she might be worth your attention if you happen to draw her early in your adventure and need help defeating the many ice monsters you encounter at that point. To best improve Hook, f...
---
PC Invasion - FeedDDD Friday, May 5, 2023 5:48 PM
Light and darkness remain a constant throughout the Star Wars franchise, and so does the good vs. evil binary that they typically represent. We all root for the heroes of the Light Side, but of course, that doesn't stop us from wanting to dabble, even just a little bit, into the darkness. Many Star Wars games like KOTOR have given us the option to control villainous Dark Side characters, whether they be preestablished faces like Darth Vader or custom-made avatars. With this in mind, some Star Wars fans might wonder if Jedi: Survivor follows in those games' footsteps by allowing Cal Kestis to join the Dark Side. Spoilers ahead Note that Jedi: Survivor does not have the same focus on branching narrative choices that, say, KOTOR has. This almost purely serves as Cal's story, one where you follow his individual decisions and struggles from start to finish. Having said that, Jedi Survivor actually does allow Cal to embrace the Dark Side. In fact, the game re...
---
PC Invasion - FeedDDD Friday, May 5, 2023 5:48 PM
Genshin Impact has a new Dendro DPS in town, and he's building up a strong offense with his architectural abilities. This broke builder is also well-known for his relationship with Alhaitham, acting as his close friend and roommate. Like most Genshin Impact characters, however, he is struggling with a dark past involving the death of his father and his poverty. At least you can cheer him up by bringing him to the battlefield. But to do so, you'll need to pair him up with ideal teammates to fully take advantage of his kit. Here's our guide on Kaveh's best team comps in Genshinb Impact. Kaveh wields a Claymore and can be summoned on the Limited Event Wish banner between May 2 and May 23. After this date, Kaveh will be added to the Standard Banner as a potential pull for all users. As a 4-star character, Kaveh will occasionally receive rate-ups that boost the chance of obtaining him when you pull on a Limited Event Wish banner. To best take advantage of Baizhu's ...
---
PC Invasion - FeedDDD Friday, May 5, 2023 4:51 PM
Kaveh is a 4-star character introduced to Genshin Impact in Version 3.6 and functions as a DPS carry a character, able to infuse his Normal Attacks and Charged Attacks with the Dendro element. Kaveh was introduced to the game at the end of Sumeru's Archon Quest, revealed as Alhaitham's close confidant and roommate. Kaveh is not one to be shown up by his bickering duo, however, with a similar playstyle as his roommate as an enabler of many Dendro reactions, particularly with Bloom and Hyperbloom. Kaveh uses his architectural skills in battle, and you can help him create a startling offense with the best build. Here is our guide on Kaveh's best build in Genshin Impact. Genshin Impact: Kaveh best weapons guide Screenshot by PC Invasion The best build for Kaveh in Genshin Impact starts with choosing a solid weapon. Fortunately, Kaveh is free-to-play friendly, with many of his best options being 4-star weapons. Here are your best options: Mailed Flower...
---
Tabletop Gaming News – TGN Friday, May 5, 2023 7:00 PM
The Pathfinder Society has announced its plans for the upcoming year, and it's looking to be a time for exploration and adventure. After defeating one of their oldest and most clever foes, the Society is ready to set their sights on new challenges. The Year of Unfettered Exploration will feature ten Pathfinder Society Scenarios that …
---
Tabletop Gaming News – TGN Friday, May 5, 2023 6:00 PM
Kobold Press has recently released its latest playtest packet for Tales of the Valiant (ToV). Playtest Packet #3 focuses on monsters, and according to lead designer Wolfgang Baur, the goal is to build on the elements that work best in 5E while also expanding the monster lineup with new ideas about presentation, options to speed …
---
Tabletop Gaming News – TGN Friday, May 5, 2023 5:00 PM
Starfinder Ports of Call, promises to take you on a journey through the galaxy like never before. This 194-page hardcover book is jam-packed with new locales, species, and rules that are sure to keep players engaged for hours on end. One of the most exciting elements of the book is its overview of the state …
---
Tabletop Gaming News – TGN Friday, May 5, 2023 3:00 PM
Adventure College, a D&D 5e compatible student handbook set in a magicpunk world, is now on Kickstarter. The Adventure College Student Handbook offers 4+ new playable races, 8+ custom character backgrounds, a magicpunk item catalogue, and a plethora of lore. The booklet is 22 pages at launch, but with backer requests and stretch goals, the …
---
Tabletop Gaming News – TGN Friday, May 5, 2023 2:09 PM
Fans of The Elder Scrolls: Call to Arms, the tabletop miniature game based on the popular video game series, will be excited to hear that a revised rulebook is in the works. The draft version of the updated rulebook has been released for public review and feedback. The revisions to the rules include many small …