---
Kotaku Saturday, April 9, 2022 5:45 PM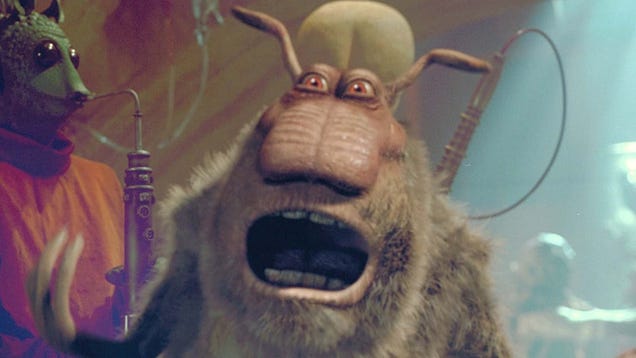 Lego Star Wars: The Skywalker Saga is a really, really big game filled with hundreds of characters, ships, planets, and weapons all pulled from every Star Wars film ever made. But, as a lifelong Star Wars nerd, I'm very skilled at nitpicking things I love and after thinking about it for some time I came up with a list…
---
Kotaku Saturday, April 9, 2022 1:30 PM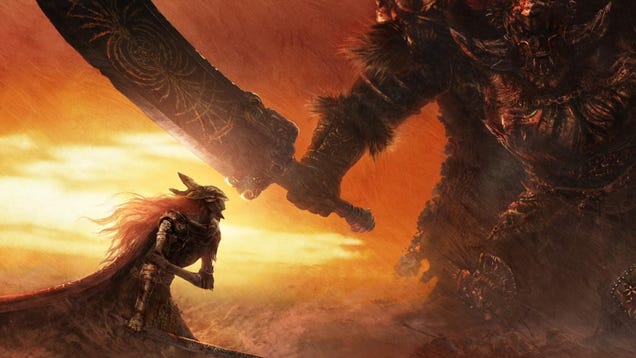 Yesterday, YouTuber and speedrunner MitChriz beat Elden Ring in just 12 minutes and 32 seconds, setting what appears to be a new record in the "any% unrestricted" speedrunning category for the game.
---
Kotaku Saturday, April 9, 2022 11:30 AM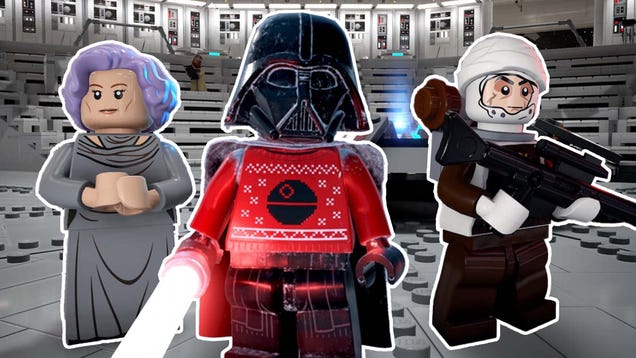 There are approximately 40,000 playable characters and ships in the new Lego Star Wars game. (Editor's note: No, there's only like 350.) But most of them are locked when you start, and while completing all of the story missions will unlock some of these heroes and villains in The Skywalker Saga, you'll still need to…
---
Kotaku Saturday, April 9, 2022 10:45 AM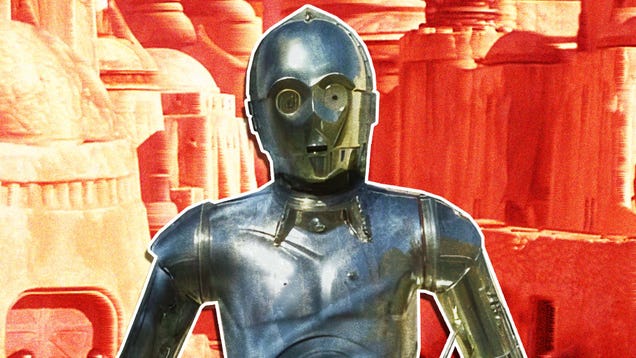 Gather 'round, folks. Take a seat by my campfire. Turn off the lights. (I don't know why my campfire exists in a room with lights…) Now, prepare to learn the scary lore behind a creepy little droid that briefly appears in the newly released Lego Star Wars: The Skywalker Saga. You might think you know the story already…
---
PCGamesN Saturday, April 9, 2022 12:51 PM
Today Digital Extremes reveals the Warframe Angels of the Zariman release date, so players now know when they'll be able to get their hands on the next Warframe expansion - as well as the "elegant" new warframe Gyre, who's here to remind us why this is still one of the best ninja games on PC.
The multiplayer game's latest expansion will carry on the storyline from last year's epic The New War, and is the next major part of Digital Extremes' plans for Warframe in 2022. The studio previously said that Angels of the Zariman would release this month, and it confirmed today that it's still happening - as well as giving further details.
The highlight is the 49th warframe Gyre, which has an "energetic playstyle" based on electrical attacks. Abilities include launching a high damage "Gyratory Sphere", a critical and regenerative burst, and an electric shield that shocks enemies and sends out "a large electrical discharge" if the player receives a critical hit.
Play Warframe for free
,
Warframe builds
,
Warframe Duviri Paradox release date
---
PCGamesN Saturday, April 9, 2022 11:47 AM
A developer has made their own Superman game out of the Unreal 5 demo used for The Matrix Awakens, and they're looking to expand it into a proper superhero game - based on a demo partly created by ex-developers of Factor 5, the studio behind Star Wars: Rogue Squadron... and a cancelled Superman game.
While the Fortnite x Matrix collab was smaller than expected, The Matrix Awakens was an impressive VR game demo built in Unreal Engine 5. The core of this demo is the detailed cityscape, and now Unreal 5 is freely available, Epic has made this 'City Sample' available to budding developers to play about with.
Developer Volod from Amber Studio - which works with Epic Games - used this demo as the foundation for their own Superman game, albeit without the DC Comics licence itself. Volod says that they "cooked my own city grid in Houdini, using Epic's project files and VEX scripting" and has apparently been "making city-building tools for years on film/commercial VFX work" so they know what they're doing.
Upcoming PC games
,
Best PC games
---
PCGamesN Saturday, April 9, 2022 10:22 AM
An Elden Ring secret hiding in the code for one of its toughest boss battles actually solves the seven-year-old mystery of the Dark Souls SnakeSoul boss - a Dark Souls III cut content boss that appears to have finally made an appearance in FromSoftware's open-world game.
While looking into the files of Dark Souls III after it released in 2016, dataminers spotted the code for a Dark Souls cut boss named "SnakeSoul" - which would've been the guardian of the Untended Graves, in a different state.
According to well-known Soulslike game leaker and explorer ZullieTheWitch, a little digging into Elden Ring's code reveals that the Ulcerated Tree Spirit boss - which is found on both Mt. Gelmir and deep below the opening area of the Fringefolk Hero's Grave - is secretly Dark Souls III's cut SnakeSoul boss, at least according to FromSoftware's AI description. This is undoubtedly cool, as Dark Souls fans can now finally take on the never-before-seen creature - but it actually solves a Dark Souls III mystery, too.
Best Elden Ring settings
,
Elden Ring bosses guide
,
The best Elden Ring classes
---
PCGamesN Saturday, April 9, 2022 11:39 AM
Call of Duty and Fortnite content creator Alastair 'Ali-A' Aiken is teaming up with YouTube to unearth a new wave of influencers through a talent show. This one is called uTure, and it has a grand prize of $100k.
The way it'll all work is reasonably straightforward. Starting in June, ten applicants will face weekly content creation challenges over nine weeks. Judges like Lachlan 'Lachlan' Power, Kayla 'LilSimsie' Sims, and more are running the rule over all of this. The rest of the judging panel, though, will be revealed later today at 6pm BST / 1pm EDT / 10am PDT on the uTure YouTube channel. Once the time comes, you can catch episodes of the talent show every Saturday and Wednesday at the same spot.
Entries for this one open today at 6pm BST, and involve submitting a YouTube Short as an application, which is a new short-form video experience created for mobile. Doing so is a doddle. Simply create a 60-second short on the app and ensure you've got the #uTureShow included.
Fortnite V-Bucks
,
Fortnite Skins
,
Fortnite Creative Codes
---
Rock Paper Shotgun Latest Articles Feed Saturday, April 9, 2022 5:55 PM
This year's BAFTA Game Awards winners were announced earlier this week, and just as It Takes Two and Unpacking received a lot of nominations, so did It Takes Two and Unpacking win a lot of awards. The co-op divorce sim picked up the big weird face for Best Multiplayer and Best Original Property while Unpacking won Best Narrative and the publicly voted EE Game Of The Year award. Nice.
---
Rock Paper Shotgun Latest Articles Feed Saturday, April 9, 2022 5:15 PM
The Vanishing Of Ethan Carter and Rogue Legacy feel like two aging indie games that are at risk of being forgotten, despite them being well-liked in their own time. Well, here's a chance to revisit or revive that interest: both games are free to keep if you grab them from the Epic Games Store between now and April 14th.
---
Twinfinite Saturday, April 9, 2022 5:38 PM
Today third-party developers had plenty of news to share about their add-ons for Microsoft Flight Simulator.
---
Twinfinite Saturday, April 9, 2022 12:30 PM
Sabotage Studio continues to release interesting clips of their upcoming RPG Sea of Stars on the weekends, and today you get another one.
---
Twinfinite Saturday, April 9, 2022 12:15 PM
Star Citizen developer Cloud Imperium Games released a new video focusing on upcoming features for the growing space simulator.
---
Siliconera Saturday, April 9, 2022 5:00 PM
The 2022 Demon Slayer Kimetsu Festival event will sell merchandise based on the anime's second season. In addition to items that appeared during the last event, this year will include items such as Tengen Uzui's arm bangles and stickers based on his painted fingernails. There will also be promotional material for the upcoming Swordsmith Village Arc.
Due to public health concerns, the 2021 Kimetsu Festival turned into an online-only event. However, this year's Kimetsu Festival will be at Tokyo's Makuhari Messe Hall. It will include live-streamed panels and physical booths. The event will be held for two days from April 16-17, 2022.
https://twitter.com/kimetsu_off/status/1512626355115991043?s=20&t=9NIs0cd7Yifxb8olKPNMpw
During the event, Aniplex will sell a variety of Demon Slayer merchandise. Standard items like pamphlets, postcards, badges, and tapestries will be based on the promotional key art for the event. Other items will be more specific to the franchise's second season. Tengen Uzui's armbands, for example, will cost ¥7,500 (~$60) and will be made of actual metal. The store will also sell Uzui's fingernail art in sticker form for ¥1,000 (~$8). More niche items include a stirring spoon based on Daki's hairpin and the notepad Senjuro uses.
You can get a better look at some of the merchandise in the screenshots below:
[gallery columns="4" link="file" ids="923604,923607,923606,923605"]
The Demon Slayer Festival will be held from April 16-17, 2022 in Japan.
The post Demon Slayer Festival Event Merchandise Includes Tengen's Bangle appeared first on Siliconera.
---
Siliconera Saturday, April 9, 2022 3:00 PM
"Unlike other mecha series, this one focuses on the characters." Say something like that about any given mecha story, and you're bound to annoy fans of the genre. After all, every good one, from Aquarion to Zegapain, is centered on its cast. Claiming mecha stories are "all about the robots" is a great way to show you haven't seen many. And yet, this came to mind as I played Relayer, a new mecha strategy RPG from Kadokawa Games and the God Wars team, I realized I couldn't even remember which mecha the characters actually piloted without looking them up in the in-game codex.
Despite being involved at the core of Relayer's dense plot and setting, the mecha feel oddly inessential to the narrative. Sure, one Stellar Gear mecha called the Original One basically drives much of the early-game plot, but I was hard-pressed to remember what it even looked like. To borrow a cinematic term, Relayer's mecha don't get enough "screen time." They don't end up feeling like the extensions of the characters within them the way they do in iconic series like Gundam. Instead, I found myself much more interested in the people inside the robotic suits. Chief among them were Relayer's core cast of Starchildren. These are empowered individuals carrying "The Will of the Stars" and conveniently named after various celestial bodies.
One such Starchild is Terra, inheritor of the will of Earth. Years ago, she lost her sister Luna in catastrophic "gravity loss" incident. The trauma robbed her of her memories. Since then, she's drifted, piloting her Stellar Gear Astoria around the world on an aimless journey alongside her robotic buddy Yodaka. The meandering comes to an end when another gravity loss devastates her current residence at the Lunar colony. She sees none other than her long-lost sister working alongside the titular Relayers, a group of aliens bent on destroying all life. Terra is quickly recruited by Himiko, another Starchild. She's brought onboard the Asterism, an experimental ship designed to foil the Relayer threat. Working as a Stellar Gear pilot alongside Himiko and other Starchildren like Sun, Uranus, and Mercury, Terra sets off to defend Earth and bring her wayward sibling back home.
Relayer plays out like a classic, sci-fi, space opera anime. Its plot unfolds along several acts. Though it's centered on Terra and the Asterism crew, the game regularly shifts focus to different groups of characters. Players will even take control of the Relayers themselves a few times over the course of the game.
It takes its time to get going, though. Almost ten hours passed before I really felt like Relayer began moving pieces across its board. The writing is dense, detailed, and quite interested in getting acquainted with every wrinkle of its futuristic setting. Not all of that time feels entirely well-spent, especially if you're the not the type of person who likes to dig into "lore" for its own sake. But bear with it and the character relationships established form a solid emotional foundation. It's one that pays off in the latter half of the story. Without trying to spoil anything, the later chapters ramp up considerably in terms of intensity. The game isn't afraid to take the story to some dark places. I only wish it had more bespoke "cutscene" event art to drive home some of the more dramatic moments. Instead, we must make do with our imaginations, character cutouts, and a lot of voice dialog.
And I do mean a lot. Kadokawa Games included a full English dub for Relayer in addition to the original Japanese voice track. The sheer amount of dialog in the game is impressive. Not every scene is voiced. Some optional character interactions aren't. But virtually every key story development is. That being said, the English dub is inconsistent and rather stiff. The quality ranges widely, with some pro-grade performances and others that feel recorded off a Zoom call. The Japanese dub is much more consistent and involves some names that should be familiar to anime fans.
Any good opera (space or otherwise) has a few battle scenes, and Relayer delivers in spades. Expect to spend a lot of time moving units around, taking turns on dozens of grid-based tactical maps. Each character gets their own bespoke mecha and a semi-unique path of progression patterned after the class dynamics of the MMORPG "Holy Trinity."
Relayer has a rather unique battle system based around a "hate" mechanic. Every action a unit can take raises its aggression rating, opening it up to being targeted by enemies. That's a bad sign for vulnerable sniper and support units, but careful positioning and skill use can redirect enemy enmity towards more durable tank and assault units. Even on the normal difficulty it can be surprisingly easy to lose a unit in battle. Virtually every fight puts your team at a disadvantage. Thus, each battle begins to resemble a dance of sorts. You move each unit in and out of an enemy's range, taking advantage of the differences in each class' danger zone to inflict damage while minimizing risk. Battles also charge up powerful Big Bang special attacks. These can wipe an entire area clean of enemies' influence. This is all made more visually appealing by the elaborate attack animations available. Each class and unit carries out its attacks in a mini-cutscene, lovingly animated to show off every mecha at its best. These do get a bit old after a while though. Players can speed them up or turn them off to save time.
Between battles and story scenes, players can also spend time onboard the Asterism. Visiting different areas of the ship can yield special cutscenes featuring character interactions. (Think of the "skits" from Tales and Super Robot Wars titles.) A handy in-game codex keeps both plot points and in-universe terms updated for reference.
Players can also upgrade their pilots and mecha with new skills and equipment. Using points accumulated in battle, each character gets new stat bonuses and abilities unlocked on a sphere grid-like constellation. Fully unlocking one constellation allows a character to progress to an upgraded, specialized version of their base class. For example, Terra's Assault class can be upgraded into a Vanguard that specializes in direct combat on the front line or a different specialization that focuses on maximizing flanking and backstab damage. All four core classes can branch out. Though a branch can't be undone, there are enough characters in the game to explore each and every option available. Similarly, there's plenty of gear available to outfit the mecha. However, more often than not it's just a question of buying whichever set of stats seems higher.
Narratively and mechanically, Kadokawa laid a strong and unique foundation for Relayer. Unfortunately, polishing issues hold it back from true greatness. The localization is passable, but comes across as somewhat stiff and in need of a few more passes in editing. The characters' personalities don't quite shine through in the text alone, which retains some of the typos and awkward phrasing from the demo. The script cleans up further into the game, but far too many errors and issues with formatting made it through. The game could also use quite a bit more variety in its missions. Nearly every stage boils down to killing off all the enemies. If it weren't for the mid-mission dialog, it'd feel like I was going down a list of training exercises.
Parts of the progression also don't feel quite fully cooked. For example, unlocking a new class or constellation often feels like a downgrade at first, since players need to re-unlock many of the abilities they unlocked in the previous constellation. Further, there's little sense of choice or trade-off when it comes to upgrading gear. A strange random chance system occasionally causes gear to become dark side, a form of equipment with high stats that causes damage to the character equipping it. Because dark side upgrades happen at random, a player that doesn't want to risk using a dark side item ends up having a chance to effectively lose a piece of gear purely due to chance.
I'd be remiss not to mention the odd circumstances surrounding Relayer's post-game content. Upon finishing the main campaign, a special "Asterism Voyage" campaign opens up. It promises more adventure. Except it's not so much a continuation of the game, but more of a "what if?" scenario that appears crafted solely for the reason that Kadokawa Games didn't quite want to let go of some of these characters just yet. It feels more like this mode was intended to be a post-release update or sequel of sorts, but was instead added to the immediate post-game as a sort of value-add. I'm not necessarily complaining about receiving more content, but it still feels a bit awkward.
Despite quibbles, though, Relayer is a solid entry into the canon of mecha-based strategy titles. Kadokawa Games developed an original, endearing sci-fi RPG with a strong character focus. It may be held back by its rougher edges, but anyone with a love of sci-fi anime should give it a look.
Relayer is available on PS4 and PS5.
The post Review: Relayer Reaches for the Strategy RPG Stars appeared first on Siliconera.
---
Siliconera Saturday, April 9, 2022 1:00 PM
Columbus Circle will release an SNES plug compatible DIY set in late May 2022. This will allow people to play SNES games on the TV without the use of an emulator. As it mostly contains parts, there is some flexibility as to how you can build the machine. While there is no set price, the suggested retail value is 5,478 JPY (around $44.05). [Thanks, Game Watch!]
The SNES DIY set comes with the base, controllers, and cables. It also includes an AC adapter and 20 screws. According to the article, you can attach it to your table or wall, as well as modify accessories with it. An example on the box is what appears to be a toaster that someone transformed into an SNES.
[gallery ids="923615,923616,923619" link="file"]
Something that is important to note is that the product is an original one from Columbus Circle. It is not a licensed product from Nintendo. That means if something goes wrong with the kit, you would not be able to contact Nintendo for support. The DIY set is still in development, and so there might be changes when it actually comes out.
Even without an NES or SNES system, people today can play retro games on modern devices. Those with a Nintendo Switch Online account can access a variety of games, though different regions have different availabilities. For example, you can get Pop'n TwinBee and Operation Logic Bomb. The full list of games is available via the official Nintendo website.
The SNES DIY set will come out in late May 2022 in Japan.
The post Make Your Own SNES With the SNES DIY Set appeared first on Siliconera.
---
Siliconera Saturday, April 9, 2022 11:00 AM
A short clip of the Spy x Family anime ending, as well as new artwork for the show, are available online. Gen Hoshino, who sings the ending theme "Comedy," posted the full lyrics for the song. Spy x Family creator Tatsuya Endo drew two pieces of art for the anime and the ending, respectively. It features Anya sleeping while listening to the song. [Thanks, Dengeki!]
[gallery columns="1" ids="923593" link="file"]
The text next to Anya is "Big Bro Gen's song came up." Meanwhile, the other piece of artwork that Endo drew for the show shows Loid holding a TV remote. Yor is reaching out for it, and Anya stands in the middle between the two. The artwork with the remote control and the one of Anya listening to "Comedy" are not official key visuals.
https://www.youtube.com/watch?v=J9fUcuX0Rhg
https://twitter.com/_tatsuyaendo_/status/1512085027378855940
Spy x Family started airing on April 9, 2022. It's also streaming on Crunchyroll. The trailer that came out in March 2022 not only showed an excerpt of the ending theme, but it also teased the opening as well. The opening will be "Mix Nuts" and the artist behind the song is Official Hige Dandism.
The Spy x Family anime is available on Crunchyroll, and airs every Saturday. There is no official announcement yet as to how many episodes the show will span.
The post New Art For Spy x Family Anime, Ending Clip Released appeared first on Siliconera.
---
Latest Games on Play iDev Games Saturday, April 9, 2022 1:19 PM
Society has fallen apart (as it tends to). Your job, as Dwayne the Rock Johnson, is to defend the people from themselves (and also falling buildings). Thankful...
---
Latest Games on Play iDev Games Saturday, April 9, 2022 12:53 PM
Submerge yourself beneath the waves, as you attempt to deliver a package to an unknown entity at the bottom of the ocean. Protect this cargo from vicious sea c...
---
Latest Games on Play iDev Games Saturday, April 9, 2022 12:04 PM
In this game you punch some random guy for points. That's all this game is about....
---
Pivotal Gamers Saturday, April 9, 2022 2:50 PM
Hello folks. itch.io is giving you the opportunity to win on Lifting Journey. This is what they say. Get Lifting Journey for FREE! A few words about Lifting Journey A bite-sized point-and-click adventure game about a girl on a mission to search for her missing dog. Join her on her journey as she uncovers the mystery of her missing pet. Last minute notes Login with your itch.io account, follow the ...