---
Kotaku Sunday, April 3, 2022 6:45 PM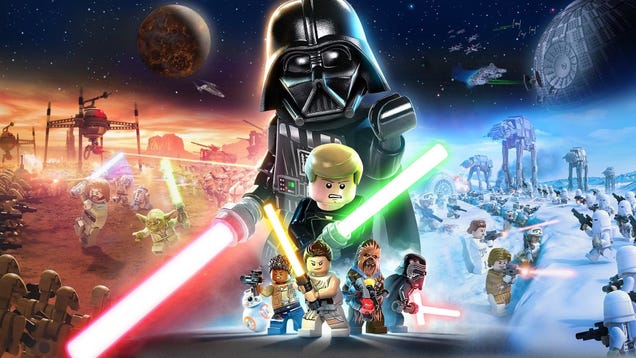 After a few delays, the next entry in the Lego Star Wars series is nearly here and is arriving on Tuesday on... everything!
---
Kotaku Sunday, April 3, 2022 2:49 PM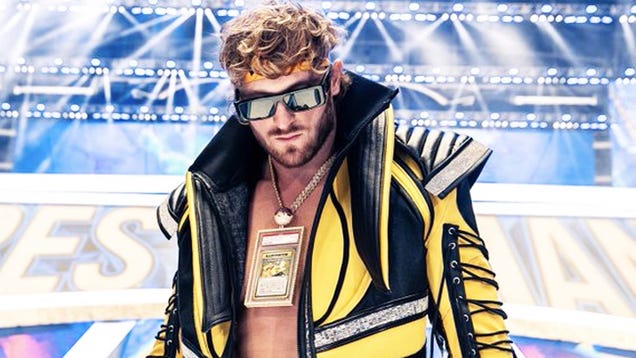 Internet personality, boxer, and Pokémon investor Logan Paul recently spent $6 million dollars on a very rare Pokémon card and then wore that card during his WrestleMania 38 appearance. Why? Because the internet and speculators have destroyed reality.
---
Twinfinite Sunday, April 3, 2022 8:43 PM
With just a month or so to go before Star Trek: Strange New Worlds makes its debut on Paramount+, a new trailer has just been unveiled, and it suggests that there is still much more to see for Christopher Pike and the rest of the crew of the USS Enterprise in the Star Trek universe. […]
---
Twinfinite Sunday, April 3, 2022 7:13 PM
Japanese figure manufacturers are continuing to reveal new figures portraying Azur Lane's shipgirls, and now it's Mimeyoi's turn.
---
Twinfinite Sunday, April 3, 2022 6:04 PM
When you hear about a tea set dedicated to a video game in Japan, you shouldn't be surprised, especially when it's Fire Emblem: Three Houses.
---
Twinfinite Sunday, April 3, 2022 4:31 PM
Third-party developers released a relevant new aircraft for Microsoft Flight Simulator and revealed new assets.
---
Siliconera Sunday, April 3, 2022 8:30 PM
Attack on Titan Final Season Part 3 will start airing sometime in 2023, according to the NHK Anime Twitter account. Final Season, which is the moniker for Season 4, first started in December 2020 in Japan. It picks up from the Marley arc. The official title for Part 3 is "Conclusion Arc," which implies that the show will end for good after it. [Thanks, ryokutya2089!]
https://twitter.com/nhk_animeworld/status/1510640628740280326
Attack on Titan Final Season Part 2 ends on episode 87, which will air in Japan on April 4, 2022. The dub for Final Season Part 2 started airing on February 13, 2022, and they are about two episodes behind the Japanese releases. You can watch the Attack on Titan dub on Crunchyroll. It does air on Cartoon Network's Toonami.
As mentioned earlier, Season 4 covers the Marley arc, as well as the War of Paradis arc. Part 3 will end before the conclusion of War of Paradis, as this was the last story arc in the manga. The entirety of Part 4 will focus on finishing it. The Attack on Titan manga ran until April 9, 2021.
Attack on Titan is available via streaming platforms such as Crunchyroll. Attack on Titan Final Season Part 3: Conclusion Arc will start airing some time in 2023.
The post Attack on Titan Final Season Part 3 Will Air in 2023 appeared first on Siliconera.
---
Siliconera Sunday, April 3, 2022 5:00 PM
Sega and Colorful Palette have added "Piano x Forte x Scandal" to the Japanese version of Project Sekai Colorful Stage! feat. Hatsune Miku. The song was added as part of an ongoing 1.5-year anniversary campaign. Users will have access to the song via the in-game song shop starting April 3, 2022. [Thanks, Gamer!]
"Piano x Forte x Scandal" originally debuted in 2008. It is widely known for being OSTER project's first song using the MEIKO Vocaloid. The song has since gained significant popularity in the Vocaloid community, received various covers from other artists and other Vocaloids, and an updated version using MEIKO V3. The song has also appeared in past games such as Project Mirai DX and Project DIVA.
https://twitter.com/pj_sekai/status/1510498845049774083
Players can access the new song by exchanging music cards in the song shop. Only the virtual singer version will be available. Sega also uploaded a short video showing off how the hard version of the song plays. As part of the 1.5-year anniversary event, Sega also plans to add "Sennen no Dokusouka," featuring KAITO, on April 4, 2022.
Earlier this year, the game also hosted a collaboration event with Cup Noodle. The event featured five new songs from five different artists, each inspired by a Cup Noodle flavor. Back in December 2021, an English version of the game released under the title Hatsune Miku: Colorful Stage.
"Piano x Forte x Scandal" is available on Project Sekai Colorful Stage! feat. Hatsune Miku, via iOS and Android devices in Japan. If you're interested in the English version of the game, you can check out our impressions.
The post 'Piano x Forte x Scandal' Added to Project Sekai appeared first on Siliconera.
---
Siliconera Sunday, April 3, 2022 3:00 PM
Annapurna Interactive is one of those developers that not only handles more traditional games, but ones that could be described as artistic experiences. There are interactive elements, but they are situations in which developers are using the medium to tell a story in a specific way. It might even involve the person engaging with it to take on a more passive role, letting the title itself guide them through its story. A Memoir Blue is one of those games.
Miriam is an award-winning swimmer. Coming into A Memoir Blue, she achieved a major accomplishment. But it seems like reaching that goal left her feeling awry. She never says how she feels. Actions speak louder than words. Context is critical. As she sits alone in her home, with her gym bag beside her, a call she's ignoring keeps trying to come through. It is then that she goes through the channels on the radio, and hearing a song triggers memories of how she got to this point.
A Memoir Blue is the sort of experience that carries the viewer along for the ride. You're largely watching, listening, and learning. Along the way, a player occasionally engages in activities to help propel the story forward. Rather than minigames, they are brief themed experiences. When the heroine wins an Olympic medal, you control the overwhelming flashes from cameras and bring mics closer. You go through the channels on a radio, searching through the songs to find the one that makes her remember. Before boarding a train, you buy, collect, and stamp tickets.
These are never taxing. They aren't high stakes, win or lose situations. Each one is about building ambiance. Instead of just watching the memories, you set up and occasionally take part in them. In so doing, it might even help the person playing better understand the context. I felt more for the Miriam and her situation when I saw how she reacted to each photo I took. There was a better sense of what it was like to go out on that old boat, when I needed to be the one to place the boards for the dilapidated rock, buy the ticket from someone who, based on their actions, seemed curt, and start the engine.
Each segment is about being in the moment. Which is what A Memoir Blue is general about. It's a series of vignettes showing how someone got to a point in her life. How a relationship with her mother helped her get there. What they both went through along the way to reach a goal. How their bond changed as time passed.
The downside is because of A Memoir Blue's length and presentation, there were times I didn't feel it was effective enough at properly conveying things. I'm hesitant to offer examples, since it is only about an hour and a half long and it would spoil things. But sometimes I wanted more to see more from the interactions between Miriam and her mother. I would have liked more context or some additional scenes to increase my understanding further. It might also have made certain interactions feel a bit less rushed. What is there can be quite effective. But additional insights are always great for providing evidence.
Though considering how A Memoir Blue is presented, it being as effective as it is happens to be something of a triumph. Miriam never says a word. All text involves vague, unreadable symbols. Which is especially fun when messing around with her phone in the introduction. There's an art to creating something that anyone, anywhere can understand. Cloisters Interactive nailed it. Especially since the visual direction, design choices for Miriam's memories and the world around her, and even hints of magical realism and symbolism as she works things out come together.
Of course, it also helps that there is an incredible soundtrack to help get the A Memoir Blue's point across. Joel Corelitz, e.hillman, and IMOGEN put together some absolutely incredible songs for the game. It is stunning. Sometimes, I felt like the music could be better at making me feel things than what I was seeing on screen. As-is, it pairs perfectly with everything someone experiences.
A Memoir Blue is a peek into someone else's life. We don't know Miriam. We don't speak her language. But by the end of the game, the player will know exactly what she went through. It is touching and accomplishes a lot, in part thanks to its visual direction and soundtrack. Just know going in that it is more of an experience than anything else, and a brief one at that.
A Memoir Blue is available for the Nintendo Switch, PS4, PS5, Xbox One, Xbox Series X, and PC.
The post Review: A Memoir Blue Does a Lot with a Little appeared first on Siliconera.