---
Kotaku Wednesday, July 5, 2023 7:40 PM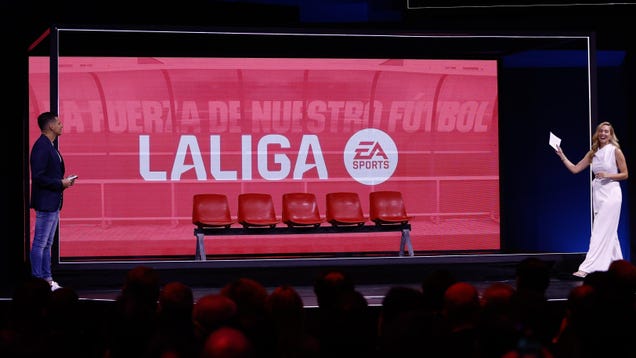 La Liga, Spain's top flight of professional football and home to some of the world's biggest clubs—like Barcelona and Real Madrid—has signed a new sponsorship deal that sees its previous branding ("La Liga Santander") swapped out, with the league now to be known as LALIGA EA SPORTS.

---
Kotaku Wednesday, July 5, 2023 5:50 PM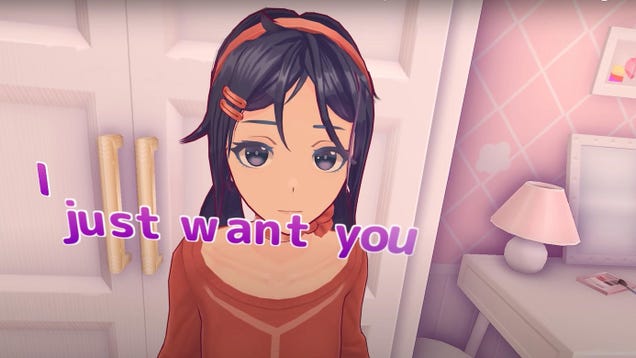 Fairy tales and Drew Barrymore movies taught me that a girl with butterflies in her stomach might be easily inconvenienced by some weird guy (either a literal beast or an everyman who acts like one), but the fluttering is a product of purity, clear like a raindrop. Without a sword or a big-shot career at her disposal,…
---
Kotaku Wednesday, July 5, 2023 4:55 PM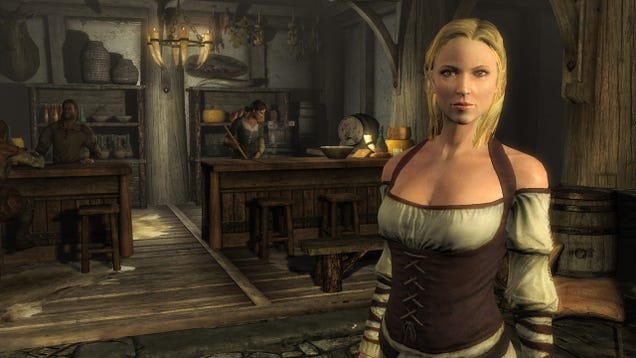 The Skyrim modding community is currently embroiled in its own deepfake porn controversy, with popular modding site NexusMods and AI voice-cloning technology at its center. Ahead of the release of Bethesda's upcoming space epic, Starfield, and the belief that the game will be a sort of Eden for the modding community,…
---
Kotaku Wednesday, July 5, 2023 4:17 PM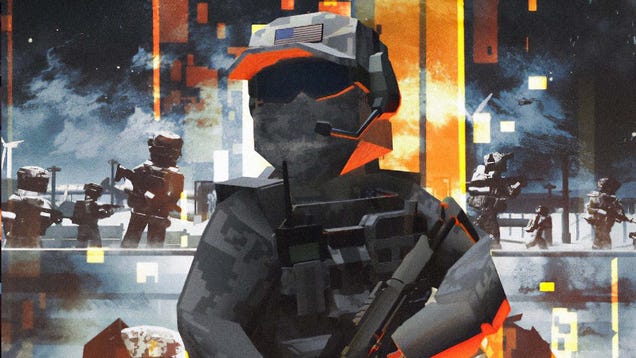 A simple new low-poly online PvP military shooter that plays a lot like Battlefield 3 and only costs $15 might not seem like the next big thing. But in fact, it is, and after playing it for a week I get why: It's just a really good shooter focused on gameplay and chaos.
---
Kotaku Wednesday, July 5, 2023 3:00 PM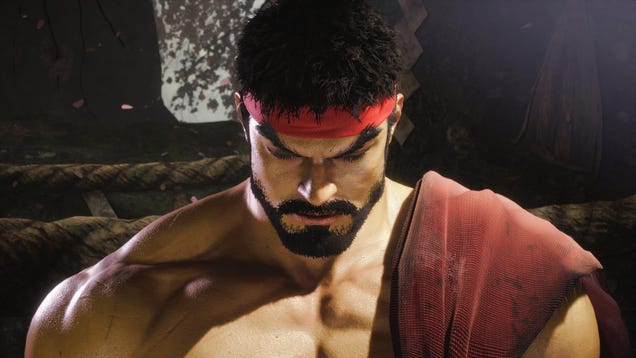 Street Fighter 6 is a frontrunner for my game of the year, but sometimes it feels like I spend more time fighting with its menus than I do throwing hands with other players online. I've put around 80 hours into Capcom's latest fighter and have dealt with several annoyances just trying to change the smallest settings.…
---
PCGamesN Wednesday, July 5, 2023 7:06 PM
Remnant 2 is a long-awaited sequel for many fans of the soulslike genre, thanks to its unique god-like bosses and thrilling world. The RPG game is set to arrive later this month, meaning that you only have a short time longer to wait before you can delve deep into Remnant 2 and its whimsically terrifying realms. With the release date fast approaching, Gunfire Games and Gearbox Publishing have opened up pre-orders. You have a few different choices, ranging from the standard bonus content to an upgraded copy including early access.
MORE FROM PCGAMESN:
Best RPGs on PC
,
Best Soulslikes on PC
,
Best survival games on PC
---
PCGamesN Wednesday, July 5, 2023 6:25 PM
The Outer Worlds is one of those RPG games that sticks with you long after you've completed it. As you explore a space colony, you pave your own path and shape how the science-fiction story unfolds. Tim Cain, the brilliant mind behind Fallout, recently sat down to talk about game settings and what goes into making a particularly good one. While sharing his insight, the former Obsidian developer also discussed The Outer Worlds, describing what the game had originally been pitched as and how it was initially designed as a casual experience.
The Outer Worlds review
,
The Outer Worlds flaws
,
Play The Outer Worlds
---
PCGamesN Wednesday, July 5, 2023 5:21 PM
What are the best free PC games? Whether you're broke or just frugal, free is a price point that appeals to everybody's purse. No matter your genre of choice, it turns out that zero can buy you quite a lot in the F2P game world, and even beloved classics are available at the steepest possible discount.
We've collated the top free games on PC guaranteed to deliver a near-endless stream of complementary entertainment. All you need to spend is your time. From cultural landmarks like Fortnite to all-time greats like Team Fortress 2, some entries on this list can easily make our list of the best PC games of all time. In no particular order, here are the best free games on PC.
MORE FROM PCGAMESN:
Genshin Impact codes
,
Genshin Impact character tier list
,
Genshin Impact leveling guide
---
PCGamesN Wednesday, July 5, 2023 5:06 PM
Terraria is probably my favorite sandbox game ever, and it's largely due to the creator's connection with the community. Re-Logic, or more specifically Redigit, has dedicated his time to communication with the Terraria player base. From asking for suggestions to dropping hints about upcoming updates, there's nothing Redigit is afraid to touch on with fans when it comes to his game. He recently took to Terraria's official forums to share news about possible in-game features, but the fun was short-lived. Redigit has just been banned from his own forums... by his wife.
MORE FROM PCGAMESN:
The best Terraria mods
,
Terraria happiness guide
,
Terraria bosses guide
---
PCGamesN Wednesday, July 5, 2023 4:36 PM
What is the Blue Protocol release date? The free-to-play game comes hot on the heels of the JRPG successes of Genshin Impact and Tower of Fantasy, adds an MMO angle, and is being developed by Bandai Namco, which sounds like a recipe for success.
Combining aspects from the best Genshin-like JRPG games, MMO games, and action-adventure games, there are high expectations for Blue Protocol - especially given the two massive studios behind it. Our first glimpse of the free-to-play game didn't disappoint, and we have info on a new class. So when is the Blue Protocol release date, and what do we know about the game so far?
MORE FROM PCGAMESN:
Best anime games
,
Best MMORPGs
,
Best multiplayer games
---
PCGamesN Wednesday, July 5, 2023 4:28 PM
What are the best Roblox games? Games aren't just better than ever for kids; the means of creating them are, too. The best example of that is Roblox: a massively multiplayer online game creation platform, and since it is so easy to make something fun, there are millions of Roblox games to enjoy. User-generated creations allow you to weather the existential threat of a natural disaster, try your hand as a pizza maker, and take a break away from it all with a spot of peaceful scuba diving.
From sims to RPGs and adventure titles, we've highlighted the best Roblox games to enjoy, with over 100 million other pals in online games. Think of it like Minecraft and LittleBigPlanet smooshed together and forged into an entire platform to create one of the best free PC games available. Below you can find the best Roblox games and more about this exciting platform. If you're looking for some Roblox freebies, you can check these guides for working, new Shinobi life 2 codes, and Project Mugetsu codes.
MORE FROM PCGAMESN:
Best Roblox games
,
Roblox promo codes
,
Roblox music codes
---
PCGamesN Wednesday, July 5, 2023 4:05 PM
July 5, 2023 We've confirmed all the listed Ro Ghoul codes still work.
What are the Roblox Ro Ghoul codes? Despite still being in beta, Ro Ghoul, inspired by Tokyo Ghoul, is one of the most popular Roblox games right now. The developer, Sushi Walrus, celebrates this regularly with some great in-game redemption codes, and we've tested all the latest ones.
In Ro Ghoul, you take on the role of either an investigator or a ghoul as you try and defeat the other group and stay alive. The great thing about Ro Ghoul is that you can change your role each time you load into a new server to try both out. If you're after some bonus in-game currency, we've got all the latest Ro Ghoul codes you need, but if you're here, then you're a Roblox fan, so you should also take a look at the latest Roblox music codes and all the most up-to-date Roblox promo codes.
MORE FROM PCGAMESN:
Best Roblox games
,
Roblox promo codes
,
Roblox music codes
---
PCGamesN Wednesday, July 5, 2023 3:41 PM
What is the Diablo 4 endgame? The D4 endgame is what you'll be playing through once you've bested everything the ARPG has to offer; they're the highest-level activities, the toughest challenges, and will keep players hooked to Diablo 4 for years to come. Diablo 3's approach to endgame was admirably simple but left a lot of players wanting more.
We've spent time perfecting the best build throughout our time in the game, but what happens once the main campaign is over? You do it again, of course! Increasing the world tier difficulty allows you to perfect your Diablo 4 classes and is the ultimate challenge for any hardcore Diablo 4 player.
MORE FROM PCGAMESN:
Diablo 4 builds
,
Diablo 4 review
,
Diablo 4 classes
---
PCGamesN Wednesday, July 5, 2023 2:54 PM
What are the Diablo 4 item rarity levels? Not all items are created equal in Diablo 4, and there's a lot of loot to sift through on your journey across Sanctuary. Thankfully, Blizzard has continued Diablo's long-standing tradition of splitting items into tiers of color-coded rarity, a system that's withstood the test of time – and one which you've likely seen crop up in many other games.
Equipment is a core component of Diablo 4, and the rarity of your weapons and armor is directly tied to your progression in the hellish ARPG. We've grouped the Diablo 4 rarity levels by their corresponding color and the number of affixes you can expect to find at each tier. We highly recommend pairing this with our primer to the Diablo 4 loot system, which delves into item effects, runewords, and more.
MORE FROM PCGAMESN:
Diablo 4 builds
,
Diablo 4 review
,
Diablo 4 classes
---
PCGamesN Wednesday, July 5, 2023 2:51 PM
How does the Diablo 4 loot system work? While we know that Diablo 4 has beautiful gothic scenarios, sprawling plains, and fast-paced action in a dark fantasy world, it's the collection of bigger and better loot that's the real core experience here.
The system has changed a lot since Blizzard's new RPG game was announced, so you should learn all you can about how you can get the best gear. Due to how weapons and armor have been designed for Diablo 4, players need to farm enemies and look for better loot so they can take the most out of the skill tree. Not only are some skills tied to specific types of weapons, but legendary equipment can modify skills. If you're looking for a way to make the most of the best classes, then you're going to need a good set of equipment.
MORE FROM PCGAMESN:
Diablo 4 builds
,
Diablo 4 review
,
Diablo 4 classes
---
PCGamesN Wednesday, July 5, 2023 2:43 PM
Dead by Daylight is one of the world's most iconic horror games, due largely to Behaviour Interactive's frequent updates and the studio's quick response to player feedback. Whether you play as a killer or a survivor, the spooktacular thrill Dead by Daylight provides is unmatched. In DBD's latest public test build, the fun is brought to a whole new level with the addition of the best survivor yet. Nicolas Cage, DBD's first real public figure to join the cast, is now a playable character in-game. We've all watched him before, but now we can become him.
MORE FROM PCGAMESN:
DBD killer tier list
,
Best horror games
,
DBD codes
---
PCGamesN Wednesday, July 5, 2023 2:18 PM
Every year I look through Steam sales, and there's always one game that stands out. Normally, this is because it's been on my wishlist for some time and has only just dropped to a value I'd be willing to pay, such as a triple-A game that I'd been on the fence about, or a smaller game that I couldn't justify paying full whack for.
However, as I was looking around the store during this year's Steam Summer sale, I noticed three indie games that I feel deserve far more exposure than they may be getting. One of these games is a self-published effort from a developer releasing their first game, while the other two come from smaller publishers. So if you're looking for an indie game that just hits a little differently, then we have a small selection of games that you should consider.
Best indie games on PC
,
Best horror games on PC
,
Best life games on PC
---
Rock Paper Shotgun Latest Articles Feed Wednesday, July 5, 2023 3:19 PM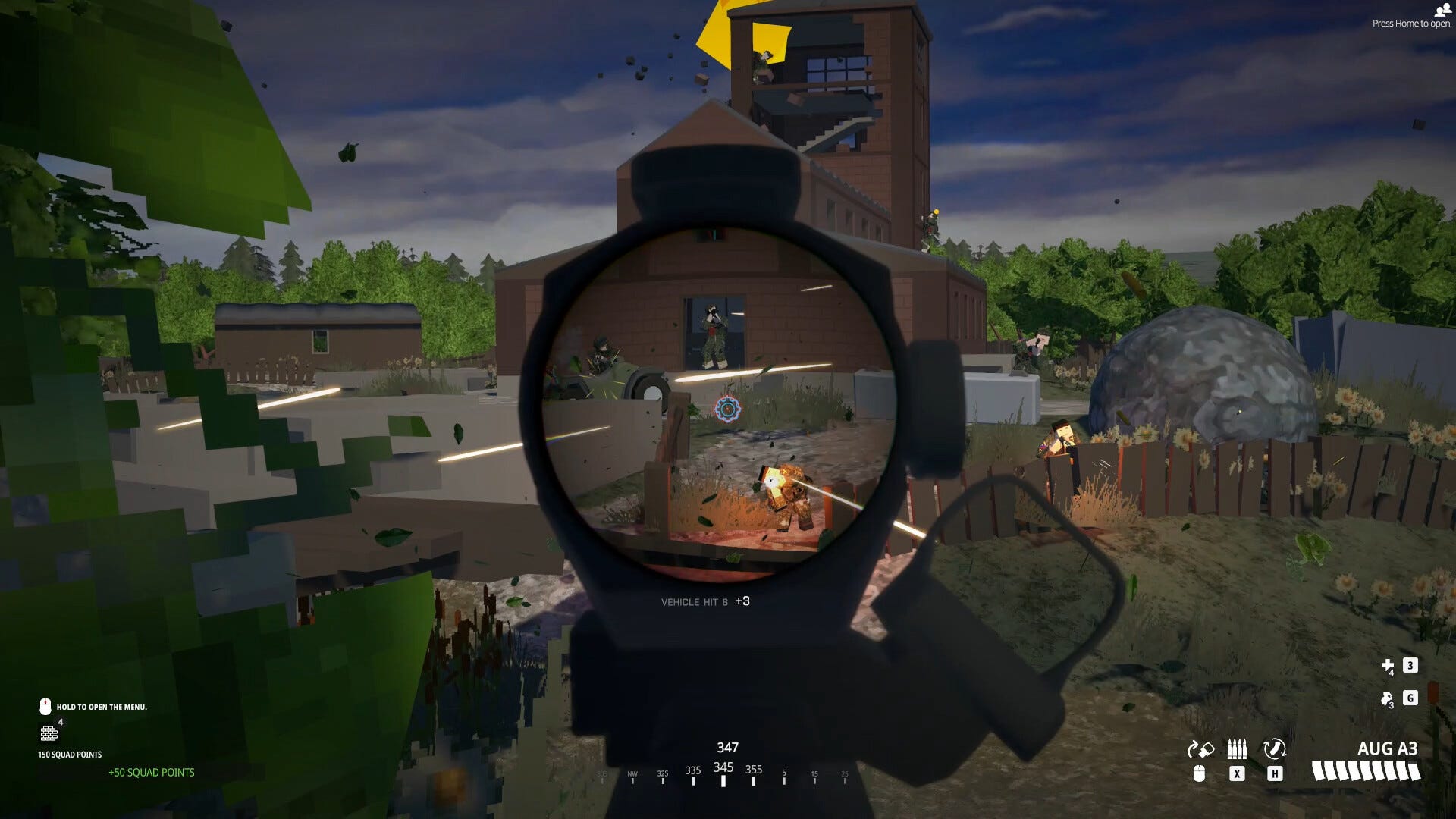 BattleBit Remastered, the low-poly, massively multiplayer shooter perhaps best described as Battlefield by way of Roblox, has sure shifted a lot of copies since it became a viral sensation a couple of weeks ago.
---
Rock Paper Shotgun Latest Articles Feed Wednesday, July 5, 2023 2:45 PM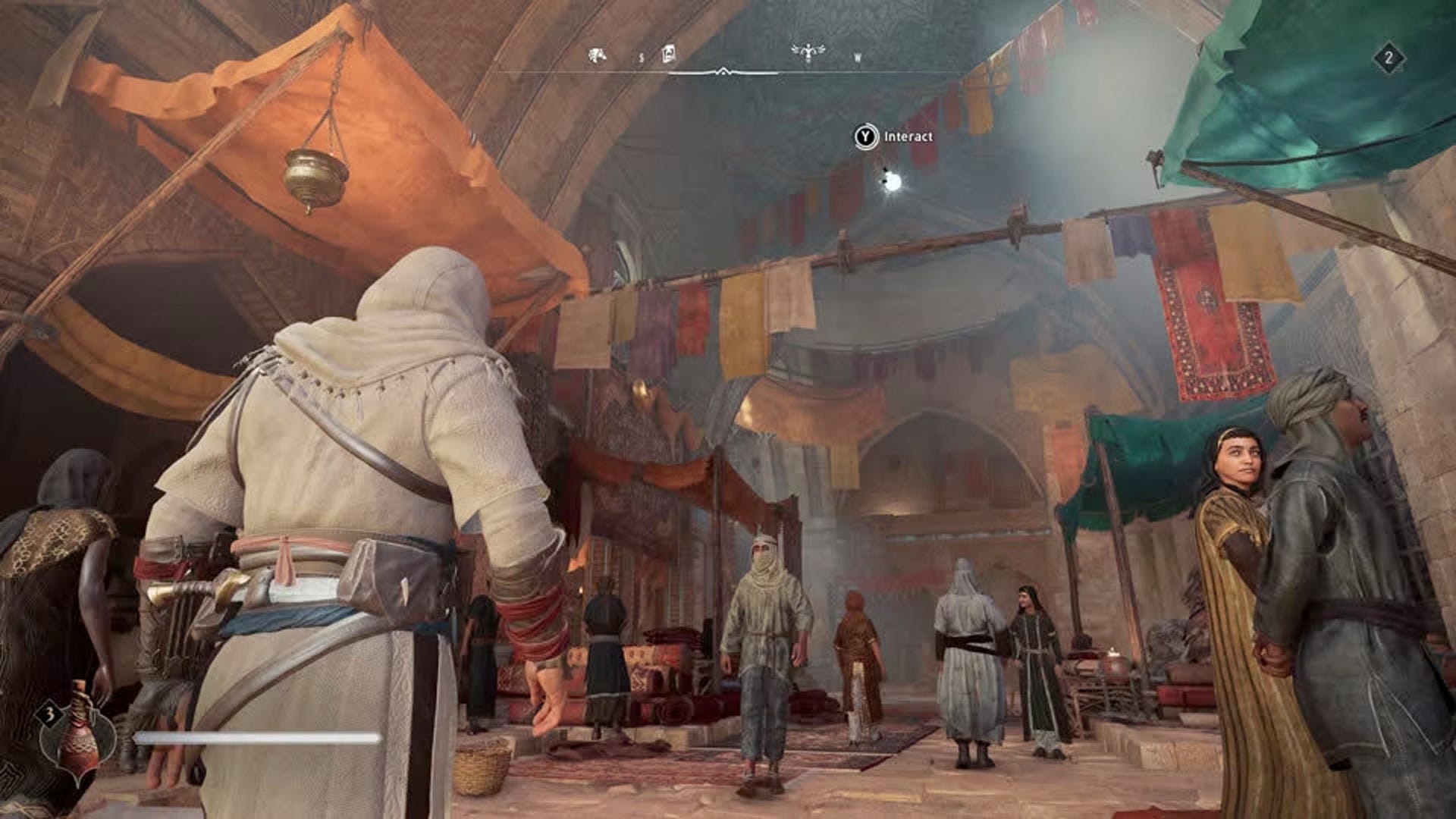 The next Assassin's Creed game will continue the series' past mixture of stab-people-in-the-face stealth-action video game and learn-interesting-things-about-real-places history simulator with a feature dedicated to teaching you about its ninth-century setting of Baghdad.
---
Rock Paper Shotgun Latest Articles Feed Wednesday, July 5, 2023 2:03 PM
---
Twinfinite Wednesday, July 5, 2023 6:17 PM
Rise ye goldfish!
---
Siliconera Wednesday, July 5, 2023 6:00 PM
Since its release on December 22, 2022, Aniplex sold over 150,000 copies of the PS4 and Nintendo Switch versions of Witch on the Holy Night. This number includes platforms, as well as both physical and digital copies. Because it is worldwide sales, it includes data from all countries, including Japan. [Thanks, KaroshiMyriad!]
Though 150,000 sales seems fairly low, it is a modest success for a visual novel with almost no choices (so it's not a sim of any kind). Visual novels are still quite the niche genre, even if Type Moon works may have become more mainstream due to the Fate/stay Night anime adaptations.
Sales slowed significantly though. At the end of December 2022, shortly after the game came out, it sold 110,000 units. Nonetheless, the interest in The Witch on the Holy Night might have been one of the factors for why Type Moon decided to greenlight the English localization of Tsukihime Remake, which will come out in 2024.
Witch on the Holy Night is a visual novel that first came out for the PC in 2012. It follows Sojuro Shizuki, a young mn who moves to Misaki town and finds himself drawn to Aoko Aozaki. Unbeknownst to him, Aoko is a mage who lives with Alice Kuonji in a mansion that people say is inhabited by a witch. Sojuro finds himself pulled into a magical dispute happening within the town.
Witch on the Holy Night is readily available on the PS4 and Nintendo Switch.
The post Witch on the Holy Night Sales Surpass 150,000 Copies appeared first on Siliconera.
---
Siliconera Wednesday, July 5, 2023 5:00 PM
The Japanese version of Fate/Grand Order started a new event called Mystic Eyes Symphony, and it means the debut of Medusa Saber. This event will run from July 5-26, 2023. Medusa Saber will not be in the permanent banner after her gacha ends. So players that want to get her will have to pull now or wait for a possible re-run in the future.
The story of Mystic Eyes Symphony in Fate/Grand Order takes place on the Storm Border's simulator. For some reason, there is a giant forest that they can't get rid of. Though the follow the weird "Kick" instruction that appears before them and it does get rid of the trees, it has the side effect of sucking away the magic of the Servants that do so. Medusa Saber is a Servant that Chaldea was able to summon prior to the bizarre events, and with her help, it'll find a way to get rid of the forest.
Medusa Saber has a very casual-looking outfit in her earlier Ascensions and becomes more divine-looking the further she goes. Aside from Medusa's usual Petrify skill, she can also charge her own NP gauge and grant herself invincibility. Her Noble Phantasm, Chrysaor, deals Quick damage to a single target and there's also the chance to Petrify them too.
https://www.youtube.com/watch?v=QFaaaL70D3c
Fate/Grand Order is readily available on mobile devices. Medusa Saber will only be available on the Japanese server of Fate/Grand Order for now. The Japanese server of Fate/Grand Order also recently added the swimsuit versions of Jeanne d'Arc Alter, Scathach, and Katsushika Hokusai to its Evocation Leaves shop.
The post Medusa Saber Is the New Limited Servant in Fate/Grand Order appeared first on Siliconera.
---
Siliconera Wednesday, July 5, 2023 4:30 PM
Atlus shared a new Persona 5 Tactica character introduction video focused on Erina, the leader of of the Rebel Corps and a new original character in the upcoming strategy RPG. Early in the game, Erina saves Joker and the rest of the Phantom Thieves after they are transported to an alternate world.
After Erina and the Phantom Thieves meet, they decide to work together in order to create a revolution in Erina's world. As a fun note, at the end of the video Erina teases Morgana about his paws, saying that they don't look much like human hands.
The video was shared on the official Persona 5 Twitter account and is only available in Japanese. You can check it out in more detail here:
https://twitter.com/p_kouhou/status/1676425669259952132
In the Japanese version of Persona 5 Tactica Erina is called Elle. Rie Takahashi voices her in the Japanese dub of the game. Takahashi previously voiced Megumin in the KonoSuba anime, Hu Tao in Genshin Impact, as well as Nina Deforges in Star Ocean: The Divine Force.
In other P5T news, Atlus recently released another character spotlight video that focused on Joker, Morgana, and Erina and their combat skills.
Persona 5 Tactica will come out for the Nintendo Switch, PS4, PS5, Xbox One, Xbox Series X|S, and Windows PC on November 17, 2023. The standard and Digital Deluxe versions of the game are now available for pre-order.
The post Persona 5 Tactica Trailer Introduces Rebel Corps Leader Erina appeared first on Siliconera.
---
Siliconera Wednesday, July 5, 2023 4:00 PM
Bandai Namco released a new Blue Protocol teaser trailer showcasing the Blitz Lancer, a new class in the action MMORPG. The Blitz Lancer is a speedy melee class capable of weaving in and out of the front lines with quick spear attacks, as well as powerful aerial launchers and attacks. Blitz Lancer will release in August 2023.
Blitz Lancer is a new class and the sixth one to appear in Blue Protocol. This new class introduces the spear as a new weapon type exclusive to it. The other five classes are Blade Warden, Twin Striker, Keen Strider, Spell Weaver, and Foe Breaker, and their weapons are sword and shield, dual axes, bow and arrow, magic catalyst, and heavyweight hammer respectively.
The teaser trailer for the new class is a short 48 second video with that showcases a few combos and moves. You can check out the new Blue Protocol Blitz Lancer video in more detail here:
https://www.youtube.com/watch?v=QEdQXV4mZ5Y
In other Blue Protocol news, Bandai Namco recently updated the game to incorporate a new item exchange system. The company also offered a list of items, cosmetics, and armor sets available in the service at launch. New items will be included in the future.
Blue Protocol is currently available to play on Windows PC in Japan. PS4 and PS5 versions will appear at a later date. The game will release worldwide in 2024 after a delay.
The post Blue Protocol Trailer Showcases New Blitz Lancer Class appeared first on Siliconera.
---
Siliconera Wednesday, July 5, 2023 3:30 PM
Square Enix shared new FFVII Remake renders of Rufus Shinra, the vice president of the Shinra Electric Power Company and son of its president. The new details about his design appeared on the official Twitter account. The focus this time is on Rufus' iconic white trenchcoat.
The original tweet reads as follows:
"The clothes of the confident and ambitious Rufus Shinra are a double-breasted suit manufactured with high-end looking and refined materials!

The zipper fasteners on the chest and hip pockets are designed to look like the end of a sword!"
You can check out Rufus Shinra's render from FFVII Remake and the detail of his design on the tweet below.
https://twitter.com/FFVIIR_CLOUD/status/1676153888565592065
In the renders, Rufus can be seen wearing a necktie and a grey suit under his coat. However, he is never seen without his coat in game, so we don't know the full appearance of his suit.
As a reminder, another Final Fantasy VII character who recently received new details about her design as well as new original concept art is young Tifa in her cowboy clothes.
Final Fantasy VII Remake is immediately available for the PS4, PS5, and PC. Part 2 of the remake trilogy is Final Fantasy VII Rebirth, and it will come to the PlayStation 5 in early 2024 on two discs.
The post Square Enix Shares Details About Rufus Shinra's FFVII Remake Design appeared first on Siliconera.
---
Siliconera Wednesday, July 5, 2023 3:00 PM
It's interesting to see how a series can change from entry to entry. Pretty Princess Party is something of a minigame collection with character and castle customization. Its sequel Pretty Princess Magical Garden Island goes in a different direction. This time, it's an Animal Crossing sort of game. However, while community is a focus there, here it feels like it is about customizing the island and gathering resources. It's mostly an age-appropriate game for younger players, but older and more experienced ones will deal with some tedium.
Pretty Princess Magical Garden Island picks up almost exactly where Pretty Princess Party left off. Players restored the castle after coming from the real world to a magical one, and made friends with some relatively generic princesses named Charlotte, Katrina, and Laura. What's next? A trip to Carrot Isle to enjoy the rare and luxurious Princess Cake. However, upon arriving on its shores, it is completely empty. All that remains is Rabbit House, which will become players' home base. Since you already proved you're so good at revitalization in the previous game, the goal now is to farm, place buildings, and set up decorations in order to make Carrot Isle attractive again. If you do, that Princess Cake may one day be yours.
[caption id="attachment_971384" align="alignnone" width="1200"]
Screenshot by Siliconera[/caption]
In a way, it feels like Pretty Princess Magical Garden Island is designed for the kids who played Pretty Princess Party and grew up enough to be ready for an Animal Crossing or Stardew Valley game, but still might not be completely prepared for the patience and skill those might require. This is primarily a game in which you are gathering items so you can meet requires or create new buildings, resources, or decorations. So after you buy seeds and plant crops, you need to wait a certain number of real-world minutes to harvest them. Those items could then be used in recipes to make dishes. Or, if it is something like grass or wheat, to feed to farm animals to get items like eggs or wool. You need to catch butterflies for different colors for dyes. Trees are chopped for planks of wood or you could mine ore for metals, and turning in those could help with buildings or furniture. Feeding animals means waiting real-world time for them to produce materials. Creating at a "shop" means bringing specific items and waiting for it to be made, especially if other materials need to be made ahead of it.
This does mean certain steps are removed from the process to make it a bit "easier." Chopping trees doesn't result in deforestation. You just need to wait a bit before you can get wood from that particular one again. Animals don't need to be fed or purchased. So there's less responsibility. You don't need to talk to animal visitors beyond waving to them once per day to earn gratitude points. Likewise, the sidequests from them appear in a menu and aren't as "in the moment" as the requests from villagers in Animal Crossing. You also don't need to wait many real-world days to begin unlocking things. The process is rather streamlined and speedy, which is good for less patient players.
[caption id="attachment_971385" align="alignnone" width="1200"]
Screenshot by Siliconera[/caption]
It also streamlines the equipment element. Certain tools familiar to Animal Crossing and Stardew Valley appear. You don't need to worry about watering crops. Just till the land with a hoe (or undo that with a broom), plant with seeds, and perhaps equip the basket if you want to harvest a lot of crops or flowers quickly. Use a net to catch butterflies. The rod catches fish. The axe is used on trees to get wood. You use a pickaxe to mine things like ore or rock salt. Again, it feels like simplicity and easy of use are a priority here.
The downside is that Pretty Princess Magical Garden Island can both be a little generic and a bit of a grind. The furniture and clothing are fine. However, many items fall into the fanciful and fairy tale genres. So setting specific aesthetic for Carrot Isle is a bit difficult. All visitors are rabbits, which means less diversity than Animal Crossing's villagers. There's a lot of downtime when you start really crafting what you need to get new buildings or access new gameplay elements, which means literally setting the Switch down for at least five minutes while you wait for everything to be made. I found it more frustrating than waiting for an actual real-world day to pass in Animal Crossing, for example. Not to mention there is that element of, say, needing certain color butterflies, but then needing to wait for it to spawn. So in some ways, it requires even more patience than the games it pulls ideas from.
[caption id="attachment_971388" align="alignnone" width="1200"]
Screenshot by Siliconera[/caption]
Still Pretty Princess Magical Garden Island is a very pleasant experience. Especially if you enjoy the idea of customizing a whole area and games with relaxed farming elements. It doesn't always offer the depth of an Animal Crossing installment, but there's a novelty to going through some tasks, waiting a 15-30 minutes, then gradually building up and decorating Carrot Isle.
Pretty Princess Magical Garden Island is available for the Nintendo Switch.
The post Review: Pretty Princess Magical Garden Island Is a Simpler Animal Crossing appeared first on Siliconera.
---
Siliconera Wednesday, July 5, 2023 2:30 PM
Square Enix released a music video for the Final Fantasy XVI theme song that includes its English translation. As a reminder, that track is "Tsuki wo Miteita - Moongazing" by Kenshi Yonezu. Leo Imai translated its lyrics for the video below.
Here's the full "Tsuki wo Miteita - Moongazing" Kenshi Yonezu theme song with English subtitles and scenes from Final Fantasy XVI. No spoilers appear during the video. You do need to turn on closed captions for the English lyric translations to appear.
https://www.youtube.com/watch?v=n-jdUGkMVco&ab_channel=FINALFANTASY
The soundtrack CD for the game comes out in July 2023. However, it does not include this track.
Ahead of this release, Square Enix shared some songs from Final Fantasy XVI rather regularly. There was a teaser for this track at one point. "Find the Flame" is also available on various streaming services.
As for Kenshi Yonezu, he's created the theme songs for multiple projects as of late. One of the more notable tracks is "Kick Back," which is the theme song from Chainsaw Man. His most recent song is "Lady," which appeared in Coca Cola ads in Japan.
Final Fantasy XVI is available for the PlayStation 5. A demo is out now as well. There is a six-month exclusivity period.
The post Final Fantasy XVI Theme Song Video Includes English Translation appeared first on Siliconera.
---
Siliconera Wednesday, July 5, 2023 2:00 PM
HoYoVerse released the Genshin Impact Tools update alongside version 3.8 of the game. These tools are part of the HoYoLAB community site, and offer new content and functions to help track in-game activities, characters, enemies, and items.
The first new addition for the Tools Update is improvements to the Battle Chronicle's Event Review module. Players will now be able to view all current and past events. In addition, the version 3.8 Main Event "Secret Summer Paradise" has been added. The Event Review will allow players to check all event data, including Treasure Chests, Teleport Waypoints and scores.
The other major addition to the Genshin Impact Tools Update is an update to the Teyvat Interactive Map. Map Pins have gained additional details, and a layer function has been added. This will allow users to switch between layers by clicking on cavern entrances. While this layer function isn't currently active, it will become available on July 20, 2023.
In addition to these updates, sign-in rewards for the month have been confirmed. The first check-in of the month will grant players 100 Primogems and 10,000 Mora.
The Genshin Impact version 3.8 update also features banners for Eula and Klee. In addition to these five-star characters, the four-star characters Mika, Razor and Thoma are also available. The banner will be available until July 25, 2023.
Genshin Impact is out now for the PC, PS4, PS5, and mobile devices. The version 3.8 update will be available on July 5, 2023.
The post Genshin Impact 3.8 Tools Update Has Been Released appeared first on Siliconera.
---
PC Invasion - FeedDDD Wednesday, July 5, 2023 6:33 PM
The Legend of Zelda: Tears of the Kingdom features a variety of armor sets to please long-time fans of the series. One of the coolest of those outfits is the Twilight set, which recalls Twilight Princess. Players must find several different pieces to assemble the complete outfit. Here is our guide explaining where to get the Cap of Twilight in The Legend of Zelda: Tears of the Kingdom. Tears of the Kingdom – where to get the Cap of Twilight The Cap of Twilight is part of the overall Twilight set. It allows Link to appear in the traditional style that was so common up to that point. To get the Cap of Twilight, you must head to the Gleeok Den in the Depths and kill the King Gleeok guarding a treasure chest. First you need to find the Gleeok Den. In the Depths, it is located near the north central area that corresponds to Thyphlo Ruins in the overworld. You can easily reach the den by descending through the Drenan Highlands Chasm and then traveling northeast. If you hav...
---
PC Invasion - FeedDDD Wednesday, July 5, 2023 5:54 PM
A core pillar of what makes the Wizarding World of Harry Potter's high school experience wonderful is the romance. While there was a disappointingly slim amount of romance in Hogwarts Legacy, does Harry Potter Magic Awakened do a better job of incorporating romance? Note: If you are new to Harry Potter Magic Awakened, I highly recommend checking out the best decks so far. Harry Potter Magic Awakened: Romance, explained Sadly, there isn't romance in Harry Potter Magic Awakened — at least not in the sense you're thinking of it. While you can't romance NPCs in Harry Potter Magic Awakened, the game is an MMORPG with hundreds of other players online at the same time as you. With dormitories, social clubs, Duels, and dances, there are numerous opportunities to romance other online players. You'll pass fellow online students all the time in Harry Potter Magic Awakened and you can rizz them up by using the chat or the microphone options. ...
---
PC Invasion - FeedDDD Wednesday, July 5, 2023 5:44 PM
The Legend of Zelda: Tears of the Kingdom lets you acquire the Hylian Shield very early on, which is fortunate considering how immensely useful it is. It stands out as not only the most durable shield in the game but also one of the most durable items in general. You can venture through huge swaths of the game world, and the Hylian Shield will never even come close to breaking during that time. Eventually, however, the shield will break, which brings the question of how you can find a replacement. By reading through this guide, you will find an answer to that question. What to do to get another Hylian Shield Funnily enough, replacing the Hylian Shield actually takes more time and effort than finding it for the first time. To get a new shield, you first need to reach Hateno Village and complete the mayoral election questline there. Upon doing so, Cece will stay in her house for the rest of the game and sell you special clothes you have already found in case you need an extra or a repla...
---
PC Invasion - FeedDDD Wednesday, July 5, 2023 5:39 PM
Luocha is a 5-star character from Honkai: Star Rail and has made waves in the game for being one of the only healers in the game. Joining the company of Bailu and Natasha as an Abundance character, Luocha is just the second 5-star healer, and he earns his keep as one of the strongest healers currently in the game. Luocha is an Imaginary Abundance character and gives your team a gross amount of healing through his Skill and unique Talent. He also has additional utilities, able to cleanse debuffs from allies as well as remove buffs from enemies. To make sure your Luocha can heal your team to the best of his ability, you'll want to equip him with the best Relics, Light Cones, and Eidolons. Here's our guide for the best Luocha build in Honkai: Star Rail. Luocha's best build in Honkai: Star Rail Light Cones Screenshot by PC Invasion Luocha has plenty of choices for his Light Cones in Honkai: Star Rail as an Abundance character. Here are the best Light Cones fo...
---
PC Invasion - FeedDDD Wednesday, July 5, 2023 3:50 PM
During Dave the Diver's first chapter of many, you're tasked with finding a Yellow Shipwreck during 'Duff's Pink Delivery'. Duff asks Dave to find him his Pink Delivery Box that sunk beneath the ocean. You'll be able to spot this box with a Yellow Shipwreck. If you're having trouble figuring out where to find this Yellow Shipwreck in Dave the Diver, keep reading. Dave the Diver: Pink Delivery Box and Yellow Shipwreck location During two connected quests, Dave needs to find a Pink Delivery Box containing a figure of Leahs-chan. Where you'll find this Yellow Shipwreck in Dave the Diver is pretty much directly beneath the starting point of your dive. The box and ship are both around 100 meters deep, so make sure you've upgraded your Diver Suit enough. By this point in the game, you've probably upgraded some of your other equipment, which I highly recommend doing. If you're still a little lost, if you know where...
---
Tabletop Gaming News – TGN Wednesday, July 5, 2023 2:20 PM
Hey… Did you know that it's Wednesday? I sure as heck didn't. Well… I did. But having a Tuesday off during a week really messes with my mind. It's like it's a Monday, but it's also like a Wednesday, but also just a nebulous "whatever"day… Oh well. I know I need to get you some …
---
Gaming Instincts – Next-Generation of Video Game Journalism Wednesday, July 5, 2023 6:27 PM
---
Gaming Instincts – Next-Generation of Video Game Journalism Wednesday, July 5, 2023 6:03 PM
---
Gaming Instincts – Next-Generation of Video Game Journalism Wednesday, July 5, 2023 5:30 PM
---
Gaming Instincts – Next-Generation of Video Game Journalism Wednesday, July 5, 2023 4:45 PM
---
MonsterVine Wednesday, July 5, 2023 2:25 PM
It's been just over ten years since the release of Diablo 3, six if you want to include that game's final expansion, and Blizzard has finally dropped a fourth game in the over twenty year long series. And while Blizzard definitely returns to their roots in some ways with Diablo 4, a lot of it […]
---
MonsterVine Wednesday, July 5, 2023 2:04 PM
Diablo 4 is the sequel to the critically beloved Diablo 3 which is the sequel to the critically acclaimed Diablo 2 which is a sequel to the critically acclaimed Diablo. By and large if you like any of those games you'll like this one. In fact by this point you've most likely already bought it. […]