---
Kotaku Wednesday, May 25, 2022 9:00 AM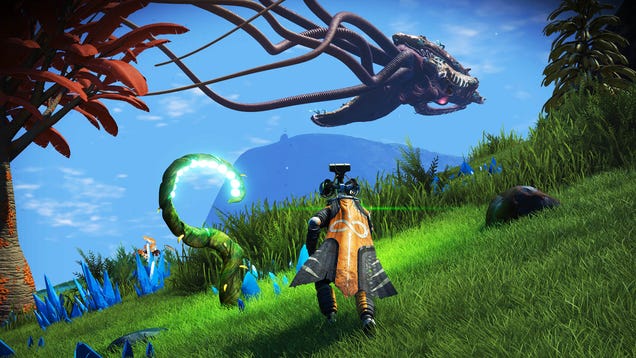 The next No Man's Sky expansion is all about space whales. Well, okay, there's a whole new, roguelike-style expedition for players to tackle too but come on. Space whales, baby.
---
PCGamesN Wednesday, May 25, 2022 9:49 AM
Want to know how Halo Infinite ranks work? In addition to the many unranked game types on offer, the free-to-play FPS game has a ranked mode where players can compete against each other in tense matches. The match's outcome determines how many points players gain or lose towards the next rank.
But how do you rise through the Halo Infinite ranks? Theoretically, it's straightforward: play well in every ranked arena match. However, that's not easy to put into practice. The ranked arena playlist has several game types on rotation: Slayer, Capture the Flag, Oddball, and Strongholds. You must complete ten matches in ranked arena mode to earn a starting rank in one of the many ranked leaderboards.
To increase your rank, you need to perform well in matches by killing enemy Spartans, assisting allies in killing enemies, or completing objectives in any non-Slayer match types. As long as you aren't constantly dying and you play well, you should make progress towards the next rank after every match. However, a poor performance will take away some progress towards the next rank, and you don't want that to happen.
Halo Infinite release date
,
Halo Infinite system requirements
,
Halo Infinite ranks
---
PCGamesN Wednesday, May 25, 2022 9:07 AM
Want to know more about the best quests in Elden Ring? Like any good RPG game, Elden Ring is filled with quests, but there's no in-game journal to keep track of all your conversations with NPCs. Unless you keep track of every NPC you interact with, there's a chance you're going to miss out on lengthy quest lines featuring interesting stories and high quality rewards.
There's a lot of key items on the map like Golden Seeds and cookbooks which can be collected at any point, however, some of the best Elden Ring quests are only active for a short period of time. You have to be careful not to skip through important parts in each quest chain accidentally. For example, if you start a quest and end up fighting against one of the Elden Ring bosses without completing a step in the chain, you may automatically fail the quest.
To make matters worse, you can accidentally destroy an entire quest line without realising if you manage to kill an NPC. Most NPCs usually aren't aggressive right away, but they can look threatening. In a game where everything is ready to kill you, we completely understand if you fight first and ask questions later. Here's everything you need to know about quests in Elden Ring, including what the best rewards are, how to seek forgiveness, and more - but be warned, there are Elden Ring quest spoilers ahead.
Best Elden Ring settings
,
Main Elden Ring bosses in order
,
The best Elden Ring classes
---
PCGamesN Wednesday, May 25, 2022 8:43 AM
Learning how to build a gaming PC isn't just an immensely satisfying experience, it also means you can tailor your system to your own personal needs. And it's pretty easy, too. No longer do you have to mess about with jumper switches, northbridges, and clock timings – even SLI is a thing of the past. Nowadays, you just need a bit of guidance, a little patience, and the right components to find out that putting together the best gaming PC is a lot like playing with Lego.
You could save yourself the hassle and buy a pre-built gaming PC, especially since there's not a huge premium on a full rig these days and it can even be a cheeky way of avoiding stock issues surrounding the best graphics cards. Much like the best gaming laptop, however, rigid configurations mean you might not get the exact combination of hardware you want.
By learning how to craft your own gaming PC build, you can ensure each component suits your requirements perfectly - whether you just want something to run CS:GO at a high refresh rate, or a rig capable of running the notoriously demanding Cyberpunk 2077.
Best SSD for gaming
,
How to build a gaming PC
,
Best gaming CPU
---
PCGamesN Wednesday, May 25, 2022 9:57 AM
So you want to know about the Minecraft 1.19 release date? First announced in October 2021, this is also known as 'The Wild' update and will be a major addition to the Java edition of the beloved sandbox game. It's currently scheduled to release later this year, and is even available to play right now via Minecraft snapshots.
Details released so far on the Minecraft 1.19 update include a bunch of new features, from new biomes such as the Deep Dark and Mangrove swamp, new mobs like The Warden, to new world generation features. Ancient cities will spawn in the Deep Dark, which is an area that only spawns underground. You can make clay or mud brinks thanks to the new Mud block, which you craft by mixing soil with water. There will also be a new enchantment, and Frogs and Fireflies will debut during this update as well.
Here's everything we know about the Minecraft 1.19 release date, as well as a summary of the key features.
Minecraft console commands
,
Minecraft skins
,
Minecraft mods
---
PCGamesN Wednesday, May 25, 2022 8:49 AM
The best gaming monitor might offer a 144Hz refresh rate and 1ms response time at 1080p for a great price, or it might boast 4K resolution in an ultrawide format. There isn't a 'one size fits all' when it comes to monitors. Which genre of game you play the most, and what you really value in a screen, makes a massive difference. But a good monitor, just like the best gaming chair, has an incredibly long lifespan compared to many other components and peripherals, making it a great investment for your gaming PC setup.
There are serious questions you need to ask yourself first to narrow down your selection. Do you favour image quality over lightning-fast pixel response? Do you need Nvidia's G-Sync or AMD's FreeSync? Does it even matter now that Nvidia supports FreeSync?
Are you into the pro-gaming, competitive esports world and crave the super-high monitor refresh rates of TN tech rather than a quality panel? Do you want a traditional 16:9 screen or have you been seduced by the ultra widescreen beauty of a 21:9 aspect ratio? Do you need a monitor so wide you can almost see those Fortnite enemies standing behind you? Or does it absolutely, positively have to be the best 4K gaming monitor so you can spot each individual blade of grass in The Witcher 3? And, finally, how convinced are you by the prospect of high dynamic range gaming?
Best SSD for gaming
,
How to build a gaming PC
,
Best gaming CPU
---
PCGamesN Wednesday, May 25, 2022 7:53 AM
The Intel Core i9 12900K is undoubtedly one of the best gaming CPUs you can buy for your gaming PC today, but bending issues on LGA 1700 motherboards remain a point of concern for enthusiasts. In the wake of these problems, Thermal Grizzly has released a product to combat the unwanted flex, and someone's put them to the test.
After a series of experiments, editor-in-chief of Igor's Lab, Igor Wallossek, finds that Intel Core i9 12900K CPU temperatures can be reduced by up to 10°C after replacing the ILM (internal loading mechanism) on a Z690 motherboard with the Thermal Grizzly CPU contact frame. Wallossek's results show that the mod can help facilitate more uniform contact between the processor and cooler, allowing the chip to run much cooler.
However, results will vary from cooler to cooler, with the Corsair iCUE H150i seeing little to no improvement due to it having good contact out of the box. It's also worth noting that the mod can cause some issues with RAM, meaning you may need to reseat your sticks after installing it.
Arc Alchemist GPUs - everything we know
,
Raptor Lake CPUs - everything we know
,
Best gaming CPU
---
PCGamesN Wednesday, May 25, 2022 7:38 AM
The Marvel MMO game - that was confirmed last year but was never officially announced - is now cancelled. The Marvel Comics MMORPG was in development at Dimension Ink and Daybreak Games, the team behind fellow online superhero game DC Universe Online, but is now "discontinuing" it to focus on "alternative" projects.
As PCGamesN reported back in November, Enad Global 7 – the holding company that owns Daybreak – revealed in an investor presentation that it had a "Marvel IP based" MMO in production. DC Universe Online studio Dimension Ink was making it alongside City of Heroes designer Jack Emmert, who had a Marvel Universe Online MMORPG cancelled by Microsoft in 2008.
In a press release today, Enad Global 7 confirms that it is "discontinuing" its Marvel game due to a change in "the development priorities", and will instead "focus on alternative long-term projects". It had planned to invest SEK 500 million - roughly GBP £40 million or USD $50 million - in the game, but is instead putting this into supporting both The Lord of the Rings Online and DC Universe Online, as well as "new game opportunities with our first party, original IPs".
---
PCGamesN Wednesday, May 25, 2022 7:23 AM
Looking for some cool Minecraft skins? Fashion faux pas are serious business and it is not just a case of following the latest trends or knowing this season's wardrobe essentials. Instead, it is an ongoing battle to turn up wearing one of these cool MC skins to make all your friends jealous.
Whether it is superheroes like a Minecraft Spider-Man skin, characters from your favourite games, film icons, or creative mashups you need, we have sourced some of the very best threads for your sartorial pleasure. So, to ensure you are the talk of the server the next time you log in, we have the very best Minecraft skins for you.
There's no point messing around in the amazing worlds created by the best minds if you're not looking just as special. If you're playing on the Bedrock Edition of Minecraft, the new character creator lets you customise your character model with numerous free and premium Minecraft skins, so you can roam around the coolest play areas generated by Minecraft seeds as the pixel version of yourself.
Minecraft console commands
,
Minecraft skins
,
Minecraft mods
---
PCGamesN Wednesday, May 25, 2022 6:53 AM
A new Oculus Quest 2 fix has landed, and it resolves juddering Air Link issues on Windows 11. While Meta previously stated that it was still working on a solution for its VR headset hiccups, a patch is seemingly available through the Public Test Channel.
Highlighted by UploadVR, the Oculus Quest 2 fix can now be activated using Meta's Public Test Channel, which can be found within the headset app's beta settings. The patch arrives much earlier than previously anticipated, as Meta's consulting chief technology officer (and co-creator of Doom) John Carmack said he wasn't sure when it would land.
If you use a Windows 11 gaming PC to play the best VR games, this Oculus Quest 2 fix will come as a relief. It's needless to say that juddering effects are immersion breaking, not to mention they'll make most people feel nauseous. UploadVR caveats that occasional jitters could still pop up during gameplay, but the patch seems to mostly fix the operating system's Air Link issues.
Best VR games
,
Build yourself a VR-ready PC for $793
,
How to set up your Oculus Rift
---
PCGamesN Wednesday, May 25, 2022 6:28 AM
A new Genshin Impact Yelan character teaser has shown off the upcoming hydro DPS character for Hoyoverse's popular RPG game. The new Genshin Impact character has been known about for a while, and we already have information on the Yelan banner and abilities for the upcoming bow user. However, the new 'Yelan: Inevitable Justice' trailer showcases her in action alongside today's official introduction post from Hoyoverse.
The Yelan banner, titled 'Discerna of Enigmas,' has been confirmed for the first half of Genshin Impact 2.7, which releases on May 31. The introductory post describes Yelan as a 'phantom' who often visits events in disguise, saying that even most of her colleagues at the Ministry of Civil Affairs are unaware of her.
In the trailer, Yelan is shown as a calm but intimidating presence, appearing out of thin air behind two figures that are discussing her, after which she captures the pair and interrogates them for information. Hoyoverse also revealed the Yelan voice actors for the Japanese and English language versions of Genshin Impact today - Endō Aya and Laura Post, respectively.
Play Genshin Impact for free
,
Genshin Impact character tier list
,
Genshin Impact leveling guide
---
PCGamesN Wednesday, May 25, 2022 6:04 AM
It seems like vampire games are popular again, as developer Stunlock Games reports that V Rising sales have hit over one million copies on Steam. The survival game was only released on Steam early access a week ago, and its success has even taken Stunlock by surprise.
V Rising has proved an immediate hit on Steam, reaching a concurrent player count peak of over 46,000 players on its first day - a peak that the RPG game has more than tripled since according to SteamDB. Sales have been equally impressive, and Stunlock confirms that V Rising has crossed over a million Steam sales in a week - a fact that has taken even the team by surprise.
"I don't think anybody expected it to be quite this big," Stunlock community manager Jeremy Fielding told IGN before the game even hit the million mark. "A very small company with a brand new IP? It took a lot of people a long time to start to take notice."
How to get V Rising leather
,
The best vampire games on PC
,
V Rising horse guide
---
PCGamesN Wednesday, May 25, 2022 6:01 AM
World of Tanks will be crossing over with the popular Games Workshop franchise, Warhammer 40k, as part of its Season VIII Battle Pass. If you successfully complete all of the chapters of the Battle Pass, then you will be able to unlock three new commanders from Warhammer 40K.
World of Tanks Season 8 Battle Pass is due to begin at the start of June and will see players fighting it out on battlefields taken from the grimdark universe of Warhammer 40k, providing an exotic change of location for those who are more familiar with the more down to earth locales that the game usually focuses on.
In the past, World of Tanks have done a few crossover events with the likes of G.I. Joe, WWE, and even an earlier Warhammer 40K event. It's good to see them revisiting the franchise and it makes you wonder what they might do in future - as one of the best tank games around, it'd be cool to see lots of tie-in events with other sci-fi and fantasy IPs.
Best tank games
,
Play World of Tanks
---
PCGamesN Wednesday, May 25, 2022 5:49 AM
EVGA is selling the Nvidia RTX 3090 Ti for less than MSRP, signalling a return to normal GPU prices. While we've grown accustomed to forking out extra cash for the best graphics cards, you can now upgrade your gaming PC with a current-gen contender and save a few pennies in the process.
On the EVGA store, the Nvidia RTX 3090 Ti FTW3 Black now comes in at $1899.99, thanks to a $100 'instant rebate'. The GPU still features a premium price point, but the fact you can pick up a high-spec option for less rather than more is a reassuring sign. The vendor is also limiting sales to two per household, which should help curb the risk of any reseller shenanigans.
Sadly, while EVGA's discount will help normalise costs, other storefronts are clutching onto high GPU prices. Amazon US is selling an MSI RTX 3090 Ti that's reduced to MSRP, but other options like the RTX 3080 are listed for more than the recommended retail price tag. You could say being able to get a graphics card at all is a blessing, especially amid ongoing component shortages. However, with next-gen successors like the RTX 4090 inbound, current-gen parts should be available for less.
RTX 4000 - everything we know
,
GeForce Now RTX 3080 review
,
Best graphics card
---
PCGamesN Wednesday, May 25, 2022 5:12 AM
We've been waiting for the first LG OLED gaming monitor for some time now, hoping to see the same self-emissive screens that power the manufacturer's best TVs on the market make their way to the gaming PC space. Thankfully, it seems like the company is finally ready to bring its WRGB panels to its Ultragear displays.
In a press release issued earlier today, new details on the first LG OLED gaming monitor, the 48GQ900, were revealed by the company. It boasts a 48-inch 4K 138Hz (OC) panel that supports HDR10, AMD FreeSync Premium, and Nvidia G-Sync compatibility. If that's not enough for you, perhaps its 0.1ms grey-to-grey response time will serve as a lovely cherry on top, in addition to low input lag.
The main difference between the 48GQ900 and its smart TV counterparts can be found in its I/O, which features DisplayPort connectivity in addition to three HDMI 2.1 ports. While the latter will be more than enough to run the monitor at 4K/120Hz providing you have one of the best graphics cards, you'll want to opt for the former to make use of the panel's 138Hz capabilities.
Best SSD for gaming
,
How to build a gaming PC
,
Best gaming CPU
---
PCGamesN Wednesday, May 25, 2022 7:23 AM
What are the best upcoming games to keep an eye on this year and the next? Hope, anticipation, agony, and elation - it's the endless cycle of emotions we go through during the annual PC release schedule.
Year in, year out, games - via Steam and otherwise - are produced in such varying degrees of quality that not a single one of them is destined for certain success. Masterpieces are released alongside utter disasters, series are born while others dwindle and, occasionally, a game actually lives up to our expectations. So, what are the best upcoming PC games of 2022?
How can we possibly navigate the dizzying number of announcements, trailers, and teases to find which of the upcoming PC games we should devote our finite supply of hype to? Us old PCGamesN sages have been round the videogame block plenty of times already, so we're perfectly placed to tell you about the titles you should be saving your pennies up for. Below you'll find the upcoming PC games you should keep on your radar, as well as their expected release dates.
---
PCGamesN Wednesday, May 25, 2022 5:02 AM
Want to know how to complete this week's Halo Infinite ultimate challenge? Every week you can unlock a free cosmetic for your Spartan. To get this new look, you have to complete a list of challenges, and play a lot of matches. These challenges also give you experience points you use to level up the Halo Infinite battle pass.
Challenges can be found in the battle pass menu and it lists the current active challenges and upcoming challenges, including the Halo Infinite ultimate challenge for that week. Each challenge is colour-coded by difficulty, so bright grey challenges are the easiest, the bluish-grey challenges are of medium difficulty, and the bright blue ones are the most challenging. One of the upcoming challenges will take its place when you complete a challenge, though which challenge it is, is random.
Once you've completed each challenge, you're given one more challenge before you can claim your weekly reward. This challenge is the same for everyone. In this guide, we'll give you tips on how to complete the Halo Infinite weekly challenges in your queue, explain what this week's Halo Infinite ultimate challenge is, and what the weekly ultimate challenge reward is.
Halo Infinite release date
,
Halo Infinite system requirements
,
Halo Infinite ranks
---
PCGamesN Wednesday, May 25, 2022 5:01 AM
Want to know how to beat the Elden Ring bosses in order? The most defining moments in any of the best Soulslike games are the tough boss fights. They can be tricky for several reasons: some are hard to hit consistently, and others can squash you with just one attack. Elden Ring is also an open-world game, so as you'd expect, there are plenty of formidable foes with big health bars waiting to be discovered.
Despite having hundreds of monsters, you only need to beat 12 Elden Ring bosses in order to finish the game. Any region can have up to 19 fights, so in addition to a list of mandatory boss encounters, you'll also find an extensive list of all of the main Elden Ring bosses, where you can find them, and what items they drop when you beat them.
It's worth noting that, generally speaking, as you hunt them down, dungeon bosses are not as hard to kill as the major bosses. However, there are exceptions, so upgrading the Flash of Wondrous Physick with Elden Ring crystal tears can make all the difference.
---
PCGamesN Wednesday, May 25, 2022 6:59 AM
Want to know what the Call of Duty: Modern Warfare 2 release date is?The new FPS game was first teased by developer Infinity Ward who confirmed its existence with a shiny new 'MWII' logo on Twitter. Modern Warfare 2 is a direct sequel to 2019's Modern Warfare 1 reboot. The next instalment sees Captain Price assembling a new group, Task Force 141, to take down the Russian terrorist Victor Zakhaev.
Activision Blizzard's first quarter financial report says Modern Warfare 2's development is "proceeding very well", and we now know the Modern Warfare 2 release date after it was announced in May. The publisher also promised that Modern Warfare 2 "will be the most advanced experience in franchise history".
At the same time, the team is also working on a brand-new Warzone 2 experience which is said to be built from the ground up. Black Ops Cold War and Vanguard launched before their big Warzone overhauls, and it looks like the same thing could happen with Warzone 2. Here's everything revealed and rumoured so far about Call of Duty: Modern Warfare 2 so far, including the release date, game modes, and much more.
---
PCGamesN Wednesday, May 25, 2022 9:26 AM
Whether you use the best gaming keyboard for work or play, adding one to your gaming PC setup can make all the difference. Sure, that mushy set of keys at the office may technically perform the same role, but upgrading your clicky-clacky companion will help improve both your typing experience and your WASD reflexes in the best FPS games.
Choosing the best gaming keyboard isn't complicated, but brands like Corsair, Razer, and SteelSeries like to put their own spin on the staple PC peripheral. Whether you prefer full sized options complete with number pads and function keys, or dinky 60% space savers, there are a variety of keyboards out there to suit your gaming desk preferences.
To help you navigate the sea of RGB backlit, microswitched boards on the market, we've assembled a collection of the best gaming keyboard options, with products that pair with the best gaming mouse while catering to both premium and budget ensembles.
Best SSD for gaming
,
How to build a gaming PC
,
Best gaming CPU
---
PCGamesN Wednesday, May 25, 2022 9:24 AM
Thanks to advancements in wireless and battery technology, using a wireless gaming mouse no longer has any disadvantages compared to its wired counterparts. Ultra low latency means you won't notice any lack of responsiveness and battery life can stretch into the hundreds of hours, minimising the amount of time you need to plug it back in.
Wireless mice can even have some advantages over your conventional wired clicker. You don't get any cable drag, which can help with accuracy in FPS games like CS:GO or Valorant. They're more aesthetically-pleasing too, doing away with wires, so you can better manage cables in your gaming setup.
We've rounded up the wireless gaming mice that deserve a spot on the best gaming desk in 2022, ranging from high-end clickers for aspiring pros, to those that won't break the bank while still offering a great gaming experience. Whether you want a wireless gaming mouse designed for a specific genre, such as strategy games or MOBA games, something more ergonomic, or you're looking for a great left handed gaming mouse, there's something here for everyone. No matter which one you choose, all the mice listed here will give a great gaming experience. Oh, and if you're actually not all that bothered about wires, then you can check out our overall picks for the best gaming mouse.
Best SSD for gaming
,
How to build a gaming PC
,
Best gaming CPU
---
Rock Paper Shotgun Latest Articles Feed Wednesday, May 25, 2022 9:50 AM
Free-to-play science fiction PvPvE shooter The Cycle: Frontier will begin its 'pre-season' phase on June 8th, developers Yager have revealed today. Season one will then launch on June 22nd, bringing the extraction shooter's full complement of 'Fortuna' season pass rewards along with it. Check out the launch trailer below.
---
Rock Paper Shotgun Latest Articles Feed Wednesday, May 25, 2022 8:30 AM
Roller Champions is a free-to-play rollerbasketderbyball mash-up that's been a long time coming. I mean, Matt Cox (RPS in peace) said it was the best game at E3 2019 when it was due out in early 2020. Then it got delayed to early 2021. And now the game's first season has - *double checks* - finally arrived.
So, Ollie, Liam, and I strapped on our skates and jumped into a few games to see how it's getting on. Ollie had some experience with the game before, while Liam and I went in totally blind. We all emerged from our play sesh glowing with praise albeit with a tinge of worry. Would it get any traction, or quickly succumb to the cheery sports game curse?
---
Rock Paper Shotgun Latest Articles Feed Wednesday, May 25, 2022 7:08 AM
---
Rock Paper Shotgun Latest Articles Feed Wednesday, May 25, 2022 7:01 AM
Karl Fairburne, the titular Sniper Elite, is a pro at pinging baddies in the distance. The master of shooting Nazis in the balls across hundreds of metres. It's a mystery, then, why the French Resistance constantly hand him objectives that require close-quarters combat. "Sneak into this chateau," or "blow up that radar," they say, probably with a smirk assuming that he won't be able to pull it off. He can, of course, but it's a monotonous series of missions that rarely asks you to get inventive with your trusty rifle.
---
Rock Paper Shotgun Latest Articles Feed Wednesday, May 25, 2022 6:36 AM
As promised, Hitman 3 now has ray tracing support, added in a new patch alongside Nvidia DLSS and AMD FSR 1.0 upscaling capabilities. It's no lightweight implementation either, combining both ray traced reflections and sun shadows that can really spruce up the game's already-gleaming murder sandboxes. It'll please shiny floor enthusiast Katharine, put it that way.
---
Rock Paper Shotgun Latest Articles Feed Wednesday, May 25, 2022 6:07 AM
Not content with just a foothold in the world of dad-dating visual novels, Game Grumps have decided to team up with Rogue Games to develop a psychological horror game. Homebody will channel the slasher film aesthetic of the 1980s, a stark tonal shift from the hand-drawn cheesecake colourfulness of Game Grumps and Rogue Games' first collaboration, Dream Daddy. Some of the same team are back for this one though. Watch the eerie trailer below.
---
Twinfinite Wednesday, May 25, 2022 9:00 AM
Better Call Saul is back with its sixth and final season, but it's truly felt like time has passed way too quickly, as we're already at the mid-season finale. The show is taking a short break before the second half resumes in July, and as you might expect, fans were left on a huge cliffhanger. […]
---
Twinfinite Wednesday, May 25, 2022 7:00 AM
Sniper Elite 5 on Xbox One In 2017, Sniper Elite 4 pushed all the right buttons for me. Its combat was simple yet satisfying –especially the kill cams– and its open world featured just enough explorative elements to help set it apart from other sniper games. Unfortunately, it is no longer 2017, something that Sniper […]
---
Siliconera Wednesday, May 25, 2022 10:00 AM
Changes are on the way for Guilty Gear Strive. Arc System Works shared details about things to come in a first anniversary stream. It heralded information about upcoming changes and features. Namely, on June 10, 2022, a Guilty Gear Strive large scale balance update will appear and be followed by a cross-play beta test.
First, some details about the Guilty Gear Strive large scale balance update came up. This will rebalance every playable character. It will also involve adjustments to the control scheme and unspecified mechanics. Arc System Works will talk more about it closer to launch and provide patch notes.
As for the Guilty Gear Strive cross-play beta test, details are even more vague. It is expected to occur in Summer 2022. The presentation said this is the planned date, which means it could change. The Steam announcement mentioned it will be for PlayStation and PC players on Steam, but didn't confirm if both the PS4 and PS5 versions will be involved.
While season 2 DLC information was supposed to come up during the presentation, no announcements seemed to appear.
Here is the full presentation.

Guilty Gear Strive is available on the PlayStation 4, PlayStation 5, and PC, and its balance update will arrive on June 10, 2022.
The post Guilty Gear Strive Cross-Play Beta and Balance Update Announced appeared first on Siliconera.
---
Siliconera Wednesday, May 25, 2022 9:30 AM
Bushiroad published more details about its upcoming Switch game, The New Prince of Tennis: Let's Go! ~Daily Life~ from Rising Beat. The console adaptation of the Rising Beat mobile game will add new interaction scenes between the player and 62 characters from the franchise. It will also have a new minigame that lets the player unlock character illustrations. [Thanks, Ryokutya!]
The game's story will begin with an introductory segment. The player's responses here will determine the character's motivation level. The Sportsman Hunting Deluxe competition will feature events taken from the Rising Beat mobile game. The player's choices will once again become a factor in deciding the content of the new episode that takes place the week after the competition.
Most of the gameplay segments will consist of visual novel-style interactions. However, a Block Tennis minigame will commence just before the story's ending scene. The player will control a chibi character in a squash-like mini-game. They will aim to make the ball hit specific areas to reveal new illustration pieces. The Switch game will have 67 new illustrations in addition to 800 images brought over from The New Prince of Tennis: Rising Beat mobile game.
The New Prince of Tennis: Let's Go! ~Daily Life~ from Rising Beat will be available for Nintendo Switch in Fall 2022 in Japan.
The post Prince of Tennis Switch Game Will Have New Mini-Game and Events appeared first on Siliconera.
---
Siliconera Wednesday, May 25, 2022 9:00 AM
Retro-style RPG Eastward has been available for several months, since its release in September 2021. Unfortunately, though, players in Germany and Spain may need to keep waiting for a chance to play the game in their native languages. According to an announcement from publisher Chucklefish, the previously announced German- and Spanish-language localizations are still postponed, due to ongoing lockdowns in developer Pixpil's home city of Shanghai, China.
Chucklefish shared the announcement about the Eastward localization status in a series of tweets. The information followed a promotion for the game's physical release on Nintendo Switch.
An important point: As you know, in March we shared news that the upcoming German & EU Spanish localisation update had been delayed due to the Shanghai lockdown: sadly, the Pixpil dev team is still in lockdown with no access to their office, dev kits or servers. (1/3)

— Chucklefish (@ChucklefishLTD) May 24, 2022
According to Chucklefish, the German- and EU Spanish-language localization of Eastward is actually complete. However, as Pixpil staff have continued to remain at home to comply with government-enforced lockdowns meant to control the spread of COVID-19, they have been unable to access their office, servers, and developer kits. Thus, the update to add those languages to digital copies of the game cannot be finalized and deployed. Chucklefish asked for customers' patience and support, and promised updates about Eastward localization as they became available.
Millions of residents in China's largest metropolis have endured disruptions to life and business for more than two months, under a wave of government-enforced shutdowns enacted in March 2022, with the intent of halting the spread of COVID-19's Omicron variant. Shanghai is also home to many game studios, including Genshin Impact developer miHoYo, Azur Lane developer Manjuu, Arknights developer Hypergryph, and more. Though not all have officially confirmed if their projects experienced lockdown-related disruption, their presence in the city makes at least some effect safe to assume.
Eastward is available in English, Japanese, Chinese, and French on PC and Nintendo Switch. Check out Siliconera's official review.
The post Eastward German and Spanish Localizations Delayed by COVID-19 appeared first on Siliconera.
---
Siliconera Wednesday, May 25, 2022 8:00 AM
The Monster Hunter Rise Sunbreak weapon video lineup is now complete. Capcom has published the last two videos featuring the Dual Blades and Light Bowgun. These videos show a sneak peek at the new moves and Silkbind Attacks that each weapon will receive in the expansion.
The Dual Blades will have Spiral Slash as a new Silkbind Attack. The Attack on Titan-style move will have the Hunter use Wirebugs to propel themselves towards the target. The weapon will also newly have Slide Slash Combo as an alternative to Spirit Roundslash Combo.
https://www.youtube.com/watch?v=TunlYE8dExM
The Light Bowgun will have Wyvern Counter, where the user fires the weapon while retreating far behind. This move will share the same input with Fanning Maneuver, which had the Hunter move sideways. The Switch Skill Swap segment also revealed Critical Firepower as a new alternative to Marksman. It will make the shots deal more damage, but it also shortens the optimum range.
https://www.youtube.com/watch?v=K8zA7IS0QWw
Capcom began publishing Monster Hunter Rise Sunbreak weapon videos on May 16, 2022. The company gradually added more weapons to the playlist, which include Hammer, Charge Blade, Lance, and Long Sword. With the Dual Blades and Light Bowgun videos uploaded, all fourteen weapon types in the game are now accounted for.
Monster Hunter Rise Sunbreak will release worldwide for Nintendo Switch and PC via Steam on June 30, 2022.
The post Monster Hunter Rise Sunbreak Weapon Videos Are Now Complete appeared first on Siliconera.
---
Siliconera Wednesday, May 25, 2022 7:30 AM
Bandai Spirits will release Elden Ring Figuarts Mini figures of Melina and the Raging Wolf. Pre-orders for the Figuarts Mini figures will begin on May 26, 2022, with each figure costing 2,970 yen (about $23). The Elden Ring Melina and Raging Wolf Figuarts Mini figures will release sometime in October 2022. [Thanks, figsoku!]
Bandai Spirits has also released a video showcasing the figures. The figures will come with additional parts, which will allow for more dynamic poses. The video provides a look into the detail each figure will have. The Raging Wolf figure is especially detailed, as it very closely resembles the in-game set of armor.
You can watch the Elden Ring Melina and Raging Wolf Figuarts Mini video below.
[embed]https://youtu.be/NF8Fxk5BGlA[/embed]
You can take a look at both Figuarts Mini figures below.
[gallery columns="2" ids="927998,927999" link="file"]
Consumers will also be able to get their hands on other Elden Ring figures. The Raging Wolf will receive a Good Smile Company figma. A prototype of the figma was revealed in February 2022 at WonHobby 35. This included a look at the sculpting of the figma, as well as the various accessories it will have, such as a sword and shield. However, it did not include what the Raging Wolf figma will look like when colored.
Elden Ring is available for the PlayStation 4, PlayStation 5, Xbox One, Xbox Series X, and PC.
The post Elden Ring Melina and Raging Wolf Figuarts Mini Announced appeared first on Siliconera.
---
Siliconera Wednesday, May 25, 2022 7:00 AM
The Tales of Luminaria anime will remain available even after service for the mobile title ends. The official Tales of Luminaria Twitter account revealed this information, apologizing for any concern this may have caused users. This means the Tales of Luminaria anime, Tales of Luminaria The Fateful Crossroad, will remain available through streaming services. Viewers can currently watch the anime through Funimation and Crunchyroll.
The anime series was produced by Kamikaze Douga. The studio previously worked on the animated shorts and opening for Tales of Crestoria, another mobile Tales of title that has ended service. Tales of Luminaria The Fateful Crossroad focuses on several key characters from the mobile game. It expands upon the central conflict between these characters, as well as their individual motives for joining the faction they appear in.
While Tales of Luminaria will not see a complete conclusion, the developers will instead release a special final episode. It will expand upon events that took place before the anime. The final episode will appear sometime before the game ends service.
Tales of Luminaria is available for Android and iOS devices but will end service on July 20, 2022. Tales of Luminaria The Fateful Crossroad is available to stream through Funimation and Crunchyroll.
The post Tales of Luminaria Anime Will Remain Available After Service Ends appeared first on Siliconera.
---
Siliconera Wednesday, May 25, 2022 6:30 AM
The official One Piece YouTube account has shared a video that reveals the designs for the Marine and World Govt. factions as they will appear in One Piece Film Red. While relatively short, it showcases more than a handful of characters from either group. This includes a character turnaround of each design featured in the video. Four character designs for the Marine faction were shared, whereas seven designs were shared for the World Govt. group.
Characters that will appear as part of the Marine faction in One Piece Film Red include:
Momonga
Issho
Borsalino
Sakazuki
The following characters will appear as part of the World Govt. faction in One Piece Film Red:
Blueno
Kalifa
The Five Elders
You can watch the One Piece Film Red Marine and World Govt. character design video below.
[embed]https://youtu.be/o7dfdx5qii0[/embed]
Leading up to the release of One Piece Film Red, character designs for the main cast were shared. This included designs for Luffy, Zoro, Nami, Robin, Jimbei, Brook, Franky, Chopper, Sanji, and Usopp. Each of these characters will have a unique design for the film. Law, Bepo, Bartolomeo, Koby, and Helmeppo will also receive new outfits, as they will also be appearing in the film.
One Piece Film Red will release in Japan on August 6, 2022.
The post One Piece Film Red Marine and World Govt. Designs Revealed appeared first on Siliconera.
---
Siliconera Wednesday, May 25, 2022 6:00 AM
Genshin Impact developer HoYoverse, also known as miHoYo, has released a character teaser for Yelan. She is one of several new characters that will appear through Genshin Impact Version 2.7. The character teaser demonstrates her investigation skills and the information network she has woven together.
Yelan is seen interrogating a pair of treasure hunters before moving her attention elsewhere. In the video, viewers are given a closer look at her character design, along with another sample of voice acting provided by Laura Post. Like all character teasers, this video provides an initial impression of its chosen character.
You can watch the Genshin Impact Yelan character teaser below.
[embed]https://youtu.be/nEX4Umn5Bx8[/embed]
The official HoYoverse website has been updated alongside the release of the character teaser. It includes a breakdown of Yelan's skills, along with a general synopsis that focuses on the rumors surrounding this mysterious new character. Yelan will appear as a Hydro Archer, with her primary affiliation being to the Yanshang Teahouse. She will primarily function as a DPS character, with her damage depending on her max HP.
Genshin Impact is available for PlayStation 4, PlayStation 5, PC, and for Android and iOS devices. Genshin Impact Version 2.7 will appear on May 31, 2022. This is when players will have the chance to obtain Yelan through a limited-time banner.
The post Genshin Impact Yelan Character Teaser Demonstrates Investigation Skills appeared first on Siliconera.
---
Siliconera Wednesday, May 25, 2022 5:30 AM
Best known for his work on the Final Fantasy franchise, artist Yoshitaka Amano has been commissioned by comics publisher DC to create a Batman series variant cover. The Yoshitaka Amano Detective Comics cover was revealed in DC's solicitations for August 2022. [Thanks, GamesRadar!]
Check out a preview of the Yoshitaka Amano Batman illustration below. It will appear as a variant cover on issue #1063 of DC's Detective Comics. It goes on sale on August 23, 2022.
Below is the standard cover art for Detective Comics #1063, by artist Evan Cagle.
The Yoshitaka Amano Batman cover is a "1:25" variant. This means that one variant edition will be printed for every 25 standard editions, making it more scarce by default. Another variant cover with art by X-Men artist Jim Lee, inker Scott Williams, and colorist Alex Sinclair will be printed at a 1:50 ratio. The issue is expected to cost $4.99 USD for the standard and $5.99 USD for the variants.
Detective Comics is the original name of the series that DC took its name as a publisher from. Beginning in 1937, Detective Comics saw the debut of iconic American superhero characters like Batman and is the longest continuously published comic in the United States. DC reset its numbering in 2011 after 881 issues but resumed the original count in 2016 with issue #934. Issue #1063, which bears the Yoshitaka Amano Batman variant, will feature interactions between Batman's alter ego Bruce Wayne and Harvey Dent, the original identity of the villain Two-Face.
For his part, Yoshitaka Amano's work goes beyond Final Fantasy. He also created a variant for the Harley Quinn comic series and a special gallery for Fate/Grand Order. Even the Nichiren Shu sect of Buddhism commissioned him to illustrate the influential Lotus Sutra scripture for a line of merchandise and commemorative art.
Detective Comics #1063 goes on sale on August 23, 2022.
The post Yoshitaka Amano Draws Batman for Detective Comics Cover appeared first on Siliconera.
---
Siliconera Wednesday, May 25, 2022 5:00 AM
Sony is releasing two new products as part of the 20th anniversary of Kingdom Hearts. The anniversary edition Sony Walkman and wireless earbuds are available for purchase in Japan. The Sony Walkman will cost ¥36,000 (about $280), and the wireless earbuds will cost ¥34,000 (about $267). Purchase bonuses include a free download code for the Japanese version of the first game's theme song "Simple and Clean" by Utada Hikaru.
The music player is a limited edition model of the high-resolution NW-A105 model Sony Walkman. The exterior of the Walkman will be black. The back of the device will feature gold symbols and designs based on the Kingdom Hearts franchise, including the 20th-anniversary logo. It will come with 16GB of storage and can be expanded with a microSD card.
https://twitter.com/sony_jpn/status/1529273544873369600?s=20&t=ebd4O_OAseFKdngf7N6gwQ
Similarly, the wireless earbuds will also feature a black and gold design. One of the earbuds will come with the 20th-anniversary logo, while the other will feature a musical note symbol from Kingdom Hearts: Melody of Memory. The earbuds are noise canceling and come with a portable USB Type-C charging case. Both the earbuds and Sony Walkman are available with a 10% discount for users with a My Sony ID account.
[gallery columns="2" link="file" ids="927968,927967"]
There will also be a variety of other products coming out as part of the series' 20th anniversary. Japanese retailer Animate will hold a special 20th anniversary fair sometime in mid-2022. Square Enix has also been selling various anniversary merchandise via its store, such as a $135 pin collection and Play Arts Kai figures.
The Kingdom Hearts 20th anniversary Sony Walkman and earbuds are available in Japan via the Sony store. The Walkman will cost ¥36,000 (about $280), while the wireless earbuds will cost ¥34,000 (about $267).
The post Kingdom Hearts 20th Anniversary Sony Walkman and Earbuds Now Available appeared first on Siliconera.
---
PC Invasion - FeedDDD Wednesday, May 25, 2022 9:35 AM
Season Three kicked off with Godzilla and King Kong joining Call of Duty. Now, Warzone Pacific and Vanguard Season Three Reloaded update has arrived, bringing new content like a weapon and map, a fast-travel option, and so much more. Whether you are a fan of multiplayer or battle royale, you will have new content to play through. Perhaps the biggest change in Caldera Season Three Reloaded is the addition of an underground transit system. This is not the first time Warzone fans have seen a fast-travel system, as Verdansk had underground subways. If you want to use one of the 14 access points, you will find them on your map indicated by a vault door symbol. While you are travelling on the mine cart, light and audio cues let you know if there is any danger waiting as you reach your destination. Next, the Season Three Reloaded update introduced new items to Warzone, including some that Vanguard players will recognize. The Serpentine perk from Vanguard multiplayer has made its debut ...
---
PC Invasion - FeedDDD Wednesday, May 25, 2022 7:00 AM
Sniper Elite 5 is the newest installment of Rebellion's action-shooter series set in World War 2. Due to release tomorrow, it once again sees Karl Fairburne take on the juggernaut that is Nazi Germany. And, like the previous title, it relies on familiar concepts and core components that have been the series' staples. However, that familiarity might soon wear thin. While there's an assortment of multiplayer modes that could keep you going, the single-player campaign is a redux of what you've come to expect. Hopefully, a few factors might help when it comes to replayability. Vive La France From the deserts of North Africa to the hills of Italy, Karl Fairburne's exploits have taken him far and wide. In Sniper Elite 5, he arrives in France on the eve of D-Day, the grandest amphibious operation undertaken in human history. While the French Resistance and covert operations aims to weaken Hitler's Atlantic Wall, Fairburne learns of Abelard Möller an...
---
Tabletop Gaming News Wednesday, May 25, 2022 9:00 AM
---
Player Assist | Game Guides & Walkthroughs Wednesday, May 25, 2022 5:13 AM
Amazon Prime Video is set to return to the world of Middle-earth this September with The Rings of Power, but since it's a months-long wait, you can jump into Tolkien's fantasy realm with Lord of the Rings: Rise to War. A new cinematic trailer has dropped for the game, and it also teases the upcoming […]
---
Player Assist | Game Guides & Walkthroughs Wednesday, May 25, 2022 4:54 AM
While it's no Pokemon, Crema's Temtem manages to have its own sense of charm and adventure, and this September will see the game coming to more consoles like the Nintendo Switch and Xbox Series X|S. Here's the trailer for the release date of Temtem 1.0: The official description reads: Every kid dreams about becoming a […]
---
Player Assist | Game Guides & Walkthroughs Wednesday, May 25, 2022 4:32 AM
It's been a big year for J.K. Rowling's Wizarding World. After the release of Fantastic Beasts: The Secrets of Dumbledore, fans are now gearing up for Avalanche Software's AAA title, Hogwarts Legacy. The game will be available for the new-gen consoles PS5 and Xbox Series X|S, and we have a new trailer teasing the new-gen […]