---
PCGamesN Saturday, July 15, 2023 1:13 PM
As the Terraria 1.4.5 update draws ever closer, its developers at Re-Logic have called a truce - or should I say spruce - in their ongoing forum war, and the peace offering is some new Terraria items that sound super fun and useful. The developers of one of the best sandbox games of all time have called time on their light-hearted online beef, and it looks like the real winner, as always, is the Terraria fanbase.
MORE FROM PCGAMESN:
The best Terraria mods
,
Terraria happiness guide
,
Terraria bosses guide
---
PCGamesN Saturday, July 15, 2023 12:19 PM
Skyrim is the gift that keeps on giving, over a decade and 60 million copies later, the Bethesda RPG game has so many incredible Skyrim mods that it can be difficult to find ones that stand out. With the Elder Scrolls 6 release date still a ways off, I'm always fascinated by the mods that add entirely new locales, NPCs, and quests to the game, sort of like mini DLCs, and this new Skyrim mod is exactly that.
Best Skyrim mods
,
Elder Scrolls 6 release date
,
Games like Skyrim
---
PCGamesN Saturday, July 15, 2023 11:29 AM
Naraka Bladepoint is the hottest ticket in free-to-play battle royale games right now. While it might still be yet to reach quite the heights of PUBG Battlegrounds and Apex Legends on Steam, Naraka Bladepoint has comfortably eclipsed its previous player count peak after becoming a free game, and developer 24 Entertainment is already making moves with a big Naraka Bladepoint update.
Best fantasy games
,
Best battle royale games
,
Free PC games
---
PCGamesN Saturday, July 15, 2023 10:42 AM
The original Halo now has a playable campaign level that brings cut content from the FPS game's RTS and third-person concept days to the forefront of the experience, after a group of modders started showing off work they've been doing with 343 Industries to restore over two decades of lost content to Halo: The Master Chief Collection.
MORE FROM PCGAMESN:
Halo: Combat Evolved Anniversary review
,
Halo 3 review
,
Best FPS games
---
Rock Paper Shotgun Latest Articles Feed Saturday, July 15, 2023 5:33 PM
In a talk at this week's Develop:Brighton conference, tinyBuild CEO Alex Nichiporchik gave examples of how large language models such as ChatGPT could be used by video game studios to identify "potential problematic players on the team." The suggestions included feeding employees' text chats and video call transcripts into a system to detect certain words which could indicate burnout and "time vampires."
After receiving criticism online, Niciporchik tweeted to say that parts of his presentation had been taken out of context and that the examples were "hypothetical."
---
Rock Paper Shotgun Latest Articles Feed Saturday, July 15, 2023 4:21 PM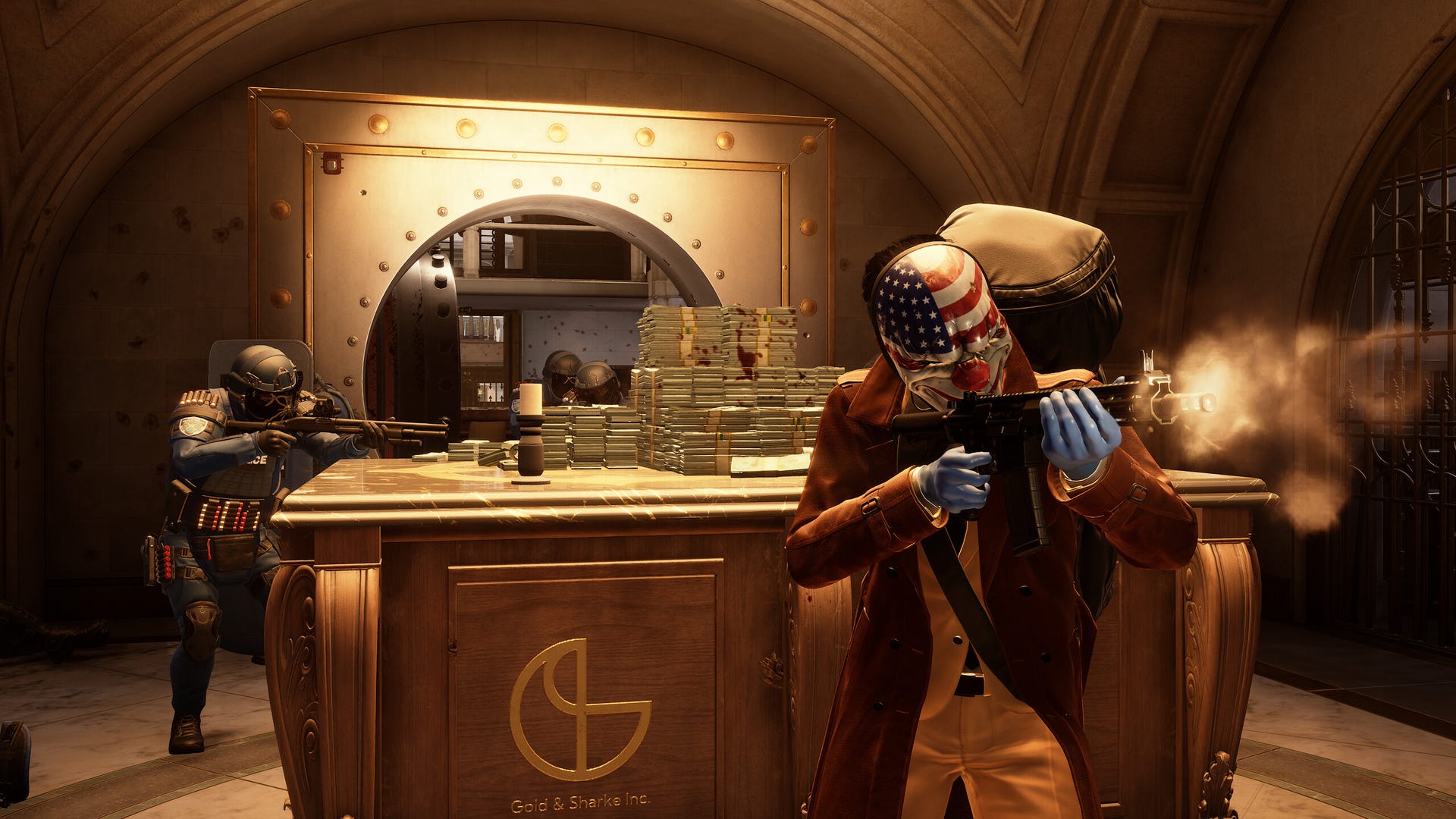 Payday 3 looked pretty similar to its predecessors when shown during last month's Xbox Games Showcase. Almir Listo, global brand director at developers Starbreeze, confirmed one way the heist 'em up sequel would differ during a recent livestream: it's 'always online' and so will require an internet connection even when you're playing solo.
---
Siliconera Saturday, July 15, 2023 3:00 PM
There are always rumors and talk about what's next for Nintendo. Lots of details coming up suggest a new console could show up in the next few years. Not to mention we're celebrating the Famicom's 40th anniversary today. So let's talk about which Nintendo console or handheld got each of us into the game.
My first Nintendo console was the original Game Boy my Mom played in hospital while pregnant with me. Spent a lot of time playing Super Mario Land, Space Invaders and Super Hunchback. We didn't get round to playing Pokemon until the Game Boy Color came around, but when we did it pretty much guaranteed us playing Nintendo handhelds for the next 10 years. — Elliot
That's a complicated question! As, I imagine, it is to anyone with older siblings. The first one I played was my brother's NES. I remember being way better at TMNT than I am now, somehow, and playing a lot of Jeopardy! with my mom and brother and... not being way better, because I was like two and that's not the best age bracket for trivia.
The first one I possessed was the Game Boy, which again was definitely my brother's, but he left the table at Shoney's after he opened his birthday gift and I was still there in a booster seat and I'm not sure he ever touched it again.
So the first one that was mine in a somewhat more legitimate respect? That'd be my Nintendo 64. I got it with Mario Kart 64, and that was a fine enough game, but it wasn't too long until I went back and kept playing Super Mario Kart instead.
What can I say? Little me had good taste. — Graham
I remember when I got my first Nintendo console, because I wasn't alone. When I was a kid, my best friend at the time and I were in the same class, same school, and had parents who were friends. Sears Outlet had gotten some Game Boys in after launch, and they decided to take us both to each go get one on the same day. So it was a whole fun outing and big deal, during which we each got a system, Tetris and Super Mario Land. I still have the system, though its needed screen replacements a few times and the D-pad pulls to the left! — Jenni
The post What Was Your First Nintendo Console or Handheld? appeared first on Siliconera.
---
Siliconera Saturday, July 15, 2023 12:00 PM
A new Sonic game being announced usually means that fans are going to split hairs about it, with people debating whether or not it will be a worthy successor to the series. The only exception to this happens with new classic Sonic entries like Sonic Mania or the upcoming Sonic Superstars. It seems that, for all fans of the blue hedgehog, classic Sonic is where the golden standard is. Sonic Origins aims to please everyone by making four classic side scrolling entries available on modern platforms. Furthermore, with the recent release of the Sonic Origins Plus expansion, Sega is bringing new Sonic legacy titles from the Game Gear, as well as new content to the original games in the collection.
For those who don't know what Sonic Origins offers, the title acts as a compilation that includes Sonic the Hedgehog, Sonic the Hedgehog 2, and Sonic the Hedgehog 3 & Knuckles from the Sega Genesis, as well as Sonic CD from (you guessed it) the Sega CD. This collection also acts as a remaster of sorts, as each title has been reproduced in the Retro Engine (also used in 2017's Sonic Mania) and offers updates and new content for each title. However, the changes included are few and far between, with the most prominent ones being the selection of characters available in each game.
[caption id="attachment_972286" align="alignnone" width="1200"]
Image via Siliconera[/caption]
Tails and Knuckles are now playable characters in Sonic the Hedgehog, while also being available as a new pair in Sonic the Hedgehog 2. Meanwhile, Tails was included in Sonic CD in Sonic Origins, and Knuckles was recently introduced with the new Sonic Origins Plus release (also available as an Expansion Pass for the original game). Other new content added to Sonic Origins Plus includes Amy Rose as a playable character for the first time in the classic series, a vast list of 12 Sonic games previously available only for the Game Gear, and the Classic Music and Premium Fun DLC packs that include new Hard Missions, letterbox backgrounds, bonus character animations in-menu, a music player, and additional re-mastered music tracks other Sonic games.
The new Game Gear games offer a really interesting look at the past of the series, and include adaptations of Sonic the Hedgehog and Sonic the Hedgehog 2, which still surprise due to the clever compromises made to be able to run on the hardware. There are also titles such as two Tails solo adventures and the first Sonic racing games. Some of those included are Japan exclusives that make their way overseas for the first time now. While these titles are a fun addition and the price point of $9.99 for the expansion pass is affordable, I have a problem with these games not being available as standalone releases. For those who want the Game Gear games and already own Sonic Origins, they can opt to get the expansion. But for people that don't own it and want only the Game Gear titles, there is no other alternative. I feel similar about Knuckles in Sonic CD only being available with the DLC. It is such a small addition that it should have been available for all players, not gated behind a paywall.
[caption id="attachment_972287" align="alignnone" width="1200"]
Image via Siliconera[/caption]
Fortunately, the original main Sonic games are still a fantastic way to play thanks to the previously mentioned Retro Engine. While other official re-releases of classic titles used emulation, Retro Engine is smoother and comparable to the Sega Genesis and Sega CD versions. Additionally, being able to play as Tails, Knuckles, and Amy Rose in games where you couldn't before is a nice addition. Just for those two reasons, this collection might be one of the best ways of experiencing these games. The inclusion of a mirror mode and a mission mode is also welcome, and some of these tasks can prove really challenging. The menus in the collection are gorgeous and have a lot of fun references that longtime fans will be able to spot, and the main menu being rendered in full 3D graphics in a very similar style to Sonic Superstars is very charming.
The Anniversary Mode in each game allows players to experience the games with the new content in mind, but the original versions of the games are also included for those that want the original experience. Furthermore, a Story Mode was included to seamlessly play all four games in chronological order, but it only lets you play as Sonic and includes Tails as a partner in Sonic the Hedgehog 2 and Sonic 3 & Knuckles.
[caption id="attachment_972293" align="alignnone" width="1200"]
Image via Sega[/caption]
My only gripe with these titles comes from Sonic & Knuckles, where three songs in the game were replaced with versions of prototype songs that were included in the original 1997 Japan-only PC release. This might be because the original three songs were often rumored to be composed by Michael Jackson, and including them would have been complicated due to licensing reasons. The original tracks are way punchier and interesting than these prototypes, but I can imagine most people wouldn't have a problem, especially if they haven't heard the originals before. Thankfully, Composer Jun Senoue remastered these prototype tracks, so they end up sounding considerably cleaner than their first versions did.
The inclusion of coins as a reward from completing content and used to unlock artwork in the gallery mode as a sort of virtual museum is also a fun addition. Special mention goes to the beautiful new animations created by Powerhouse Animation Studios and added as intros and outros for each game. Each one serves as short plot summaries of each game.
[caption id="attachment_972289" align="alignnone" width="1200"]
Image via Siliconera[/caption]
For those looking to get their fix of classic Sonic, Sonic Origins is a great way to do so. However, the content added in Sonic Origins Plus runs a bit thin. While Amy Rose being playable is a fun addition, it doesn't change the games much. It is clear that the 12 Game Gear titles are the focus of the new content. If you're looking to get into the game, the new Sonic Origins Plus release is the best option for doing it, but those that already own the original release might not get as much value out of it unless they really want to get those retro Game Gear games.
Sonic Origins Plus is available for the Nintendo Switch, PS4, PS5, Windows PC, Xbox One, and Xbox Series X. The Plus Expansion Pack is also available as an add-on for Sonic Origins.
The post Review: Sonic Origins Plus Gears Up with New Content appeared first on Siliconera.
---
PC Invasion - FeedDDD Saturday, July 15, 2023 5:29 PM
Halls of Torment sends you through dangerous territory as the hero of your choosing. As the game's title implies, you won't encounter many creatures that wish to make your journey a pleasant one. Thus, you need to unlock ever more powerful heroes to navigate the most dangerous regions. Here is our guide telling you how to unlock the Sorceress in Halls of Torment. Halls of Torment – how to unlock the Sorceress The Sorceress is a late addition to your lineup, so of course you have to work to access her. To unlock the Sorceress, kill 10,000 enemies in the Forgotten Viaduct in a single run. Screenshot by PC Invasion The Forgotten Viaduct is not available immediately. You'll have to conquer Haunted Caverns and Ember Grounds first, which is just as well; you need to purchase permanent hero enhancements aplenty to survive the viaduct's local population. When you finally reach the Forgotten Viaduct, you'll find it crawling with hear...