---
Kotaku Monday, January 16, 2023 1:00 PM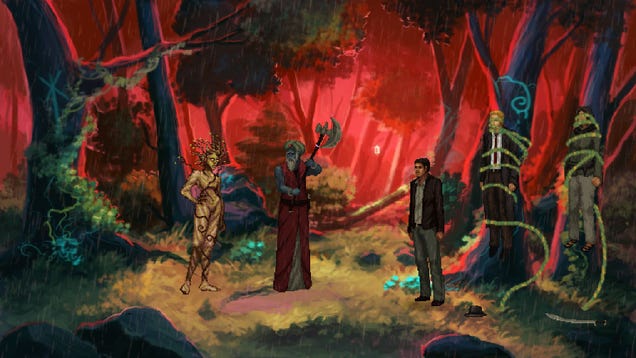 Remember those early days of Humble Bundles? When every newly-announced deal felt so essential, and literally millions of dollars would be raised for charity each time? It still happens occasionally, like last year's Stand With Ukraine bundle that raised an incredible $20 million for charities working in the country,…
---
Kotaku Monday, January 16, 2023 12:00 PM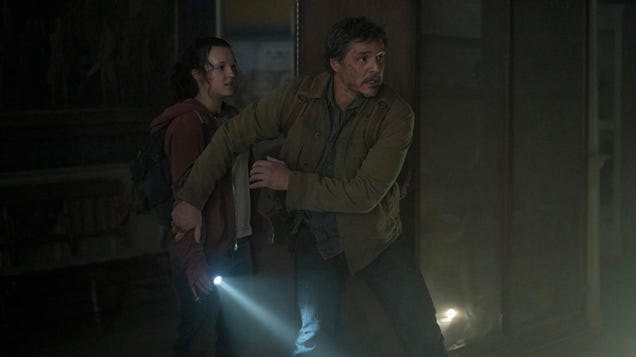 "I'm taking a ride with my best friend."

---
Kotaku Monday, January 16, 2023 11:00 AM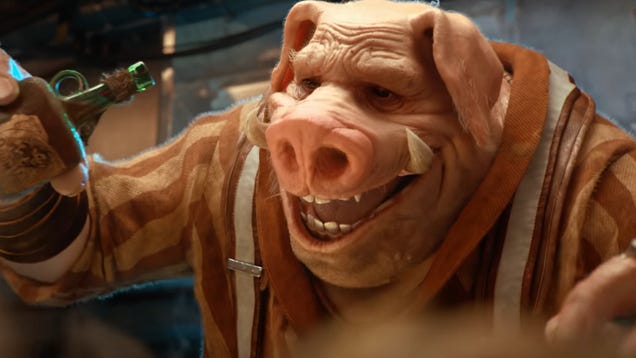 After Ubisoft recently announced they had been swinging the axe Barbarian-style, it was assumed by many that any hope of the infinitely-delayed Beyond Good & Evil 2 could now be put to rest. Seven games were canned in the last six months, along with yet another delay for the beleaguered Skull & Bones, while other big…
---
Kotaku Monday, January 16, 2023 10:00 AM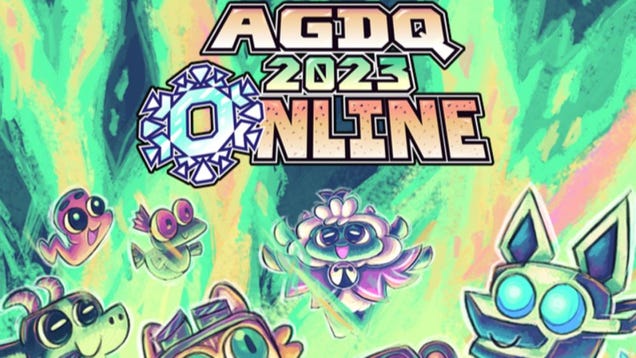 Awesome Games Done Quick 2023 ran over the last week, the annual event featuring 150 speedruns and four broken records, with a hefty sum raised for the Prevent Cancer Foundation. $2.6 million was raised over the week, and that's despite the lack of a live venue, following the decision to cancel its Florida event due…
---
PCGamesN Monday, January 16, 2023 3:34 PM
Destiny 2 free Bright Dust daily rewards are coming to the popular FPS game to celebrate the Chinese Lunar New Year, according to a post on the official Destiny 2 YouTube page. Eververse will also offer several Year of the Rabbit-themed cosmetics purchasable with Silver, as well as additional Lunar New Year cosmetics from previous seasons that Guardians can purchase with their Bright Dust gifts.
Destiny 2 classes
,
Destiny 2 exotics
,
Destiny 2 builds
---
PCGamesN Monday, January 16, 2023 1:49 PM
Someone must have sarcastically asked the developers of survival game Rust if "water was wet" at some point, and the answer seems to have been, "not wet enough!" Rust water is going to get wetter, in other words - although not in time for the next patch, which arrives in the main game on February 2. That update will, however, include a host of additional changes to some of the new industrial management elements that have appeared on the test servers.
MORE FROM PCGAMESN:
Best survival games
,
Rust commands
,
Rust vehicles
---
PCGamesN Monday, January 16, 2023 12:21 PM
The Genshin Impact Ayato and Raiden Shogun banners have put up expectedly high numbers, but they've even managed to surpass Nahida and Yoimiya's record sales, as the anime game transitions into the next update. The Genshin Impact version 3.4 release date is still two days away, giving Ayato and the Raiden Shogun even more time to gain extra revenue on top of the massive amount they've already made.
Genshin Impact codes
,
Genshin Impact character tier list
,
Genshin Impact leveling guide
---
PCGamesN Monday, January 16, 2023 12:18 PM
Minecraft mobs are the living entities in Minecraft - short for mobile, these sometimes adorable, sometimes aggressive creatures roam the many biomes of the blocky universe. They will interact and respond to you, other players, and other mobs, whether that's a zombie literally knocking at your door, or the chickens in your backyard coop.
There are many aspects that make Minecraft one of the best PC games of all time, and its creatures definitely help - be them mythical or real, hostile or friendly. Minecraft mobs are susceptible to the same physics and environmental changes that affect players, such as catching fire or drowning. They can be attacked and killed with weapons, and when killed, they drop resources and experience points, with hostile mobs dropping rarer items on occasion. So, while you can add other mobs with various Minecraft mods, here's every Minecraft mob available in the vanilla game right now - and announced for the future.
MORE FROM PCGAMESN:
Minecraft seeds
,
Minecraft skins
,
Minecraft mods
---
PCGamesN Monday, January 16, 2023 12:16 PM
The best battle royale games come in all shapes and sizes, but they all revolve around one core idea: lots of players go in, and only one leaves. Battle royale is a violent, unpredictable, and frenzied multiplayer mode where the only goal is to endure until you're the sole survivor.
All tactics and styles of play are equally viable in the best battle royale games. You can win by hiding in bushes and waiting for the herd to thin out, or scavenge a weapon and start reducing the numbers yourself. With the explosion of Fortnite, Warzone 2, and Apex Legends, you would be forgiven for thinking there are only three battle royales out there, but there are now numerous other contenders to challenge them, each with its own spin on the established formula. And with player counts fluctuating all over the place, it's important to know the most popular battle royale games so you can be sure to get a match.
Whether you're after a battle royale FPS game like Warzone 2 or an inventive new twist on the formula, there's something out there for everyone. So, to help you broaden your horizons, we have assembled this handy guide to the best battle royale games on PC.
MORE FROM PCGAMESN:
Fortnite Chapter 4 map - key locations
,
Free PC games
,
All Fortnite Chapter 4 weapons
---
PCGamesN Monday, January 16, 2023 11:54 AM
The Dead Space Remake introduces a new look for Isaac Clarke, one that's a little younger, a little fresher, and a little more based on his voice actor Gunner Wright. The goal of the new EA and Motive horror game is to presumably show Isaac before he was slashed, sliced, and emotionally and physically scarred by the Necromorphs aboard the Ishimura. A happier Isaac, who doesn't realise just how bad things are about to get. Nevertheless, if you're pining for his classic Dead Space 2 silver fox look – those piercing eyes and that ashen hair - you're not alone, as Isaac Clarke redesigns have been rolling out ahead of the Dead Space release date.
MORE FROM PCGAMESN:
The best horror games on PC
,
The best space games on PC
,
Dead Space system requirements
---
PCGamesN Monday, January 16, 2023 11:46 AM
Sims 4 sex mods are a huge market among fans of the life sim - we all want a little more action when our Sims get... close. Thankfully, the fantastic mod community knows it, and there are hundreds of Sims 4 mods that let you tailor your experience in countless ways, from just canoodling in bed, to buying a strip club, and then the altogether more risqué. And of course getting rid of that pesky mosaic blur.
Unsurprisingly, most of the best PC games don't include much hanky panky. Though, perhaps surprisingly, a lot do, and feature in our list of the best sex games. We all know that The Sims has always featured relatively subtle WooHoo, but what if you could make it all a little less... vanilla? Well, while some of the best Sims 4 sex mods on our list are still relatively PG - you'll find features listed here that wouldn't fly on Neopets - there's nothing as explicit as the stuff you hear about from Second Life. There are naughtier mods for the life sim out there if you want to find them, though, but here's our list of the best Sims 4 sex mods.
MORE FROM PCGAMESN:
Best Sims 4 mods
,
Best Sims 4 sex mods
,
Play The Sims 4 free
---
PCGamesN Monday, January 16, 2023 11:32 AM
Looking for the best Sims 4 CC packs? Since its release way back in 2014, the iconic life sim's community has been working tirelessly to produce a near-endless supply of custom content to complement the game. Creators have even gone as far as creating whole packs of content, akin to the official Stuff Packs released by EA.
It can seem impossible to even know where to begin, so we've done the heavy lifting for you to find the best custom content you can download for one of the best free PC games right now. Most of the best Sims 4 CC packs featured here are Maxis Match CC, meaning it's been designed to fit the art style of The Sims 4 and should blend in seamlessly. We recommend reading our how to install Sims 4 CC guide before attempting to apply these custom packs to your game.
MORE FROM PCGAMESN:
Best Sims 4 mods
,
Best Sims 4 sex mods
,
Play The Sims 4 free
---
PCGamesN Monday, January 16, 2023 11:23 AM
Now that the Mistlands update is out the door for its Viking survival game, developer Iron Gate is ready to start talking about the next Valheim biome. The studio says it's something "quite different from what we're all used to," and that it plans on taking a different approach to development than the "very secretive" process that characterised the production of Mistlands.
MORE FROM PCGAMESN:
Valheim system requirements
,
Valheim building tips
,
Valheim progression guide
---
PCGamesN Monday, January 16, 2023 11:19 AM
The best Warzone 2 loadout drops have been officially confirmed, giving players access to their custom setups built in Modern Warfare 2. When the devs first revealed Warzone 2 back in September, players weren't able to acquire entire loadouts from 'The Shop', Warzone's new buy stations. Instead, the shop featured the option to purchase custom weapons for a flat fee, but this decision has been reverted and loadout drops are back once more.
Warzone 2 loadout drops contain both primary and secondary weapons, tactical and lethal equipment, as well as a Warzone 2 perks package. Using Modern Warfare 2's create-a-class system, you can utilise your favourite loadouts on Al Mazrah. Once you call in a loadout drop in the free PC game, you need to keep an eye out for any flankers who may be on the lookout to take your hard-earned reward.
MORE FROM PCGAMESN:
Best Warzone 2 guns
,
Best Warzone 2 loadout
,
Warzone 2 map
---
PCGamesN Monday, January 16, 2023 11:15 AM
On the lookout for the best Warzone 2 Kastov 762 loadout? The Kastov 762 is an exceptionally powerful assault rifle that's become a mainstay of the Call of Duty series. Its overall performance is marred somewhat by its infamous kickback, so our loadout focuses on managing its recoil control and accuracy. We've also sourced attachments that provide additional range and bullet velocity. The result is great for both long-range and mid-range situations.
MORE FROM PCGAMESN:
Best Warzone 2 guns
,
Best Warzone 2 loadout
,
Warzone 2 map
---
PCGamesN Monday, January 16, 2023 12:18 PM
You've almost certainly come across the best Marvel Snap Wong deck while playing lately, because this under-statted card with a powerful ability is the star of the show here. Surrounded by other powerful cards such as White Tiger, Black Panther, and Odin, the aim of the game is to flood your board with tigers and panthers as far as the eye can see.
One of the best card games of all time and undoubtedly one of the best free PC games this year, Wong is arguably deserving of a spot in the best Marvel Snap decks list. There are plenty of cards with on reveal abilities in the game, but which ones make it into this deck to support Wong? Here's the best Marvel Snap Wong deck right now.
MORE FROM PCGAMESN:
Best Marvel Snap decks
,
Next Marvel Snap season release date
,
Marvel Snap Silver Surfer deck
---
PCGamesN Monday, January 16, 2023 11:05 AM
Looking for some great games like Minecraft? Way back in 2010, a little game called Minecraft proved to be a revelation in videogames, inspiring a whole generation of players and developers in the process. It's a blocky, sandbox world that essentially lets us create anything we like and share it with our friends. The cultural phenomenon sold millions of copies before Microsoft acquired developer Mojang Studios in 2014.
There's been a plethora of Minecraft clones over the years, doing their best to match one of the best PC games of all time, but few have really delivered the whole package like Minecraft does. Sometimes, though, you may only want part of the Minecraft experience, augmented with other aspects that make the Minecraft-like unique. That's where this guide to the best games like Minecraft comes in. All the games on this list are similar to Minecraft in some fashion, be they sandbox games, building games, adventure games, or an altogether different part of the what makes Minecraft our favourite blocky game.
MORE FROM PCGAMESN:
Minecraft seeds
,
Minecraft skins
,
Minecraft mods
---
PCGamesN Monday, January 16, 2023 11:57 AM
Looking for the best tower defense games on PC? For a time, the humble tower defense was one of the most popular genres out there. They may appear to be simple strategy games for more casual players, but fans would call them accessible tactical titles that require sharp reflexes, a sharper mind, and quick improvisation. The approachability of tower defense games stems from how deceptively straightforward they are - at least to begin with.
A horde of enemies comes from specific directions across a small arena, and the player has to improvise a set of appropriate defenses - using scant resources - to deal with them. Enemies become tougher and more numerous as the game progresses, but the player gets access to better equipment to deal with them too. While the genre often veers towards smartphone and tablet gaming, there are still many fantastic tower defense games on PC right now, with many of them actually being free PC games. Here's the best of the best.
---
PCGamesN Monday, January 16, 2023 10:59 AM
Want to know everything about the Fortnite Chapter 4 Season 2 release date? Now a fragmented husk of its former self, the island was destroyed following the invasion of The Nothing and their Chrome herald. It seems that, for now, at least, relative peace has returned. However, the map wasn't the only thing to change, with new mechanics altering how to win the game.
If Fortnite Chapter 4 Season 2 is anything like the free PC game's current season, then get ready for some game-changing new mechanics, such as Fortnite augments that give players perks in the heat of battle. Of course, you can also ride Fortnite dirt bikes, slurp on Fortnite Slap Juice, and open Fortnite Oathbound chests for all the current game-breaking weapons.
MORE FROM PCGAMESN:
Fortnite Chapter 4 map - key locations
,
Free PC games
,
All Fortnite Chapter 4 weapons
---
PCGamesN Monday, January 16, 2023 10:51 AM
The best puzzle games on PC can turn classic head-scratchers into rich, meaningful stories full of frustration-fueled problems to solve. Whether you're looking for clever dialogue, moving narratives, or a healthy dose of laughter with your conundrums, puzzle games are versatile enough to find a way to do it all.
This vast genre covers everything from pirate point-and-clicks to tetromino trickery and quantum physics capers. In fact, a couple of these are so good, they could be considered for our list of the best PC games overall. Our comprehensive list outlines the best puzzle games across the board, including a few very familiar faces indeed.
---
PCGamesN Monday, January 16, 2023 10:50 AM
A Minecraft banner is a great way to spruce up your base, pinpoint locations on a map, or even customise your battle gear in the popular survival game. Knowing how to use and make a banner in Minecraft, though, isn't all that obvious, so we're here to help.
One of the best PC games of recent years, and among the greatest building games, Minecraft has an massive creative inventory - of course mostly full of cuboid blocks. Unlike the majority of items in the sandbox game though, these tall, thin blocks are highly customisable. Particularly creative Minecraft builders have even come up with ways to incorporate them into complex builds, such as using them as curtains, headboards, and even bathroom towels. Whether you're that imaginative or not, you can still use Minecraft banners in a variety of ways, so read on to find out how to make, colour, customise, and use a Minecraft banner.
MORE FROM PCGAMESN:
Minecraft seeds
,
Minecraft skins
,
Minecraft mods
---
PCGamesN Monday, January 16, 2023 10:44 AM
What are the best Western games on PC that you should be playing? It's not an easy decision to make. The Wild West is a time of lawlessness, striking gold, and perilous shootouts - no wonder it's the subject of many top cowboy games.
Western games are inspired heavily by the cowboy media that has come before them, and it's fair to say that the humble Western is a cornerstone of American culture. The game studios that decide to take on the challenge of bringing the American Frontier into our lives have a lot of pressure to get it right. Luckily, a number of them have absolutely nailed what being a cowboy is all about. And, fortunately for you, we've done the hard work of corralling the varmints right here, so here's our pick of the Wild West's best PC games.
MORE FROM PCGAMESN:
Fallout: New Vegas mods
,
Fallout 5 release date
,
The best RPG games on PC 2022
---
PCGamesN Monday, January 16, 2023 10:43 AM
Plenty Cyberpunk 2077 mods are sure to keep you busy ahead of the Phantom Liberty release date this year, but you still might be looking for new ways to replay the RPG game outside of picking between Street Kid, Nomad, and Corpo. If so, a pacifist run is a perfect way to impose a challenge on yourself while playing. The problem is, you can still quite easily kill anyone when you get frustrated.
MORE FROM PCGAMESN:
Cyberpunk 2077 review
,
Cyberpunk 2077 lore & universe
,
Buy Cyberpunk 2077
---
PCGamesN Monday, January 16, 2023 10:59 AM
Looking for a list of the best dragon games on PC? Since long before the days of Dungeons and Dragons PC games, and before Tolkein became the poster boy of fantasy, dragons have been the most fearsome and majestic creatures of myth. Usually they breath fire and hoard gold, other times they become companions and deign to be ridden, and more often than not they get mistaken for wyverns.
PC games, and the best RPGs in particular, are naturally swarming with dragons and dragon-like creatures both as friends and foes. We do love an epic showdown and nothing can deliver quite like a skyscraper-sized, fire-breathing lizard.
We've collected some of the best dragon games on PC where you can encounter, battle, or befriend a dragon. Plenty of the best selections are from multiplayer games or MMORPGs. Given that dragons can't often be taken down by a single adventurer (looking at you, Dragonborn) it makes sense that plenty of games that look to tackle dragons do so at the epic proportions of hundreds of players joining together to defeat them. Here are the top dragon games you'll want to try if you need a whole lot more in your life.
---
PCGamesN Monday, January 16, 2023 10:22 AM
What are the best building games on PC? Building games are a great way to indulge some architectural creativity, but there are so many great building games on PC to choose from. Thankfully, we have the brick and mortar necessary to put together a list of the best building games on PC with the strongest of foundations.
From compulsive free PC games to fully-fledged triple-A titles, the best PC games incorporating free-range building allow us to stake our claim on another world and bend it to our will. Whether you need a base to defend against oncoming dinosaurs in Ark: Survival Evolved or are scrabbling together rusted scrap in post-apocalypse games like Fallout 4, there are nearly as many reasons to build as there are building games. Whatever kind of building game you're after, we've got the right set of blueprints for you here.
MORE FROM PCGAMESN:
Minecraft seeds
,
Minecraft skins
,
Minecraft mods
---
PCGamesN Monday, January 16, 2023 10:14 AM
The Day Before developer Fntastic says that it will shortly reveal "raw gameplay footage" for the DayZ, Long Dark, and Rust-inspired survival game, which is currently second on the global Steam wishlist chart as we approach The Day Before release date. The announcement comes following a variety of gameplay trailers, purportedly showing the zombie shooter in action.
MORE FROM PCGAMESN:
Best PC survival games
,
Best PC open-world games
,
Best PC MMOs
---
PCGamesN Monday, January 16, 2023 10:13 AM
Minecraft Shields are a simple but useful defensive tool to aid in pixelated combat, used to block direct melee attacks or projectiles in the sandbox game. Minecraft shields are not upgradable, so it's one size fits all, but they can be customised using a banner to cover it in your own design.
One of the best PC games of the last decade, Minecraft is always being updated, keeping players coming back year after years. As such, long-term fans' dreams were realised when caving in the survival game was made even spookier with the Caves and Cliffs update - and, with that, a shield is one of the first things you should consider crafting before heading underground to Minecraft Lush Caves, Dripstone caves, and extended world depth. Not only is it fairly resource cheap, but since you can customise it, you also look fairly cool carrying one around. Here's everything you need to know about making, using and decorating your Minecraft shield.
MORE FROM PCGAMESN:
Minecraft seeds
,
Minecraft skins
,
Minecraft mods
---
PCGamesN Monday, January 16, 2023 10:10 AM
What are the best Minecraft cities? Minecraft is full of jaw-dropping builds, it's one of the best building games there is, and it seems that its community's creativity knows no bounds. Lots of Minecraft cities have been popping up, available for anyone to download and explore.
Creators have bought their favourite shows, games, and films to life through incredible creations for one of the best PC games. There has been a Minecraft Hogwarts map, The Titanic, and even a recreation of Lord of the Rings' Middle-earth. It's no wonder some of the best Minecraft cities are based on iconic locations, such as Gotham and King's Landing, and are now available to explore in the crafting game.
MORE FROM PCGAMESN:
Minecraft seeds
,
Minecraft skins
,
Minecraft mods
---
PCGamesN Monday, January 16, 2023 10:19 AM
What are the best crime games on PC? Videogames are, and have always been, all about fulfilling a fantasy. We step into virtual worlds to fight evil, slay monsters, grab sweet loot, or go to war online. They're a chance to do something we wouldn't usually do - and that includes crime games. With that in mind, games that focus on crime are popular for that very reason - they're (hopefully) not something you'd attempt in real life.
Ever since RPG game Grand Theft Auto challenged players to earn as many Wanted stars as possible, gamers have been pushing the limits of reckless behaviour and general naughtiness. We reckon at least one of these is sure to make you an offer you can't refuse, as they aren't only naughty power fantasies, but some of the best PC games ever. Between modern-day crime epics, online heists, fisticuffs in faraway places, and a trip back in time to criminal empires of yesteryear, we've got a little something for everyone.
MORE FROM PCGAMESN:
GTA 5 mods
,
GTA 6
,
Buy GTA V
---
Rock Paper Shotgun Latest Articles Feed Monday, January 16, 2023 3:58 PM
Bloodborne was great, but it didn't have any lightning gorilla robocops. This is a problem the upcoming Lies of P hopes to fix, as revealed in a new gameplay trailer designed to show off how nice it looks on a Radeon RX 7900 XTX. I will likely never own a Radeon RX 7900 XTX, but it's looking increasingly likely that I will buy Lies of P.
It's a Soulslike that plonks you into an alternate Victorian London where people got real good at inventing creepy automata. You play as the big P himself, Pinocchio.
---
Rock Paper Shotgun Latest Articles Feed Monday, January 16, 2023 2:02 PM
Shang-Chi is a card in Marvel Snap that destroys any and all opposing cards in his lane with a power of 9 or above. He feels great to play, and miserable to play against. He is also, apparently, quite bad - at least according to project lead Ben Brode, who's consulted his big statistics bank to discover that he appears in more losing decks than anyone else.
Huh. I suppose I can stop agonising over whether he has a place in my latest Patriot deck.
---
Rock Paper Shotgun Latest Articles Feed Monday, January 16, 2023 12:28 PM
The mists of the Mistlands have settled, so viking survive 'em up Valheim developers Iron Gate have decided it's time to start cracking on their next biome update. They're now chiselling away at the Ashlands, a volcanic "land of the dead" packed with skeletal horrors.
It'll be a while before all the horrors are ready, but a smaller update with clothes and haircuts is on the way soon.
---
Rock Paper Shotgun Latest Articles Feed Monday, January 16, 2023 12:12 PM
I did not expect the next game from The Lion's Song devs Mi'pu'mi Games to be a turn-based tactical folktale, but cor, Howl sure does tick a heck of a lot of boxes for me. Due out later this year, you play a deaf hero in search of a cure to a sinister 'howling plague' that's devastated the land around you and turned all its inhabitants into blood-thirsty beasts - and having played its first chapter last week, its combination of tight planning, grid-based shoving and limited ammo a la Into The Breach is very, very moreish indeed. Definitely one to watch for strategy game fans.
---
Rock Paper Shotgun Latest Articles Feed Monday, January 16, 2023 12:00 PM
At a time when LucasArts was cheerfully mocking rival developer Sierra's fondness for punishing players with game overs you could trigger at the drop of a hat, Sierra themselves seemed intent to double down. In Gabriel Knight: Sins of the Fathers, not only can the titular protagonist suffer a variety of gruesome fates if you so much as put a foot wrong, but there's a point where you can soft-lock the entire game by failing to pick up an easily missable single snake scale from a busy crime scene — and you won't even know you did anything wrong for several in-game days. I'm not 100% sure this wasn't an oversight on the part of the developers, but at the same time, that's exactly the sort of shit that Sierra liked to pull.
---
Rock Paper Shotgun Latest Articles Feed Monday, January 16, 2023 11:52 AM
Minecraft players are a creative bunch, that's undeniable, but someone decided to spend more than three months planning out the whole of Toto's 1982 classic song Africa using the game's note and command blocks. Stacinator has shared their efforts on YouTube and the Minecraft subreddit for all to see. I'd encourage you to have a watch of the full Minecraft Africa video, and wonder why Toto's only other famous tune is Rosanna.
---
Rock Paper Shotgun Latest Articles Feed Monday, January 16, 2023 11:52 AM
It's not every day you see a developer announce their game's release window by showing a stop-motion bunny building a new PC to play it, but that's exactly what the team behind upcoming soulslike Black Myth: Wukong have done. A new short film themed around Chinese New Year that's been shared by devs Game Science Studio sees a young lagomorphic enthusiast scuppered by their out of date computer, and also shows a wee bit of Black Myth: Wukong in action too. You can watch the l'il rabbit growing increasingly frustrated below.
---
Rock Paper Shotgun Latest Articles Feed Monday, January 16, 2023 11:01 AM
The US Federal Trade Commision has already committed to blocking Microsoft's $69 billion Activision-Blizzard buyout, so now it's the EU's turn to kick up a fuss. The EU's antitrust watchdog is nearing the end of a 90-day probe into whether Microsoft's buyout violates antitrust laws, and they're reportedly about to serve up a charge sheet that lays out all their beef. As with those of the FTC and other regulators, their objections are likely to centre on the likelihood of Microsoft saddling Call Of Duty with Xbox or Gamepass exclusivity.
---
Rock Paper Shotgun Latest Articles Feed Monday, January 16, 2023 10:40 AM
Have you ever been in a relationship with somebody who surprised you in all the right ways at the beginning, but eventually frustrated and disappointed you so deeply that it all ended in a messy breakup? Farlanders is my messy breakup.
It's a space colony city builder with a puzzle game mentality - and set on Mars to make things even more enticing. The best part of Farlanders is its story, and while it's not quite a full-blown commentary on colonialism, it examines what you're doing and why you're doing it with a self-awareness that I did not expect at all. That being said, annoying difficulty curves, awkward terraforming, and frustrating progression systems stop this space colony sim from really taking off. A graph charting my enjoyment over time would look like a child's drawing of a mountain.
---
Twinfinite Monday, January 16, 2023 1:47 PM
Guess it's time for a name change.
---
Twinfinite Monday, January 16, 2023 1:40 PM
Now that Henry Cavill is done with the DCEU, there are 5 MCU characters he's be perfect for.
---
Twinfinite Monday, January 16, 2023 12:27 PM
Pew, pew.
---
Twinfinite Monday, January 16, 2023 12:23 PM
A sponsored message from Ninja Must Die developer Pandada Games
---
Twinfinite Monday, January 16, 2023 11:46 AM
This new crossover is gonna be out of this world!
---
Twinfinite Monday, January 16, 2023 10:57 AM
A sponsored message from AVATARA.
---
Twinfinite Monday, January 16, 2023 10:34 AM
Why watch Joel and Ellie when you can be them?
---
Twinfinite Monday, January 16, 2023 10:25 AM
Rabbit! Rabbit! Rabbit!
---
Twinfinite Monday, January 16, 2023 9:30 AM
By Azura!
---
Siliconera Monday, January 16, 2023 3:00 PM
With Final Fantasy XIV Patch 6.3, the Myths of the Realm series expanded. Alongside new narrative threads that explore the origin of Eorzea's twelve major deities, a slew of new fights are available for players to enjoy. While relatively shorter by comparison to the Nier: Automata crossover raids, the Myths of the Realm tightens up the pace to create a well rounded experience. However, as FFXIV continues to change, primarily with the addition of new Job Classes and user interface adjustments, the Euphrosyne raid is perhaps one of the most visually confusing pieces of normal content yet.
Please keep in mind this feature will have spoilers for the FFXIV Myths of the Realm Euphrosyne raid. This includes screenshots.
I say normal, because ranked next to certain Extremes, Savages, and the daunting Ultimate tier of content, there isn't quite the same level of visual overload. Having stepped back from FFXIV for a fairly long extended period of time, coming back to the game has been a mostly exciting experience. So I was fairly eager to jump into Euphrosyne, as the 24-man raids remained some of my favorite content to date. I had a blast with Void Ark when it rolled out during Heavensward, adored the Return to Ivalice raids in Stormblood, and a fair few of the NieR: Automata fights were memorable due to their mechanics and music. So I had fairly high hopes for Myths of the Realm.
I wasn't disappointed, with the first series of raids proving to be interesting in their mechanics and positioning that was easy enough to pick up on almost immediately. There wasn't any kind of visual confusion, with attacks and mechanics (like needing to position yourself on Rhalgr's open fist) clearly telegraphed. So I was hoping that Euphrosyne would be just as accessible for someone who semi-frequently jumps into the game from time to time.
Euphrosyne is mostly this. FFXIV does this thing where it introduces you to markers and mechanics through older content. Recently, Square Enix changed large portion of A Realm Reborn to ease players into markers they'll see in late-game content, which is honestly great. It's perhaps one of the strongest things the developers did for the game, in terms of preparing them for harder content if they choose to tackle it. But Euphrosyne pairs new markers with a lot of visual stimulus to make what could be relatively easy FFXIV fights more difficult on the basis of poor visual telegraphs in several instances.
For example, the AoE attacks that Halone the Fury unleashes against the party require you to move from one part of the arena to the next based on where light blue circles or large chunks appear on the floor. In premise, this would be easy if the arena itself wasn't already an ice blue. On top of that, if a lot of players are standing around her legs, it can be easy to miss if you're concentrated on healing, reviving party members, or your rotation. You can, of course, turn a lot of visual effects off for your party members, which does help make the game more readable, but that doesn't stop the deluge of text that constantly filters over the boss when damage as done. With the added melee and magic DPS markers at the end of damage it clutters up the screen even more.
This was a pretty consistent issue for me during all of the fights, as certain boss mechanics would cause the screen to flash, ushering new visual transitions, or the usual orange markers to indicate an AoE being hard to register on similar colored floors. I wasn't going through the raids as a White Mage this time around, so my deaths felt mostly inconsequential as a Summoner. If my role was more important, then I think I would have been bothered by this more. But I can't deny that my eyes weren't exhausted after running Euphrosyne. The sheer visual stimulus from the raid, along with hard to read AoE markers or attacks, had me feeling both tired and frantic.
It's interesting to me because Square Enix leaned into making FFXIV's earlier content more accessible to new players, making needed adjustments to older dungeons, and even rebalancing fights like the face off against Ultima as a learning moment. With Euphrosyne walking back on this, it's a bit of a shame. Obviously, people will get used to the fight and be able to avoid the AoEs in question, as most of FFXIV content is memorizing patterns sort of like a dance. But for now, it's interesting to see how overloaded this particular set of raids are by comparison. With each update, and expansion, players are expected to be more reactive, more attentive, and all the more focused. While rebalances have no doubt helped ease new players into content, better than A Realm Reborn could have given its original state and how vastly different the game is now, it makes me wonder what future content will be like and if the developers will aim to make large-scale fights like this even flashier.
If so, I hope there is a greater range of accessibility options for players. Either to further lessen effects, or set a specific color to AoE markers so they don't get lost in the noise. The later probably wouldn't be possible as it might skew things like "World First" races too severely for them to be massive events, but it's an interesting thought, and maybe one the community has already suggested. Ultimately, Euphrosyne was a decently fun FFXIV raid. It wasn't as memorable to me as The Orbonne Monastery (mostly due to the appearance of Thunder God Cid and Agrias), or The Weeping City of Mhach, but will keep me on my toes for the time being. Or at least until I run it a few more times in hope to get the piece of gear I need for my Gunbreaker.
Final Fantasy XIV is available for the PS4, PS5, and PC.
The post FFXIV Myths of the Realm Euphrosyne Raid Is Exciting, but Confusing appeared first on Siliconera.
---
Siliconera Monday, January 16, 2023 1:30 PM
Arc System Works' promised Guilty Gear Xrd Rev 2 rollback netcode is about to debut. The company announced that it will appear on January 20, 2023. Its announcement also noted it is Guilty Gear Xrd Revelator compatible as well. This was something it noted back when the feature was announced last year.
We've known this update is on the way for a while. Arc System Works announced it back in September 2022. It announced rollback netcode support was in development for both Guilty Gear Xrd Rev 2 and Xrd Revelator then. It also noted tests would show up as a public test in October 2022 at that time.
There are no patch notes for the update yet. Arc System Works just noted that once the update arrives, it will help with lag and other potential issues.
The last update for Guilty Gear Xrd Revelator and Xrd Rev 2 came up back in October 2022. At that time, the game was renamed to Guilty Gear Xrd Rev 2 and the price dropped for the standard and deluxe editions. It also dropped the price of the Upgrade DLC from $18.99 to $0.99.
Guilty Gear Xrd Rev 2 is available on the PS4 and PC via Steam. The rollback netcode comes to the PC version on January 20, 2023.
The post Guilty Gear Xrd Rev 2 Rollback Netcode Arrives This Week appeared first on Siliconera.
---
Siliconera Monday, January 16, 2023 12:00 PM
Square Enix opened up pre-orders of a posable Kingdom Hearts King Mickey plush action doll. It is a plush doll with movable limbs, standing at around 285 millimeters in height. It will cost 9,900 JPY, which is approximately $76.30. The Kingdom Hearts King Mickey action doll will come out on May 27, 2023. However, the Japanese Square Enix site does not offer international delivery.
King Mickey is wearing a black coat and will not come with any items. You can put the hood up if you want to make him look more mysterious. There are a wide variety of photos on the Square Enix site, which show off the range of movement you can make Mickey pull off. A photo even shows him standing on one foot and posing dramatically. However, it is unclear from the photo if he can balance like that on his own, or if Square Enix placed a stand behind him.
[gallery columns="6" link="file" ids="947006,947003,947005,947004,947002,947001"]
This is not the first time that Kingdom Hearts merchandise featured King Mickey. Other goods for him include a silver necklace, a statue costing over $500, and a tote bag. In the case of the tote bag, it also came with a small Sora plush.
The Kingdom Hearts King Mickey plush action doll is open for pre-order via Square Enix. The latest mainline entry to the Kingdom Hearts series, Kingdom Hearts III, is available for the PS4, Xbox One, Windows PC, and Nintendo Switch.
The post Kingdom Hearts King Mickey Plush Doll is Posable appeared first on Siliconera.
---
Siliconera Monday, January 16, 2023 11:30 AM
A second season of Made in Abyss: The Golden City of the Scorching Sun is in development. Technically speaking, this is the third overall season for the Made in Abyss anime. Kadokawa uploaded a short trailer for Made in Abyss season 3 on its YouTube channel. [Thanks, ryokutya2089!]
The Golden City of the Scorching Sun aired from July to September 2022, and directly followed from the events of the first season. The majority of the episodes followed Riko and her friends' time at Illblu, which is in the sixth layer of the Abyss. Since Season 2 adapted the Illblu Arc, Season 3 of Made in Abyss will likely animate the Capital of the Unreturned and Curse Fleet Arcs.
However, it is unclear just how it will stretch the remaining chapters into a whole season. The conclusion of the Illblu Arc was in Chapter 60, and the latest update for the manga is Chapter 63. Time will tell if the anime plans on moving ahead with an original story. In the meantime, you can watch the announcement trailer for Made in Abyss Season 3 here:
https://www.youtube.com/watch?v=ePOyy6Wlk4s&
It pretty much consists of scenes from the first two seasons. The trailer does not provide any details on a release window or new cast members. More information for it will appear in the future.
Made in Abyss Season 3 is in development.
The post Made in Abyss Season 3 Announced appeared first on Siliconera.
---
Siliconera Monday, January 16, 2023 11:00 AM
HoYoVerse revealed the splash art for Dehya and Mika, who will appear as playable characters in a future Genshin Impact update. Both of them have already shown up in the game. Dehya was a major character for the Sumeru Archon Quest. Meanwhile, Mika debuted in the "Of Ballads and Brew" event during a brief cutscene.
Dehya will be a Pyro character. From our interactions with her in the story, we know that her nickname is the Flame-Mane and she is a well-known mercenary who occasionally takes up other jobs. Her Constellation name is Mantichora (or manticore). In Greek mythology, the manticore has the head of a man, the body of a lion, and the tail of a scorpion. This is likely a reference to both Dehya's lion motif (in both design and nickname) and her desert heritage.
https://twitter.com/GenshinImpact/status/1614927037390626823
Mika, on the other hand, will be a Cryo character. He is part of Eula's Reconnaissance Company, and he is Huffman's younger brother. Multiple members in the Knights of Favonius have mentioned him in their voice lines. In his brief appearance in the game, we could see that he was quite shy in his interactions with the Traveler. His Constellation, Palumbus, translates to Wood Pigeon.
https://twitter.com/GenshinImpact/status/1614927856047476736
Genshin Impact Version 3.4 will introduce Alhaitham and Yaoyao as playable characters. So it will be a while before you can pull for Dehya or Mika in Genshin Impact. Version 3.4 will go live on January 18, 2023. It will also have the Lantern Rite event, in which you can pick a free 4-star Liyue character for your party.
Genshin Impact is readily available on the PS4, PS5, Windows PC, and mobile devices. More information on Dehya and Mika's kits will appear closer to their release dates.
The post Genshin Impact Mika and Dehya Splash Art Revealed appeared first on Siliconera.
---
Siliconera Monday, January 16, 2023 10:30 AM
People who play Final Fantasy XIV on a Mac might soon need to upgrade their macOS. Square Enix announced support will soon end for Catalina. It will no longer officially support that version of the operating system on March 7, 2023. However, it did note that after the official cut-off date, the MMORPG could still continue to work.
The company announced that starting on that date, it will no longer formally support Catalina. It did note that people who contact support might still be able to get "informal" help after that day.
MacOS Catalina first debuted back in October 2019. It is the oldest of the Mac operating systems Final Fantasy XIV currently supports. People with Big Sur, Monterey, and Ventura can also play the game. Square Enix also noted in its official requirements that Apple Silicon chipsets aren't supported.
Final Fantasy XIV is available for the PS4, PS5, and PC, however Mac Catalina support ends on March 7, 2023. Its most recent update is patch 6.3, which debuted in January 2023. It did things like alter the Paladin and Machinist jobs and added a Myths of the Realm raid. There are also new Island Sanctuary additions, gear sets, mounts, and minions.
The post Final Fantasy XIV Mac Catalina Support Ends in March 2023 appeared first on Siliconera.
---
Siliconera Monday, January 16, 2023 9:00 AM
We're once again continuing what is basically Siliconera's new series of game recommendation pieces that looks at major publishers' titles on different platforms and points out titles worth playing that aren't a part of the ones they're best known for. When it comes to Capcom, certain IPs can come to mind. It's behind staples like Devil May Cry, Mega Man, Monster Hunter, and Resident Evil. However, it also offers a lot of other fun games worth folks' time. So, to help offer a little more insight, here are some other Capcom Switch games people that might be considered the best or worthwhile in various ways.
Best Capcom Switch fighting game that isn't in the Street Fighter series: Capcom Fighting Collection
Darkstalkers deserves more love and attention. Well, Capcom Fighting Collection does that. It gives people Darkstalkers: The Night Warriors, Night Warriors: Darkstalkers' Revenge, Vampire Savior: The Lord of Vampire, Vampire Hunter 2: Darkstalkers' Revenge, and Vampire Savior 2: The Lord of Vampire with rollback netcode and what is essentially a library looking back at the design documents that were used to make the games. While it is based on the arcade versions, leading to somewhat incomplete iterations, it is worth it to have these titles easily accessible again.
Also, the Pocket Fighter puzzle games here and getting to play Red Earth on consoles for the first time are both blessings.
Best Capcom Switch action-RPG that isn't a Monster Hunter game: Dragon's Dogma: Dark Arisen
Dragon's Dogma: Dark Arisen is as amazing of an action-RPG, with fantastic gameplay and character customization, and this version packs in the Bitterblack Isle expansion. It's a wonderful port of the game that doesn't look its age. Despite launching in 2012, it still features mechanics, like pawns, that feel fresh. Plus, you'll be ready for Dragon's Dogma 2.
Best Capcom Switch game where you survive harrowing monster encounters that isn't Resident Evil: Shinsekai: Into the Depths
Okay, yes, I know that title there is a bit forced. Shinsekai is an unusual, fun experience and it deserves an audience. You're a stranded aquanaut, one of the few people living underwater due to inclement conditions above ground, and you need to find a new, safe space to live while dealing with unsettling, dangerous creatures and ruins of those who came before. Survival is a big deal, and platforming comes into play as you try to avoid things that can and will kill you.
As a bonus, Shinsekai is still an Apple Arcade game too, so you can try it for free there if you subscribe to that service.
Best Capcom Switch adventure that doesn't star Phoenix Wright: The Great Ace Attorney Chronicles
Ace Attorney Chronicles is a fantastic adventure series. There's comedy, heart, and drama. Most of the entries involve Phoenix Wright in some way. However, people might have missed The Great Ace Attorney Chronicles! This is a collection of two "prequels" starring the lawyer Ryunosuke Naruhodo, yes relation to Phoenix, that originally only appeared on the 3DS and mobile devices in Japan. It features the same sort of captivating, thoughtful gameplay and fun stories as the other installments, so people should always keep it in mind.
The post Capcom Games on the Switch You Might Overlook appeared first on Siliconera.
---
PC Invasion - FeedDDD Monday, January 16, 2023 3:30 PM
Recently, Call of Duty data miners found icons in the game files, with one believed to be hinting at the return of Gun Game. Due to its popularity in the past, fans are welcoming the leak with open arms. Although Gun Game can't be played in Modern Warfare 2 multiplayer right now, there is a way to play it early ahead of its launch. If you aren't familiar with Gun Game, its a Free-For-All game mode where each player cycles through the same set of weapons. Every time you get a kill, you'll progress to the next weapon and the first to reach 18 kills is the winner. Your gun skill will be put to the test as you have to take down your opponents with everything from snipers to shotguns, submachine guns to rocket launchers, and more. How to play Gun Game early in Call of Duty: Modern Warfare 2 In order to set up Gun Game, create a private match in Modern Warfare 2. Choose 'Free For All' as the game mode. Then, select 'Game Setup' and enter the 'G...
---
PC Invasion - FeedDDD Monday, January 16, 2023 3:00 PM
This article is sponsored by AVATARA. AVATARA, which will be playable today on mobile, PC, and web browsers — is a new top-end action MMORPG breaking new ground in the world of gaming by bringing the power of blockchain and NFTs to the masses. While billions of people enjoy traditional games, only about one million players have experienced the unique benefits of blockchain gaming. AVATARA aims to change that by providing a more traditional game experience that is easy for anyone to jump into, while still offering all the benefits of blockchain technology. In the AVATARA universe, players can sign up for a guild, grow their character, participate in battles and wars, and earn rare items and utility tokens. Items, avatars (NFTs), and even characters can be freely traded among users in the game, giving players true ownership of their virtual assets. And with a focus on the "fun of possible embodiments," AVATARA is poised to bring Web2 players into the exciting ...
---
Tabletop Gaming News Monday, January 16, 2023 9:25 AM
TT Combat, a popular tabletop gaming company, has released a new miniature figure of Pierrot, a character from their game. The figure is unique in that it is designed to blend into its environment, making it difficult to spot on the gaming board. Fans of the game are excited for the new figure and look forward to using it in their games.
---
Player Assist | Game Guides & Walkthroughs Monday, January 16, 2023 11:19 AM
A lot of fans are excited for Assassin's Creed to come back to its more narrative-based gameplay, but Ubisoft has another original property that promises to be one big pirate sandbox. Skull and Bones is expected to come out later this year, and we have a new video showcasing 30 minutes of gameplay. Check this […]
---
Player Assist | Game Guides & Walkthroughs Monday, January 16, 2023 10:43 AM
Dead Space isn't the only horror game getting a polished up remake, and Konami has announced that they will be remaking the classic Silent Hill 2. We don't have a release date for the game yet, but thanks t IGN, we have a new deep fice video with producer Motoi Okamoto, concept artist Masahiro Ito, […]
---
Player Assist | Game Guides & Walkthroughs Monday, January 16, 2023 10:20 AM
HBO usually keeps a series' details under wraps before a premiere, but with the first episode out, The Last of Us has now dropped a preview for the upcoming weeks ahead for the series. Check this out: Though we do get more of Joel, Ellie, and Tess in their journey, we also get the first […]
---
Player Assist | Game Guides & Walkthroughs Monday, January 16, 2023 10:00 AM
There are various errors in VALORANT, but some can be more finicky to fix than others. You've probably already encountered some of the dreaded VAN or VAL errors that can keep you from launching VALORANT successfully, but these can easily be resolved by simply restarting your PC or changing specific Windows Firewall settings. Then there's […]
---
Level Up Monday, January 16, 2023 12:30 PM
Awesome Games Done Quick (AGDQ) started the New Year with a bang, raising over $2.6 million…