---
Kotaku Monday, October 17, 2022 8:30 PM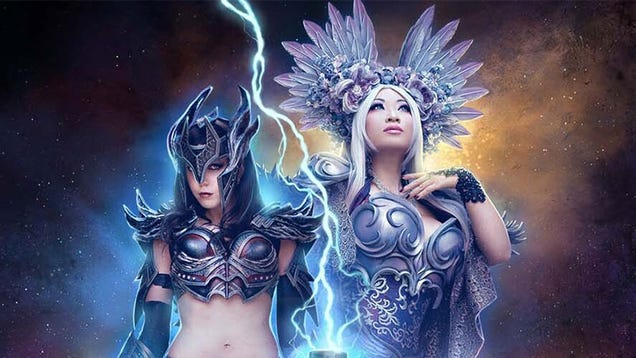 I've been covering cosplay for well over a decade now, and in that time I've seen loads of books, posts, YouTube videos and even TV series about the subject. What I had never seen, until now, was someone actually go and make a documentary as slick and comprehensive as Cosplay Universe.

---
Kotaku Monday, October 17, 2022 8:00 PM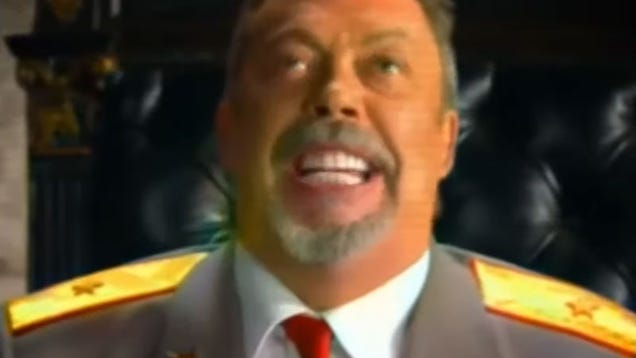 Electronic Arts has moved quietly to begin the process of shutting down the online servers for a bunch of old games, some of them absolute classics, some you would be forgiven for having forgotten all about.

---
Kotaku Monday, October 17, 2022 7:05 PM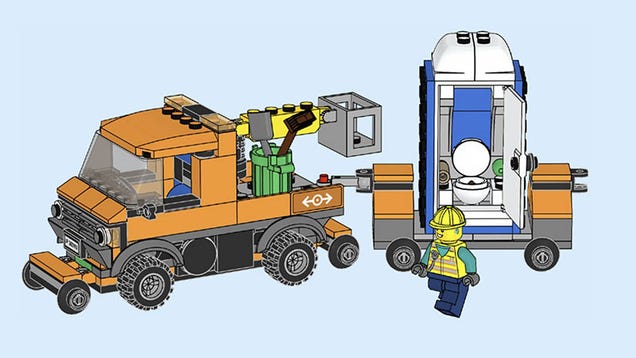 LEGO set 60335, a "Train Station" for the LEGO City line, is not the first in the company's history to ship with some kind of poop. It is, however, the first to ship with an enormous pile of human shit that is clogging up a toilet.

---
Kotaku Monday, October 17, 2022 6:50 PM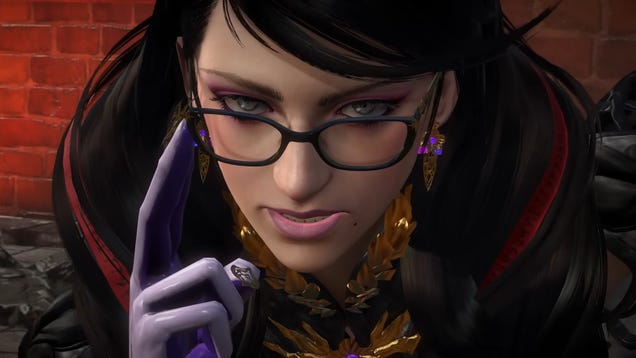 Renowned voice actor Jennifer Hale, known for her role as Commander Shepard in the Mass Effect series and the new voice of action character Bayonetta, released a statement in response to the discourse following Bayonetta's former voice actress claiming she wasn't offered a living wage by PlatinumGames to reprise her…
---
Kotaku Monday, October 17, 2022 5:43 PM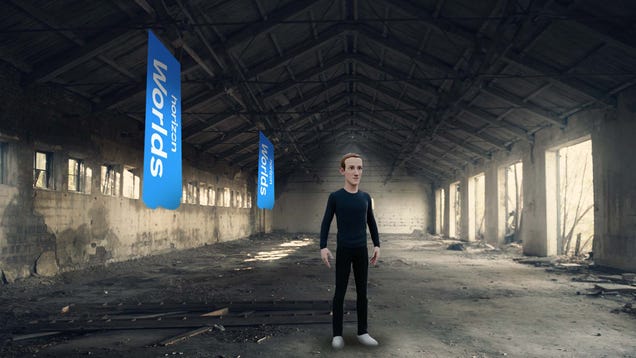 Meta's Facebook is (was?) one of the most popular social media platforms in the world, with billions of users. However, its failing virtual reality metaverse project, Horizon Worlds, isn't doing nearly as well. In fact, a new report shows that barely anyone is spending much time in Horizon Worlds at all, with most…
---
Kotaku Monday, October 17, 2022 4:35 PM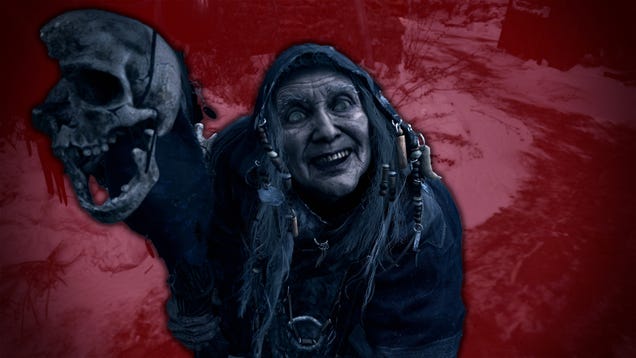 If you went to get your ass yeeted by Lady Dimitrescu this past weekend only to have Resident Evil Village crash instead, you're not alone. A recent update to the PC version triggered a bug that's crashing the game for many PC players on Steam.
---
Kotaku Monday, October 17, 2022 2:55 PM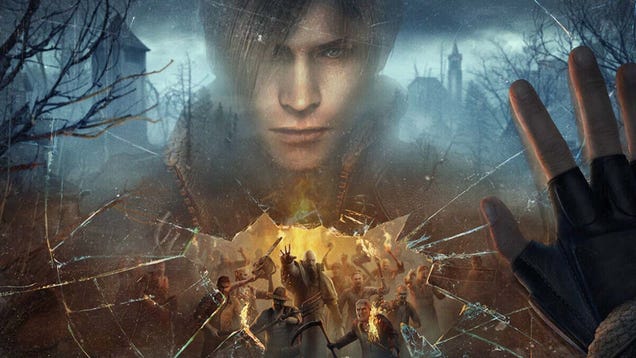 Back in 2005, when I was younger, Resident Evil 4 looked so cool. Then I found out that it would only be released on the Nintendo Gamecube, which I didn't own. My dreams were shattered because I was a dumb kid and didn't realize that one day it would come to more consoles. Since that sad moment in my life, RE4 has…
---
Kotaku Monday, October 17, 2022 2:30 PM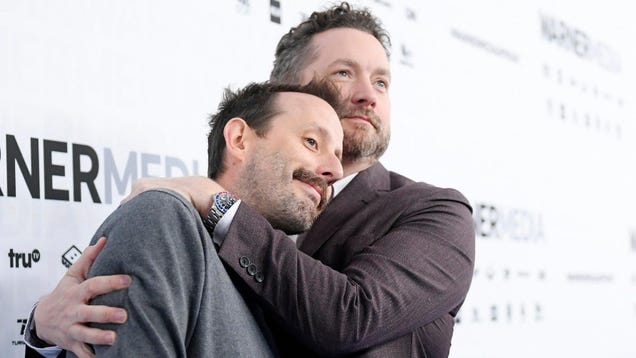 Iconic Halo-inspired web series Red vs. Blue put online content company Rooster Teeth on the map. Over a decade later it's branched out into gaming Let's Plays, reality TV shows, and even anime, but it's also increasingly the subject of allegations over an internal frat boy culture and toxic working conditions. Over…
---
PCGamesN Monday, October 17, 2022 8:32 PM
Want to know who the best Overwatch 2 tank heroes are? There's a lot to consider when it comes to picking the best tank hero, especially since the PvP format made the switch from 6v6 to 5v5. Tanks now occupy just one spot on a team and they're arguably the most influential member. Players no longer have an off-tank to cover mistakes or pair abilities with, and as the FPS game shifts to a more messy, dive-based meta, picking the right tank hero is a major decision.
Overwatch 2 heroes
,
Overwatch 2 PvE release date
,
Overwatch 2 tier list
---
PCGamesN Monday, October 17, 2022 5:27 PM
Never aim fireworks at others, unless the others are hordes of monsters and you're deep in a Vampire Survivors run. Those fireworks that go off whenever you open a coffin will be weaponised in Vampire Survivors 1.0 when the bite-sized survival game emerges from Early Access this week.
The best survival games on PC in 2022
,
Vampire Survivors weapon evolution guide
,
The best Vampire Survivors build
---
PCGamesN Monday, October 17, 2022 4:46 PM
Even though Volume V of the Destiny Grimoire Anthology series won't be available until March 14, the Bungie Store team is already thinking about what aspects of the space game's lore to cover next. In a recent tweet, the team invited the most dedicated Destiny lore enthusiasts to weigh in on what they want to see in a future instalment of the book series.
Destiny 2 classes
,
Destiny 2 exotics
,
Destiny 2 builds
---
PCGamesN Monday, October 17, 2022 5:09 PM
League of Legends publisher Riot Games has acquired the Sydney studio of Wargaming, the publisher of combat MMOs World of Tanks and World of Warships. Now renamed Riot Sydney, the studio's development staff will support League of Legends, Valorant, and Riot's existing technology teams.
Best LoL Champions
,
League of Legends preseason 23
,
LoL tier list
---
PCGamesN Monday, October 17, 2022 2:54 PM
Elden Ring jazz might not be the first mash-up that jumps to mind, but it's the theme for a concert that Bandai Namco has arranged for the end of the year in Hollywood, California. Elden Ring: A Night in the Lands Between will feature musicians led by jazz artists Kenny Garrett and Takuya Kuroda improvising cuts from the RPG game's soundtrack.
The best Elden Ring builds
,
Elden Ring bosses
,
The best Elden Ring classes
---
Twinfinite Monday, October 17, 2022 9:33 PM
Today third-party developers had a few releases and reveals in store about upcoming Microsoft Flight Simulator airport add-ons.
---
Twinfinite Monday, October 17, 2022 8:42 PM
Play Scylla at the highest level with this build guide that explains what items to get so you'll be able to use her to her maximum potential.
---
Twinfinite Monday, October 17, 2022 7:53 PM
Star Wars: The Old Republic's newest update continues to add quality of life changes, along with new rewards and the feast of prosperity event.
---
Twinfinite Monday, October 17, 2022 6:53 PM
Capcom announced a "Resident Evil Showcase" promising news on Resident Evil Village Gold Edition, Resident Evil 4, and more.
---
Twinfinite Monday, October 17, 2022 6:08 PM
Konosuba Season 3 is at least a year off, but we highly anticipate it.
---
Twinfinite Monday, October 17, 2022 5:54 PM
Discord announced it will be adding several new features to the messaging app including games, an app directory, and a new subscription plan.
---
Twinfinite Monday, October 17, 2022 4:53 PM
Here's everything about November 2022 Pokemon GO Teddiursa Community Day.
---
Twinfinite Monday, October 17, 2022 4:26 PM
The Bayonetta responds to the controversy.
---
Twinfinite Monday, October 17, 2022 4:05 PM
Mountain Dew and Call of Duty are collaborating once again with more codes for free stuff.
---
Twinfinite Monday, October 17, 2022 3:13 PM
Call of Duty and Mountain Dew are partnering together for special in-game rewards. Here's what you need to know!
---
Twinfinite Monday, October 17, 2022 3:12 PM
Turn On Login Verification in Apex Legends with these simple steps.
---
Twinfinite Monday, October 17, 2022 3:12 PM
Take this personality quiz to find out which Rick & Morty character you are!
---
Twinfinite Monday, October 17, 2022 2:58 PM
Hard to believe Yu Yu Hakusho started 30 years ago.
---
Twinfinite Monday, October 17, 2022 2:43 PM
The She-Hulk series was seriously hurt by too much Metacommentary.
---
Twinfinite Monday, October 17, 2022 2:24 PM
This hands-on impression of the Ghostbusters Spirits Unleashed title shares details about this fps shooter game.
---
Twinfinite Monday, October 17, 2022 2:23 PM
Can you refund gifted items in Apex Legends? Here's what you need to know!
---
Twinfinite Monday, October 17, 2022 2:02 PM
Call of Duty: Modern Warfare 2 will launch soon and the developer announced an update for one of its multiplayer modes before launch.
---
Twinfinite Monday, October 17, 2022 2:01 PM
How to take out those pesky armored enemies in A Plague Tale Requiem.
---
Twinfinite Monday, October 17, 2022 2:01 PM
Here's how long A Plague Tale Requiem takes to beat if you're wondering.
---
Twinfinite Monday, October 17, 2022 2:01 PM
What's the story on multiple endings in A Plague Tale Requiem, then? Here's what you need to know.
---
Siliconera Monday, October 17, 2022 4:00 PM
A new Japanese visual novel is gaining attention for its inclusion of Google Maps and Street View. Rojimaga released Our Hometown in the Alley on Steam on October 14, 2022. The game uses real-life panoramas as background locations that the player and heroine can visit.
The team's website revealed that Kita e (Northward), a series of visual novels that Hudson Soft released for Dreamcast and PlayStation 2 between 1999 and 2004, served as an inspiration for this title. Like the Kita e series, Our Hometown in the Alley takes place in Japan's Hokkaido prefecture, but with a specific focus on the city of Hakodate. The player and the game's heroine will try to visit as many landmarks in Hakodate as they can over the course of a weekend, with the average time for a playthrough ranging from two to five hours.
There have been a number of visual novels featuring real-life photo backgrounds released earlier in Japan, such as the Fuuraiki series. But while those titles had the photos included in their standalone builds, Our Hometown in the Alley distinguishes itself by utilizing Google Maps and Street View.
After showing descriptions of the real-life facilities, the game will play a scene with the heroine, which also occasionally features quick-time event-based response choices. Rojimaga also added caution that the limitations of Google Maps API might render the browser-based visual novel unplayable if there are too many player sessions during the day.
[gallery columns="2" ids="937439,937440" link="file"]
The Steam version of Our Hometown in the Alley is available worldwide as of this writing with a price tag of $4.99 in the U.S., but the visual novel currently only supports the Japanese language. Outside of Steam, Rojimaga also sells the game via its BOOTH page for 500 yen. The team initially released the title for free on September 27, 2022, before it switched to paid sales and sent public press releases.
Our Hometown in the Alley is available on PCs. Rojimaga will release the title on Android and iOS devices later in October 2022. The development team also announced plans to create more games and services that utilize Google Street View.
The post Our Hometown in the Alley is a Visual Novel That Uses Google Maps appeared first on Siliconera.
---
Siliconera Monday, October 17, 2022 3:00 PM
A new game based on the Peter Grill anime series has been released. Titled Peter Grill and the Philosopher's Time: Defender of Virtue, it's available now on G123, a browser-based game platform. It supports Japanese, English, and Chinese languages.
Peter Grill and the Philosopher's Time is a romantic comedy anime series based on Daisuke Hiyama's manga of the same name. It stars the fantasy swordsman Peter Grill, who takes part in an international fighting tournament and wins, being crowned "Strongest Man In The World". His newfound fame and battle prowess inspire him to ask the Brave Swordsmen's Guild Master for permission to marry Luvelia, his beloved (and the daughter of the guildmaster).
Unfortunately for Peter, that same fame has drawn powerful women from other species, seeking to seduce him as a stud to establish a "superior bloodline". Ogre princesses, elven sorceresses, goblin childhood friends, and orcish outcasts alike compete for Peter's "seed", while Peter himself tries desperately to hide the harassment from his new fiancée, whom he has yet to do more than hold hands with. Her overprotective father, meanwhile, schemes to end their relationship. The "Philosopher's Time" in the title refers to what's sometimes called "sage time" or "post-nut clarity", a feeling of calm that people experience after achieving orgasm.
[gallery columns="4" ids="937421,937422,937423,937424" link="file"]
Peter Grill and the Philosopher's Time: Defender of Virtue features characters from the series and blends "idle game" mechanics with turn-based RPG-style battles. Players can form parties of six characters, set up parties, and take on monsters. The game is free-to-play and is supported by a gacha system for summoning new characters. Players can also gain affinity with the characters in their possession and unlock some saucy artwork.
Players who start the game during the launch window will receive some rewards. These include:
A 5-Star character, Vegan the elf
4,000 gems (premium currency worth 20 summons)
40 Rare Summon Tickets
500,000 Ally XP
1,000,000 Coins
20,000 Steel
Rewards from the game's pre-registration and login campaigns will, when claimed, also add up to another 160 free Rare Summons.
Peter Grill and the Philosopher's Time: Defender of Virtue is available on G123, playable via browser. The first season of the anime and the ongoing second season are available on HIDIVE in North America.
The post RPG Based on Peter Grill and the Philosopher's Time Launched appeared first on Siliconera.
---
Siliconera Monday, October 17, 2022 2:00 PM
The crossover between Evangelion and Godzilla will appear again in Japan's pachinko centers. Khara and Toho revealed that they are working with Bisty and Fields to release a new pachinko machine titled P Godzilla VS Evangelion ~G Cell Awakening~. It will feature a new story that includes an original fusion between Evangelion Unit-01 and Godzilla.
The pachinko title's storyline will have events from Godzilla and Evangelion take place in the same universe, with the former happening earlier. After a mysterious disappearance, the eponymous kaiju will reappear in the middle of the battle between NERV and the Angels. King Ghidorah will also appear as the leader of the Angels. Godzilla will then launch a beam toward Evangelion Unit-01's core that gives the latter a new transformation with the kaiju's features in order to fight King Ghidorah on a more equal footing.
The story trailer for P Godzilla VS Evangelion ~G Cell Awakening~ is available to watch right below:
https://www.youtube.com/watch?v=Xa2eNz_YheM
Other than a new story, the pachinko machine will also feature three new songs. Rei Ayanami's voice actress, Megumi Hayashibara, will perform two new songs, "Shuuketsu no Hate ni (At the End of the Gathering)" and "Shuuketsu no Toki ~Territory~ (The Time of Gathering)," while the "Cruel Angel's Thesis" singer, Yoko Takahashi, will bring her newest song, "Teardrops of Hope."
The collaboration between Godzilla and Evangelion has been widely known since 2016, and most of the crossover projects appeared throughout the year. The collaboration also appeared in two Japanese mobile games: Monster Strike and Super Robot Wars X-Omega. While the latter title is no longer available, it featured an Evangelion Unit-01-colored MFS-3 MechaGodzilla in addition to the Godzilla itself.
P Godzilla VS Evangelion ~G Cell Awakening~ will appear in pachinko slot centers in Japan.
The post Godzilla VS Evangelion Will Have a New Fusion in Pachinko appeared first on Siliconera.
---
PC Invasion - FeedDDD Monday, October 17, 2022 4:45 PM
A massive win came for Discord users today, as the beacon of communication is expanding with a new shop, some new client-based activities, and a new affordable subscription service. In fact, the new activities will feature YouTube integration, allowing you and your friends to watch YouTube videos together while in the same call, or even play games like Chess or Poker. First off, the new Nitro Basic subscription is another subscription level that players can purchase for $2.99 USD a month. It's a cheaper alternative to the current Discord Nitro, which can be purchased for $9.99 USD a month or $49.99 USD a year. Nitro Basic is a simplistic service, only allowing you to use custom emojis and upload files of up to 50 MB (of course, most people probably want the emojis). For comparison, Nitro Classic gives you animated avatars, a discount on server boosts, and screen sharing of up to 1080p and up to 60 FPS. Hanging out The big highlight of the update, however, are the additions...
---
PC Invasion - FeedDDD Monday, October 17, 2022 4:15 PM
With Halloween arriving in exactly two weeks, players have a wealth of new horror game releases to play in time for the holiday. But those who want to experience a different kind of horror from the usual — one involving deep-sea creatures rather than ghosts or unsightly abominations — can pick up developer Mintrocket's Dave the Diver. Now, to be clear, Dave the Diver is not meant to be a horror game, but that will hardly matter to those with an acute fear of the deep. Whether you want Dave the Diver for the potential horror or simply to experience a unique deep-sea adventure, you can pick it up once it dives into Early Access on October 27. Interestingly, Dave the Diver features two distinct sides to its gameplay loop: one involving underwater exploration and another that sees players managing a sushi restaurant. Naturally, when swimming through the deep ocean, players will encounter all sorts of underwater inhabitants both big and small. Some will act friendly t...
---
PC Invasion - FeedDDD Monday, October 17, 2022 2:05 PM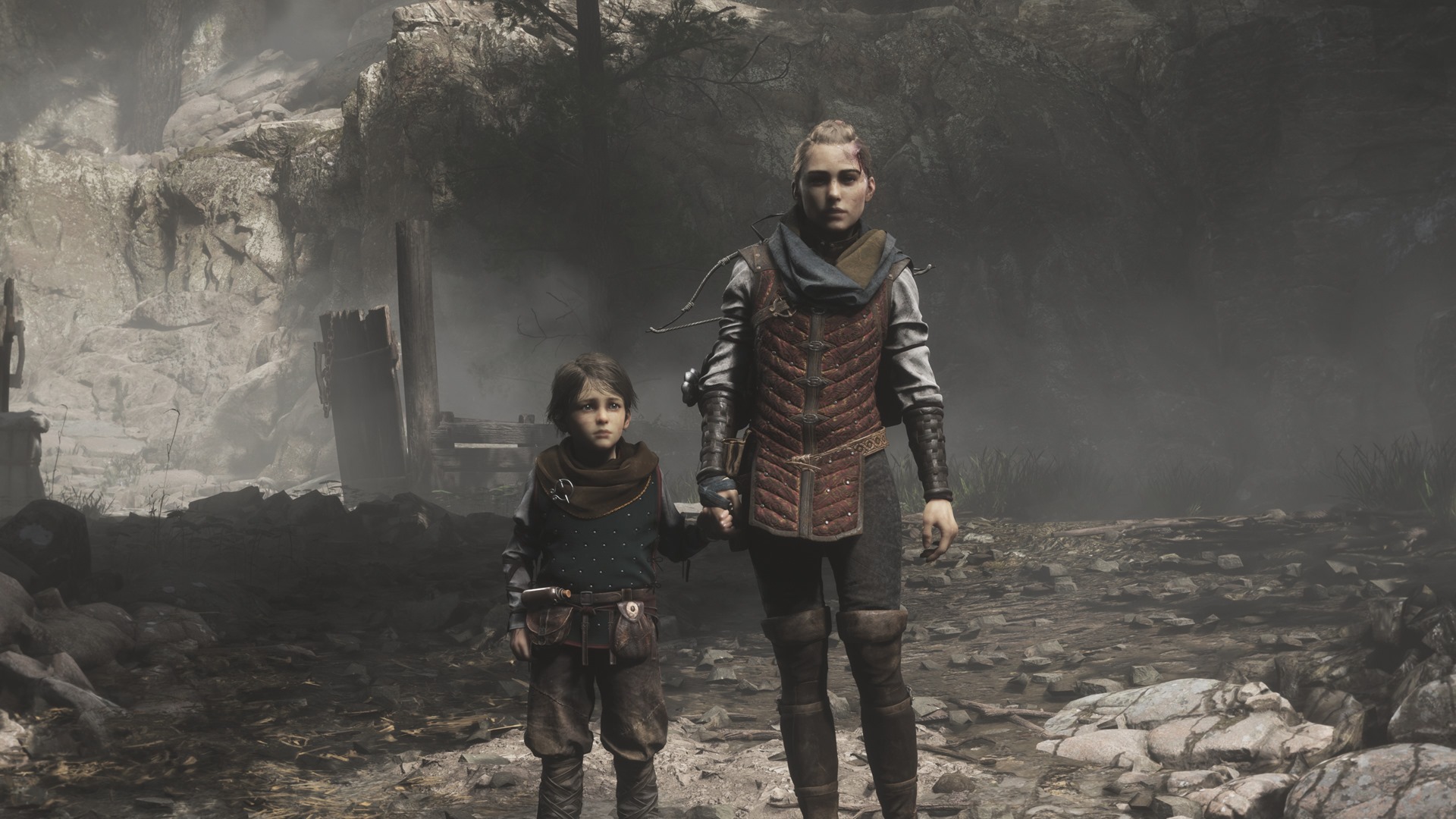 A Plague Tale: Requiem, the sequel to 2019's A Plague Tale: Innocence, brings back de Rune siblings Amicia and Hugo, as well as familiar characters from the previous game. Naturally, you'll once again need to survive the ravenous rat hordes, dastardly bandits, and heavily armored soldiers. I must admit that Requiem, much like Innocence, drew me in owing to its themes and concepts. Likewise, the visuals are breathtaking, with a phenomenal Photo Mode that's quite a treat for the player. Sadly, there are a few flaws that become glaring as time goes on. Hugo, what have you done? At the conclusion of A Plague Tale: Innocence, Amicia, Hugo, and supporting characters who are close to them sought to find a new home. The Macula, Hugo's disease that lets him control rats, was thought to have abated. Suddenly, the curse manifests once more, and the group decides to find a way to help him. Of course, things don't always go according to plan, causing the sibling...
---
PC Invasion - FeedDDD Monday, October 17, 2022 2:00 PM
The original Perfect Dark is a beloved first-person shooter that still gets plenty of attention to this day. And now, it looks like some versions of the game have been fully decompiled, which makes plenty of future projects possible. This is thanks to Ryan Dwyer, who posted the work on his Github page. From here, we could start to see some really cool stuff, including a proper PC port of Perfect Dark. This isn't the first time a beloved Nintendo-exclusive has been reverse-engineered. In fact, both The Legend of Zelda: A Link to the Past, and its sequel Ocarina of Time have been decompiled. The latter's project has been particularly fruitful and brought all kinds of improvements to the game, including 60 FPS support and full camera controls. And since Perfect Dark is a shooter, a PC port could massively improve the game's experience. Plus, we could see some truly ambitious mods and fan-made content that pushes the game in new ways. When cool and exciting project...
---
Gamer Empire Monday, October 17, 2022 3:31 PM
If you are an avid Mount and Blade fan and have played Warband, and all of its expansions, then you are probably accustomed to the […]
---
Gamer Empire Monday, October 17, 2022 2:58 PM
The main attractions when it comes to Mount and Blade 2: Bannerlord are war and huge battles with hundreds of men and women. However, there […]
---
Tabletop Gaming News Monday, October 17, 2022 6:00 PM
---
Tabletop Gaming News Monday, October 17, 2022 5:00 PM
---
Tabletop Gaming News Monday, October 17, 2022 4:00 PM
---
Tabletop Gaming News Monday, October 17, 2022 3:00 PM
---
Player Assist | Game Guides & Walkthroughs Monday, October 17, 2022 6:00 PM
Team Cherry's Metroidvania action-adventure game, Hollow Knight, follows the journey of a nameless warrior called the Knight as he travels through Hallownest, a kingdom ruined by a supernatural disease. As the Knight journeys through Hallownest, he encounters various characters that will help fully unravel the story in the game. To fully explore and navigate through […]
---
Player Assist | Game Guides & Walkthroughs Monday, October 17, 2022 5:05 PM
Mining is an important activity that allows players to get resources and treasures in Stardew Valley. One of the resources you can acquire from mining is a Geode or a hollow rock that contains different kinds of items. Unlike most spoils obtained straight from smashing rocks, Geodes can only have value when they are cracked […]
---
Player Assist | Game Guides & Walkthroughs Monday, October 17, 2022 4:00 PM
The O'Neils are back, so Trevor calls Franklin for help. Michael joins in on the fun, too. The O'Neil brothers want their revenge on Trevor after he raided their farm, killed most of their brothers, and blew up their meth lab. Elwood, Walton, and Wynn even went as far as to track Trevor at Wayne's […]
---
Player Assist | Game Guides & Walkthroughs Monday, October 17, 2022 3:16 PM
You can pick up a weapon in Limitless RPG and develop into a formidable warrior of prophecy. You can traverse 16 various maps, collect and wield 180 weapons, and put on 74 different armor sets. After equipping your weapons and equipment, set off to perform tasks by exploring the realm. To get luxury stuff, you […]
---
Player Assist | Game Guides & Walkthroughs Monday, October 17, 2022 2:00 PM
Pokemon Legends: Arceus is set in olden times in the Pokemon world when it was rare to find harmony between people and Pokemon. Set in Hisui, known as the Sinnoh region in modern times, you will join the Galaxy Expedition Team (Galaxy Team for short) as a member of the Survey Corps stationed in Jubilife […]
---
MonsterVine Monday, October 17, 2022 2:48 PM
Fall is here, which means it's time to cozy up with a game before winter comes. And what better way to do so than with Ooblets, a farming sim all about dancing with effortlessly charming creatures? Ooblets Developer: Glumberland Price: $30 Platform: PC & Switch MonsterVine was supplied with a Switch code for review Ooblets […]