---
Kotaku Monday, May 9, 2022 7:50 PM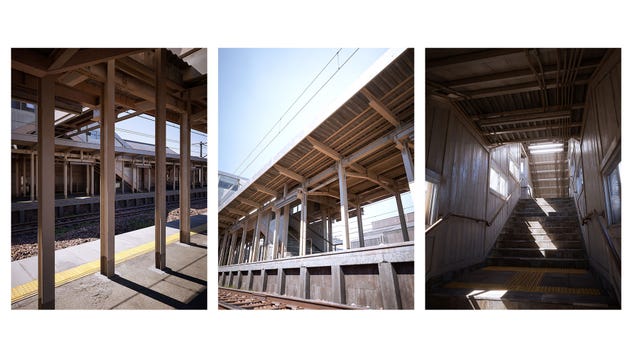 The video you're about to see is not camera footage of the Etchū-Daimon train station in Japan. It is a video made by 3D artist Lorenzo Drago.

---
Kotaku Monday, May 9, 2022 5:20 PM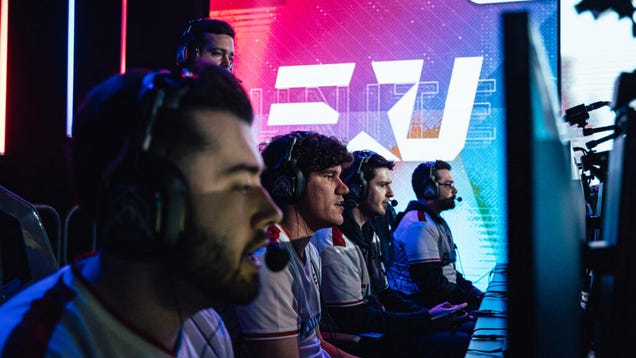 Whatever your opinions of Halo Infinite, you can rest assured knowing you won't take a financial hit for airing them. The same can't be said for one of the best Halo players on the planet, who was recently fined after he shared some pointed criticism of the game's ballyhooed season two update.

---
Kotaku Monday, May 9, 2022 4:15 PM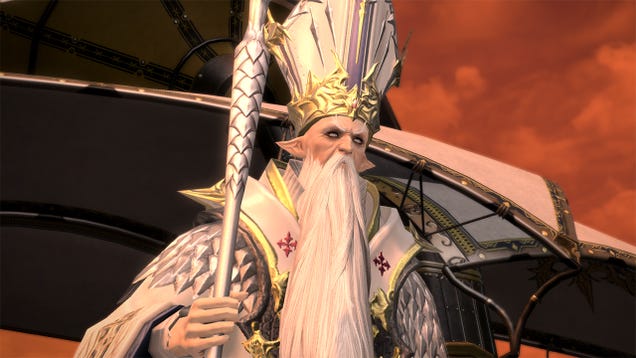 As part of a larger blog reiterating the Final Fantasy XIV team's disapproval of mods following their prevalence in a high-profile raid event, producer and director Naoki Yoshida promised to improve the massively popular game's HUD to match the functionality of these unofficial tools.

---
Kotaku Monday, May 9, 2022 2:40 PM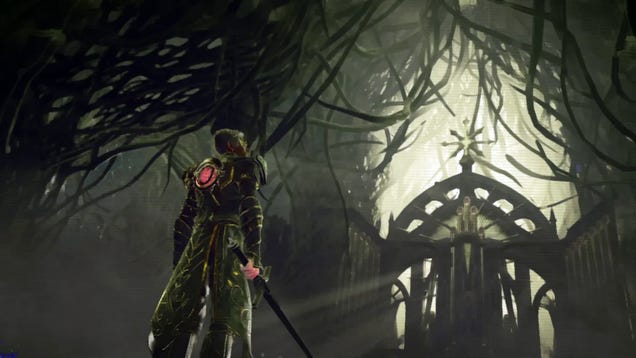 Babylon's Fall, the troubled live-service action-RPG from action game luminaries Platinum Games, has seemingly hit life support. After two months on the market and a lukewarm reception at launch, Square Enix's latest effort was reduced to just one player on PC last week. They revealed themselves on Twitter after VGC…
---
Kotaku Monday, May 9, 2022 2:11 PM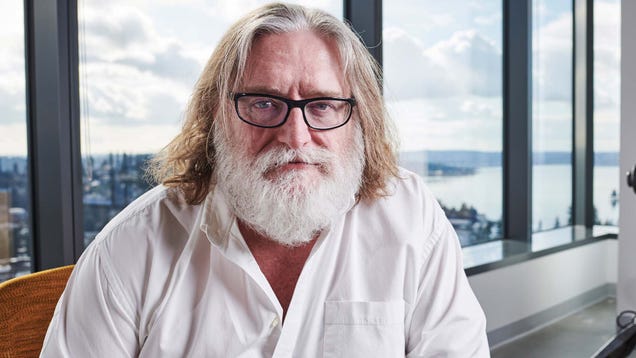 Quick, without thinking too much, describe Left 4 Dead in only a few words. You probably came up with something like "a co-op zombie shooter." Or perhaps "an online co-op FPS zombies game from Valve." Point is, zombies would almost certainly be in there. Even so, back during Left 4 Dead's development, Valve president…
---
Kotaku Monday, May 9, 2022 1:35 PM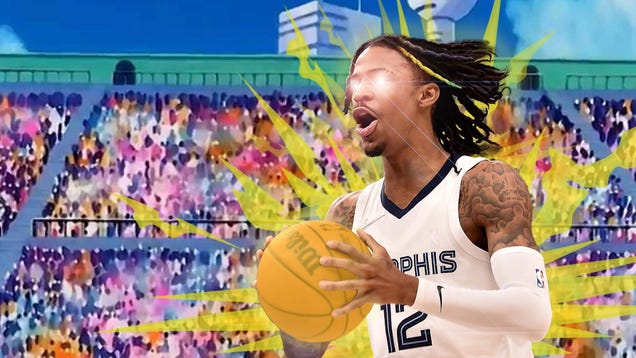 What started out as a casual ironic viewing of the NBA playoffs has quickly shifted into an unironic obsession, with the games becoming a must-watch priority in my life. Why the sudden change, you ask? I realized that the NBA is eerily like the many anime series I've watched.
---
Kotaku Monday, May 9, 2022 1:20 PM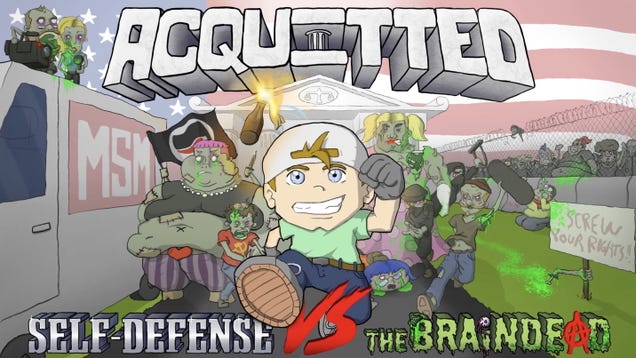 Why can't far-right provocateurs just be good at anything? Acquitted, an action-shooter game by first-time developers, Nordic Empire Games, is intended to be a provocative celebration of the acquittal of teenager Kyle Rittenhouse. Instead, it's a very poorly made zombie shooter, without even a glimmer of the courage…
---
Kotaku Monday, May 9, 2022 12:44 PM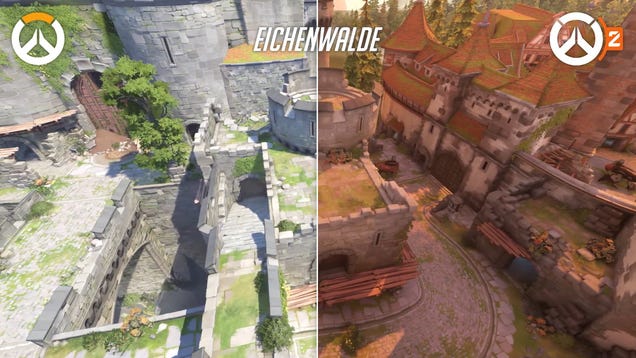 The Overwatch 2 technical beta started on April 26, and players have already started mining the build for content. One player even made a side-by-side lighting comparison video of the differences between the beta and the original game, which recently took off on Twitter. The two video captures appeared to be nearly…
---
PCGamesN Monday, May 9, 2022 6:01 PM
If you've heard about an upcoming PC game, it's probably thanks to the work of an enterprising PR person somewhere in the world. At the inaugural W.A.S.D. event in April, a trio of public relations wizards sat down to talk about the business of games marketing, and how it's changed over the course of two years of COVID-related lockdowns and working from home.
We've been busily uploading all of the W.A.S.D. discussions and talks to our YouTube channel, so if you weren't able to attend in person, don't worry - they've all been saved for your viewing enjoyment. This one features Super Rare Games head of PR Ryan Brown, Sega Europe's Jasmine Koolhoven, and Jon Wilcox from Team17 talking with our very own strategy editor Joe Robinson.
As the panel discusses, videogame PR companies had to quickly work out new ways of getting their clients' games in front of the public. That can be challenging in the best of times for smaller indie games, but it gets even tougher if you're representing a small indie studio.
Best indie games
,
What is W.A.S.D.?
,
Upcoming PC games
---
PCGamesN Monday, May 9, 2022 4:22 PM
Gee, what's happened since Awesome Games Done Quick wrapped up back in January? Well, an obscure little RPG game called Elden Ring launched, for one thing - and speedrunners promptly figured out how to break it and beat it in just a handful of minutes. This year's Summer Games Done Quick is set to kick off in June, and the week of extremely efficient gaming will be capped off by not one, but two Elden Ring speedruns.
Summer Games Done Quick runs June 26 - July 3, and the finale will begin July 2 around 7:25pm PDT / 10:25pm EDT or July 3 at 2:25am GMT / 3:25am BST. The first run will be by Czech speedrunner catalystz, who currently holds the record for all boss runs in both Dark Souls and Dark Souls Remastered. catalystz is also the current record-holder for the all-remembrances run in Elden Ring on PC, which they pulled off in well under the two hours allotted for the all remembrances run at SGDQ.
Remembrances are unique items held by a specific set of powerful Elden Ring bosses. To complete the all remembrances run, catalystz will have to defeat not only all of the main story bosses (like Malenia and Radahn), but also several optional bosses, like the Regal Ancestor spirit.
Best Elden Ring settings
,
Elden Ring bosses guide
,
The best Elden Ring classes
---
PCGamesN Monday, May 9, 2022 3:09 PM
Minecraft effectively spawned an entire sub-genre of sandbox games where you were let loose in a world you could shape as you like by digging, building, and crafting. If you're after a bit of sandbox escapism like Minecraft, Hydroneer update 2.0 launched yesterday - and it's the "biggest update we've ever made", according to the developers.
Hydroneer isn't as complex as Minecraft, as rather than tasking you with travelling through different dimensions, you just need to make money. Head out into the world and look for gold, sell fish you catch, and earn cash however you can manage. As with many of these building games, it starts off simple enough, but things ramp up as you buy new machinery and create your own mining operations.
The latest update, Hydroneer 2.0, adds in hundreds of new items, a "complete rework" of the codebase to make things more stable, an overhauled vehicle system - including the patch note that "trucks no longer fly off into the atmosphere" - and even the first iteration of multiplayer via splitscreen and Steam Remote Play. It's worth noting that some users are saying the multiplayer is a bit janky at the moment, but it doesn't seem to be the case across the board.
---
PCGamesN Monday, May 9, 2022 1:06 PM
From the outside looking in, adding new custom ship skins to the massively multiplayer space game Eve Online might not seem like a particularly noteworthy change - sure, it's nice to be able to personalise your avatar and spaceship, but certainly not essential, right? But in Eve Online, identity drives everything - who you are, what you've done, and the groups you belong to are critically important to the experience and fantasy. The upcoming heraldry system that CCP Games announced at Fanfest 2022 will finally make it official and allow players to establish distinct visual identities for themselves and their corporations and alliances.
It's obvious how important heraldry is to Eve players the moment you walk into an event like Fanfest: the throng of players is peppered with custom-printed alliance T-shirts, jackets, and flags. Those icons are common sights on Eve streams and in forums, but the new heraldry system will make them usable within Eve, too.
The heraldry system isn't just about showing allegiance to a group, however. The new system includes visual modules and add-ons for ships, killmarks, and holograms that will change and grow along with your achievements.
Play Eve Online for free
,
Eve Online Beginners guide
,
Space games
---
PCGamesN Monday, May 9, 2022 12:53 PM
The best computer speakers aren't intrinsic to every gaming PC setup, especially since the best gaming headsets can give you the edge in FPS games. Of course, injecting your ears with gaming sounds comes with the caveat of being tethered to a desk. And while the best wireless gaming headsets can provide you with a degree of freedom, there's nothing quite like filling your gaming cave with high fidelity audio.
Speakers are commonplace within many of the best gaming monitors and laptops, but convenience usually comes with compromise. While integrated speaks work just fine, they often produce tinny audio and a distinct lack of clarity and definition in comparison to good quality, standalone computer speakers.
Naturally, there are a wide range of specs and price points to consider when it comes to computer speaker sets. Whether you're looking for a cheap set of speakers, the best soundbar, a surround sound extravaganza, or you're looking to upgrade to true audiophile sound quality, we've rounded up the top speakers to sit on the best gaming desk. There are even some with RGB lighting if that's your bag.
Best SSD for gaming
,
How to build a gaming PC
,
Best gaming CPU
---
PCGamesN Monday, May 9, 2022 12:51 PM
May 9, 2022: Warner Bros confirms Gotham Knights only has two-player co-op, but doesn't rule out extra modes - and a new reveal is coming tomorrow.
PlayStation may have leaked the reveal of Gotham Knights co-op expanding to feature four players at once, similar to its fellow DC superhero game Suicide Squad: Kill the Justice League. Warner Bros confirms to PCGamesN that campaign co-op is still just two-player as announced previously, but doesn't rule out the possibility of a new multiplayer game mode for four players - and a new Gotham Knights gameplay reveal is coming tomorrow.
Gotham Knights was always a co-op game but was announced as only having support for two players at once - despite including four playable characters and Rocksteady's similar Suicide Squad featuring four-player co-op. The game was originally announced for 2021 but was pushed back to 2022, and won't now release until October.
It's possible developer Warner Bros Montreal used this extra time to add support for four-player co-op. According to the recently updated Gotham Knights' PSN store page (thanks, SuspiciousTension19), the game offers support for up to "4 network players" at once. However, the description still states that Gotham Knights can be experienced "in solo-play or with one other hero". If both are accurate, then WB Montreal could be adding a separate mode with four-player support outside the main open-world game.
---
PCGamesN Monday, May 9, 2022 12:31 PM
Want to know what the best sniper rifle is in Warzone Pacific? There are plenty of options to pick from in the battle royale game, but there's nothing quite as satisfying as a sniper rifle. While this weapon type used to be a sure-fire pick for players back when Verdansk was around, that hasn't been the case since new Warzone map was introduced. That's not to say sniping is dead, far from it, but you do have to think carefully about your surroundings before calling in the best Warzone loadouts.
The latest Warzone Pacific Season 3 update drastically changes how one-shot kills work. Warzone now uses damage range to calculate each bullet's total damage when it hits an enemy player. As a result, you should avoid picking rifles without any potential for headshot kills with a single bullet, as they cannot compete with the best snipers in Warzone.
There are a lot of factors to consider, including which attachments you choose to equip your chosen Warzone sniper with, how confident you are at judging travel time, and what your peeking skills are like. We've analysed the lot to give you the definitive answer on which Warzone Pacific sniper is best for your playing style.
---
PCGamesN Monday, May 9, 2022 12:23 PM
A 360Hz gaming monitor might sound a bit like a novelty, but it could be a game-changer if you're into the best FPS games. Sure, you'll have to stick with 1080p rather than an illustrious 4K resolution, but if you're looking to shoot first and ask questions later, you'll want to prioritise refresh rate. While these screens can come with a premium price tag attached, it's possible to find a deal from time to time, and you can grab over $250 off Alienware's speedy 360Hz panel.
Over on Amazon US, the 24.5 inch Alienware 360Hz Gaming Monitor is down from $627.89 to $367.99, thanks to a 41% discount. While this panels high refresh rate is the star of the show, the screen also packs nifty features like Nvidia G-Sync certification, which should help prevent any screen tearing during Call of Duty: Warzone and Halo Infinite matches.
While gaming monitors are the opposite of a mullet, the business at the back of Alienware's 360Hz panel should help keep your cable party more organised. Two HDMI ports, a display port, and four USB 3.0 ports occupy the back of the panel, meaning you can hook up the best gaming keyboard, mouse, and even a game console alongside your gaming PC.
Best SSD for gaming
,
How to build a gaming PC
,
Best gaming CPU
---
PCGamesN Monday, May 9, 2022 12:13 PM
Statement: a player has broken the KOTOR speedrun world record with a time of under two hours, which was an Any% run without any glitches or mind tricks used - so, they just played through one of the best Star Wars games on PC and managed to complete it in less time than most of us spent on Taris alone.
It's one of the best RPGs on PC, and with the upcoming Star Wars: Knights of the Old Republic remake still on the far horizon, we can understand fans wanting to play the original game. However, others are using the time to speedrun Bioware's massive space game, and these runners are now managing to complete KOTOR in under two hours.
The current world record holder is Seraphim (thanks, TheGamer), who managed to clear KOTOR in a glitchless Any% playthrough in just one hour, 51 minutes. It took them just 23 minutes to clear Taris, one hour and 17 minutes to reach the iconic Revan reveal, and less than two minutes to beat Darth Malak.
Best Star Wars games
---
Rock Paper Shotgun Latest Articles Feed Monday, May 9, 2022 5:24 PM
The RTX 3080 12GB is a little-known variant of the RTX 3080 released late last year. As well as coming with the same memory subsystem as the RTX 3080 Ti - 12GB of GDDR6X attached to a 384-bit interface - it's also faster than the vanilla 3080, with more CUDA and RT cores.
That performance normally comes at a steep premium, but today an MSI Ventus 3X RTX 3080 12GB model is going for a low price over at Newegg. They're asking $810 for the graphics card after a $30 rebate, some $450 below the GPU's ludicrously high MSRP. That makes this model actually cheaper than almost all RTX 3080 10GB cards on the market, and a worthy deal for our hallowed deal archives.
---
Rock Paper Shotgun Latest Articles Feed Monday, May 9, 2022 2:21 PM
Crucial make some of the highest-performance and best value SSDs on the market, and today in the UK three of their best offerings are discounted at Scan. These are the Crucial X6, a 540MB/s portable SSD in 1TB and 2TB sizes, and the Crucial P5 Plus 2TB, a PC and PS5-compatible PCIe 4.0 internal SSD that offers blistering read speeds of up to 6600MB/s.
---
Rock Paper Shotgun Latest Articles Feed Monday, May 9, 2022 12:29 PM
I'm testing an Nvidia GeForce RTX 3090 Ti this week. No fully-formed, review-style thoughts on it yet, though after an unusually stressy installation I do have a question: does it need to be so god-damned big?
"Yes, because heat" is probably the answer, as when you've got as many processor cores as the RTX 3090 Ti, running at such high clock speeds as the RTX 3090 Ti, and with as much memory as the RTX 3090 Ti, it's a bad idea to try building an RTX 3090 Ti that's the size of a postage stamp. But the best graphics cards aren't huge as a rule, and when it's got to the point where new GPUs can't easily fit into a standard mid-tower PC case, it might be time for some course correction.
---
Twinfinite Monday, May 9, 2022 6:58 PM
Today Final Fantasy XIV director and producer Naoki Yoshida released a long statement about the use of third-party tools in the game.
---
Twinfinite Monday, May 9, 2022 5:08 PM
Today is a big day for Microsoft Flight Simulator, as one relevant third-party addon has been released, alongside a couple of juicy news.
---
Twinfinite Monday, May 9, 2022 3:57 PM
Today, Stardew Valley revealed in an official press release that the game has officially crossed the milestone of 20 million copies sold across all platforms since its original release. Alongside this news, it was also stated that 13 million of those came from the PC version of the game alone. You can check out the […]
---
Twinfinite Monday, May 9, 2022 3:14 PM
The schedule for the annual Summer Games Done Quick speedrunning charity event has been revealed, including both new and old games for the week-long marathon. The upcoming event will kick off on Sunday, June 26 with a pre-show followed by a boss rush run of the PlayStation 4 version of Shadow of the Colossus, and […]
---
Twinfinite Monday, May 9, 2022 3:06 PM
If you've ever wondered what playing Animal Crossing New Horizons looks like from the perspective of Tom Nook and all the villagers, then you've got to check out this new short that Youtuber Densle has just created. In the video below, we see a calamity of hilarious things that only Animal Crossing players truly can […]
---
Twinfinite Monday, May 9, 2022 1:33 PM
At Fanfest 2022, developer CCP Games hosted an EVE keynote presentation. Within the presentation, they teased two upcoming projects both set in the universe of their MMO, EVE Online. The first of these two projects is an online tactical first person shooter being developed by CCP Games London Studio. This game will be set in […]
---
Twinfinite Monday, May 9, 2022 1:28 PM
The final season of Attack On Titan is set to premiere in 2023, and longtime fans are sad to see the show's end. Now is a great time to look back on the story overall and catch anything we might have missed while we wait for the finale. As you reminisce through each season, it […]
---
Twinfinite Monday, May 9, 2022 1:16 PM
Today, Ubisoft revealed the roadmap for the newest season of The Division 2, Season 9: Hidden Alliance. Fans won't have to wait long to get their hands on the newest update, as it was also unveiled that the update will go live this Thursday, May 12. Alongside some quality of life changes, the update will […]
---
Twinfinite Monday, May 9, 2022 1:00 PM
Various kinds of supposedly gaming energy drinks have flooded the market in the past few years, but "gaming sake" is a bit more peculiar.
---
Twinfinite Monday, May 9, 2022 12:32 PM
Apex Legends Season 13: Saviors goes live tomorrow, May 10, so Respawn has just released the full list of patch notes to accompany the new season. This patch mostly focuses on weapon adjustments, but there are also some notable Rampart buffs and a Valkyrie nerf that players probably saw coming. Starting with the two characters […]
---
Kotaku Monday, May 9, 2022 11:40 AM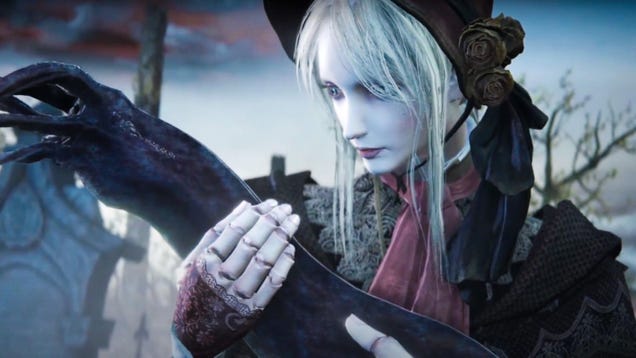 Somewhere, a baby is crying. Their lonely yelps stick to the air like mist sticks to glass. The sound stretches out over the mirror of water upon which Rom, the Vacuous Spider just died as the nightmare moon descends. It trails you through every unlit building, but melts into happy giggles when you slay the child's…
---
Kotaku Monday, May 9, 2022 11:30 AM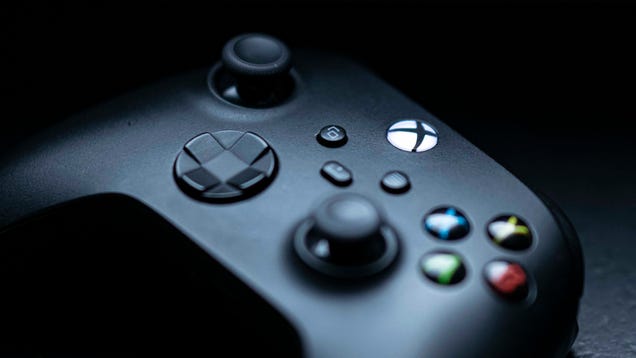 If Xbox Live was Microsoft's online gaming service at the height of its powers, then this past weekend was Xbox Dead. For more than 36 hours in mid May, Xbox players had trouble connecting to the Xbox network. In some cases, players say they couldn't even play single-player games offline that they purchased digitally.

---
Kotaku Monday, May 9, 2022 10:10 AM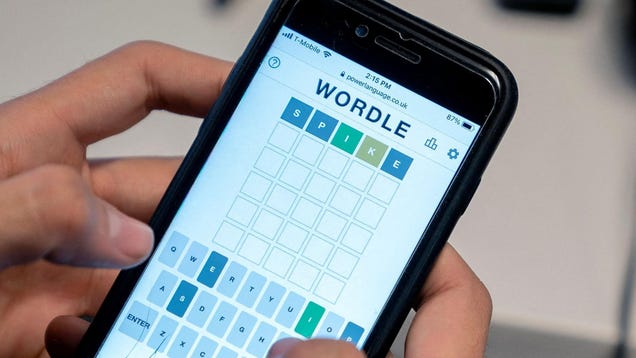 Today's Wordle answer was supposed to be "fetus," and for many it still was, despite The New York Times trying to pull the word ahead of time. In light of reports that the Supreme Court is currently slated to overturn Roe v. Wade and toss out abortion rights for millions along with it, the Greylady said its latest…
---
PCGamesN Monday, May 9, 2022 11:52 AM
Searching for more information about the Apex Legends Season 13 release date? Datamined leaks are fairly common in Apex Legends, and this season is no exception, as we already have a good idea about what may be coming to the battle royale game. There was a large Apex Legends leak back in March, showing off several legends at different stages of development - we hope to see most of these characters at some point over the next two years, although we still have to wait for them to be officially confirmed.
We've also found leaks regarding a special type of loot bin in Apex Legends Season 13 release date which has the potential to drastically change the early game. In addition to some much needed buffs to balance our Apex Legends tier list, Respawn Entertainment has officially confirmed that Newcastle is going to join the Apex Games. Newcastle is Bangalore's brother, she thought Jackson was dead for years prior to his involvement in the games.
Here's everything we know about Apex Legends Season 13, including the latest information on Newcastle, changes to existing maps, and more.
Apex Legends characters guide
,
Apex Legends skins
,
Apex Legends map guide
---
PCGamesN Monday, May 9, 2022 11:34 AM
There are six classes to choose from in Tiny Tina's Wonderlands, each one as badass as the last, but all for different reasons. From the powerful, ice-powered Brr-Zerker to the stealthy Stabbomancer, there's plenty of opportunity to make your mark on the Wonderlands in whatever playstyle suits you.
The real question is, which one should you start with? There's a ton of customisation in Tiny Tina's Wonderlands, but you'll be playing with your starting class for the entirety of your campaign. That's a big choice to make – but we've helped make it a little bit easier.
In our video below, made in paid partnership with 2K Games, we break down three of the six classes available, giving you a closer look at what to expect when you've spent a bit of time getting to know your skills. Our choices offer a look at playstyles from across the class spectrum, from up-close-and-personal gunfights to explosive spells and sweet, cleansing fire. There are more beyond – as well as the Brr-Zerker and Stabbomancer, you can choose from the Clawbringer, Graveborn, Spellshot, and Spore Warden, so there's plenty of choice no matter how you want to play.
Tiny Tina's Wonderlands review
,
Tiny Tina's Wonderlands legendary weapons
,
Tiny Tina's Wonderlands best builds
---
PCGamesN Monday, May 9, 2022 11:31 AM
Trying to find the best assault rifle in Warzone Pacific? The assault rifle is the weapon type with the most variation between each gun. You've got fast-firing, highly mobile assault rifles like the Volk, to hard-hitting battle rifles like the NZ-41. To make things even more complicated, the gunsmith gives players the ability to equip up to ten weapon attachments, introducing hundreds of ways to build the best Warzone Pacific loadouts.
When you throw the weapons from Black Ops Cold War and Modern Warfare into the mix, it can be difficult to choose the best assault rifle in Warzone given the sheer amount of options. We've already broken down the best SMG in Warzone and the best sniper in Warzone, so it's time to run through arguably the most widely used weapon type in Call of Duty's battle royale.
Warzone Pacific Season 3 originally launched with very few changes to the battle royale game, but there was a substantial balance update one week later which drastically changed the weapon meta. Join us as we rank all of the best assault rifles in Warzone Pacific, starting with the pinnacle of the weapon type and working down to the weakest choice.
---
PCGamesN Monday, May 9, 2022 11:29 AM
AMD's Ryzen 7000 APUs could boast integrated graphics that match the performance of an Nvidia RTX 3060 discrete GPU, according to reliable hardware leaker Greymon55. The company's new 'Phoenix' chips will add RDNA 3 GPU cores to notebook-style devices, enabling them to pack the gaming performance of a current-gen gaming laptop.
Greymon55 says the 'Phoenix' Ryzen 7000 APU is equal to an RTX 3060 with a TDP of 60W – the kind of dedicated graphics card you'd find in one of the best gaming laptops under $2,000. While the insider specifically compares AMD's next-gen chip to Nvidia's power limited 'Max-Q' GPU, it's still a potentially impressive feat, especially since the red team's APU will need to split power between processing and graphics cores.
The next-gen Ryzen 7000 APU's performance doesn't just trump Nvidia's entry-level card, as it also improves upon existing integrated graphics solutions. At the moment, the company's current single-chip dies are comparable to a GTX 1650 in terms of gaming performance. Therefore, the elevated specs of the new 'Phoenix' chip will, in theory, bring RTX levels of performance to smaller and lighter devices, like the Steam Deck 2.
Zen 4 CPUs - everything we know
,
RDNA 3 GPUs - everything we know
,
Best gaming CPU
---
PCGamesN Monday, May 9, 2022 11:34 AM
Nowadays, your gaming PC doesn't have to be a hulking tower that dominates your desk, as there are plenty of alternatives on the market. You can get small form factor PC cases, go handheld with Valve's Steam Deck, or mod a mechanical keyboard with a laptop motherboard, dedicated graphics, and Windows 11… just because.
Engineer Carter Hurd is known for their weird and wonderful inventions, from a robot made of fungi to the world's first concrete gaming PC, but the latest creation is as practical as it is wacky. Not only does the chonky gaming keyboard look like a computer concept come to life, it's something Hurd uses as their main PC, including to play games.
The project is rooted in the CyberDeck, which is a blanket term for a tiny all-in-one device with a foldable screen and - more often than not - a mechanical keyboard. Unlike its predecessor, you can't close the lid on this hybrid, as it sports a much more rigid typewriter-like appearance, but it does come with the option to add a portable display on top of the built-in ultrawide gaming monitor.
Best SSD for gaming
,
How to build a gaming PC
,
Best gaming CPU
---
PCGamesN Monday, May 9, 2022 11:29 AM
The best VPN for Chrome is one that's going to keep fans of Google's browser happy, while also making sure that your internet activity remains as discreet as possible. You don't want to be in a situation where your VPN creates loading issues that can affect the performance of your favourite browser - what a load of needless hassle that would be.
So which is the best VPN for Chrome? Well, that's not an easy question to answer, because there are many VPN providers whose services are fantastic. To make it easier for you to narrow your choices down, we've picked out three stand-out options for you - all of which you will also find in our best VPN for gaming and streaming guide.
All of these VPN providers have a Chrome extension that you allows you to easily control your VPN through the browser directly. All you need to do is head to the VPN provider's website, sign up, install the extension, and log in again through it, and you're all set.
Best SSD for gaming
,
How to build a gaming PC
,
Best gaming CPU
---
PCGamesN Monday, May 9, 2022 10:57 AM
Want to know what the best Warzone Cooper Carbine loadout is? The launch of Call of Duty Vanguard and Warzone Season 1 introduced new weapons to the battle royale game, including the long range Cooper Carbine assault rifle.
With the right attachments, this powerful assault rifle is capable of handling enemies at almost every range, but the recent buffs to its long range capabilities in Warzone Season 3 make the best Warzone Cooper Carbine loadout a deadly primary weapon. With just a few slight tweaks, the Cooper Carbine can be used as the perfect accompaniment to the best snipers in Warzone.
The best Warzone Cooper Carbine loadout focuses on a few key upgrades: giving you a boost in accuracy and recoil control, as well as an extended magazine with improved bullet penetration. If the Cooper Carbine isn't for you, other options are available for the assault rifle. So do check out the best STG 44 loadout to see how it stacks up and if it might be the better gun for you.
---
PCGamesN Monday, May 9, 2022 10:41 AM
The famous Elden Ring Let Me Solo Her player - who can be summoned for co-op during the difficult Malenia boss fight and can take her down wearing nothing but a pot and a smile - is preparing a celebration stream as they reach a milestone of 1,000 Malenia kills. Solo, presumably.
As players explored FromSoftware's excellent open-world game, it became obvious that - while boasting some of the best bosses From had ever made - the fight against Malenia at the base of the Haligtree was arguably the most difficult boss the developer had ever made, and many players struggle to defeat her.
Enter player Klein Tsuboi, who - with a lot of practice and death - managed to perfect their skills against the undefeatable swordswoman, then let other players summon his Let Me Solo Her character to let them sit back and watch as Tsuboi finished her off. Now, Tsuboi is preparing to celebrate their millenary of massacred Malenias as they near 1,000 versions of the intimidating boss slain. You'd think she'd stop coming back for more.
Best Elden Ring settings
,
Elden Ring bosses guide
,
The best Elden Ring classes
---
PCGamesN Monday, May 9, 2022 10:22 AM
It looks like you'll need an internet connection to install Windows 11 soon, as the latest insider preview build imposes the steps on Pro Edition users. According to the company's blog, you'll need to connect your gaming PC, laptop, or tablet to the internet when setting up the OS for the first time for personal use, and signing in using a Microsoft account is also required.
Microsoft previously outlined its mandatory Windows 11 requirements back in February, with the company warning beta users to "expect Microsoft Account to be required in subsequent WIP flights." As of now, only Windows 11 Enterprise users will be able to install the operating system without connecting to the internet and logging in. Non-beta users won't be immediately affected by the change, but it looks like the company is intending to make internet connectivity and online accounts a permanent setup fixture.
Not everyone will be bothered by having to connect to the internet and log in while installing Windows 11. Yet, the decision to make both steps mandatory could serve as a barrier, especially when it comes to making the jump from Windows 10. That said, Microsoft's latest operating system isn't particularly accommodating to those without an internet connection in the first place, as you can't actually buy a physical retail copy.
Microsoft DirectX Raytracing
,
Microsoft Hololens hands-on
,
Windows Game Mode preview
---
PCGamesN Monday, May 9, 2022 11:19 AM
So, you want to know about the best 4X games? At its core these types of strategy games allow the player to do four things; eXpand, eXploit, eXterminate, and eXplore. Many relish the turn-based focus as it allows players to think before each move, and yet still allow control over vast empires and globe-spanning endeavours.
We've compiled a list of some essential 4X games that you should consider adding to your game library. The term was originally coined by guide writer Alan Emrich in the ancient past of 1993, but the concept of guiding a nation, space fleet, or strange fantasy species across generations through diplomacy, war, and technological progress has always proven to have endless appeal.
We're skewing our list more towards modern titles as we don't think another list touting MOO2 as the grand 4X daddy does the gaming community any real service, and we've also tried to expand this list beyond merely games like Civilization. While these games have helped shape the genre there are plenty of new entries that are trying to leave their own mark and we believe they deserve the attention more than the old legacies.
The best Civ 6 mods
,
The best Civ 6 civs
,
Play Civilization VI
---
PCGamesN Monday, May 9, 2022 9:28 AM
What are the best WW2 games on PC in 2022? The most devastating conflict in our species' history of fighting over land and ideologies has been distilled into heroic charges, tense dogfights, epic digital wars, and savage battles many times over. The greatest generation deserves only the greatest games, and we've compiled a list of the top World War II games to play right now.
Whether you're looking for the grittiness of a beach landing, the strategy of battle planning, the thrill of an aerial dogfight, or intense camaraderie experienced by a band of brothers, there's bound to be a World War II game that has something to offer you. It's the most prolifically covered topic in military history, and with each successive wave of interest we get newer, punchier games that benefit from slick, modern design.
So from massive, free-to-play vehicular battlefields to complex war games, you're bound to find something below to keep you duking it out for countless hours in our round-up of the finest WWII games on PC.
Play War Thunder for free
,
Tank games
,
Best WW2 games
---
PCGamesN Monday, May 9, 2022 9:20 AM
Looking for Roblox promo codes? There are all sorts of promo codes from Roblox events and giveaways out there, that grant you free virtual goods like clothes and items. No need to fork out cash for accessories; new codes are added all the time, so you can keep your Roblox character looking fresh.
Roblox promo codes won't hang around forever, though - they're only valid for a limited time, so be sure to redeem them as soon as you discover one you haven't used yet. Redeeming them is simple - log in to the Roblox website and navigate to their promo codes page, where you can enter your code, and the item will automatically be added to your account straight away.
Promo codes aren't the only source of free items, though; you can also find free Roblox stuff in the avatar shop. There are far too many to list, but there are hundreds of items available for nothing: simply click the 'get' button next to their catalog listing to add them to your account. Be sure to check back here regularly, as we'll update this page whenever new Roblox promo codes are released.
Best Roblox games
,
Is Roblox shutting down?
,
Best Minecraft seeds
---
PCGamesN Monday, May 9, 2022 9:12 AM
Looking for Genshin Impact codes? MiHoYo's charming open-world game is notoriously addictive, and if you're anything like us, you're constantly on the lookout for more Genshin Impact primogems and other goodies.
Gathering currency in Genshin Impact can be quite the grind - while you can earn mora and primogems by completing quests such as daily commissions, an injection of extra funds will always be gratefully received. Fortunately, the developers MiHoYo occasionally send out free gifts in the form of Genshin Impact codes that can be redeemed online.
These Genshin Impact codes are released periodically. They frequently appear in MiHoYo's special programs that reveal information about future updates coming to the game soon, but are also released to celebrate milestones or to coincide with Genshin Impact events. Most codes also only work for a limited time - so it's a good idea to redeem them as soon as possible in case you miss out. Codes can only be redeemed once per account. Here are all the current Genshin Impact codes for April 2022, and how to redeem them.
Play Genshin Impact for free
,
Genshin Impact character tier list
,
Genshin Impact leveling guide
---
PCGamesN Monday, May 9, 2022 8:00 AM
AMD and Nvidia GPU prices have taken yet another step towards normality, as the best graphics card costs now average 10% above MSRP in Germany. According to figures published by 3DCentre, you can now grab the RTX 3090 and Radeon 6900XT for less. However, the stat site caveats that while we're seeing the "lowest average price reductions of recent times," the imminent arrival of RDNA 3 and RTX 4000 cards means we should actually be paying even less.
3DCentre's data shows that Nvidia GPU prices now average 14% over MSRP, while AMD fans only have to fork out 6% more for an RX 6000 series graphics card. It's worth mentioning that there are some exceptions, as the likes of the Radeon RX 6800 will still set you back 35% more.
The German GPU price trends paired with increased availability are a promising sign, especially if you're eagerly waiting to upgrade your gaming PC. Yet, 3DCentre says GPUs should be going for 10-20% below MSRP, as current-gen contenders are about to be replaced by next-gen graphics cards like the RTX 4090 and Radeon RX 7900 XT.
RTX 4000 - everything we know
,
GeForce Now RTX 3080 review
,
Best graphics card
---
PCGamesN Monday, May 9, 2022 7:59 AM
A new Duke Nukem Forever 2001 leak has appeared online, showcasing unrevealed screenshots, details, and even gameplay footage from the unreleased early version of the infamous FPS game - and the leakers promise to release a playable version of the Duke 4 early build and an editor next month.
While Duke Nukem Forever finally released in 2011 after being taken over by Gearbox, it did not face a warm reception. After a protracted development, it still felt rushed, unfinished, outdated, and ill-advisedly chased 'modern' FPS trends - like a two-gun limit and a harsh regenerating health bar.
Reportedly, the reason it took so long was that 3D Realms scrapped multiple versions of the game, so it's understandable that getting hold of one of these early versions has become something of a holy grail for fans - particularly the Unreal engine 1-powered 2001 build, which the E3 trailer was based on. There were hints that the Duke Nukem Forever 2001 build may get officially released, but now some leakers seem to have got hold of it, complete with screenshots and a brief bit of gameplay.
---
PCGamesN Monday, May 9, 2022 7:26 AM
A new Elden Ring Harry Potter mod already looks like the best Wizarding World RPG game, and should ease the wait for the Hogwarts Legacy release date confirmation - adding a wand, broom, and Harry himself to the open-world game.
There are a lot of great Elden Ring mod creations out already, from ones that turn the Souls-like game into a Star Wars Darth Maul RPG or the ultimate Legend of Zelda game. Given the overabundance of magic, sorcery, and even a giant school for witchcraft and wizardry in Elden Ring, it's a surprise it's taken so long for someone to create a Harry Potter-style crossover.
The mod by creator az3163693 adds Harry Potter in his casual wear to replace the Battlemage set. His trusty Nimbus 2000 broom replaces Torrent, although sadly it can't fly any more than Elden Ring's trusty steed can. The appropriately named Elder wand replaces the game's Carian Regal Sceptre and is probably the best part of the set for anyone wanting to cast spells with a smaller wand rather than a staff - just like in Hogwarts Legacy, in fact.
Best Elden Ring settings
,
Elden Ring bosses guide
,
The best Elden Ring classes
---
PCGamesN Monday, May 9, 2022 7:08 AM
Picking the best gaming mouse isn't as easy as it used to be, with more gaming PC brands to choose from than ever before. To make matters more complicated, advancements in low latency technologies mean even the best wireless gaming mouse is just as capable of securing frags as its wired brethren.
Nailing down what the best gaming mouse for your needs can be tricky, as it's a delicate balance of finding the right mix of features and design. You have to juggle comfort, ergonomics, performance, reliability, specs, and, as always, aesthetics. Figure out which of these attributes are most important to you, and then take a dive into the comparisons below.
While it used to be as simple as buying Logitech or Razer, competition is hot with digital rodents from SteelSeries, Corsair, HyperX, and more in 2022. We've tested a wide variety of gaming mice and have narrowed down our favourites based on the genres of games, grip styles, and hand sizes they're most suited to. You'll also find more affordable options too for those of you that don't mind sacrificing a few features.
Best SSD for gaming
,
How to build a gaming PC
,
Best gaming CPU
---
PCGamesN Monday, May 9, 2022 6:51 AM
When seeking to protect your privacy on the internet, it is reasonable to ask the question 'Which is the fastest VPN?' After all, while VPNs can help you to speed up your connection speeds by stopping your internet service providers from limiting your bandwidth, that benefit is rather nullified if the VPN itself has particularly slow download speeds.
So which is the fastest VPN? Well, to answer that question, it's best to look at the download speeds of the major VPN providers. This can be most easily quantified in megabits per second (Mbit/s).
However, one problem that we face in determining the fastest VPN is that, by their very nature, VPNs use a huge number of different servers, and different servers can be faster or slower than one another. Two people using the same VPN provider, for example, might experience different connection speeds because one of them uses a server in Japan, while another uses a server in Argentina.
Best SSD for gaming
,
How to build a gaming PC
,
Best gaming CPU
---
PCGamesN Monday, May 9, 2022 9:35 AM
Want to know how to evolve weapons in Vampire Survivors? This roguelite indie game is rapidly gaining in popularity, as players discover the sheer joy of walking around a forest or library, slaying an ever-growing encroaching horde of monsters that just want to be very close to you.
It's a relatively simple game to play, but mastering it and unlocking Vampire Survivors characters can get a little tricky if you don't spec into the correct build from the start. To evolve an item in Vampire Survivors, you must first level up a weapon to its maximum level, collect its linked item when it appears on the level up screen, then kill a boss monster and open the chest it leaves behind. Unfortunately, you only have a few slots for weapons and items, so you must choose carefully.
The items that synergise well with a weapon aren't necessarily the items you need to evolve them, so while you'll want to pick up the Candelabrador if you have the Garlic weapon, you also need a Pummarola to power it up. To help you figure out which items you should keep on a run with the best Vampire Survivors characters, we've put together a list of all the possible Vampire Survivors weapon evolutions and which items you need to pick up when you level up.
The best survival games on PC in 2022
,
Vampire Survivors weapon evolution guide
,
The best Vampire Survivors build
---
PCGamesN Monday, May 9, 2022 6:46 AM
The battle between AMD and Nvidia to produce the best graphics card shows no signs of slowing down, with the Radeon RX 6000 and GeForce RTX 3000 series hot on each other's heels. However, the state of play could change significantly with the arrival of Intel Arc Alchemist cards later this year, but it remains to be seen whether they'll be enough to stand up to upcoming RDNA 3 or RTX 4000 GPUs.
Whatever your budget, we're confident you'll find the best graphics card for your needs among AMD and Nvidia's current product stacks. That said, you could save even more cash by grabbing a GPU of yesteryear on the used market. Even pixel pushers from a few generations ago are still more than capable of running the best PC games, providing you're willing to turn a few settings down.
Don't forget that you'll want to equip your gaming PC with the best gaming CPU you can buy in addition to your new graphics card, else you may encounter processor bottlenecks in many videogames. This is particularly important if you play on one of the best gaming monitors, with a high refresh rate.
Best SSD for gaming
,
How to build a gaming PC
,
Best gaming CPU
---
PCGamesN Monday, May 9, 2022 6:38 AM
Another Intel Arc Alchemist delay could be on the cards, as the desktop GPU range might not release until late summer. Sources close to Igor's Lab suggest the gaming PC part may arrive as late as August, with the publication speculating that software issues are to blame.
Rumblings from the rumour mill previously suggested that an Intel Arc Alchemist delay would push the blue team's desktop graphics card release date to late summer, but specified that they'd potentially show up in early Q3 2022. News of yet another delay threatens to extend the PC GPU's arrival past the company's vague summer 2022 window, meaning it might end up entering the fold shortly before the upcoming Nvidia GeForce RTX 4000 series.
It's worth reiterating that Intel hasn't announced an official Arc Alchemist desktop GPU release date, so it's probably best to take any related rumours with a grain of salt. There's also reason to believe the delay solely affects the lineup's flagship graphics card, the A780, as Insiders have informed Wccftech that A750 and A380 variants may show up as early as this month.
Arc Alchemist GPUs - everything we know
,
Raptor Lake CPUs - everything we know
,
Best gaming CPU
---
PCGamesN Monday, May 9, 2022 6:18 AM
What are the best Sims 4 mods? The Sims became a must-have simulation game on the PC when it first released in 2000, and 20+ years later the series is still going strong. In 2020 The Sims 4 made $1 billion and attracted nearly five million new players. But where is all this success coming from
? You could point to the life game's consistent content drops and expansion packs, but we suspect it's The Sims 4's strong library of user generated content that's keeping the lights on.
The Sims 4 mods community is thriving. These modders are a lively bunch who create plenty of weird and wonderful additions to the base game. Their creations can be found over at ModTheSims, which hosts a wealth of community-made free mods for you to download and enjoy as you please. Installing mods is simple enough - all you need to do is drag the mod files over to the game's mod folder. In a typical setup, this should be Documents/Electronic Arts/The Sims 4/Mods.
Make sure you enable the mods in-game as well before you try using them. We've compiled a list of what we think are the best Sims 4 mods accompanied with links to all the download pages. Be sure to read the install instructions for each mod, and if you enjoy one make sure to give the creator a little love.
Best Sims 4 mods
,
Best Sims 4 sex mods
,
Play The Sims 4
---
Rock Paper Shotgun Latest Articles Feed Monday, May 9, 2022 11:43 AM
The stylish, retro-futurist trappings of strategic roguelike RFM made it one of the most eye-catching demos of last autumn's Steam Next Fest. Since then, though, we haven't heard much about it - until now. Developers Bromio have finally broken cover again with RFM, giving it a new name and offering up a brand-new demo for everyone to play as it heads to Kickstarter to help push its development over the finishing line. Now known as Remnants Of The Rift, I've been putting this toe-tapping roguelike through its paces.
---
Rock Paper Shotgun Latest Articles Feed Monday, May 9, 2022 11:21 AM
The free-to-play card battler hit Yu-Gi-Oh! Master Duel sees a major update today, Konami have announced. The update is already live and introduces new cards and packs, adds more to the single-player campaign and alters Master Duel's list of banned Forbidden and Limited cards for the first time. The next in-game event, the Fusion Festival, offers new rewards and rules starting on May 12th, too.
---
Rock Paper Shotgun Latest Articles Feed Monday, May 9, 2022 10:10 AM
Today's Wordle answer has been changed to prevent any connection by players to an ongoing "major news event", The New York Times have revealed in a statement. The prominent US newspaper said they wanted the viral word-game hit to "remain distinct from the news". Maybe they should have considered that before they bought Wordle for a seven-figure sum in February?
---
Rock Paper Shotgun Latest Articles Feed Monday, May 9, 2022 10:00 AM
Salt And Sacrifice is a 2D metroidvania hunt-a-thon that casts you as a condemned prisoner in an imperiled kingdom. Magic is corrupting the land, giving rise to monstrous creatures and ravenous undead, and the source of all of this destruction, Mages, must be hunted and their hearts devoured if the Kingdom is to survive. Like Ska Studios's previous outing, the game features difficult combat, extensive equipment options, and hulking bosses to slay. But while the scale has increased and the combat and visuals are as slick as ever, there are some growing pains that only just manage to hold the game back from its full potential.
Upon booting the game up, it's immediately clear that you're in for a visual treat.The design and detail are just ever so lovely: from the way firelight gives a soft glow to its surroundings in the twilight, to how fog wafts lazily over cobble stairways in a musty dungeon, it's all just so utterly gorgeous to look at. Ska Studios have always had a recognizable art style – imposing architecture and grungy moppets – but it's plain to see here that they've upped their game in the best possible way. According to the devs, every asset was created from scratch, and that care shows in every frame.
---
Rock Paper Shotgun Latest Articles Feed Monday, May 9, 2022 9:39 AM
Every weekend, indie devs show off current work on Twitter's #screenshotsaturday tag. And every Monday, I bring you a selection of these snaps and clips. This week, my eye has been caught by undersea dread, a lot of pretty watercolours, big monsters, and an actual real cat.
---
Rock Paper Shotgun Latest Articles Feed Monday, May 9, 2022 9:00 AM
I spent much of my childhood hunkered around the family PC using an emulator to run Teenage Mutant Ninja Turtles: The Arcade Game. Years have passed since I last played, causing the vague memories to distort into a recollection that's nothing like reality. In my head, that first arcade game captured the frenetic energy of the TMNT cartoons I'd watch on a Saturday morning. The reality was quite different, with the turtles awkwardly bumbling through Manhattan while occasionally smacking an enemy.
That realisation has never been more apparent than after playing the first two levels of Teenage Mutant Ninja Turtles: Shredder's Revenge, a successor to those early beat 'em up TMNT arcade games being developed by Tribute Games and published by DotEmu. It captures the aesthetic of those childhood memories and makes them a reality, which is a testament to Tribute Games' understanding of TMNT as a brand. But it also feels far too familiar, failing to substantially innovate on the original formula.
---
Rock Paper Shotgun Latest Articles Feed Monday, May 9, 2022 6:47 AM
Superhero open-world action RPG Gotham Knights will be playable in four-player online co-op, according to a leaked PlayStation store listing. A screenshot of the game's PlayStation store page was posted to the Gotham Knights subreddit over the weekend by keen-eyed user SuspiciousTension19, which shows that it will support "4 network players". Eurogamer have confirmed that the listing is accurate, too. We don't know yet whether this will also apply to PC players, of course, but it's highly likely to be the same across all platforms.
---
Twinfinite Monday, May 9, 2022 11:44 AM
Apex Legends 13: Saviors is going live tomorrow, so Respawn is releasing the last of the trailers it has stored up to get players ready for what's to come. This Battle Pass trailer gives us a good look at new Legendary skins for Bloodhound, Fuse, and the Spitfire, along with many more cosmetics. As usual, […]
---
Twinfinite Monday, May 9, 2022 11:31 AM
Today, Youtuber Shesez released a brand new video in which they explore the out-of-bounds area of The Stanley Parable: Ultra Deluxe. While the channel is known for this type of thing, calling it Boundary Break, this video is extra special, as Lead Designer William Pugh and Kevan Brighting, The Narrator, joined in on the fun. […]
---
Twinfinite Monday, May 9, 2022 11:08 AM
Today, TOHO animation released a brand new, full-length trailer for the upcoming film release of Teasing Master Takagi-san. In the trailer, we see a little bit behind the plot of the upcoming film, which sees Takagi and Nishikata finding a cat just before their summer vacation. Just like the television version of the anime, the […]
---
Twinfinite Monday, May 9, 2022 10:50 AM
Square Enix is preparing to celebrate the 20th anniversary of its venerable MMORPG Final Fantasy XI with new merchandise.
---
Twinfinite Monday, May 9, 2022 10:45 AM
Love, Death, & Robots is back for a third season after building up what has become an Emmy-award-winning series. Netflix has just dropped a new trailer for Love, Death, & Robots Volume 3 to tease the new episodes that will be released on May 20. It's also been stated that Tim Miller (Deadpool, Terminator: Dark […]
---
Twinfinite Monday, May 9, 2022 10:40 AM
Earlier today, 20th Century Studios dropped a brand new trailer for its upcoming sci-fi spectacular, Avatar 2: The Way of Water. Scheduled to arrive exclusively in theaters this coming Dec. 16, fans of the epic sequel will no doubt be pleased to get yet another peek behind the curtain for the much-anticipated follow-up to the […]
---
Twinfinite Monday, May 9, 2022 10:35 AM
Ever since Disney bought 20th Century Fox, all anyone can think about is how the acquisition will bring new characters into the MCU, especially the X-Men. What nobody saw coming was that the company decided to officially reboot the classic and beloved X-Men: The Animated Series, titling it X-Men '97 Regardless of whether you've seen […]
---
Twinfinite Monday, May 9, 2022 10:19 AM
EA announced a partnership with Middle-earth Enterprises for a new mobile game titled The Lord of the Rings: Heroes of Middle-earth.
---
Twinfinite Monday, May 9, 2022 10:00 AM
Salt and Sacrifice on PC Thinking back on it now, a large part of why I enjoyed Ska Studios' Salt and Sanctuary so much was likely because my Soulsborne craze was at an all-time high. I'd just gotten 100% completion in Bloodborne, I beat Dark Souls III and 100%-ed that as well, and in came […]
---
Twinfinite Monday, May 9, 2022 4:00 AM
Ozark is a Netflix drama series that ran for four seasons and forty-four fantastic episodes. The show starred Jason Bateman and Laura Linney as Marty and Wendy Byrde, a couple who moved to the Ozarks so Marty could pay back a drug cartel by laundering their money. The show had its ups and downs but […]
---
Siliconera Monday, May 9, 2022 11:30 AM
The 5.7 update is coming to Honkai Impact 3rd soon, and it will add an Aponia Disciplinary Perdition battlesuit. This will yet again mark the transition of a 13 Flame-Chasers character from opponent to playable. There's no exact date for her debut. However, HoYoVerse explained more about the S-rank battlesuit, its equipment, and its moveset.
Aponia will be the second playable character to use the new chakram weapon in Honkai Impact 3rd. The first was fellow 13 Flame-Chasers member Pardofelis. Aponia will deal lightning damage, just as she does in Elysian Realm. She will also be a BIO-type character.
The Disciplinary Perdition Honkai Impact 3rd battlesuit moveset also came up. This is a character with two forms known as Conviction and Predicator's Sentence. Also, all of her attacks deal lightning damage. Her basic attack is Love and Hate, Discerned. Her Good and Evil, Absolute combo attacks shift based on whether she is in Conviction or Predicator's Sentence form. When she's in Conviction form, she will actually be floating. Building up Redemption while in that form will change her to Predicator's Sentence. That means more damage, constant thunderstorms, and eventually an Inhibitor's Adjudication attack when Redemption runs out. Her Ultimate is This Sin, Inexorable. These all call back to her Elysian Realm fight.
Honkai Impact 3rd is available on PCs and mobile devices, and the Aponia Disciplinary Perdition battlesuit will appear when 5.7 launches in the near future.
The post Honkai Impact 3rd Aponia Disciplinary Perdition Battlesuit Will Appear in 5.7 appeared first on Siliconera.
---
Siliconera Monday, May 9, 2022 11:00 AM
A subscription service dedicated to otome games by Idea Factory's Otomate brand has appeared on PCs and mobile devices in Japan. Idea Factory worked with NTT Plala's Hikari TV to launch Otomate Collection on May 9, 2022. Users who subscribe to this service will gain access to visual novels, anime shows, and theater performances of Otomate's franchises like Hakuoki and Amnesia.
By paying a monthly membership fee of 858 yen (~$6.54), subscribers will be able to enjoy various otome franchises on web browsers. They can make payments with a credit card or a Japanese mobile phone carrier company. Idea Factory recommends users access the content on at least iOS 14.0, Android 11.0, or Windows 10 with the latest versions of Safari or Chrome browser.
The service includes content related to Hakuoki, Hiiro no Kakera, Amnesia, and Nil Admirari no Tenbin visual novels at launch. Subscribers can instantly access Hakuoki, Hiiro no Kakera, and Amnesia visual novels. They can also watch the anime adaptations of the above four franchises, in addition to musical and stage shows of Hakuoki and Nil Admirari. The first episodes of the anime shows are available for free without an active subscription, although the platform still requires all viewers to create their own user accounts.
Idea Factory will add more otome games to the PC and mobile service lineup in the near future. It will begin the post-launch additions with two Nil Admirari visual novels in July 2022.
Otomate Collection is available for PCs and mobile web browsers in Japan.
The post Otomate Collection PC and Mobile Service Features Many Otome Games appeared first on Siliconera.
---
Siliconera Monday, May 9, 2022 10:30 AM
Following Dragonsong's Reprise Ultimate being cleared in Final Fantasy XIV, Square Enix acknowledged the achievement on Twitter. However, it wasn't the only announcement. The company didn't name the team to defeat it first, only mentioning "the first teams" accomplished the goal. It then followed that with a reminder from Director and Producer Naoki Yoshida that people aren't allowed to use FFXIV third-party tools.
Yoshida started out by explaining that all FFXIV third-party tools aren't allowed. He specifically mentioned ones that modify the UI, make the game easier, and are packet spoofing. Any reported misuses will be investigated. People caught will be suspended or permanently banned.
Yoshida also mentioned that the team will be working on the HUD and UI to help them display the same sort of information as some FFXIV third-party tools. He noted this is a response to people who use those programs to take on certain duties. There's no expected launch window for it.
After that, the Dragonsong's Reprise Ultimate FFXIV raid came up. Yoshida mentioned its difficulty level, but assure folks it can be completed without third-party tools. He specifically said, "…We've only released duties that we have proven can be beaten with the game's standard features." He noted that Square Enix will stop recognizing teams who are first and sharing time-stamps completely if people use third-party tools and break rules.
Finally, the announcement ended by noting FFXIV server emulation isn't possible and condemning data mining that does things like acquire Dragonsong's Reprise Ultimate data ahead of its launch.
Final Fantasy XIV is available for the PlayStation 4, PlayStation 5, and PC.
The post FFXIV Third-Party Tool Stance Reiterated After Dragonsong's Reprise Ultimate appeared first on Siliconera.
---
Siliconera Monday, May 9, 2022 10:00 AM
Sonic the Hedgehog will appear at the Summer Sonic 2022 music festival on August 20-21, 2022. This will mark the first-ever collaboration between Sega's iconic mascot and the annual Japanese event that shares a similar name.
The Tokyo venue will have the appearance of Sonic the Hedgehog on the aptly named Sonic Stage. On the first day of August 20, 2022, it will feature St. Vincent, Kacey Musgraves, Vaundy, Awesome City Club, Squid, and Chai. The second day will have Carly Rae Jepsen, CL, Endrecheri, Queen Bee, Griff, Chanmina, and Salem Ilese on the same stage.
Sonic the Hedgehog will only appear in the primary Tokyo venue. While the festival will appear simultaneously in Osaka, the latter's Sonic Stage will not feature the iconic hedgehog. Creativeman will also hold SonicMania 2022 ahead of the main festival on August 19, 2022. Despite having a similar name to the 2017 video game, Sega's mascot hedgehog will not appear in this event either.
Summer Sonic is a large-scale Japanese music festival that has appeared annually since 2000. Many popular musicians from both inside and outside Japan perform at this event. The 2022 event will also have appearances by One Ok Rock, Man With A Mission, and Asian Kung-Fu Generation, although they will perform at different stages.
The Summer Sonic 2022 music festival will occur in Tokyo and Osaka on August 21-22, 2022 and feature Sonic the Hedgehog.
The post Sonic the Hedgehog Will Appear at Summer Sonic 2022 Music Festival appeared first on Siliconera.
---
Siliconera Monday, May 9, 2022 8:00 AM
Qureate has created The Future You've Been Dreaming Of. Rather than a potential life path for customers, that's the title of a new game. It's coming out on the Nintendo Switch eShop on May 19, 2022. The game supports Japanese, English, and Chinese (Simplified and Traditional) language options.
Check out the game's debut trailer.
https://www.youtube.com/watch?v=P36uNCZ5qi4
The Future You've Been Dreaming Of is a life simulator. Players take on the role of a Zashiki-Warashi, a type of supernatural creature from Japanese folklore. Zashiki-Warashi are mischievous but benevolent youkai that haunt the inner rooms of residences. They're similar to the poltergeist of western myth. Though prone to performing pranks and other tricks, Zashiki-Warashi are said to bring good fortune to those they share a house with, provided the residents respect them.
As a Zashiki-Warashi, the player shares an apartment with an unlucky college student, Sachi Usui. Sachi is voiced by Yuuki Takada, who also played Elma in Miss Kobayashi's Dragon Maid, Aisha Greyrat in Mushoku Tensei: Jobless Reincarnation, and Yoshino Yorita in The Idolmaster Cinderella Girls. Players are invisible to Sachi but able to affect her surroundings and life. They'll do so by drawing Sachi's attention to various objects or activities that may help her achieve prosperity and find a bright future. The trailer shows off activities like encouraging Sachi to get exercise, cook healthy food, or groom herself. Sachi can also be influenced to dress up in various outfits. Players can steer Sachi's life onto as many as twenty distinct paths depending on their day-to-day actions.
If you're a Nintendo Switch owner, you can obtain The Future You've Been Dreaming Of on May 19, 2022. Other games by Qureate include romance titles like Fantasy Tavern Sextet and IdolDays, and thrillers like Livestream: Escape from Hotel Izanami.
The post The Future You've Been Dreaming Of Debuts on Switch in May appeared first on Siliconera.
---
Siliconera Monday, May 9, 2022 7:00 AM
A pop-up store selling Black Lagoon merchandise will appear in Shibuya's Amnibus Store from May 20, 2022, until June 5, 2022. Items available for purchase include acrylic stands and T-shirts. Additionally, for every item you purchase that is over 2,000 JPY, you can get a random limited bromide card. [Thanks, Famitsu!]
All of the items will use art from the manga rather than the anime. A total of 69 types of items will be available, with some only available for purchase from the online store. Here is a list of some of the merchandise you can purchase from the Black Lagoon pop-up store:
Volume cover glittery can badges (550 JPY each, 6,600 JPY for box)
Volume cover acrylic stand (880 JPY each, 10,560 JPY for box)
Manga lines acrylic keychain (715 JPY each, 7,150 JPY for box)
Big acrylic stand (1,980 JPY)
A3 volume cover poster (880 JPY each)
Lagoon Company Airpods case (1,650 JPY)
Portable charger (4,950 JPY)
Mug (1,650 JPY)
T-shirt (4,180 JPY)
Framed print (14,300 JPY)
[gallery columns="5" ids="926406,926404,926403,926402,926401,926400,926399,926397,926396,926395" link="file"]
Items such as the can badges and acrylic stands are from blind boxes. So if, for example, you want one of a particular character, you may need to try multiple times before you get them. Of course, there is also the option of purchasing the box and collecting all of them. The framed print that costs 14,300 JPY (approximately $109.55) will not be available at the physical store. You will have to purchase it online.
The Black Lagoon pop-up store will be in Shibuya from May 20, 2022, until June 5, 2022. Amnibus does not offer international shipping.
The post New Black Lagoon Merchandise Will Appear in Pop-up Store appeared first on Siliconera.
---
Siliconera Monday, May 9, 2022 6:00 AM
In an interview with Weekly Bunshun, FFXIV director and producer Naoki Yoshida discussed the success of the popular MMORPG. In response to comments comparing FFXIV to the Metaverse, Yoshida revealed that he did not see the Metaverse as similar to FFXIV. Furthermore, Yoshida stated that he did not see the Metaverse as a form of entertainment in itself. [Thanks, ryokutya!]
Though there isn't an exact definition, the Metaverse is generally considered to be a virtual world where users interact with others using avatars. The Metaverse has also become a hot topic for gaming and social media companies alike. Square Enix President Yosuke Matsuda even expressed interest in the concept in a New Year's letter.
Due to their similarities, people have compared the concept to other existing virtual ecosystems such as MMORPGs. Yoshida, however, believes that the two aren't related. "To me, I see the Metaverse as 'a system that replaces reality with a virtual world.' So I don't think the Metaverse has anything in common with entertainment," Yoshida stated, distancing it from FFXIV.
Yoshida continued with his own interpretation, stating, "... In the Metaverse I'm thinking of, people will be able to use an avatar in virtual reality, and take a stroll in Shinjuku or do shopping, just like in real life. Though it might be fun, there's no entertainment there. 'What's so interesting about the systems of our real world?' is how I feel." On whether or not he'd participate in a Metaverse project, Yoshida clarified that he would "make something entertaining within the virtual reality rather than a Metaverse itself," but did not have any plans to do so.
Other notable figures and companies within the Japanese video game industry still seem keen on the idea, however. Square Enix's Yoshinori Kitase joined his CEO in expressing interest in the concept in an end-of-year Famitsu column last year. Bandai Namco also recently revealed plans to create an IP metaverse featuring Mobile Suit Gundam.
The post Naoki Yoshida Doesn't Think the Metaverse is 'Entertainment' appeared first on Siliconera.
---
Siliconera Monday, May 9, 2022 5:30 AM
The newest serial manga in Weekly Shonen Jump, Super Smartphone, is available for English readers via Viz Media. Readers will be able to keep up in real-time with Japanese releases. The first chapter is 57 pages long.
Spoiler alert: This article will briefly cover events from Chapter 1 of the Super Smartphone manga.
Super Smartphone follows the story of Kyu "Q" Sagurada, who is in his first year of high school. One day, he finds a toy smartphone in his bag that has the "Googugu" search engine. He realizes that Googugu can search for things like confidential information, like where people dropped money, though it does have its limitations. Kyu then uses Googugu in order to solve a case. As the series goes on, he might find a way to use the device to find his missing little brother Shu, who disappeared years ago.
Hiroki Tomisawa, who worked on Senka no Kanojo is the writer. Kentaro Hidano, from ZIGA, is its artist. It is a thriller. It shares some similarities with Death Note, which was also a Weekly Shonen Jump series involving a genius protagonist who uses an everyday item that is extraordinarily powerful. Both the Death Note and Googugu have limitations on what they can do, so both Light and Kyu need to find ways around them to maximize the object's capabilities.
Super Smartphone is available in Weekly Shonen Jump and Viz Media and will update on a weekly basis. Other recent manga available through Viz Media include Alice in Borderland and Kubo Won't Let Me Be Invisible.
The post Super Smartphone Manga English Localization Available via Viz Media appeared first on Siliconera.
---
Siliconera Monday, May 9, 2022 5:00 AM
Five more Street Fighter characters will join the Brawlhalla roster starting on May 25, 2022. The short trailer shows how M. Bison, Ken, Sakura, Dhalsim, and Luke will look in-game. They will be joining Ryu, Chun-Li, and Akuma, who are already available crossover skins in Brawlhalla. The Street Fighter characters aren't actually added into the game. They appear as outfits players can use to dress up existing characters.
The trailer shows off what the Street Fighter characters look like in combat. There will also be a new stage. It is the Bustling Side Street. This stage is taken from Street Fighter V and is one of the first stages shown when Capcom initially revealed the game.
Here is the Brawlhalla x Street Fighter part 2 trailer:
https://www.youtube.com/watch?v=eIVGwPq4n70
As mentioned previously, the Street Fighter characters are actually skins for existing characters, rather than new cast members. The crossover characters are:
Brawlhalla is a free-to-play fighting game available on multiple platforms. It has both solo and co-op modes. You can play with up to eight players either locally or online. Brawlhalla previously featured crossovers with series such as Adventure Time, Steven Universe, and Kung Fu Panda.
Brawlhalla is free-to-play on the PS5, PS4, Xbox Series X, Xbox One, Nintendo Switch, Windows PC, and mobile devices. The Street Fighter characters will be available in Brawlhalla starting on May 25, 2022.
The post Five More Street Fighter Characters Will Appear in Brawlhalla appeared first on Siliconera.
---
Destructoid Monday, May 9, 2022 12:00 PM
---
Destructoid Monday, May 9, 2022 11:30 AM
---
Destructoid Monday, May 9, 2022 11:00 AM
---
Destructoid Monday, May 9, 2022 10:00 AM
---
Destructoid Monday, May 9, 2022 9:00 AM
---
Destructoid Monday, May 9, 2022 8:00 AM
---
Destructoid Monday, May 9, 2022 6:30 AM
---
PC Invasion - FeedDDD Monday, May 9, 2022 10:45 AM
Although Black Ops Cold War's life cycle has come to an end, Treyarch has continued to support the title. Towards the end of April, new Zombies content was released as a new Easter egg. Also, the most recent update saw the Jungle map added to the multiplayer map rotation. Now, another surprise has dropped in Black Ops Cold War in the form of the new UGR submachine gun. Before you begin trying it out for yourself and leveling it up, you have to complete a challenge to unlock the weapon. The UGR is fully automatic and described as having moderate bullet velocity. To get your hands on it, all you have to do is use a submachine gun to kill an enemy revealed by your Spy Plane, UAV, or Field Mic in 15 different matches. Equip your favorite submachine gun in Black Ops Cold War multiplayer and make sure you have the Spy Plane and Field Mics on your loadout. In Warzone Pacific, the Owen Gun and MP40 have taken the top spot as the best submachine guns in the battle royale. You will ...
---
PC Invasion - FeedDDD Monday, May 9, 2022 9:49 AM
It's no secret to any League of Legends players that the game can feel a bit fast right now. But League of Legends developer Riot Games is singing a sweet tune to players who main squishy champions, as it released a list of changes intended to slow down the pace of the game. Increased durability is going live for each champion in League of Legends. This means with these changes, you hopefully will feel a little less helpless when being dove by an assassin as an ADC or mage. Unfortunately, this might mean assassin mains might have to work a little harder. Increased durability should lower the amount of damage present in League of Legends, which players noted was a little too high. Instead of going through each champion and lowering their damage individually, all champions will instead receive increased base health, more health per level, more armor per level, and more magic resist per level. System mechanics like Baron Nashor, Turrets, and mana regeneration are getting buffs, with...
---
Tabletop Gaming News Monday, May 9, 2022 11:00 AM
---
Tabletop Gaming News Monday, May 9, 2022 10:00 AM
---
Tabletop Gaming News Monday, May 9, 2022 9:00 AM
---
Player Assist | Game Guides & Walkthroughs Monday, May 9, 2022 11:09 AM
Despite Form Software's efforts to make the Soulsborne genre more appealing and accessible to the masses, it's no secret that Elden Ring is excruciatingly difficult, especially if you're new to the genre. Whether you're going toe to toe with one of the shardbearers or its optional bosses, it's better to be well-prepared. One of the many […]
---
Pivotal Gamers Monday, May 9, 2022 9:06 AM
Hello all. gamehag holds a new giveaway for multiple games. This is what they say. Get the reward Random CD-Key. To get this key your Steam level must be at least 3. Last minute notes Login with your gamehag account, complete all steps to get your key. So what are you waiting for? Click on the button below to get you started. It's that easy! Want to be the first to know? for a huge selection...