---
Kotaku Monday, May 30, 2022 3:40 PM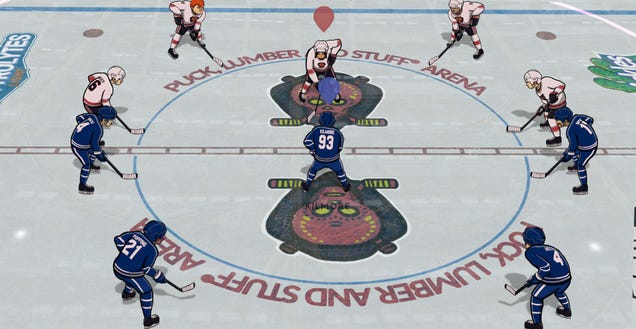 As if the previous fifteen indie games weren't enough for you, here is another collection of interesting-looking in-development indie projects that you should very probably pop on your wishlist. Scroll on to discover at least something that's going to catch your eye (wallet).

---
Kotaku Monday, May 30, 2022 12:00 PM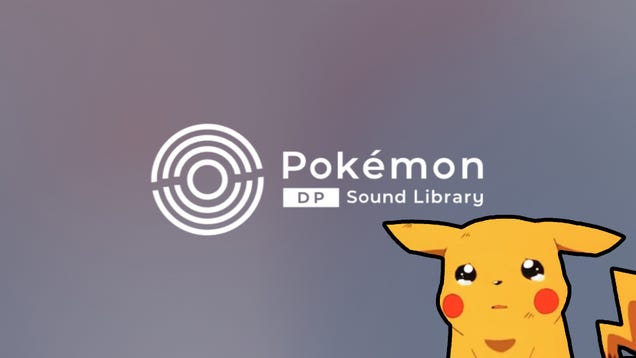 Back in February, Nintendo made a very out-of-character move and provided access to a huge library of Pokémon Diamond and Pearl's sound effects and music, even encouraging people to use them in their own (non-commercial) projects. What a lovely thing to do! So of course, three months later, it's closing it down.

---
Kotaku Monday, May 30, 2022 10:45 AM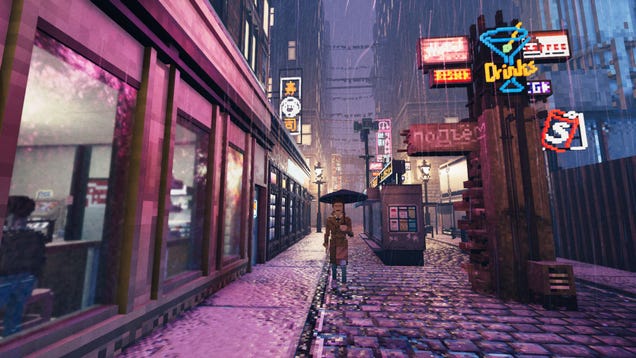 "...no, you can have some water in the afternoon if you're quiet." I'm sorry, you've caught me just cramming the last of the Kotaku team in the Holiday Closet. As they rest and recuperate in tangled proximity, I have control of the site, and as such can write about indie games no one's heard of yet. And use proper…
---
PCGamesN Monday, May 30, 2022 5:57 PM
In World of Warcraft: Shadowlands update 9.2.5, which comes out tomorrow (May 31), members of the Alliance and Horde will be able to join parties together for certain kinds of party activities. That means you'll be able to join cross-faction groups and parties and play alongside your friends in the MMORPG, even if they've sworn allegiance to your mortal enemies.
Shadowlands Update 9.2.5 is a significant patch, adding new questlines for Blood Elves and Dark Iron Dwarves, as well as the new Enigma Crucible PvP arena. All wings of Torghast, Tower of the Damned will be opened (instead of having only two wings open per week), and there's a redesign for the report player menu pane.
But perhaps the most significant change with this patch is the addition of cross-faction instances. It's not a free-for-all, mind, because the Alliance and Horde remain generally hostile to each other. However, if you have a friendship via BattleTag or Real ID with a player who is a member of the opposing faction, you will be able to invite them to a party once the patch arrives.
Best MMORPGs on PC
,
The best WoW addons
,
WoW Classic leveling guide
---
PCGamesN Monday, May 30, 2022 5:13 PM
The Euro Truck Simulator 2 Heart of Russia DLC was just weeks away from completion at developer SCS Software back in February, when the Russian Federation launched its invasion of Ukraine. Now, in light of the war, the studio says it has decided to cancel the expansion to avoid the appearance of offering any support to the Russian side of the conflict.
SCS Software says that on February 24, the Heart of Russia team was about "6-8 weeks" away from being ready to launch the map expansion for their popular simulator game. "We all felt really good about the result; a lot of effort had been invested in making this new region look truly fantastic in the game," the devs write in the latest blog post. "We were absolutely sure that our community, especially those in Russia, would really appreciate that."
The studio scrambled to put together a Ukraine charity DLC to offer assistance to Ukrainians fleeing the war, and to date about 85,000 copies of the Ukrainian paint jobs DLC have been sold.
Euro Truck Simulator 2 system requirements
,
Best VR games
,
How to set up your Oculus Rift
---
PCGamesN Monday, May 30, 2022 4:01 PM
It's been two years since we first heard about the DnD-inspired RPG game Alaloth: Champions of the Four Kingdoms, and since then, the developers have gone silent. That is, until today. Now there's a brand new trailer showcasing loads of gameplay, as well as the hint of some important news coming this summer - possibly an Early Access release date.
The new gameplay trailer for Alaloth provides our most extensive look yet at the world and its inhabitants, which include townsfolk busily tending to their day-to-day errands, as well as imposing giant knights and a fire breathing horned turtle. It looks like a blend of early Dungeons & Dragons sourcebook art, Baldur's Gate, and Dark Souls - this last being thanks to its slower-paced, real-time combat that's focused more on small, difficult engagements rather than decimating massive hordes of trash mobs.
The look, however, is decidedly old school - Alaloth is visually evocative of the original Infinity Engine games like Baldur's Gate and Planescape: Torment, from the hand-crafted backgrounds to the character animations.
---
PCGamesN Monday, May 30, 2022 3:01 PM
As we've established, we're big fans of rats in videogames around these parts, and it's no secret that we're also fascinated by Skyrim mods. That's why we're pretty excited about this new Skyrim mod that adds giant rat companions to the RPG game. These aren't just any rats, mind you - they come in a wide variety of exotic patterns.
The Scrolls for Rats Companions mod by gg77 adds a whole rainbow of potential giant rat companions to Skyrim. These designer rats come in a surprisingly diverse range of colourations and patterns: in addition to your standard white and black rats, there are tiger-striped rats, zebra rats, and ocelot rats. However, they only come in one size: large.
Once you've installed the mod, you can acquire your rat companion by visiting Whiterun and buying a special rat scroll from Hulda at the Bannered Mare or Belethor at the General Goods store. Find the scroll in your inventory, toss it at the ground, and poof! Your rat will have appeared, ready to follow you into the deepest tombs and highest mountain peaks in Skyrim.
Best Skyrim mods
,
Skyrim: Special Edition mods
,
Skyrim: SE system requirements
---
PCGamesN Monday, May 30, 2022 1:36 PM
When The Wild update arrives for Minecraft, players will be able to get acquainted with the noble frog. The sandbox game's frogs come in several varieties, and they've gone through several iterations since their announcement during Minecraft Live 2021 - including one short-lived version that used to eat goats.
Goat-eating frogs began, as these things so often do, as an experiment. As Minecraft vanilla gameplay developer Alexander Östman explains in the latest post on the official site, Mojang had to work out how to get frogs to eat things. At first, he says, frogs were hard-coded to eat only slimes, but Östman had to work out how to make the eating behaviour editable - creators should be able to get frogs to eat other kinds of mobs, or for new kinds of mobs to have their own diets.
As a test of this new behaviour, Östman said he made frogs able to eat goats, "because I thought it'd be funny". To the delight of everyone in the studio (although, presumably not to the goats), this worked like a charm - the frogs hopped around swallowing any goats they happened upon.
Minecraft console commands
,
Minecraft skins
,
Minecraft mods
---
PCGamesN Monday, May 30, 2022 12:38 PM
According to producer Naoki Yoshida in a new interview, "brand new" Final Fantasy XIV jobs that "haven't appeared in the Final Fantasy series before" are likely coming to the MMO game in due course - although it is apparently "very difficult" for the team to do so.
There are already many Final Fantasy XIV classes and jobs in the MMORPG, but new ones are being regularly added - such as the Reaper and Sage jobs that were added in December last year as part of the Endwalker expansion.
In a new interview at Final Fantasy XI site We Are Vana'diel, producer Naoki Yoshida lamented how "tough" it is for the team to come up with new jobs, as the "gameplay experience needs to match their pre-established design". Yoshi-P then added that "at this point, I'm thinking we have no choice but to come up with brand new jobs that haven't appeared in the Final Fantasy series before." What form they could take, he wouldn't elaborate, but confirms that "we always need to add more jobs to keep providing new gameplay experiences."
The best MMOs on PC
,
FFXIV Reaper job guide
,
FFXIV Sage job guide
---
PCGamesN Monday, May 30, 2022 12:34 PM
Looking for a list of all the new Destiny 2 Season 17 Exotics? Bungie's looter shooter wouldn't be the game it is without its laser focus on earning exciting and rare weapons. Season of the Haunted adds several new Exotics for dedicated players to hunt down, including an Exotic sidearm, a sword, and three new pieces of armour that compliment the season's Solar subclass overhaul.
The new Destiny 2 Season 17 Exotics will take a lot of grinding to unlock, but that's half the fun. You'll need to invest heavily in dungeon runs and stay on top of your master and legendary Destiny 2 Lost Sectors if you want to hoover up the bulk of the new Exotics fast, but you can only get the shiny new (or returning) Trespasser through the season pass.
So join us as we walk you through all five of the new Season of the Haunted Exotics in Destiny 2, exactly how to get them, and what their respective strengths and weaknesses are.
Destiny 2: Beyond Light review
,
Destiny 2 exotics
,
Play Destiny 2
---
PCGamesN Monday, May 30, 2022 12:30 PM
Bungie included a reference to notorious exotic fusion rifle Telesto in the new Destiny 2 Season of the Haunted - and, perfectly in line with the gun's troubled past, its re-inclusion in the FPS game has continued to cause issues for players. Even Halo community writer Alex Wakeford, who created the 'Previously on Destiny' and 'Previously on Halo' lore websites, has commented that he has also run into the gun's newest act of mischief.
Telesto is so legendary for its issues that it has its own dedicated website, which keeps track of every reported bug associated with the weapon and the time since the last known issue sprung up. The newest appearance of Telesto places it in the hands of local Tower gunsmith Banshee-44, who keeps it ready while dealing with players. However, this coincided with instances of the game crashing when players attempted to acquire items from Banshee-44.
Bungie lead community manager Cozmo responded to the news with a 'reset the clock' gif, referencing the Telesto report website. Halo writer Wakeford also ran into the issue, posting an image of Banshee-44 with empty hands positioned as though they were holding the rifle and asking, "Where did Telesto go??"
Destiny 2: Beyond Light review
,
Destiny 2 exotics
,
Play Destiny 2
---
PCGamesN Monday, May 30, 2022 12:22 PM
The best plane games is a pretty broad topic, so if you're looking for a list of top flying games you may struggle to pick any single one out. Airplane games encompassing everything from complex flight simulators and meticulously detailed military facsimiles to arcadey jet fighter games and relaxing wingsuit sims.
To help you organise your thoughts and pick out something that suits your tastes, we've assembled a shortlist of some of the best plane games on PC, with a representative from all of the different niches. So whether you want to soar gracefully through the air for hours on end, settle down for a cosy evening of piloting a jumbo jet from LA to Las Vegas, or want a grizzly WW2 dogfight, there's something for everyone.
As with many simulation-based genres - we're looking at you submarine games - a lot of the classics can be tricky to get hold of and run on modern PCs, so we've tried to keep the majority of our entries modern for ease of access.
Play War Thunder for free
,
Tank games
,
Best WW2 games
---
PCGamesN Monday, May 30, 2022 12:04 PM
The new open-world stealth game Sniper Elite 5 has officially landed, and the dev team has been busy softening up the resistance by taking out some pesky launch-day bugs. However, developer Rebellion says players may run into a few remaining issues as they roam about occupied France, so keep your eyes peeled for a few of these current known issues.
Rebellion says it's looking into fixes for several outstanding bugs currently present in Sniper Elite 5. These include several crashes, some mission-specific bugs in which key items are missing or don't work, and some overall performance issues. In the first mission, The Atlantic Wall, a hidden door will sometimes not unlock even if players have found Marcel's key, and some players have been unable to locate the character Steffen Beckendorf. In mission two, dropping a chandelier on your target is supposed to unlock the Kar98 rifle, but this doesn't always work. Rebellion says it's working on fixes for these issues.
There are a few crashes the team is also working on, including one that's specific to the Windows Store version of Sniper Elite 5. If that's the case for you, Rebellion recommends verifying your installation, making sure the Xbox app is up to date on your PC, and disabling EAC and running the game as an administrator.
---
PCGamesN Monday, May 30, 2022 11:46 AM
So you want to know how to download Minecraft? Well, you've come to the right place, as we have a handy breakdown for you. Before you know it, you'll be fighting zombies, getting blown up by Creepers, and building all kinds of fantastic buildings and constructions.
Asking how to download Minecraft is the first step in a journey that'll lead you towards one of the most beautiful and innovative games ever created. From its downright ethereal soundtrack to the addictive feeling of just one more trip into the mines (gotta get those diamonds), it's easy to see how Minecraft became so successful.
The process for downloading the game is going to vary from platform to platform, but we've decided to use Amazon and Game Pass as two points of reference here. It's relatively simple to buy, download, and install Minecraft through Amazon or Microsoft, so it made sense to us to use those two as the basis for this guide. We hope to make this guide simple enough that anybody who's after their blocky, crafting fix can be playing in no time. We've also included a rundown of some of the different versions for clarity's sake.
Minecraft console commands
,
Minecraft skins
,
Minecraft mods
---
PCGamesN Monday, May 30, 2022 11:34 AM
One of the most irritating problems when playing multiplayer games is getting the same map several times in a row, but developer Riot Games believes it's finally cracked the Valorant map selection diversity issue thanks to the FPS game's April update.
In a new article published today, Valorant Competitive team member Brian Chang goes into a deep dive about the issue of map selection randomness - and why it's still been a problem for Riot Games, despite multiple attempts to fix it. The team previously attempted to create a "pseudo-random" process that tried to use maps not recently seen by the 10 players present but, while it helped, the chance was still there - and a poll in March showed that 67% of players encountered the same maps "often".
In Valorant patch 4.04 last April, Riot introduced a "deterministic map system" designed to "increase the variety of maps that players will encounter". Technically speaking, map choice is now no longer randomised, with the system removing maps from the choice pool altogether if they showed up too often.
Valorant characters: all agents and abilities
,
Valorant tier list
,
Valorant crosshair codes
---
PCGamesN Monday, May 30, 2022 10:41 AM
Looking for free Minecraft games? If you've exhausted Minecraft, or you're looking for games similar to Minecraft but don't want to pay the price tag that comes with them, these free Minecraft games will fill that block shaped hole in your life. These games may not feature the same creative and survival modes Minecraft is known for, but they should keep you entertained.
Although these games aren't one-to-one replicas of Minecraft, some of them get incredibly close and those looking for free Minecraft games are sure to find something they recognise and love from Mojang's blocky universe in each of these six games such as survival-horror Unturned, or the endless possibilities of Roblox's mad player-created worlds. Or if you're new to Minecraft, these free alternatives provide a little taste of the block-building behemoth.
Whether you enjoy crafting, building, adventuring, surviving, or even just Minecraft's aesthetic - these free Minecraft games do veer off the Minecraft formula in a number of ways, but in return they offer something a little bit different. Keep reading for your gateway to more of the same block-building tranquillity that Minecraft serves on tap.
Minecraft console commands
,
Minecraft skins
,
Minecraft mods
---
PCGamesN Monday, May 30, 2022 10:19 AM
Genshin Impact cosplayers at the Fanime convention this past weekend gathered together to wish for primogems in a fun way - by all praying to one person dressed as a giant primogem. Fans of the open-world game will be well aware of the constant need for demand for Genshin Impact primogems, which are one of the game's most-used currencies and are used to obtain wishes for new Genshin Impact characters and more.
In recognition of this, a group of cosplayers dressed as various members of the anime game's cast all grouped together around a fan in a giant primogem outfit, kneeling down and raising their hands in prayer to wish for good luck in their character rolls.
One of the cosplayers, TheMochaMegan, who was dressed as Hu Tao, says that the wholesome moment happened spontaneously when several Genshin Impact cosplayers ran up to the primogem-sporting individual and kneeled down in worship. She comments that she added, "Please let me win 50/50, please don't make me lose the pity," referring to the 50/50 chance to obtain the event character from the pity roll on a current Genshin Impact banner.
Play Genshin Impact for free
,
Genshin Impact character tier list
,
Genshin Impact leveling guide
---
PCGamesN Monday, May 30, 2022 12:27 PM
Looking for tips on how to beat the new Destiny 2 Nightmare Containment activity? Destiny 2's Season of the Haunted features a familiar foe: Emperor Calus. The Lord of Laughter has awakened an army of Nightmares on the Leviathan, and these products of the Pyramids are here specifically to exploit Guardians' worst fears.
For the Destiny 2 Nightmare Containment seasonal activity, your Guardian must head to the Leviathan in order to take on Calus and the Nightmares. However, the once opulent ship is now dilapidated and overgrown. It's also home to hordes of Cabal and Scorn, in addition to all those nasty Nightmares.
Guardians must combat these Nightmares by collecting shards of Dread and then binding Nightmares together using ritual spots that are dotted around the arena. There are three tiers in a run, and each Nightmare Containment tier has slightly different mechanics. Here's everything you need to know about the seasonal activity, including the rewards you can get for beating it, a guide to all three activity tiers, and how to start it in the first place.
Destiny 2: Beyond Light review
,
Destiny 2 exotics
,
Play Destiny 2
---
Rock Paper Shotgun Latest Articles Feed Monday, May 30, 2022 4:19 PM
After discussing a good deal on an incredibly rapid NVMe SSD, I thought I should let you know about something on the other side of the spectrum: a 500GB NVMe SSD going for just £36. This is the Crucial P2, a drive that's been reviewed warmly here at RPS, and it's a 34% reduction from the drive's UK RRP.
---
Rock Paper Shotgun Latest Articles Feed Monday, May 30, 2022 3:53 PM
Samsung's excellent 980 Pro PCIe 4.0 NVMe SSD has been reduced on Amazon UK, where a 1TB model with heatsink is down to £120 from £170. This makes it only a touch higher than the cheapest drives in this category, for one of the best performing models.
---
Rock Paper Shotgun Latest Articles Feed Monday, May 30, 2022 11:37 AM
It turns out that free-to-play MMO Ni no Kuni: Cross Worlds, which recently launched worldwide, is tied up with the blockchain. Developers Netmarble have also said that they're looking to implement NFTs in to the game by the end of the year.
---
Rock Paper Shotgun Latest Articles Feed Monday, May 30, 2022 11:06 AM
Vampiric survival crafting game V Rising has been a runaway hit since it entered early access a couple of weeks ago. The developers over at Stunlock Studios have now laid out their current priorities for the game's progress, emphasising that it still has a "journey" before its full release.
---
Rock Paper Shotgun Latest Articles Feed Monday, May 30, 2022 10:30 AM
Readers may remember my delight over the demo for Little Witch In The Woods, and I'm happy to report that game is now out in early access. It's already much more polished than the demo, with more yet to come. It's a life sim with a bit of a Stardew Valley or Animal Crossing vibe, except instead of farming you are a witch called Ellie (size: small) living in a biome (type: forest).
In the story you start to free the nearby village from cursed vines, and this requires that you catalogue and collect ingredients for spells, and thence expand your repertoire of witchy recipes. At the same time you can trade spells and magical candy with locals for currency, which you can use to improve your little machines - a roaster, a caldron, a press for ingredients - to make even better things, more efficiently. It's a satisfying process of mastery and exploration. But that is not the important bit. The important bit is that Little Witch In The Woods is disgustingly adorable.
---
Rock Paper Shotgun Latest Articles Feed Monday, May 30, 2022 10:14 AM
To be honest, I found Computex 2022 kind of underwhelming; this is usually the biggest event in the PC gaming hardware calendar, and had returned to Taipei after an all-remote 2021 show, but ended with only a smattering of major announcements in the bag. We got nothing on Intel's Arc graphics cards, and Nvidia's keynote revealed some new DLSS games but otherwise went light on GeForce deets.
That said, this year's show wasn't a bust either: there was fresh AMD Ryzen 7000 info, Corsair's first crack at a gaming laptop and, at long last, some PCIe 5.0 SSDs you can actually buy. One day. In the future. That's in addition to the wackier, moon-shooting tech on display, without which it just wouldn't be Computex. So, in descending order - from the interesting and sensible to the blinking ludicrous – here are the PC gaming highlights from Computex 2022.
---
Twinfinite Monday, May 30, 2022 5:41 PM
Third-party developers have released new airports for Microsoft Flight Simulator alongside new screenshots of another.
---
Twinfinite Monday, May 30, 2022 1:40 PM
Today Bandai Namco Entertainment released a new commercial for its upcoming JRPG Digimon Survive, which is finally releasing soon.
---
Twinfinite Monday, May 30, 2022 1:02 PM
They say home is where the heart is, and that statement couldn't be any truer than in Mojang's hugely succesful create-'em-up. Yes, while there are a ton of super fun things to do in Minecraft, building your home from nothing to something special is definitely one of the most satisfying. If you're here, though, you're […]
---
Twinfinite Monday, May 30, 2022 12:43 PM
Chinese developer Kuro Game revealed its upcoming game Wuthering Waves with a gameplay trailer and a cinematic one.
---
Twinfinite Monday, May 30, 2022 11:53 AM
Today Bandai Namco released a new character trailer of the upcoming fighting game JoJo's Bizarre Adventure: All Star Battle R.
---
Twinfinite Monday, May 30, 2022 11:03 AM
Today Sega announced that the Tekken 7 Collaboration Pack DLC for Virtua Fighter 5 Ultimate Showdown is coming soon.
---
Twinfinite Monday, May 30, 2022 10:30 AM
Nothing is better than sitting down after a long day to watch a slice of life anime. These highly-regarded types of shows are known for their portrayal of human relationships and meaningful stories. In addition, writers and animators reveal their true ability by realistically exhibiting these fictional characters. So, out of all the intricate storylines, […]
---
Siliconera Monday, May 30, 2022 1:00 PM
Ni no Kuni: Cross Worlds is a mobile entry that mimics the trappings and aesthetics of Studio Ghibli, much like other Level-5-developed titles. A beautiful, animated introduction immediately sets the tone and provides a brief introduction to story elements that will drive the game forward. With some metatextual commentary, Ni no Kuni: Cross Worlds is candid about its identity as an MMORPG. Its players traverse a fantastical online world. The game shows incredible promise. Like NieR Re[in]carnation or Genshin Impact, it demonstrates just what this particular market is capable of. However, it is held back by aggressive monetization and monotonous mechanics.
Players can select from a handful of different classes, each with their own unique specialization. I picked the Swordsman class, which is supposed to have an equal distribution of attack and defense stats. But this feels mostly insignificant due to the "auto-play" functionality. This includes things like auto-running to objectives and auto-combat. You can turn it off, of course. But it ultimately doesn't change too much about early gameplay. While Ni no Kuni: Cross Worlds has immediately recognizable visual design, little actually sets it apart from other mobile games of its ilk. I found myself feeling the same kind of exhaustion that I had when playing Lineage II Revolution, another "MMORPG" style mobile game by Netmarble.
While not completely identical, players can effectively set their phone down and let the game do the work. Which isn't a bad thing for those who want to grind to acquire materials and levels while busying themselves with more important tasks. It just feels completely uninvolved, with its visuals inspired by Studio Ghibli and Joe Hisashi composed score making it noteworthy in that regard. And honestly, those two things absolutely carry Ni no Kuni: Cross Worlds.
The game looks especially impressive on a PC. The vast environments are truly given the opportunity to shine, with sprawling fields of wheat set against beautiful mountain ranges encapsulating that feeling of whimsy. Areas feel densely populated, even without a plethora of player characters running from objective to objective. And it feels like Netmarble really nailed that level of feeling like you as a character are existing in a mostly organic online world.
However, lower end mobile devices may struggle to run Ni no Kuni: Cross Worlds. I experienced several crashes on both Android and iOS. On my Android device, I was unable to get past the initial scripted tutorial area without constant crashes. While the PC version of the game is still in beta, I found it to be the most functional and most enjoyable to watch. Though it is clear the game was wholly intended to play on mobile devices, as the UI is mostly designed to accommodate mobile play. This can make dodging and rolling in combat a bit of a chore. Most of this is alleviated through the auto-play feature I mentioned before.
The character creator in Ni no Kuni: Cross Worlds is fairly limited, with players only able to change their hairstyle, eye color, hair color, and skin color. All options are severely lacking, especially concerning darker skin tones. Only two options are available, with the darkest skin tone looking desaturated. There are also no Black hairstyles in the character creator. Also, the way players can express themselves in game through costumes is fairly limited, with certain costumes only available to obtain through the gacha or by crafting. And Ni no Kuni: Cross Worlds has a lot of gacha elements.
There is a Familiar gacha, which players can use to acquire creatures to accompany them in combat. Each of these Familiars has their unique skills and abilities, which can help players progress through story quests or fight Field Bosses. I was lucky to obtain several three-star Familiars, which got me through a lot of the nearly two-hour introductory segment. There is also the mentioned costume gacha, which is purely cosmetic, and a weapon and armor gacha.
The functionality of these features is mostly the same as other games, with elemental attributes being ascribed to Familiars and weapons. Players will need to rotate between various elements to target the weaknesses of the enemies and bosses they are attacking. Currency is also relatively hard to come by, with a ten pull costing somewhere around $25. And Ni no Kuni: Cross Worlds has several shop pages and tabs dedicated to "special offers" for enhancement packs and paid currency.
Perhaps one of the most glaring issues with Ni no Kuni: Cross Worlds is the inclusion of crypto currency and the implementation of NFTs within the year. The game functions on the "play to earn" model, with players gaining crypto currency earned through normal activities and PvP. This is a massive deterrent for me. Even if Ni no Kuni: Cross Worlds was a more involved and enjoyable game, this alone would make me set it down. There are other games on the market that mechanically do exactly what it does, but without crypto currency and the promise of NFTs looming in the future.
It's a shame, because Ni no Kuni: Cross Worlds is a beautiful game. It's just engaging with it that seems to be the problem. The game is inundated with alerts to spend money on paid currency and other packs. The implementation of crypto currency and NFTs also leave a sour taste in my mouth. Ultimately, it is a game that shows a lot of promise, but is squandered by the constant attempts at monetization and a lack of a truly engaging system.
Ni no Kuni: Cross Worlds is available for PCs, Android devices, and iOS devices.
The post Ni no Kuni: Cross Worlds is a Tedious Mobile Game appeared first on Siliconera.
---
Siliconera Monday, May 30, 2022 11:00 AM
The idea of leaving everything behind for a life completely opposite of the one you're living is an appealing prospect. So much so that many life sims offer that kind of fantasy life. Apico is one such game, involving a rural life beekeeping on an island. However, as it turns out, beekeeping means not only raising and breeding bees and gathering their honey, but keeping an eye on flowers and so many open windows.
As with many games of this kind, things begin with an individual abandoning an urban lifestyle. They grew up in Port Apico, and decided to return to keep bees. Which means starting from scratch. You bring nothing back to the island. Fortunately, getting started is as easy as collecting an axe from some quests, chopping down a small part of the forest, crafting items to build a home and workshop, and getting some wild bees and hives.
From there, Apico grows and goes about as you'd expect. A player needs to create homes for bees. This can be done by appropriating existing hives and building their own proper homes, Apiary Frames, and Extractors to make production easier. You'll also need to gather flowers to plant near your bees, as a source of food and to begin crossbreeding kinds of flowers. Not to mention crossbreeding bees themselves to get new kinds of bees. As you become more successful, you can visit new areas or start making more profitable products like Apicola.
What this also means is many windows. Queens have limited lifespans. This means a need to keep breeding and searching for new bees, so you can continue your operations. Once you've optimized an area as your "base," you may have the windows for each Apiary open to track their progress. If you're currently crafting, you'll have a Sawbench open to create planks for your next project. It is easy to run out of room while exploring, meaning needing to set down storage crates to hold items while you're deciding what to do next. You'll also spend a lot of time investigating your bees as you get into breeding to ensure you get certain results and populations. But, while queens do have a limited lifespan, nothing ever feels rushed. There's so much you can do as you get started without money that it is truly a relaxed experience. You can take your time and really learn about both the bees you're collecting and the process of caring for them.
My biggest issue with Apico, however, is that everything is so small. I was playing on a MacBook Air with 2560x1600 resolution, and I found it difficult to see items, navigate storage, and read text. Given that managing your bees, checking their natures to breed them, handling your items, and taking care of output is, well, the whole game, being able to properly read and see everything would be beneficial to a player. There is a lot of critical information you need to see at all times, and an option to be able to zoom in would really help. There are times it can be hard to determine what you're crafting or doing.
Apico is just a soothing sort of game to play. There's a comfort that comes from finding a lot of bees, setting them up in the places you prepared around one of your hubs, and watching as they create honey that you can then turn into other things. It also gets quite satisfying as you breed new bees and learn more about this little world. Especially since there's no need to rush and I didn't feel a constant need to earn. It was more about experimenting and enjoying what I would see in the moment.
Apico is available for PCs.
The post Apico is a Cozy and Relaxed Beekeeping Game appeared first on Siliconera.
---
PC Invasion - FeedDDD Monday, May 30, 2022 3:38 PM
For the last two years, game development, much like the rest of the world, has been affected by ongoing strife. The lingering COVID-19 pandemic continues to affect certain aspects of the industry. As too does the ongoing Russian-Ukraine war that broke out in March, though in its own way. But what about content that directly features Russian content? This particular set of parameters is quite a unique one, but it is a situation that has faced the team over at SCS Software. Long before the conflict broke out, it has been working on the Heart of Russia expansion for Euro Truck Simulator 2 — the largest single map expansion that SCS has ever produced. After many weeks of silence on the matter, the studio has finally announced that it has decided to indefinitely delay the release of the Heart of Russia expansion for Euro Truck Simulator 2. Pumping the brakes The delay was explained via SCS' official blog post. SCS was actually on the cusp of wrapping up the Heart of Rus...
---
PC Invasion - FeedDDD Monday, May 30, 2022 3:15 PM
If you've got the itch to play a new pirate game, then here's some good news. Frigato: Shadows of the Caribbean is a real-time tactics stealth game featuring pirates, developed by Mercat Games. A new trailer for the game shows off its tense, stealthy gameplay in all its glory. And it looks to be a very different experience from other pirate-focused games like Sea of Thieves. When it comes to pirate games, most of them tend to be loud and bombastic adventures across the ocean. It's rare to see games take a different approach to the genre. But Frigato: Shadows of the Caribbean could be exactly what some are looking for. Engage in sneaky piracy with Frigato: Shadows of the Caribbean Frigato: Shadows of the Caribbean's trailer focuses on a pair of pirates attempting to take over a ship. Of course, this means disposing of every guard in sight and looting everything that's not nailed down. But really, the core of the game is its tactical approach to steal...
---
PC Invasion - FeedDDD Monday, May 30, 2022 12:33 PM
Activision officially revealed that Call of Duty: Modern Warfare 2 will release later this year. The game welcomes back familiar faces fans know and love, such as Simon "Ghost" Riley and Captain Price. Thanks to leaks, we have learned some more information about what the next instalment of the series could entail. It is thought that the there could be tradable cosmetics and potential for Modern Warfare 2 maps to feature in Warzone 2. Now, a new leak hints at Call of Duty's potential return to Steam with the launch of Modern Warfare 2. Recent Call of Duty titles have only been available exclusively on Blizzard's game launcher, Battle.net, along with other Activision games. Over on Steam, there are still some older games available to download. This includes the likes of Call of Duty: World at War and Call of Duty: Black Ops 3, among others. However, eagle-eyed fans have spotted a clue that may suggest that Modern Warfare 2 could be getting ready to launch on Steam. Jus...
---
Player Assist | Game Guides & Walkthroughs Monday, May 30, 2022 5:00 PM
Elden Ring has a lot of difficult bosses and enemies that can easily send your controller or keyboard flying. Encountered in the Deeproot Depths. Crucible Knight Siluria is an optional boss that resides deep inside The Lands Between. Though she is a daunting obstacle, Crucible Knight Siluria can be easily beaten with good reads, leveled […]
---
Player Assist | Game Guides & Walkthroughs Monday, May 30, 2022 4:00 PM
Get ready to fall in line at the traffic lights. Many fans of GTA 5 might not know that the entire city of Los Santos is loosely based on the real-life City of Los Angeles, California. Los Santos is a play on words, which translates to "City of Saints." Meanwhile, Los Angeles translates into the […]
---
Player Assist | Game Guides & Walkthroughs Monday, May 30, 2022 3:00 PM
If you're here, it's likely that you've been playing Elden Ring for a while. You've tasted defeat now, probably more than you'd like. And now that you've come across Godskin Apostle, he's giving you a hard time, too. Well, fret not. We've got you. Godskin Apostle is one of many optional bosses found in the […]
---
Player Assist | Game Guides & Walkthroughs Monday, May 30, 2022 2:00 PM
Because Riot Games won't show you your Headshot percentage in-game. FPS game developers should start adding a built-in stat tracker to track in-game statistics such as win rate, K/D ratio, and headshot percentage, to name a few. After all, statistics can give players a good idea of where they can improve and help significantly optimize […]
---
Player Assist | Game Guides & Walkthroughs Monday, May 30, 2022 1:00 PM
Throughout your playthrough of Elden Ring, you'll rarely experience a moment of dullness, as you'll be met with enemies and bosses, trying to do you harm, every which way you go. The Valiant Gargoyles are an evolution of their smaller and less capable mini-boss variants, which you might have already faced and possibly thought were […]
---
Player Assist | Game Guides & Walkthroughs Monday, May 30, 2022 12:00 PM
Xiao is one of the illuminated beasts of Liyue, also known as the adepti. He may have the appearance of a young man, but Xiao has already lived more than two thousand years and is a formidable senior among the adepti. Before being heralded as the Conqueror of Demons and becoming one of the five […]
---
Player Assist | Game Guides & Walkthroughs Monday, May 30, 2022 11:00 AM
Infamy isn't an unfamiliar word to the veteran Commander Niall, both in-game and out. He's seemingly a very basic enemy, with dulled gray armor and basic fur cape, not much is to be expected of this boss, which makes the sudden shock of being totally overwhelmed and killed by his summoned troops before either of […]
---
MonsterVine Monday, May 30, 2022 5:16 PM
Charity organization GenerOZity has announced that they have a goal of raising $50,000 during this year's event. This year, GenerOZity is teaming up with Cure Cancer, with donations going towards cancer research. The livestream will begin on June 1st, and will last for a month. The event will take place on GenerOZity's Twitch channel, and […]
---
Level Up Monday, May 30, 2022 1:04 PM
If you've ever wondered if people in the world of Star Wars play sports that…
---
Level Up Monday, May 30, 2022 10:05 AM
Hot off an exciting weekend of tons of news from Star Wars Celebration 2022, including…