---
Kotaku Tuesday, May 16, 2023 3:30 PM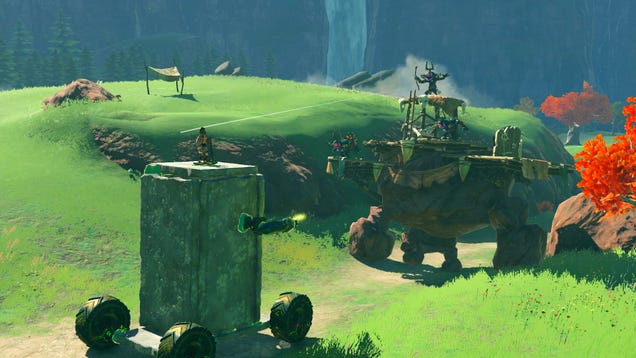 Thanks to Link's new skills in The Legend of Zelda: Tears of the Kingdom, folks can build all kinds of contraptions to decimate monster camps and torture Koroks. But let's be real: You kinda need an engineering degree to construct any number of the wild creations you've likely been seeing online—until now, that is, as…
---
Kotaku Tuesday, May 16, 2023 3:25 PM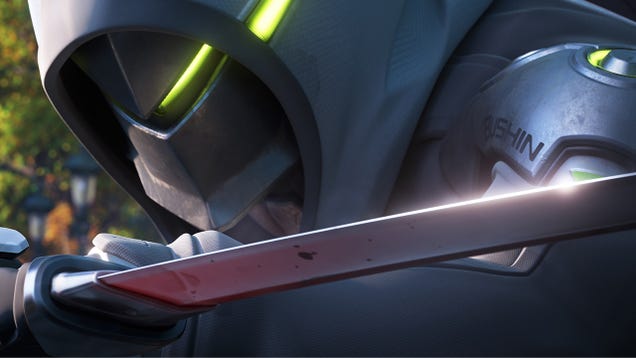 On May 16, Blizzard outlined its future plans for Overwatch 2, offering new information on the long-awaited story content revealed back when the sequel was announced in 2019—though some parts of it won't be released as they were initially unveiled.

---
Kotaku Tuesday, May 16, 2023 3:20 PM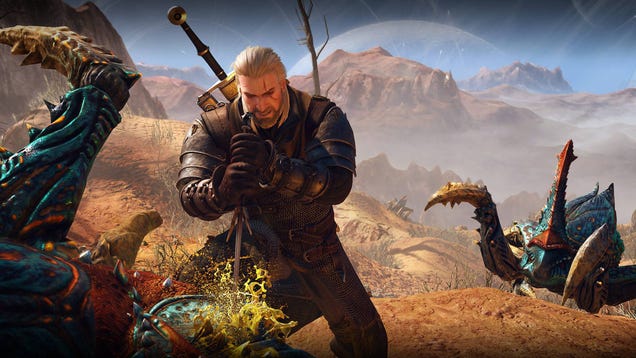 CD Projekt Red just released a new patch for its open world RPG Witcher 3: The Wild Hunt. However, players aren't happy with all of the changes. One of the most controversial ones is the ability to auto-apply your oils instead of doing so manually before engaging with a monster. Players are concerned that automating…
---
Kotaku Tuesday, May 16, 2023 2:50 PM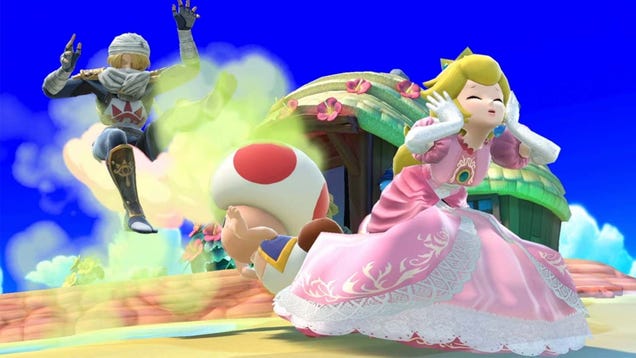 At a recent video game competition in Texas, a pro Super Smash Bros. Ultimate player trash-talked a 15-year-old after winning an important match against the young player. The Smash community's reaction was mostly negative, and things only got worse for the trash-talking pro when the kid's mom got involved and slammed…
---
Kotaku Tuesday, May 16, 2023 2:30 PM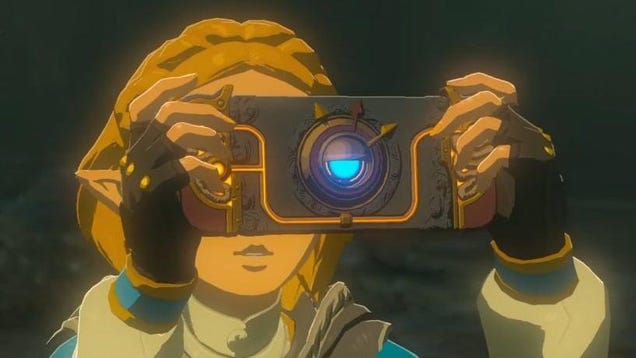 The Legend of Zelda: Tears of the Kingdom leaked over a week before launch and sent Nintendo into a frenzy, with the company firing off copyright takedowns to Discord, Twitch, Twitter, and more. Now the game is officially out, but some pirates are still illegally downloading the game, and Nintendo is watching.
---
Kotaku Tuesday, May 16, 2023 2:12 PM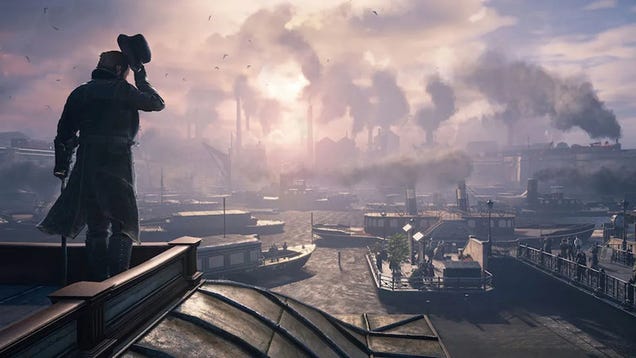 Ubisoft is more committed than ever to Assassin's Creed. After reporting a $500 million operating income loss for the last year, the French publisher announced it would increase the number of developers working on the hit historical fantasy franchise to almost 3,000. If you thought there were too many…
---
Kotaku Tuesday, May 16, 2023 1:55 PM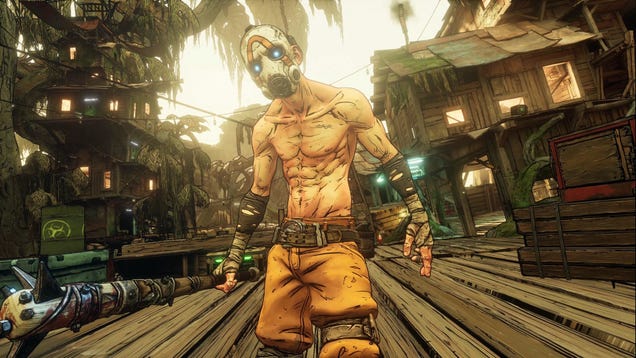 On May 9, a Borderlands 3 player lit the popular subreddit r/Gaming ablaze. They posted a photo of an error message on their Xbox Series S, which indicated that the console had run out of video memory. Not long after, the post was inundated with tons of comments saying the same thing: This happens all the time when…
---
Kotaku Tuesday, May 16, 2023 12:55 PM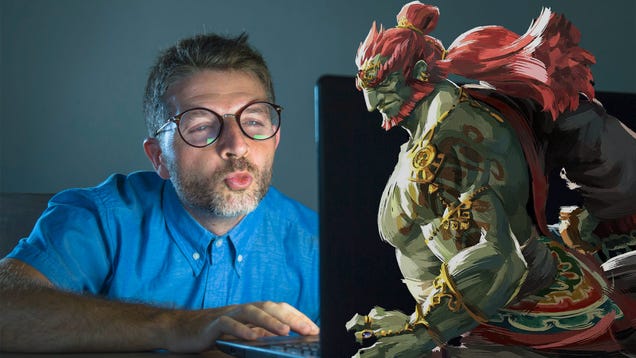 Before The Legend of Zelda: Tears of the Kingdom players were astonished at the wonderful ways one can torture koroks, use the game's fusing abilities to erect statuesque mechas, planes, trains, and automobiles, or craft TikTok fan cams of Purah, fans were thirsting after Ganon.
---
Kotaku Tuesday, May 16, 2023 12:30 PM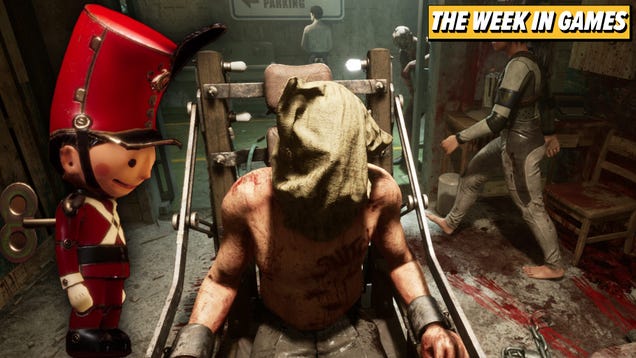 ---
Kotaku Tuesday, May 16, 2023 12:10 PM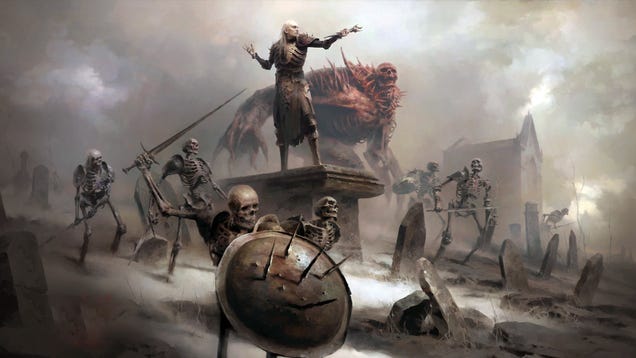 Diablo IV's Server Slam weekend, which ran from May 12 through May 14, gave players one final chance to scour Hell for loot and kill Ashava the Pestilent before the action-RPG drops on June 6. This open beta came with a handful of changes, particularly some nerfs to the Necromancer that developer Blizzard eventually…
---
Kotaku Tuesday, May 16, 2023 12:05 PM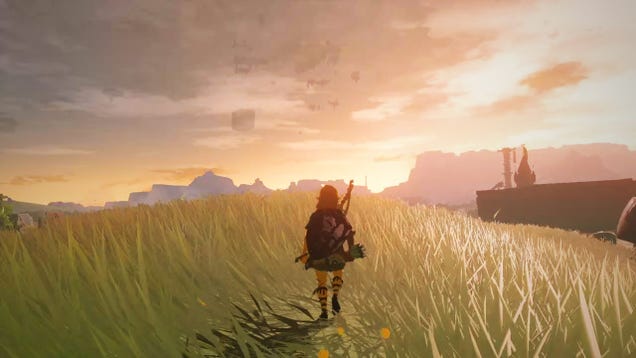 I find minimaps to be incredibly distracting; they constantly pull my eyes off the world I'm navigating, leading me to stare at a little icon following a path instead of taking in the sights around me. Fortunately, many games let you shut them off. As was true with Breath of the Wild, open-world adventures like The…
---
Kotaku Tuesday, May 16, 2023 11:55 AM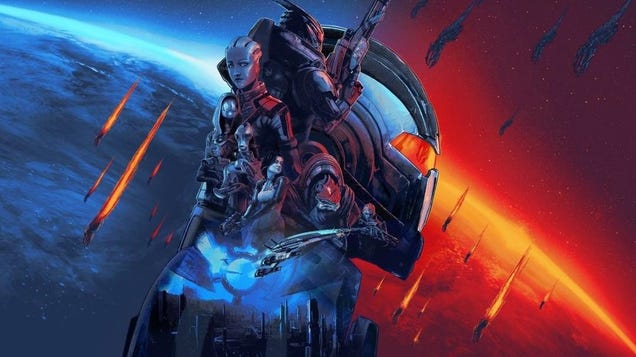 There's currently an Electronic Arts publisher sale on Steam right now, and one deal in particular offers a great chance to catch up on some of the best role-playing games of the last 20 years. The BioWare mega collection includes every Dragon Age and Mass Effect game, and it's only $20.
---
Kotaku Tuesday, May 16, 2023 11:09 AM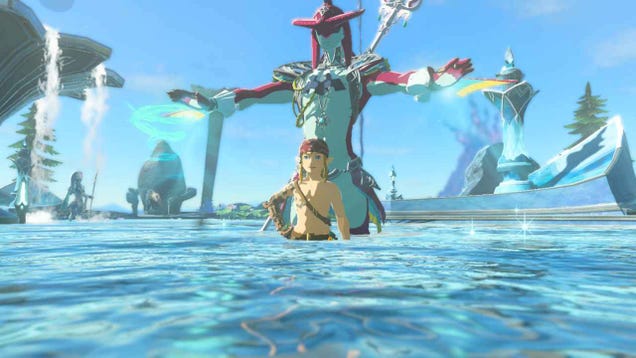 Link gets most of the Purah Pad's fancy features before he descends onto Hyrule's surface in Tears of the Kingdom's intro. However, there are a few you have to go out of your way to find, and one of them is the camera function. This allows you to take photos of all your adventures through Hyrule, and it would be a…
---
Kotaku Tuesday, May 16, 2023 10:07 AM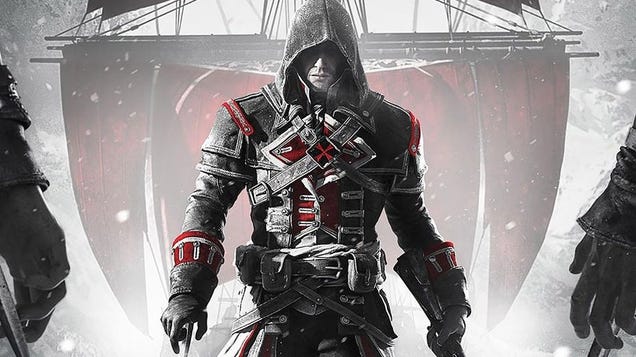 Ubisoft quietly stopped talking about NFTs a while ago, but the controversial idea is now back in the form of new licensed collectibles for Assassin's Creed. Come along for the ride and we can suffer through this together.
---
Kotaku Tuesday, May 16, 2023 9:25 AM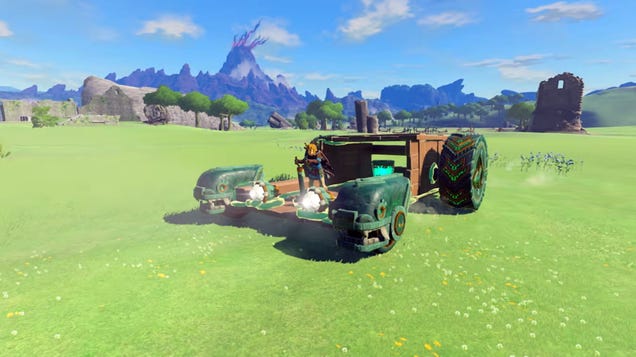 The Legend of Zelda: Tears of the Kingdom is finally out on Nintendo Switch, and players are having the time of their lives with Link's new rune abilities. From crafting absurdly long bridges to constructing flamethrowing dicks, there's no shortage of stuff you can create in Link's latest open-world adventure. In…
---
PCGamesN Tuesday, May 16, 2023 3:45 PM
What are the best cooking games on PC? If you want to relax and create mouth-watering masterpieces or challenge your friends to some kitchen chaos, the wonderful world of cooking and restaurant games doesn't disappoint. We've rummaged through the contents of the PC world's metaphorical cupboards to rustle up a list of the very best.
You don't have to be a dab hand in the kitchen to work your way around these chef specials, as the best PC games for the budding restauranteur don't always have to appeal to the chef in us; they can be colourful management games, be as much about farming as preparing, or require some serious recipe grinding. They can also be a relaxing way to pass the time, whether that's by throwing tomatoes at your friend to chop in Overcooked or dragging a monster home for your evening meal in Battle Chef Brigade. Whatever cooking experience you're after, look no further than this list of the best cooking games on PC.
MORE FROM PCGAMESN:
Best Disney games
,
What's the next Dreamlight Valley update?
,
Disney Dreamlight Valley guide
---
PCGamesN Tuesday, May 16, 2023 2:55 PM
A Destiny 2 Quicksilver Storm issue is causing the Exotic auto rifle to shoot like a sniper rifle in the FPS game, according to a video posted to Reddit by user StarinElm. In the video, the Destiny 2 player uses the Destiny 2 Quicksilver Storm and its distinctive auto rifle scope, but shoots powerful single shots like a sniper rifle.
MORE FROM PCGAMESN:
Destiny 2 classes
,
Destiny 2 Lightfall review
,
Destiny 2 builds
---
PCGamesN Tuesday, May 16, 2023 2:00 PM
While you're probably groaning at another set of League of Legends patch notes that buff ADCs, the 13.10 update comes at a price for the MOBA's premier marksmen, as sweeping changes to support and ADC items mean we may finally see League of Legends' ADC meta finally draw to a close.
How much have I spent on League of Legends?
,
League of Legends patch 13.6
,
League of Legends tier list
---
PCGamesN Tuesday, May 16, 2023 1:28 PM
Looking for the best Honkai Star Rail team comps? With so many characters to choose from, you can be forgiven for not knowing which characters are guaranteed to synergise well, and which perform like oil and water. Thankfully, our best Honkai Star Rail team comps are powerful enough to help you defeat the hardest bosses with ease - and can help you prioritise your precious upgrade materials, too.
While some of the very best Honkai Star Rail characters may only be pulled from banners, don't go reaching for your wallet just yet. We've also gone ahead and tested all the free-to-play characters in the anime game, to include the best Honkai Star Rail team comp you can build without spending a single penny. If you'd prefer to hang onto your favourite characters at the expense of your team's performance in the free PC game, our Honkai Star Rail tier list serves as the perfect inspiration. However, if you'd rather get straight to the point, here are the best Honkai Star Rail team comps at your disposal.
MORE FROM PCGAMESN:
Honkai Star Rail review
,
Honkai Star Rail codes
,
Honkai Star Rail tier list
---
PCGamesN Tuesday, May 16, 2023 1:00 PM
The Steam Sports Fest sale is officially up on the storefront, bringing with it some historically low prices for sports games on PC. From well-known titles like FIFA 23 dropping in price by more than 50% to free daily stickers for all Steam users, the sports sale is sure to draw the attention of various players.
MORE FROM PCGAMESN:
FIFA 23 career mode guide
,
FIFA 23 ratings
,
FIFA 23 Icons
---
PCGamesN Tuesday, May 16, 2023 12:44 PM
There are loads of Ark dinos to tame, and knowing exactly which ones to prioritize isn't easy. While you won't be recreating your dinosaur theme park - we all know how that went the first time around - deciding between a T-Rex or a Carnotaurus, a Quetzal or a Doedicurus, or even non-dinosaur creatures like the Mammoth or Beelzebufo can be difficult.
That's where we come in. This list of the ten best Ark dinos to tame will help guide your efforts with tips for taming and capturing each one. We've considered multiple aspects of each dino when putting together this list, including their utility, base stats, and how easy they are to tame generally, so this is especially useful for any beginners. Fancy making the game easier for yourself? Check out our guide on Ark admin commands, which are essentially cheats. Alternatively, if you fancy dinosaurs elsewhere, our list of the best dinosaur games has what you need.
MORE FROM PCGAMESN:
Ark 2 release date
,
Best survival games
,
The best Ark mods
---
PCGamesN Tuesday, May 16, 2023 12:36 PM
Waiting 'til a new generation of a certain product is announced in case the old stock gets a discount is often a savvy tactic, and graphics cards are no exception. If you've been hoping for a fall in price for the Nvidia RTX 3060 Ti with the Nvidia RTX 4060 Ti launch on the horizon, you might be in luck, with discounts of up to $100 introduced by some AIB (add in board) partners. You'll finally be able to buy an Nvidia RTX 3060 at a lower price.
RTX 4070 review
,
DLSS explained
,
Best graphics cards
---
PCGamesN Tuesday, May 16, 2023 12:29 PM
The Lord of the Rings MMO from Amazon is set to be a ten-year game, hopefully, as the studio talks about how it's tackling the development of the MMORPG and bringing the world of The Hobbit and The Lord of the Rings to life.
Free MMOs
,
Lord of the Rings Online free-to-play
,
Best fantasy games
---
PCGamesN Tuesday, May 16, 2023 3:56 PM
Want to know what this week's Destiny 2 Nightfall weapon is? Each week you've got a chance at a different weapon for completing Nightfall Strikes, and ever since Season of the Lost, fan-favourite legacy weapons from the original Destiny has been added to the rotation. New seasons often introduce new weapons into the rotation, so it's more important than ever to know in advance the Nightfall weapon schedule.
Nightfall: The Ordeal is a playlist available in the Vanguard menu, alongside the basic Strike playlist in the free PC game. Each week, a different Strike is chosen as the Nightfall, and offered in five escalating difficulties, with harder enemies, challenging modifiers, and enemy power levels cranking up. The coveted Nightfall weapons have a chance to drop from any Nightfall Strike difficulty, but it's far more likely at higher levels, which is something you'll want to maximise your chances for with the Destiny 2 Lightfall release date that recently passed. Your best bet for farming each week's Nightfall weapon is to set the Strike to Master difficulty, or to Grandmaster difficulty when such strikes are available if you have a fireteam up to the task.
Destiny 2 classes
,
Destiny 2 Lightfall review
,
Destiny 2 builds
---
PCGamesN Tuesday, May 16, 2023 12:06 PM
The first details on AMD Ryzen 8000 specs appear to have leaked well ahead of launch, offering us our first glimpse at the next generation of AM5 processors. With this information, we now may have some idea as to the number of cores and amounts of cache these Zen 5 chips will feature, as well as how much power they'll draw.
Ryzen 7000 CPUs - everything we know
,
RDNA 3 GPUs - everything we know
,
Best gaming CPU
---
PCGamesN Tuesday, May 16, 2023 12:05 PM
Looking for a guide to all Diablo 4 weapons? Being a loot-driven action RPG is Diablo's key strength. So, knowing about the weapons in the newest addition to the franchise is key. The weapons types in Diablo 4 are vast and whilst we await the arrival of the full game on June 6, we've gathered all the intel on weapons currently known from beta gameplay, developer updates from Blizzard, and more.
When it comes to which weapons you can use, it's important to note that they're specific to the Diablo 4 class type you choose. Take the Necromancer, for example. Whilst Diablo 4's Necromancer uses multi-class weapons like swords, daggers, wands, focuses, and shields, they are the only class that can use scythes.
From how to unlock weapons in Diablo 4 to the weapons currently known about, this guide takes as deep a dive as possible into everything we know so far. We'll be sure to keep the guide updated though, so bookmark this guide and check back on the game's full release. If you're looking for more Diablo 4 content in the meantime, check out our latest guide to the Diablo 4 battle pass, the best classes, and our tips and tricks guide for beginners.
MORE FROM PCGAMESN:
Diablo 4 release date
,
Diablo 4 system requirements
,
Diablo 4 classes
---
PCGamesN Tuesday, May 16, 2023 12:04 PM
What are The Lord of the Rings: Gollum system requirements? Before you go slinking around Mirkwood, Mordor, and the rest of Smeagol's favored holiday destinations, make sure your PC is up to the task. Daedalic Entertainment has put out some pretty taxing requirements to play The Lord of the Rings: Gollum, especially at high settings.
MORE FROM PCGAMESN:
Best graphics card
,
Best gaming PC
,
Best SSD for gaming
---
PCGamesN Tuesday, May 16, 2023 12:27 PM
One dedicated Genshin Impact player has saved over 600 million mora with the goal of hitting one billion, which is an absolutely ridiculous amount. Amassing that much mora is hard enough in Genshin Impact, but saving it up without spending it is even harder - there's no way to improve artifacts, weapons, or any other gear in the anime game without spending a significant amount.
MORE FROM PCGAMESN:
Genshin Impact codes
,
Genshin Impact character tier list
,
Genshin Impact leveling guide
---
PCGamesN Tuesday, May 16, 2023 11:25 AM
V Rising players can expect to jump straight into the survival game's new free Secrets of Gloomrot expansion when it drops on May 17. Stunlock Studio's new V Rising content will feature enemies, an evolved combat system, an expansion to the map, spell school, V Blood boss hunts, and more.
MORE FROM PCGAMESN:
V Rising server settings
,
V Rising tips
,
The best V Rising base locations
---
PCGamesN Tuesday, May 16, 2023 11:13 AM
That's right, Assassin's Creed NFTs that bridge the gap between physical and digital collectibles are on the way, as Ubisoft partner Integral Reality Labs announces "smart collectibles" that will let you own both a real-world customized Assassin's Creed figure and proof that the RPG game figure exists on the blockchain as well.
MORE FROM PCGAMESN:
Assassin's Creed Valhalla review
,
How long is Assassin's Creed Valhalla?
,
Buy Assassin's Creed Valhalla
---
PCGamesN Tuesday, May 16, 2023 11:32 AM
Looking for a Honkai Star Rail tier list? Judging the best Star Rail characters is tricky. Not only is your roster subject to the whims of Hoyoverse's infamous gacha mechanics, each character's abilities are so varied that it can be difficult to separate the wheat from the chaff. Lucky for you, we've put each character through their paces to provide you with the definitive Honkai Star Rail tier list.
When choosing the best Honkai Star Rail characters for our tier list, we've taken great care to evaluate how each character excels in a variety of situations, including battling through story quests, boss challenges, and game modes. Of course, with more Honkai Star Rail banners on the horizon, you might want to check out the latest Honkai Star Rail codes to net some free Warps while you're here. That said, here are our expert tier list rankings for the best Honkai Star Rail characters in the free PC game right now.
MORE FROM PCGAMESN:
Honkai Star Rail review
,
Honkai Star Rail codes
,
Honkai Star Rail tier list
---
PCGamesN Tuesday, May 16, 2023 10:32 AM
Arr matey, ye be interested in the best pirate games on PC, do ye? Why, it'll always be a good idea to want to be a buccaneer. The clash o' swords, the deck at your feet, the sea in yer beard, the grog in your stomach - 'tis a pirate's life that's right for us. So we've grabbed our bottle of rum and our tricorn hat and headed for the high seas to find the very best pirate games for PC.
Right, that's enough of that, it's starting to give me a headache. There's nothing more liberating than being a pirate. No, not that kind of pirate - you'll want to pay for most of these games to support the creators and get the best experience possible, but there are a few free PC games included below for that feeling of looting booty without the actual piracy. So, from insult sword-fighting to dodging krakens, let's run our swords through the best PC games that incorporate swashbuckling piracy on this high seas. Just try not to spill your grog on the way through the best pirate games on PC, landlubber.
MORE FROM PCGAMESN:
Sea of Thieves tips
,
Sea of Thieves quests, guilds, and raids
,
Sea of Thieves endgame
---
PCGamesN Tuesday, May 16, 2023 10:02 AM
Want to know how to use Minecraft cheats and console commands? There are many ways to play Minecraft, from the purely survival aspect of reaching the end, to building mind-blowing projects in creative mode. Using console commands in a survival world is somewhere between the two, and we've been testing out all the best Minecraft cheats to help you along the way.
Minecraft console commands are wonderfully simple to use, and you can use them to give yourself diamonds and other items, summon Minecraft mobs, locate rare structures like Ancient Cities, and so much more. Remember that you won't earn achievements with cheats turned on, and turning them back off won't help, but if you want all the fun of survival Minecraft without the struggle, then this guide to Minecraft cheats is for you.
MORE FROM PCGAMESN:
Minecraft seeds
,
Minecraft skins
,
Minecraft mods
---
PCGamesN Tuesday, May 16, 2023 10:15 AM
For years the handheld gaming PC dream was but a twinkle in our eyes. Noble attempts were made by GPD and AYA to name a few, but it wasn't until Valve introduced its now venerable Steam Deck in early 2022 that we finally had a performant and affordable option to bring our gaming with us on the go.
The Asus ROG Ally may be the Steam Deck's first truly worthy opponent, with more powerful hardware and a competitive price to boot. However, these two factors alone aren't enough to figure out which device comes out on top. We're here to help you figure out which handheld PC is best for you with in-depth comparisons between the two.
MORE FROM PCGAMESN:
Asus ROG Swift PG27UQ review
,
Asus ROG Strix X470-I Gaming review
,
Best gaming motherboard
---
PCGamesN Tuesday, May 16, 2023 9:43 AM
On the hunt for the best Honkai Star Rail Seele build? The five-star Quantum damage-dealer is one of the best characters you can obtain in Hoyoverse's interstellar gacha game, and while she's pretty strong as standard, you need to pair her with the right Light Cones, Relics, and other equipment to get her to perform at her boss-busting best. That's where we come in.
Our best Honkai Star Rail Seele build will help you float like a butterfly and sting like a, uh, butterfly. Of course, just pulling her from Honkai Star Rail banners can be a challenge in itself, so if you're a little short on stellar jade, don't panic – we've included some viable free-to-play alternatives in our build as well. Here's everything you need for the best Honkai Star Rail Seele build in the RPG game.
MORE FROM PCGAMESN:
Honkai Star Rail review
,
Honkai Star Rail codes
,
Honkai Star Rail tier list
---
PCGamesN Tuesday, May 16, 2023 9:04 AM
Prior to making the climb through our Mountain Makalu Max review, I thought I knew what to expect from the company's modular gaming mouse. In my mind, I figured it'd have fancy add-ons like extra buttons, dials, and things that you wouldn't usually find attached to a PC clicker. In reality, it features none of those and instead serves as a reliable rodent that can morph to suit situational ergonomic needs. Is that a bad thing? Hell no, and it actually means its substance isn't overshadowed by needless style.
MORE FROM PCGAMESN:
Best graphics card
,
Best gaming PC
,
Best SSD for gaming
---
PCGamesN Tuesday, May 16, 2023 9:00 AM
ArenaNet has just announced its second free update, titled What Lies Within, for Guild Wars 2's End of Dragons DLC. Players will finally see the saga that began in What Lies Beneath come to a close as we delve back into the MMORPG's newest zone, Gyala Delve.
MORE FROM PCGAMESN:
The best MMORPG on PC
,
The best dragon games on PC
,
Guild Wars 2: End of Dragons review
---
PCGamesN Tuesday, May 16, 2023 9:49 AM
May 16, 2023: We checked for the latest Honkai Star Rail codes and tested our list to see if any have now expired.
What are the active Honkai Star Rail codes? If you're just starting your adventure through developer Hoyoverse's latest anime epic, you might be wondering if there are any codes for freebies to give you a headstart. Thankfully, Hoyoverse has delivered, and we've got the complete list of active Honkai Star Rail codes right here to prove it.
Honkai Star Rail codes are released periodically, and typically appear in promotional livestreams ahead of major updates. These codes can net you some high-value currency, including Honkai Star Rail Stellar Jade, which you can use to pull the best characters from Honkai Star Rail banners. To save you time, we've collated all the latest codes and how to redeem them in Honkai Star Rail, so be sure to check back regularly before they expire.
MORE FROM PCGAMESN:
Honkai Star Rail review
,
Honkai Star Rail codes
,
Honkai Star Rail tier list
---
Rock Paper Shotgun Latest Articles Feed Tuesday, May 16, 2023 2:13 PM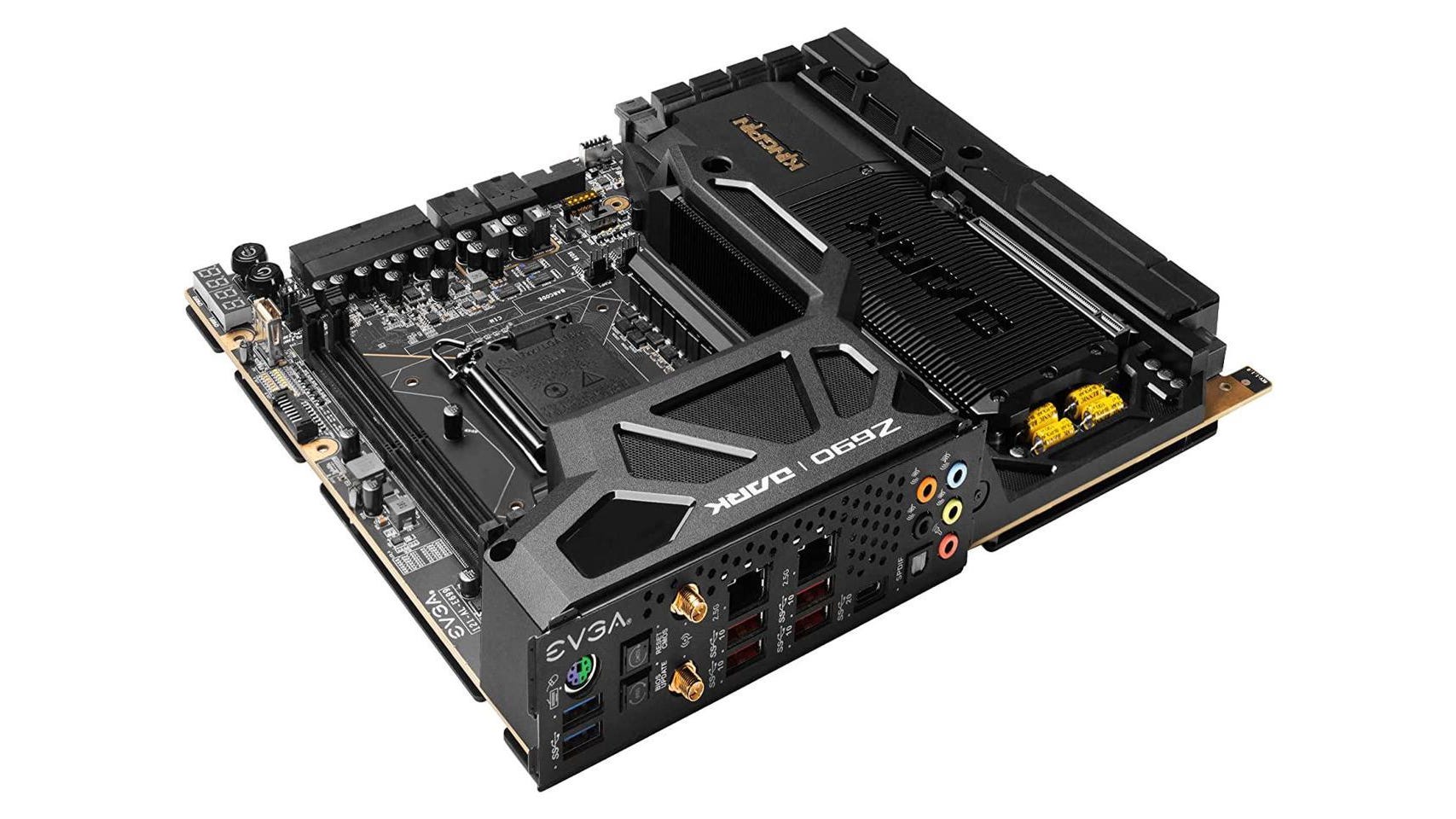 EVGA's Kingpin motherboards are some of the most bonkers out there, proper slabs that are designed for extreme overclocking with hugely impressive power delivery, multiple BIOSes and some unique features. They're also hugely expensive, normally costing close to $1000, but a deep discount on their Z690 model over at Newegg brings it to $400. That's still pricey, but a reasonable pickup given the feature list for anyone designing a top-end gaming rig around Intel's 12th-gen or 13th-gen Core processors.
---
Rock Paper Shotgun Latest Articles Feed Tuesday, May 16, 2023 12:52 PM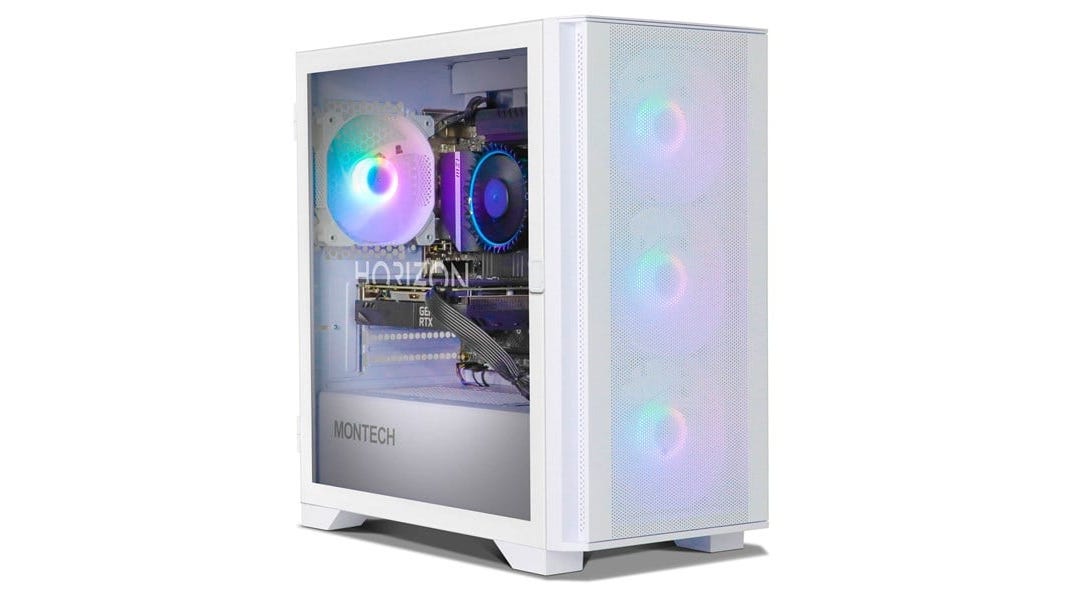 It's been a little while since we covered a prebuilt gaming PC here at RPS, but there's a good deal today on a RTX 4070 system over at CCL.
A configuration that includes a Ryzen 5 5700G, 16GB of DDR4 and 500GB NVMe SSD is available for £960 when you use code GAMER20 - and you even get a free copy of Diablo 4, which debuts on 6/6 and looks quite promising!
---
Rock Paper Shotgun Latest Articles Feed Tuesday, May 16, 2023 12:07 PM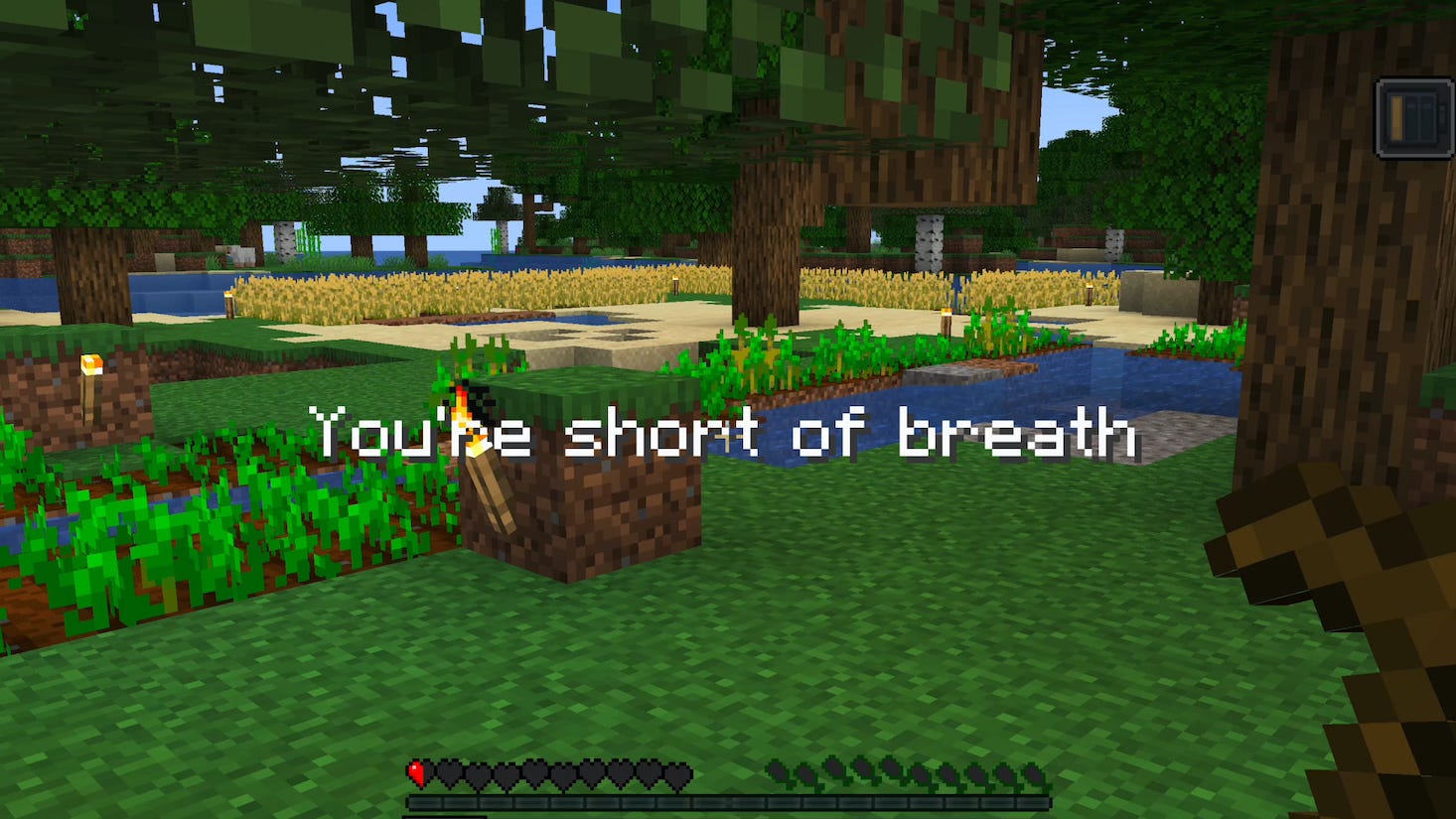 A new series of challenge mod packs aim to raise awareness for Long Covid and chronic fatigue symptoms using three perennial favourites: Elden Ring, Minecraft, and The Witcher 3. The initiative is called Long Covid Mode and all three mods make sweeping adjustments to the games, turning "real-world symptoms into in-game effects." Take a look at some of the examples below:
---
Rock Paper Shotgun Latest Articles Feed Tuesday, May 16, 2023 10:48 AM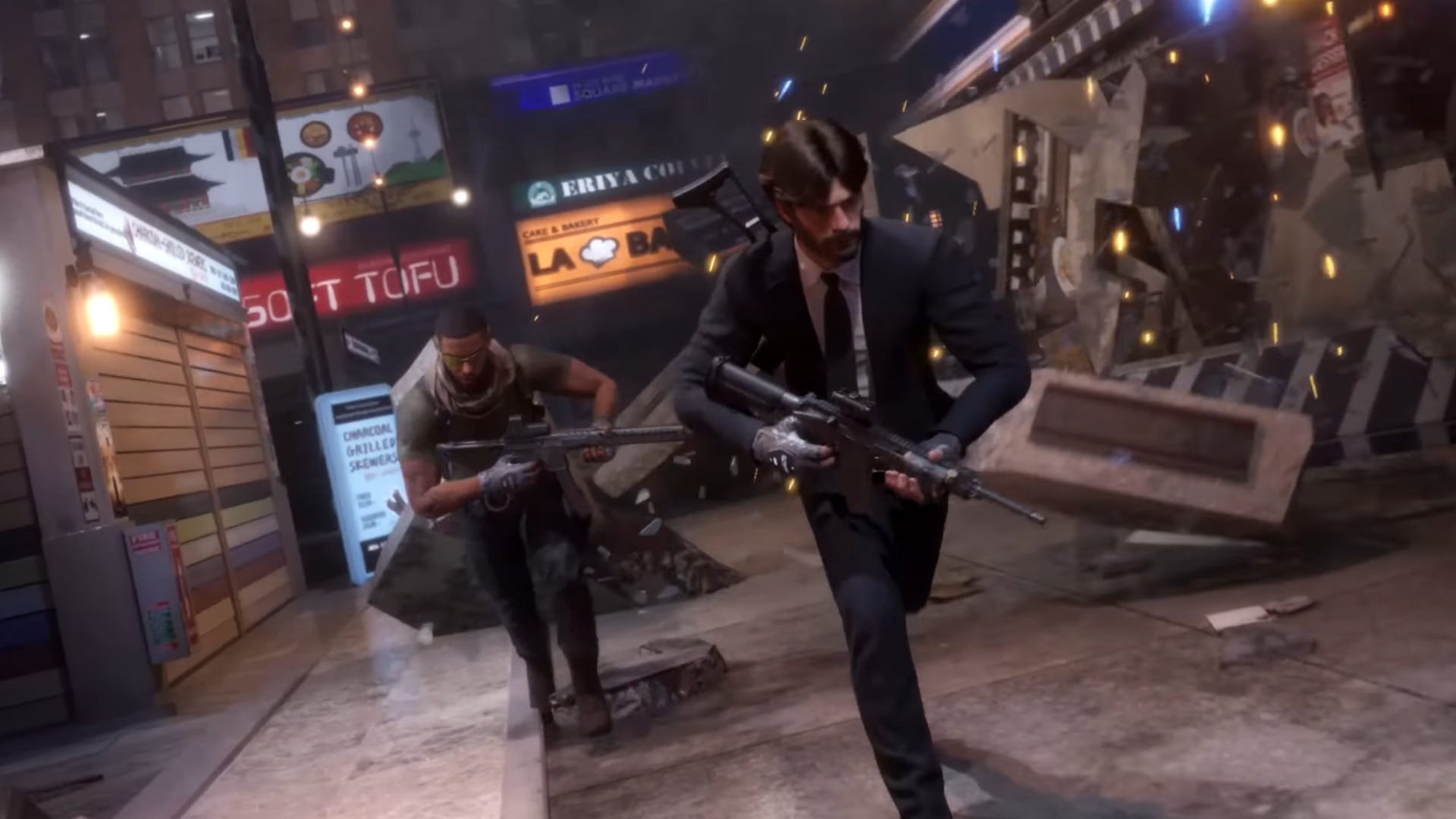 I've been meaning to write about Veiled Experts for over a month now, since playing it religiously during the Final Beta Test. I've been putting it off mostly because I've been busy, but also because I'm trying to find a way of saying "actually it's really good" without people laughing and throwing garbage at me. It's very hard to describe Veiled Experts to someone in a way that doesn't prompt an instant dismissal. That was my reaction too. I saw it on Twitch, my mind said "third person Counter-Strike", and sent an automatic signal down to my lips to proclaim the words: "sounds awful".
Thank goodness for boredom. Later that day I was at a loose end and saw that Veiled Experts was free, so I downloaded it and tried it out. And here we are, a month and a bit later. The game is about to release into Early Access, and I'm desperately trying to get everyone I know to play it with me, because it's bloody phenomenal.
---
Rock Paper Shotgun Latest Articles Feed Tuesday, May 16, 2023 10:33 AM
May marks the beginning of summer, the end of spring, and National Paper Airplane Day. Oh, and another fresh batch of Game Pass comings and goings. The rest of this month welcomes a few gems (Chicory: A Colorful Tale and FIFA), and bids farewell to others (Europa Universalis and FIFA).
---
Rock Paper Shotgun Latest Articles Feed Tuesday, May 16, 2023 10:30 AM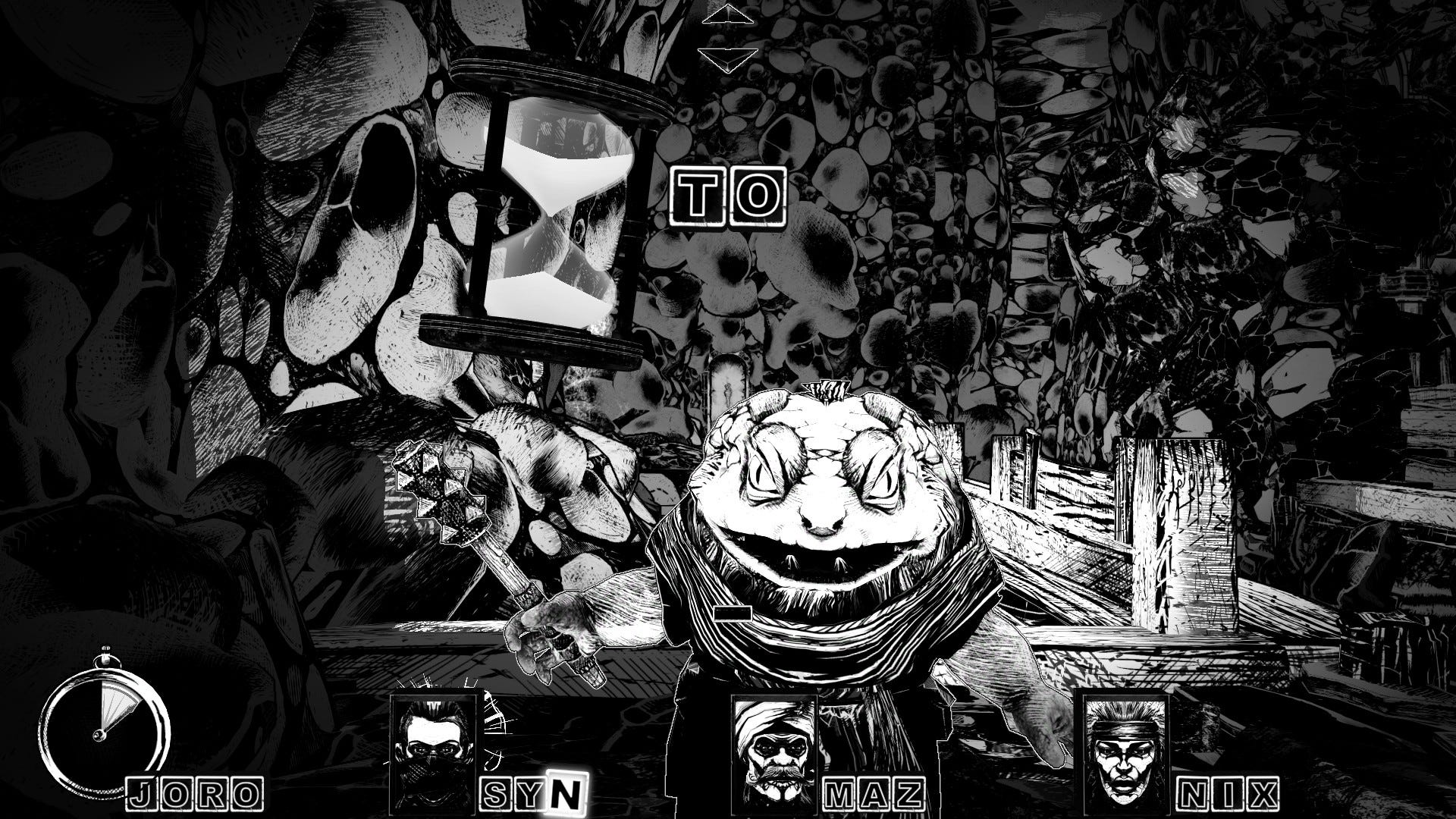 After playing a bunch of the demos at LudoNarraCon earlier this month, the best one I played, with zero hesitation, was Cryptmaster. Its smart text-based puzzle design fused with stylish dungeon crawling had me completely spellbound, to the point where it's now become one of my most anticipated indie games for 2024. It's honestly unlike anything I've played.
Developed by Paul Hart and Lee Williams, Cryptmaster is a dark fantasy dungeon crawler where you need to type (or speak) commands to help get your undead amnesiac party members out of a strange underground kingdom. Your band of forgetful adventurers aren't completely at the mercy of the dungeon, as a devilish-looking necromancer is there to give a helping hand. An ominous figure who acts as both guide and a quest giver, the horned necromancer helps you navigate the strange rules of this underground world where words and letters are a resource for survival.
---
Rock Paper Shotgun Latest Articles Feed Tuesday, May 16, 2023 9:43 AM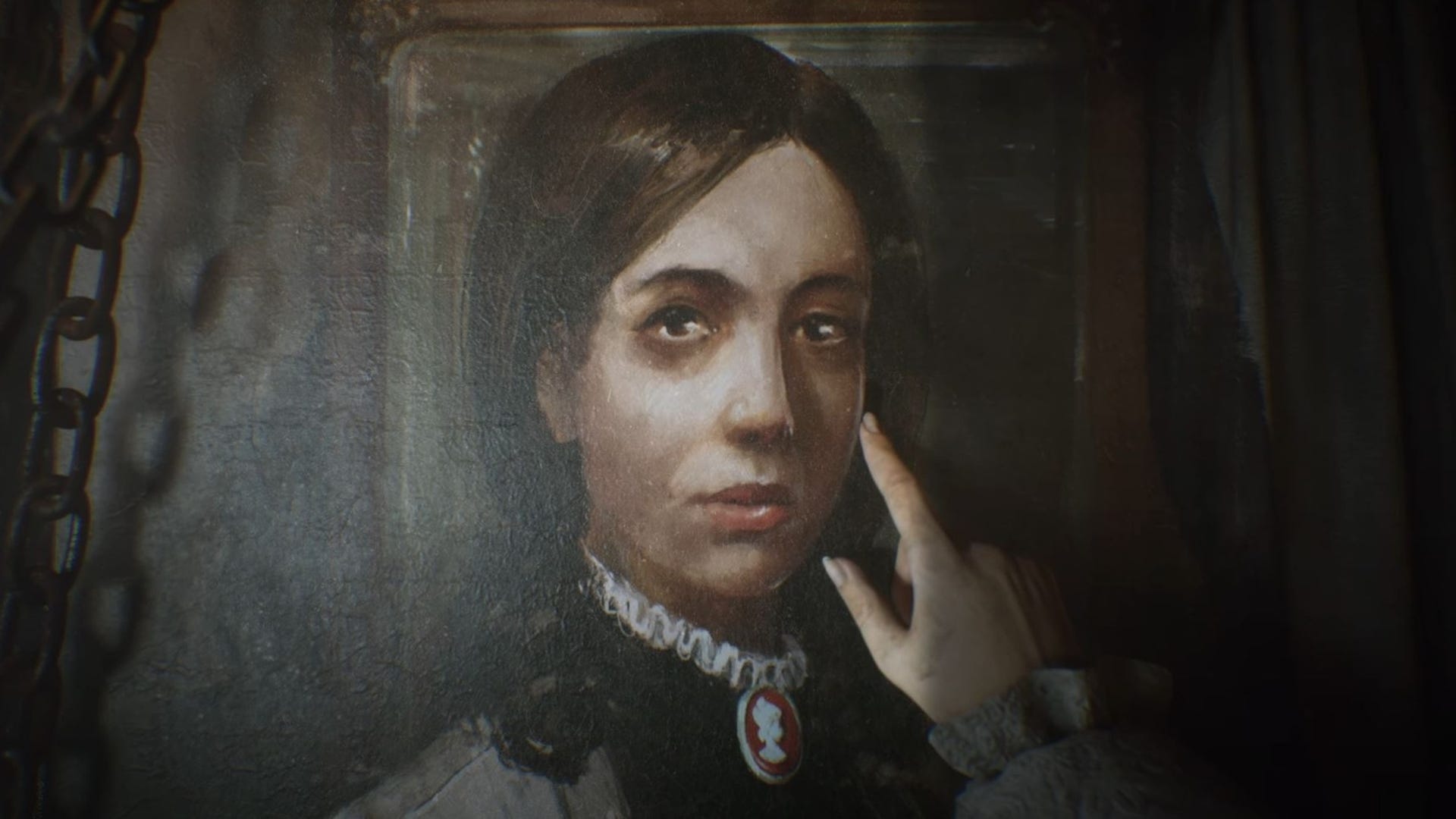 After giving us a release window for horror collection Layers Of Fear, developers Bloober Team have now set a concrete date: June 15th, 2023. The game previously changed its name earlier in the year, dropping the pluralisation of Layers Of Fears. Presumably, it'll still explore more than one fear, though. You can see for yourself as the game released a new demo today, available on Steam until May 22nd.
---
Twinfinite Tuesday, May 16, 2023 11:04 AM
Repairing weapons like this sucks!
---
Twinfinite Tuesday, May 16, 2023 9:57 AM
Catching 'em all just got easier.
---
Twinfinite Tuesday, May 16, 2023 9:45 AM
That wasn't flying... that was falling with style!
---
Twinfinite Tuesday, May 16, 2023 9:00 AM
If you can pull yourself away from the game long enough, you can enjoy these memes!
---
Siliconera Tuesday, May 16, 2023 3:30 PM
Bandai Namco announced the patch to fix issues in Tales of Symphonia Remastered for Nintendo Switch will finally roll out on May 18, 2023. This update is expected to deal with problems such as black screens, background music glitches, and freezes throughout the game. Players have been reporting game-breaking issues since the game's release. It will bring the game up to version 1.2.
According to the patch notes, this update will fix significant issues including processing slowdowns while moving through the Triet area, freezes in the middle of boss battles, and sudden black screens that locked the game in place. This quality-of-life update, known as Patch 1.2, arrives about three months after the game's release in February 2023.
Since the game's release, many players have reported severe performance issues from framerate drops to missing effects and animations. As a response, Bandai Namco apologized for the problems found in the game and announced the team would be working on fixing them.
It's worth noting this Patch 1.2 is only coming to the Nintendo Switch version of the game, which has been reported to have the most severe issues. Bandai Namco has not mentioned any similar patches for the other platforms so far.
Tales of Symphonia Remastered is currently available for the Switch, PS4, and Xbox One. Another version based on the PS3 release is available on PCs via Steam.
The post Tales of Symphonia Switch Patch Finally Fixes Issues appeared first on Siliconera.
---
Siliconera Tuesday, May 16, 2023 3:00 PM
It isn't unusual for a game to occasionally shift protagonists. It can happen briefly to serve as a way to introduce a person or a story element. With Honkai: Star Rail, we've seen HoYoVerse employ this mechanic both with Kafka and Dan Heng, two people with major roles in the story. In both cases, it can feel a bit different than the typical exposition or character questline, and it works to the benefit of the game in many ways to make its storyline, lore, and even gameplay better.
Editor's Note: There are no spoilers for Honkai: Star Rail's story or Kafka and Dan Heng's background below.
By having the player be Kafka when Honkai: Star Rail begins, it helps provide a greater opportunity to question her motives and morality. We're someone who is setting the story in motion. Kafka is bringing our avatar to life. Can she really be bad? Likewise, it's letting us see her interactions with Silver Wolf and perhaps see that maybe she isn't as potentially malicious as our later Astral Express encounter and Xianzhou Luofu experiences with her suggest.
[caption id="attachment_963387" align="alignnone" width="1200"]
Screenshot by Siliconera[/caption]
Then, by splitting up the Astral Express party and adding Dan Heng playable segments in Honkai: Star Rail, it is offering greater insight into both a character and situation. He's completely opposed to heading to the Xianzhou Luofu at first. He notes he's banned from it. But once he realizes how involved Blade is and what could be happening, he abandons his own safety for the sake of others and to return. He's always a quieter character, but casting him as the lead for these segments forces players to pay more attention to him. Also, as a stranger to people like Sushang and Luocha, it means he's forces to show another side of himself and be a bit more talkative. At the same time, we're seeing a side of the conflict and issue that our Trailblazer, March 7th, and Welt can't see.
Not to mention in each case, it's a showcase of what the characters can do. We already all get Dan Heng for free. Maybe we stop using him after we get other characters from the gacha? Being forced to use him in the Xianzhou Luofu story segments lets us see what the he can possibly do. Kafka isn't a playable character at launch. The teaser of her in the tutorial lets us see what another five-star is like and what she may be capable of later if someone does get her.
[caption id="attachment_963389" align="alignnone" width="1200"]
Screenshot by Siliconera[/caption]
Most importantly, HoYoVerse including these segments where Kafka and Dan Heng briefly become the Honkai: Star Rail protagonists reinforces the fact that the Trailblazer — and by extension player — isn't the most important person in the universe. Other people matter too. They can be just as critical. By making these sections you need to go through, rather than side character stories as in Genshin Impact, it is making us realize how important other viewpoints and people are to the story.
Really, the way Honkai: Star Rail incorporates these additional storylines starring characters like Dan Heng and Kafka only benefits the game and its players. We're getting closer looks at people who influence the course of the story. The segments are showing us how important they are, rather than HoYoVerse putting white text on a black screen explaining what they went through and "telling" us it mattered. It's also letting us see those characters as the stars for a moment and, in so doing, force us to use them and see what they're capable of. As a result, it might even change how we play by convincing us certain people should be in our main party. It's all handled well, and I hope we see more of it.
Honkai: Star Rail is available for PCs and mobile devices, and PS4 and PS5 versions are in development.
The post Honkai: Star Rail Kafka and Dan Heng Story Segments Make the Game Stronger appeared first on Siliconera.
---
Siliconera Tuesday, May 16, 2023 3:00 PM
Hololive fan-games appear to be having a moment right now. First, there's the surprisingly good survivors-like Holocure, and now a fighting game offering in Idol Showdown. This is to say nothing of the RPG's, flash games and platformers also coming out of the fan-game scene. Going into Idol Showdown, I was initially apprehensive. I have precious little experience with fighting games, but thankfully it does a decent job of acclimating newer players to the controls.
For the uninitiated, Idol Showdown is a free fan-made fighting game from Besto Game Team and starring VTubers from the Hololive agency. Everything from the moves to the characters and palette swaps are a reference to Hololive streams and in-jokes. When the fight is over, the screen zooms out to a very Youtube-like layout complete with a chatbox and faux-recommendations. Even the voice lines are clipped from the streamers themselves, although several of them have since provided voice lines for the developer to add into the game. There are eight playable characters taken from the agency's Japanese branch, though plenty of members from the English and Indonesian speaking branches also make cameo. The developers also teased additional characters, such as Usada Pekora.
[caption id="attachment_963063" align="aligncenter" width="1200"]
Screenshot by Siliconera[/caption]
The tutorial is the first stop for beginners like myself, and its a quick and robust affair that takes you through all the main mechanics in a few minutes. It does a good job of introducing basic move inputs and concepts like special meter (called the Superchat Meter in Idol Showdown). It doesn't go into detail about concepts like zoning and mix-ups or explain higher level tactics or overall strategy. Now, if you're serious about getting into fighting games, then any game tutorial will have to be supplemented with plenty of outside reading and video guides, but as an absolute beginner I would have appreciated a bit more guidance on "when" to use a move rather than just how."
On top of a tutorial, theres also the Virtual Frontier that tasks players from saving the CEO of Cover Corp (and frequent meme subject) Motoaki "Yagoo" Tanigo from a rampant computer virus. Though it's less a 'story' mode than a replayable gauntlet with stage modifiers and roguelite pickups, passives, and consumables. While Virtual Frontier mainly serves as a vehicle for yet more Hololive VTuber references, it also works well as a single-player activity for those who want to practice outside of training mode. After several runs fighting the same few CPUs, opponents can become a little tiresome, but that small roster can be a boon to beginners who don't need to learn as many match-ups. Additionally, a selection of items offered at the start of a run gives options for an easy combo mode, auto-blocks, or a hard mode to tailor it to your skill level, though even my fat-fingered button mashing was enough to make it through most fights without needing them.
https://www.youtube.com/watch?v=lkcTeZyknQg&ab_channel=IdolShowdown%7CBestoGameTeam
Visually the game is impressively stylized. While there are a couple of moves that lack a bit of impact or are perhaps a bit unclear, generally the sprite work is top notch. Even some of the more out-there attacks, like Coco's raptor-riding grab, communicate what's happening pretty clearly. The voice lines, scraped from streams with various game effects and background going on, feel pretty clean and give good audio feedback. While the offers from the streamers themselves to record lines must be edifying, they almost aren't necessary.
The only really noticeable glitches I found were in the move list menu, when the blur frames of a jumping attack begin to stick around at one point, and the animations for the assist character displayed Miko no matter who I had actually selected. But otherwise, the game ran smoothly at 60 fps and I experienced no crashes. The largest problem I had overall was not being able to set controls to display my preferred controller buttons, which made learning the inputs slightly more challenging. In the long run, learning the more universal symbols can only be useful but in the moment it was an slight barrier to getting used to the controls.
Being a free game with a small roster and beginner-friendly slant, I can see Idol Showdown being a great entry point into fighting games for Hololive VTuber fans. If fighting game veterans, attracted by the allure of rollback netcode, end up endeared to the characters, then the game could serve as a nice gateway between the two communities. Those outside those camps may find its appeal limited, but such is the nature of games targeted at such a specific crossover of audiences. Despite that, Idol Showdown is a worthy addition to the growing list of Hololive fan-games that stand on their own merits.
Idol Showdown is immediately available for free on PC via Steam.
The post Idol Showdown Is Another Surprisingly Solid Fangame appeared first on Siliconera.
---
Siliconera Tuesday, May 16, 2023 2:00 PM
Kotobukiya announced launch details about the upcoming Mega Man 11 model kit, including the reveal that the finished figure can be posed without his helmet. He will cost 7,800円 (~$57). The Japanese release window for it is October 2023. There's no North American release window yet, but it will appear worldwide.
This version of Mega Man is a non-standard scale unit. Once fully built, he'll stand at 135mm. That is just about five inches tall. There are 51-200 parts in the kit. Also, like past kits, it is recommended people have things like nippers.
The finished Mega Man figure will be articulated and able to be posed in different ways. There are four face plates. Mega Man can be posed with or without the helmet. He can have his Mega Buster equipped. There are also Charged Shot effect parts.
Here's a closer look:
[gallery columns="7" size="full" ids="963563,963566,963560,963562,963567,963564,963565" link="file"]
https://www.youtube.com/watch?v=O9UiTySFf88&ab_channel=KOTOBUKIYATV
As a reminder, this is one of many Mega Man model kits from Kotobukiya. The company manufactured many based on past installments. Earlier in May 2023, it also announced additional designs like one based on Black Zero.
The Mega Man 11 Kotobukiya model kit will release in Japan in October 2023, and a worldwide release will follow. Mega Man 11 is available on the Nintendo Switch, PlayStation 4, Xbox One, and PC.
The post Mega Man 11 Model Kit Can Be Posed Without His Helmet appeared first on Siliconera.
---
Siliconera Tuesday, May 16, 2023 1:30 PM
Cyberpunk cat game Stray is coming to Xbox One and Xbox Series X soon, based on a new ESRB listing. The listing contains the same text as the game's previous listing, only now the game is specifically listed for the two Microsoft consoles. Stray previously released in July 2022 for PC, PS5, and PS4. [Thanks, Wario64!]
Neither Microsoft nor publisher Annapurna Interactive confirmed this release yet, so no date is currently known. It's also not clear if Stray will be part of Xbox Game Pass, similar to how it was a day one release for PlayStation Plus.
Stray sees players taking control of a cat in a futuristic world set in a society where humans have disappeared and been replaced by robots. The cat teams up with a small drone robot as he tries to reunite with his family. It allows players to perform a whole bunch of cat behaviors, including knocking paint cans off ledges and clawing furniture.
Stray received widespread acclaim, with it picking up several nominations at The Game Awards in December, including Best Art Direction and Game of the Year. It won awards for Best Indie and Best Debut Indie.
Stray is available now for the PS5, PS4 and PC, and it seems will be getting an Xbox One and Series X release sometime in the future.
The post ESRB Xbox One and Series X Listing Appears for Stray appeared first on Siliconera.
---
Siliconera Tuesday, May 16, 2023 1:00 PM
Now that Sylvie Paula Paula is playable in The King of Fighters XV, SNK updated the official site to go over her KOF XV backstory and Bellamy "interview." The story revealed that she got interested in competing after running into Kukri, and Shermie helped her enter the tournament. Meanwhile, the interview went over her affection for other characters like Athena and Kula.
With the interview, it mainly went over her attire and different characters. As in the last game, she's still connected to both Kukri and Mian. He's even described as her rival in this installment. This backstory segment also noted her affection for Athena and Kula, as how she appreciates both's appearance and attitude.
As for the reason why she joined, it started when she encountered Kukri in Paris after seeing Mian in China. She brought up how Otoma=Raga was mentioned, and he told her to keep out of it. She brought up the encounter and her displeasure at his reaction when spending time with Shermie. Shermie then offered Sylvie Paula Paula a KOF Special Invitation Letter so she'd have a chance to see for herself and encounter Kukri again.
The King of Fighters XV is available for the PS4, PS5, Xbox Series X, and PC, and Sylvie Paula Paula is available as DLC now. A demo is available for the PS4 and PS5.
The post KOF XV Sylvie Paula Paula Story Reveals Shermie Got Her an Invite appeared first on Siliconera.
---
Siliconera Tuesday, May 16, 2023 12:30 PM
Nintendo revealed details about the next Splatoon 3 season. The Sizzle Season will begin on June 1, 2023, following the end of the current Fresh Season. More content is coming to the game, including new music, new and returning stages, and a weapon referencing a classic Nintendo peripheral.
https://twitter.com/SplatoonNA/status/1658457873813217282
Two new stages were revealed. The first of these is Humpback Pump Track, a BMX-themed stage that first appeared in Splatoon 2. The second stage is a new one called Barnacle & Dime. From the footage shown by Nintendo, it appears to be inspired by the courtyard of a large mall. Salmon Run will also gain a new stage, which is Jammin' Salmon Junction.
New weapons will be added to Splatoon 3 too. The Paintbrush is another brush weapon, and it is one that offers a wider spread than the Inkbrush or Octobrush. A new Blaster weapon, the S-BLAST '92, is also coming. It's based on the Super Scope, a light gun released for the SNES. This is similar to the N-ZAP weapons already in the game, which are based on the NES Zapper.
Another major addition for the Sizzle Season is Challenges. Nintendo's trailer showed off some possible challenges, including Too Many Trizookas, Foggy Notion, and Extreme Jump Battle. It's not clear how these challenges will be implemented into the game.
The Splatoon 3 Sizzle Season also adds new Tableturf cards, outfits, and emotes, as each new season's catalog typically does. New music will also be appearing, with the music in the trailer taking on a ska style.
Splatoon 3 is out now for Nintendo Switch. Sizzle Season begins on June 1, 2023.
The post Splatoon 3 Sizzle Season Details Revealed appeared first on Siliconera.
---
Siliconera Tuesday, May 16, 2023 12:00 PM
Capcom's continuing its Street Fighter 6 "How to Play" series of videos looking at characters, with Jamie being the latest "star." Each one of these clips shows what people should know about different fighters and tips for using them. They can also focus on specific helpful moves. His video begins by showing how someone can build momentum with certain attacks, then use opportunities to get a drink to increase his moveset.
Here's the video going over how to play as Jamie in Street Fighter 6.
Combining drunken boxing and breakdancing, Jamie specializes in close-range combat. By drinking a special herbal concoction he can enhance the abilities of his moves, and gain access to new ones. pic.twitter.com/rUQnPpVTVB

— Street Fighter (@StreetFighter) May 16, 2023
We already saw a Street Fighter 6 "How to Play" video starring Jamie's rival Luke. It was the first in the series to appear. In case you missed it, it highlighted how he's "well-rounded."
Learn how to play Luke from Street Fighter 6!

Boasting an array of standard moves complemented by techniques that shine when used offensively, Luke is well-rounded, but particularly adept at close-range combat. pic.twitter.com/oAex7NtITK

— Street Fighter (@StreetFighter) May 12, 2023
Most recently, the last two "How to Play" character videos for Street Fighter 6 starred Chun-li and Ryu.
Street Fighter 6 will appear on the PS4, PS5, Xbox Series X, and PC on June 2, 2023. A demo is available now. Its open beta will appear May 19-21, 2023. It will also appear arcades sometime after launch.
The post New Street Fighter 6 'How to Play' Video Stars Jamie appeared first on Siliconera.
---
Siliconera Tuesday, May 16, 2023 11:30 AM
Final Fantasy XI Producer and Director Yoji Fujito revealed the upcoming roadmap for the MMORPG. Fujito confirmed that new content will gradually wind down as part of a "more realistic" roadmap, but it will still provide "motivation" for players to play. The team will also continue to keep up maintenance on the game.
Fujito pointed to two current Final Fantasy XI events as a template for what players can expect. The 21st Vana'versary Celebration Campaign began on May 11, 2023. During it, various campaigns give out extra rewards than usual. It runs until May 31, 2023.
Simultaneously, the Return Home to Vana'diel Campaign began on May 12, 2023. Past players can rejoin the game free of charge, allowing players an easy way to catch up on content added in the past few years. It also enhances rewards for various campaigns. There will also be an Assist Channel to aid new and returning players. The campaign will run until May 22, 2023.
Fujito previously expressed a desire to keep Final Fantasy XI alive for as long as possible. In his announcement, he also said he was excited to see the game's 22nd anniversary next year.
Fujito recently took over from previous producer Akihiko Matsui in March 2023. Matsui stepped down after ten years of working on the game, seeing Final Fantasy XI's 20th anniversary event as a high note to end on.
Final Fantasy XI is available for Windows PCs.
The post Final Fantasy XI Producer Confirms 'More Realistic' Roadmap appeared first on Siliconera.
---
Siliconera Tuesday, May 16, 2023 11:00 AM
Jing Yuan will join Honkai: Star Rail on May 17, 2023, but people can start collecting Ascension and Trace materials now. HoYoVerse shared details about the character and noted what people will need to collect. The item you'll need the most of is the Immortal Scionette and its upgraded forms, as both his Ascensions and Traces require it. However, the developer didn't note how many of each item people will need just yet.
First, here are the two "base" kinds of Ascension Materials for Jing Yuan and where you can find them in Honkai: Star Rail:
Immortal Scionette: Assignments reward, Embers Exchange, Mara-Struck Soldiers drop, and Simulated Universe reward. The upgraded versions are the Immortal Aeroblossom and Immortal Lumintwig.
Shape Shifter's Lightning Staff: Shape of Doom Stagnant Shadow at Stargazer Navalia on The Xianzhou Luofu.

Next, these are the materials needed for Jing Yuan's Traces in Honkai: Star Rail:
Destroyer's Final Road: Echo of War: Destruction's Beginning weekly boss at Supply Zone on Herta Space Station.
Immortal Scionette: Assignments reward, Embers Exchange, Mara-Struck Soldiers drop, and Simulated Universe reward. The upgraded version is the Immortal Aeroblossom.
Key of Inspiration: Calyx (Crimson): Bud of Erudition reward and Embers Exchange. The upgraded versions are the Key of Knowledge and Key of Wisdom.

Honkai: Star Rail is available for PCs and mobile devices. The PS4 and PS5 versions are in development. The Jing Yuan Event Warp banner will be available in game between May 17, 2023 and June 6, 2023.
The post Jing Yuan Honkai: Star Rail Ascension and Trace Materials Revealed appeared first on Siliconera.
---
Siliconera Tuesday, May 16, 2023 10:30 AM
Kadokawa will re-release a scale figure of Saber Alter from Fate/stay Night Heaven's Feel in a kimono. This figure is a recreation of an illustration that Takashi Takeuchi drew for Newtype magazine. Pre-orders are available via Good Smile Company until June 22, 2023. It costs 24,000 JPY and will come out in January 2024 in Japan. Meanwhile, those in North America can pay $171.99 and get her in Q1 2024.
The scale figure of Saber Alter (Kimono Version) stands at around 275 millimeters. This includes both her stand and her umbrella. The kimono is in Saber Alter's usual dark purple and black color palette, but with red highlights underneath. Her umbrella also has red on the bottom, which serves to contrast with the kimono's dark aesthetic.
Here are some more pictures of the Fate/stay Night Heaven's Feel Saber Alter (Kimono Version) scale figure:
[gallery columns="5" ids="963528,963527,963526,963525,963524" link="file"]
This figure originally came out in April 2020. This was a promotional figure for Fate/stay Night Heaven's Feel Spring Song. That was the third and final film of the Heaven's Feel trilogy. In it, Saber appears as an antagonist after the Grail corrupts her. Saber Alter, or Salter, has since appeared as a playable character in Fate/Grand Order.
The Saber Alter (Kimono Version) scale figure re-release will be open to pre-order until June 22, 2023.
The post Saber Alter Kimono Figure Re-Release Pre-Orders Open appeared first on Siliconera.
---
Siliconera Tuesday, May 16, 2023 10:00 AM
Ahead of the debut of the Honkai: Star Rail Jing Yuan and Before the Dawn Light Cone Event Warp banners, HoYoVerse revealed the other characters and Light Cones that will be on them. If someone is going for the character banner, they'll also see March 7th, Sushang, and Tingyun more often. If you pull for Jing Yuan's Light Cone, three four-star ones will appear more often.
Jing Yuan is a five-star Lightning character on The Erudition path in Honkai: Star Rail. This means he is designed to be a damage dealer who always hits multiple enemies with attacks. Tingyun is one of the more notable four-star supporters and is Lightning-type The Harmony supporter who buffs allies attacks and regenerates their energy. Sushang is a Physical-type The Hunt character. This four-star is great at dealing lots of damage quickly to a single opponent. As for March 7th, this four-star initially joins everyone for free and is a Ice-type Preservation character who puts up shields and makes follow-up attacks.
As for the focus Light Cones on the Brilliant Fixation Warp, here's the full list of the ones people will have a higher chance of getting. Just as Before Dawn is a Light Cone with Jing Yuan in mind, the other three four-stars are ones that apply to March 7th, Sushang, and Tingyun.
Before Dawn (The Erudition) Five-Star Light Cone
Day One of My New Life (The Preservation) Four-Star Light Cone
Only Silence Remains (The Hunt) Four-Star Light Cone
Planetary Rendezvous (The Harmony) Four-Star Light Cone
Honkai: Star Rail is available for PCs and mobile devices. The PS4 and PS5 versions are in development. The Honkai: Star Rail Jing Yuan banner will be available until June 6, 2023.
The post Honkai: Star Rail Jing Yuan Banner Includes Tingyun appeared first on Siliconera.
---
Siliconera Tuesday, May 16, 2023 9:30 AM
After teasing a new type of Poke Ball on May 15, 2023, Niantic announced the Master Ball will come to Pokemon GO. It won't be an item people can buy. Rather, the announcement noted the first one will be one people will need to earn. It will be a Special Research reward starting on May 22, 2023.
How to get a Master Ball in Pokemon GO
So far, Niantic only revealed one opportunity to get the can't miss Poke Ball in the game. It noted the Special Research: Let's Go in Season 10: Rising Heroes will offer the first Pokemon GO Master Ball reward. Between May 22, 2023 and June 1, 2023, people will apparently be able to get it. Should this questline be completed, they'll get a single Master Ball.
This means there will be five total types of Poke Balls in Pokemon GO. The Poke Ball, Great Ball, and Ultra Ball are all used for normal catching while exploring. The Beast Ball only is used if you take part in an Ultra Beast Raid. Finally, if you face a Team Rocket member or a normal Raid and get a catching opportunity at the end, then the Premier Ball will appear as the one you can use.
Pokemon GO is available on Android and Apple iOS devices. As a reminder, Niantic recently removed accessibility features by changing how Remote Raid Passes work.
The post Master Ball Debuts in Pokemon GO in May appeared first on Siliconera.
---
Siliconera Tuesday, May 16, 2023 9:10 AM
Yet another Hololive VTuber has contracted COVID-19, as Cover reported that Sakura Miko will be on hiatus. After discussions with her doctor and manager, she decided to take a break for a week and see how she feels. If she feels better after seven days, then she will likely resume her normal streaming activities. Cover also apologized for the worry this news may cause.
Sakura Miko felt sick for a while now, according to Cover's tweet in regards to the VTuber's hiatus. After she went to get a check-up, she found that she tested positive for COVID-19. On Sakura Miko's personal Twitter account, she said that she went to the hospital because her throat has felt off for a long while. Though she does not have a fever, she has a sore throat and is coughing.
Many Hololive VTubers have ended their Golden Week vacation with a COVID-19 diagnosis. She is the fourth VTuber to go on a break for health reasons. Going off of the tweets, it seems like Sakura Miko has the lightest COVID-19 symptoms. Laplus Darkness, Murasaki Shion, and Minato Aqua are all also recovering, and all three of them have reported a fever as one of their symptoms.
Sakura Miko will take a week hiatus to recover from COVID-19. If she feels better at the end of it, she will resume her usual activities.
The post VTuber Sakura Miko Will Take Brief Hiatus Due to COVID-19 appeared first on Siliconera.
---
PC Invasion - FeedDDD Tuesday, May 16, 2023 3:58 PM
From the Team that brought us New World, a wildly successful MMORPG, we now see the emergence of an all-new Lord of The Rings MMORPG. This title, backed by the almost bottomless dragons hoard of Amazon Games, is sure to be a big hit amongst MMORPG players and Lord of The Rings fans alike. Amazon Games Orange County studio promises to stay true to the literary world of Tolkien's fantasy. They plan to provide players with an experience that satiates new and old fans alike. They are intending to develop their already successful engine and approach to the genre to work with a Middle Earth environment. A new age of Lord of The Rings Screenshot via Amazon Games Every year players cry out for another edition to The Lord of The Rings catalog of games. There are plenty to choose from, but the franchise leaves itself very open to adaptation and gameplay. Shadow of Mordor and Return of The King had me burying hundreds of hours into defeating my enemies and becoming all-...
---
PC Invasion - FeedDDD Tuesday, May 16, 2023 3:49 PM
The major dungeons in The Legend of Zelda: Tears of the Kingdom have majorly improved since Breath of the Wild's Divine Beasts. Once you reach Rito Village and help Tulin find the source of the blizzard, you come to a place called the Wind Temple. This giant Stormwind Ark ship has five locks that need opening, but where do you even start? We'll tell you how to open the five locks on the Wind Temple in Tears of the Kingdom. Tears of the Kingdom Wind Temple – Five locks puzzle Lock one – F1 As soon as you're given free reign to explore the Wind Temple, walk towards the north side of the ship. To the left and right of a small set of stairs are shut gates with opening mechanisms. You can open the one on the left with Ultrahand for a chest containing one Opal. But you've probably noticed the one of the right doesn't have a lever to pull. Screenshot by PC Invasion You can easily fix this by attaching an icicle on the ground nearb...
---
PC Invasion - FeedDDD Tuesday, May 16, 2023 3:43 PM
Overwatch 2 just got a huge update on what we can expect with PvE, the future seasons, new Heroes, and much more. In general, I think this update is good news, but it does come with several letdowns. Let's jump right into it — here is everything announced in Overwatch 2 for 2023. Note: If you want to master Lifeweaver, check out our guide. Overwatch 2 PvE Hero Mode canceled, Story Missions explained In a recent Overwatch 2 Dev Update video, it was revealed that the PvE that was announced in 2018 is canceled, but there will still be a PvE mode coming in Season 6 and future seasons beyond that. Instead of a live PvE experience that was promised, we will get Story Missions that are solo or co-op experiences where you can experience a new piece of story as well as try to get the highest score possible on the leaderboards. These new PvE Story Missions will be replayable. New Story Missions are planned to release alongside new seasons to kick off a full new story...
---
PC Invasion - FeedDDD Tuesday, May 16, 2023 3:13 PM
You could be forgiven for thinking the new GS Magna Handgun in MW2 and Warzone 2 is simply a reskin. After all, it looks almost identical to the .50 GS and even has the same attachments! The big difference is under the hood. The GS Magna is fully automatic, completely changing how to build this mighty hand cannon. Let me show you the best GS Magna Loadout for DMZ and Warzone 2. I've got two builds for you to play with in this guide. One for a single GS Magna and one if you prefer Akimbo. The best GS Magna loadout in DMZ and Warzone 2 I've recommended Perks and Equipment, but these are personal preferences. As the GS Magna is a secondary weapon, you can decide if you want it to be your main focus or a backup for your primary. Image by PC Invasion GS Magna Attachments Barrel: SA Tyrant Fifty Muzzle: EXF Fifty GS Underbarrel: Bruen Warrior Grip Magazine: 13 Round Mag Optic: SZ Mini Equipment Lethal: Semtex Tactical: Stun/Flash Gre...
---
PC Invasion - FeedDDD Tuesday, May 16, 2023 3:05 PM
Today marks the day that PS Plus updates its catalog with one of the best PlayStation 5 games on the market right now. If you're familiar with Sony's game subscription deal, you'll know that PS Plus cycles great first and third-party games in and out of their catalog for subscribers to freely enjoy on a fairly regular monthly basis. As great as PS Plus is, the games you get to enjoy on it aren't technically free since you have to pay one of the three tiers of subscription fees which provide access to different levels of available games. Nevertheless, if you want to find out what game you just got free access to if you are a PS Plus Extra subscriber, read on! New PS Plus Extra game makes it all worth it If you are subscribed to PS Plus Extra, which costs $14.99 for one month, $39.99 for three months, and $99.99 for 12 months, you can jump into the PS Plus catalog today and enjoy Ratchet and Clank: Rift Apart! While there haven't been ma...
---
Gamer Empire Tuesday, May 16, 2023 2:32 PM
If you are new to Stellaris, you might not have ever heard of the Empire Size mechanic. Empire Size is a numerical value assigned to every empire, which represents how difficult it is for the empire to run. Knowing how to interact with this subtle and nuanced game system; is the first step in becoming […]
---
Gamer Empire Tuesday, May 16, 2023 1:42 PM
In Project Zomboid, farming is the only way to ensure food for your long-term survival. To farm, you need seeds as the primary factor. While it may seem difficult to find seeds in a world overrun by zombies, there are several ways to obtain them. Recommended Read: How to Watch TV in Project Zomboid This […]
---
Gamer Empire Tuesday, May 16, 2023 1:33 PM
War is inevitable in Stellaris, and knowing how to manage your spaceships effectively can carry you a long way. One tool all players will need to learn is how to combine fleets. There is strength in numbers, and having your ships travel around in small groups will make them an easy target for your foes. […]
---
Tabletop Gaming News – TGN Tuesday, May 16, 2023 4:00 PM
Warhammer Underworlds is now becoming more accessible than ever before with the introduction of an all-new starter set. Designed to provide an easy entry point for beginners while offering exciting updates for existing players, this comprehensive set is the perfect way to embark on your Warhammer Underworlds journey. Returning to the game's original setting, the …
---
Tabletop Gaming News – TGN Tuesday, May 16, 2023 3:00 PM
The third expansion to the solo RPG series, Colostle, has hit Kickstarter. Titled "Kyodaina," this expansion introduces a whole new eastern-themed area and story to the game, offering players an exciting adventure within the sprawling castle. With an already impressive $22,216 pledged of their $6,263 goal and 592 backers, the campaign for Colostle: Kyodaina is …
---
Tabletop Gaming News – TGN Tuesday, May 16, 2023 2:30 PM
Already Tuesday? Whoof. Ok, today's going by quick. Part of that is because I've been busy AF with stuff. But, hey, I'm getting things done and that weekend is all that much closer. So, win-win, right? And to help it continue along, let's listen in on some gaming podcasts. This week on the dial we …
---
Tabletop Gaming News – TGN Tuesday, May 16, 2023 11:47 AM
The Forest of Davokar trembles as darkness spreads its suffocating embrace. Today, Free League Publishing has unveiled the first artwork and key features for Davokar Awakens, the eagerly awaited expansion for the critically acclaimed dark fantasy role-playing game Symbaroum. As the Eternal Night descends upon the land, pre-orders for Davokar Awakens are now live on …
---
Tabletop Gaming News – TGN Tuesday, May 16, 2023 9:55 AM
Sentima: Sundered Wilds, the highly anticipated tabletop role-playing game, is set to take explorers on a thrilling journey into a world filled with wonder and peril. To give players a taste of the immersive gameplay experience, the creators have announced the release of a free test pack, which includes a one-shot adventure for the game. …
---
Tabletop Gaming News – TGN Tuesday, May 16, 2023 8:58 AM
Seb Games has announced the release of two exciting new sets: the "Assault on Juzo Precinct" Starter Set and the "Battle for Havökkia" Starter Set (10mm version). These sets are now available for pre-order, offering gamers a chance to embark on thrilling adventures in the VOID and Battle Havoc! universes. The "Assault on Juzo Precinct" …
---
Gaming Instincts – Next-Generation of Video Game Journalism Tuesday, May 16, 2023 3:43 PM
---
Gaming Instincts – Next-Generation of Video Game Journalism Tuesday, May 16, 2023 3:27 PM
---
Gaming Instincts – Next-Generation of Video Game Journalism Tuesday, May 16, 2023 3:15 PM
---
Gaming Instincts – Next-Generation of Video Game Journalism Tuesday, May 16, 2023 3:03 PM
---
Level Up Tuesday, May 16, 2023 12:00 PM
Final Fantasy XVI arrives exclusively on PlayStation 5 next month, but before that, it's getting…