---
Kotaku Sunday, January 22, 2023 7:40 PM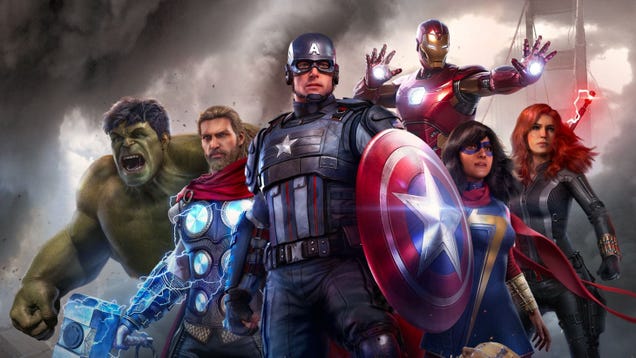 This may come as a surprise to the players who abandoned the game long ago and assumed this time had come already, but Crystal Dynamics and publishers Square Enix have announced the impending end of online support for Marvel's Avengers.

---
Kotaku Sunday, January 22, 2023 5:15 PM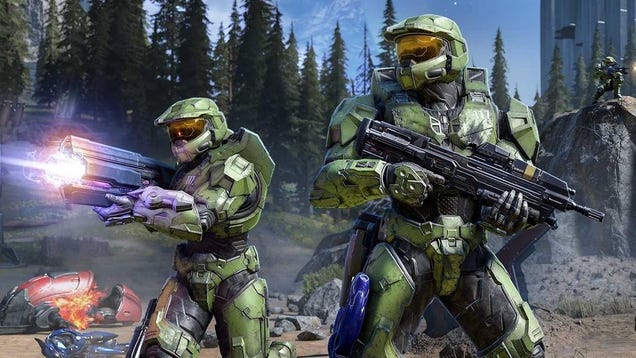 When Microsoft—a company that made "$198 billion in revenue and $83 billion in operating income" in 2022—made the decision to axe 10,000 workers last week, a number of those came from their video game operations, particularly 343 Industries, the overseers of the Halo series.

---
Twinfinite Sunday, January 22, 2023 6:56 PM
Nothing is easy in Night City.
---
Twinfinite Sunday, January 22, 2023 5:06 PM
Pathfinder stocks are rising after this win.
---
Twinfinite Sunday, January 22, 2023 4:16 PM
It's about time.
---
Twinfinite Sunday, January 22, 2023 2:41 PM
Still goin' strong, Choom!
---
Siliconera Sunday, January 22, 2023 6:00 PM
Entergram will start selling merchandise from Aquarium, which is a PS4 and Switch romance game featurinh Minato Aqua of Hololive. The goods were originally exclusive to Comiket 101. However, Entergram will start selling it to non-Comiket participants from January 26, 2023 via Sofmap. [Thanks, Dengeki Online!]
The Minato Aqua Aquarium merchandise that will be available for purchase from Sofmap are:
C101 set
B2 tapestry, a short story, visual fanbook, special paper bag
Switch storage case
Rubber keyholders (five variations)
Acrylic figures (three variations)
Though Minato Aqua is the star of Aquarium, you have the chance of getting either Houshou Marine or Shirakami Fubuki for the keyholders of the acrylic figures. Both of them are also Vtubers associated with Hololive. Sofmap does offer international shipping. As of the time of writing, though, the only Aquarium item available on Sofmap is the Switch version of the game. So the prices of the various goods are unknown as of yet.
Aquarium came out in October 2022, and there is no official English release as of yet. It is a romance visual novel in which you play as Minato Aqua's employer. She is your maid, and you are a nobleman. Various Hololive VTubers, including Aqua herself, streamed themselves playing the game.
Aquarium is available in Japanese territories on the PS4 and Nintendo Switch. The Hololive Aquarium goods will appear on Sofmap from January 26, 2023.
The post Hololive Minato Aqua Aquarium Merchandise Will Appear on Sofmap appeared first on Siliconera.
---
Siliconera Sunday, January 22, 2023 3:00 PM
Hu Tao has been in Genshin Impact for a while now as one of the game's more desired Pyro DPS characters, and she will make a return in Version 3.4. For those who do not have Hu Tao but plan on pulling for her, it's good to start farming for her ascension materials now. Fortunately, since she debuted in 2021, even newer players should be able to access everything she needs.
Here are the Ascension Materials and Mora to set aside for Hu Tao:
Ascension 1:
20,000 Mora
1 Agnidus Agate Sliver
3 Silk Flowers
3 Whopperflower Nectars
Ascension 2:
40,000 Mora
3 Agnidus Agate Fragments
10 Silk Flowers
15 Whopperflower nectars
2 Juvenile Jades
Ascension 3:
60,000 Mora
6 Agnidus Agate Fragments
20 Silk Flowers
12 Shimmering Nectars
4 Juvenile Jades
Ascension 4:
80,000 Mora
3 Agnidus Agate Chunks
30 Silk Flowers
18 Shimmering Nectars
8 Juvenile Jades
Ascension 5:
100,000 Mora
6 Agnidus Agate Chunks
45 Silk Flowers
12 Shimmering Nectars
12 Juvenile Jades
Ascension 6:
120,000 Mora
6 Agnidus Agate Gemstones
60 Silk Flowers
24 Shimmering Nectars
20 Juvenile Jades
You can get Silk Flowers in Liyue Harbor and around Wangshu Inn. Also, you can farm Juvenile Jades from the Primo Geovishap, which is in the Minlin area of Liyue. In total, you will need 420,000 Mora, 46 Juvenile Jades, and 168 Silk Flowers. This is on top of the Agnidus Agate materials and Whopperflower materials.
As for Hu Tao's Talents, she takes Diligence books. You can farm Diligence from Taishan Mansion on Tuesdays, Fridays, and Sundays. Her Weekly Boss drop is Shard of a Foul Legacy, which you can get from Childe. Childe is in Liyue, just like all the other Ascension Materials Hu Tao takes.
To fully level up a single Talent, Hu Tao needs:
1,652,500 Mora
3 Teachings of Diligence
21 Guides to Diligence
38 Philosophies of Diligence
6 Whopperflower Nectars
22 Shimmering Nectars
31 Energy Nectars
6 Shard of a Foul Legacy
1 Crown of Insight
While you do not need to push her all the way to Level 90, I do recommend fully Ascending Hu Tao. This is because her special stat when leveling up is her Crit DMG. A lot of Hu Tao's usefulness comes from her Charged Attack and the nuke DMG from her Burst. So having a high natural Crit DMG is beneficial.
Genshin Impact is readily available PS4, PS5, Windows PC, and mobile devices. Hu Tao is a limited 5-star character, so you cannot always pull for her unless she is on a re-run banner.
The post Genshin Impact Hu Tao Ascension Materials Are All in Liyue appeared first on Siliconera.
---
PC Invasion - FeedDDD Sunday, January 22, 2023 4:20 PM
Over Peaks is the Day 3 Paper Theater challenge in Genshin Impact. Things are going to get more complicated since you now have to deal with wind currents and floor plates. Here's our Genshin Impact Paper Theater Over Peaks guide to help you with this activity that's part of Lantern Rite 2023. Note: For more information about the game, check out our Genshin Impact guides and features hub. Likewise, you can take a look at our main guide for the Lantern Rite 2023 event. Genshin Impact Paper Theater Across Mountains guide (Lantern Rite 2023) For Genshin Impact's Over Peaks puzzles in the Paper Theater activity, we've labeled some of the movable slides based on their starting positions. Additional instructions we provide are based on whatever might be the new slides/landscapes in that spot once you've rearranged them accordingly. Scene 1 Screenshot by PC Invasion The first Paper Theater Over Peaks slide in Genshin Impact adds the wind current mechanic. ...
---
PC Invasion - FeedDDD Sunday, January 22, 2023 2:55 PM
Consecrated Beasts are a type of enemy in Genshin Impact. Initially added as part of the version 3.4 update, these foes are significantly tougher compared to the hapless critters that you've seen in the past. Moreover, certain lairs won't be accessible to you at the start. Here's our Genshin Impact Consecrated Beasts locations guide to help you find them and acquire their Sturdy Shell and Marked Shell drops. Note: For more information about the game, check out our Genshin Impact guides and features hub. Genshin Impact Consecrated Beasts locations guide (Dessicated Shell, Sturdy Shell, and Marked Shell) Consecrated Beasts in Genshin Impact are predominantly found in Sumeru's desert regions, though you might even see a lone mob wandering in Inazuma. They come in three variants: Consecrated Vultures (Pyro), Consecrated Scorpions (Electro), and Consecrated Serpents (Anemo). Compared to their smaller counterparts, they pack quite a punch, as the elements have ...
---
WGB, Home of AWESOME Reviews Sunday, January 22, 2023 6:39 PM
The mouse market is a confusing place filled with equally confusing terminology and numbers. There's so much choice out there, from established brands to a myriad of newcomers offering insanely light mice designed for people who have sacrificed thousands of hours upon the altars of competitive multiplayer. So when I went hunting to replace my Logitech G403 I was greeted with so many choices that my brain immediately displayed a 404 error and refused to do anything for a few hours. After a lot of searching, I settled on one of Razer's latest mice, the Basilisk V3, their updated version of a mouse I actually reviewed back in 2017. Three revisions later, how is it holding up?
---
Latest Games on Play iDev Games Sunday, January 22, 2023 5:32 PM
the world is no longer the same, to keep the working class together it takes tactical action...