---
Kotaku Saturday, January 8, 2022 4:00 PM
Doomed: Demons of the Nether is a new, free mod out today for Minecraft that turns the entire blocky survival game into a surprisingly accurate-looking recreation of the 2016 Doom reboot, complete with shotguns and even a BFG.
---
Kotaku Saturday, January 8, 2022 2:30 PM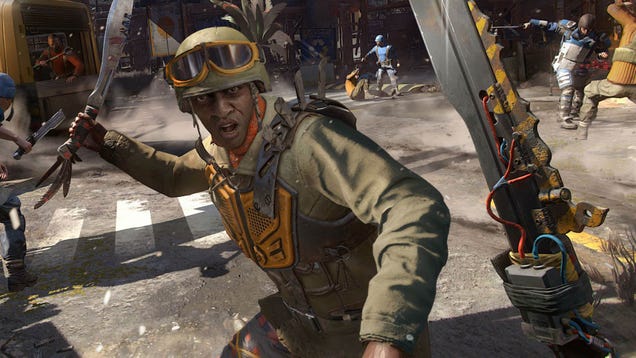 Some games, like Wordle and other indie titles, are trying to be smaller experiences that you play for a few minutes or hours and then leave. Dying Light 2 isn't one of those games. Instead, the folks behind the game are excitedly advertising that it will take players over 500 hours to fully complete the open-world…
---
Kotaku Saturday, January 8, 2022 12:15 PM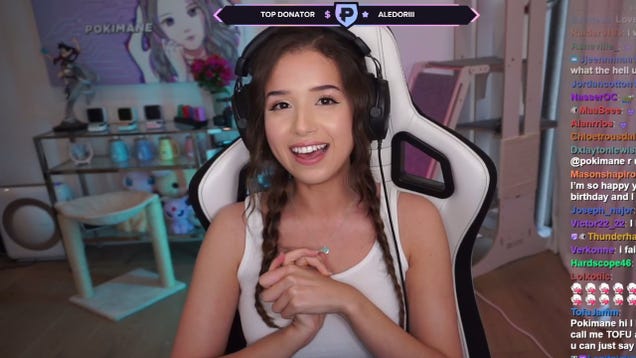 Pokimane, one of Twitch's biggest and most popular streamers with over 8.5 million followers, was banned from the platform last night while streaming the cartoon Avatar: The Last Airbender. The ban is temporary, according to Pokimane, but is a sign that Twitch's growing "TV Meta" is probably going to cause further…
---
PCGamesN Saturday, January 8, 2022 1:08 PM
The latest game from Binding of Isaac and Super Meat Boy developer Team Meat, here's a short look at Mewgenics' turn-based combat in action along with new details on the cat DnD RPG - which is already "super fun", despite still being two years away.
We first started hearing about Mew-genics - back when it still had a hyphen - around ten years ago, and that version was ultimately cancelled. However, back in 2018 Team Meat head Edward McMillen confirmed that Mewgenics was back in development and had been entirely rebooted.
There's only been bits and pieces on the game since but it's beginning to take shape. McMillen recently answered a few questions on Mewgenics on Twitter - including reconfirming that the current version probably won't be out until at least 2024. He also confirms that it's similar to Binding of Isaac "in terms of replayability", featuring branching chapters with zones consisting of three chapters each - and that it's basically "cat DnD".
---
PCGamesN Saturday, January 8, 2022 12:11 PM
The latest Awesome Games Done Quick starts tomorrow, the first charity speedrunning contest of 2022 and the first one in the Awesome series since 2020. We've got the full AGDQ 2022 start time below along with what games you can expect to see on day one - which includes our game of the year, Deathloop.
In case you didn't know, Games Done Quick is a charity event series dedicated to speedrunning and has been going since 2010, taking various forms - with the previous Summer Games Done Quick the only one of its type last year, and that raised around USD$2.9 million for Doctors Without Borders.
The latest in the Awesome Games Done Quick charity speedrunning event will begin tomorrow, January 9, and has a pre-show start time of 8:30 am PT / 11:30 am ET / 4:30 pm GMT. The event will run throughout the week and will conclude on either January 15 at 9:08 pm PT or January 16 at around 00:08 am ET / 5:08 am GMT. You can watch it on Twitch.
Deathloop review
,
Pre-order Deathloop
,
The best FPS games on PC
---
Rock Paper Shotgun Latest Articles Feed Saturday, January 8, 2022 6:44 PM
You know what's good? TFI Friday, RPS's regular roundup of indie games by Alice B. It's where I learned about another good thing: WorldBox, a god sim that entertained me (and my son) over the Christmas holidays.
---
Rock Paper Shotgun Latest Articles Feed Saturday, January 8, 2022 5:44 PM
To me, Mass Effect ends about six hours into Mass Effect 1, when I get bored and wander off to play something else. I've had ears and eyes long enough to know that people were upset about the ending of Mass Effect 3 however, even after BioWare tweaked it. The original Mass Effect 3 had various "Happy Ending Mods" to change the close of Commander Shepard's story, and now Mass Effect Legendary Edition does, too.
---
Rock Paper Shotgun Latest Articles Feed Saturday, January 8, 2022 5:10 PM
Time moves so fast now that I remain convinced Games Done Quick happens once a fortnight. True or not, it's definitely happening this week, beginning tomorrow, Sunday January 9th, and running through until Sunday January 16th. This time, the charity speedrunning marathon features several recent games including Deathloop and Death's Door, among many others.
---
Rock Paper Shotgun Latest Articles Feed Saturday, January 8, 2022 4:39 PM
Developers have good taste in games. That's the take away from each year's Independent Games Festival Awards, which consistently selects shortlists of excellent games. The nominations for 2022 are up, and the contenders for this year's Seumas McNally Grand Prize includes Unpacking, Inscryption, Loop Hero, Cruelty Squad, The Eternal Cylinder and Unsighted. Sounds about right.
---
Destructoid Saturday, January 8, 2022 3:00 PM
---
Destructoid Saturday, January 8, 2022 1:00 PM
---
Destructoid Saturday, January 8, 2022 12:00 PM
---
Player Assist | Game Guides & Walkthroughs Saturday, January 8, 2022 4:43 PM
Here are seven hidden easter eggs in Minecraft likely to give you a good laugh. Just like other games, Minecraft does not fall short on Easter eggs. Easter eggs are humorous secret features most players would not know about unless they looked for them. In Minecraft, the Easter eggs are often created with something related […]
---
Player Assist | Game Guides & Walkthroughs Saturday, January 8, 2022 2:32 PM
Bind is one of the more straightforward maps in VALORANT in terms of bombsite takes. Unlike some of the other maps in VALORANT, Bind does not feature a "Middle" area in its map layout. The map is simply an A and B site layout, making things simpler for both Attackers and Defenders. Site entry points […]
---
Player Assist | Game Guides & Walkthroughs Saturday, January 8, 2022 12:50 PM
Fortnite isn't like any of the battle royales out there. Yes – it does have your standard shooting and the run-of-the-mill quest for survival until you're the last one standing but there's more to it than meets the eye. A huge portion of the game is dedicated to building. Those who are considered as the […]