---
Kotaku Wednesday, November 23, 2022 5:25 PM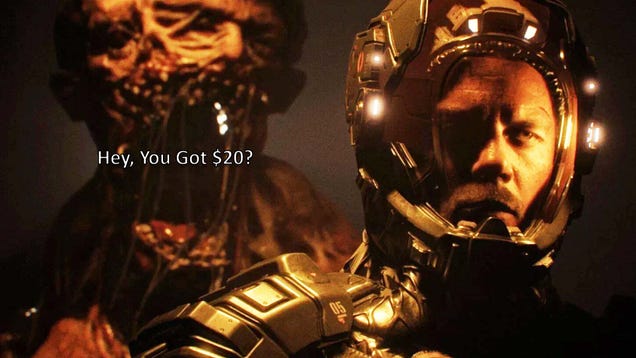 Callisto Protocol, out next month on consoles and PC, is a horror game that looks and plays a lot like the beloved Dead Space franchise. And like Dead Space, Callisto Protocol will feature some gnarly-looking deaths, both for you when you screw up and bite it, and for your alien foes when you slaughter them. But some…
---
Kotaku Wednesday, November 23, 2022 4:45 PM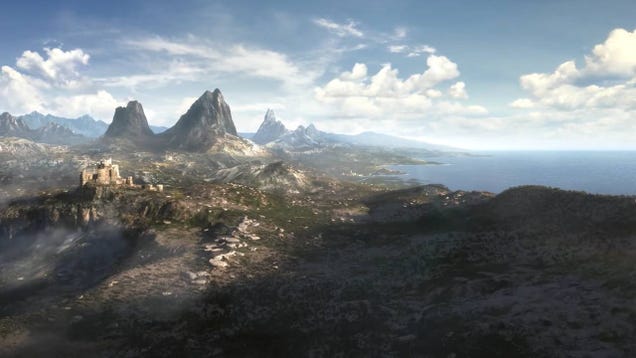 The court proceedings to justify why Microsoft should be allowed to acquire Activision Blizzard are still currently ongoing. In a response to the UK market regulator's statement about the acquisition, the publisher suggests that it makes good business sense for them to make a "mid-sized" game like the upcoming Elder…
---
Kotaku Wednesday, November 23, 2022 3:56 PM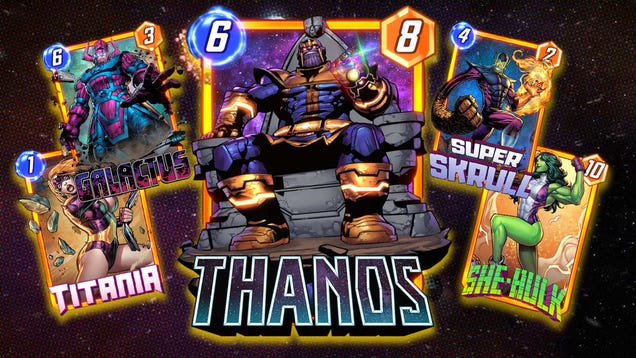 Marvel Snap is expanding with its next big update and upcoming cosmic-themed season. Not only is the game getting over a dozen new, rare, and powerful cards, but developer Second Dinner will be adding the previously announced Token Shop to the game, letting players focus on grinding for specific cards they want to…
---
Kotaku Wednesday, November 23, 2022 3:15 PM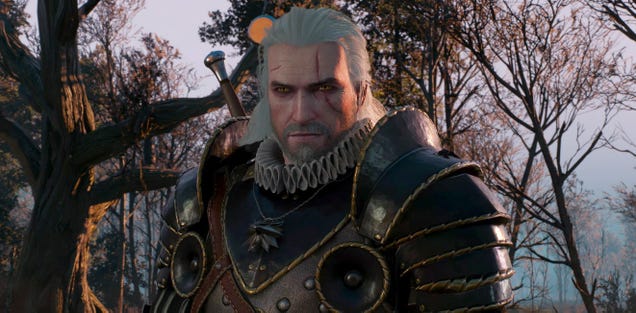 One of the best games of the last decade is about to get even better, and for free to everyone who already owns it. CD Projekt Red finally revealed everything that will be included in The Witcher 3's new-gen upgrade, and even showed off a bit of it in action with a new trailer. The long wait for the PS5 and Xbox…
---
Kotaku Wednesday, November 23, 2022 2:50 PM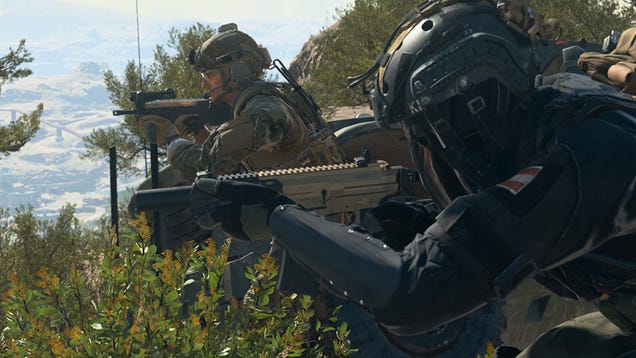 Yesterday, Call of Duty: Modern Warfare II and Warzone 2.0 got their latest patch. The notes indicate the usual tweaks and bug fixes one expects of long-term live-service games, but one change to weapon ammo has fans scratching their heads. Armor-piercing ammunition, it seems, no longer (checks patch notes) pierces…
---
Kotaku Wednesday, November 23, 2022 2:19 PM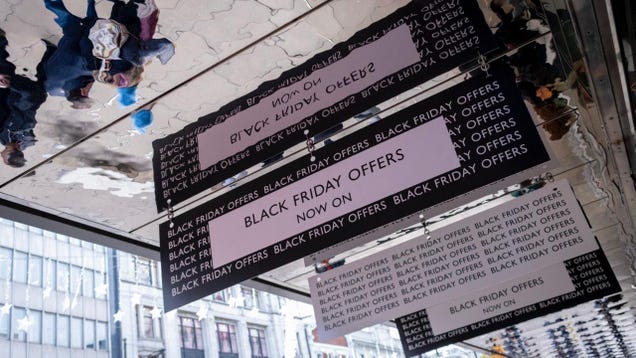 I remember being disturbed by the talking mannequin while watching the 2009 rom-com Confessions of a Shopaholic who convinces Isla Fisher that a $120 Henri Bendel scarf is all she needs to conquer a job interview. It was disturbing because I, aching for anything loose and glamorous in the West 34th Street Macy's…
---
Kotaku Wednesday, November 23, 2022 1:30 PM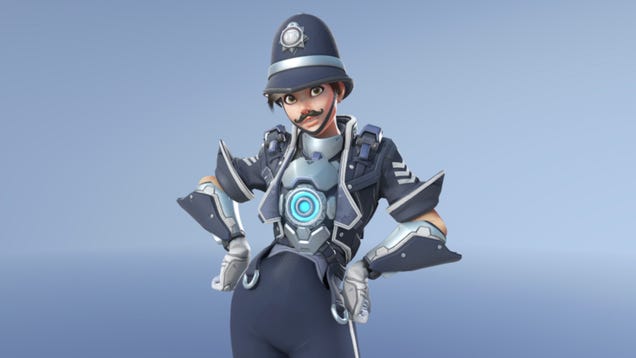 Overwatch 2 may be a sequel, but it seems that it loves cop skins just as much as the original game. A brand-new bundle recently dropped in the in-game shop called Constable Tracer, which puts Tracer in a goofy British cop outfit, complete with absurd hat and twirly mustache. The $10 bundle also includes a police…
---
Kotaku Wednesday, November 23, 2022 1:02 PM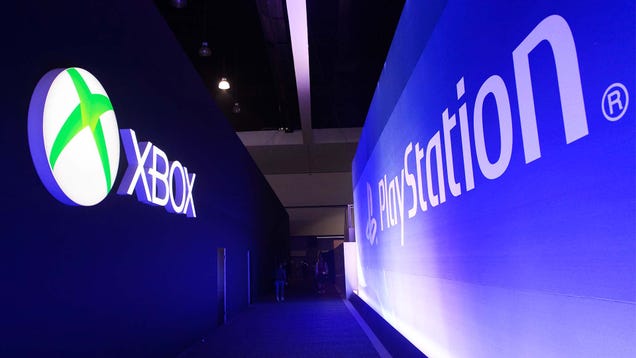 In its latest written response sent to the UK's Competition and Markets Authority (CMA) group, Microsoft uses a lot of data to show that its buying of beleaguered publisher Activision Blizzard isn't going to hurt Sony or Nintendo. In fact, as its bizarre frenzy of self-negging continues, it suggests that the deal will…
---
Kotaku Wednesday, November 23, 2022 12:45 PM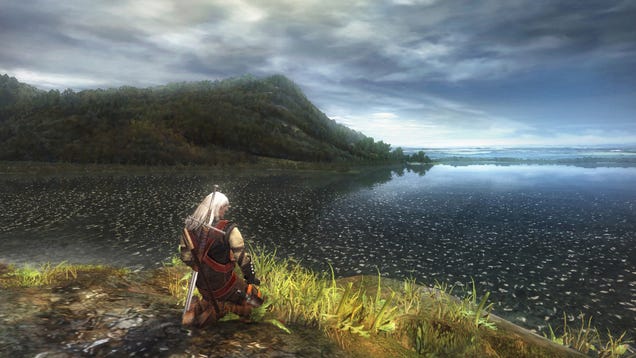 Like many, my first Witcher game was The Witcher 3: Wild Hunt in 2015. I sunk countless hours into it as I fell madly in love with the characters, but after I finished it, I knew I had to go back and play the first one. It's not uncommon for the first Witcher game to be swiftly disregarded when discussing the trilogy.…
---
Kotaku Wednesday, November 23, 2022 12:00 PM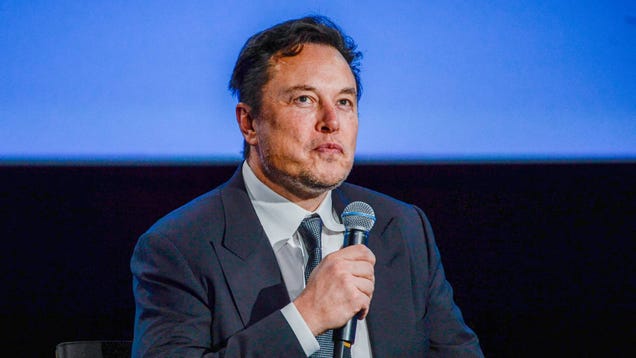 George Hotz is best known for jailbreaking the iPhone's carrier-lock and hacking the PlayStation 3. Now Elon Musk has set him on his most momentous technical challenge: Fixing Twitter in three months. Okay, not all of it. He was hired to fix Twitter's currently-broken search function.

---
PCGamesN Wednesday, November 23, 2022 4:30 PM
The Genshin Impact TCG (trading card game), Genius Invokation, is being added in the version 3.3 update, and some players have come together to create a card catalogue and deck builder ahead of the official release. HoYoverse is adding this TCG as a permanent game mode in the anime game, so it might be best to learn the rules and card effects sooner rather than later.
Genshin Impact codes
,
Genshin Impact character tier list
,
Genshin Impact leveling guide
---
PCGamesN Wednesday, November 23, 2022 3:30 PM
Usually when another The Sims 4 bug rears its head, it's cause for delight and humour among players of the life sim game. In some cases, that humour can pave the way to something a little more on the frustrating side, especially if a glitch persists for a while - the recently fixed Sims 4 mean interactions being a notable such issue. Some glitches, however, are just quite sad, such as an ongoing Sims 4 animal aging bug with the Cottage Living expansion pack that is causing players' virtual animals to die unexpectedly.
Best Sims 4 mods
,
Best Sims 4 sex mods
,
Play The Sims 4 free
---
PCGamesN Wednesday, November 23, 2022 2:35 PM
After it was flagged in the credits for Pentiment, the latest RPG game from Fallout: New Vegas developer Obsidian, that no localisation staff appear credited within the game itself, director Josh Sawyer has said that proper attribution will be coming. Sadly however, this is just another example of how the games industry as a whole, not just the developers that outsource work, is failing to lift up those who need it the most.
Pentiment review
,
Best medieval games
,
Best adventure games
---
PCGamesN Wednesday, November 23, 2022 2:14 PM
A Destiny 2 community event exploit lets players generate infine map fragments, which players can then donate as part of the game's currently ongoing Eliksni Quarter event. This exploit may help explain why the event, which requires 400 million treasure, has already surpassed its goal within a day of the event launch.
About 12 hours after the launch of the Destiny 2's Eliksni Quarter community event, players were on on track to complete it within approximately one week. However, overnight, donations surpassed 400 million to complete the event milestone, which could be partially related to an exploit that allows players to turn in unlimited map fragments in the space game.
Destiny 2 classes
,
Destiny 2 exotics
,
Destiny 2 builds
---
PCGamesN Wednesday, November 23, 2022 12:39 PM
The Destiny 2 Eliksni Quarter event has kicked off as the newest community event, and Guardians are hard at work collecting Captain's Coins to donate to their Eliksni allies' cleanup efforts at the Eliksni Quarter in the Last City, and are inspecting those areas as part of the quest called A Rising Tide. With 400 million coins needed to fully upgrade the Eliksni Quarters, Guardians are already grinding to unlock the various stages of the event — along with their rewards.
The community event builds on a storyline in the FPS game that kicked off in Beyond Light, which saw displaced Eliksni taking refuge in The Last City and, eventually, the Eliksni Quarter. The Season of Plunder was the game's first introduction to this map area, and players can find their way to the Eliksni Quarters by clicking on the H.E.L.M. on the Destination map.
Destiny 2 classes
,
Destiny 2 exotics
,
Destiny 2 builds
---
PCGamesN Wednesday, November 23, 2022 12:32 PM
If NordVPN seems familiar, it's probably because you've been bombarded with adverts for a bunch of different VPNs on your journey across the internet. It can be difficult to see which ones stand out from the crowd with an overwhelming amount to choose from, but our NordVPN review will give you a quick rundown of the provider's major features, how it works, how fast it is, and whether it's worth the cost.
Best SSD for gaming
,
How to build a gaming PC
,
Best gaming CPU
---
PCGamesN Wednesday, November 23, 2022 12:25 PM
The best Darktide weapons aren't only tools of destruction, they're a means of keeping you and your squad safe. They're used for tearing anything that looks remotely fleshy and are vital in carving a path so that you and yours can live to fight another day. The question is, though; which of these Warhammer 40,000 weapons does their job the best?
Whenever you venture out on the Emperor's orders in the FPS game, you'll have two things on hand; a melee weapon, and a gun. Your melee weapons are used when the horde gets a bit too close for comfort, or simply as a plan B should you run out of ammo - they're powerful, but lack damage when you come up against something with armour in the co-op game. Your guns, however, generally lack the ability to take out huge groups of enemies due to ammo constraints but can be great at single-target takedowns, no matter which of the Darktide classes you choose.
Darktide reveal trailer
,
Darktide release date
,
Warhammer: Darktide writer interview
---
PCGamesN Wednesday, November 23, 2022 12:24 PM
If you're wondering if Darktide crossplay is available in the game, we've got all the information you need to know on that and cross-platform play. Crossplay allows you to play with friends on other platforms, so if you are looking forward to playing the Microsoft exclusive game with friends on Xbox consoles, you'll need crossplay.
Unfortunately, Warhammer 40,000: Darktide will not have crossplay on launch, but that's because come the Darktide release date, the co-op game will only be available on PC. The whole game was delayed from September, with the console release still not known, which also means any date for Darktide crossplay or cross-save also remains to be seen.
Darktide reveal trailer
,
Darktide release date
,
Warhammer: Darktide writer interview
---
PCGamesN Wednesday, November 23, 2022 12:10 PM
Want to know how much money you've spent on Valorant? Riot Games has rolled out over 60 bundles in Valorant, which means about 300 weapon skins are always there to tempt players into emptying out their wallets.
It's pretty tricky to manage the expenditure, and the unique design of the in-game store in the FPS game doesn't help with saving either. So, it's worth checking how much you have spent in Valorant to avoid going bankrupt over virtual items. Not sure how? Here's what you need to know about how to check how much money you've spent on Valorant.
Valorant characters: all agents and abilities
,
Valorant tier list
,
Valorant crosshair codes
---
PCGamesN Wednesday, November 23, 2022 12:13 PM
Want to know how to get a Warzone 2 nuke now that some of the world's best players have shown it's possible? Well, we do now know how that particular killstreak can be earned, but with the sought-after nuke ending the game for everyone except your squad and handing you an instant win, it's not easy. It's an overpowered secret that would be a menace if players could get it with any sort of regularity, so knowing it is pretty tough to acquire should come as a relief.
Best Warzone 2 guns
,
Best Warzone 2 loadout
,
Warzone 2 map
---
PCGamesN Wednesday, November 23, 2022 11:54 AM
Each of the four Darktide classes has distinctive weapons and several skills that define their play style. Your choice at the beginning is just the start, as with every trust level gained, you get access to new feats and guns to turn your lowly prisoner into a heretic-purging hero.
As for character archetypes in the multiplayer game, the four Darktide classes are the ranged specialist Veteran, the Psyker, who is Warhammer 40,000's equivalent of a magic user, and two classes that excel with melee weapons: the Zealot and the Ogryn. Join us now as we consult the codex to get the lowdown on these classes.
Darktide reveal trailer
,
Darktide release date
,
Warhammer: Darktide writer interview
---
PCGamesN Wednesday, November 23, 2022 11:32 AM
If you're trying to farm Genshin Impact Rukkhashava Mushroom locations, you're going to need a lot of them for character ascension materials, here's where to look.
A few characters need these bright blue mushrooms to ascend, including Collei and upcoming Anemo character, Scaramouche. They're quite tricky to find and you'll need a fair few for Scaramouche's ascension materials.
Genshin Impact codes
,
Genshin Impact character tier list
,
Genshin Impact leveling guide
---
PCGamesN Wednesday, November 23, 2022 11:43 AM
The RTX 4080 is a pricey gaming PC part, but it turns out you can build an entire AMD rig for the same price. That's right, a complete collection of components for the same price as Nvidia's fancy new GPU, and you don't even have to stick to entry-level specs.
Ryzen 7000 CPUs - everything we know
,
RDNA 3 GPUs - everything we know
,
Best gaming CPU
---
PCGamesN Wednesday, November 23, 2022 11:18 AM
Want to know more about the upcoming Genshin Impact events? A new version of Genshin Impact arrives every six weeks, complete with new characters, quests, and events. It's difficult to keep track of which events are currently running and if there are any new ones coming soon, so here's a schedule for all current and upcoming Genshin Impact events.
There are usually a number of Genshin Impact events running simultaneously, and they aren't just in-game events. When a new Genshin Impact character joins the game, the devs launch a web event at the same time - players learn about the latest characters through an interactive story told through a web browser. The rewards for completing different events range from in-game items like primogems and mora, to real life prizes like mouse mats and plushies.
Just like the Genshin Impact banners, most events are only available for a limited time, so it's worth participating as soon as you can. New events are usually added to Genshin Impact after an update, but it's worth keeping an eye out on this page as the devs do like to surprise the community.
Genshin Impact codes
,
Genshin Impact character tier list
,
Genshin Impact leveling guide
---
PCGamesN Wednesday, November 23, 2022 11:03 AM
A Netflix games studio is continuing the streaming giant's push into game development, announcing that it is currently hiring for an experienced game director to "help forge the game direction and creative vision on a brand-new triple-A PC game." The company has previously acquired several indie developers and recently opened a new Netflix game studio in Finland. So far, its titles have mostly been made available for Netflix subscribers through its mobile app.
The best indie games on PC
,
The best adventure games on PC
,
The best story games on PC
---
PCGamesN Wednesday, November 23, 2022 11:03 AM
There are a lot of Stardew Valley mods, as the farming and life game has become one of the most popular of its genre, due in no small part to the community keeping the game alive all these years later. Some are rather small quality of life changes, while others can do what this mod does and turn Stardew valley almost into a different game, as you can now cook for your townspeople and even set up your own restaurant wherever you choose.
Stardew Valley multiplayer
,
Stardew Valley realism
,
The best Stardew Valley mods
---
PCGamesN Wednesday, November 23, 2022 11:10 AM
To save you the hassle of hunting down the best Black Friday gaming headset deals in 2022, we've created this guide. Throughout November, we'll find the best bargains from across the internet and then gather them all together here on this page for your convenience.
Best SSD for gaming
,
How to build a gaming PC
,
Best gaming CPU
---
PCGamesN Wednesday, November 23, 2022 4:04 PM
Taking the time to manage cables in your gaming PC setup is more important than you'd think. Not only does it make everything neat and tidy, saving you from the Reddit ridicule should your rig ever make it into the depths of the forums, it also instils a sense of pride.
Best SSD for gaming
,
How to build a gaming PC
,
Best gaming CPU
---
Rock Paper Shotgun Latest Articles Feed Wednesday, November 23, 2022 5:26 PM
Age Of Empires 4 is the first RTS I've taken seriously. I've practised build orders, memorised specific civ counters, watched pro matches and agonised over key bindings. I have gone down into the nitty gritty of sheep micro, just to shear off microseconds from early villager gathering times, but I've never seen a good reason to build half of the landmarks in the game. It's a blessed relief, therefore, to see "landmark improvements" on the roadmap for Season 4, alongside a new mode and a funky purple-looking biome.
---
Rock Paper Shotgun Latest Articles Feed Wednesday, November 23, 2022 3:41 PM
War never changes, but sometimes it arrives on a generous games subscription package. Battlefield 2042 is now available on Game Pass, along with a new map, specialist, weapons and Battle Pass gubbins for Season 3. Most folks seem to regard 2042 as a misstep compared to the triumph of Battlefield 1, but hey, Game Pass is a great way to check if they're right. You can't shoot railguns in the swedish wilderness back in WW1, can you now.
---
Rock Paper Shotgun Latest Articles Feed Wednesday, November 23, 2022 2:32 PM
Spaceship looter shooter Everspace 2 has launched one last update at the final frontier, with today's Ancient Rifts update constituting the sixth and final major early access content drop. The full game won't be out 'til next year, but what's there now includes an endgame where you head through rifts to blow up lost pirates "who've succumbed to madness". I'd leave 'em be, if I were you. Who are they going to pirate on in rift town?
Developers Rockfish Games also promise new missions, legendary items, and a "significant overhaul of our level-scaling approach".
---
Rock Paper Shotgun Latest Articles Feed Wednesday, November 23, 2022 1:31 PM
We just got our first look at The Witcher 3: Wild Hunt's much-delayed free "next gen" update, by which they mean current gen, and which yep, looks like a looker. Vanilla Witcher 3 still looks gorgeous for a nearly seven year old game, but the upcoming update will add ray-tracing options, ultra+ settings and a suite of other visual and quality of life updates.
It's not out 'til December 14th, but you can peek at it below while the devs natter in the background.
---
Rock Paper Shotgun Latest Articles Feed Wednesday, November 23, 2022 12:00 PM
I'm a sucker for a good romcom. As soon as the fateful meet cute happens, you'll find me curled up with a blanket swooning over the blossoming romance. Bumping into someone while getting on the train or getting in an elevator might be a minor part of your day, but for a romcom protagonist, it ignites the love story they've been waiting for. They were ready to fall in love and probably hoped for a meet cute because they wanted a surprising story that they could tell everyone about. Like a good romcom, State of Decay 2 often has ways to generate unexpected stories that we're secretly hoping will happen. Let's call it a meat cute.
---
Rock Paper Shotgun Latest Articles Feed Wednesday, November 23, 2022 11:50 AM
Vampire Survivors is a game where you control a little pixellated person who auto-attacks periodically. Your aim is to survive for as long as possible as hordes of slime and bats close in around you, and it's an excellent time. So excellent, in fact, that it's already seen a few spin-offs.
And having sampled a couple of Vampire Survivor-likes, it's made me appreciative of the game's visual clarity. Yes, things can get messy, but at least you're able to make out what's happening on screen. I don't think it's something the subgenre has quite grasped yet.
---
Rock Paper Shotgun Latest Articles Feed Wednesday, November 23, 2022 11:49 AM
Sometimes you just gotta play the hits, which Amazon are very much doing with their early Black Friday keyboard deals. The Logitech G915 Lightspeed Wireless is an enduringly comfortable, responsive, and strikingly slim gaming keyboard that's a regular feature of sales events like Black Friday and Prime Day, and once again it's on sale now – both in the UK and in the US.
This time, it's also being joined by its tenkeyless little brother, the G915 TKL Lightspeed Wireless. This shares the same finely-crafted, all-mechanical build and solid wireless connectivity of the full-size model, merely cutting the number pad in pursuit of a smaller desk footprint and a lower price.
---
Rock Paper Shotgun Latest Articles Feed Wednesday, November 23, 2022 11:12 AM
Not content with your telly or your tablet, Netflix has begun making moves on your PC. The streaming giant is recruiting people to work on "a brand-new AAA PC game", seeking those with knowledge of Unreal Engine and "experience with FPS and/or third person shooter games". The ad for their lead engineer specifically refers to the game as a third-person action RPG.
The new hires will join former Overwatch executive producer Chacko Sonny, team lead at the newly formed Netflix Games Studio. Who knows if they'll make anything good, but at least it'll probably come free with your 'flix.
---
Twinfinite Wednesday, November 23, 2022 5:04 PM
The workhorse of turboprop regional aviation is coming to MSFS.
---
Twinfinite Wednesday, November 23, 2022 2:32 PM
We're back to Mars with KeokeN Interactive's latest game challenging our patience, likely in a good way.
---
Twinfinite Wednesday, November 23, 2022 2:11 PM
If Pokemon Scarlet and Violet proves anything, it's that Game Freak needs more time to make their games.
---
Twinfinite Wednesday, November 23, 2022 2:09 PM
A new feature seems to be causing some trouble with controller aim.
---
Twinfinite Wednesday, November 23, 2022 1:10 PM
The Witcher 3: Wild Hunt will be greatly improved on PS5, Xbox Series X|S, and PC.
---
Twinfinite Wednesday, November 23, 2022 12:01 PM
The Guardians of the Galaxy Holiday Special Review - A Gift From the Cosmos
---
Siliconera Wednesday, November 23, 2022 5:00 PM
The Steam Autumn Sale is on, and includes a developer-wide discount on games by 07th Expansion, the group led by Ryukishi07, future writer for Silent Hill f [Thanks, Wario64!]
The 07th Expansion developer sale puts a temporary cut to prices on all the games offered on Steam by the studio. Discounts range from 10% off to 50% off. In some regions, this puts the minimum price for some items at under $2 USD.
The 07th Expansion games on sale include the episodes of the Higurashi When They Cry series, as well as the Umineko When They Cry titles, and the latest game in the franchise, Ciconia When They Cry. The only game not discounted is the first chapter of Higurashi When They Cry, because it's already free.
Higurashi When They Cry is a murder mystery set in the sleepy rural town of Hinamizawa. Keiichi Maebara, a new arrival in town, learns that murders and disappearances accompany the annual Watanagashi festival, and that the town is thought to be "cursed" by its guardian deity, Oyashiro.
Umineko When They Cry takes place on a private island, where the wealthy clan Ushiromiya has gathered to negotiate an inheritance. Unfortunately for all involved, the "Golden Witch" Beatrice is involved in the proceedings. A fighting game, Umineko: Golden Fantasia, is also on sale.
Only the first "phase" of Ciconia When They Cry has been released so far, with four episodes planned. Rather than the 1980s periods favored by Higurashi and Umineko, Ciconia is set after World War III, and follows young "Gauntlet Knights" as they try to prevent World War IV from breaking out.
Check out the full list of games in the 07th Expansion sale at this link. Prices can vary based on region and currency. The Steam Autumn Sale ends on November 29, 2022.
The post 07th Expansion Dev Sale Highlights Games from Silent Hill f's Writer appeared first on Siliconera.
---
Siliconera Wednesday, November 23, 2022 4:00 PM
Monster Hunter Rise Sunbreak monster intros can take up to six months to make, according to Lead Cinematics Designer Daisuke Wakahara. An official Capcom interview with the cutscene and intro designer discussed how these videos are made. A monster intro video is essentially a five step process. Wakahara also went over how the main game and expansion's video atmosphere changed.
Here's Wakahara full explanation as to why a Monster Hunter Rise Sunbreak monster intro can take so long to make:
First, I have to gather information from all members of the dev team, and then determine what kind of cutscenes will be required for the game. From there, I start creating the designs for each cutscene as soon as they've been okayed for production. This means I first start by creating a design document, and then I hammer out the details by talking to the cutscene artists, everyone involved with other elements regarding cutscene production, and finally the Director. Once the structure and content of the movie has been decided, the actual production starts.

Generally, the production flow is as follows:
"Storyboard" > "Animatic" > "Animation & Camera work" > "Lighting & VFX" > "Sound."

As for how long it takes to get from the storyboard to the sound production, well, it depends on the content of the cutscene, but in case of the monster intros for instance, you're looking at about 6 months for one cutscene (of course, we work on several cutscenes simultaneously).
Wakahara also explained how the Monster Hunter Rise monster intros differed between the main game and Sunbreak expansion. He noted that since yokai were such a focus, he did research into them for each video. This ensured they had a Japanese and traditional theme. With Sunbreak, he noted that the more Western theme meant approaching each one like a fable. He also noted Tomoyoshi Kakushin played the biwa over the Rise ones, while the Sunbreak videos featured Yui Ishikawa or Valerie Arem's narration.
Monster Hunter Rise Sunbreak is available for the Nintendo Switch and PC, and free Title Update 3 arrives on November 24, 2022.
The post Monster Hunter Rise Sunbreak Monster Intros Could Take 6 Months appeared first on Siliconera.
---
Siliconera Wednesday, November 23, 2022 3:00 PM
Mirror, mirror, on the wall, which Pokemon Scarlet and Violet starter should I pick this fall? It's a question that plagues players every generation and is one that people discussed online prior to the November 18, 2022 release date of Generation IX. Here is a guide to the pros and cons of each starter. Of course, you can also go with your gut and choose one that appeals to you the most.
Before you pick your starter in Scarlet/Violet, you get the chance to walk around with them a little. There is also an animation where they all run around and show off their personalities. After that, you get to choose. Now, even with their demonstration, some people might still struggle with picking a starter. But never fear. These are the reasons why you should or shouldn't choose a particular starter:
Sprigatito
Sprigatito is very cute. Its final evolution Meowscarada has the most subdued design of the three. It kind of looks like a superhero. The entire line is widely appealing and marketable for the masses. However, Meowscarada is a Grass/Dark type. That means a whopping seven elemental weaknesses. To add insult to injury, Meowscarada takes quadruple damage from Bug type moves. While it does have an incredibly high Speed stat, its Defense and Special Defense stats are frankly abysmal. With its high Attack stat, Meowscarada can hit hard and fast, but can't take much punishment. If you want to go for the more meta option, Meowscarada is not it.
Fuecoco
The lights are on but no one is home. Some people may really enjoy that kind of vibe. Crocalor kind of looks awkward, and Skeledirge looks pretty cool if you're into the Digimon-aesthetic. In contrast to Meowscarada, Skeledirge is resistant against seven different types, and is immune to two. Its Fire/Ghost typing makes it a fairly strong meta pick. Skeledirge also boasts high Special Attack and Defense, which makes it a mighty glacier type. If you are the type to prioritize strength in your Pokemon rather than aesthetics, then Skeledirge might be the best option.
Quaxly
Quaxly and Quaxwell both look kind of like they're the annoying nerd in class. But after graduation, you see them at the high school reunion and they've become an exotic dancer. Quaquaval is visually loud and relentlessly flamboyant. It just wants to have a good time. There is no in between – you either love it, or you hate it. Like Skeledirge, its Water/Fighting type has it resistant against seven different types. It has no immunities though. But that's okay, because it's here to have fun.
Keep in Mind:
For reference, after you start your journey for real, there is a practical smorgasbord of Pokemon for you to catch. Even if you didn't choose Quaxley, for example, you can stock up on Water types with Buizel or Psyduck. You can get Bounsweet or Hoppip for a Grass type, as well as Fletchling or Growlithe for Fire. In Red and Blue, players who chose Charmander would have a hard time in the first two gyms (Rock and Water). In Pokemon Scarlet/Violet, there is no need to worry about locking yourself into a more difficult path because of your starter choice.
Pokemon Scarlet and Violet are available worldwide for the Nintendo Switch.
The post Which Starter Should You Pick in Pokemon Scarlet and Violet? appeared first on Siliconera.
---
Siliconera Wednesday, November 23, 2022 2:30 PM
Onoma, the developer formerly known as Square Enix Montreal, is shutting down several of its mobile titles, including Deus Ex Go and Hitman Sniper: The Shadows. These and certain other titles developed and maintained by Onoma will become inaccessible after January 4, 2023. [Thanks, Engadget!]
Onoma delivered the announcement via its Twitter account.
https://twitter.com/StudioOnoma/status/1595185541875748864
The announcement confirms that at least four games will be shut down by Onoma. These games are:
Deus Ex Go
Hitman Sniper: The Shadows
Space Invaders: Hidden Heroes
Arena Battle Champions
Starting on December 1, 2022, the games will be removed from the App Store and Google Play Store. After that, only players with the games already installed will be able to play them. The games themselves will become inaccessible after January 4, 2023. All in-game purchases were halted on November 23, 2022. Onoma advised players to use any prior purchases, as it will not issue refunds.
The news of Onoma shutting down games comes shortly after a story broke that Embracer Group intends to shutter the studio entirely. Embracer purchased Square Enix Montreal in May 2022 alongside several other former Square Enix studios like Crystal Dynamics and Eidos Montreal.
Other than the games it's shutting down, Onoma also developed titles like Hitman Go, and Lara Croft Go. Deus Ex Go was notable for its tie-in effects to Eidos Montreal's Deus Ex: Mankind Divided. Players who cleared the base game of Deus Ex Go were awarded "Praxis Kit" upgrades to use in Mankind Divided. It is not known if players of Mankind Divided will have a way to access those goodies after Deus Ex Go shuts down.
Deus Ex Go, Hitman Sniper: The Shadows, Space Invaders: Hidden Heroes, and Arena Battle Champions will be playable on Android and iOS until January 4, 2023.
The post Deus Ex Go, Hitman Sniper, Other Onoma Games to Shut Down appeared first on Siliconera.
---
Siliconera Wednesday, November 23, 2022 2:00 PM
There's an opportunity to get reacquainted with some Romancing SaGa: Minstrel Song Remastered characters ahead of the game's debut, as Aisha, Albert, and Jamil trailers appeared. Square Enix took to Twitter to show how each playable character will look in the game. Each one hints at elements of their stories.
First, here's the trailer for Aisha. She is a Taralian from Mardias' Steppes of Galessa. She's the leader's granddaughter. It teases that, after going out for a ride one day, something that changes her life happens.
On the Steppes of Galessa, Aisha puts her best foot forward on the path to destiny.

What awaits her when Romancing SaGa -Minstrel Song- Remastered launches on December 1st?

Find out on PS5, PS4, Nintendo Switch, Steam, iOS and Android: https://t.co/48SsTMvf4T pic.twitter.com/wCYF4I196K

— SaGa Series (@SaGaGame) November 21, 2022
Next, here's the Albert Romancing SaGa trailer. It is the longest of the three video clips. It features him attempting to recruit a valuable ally to help him fight Saruin.
In a fight for survival, one man refuses to sit and wait for death.

Will Albert defy the deities that seek to humble him?

Find out in Romancing SaGa -Minstrel Song- Remastered, launching December 1st. pic.twitter.com/8FRsh88zTf

— SaGa Series (@SaGaGame) November 23, 2022
Finally, here's a look at Jamil. Rather than explaining where he's from, we get to see the thief in action.
Amidst oppression, a lowly thief seeks to rise above.

Meet Jamil, one of the heroes of Romancing SaGa -Minstrel Song- Remastered. Will he steal your heart, or just your wallet on December 1st? pic.twitter.com/RLyKrrj5bk

— SaGa Series (@SaGaGame) November 22, 2022
While both Aisha and Jamil aren't new to Romancing SaGa, some characters will be. Aldora, Flammar, Marina, Monica, and Shirach will all be able to become your allies this time. Of those five, Aldora will get the most attention. She'll have her own story in the game.
Romancing SaGa: Minstrel Song Remastered launches on December 1, 2022 on the PS4, PS5, Switch, PC, and mobile devices.
The post Romancing SaGa: Minstrel Song Aisha, Albert, and Jamil Character Trailers Appear appeared first on Siliconera.
---
Siliconera Wednesday, November 23, 2022 1:30 PM
Getting a Cetoddle to evolve into Cetitan in Pokemon Scarlet and Violet isn't too challenging. You just need an Ice Stone. Go from the item menu, use it, and you'll have the evolved version of the new Pokemon. However, Ice Stones are a bit of a challenge to acquire, especially early on in the adventure. So really, just catching a Cetitan might be faster.
How to Get an Ice Stone in Pokemon Scarlet and Violet
The most reliable place to find an Ice Stone is the Glaseado Mountain area. Which makes sense, as it is the winter Biome in Pokemon Scarlet and Violet, so of course an Ice Stone might be on the ground.
Might is the operative word. They are pretty rare finds. I did find one between Zapapico and the base of the Glaseados, but I used that on an Eevee, so… I was out of luck!
How to Catch a Cetitan in Pokemon Scarlet and Violet
Really, just catching a Cetitan in Pokemon Scarlet and Violet is easier than getting a Cetoddle to evolve. They aren't uncommon finds in the Glaseado Mountain region. Specifically, I saw a bunch not far from Montenevera while… searching for another Ice Stone. They tend to be surrounded by Cetoddles.
Also, if you're far enough along in the game, you can find Cetitan in five and six-star Tera Raids.
Pokemon Scarlet and Violet are available for the Nintendo Switch.
The post How to Evolve Cetoddle into Cetitan Pokemon Scarlet & Violet appeared first on Siliconera.
---
Siliconera Wednesday, November 23, 2022 1:00 PM
The fantasy world of mobile RPG White Cat Project (a.k.a. Shironeko Project) is getting a visit from Public Safety's newest Devil Hunter. A newly announced Chainsaw x Man White Cat Project crossover will add Denji to the playable roster. The crossover kicks off on November 30, 2022 in Japan. [Thanks, Dengeki Online!]
The Chainsaw Man x White Cat Project crossover will feature an original story starring Denji. He'll be voiced by Kikunosuke Toya, his voice actor from the anime. Toya also recorded a brief hype message for potential players, available at this link. The Dengeki preview included a look at Denji's character art.
Developer Colopl uploaded a brief teaser for the even on its YouTube channel. Below you can see previews of gameplay from the Chainsaw Man x White Cat Project crossover.
https://www.youtube.com/shorts/hwuKEHuNkUU
Denji appears rendered in the super-deformed 3D style befitting White Cat Project characters. As in the game, he moves freely about the battlefield, attacking enemies in isometric view. Players will actually control Denji in his human form at first. They can then transform into Denji's Chainsaw form, which changes his fighting style and amps up the properties of his attacks. The teaser doesn't specify how Denji fits into the game's combat mechanics, but based on his fighting style, he may be a Cross Saber character. Denji can also relax in the in-game relaxation areas.
The White Cat Project crossover event with Chainsaw Man begins on November 30, 2022. The game is available on iOS and Android in Japan. Other anime crossovers with the game include Neon Genesis Evangelion.
The post Chainsaw Man x White Cat Project Crossover Adds Denji appeared first on Siliconera.
---
Siliconera Wednesday, November 23, 2022 12:30 PM
Like Bisharp, Pokemon Scarlet and Violet's Mankey needs to go on quite a journey to evolve from Primeape to Annihilape. As with the other new final evolution, taking part in fights is critical. However, for Primeape, you need to use a certain move to trigger the new evolution.
How to Catch a Mankey and Evolve it into Primeape in Pokemon Scarlet and Violet
Mankeys are pretty common! I saw tons around the Open Sky Titan quest area, as well as in some early areas in-game. You can also find them in two-star Tera Raids.
It evolves into Primeape at level 28. You don't need to meet any special requirements.
How to Catch a Primeape and Evolve it into Annihilape in Pokemon Scarlet and Violet
Honestly, if you don't want to keep a Mankey around to evolve it, Primeape is easy enough to find in the wild. For example, there are a lot roaming around Medali. Those ones are also at around level 34 and 35, which means they'd also know the move they need to evolve into Annihilape.
Yes, a Primeape needs to know a specific move to evolve and use it. It is Rage Fist, which it learns at level 35. It has 10 uses. What you need to do is get some Ethers from a Pokemon Center store. Maybe have some Super Potions as well.
Enter battles and use Rage First 20 times. If you're around Medali, the Murkrows there aren't bad targets? Yes, they know Wing Attack, which is super effective against Primeape. However, they are strong against Rage Fist and easily beatable, which means you can use it a bunch of times in battle and get significant experience gains. Foongus and Sudowoodo aren't bad targets either.
After I used Rage First 20 times without visiting a Pokemon Center and my Primeape leveled up, it ended up getting to evolve into Annihilape in Pokemon Sword and Shield.
Pokemon Scarlet and Violet are available for the Nintendo Switch.
The post How to Evolve a Primeape into Annihilape Pokemon Scarlet & Violet appeared first on Siliconera.
---
Siliconera Wednesday, November 23, 2022 12:00 PM
It's hard not to hear about a new Pokemon release, even if you were actively trying. So if you're here? We bet you know at least some about Pokemon Violet and Pokemon Scarlet. The new starters. The open-world concept. The... challenging technical state. And hey, all of that's true. But how does it all hold together as an experience, and how rough is the tech stuff as we move further away from launch day?
In Pokemon Violet and Scarlet, you play the role of a student, though truly in name only. Everything about the game fights away from this premise, using the school only as a hub from which to start your expeditions. Students? They can be whoever, from tiny children to grizzled old adults like us. (We'd love for Game Freak to take this opportunity to let older players appear that way in game, but... nope.)
The actual classes are largely a waste of time, and you don't need to attend them. You don't get grades! No one seems to graduate! And if "find your treasure" is the extent of the curriculum, it sure does seem like the academy is a waste of space and resources.
What's more, the "two versions" premise has never been less paper-thin. We're not sure why it was important to have separate academies if they were identical, exist in separate realities and only change the color everyone has to wear. The only version exclusives, outside of post-game content, are older creatures; all the new designs are available in both. We understand the financial incentive of the approach, but future versions simply need to justify their existence better than this.
The structure of Pokemon Violet and Scarlet, much like Pokemon Legends Arceus, makes you want to "catch 'em all" in a way earlier games simply didn't. Catching feels easier, and every monster visible in the overworld means you can just walk right up to what you want and dodge what you don't.
The way trainer battles work has changed, too. Instead of locking eyes, you have to actively choose to walk up and challenge someone. This does take some frustration away, but the lack of tension means that everything is increasingly frictionless. This has been a trend since Pokemon X and Y! Every mainline entry further polished away rough edges, taking interesting gameplay texture with it. That The Pokemon Company is actively hostile toward the notion of difficulty in its games is nothing new, but anyone hoping for a change of course should reconsider.
The open-world approach? Yeah, it works, for the most part. It's a bit aimless at times, and the structure leads to some serious level spikes near the endgame as it keeps most of the world accessible without a robust level scaling system in place to make that work a bit better. It's fun to wander around and find stuff, though, and the movement eventually feels as satisfying as Legends.
While the Pokemon themselves have been cute and endearing since the very beginning, Pokemon Violet and Scarlet manage to present a world of characters that earn our genuine empathy much more often than its recent predecessors. The characterizations are still rather paper-thin, but its core cast still manages some people we truly like. We'll avoid spoilers so you can experience things yourself, but one gym leader in particular was exceedingly relatable. And the Arven storyline? Boy.
We can't not talk about the tech issues, though. We experienced full freezes, massive slowdown and the incredibly obvious visual downgrades to make Game Freak's open-world setup run at a decent speed. The visuals were a similar issue in Legends, so you know if you care about that. Here, though, there are more elements in the middle-to-far-distance to cause the incredibly slow animation countermeasures to kick in.
The crashing and such? It's a larger issue. Alternating releases with an outsourced remake, like Brilliant Diamond and Shining Pearl, is a setup a lot of larger franchises use to buy more development time. But instead? Game Freak made Pokemon Legends: Arceus. That ain't enough time left to properly build a full entry, y'all! There's too much money on the line, probably, but a Legends expansion pass for the 2022 holidays and these games pushed to next year might have been the better call for stability.
Scarlet and Violet front-load a lot of the technical issues, with crowded environments and story sequences. Much like Legends, the bulk of these games takes place in open areas. They can certainly be sparse and bland! But the game generally runs the way you want in these zones.
Game Freak tried to keep a lot of the smart changes from Legends! Like changing moves at any time. But implementing the new things and retaining the old things at the same time? Normal battles in uneven environments causing a ton of clipping and other visual glitches. Overworld quick battles to let you keep moving, but tech limitations restricting your movement radius before those just cancel and the monster returns. This is simply ambitious, and it's no surprise that this thing breaks so much.
Pokemon Violet and Pokemon Scarlet certainly don't put their best feet forward. They run rough. Visual downgrades are clear. But ultimately, once you settle in, they're certainly full Pokemon games. We're hoping some post-launch bug-squashing will help them run better, but in the long term, The Pokemon Company might need to implement a plan that offers Game Freak longer development windows for tentpole releases.
Pokemon Scarlet and Pokemon Violet launched November 18, 2022. Developed by Game Freak and published by Nintendo, it's available on the Nintendo Switch.
The post Review: Pokemon Violet and Scarlet Are Some Truly Rough Gems appeared first on Siliconera.
---
Siliconera Wednesday, November 23, 2022 11:30 AM
Sony is stepping forward to publish two new games developed in China: Loong Force's Convallaria and Ultizero Games' Lost Soul Aside. The games debuted as part of the PlayStation China Hero Project, a Sony-funded initiative supporting new and emerging developers in China. The China Hero Project previously produced titles like Anno: Mutationem. New footage and trailers for the games debuted Sony will handle publishing for the games worldwide.
Check out a trailer for Convallaria, courtesy of YouTube channel gamefront.
https://www.youtube.com/watch?v=iOnzQaD5Rn8
The Convallaria trailer shows team-based third-person shooting gameplay, featuring a player character traveling through an expansive open-world space. They combat a creature called Captain Chimera, and use various skills to dart around the battlefield. Players are also shown moving around with jetpacks, as well as using various types of weapons to defeat monsters of grand scale.
Lost Soul Aside, meanwhile, is an character action game starring a man named Kazer. Check out its first trailer via IGN China.
https://www.youtube.com/watch?v=vzI2WDhJXQU
Kazer has merged with a lifeform known as Arena, and derives fantastic combat prowess from the merger. The trailer focuses on traversal and combat, as Kazer uses Arena to run at high speed, deploy powerful melee weapons, and fly through the air to get past obstacles. Large boss encounters also show off fancy graphics and elaborate special moves.
Besides Convallaria and Lost Soul Aside, Sony said that it intends to expand the China Hero Project initiative. According to a report in Reuters, the upcoming third phase (or season) of the program will "far exceed" the scale of the previous two. It will fund not just small teams, but some larger ones as well. Sony was on hand at a re-launching event in Chengdu on November 22 to hype the program.
Check out a trailer for the China Hero Project, courtesy of Gematsu.
https://www.youtube.com/watch?v=2Beyj-yIdTI
Over two seasons, the China Hero Project supported 17 titles, seven of which made it to market, including Anno: Mutationem, FIST: Forged in Shadow Torch, Hardcore Mecha, and Immortal Legacy. The The third phase alone is expected to include at least 10 more titles. Convallaria and Lost Soul Aside were incubated during the first two phases.
According Sony, one factor in its increased interest in China is the success of Genshin Impact, developed by miHoYo (known overseas as HoYoVerse). HoYoVerse has a partnership with Sony that has seen Genshin Impact be, at least so far, a console exclusive on PS4 and PS5. SIE Shanghai President Tatsuya Eguchi said that Sony management is prepared to allocate more resources than ever to supporting Chinese-made games as they go global. Speaking to The Gamer, Niko Partners analyst Daniel Ahmad said that China is already the 6th largest market for the PS5. By comparison, it's just the 11th largest for the PS4.
Convallaria and Lost Soul Aside are in development for the PS4 and PS5. They do not have a release window.
The post Sony China Hero Project to Publish Convallaria and Lost Soul Aside appeared first on Siliconera.
---
PC Invasion - FeedDDD Wednesday, November 23, 2022 5:15 PM
There are far worse feelings when playing a multiplayer game than when you lose to something that's outside of your control. I'm not talking about a stray sniper bullet, no. But losing due to a bug or glitch is something many of us have felt, and it honestly feels quite bad. It's been happening to a select number of Call of Duty: Warzone 2 players. A new bug has been discovered that freezes you in place after using a bomb drone. So, what to do? No doubt you want to know how to fix the bomb drone glitch in Warzone 2. Sadly, as of this writing, there is no fix for the Warzone 2 bomb drone glitch. Activision and Raven Software regularly post bug updates on the Warzone 2 Trello board. At a glance, there are no cards detailing the bug. At the moment, it appears that a fix isn't coming anytime too soon. It's a shame, because the glitch doesn't seem too rare for it to be ignored for long. Browsing TikTok, you can find pages and pages of Warzone 2 players g...
---
PC Invasion - FeedDDD Wednesday, November 23, 2022 4:59 PM
Warner Bros.'s crossover platform fighter MultiVersus may have enjoyed nearly unprecedented levels of success when it first came out, but that popularity has noticeably declined in recent months. The game has not turned into a flop by any means, as it still receives around 3,000 concurrent players on a regular basis. But when compared to the game's average of nearly 67,000 concurrent players back in June, it becomes clear that many have moved on from MultiVersus for one reason or another, at least when it comes to the Steam version. However, this does not mean that those still interested in MultiVersus have little to get excited about, as the developer just kicked off the game's major Season 2 content with the release of Marvin the Martian. A few days before the release of this iconic Looney Tunes character, the developers unveiled a brief reveal trailer for fans to watch. Containing no gameplay, this trailer mostly depicts several planets in the solar system zoom...
---
PC Invasion - FeedDDD Wednesday, November 23, 2022 3:30 PM
Despite the flack CD Projekt RED took over the Cyberpunk 2077 launch, few can deny that its previous game is a masterpiece through and through. The Witcher 3: Wild Hunt may have had its own run of bugs and issues at launch, but its storytelling and worldbuilding overshadows the early rough patches. And soon, you may once again have a good reason to dive back into its world. Next month, The Witcher 3 is getting a next-gen update, bringing improvements to graphics and gameplay, while adding ray tracing — and today you can get a glimpse of how it'll look in a new trailer. Spoiler alert: the next-gen update for The Witcher 3 looks rather fantastic, as the trailer will prove. Graphically, the 2015 game certainly looks nicer — although, it is still gorgeous even today. However, the trailer showcases some impressive lighting, from the reflections of Novigrad on the water, to the warm sun beaming onto Geralt's back. Mood lighting was a major part of the game's atm...
---
PC Invasion - FeedDDD Wednesday, November 23, 2022 3:15 PM
The Devil in Me, the latest entry in developer Supermassive Games' The Dark Pictures Anthology series, has received largely mixed reviews on both Steam and Metacritic so far. But of course, this should not deter diehard fans of the series and other curious players from giving it a shot if they want to. Some of these players will probably want to stay as immersed in the horror as possible by playing solo, but others will definitely want to share the experience with friends and have a good few laughs along the way. Fortunately, the game's multiplayer functionality, which has made itself a staple of the Dark Pictures Anthology series, makes enjoying the game with friends a snap. If you want to know how to play The Devil in Me multiplayer, read on. Players can enjoy The Devil in Me's multiplayer by going to the main menu and choosing the "Don't Play Alone" option. This will prompt the game to provide two key options for players: "Movie Night...
---
PC Invasion - FeedDDD Wednesday, November 23, 2022 2:30 PM
Call of Duty: Modern Warfare 2 has had a huge player base since day one, and many of them are likely enjoying the latest multiplayer suite in the shooter franchise. However, Steam players have reported a peculiar issue. Some players are seeing a 'Disconnected from Steam' error message before getting kicked out of Modern Wafare 2. This would be frustrating for players who just want to play MW2 on Steam. To make matters worse, players who experience this message then have trouble getting back into the game thanks to further error messages. While there isn't an official update from developer Infinity Ward on this just yet, we have some ideas that may help you. Fixing the 'Disconnected from Steam' error in Modern Warfare 2 If you have been on the receiving end of this 'Disconnected from Steam' error message for Modern Warfare 2 and have already tried restarting the game to no avail, there may be some other options to try out. The first of these would b...
---
Gamer Empire Wednesday, November 23, 2022 11:53 AM
Bitcoin Miner is a game in Roblox by PolandGameBuilders in which you build a bitcoin mining farm, earn bitcoin, and expand your operations. By redeeming […]
---
Gamer Empire Wednesday, November 23, 2022 11:33 AM
King Legacy, formerly known as King Piece, is a game mode in Roblox, in which you train your character stronger to defeat monsters, bosses, and […]
---
Tabletop Gaming News Wednesday, November 23, 2022 5:00 PM
---
Tabletop Gaming News Wednesday, November 23, 2022 4:00 PM
---
Tabletop Gaming News Wednesday, November 23, 2022 3:00 PM
---
Tabletop Gaming News Wednesday, November 23, 2022 2:00 PM
---
Tabletop Gaming News Wednesday, November 23, 2022 1:00 PM
---
Tabletop Gaming News Wednesday, November 23, 2022 12:00 PM
---
Player Assist | Game Guides & Walkthroughs Wednesday, November 23, 2022 3:00 PM
Pokemon Legends: Arceus is set in the old times in the Pokemon world when it was rare to find harmony between people and Pokemon. Set in the land of the Hisui region, known as the Sinnoh region in modern times, you'll join the Galaxy Expedition Team (or just Galaxy Team for short) as a member […]
---
Player Assist | Game Guides & Walkthroughs Wednesday, November 23, 2022 2:00 PM
Mobs are one of the essential aspects that make up the world of Minecraft, as they assist players in various ways during their playthroughs. Almost all of the mobs in the game drop experience points, or EXP for short. Aside from baby mobs that drop no experience points at all, many mobs in Minecraft drop […]
---
Player Assist | Game Guides & Walkthroughs Wednesday, November 23, 2022 1:00 PM
Secure your team's post-plant play with these easy KAYO molly lineups. Fracture is currently the second most successful map for KAYO mains, according to ValorBuff, and it isn't too surprising. Fracture is a map where Sentinels such as Chamber, Sage, Killjoy, and even Cypher can do some real damage with their traps, thanks to the […]
---
Player Assist | Game Guides & Walkthroughs Wednesday, November 23, 2022 12:00 PM
Team Cherry's Metroidvania action-adventure game, Hollow Knight, follows the journey of a nameless warrior called the Knight as he travels through Hallownest, which is now a kingdom ruined by a supernatural disease. As the Knight journeys through Hallownest, he encounters various characters that will help fully unravel the story in the game. One of these […]
---
Level Up Wednesday, November 23, 2022 11:34 AM
<a href="https://www.youtube.com/watch?v=IC3v_Vzp5_s" target="_blank" rel="noopener">A new Fire Emblem Engage trailer</a> has detailed how players can summon&nbsp;"Emblems,"…