---
Kotaku Friday, October 27, 2023 8:24 PM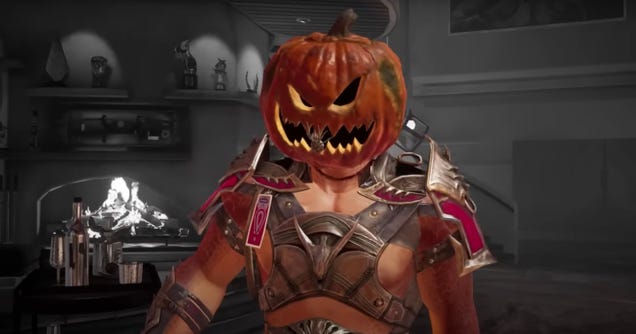 Mortal Kombat 1, NetherRealm's newest entry in its three-decades-old fighting game series, continues its predecessors' tradition of pulling gut-yanking, brain-pounding final moves, or Fatalities, to the delight of its gore connoisseur fans. But some of those fans are frustrated. MK1's recent patch introduces seasonal…
---
Kotaku Friday, October 27, 2023 5:30 PM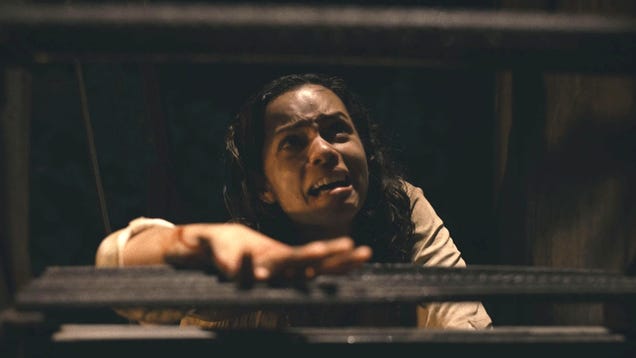 The 2022 horror movie Barbarian wasn't on my short list of recent films I thought might get a video game adaptation. But it sounds like one is coming from the company behind the Friday the 13th and Evil Dead games.

---
Kotaku Friday, October 27, 2023 5:01 PM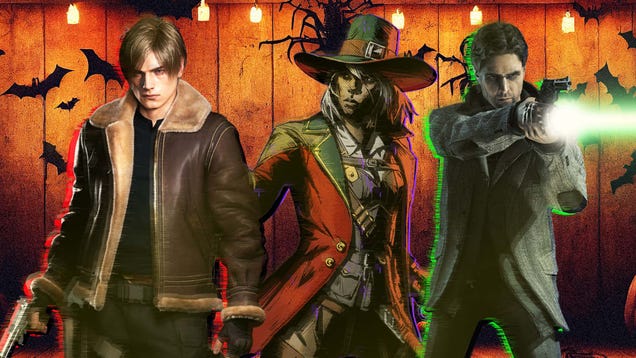 It's nearly Halloween, so it's once again time for Valve to throw a big ol' spooky-themed Steam sale. And this year there are plenty of great deals on new and old games, most of which are scary and perfect to play on Halloween night. Also…
---
Kotaku Friday, October 27, 2023 4:15 PM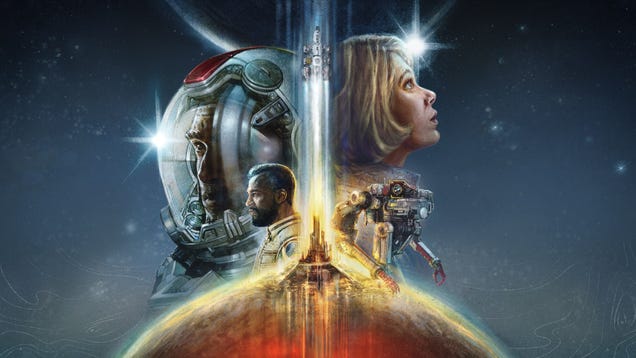 If, while exploring Starfield's vast, planet-filled galaxy, you've felt at times that its size and sheer number of possible destinations may actually be too much for the game's own good, well, it sounds like some folks who were part of the development team may agree with you. Hindsight is 20/20, after all.
---
Kotaku Friday, October 27, 2023 4:15 PM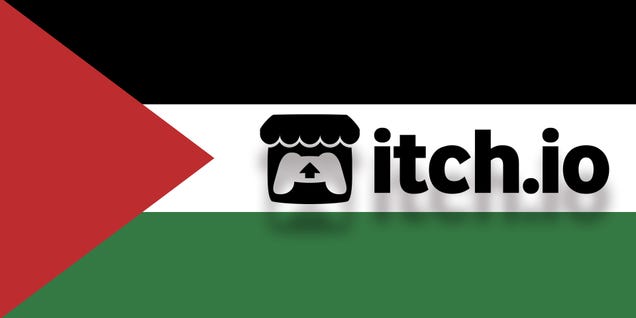 Games For Gaza, an itch.io fundraiser for Medical Aid For Palestinians (MAP) that features 256 items ranging from games, stories, soundtracks, game assets, and more, reached its first, $10,000 goal within hours of its October 27 launch.
---
Kotaku Friday, October 27, 2023 3:30 PM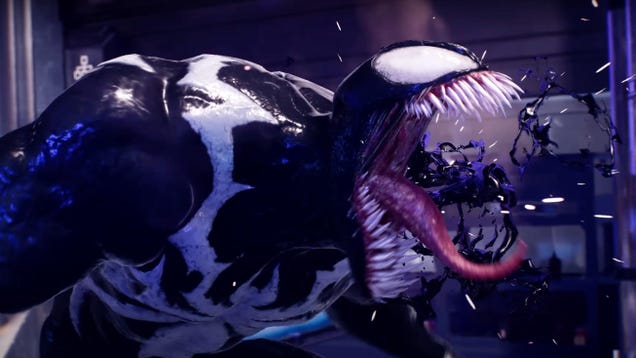 Marvel's Spider-Man 2 released October 20 with fanfare worthy of the vibrant New York City where it's set, becoming the fastest-selling PlayStation exclusive and igniting pertinent conversations about its protagonists' asses. Below the surface, the direct sequel to developer Insomniac Games' 2018 game is even more…
---
Kotaku Friday, October 27, 2023 2:45 PM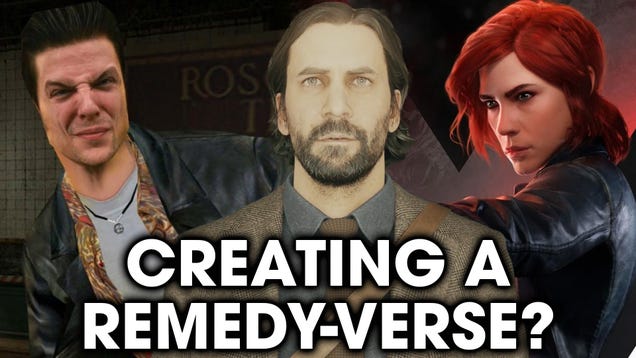 ---
Kotaku Friday, October 27, 2023 2:23 PM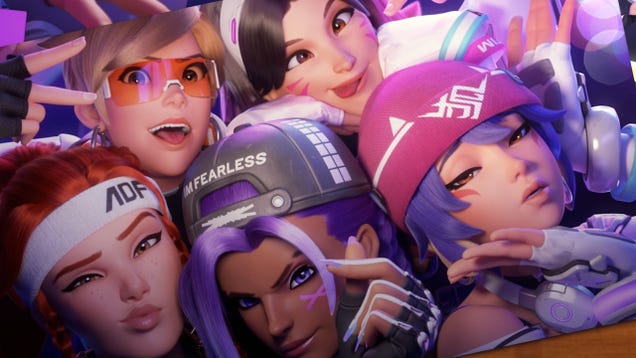 I had never listened to the K-Pop ensemble Le Sserafim before this morning, but after the group collaborated with Overwatch 2 on a music video and skins, I may be on my way to becoming a stan.

---
Kotaku Friday, October 27, 2023 2:15 PM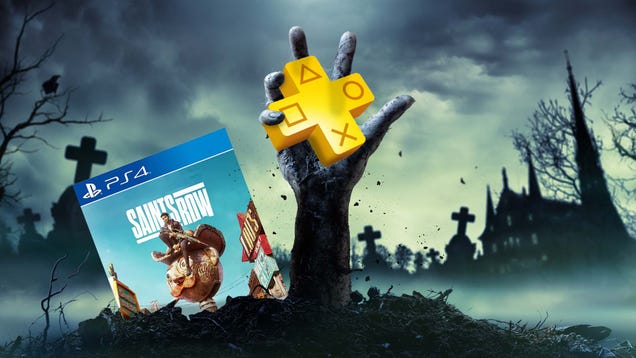 Want to see a magic trick? All you need is an open-world video game that flopped at launch and a popular subscription service with millions of gamers. And presto, you can bring a "dead" game like Saints Row (2022) back to life and make it one of the most played games on PlayStation.

---
PCGamesN Friday, October 27, 2023 5:02 PM
Great news web-heads, You can currently grab up to 40% off Marvel's Spider-Man games over on Steam. Both Marvel's Spider-Man Remastered and Marvel's Spider-Man: Miles Morales are heavily discounted in the sale, so act fast if you've yet to swing into the series.
Spiderman PC specs
,
Spider-Man PC games
,
Spider-Man Remastered PC review
---
PCGamesN Friday, October 27, 2023 3:33 PM
GTA 6 might be the most anticipated game in the world right now. After the tectonic success of Grand Theft Auto 5 and GTA Online - as well as Red Dead Redemption 2 - we're all incredibly eager to see what Rockstar does next, as it potentially heads back to Vice City for its next sandbox crime caper. Speaking exclusively to PCGamesN, one former Rockstar developer whose credits include the original Red Dead Redemption and both GTA Liberty City Stories and Vice City Stories, hopes that GTA 6 will feature a "smaller but more densely packed location" than some of its predecessors.
GTA 6 release date
,
Best open-world games
,
GTA 5 cheats
---
PCGamesN Friday, October 27, 2023 2:32 PM
Riot Games has been consistently shaking up the Valorant universe with the introduction of new agents, and their latest creation, Iso, is no exception. As a duelist, Iso is designed to wreak havoc on the battlefield with his unique abilities, which require a high level of skill and precision to master, making him a perfect duelist choice for players who thrive on mechanical finesse.
Valorant Night Market dates
,
Valorant ranks
,
Valorant crosshair codes
---
PCGamesN Friday, October 27, 2023 2:11 PM
Terraria crossplay is something we've all been desperately hoping to see happen for a long time. I've played the sandbox sensation on numerous platforms over the years, but ultimately, while the controller support is remarkably robust, it's definitely a game I like to play on PC where I can. Not all my friends are in the same boat, however, so I'm looking forward to the day when we can all join the same game from each of our personal platforms of choice.
The best Terraria mods
,
Terraria happiness guide
,
Terraria bosses guide
---
PCGamesN Friday, October 27, 2023 2:35 PM
Fortnite will be heading back to its Chapter One map next month, according to a new tweet by Epic Games. So far, we only have a promotional image showing the OG battle bus, next to a date of Friday November 3, 2023. This confirms the weeks of teases pointing to an upcoming throwback season.
MORE FROM PCGAMESN:
Fortnite Chapter 4 map - key locations
,
Fortnite skins
,
All Fortnite Chapter 4 weapons
---
Rock Paper Shotgun Latest Articles Feed Friday, October 27, 2023 6:54 PM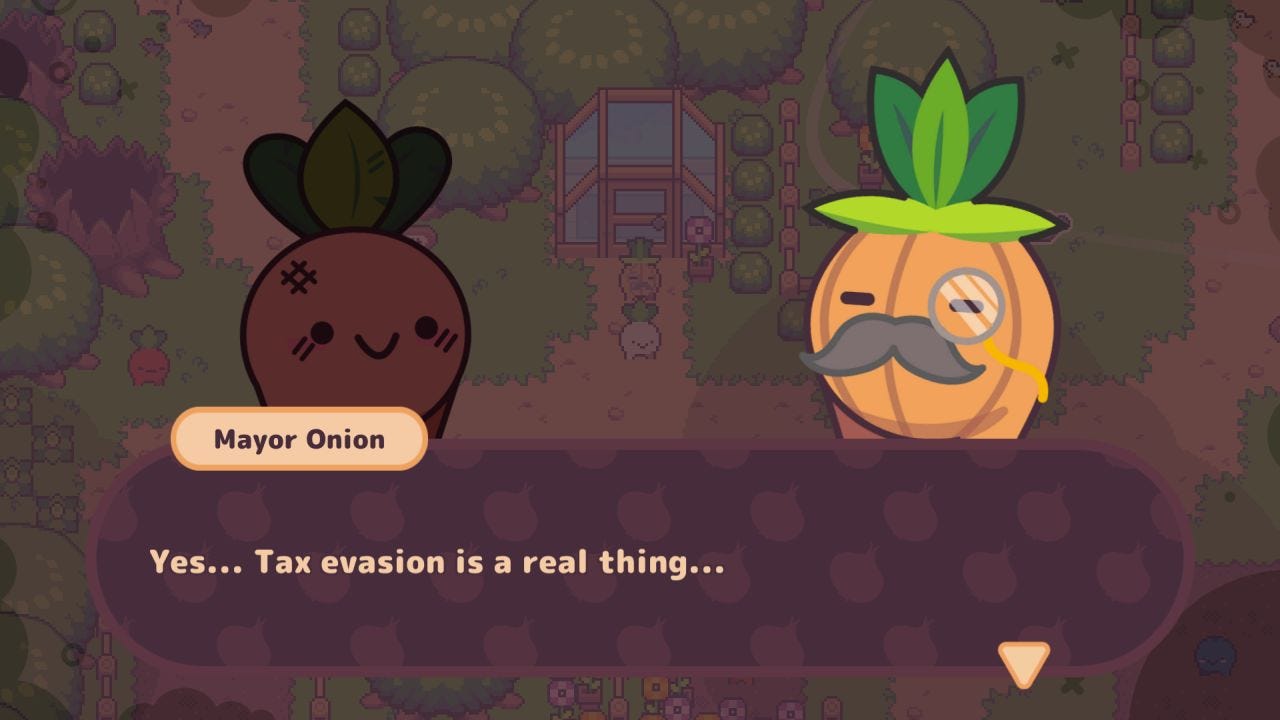 Turnip Boy Commits Tax Evasion is the good kind of distraction: a silly, finite, Zeldalike in which you rollick around a pixel art pasture and tick off todo list items by bish-boshing enemies and assisting vegetables. Alice B called it the funniest game she'd ever played.
This is an advanced heads-up that it'll be free to keep from the Epic Games Store from November 2nd.
---
Rock Paper Shotgun Latest Articles Feed Friday, October 27, 2023 5:39 PM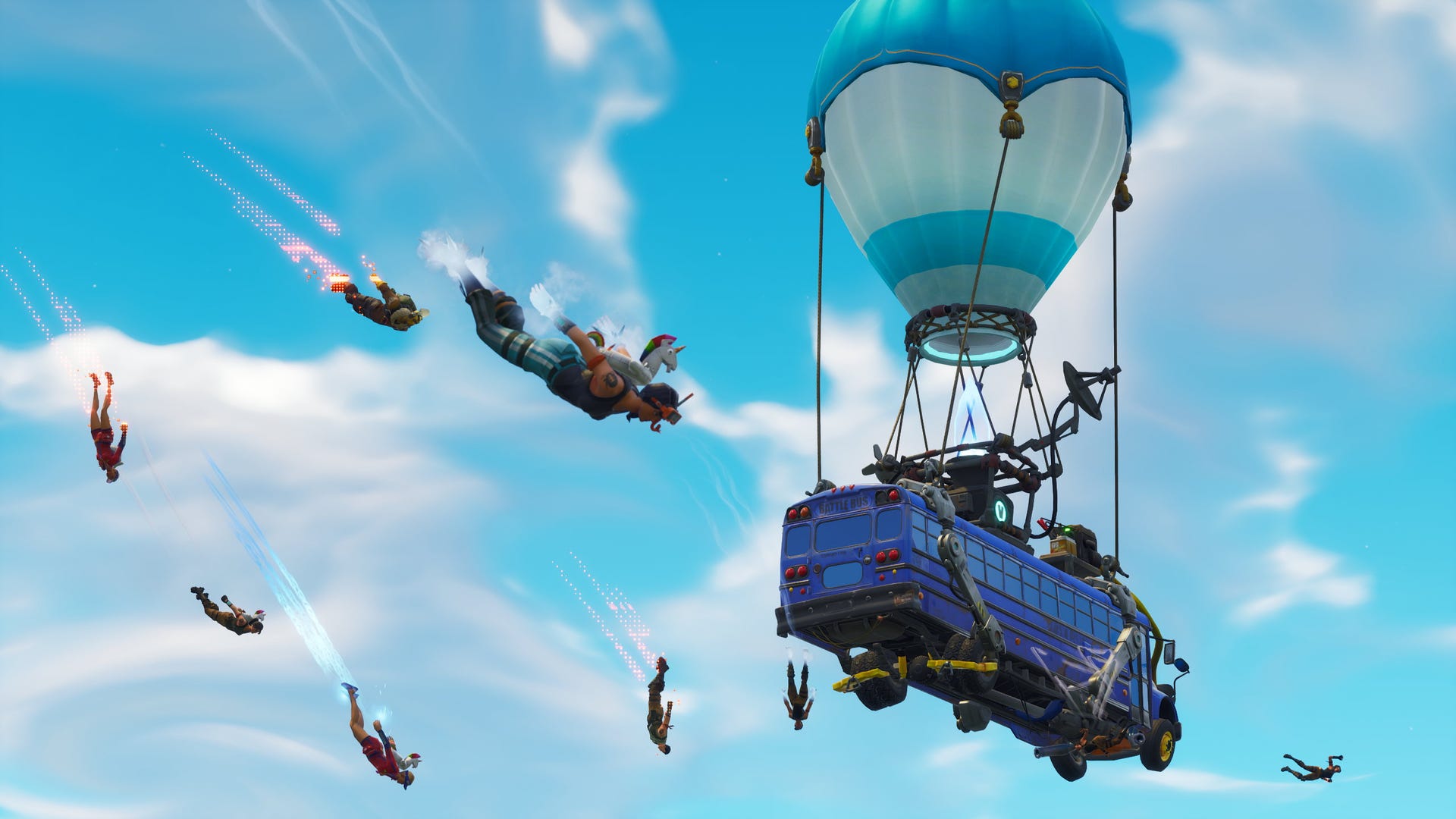 Fortnite's original map is coming back, Epic have confirmed. The news was announced via X (formerly Twitter) weeks after several leaks had suggested that time travel shenanigans would revert the free-to-play shooter's map back to its original Chapter 1 layout.
---
Rock Paper Shotgun Latest Articles Feed Friday, October 27, 2023 4:48 PM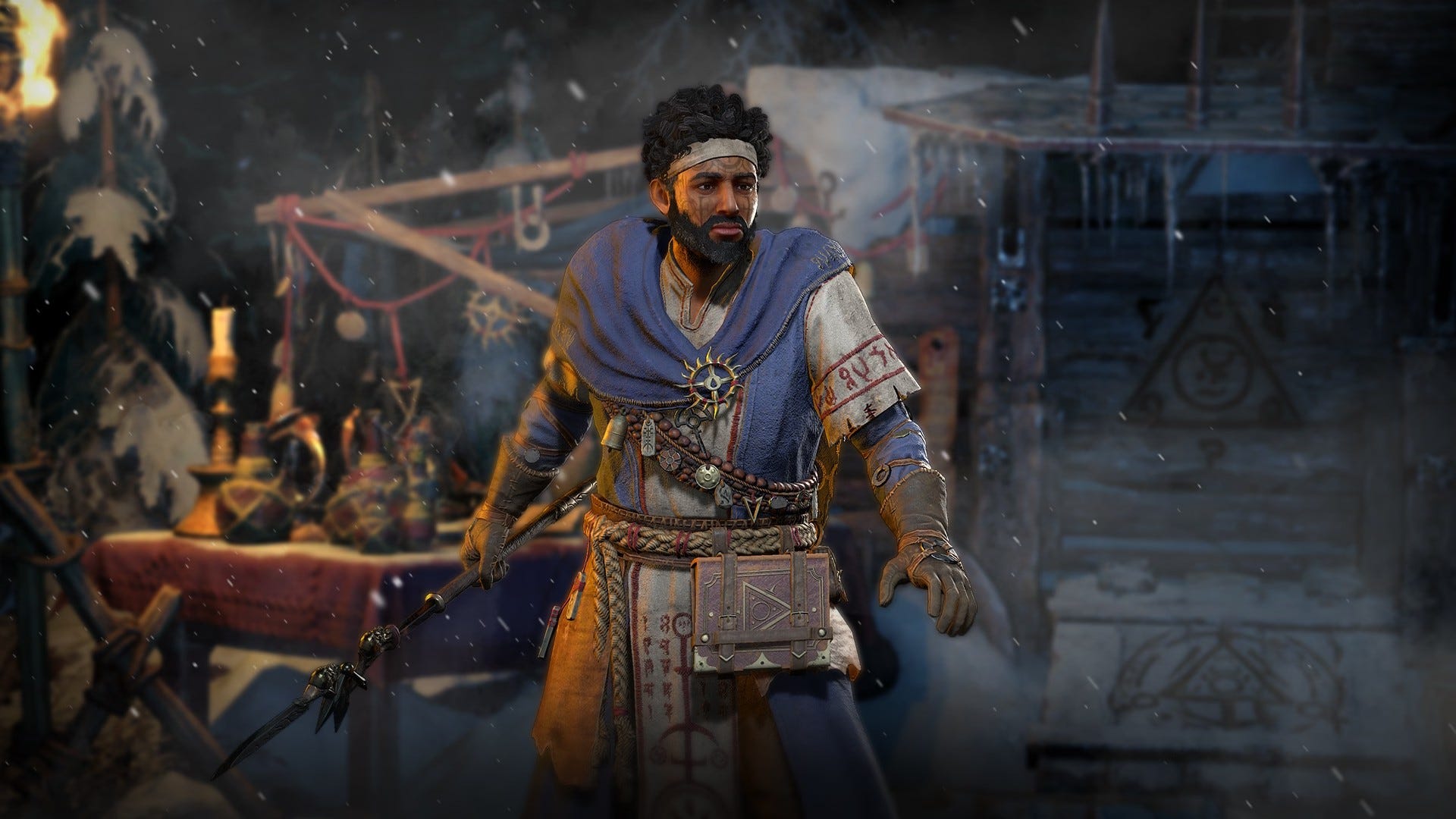 From now until Monday, Diablo 4 is free to play. The trial is available via Battle.net and includes the entire game. If you want to keep playing past Monday, it's currently 25% off, too.
---
Rock Paper Shotgun Latest Articles Feed Friday, October 27, 2023 4:09 PM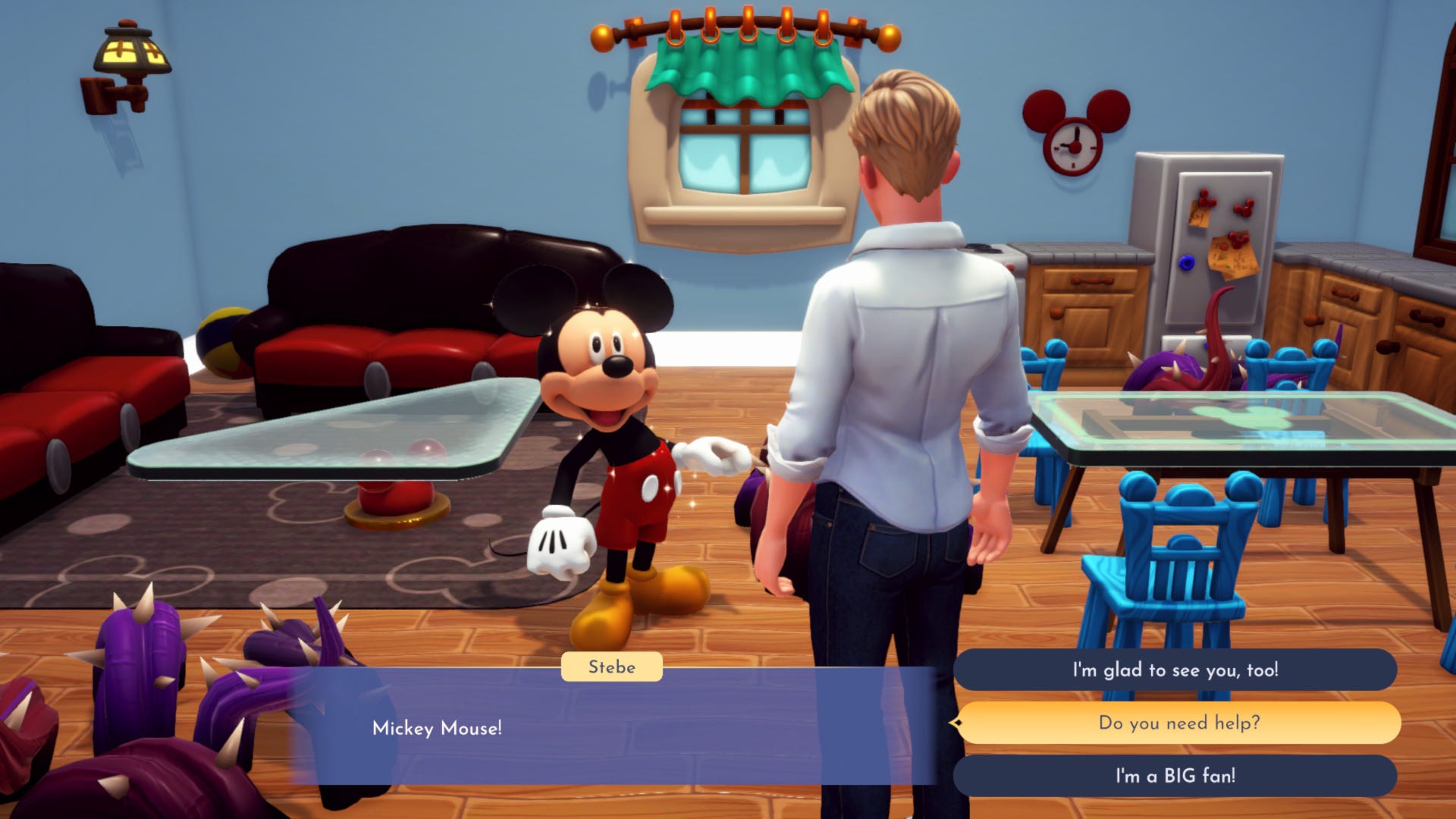 Mouse house life sim Disney Dreamlight Valley has been in early access since it launched last year, with the plan being that it would ditch the fee and become free-to-play upon its full release.
That plan has changed. Dreamlight Valley will leave early access on December 5th but will remain a paid-for game.
---
Siliconera Friday, October 27, 2023 7:00 PM
A new line of NieR Automata Ver1.1a merchandise includes household items imitating a YoRHa Pod Lamp, Lunar Tear flower decorations, and YoRHa mini humidifiers. The items will appear in Japan between late March and early May 2024.
Here's the full lineup and prices of NieR Automata Ver1.1a household items inspired by YoRHa Pod units and Lunar Tear flowers:
In addition, you can take a better look at the items in the gallery below:
UselessUse Laboratory (UUL) is responsible for releasing this new line of NieR Automata merchandise. The company is known for creating anime goods that double as household items and interior design. UUL has previously released household items based on Puella Magi Madoka Magica: Rebellion.
The new NieR Automata Ver1.1a Pod and YoRHa household items are set to be released in Japan around late March 2024, while the Lunar Tear flower frame is scheduled to appear in early May 2024. Pre-orders are now available from Animate and other anime goods retailers.
The post NieR Automata Pod Lamp and Lunar Tear Merchandise Announced appeared first on Siliconera.
---
Siliconera Friday, October 27, 2023 6:30 PM
New FFXIV character portrait magnets will appear at select Taito Arcades throughout Japan as prizes. There are 9 different magnets, which were released on October 27, 2023.
The Final Fantasy XIV magnets depict various characters in the Scions of the Seventh Dawn. The characters in question are Y'shtola Rhul, Estinien Varlineau, Thancred Waters, Urianger Augurelt, Tataru Taru, Alphinaud and Alisaie Leveilleur, Krile Mayer Baldesion, and G'raha Tia. Each magnet is approximately 10cm tall.
You can take a better look at the new FFXIV character portrait magnets in the gallery below:
Taito previously released other Final Fantasy XIV merchandise as arcade prizes, including a Loporrit ceramic figure and a Valentine's Day Moogle lamp. As a reminder, the All Saints' Wake Halloween event returned to FFXIV on October 27, 2023, and a collaboration event with the Fall Guys game will appear between October 31-December 31, 2023.
The Final Fantasy XIV character portrait magnets are now available as prizes at select Taito Arcade locations throughout Japan. Final Fantasy XIV is available for the PlayStation 4, PlayStation 5, and PC. An Xbox Series X version is scheduled to appear in Spring 2024. The Dawntrail expansion is currently in development and will appear in Summer 2024.
The post FFXIV Character Portrait Magnets Will Appear as Arcade Prizes appeared first on Siliconera.
---
Siliconera Friday, October 27, 2023 5:30 PM
A new development diary appeared for the twin Kickstarter for JRPG's Armed Fantasia and Penny Blood, including concept art for a transforming weapon and a wind-powered monster. The Armed Fantasia update is written by Hiroki Ishii, while Matsuzo Machida penned the one for Penny Blood.
In the section for Armed Fantasia, Ishii mainly described development continuing on the story, with new dungeon gimmicks and UI elements being developed. Ishii commented that the response from bee tribe Digital Studio, which is working on the 3D designs, has been swift and that he thinks the last boss is really cute. He also included some concept art of a mechanical katana weapon with a short video of its transforming animation, which he promises will have impressive effects added later.
Machida's section began by discussing negotiations with publishers in a post-pandemic industry, which he described as being in a "slump." He also introduced a Halloween themed piece by illustrator Kato Miyako. A concept design for a fusion monster called Ronan the Mad Tempest Knight, which he described as a more support oriented monster akin to a bard class, appeared too. Finally he elaborated on the greyhound racetrack area depicted in the final piece of concept art, which is inspired by 1920s America. Party member Luca, who can transform into a wolf, will take part in these races as training, where Machida ominously remarked that he won't only be racing against other dogs.
Yoshitaka Hirota, lead composer for Penny Blood, also left a message delving into his thoughts on the importance of sound lists. He announced that he is planning a YouTube stream for October 29, 2023 where he will be working on music for the game.
You can see some of the concept art in the gallery below:
Armed Fantasia and Penny Blood are new projects featuring development staff from classic games Wild Arms and Shadow Hearts. The projects' double Kickstarter campaign finished successfully in 2022, and the teams have been releasing monthly development diaries since.
Armed Fantasia and Penny Blood are being developed for PC, Xbox Series X and PS5, with Penny Blood scheduled for a Spring, 2025 release. You can find more updates on the games' Kickstarter Page.
The post Armed Fantasia and Penny Blood Kickstarter Update Shares Concept Art appeared first on Siliconera.
---
Siliconera Friday, October 27, 2023 5:00 PM
Now that Topaz is making her playable Honkai: Star Rail debut, there are two trailers showing her and Numby. One is cinematic, while the other introduces her moveset.
First, the cinematic Topaz trailer sees her showing what it's like to work for the Interastral Peace Corporation's Strategic Investment Department. We get to watch her interact with other characters from the series' universe, collecting debuts from folks like Sampo and Herta. (Though in Herta's case, Asta ends up footing the bill.)
Things begin with Topaz' normal attack in the Owlbert "Keeping Up with Star Rail" segment. That only hits one enemy and deals fire damage. Her Difficulty Paying Skill has her use Numby to attack an enemy. That deals fire damage and assigns a Proof of Debt status that increases how much follow-up damage that opponent takes for a limited time. Finally, her Ultimate is Turn a Profit. That sends Numby to attack an enemy. Numby also is summoned into battle with her with abilities, as well as with her Trotter Market talent, allowing it to deal follow-up attack damage.
As a reminder, Topaz isn't the only limited-time five-star showing up in Honkai: Star Rail on October 27, 2023. Seele is also coming back. This marks the very first rerun banners in the game, as the ones for her and her Light Cone appear alongside the new ones for Topaz and her Light Cone.
Honkai: Star Rail is available for the PS5, PC, and mobile devices, and the Topaz banner is live between October 27, 2023 and November 14, 2023.
The post Honkai: Star Rail Topaz Trailers Shows Gameplay of Her and Numby appeared first on Siliconera.
---
Siliconera Friday, October 27, 2023 4:30 PM
Good Smile Company and Max Factory revealed a new Pop Up Parade figure of Guilty Gear Strive's Bridget with an alternate color scheme. Labeled as the Strive Black version, this figure will be available worldwide in 2024.
While it will be a while before it appears, people can commit to one now. Pre-orders for the figure have opened on both the Japanese and American Good Smile Online Shop. It will cost ¥5,500 / $34.99.
The figure producer previously released a Pop Up Parade figure of Bridget in her original color scheme in August 2023. This black figure variant will take inspiration from an existing color scheme in Guilty Gear Strive. The #10 color scheme for Bridget is available in the actual fighting game by purchasing the Additional Colors #2 DLC.
A lot of merchandise and figures based on Bridget have appeared ever since she made an appearance in Guilty Gear Strive's second season pass as the most requested returning character from Japan. Other than Pop Up Parade, Good Smile Company also released Nendoroids and stuffed plushes based on the character.
This is not the first time a figure based on a Guilty Gear Strive character's alternate color has appeared either. In August 2023, Broccoli revealed a 1/7 scale figure of May with her purple #7 color, which will be available worldwide in February 2024 at $199.99.
Guilty Gear Strive is available on PlayStation 5, PlayStation 4, Xbox Series X|S, Xbox One, PC, and arcades. The Guilty Gear Strive Black Bridget Pop Up Parade figure will be available in Japan in May 2024 and in North America in Q4 2024. Good Smile Company will close the pre-orders on November 23, 2023, at 12 PM JST (November 22, 2023, at 10 PM ET).
The post Guilty Gear Bridget Pop Up Parade Figure Appearing in Another Color appeared first on Siliconera.
---
Siliconera Friday, October 27, 2023 4:00 PM
Another Attack on Titan collaboration is coming to Dead by Daylight Mobile, this time featuring alternate Mikasa and Levi skins for Yui and Jake, as well as an Attack Titan skin for the Trapper. The event runs until November 9, 2023.
The new Titan outfit for the Trapper comes in 3 tiers, each representing its appearance in different periods of the story. Meanwhile, Yui Kimura's new skin is based on Mikasa's outfit while equipped with thunder spears, while Jake Park's Levi skin has him wearing his headscarf and his sleeves rolled up. As well as these new additions, several past Attack on Titan collaboration skins will also be available to purchase, with charms awarded for buying up to 3 outfits.
Several charms and general cosmetics will be available to earn for free by playing during the event. A new accessory system for Dead by Daylight Mobile will also be introduced, with the first accessory being a backpack based on the Pure Titan.
You can get a look at the items in the gallery below:
The first Attack on Titan crossover was announced back in May 2022 for the mainline version of Dead by Daylight. It added Armored Titan, Eren Yeager and Zoe Hange skins. The mobile version of the game launched in March of this year with a collaboration event with The Ring, while the mainline version had a surprise crossover with Nicolas Cage in May, 2023.
Dead by Daylight Mobile is available on mobile devices, with the Attack on Titan event set to run from October 26, 2023 through November 9, 2023. Dead by Daylight is also available on PC, PS4, PS5, Xbox One and Series X/S, and Nintendo Switch.
The post Attack on Titan Event Begins in Dead By Daylight Mobile appeared first on Siliconera.
---
Siliconera Friday, October 27, 2023 3:30 PM
Good Smile Company offered a first look at its upcoming Cowboy Bebop Spike Spiegel and Vicious figure. The unpainted prototype is going to be on display at the Cowboy Bebop 25th Anniversary exhibition in Japan.
The Cowboy Bebop 25th Anniversary exhibition is available at the Seibu Shibuya Movida Building between October 27, 2023 and November 19, 2023. Attendees can see art, as well as purchase official merchandise based on the series and its characters. This new figure prototype is among the items on display at the event. While the photo of the two shared online only is shown from one angle, people will be able to get a better look if they attend.
Here's a closer look at the figure. In it, Spike and Vicious are in the middle of a fight. Vicious is attempting to attack with his sword. However, Spike used his gun to block it. Both characters are wearing their traditional suits. The background shows they're fighting amidst the ruins of a dilapidated building.
While this figure isn't ready, the official site for the event shows that other items will appear. For example, ChibiMasters figures of four Cowboy Bebop characters will be sold. People will be able to pick up Spike, Jet, Faye, or Ed with Ein. There will also be acrylic stands of all four members of the crew and plush toys and keychains of them.
There's no release window yet for the Cowboy Bebop Spike Spiegel and Vicious figure yet. It is on display at the Seibu Shibuya Movida Building until November 19, 2023. The anime is available to watch on Crunchyroll, and the live-action adaptation's single season is on Netflix.
The post See the Cowboy Bebop Spike and Vicious Figure Prototype appeared first on Siliconera.
---
Siliconera Friday, October 27, 2023 3:00 PM
Even if Tempest is one of the more unique Switch otome games, due to its courtroom elements, and fortunately Even if Tempest Dawning Connections continues to live up to the original's legacy. It maintains all of the elements that made the first story so special, while also devoting more attention to love interests and supporting characters.
In the original Even if Tempest, we saw the harrowing life of Anastasia Lynzel. A young woman with a harrowing beginning, she eventually ended up with the Fatal Rewind ability. This allows her to not only change her destiny, but also that of those around her. Eventually, she even ends up being a critical part of changing the world around her for the better. Even if Tempest Dawning Connections is both the story of what happens next with the love interests Crius, Lucien, Tyril, and Zenn, as well as see a story of what could have been and learn more about major side characters Conrad, Evelina, Ish, and Maya. However, while this is a fan disc, it still doesn't completely discard some of the more unique properties of the original, such as the supernatural and mystery elements, making it just as strong of a story.
Right off the bat, what I love about Even if Tempest Dawning Connections is the attention to detail. The characters have multiple facial expressions, and in certain cases different outfits. Their portraits move to the foreground and background to help portray a sense of space. The voice acting is fantastic. In general, the presentation is impeccable, and I appreciated the care with which everyone is depicted. It really helps set the tone, create a world, and make these people come to life. Especially since the writing and characterizations remain great, ensuring people come across as strong, realistic individuals.
Even if Tempest Dawning Connections remains a Switch otome game that rewards players for paying attention too. A key feature in the original title involved these trials Anastasia was going through, where you'd be gathering information and uncovering truths in addition to making sure you provided helpful answers to grow closer to love interests. These remain, so it isn't like you're just enjoying heartfelt, loving moments with attractive virtual men. (Though there are plenty of those, and they're well-written, appealing, and in-character.) It means you'll still go through mysteries, learn more about the world, and feel like you're taking action while continuing to grow closer to people you established relationships with in the original game.
The only real downside to Even if Tempest Dawning Connections is that it is the sort of otome game that succumbs to the same pitfalls as ones like Norn9: Last Era on the Switch. It involves unlocking. I'm not talking about the typical earning of CGs or progression of chapters in each romance option's storyline in the Love Stories section. I'm talking about how you can't immediately jump into the alternate reality story "The Fellowship" and only initially have the Maya tale open in the Side Stories section, with the Conrad, Evelina, and Ish ones locked away. It doesn't take too much time to go through routes and gain access to these additional elements. Still, it's a bit frustrating that things that shouldn't be locked off do require you to potentially go through elements you aren't interested in first.
Especially since, unlike its predecessor, Even if Tempest Dawning Connections ran perfectly right away. I experienced an array of crashes with the original Switch otome game. Voltage clearly made sure to avoid the same situation, which is appreciated. (To the company's credit, I did revisit the first game ahead of this review and found it ran much better as well.)
Even if Tempest Dawning Connections is a Switch otome game just as attractive as its predecessor. Anastasia is still a strong, incredible heroine. The four love interests are still well-rounded and appealing characters. Their routes still have the investigation elements from the original game. Plus, the supporting cast members that may have appealed to players also get their moments. Top it all off with lots of CGs and no bugs, and it's a fantastic follow-up to a fun game.
Even if Tempest Dawning Connections is available for the Nintendo Switch.
The post Review: Even if Tempest Dawning Connections Stays True to the Original Otome Game appeared first on Siliconera.
---
Siliconera Friday, October 27, 2023 2:30 PM
There's a new way to fight Shiva in Final Fantasy VII Ever Crisis, as her Co-op Battle is now available. People can challenge her in this way for one week.
Square Enix and Applibot offered more insight on what to expect from this fight. Up to three people can join in to face Shiva in-game. Doing so nets someone Co-op Medals, which can be swapped for Weapon Parts. Summon Memories and weapons can also be earned. Some Co-op Battle Missions will also appear. Getting through them will net people 20 Stamina Tonics and 1,500 Blue Crystals.
While this marks Shiva's debut as a Co-op Battle, she's already been in the game for a while. So have her Summon Weapons, so people have another option for getting and upgrading them. These are the Shiva's Blade for Cloud and Shiva Cannon for Barret. Both deal MAG ice damage to enemies and offer +50% fire resistance to the characters when equipped. Other traditional summons, like Ifrit, also appear.
Final Fantasy VII Ever Crisis is available for mobile devices, with the Shiva Co-op Battle appearing until November 2, 2023. The game will eventually come to PCs as well, though Square Enix and Applibot haven't set a release window for that version yet.
The post Shiva Co-op Battle Appears in Final Fantasy VII Ever Crisis appeared first on Siliconera.
---
PC Invasion - FeedDDD Friday, October 27, 2023 5:38 PM
Healing in Alan Wake 2 is just as important as finding powerful weapons like the crossbow. When you're alone in the dark, with no light around, your health resources will be even more important. Thankfully, there are a few ways to heal both Alan Wake and Sage Anderson in Alan Wake 2, and we'll show how to keep yourself safe. Alan Wake 2: How to heal There are a few ways to heal both characters and can be easy to do provided you find enough health picks ups. In Alan Wake 2 you can heal each character in the following ways: First Aid Kits: These pick-ups can bring up all your health. However, they will take up two slots in your inventory, so keep mindful of that. Painkillers: Probably the most common way to heal yourself. They are rare but have a higher chance of appearing than a First-Aid Kit. The pills will give you a small amount of health at the start, but over time, you'll get a little more. Trauma Packs: Not as common as Painkiller...
---
PC Invasion - FeedDDD Friday, October 27, 2023 5:24 PM
Saga's Chapters lead her to Watery and Coffee World, where she must face off against two bosses in one fight. We'll go over how to beat Mulligan and Thornton in Alan Wake 2. During this tough fight, it may seem impossible to take them down, but there's a trick to it. Let's dive right into how to beat these two. Alan Wake 2: Mulligan and Thornton boss guide The trek up to the fight itself is draining enough. So by the time you make it to the actual battle, it can be tough figuring out how to take them down. Here are some tips on how to beat Mulligan and Thornton is Alan Wake 2. Before you enter the Overlap, make sure you've brought along all items you may need from your Shoe Box. This is sort of like your stash that shows up in any Break Room. Place any Charms you may need on your bracelet, such as the Coffee Mug Charm to give you an extra chance at life upon death. Once you make it through, you'll go through a...
---
PC Invasion - FeedDDD Friday, October 27, 2023 5:22 PM
Lord of the Rings: Return to Moria is a survival exploration game that will have you diving deep into the mines of Moria, the legendary home of Middel-Earth's Dwarves. Some Lord of the Rings fans had their reservations. The franchise has been translated into a variety of video game genres, but never a survival game. Did it make the transition, or did it come a little short? Is Return to Moria a good game? Let me start by saying yes, Lord of the Rings: Return to Moria is a good game. Both fans of the franchise and those who couldn't care less will be able to find some fun in it, as it prioritizes a jaunty good time in Middle-Earth over being just another product with a world-renowned brand name stamped on the cover. Return to Moria is a low-stakes experience, one that leaves room for player creativity while making you earn every little bit of success. It wants you to understand and embrace the Dwarven cultural experience by cooking hot m...
---
PC Invasion - FeedDDD Friday, October 27, 2023 5:03 PM
If you're playing with a friend in Ark Survival Ascended, you may see a message saying, "You're heading out of range! You need to get closer to the Host Player!" This message, combined with the distance indicator in the bottom right corner, is host tethering. Tethering in Ark Survival Ascended is a distance limiter set on the host and everyone on their server. It's extremely annoying which leads people to want to learn how to remove the player tethering in the game. In this guide, I'll tell you everything you need to know about tethering in Ark Survival. Ark Survival Ascended: How to remove host tethering After learning about the different server types in Ark Survival Ascended (read our server guide if you need a refresher), you'll know the difference between official, unofficial, and non-dedicated servers. The only servers that have tethering in Ark Survival Ascended are non-dedicated servers, AKA the free servers. ...
---
PC Invasion - FeedDDD Friday, October 27, 2023 4:55 PM
After an exciting Virtual Press Event and a detailed blog post, we got a ton of new information revealed on all the changes coming to Storm Point in Apex Legends Season 19. Now that the storm has cleared, there's a lot of infrastructural damage around the island, but Wattson is aiming to restore its power. Let's dive right into these new features and changes. Apex Legends: Storm Point map changes in Season 19 The main focus for Respawn this Season was to add a ton of new points of interest (POIs), and reduce the overall map size to make it feel a lot tighter. This was done to improve the fun factor and mid-game pacing. Also, a few areas were reworked, like the Forbidden Zone and Lightning Rod. Let's go over all the changes and new POIs revealed for Storm Point in Apex Legends Season 19. Screenshot: Respawn Wattson's Pylon After the massive storm damaged Storm Point and took away the power, now the city ...
---
MonsterVine Friday, October 27, 2023 3:00 PM
I think the first time I played a deck building video game was when Wizards of the Coast put out their Magic the Gathering: Duels of the Plainswalkers games. Friends and I would stay up late into the night building new decks to try out against each other, it was a blast! Later, a friend […]
---
MonsterVine Friday, October 27, 2023 2:53 PM
A lot has changed in the 13 years since Remedy Entertainment first introduced us to Alan Wake, and it's clear they've taken what they've learned and weaponized it to create Alan Wake 2, a true masterpiece of interactive narrative driven horror. Alan Wake 2 is a supernatural horror game which iterates on the concepts started […]