---
Kotaku Saturday, July 9, 2022 10:30 AM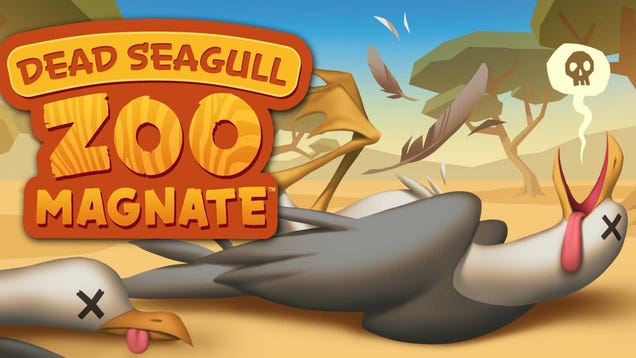 This year's Steam Summer Sale is over, so say goodbye to all the deals. But say hello to some rad-looking art! With the sale over, an artist at Valve is now free to share all the fake video game key art and covers that she helped create that were hidden inside Steam's large digital catalog as part of the sale's…
---
Kotaku Saturday, July 9, 2022 10:15 AM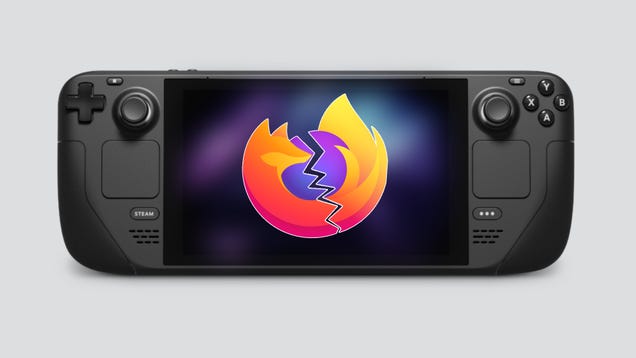 As has been reported by Gaming on Linux, and chatted about on Reddit, the Steam Deck has got a bit of a security problem concerning its pretty badly outdated version of Firefox. Valve has reportedly promised a fix, but it won't come until the next SteamOS update. That's less than ideal.
---
PCGamesN Saturday, July 9, 2022 1:44 PM
If you don't fancy shelling out for the four-foot Destiny 2 replica Gjallarhorn Nerf gun that's currently available for pre-order, there's good news - you'll be able to buy an in-game version of it separately at some point. Fans of Destiny 2 will no doubt be very familiar with the Gjallarhorn, one of the FPS game's most iconic weapons. The rocket launcher became famous for being one of the best Destiny exotics in the original game's first year.
Now, developer Bungie has partnered with the Hasbro-owned Nerf toy brand to offer a 1:1 scale replica of the gun, which will set you back a whopping $185 USD (roughly £154 GBP / €182 EUR). The blaster is an impressive piece that measures in at over a metre in length and replicates the weapon's famous wolfpack rounds with "the first ever Nerf mega dart shells" that fire off clusters of three darts at a time.
It's not just the price that's a limiting factor, though. The model is only available from July 7 - 21 as part of an early access pre-order window for players with the Bungie 30th anniversary content pack who have already earned the Gjallarhorn in-game prior to the window opening. That means if you don't already have it, you're out of luck for now - although Bungie says that "remaining units will be made available to everyone after the early access window."
Destiny 2 classes
,
Destiny 2 exotics
,
Destiny 2 builds
---
PCGamesN Saturday, July 9, 2022 1:00 PM
There are many great Quake mods out there but there's never really been a decent hub for the FPS game's modding community to easily get together, share mods, discuss them, and assist creators. New Quake community site Slipgate Sightseer aims to do just that.
Slipgate Sightseer - or Slipseer, to use its catchy URL name - is now officially up in beta and it's designed to be a new home for the Quake modding community. From the first page, you can easily check out new maps and mods, alongside reviews, discussions, and help for anyone trying modding for themselves.
PCGamesN got in touch with a member of the development team, Michael Markie - who is also a composer, sound designer, and level designer for 3D Realms and Slipgate Ironworks. Michael describes Slipseer as a "community hub primarily for Quake singleplayer content creators and players, where creators can upload, manage, and discuss their content on a modern site."
Best FPS games
,
Best old games
,
Best multiplayer games
---
PCGamesN Saturday, July 9, 2022 12:54 PM
Making your way up to the Terraria sky islands is a great way to boost your power early on in the crafting game, and one resourceful player has highlighted a little-known trick that lets you spot their location easily. Normally, trying to track down the floating island bases among the indie game's clouds prior to having some form of flight can be quite a painstaking process, but this reliable tell makes it easy to know when one is nearby - making it a great way to nab some powerful early-game gear.
Reddit user SageWayren posted the nifty trick to the game's subreddit, where it rapidly gained almost 10,000 upvotes (at the time of writing) from players who were shocked to learn about such a useful method that they hadn't discovered before. SageWayren says they've been using it for quite a while, but decided to share it when they realised that it wasn't mentioned anywhere in the game's extensive wiki.
The method is deceptively simple - all you need to do is head out on a scouting mission across your world's surface layer, keeping an eye out for any small puddles of water that are two blocks deep. When you find one, just run a rope straight upwards from the ground (or whatever your preferred climbing method may be) and you'll arrive perfectly at a floating island high up above. Here, you can crack open any chests and oftentimes get your hands on some strong equipment such as wings or a sword that summons shooting stars. Just keep an eye out for the harpies!
Terraria Journey's End release date
,
Best games like Minecraft
,
Best survival games
---
PCGamesN Saturday, July 9, 2022 11:42 AM
Skyrim Together Reborn was one of the most anticipated Skyrim mods ever made, turning one of the best RPGs on PC into a full co-op game. The revamped Skyrim multiplayer mod is finally now out and it's proven wildly popular, as it's been downloaded nearly 40,000 times in its first 24 hours.
This month, the Skyrim Together Reborn mod team confirmed that the overhauled and improved version of the Skyrim co-op mod would release on Friday, July 8 - after plenty of delays, and including fully synced NPCs, quests, dialogue, lockpicking, horses, and items along with support for 30+ players at once.
You can download Skyrim Together Reborn at Nexus Mods, which was released exactly 24 hours ago as of the time of writing. In just a single day, Nexus Mods states that the Skyrim multiplayer mod has been downloaded 39,927 times. It will likely break 40,000 by the time this article goes up. The mod's page has been viewed over 116,000 times.
Skyrim mods
,
Play Skyrim
,
Games like Skyrim
---
PCGamesN Saturday, July 9, 2022 11:22 AM
Apex Legends developer Respawn Entertainment is hiring for a new single-player Apex Legends FPS game, which it calls an 'Apex universe FPS incubation title.' The new project, which is currently unnamed, is described as "a developer's dream playground with the freedom to innovate made possible by the unique universe it inhabits." Sadly, it probably isn't Titanfall 3, despite that series being the origin point for EA's battle royale game.
Several job listings for the project, including a senior systems engineer and a hard surface artist, were spotted by Dexerto on the Respawn careers page. The descriptions are fairly vague, as might be expected, but they do say that the project will be single-player and that it will be set in the Apex Legends universe.
Respawn did announce previously that they were working on a new IP which was described in January by Giant Bomb reporter Jeff Grubb as a "triple-A first-person shooter," although it's not clear whether this is that project or whether it's a separate thing altogether.
Apex Legends characters guide
,
Apex Legends skins
,
Apex Legends map guide
---
PCGamesN Saturday, July 9, 2022 10:27 AM
The new Smite Nickelodeon crossover is "disrespectful" according to Invader Zim actor Richard Horvitz, who has slammed the animation house and developer Hi-Rez Studios because they "would not go union" with the MOBA game collab - leaving him unable to voice Zim once more.
In June, platform fighting game Nickelodeon All-Star Brawl finally had voice acting added for free, including most of the original actors voicing the various cartoon icons - such as Richard Horvitz as Invader Zim. Now, just one month later, Invader Zim is back in Smite - and Horvitz is not voicing him.
The Smite crossover contains the Nick characters Rocko, XJ9 Freya, Danny Phantom, Powdered Toast Man, and of course, Invader Zim. Seemingly, none of these characters are voiced by their original actors, and Richard Horvitz says this is because Hi-Rez Studios "would not go union."
Smite review
,
Best Smite gods
,
Free MMOs
---
Rock Paper Shotgun Latest Articles Feed Saturday, July 9, 2022 5:37 PM
Team Fortress 2 has received another update, one which apparently addresses "exploits and stability issues" with Valve's aging but popular shooter. It's the second TF2 update in as many weeks after the game's players began protesting a lack of action to address the large number of exploits plaguing the game.
---
Rock Paper Shotgun Latest Articles Feed Saturday, July 9, 2022 5:10 PM
---
Rock Paper Shotgun Latest Articles Feed Saturday, July 9, 2022 4:33 PM
Hitman 3 and its closely-related predecessors already contain more murder sandboxes than I can handle, but IO Interactive continue to add more for free. Later this month, Hitman 3 receives Ambrose Island, a tropical island home to a "dangerous pirate syndicate" and whole new level level for Agent 47 to wreak his sneaky havoc within.
---
Rock Paper Shotgun Latest Articles Feed Saturday, July 9, 2022 4:05 PM
---
Twinfinite Saturday, July 9, 2022 3:39 PM
Yesterday Japan was shocked by the murder of Shinzo Abe, but Hideo Kojima had to deal with the proverbial insult on top of injury.
---
Twinfinite Saturday, July 9, 2022 2:51 PM
Kadokawa released the trailer of the second cour of the popular romantic comedy anime A Couple of Cuckoos, which will debut later this month.
---
Twinfinite Saturday, July 9, 2022 12:30 PM
Firaxis Games revealed a new trailer of the tactical game Marvel's Midnight Suns. dedicated to one of its playable characters.
---
Twinfinite Saturday, July 9, 2022 12:10 PM
League of Legends will soon launch a brand new Star Guardian event, and today Riot Games released a new animated trailer.
---
Siliconera Saturday, July 9, 2022 3:00 PM
DNF Duel is another fighting game made in collaboration with powerhouse Arc System Works. For those who are fairly deep into the early MMORPG scene or play a lot of Korean MMOs, Dungeon Fighter Online remained a staple since its original release in the mid-2000s. Arc System Works adapted the core strengths of this title and incorporated its signature style into what turned into an exciting and approachable fighter.
Ark System Works managed to retain the essence of each of the original classes from Dungeon Fighter Online in DNF Duel. I was particularly surprised at how well the Ranger, which was my main during the short period of time I played the MMORPG, translated into a fighting game. Staple attacks from the MMO appear in his move list, with animations almost identical to the sweeping kick he can perform.
Each animation is particularly punchy, with snappy, over-exaggerated movements making each action feel particularly dynamic. In retrospect, it almost feels natural that a fighting game would somehow manifest from the Dungeon Fighter Online series. Arc System Works nails the general feel of each of these classes. Every character looks good and works well. The Hitman is the standout for me among the roster. Mostly because I loved his design, his ability to balance medium range projectiles (which are really just short bursts of rounds sprayed from his SMG), and the long, sweeping slashes of his sword.
I found each character relatively easy to pick up, which was great. I honestly fall between the "average fighting game enjoyer" and "someone who really wants to be better at fighting games but never nails the execution" range. DNF Duel made every character feel approachable, with combos being easy to execute even for the most inexperienced of players. It doesn't take the same kind of finesse or intense concentration as earlier Arc System Works, like previous iterations of Guilty Gear or BlazBlue. This makes the game feel a bit more approachable.
The more complex aspects of the game are relegated to an MP bar that will charge up over the duration of the match. Using certain attacks will drain the MP bar, and these are usually the flashiest and most powerful. Thankfully, the gauge refills relatively quickly and only after a few seconds of consuming a percentile of your bar. This works similar to a "super" bar in other fighting games, with the addition of being able to convert damage into MP.
Additionally DNF Duel has a story mode that allows people to fight their way through scenarios tailored for each individual character. Playing through the Hitman's story had me chasing down leads with an assassination bureau, whereas the Vagabond's storyline saw me pursuing a supposed worthy opponent. While the end result is mostly the same, with the final battle for the story mode culminating in similar events, it's a nice bite-sized adventure that allows the cast of characters to interact with one another. Albeit it is on a mostly surface level, as the narrative really isn't anything to write home about. The story mode isn't as lengthy as Granblue Fantasy Versus', for example. However, you do get to unlock a secret character by beating the story mode for the first time.
The story mode is where the single player experience ends, as the rest of DNF Duel is relegated to online or couch co-op fights. The general experience of the player may vary based on their skill level and what they're looking to achieve through online play. I'm not a particularly competitive person, so I didn't mind getting beaten time and time again by a player that was infinitely more skilled than I was. I was just happy that there was little to no lag. This made the duels at least feel fair in one regard, even as I was getting pummeled into the ground by Strikers and Berserkers.
Since DNF Duel uses the same visual style as Guilty Gear Strive, the game looks great. The cel-shaded art style really brings out the best in the character designs and effects. However, its backgrounds feel somewhat lackluster by comparison. There are a few that stand out, like a warmly lit tavern and the white stone square in a costal city, but the other arenas feel like they're just there. In regards to the score, there wasn't any piece of music that was particularly memorable. Which is odd, considering Arc System Works' history of having incredible and distinct soundtracks for games.
Surprisingly, DNF Duel doesn't have an English language audio option. It instead opts for Korean, Chinese, and Japanese dubs. That isn't to say the voice acting isn't great, particularly the Japanese dub of the game. Those with a honed ear will be able to pick up familiar voice actors reprising their roles.
Overall, DNF Duel is a great fighting game. It appeals to casual players, while still offering a fair bit of complexity to keep more experienced players entertained. It's definitely a title I'll go back to from time to time. Ultimately, it feels like a game that could develop a consistent following in the years to come. If it gets the right opportunity, that is.
DNF Duel is available for the PlayStation 4, PlayStation 5, and PC.
The post Review: DNF Duel Feels Like it Could Become a Staple appeared first on Siliconera.
---
Gamer Empire Saturday, July 9, 2022 2:50 PM
There are many streamers on Twitch who have started streaming themselves gambling and playing slots. One of those is Tumblurr, a popular Italian streamer who plays a variety of video games on his stream and occasionally gambles as well. Recommended Read: What Gambling Site Do Twitch Streamers Use? As he gets a lot of concurrent […]
The post What Gambling Site Does Tumblurr Use? appeared first on Gamer Empire. It was written by Jack Roque.
---
Latest Games on Play iDev Games Saturday, July 9, 2022 2:12 PM
I got the pictures from oat jenkins here is his channel https://www.youtube.com/c/OatsJenkins ...
---
Latest Games on Play iDev Games Saturday, July 9, 2022 1:48 PM
This is a game meant to talk to people on construct 3 and itch.io other platforms also have this game that I made...
---
Latest Games on Play iDev Games Saturday, July 9, 2022 12:55 PM
A sandbox where you can do lots of things!...