---
Kotaku Monday, December 19, 2022 5:40 PM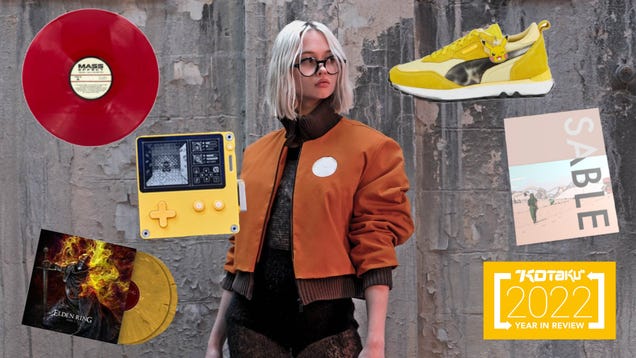 Video game merch is rarely cool. You'd be hard-pressed to find wearable merch worthy of any place other than the gym, or household items you could display in a mid-century modern living room. It's also rarely inspired or unique—my cabinet is full of slightly chipped Call of Duty coffee mugs, my storage bin overflowing…
---
Kotaku Monday, December 19, 2022 4:40 PM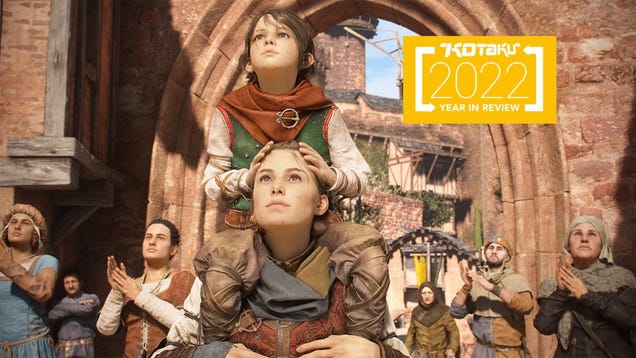 I only consider myself a "gamer" in a literal sense—I play video games every year, but only a modest handful of those already familiar to me, like my darling Bloodborne or Super Smash Bros. I started working at Kotaku this year, though, and by demand, 2022 became my most "gamer" year ever, with lots of new games…
---
Kotaku Monday, December 19, 2022 4:33 PM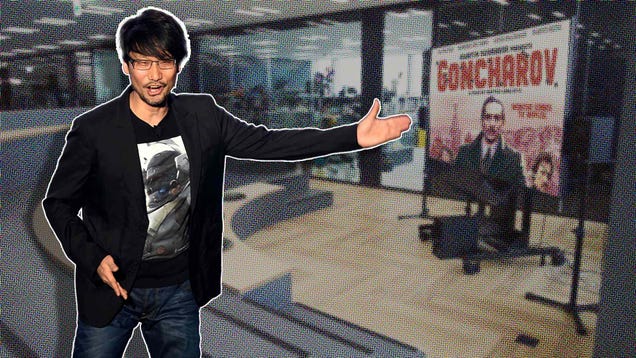 Today, Japanese video game developer Kojima Productions celebrated its seventh anniversary and gave everyone workspace envy by showing off what its new game studio looks like. And boy howdy, this studio is just as over the top as you'd expect, given that its repertoire includes a video game with a 31-minute cutscene.
---
Kotaku Monday, December 19, 2022 4:25 PM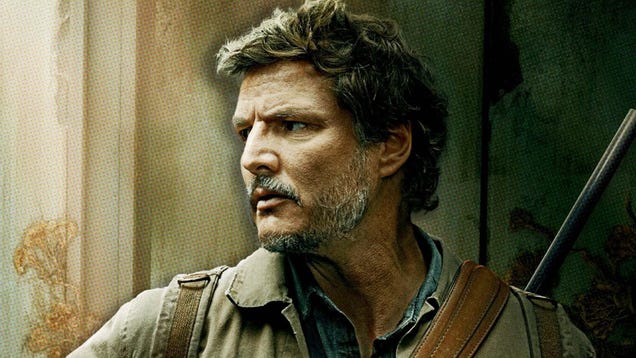 In a recent interview, The Last of Us showrunner Craig Mazin said that the original game contained the "greatest story ever told" in the history of video games. Not only is this statement silly, but it also continues this weird pattern of people trying to rewrite history to make Naughty Dog's original PS3 adventure…
---
Kotaku Monday, December 19, 2022 3:45 PM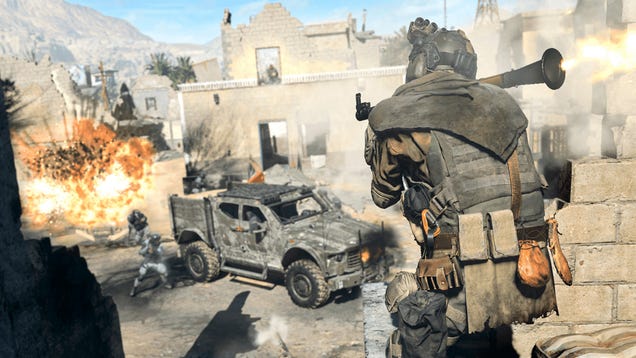 For a game that's still technically in beta, Call of Duty's DMZ sure has been one hell of a fun experience. DMZ's latest twist concerns a new playable area selectable when loading into DMZ—but you'll need a keycard to get in. You can find keycards for this new area throughout Al Mazrah. So, want one? Worry not: This…
---
Kotaku Monday, December 19, 2022 2:45 PM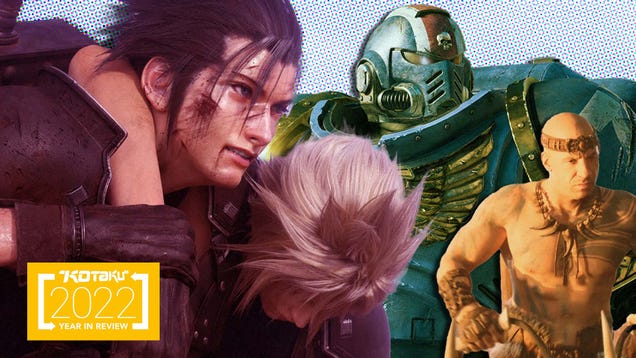 Video games are very hard to make, take years to finish, and require many people to work together to create them. As a result, video games are incredibly complex and more prone to delays than movies, books, or TV shows. So just because a game is set to come out in 2023 doesn't mean it actually will…
---
Kotaku Monday, December 19, 2022 1:55 PM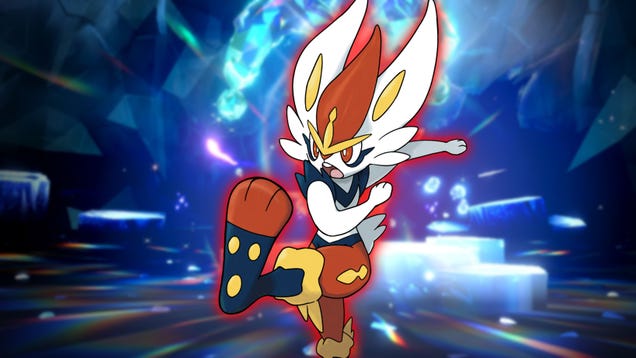 Pokémon Scarlet and Violet's Charizard tera raid event has concluded, and Game Freak has already announced what's next: Cinderace. The Galar fire-type starter is not typically available in these games, and as such, will only be available through this raid. If the Charizard raid is any indication, it'll be a tough…
---
Kotaku Monday, December 19, 2022 12:47 PM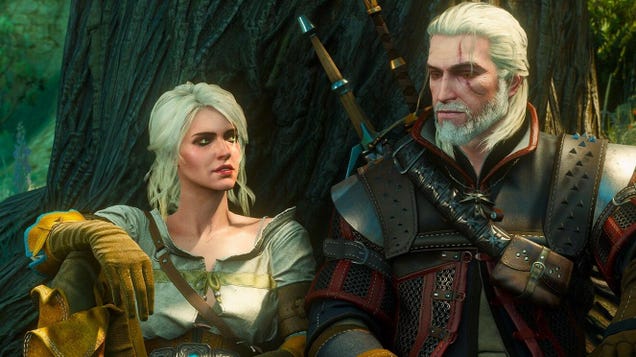 The Witcher 3's next-gen upgrade has been delightful…when the game works. While there haven't been any huge issues on Xbox Series X/S and PS5, PC is another story. CD Projekt Red now says a new hotfix released on Monday should help reduce at least some of the issues players have encountered with frame rate stuttering…
---
Kotaku Monday, December 19, 2022 11:45 AM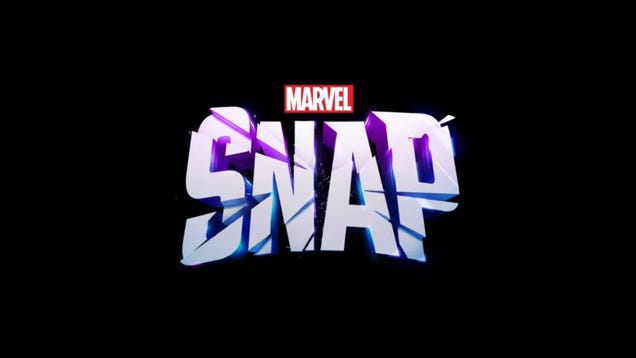 Marvel Snap may only be two months old, but it has started with a bang. The card-based battler from the mind behind Hearthstone has very quickly become part of the zeitgeist, gathered an enormous army of players, and with it, all the feedback in the universe. In response to all this, developer Second Dinner has laid…
---
PCGamesN Monday, December 19, 2022 5:46 PM
It's been a scant two weeks since the launch of Dwarf Fortress on Steam, and Dwarf Fortress mods are already stacking up in the Steam Workshop like logs in a lumber stockpile. While many of these add nice little quality of life improvements, others have gone straight for the weird and wacky, with mods that allow dwarves to fashion furniture out of cheese and, regrettably, milk the cats.
There are a couple of things you should know about this if you've never played Dwarf Fortress. The first is that the cats in this colony management game enjoy a unique pride of place among the many animals that can become part of your fortress. Cats can't be adopted like dogs and hens, for instance - they have to choose a dwarf to bond with on their own.
MORE FROM PCGAMESN:
The best games like RimWorld and Dwarf Fortress
,
The best city-building games
,
The best survival games on PC
---
PCGamesN Monday, December 19, 2022 4:32 PM
A Destiny 2 Trials of Osiris glitch lets players farm an Adept version of the activity's seasonal hand cannon, Exalted Truth, giving them stronger chances of landing a god roll version of the weapon.
The Adept Exalted Truth is only available to players who go Flawless in Trials of Osiris. Earning it in the FPS game doesn't guarantee a 'god roll' or specific preferred perks. With the glitch, players who go Flawless can exchange their Trials of Osiris engrams for Adept versions of the weapon. Adept weapons have special mods, include an additional perk slot, and earn higher stats when masterworked. Bungie limits the number of Adept seasonal weapons a person can earn from a single Flawless run.
Destiny 2 classes
,
Destiny 2 exotics
,
Destiny 2 builds
---
PCGamesN Monday, December 19, 2022 3:37 PM
After eight years of working as a Valorant game director, Joe Ziegler has taken on a new role at Destiny developer Bungie. Ziegler says he's now a game director at Bungie, "working on new stuff that hopefully will one day get to be played by you all." Whether that's related to Bungie's currently popular FPS game Destiny or a new IP remains to be seen.
MORE FROM PCGAMESN:
Valorant characters: all agents and abilities
,
Valorant tier list
,
Valorant crosshair codes
---
PCGamesN Monday, December 19, 2022 1:09 PM
We assume there will still be holidays in the corpo-controlled dystopia of Night City a few decades from now, and this Cyberpunk 2077 mod lets you set the mood. It adds extremely cozy-looking knit onesies to the RPG game, for both femme and masc versions of V, and what could be more badass than ventilating a bunch of gonks while wearing some footie pyjamas?
MORE FROM PCGAMESN:
Cyberpunk 2077 review
,
Cyberpunk 2077 lore & universe
,
Buy Cyberpunk 2077
---
PCGamesN Monday, December 19, 2022 12:23 PM
What are the best VR games? We have tested several of them across the major headsets, ranging from the good, the bad, and the downright nausea-inducing – and we will endeavour to seek out new, strange, and challenging content for this burgeoning platform. In the name of science... or something.
While there are a lot of experiences out there, we're going to be more choosy, handpicking the best ones to play with the best VR headsets. After all, we only have room for the best VR games, and there've been some absolutely fantastic ones in the past year alone.
MORE FROM PCGAMESN:
Half-Life: Alyx review
,
Best VR games
,
Half-Life 3 news
---
PCGamesN Monday, December 19, 2022 12:06 PM
The first benchmarks showcasing Intel Core i5 13400 performance have arrived, and it looks as though the processor is shaping up nicely. In fact, it appears that the budget-leaning Raptor Lake chip trades blows with an overclockable 12th Gen CPU: the Core i5 12600K.
MORE FROM PCGAMESN:
Arc Alchemist GPUs - everything we know
,
Raptor Lake CPUs - everything we know
,
Best gaming CPU
---
PCGamesN Monday, December 19, 2022 11:55 AM
What are the best crafting games on PC? It's easy to mix these up with building games as they both involve an element of construction. The critical difference here, though, is that the best crafting games are all about making things like weapons or tools to help you survive in a harsh world, or thrive in a charming one.
Crafting games can be set in practically any type of environment, whether that's taming massive dinosaurs or maintaining a cute farm. Thanks to its broad range, this list contains something for everyone, from some of the best open-world games, to - naturally - survival games, and even zombie games. Some of these games are brutal lessons in harsh survival while others offer more relaxing experiences, but whatever your preference you'll find something in this list of the best crafting games on PC.
MORE FROM PCGAMESN:
Minecraft seeds
,
Minecraft skins
,
Minecraft mods
---
PCGamesN Monday, December 19, 2022 11:55 AM
Medieval games are less common than you might think. Rare is the videogame that doesn't feature at least one sword, suit of armour, or roast chicken, but they're usually mixed in with bearded hermits slinging magic fireballs, which we're reliably informed your average medieval peasant had very little knowledge of.
To that end, we've assembled a list of the finest PC games that eschew all the prophecy and pyrotechnics for some good old fashioned steel-on-steel action. Strange women lying in ponds distributing swords is, after all, no basis for a system of government. Similarly, a level ten Necromancer against a blacksmith wearing a potato sack is no basis for a fair fight.
Nothing is quite as satisfying as putting your feet up in the local tavern after a hard day mucking out your liege's pigpen for pocket change. So, put down the healing potion and prepare to liberally apply leeches to any and all wounds you might have, before living a miserable life of poverty and probably dying of the plague. Here are the best medieval games and knight games on PC.
MORE FROM PCGAMESN:
Crusader Kings 3 DLC guide
,
The best Crusader Kings 3 mods
,
Play Crusader Kings 3
---
PCGamesN Monday, December 19, 2022 11:44 AM
Are you looking to score some free Assassin's Creed loot while simultaneously stuffing yourself full of sweet, cheesy goodness? Then, if you're based in the US, you're in luck! Nestle's frozen pizza brand Di Giorno has teamed up with Ubisoft's RPG game to give you some fresh goodies.
MORE FROM PCGAMESN:
Assassin's Creed Valhalla review
,
How long is Assassin's Creed Valhalla?
,
Buy Assassin's Creed Valhalla
---
PCGamesN Monday, December 19, 2022 11:33 AM
A recent Genshin Impact leak has listed the ever-popular Xiao and Yelan as the two remaining five-star reruns that'll be available in the anime game's version 3.4 update. HoYoverse has already announced that Yaoyao and the highly-anticipated Alhaitham will be the newcomers in 3.4, and Hu Tao is rumoured to be the final rerun.
MORE FROM PCGAMESN:
Genshin Impact codes
,
Genshin Impact character tier list
,
Genshin Impact leveling guide
---
PCGamesN Monday, December 19, 2022 11:25 AM
After making two record-breaking payments to the Federal Trade Commission (FTC), to settle disputes regarding in-game purchases and privacy policies, Fortnite, Unreal Engine, and Gears of War developer Epic Games has outlined changes to its own practices, while warning other game developers to "rethink" how they operate, saying that "long-standing industry practices are no longer enough."
MORE FROM PCGAMESN:
Fortnite Chapter 4 map - key locations
,
Free PC games
,
All Fortnite Chapter 4 weapons
---
PCGamesN Monday, December 19, 2022 11:00 AM
What are the best fighting games on PC? It may be one of the oldest genres in gaming, but it wasn't until unintentional glitches gave birth to combos in Street Fighter 2 that the first boom took hold in arcades during the 90s. It's here that the key players would make their presence known. Capcom and SNK would stick with hand-drawn sprites in future Street Fighter games and The King of Fighters series, respectively. Meanwhile, Midway would make parents everywhere panic with Mortal Kombat's fatalities, as both Sega and Namco (now Bandai Namco) instead wowed everyone by taking the leap to 3D with Virtua Fighter and Tekken.
Many others would also try to make their mark over the years, but it's thanks to the rise of esports and, to a lesser extent, the global pandemic, that we now have access to PC versions of the best fighting games, as they've mostly been console exclusive. They have a reputation for being tough to learn, but with the rise of video tutorials and guides on all the basics, there's never been a better time to get into these highly competitive multiplayer games.
MORE FROM PCGAMESN:
Dragon Ball FighterZ characters
,
DBFZ system requirements
,
Best fighting games
---
PCGamesN Monday, December 19, 2022 11:24 AM
Fortnite, Gears of War, and Unreal Engine developer Epic Games has paid a record-breaking settlement to the Federal Trade Commission (FTC) as it resolves complaints connected to microtransactions and child-protection guidelines in the immensely popular battle royale game.
MORE FROM PCGAMESN:
Fortnite Chapter 4 map - key locations
,
Free PC games
,
All Fortnite Chapter 4 weapons
---
Rock Paper Shotgun Latest Articles Feed Monday, December 19, 2022 4:55 PM
If 'Satisfactory but underground and with destructible terrain' sounds appealing, you might want to stop reading this and start downloading Techtonica's demo - then come back and finish reading this, so I still feel useful. It's a first-person factory-building game set in an alien cavern complex with pretty bioluminescent plants. I am excited to lose dozens or hundreds of hours to it when it launches on early access.
---
Rock Paper Shotgun Latest Articles Feed Monday, December 19, 2022 3:33 PM
People like Them's Fightin' Herds, an accessible fightin' game about controlling ponies that punch other ponies. I don't know whether it's as good as its name, but I do know it's the latest game Epic are handing out in their 15 days of Christmas freebies. Grab it now, keep it forever - but only if you click the button before the next game lands.
---
Rock Paper Shotgun Latest Articles Feed Monday, December 19, 2022 2:01 PM
Riot Games are attempting to get out of a silly sponsorship deal they made last year with now defunct crypto exchange company FTX. The deal involved FTX paying many millions of dollars to League Of Legends developers Riot, who have only received $6.25 million of the $12.5 million FTX were supposed to cough up in 2022. This is on account of FTX being a) bankrupt and b) formerly lead by Sam Bankman-Fried, who was arrested last week in The Bahamas. It is hard not to LoL.
---
Rock Paper Shotgun Latest Articles Feed Monday, December 19, 2022 12:31 PM
How was your year for PC hardware, reader? Pick up anything nice, or got any old favourite gear still going strong? I'm still very happy with the 4K gaming monitor I got for a pittance, and have spent the past twelve months becoming increasingly convinced that tenkeyless keyboards are, in fact, the best keyboards.
That's just me, though. On an everyone's-invited macro level, 2022 ended up being the most transformative year for PC gaming kit in recent memory. We've had it all: long overdue launches, bitter disappointments, and genuinely impactful performance innovations. Also, Valve made a handheld PC. That was cool.
---
Rock Paper Shotgun Latest Articles Feed Monday, December 19, 2022 12:14 PM
Duelyst 2! It's a thing! It's a thing with a free public beta you can play right now, and it's a good enough thing to be worth the risk of your boss coming over to ask why your screen is full of gorgeous battling wizards and creatures rather than spreadsheets.
Duelyst the first boasted a dead clever combination of card-battling and physical manoeuvring, a bit like Marvel's Midnight Suns but better and multiplayer. I was sad when it died. This is by a different team of developers, and it's more of a revival with a few tweaks than a true sequel. Who cares, I can play Duelyst again.
---
Rock Paper Shotgun Latest Articles Feed Monday, December 19, 2022 12:00 PM
I love a courtroom visual novel and after dealing with the wonderful nonsense of the Ace Attorney and Danganronpa series, I barely batted an eyelid at Aviary Attorney's schtick of playing as a bird-brained lawyer (who is literally a bird). At first glance, it seems kinda gimmicky, but this short visual novel has a special flair for melodrama that can turn a boring, stuffy courtroom into a theatre of drama and spectacle (plus some lavish visuals to boot).
The setting is 1840s France, a time when Paris is on the brink of revolution against the (literal) fat cats. You play as the dapper defence attorney Jayjay Falcon who alongside his witty lackey Sparrowson take on four seemingly unrelated cases. Travelling around Paris, you collect evidence and interview witnesses then present your findings in the courtroom and bring justice to your client.
---
Rock Paper Shotgun Latest Articles Feed Monday, December 19, 2022 11:51 AM
Fortnite developer Epic Games is settling two complaints made to the US Federal Trade Commission by paying out a total of more than half a billion dollars. Wall Street Journal report that the FTC alleged Epic had violated protections intended to secure children's privacy, and tactically drove players to make unintended purchases that amounted to hundreds of millions of dollars. The company are now settling for $520 million (£427 million).
A federal court case claimed that Epic breached the Children's Online Privacy Protection Act (COPPA) by collecting details about Fortnite players who were younger than 13 years old without getting parental consent or contacting their parents. That's been settled for $275 million. The complaint also alleged Epic illegally enabled real-time voice and text chat for young players as Fortnite's default, which the FTC said put them at risk from strangers.
---
Twinfinite Monday, December 19, 2022 2:12 PM
It's alive?
---
Twinfinite Monday, December 19, 2022 12:55 PM
A sponsored message by Ninja Must Die.
---
Twinfinite Monday, December 19, 2022 12:42 PM
'Tis the season for Bridesmaids.
---
Twinfinite Monday, December 19, 2022 12:19 PM
The Son of Thors has returned.
---
Twinfinite Monday, December 19, 2022 12:00 PM
Never count out James Cameron.
---
Siliconera Monday, December 19, 2022 4:00 PM
Nintendo released more information on Leif, from Fire Emblem: Thracia 776, who will appear in the upcoming Fire Emblem Engage. Leif, also known as The Emblem of Genealogy, is a brave prince and the descendant of two Crusaders. Emblems are special units, unique to this installment, that need to pair up with traditional units via rings in order to enhance their stats and transfer special abilities.
https://twitter.com/FireEmblemJP/status/1604747224327802880
Leif's Emblem Ring is in the hands of Clanne, a Steward of the Dragon that protects the Divine Dragon. Leif is a resourceful warrior that can use any weapon and pairs well with any physical fighter. He can offer coverage on the battlefield, thanks to being able to use bows along with sword, spears and axes.
Leif's Link Skill is "Vital Shift." It is a passive, defensive skill that reduces damage taken when the paired unit has a weapon advantage against the attacker. "Killer Axe" is his Link Weapon, a massive axe that allows the paired unit to deal critical hits with ease. "Adaptation" is the name of his Engage Skill, and it allows Leif to automatically change his weapon to the more advantageous one. For example, Leif's unit will change to lances if the enemy is using swords, axes if the enemy is using lances, etc. When attacked from ranged units, he will change to prioritize counterattacks. "Tetra Trick" is Leif's Engage Attack, and it consists of a series of attacks with sword, spear, axe, and bow, with a high chance of breaking the enemy. When a unit that uses Martial Arts performs this attack, it will always break the opponent.
https://twitter.com/FireEmblemJP/status/1604748365258162176
Kenichi Suzumura will voice Leif. He is best known for his roles as Zack Fair in Crisis Core: Final Fantasy VII, Demyx in the Kingdom Hearts franchise, and Shinn Asuka in Mobile Suit Gundam SEED Destiny.
Fire Emblem Engage will come out worldwide on January 20, 2023 for the Nintendo Switch.
The post New Footage Shows Leif is a One-Man Army in Fire Emblem Engage appeared first on Siliconera.
---
Siliconera Monday, December 19, 2022 3:30 PM
Bandai announced its next Pokemon model kit will involve Tepig. It will be the 14th one in the Quick line. It will cost ¥715 (~$5.23) when it debuts in May 2023 in Japan.
The selling point for the Quick collection of Pokemon model kit is that they are quick and easy to assemble. No glue is required and, while you could use a nipper, no tools are necessary. As this is a simple kit, all resulting figures in this line tend to not feature any points of articulation. For example, the official site shows both runners in this kit and how it is assembled from 20 pieces.
Here's a closer look at all the promotional pictures Bandai shared on the official site.
[gallery size="full" ids="944188,944189,944190" link="file"]
There's only a Japanese announcement and release date for the Tepig Pokemon Model Kit Quick. However, this line of kits is sold worldwide. For example, Amazon lists ones like the Pikachu, Eevee, and Scorbunny variants in-stock at the time of writing, all for around or under $10 each. GameStop also sells the larger Bandai Magikarp model kit. The instructions also feature English text or letters and numbers with pictures for assembly purposes.
The Pokemon Model Kit Quick Tepig variant will appear in Japan in May 2023.
The post Bandai New Pokemon Model Kit Lets You Build a Tepig appeared first on Siliconera.
---
Siliconera Monday, December 19, 2022 3:00 PM
When it comes to JRPG-inspired games, those that call back to the era of the SNES are everywhere. It's a genre in which getting lost in the crowd is easy, yet Chained Echoes rises above it all. The 16-bit art feels right for the style of the game, everyone in the large cast of characters feels distinct, the story is engaging, and the battle system feels familiar and unique at the same time. It has a ton of very well-implemented parts that fit together seamlessly.
Chained Echoes leans into the successes of its predecessors. It's anything but afraid to call back to the games of the era it's emulating. Instead of pulling those elements as they are, it builds on them to create its own unique style. It finds a beautiful balance between paying homage to its inspirations and adding elements of its own to help it stand out, with great art and a phenomenal soundtrack rounding everything out.
https://www.youtube.com/watch?v=sttWaY-2Leo
At its core, combat in Chained Echoes follows a tried and true formula. Battles are turn-based, and each character has a standard attack, numerous TP-costing skills of varying types, items to use, and the option to take up a defensive stance. Characters can also be switched out during battles, and each character has a special Ultra Move they can use.
What makes combat in Chained Echoes stand out is its Overdrive feature. Overdrive is a gauge with three parts: a yellow neutral section on the left, a green Overdrive section in the middle, and a red Overheat section on the right. The Overdrive gauge starts toward the left side, in the neutral section, and moves to the right as characters and enemies take their turns. It eventually moves into the Overdrive section, which halves the TP cost of skills, decreases damage taken, and increases damage dealt. If the gauge goes into the Overheat section, however, TP costs and damage dealt return to normal, and your part will take more damage.
Of course, the gauge doesn't always move to the right. While in Overdrive and Overheat, the gauge will display a symbol that represents one of the six skill types. By using a skill of the type shown, the gauge moves back to the left. Switching characters, defending, and using Ultra Moves also moves the gauge to the left.
Admittedly, the system felt a bit frustrating to get the hang of, especially earlier on when the number of available skills is limited. The more I used it and the more characters and skills I unlocked, the more I began to enjoy it. Finding the right balance between keeping the Overdrive gauge in the green and letting it shift toward red in favor of using a skill that will benefit your party better (like, say, a healing skill) is tough to get right, but it's absolutely vital for longer fights.
Overall, combat in Chained Echoes is very enjoyable. Everything moves quickly, there's a wide variety of different skill types to use, and each character has their own battle style and niche, which helps keep things interesting and gives tons of different strategy options. And though I wasn't particularly a fan at first, once I was able to really get the hang of the Overdrive feature, it became relatively easy to work with. It provides enough of a benefit to warrant keeping track of without seeming overly intrusive, making it a clever way to add another element of strategy to combat, especially boss battles.
Chained Echoes sees players on the continent of Valandis, throwing you into the middle of a decades-old war between its three kingdoms. When a terrible superweapon that none claim to possess is activated, tens of thousands are killed, and a peace treaty is signed out of fear of it being used again. Not everyone cares for peace, though. Evil still works in the shadows, with the war threatening to begin anew. It's up to Glenn and his companions to the peace. In the process, they learn the origins of the superweapon, uncover sinister plots, and fight to prevent disaster on an unprecedented scale. And of course, it's not without its (sometimes raunchy) comedic elements.
Right away, players cycle through playing as each member of the main cast, learning about them and how they got to where they are. After a brief stint getting to know each one and how they fight, their stories culminate in them meeting up and joining forces. After that, there's lots of lore that gets uncovered, but everything teaches you about Valandis and feels important for understanding the situation. For those who want a little extra information, additional bits of lore are scattered throughout the continent in the form of readable books. These help make the world feel even more complete. To be honest, I almost wish there were more lore books to read through since I'm a sucker for good worldbuilding.
While many of the story beats have been done before, Chained Echoes is, for the most part, able to keep them from feeling overused. There are plenty of tropes to be found, but many of them are taken in unexpected directions or given additional depth. The story and the characters feel connected, with each driving the other in a way that feels natural. Some parts do feel a bit old and tired, but there's enough added to make it all compelling. There was one big question I had that I never got an answer to, though.
Unlike most games of this style, characters in Chained Echoes don't have levels. Experience is not gained, which helps keep players from needing to grind before moving on to new areas. The only levels in the game involve skills and items, and even then, there's no need to spend hours fighting enemies. Winning battles rewards players with skill points. These are used to complete a skill level-up, while also directly adding points toward a skill's level. In other words, skills will get stronger just by beating enemies; skill points speed up the process. Skills also max out at level three, so while leveling them up certainly helps, it's far from the be-all and end-all.
Equipment operates on a star system, with a crafting system available to give weapons and armor stat boosts. The star system goes from one up to ten stars, increasing based on the location the player is in. Since equipment can be purchased at shops and is easily found scattered throughout the world, keeping up doesn't feel like a chore. The crafting system uses items to upgrade equipment, which, like skills, can only be upgraded a maximum of twice.
The crafting system lets players place crystals in their equipment, which have two slots each. Each one offers numerous types of benefits. Crystals that provide the same benefit can be fused together to strengthen their effects, but doing so increases its size. This causes it to take up more slots. For crystals that are larger, players need to upgrade their equipment, as each upgrade adds one more crystal slot.
Each character also possesses an accessory slot. There are a ton of different accessories, and each one does something different. Some give stat boosts, some grant effects in much the same vein as crystals, and a handful do both. Accessories are pretty plentiful, which makes sense given the wide array of advantages they can provide.
The last major element of the equipment system is the class emblem. These are special pieces of equipment that, while few and far between, give big stat buffs and provide unique skills to the character who equips them. Class emblems are small in number and can be difficult to find, let alone earn, but each one provides a laundry list of different benefits. They shouldn't be ignored.
Having the right equipment and utilizing the crafting system are the biggest factors in the game's power creep. Equipment and crystals are easy to find scattered throughout the world though, and there's a good number of weapon and armor shops. So battles mostly seem difficult as a result of needing to take a different approach (or maybe just land a lucky crit or two). For some of the trickier fights, upgrading my gear and reworking my equipped crystals, accessories, and class emblems tended to make a major difference.
At the end of the day, Chained Echoes looks, sounds, and feels good. The 16-bit art looks great and lends itself to a game of this style, the soundtrack is absolutely beautiful, and the game's exploration and combat systems flow very smoothly. I had a hard time putting it down, and when I wasn't playing it, I kept wanting to go back. Naturally, Chained Echoes is not without its flaws—there's no way to review tutorial screens or lore and battles feel more reliant on luck than skill—but I had a great experience. It wears its SNES-era JRPG influences like badges of honor, while also forging an identity all its own.
Chained Echoes is available now on Nintendo Switch, PlayStation 4, Xbox One, Xbox Series X|S, and PC.
The post Review: Chained Echoes is a Love Letter to Classic JRPGs appeared first on Siliconera.
---
Siliconera Monday, December 19, 2022 2:30 PM
Square Enix announced a collaboration with Japanese department store, PARCO. To celebrate the 35th Anniversary of Final Fantasy, a special gift campaign featuring beloved Final Fantasy characters and the PARCO mascot will be held from January 2-15, 2023. The campaign culminates in Spring 2023, after a collaboration item fair starting in March 2023.
PARCO released a special commercial announcing their collaboration with Square Enix, in celebration of the 35th Anniversary of Final Fantasy. The video features several clips from main Final Fantasy entries in the franchise, along with PARCO's mascot, Parkoala, who seems to have infiltrated the titles.
You can watch the special commercial here.
https://www.youtube.com/watch?v=4nTE0nQxMTI
The event will last from January until Spring 2023, and it is composed of two phases. The Parco Grand Bazaar is the first phase of the collaboration. It runs January 2-15. 2023. A special commemorative notebook will be given on a first-come-first-served basis for purchases 10,000 yen (~$73) or higher. The notebook features pixel art of all mainline characters, along with the PARCO mascot, Parkoala, drawn in the style of SNES Final Fantasy sprites. There are 5,000 units available.
https://twitter.com/parco__official/status/1604642760606519296
The second phase of the campaign will come in the form of a collaboration Final Fantasy item fair. It will start in March 2023. More details will be given in mid-February.
Earlier this year, in April 2022, there was another 35th Anniversary collaboration campaign between Final Fantasy and UNIQLO, offering Final Fantasy-themed clothing items.
The post Final Fantasy 35th Anniversary PARCO Event Announced appeared first on Siliconera.
---
Siliconera Monday, December 19, 2022 2:00 PM
Hideki Kamiya, PlatinumGames Vice President and Bayonetta Origins: Cereza and the Lost Demon Supervising Director, took to the company blog to discuss different elements of the game. Most notably, at one point he discussed the goal of the company to make it an accessible title. That is, to ensure it is something potentially inviting to those familiar with Bayonetta games, as well as those who aren't used to it or action games in general.
Here is Kamiya's full statement. He mentioned that this Bayonetta game is designed to change things up for the series.
I am guessing that some of you out there may be intimidated by the word "Bayonetta" in the title name – perhaps you're not an expert at hardcore action games, or maybe you're not familiar with the Bayonetta lore because you haven't played any of the games in the series up to now. Rest assured! This game is a brand-new gameplay experience, different from anything in the Bayonetta games so far. We created Bayonetta Origins: Cereza and the Lost Demon with the hope that fans of the series to date will enjoy this unique take on their favorite badass heroine, and also endeavor to deliver an unforgettable experience to players who may not be comfortable with action games… or even players who are unfamiliar with the Bayonetta series in the first place!

I implore you to take your guard down and approach this title with a fresh, open mind, as you take a plunge into an adventure set in the depths of a mysterious forest, controlling the weird and wonderful duo of a slightly timid and inexperienced young witch and a rough-and-tumble stray demon.
Kamiya also noted this entries feels new team members working alongside "veterans." He specifically cited Director Abebe Tinari and Art Director Tomoko Nishii.
Bayonetta Origins: Cereza and the Lost Demon will come to the Switch on March 17, 2023. It debuted at The Game Awards 2022 with its first trailer. Bayonetta 3 is immediately available for the Switch.
The post Kamiya Discusses Bayonetta Origins in New PlatinumGames Blog appeared first on Siliconera.
---
Siliconera Monday, December 19, 2022 1:30 PM
Former Vincent Valentine voice actor Steve Blum confirmed that he will not return to play the character in FFVII Rebirth, part 2 of the FFVII Remake retelling. A person asked on Twitter if he would return for the role. He responded that he had been recast. [Thanks, Noisy Pixel!]
Here is the full exchange, which includes Blum's brief response.
They recast us all. Sorry.

— Steve Blum (@blumspew) December 13, 2022
While Blum won't play Vincent Valentine in FFVII Rebirth, he did voice the character in both a game and movie. He played him both Dirge of Cerberus: FFVII and FFVII Advent Children. He's also voiced a number of other Final Fantasy characters over the years. Most recently, he was Ramuh in Chocobo GP. However, he was also Verstael Besithia in FFXV and Cid in FF Type-0. He's also known as Spike Spiegel from Cowboy Bebop, Toru Higashi in both Judgment and Lost Judgment, and Orochimaru in Naruto.
It is uncertain if the character will appear in FFVII Rebirth. Square Enix didn't note which portions of the original story will appear in this second part. The first only tackled events in Midgar. He didn't show up in the initial trailer.
Final Fantasy VII Rebirth, which is part 2 in the Remake trilogy, will appear on the PS5 in Winter 2023.
The post Vincent Valentine Voice Actor Says Character Recast for FFVII Rebirth appeared first on Siliconera.
---
Siliconera Monday, December 19, 2022 1:00 PM
Punishing: Gray Raven is bringing back the NieR: Automata crossover event. Starting on December 22, 2022, the three major Androids will return to the game. However, like before, 2B, 9S, and A2 are referred to as "Constructs" within the Punishing: Gray Raven universe. There is also a refresher trailer to reintroduce them. The official site noted the rerun will last until January 18, 2023.
The Punishing: Gray Raven video begins by showing off 2B, before moving on to 9S and A2. 2B features the Virtuous Contract - Mod and is an Assault-type unit. She's an S-class. Her Alternate Coating gives her Kaine's outfit from NieR Replicant. 9S is an S-class Support type known for healing and has Cruel Oath - Mod. His alternate outfit is Nier as a child from NieR Replicant. Finally, A2 is a Tank S-Class character with the Type-40 Lance - Mod. Her Alternate Coating is based on the grown-up version of Nier.
Here's the full NieR: Automata Punishing: Gray Raven rerun event trailer.
https://www.youtube.com/watch?v=1UZGOFqzuEs&ab_channel=PunishingGrayRaven
Punishing: Gray Raven is immediately available on Android and Apple iOS devices. The Punishing: Gray Raven and NieR: Automata event will begin on December 22, 2022. The official site noted that this will be a one-time rerun and will last until January 18, 2023.
The post NieR: Automata Punishing: Gray Raven Event Returns appeared first on Siliconera.
---
Siliconera Monday, December 19, 2022 12:30 PM
Hololive English took to its Twitter account to announce it opened Holostars male Vtuber auditions on December 17, 2022. To go along with that, it shared a brief promotional video. It shows the four current Holostars available the group Tempus. This comes after it revealed in March 2022 that auditions for men opened.
While Hololive English Tempus features prominently in the video advertising male Vtuber auditions, it is more to show what the job entails. After showing the group, it offered a quick peek at Axel Syrios, Regis Altare, Noir Vesper, and Magni Dezmond's debut streams. The second portion shows all four participating in a group stream together. It notes that performers will also be able to release music like original songs. Axel's birthday merchandise is also shown, to note that they will get to release items connected to them. Magni's shows up after that.
Male character VTuber Auditions for HOLOSTARS English are now open!
We look forward to seeing your auditions!

https://t.co/DDXdYqXC65#VTuber #holoTEMPUS #HOLOSTARS_EN pic.twitter.com/GmMLGu4Y5H

— hololive production (English) (@hololivepro_EN) December 18, 2022
The page to apply for auditions is the general Hololive English Vtuber site. It notes that someone does need to be over 18, but nationality and gender aren't issues. It also notes that knowing Japanese, having streaming experience, and skills as an actor or musician are appreciated. You can't be affiliated with other agencies. Also, passing the audition doesn't guarantee you will become a Holostar or Hololive performer.
The Tempus Holostars group debuted in July 2022. Its four members are Regis (the leader), Axel, Magni, and Noir.
The post Hololive English Opens Male Vtuber Auditions Again appeared first on Siliconera.
---
Siliconera Monday, December 19, 2022 12:00 PM
Dr. Stone season 3 is coming in Summer 2023. Titled Dr. Stone New World, the anime series got a new promotional teaser at Jump Festa 2023. The teaser also confirmed that the show will premiere in Japan in April 2023.
Check out the Dr. Stone New World promo below
https://www.youtube.com/watch?v=HXgQMWqBhZs
The teaser shows Senku and his friends boarding a ship to travel to the titular new world. The series itself takes place thousands of years after some unknown occurrence has turned every human on earth into a stone statue. Senku Ishigami, a scientific genius boy, awakens into this post-human world. He decides to use science to rebuild civilization, encountering old problems, new threats, and making a few friends along the way. Creators Boichi and Riichirou Inagaki first launched the Dr. Stone manga in 2017, and concluded it in March 2022, for a total of 26 volumes.
The story arc in Dr. Stone New World season 3 follows the Kingdom of Science sets itself towards building a ship capable of traveling the world, to better understand the cause of the global petrification. The promo even ends by teasing a moment where Senku addresses someone he calls "the mastermind" behind the petrification itself. The season will see the addition of new characters and places, including Francois, the faithful butler of Ryusui. Francois will be played in the anime by Maaya Sakamoto. Sakamoto also played characters like Mari in Rebuild of Evangelion, Da Vinci in Fate/Grand Order, and Aerith in Final Fantasy VII Remake.
Dr. Stone New World anime debuts in Japan in April 2023. International release plans have not yet been detailed, but Crunchyroll aired the first two seasons and the Ryusui special in North America.
The post Dr. Stone New World Anime Launches in April 2023 appeared first on Siliconera.
---
Siliconera Monday, December 19, 2022 11:30 AM
HoYoVerse shared the Genshin Impact Akitsu Kimodameshi event's story segments outside of the game. People don't need to go through the Test of Courage, Haunted Tales, and The Currents of Life quests to find out what's going on. However, this is presented without context, so people who haven't taken part won't get why the storyline matters.
Editor's Note: There are spoilers for the Genshin Impact Akitsu Kimodameshi event in the new story trailer and below.
During the Haunted Tales portion of the event, Itto catches three masked children. Its then that we learn they aren't ghosts or ordinary kids from town. Rather, they are the Hitotsume Kozou, Kappa, and Youko young youkai trying to recreate the Mikawa Flower Festival. The goal is to give humans and youkai a chance to get together. To help provide insight into the festival, Youko then tells the story of how a samurai named Takuto stumbled into a youkai-only event, only to develop a friendship with a youkai named Kenji and start something bigger.
Here is the full "Akitsu Haneasobi" trailer. The first half goes over the story found in Haunted Tales. At the 1:47 mark, the second part of it from The Currents of Life quest appears.
https://www.youtube.com/watch?v=CTWxnQawAqE&ab_channel=GenshinImpact
Genshin Impact is available for the PS4, PS5, PC, and mobile devices, and the Akitsu Kimodameshi event will run until January 2, 2023.
The post Watch the Genshin Impact Akitsu Kimodameshi Event Story Animation appeared first on Siliconera.
---
Siliconera Monday, December 19, 2022 11:00 AM
Over the weekend, Jump Festa 2023 meant a chance to see a trailer and details about the next Shonen Jump manga to anime adaptation: Mashle: Magic and Muscles. Based on the manga by Hajime Komoto, Mashle is a fantasy comedy exploring what it would be like if a magical society encountered someone who could get by purely on brute strength. The series is also set for debut in April 2023 as part of the Summer anime season.
Check out the Mashle anime teaser below.
https://www.youtube.com/watch?v=Hbz4shbCPCA
The anime teaser promo for Mashle: Magic and Muscles recreates the monologue from the opening chapter of the manga, with one twist. Whereas the manga sequence explained to readers that magic was the foundation of the series' society, the promo script replaces the word "magic" with "cream puff." Mash Burnedead wanted to live nothing more than a quiet life with his adoptive father and the occasional cream puff snack, but the magical society's disdain for those without magic powers (like Mash) threatened that peace. Now he'll enroll in magic school to become an elite magician called a "Divine Visionary," all using his inhuman strength and physique.
The Mashle anime will be produced by studio A-1 Pictures, under the direction of Tomonari Tanaka. Tanaka also worked on projects like Cyberpunk Edgerunners, Double Decker! Doug & Kirill, and Komi Can't Communicate. Mash will be played by Chiaki Kobayashi, who also played Askeladd in Vinland Saga, Hiroto in Gundam Build Divers Re:Rise, and Moriarty in Moriarty the Patriot.
Mashle: Magic and Muscles debuts in April 2023. International release plans have not yet been confirmed.
The post Mashle Anime Melds Magic and Muscles in April 2023 appeared first on Siliconera.
---
PC Invasion - FeedDDD Monday, December 19, 2022 5:00 PM
Naturally, not everyone will want to pair up with random strangers when playing an online game. Some will want to play exclusively with people they know, and others will want to experience the game by themselves with a team of bots. When Warhammer 40K: Darktide first launched at the end of November, players could not set up their own private lobbies. But now, thanks to the 1.0.20 patch, this no longer remains the case. If you want to start a private match in Warhammer 40K: Darktide, this guide will show you how. Warhammer 40K Darktide: How to start a private match Fortunately, you won't have to jump through many hoops to create a private lobby. Once you spawn in the Mourningstar, you simply have to walk straight and go to the Mission Terminal located opposite your starting position. When you enter it, hit 'P' to start setting up a private game instead of a public one. If you change your mind and want to join a public lobby, all you have to do is hit 'P' ag...
---
PC Invasion - FeedDDD Monday, December 19, 2022 4:30 PM
Updates are pretty normal for a big and active game like Minecraft. It's a welcomed part of the game, because it means something new: either a new item, new characters, new skin, equipment, or balance patches. But sometimes, there's a con to updates. Changes in the game sometimes result in bugs, crashes, and other errors. One of these errors is the annoying Couldn't Connect to Outdated Client error. If you're one of the players annoyed by this, you don't have to worry. Here's how to fix the 'Couldn't Connect to Outdated Client' error in Minecraft. How to fix 'Couldn't Connect to Outdated Client' error in Minecraft This error is pretty straightforward. It happens when there's a new game version, and your client somehow skipped updating yours. There are two ways to fix this: the automated and the manual approach. This will depend on what platform you're using. For the automated approach, you must pause th...
---
PC Invasion - FeedDDD Monday, December 19, 2022 4:00 PM
What are the best mini gaming PC setups? It seems like everyone is asking. (Not really, but let's pretend.) Maybe you're someone who lives in one of those tiny houses. Or, perhaps, you just like the clean, minimalist look of a small form factor PC. Well, you're in the right place, because here is our list of some of the best mini gaming PC setups money can buy. The best mini gaming PC setups Falcom Nortwest Fragbox — The no-compromise mini gaming PC So, given that the objective here is to find the best mini gaming PC setups, they may not be cheap. They aren't cheap, sadly. And starting the list off is the priciest of them all. The Falcon Northwest Fragbox kicks things off, with its configurations starting at around $3,600 USD. You can easily get the Fragbox up to the $5,000 USD mark if you want higher-end gaming performance. And, given that the base model comes with an RTX 3060 Ti, you may still want to upgrade the GPU. For this price, the Fragbox only sta...
---
PC Invasion - FeedDDD Monday, December 19, 2022 3:01 PM
Destiny 2's Dawning event is currently underway till January 3, and players are rushing to get their hands on some sweet holiday loot. Eva Levante has returned to the tower and brought the guardians an oven. With this oven, guardians will be baking delicious cookies to gift to their favorite NPCs for loot. Returning players know that the Dawning would be nothing without one of the primary ingredients for the cookies, Essence of Dawning. So, here is how to get Essence of Dawning in Destiny 2 Dawning 2022. Destiny 2's Dawning event is an annual event meant to celebrate the holidays and get guardians into the gift-giving spirit. The gifts are baked cookies made by guardians for the NPCs. In return, the guardians will receive random rolled loot from whichever NPC they decide to give cookies to. And by doing this, guardians will progress Eva Levante's quest line to get some holiday-themed loot. One piece of loot guardians want to farm is the legendary pule rifle, Stay Fro...
---
PC Invasion - FeedDDD Monday, December 19, 2022 2:30 PM
Players may not be able to customize their characters, but they can now customize their own homes in-game. The Serenitea Pot allows players to create furniture to decorate their houses in Teyvat. Crafting furniture requires ingredients; the most common ingredients are dyes, and you must make them. This article will teach you how to get red, yellow, and blue dye in Genshin Impact. How to get and make Red, Blue & Yellow Dyes in Genshin Impact Image via HoYoverse To make a dye, you must first ensure that you got an adventurer level 35. If you're level 35 already, go to the Serenitea Pot and look for Tubby, a big blue bird inside a pot. Once you've located him, click Create Furnishing. This will open a menu showing all the blueprints you have to create furniture. Click on the bottle icon that can be found at the top of the screen. This will open a new screen for making dyes. Once you're on the dye-making page, you must click the dye color you want and click "Swap Materials."...
---
Player Assist | Game Guides & Walkthroughs Monday, December 19, 2022 3:00 PM
Split is back but at the expense of two other staple maps. Split is one of three original playable maps in VALORANT. The map was a simple three-lane affair that featured a very familiar A-site, Middle, and B-site layout that many tactical shooting fans have come to know and love. Split has been out of […]
---
Player Assist | Game Guides & Walkthroughs Monday, December 19, 2022 2:00 PM
Michael deals with the Epsilon Program once and for all. Kifflom! Throughout GTA 5's story mode, Michael will encounter a religious cult known as The Epsilon Program led by a certain Cris Formage. Michael will be asked to do several favors and donate random sums of money by the Epsilon Program in exchange for "enlightenment". […]
---
Player Assist | Game Guides & Walkthroughs Monday, December 19, 2022 1:00 PM
Franklin puts his driving skills to the test. Franklin's driving skills are definitely his greatest asset. The ability to slow down time and clear corners while going 100 MPH helps the protagonist outrun and evade cops, chase down targets in pursuit, and make quick work of Hao's street races. Speaking of Hao, Shift Work is […]
---
Player Assist | Game Guides & Walkthroughs Monday, December 19, 2022 12:00 PM
Living in a haunted house for a week is a challenge Simmers must complete to earn Rewards Points and unlock a set of clothing in The Sims 4. Find out how to survive in a house of spooks and terrors in this guide! In The Sims 4: Paranormal Stuff Pack, we get creatures that have […]
---
Player Assist | Game Guides & Walkthroughs Monday, December 19, 2022 11:00 AM
In The Sims 4: Werewolves, you can control these shapeshifting creatures who are driven by their animalistic instincts and behaviors. When their fury maxes out, werewolves turn into slobbering beasts hell-bent on taking out their rage on anyone crossing their path. While it is exhilarating to witness a rampaging werewolf for the first time, seeing […]
---
Gaming Instincts – Next-Generation of Video Game Journalism Monday, December 19, 2022 5:01 PM
---
Gaming Instincts – Next-Generation of Video Game Journalism Monday, December 19, 2022 4:19 PM
---
Gaming Instincts – Next-Generation of Video Game Journalism Monday, December 19, 2022 3:41 PM
---
Gaming Instincts – Next-Generation of Video Game Journalism Monday, December 19, 2022 2:59 PM