---
GamersHeroes Sunday, February 13, 2022 3:05 PM
When hunting rabbits you can find epic items to reveal unique locations. This Lost Ark Golden Rabbit's Residence Guide explains what you must do before you're able to activate these unique items as if you try without the appropriate skill, you'll get a prompt informing you that you need to get the skill first.
The post Lost Ark Golden Rabbit's Residence Guide appeared first on GamersHeroes.
---
Kotaku Sunday, February 13, 2022 6:20 PM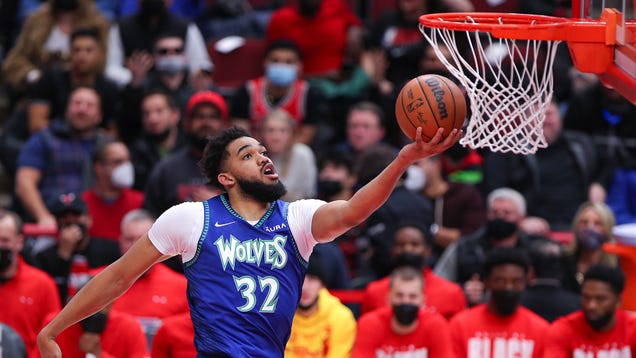 Minnesota Timberwolves star Karl-Anthony Towns is, like the rest of you, playing Wordle on a daily basis, then tweeting about it straight after. But when he shared his results last week, more experienced players noticed something was very off.

---
Kotaku Sunday, February 13, 2022 5:30 PM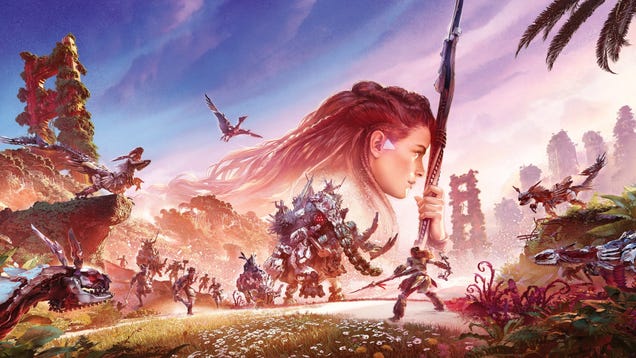 It's time for another large open-world game. Have you had enough time to finish the last one? Well, regardless, Horizon Forbidden West releases on PS4 and PS5 this Friday.
---
Kotaku Sunday, February 13, 2022 3:45 PM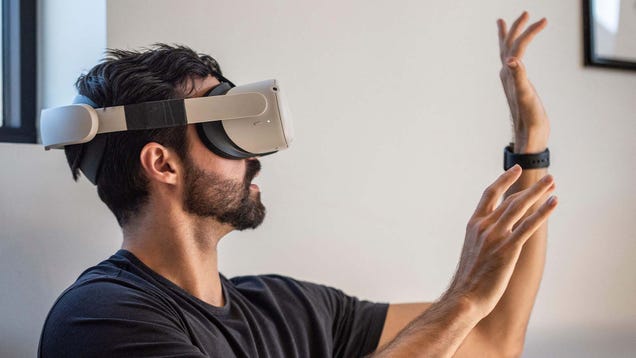 Please, be careful the next time you slip on a virtual reality headset and go jumping into the latest MMO craze or Beat Saber. Otherwise, you might end up hurting yourself, someone else, or breaking something. If so, you won't be alone. According to an insurance company in the UK, VR-related claims are on the rise,…
---
Kotaku Sunday, February 13, 2022 12:38 PM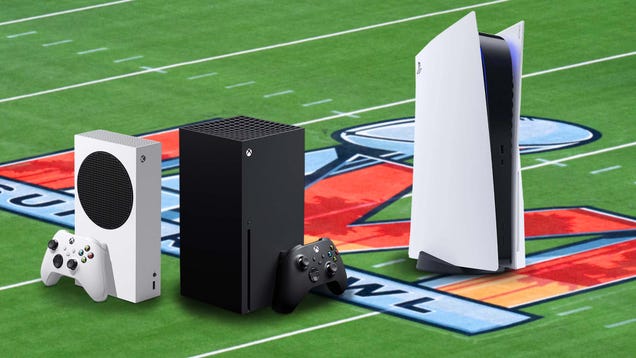 Today is the day that thousands of people head to Google and search for "How do I watch the Super Bowl?" or "When is the Super Bowl?" And today, I have some answers for how to watch the big game on one of your video game consoles.
---
PCGamesN Sunday, February 13, 2022 1:34 PM
It's been over four years since the last game in the series but Total War: Warhammer III is finally nearly here, the eagerly-awaited sequel to one of the best real-time strategy games on PC. The release date is down for February 17 but what about the Total War: Warhammer III pre-load time? When can players on Steam and Game Pass start downloading the latest Total War?
It's been announced that all Total War: Warhammer III pre-loads will begin this Tuesday, February 15 - a full two days before the strategy title's release date, so anyone who's pre-ordered will have plenty of time to download the game before it comes out and jump into it the second it does.
Pre-loading will be available on all storefronts Total War: Warhammer III is available on, meaning Steam, Microsoft Store, and PC Game Pass - which is good, as some Game Pass releases don't get the option to pre-load. Just make sure you have enough hard drive space, as the latest Total War takes up a whopping 120GB.
Total War: Warhammer 3 release date
,
Total War: Warhammer 3 races
,
The best strategy games on PC
---
PCGamesN Sunday, February 13, 2022 1:07 PM
Attack on Titan fans have had a long journey since the show first debuted nine years ago, but don't despair that the anime series is just a couple of episodes away from wrapping up in a not-so-neatly tied bow. While Eren and company's journey is coming to an end, Secretlab is giving you the chance to immortalise the story with its first special edition gaming chair of 2022.
Taking inspiration from the Survey Corps, the Wings of Freedom symbol is the centrepiece and the colours resemble the standard uniform: white for the shirt, light brown for the jacket, green for the cloak, and dark brown straps that would otherwise keep the vertical manoeuvring equipment in place. Just don't expect it to defy gravity, as you'll need to take down titans the old fashioned way - with your gaming mouse and keyboard.
It comes with all the bells and whistles of the appropriately-named Secretlab Titan Evo 2022, including Neo hybrid leatherette, improved lumbar support, and a magnetic memory foam head pillow. The company even chucks in a pack of Attack on Titan edition leather wipes, which Secretlab says are formulated for use specifically with its proprietary materials but we can't say for sure what separates them from ordinary disposable cloths.
Best SSD for gaming
,
How to build a gaming PC
,
Best gaming CPU
---
PCGamesN Sunday, February 13, 2022 12:40 PM
The greatest moment in any Final Fantasy game is inarguably the much-memed Final Fantasy VI train suplex, but unfortunately, the upcoming Pixel Remaster out this month seems to have ruined this fantastic moment - and what's worse, Square Enix is advertising it.
Earlier this week it was revealed that the Final Fantasy VI Pixel Remaster would be out on February 23 - first by accident, and then properly confirmed by Square Enix. It's been delayed several times but now finally looks to be coming out at last, and the first screenshots seemed to be promising.
The Final Fantasy Pixel Remasters offers "completely new graphics" in a remastered retro pixel style, and so fans were hoping for a bit of a step-up over the previous remasters. Square Enix took to Twitter today to show off Final Fantasy VI's famous meme of the ghost train boss receiving a suplex by Sabin - however, this wasn't quite the win the publisher was hoping for, as fans quickly spotted that all wasn't right with the famous wrestling move.
---
PCGamesN Sunday, February 13, 2022 12:43 PM
The first Dying Light set the standard for just how fun freerunning should be in a game, and the developers at Techland might've outdone themselves with the sequel. But to fully enjoy post-apocalyptic parkour at its finest, your gaming PC needs to pump enough frames to keep things fluid, and this zombie romp might not give your system an easy time. Fortunately, we have the best Dying Light 2 settings right here, so you can get things running smoothly without the hassle of trial and error.
Before getting into the thick of it, it's worth recognising that the game isn't quite as optimised as it could be. Techland's already addressed a wealth of issues with its day one patch, including a hotfix for shaky co-op connections and brushing up problems that hindered story progression, but there are still texture and sound glitches that can ruin the experience.
It might be worth giving the developer a little more time to patch these issues before hopping in, but it shouldn't take too long with any luck, as it's not slowing down on the barrage of post-launch hotfixes.
Dying Light 2 release date
,
Dying Light 2 factions
,
Dying Light 2 trailer reveal
---
PCGamesN Sunday, February 13, 2022 1:08 PM
At the present moment, there are only two Final Fantasy XIV Deep Dungeons in the entire game - giant, multi-layered roguelite experiences that can be a real challenge to get through. According to director Naoki Yoshida, though, a new Deep Dungeon is being added in an update before the game's next big expansion.
A lot of Final Fantasy XIV players have been asking for more Deep Dungeon challenges for a long time now. There are only two in the MMO right now - Heaven-on-High and Palace of the Dead - and the most recent was added in patch 4.35 as part of the Stormblood expansion run back in 2018.
Now, four years later, it finally seems like Square Enix is ready to start giving players more Deep Dungeon roguelite challenges - and by the sounds of it, there could be more than one. In an interview as part of the Korean Final Fantasy Festival, Naoki Yoshida was asked about the addition of more Deep Dungeons - and he confirmed that more were coming.
The best MMOs on PC
,
FFXIV Reaper job guide
,
FFXIV Sage job guide
---
Twinfinite Sunday, February 13, 2022 6:41 PM
---
Twinfinite Sunday, February 13, 2022 1:54 PM
---
Twinfinite Sunday, February 13, 2022 1:26 PM
---
Twinfinite Sunday, February 13, 2022 1:11 PM
---
Twinfinite Sunday, February 13, 2022 12:12 PM
---
Siliconera Sunday, February 13, 2022 6:00 PM
Right on the heels of the season 2 finale, the official Japanese Twitter account announced development of Demon Slayer season 3. It will adapt the manga's Swordsmith Village Arc. Aside from the key visual, there is also a teaser trailer that is under a minute long. However, the video is not available outside of Japan.
The key visual for Demon Slayer season 3 teases two more Hashira that Tanjiro will meet and get to know. The teaser trailer consists of the same two images set over music. While Mugen Train introduced Rengoku and Entertainment District featured Uzui, Swordsmith Village will shine the spotlight on Mitsuri and Muichiro. As a reminder, Mitsuri is the Love Pillar and Muichiro is the Mist Pillar. While the two made minor appearances in the first season, the audience did not get to see much beyond the surface facets of their personalities.
The final episode of Demon Slayer: Entertainment District Arc aired on February 13, 2022. With its 45-minute run-time, it served to conclude the drama of the Entertainment District, as well as introduce characters to other members of the Upper Moon. There is no information on the release window for season 3 just yet. But for reference, season 1 ended on September 28, 2019 in Japan and season 2 started on October 10, 2021. This made for about a gap of two years.
Demon Slayer: Kimetsu no Yaiba is available on streaming services such as Netflix, Crunchyroll, and Hulu.
The post Demon Slayer Season 3 Will Cover Swordsmith Village Arc appeared first on Siliconera.
---
Siliconera Sunday, February 13, 2022 4:30 PM
The Japanese Twitter for NieR: Reincarnation announced that the game will get a FFXIV collaboration event. It will start in early Summer 2022, and more details will appear in the near future. This collaboration event appears to be exclusive to the Japanese server for now.
This is not the first time that the worlds of NieR and FFXIV collided. A crossover event between NieR: Automata and Final Fantasy XIV resulted in multiple raid quests and glamor items for players' Warriors of Light. Previous NieR: Reincarnation collaboration events (such as the Drakengard 3 one) resulted in limited characters and weapons. It is likely that the Final Fantasy XIV event will be the same.
The Final Fantasy XIV collaboration event is part of the NieR: Reincarnation first anniversary celebrations, according to the hashtag on the announcement tweet. During the anniversary stream held on February 13, 2022, Square Enix announced that it would also release merchandise in commemoration of the game's first year. The game first came out in Japan on February 18, 2021. Square Enix released the global version several months later on July 28, 2021. As of September 2021, the game has been downloaded over 15 million times worldwide.
NieR: Reincarnation is readily available worldwide on mobile devices. The FFXIV crossover event will go live in NieR: Reincarnation some time in early summer 2022.
The post A FFXIV Event Will Appear in NieR Reincarnation appeared first on Siliconera.
---
Siliconera Sunday, February 13, 2022 3:00 PM
The Nintendo Switch has become a great home for the otome genre, with dozens of releases for fans to play. But which are the best? Here are the selections of the Siliconera staff. Tell us yours in the comments!
---
I mean, it depends on the genre.
If someone wants a more traditional otome game, the visual novel Cafe Enchante is my favorite recent release. The characters are fun. It carefully treads the lines between literary genres. The result is a cast of likable characters and stories that can have both silly slice-of-life and dramatic, romantic moments.
If someone wants to go non-traditional? I have to go with Rune Factory 4 Special. Hey, you can farm! You can fight! You can romance an array of men and women! The latest version added new brief stories after you get married, as well as DLC that involved short stories from the love interests' perspective. — Jenni
I'm going to follow in Jenni's footsteps and choose a somewhat unconventional Switch otome, and that game is Stardew Valley. Like Rune Factory, I absolutely love that in between giving my future spouse all the random things I find during my day, I can also farm, explore mines, decorate and attempt to learn the fishing mechanic.
Otome games often have a singular focus that removes a lot of the replayability factor for me. I don't often find myself wanting to go back and complete every romance and ending, as the journey there tends to feel too similar. With each Stardew Valley save file I make, I can romance a different person in town while also progressing in the game with a completely different play style. There's always something to do. It makes the romance aspect feel like a treat after a hard, 20-minute day of hitting rocks. — Dani
My love affair with otome games started with Hakuoki on the Nintendo DS. But I got burnt out when the series started to feel extremely repetitive. Although I dabbled here and there with others like Hatoful Boyfriend and Sweet Fuse, it wasn't until Jenni convinced me to check out Collar x Malice for Siliconera that the passion was re-ignited. The thriller mystery angle was just what this wayward soul needed to dive back into the otome pool. — Annette
---
What are your favorite Nintendo Switch otome games? Let us know in the comments or on Twitter! And read our other handy roundtables for more thoughts from the Siliconera team.
The post What are the Best Switch Otome Games? appeared first on Siliconera.
---
Siliconera Sunday, February 13, 2022 1:30 PM
Athena Asamiya from KOF 98 is officially joining the SNK Bishoujo figure line. Kotobukiya announced the figure alongside an illustration of the character in bishoujo style. The figure will release sometime in Summer 2023. There is no confirmed price or release date.
Athena is the third character to appear in the SNK Bishoujo figure series. She first appeared as the main character of Psycho Soldier, released in 1986. While the character has since appeared in various forms across the KOF series, this particular figure is based on her appearance in The King of Fighters '98.
Originally announced in March 2021, the SNK Bishoujo series will include characters from SNK Heroines: Tag Team Frenzy as well as KOF 98. Artist Shunya Yamashita will provide reference illustrations. On the figure's official page, Yamashita stated that he is proud to be part of the project as there are very few figures of Athena from KOF 98.
Yamashita has worked closely with Kotobukiya in the past. He's created designs for various other bishoujo figures, including the most recent Mai Shiranui figure. He also worked on the female version figure of Terry Bogard from SNK Heroines: Tag Team Frenzy.
You can get a better look at the figure designs below.
[gallery ids="916130,916128,916127" link="file"]
The KOF 98 Athena Asamiya figure is in development, and will release sometime in Summer 2023. There is no confirmed release date or price.
The post SNK Bishoujo KOF 98 Athena Asamiya Figure Announced appeared first on Siliconera.
---
Siliconera Sunday, February 13, 2022 12:00 PM
New character reveals tend to get the most attention when it comes to Genshin Impact. But for the dedicated player? New weapon additions can often be almost as important. As such, the arrival of Genshin Impact version 2.5 may be notable for the addition of Yae Miko to the playable roster, but also for its new weapons.
Developer miHoYo detailed these weapons in a tweet ahead of the patch's February 16, 2022 launch.
https://twitter.com/GenshinImpact/status/1492710122535088136
The tweet drops new details about two Genshin Impact 2.5 weapons. Both are catalyst-type weapons, usable on characters like Klee, Sucrose, Lisa, Mona, Ningguang, Yanfei, Kokomi, and Barbara. One will be available for free: the four-star Oathsworn Eye. The Three Realms Gateway Offering event will offer Oathsworn Eye in its event shop. It's a catalyst with an Attack Percentage bonus, as well as an effect that boosts Energy Recharge for a short time after using a character's elemental skill. This can make it useful for characters that focus on using high-cost elemental bursts, like Kokomi and Ningguang.
The second Genshin Impact 2.5 weapon is available only through limited Wishes on the banner. It's essentially a signature weapon designed for Yae Miko. Kagura's Verity is a five-star catalyst with a stat emphasis on Critical Damage. Its appearance is patterned after the Kagura Suzu, a real-life bell-ringing implement used during the Kagura Dance performed by Japanese Shinto practitioners. Kagura's Verity boosts the elemental skill damage of a character whenever they cast their elemental skill. The bonus stacks up to three times. Yae Miko's ability to cast her elemental skill in rapid succession with little cooldown allows her to quickly stack the bonus and maximize the damage of her electro turrets.
Other characters that rely on their elemental skill for damage may also benefit from Kagura's Verity's qualities. Klee, who stacks charges of her Jumpy Dumpty skill, and Yanfei, who triggers her skill frequently to refresh her Scarlet Seal bonus, may find a place for Kagura's Verity on their person.
The Genshin Impact 2.5 weapon and other updates go live on February 16, 2022. The game is available on mobile platforms, PC, PS4, and PS5.
The post Genshin Impact 2.5 Weapon is Made for Yae Miko appeared first on Siliconera.
---
Gamer Empire Sunday, February 13, 2022 3:59 PM
This post was stolen from https://gamerempire.net/ from the Lost Ark Guides category: https://gamerempire.net/category/lost-ark/. It was written by Tim Stadel Clausen. The original URL of this post is https://gamerempire.net/is-lost-ark-an-open-world-game/. Lost Ark has a vast and beautiful world for the player to enjoy, and it's one of the things that makes the game what it is. Games with an open world have […]
The post Is Lost Ark an Open-World Game? How Does the World Work? appeared first on Gamer Empire. It was written by Tim Stadel Clausen.