---
Kotaku Friday, September 1, 2023 4:55 PM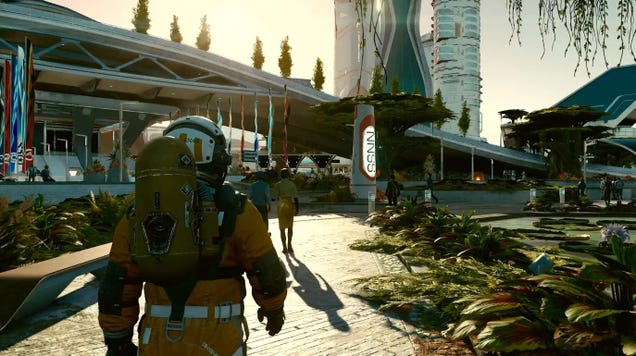 Starfield is finally here and it is big, complex, and often overwhelming. There are tons of menus to navigate, cities to get acquainted with, and skill trees to invest in, not to mention resource mining, base building, and ship customization. Before you get into any of that, however, let's go over some basic tips and…
---
Kotaku Friday, September 1, 2023 4:51 PM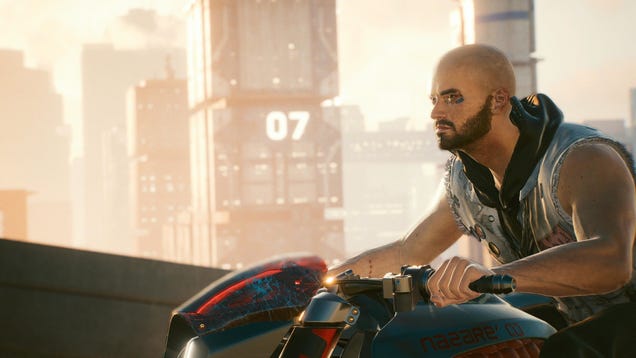 Cyberpunk 2077 has certainly had a long, strange journey from being totally busted at launch to reasonably playable today. Debates rage on as to whether it can ever deliver on all the pre-launch hype CD Projekt Red generated, but soon the game will get another chance to impress with the one-two punch of a sweeping…
---
Kotaku Friday, September 1, 2023 4:12 PM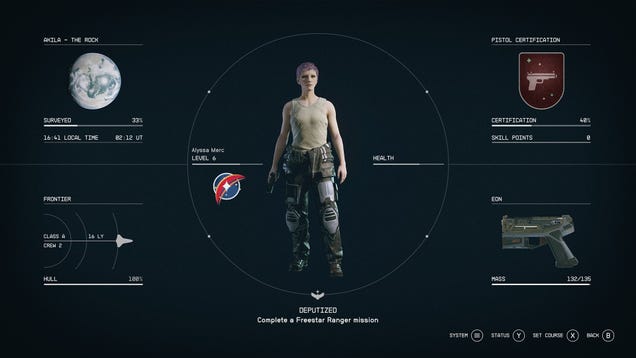 In the several hours I've played since Starfield's September 1 Early Access kicked off, I've been consistently confused by the menus and user interfaces of Bethesda's latest RPG. I remain miffed by its starmap, baffled by its inventory, and at a loss when it comes to my ship's HUD–and don't even get me started on the…
---
Kotaku Friday, September 1, 2023 4:01 PM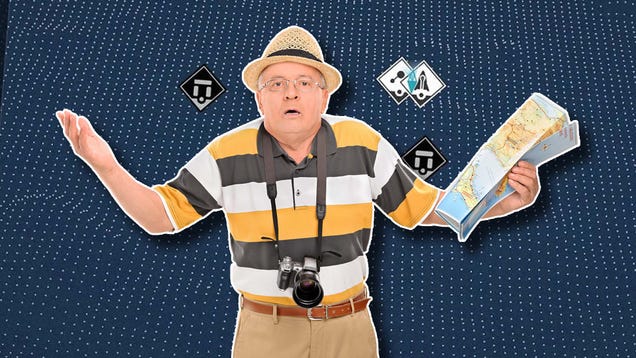 You've probably heard this before, but Starfield, Bethesda's latest open-world RPG, is very, very big. The new game, out now in "early access" on Xbox and PC, spans multiple solar systems and hundreds of planets. And when exploring that vast digital galaxy, the in-game maps are fine. But once you land on a planet or…
---
Kotaku Friday, September 1, 2023 2:10 PM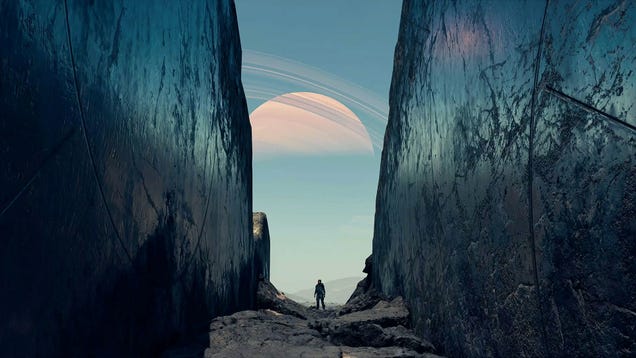 Starfield is officially out in Early Access for those who got one of several special editions of Bethesda's long-awaited sci-fi RPG. Though everyone else will have to wait until September 6, several Kotaku staffers decided to shell out for the Early Access editions and spent the first night of launch zipping around…
---
PCGamesN Friday, September 1, 2023 6:04 PM
Genshin Impact has been around for nearly three years now, and it feels like HoYoverse is using all of that experience to avoid making the same missteps in Honkai Star Rail. In fact, some of HoYoverse's decisions with the turn-based anime game are so good that they absolutely should be copied into Genshin Impact. Honkai Star Rail version 1.3 just implemented an amazing feature that Genshin desperately needs.
MORE FROM PCGAMESN:
Genshin Impact codes
,
Genshin Impact character tier list
,
Genshin Impact leveling guide
---
PCGamesN Friday, September 1, 2023 4:44 PM
December 19, 1975. Somewhere in the reaches of the North Sea, the hardworking crew of Still Wakes the Deep's Beira D oil rig prepare for their Christmas festivities - a small moment of joy and relaxation underneath the darkness of the clouds and the thunderous crashing of the waves. For the RPG game's protagonist, Caz McLeary, the season brings about reflection best not remembered - reminders of a torrid year that has left his life in tatters, ultimately leading to his assignment aboard the offshore platform. A naive effort to put false distance between himself and his life's problems.
New PC games
,
Best PC games
,
Free PC games
---
PCGamesN Friday, September 1, 2023 2:30 PM
Once Starfield comes out, the gaming landscape will never be the same. Like Skyrim, it'll be cemented as one of those RPG games that everyone just knows - essential reading (or gaming) for fans everywhere. But, games are expensive these days, so what's the cheapest way to play Starfield?
MORE FROM PCGAMESN:
Starfield review
,
Starfield companions
,
Starfield traits
---
Twinfinite Friday, September 1, 2023 6:00 PM
Vasco, can you take a quick picture with me?
---
Siliconera Friday, September 1, 2023 8:00 PM
Good Smile Company announced a brand new PLAYMAX plastic model of Pochita from Chainsaw Man is being developed under the Max Factory brand. This small plastic model of stands approximately 3.5 inches tall once assembled and comes with two sets of facial stickers to create a smiling and angry face. Also, when Pochita's tail is pulled on, the chainsaw on his head will start spinning.
The Pochita PLAYMAX figure will release in January 2024 for ¥4,500 in Japan. Good Smile Company is targeting a Q2 2024 worldwide release date for the figure, and it will cost $30.99.
Good Smile Company released images of the upcoming PLAYMAX figure, which can be viewed below:
[gallery columns="4" ids="981982,981983,981984,981985,981987,981988,981989" link="file"]
Chainsaw Man follows a young teenager named Denji who makes a contract with Pochita, the Chainsaw Devil. This gives him the powers to transform into parts of his body into chainsaws, dubbing him Chainsaw Man. The series first started as a manga written by Tatsuki Fujimoto running in Weekly Shonen Jump. The second part of the series currently runs in Shonen Jump+. The highly popular anime adaption was produced by MAPPA and its first season aired in 2022. Currently, there have been no announcements regarding the release for a second season.
Chainsaw Man can be streamed on Crunchyroll and Hulu, and the manga is available to read on Viz Media's Shonen Jump website.
The post Pochita Chainsaw Man PLAYMAX Model Builds a Little Figure appeared first on Siliconera.
---
Siliconera Friday, September 1, 2023 5:30 PM
On September 1, 2023, Usada Pekora, a Hololive Vtuber, was part of a widespread misunderstanding on the social media platform X, formerly known as Twitter. For a moment, the way X handled some trending topics resulted in a pool of her Japanese audience being convinced she would be graduating. [Thanks, Inside Games!]
The Usada Pekora graduation misunderstanding began after she posted an announcement on her official social media account that she would be taking a break from streaming in order to rest her throat due to pain she was experiencing.
[embed]https://twitter.com/usadapekora/status/1697482759164559761[/embed]
Fans reacted by showing their support and understanding using the hashtag #了解ぺこ, or "Got it, Peko." Once the hashtag became a trending topic, the associated hashtags "retirement" and "thank you for everything" were displayed directly underneath it.
Usada Pekora herself was surprised by the associated hashtags, responding with a post including a screenshot of the trending topic and a message that read "Peko!?!?!?!?!?"
[embed]https://twitter.com/usadapekora/status/1697528617461526991[/embed]
This mistake was born from a flaw in how trending topics on X are shown. It has a feature that displays hashtags that include words related to the words in the trending topic, but are not necessarily actually connected to it. The truth was that both the "retirement" and "thank you for everything" hashtags that were shown in association with Pekora's hashtag had nothing to do with her.
Usada Pekora is only briefly and temporarily taking a break for her health.
The post Usada Pekora Misunderstanding Causes Confusion on Social Media appeared first on Siliconera.
---
Siliconera Friday, September 1, 2023 5:00 PM
The Spike Chunsoft online store is now selling character merchandise originally sold exclusively at the Danganronpa x Master Detective Archives: Rain Code cafe in Japan. The lineup of available items include pins, acrylic stands, acrylic panels, mini sticker sets, and clear files all featuring people from the games drawn in a chibi art style. WorldShopping is providing a service to ship the items worldwide. Shipments begin early November 2023.
Below is a complete list of the Danganronpa x Rain Code character merchandise and their prices:
A4 Clear File 2-pack Set: 1,100 yen (~$7.53)
Mini Sticker Set Volume 1: 1,320 yen (~$9.03)
Mini Sticker Set Volume 2: 1,320 yen (~$9.03)
Trading Acrylic Panel Volume 1: 4,180 yen (~$28.61)
Trading Acrylic Panel Volume 2: 4,180 yen (~$28.61)
Trading Acrylic Stands Volume 1 (13 variants): 990 yen (~$6.78) each
Trading Acrylic Stands Volume 2 (15 variants): 990 yen (~$6.78) each
Trading Can Badges Volume 1 (13 variants): 501 yen (~$3.43) each
Trading Can Badges Volume 2 (15 variants): 501 yen (~$3.43) each
Here's a closer look at all of the merchandise:
[gallery link="file" ids="981929,981930,981931,981932,981933,981934,981935,981936,981937"]
The Danganronpa x Rain Code merchandise is available to purchase on Spike Chunsoft online store in Japan. Master Detective Archives: Rain Code is available to play worldwide exclusively on the Nintendo Switch. Danganronpa: Trigger Happy Havoc and Danganronpa 2: Goodbye Despair available worldwide on the PS4, Vita, Switch, Xbox One, PC, and mobile devices. Both games also appeared on the PSP in Japan.
The post Danganronpa x Rain Code Character Merchandise Coming in November appeared first on Siliconera.
---
Siliconera Friday, September 1, 2023 4:30 PM
Capcom announced dates for the Capcom Open Conference Professional RE:2023. This online conference will be aimed at industry professionals, giving them an insight into the RE Engine. It will be a two-day event held on October 26-27, 2023.
The Open Conference Professional RE:2023 will feature a number of Q&A sessions from developers within Capcom. The event will offer insight into how the RE engine is being used for multiple projects, along with Capcom's perspectives on studio culture and design philosophy. The sessions include talks about ray tracing, motion capture, and UX. There will also be a discussion about hair physics in Resident Evil 4, allowing us to get a deeper look into every strand of hair on Leon's head.
Capcom is currently accepting entries for participants who will be able to ask questions directly to developers during the conference. However, all presentations will additionally be streamed to YouTube and will be available for anyone to view.
The RE Engine is Capcom's in-house engine that's been used for many of their recent projects. It was originally built for Resident Evil 7 but has since been used for games such as Devil May Cry 5, Monster Hunter Rise, and Street Fighter 6.
The Capcom Open Conference Professional RE:2023 will take place on October 26-27, 2023.
The post Capcom Conference Will Offer Insights Into the RE Engine appeared first on Siliconera.
---
Siliconera Friday, September 1, 2023 4:00 PM
Atlus and First Stop Cosplay announced a Persona 5 Royal Shujin Academy Joker uniform sewing pattern. Sales for it will start on September 2, 2023. It will cost $35. It will include a full sewing pattern and other materials to help in creating the outfit.
There are 14 different size options for the Persona 5 Royal Shujin Academy Joker uniform cosplay pattern. They range from A, which is smallest, to P. These are all "men's" sizes but could likely be used for unisex wear. It is also possible to only buy the top or bottom patterns on their own, with the prices for each of those listed as $35 as well. The patterns only offer the details needed to make the school uniform's blazer and pants.
The item is listed as a three-and-a-half-star difficulty item. There are instructions for beginners included, as well as video tutorials to cite for different elements of the outfit's design. The pattern is also designed to be reused.
Here's a series of images showing how this Joker school uniform blazer and pants would look when complete:
[gallery columns="2" size="full" ids="981910,981908,981907,981909" link="file"]
Persona 5 Royal is available now on the Nintendo Switch, PlayStation 4, PlayStation 5, Xbox One, Xbox Series X, and PC. First Stop Cosplay's Shujin Academy Joker uniform pattern launches on September 2, 2023. A number of figures based on the game are also in development.
The post Persona 5 Royal Shujin Academy Cosplay Sewing Pattern Recreates Joker's Look appeared first on Siliconera.
---
Siliconera Friday, September 1, 2023 3:30 PM
One of the celebratory events Square Enix planned for the 10th anniversary of Final Fantasy XIV is a collection of side stories starring characters from the game. The collection is titled "Tales under the New Moon," and the second one appeared on September 1, 2023. This new FFXIV installment is titled "Bringer of Shadow, Bringer of Light" and follows Thancred. It, the first story, and all of the ones yet to be released will be available to read on the game's official website. Two more stories are to be released sequentially in September 2023.
"Bringer of Shadow, Bringer of Light" is told from Thancred Waters' perspective as he recounts the legacy of Ran'jit and Minfilia Warde. He just fought off an assassin - one of the members of the Reapers - in it..
There are two side stories still to be released on the website. Their debut dates are as follows:
Side Story 3: September 8, 2023
Side Story 4: September 15, 2023
Many other events and collaborations have commenced to commemorate the 10th anniversary. When the Japanese chip brand Koikeya released Final Fantasy XIV potato chips, they sold out in just a day. Also, a 10th anniversary memorial book will be released this winter.
Final Fantasy XIV is available on the PlayStation 4, PlayStation 5, and PC. It will also come to Xbox Series X in Spring 2024.
The post Final Fantasy XIV Thancred Side Story Released for 10th Anniversary appeared first on Siliconera.
---
Siliconera Friday, September 1, 2023 3:00 PM
Norn9 Var Commons is a big game. I mean, there are three heroines, with three love interests for each, and a major overarching, science fiction plot. It's a lot. (Even if there are some plot holes.) With the Norn9 Last Era fan disc, it really does the game justice. It's still just as big as before, with lots of character stories and new insights. However, it is still a lot and, depending on how much you like certain characters, your mileage of how much you'll enjoy it will vary.
So everything in Norn9 Last Era begins with the Prelude. This is the background that shows how everyone ended up on the Norn, with Masamune as the initial main character and other love interests each getting a turn. It's fine. Like if you really enjoyed the lore of the game or the person starring in the current vignette in it is your favorite character, you'll probably love it! However, I didn't really enjoy it as much as the other stories in this collection. It's quite a choice to lock additional modes behind a story like this in a fan disc, and I really didn't appreciate it. In fact, I can't even tell you exactly how long it is, because I did end up fast forwarding through three of the characters I didn't like as much so I could get to the other modes.
[caption id="attachment_981703" align="alignnone" width="1200"]
Image via Aksys[/caption]
Fortunately, Fugue, Concerto, and Fantasia are far more entertaining and welcoming once you reach them. Fugue is a retelling of the original story. It's absolutely fascinating, because you're seeing the events through the love interests eyes over four chapters. I honestly felt it was better at establishing characters and offering insights into the background than Prelude was.
Likewise, Concerto is well done and my favorite part of the package. Again, it's basically a four chapter story for each love interest that follows the different pairings from the best endings in Norn9 Var Commons. Not every epilogue is amazing, for example Kakeru and Masamune's routes didn't click with me, but I enjoyed Akito's, Heishi's, Ron's, and Senri's quite a bit.
As you can probably guess by what you've just read, this is 100% a game you should only get and play if you liked Norn9 Var Commons. Norn9 Last Era is also a lot! Sure, there's a new quality of life adjustment that makes checking highlighted glossary text a little more inviting with character descriptions, but it's still somewhat overwhelming.
[caption id="attachment_981784" align="alignnone" width="1200"]
Screenshot by Siliconera [/caption]
Meanwhile, the Fantasia and Norn9+Life modes basically are the omake elements. Fantasia is a whole additional story where everyone turned into chibi versions of themselves due to an unexpected "treat." It's a brief comedy that isn't as substantial as the other modes, but is fun in its silliness. Norn9+Life is a brief minigame. You can earn Tickets by going through a board game and its events, which you can then spend in the store for songs. It's fine, but I didn't touch it beyond an initial run for the review and feel no need to return to it.
There's just one thing that gets to me about all of this. I mentioned UI and formatting issues in my original Norn9 Var Commons review, and these persist in Norn9 Last Era. There's still that strange indent after the first line in each text box. It's odd that this wasn't cleared up for this new release. There is also some incredibly tiny font in the main menu, which might be an issue if you actually want to read about what a mode entails before starting it.
[caption id="attachment_981785" align="alignnone" width="1200"]
Screenshot by Siliconera [/caption]
Norn9 Last Era is very clearly a game made for a particular audience. If you enjoyed Norn9 Var Commons, this is definitely an otome fan disc you will enjoy. All of the characters get their due. Aside from a bizarre requirement to force people through the Prelude, it's well executed. Perhaps that love for the original game will even make it possible to overlook the formatting issues that still come up in the follow-up.
Norn9 Last Era is available for the Nintendo Switch.
The post Review: Norn9: Last Era Is as Packed as the Original Game appeared first on Siliconera.
---
Siliconera Friday, September 1, 2023 2:30 PM
Square Enix updated the TGS 2023 website, revealed the lineup of games that will appear at this year's event. Four new titles will have playable demos at the Square Enix Tokyo Game Show 2023 booth. Additionally, the company has detailed the streams and broadcasts that will be available on the Square Enix YouTube channel and at the TGS 2023 stage.
Out of all the Square Enix games appearing at the event, Infinity Strash: Dragon Quest The Adventure of Dai, Star Ocean The Second Story R, Dragon Quest Monsters: The Dark Prince, and Foamstars will have playable demos at the Square Enix TGS 2023 booth. Final Fantasy XIV will have some playable content as well.
Here is the full lineup of Square Enix games present at the upcoming Tokyo Game Show 2023 event:
Final Fantasy XIV
PowerWash Simulator
Imperial SaGa Eclipse
Romancing SaGa Re;univerSe
Final Fantasy VII Ever Crisis
Dragon Quest X Online
Final Fantasy XVI
Dragon Quest Treasures
The Square Enix TGS 2023 stream schedule is available below. All the times listed are in Japan Standard Time (UTC+9) with a 24-hour format. Some of the programs in the schedule are subject to change, as the Square Enix music show is still provisional, and the Autumn Games Festival has no additional information detailed as of writing.
Thursday, September 21, 2023
21:00 – PowerWash Simulator TGS 2023 Special Program
Friday, September 22, 2023
20:00 – Square Enix Music Show (Provisional)
21:00 – Eiko Kano's Critical Hit TGS 2023 Special Version
Saturday, September 23, 2023
15:15 – SaGa Series TGS 2023 Special Stage
19:00 – Autumn PC Games Festival
Sunday, September 24, 2023
11:00 – Infinity Strash: Dragon Quest The Adventure of Dai Pre-release News Flash
12:30 – Dragon Quest Monsters: The Dark Prince Showcase
13:15 – Foamstars Party in TGS2023
15:00 – Final Fantasy XIV Letter from the Producer LIVE Part 79
The post Square Enix TGS 2023 Games Lineup and Stream Schedule Revealed appeared first on Siliconera.
---
PC Invasion - FeedDDD Friday, September 1, 2023 8:58 PM
Starfield lets you explore numerous planets and systems throughout the stars. Along the way, you'll encounter quite a few useful destinations. Sometimes, missions may require you to return to them and will offer a guided tour. In other cases, you might wish to backtrack just because. In those cases, you're on your own. It can be difficult to remember exactly where you found that pertinent location. To help make the search a little easier, here is our guide telling you where to find the major cities and settlements in Starfield. Starfield – where to find the major cities and settlements To make the most of this list, start with the name of the city, settlement, or other major attraction you would like to find. We've listed the main points of interest here in alphabetical order, alongside the name of the system where you can find them (and with the precise planet or moon listed in parentheses). Without further adieu: Akila City – Cheyenne (Akil...
---
PC Invasion - FeedDDD Friday, September 1, 2023 8:41 PM
Like space itself, Starfield is vast, expansive, and a little overwhelming. With so much to explore, knowing what to do first can be difficult. This article contains five of the best things to do during your first hours in Starfield based on my playthrough and the experience of other PC Invasion writers. From a museum that explains humanity's triumphant colonization of space to extremely handy keybinds, here's how to maximise the beginning of your spacefaring journey. Join the Vanguard and pay a visit to the Orientation Hall. Screenshot via PC Invasion During the main campaign, shortly after arriving at New Atlantis, players are tasked with visiting the UC Vanguard to speak to a contact. Here, you can join the Vanguard, unlocking new questlines, loot, bounties, ship parts, and, most importantly, the Orientation Hall. The Orientation Hall is a museum that guides the player through the rich history of the Starfield universe. Rather than overwhelming you with no...
---
PC Invasion - FeedDDD Friday, September 1, 2023 7:33 PM
In Starfield, the various factions you can join offer you thrilling missions that advance their respective plots. Two of the easiest factions to find and join are the United Colonies Vanguard and Freestar Collective rangers organizations. Here is our guide explaining whether you should join the UC Vanguard or Freestar Collective Rangers faction in Starfield. Starfield – should you join the United Colonies Vanguard or the Freestar Collective Rangers? It can be tempting to ignore factions early in your adventure when you have a lot on your plate, but don't forget about them entirely. There are numerous factions, each with a number of associated missions. Those missions provide context to many of the more noteworthy locations you visit around the galaxy. You'll receive equipment and other perks while working for both UC Colonies Vanguard and the Freestar Collective Rangers. Screenshot by PC Invasion There are good reasons to join the United Colonies Vanguard...
---
PC Invasion - FeedDDD Friday, September 1, 2023 2:23 PM
With the Scarlet and Violet expansion on the horizon, it seems that Game Freak is determined to give the title a big send-off. 7 Star Raids are limited-time events that offer the most challenging content in the game. Only the most hardcore Pokemon Trainers stand a chance of beating these Raids, and that's never been more true than with the Mewtwo Raid. I can't sugarcoat it; this fight is borderline unfair! Consider yourself warned, and let me show you how to beat the Mewtwo Tera Raid in Pokemon Scarlet and Violet. How to beat Mewtwo Tera Raid in Pokemon Scarlet and Violet Most Raids can be tackled with several Pokemon, but for this Raid, there's one obvious choice. Mew. Mew gets a huge stat boost in this battle and is absolutely the best counter to Mewtwo. If you've not got Mew yet, don't despair; we have a guide on how to get it. I'll explain the build in just a moment, but here's what Mewtwo brings to the table: Mewtwo Moveset Te...
---
PC Invasion - FeedDDD Friday, September 1, 2023 2:13 PM
Playing a brand new game and realizing that it doesn't run the way you want it to can be frustrating. Take Starfield, for example. This is a hefty AAA title that requires decent PC specs to run it. Even with the latest tech, you may come into contact with low FPS and stuttering issues. These are very common issues, so let's dive into how you can fix stuttering on your PC in Starfield. Note: If you're experiencing this other common Starfield issue where your Steam game is unpacking slow, read our guide on how to fix that. Starfield: How to fix stuttering and performance issues on PC Have you run into some annoying stuttering and performance drops while playing Starfield on your PC? You're in luck, because we know a few decent solutions to your issue. How you can fix stuttering and low FPS in Starfield on PC is by lowering the graphics quality, updating your drivers, and other helpful solutions. Continue reading for more information on how to get rid ...
---
WGB, Home of AWESOME Reviews Friday, September 1, 2023 7:11 PM
Activision has released a press statement announcing that the Spyro Reignited Trilogy, which bundled together the first three games, has surpassed 10 million units sold.
---
Gaming Instincts – Next-Generation of Video Game Journalism Friday, September 1, 2023 6:31 PM
---
Gaming Instincts – Next-Generation of Video Game Journalism Friday, September 1, 2023 6:08 PM
---
Gaming Instincts – Next-Generation of Video Game Journalism Friday, September 1, 2023 5:45 PM
---
Gaming Instincts – Next-Generation of Video Game Journalism Friday, September 1, 2023 5:26 PM