Demon's Souls character creation and photo mode for PS5 detailed
Sony has released the first look at the Demon's Souls character creation and photo mode on PS5, and it has a lot of detail. The shots show both the photo mode filters in action as well as different ways you will be able modify your character with. The new character creation has a lot more features than the PS3 version of Demon's Souls did. In fact, with this new character creator there are approximate 16 million variations for the way your character looks. You will probably be able to really make yourself to explore.
Demon's Souls was announced for PS5 back in June with Bluepoint Games and Japan Studio working on the remake, and it will feature all the content found in the original release. This version of Demon's Souls will be a PS5 exclusive.
Way back in 2010 when Demon's Souls released for PS3, DJ-Katy wrote the review and said:
Demon's Souls is a very good game. It's not a fabulous game. On the one hand, it's hard to recommend to anyone who isn't a hardcore RPG fan or who doesn't have a mountain of patience at their disposal. On the other hand, Demon's Souls rarely puts a foot wrong – the game mechanics are tough but fair. If you learn from your mistakes, you will progress. You don't die from random issues or problems with the game itself, only your own error as a rule. Really, all this means is that it's a return to the old days when dieing in a game meant losing all your stuff and having to start the level again. It's just that the levels are very, very long.
You can read the full classic Demon's Souls review here. Demon's Souls for PS5 will be out on 12th November in the US and select other regions, and 19th November in most other parts of the world, including the UK.
Source: PS Blog
---
First gameplay footage of Mileena in Mortal Kombat 11 released
NetherRealm has released the first gameplay footage of Mileena from Mortal Kombat 11, and it is as brutal as you would expect. Mileena has battles against Kitana, Dvorah, and Kotal Khan in this footage and she does not hold back at all. You can see both her fatal move and one of her fatalalties, and you might want to stop eating while you watch. Mileena is part of Kombat Pack 2 which also includes Rambo and Rain.
In case you missed it you can see Rain's fighting footage here, and Rambo's footage here. Anyone who purchases Mortal Kombat 11 Ultimate Edition or Kombat Pack 2 will get a Time Warriors skin pack. That pack will include "Dark Web" Noob Saibot, "HCF" (Halt and Catch Fire) Liu Kang and "Blood Moon" Skarlet. NetherRealm Studios has confirmed that Mortal Kombat 11 will have a free upgrade path from current gen to next gen, so PS4 players can upgrade to the PS5 version and Xbox One players can upgrade to the Xbox Series X|S version.
In our original review for Mortal Kombat 11, Miguel wrote:
This game is the pinnacle of Mortal Kombat action. Fights are fluid, weighty, and gorgeous to look at. Unfortunately, that tightly-designed gameplay is bogged down by a grindy system of loot and consumables that only serves to artificially extend your playtime in the most tedious ways imaginable. There is so much heart and care put into this game, from the combat to the gorgeous visuals and memorable story, but that effort feels nullified by the desperate attempt to twist an iconic video game franchise into just another endlessly online service game.
Meanwhile, in our review for Mortal Kombat 11: Aftermath, Nick wrote:
Weighing in at a hefty £34.99, Aftermath feels a bit pricey, despite how good the content is. The Friendships, the new stages and the balance update are all free downloads, so what you're really paying for is a very short campaign and three extra characters. It's going to be a very hard sell to casual fans of the series. The package which includes the base game definitely feels like the better deal weighing in around £49.99, but those that own it already might feel a little hard done by.
Still, die hard fans of MK should definitely consider picking Aftermath up. The campaign is short but sweet and the new characters are fun to experiment with. It really just depends on your wallet.
Mortal Kombat 11 Ultimate Edition will be released on November 17th for PS5, PS4, Xbox One, Xbox Series X|S, PC, Switch and Stadia.
Source: YouTube
---
Destruction AllStars game modes detailed with new PS5 trailer
Lucid Games has released a brand new trailer for Destruction AllStars which gives a glimpse of the game modes that players will be able to take part in when the game releases on PS5. Those game modes include Mayhem, Carnado, Stockpile, and Gridfall. There will also be a training mode, a single player mode called the Challenge Series where players compete against the AI, and there will also be rewards too. Those rewards will include skins and designs.
Here are how the Destruction AllStars modes stack up:
Mayhem – This is the game's deathmatch mode in both through both solo and teams with the aim to cause as much damage as possible in the time limit.
Carnado – Again a solo and team mode similar to Mayhem. The twist is to earn gear by crashing into other players and driving into the carnado for points. You will then have to run around on foot to get a new vehicle through finding one or through theft.
Stockpile – A mode where players have to gather gears from other players and deposit them in banks around the arena to score points.
Gridfall – This is a free for all mode where 16 players start and only one can win. Aside from having to deal with other players there is the added risk of the ground gives way around you.
Last week, Destruction AllStars was delayed from being a launch title to a PS Plus title for February, A statement was released and that said:
Hi everyone – we wanted to share a quick update on our plans for Destruction AllStars. We've decided to move the game's release from November 2020 to February 2021, where it will be included for two months in PlayStation Plus at no additional cost.
Destruction AllStars is a multiplayer game that's at its best when you're competing with gamers online from all around the world. We want as many people as possible to experience the mayhem on PS5, and what better way to do that than to provide the game to our PlayStation Plus members?
Next week, we'll return with a brand-new trailer and more details on the game, so you'll know exactly what to expect when you download it in February.
This may be disappointing news for some of you who were looking to play the game at launch, but we hope you understand the decision. For those of you that have already pre-ordered the game, be it via PlayStation Store, PlayStation.com, or at retail, your purchase will be refunded.
Thank you for your continued support, we look forward to seeing you in the arena in February!
Source: PS Blog
---
Star Wars Jedi: Fallen Order joins EA Play next week
EA has announced that Star Wars Jedi: Fallen Order will be joining EA Play on November 10th, the same day as the launch of the Xbox Series X|S. That is not just some big coincidence as EA Play will be rolled into Xbox Game Pass partnership likely to be starting when the consoles launch, giving access to EA's library across the Xbox family of consoles. Of course, PS4, PS5, and PC EA Play subscribers will also get access to Star Wars Jedi: Fallen Order.
Begin your journey Nov. 10 when Star Wars Jedi: Fallen Order enters The Play List. The galaxy awaits. Find out more here: https://t.co/n68u0OG9NU pic.twitter.com/3pGilGiAtO

— Electronic Arts (@EA) November 5, 2020
Back in May, there was surprising update that added New Game Plus and brand new combat challenges. The sequel to Star Wars Jedi: Fallen Order is likely to be released in 2022 too. In January, the game had hit over eight million copies sold. In our review for Star Wars Jedi: Fallen Order, Jim wrote:
Star Wars Jedi: Fallen Order is exactly the kind of single player game we had originally hoped to see when EA and Disney joined forces. Even if you strip away the license, you're left with a super satisfying mix or combat, story, and exploration, deftly crafted by a studio best known for spearheading an entirely different genre.
You can read the full
review
for Star Wars Jedi: Fallen Order here.
---
Sony warn that there will not be any PS5 consoles available to buy from physical retailers on launch day
Just in case you were hoping to pick up a PlayStation 5 console on launch day even though had not pre-ordered it ,we have news for you. Firstly, you are nutes, they sold out weeks ago, and secondly, Sony say there will be none available and you should avoid the nasty Covid and stay at home.
Here's the blog post from Sid Shuman, Senior Director, SIE Content Communications.

Hi all – the launch of the PlayStation 5 console on November 12 (or November 19, depending on your region) is almost upon us! In the interest of keeping our gamers, retailers, and staff safe amidst COVID-19, today we are confirming that all day-of launch sales will be conducted through the online stores of our retail partners.

No units will be available in-store for purchase on launch day (November 12 or November 19, depending on your region) – please don't plan on camping out or lining up at your local retailer on launch day in hopes of finding a PS5 console for purchase. Be safe, stay home, and place your order online.

Gamers who have pre-ordered for pick-up at their local retailer should still be able to do so at their designated appointment time, under the retailer's safety protocols. Please confirm the details with your local retailer.

A special thank you to our entire community for your continued support this year. Here's to the next generation of gaming!
Earlier today it was revealed that the PlayStation 5 does not support 1440p resolution so if you were planning to hook the console up to a PC monitor that has that spec then you are out of luck. The news was confirmed by IGN Italy. While this won't affect most gamers who have their console hooked up to a massive television those who use a 1440p monitor will be limited to a 1080p output from the console. Not ideal.
It has also been confirmed that the HDMI cable that comes with the console is Ultra High Speed ​​HDMI 2.1 which means it will handle 4k 120 fps, assuming your TV or monitor also supports that.
Source: PS Blog
---
Dauntless PS5 and Xbox Series X|S enhancements detailed
Like many online multiplayer games available for PlayStation 4 and Xbox One, Dauntless is about to make the leap to the next generation, developer Phoenix Labs outlining their plans for PS5 and Xbox Series X|S support.
The studio have confirmed that Dauntless will be playable on all next-gen systems, complete with cross-play. For those keep track that's six platforms in total including PS4, PS5, Xbox One, Xbox Series X|S, Nintendo Switch, and PC, all syncing up seamlessly for online hunts.
This news was revealed in a letter to the Dauntless community by Phoenix Labs CEO and Co-Founder, Jesse Houston. However, he didn't specify whether this next-gen version will be its own separate client or simply available via backwards combability.
Long-time Slayers will be more interested to learn what's coming in December's Dauntless Reforged update. According to Houston, this will fundamentally change how the game treat's player progress while laying the foundation for future content and features to come. Here's a quick rundown:
New Hunt Type: Hunting Grounds
17 Reworked Islands for Hunting Grounds
1 Brand New Island for Hunting Grounds
Gliders
Island Events
Slayer's Path Progression System
Class XP System and Prestige Rework
Gear Leveling Rework
Dauntless Reforged will remove Patrols and Pursuits, completely changing the way you queue for hunts. More details are to follow though Phoenix Lab are teasing their new Hunting Grounds mode as a longer, more rewarding way to experience Dauntless and one that encourages you to "Stay and Slay" instead of diving in and out of hunts, cutting down on matchmaking times.
It's another exciting update for Dauntless, a game which continues to go from strength to strength. We recently posted our up to date 2020 review of the game, scoring the free-to-play Monster Hunter rival a stellar 8 out of 10:
Although hardly original in its premise, Dauntless offers an extremely fun and accessible take on the monster-hunting roleplaying game. It wastes no time in throwing you straight into the action and while easy to pick up there's plenty of depth there for fans of the genre. What's more Dauntless is completely free to play, gracefully sidestepping those annoying monetisation pitfalls we're so used to seeing.
We'll have more on Dauntless Reforged in the near future.
Source: Press Release
---
Xbox Series X Review – The continuity candidate for next-gen gaming
The Xbox Series X is all about continuity. It's a new generation of hardware, a huge leap forward in terms of raw power, but it builds on the strengths of the Xbox One X in the most logical ways. There's a continued drive for Xbox to have the most powerful console on the market, and it's led Microsoft down a particular design to accommodate that raw power. Is next gen really just about raw power, though?
The Xbox Series X form is one that follows its function. It's effectively a wind tunnel with a single large fan at the top able to draw enough air to cool the now much more powerful components, while remaining exceptionally quiet. Needing to capture video for this review, I've often sat within a meter of this thing while playing, and I sometimes have to lean in to hear that yes, the fan is quietly wooshing. It's also impressively compact for what it manages to do, thanks to the vapor chamber heatsink and split motherboard design. It's still big, it's still awkward to fit into many TV cabinets, and it is still worthy of all the fridge memes, and yet, put it next to a PS5 and it feels small.
Then again, it's not the most aesthetically pleasing design, the only real flourish comes from the concave fan grill at the top with a secretive green layer that gives a neat optical illusion. There's an unmistakeable awkwardness in how it accommodates upright and horizontal positions, with the circular rubberised stand on the base unable to be removed, and four little rubber feet on one side so it can be laid flat. It's a bit like trying to wear toeshoes to a cocktail party – actually, I've not tried that yet – but they remove some of the fuss of fitting the console into your TV set up. The whole 2001 A Space Odyssey monolith look can actually fade into the background over time, similar to a subwoofer or how you tuck bookshelf speakers away.
There's further continuity with the new Xbox controller, which we've got a separate review about. It subtly refines the existing Xbox One controller, making it slightly more compact, adding a new share button, and crafting a new D-pad disc that's based off the one found in the Xbox Elite controllers. I found the D-pad nice to use, but it is annoyingly clicky, making me very glad that you can continue to use older controllers. While it doesn't have any flashy new features like the PS5 DualSense's adaptive triggers, there are still the rumble triggers that debuted on Xbox One, and there's a hope that developers will start to use these more consistently, as they can still provide an impressive amount of immersion when used well.
The system software is, as we've known for a long time, shared with the Xbox One – it's identical aside from a handful of features. Honestly, the Xbox UX is in a fairly happy place right now. It's fast, it's responsive and very customisable, you can easily filter and group your games, and you can remove almost all the clutter that you don't want. It's actually kind of refreshing that Microsoft haven't reshuffled the layout, given how often they've done so through the Xbox One's lifetime – aside from the recent visual spruce up, it's been consistent through the last year or so. The one oddity is the Microsoft Store, which has its own bespoke layout and further elements from Microsoft's Fluent Design language, but it's still only one or two steps removed from the main system, and I can see more of that filtering through over time.
The headline new system feature is really Quick Resume, which allows you to hop back and forth between games as you wish. As we've been reviewing the console, Microsoft have been putting the finishing touches to this system, identifying the games that, for whatever reason, aren't working quite right. They're aiming to fix these issues by launch day. When its works, it works very well, allowing you to have a handful of games on the go at once and swapping back and forth between them pretty seamlessly – depending on the game, it takes between 5 and 15 seconds in our experience. You can have a run through the campaign of Gears Tactics ready and waiting for you to return while you join your friends for some Destiny 2 multiplayer. Of course, online games such as Destiny 2 will still kick you back to the main menu with an unseemly error message, just as they do when resuming on the current generation.
And so we come to the games and the paucity of real next-gen gaming that we've been able to experience so far. It's this factor that is the biggest reason why we will not be scoring this review, as we wait for the likes of Watch Dogs Legion, Dirt 5 and others to be declared ready for testing on Xbox Series X.
In the meantime, we've largely been jumping back and forth between backwards compatible titles and those that have been updated for the Series X, like Forza Horizon 4 and Gears 5. Even here, the Xbox Series X can shine, its added power ironing out some of the kinks and limitations of the Xbox One and Xbox One X. Forza Horizon 4 is simply presented to you in 2160p and 60 frames per second; Gears 5 now delivers 60fps in the campaign and the option of 120fps in multiplayer if your screen supports it, all while also enhancing visual effects and using higher detail assets; Sea of Thieves? It's just 60fps. Series X just gets it done, thanks to these games having dedicated updates to recompile for Series X or, in Sea of Thieves' case, being made "aware" of the new console and presenting new frame rate and resolution targets.
We've tested 120fps modes thanks to the wonderful flexibility of the Xbox's software to easily accommodate all manner of TVs and screens that support high refresh rates. Asus have loaned us a VG279QM 1080p 280Hz screen so we dove into Gears 5 multiplayer, and yep, it sure is 120fps. It's truly remarkable to have this kind of capability on the new consoles, making the game's that much more fluid and adding to how responsive they feel.
The SSD hasn't made loading screen vanish into nothingness for games such as this, but it can help dramatically reduce them. Taking 2016's Hitman as an example, and loading from an external hard drive into the Paris level takes between 50 and 65 seconds, depending on the console. There's already a bit of an uplift here as the Series X can power through asset decompression much quicker, but have the game on the SSD and that load plummets to just 20 seconds. It still feels like a loading screen, but it's barely time to pick up a phone and refresh Twitter.
Using the SSD in general does throw up a minor snag for me. All Series X|S optimised have to be run from the SSD, but should indie games like Gonner 2 or The Falconeer really require its use? I'd say not, and I'd even be happy to have the option of playing the Xbox One X version of a cross-gen title to save space on the internal SSD. Smart Delivery prevents you from doing that. At least you can copy or move Series X|S optimised titles to an external drive to clear space and then copy them back across if and when you next want to play them.
For most of the Xbox back catalogue, though, your experience will depends on what these games offer to Xbox One X. Some games have been made fantastically flexible, such as Hitman, which gives you independent options for prioritising frame rate or resolutions, and for unlocking the frame rate. The Series X lets you play in 4K with a pretty consistent 60fps, making it a no compromise experience similar to Forza Horizon 4. There's also quite a few games that shot for native 4K on One X at the cost of a slightly shaky frame rate. However, if you were to step back to something like Just Cause 3, the Series X's boost will be limited to steadying it at 900p and 30fps, as the game only ever had support for the base Xbox One and set its resolution targets lower in the name of performance.
It's here that Microsoft's backward compatibility team can hopefully start to step in. At launch there's the implementation of Auto HDR which uses machine learning to augment the colour gamut and luminosity of games without HDR support and expand them to make use of your HDR TV. There's some games where it doesn't work quite so well – Microsoft have most notably disabled Auto HDR for GTA IV – but the rest of the time? It's another thing that the Xbox just does automatically, adds a light (heh) enhancement without intruding, but if it does? You can turn it off in the granular output settings. To be honest, I forgot that Fallout 4 doesn't natively support HDR until I loaded it up again on Xbox One X and realised my TV wasn't switching modes.
There's more to come from this team, though. A few weeks ago they used Fallout 4 as an example of their ability to double the frame rate cap of a game through backward compatibility. I was eager to try it, but 60fps Fallout 4 is not yet ready for me to test. It's an annoyance during this review process not to have that access, but an exciting prospect for us to visit in future. Hopefully Microsoft can spread such enhancements far and wide across the library of thousands of games.
---
Xbox Series X|S Controller Review – Back with a click
At a glance, you'd be forgiven for thinking nothing had changed about the Xbox controller for Xbox Series X|S. It's got a practically identical silhouette to the Xbox controllers that were shipped alongside the original Xbox One and then updated for the Xbox One S, it also feels instantly familiar as you pick it up, and yet, if you think about what you're actually holding the subtle differences become clear.
Microsoft's philosophy for their new controller has been one of refinement instead of revolution. The nips and tucks have been made millimetre by millimetre, ever-so-slightly adjusting the shape of the controller to make it just that bit more comfortable for a slightly broader range of people and hand sizes.
The upper shell has a softer type of plastic, the underside to the hand grips have a rougher texture, and there's a similarly dimpled texture on the now slightly stouter analogue triggers (still with the individual rumble motors built in to enhance haptic feedback), though they still have the same angle of travel. It feels good in the hand, and to me seems just that little bit more compact, more dense, somehow.
What isn't subtle, though, is the new D-pad. It adapts the concave design that first debuted on the original Xbox Elite Controller, raising the four primary directions of the D-pad to be more prominent to the touch. It's sure to be a divisive change, but it does straddle the happy middle ground between having the surety of the four directions of the previous Xbox controller D-pad and better catering to sweeping motions around the disc that will be great for fighting games.
But really, the lack of subtlety comes from just how loud and clackety it is. It's by far got the sharpest, highest-pitched click of any part of the controller, and brings back bad memories of the first generation Xbox One controller. I've no idea why it's so loud, but it's been enough to make me start using the analogue stick to navigate in-game menus, to hook up my Xbox One controllers for some peace and quiet.
The rest of the controller's external features are as unremarkable as it gets. Microsoft have stuck a USB-C port on the controller, though not one on the console itself, and they don't ship a charge cable with the console either. That's because they're sticking with AA batteries or supplementary battery packs to power the controller. Having picked up a decent set of rechargeable batteries, it's not something I've ever had an issue with, and I'm sure many gamers will be happy to carry on using their existing batteries and power packs from the Xbox One era. The battery life is as good as ever.
One of the biggest differences for the new controller is also going to be one of the most intangible. DLI, or Dynamic Latency Input, modifies how the controller transmits your inputs to the Xbox Series X|S. The older gamepads would transmit every 8ms, which in most circumstances is pretty damn fast compared to the 33.3ms of a 30fps game, but could lead to an input slipping to the next frame on Xbox One. In tandem with other improvements through the Xbox Series X|S, not to mention doubling frame rates, it's allowed The Coalition to halve the input latency in Gears 5, for example, and revisiting Forza Horizon 4 on an original Xbox One feels like you're trying to steer though marshy bog water.
It's difficult to shake the feeling that there's a lack of real innovation here, though. It's a pure buttons, sticks and triggers controller, with no motion control support and the traditional rumble motors, failing to match what Nintendo and Sony have adopted. Yet it's easy to forget that Microsoft took their step forward in haptics with the Xbox One, incorporating additional rumble motors into the triggers. It's a feature that's often been overlooked by developers over the last seven years, but should see wider adoption now that Sony have incorporated a similar idea with their DualSense gamepad. No, the triggers won't push back against your fingers, but load up Dirt 5 and get stuck into a race and the four rumble motors assault your fingers and palms with directional feedback as you crash and bash through the offroad racing.
---
PlayStation 5 does not support 1440p resolution monitors
The soon to be released PlayStation 5 does not support 1440p resolution so if you were planning to hook the console up to a PC monitor that has that spec then you are out of luck. The news was confirmed by IGN Italy. While this won't affect most gamers who have their console hooked up to a massive television those who use a 1440p monitor will be limited to a 1080p output from the console. Not ideal.
It has also been confirmed that the HDMI cable that comes with the console is Ultra High Speed ​​HDMI 2.1 which means it will handle 4k 120 fps, assuming your TV or monitor also supports that.
Sony have detailed the accessibility options that will be built into the PlayStation 5 system software at launch, taking the already broad options available for the PlayStation 4 and expanding them further.
Text to speech, inverting colours, custom button assignments and more are present, but the PS5 will also offer voice dictation through the DualSense controller or other connected microphone, a Screen Reader feature to speak on-screen text, and text to speech for party chats. There will also be colour correction to allow users to adjust colours on a system level, and the ability to set presets that supporting games can load up automatically as they launch.
Obviously, this also extends to the DualSense controller as well, with the PS5 letting you reduce or completely disable the haptic feedback and adaptive triggers built into the controller, just as you can turn the rumble feature off for the DualShock 4 on PS4.
Sony stated back in August that the DualShock 4 and other PlayStation 4 peripherals can all be used with the PlayStation 5, they will only work for backward compatible titles. This cuts off not just the DualShock 4 from new games, but also all of the expensive licensed pro controllers that many users have bought to up their game in clutch multiplayer moments.
"We believe that PS5 games should take advantage of the new capabilities and features we're bringing to the platform, including the features of DualSense wireless controller," said Isabelle Tomatis, from PlayStation VR, Peripherals Marketing and Licensing in the August blog post. The question is, if you can turn off all those features, why can't you knowingly opt to use a DualShock 4 in those situations? It would certainly help lessen the sticker shock of needing to buy multiple controllers for local multiplayer games like Sackboy: A Big Adventure, Overcooked! All You Can Eat, or Dirt 5's split-screen.
PlayStation 5 buyers will potentially have to keep several PS4 era accessories hanging around for the next few years anyway. The new PS5 camera is seemingly not compatible with PS4 games that use a camera, meaning that you need the PlayStation Camera for PSVR to work, with games potentially relying on the DualShock 4's light bar for tracking, and in order to use Move controllers with Dreams when playing in PS5 backward compatibility. You'll need to apply for a free camera adapter, since the old PS4 camera used a proprietary connector.
Source: IGN Italy
---
With Cyberpunk 2077 having been delayed yet again, even if only by a little, you might be looking elsewhere for your fix of all things cyber and punk. So why not throw clouds into the mix as well? Cloudpunk is a game in which you make deliveries by flying a car around a blocky, cyberpunk city. You may have always wanted to explore a sprawling cyberpunk metropolis, but your enjoyment on with Cloudpunk relies more strongly on whether or not you want to go to that metropolis and be a delivery driver.
The game is absolutely gorgeous, though that's almost in spite of its voxel graphics style. The city of Nivalis is all neon lit skyscrapers and flying cars and it's easy to forget that it's all made out of blocks while you're flying around. Once you land your ship to find your customer, though, you'll be reminded very quickly by all the people wandering around, who look like blocky abominations. There's only so much you can expect from voxels, and having expressive characters that look like their photo isn't one of them. The omnipresent rain in the game is a flat animation that's played over the camera, rather than rain in the world – If you look straight up it falls across your view instead of down at you, which is a bit of a shame. Other than these two little points the game really delivers on giving you that beautiful, futuristic city to fly around.
It sounds incredible as well, with the sirens blaring in the distance, the constant background noise of the city, and the voices of holographic adverts. If you're wearing headphones and in first person it sounds closer to walking through a futuristic dystopia than anything I've experienced. Then there's the music; whether it's slow atmospheric synths softly rising in the background or a thumping trance trace, when it kicks in as you're driving through the city, it's revelatory. It really feels like you could be flying through a scene from Blade Runner, and it's awesome. At least, it is for the first couple of hours.
Described as a story-focused exploration game, you take control of Rania, a woman who recently moved to Nivalis and got a job working for the titular shady delivery company, Cloudpunk. You will drive to point A to pick up a package, then drive to point B to deliver the package, at which point you'll have a conversation with an eccentric person. Sometimes you will have to return to A afterwards, or maybe you will have the option of delivering to C instead of B, since you do work for an illegal organisation operating against the wishes of Corpsec, which is basically corporate police. The first time this happens near the beginning of the game, the package is ticking.
The thing is, that's all you do. It's a game composed entirely of fetch quests, where the gameplay is just travelling between the objectives, repairing and refuelling your car, picking stuff up off the ground to keep in your inventory in case you need it later, and walking through mildly convoluted areas. It works for a while, but once the novelty of the city starts to wear off you're left just driving from conversation to conversation. The HOVA flying car handles well, and whilst you'll likely get annoyed at other drivers, that happens in real life and we don't even have a vertical axis to worry about in reality. You can even use the money you earn from deliveries to upgrade your HOVA, to make it faster and a bit more manoeuvrable, or your apartment with cosmetic upgrades. There are so few HOVA upgrades that I sighed when I unlocked the trophy for getting them all, because it was the only place I wanted to spend my income.
As you deliver packages the story unfolds and you meet a colourful cast of cybercharacters, some human and some android, but all eccentric and/or tragic to some degree. The writing for these characters varies in quality almost as much as the quality of their voice acting does. Rania and other recurring characters are good, but there's a few side characters that you only see once or twice that are pretty poorly acted, enough to pull you out of the glorious cyberpunk soundscape anyway. There's interesting, sympathetic, and even funny stories to find around Nivalis, but there's a few that fall flat as well, usually the ones that are trying to be funny.
Then there's a couple of issues, such as mission objectives not being given to you until the end of a lengthy conversation over the radio, which you can't skip through, so you're just sat there waiting until you can carry on playing, or the split second lag that happens everytime to transition to a new area, and frame rate drops in busy areas.
---
The Gal*Gun Returns Collectors Edition includes "safety goggles that look suspiciously like a brassiere"
I know the Gal*Gun series is just pure smut but you have to admire just how they embrace the ridiculous premise of the games. The latest title, Gal*Gun Returns is a remake of the original Gal*Gun with a bunch of new features including game modes, new in-game artwork, mini-games, full voice acting, and lots of DLC. According to the blurb you can look forward to finding "numerous undiscovered panties".
The game launches next year on Nintendo Switch, Xbox One, and Series X, and Steam and you can now pre-order the Birthday Suit Collectors Edition that contains the usual artbook and soundtrack, and they very unusual "safety goggles that look suspiciously like a brassiere".
The Gal*Gun Returns Birthday Suit Collector's Edition is exclusively available on the Funstock store.
Here are more details on what you get:
Safety Goggles: 92% polyester-8% elastane. 40 cm chest and 25 cm length. Perfect from protecting yourself or friends and family from unexpected lewdness in the vicinity.

Soundtrack: A set of 3 CDs, which includes all the music, voice and background tracks from Gal*Gun Returns.

Art book: The Sexy Chronicles of Gal*Gun showcases art work from Gal*Gun Returns, as well as a flip side filled with lewd imagery from the entire franchise, including some unreleased sketches and designs, from 2011 to 2021!

Exclusive cover art: We know that our fans love exclusive things, so we asked Itou-san, the mastermind behind the design of the Gal*Gun franchise, to create a piece of art especially for Rice Digital! This is will be featured in an insert that you'll be able to use to replace the standard one on the Switch, and that nobody else is getting! The teams at PQube and Inti Creates put their heads together to get this concept in line with the Birthday Suit Edition!

Set of coin and pins: In a tidy box, you will find the metal pins of the 6 heroines of the game in their chibi style, as well as a commemorative coin with the special anniversary logo designed just for the occasion! The coin is a golden metal, 50mm and printed on both sides. Each pin is 30mm, and everything is on a foam background to keep it safe in transit!

Art cards: 6 cards with the first meeting for each of the key heroines of the game! Enjoy them on a thick 300 gsm matte paper, at 160 x 110mm.

Collector's Box: Your items will be safely packaged in this box, which features an image only printed on this box in the west! The dimensions are 211 x 161 x 57mm.

Each box will come with either the game as a physical Switch copy or a digital Steam or Xbox code.
Source: Press release
---
Devil May Cry 5 Special Edition flaunts the ray tracing and 120fps gaming of PS5 and Xbox Series X
We've been able to play and preview Devil May Cry 5 Special Edition over the last few days, and it gives us the first taste of what we can expect Capcom to achieve on next generation consoles. Naturally, as a Special Edition, there's some added content here, from bringing Virgil into the game as a playable character to expand on the story, to the new Legendary Dark Knight difficulty and Bloody Palace challenge mode. However, some of the most interesting aspects are how Capcom are able to update their already outstanding RE Engine for PS5 and Xbox Series X|S.
RE Engine was obviously named after the Resident Evil series. So far it's been used through Resident Evil 7 and the two remakes of Resident Evil 2 and 3, as well as Devil May Cry 5, and it looks like Capcom will continue to use and develop it well into the next generation. Resident Evil: Village (AKA 8) and Pragmata both use it, and they've also (quite curiously) scaled back down for the Nintendo Switch and Monster Hunter Rise.
Ever since its debut, RE Engine has been consistently praised for how it's able to produce stunning visual quality through its lighting and character rendering in particular, while also still performing excellently well on all platforms. It's allowed Capcom to target 60fps through all of their games, regardless of the console. No, it's not always met that lofty goal, especially on Xbox One, but it's felt like RE Engine on the lower powered consoles punch above their weight.
So what about DMC 5 Special Edition? Well, the above video is in 1080p, because that's where some of the most interesting stuff is happening. Loading the game up on PS5, Capcom give you so many options here.
As a baseline, there's 4K60, but if you want extra visual effects, you can turn on ray tracing and sacrifice performance. This has the consequence of dropping the frame rate to 4K30, simply by virtue of ray tracing being very GPU intensive. If you want the best of both worlds, you can drop the resolution down to 1080p and have ray tracing at 60fps. Finally, for those that want to shave every millisecond off, there's 1080p without ray tracing at 120fps – with an ageing 2016 TV, we tried this out by hooking up our PS5 to an Asus VG279QM, which could actually go up to 280Hz with a sufficiently powerful PC!
At the moment there's no way to effectively show 120fps video through YouTube, other than to slow it down, so that's what we've done for the above video, comparing 120fps to 60fps at half speed. It's a simple case of adding fluidity and even more responsiveness. 60fps is already great, but 120fps gaming helps to lower input latency just that little bit further, and also (if and when we can add variable refresh rates into the mix), will help remove the judder that any frame rate drops can potentially create.
For an action heavy game like this, and for competitive games like Call of Duty, high refresh rates can be a major boon, and I'm keen to see developers include this kind of option across similar games. It's not needed universally, but the option doesn't hurt, and we're already seeing a number of games start to offer it.
But let's talk about the ray tracing. It's a real "Huh, they were faking it that much?" moment as you step into the streets of London in DMC 5's opening and notice the reflections in the puddles. Ray Tracing isn't so much about having reflections in the first place, and more about making them more realistic. Whether it was cube maps or screen space reflections, there's always been a limit to the accuracy of reflections in video games until we've been able to add ray tracing alongside those techniques.
It just adds a little more believability to a scene, whether it's having reflections lining up correctly or being able to reflect something that's out of sight of your camera view into the game. There's other benefits that can be much more subtle, with more accurate light diffusion through a scene, better shadowing, and so much more.
However, given how intensive ray tracing can be, developers will have to be selective in how they implement it. The reflective puddles in DMC5 are seemingly of a lower resolution than the main game, in addition to being warped through the water's surface, and there are plenty of elements that are culled, which could make the cube maps feel a touch more representative at times. You can also sometimes see ray traced reflections pop into existence.
It's all fascinating stuff though, and a real sign of things to come. There's already plenty of analysis out there of what Spider-Man: Miles Morales and Ratchet & Clank are doing, and we can add DMC5 Special Edition to that list as well. We'll obviously be diving into this more over the coming days, weeks and months as we delve into our next-gen coverage for both PS5 and Xbox Series X.
---
Yakuza: Like a Dragon Review in Progress
As I vanquish yet another goon with my oversized adult sex toy, I couldn't help but think, "The more things change, the more they stay the same." That is certainly the case for Yakuza: Like A Dragon. Marking a major shift in the series, Like A Dragon introduces both a new protagonist in the form of Ichiban-Kasuba and a turn-based battle system. It's a bold move to change a series so dramatically, so far into its life, but if anyone can pull it off, it's going to be Ryu Ga Gotoku Studio.
Note: This is a review in progress as Yakuza: Like a Dragon, based on my thoughts around 18 hours into the game and well into Chapter 6. We'll be updating update this review in the coming days once I've finished the story mode.
Yakuza: Like A Dragon starts with our new protagonist, Ichiban (which literally means "the best") taking the fall for a crime he didn't commit and ending up serving 18 years in prison. Once Ichiban returns to the outside world, it's a vastly different place and before long he finds himself embroiled in a turf war between warring gangs. The usual Yakuza stuff.
The biggest change in Like A Dragon is undoubtedly the shift from an action heavy brawler to turn-based combat. Fortunately, this turn-based combat system is pretty solid. Characters have a number of abilities available based on their currently equipped job. Each job fits a different purpose in battle, whether it be outright attack, team buffs or healing.
Fights play out like a mix between Persona 5 and the Mario RPG titles. Controlling each character, you can attack, block, access items or use special moves to attack your enemies. The series' action elements make their way into the fights, as special moves require button prompts for extra damage, while a well-timed block will reduce incoming damage. It's a great way to keep players feeling like they're at the centre of the actions, rather than taking a back seat and ordering from above.
The way the turn-based combat is explained may well be one of my favourite moments in gaming this year. Ichiban's sidekick just plainly asks why he lets enemies hit him, and Ichiban responds saying that he views fights like his favourite video game, Dragon Quest. It's a silly way to explain the change in combat system, but it is one that fits perfectly in with the Yakuza aesthetic.
Even so, for longtime fans of the series, Like a Dragon's gameplay is a vast departure from the previous titles. The manic, visceral combat which made Kazuma Kiyru feel like an unstoppable demi-god is gone, and it leads to a more measured and slower pace, and you have to commit a lot more of time to the numerous street fights. I've always personally enjoyed turn-based JRPGs, so I felt right at home, but I think the transition might be too jarring for those who aren't fans of the genre.
Outside of combat, things pretty much stay the same with the usual collection of shops, activities and sub-stories scattered throughout the city. Like a Dragon starts in the series staple of Kamurocho before the narrative shifts to Yokohama, an area roughly three-times bigger.
This size doesn't go unnoticed. Yokohama just feels much bigger, with numerous environments throughout it, but when a lot of areas feature little more than collectibles and treasures, that also feels unnecessary. I found myself missing the dense familiarity of Kamurocho and the fact that every inch of its busy streets has purpose. It's not that Yokohama doesn't have its own character, though. The diversity of its streets is fascinating, with the likes of Chinatown and Koreatown feeling especially colourful against the grey backdrop of the city.
English dubs make their way into Like a Dragon, a feature which was first included in the spin-off title Judgement. The English VO is especially welcome during the many substories, bringing an extra level of depth and character to them, something the localisation team should be commended for.
Yakuza games have always been quite infamous for their depiction of women, and unfortunately, Like a Dragon isn't great on this front either. While the writers have always written great female characters, the decision to have female party member Saeko Mukouda attack enemies with a handbag is, well… it's pretty stereotypical. The job system is also unnecessarily sexist, limiting Saeko to jobs that include being a female hostess or an idol, so essentially jobs which are predominantly seen as feminine. I understand that cultural differences have always been at the core of the Yakuza series, but this still seemed a bit too sexist for my liking.
As noted above, this is a Review in Progress. Keep an eye out for our finalised review in the coming days.
---
Who Wants To Be A Millionaire? Review
After its debut in the late 90s, Who Wants To Be A Millionaire? quickly became one of the most iconic quiz shows with variations of it found all across the world. It has a simple format; if you can answer 15 questions correctly, you walk away with a million quid, dollars, or whatever the local equivalent of it is. Sounds easy, right? But it has proven time and again to be a task the majority cannot quite do.
The latest incarnation of Who Wants To Be A Millionaire? as a video game traces its lineage all the way back to the PS1. Since then the quiz show has had games on various consoles, PC, and mobile, and Appeal Studios and Microids have dusted off the familiar format, sprucing it up with a few new twists for 2020.
There's a few different modes to choose from, starting with the standard solo experience in which you simply answer questions and try to win the million. Before you get into the game you choose an avatar to sit in the contestant seat for you. Each one is voiced to give them a bit of personality, but they all spout similar lines about answers being obvious or having faith. The host, who has a generic American game show host voice and seems to do this weird leg rubbing thing between questions, sits opposite, repeating the same few lines while an invisible audience cheers and claps.
Appeal Games have tried to replicate that game show feel, but it is only there at surface as a big part of the show's entertainment value is the chat and banter between host and contestants. There is none of that here. Then again, that's not the reason you are playing this game.
Before going into a game you can choose which question packs to activate, with a minimum of four being required. These sets include Geography, History, Lifestyle, Entertainment at the start. There are a few thousand questions advertised for the game, but a lot of these will be locked behind other packs which you have to grind to unlock. These unlockable packs include things like World Foods, Disney, Superheroes, and Harry Potter. Each pack has a different cost and you have to use the in game currency Neurons to unlock them. Neurons are calculated by how well you do in the game, with a win in solo earning you 1000 Neurons. The cheapest pack World Foods is 1000 Neurons, but they can cost up to 3500 Neurons, so you will need to play quite a lot to unlock every pack.
Once you have chosen your avatar and question sets you take the seat. While playing you do have access to the standard lifelines such as 50/50, Ask The Audience, and Phone A Friend. You can also swap a question for another of equal difficulty. In normal mode there is a timer to answer questions, with a quicker answer giving you more time to answer the final question. When you phone a friend you avatar has a choice of people to call, though outside of knowing their names and relationship to the character you have no idea what their strengths are so you are flying on faith. Sometimes they will be wrong even though they sound 100% confident in their answers. The audience can also be wrong as well, which does happen in real life.
Most of the time the questions do reflect where you are on the money ladder, but you can occasionally get a surprisingly tough question early on around the £200 level. On another occasion, the questions for £16,000 was how many legs does a spider have?
Outside of normal solo play there the Family mode which has been designed to include questions aimed at children. Other multiplayer modes include Co-op where all players have to agree on the same answer, Free for All where everyone answers the question to rack up points, and Taking Turns, which is a bit like an eliminator as each player has their own question and can be knocked out independently.
There is also online multiplayer which, as you can probably guess, is a form of battle royale, starting with 99 players and asking them all the same set of questions until just one player remains. The last person standing can keep going to climb the money ladder to the top. While it promises 99 players, there were only ever a few players active when I played.
---
Among Us gets patched, anti cheat measures in place and roadmap published
Surprise hit Among Us has been updated with some anti-cheat and hacking measures as the developers admit it got "pretty bad". Earlier this year Among Us had become so popular that the developers, Inner Sloth, have decided to cancel Among Us 2 so they can focus on making the original game better.
Here are details of the patch and roadmap.
Hello! It's been pretty crazy for us here at Innersloth. Lots of things happening behind the scenes. We've got a small update here for you all.

Firstly, we want to be sure to talk about the cheating and hacking going on. It was pretty bad there for a bit, so Forte pushed out server changes really fast. They seemed to help a lot, but some cheats still work and now there are bugs too. There will be more server updates to fix all of this, but rushing anti-hacks is what caused the bugs, so cleaning things up is a slower process. Also rest assured that any threats made in the game are false and your devices and data are safe. If you see a hacker, ban them or find a different room.

Here's what this update contains:

– Added Anonymous Voting option
All votes appear as grey
– Added Task Bar Modes
Always mode works like normal
Meeting mode only updates the bar during meetings
Invisible mode removes the task bar entirely
– MIRA: Comms sabotage clears the security logs
-Added symbols to fix wires task
-Added cosmetics to meeting screen
-Various bug fixes

We have lots of things planned, but no real official roadmap. We play things pretty loose so we can tackle what we think the game needs most. We also don't want to promise anything and then not provide it so it's a scary thing to share. Here are some of the big things we are planning:

-Accounts. We're hoping to get accounts into the game by December. This will allow players to report accounts that are toxic and/or hacking. They may be a bit barebones at first but things like friendslists will also come at a later date after launch.

-New Map. We're hard at work on a new map (It's Henry Stickmin themed!). This map is currently looking bigger than Polus! The map will contain plenty of new tasks and will be available for free to all players!


-Translations/Localization. The game is currently only translated into a few languages (and some of those translations are a bit rough). We're planning on getting professional translations into multiple languages (More than we currently have, not ready to share quite which languages yet). To all the people offering to translate, thanks for reaching out, but we've got it under control!

-Colorblind support. This patch contains a first pass on colorblind support. We'll continue monitoring it to see how it performs.

Mind you this isn't the full extent of our plans. We've got lots of things we're planning that we're not quite ready to share yet! Thanks for sticking with us and enjoying the game! We're going through some growing pains right now, but I am very excited for the future of Among Us!
Source: Steam
---
Friday the 13th: The Game gets one last patch as the servers are shut down and forums are locked
Gun Media have announced one last patch for Friday the 13th: The Game which will fix a bunch of bugs and that dedicated servers for the game will be shut down this month.
It's a sad end to what was a promising game, a long running law suit over the rights for the Friday the 13th intellectual property impacted development of the game stopping the developers from adding any new content, "We can't add any content, whatsoever. Nada. Not even a new tree or rock," said Gun Media at the time. As they could no longer develop the game the team moved on to a new project, leaving a small number of developers to fix bugs.
Here is the full statement.
All things must come to an end, eventually. And while that statement might sound ominous, there is a lot to cover and a lot of news to highlight, so please read on.

Dedicated Servers for Friday the 13th: The Game will be decommissioned in the upcoming patch, set to roll out this month, November 2020. What this means is that the game will revert back to peer to peer matchmaking for Quick Play lobbies. The Database Servers, however, will stay active and continue to house all player progression and unlocks, so users can continue to play Friday the 13th: The Game via peer to peer Quick Play and Private Matches.

The patch that will go live in November will also be the final patch for Friday the 13th: The Game. The team has been hard at work completing fixes for a long list of player issues to include in that final patch, and the community can expect finalized patch notes to be released in the week prior to the patch going live.

The official forums will be archived in a locked state, so that players can still reference the information that lives on the various boards. As for the online presence of the game and official channels, we will be switching to a more minimal approach, keeping our social media channels active for any necessary announcements only.

The game will continue to be available for sale, and as such will continue to receive the full support of JasonKillsBugs.com as a resource for troubleshooting. Please do continue to use the support site for any assistance needed.

As for the Double XP, CP, and Tape Drop Rates that we set in the start of the pandemic, the team will opt to leave this active indefinitely.

The team at Gun wants to thank each and every player and fan that has made Friday the 13th: The Game what it is today. We know this news is hard to hear, despite being inevitable. We appreciate each and every one of you.

Stay tuned on what is next for Gun by following along on the Official Gun Twitter, Facebook, and Instagram.
Source: F13 forums
---
Dead By Daylight update 2.07 makes perk and bug fixes
There's a new game update available for Dead By Daylight and it's out now on PC and consoles. Those playing on PlayStation 4 and Xbox One will need to install update 2.07 in order to bring their game up to version 4.3.2. This same update is also available on the Nintendo Switch edition of Dead By Daylight.
Overall, it's a pretty lowkey update for the macabre multiplayer hit, adjusting two of the game's equippable perks while also giving Dead By Daylight a fresh sweep of bug fixes.
You can catch the full update 2.07 patch notes further below. You can check for the latest patch notes per platform by following this link to the official forums.
Dead By Daylight recently entered it latest chapter "Descend Beyond" which introduced The Blight as a new playable killer. Looking further into the future, Behaviour have confirmed that players will get a free next-gen upgrade on both PlayStation 5 and Xbox Series X|S.
We recently re-reviewed the game for 2020, bumping up its original score. You can read more about our up-to-date thoughts on Dead By Daylight here.
---
Dead By Daylight Update 2.07 Patch Notes
Content
Perk Updates:
Discordance: Updated range from 32/64/96 meters to 64/96/128 meters and decreased the aura duration after survivors have left the generator from 8 seconds to 4 seconds.
Updated Blood Favor's text to indicate that it only works with basic attacks; note that the function of the perk remains unchanged.
Bug Fixes
Fixed an issue that caused Traps, Phantasm and Snares not to be placed properly in specific places (exit gates, Shelter Woods' Unique Tree etc.) in Macmillan Estate's maps
Fixed an issue that caused The Spirit's breathing to be heard while she was phasing
Fixed an issue that caused two uncleansable Totems on Rotten Fields and Coal Tower
Fixed an issue that caused Halloween Event generators not to spawn in the Midwich Elementary School map
Fixed Jake's beard not appearing in the Orbital Captain head cosmetic
Fixed gaps in Yui's Miss Speedway outfit when mixing with other outfit's cosmetic pieces
Fixed an issue that caused The Blight's "Alchemist Ring" add-on to grant a bonus to rush token recharge time
Source: Dead By Daylight
---
Twin Mirror looks set to be the culmination of Dontnod's work so far
Dontnod have been at the forefront of narrative gaming for a number of years now, beginning with the under-appreciated Remember Me and continuing through the Life is Strange series, Vampyr, and the most recent Tell Me Why. While these titles range from sci fi to gothic horror, they are connected by a specific interest in narrative engagement over twitch gameplay (especially Life is Strange and Tell Me Why).
There is a real sense of consequence that runs through dialogue and decisions, making the player feel in control of their character's destiny and shaping events in their image. Of course, sometimes this is an exercise in sleight of hand, with the changes being less substantial than they appear, but in terms of gaming experience it is the illusion of control that contributes to the developer's success. After sampling its opening two hours, it's clear that Twin Mirror seeks to continue that tradition.
Twin Mirror promises a deep and complex psychological thriller that takes place partly in the mind of investigative reporter Sam Higgs. Having left his home town of Basswood, West Virginia two years previously, he had no intention of returning. Unfortunately, he is dragged back by the tragic death of his best friend and is thrown into the mystery and conspiracies that surround this seemingly sleepy location. As backstories go, this isn't massively original but it is perfectly suited to the game. It ensures that the player has to rely on Sam's memories and reflections on Basswood, whilst also being aware that not all is as it seems. This approach will be familiar to long-term fans of Dontnod's games, which have an established motif of weird happening s in mundane locations.
Graphically, Twin Mirror is very impressive. Character models are good, facial animation is largely convincing, and the locations are detailed and really evocative of the rural American setting. As with the Life is Strange games, the soundtrack is peppered with appropriate indie pop and rock, with some tunes that I look forward to hearing more of in the final game. The voice acting and performances are also pretty strong, with most characters having a real sense of individual identity.
It is the characters that form the core of the game's opening hours. Thrown into the haunting memories of his home town, Sam must reacquaint himself with all of the townsfolk. A handy journal system allows you to keep track of Sam's relationship with each of the main figures, from his ex to the unemployed miners who blame him for the exposé that forced the closure of the town's mining operation. Having been closely following the progress of the American election, it was really interesting to see figures here who closely resembled the various political groups from news reports. Basswood is a town that people leave rather than move to, with no main source of employment following the closure of the mine. This is a very topical political situation that provides the backdrop for the larger mysteries of the central narrative. The inclusion of a playable arcade version of a Namco icon is a nice nod to the nostalgic aspects of this story, as well.
Aside from talking to the townspeople, the preview includes a few environmental puzzles that make interesting use of Sam's uncanny mind palace ability. It's reminiscent of the Frogware Sherlock Holmes and Cthulhu titles as it sees you investigate your surroundings and piece events together in their correct order. While clearly influenced by the aforementioned titles, it feels far more polished and enjoyable here, though there were a couple of minor frustrations in trying to find the last clue in larger locations. There are definite hints that Sam's mind palace will not be a panacea, however, as the titular Twin is an imagined alternative of himself with greater social awareness, and who is required to pull him out of some of the more traumatic mental situations.
As a taster for the full game, this preview works perfectly to establish the setting and characters whilst also teasing the potential for some intriguing unpacking of the central mechanics. The step away from the popular episodic structure promises to offer a different narrative flow and I am looking forward to getting a proper look in the Twin Mirror ready for its release on PC, PS4, and Xbox One on 1st December. Be sure to check out our reflections nearer that date.
---
Sniper Elite 4's first Nintendo Switch gameplay trailer revealed
Rebellion are pulling off one of their most daring missions yet, as they port their biggest and boldest Sniper Elite game to the Nintendo Switch. Ahead of the game's 17th November release, Rebellion have released a gameplay trailer, showcasing the various features it has on the hybrid console.
Following on from Sniper Elite v2 and Sniper Elite 3's Switch ports, Sniper Elite 4 has to be the most ambitious effort so far. This was their first game designed purely for Xbox One and PlayStation 4, using the power the home consoles to create much broader sandbox environments for you to sneak and snipe your way through. By contrast, Sniper Elite 3 was a cross-gen game, and so could potentially be a bit easier to port over.
As with Sniper Elite 3 Ultimate Edition, Rebellion have built in support for a number of Switch-specific features. There's HD Rumble support, motion control aiming, you can play the game's 4 player Survival mode in local co-op, not to mention the 8-player competitive multiplayer online.
In our original Sniper Elite 4 review, I wrote:
Sniper Elite 4 is easily the best in the series so far. It's still the same methodical stealth game at its core, but Rebellion have added to that with more possibilities for the player, bigger and more open maps, and a handful of new modes.
Source: press release
---
Jurassic World Evolution Complete Edition Switch Review
There are few games my household know quite as well as Jurassic World Evolution. Thanks to one dinosaur-mad son, the disaster-prone park builder became a staple from the moment of its release in 2018, and with save files pushing past 250 hours on the PS4 version alone, and a paltry 50 or so on the PC version, if I am an expert in anything, it's Jurassic World Evolution. Believe me, my waking thoughts are haunted by the Jurassic Park theme song. And now Switch owners can experience it for themselves.
Just when I thought all the running and screaming was over, Frontier Games have brought Jurassic World Evolution: Complete Edition to Nintendo's emphatic wünder-console. This version of the game pulls together every single piece of dino-related DLC that's been released in the last two years, including the expansion packs Secrets of Dr Wu, Claire's Sanctuary and Return to Jurassic Park. It's about as dinosaur-y and Park-y as you can possibly get.
While the original game launched with a perfectly reasonable menagerie of 37 dinos, the Complete Edition houses a whopping 68, from the T-Rex – the true hero of the series – through to Fallen Kingdom's Indo-Raptor. Just as in the other versions of the game, one of the joys is sticking a bunch of dinosaurs together who won't get on to see who's going to win in a battle royale for the ages. You can also construct all sorts of Saw-like traps for your victims, whether they're human or from the Cretaceous.
It's going to be of little surprise to discover that the biggest change to the game are visual. Frontier have done a remarkable job squishing and squeezing Jurassic World Evolution onto Nintendo's considerably less powerful hardware, but this is a game that doesn't always run incredibly well on a PS4 Pro, so you should be prepared for some pretty major concessions.
Starting off with the Switch docked, the visual pop-in of both textures and objects is the first thing you'll notice. As the camera pans across the first island Isla Matanceros you'll see a literal wave of freshly sprouting trees jump into view as you approach them. Once you have you own hand on the tiller, you'll find that it continues its magical re-forestation as you pan around the landscape. It's something that you soon manage to forget about though, especially when you're in the thick of a dinosaur escape or yet another disease outbreak.
The dinosaurs remain the reason for entry to both your virtual park and the game as a whole. The resolution of everything has been reduced, once again in an effort to secure a stable performance, but the dinosaurs remain impressive and full of life despite the fuzzier visuals. They're a real joy to look at and to successfully house, and they'll keep you coming back time and time again just for a gander.
Thanks to the significant visual changes Jurassic World Evolution Complete Edition's performance is perfectly usable, though it's far from perfect. Zipping around your park can spark moments of judder, which increase in severity as you add more buildings and dinosaurs to it, but they are momentary, with it feeling as though the game is just trying to catch up with itself. Console players have had to put up with this sort of thing it's little surprise to find it here, and it has never significantly impacted on our enjoyment of the game in any way.
The menu system and building tools don't suffer in the same way though, and you can jump in and out of the menus, finding the correct path, cabling or building in moments and have it in place in a similar amount of time. Jurassic World Evolution's building materials are simpler than Frontier's other park builders, with the game's substantial mission structure focussing your efforts.
Remove the Switch from its dock, and things become significantly more indistinct. While the UI remains sharp and clear, the rest of the screen displaying the park looks as though it's been smeared in Vaseline, covered in cling film and then had an Instagram blur filter added for good measure. You'll probably be shocked by how much the resolution drops, and it's by far the least ideal way to play the game I've experienced.
That's not to say it isn't playable. Through some clever UI identifiers you can still easily tell the different buildings and dinosaurs from some distance away, while the drop in resolution means it continues to move at a decent lick. You'll be dying to get back to your TV screens after only a short while,
---
English GAME customers with in-store console preorders, you must get to your store and pay before COB Wednesday
Urgent news for those in England who have an instore pre-ordered an Xbox Series X|S or PlayStation 5 from GAME. You must visit the store you ordered the console from by close of business on Wednesday, before England goes in to lockdown, and pay for your console else you will not be able to pick it up on launch day.
GAME will also be sending out emails over the next few days with important updates, so keep an eye on your email.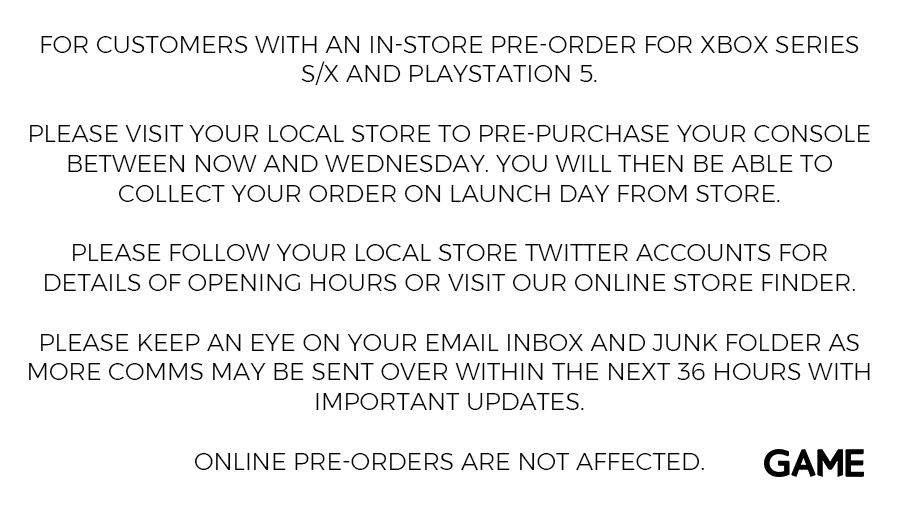 It does seem that if you don't get to the store and pay you will not get your console.
Hi, you will be able to pre purchase your console before Wednesday night and collect on the release date. – DC

— GAME Helps (@GAMEHelps) November 3, 2020
Scottish and Northern Irish customers have until the day before launch day to pay for their PS5 consoles, we have yet to see advice for Welsh customers.
English retailers Smyths and Argos have confirmed that instore pre-orders will be available via click and collect on launch day and the Government has also confirmed that non essentially retail can still run click and collect when Lockdown 2: Electric Boogaloo kicks off in England on Thursday.
Food shops, supermarkets, garden centres and certain other retailers providing essential goods and services can remain open. Essential retail should follow COVID-secure guidelines to protect customers, visitors and workers.

Non-essential retail can remain open for delivery to customers and click-and-collect.
You can check out out two next gen console unboxing videos below.
It has also been revealed that PS5 versions of current PS4 games will not support PlayStation VR, a blow for anyone hoping for upgrades to existing PlayStation VR games in their new console.
A Sony representative said "We have not announced PS5 titles for PS VR," who also indicated that Hitman 3's VR mode would only be playable via the PS4 version of the game. That mode will have to be played via backward compatibility on PS5, and will mean that even if you take advantage of the free PS5 upgrade, you'll need to keep the PS4 version installed as well for VR. You'll obviously also want the PS5 version installed to get the fancier graphics when playing on your standard TV.
Source: Twitter
---
Sandbox games are so common nowadays that we don't bat an eyelid at the idea anymore. Open, explorable worlds are de rigeur and there seems to be an unending supply of such titles in the pipeline. Supraland takes the concept totally literally, however, as its world is an actual sandbox in a child's garden, and its cast of stick people are toys placed within.
Originally released on PC in 2018, Supraland has become a cult title and now it finally makes the trip to consoles. Having played the original release, it was nice to see how many refinements and quality of life improvements have been added for this definitive version (the PC one having been updated along the way). The end result is a joyous, silly, and surprisingly brain-teasing puzzle adventure that is far more sophisticated than its cartoon aesthetic might suggest.
You play as a nameless red stickman, but quickly discover that you are the son of the King of the reds, and must set out on a quest to discover why your village's water supply is running out. Along the way, you'll need to pick up new powers, take on fiendish puzzles and foil the plans of the opposing blues. This isn't a terribly inventive story, but the setting and family friendly aesthetic makes it feel fresh.
At first, the game looks like it'll be a one-trick pony, as you must find coins to purchase basic abilities like double jump but this silly satire of the monetization of gaming swiftly blossoms into a unique fusion of Metroid, Zelda, and Portal. These are lofty influences indeed, and it may well surprise you to read that Supraland more than matches them, combining their various approaches to produce an adventure that will have you smiling throughout – apart from when you're tearing your hair out over a puzzle, that is.
While the character models are deliberately basic, Supraland is a beautiful game. The vistas and skybox are in sharp contrast with the childlike stick people, and everything has a vibrancy that just adds to the sense of joy and wonder. Despite sounding like a limited setting, the sandbox has a wide variety of areas that take in the traditional gaming zones of lava, ice, desert etc. When you add in the ridiculously catchy German language theme tune, Warum Warum, you have a game that is clearly designed to be fun.
Navigating the world of Supraland requires you to make full use of the unlockable abilities you'll find along the way. At first this involves predictable skills like a double jump and a ranged weapon, but soon you'll be zipping along with a triple jump, Portal-like cube and a grappling gun. Each one is a mechanic that a lesser game could build itself around, but here the end result is some fiendish combination puzzles where you will have to use everything in your arsenal to progress. The lengthy period spent as a PC exclusive has allowed these puzzles to be fine tuned and appropriate hints to be added, as the developers have really listened to the players.
Many of these puzzles are difficult to sum up or describe, but as an example, you may need to find a way to change the colour of a key card to open up specific doors, then immediately have to use your multi-purpose gun to shoot a Supraball through a series of hoops, and then rush across some platforms whilst being attacked by hordes of skeletons. The use of colour for puzzles is brilliantly conceived – sadly a lack of colourblind options could become an issue late in the game for those affected – and really makes you think about what you have to hand or lying around the immediate area. The final boss in particular is a real headscratcher that forces you to use everything that you have learned (although it does have an unnecessarily scatological tone).
As you might expected from a title that is so clearly immersed in video game culture, there are a huge number of Easter Eggs and references to find, although some of these are a little long in the tooth. A Breaking Bad character model and accompanying meth lab betrays the fact that this isn't a 2020 game but, then again, who wants to think about 2020 anyway? Scattered around the world you'll find fallen adventurers with accessories from geeky properties ranging from He-Man to Fallout. There is even a whole section that revolves around locating and using a pickaxe for a stickman in Minecraft Steve cosplay. Much of this humour is of the 'do you recognise this?' variety, but it never feels too intrusive and just adds to the overall silliness of things.
As well as exploring the game once more on PC, I played the game on my little Nintendo Switch Lite. While nowhere near as high in resolution or frame rate as on PC, it is still an impressive version and feels like it belongs on Nintendo's machine.
---
Black Panther, War Machine & Ultron appear in Marvel's Avengers leak – report
Marvel's Avengers dataminers have reportedly come up with loads of new information after digging around the game's latest build, revealing Black Panther, War Machine, Ultron, and more.
Dataminers "Miller" and "Iron Ninja Bat" have taken to Twitter to post their supposed findings, uploading text stripped from game files as well as artwork and assets.
Headlining these leaks is our first look at Black Panther as a playable hero in Marvel's Avengers. Developer Crystal Dynamics had intended to reveal the Wakandan warrior in a recent War Table livestream though ultimately decided against it due to the recent death of Chadwick Boseman who played Black Panther in the MCU movies.
Although we don't get to see him in action, the leaked artwork gives us a clear look at how Black Panther has been designed for Marvel's Avengers. His suit is more armour-like and clunkier than other iterations of the character though it's worth noting that all playable characters have access to multiple skins.
War Machine, or "that other Iron Man", can also be seen with his shoulder mounted cannon.
This video posted by Miller lists everything discovered in the latest Avengers build. It's all presented in one huge dump, most of it being in-game text and UI icons. Sifting through this mass of information we can see more items, missions, cosmetics, and characters appearing with a reference to Marvel supervillain, Ultron.
Of course, none of this has been confirmed by Square Enix or Crystal Dynamics who have yet to address the leak.
Fans are still waiting for confirmation as to when they can expect Kate Bishop and Hawkeye to arrive in-game as playable characters. The Kate Bishop content was originally meant to launch in October but has now been pushed though is still coming in 2020 according to Crystal Dynamics. Those waiting on next-gen upgrades for Marvel's Avengers on PS5 and Xbox Series X|S will have to wait until next year, the studio also confirmed.
Source: Twitter (Miller), Twitter (Iron Ninja Bat), Streamable
---
Interview: Mizuki Hosoyamada on Puyo Puyo Tetris 2
Tetris is by far one of the most recognisable games of all time. Less known has been Puyo Puyo, which went through various localised changes earlier on, from Dr. Robotnik's Mean Bean Machine to the time it was rebranded as Puyo Pop.
But after receiving its belated international breakout in 2017, the surprise crossover Puyo Puyo Tetris is back with a sequel that's not only receiving a worldwide simultaneous release but also across console generations this December (with the PC version to follow in 2021). Puyo Puyo Tertis 2 brings a brand new charming RPG-style campaign that introduces newcomers to its puzzle mechanics and also includes a brand new party-style Skill Battle mode.
Ahead of its release, we had the opportunity to ask questions to Puyo Puyo Tetris 2's producer Mizuki Hosoyamada. Having started at Sega on Sonic Team since 2002 with Billy Hatcher and the Giant Egg, he's also worked extensively on every subsequent Puyo Puyo title and is now the executive/general producer of the Puyo Puyo series.
---
TSA: What made you decide to make a sequel to Puyo Puyo Tetris instead of another purely Puyo Puyo title?
Mizuki: The previous iteration of the game was sold in Japan in 2014 and in the West in 2017. Since it's been quite some time since then, with many new features made possible on next gen consoles like the PlayStation 5 and Xbox Series X, we decided it was time to create an all-new Puyo Puyo Tetris experience for both our core and new fans across platforms, including next-gen. For the Puyo Puyo series, we released Puyo Puyo Chronicles [for 3DS] in 2016 in Japan only and Puyo Puyo eSports in 2018 [released internationally as Puyo Puyo Champions in 2019). Since the Puyo Puyo series and Puyo Puyo Tetris have been slowly selling titles after their release, this was the optimal timing to release the sequel for Puyo Puyo Tetris.
TSA: How well has the Puyo Puyo series done internationally since Puyo Puyo Tetris? Was that a factor into why Puyo Puyo Tetris 2 is getting a simultaneous worldwide release – and even a couple days before Japan?
Mizuki: The response to Puyo Puyo Tetris has exceeded our expectations and we've received many requests for the Puyo Puyo series to be released in the West. The characters and storyline of the Puyo Puyo series have been very well received, so when we announced Puyo Puyo Tetris 2, we were met with quite a bit of positive feedback. When we held an event overseas, we received requests from fans to release Puyo Puyo Tetris 2 at the same time across the world instead of in Japan first, so we decided to release it almost simultaneously. It looks like the date is earlier in the West than in Japan, but when you take into account the time difference, it's pretty close to being simultaneous.
TSA: Newcomers to the game might just stick to what they know. Is it possible to just play Tetris or just Puyo, or does Adventure mode help ease players into each of the mode's strengths?
Mizuki: You are able to play just Tetris or just Puyo Puyo. There are time attack and score attack online rankings available for 40 Lines and Endless Puyo Puyo this time around as well.
Playing Adventure Mode allows you to enjoy each of them, but there are also many Puyo Puyo fans who fell in love with Tetris and Tetris fans who fell in love with Puyo Puyo in the previous Puyo Puyo Tetris game by playing the Adventure Mode, so we wanted to get the fans to be mutually excited about the action puzzle together. As a result, I think it has helped players to understand both games better.
TSA: Puyo Puyo Tetris came with a pretty robust lessons mode, but are there any plans to introduce the even more high-level expert set-ups in each mode (e.g. GTR)? Most of these are known among the community but I can also imagine will go over the head of newcomers who can't comprehend what tactics their opponent pulled off.
Mizuki: When you play the lesson mode, we think of it as an introduction to the basics as well as a chance for beginners to level up to an intermediate level. As for the higher levels, you'll eventually need to get used to the shapes and patterns to know how to build the foundations, but beyond that you'll need to understand the basics of stair stacking, key stacking, and folding to build up a large chain, so we're focusing on that part of the game.
I believe that watching videos of other people playing is the best way to improve. I also believe there's something you can learn by figuring it out on your own rather than through teaching. There are many other techniques, such as quick attacks and crushing, but we avoid content that is too hard for beginners to learn.
TSA: What was the inspiration behind Skill Battles?
Mizuki: Puyo Puyo Chronicle, released in 2016 on the Nintendo 3DS in Japan and parts of Asia only, uses "skill battles" while Tetris Battle Gaiden, released on the Super Famicom in 1993, had some "special move" features. Using skills in a puzzle game was inspired in part by the past Puyo Puyo and Tetris series titles. With the "Skill Battle" rules we've created a new mode, but for some people this is the first time they've played Puyo Puyo or Tetris, so even newcomers can enjoy it. If you are already familiar with these older games, we hope you'll feel a little nostalgic when playing this new rule set.
TSA: If characters have different skills, is there a danger some players will be forced to pass over their favourites in favour of another character with a more desired skill?
Mizuki: For Skill Battle you can choose three characters, so we hope you'll add other characters to your team in addition to your favourite and use their skills.
TSA: Are modes from the first Puyo Puyo Tetris (i.e. Swap and Fusion) also making a return and are they part of the ranked modes?
Mizuki: They are included, and you can play online ranked matches in the 'Puzzle League'.
TSA: Free play mode is the casual mode but is that still lobby based with friends or can you match up with anyone?
Mizuki: Some specs may vary depending on the console you're playing on, but the Free Play mode allows you to create rooms and play against other players without changing your rating or tier, or you can join rooms that have already been created.
(In the PlayStation 4 version, selecting a room tag or number of players will move you to the room screen; in the PlayStation 5 version, the game will automatically match up your opponents and move you to the room screen.)
TSA: I think the community has found that advanced Tetris players have a huge advantage over Puyo players. Has there been a way to address this imbalance in the sequel?
Mizuki: We think it's difficult to perfect the balance of Puyo Puyo vs. Tetris and it will likely be something that we'll pursue forever. We are constantly working on the balance of the existing rules, but we are also making adjustments to the new rules, so be sure to check them out.
TSA: Puyo Puyo has a history of its characters' audio corresponding to your chain power, which later included visuals. What is the thought process behind Puyo Puyo Tetris' battle animations?
Mizuki: I'm sure you're very familiar with the original Puyo Puyo series which, along with the evolution of the consoles (being able to play voices, higher resolution visuals, etc.), allowed for the inclusion of chain voices and cut-ins with character animations. In the previous title, Puyo Puyo Tetris, the voices were displayed at the bottom of the field in order to meet the demand for Puyo Puyo and Tetris, but some people felt that the presentation was bland. In Puyo Puyo Champions the presentation was flashy, but in Puyo Puyo Tetris 2, we added even more flair to the game. There are many extravagant features that won't affect the progress of the game so that fans and spectators alike can enjoy it.
TSA: The number 24 has a lot of significance in Puyo Puyo and I noticed that in past games that has also meant a limit of 24 characters in the roster. With Puyo Puyo Tetris 2 breaking this limit with 28 characters at launch, is this the start of future Puyo games having bigger rosters with both new and returning characters, perhaps crossovers from other SEGA IP?
Mizuki: I'd like to release as many characters as possible, but there's a lot of work that goes into creating each one, so I've been narrowing it down and making it into a '24' character series. However, this time we're going to push it a bit further and release 28 characters. In the past, we've added some extra characters beyond the 24 characters, but I hope you'll look forward to them.
TSA: Japan already has very established national Puyo Puyo tournaments, but internationally these exist on a much smaller community-run scale (such as the efforts of Puyo GB in the UK). The current pandemic has obviously impacted on a lot of plans at the moment but do Sega have plans on establishing or supporting official Puyo Puyo tournaments on an international scale?
Mizuki: We have been running events and tournaments in Japan for Puyo Puyo Champions, and we will also be running a national online tournament. We're working to make it easier for fans to organize tournaments and other events. We've also previously supported Puyo Puyo Tetris at AnimEVO in Las Vegas and Stunfest in France with staff from Sega of America and Sega Europe. We have no plans for Puyo Puyo Tetris 2 at this time, but we would love to have you join these events and competitions.
TSA: Given the surprise of Tetris 99, were there any plans on making something similar with Puyo Puyo, e.g. Puyo Puyo 99?
Mizuki: We had planned this a long time ago but gave it up for various reasons. We don't currently have any plans, but we're always thinking about multiplayer gameplay.
---
Puyo Puyo Tetris 2 will launch worldwide on December 8th, 2020 for PlayStation 4, PlayStation 5, Xbox One, Xbox Series X|S, and Nintendo Switch, followed by a PC release in 2021. We'd like to thank Mizuki Hosoyamada for taking the time to answer our Puyo Puyo Tetris 2 questions.
---
Fortnite day one PS5 and Xbox Series X|S improvements revealed, includes haptic feedback on PlayStation 5
Epic Game's Fortnite will be going next gen on day one of the console releases, so that's November 10th for Xbox and November 12th or November 19th for PlayStation depending on your territory. All progression and cosmetics will carry over to the new platforms and all Fortnite players on any platform will get a Throwback Axe Pickaxe.
Here are those spicy net gen improvements!
Fortnite on Xbox Series X|S
4K Resolution at 60 FPS on Series X — Experience Fortnite on Xbox like never before on Xbox Series X with stunning 4K running at a smooth 60 FPS.

Dynamic Visuals and Physics on Series X — Experience a more dynamic and interactive world with grass and trees responding to explosions, enhanced fluid simulations for smoke and liquid (cooler-looking smoke and liquid effects), and all-new Storm and cloud effects.

1080P Resolution at 60 FPS on Series S — Hop into any game mode on Xbox Series S and enjoy 1080P running at a smooth 60 FPS. The Xbox Series S will support most of the visual enhancements available on the Series X.

Get into Matches Faster — Loading performance has been significantly upgraded, not only improving texture loading but also helping you get into a match from game start-up much faster.

Enhanced Split Screen — On Xbox Series X|S, Split Screen now supports 60 FPS.
Fortnite on PlayStation 5
4K Resolution at 60 FPS — Experience Fortnite on PlayStation like never before on PlayStation5 with stunning 4K running at a smooth 60 FPS.

Dynamic Visuals and Physics — Experience a more dynamic and interactive world with grass and trees responding to explosions, enhanced fluid simulations for smoke and liquid (cooler-looking smoke and liquid effects), and all-new Storm and cloud effects.

DualSense Controller Immersion — Haptic feedback makes it feel like you're holding the Suppressed SMG or Bolt-Action Sniper Rifle. In addition to general vibration support, we've integrated haptic trigger feedback for ranged weapons on the new DualSense controller.

Select Your Favorite Mode from the PS5 Home Screen — Fortnite supports PS5's Activities, starting with the ability to go straight into the Battle Royale Lobby with either Solo, Duos, or Squads selected. Once in the Lobby, choose to queue up for your selected mode!

Get into Matches Faster — Loading performance has been significantly upgraded, not only improving texture loading but also helping you get into a match from game start-up much faster.

Enhanced Split Screen — On PS5, Split Screen now supports 60 FPS.
Epic say this is just the start of next-gen improvements and "we look forward to exploring new ways to maximize the potential of both".
Source: Press release
---
Loud, brash and in yer face, DIRT 5 is the automotive gaming equivalent of a night out in Newcastle. Everything about it is attention-grabbing, from the magenta menus to the youthful soundtrack and explosive racing action. It's a melting pot of vehicular arcade fun, mixing elements from games such as DiRT 3, Motorstorm and GRID – yet somehow feels more than the sum of its parts.
Before you get carried away with nostalgia for the aforementioned titles, let's quickly go through what Dirt 5 actually is. For the most part you race around circuits made from either dirt or ice, and you do so in multiple different classes of off-road racing vehicles.
These races will make up around 70 percent of your time in Dirt 5, but there are also Rally Raid events – these are point to point races as opposed to circuits – Path Finder events where the aim is to traverse rocky terrain analogous to Overpass and there's also Gymkhana which sees you skidding around in a time limit like an episode of Netflix's Hyperdrive. Or a Tesco car park on a Friday night.
Event types with the names Stampeded, Land Rush, Ice Breaker and Ultra Cross are all variations on the same regular race. Some use longer tracks. Some tracks are on ice instead of gravel. But they are all races. I'm not really sure why they have different names, other than to create faux variety.
The career is where you'll spend the bulk of your time. A concoction of the aforementioned events, it taps into the wonderfully varied car list – including the Aston Martin DBX, an electric VW ID. Buggy, a Ford F-150 Raptor pick up truck and the classic 90s Subaru Impreza rally car. The aim is to finish first, earn cash, level up XP level, all helping to unlock more events.
While it's possible to blast your way to the end of the career mode in around four hours, completionists will want to finish every event and it's in doing this that the rebranding of races really starts to hit home. Some time trial events or rallycross with a joker lap wouldn't go amiss. Neither would be making use of Smash Attack events that can be found in the Playgrounds mode.
While you are progressing through each stage, the folks from the popular podcast and YouTube channel Donut Media talk you through a storyline filled with witticisms. While voice talent includes Nolan North, your rivals are too shallow and after a while, I found it difficult to care.
So the story is throwaway and some of the modes repetitive, but the venues themselves are detailed, varied and luscious. They are alive with dynamic weather, big jumps, tight hairpins, and yet there's also enough space to rub body panels without ending up in a pileup. Tie this together with the pumping tunes, fireworks and a day/night cycle, and you feel like you are racing around a music festival.
This leads us to how the cars behave. In a word, they're accessible. You can chuck a car in broadside on the handbrake into a tight corner and power around it with ease. The natural balance is on the safe side with mild understeer, but that's nothing a little provocation can't rectify.
You're never on the edge, everything is very predictable and using a controller the way forward. A steering wheel peripheral is superfluous for Dirt 5. Which is fine, because what this game is trying to be is very clear. It's bombastic fun on four wheels without the paraphernalia or egos required for esports.
In extreme moments, however, there is a strange sensation of the car trying to self correct a slide, like you have an elastic band in place of the steering wheel. In the Gymkhana events, where one way of scoring points is by driving quickly through tight gaps, there isn't enough precision in the handling model. Sometimes you find yourself weaving from one side to another.
Away from driving, you can now build your own arena-based levels in Playgrounds mode. At first, it can be a little tricky to get your head around the space limitations and slightly clunky creation tools (on a console at least). I created a couple of levels and was pretty happy with myself. Uploading your creations to the world feels great… until you download and play a level created by someone else and you realise your creativity has laughable limits! The trick seems to be build upwards, and then there are some incredible results.
I think it will remain a fun aside that you may try once or twice, but I'm simply not sure how much longevity there will really be on offer. There isn't enough incentive for you to continue playing the user-generated content after the initial experiment. It would be nice if playing these levels would help further towards some kind of goal.
However, what will help to elongate the experience is multiplayer. Offline, you have split-screen events making a return to the series, and there are also online races and party modes. You can 'squad-up' with other people to join public events, but a big omission is a lack of private lobbies at launch, something Codemasters seems to be making a habit of. Sadly, during our review period, we were not able to find another online match to test this out.
Note: This is a review in progress until we can check out Dirt 5's online multiplayer, either in the run up to or immediately following its 6th November release. We will update this review in progress with a score at that time.
---
PS5 trophies for Sackboy: A Big Adventure revealed
If you wanted to do some homework on the PS5's launch line-up ahead of the console's November 19th release date (here in the UK, that is) then you're in luck. Trophy hunters have been given a glimpse at the full list of PS5 trophies available for Sackboy: A Big Adventure. Even if you aren't interested in chasing the game's glut of virtual silverware you can still glean some new details about the upcoming PlayStation exclusive.
Sackboy: A Big Adventure rocks a full trophy list with 46 available unlocks, including the platinum. Many of these trophies are linked to clearing stages with a high score and collecting items along with some story-specific ones and those tied to the game's multiplayer.
Much like LittleBigPlanet, Sackboy: A Big Adventure will give you plenty of options when it comes to dressing up the PlayStation mascot. The trophy list below confirms that there are at 300 different costume parts.
Other games in Sony's line-up include Spider-Man: Miles Morales (which we'll have a review for later this week), as well as the Demon's Souls remake from Bluepoint Games. Destruction AllStars was also planned but has since been pulled. The game will now launch for free next year via PlayStation Plus.
Sackboy: A Big Adventure PS5 Trophy List
| | | |
| --- | --- | --- |
| Trophy Name | Description | Rarity |
| Big Adventurer | Even Scarlet didn't get all the trophies, you're truly a Knitted Knight of legend. | Platinum |
| You've got potential, squire! | Faced off against the Master of the Uproar on the Soaring Summit. | Bronze |
| Metameric Malady | Cleared the Colossal Canopy of its pest problem. | Bronze |
| Sonar So Good | Defeated the Bringer of Nightmares at the bottom of the ocean. | Bronze |
| Crash Override | Cleaned up N.A.O.M.I's code. | Bronze |
| Vex Vanquisher! | Triumphed over the vile Vex at the very center of Craftworld. | Bronze |
| Verified Vex Vanquisher! | Defeated Vex, destroyed the Topsy Turver and saved Craftworld! | Silver |
| Daydream Believer | Pushed back the Uproar for the first time. | Bronze |
| Book of Dreams | Collect all the stickers in a single World. | Bronze |
| Squired Up | Discover the Trials of the Knitted Knights. | Bronze |
| Out of bounds | Pick up and throw 30 of Vex's minions to their doom. | Bronze |
| Pop 'n' Lobber | Defeat 30 of Vex's minions from a distance. | Bronze |
| Multitasking | Defeat multiple minions simultaneously 10 times. | Bronze |
| Bounder | Defeat 30 of Vex's minions by bouncing on them. | Bronze |
| Stunner | Stun 30 of Vex's minions. | Bronze |
| Fashionista! | Complete your first Costume. | Bronze |
| Re-Mix-Master | Earn a Gold rank in any Remix level. | Bronze |
| Knights of Gold | Earn a Gold rank in any Knitted Knight Trial. | Bronze |
| Cut it out! | Complete Highs and Glows… without throwing the Whirltool. | Bronze |
| Slide Away | Over the course of your adventure, collect 3000 points while sliding. | Bronze |
| Bubble Binger | Collect a full chain of Timed Score Bubbles 30 times. | Bronze |
| Gymnastic Fantastic | While in the air, perform four actions before touching the ground. | Bronze |
| BEE! ARGH! BEE! | Pick up, and hold on to, a Boomblebee Hive for 60 seconds. | Bronze |
| Buddy Beater | In multiplayer, get the top score on the scoreboard 20 times. | Bronze |
| Thespian | Create your own custom Emote in Zom Zom's shop then show the world. | Bronze |
| Icon of Style | Save a custom-made costume to your Wardrobe. | Bronze |
| Let's twist again… | In multiplayer, start a dance party with your friends. | Bronze |
| Up high! | In multiplayer, high five with a friend. | Bronze |
| Sore Winner | In multiplayer, clobber one of your chums as the champ. | Bronze |
| Stop! Thief! | In multiplayer, snatch an item from the clutches of another player. | Bronze |
| Slap Attack | Simultaneously slapped each other. | Bronze |
| Beast of burden | In multiplayer, get gold in any Knitted Knight Trial while carrying another Sackperson. | Bronze |
| Fun Multiplied | In multiplayer, complete a Teamwork Level. | Bronze |
| Capitalist | In multiplayer, snag the most Collectabells in a level 20 times. | Bronze |
| Savior | In multiplayer, save your fallen friends from certain doom! | Silver |
| Naturalist | Find all of Gerald's secret spots. | Silver |
| Player's Player | Find and pick up every fish, paintbrush and cocktail umbrella on your journey. | Silver |
| Amazing Ace | Ace 30 levels by completing them without dying. | Silver |
| Best Friends | In multiplayer mode, earn 10 Ace level goals. | Silver |
| Walk-in Wardrobe | Fill your wardrobe with 300 costume pieces. | Silver |
| Master of One | Get a golden level badge by completing all the Level Goals for a single level. | Silver |
| Multi-Master | Achieve all the level goals for 10 different levels. | Silver |
| Best Friends Forever | Teamed up to take down the Topsy Turver. | Silver |
| Wonderplan Workout | Mop up those last messy bits of Uproar that are lurking about. | Gold |
| Golden Boy | Earn Gold on the scoreboard in 50 different levels! | Gold |
| String it Together | Get a Gold on the Wonderplane's ultimate challenge! | Gold |
Source: TrueTrophies
---
A battle royale set in the Vampire: The Masquerade universe has been announced for 2021
Sharkmob have announced a new battle royale game that will be based in the Vampire: The Masquerade universe with a release date sometime in 2021. A CGI trailer has been released to give you and idea of the concept.
Here's more from Sharkmob.
Experience the next thrilling evolution of Battle Royale multiplayer action games set in the cult classic Vampire: The Masquerade universe where vampire sects are at war across the streets and rooftops of Prague.
Choose your playstyle, go solo or together, battling rivals and the hostile Entity who's hellbent on exterminating all vampires. Use your supernatural powers, weapons and blood to become stronger in order to hunt, fight and survive the night.
Back in July Nacon and Big Bad Wolf Studio unveiled a narrative setting cinematic trailer for their upcoming World of Darkness game Vampire: The Masquerade – Swansong. The game is coming to PS5, Xbox Series X, PS4, Xbox One, Switch and PC in 2021.
Announced at PDXCON last year, the game is set in Boston with the vampire clan the Camarilla attacked in an attempt to upset the balance of the world. The game will lean more heavily into the tabletop role playing game for its gameplay, with in depth character stat sheets that you customise from the ground up. The game will give you not one character, but three characters to play as, each from different vampire clans looking to investigate the attack.
Vampire: The Masquerade – Bloodlines 2 is also on the way and will be released in 2021, you can read our preview from way back in 2019 here.
We've been introduced to the various clans, such as the Malkavians, Brujah, Tremere, and have also had a look at some gameplay which you can watch in the video below.
UPDATE: This story originally stated Paradox were publishing the game, this is incorrect and we have removed that line.
Source: Sharkmob
---
Whether through movies and TV shows such as Stranger Things or the regressive Reagan tribute act of the current US administration, the 1980s have never been more fashionable. Generations who were not even alive during the decade are now obsessed with the music, clothes, TV, and games of the time.
This obsession is often a faux nostalgia, viewed through rose-tinted spectacles, and largely ignorant of the worst aspects of what was a tumultuous period. Commander '85 is not entirely free of this sense of happy nostalgia, but does go further than many in examining how closely the world flirted with Armageddon. All of this is a long way from the innocent birthday party shown in the game's free prologue episode.
Commander '85's premise is ambitious. The game's description promises to offer an 'advanced system of interaction with the computer's artificial intelligence', and to allow you to 'immerse yourself in the life of Polish immigrants in 1980's America, learning more about their culture and problems'. Both of these aspects sound fascinating, but the reality is far less exciting.
Communicating with the computer is BASIC in the most literal sense of the early computer language. This is obviously period specific, but it's a far cry from an advanced system of interaction. Fortunately a working knowledge of BASIC isn't required in the game itself as a handy Help system turns things into something more closely resembling the UI of a point and click adventure, albeit still working through the conceit of a keyboard and monitor in-game.
You play as a teenage boy from the aforementioned Polish immigrant family who has received an amazing 'super modern computer' – the Commander '85. The game's intro video hints at the mysterious origins of this device in military experimentation rather than consumer electronics and it is this purpose that swiftly comes to the fore.
After a simple introduction to the system's mechanics, your Commander is infected with a sinister virus that threatens to hack into the nuclear defence systems and unleash Armageddon in order to eradicate the stain of humanity from the Earth. Things certainly escalate quickly here! Your first task is to delay the progress of the virus and find out how to reboot the Commander safely. While this sounds like an exciting and pressure-filled scenario, it turns out that filling the computer's RAM with games and programs is enough to delay the virus. Staying in your room and playing a Frogger clone is actually enough to save the world.
There are several familiar 80's game types to be played through your Commander, with Turttler and Breakout being the most enjoyable. Your system can even be set up to play online multiplayer with your friends – a less than accurate view of the time. In a nice touch, though, this online functionality requires you to manually place the landline receiver on the modem, but the threat of the virus is undermined by the fact that you could just take the phone off the hook or unplug the machine itself. If you leave the desk to sleep or carry out chores (none of which are shown) then the phone is inexplicably replaced on the modem. It's a plot contrivance that makes little sense in the game's world.
Eventually you will either manage to stop the virus or witness one of the game's three endings in which you are awoken by a nuclear explosion. So far, so 80s. In my first playthroughs there was almost no guidance as to what you are supposed to do, so I swiftly saw the world come to an end, but a patch added in more hints and tips to nudge you toward other endings. so other results were made available. It is unfortunate that the developers have gone from one extreme to another as the hints are available through a 'TOP SECRET' pamphlet attached to your in-game monitor. This approach completely shatters the attempts at immersion, even if it does help you to progress.
The gaming loop is fairly monotonous as you type in a repetitive series of commands to run programs and hack into other systems. While a more realistic portrayal of the nature of early hacking than overly glamorous films like Hackers or the most obvious influence, Wargames, this doesn't make for thrilling gameplay. Even when you are in the flow of hacking and investigating you have to take breaks to carry out chores for your mum – a single mother pregnant with your younger sister. If you don't keep her happy then she grounds you from using the Commander, a punishment that the computer inexplicably enforces, even when Armageddon is nigh.
It is also held back by bugs and glitches. I was frequently forced to reload as the game got stuck or progress didn't trigger. My most successful playthrough involved a glitch in which the virus just disappeared without me actually doing anything. This made playing an anxious experience for all the wrong reasons, and recent patches haven't really solved matters.
---
The PS5 unboxed, and hands on the DualSense & Astro's Playroom
Call it late, call it differently early, but having shared some words and thoughts on the PlayStation 5's bundled DualSense controller and Astro's Playroom, now we're doing it in video form. Not only that, but let's sprinkle some movie magic on extracting the PlayStation 5 from its box and showing just how big this totem of next-gen gaming is.
For more written thoughts on the DualSense controller and Astro's Playroom, make sure to check out our preview here, but if you just want to see as much Astro's Playroom as possible? Well we can help you out there as well.
---