---
Kotaku Wednesday, October 26, 2022 2:15 PM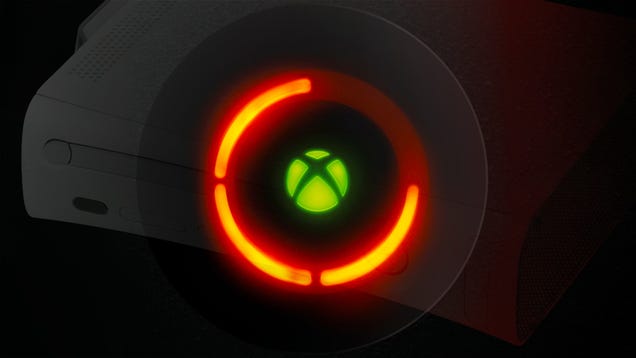 Hidden from the bustle of Jamaica Avenue, down a winding flight of stairs, the shop looked like a mausoleum, with stacks of busted PS2s, OG Xboxes, and GameCubes lining the walls. That small store in the Jamaica Colosseum Mall was the same place I'd once purchased Splinter Cell on PS2, Doom 3 for Xbox, and the Halo 2…
---
Kotaku Wednesday, October 26, 2022 2:00 PM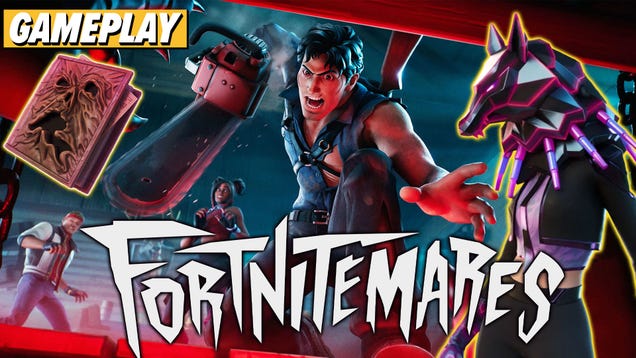 ---
Kotaku Wednesday, October 26, 2022 1:10 PM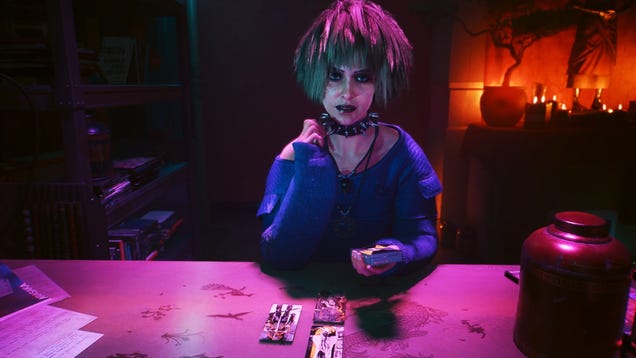 Cyberpunk 2077 introduces what at first appears to be a bog standard open world item collection quest in the form of scannable tarot card grafiti littered throughout the city. There isn't a whole lot of challenge in finding them as the map lays out every single location for you as soon as they appear.
---
Kotaku Wednesday, October 26, 2022 1:07 PM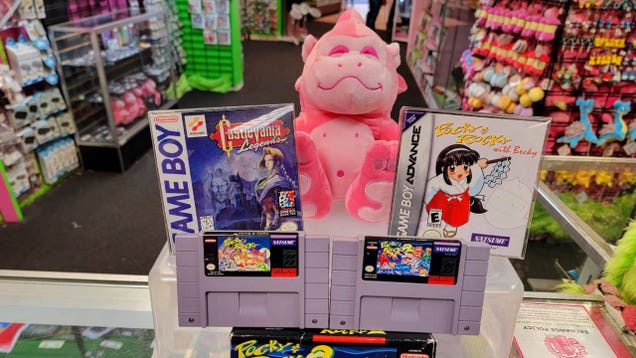 This Monday, a man with a gun robbed a popular video game store in Seattle, Washington. No one was hurt, though the store owner is worried that the thief might return. He is still currently at large.

---
Kotaku Wednesday, October 26, 2022 12:35 PM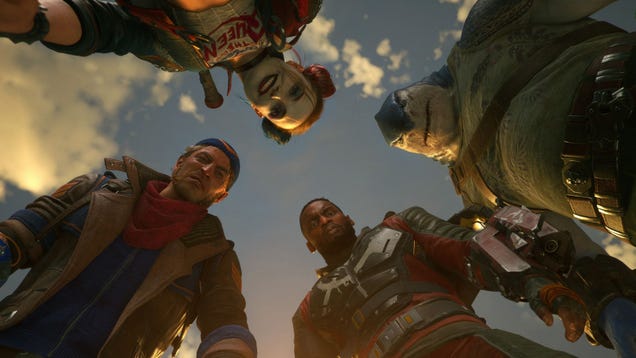 WB Games president David Haddad announced on Rocksteady's website today that the video game developer's co-founders, Sefton Hill and Jamie Walker, are leaving the studio at the end of 2022. Rocksteady, which created the Batman: Arkham series, is set to release its anticipated pseudo-spin-off, Suicide Squad: Kill the…
---
Kotaku Wednesday, October 26, 2022 12:01 PM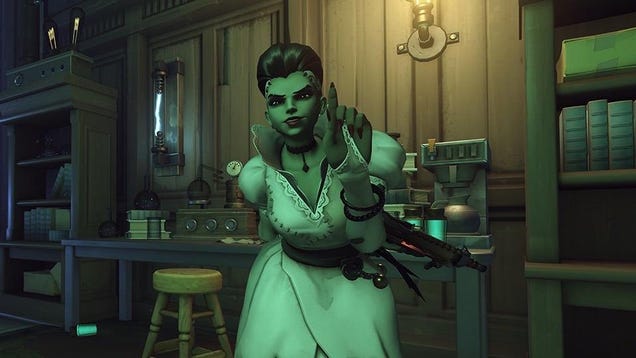 On October 25 through November 8, Overwatch 2 celebrates its first seasonal event since its debut earlier this month: The 2022 edition of its yearly weeks-long Halloween Terror extravaganza. Like past years, Halloween Terror will honor the holiday with new skins and a Junkenstein's Revenge themed co-op competition.…
---
Kotaku Wednesday, October 26, 2022 11:50 AM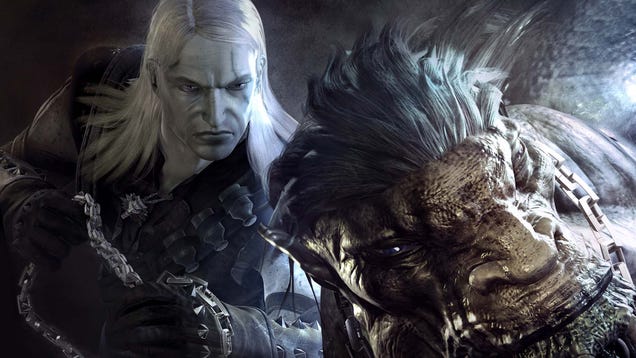 Today, CD Projekt Red has announced that a remake of 2007's original Witcher is in development. The project is being handled by Polish studio Fool's Theory and is being built from the ground up in Unreal Engine 5 using the same tools CDPR is creating for its own future Witcher games.
---
Kotaku Wednesday, October 26, 2022 10:50 AM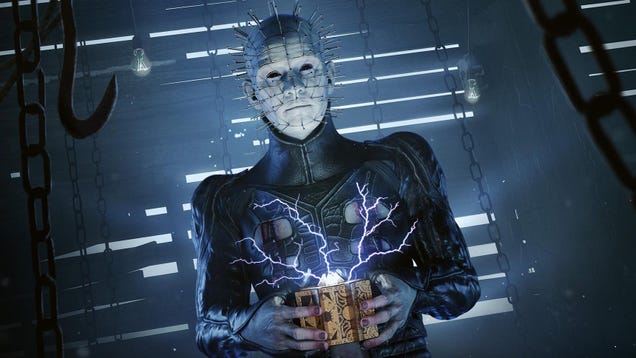 There are plenty of great horror games on PlayStation, and a bunch of them can be played for free if you're already a paid PS Plus subscriber at the Extra tier or above. Ever since Sony expanded the program to emulate Game Pass' Netflix-style library of downloadable and streaming games, fans of zombies, slasher…
---
Kotaku Wednesday, October 26, 2022 10:40 AM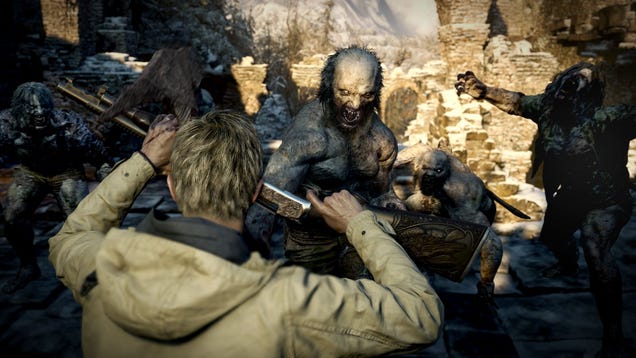 You likely haven't heard, but there's an arcane tradition around these parts where every October 31 we recognize All Hallow's Eve. It takes place the night before the international celebration of All Saints' Day, the festival in recognition of the '90s English girl-band. Known by some as "Halloween," the preceding…
---
Kotaku Wednesday, October 26, 2022 10:15 AM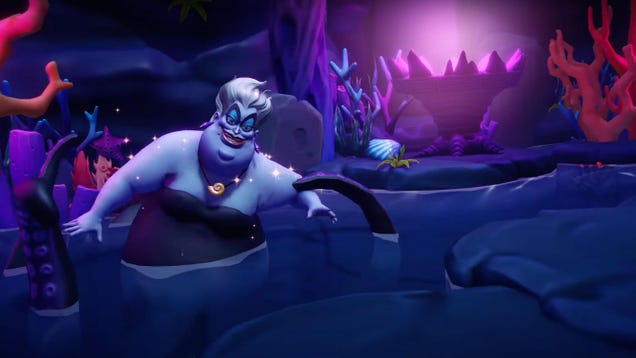 Disney's been on a naughty streak lately. Not long ago, there was the Western port of the Twisted Wonderland game, in which characters based on classic villains turn into pretty anime boys who fight each other. More recently, at the House of Mouse's big D23 fan event, Disney teased that it was starting to think about…
---
Kotaku Wednesday, October 26, 2022 9:45 AM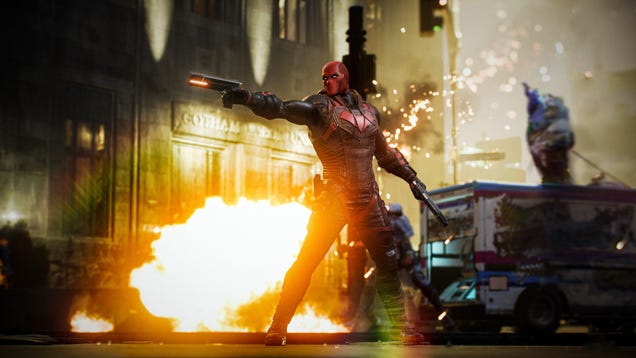 When you're first getting to grips with Gotham Knights, it can be a counterintuitive mix of familiar mechanics grafted onto a confusing hodgepodge of systems from other games. There's Arkham-inspired melee combat, a Destiny-style progression system, and RPG elements that might lure you into the false sense that you're…
---
PCGamesN Wednesday, October 26, 2022 3:46 PM
There's a new Total War: Warhammer 3 hotfix out that addresses a pair of pretty gnarly bugs in the fantasy strategy game. One of the bugs accidentally granted units immortality on the battlefield, while the other prevented Immortal Empires from launching under certain conditions. Hotfix 2.2.1 addresses them both.
Total War: Warhammer 3 DLC
,
Total War: Warhammer 3 races
,
Total War: Warhammer 3 review
---
PCGamesN Wednesday, October 26, 2022 2:37 PM
BioWare says its hotly anticipated forthcoming RPG game Dragon Age 4 is now playable from start to finish. The Dragon Age: Dreadwolf alpha milestone was announced in a game update posted by general manager Gary McKay on EA's official site, and it says it means production can now turn to working on visuals, pacing, and the elements "that matter most to our fans."
Dragon games
,
Dragon Age 4 characters
,
DND games
---
PCGamesN Wednesday, October 26, 2022 1:44 PM
The Victoria 3 construction and building system is at the core of Paradox's latest grand strategy game. With its heavy focus on industrialisation and expansion, any Victoria 3 campaign is going to involve a lot of building. First though, you need to know the basics on how to use that system to get your soon-to-be thriving economy off on the right foot. Understanding how the Victoria 3 trade mechanics work is also imperative.
Unlike many other strategy games, in Victoria 3, it's best to think of things in terms of throughput rather than paying X amount for Y structure. The most important budget figure is your weekly surplus or deficit, and any building you queue up will have a cost over time that impacts that number. Throughput determines how your production buildings run, and it's also the way your construction capacity is worked out.
Victoria 3 release date
,
The best grand strategy games on PC
,
The best strategy games on PC
---
PCGamesN Wednesday, October 26, 2022 1:33 PM
The best teams to manage in Football Manager 2023 is a subjective topic because there are hundreds, if not thousands, of clubs to choose from in the football game. Add custom databases and that number increases even further. However, defining the "best" is important right from kick-off, because on paper, the best teams in FM23 are PSG, Real Madrid, and Manchester City. They have the best players, the biggest budgets, and the most pull in the transfer market.
While playing as these global superstars in the management game can be fun for a while, our list of the best teams to manage in FM23 tackle the most interesting clubs, the ones with a bit of history behind them and a story to tell. After all, would you rather smash out a win on a cold Tuesday night in Stoke with Erling Haaland, or a free agent you signed from nowhere to help you climb to the top of world football? If you're looking for a challenge, we've put together some of the best teams to manage in FM23 for those that want something a little different.
---
PCGamesN Wednesday, October 26, 2022 1:03 PM
Want to know about The Witcher 4 release date? CD Projekt RED initially confirmed the existence of a new game in The Witcher series via a press release in March 2022. Since then, we've received confirmation that the upcoming title is the first instalment in a new trilogy, though it remains unclear whether it will follow the characters and events of the previous open world games. While it's safe to assume this new entry to the series won't be called The Witcher 4, we're going to call it that for now, for lack of a better, more official term. The closest we have to a title at the moment is its internal codename: Polaris.
Alongside Polaris, we can also expect two other titles set in The Witcher universe, although these are spin-off titles rather than the subsequent games in the new trilogy. The first is codenamed Canis Majoris, while the other is codenamed Sirius. Read on to find out everything we currently know about The Witcher 4, as well as the upcoming games set to expand The Witcher universe.
The Witcher 4 release date
,
The Witcher 4 news
---
PCGamesN Wednesday, October 26, 2022 12:50 PM
Want to know when The Witcher Remake release date is? Given that this remake of the classic PC RPG game has only recently been announced, it's far too early to tell when exactly you will be able to play it. However, some of you may want to know more about the ambitious remake of the first Witcher adventure and if it's the best place to hop into the series.
While the original was made by CD Projekt Red using BioWare's Aurora Engine, The Witcher Remake is instead "being rebuilt from the ground up in Unreal Engine 5" by Fool's Theory. The Polish development studio is also aiding Larian with 'gameplay and tools programming support' for Baldur's Gate 3 and previously assisted People Can Fly with 'level design, meshing, and program support' for Outriders. Several veteran staff who helped make The Witcher will be part of this project, and CD Projekt Red is providing 'full creative supervision'.
The Witcher is still hugely atmospheric
,
The making of The Witcher
---
PCGamesN Wednesday, October 26, 2022 12:43 PM
A gaming PC enthusiast has made a dinky custom rig out of wood, featuring just enough space for the hardware inside it. As impressively compact as the build is, you can imagine it would look even more wee when put next to an Nvidia RTX 4090 graphics card.
Best SSD for gaming
,
How to build a gaming PC
,
Best gaming CPU
---
PCGamesN Wednesday, October 26, 2022 12:47 PM
Looking for the best Bannerlord mods? Taleworlds' sandbox RPG is now out of early access, with fans of the sandbox game series and curious newcomers flocking to make their own impact on the world. Now, through the in-game Bannerlord modding tools, modders have wasted no time creating custom content or altering the game's code to make it fairer.
The best Bannerlord mods include those that enhance the graphics, adjust character outfits, add new items, and manipulate the surroundings. As the game is now officially out of early access, we're sure to see even more elaborate mods in the future.
Mount & Blade II: Bannerlord release
,
Mount & Blade II: Bannerlord battles
,
Mount & Blade II: Bannerlord PvP
---
PCGamesN Wednesday, October 26, 2022 12:39 PM
A Bungie community manager has weighed in on Destiny 2 PvP meta weapons Arbalest and Lorentz Driver to say they will not be disabled in activities such as Crucible and Trials of Osiris, despite player complaints that the guns are too powerful for PvP activities and are ruining the experience. These two weapons have been a point of contention within the Destiny 2 community as players have shared their frustration with the FPS game's current PvP meta.
Destiny 2 classes
,
Destiny 2 exotics
,
Destiny 2 builds
---
PCGamesN Wednesday, October 26, 2022 12:37 PM
As the spooky season draws near, Halloween-themed The Sims 4 builds are beginning to take shape. The community for the go-to life game has taken the opportunity to share some of their own creepy creations for the witching season, along with many of their favourite pieces of Sims 4 custom content to get in the mood and the best Sims 4 mods to help you get ready for All Hallows' Eve.
Best Sims 4 mods
,
Best Sims 4 sex mods
,
Play The Sims 4
---
PCGamesN Wednesday, October 26, 2022 12:30 PM
As a budget leaning graphics card, Intel Arc A770 and A750 performance isn't likely to win any awards, especially if you're thinking about playing older PC games that don't use the DirectX 12 API. Thankfully, a mod of sorts called 'DXVK' can help greatly improve frame rates on the Alchemist GPU, and could even benefit other pixel pushers too.
Arc Alchemist GPUs - everything we know
,
Raptor Lake CPUs - everything we know
,
Best gaming CPU
---
PCGamesN Wednesday, October 26, 2022 12:16 PM
A guide to the best Genshin Impact Nahida team comp if you manage to get this five-star Dendro character on the next Genshin Impact banner. Nahida can be built in a few different ways, either main DPS, support, or sub-DPS.
We've gone for a sub-DPS Nahida build to make the most of her elemental burst and elemental skill, providing buffs to the party based on Electro, Pyro, and Hydro being present, while also pairing Nahida with Cyno for the catalyze effect.
Genshin Impact codes
,
Genshin Impact character tier list
,
Genshin Impact leveling guide
---
PCGamesN Wednesday, October 26, 2022 12:03 PM
Equipping yourself with one of the best Modern Warfare 2 LMGs allows you to take enemies down in a flash in the multiplayer game. Featuring rapid fire rates, impressive damage output, and large magazines, these slow and heavy weapons require you to tame their strong recoil.
In their most basic form, LMGs have a magazine holding between 60 to 75 rounds, so you won't be bothered by reloading, and can simply unload those bullets into your opponent at speed. With their short-to-medium range and fast time to kill coming in most useful in smaller, more built up multiplayer maps like Farm 18 and Breenbergh Hotel, you'll definitely want to know which are the best Modern Warfare 2 LMGs to equip.
The best Modern Warfare 2 guns
,
Call of Duty: Modern Warfare 2 release date
,
Modern Warfare 2 Gunsmith
---
PCGamesN Wednesday, October 26, 2022 12:00 PM
A recent Genshin Impact leak has listed the three four-star characters who will appear on the RPG's version 3.2 banners. It seems as though Bennett, Razor, and Noelle will be up for grabs during the first half of the next update. The trio will appear alongside five-star characters Nahida and Yoimiya.
Genshin Impact codes
,
Genshin Impact character tier list
,
Genshin Impact leveling guide
---
PCGamesN Wednesday, October 26, 2022 11:58 AM
As far as spin-offs go, Fallout: New Vegas might just be the best there is. Developed by Obsidian Entertainment after the success of the Bethesda RPG game Fallout 3, New Vegas aimed to capitalise on the revived Fallout open-world game brand, and it's safe to say it succeeded. Widely regarded as one of, if not, the best entry in the series due to its world building, writing, and characters, could you imagine a world where Fallout: New Vegas wasn't a fully released game? Well that was almost the case.
Fallout: New Vegas mods
,
Fallout 5 release date
,
The best RPG games on PC 2022
---
PCGamesN Wednesday, October 26, 2022 11:50 AM
Want to use the best assault rifles in Modern Warfare 2? For most players, assault rifles are the go-to weapon type in this FPS game as they can be customised to suit any playstyle. Whether you're looking to opt for a stealthy build featuring silenced weapons that excel at close to medium range, or you want to pick off enemies from afar with rifles that can fire across a map, these guns are capable of doing exactly what you want.
With so many different assault rifles to choose from in Modern Warfare 2 Season 1, it can be difficult to determine which weapon you should bring with you. Our list of the best Modern Warfare 2 assault rifles is here to help make this choice easier by breaking down what makes each of these weapons so special.
The best Modern Warfare 2 guns
,
Call of Duty: Modern Warfare 2 release date
,
Modern Warfare 2 Gunsmith
---
PCGamesN Wednesday, October 26, 2022 11:46 AM
The Valve Neon Prime announcement marks a new age for the iconic Half-Life and Portal developers, immediately prompting fan theories about what type of game the mysterious trademark could eventually become. Known for their action RPG games and classic MOBA, Dota 2, a new leak implies that we should be expecting something more akin to the latter.
Best free Steam games
,
Best free PC games
,
Best FPS games
---
PCGamesN Wednesday, October 26, 2022 11:37 AM
You'll need to follow these FIFA 23 trading methods and tips if you want to make money in the transfer market, because it's a harsh and volatile place. Everything from the football game's meta, real-life events, and even EA leaks can impact the value of cards, sometimes with huge swings and dips taking place within a terrifying few minutes.
It's not unusual for many players to spend more time trading than actually playing the game, which can make it a difficult market to follow if your time is limited. However, we've put together a number of tips that can steadily build your coins up with very little risk, especially if you've been unlucky with SBC rewards from challenges such as Puzzle Master, Around The World, and First XI. Oh, and without spending any real cash on what is an exploitative system if you go down that route. Time to get out the notepad.
FIFA 23 career mode guide
,
FIFA 23 ratings
,
FIFA 23 Icons
---
PCGamesN Wednesday, October 26, 2022 11:17 AM
Fortnite NPC locations change every season, and more are adding during the season, so it's useful to know where you can find current characters in Chapter 3, Season 4: Paradise. There are a few reasons you might want to find an NPC in the battle royale game, whether that's hiring some help, finding a rare Fortnite weapon, or simply getting yourself out of trouble.
While some Fortnite NPCs stay put, others might be on rotation, so be sure to double check below if there's a particular character you'd like to see. We have every Fortnite NPC location marked on a map to help you find them, as well as a list of all of the special items or services you can buy.
Fortnite Refer a Friend
,
Fortnite Chapter 3 Season 4 speculation
,
Fortnite Dragon Ball event details
---
PCGamesN Wednesday, October 26, 2022 11:01 AM
The idea of fitting an Nvidia GeForce RTX 4090 into a gaming laptop may sound absurd (because it is), but this apparently isn't stopping team green from trying. Well, sort of, as these mobile models may not use the same GPU die found in their desktop counterparts.
RTX 4000 - everything we know
,
GeForce Now RTX 3080 review
,
Best graphics card
---
PCGamesN Wednesday, October 26, 2022 10:59 AM
An Overwatch 2 Halloween bug is causing unintended terror for players in the Blizzard FPS game. Following the game's recent release, the first major event is now underway. The Overwatch 2 Halloween Terror event features a range of new and old skins for sale, returning modes and a new Wrath of the Bride event touted as the sequel to Junkenstein's Revenge. However, it's also introduced a rather scary easter egg to the game.
All Overwatch 2 characters
,
Best Overwatch 2 settings
,
Overwatch 2 tier list
---
PCGamesN Wednesday, October 26, 2022 10:51 AM
The first game I booted up after returning from a recent hospitalisation was Cyberpunk 2077. I am no stranger to near-death experiences; they're practically a rite of passage for many rare disease patients. A simple infection can turn deadly, triggering another battle for your life. But every round you survive comes with fresh traumas - they're pretty much two sides of the same coin. So, despite Cyberpunk 2077's mechanics being physically taxing for me, I reached for the comfort of CD Projekt Red's portrayal of disability on my return from the hospital, like longing for a friend who understands what you're feeling without needing you to say a word.
Cyberpunk 2077 review
,
Cyberpunk 2077 lore & universe
,
Buy Cyberpunk 2077
---
PCGamesN Wednesday, October 26, 2022 10:27 AM
The Meta Quest Pro might target business users, but that hasn't stopped VR game developers from utilising its exciting new features. Originally known as Project Cambria, Meta's latest VR standalone headset includes eye and facial tracking alongside a colour passthrough mode, designed to create new mixed-reality experiences. Now, Resolution Games is taking full advantage with its latest Demeo update, and it could be the virtual reality DnD experience we've been waiting for.
Best VR games
,
Oculus Quest 3 release date
,
Project Cambria release date
---
PCGamesN Wednesday, October 26, 2022 10:22 AM
Call of Duty: Modern Warfare 2, which CoD fans hope, no doubt, will prove one of 2022's best FPS games, is apparently "not doing commentary on current events" during its campaign mode, according to developer Infinity Ward, which will launch the latest Activision shooter October 28 ahead of Warzone 2.
The best Modern Warfare 2 guns
,
Call of Duty: Modern Warfare 2 release date
,
Modern Warfare 2 Gunsmith
---
PCGamesN Wednesday, October 26, 2022 10:59 AM
Publisher CD Projekt Red has announced that one of the new Witcher projects it hinted at earlier this month is The Witcher Remake, a complete rebuild of the first entry in the RPG game series that put the Polish studio on the map. The remake, code named Canis Majoris, will be built "from the ground up" in Unreal Engine 5.
The Witcher is still hugely atmospheric
,
The making of The Witcher
---
Rock Paper Shotgun Latest Articles Feed Wednesday, October 26, 2022 2:30 PM
Welcome to Part Two of The RPS 100, our annual countdown of our favourite PC games from across the ages. Earlier in the week, we ranked our favourite games from 100-51, which you can find over in Part One of this year's list. But now we're here for the main event, counting down our top 50 games all the way to number one. Come and join us for the final stretch.
---
Rock Paper Shotgun Latest Articles Feed Wednesday, October 26, 2022 12:05 PM
Ahead of Call Of Duty: Modern Warfare 2's full release on October 28th, I've been using its campaign early access to get familiar with its inner PC workings. As familiar as one can get, anyway, with a monster list of 30-plus display and graphics settings, not even counting all the granular DLSS and FSR options for compatible graphics cards.
After Lord-knows-how-many breachings and clearings of the same damn oil rig, I believe I've cracked these options and found the best settings combination to balance nu-MW2's sharp visuals with smooth, steady performance. The latter can be a big ask of older, weaker PC hardware, despite some innocuous system requirements, but with the right tweaks it's easy to get at least a solid 60fps on most modern GPUs and CPUs.
---
Rock Paper Shotgun Latest Articles Feed Wednesday, October 26, 2022 12:00 PM
I'm fairly sure that zombies are the perfect video game enemies. They're relentless, for one thing, happily chomping their way through anyone who gets in their path. The undead are faceless as well, so you don't feel too bad about escorting them back to their graves. Yet they can be poignant, dramatic reminders of friends and family that meant a lot to characters too, depending on who the shambling corpse used to be. If I was going to hire any enemy for a game, I'd hire a zombie. Then they'd eat my brain. That's why I hired them! So to celebrate our very iconic, vitality-challenged friends, I've put together a list of my favourite zombie games.
---
Rock Paper Shotgun Latest Articles Feed Wednesday, October 26, 2022 12:00 PM
I didn't have the greatest understanding of how one is meant to play a real-time strategy game as a child. It wasn't a neck-and-neck, ebb-and-flow struggle between two equal powers. Instead I played RTS games as though they were city-builders, with the added bonus of absolutely steamrolling through the AI when I'd had enough fun.
This was true of basically every RTS I played back then. In Starcraft I'd amass an army of Protoss Carriers and launch them across the map. In Supreme Commander, I'd tech all the way up to the Experimental Weapons, and then send the colossal CZAR Mothership to Independence-Day the entire enemy base. But my favourite variation of this was in Impossible Creatures: a wonderful early noughties strategy game where you create your own units by stitching together parts from different animals.
---
Rock Paper Shotgun Latest Articles Feed Wednesday, October 26, 2022 11:50 AM
Developer Strange Scaffold surprise launched El Paso, Nightmare today as part of Steam Scream Fest. The team describe Nightmare as a "mind-shattering extradimensional take on the classic CoD zombies formula" with some emotional baggage on the side. Essentially, it's a horror FPS that has you up against vampires, werewolves, and angels (the bad kind) across six biomes. This bite-sized FPS acts as a companion piece to next year's El Paso, Elsewhere, the previously announced third-person shooter
---
Rock Paper Shotgun Latest Articles Feed Wednesday, October 26, 2022 11:18 AM
To coincide with the game's 15th anniversary today, CD Projekt Red have announced that The Witcher Remake is currently in the early stages of development. The "full-fledged" remake of 2007's RPG is being developed from the ground up in Unreal Engine 5 and will use the same toolsets that CDPR is creating for their upcoming Witcher trilogy. The studio call the project a "modern reimagining" and say they're "updating the game for the next generation of gamers to experience it."
---
Rock Paper Shotgun Latest Articles Feed Wednesday, October 26, 2022 11:00 AM
I've done a lot of talking about The Callisto Protocol this year, starting with the game's gore system and spiky walls at Summer Geoff Fest, before finding out its Die Hard and Shaun Of The Dead inspirations at Gamescom. In-between all the talking? Lots of slides and presentations and absolutely no hands anywhere near controllers. But finally, finally, I've played a 90-minute PS5 demo of The Callisto Protocol and can confirm that it felt like a last-gen game in a good way: all photorealistic sweat and blood scrawled on walls, coupled with 360-era exploration and fighting. Refreshingly familiar, I'd say.
---
Rock Paper Shotgun Latest Articles Feed Wednesday, October 26, 2022 9:45 AM
Team Ninja have announced that their fantasy action title, Wo Long: Fallen Dynasty, is slated for release on March 3rd, 2023 on consoles, PC and Game Pass. Wo Long is a Chinese-martial arts game set during the Han dynasty - this time with deadly demons for you to battle. The game was previously revealed at this year's Xbox & Bethesda Showcase, where it made an impressive debut.
---
Rock Paper Shotgun Latest Articles Feed Wednesday, October 26, 2022 9:08 AM
Creative Assembly have responded to allegations of abuse within the company regarding a former employee and have vowed to investigate. The Total War developer say they're working with an "external party" on the investigation and have asked former employees to share their experiences if they "feel able to do so."
---
Twinfinite Wednesday, October 26, 2022 3:55 PM
Overwatch is considering partnerships like Fortnite has done in the past.
---
Twinfinite Wednesday, October 26, 2022 3:54 PM
We list the all the episode lengths from Tales of the Jedi.
---
Twinfinite Wednesday, October 26, 2022 3:53 PM
Deadpool bullied 2K and Firaxing into putting him into Marvel's Midnight Suns, but he'll be DLC.
---
Twinfinite Wednesday, October 26, 2022 3:45 PM
Witness the return of Junkenstein's revenge in Overwatch 2: Halloween Terror 2022.
---
Twinfinite Wednesday, October 26, 2022 3:10 PM
Cross-Platform is a good thing to have in any multiplayer focused game, not just Modern Warfare 2.
---
Twinfinite Wednesday, October 26, 2022 2:53 PM
The Kaguya-sama: Love Is War manga's final chapter is set to release next week via Weekly Young Jump's 49th issue.
---
Twinfinite Wednesday, October 26, 2022 2:17 PM
Here is how to unlock Golden Superstar Mode Theme.
---
Twinfinite Wednesday, October 26, 2022 2:13 PM
Dragon Age: Dreadwolf has passed its Alpha milestone, but this may not mean what you think it means.
---
Twinfinite Wednesday, October 26, 2022 2:11 PM
Crunchyroll has just released the official trailer for The Quintessential Quintuplets Movie.
---
Twinfinite Wednesday, October 26, 2022 2:09 PM
More news on Dragon Age: Dreadwolf can't come soon enough.
---
Twinfinite Wednesday, October 26, 2022 2:04 PM
Two major figures have left Rocksteady after storied careers. Here's our thoughts on their departures.
---
Twinfinite Wednesday, October 26, 2022 2:00 PM
I vant to suck your blood!
---
Twinfinite Wednesday, October 26, 2022 1:41 PM
Dragon Age: Dreadwolf is that much closer.
---
Twinfinite Wednesday, October 26, 2022 12:57 PM
Nioh 2, Lego Harry Potter Collection, and Heavenly Bodies will be distributed to all PlayStation Plus subscribers in November.
---
Twinfinite Wednesday, October 26, 2022 12:35 PM
The co-founders of Rocksteady Studios are leaving.
---
Twinfinite Wednesday, October 26, 2022 12:18 PM
More like the Bridezilla of Junkenstein am I right?
---
Twinfinite Wednesday, October 26, 2022 11:38 AM
It's Morbin' (and Venom's) Time in Marvel's Midnight Suns.
---
Twinfinite Wednesday, October 26, 2022 11:37 AM
Is the newest Star Wars animated series canon? Here's what you need to know.
---
Twinfinite Wednesday, October 26, 2022 11:09 AM
Photo Mode has become a hot feature over the years, but will God of War Ragnarok have it?
---
Twinfinite Wednesday, October 26, 2022 10:44 AM
Wo-Long: Fallen Dynasty is coming in March 2023.
---
Siliconera Wednesday, October 26, 2022 3:30 PM
Tactics Ogre Reborn is approaching its November 2022 release date, and Director Yasumi Matsuno (who also helped create Final Fantasy Tactics, Vagrant Story, and Final Fantasy XII) commented on the development process. In his latest update, delivered via his Twitter account, he spoke about the Tactics Ogre Reborn character Ozma Moh Glacius. He discussed the game's vocal performances, which were added for this enhanced remaster.
Editor's Note: The Tactics Ogre tweets include some character spoilers.
https://twitter.com/YasumiMatsuno/status/1584829174455623680
In his comments, which were placed as a quote above a profile of Ozma from Tactics Ogre Reborn official account, Matsuno spoke about her characterization and the directions they gave to voice actor Mie Sonozaki. He said that in Tactics Ogre Reborn, Ozma, despite being the only female member of the Dark Knights Loslorien, doesn't consider herself "feminine." Instead, she is serious and well-aware of her position as part of a prestigious noble line (in her homeland of Lodis). She won't hesitate to take advantage of those noble ties. As such, they instructed Sonozaki (who also played Ashe in Final Fantasy XII), to portray Ozma as a strong warrior that will never back down.
https://twitter.com/YasumiMatsuno/status/1584829187759951872
In a follow-up Tweet, Matsuno remarked that in the original Super Famicom edition of Tactics Ogre: Let Us Cling Together, the story content featuring interactions with Ozma had to be cut due to the game's development timeline. They added that cut content in the 2010 PSP remake, which is the basis for Tactics Ogre Reborn. Matsuno encouraged players to experience the content and see glimpses of her personality, her loyalty to her homeland, and "the vileness of those who would dare to use her." He also expressed gratitude to Mie Sonozaki, who "breathed life into the role." In replies, he also added that the Tactics Ogre Reborn script had some lines revised from the remake, to take advantage of the addition of voice performances.
Tactics Ogre Reborn launches on November 11, 2022 for Nintendo Switch, PS4, and PS5. The PC edition launches on November 12, 2022. It will have voice acting in both Japanese and English, and a special Collector's Edition is available for pre-order.
The post Yasumi Matsuno Praises Tactics Ogre Reborn Ozma Voiceover appeared first on Siliconera.
---
Siliconera Wednesday, October 26, 2022 3:00 PM
When you pick up an otome visual novel for your Switch, you figure you are getting a game that will feature intricate romance stories with detailed characters, but Paradigm Paradox doesn't exactly fit into the typical mold. Which is fine! The problem is, the game as a whole feels rushed, with the world's lore and characters' relationships speedrunning their way to good (and bad) ends. The result is a story with so much potential that leaves you wondering, "Is that it?" at the end of every route.
Paradigm Paradox begins with an ordinary young woman living in a colony in which it isn't possible to safely live outside the confines of the restricted environment. She's an orphan with only an uncle to email, living in her school's dorm and abiding by rules like "returning home before curfew." Naturally, since Paradigm Paradox is a Switch otome game, there are also lots of attractive men about, but the heroine doesn't seem interested in them. (Her best friend Rize even says it is something she likes about her.)
But the Vectors Come at Night!
Not long after we meet the heroine, we learn that those curfews are in place for a reason! It turns out monsters known as Vectors roam the colony at night. The heroine returns to the commercial district to a mall where she lost her necklace, and encounters a hostile Vector. After it attacks her, she learns the urban legend about super heroes who fight monsters after curfew is true. A group of magical girls rescues her as she passes out, and when she awakes a scientist tells her she's now has powers too and is the newest member of the Blooms.
Unlike some Idea Factory and Otomate otome games that attempt to blend in some other kinds of gameplay elements, this is a straightforward visual novel for your Switch. You'll guide the heroine throughout her day and help her make important decisions. However, since this is a title in which the romance element isn't the main focus, your choices don't just determine which love interest she could end up with in the end. It also determines whether she will be on the side of the "heroes" or "villains." Certain visual cues will let you know which path you're working toward during the brief common route, as well as if your potential partner agrees with your responses when you're on their route. A flowchart, which is uncomplicated and brief for each segment due to the relatively short length of the title, lets you see every possible outcome and plot your advance.
At Least Paradigm Paradox Doesn't Waste Time Getting to the Point
While things being so visible and easy to discern is a blessing, it's a curse in that Paradigm Paradox is an incredibly brief game. So much so that during my first run through with Hyuga, I beat the game in a single evening and had no trouble getting the "happy" ending on the first try. Yes, there are eight routes present and a true ending. But it feels like there isn't the same care as there was with a game like Norn9: Var Commons, which also told an astonishing number of potential stories.
Speaking of Norn9, Paradigm Paradox tries to build a unique world with the same sort of lore and twists. Again, the brevity of the title works against it. Plot beats happen with no build up to them. Characters suddenly love the heroine with little reason to do so. The only way you'll get real answers about what's happening and the story's secrets are if you pursue certain characters or see the true end's details. The character designs are so pretty and premise so promising, but it's mishandled.
A Slightly Wilted Superhero Story
It also feels like Paradigm Paradox is a missed opportunity at times. I feel like there could be a fun exploration of gender here, considering some plot elements. Unfortunately, only two routes seemed to start to consider things, but didn't go beyond some surface-level asides or follow up with explorations of how a romantic relationship could go between the heroine and potential love interests of the same gender. (Or, if there's a situation in which there could be a same-sex relationship, it defaults to "just friends" even if it was building up in a romantic way prior.)
There's absolutely nothing wrong with a game with dating sim elements focusing on other elements and letting the lovey-dovey stuff gradually build in the background. The thing is that Paradigm Paradox can be an interesting visual novel, but isn't the best if you're looking for a really romantic Switch otome game. The majority of the routes feel clipped and rush, "telling" you there's suddenly a meaningful relationship between the heroine and other characters without "showing" you how it happened. The game is stylish and the localization is fun, but it left me wanting more substance.
Paradigm Paradox will come to the Nintendo Switch on October 27, 2022.
The post Review: Paradigm Paradox is a Switch Otome Where Love's Not a Priority appeared first on Siliconera.
---
Siliconera Wednesday, October 26, 2022 2:30 PM
Manga and novel publisher Seven Seas Entertainment celebrated its 18th Anniversary in 2022, and to commemorate the occasion launched its own manga store. Called GoManga, the store is the company's first direct-to-consumer online shop and sells physical books and manga. Prior to the launch, Seven Seas sold its books through retailers like Amazon and brick-and-mortar bookstores. For the first month, every book in the store will be sold at a 10% discount.
https://twitter.com/gomanga/status/1585022899240730624
GoManga currently serves the US and Canada, though Seven Seas said it plans to expand in time. Orders placed on the store will be shipped directly to buyers from US-based Penguin Random House. At the moment, the store does not carry the full Seven Seas catalog, but offers about 500 of its titles. The selection will improve "soon" and expand as restocks roll in.
Some of the notable titles on offer from the Seven Seas catalog through GoManga include volumes of Uzaki-chan Wants to Hang Out! and a hardcover omnibus of The Girl from the Other Side: Siúil, a Rún. Novels published under its light novel imprint Airship are also available, like Arifureta. Those interested in more than just Japanese books can also check out Danmei titles like The Scum Villain's Self-Saving System and Heaven's Official Blessing.
The GoManga store is open. Seven Seas Entertainment titles are also available via online and physical retailers.
The post Seven Seas Launches GoManga Online Store appeared first on Siliconera.
---
Siliconera Wednesday, October 26, 2022 2:00 PM
The newest figurine of Atlus' mascot and Shin Megami Tensei staple Jack Frost will be made by Square Enix. The company announced it will join its Bright Arts Gallery collection of figures. Like all others in this lineup, it will be made of shiny, die-cast metal. It's currently appearing on the Square Enix e-Store in Japan for 3,960円 (~$27). However, in the past the company has offered characters in this collection worldwide. It is expected to ship in Japan in January 2023.
This Jack Frost figurine will be a tiny guy, standing at just under two and a half inches tall. It is made of a zinc alloy and permanently posed in such a way that the character appears to be waving at someone.
Here's a gallery looking at the figure from different angles.
[gallery ids="938139,938140,938141" link="file"]
In the past, most figures in this Bright Arts Gallery collection tended to be from Square Enix games. In particular, notable mascots from Final Fantasy games showed up. Two of the first were a Cactaur and Tonberry. These did appear in the company's storefronts worldwide.
Another reliable source of Jack Frost merchandise is the Shop Atlus storefront. Atlus opened this online store in November 2021. Items like a $39.99 Jack Frost plush and $44.99 hat are sold there.
The Atlus Jack Frost Bright Arts Gallery figurine will appear in Japan in January 2023.
The post Square Enix is Making a Figurine of Atlus SMT Mascot Jack Frost appeared first on Siliconera.
---
Siliconera Wednesday, October 26, 2022 1:30 PM
Sony announced the November 2022 PlayStation Plus Essentials ahead of their November 1, 2022 debut, and Nioh 2 is leading the charge. The standard version will be available for PS4 owners, while folks with a PS5 can get Nioh 2 Remastered. Heavenly Bodies (PS4, PS5) and Lego Harry Potter Collection (PS4) are the other remaining games.
Heavenly Bodies normally costs $19.99. It is physics game with puzzle elements that involves using the left and right joysticks to direct a cosmonaut's arms to complete objectives. You can go through it alone or with another person. It first showed up on PlayStation consoles in December 2021.
Lego Harry Potter Collection is a two pack of the games Lego Harry Potter: Years 1-4 and Lego Harry Potter: Years 5-7. It retells the events of the books. Normally, someone would need to pay $19.99 for it. It's been around since October 2016.
Nioh 2 first debuted on the PS4 back in March 2020, and the PS5 remastered upgrade showed up in February 2021. It typically costs $39.99. It is set during Japan's Sengoku period and tasks players with creating a custom warrior who will deal with supernatural opponents.
As a reminder, you can only claim the October 2022 PlayStation Plus games until October 31, 2022. They are Hot Wheels Unleashed (PS4, PS5), Injustice 2 (PS4), and Superhot (PS4). The November 2022 PlayStation Plus games can be downloaded after the PlayStation Store updates on November 1, 2022.
<< PlayStation Plus October 2022 Games
The post Nioh 2 PS4 and PS5 Versions are November 2022 PlayStation Plus Games appeared first on Siliconera.
---
Siliconera Wednesday, October 26, 2022 1:00 PM
Right on schedule, HoYoVerse released the November 2022 Genshin Impact calendar. Each month, the company's Japanese Twitter account shares a new image people can turn to throughout the coming month. A different Genshin Impact character appears as the featured person in each one, and this time Xiangling is in the spotlight.
First, here's the November 2022 Genshin Impact calendar. The proportions are such that it is designed to be used on a phone or tablet.
【カレンダー配布】
旅人さんに日頃の感謝を込めて、2022年11月のカレンダーを配布します!
ぜひスマホ壁紙としてお使いください!#原神 #Genshin pic.twitter.com/Yg7gBpWJXU

— 原神(Genshin)公式 (@Genshin_7) October 26, 2022
As usual, the "star" of the calendar is the one whose birthday comes first that month. As Xiangling's is November 2nd, she gets the spotlight. An emoji of the character replaces the date on their actual birthday. Here's the full list of Genshin Impact birthday appearances for November.
November 2nd: Xiangling
November 20th: Keqing
November 26th: Sucrose
November 30th: Kaeya
If you log in on the birthday of a Genshin Impact character, you will get a letter with items attached in your mailbox. So on Xiangling's birthday, everyone would get three Teachings of Ballad, which could be used to improve her, and the All-Delicacy Parcels food.
As a reminder, Xiangling is a four-star Pyro polearm user who joined the Genshin Impact cast at launch. She's known for her versatility, and often appears as a team member during the game's Test Runs. She's also known for being accompanied by Guoba, a mascot character who shows up during her Elemental Skill and storylines involving her.
Genshin Impact is available for the PS4, PS5, PC, and mobile devices. On November 2, 2022, the 3.2 update for the game will launch.
The post Genshin Impact November 2022 Calendar Features Xiangling appeared first on Siliconera.
---
Siliconera Wednesday, October 26, 2022 12:30 PM
Daiya no Ace, also known as Ace of Diamond, ended its run in Weekly Shonen Magazine. The manga ran for 16 years, starting in 2006. The first series ended in 2015, and then resumed serialization a few months later as Ace of Diamond Act II. An anime series for Ace of Diamond started in 2013 and it is available on streaming services such as Crunchyroll. [Thanks, Comic Natalie!]
The story of Ace of Diamond follows Eijun Sawamura. He is a pitcher who joined the prestigious Seido High School baseball team, where he meets genius catcher Kazuya Miyuki. After their first nationals, the third years that made up the majority of the team's manpower retired. This leaves Sawamura, Miyuki, and the other first and second years with the task of putting together a new team. Their ultimate goal is to go to nationals again and convince their coach to stay.
George Morikawa, the creator of Hajime no Ippo, left a congratulatory message for Yuji Terajima, the creator of Ace of Diamond. Other people who left comments include Ryota Osaka (the voice actor for Sawamura), GLAY's TERU (who sang the openings), and Shohei Ohtani (a professional baseball pitcher for the Los Angeles Angels). Weekly Shonen Magazine is also holding a lottery in which 100 people can obtain a replica of the Seido High School baseball team uniform. There will also be a timeline looking back on Ace of Diamond's 16 years of history.
Ace of Diamond is available for streaming on Crunchyroll. Kodansha licensed it in English.
The post Ace of Diamond Manga Serialization Ended appeared first on Siliconera.