---
Kotaku Saturday, July 16, 2022 11:30 AM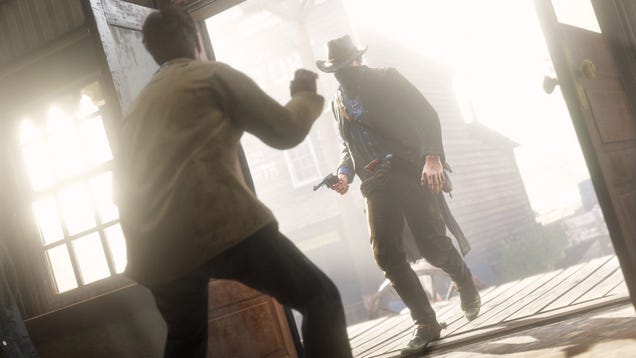 Summer means many things, including pool parties, eating too much ice cream, going out camping, and uh…apparently video game sales? I don't question the companies taking part in the annual summer sales we see across digital stores. Instead, I nod in approval and begin spending money on games I likely won't play…
---
Kotaku Saturday, July 16, 2022 11:00 AM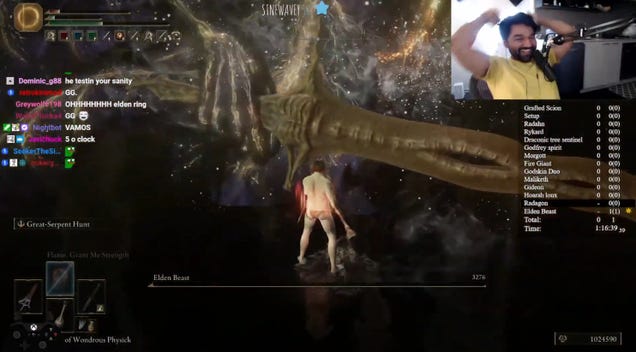 On July 9, late into the night, Twitch streamer Ainrun roared in relief after beating Elden Ring's final boss. After a grueling two-and-a-half hours he had finished the game without taking a hit from any enemy or spending a single rune to make his character stronger. "Oh my god it's over dude, let's go, yes!" he said…
---
Kotaku Saturday, July 16, 2022 10:30 AM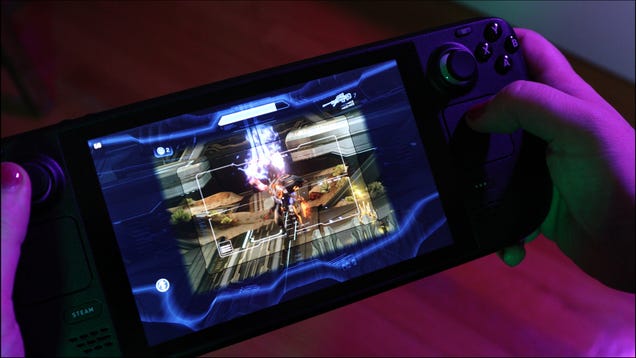 What makes the Steam Deck the most unique piece of gaming hardware currently available? You might be tempted to suggest its impressive graphical horsepower crammed into such a small form factor, or portable access to Steam, or even the software gymnastics it does to make Windows games play on Linux. That's all cool…
---
Kotaku Saturday, July 16, 2022 10:00 AM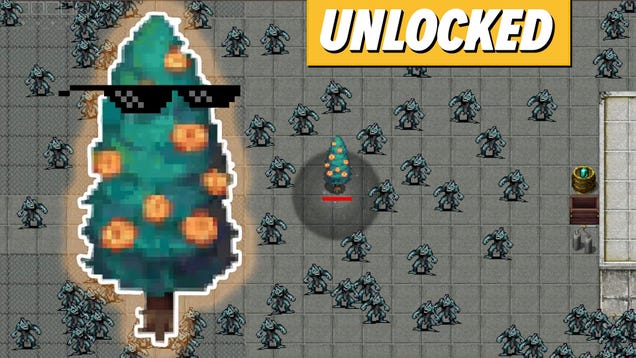 ---
PCGamesN Saturday, July 16, 2022 1:58 PM
Unity CEO John Riccitiello has apologised for "crude" comments made in an interview toward developers who don't implement monetisation options in their games - to a tremendous outcry from the industry. "I am listening and I will do better," Riccitiello says.
In a recent interview with Pocket Gamer, the Unity CEO - formerly CEO at EA - called developers who don't implement monetisation options early in their games "the most beautiful and pure, brilliant people" but also "some of the biggest f***ing idiots."
As can be expected, this did not go down well with the gaming community, including developers behind Nickelodeon All-Star Brawl, Gotham Knights, Celeste, Selaco, and EA's Star Wars Jedi Survivor.
---
PCGamesN Saturday, July 16, 2022 12:28 PM
Players anticipating the FFXIV Astrologian and Dragoon reworks will have to wait a little while longer, as the development team has decided to postpone the major changes until the MMORPG's next expansion release. Speaking in the digest for Final Fantasy XIV's Live Letter 71, which also introduced the Island Sanctuary, the team says the changes planned are significant enough that they felt it was best to wait for a major expansion to put them out.
Initially during the Live Letter, FFXIV producer Yoshi-P noted that more work was required for the planned adjustments to both the Astrologian and Dragoon jobs, so they would not be releasing with patch 6.2 as initially suggested. Now the team has confirmed that they plan to hold off until an expansion release - which most likely means the arrival of 7.0 - due to the scale of the reworks.
"Making extensive adjustments to a job on a fundamental level would involve numerous changes," the team says in its Live Letter LXXI digest. "The sheer number of changes would make it difficult to fully explain our intentions for each one, so we believe we should wait for an expansion release to make adjustments of that scale."
The best MMOs on PC
,
FFXIV Reaper job guide
,
FFXIV Sage job guide
---
PCGamesN Saturday, July 16, 2022 11:46 AM
Despite campaign co-op finally getting a flight test, we still know nothing about the Halo Infinite Forge release date - which is supposed to arrive not long after co-op. There are still questions about how maps will be delivered, but now it looks like Halo Infinite Forge will have a simple file share system.
While Halo 5 Forge is still the only way to play that game on PC, eight months after release Halo Infinite still doesn't have the long-promised Forge map and mode creator. Nevertheless, like the co-op mode, it's on its way, and we now have an idea of what it'll look like within the FPS game itself.
Halo Infinite system requirements
,
Halo Infinite Bosses
,
Halo Infinite ranks
---
PCGamesN Saturday, July 16, 2022 10:44 AM
Have you ever seen a Terraria build so impressive that you almost don't recognise it as the game you know? Enthusiast builder Lady Forestia's latest offering makes incredible use of perspective tricks to turn the 2D crafting game environment into what appears to the eye as a fully-realised 3D scene, with a rather stunning tour through their small village featuring a lake, a cobblestone path, a pumpkin patch, and more.
A video posted by Lady Forestia on Twitter showcases the gorgeous build, with the player character standing outside a lovely stone and wood building in a forest. Clever use of block placement gives the appearance of trees lurking in shadow behind the structure, while the ground underneath the player has been laid out with blocks that give the appearance of a still lake that stretches out towards the camera, surrounded by sugar cane plants.
Lady Forestia then climbs a staircase to a rock tunnel, with clever teleporter use to represent travelling through the background cave. They then stroll down the street of a rather picturesque little village, across a stone bridge over a winding river, and past what appears to be a local church and a park with benches and a gazebo.
Terraria Journey's End release date
,
Best games like Minecraft
,
Best survival games
---
PCGamesN Saturday, July 16, 2022 10:19 AM
Cat cyberpunk game Stray will soon be here, and developer Blue Twelve Studios reveals that the feline star of the most-wishlisted game on Steam is actually based on a real-life moggy called Murtaugh - the stray cat that inspired the Stray cat.
---
PCGamesN Saturday, July 16, 2022 9:21 AM
World of Warcraft survives and even prospers thanks to its highly engaged, knowledgeable, and, above all, opinionated player base. With its system of public test realms and player feedback, Blizzard do a commendable job of adapting their plans where necessary - especially ahead of a new expansion
Last month Blizzard unveiled the new Death Knight talent trees set to be implemented with the launch of Dragonflight. Like with the other class overhauls, the main goal of these changes is to reintroduce choice and careful spec building by complexifying the talent trees. Unfortunately this process is a delicate one, and as a result of player feedback from the Dragonflight Alpha, Blizzard will be making changes to their plans for Death Knights. Let's quickly run through the broad strokes.
Best MMORPGs on PC
,
The best WoW addons
,
WoW Classic leveling guide
---
PCGamesN Saturday, July 16, 2022 8:04 AM
If you're completely done with Elden Ring and are after a new Dark Souls-like experience, but are still desperately hoping for a Bloodborne PC release, Team 17 may have you covered - and while its Thymesia release date is delayed, the plague-ridden take on Bloodborne is still coming August.
There have been a lot of rumours over the years about From Software's PS4-exclusive classic Bloodborne getting a PC release, but as of right now it doesn't look like it's happening - despite exclusives like Spider-Man and The Last of Us Part 1 being on their way.
Therefore, there's a gap in the PC market for a good game to take Bloodborne's absent throne. Nacon's Steelrising is out in September, but first up is Team 17's Thymesia - a Souls-like set in a grey, twisted, Victorian-like world scarred by a plague, which players can weaponise in combat.
---
Rock Paper Shotgun Latest Articles Feed Saturday, July 16, 2022 3:21 PM
Sony have completed their purchase of Destiny developers Bungie. The $3.6 billion acquisition was first announced back in January, and Bungie tweeted yesterday that they were "proud to officially join the icnredible team at PlayStation."
---
Twinfinite Saturday, July 16, 2022 1:36 PM
Mages released another trailer of its upcoming game Alice Gear Aegis CS: Concerto of Simulatrix, focusing on two actresses.
---
Twinfinite Saturday, July 16, 2022 12:44 PM
Pearl Abyss released a full-fledged trailer showing off the gameplay of the awakening version of the newst class Drakania for the first time.
---
Twinfinite Saturday, July 16, 2022 10:50 AM
Kobukiya hosted its Kotobukiya Collection Online 2022 Summer event, and it has a treat in store for Muv-Luv Alternative fans.
---
Gamer Empire Saturday, July 16, 2022 10:19 AM
Making content around gambling has become quite a big trend among large influencers, YouTubers, and streamers. One of the people who've now started to share content about gambling is Faze Banks, who shares his sports betting on Instagram from time to time. Recommended Read: What Gambling Site Do Twitch Streamers Use? Faze Banks has previously […]
The post What Gambling Site Does Faze Banks Use? appeared first on Gamer Empire. It was written by Jack Roque.
---
Pivotal Gamers Saturday, July 16, 2022 10:41 AM
What's up all? GrabTheGames is giving everyone the chance to win on Steam Wallet Code 10×10. This is what they say. Get Steam Wallet Code 10×10 for FREE! Last minute notes Use your email to enter this giveaway, follow the on-screen instructions to get and use your key. So hurry up. Click on the button below to get you started. As simple as that! Eager for more? you can find a massi...