---
Kotaku Saturday, April 2, 2022 3:00 PM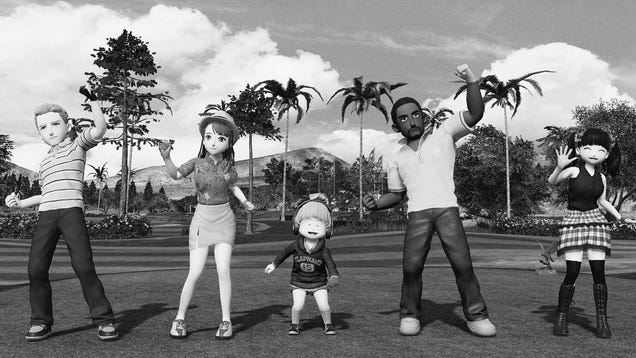 Sony has quietly announced that all of the online and multiplayer features of 2015's Everybody's Golf will be taken offline permanently in September. This will make some trophies impossible to collect, though the game's singleplayer and offline modes will remain playable.
---
Kotaku Saturday, April 2, 2022 12:45 PM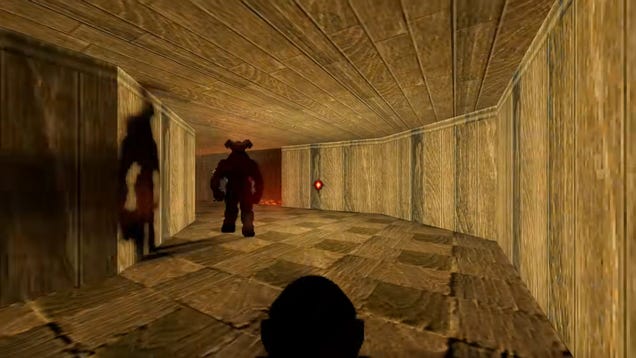 Okay, before we begin, you won't be able to play this version of Doom on a pregnancy test or cash register. But whatever, the original Doom with ray tracing is so cool that I can forgive that one drawback.
---
PCGamesN Saturday, April 2, 2022 2:12 PM
The sizeable new The Elder Scrolls III: Morrowind Rebirth 5.8 update is here, bringing with it a number of notable changes to the excellent overhaul mod - including improving the Imperial Guards, revamping locations like the Shrine of Azura and Ebonheart, and adding weapons such as Skyrim's terrifying Ebony Blade.
While The Elder Scrolls V: Skyrim is over ten years old and looking decidedly long in the tooth, the third RPG game Morrowind is fast approaching its 20th anniversary in May. With a finished Skyrim Morrowind mod conversion still a long way off, the best way to play it is with the fantastic Morrowind Rebirth overhaul mod - which itself is ten years old.
Morrowind Rebirth 5.8 is out now, and it's described as an "early celebration" of the upcoming anniversary. There are a lot of improvements, fixes, and additions in the new update, but perhaps the coolest is the introduction of Skyrim's Ebony Blade - also known as "The Vampire" due to the way it leeches health from foes. It's actually been in every mainline Elder Scrolls game apart from Morrowind, so it's cool that the Rebirth team is readdressing that.
---
PCGamesN Saturday, April 2, 2022 2:14 PM
Sonic the Hedgehog 2 is out now, and the Sonic movie 2 post-credits scene offers a big tease for the planned storyline in the platform game film sequel. The Sonic movie 3 villain is seemingly confirmed, and there's the possibility that Jim Carrey's Dr. Robotnik may not be back.
In February this year, Paramount confirmed that Sonic 3 has already been greenlit - along with a live-action spin-off TV show for the Idris Elba-voiced Knuckles. Speculation has been rife amongst fans as to what the storyline for the third movie could be, especially as director Jeff Fowler confirmed that they'll be "cherry-picking" from the games rather than following in chronological order.
A further complication arose yesterday when Jim Carrey suggested he might retire from acting, which would leave Sonic 3 without Dr. Robotnik. However, with Sonic 2 now out, the movie's post-credits scene clearly reveals the villain of the next film - and confirms some fan theories, too.
---
PCGamesN Saturday, April 2, 2022 12:11 PM
Tiny Tina's Wonderlands players have been having a great time with one rather oversized gear piece. The new PC game is full of unique and wacky fantasy gear to outfit your characters with, but one hat in particular has drawn the attention of the FPS game's community because of its larger-than-life appearance on the overworld map.
The Ranger's Shade hat, which was initially shown in concept art for the Spore Warden class, has a fairly traditional conical hat style akin to that worn by Mortal Kombat's Raiden. It's sizable, but nothing too out of the ordinary. That all changes when you head out to the overworld map, however.
For those of you who haven't played Wonderlands, one of its features is interim jaunts across an overworld map designed to represent the tabletop environment of Bunkers & Badasses, with characters represented by large-headed chibi figurines. In this mode, players found that the Ranger's Shade hat was showing up at a vastly increased size, giving it a rather striking appearance.
Tiny Tina's Wonderlands review
,
Tiny Tina's Wonderlands legendary weapons
,
Tiny Tina's Wonderlands best builds
---
PCGamesN Saturday, April 2, 2022 2:15 PM
April 02, 2022: Fortnite building is now available again in all of the main modes.
Fortnite building is finally back in the battle royale game, after an extended absence that was much longer than expected. All of Fortnite's normal modes have returned, complete with building - and Zero Build mode is now available alongside them, for anyone who prefers Fortnite to not be a building game.
Ahead of the launch of Chapter 3 Season 2, dataminers and leakers uncovered files suggesting that building would be temporarily removed from Fortnite. Which, of course, it was. According to that initial datamine from iFireMonkey, the building blackout would last for nine days - so everyone expected Fortnite building to be coming back on Tuesday, March 29.
This date was not confirmed by Epic, and certainly proved to be incorrect. Usually, as soon as dataminers have reported on a given feature or event, it generally hits the game on that schedule. This is one of those instances where the leaks weren't entirely accurate.
Fortnite V-Bucks
,
Fortnite Skins
,
Fortnite Creative Codes
---
PCGamesN Saturday, April 2, 2022 2:18 PM
The Fortnite Creative economy system will see "big changes" this year, according to Epic Games CEO Tim Sweeney. The developer previously promised that Fortnite Creative 2.0 would arrive in the battle royale game sometime in 2022, and it looks like this will come with improvements to the Support-a-Creator sharing program too.
Fortnite Creative was added to the multiplayer game way back in 2018, allowing creators to make their game modes and show them off to other people. While it's a great place to find items that haven't been added to the main game - most recently, the jetpacks - it's only received marginal improvements in the last few years, like stopping XP farming.
The Support-a-Creator program is the main way that creatives get paid, and at the moment, it stands at 5% - so for every $100 a player spends in Fortnite or the Epic Games Store, if they tie that to a specific creator code, those creators get $5.
Fortnite V-Bucks
,
Fortnite Skins
,
Fortnite Creative Codes
---
PCGamesN Saturday, April 2, 2022 2:16 PM
Elden Ring developer FromSoftware's last pre-Soulslike game is now gone, as the Ninja Blade Steam release is delisted from the storefront. Steam was the only place you could buy and play the studio's final game before Demon's Souls on PC, so it is now impossible to play Ninja Blade - unless you own it already.
Demon's Souls released on PS3 back in 2009 and received massive acclaim for being a very different type of action-adventure game from anything else at the time. We're still waiting on Demon's Souls to come to PC, but it inspired all of FromSoftware's games since - from Dark Souls to last month's phenomenally successful Elden Ring.
However, FromSoftware released another game in 2009 called Ninja Blade, which is a bit more of a traditional hack-and-slash action game. It wasn't the studio's best game, but unlike Demon's Souls, it at least was on PC. Until this week, however, as Ninja Blade has now been quietly delisted from Steam and is no longer available for purchase.
Best Elden Ring settings
,
Elden Ring bosses guide
,
The best Elden Ring classes
---
PCGamesN Saturday, April 2, 2022 2:15 PM
The Genshin Impact Yae Miko targeting fix, which was introduced as a change in the anime game's 2.6 release last week, is getting a fix. Developer Mihoyo confirms that it "did not consider the effect" this change would have on Yae Miko's Sesshou Sakura, and will roll back the fix this week.
The long-awaited Genshin Impact 2.6 update dropped on March 30, which adds new character Kamisato Ayato, sets the stage for a number of big new events, and features numerous updates, improvements, and fixes.
However, one of those fixes is causing big problems for Yae Miko players. Yae Miko's elemental skill ability is leaving Sesshou Sakura spirits on the battlefield, which target and strike nearby opponents. Whereas previously Sesshou Sakura attacked enemies at random, the 2.6 update was supposed to change this so they attacked the nearest opponent in range. Unfortunately, players quickly noticed that this wasn't working like it was supposed to, and it's now a lot more "unclear" which enemy will get attacked.
Play Genshin Impact for free
,
Genshin Impact character tier list
,
Genshin Impact leveling guide
---
Rock Paper Shotgun Latest Articles Feed Saturday, April 2, 2022 1:32 PM
I played Pokémon Red back in the day and I've never been able to go back to the simplistic JRPG since. Each game in the series hews so closely to the formula - and rightly so - that I don't have the appetite to play through it a second time.
I'm all for other people making their own original spin on that monster-taming formula. Coromon, out now on Steam, looks like it might be less a spin on those older 2D Pokémon games than a straight homage, however.
---
Rock Paper Shotgun Latest Articles Feed Saturday, April 2, 2022 1:04 PM
A Short Hike is one of my favourite games and I've completed it twice, once on PC and once on Switch. Now I'm thinking of having another go thanks to A Short Hike 99, an "unofficial" multiplayer mode created by original developer Adam Robinson-Yu as an April Fool's gag.
---
Rock Paper Shotgun Latest Articles Feed Saturday, April 2, 2022 12:34 PM
A lot of JRPGs are gorgeous, but the Ni no Kuni games have the borrowed luster of Studio Ghibli's involvement. That's why I'm interested in Ni no Kuni: Cross Worlds. It's not quite the third game in the series, but rather a PC and mobile spin-off currently available in Asia that's making its way west this summer.
---
Twinfinite Saturday, April 2, 2022 7:47 PM
Star Citizen developer Cloud Imperium Games released a new video revealing a new ship for the consistently growing space game.
---
Twinfinite Saturday, April 2, 2022 4:19 PM
Nexton has been teasing a 30th-anniversary project for a while, and a new teaser trailer provided a pretty clear indication about its nature.
---
Twinfinite Saturday, April 2, 2022 3:35 PM
Koei Tecmo released a brand new trailer of the upcoming strategy game Nobunaga's Ambition: Shinsei for PS4, Nintendo Switch, and PC.
---
Twinfinite Saturday, April 2, 2022 2:36 PM
Today third-party developers provided updates about their upcoming Microsoft Flight Simulator add-ons, including both aircraft and scenery.
---
Twinfinite Saturday, April 2, 2022 12:35 PM
The developers at Sabotage Studio continue to release small but interesting clips of their upcoming RPG Sea of Stars on the weekends.
---
Siliconera Saturday, April 2, 2022 5:00 PM
Mages released a new key visual, release information, and a stream for its upcoming adventure game Anonymous;Code. Mages President Chiyomaru Shikura streamed the game for over three hours. During this stream, he answered questions and explained details about the game's world. [Thanks, Game Watch!]
There are three price points for Anonymous;Code. The normal physical version will be 8,580 JPY ($70), the digital version will be 7,700 JPY ($62.80), and the limited edition will be 11,880 JPY ($96.30). The limited edition will have the A Beginners' Guide to Earth Simulator guide book and the Anonymous;Code Sound Data Log soundtrack. Depending on where you purchase it, you can get items of various characters. For example, ordering from AmiAmi will garner you a B2 tapestry of Momo.
The new key visual for the game shows heroine Momo and protagonist Poron.
[gallery columns="1" link="file" ids="922517"]
https://youtu.be/sFyBMd844BQ?t=3852
Throughout the stream, Shikura occasionally answered questions that viewers asked. He also provided information about in-game terminology. For example, during a scene when Cross Yumikawa turned off his BMI, Shikura explained that BMI is like an AR device that functions almost like a VR headset. With the BMI on, the restaurant he is in looks like a fantasy inn with various elf waitresses. But as soon as Cross turns it off, you see that the restaurant is a normal one, and the waitresses are all actually men.
Anonymous;Code will come out in Japan on July 28, 2022 for the PlayStation 4 and Nintendo Switch. It was supposed to come out on the Vita as well, but it was canceled in 2020.
The post Mages President Streams 3 Hours of Anonymous;Code Gameplay appeared first on Siliconera.
---
Siliconera Saturday, April 2, 2022 3:00 PM
I've always been in love with The World. .hack//sign was one of the first anime series I ever fully watched, and I remember when there were rumors about a potential MMORPG based on the series actually being developed I was ecstatic. While an actual MMO based on the .hack series never released, Bandai Namco created the .hack//G.U. series. A single player experience, .hack//G.U. has all of the trappings of an MMORPG and give players a way to interact with The World.
For example, players can discover new dungeons, or rather remix dungeons, by finding certain keywords on the in-game forums. This antiquated way of discovering new locations or acquiring wallpapers for your in-game launcher may feel like a waste of time to players unfamiliar with the way information used to be discovered in MMORPGs. To some extent even now, forums still largely exist or have morphed into shared community Discord servers. But there is genuinely something thrilling about how .hack//G.U. manages to encapsulate this experience almost perfectly.
I imagine when the game originally released, it helped fully immerse players into experiencing The World as an MMO without the game actually being an MMO. Now it serves as a near perfect crystallization of mid-2000s era MMORPG culture. It provides a glimpse into what these communities used to be like, and even how little they have changed.
Posts on the in-game forums range from players sharing fan art based on their individual experiences in The World to arguing about the difficulty of the game. It's almost uncanny to see these conversations brought up in .hack//G.U., and how closely they mirror some debates about content scaling today. NPC responses range from the expected "then just play another game" to more long form responses about much needed balance changes. Despite these conversations providing a bit of flavor text, it made everything feel a little more real.
I ended up scrolling through all of these conversations, genuinely surprised at how closely the forums emulated the experiences I had playing MMOs like Ragnarok Online and Lineage II as a teenager in the 2000s. I remember going to forums to exchange secrets about how to obtain needed catalysts for spells in the MMORPG of my choice.
Or visiting the official website to read up on the lore. Which naturally included a breakdown of the various races and important locations. Yes, .hack//G.U. offers this as well. Players can head to The World's webpage to read about all of these finer details, which creates a level of texture in what already feels like a very lived in and realized world. At least for a mock MMORPG of its time.
It was impossible not to be hit with that wave of nostalgia, which has absolutely colored my impression of the game. There is a fondness there I don't think I would have initially had if I had played the game at launch. It reminds me a lot of my youth and how much time I actually spent on the internet and communities focused on games I was engaging with at the time. I doubt I would be as wrapped up or enamored with a mechanic that some would consider a waste of time. I might have even been annoyed as a teenager.
And there's something oddly bittersweet about how things have remained the same, but also changed. I'll never be able to have those experiences again. But I can always revisit some aspects of them in The World.
.hack//G.U. Last Recode is available on PlayStation 4, PC, and Nintendo Switch.
The post .hack//G.U. Last Recode Encapsulates MMORPG Nostalgia appeared first on Siliconera.
---
Siliconera Saturday, April 2, 2022 1:00 PM
The Primals, FFXIV's official rock band, announced the release of a new mini-album titled Beyond the Shadow, as well as an upcoming live show of the same name. The mini-album will cost $24.99, with pre-orders open on the Square Enix store. The Primals will perform in Tokyo over the course of two days starting June 4, 2022. FFXIV players can also apply to an early raffle for a chance to purchase concert tickets ahead of time. Tickets will cost ¥7,590 (about $62).
The Beyond the Shadow mini-album will include four of The Primals' most popular songs. These include "The Nautilus Knoweth", "Flow Together", "Close in the Distance", and "Hic Svnt Leones". The album will release a week ahead of the live concert, on May 25, 2022. Orders from the Square Enix Store will also include a backstage pass-style sticker.
https://twitter.com/sem_sep/status/1509901131467866115
The Primals will perform at Tokyo's Makuhari Messe Hall. However, the official website notes that the live show may change to a no-person event depending on the situation of the pandemic. Additionally, Square Enix will sell various live concert exclusive merchandise such as T-shirts, pins, and bags.
For those who have active subscriptions to FFXIV, Square Enix will hold a raffle from April 1, 2022, to April 11, 2022. Players can enter the raffle for a chance to nab a ticket to the event before everyone else. Square Enix will contact winners on April 26, 2022, at which point they must pay by May 2, 2022. The standard ticket purchase period has not been announced.
You can check out The Primals Beyond the Shadow album and live event announcement trailer below.
https://youtu.be/xyrse8bLN9Y
The Primals is led by FFXIV composer Masayoshi Soken. The band has also released various arrangement albums in the past, including three albums from FFXIV expansions such as Stormblood and Heavensward on streaming platforms.
The Beyond the Shadow live event will be held on June 4 and 5, 2022 in Tokyo, Japan. The mini-album will release on May 25, 2022.
The post The Primals Beyond the Shadow Live Concert and Album Announced appeared first on Siliconera.
---
Destructoid Saturday, April 2, 2022 3:00 PM
---
Destructoid Saturday, April 2, 2022 2:00 PM
---
Destructoid Saturday, April 2, 2022 12:00 PM
---
Pivotal Gamers Saturday, April 2, 2022 12:26 PM
What's up folks? Giveaway.su holds a new giveaway for Knightfall: A Daring Journey. Their message follows. Attention! Hurry up to get a free Steam copy of "Knightfall: A Daring Journey"! This giveaway is limited in time. A few words about Knightfall: A Daring Journey Two knights, a strong bond, and a long journey. Take up the race for the rose, ride from village to village and ta...