---
Kotaku Saturday, June 11, 2022 4:25 PM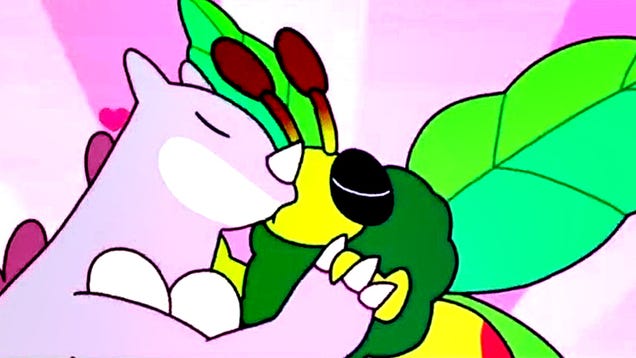 The Wholesome Games Direct presentation just wrapped, and after about an hour of trailers, the livestream underscored one thing for me: There sure are a lotta farming sims out in the wild. Hey, I don't mind the abundance of these games. Farming in games can be a cozy escape, but it was strange seeing so many trying to…
---
Kotaku Saturday, June 11, 2022 3:30 PM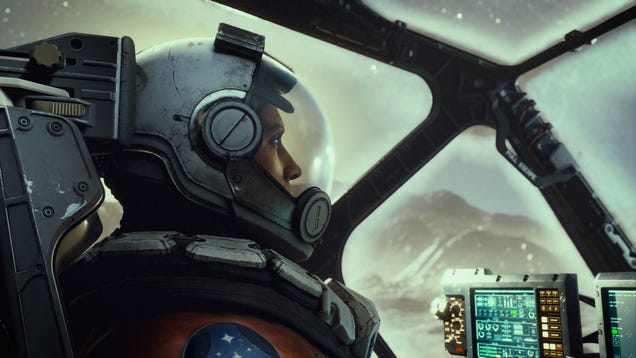 For Xbox, a lot is riding on its big not-E3 press conference. Right now, following a number of notable delays, the mega-publisher's 2022 is devoid of any major exclusives. In addition to the requisite announcements of games coming to Game Pass and announcements about more devices on which you can stream those games,…
---
Kotaku Saturday, June 11, 2022 1:20 PM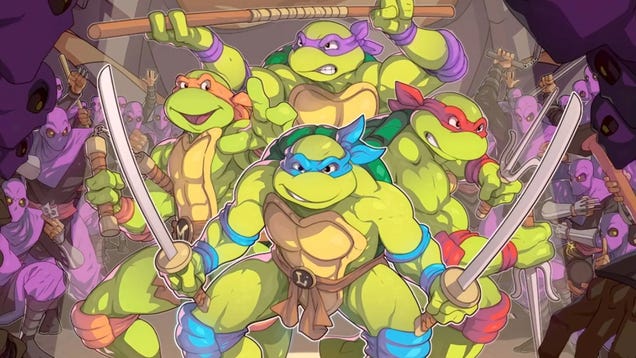 🎶Teenage Mutant Ninja Turtles, Teenage Mutant Ninja Turtles, Teenage Mutant Ninja Turtles—Shredder's Revenge is—OUT THIS WEEK!🎶
---
Kotaku Saturday, June 11, 2022 1:05 PM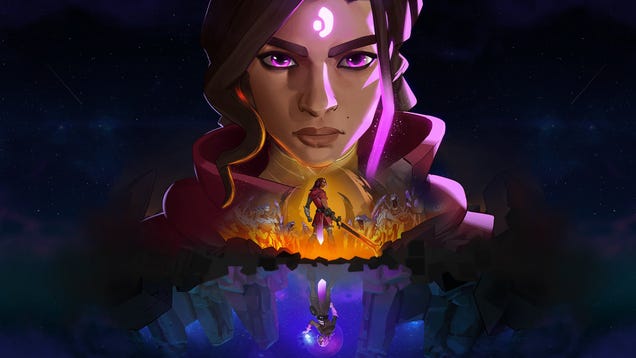 Video game marketing season is an exercise in duality. For every Sony State of Play or Geoff Keigh3, there's a lower key event—a Day of the Devs, say, or a Devolver Digital showcase. Today's big one is the annual Guerrilla Collective livestream.

---
PCGamesN Saturday, June 11, 2022 1:10 PM
It's now confirmed, perhaps to no one's surprise: there will be an in-game Diablo 4 store when the RPG game finally releases. Activision Blizzard is currently hiring someone to manage this "Diablo 4 in-game store experience," and the job listing also confirms that the publisher considers it a live-service game.
Blizzard and its fans are currently celebrating the release of Diablo Immortal, the "biggest launch" in the franchise's history, but a number of fans have issued concerns about microtransactions and the in-game store. Diablo Immortal's loot boxes possibly got the game banned from release in some countries, and players recently discovered 'hidden' legendary loot box crests.
Well, we don't know for sure when Diablo IV is coming out, but we do know it will definitely have an in-game store. According to a new job listing, Blizzard is seeking a product manager to oversee Diablo IV's "in-game shop." This person will need "experience working in a live service gaming environment," and Blizzard considers the storefront to be "a key component of Diablo IV's seasonal content strategy."
Diablo 4 release date
,
Diablo 4 gameplay
,
Diablo 4 classes
---
PCGamesN Saturday, June 11, 2022 1:25 PM
Another controversy has surfaced among Diablo Immortal players, as several people have uncovered a 'hidden' Diablo Immortal loot box nuance to the legendary crests system that gives a distinct advantage to those buying microtransactions in the fantasy game. Content creators Josh Strife Hayes and Darth Microtransaction both highlighted the discrepancy between paid legendary crests and ones earned for free, which greatly restricts the potential for players hoping to play the free-to-play game, well, for free.
As noted in videos by both Josh Strife Hayes and Darth Microtransaction, Diablo Immortal presents two types of crest to the player - rare crests, which increase your chance of getting rune drops, and legendary crests, which guarantee you a legendary gem drop. The latter are very useful, because Diablo Immortal gems are a big part of its endgame grind.
Crucially, though, there is actually a second type of legendary crest - one which, at a glance, is almost indistinguishable from the other. Eternal legendary crests, which must be purchased in the cash shop with eternal orbs, have an almost identical visual design to the regular legendary crests. However, while gems dropped from the free legendary crests are bound to your character and cannot be traded or sold on the marketplace, eternal legendary crests guarantee "a legendary gem that can be sold on the market."
Diablo Immortal tier list
,
Diablo Immortal system requirements
,
Best games like Diablo on PC
---
PCGamesN Saturday, June 11, 2022 11:49 AM
Gaming archivists have discovered the long-lost Quake GBA port, which is made by the same porter who created the legendary 'impossible' Doom SNES port - and what's more, you can play this version of the classic FPS game for yourself.
There are many surprising things about the Doom port to the Super Nintendo from 1995, such as the technical wonder of having the FPS on a 16-bit console and that it claimed Doom was set in the far-off future of 2022. However, the coolest fact about it is that the port was mostly made by a single programmer - Randy Linden.
According to archivists Forest Illusion, in 2002 Linden put his skills to the test porting Quake to Nintendo's Game Boy Advance handheld. He created an example demo to show how Quake could run on the console, but it didn't get the go-ahead - mostly because, by the time it was working, the public was moving on from the GBA. Recently, that Quake demo was rediscovered on a random flash drive in Linden's storage - and is now available to download on Forest Illusion. You'll need a GBA emulator to play it, of course.
Best FPS games
,
Best old games
,
Best multiplayer games
---
PCGamesN Saturday, June 11, 2022 10:21 AM
A number of new Phasmophobia ghost types were added in the recent June update, but one variation of the creepy but slow-moving Deogen ghost turns the experience into almost something out of another of the best horror games on PC - Dead by Daylight.
We've known since May that a few new ghost types were being added in the new Phasmophobia update, and the introduction Kinetic Games gave about the Deogen type was the ominous advice that players could "run, but you can't hide" from it.
Creepy stuff, and this materialised in-game as the relentless but slow-moving spirit that constantly stalks the player zombie-like while in full view. That's already edging closer to the territory operated by the likes of Friday the 13th, Dead by Daylight et cetera - especially as most Phasmophobia ghosts remain invisible most of the time. However, just to make things worse, one player encountered a terrifying 'broken back' Deogen variant that actually run straight at them and was a far cry from the shambling regular version.
The best horror games on PC
,
The best VR games
---
PCGamesN Saturday, June 11, 2022 10:17 AM
If you've ever picked up an item in FromSoftware's expansive open-world game and been confused about how it works, an Elden Ring mod has got you covered. The Detailed Item Descriptions mod does exactly what it says on the tin - adding new, extensive item descriptions complete with exact damage numbers and percentages for every single item in the RPG game. This includes spells, equipment, and weapon skills along with all of the usable items.
Dziggy, creator of the Detailed Item Descriptions Elden Ring mod, says they made the mod because they were "sick of looking up every item to see what it actually did." As a result, they embarked on a mammoth undertaking to rewrite the descriptions for "every single item in the game, including spells, equipment, and weapon skills." These descriptions now include accurate, often detailed text descriptions that explain how the item is used and what effects it can apply.
The mod also details exact numbers, breaking them down into individual statistics such as base physical damage, stat accumulation (for buildup effects such as sleep or bleed), and buff or debuff percentages applied to affected characters. It even uses coloured text to break things up nicely into an easily readable and understandable format.
The best Elden Ring builds
,
Elden Ring bosses
,
The best Elden Ring classes
---
PCGamesN Saturday, June 11, 2022 2:49 PM
The Resident Evil 2 PC upgrade will bring it, along with Resident Evil 3 and Resident Evil 7, in line with current-gen consoles by adding ray tracing and other enhancements – but it's also changing the system requirements. After the patch goes live, the survival horror game will no longer support DirectX 11 drivers and will only be playable on DirectX 12, Capcom said in a short update on Steam.
It will tweak a few other system requirements as well. The minimum specifications will no longer include Windows 7 and 8.1 (64 bit). You'll need Windows 10 (64 bit) or Windows 11. Resident Evil 2 currently supports Nvidia GeForce GTX 760 and AMD Radeon R7 260x, but after the update, you need at least GeForce GTX 960 or AMD Radeon RX 460.
Capcom gave no indication when it expects the update to go live, but some eagle-eyed internet users have already spotted the franchise's updates on Sony's servers. It's caused a bit of speculation that they may arrive sometime after the publisher's June 13 summer showcase.
Resident Evil 2 review
,
Resident Evil 2 system requirements
,
Resident Evil 2 Tyrant
---
Rock Paper Shotgun Latest Articles Feed Saturday, June 11, 2022 5:56 PM
Sci-fi platformer Planet Of Lana seems like a sweet, scenic adventure with an alien monkey butler, and today's Future Games Show had a little more gameplay to share. I mentioned Planet Of Lana earlier this week in my Day Of The Devs 2022 round-up, because it featured in that indie showcase too. Check out the trailer if you missed it on Thursday, it's quite charming.
---
Rock Paper Shotgun Latest Articles Feed Saturday, June 11, 2022 5:45 PM
Last year a couple of brothers posted a concept trailer for an FPS horror game that didn't exist (named Project Ill). Well, those brothers are now Team Clout and that game now exists, albeit called simply Ill. I've not got much to point you towards - there's no Steam Store page, no high-res press screens, no release window. Even calling the video from the Future Games Show a gameplay trailer is taking the biscuit, if not most of the factory floor at McVities. But the vibes, as they say, are immaculate: bare feet on a grubby floor, shambling horrors with many half-glimpsed appendages, and a gun that is surely too small to protect you from any of it. Resident Evil but injected with your most virulent 2022 strain.
---
Rock Paper Shotgun Latest Articles Feed Saturday, June 11, 2022 5:33 PM
Palworld has a new trailer. If you've seen Palworld's previous two trailers, those words alone should send you rushing below to see what new absurdity is on show. For the uninitiated: Palworld is a game in which you can catch off-brand Pokémon, put them to work in a sweatshop producing guns, and then do battle with these Nopémon by your side and and an assault rifle in your hands.
Watch the trailer, you'll see.
---
Rock Paper Shotgun Latest Articles Feed Saturday, June 11, 2022 5:31 PM
Back in January of this year RPS regular contributor Edwin Evans-Thirlwell interviewed Ami Y. Cai, developer of The Cartomancy Anthology, as part of his efforts to dig into the mystery of why tarot is such a popular inspiration for indie games at the moment. Happily, after today's Future Of Play Direct, we can provide you with a little update on that story: Cai's expansive collaborative project is due to release on Steam very soon: on August 9th, 2022.
---
Rock Paper Shotgun Latest Articles Feed Saturday, June 11, 2022 5:25 PM
Upcoming sci-fi puzzle game The Entropy Centre has a gun that, at first glance, seems to rewind time, and that's probably one of the most useful inventions ever. The Entropy Centre's due out this year. Although it could probably be out whenever it likes if it fires at a calendar of games releases. Have your ideas about physics turned upside down when you watch the trailer below. Or is it above?
---
Rock Paper Shotgun Latest Articles Feed Saturday, June 11, 2022 5:07 PM
Tinykin is about an astronaut named Milo returning to earth after a long space voyage. Milo might reasonably fall to his knees and scream "You blew it up, damn you!" when he gets there, because the earth he lands upon has been blown up several times larger than normal - either that or he's been made much smaller and is now the size of a penny. Milo must then have to navigate the abandoned world with a Pikmin-like army of aliens by his side, ready to solve puzzles.
It looks great, and after being announced last year, Tinykin now has a release date of August 25th.
---
Rock Paper Shotgun Latest Articles Feed Saturday, June 11, 2022 4:59 PM
If there's anything I've learned from today's Future Of Play event, it's that stylish futuristic dystopian mysteries are where it's at right now in the indie scene, and I for one am all in favour. One of the coolest announcements at the event was Hill Agency: PURITYdecay, described as an "Indigenous cybernoir detective game" and in the works at Achimostawinan Games. Although maybe "in the works" isn't quite an accurate description, because the game is in fact out very soon: on August 31st this year, to be exact.
The trailer is a pitch-perfect hearkening back to the golden age hardboiled detective stories of the 1940s — complete with a black-and-white palette with just the occasional hint of colour to highlight the high-tech parts. High-tech because, despite its 20th century influences, this game is set quite far in the future, in 2262. It's not exactly a nice vision of the world in 240 years' time, though, as the narrator is quick to point out that it's riddled with "crime, conflict, and propaganda". Truly holding up a mirror to our times, then.
---
Rock Paper Shotgun Latest Articles Feed Saturday, June 11, 2022 4:43 PM
Anyone up for side-scrolling Bloodborne? That's the distinct vibe emitting from every gothic orifice of The Last Faith, a Metroidvania coming this year. Some more footage of the thwack 'em up platformer was shown off at today's Future Games Show. You can stroke your beard and make approving sounds at it, if you watch the trailer below.
---
Rock Paper Shotgun Latest Articles Feed Saturday, June 11, 2022 4:31 PM
Sunday Gold, revealed at the Future Games Show tonight, has a lot going on under the hood, so bear with me. In Sunday Gold you play a team of three crims and... well, I can't explain it better than the steam blurb, which says "experience a unique hybrid of escape room style puzzles, turn-based combat, and RPG mechanics tied together with a dark and cinematic storyline." So, er, Blending a few things, here. Key takeaway is that everyone in this has a faced like a slapped Bulldog's bum. Nobody is having a fun time.
---
Rock Paper Shotgun Latest Articles Feed Saturday, June 11, 2022 4:20 PM
Bramble: The Mountain King is an action-adventure game inspired by grim Nordic folktales, where the bosses you'll encounter may have some horrible backstory which explains why they now drown people for funsies. It's also seemingly a game where you're a wee smout and can ride on the back of a friendly hedgehog. There's a new trailer which covers both of these elements below.
---
Rock Paper Shotgun Latest Articles Feed Saturday, June 11, 2022 4:13 PM
I adore Deadly Premonition, a game which shines despite substantial elements being janky or bad. The 2010 horror game about an oddball FBI agent investigating ritual murders in small-town America is not "so bad it's good", it's so good it doesn't matter that it's bad (and maybe the badness even amplifies the good). Well, I've been playing Deadly Premonition 2 ahead of its PC release today, and I'm sorry to say the sequel does not shake out the same way. Despite some bright spots, enough of Deadly Premonition 2 is bad that I've given up.
---
Rock Paper Shotgun Latest Articles Feed Saturday, June 11, 2022 4:10 PM
The Moomins were spreading themselves a little thin tonight, with Snufkin: Melody Of Moominvalley appearing at both the Wholesome Direct stream and the Future Games Show later the same evening. In the former we got a bit of a primer on Tove Jansson's work as the source material for this game, but in the latter we got a better look at the game in motion - plus news that ethereal Icelandic rockers Sigur Rós are collaborating on the sound track.
---
Rock Paper Shotgun Latest Articles Feed Saturday, June 11, 2022 4:03 PM
---
Rock Paper Shotgun Latest Articles Feed Saturday, June 11, 2022 4:00 PM
One of the most intriguing new announcements at today's Future Of Play event had to be Psychroma, a cyberpunk horror adventure game in the works by indie developer/publisher Rocket Adrift Games. The devs describe their game as a narrative-driven side-scroller where you play as a digital medium. Imagine something halfway between Observer and Detention, then, and you'll be on the right lines.
The trailer harks back to the point-and-click mysteries beloved of my misspent youth, which really fits in with Psychroma's whole retro futuristic vibe. It's got that clever pixel art style that looks exactly how you remember golden age adventure games looking in the '90s, which of course means that it's much, much more polished and modern than those games ever were.
---
Rock Paper Shotgun Latest Articles Feed Saturday, June 11, 2022 3:35 PM
Revealed at the Future Games Show tonight, Tray Racers is a game clearly derived from a dev accidentally doing a spoonerism in a meeting one time. This SEO nightmare is being developed by Bit Loom, the team behind colourful yet somehow unsettling puzzle game Phogs, and it's about racing down sand dunes on trays. As the trailer says, "the world ended... But the fun didn't!", and I guess winning a dune race would take your mind off the unending horror for a bit.
---
Rock Paper Shotgun Latest Articles Feed Saturday, June 11, 2022 3:29 PM
Would PT have spawned a genre of housebound horror had PT been fully released? I don't know, but Luto is the latest indie attempt at making you scared of your linen closet. It even has some extremely impressive sheet physics.
---
Rock Paper Shotgun Latest Articles Feed Saturday, June 11, 2022 3:11 PM
It's hard not to view Kitfox Games as the stars of tonight's Future Of Play event. Hot on the heels of the news that Boyfriend Dungeon will be receiving a substantial free update, they unveiled Mossfield Origins, the next game coming courtesy of their publishing arm.
Developed by Studio Any Percent, Mossfield Origins promises an extremely relaxing take on the sci-fi city builder genre. The announcement trailer, which you can check out below, opens with a serene disembodied voice setting the tone for what's to come. "We were sent here with a purpose," the voice murmurs soothingly, then adds: "But we're not doing that any more."
---
Rock Paper Shotgun Latest Articles Feed Saturday, June 11, 2022 2:46 PM
This year's Wholesome Direct featured around a hundred games, and from that, just as bloggers at Paris Fashion Week are able to look at what Versace is slanging down the runway to predict key highstreet colour themes 12 months in advance, we can look at what his wholesome hot and what is wholesome not. Get your wholesome discourse takes prepared, because in 2022 and beyond it's all about plants and witches.
---
Rock Paper Shotgun Latest Articles Feed Saturday, June 11, 2022 2:28 PM
Dungeon crawler-slash-dating sim Boyfriend Dungeon will receive a substantial free update this summer and will feature three new dateable characters — not two, as was previously announced. The surprise new addition, revealed at tonight's Future Of Play stream, will be the sinister Dr Holmes the Whip, the final boss of the brand new dungeon which is also being added in the Secret Weapons DLC.
---
Rock Paper Shotgun Latest Articles Feed Saturday, June 11, 2022 1:34 PM
The Guerrilla Games showcase this year had trailers for like, 60 games, or something, and no woman can play 60 games. Who do you think I am, Santa? You think I can slow time to infinity when I need it? So I've done you a little roundup of the games that caught my eye this time. There's some action, some horror and some puzzles. Fun for all the family!
---
Rock Paper Shotgun Latest Articles Feed Saturday, June 11, 2022 11:22 AM
When I was a student I used to spend way too much time scrolling through the endlessly refreshing collection of horror flashfiction on r/nosleep. Consequently I'm a fan of horror anthologies in the vein of No Code's Stories Untold. Upcoming freak 'em up The Fridge Is Red (developed by 5Word Team) looks like r/nosleep having a story jam about the fridge you have to stare at off of Control, so I'm into it. Look out for it in 2022, but the trailer says there's a free demo on Steam now.
---
Twinfinite Saturday, June 11, 2022 5:47 PM
Focus Entertainment and Asobo Studio released an extensive video about the upcoming adventure game A Plague Tale: Requiem.
---
Twinfinite Saturday, June 11, 2022 4:43 PM
Today the traditional Future Games Show was hosted, providing new looks and reveals about plenty of upcoming games.
---
Twinfinite Saturday, June 11, 2022 3:00 PM
If you're a fan of the Gungrave series the upcoming third-person action shooter Gungrave G.O.R.E is coming soon.
---
Twinfinite Saturday, June 11, 2022 2:37 PM
If you're familiar with Sony's China Hero Project, you're possibly familiar with Evotinction, the game by Spikewave Games revealed in 2019.
---
Twinfinite Saturday, June 11, 2022 2:15 PM
Today the Guerrilla Collective 3 livestream has been hosted, and a ton of indie games have been presented with trailers and reveals.
---
Twinfinite Saturday, June 11, 2022 10:58 AM
Sea of Stars Developer Sabotage Studio released another of its usual weekly clips of its upcoming JRPG, showing a stroll on a mountain trail.
---
Twinfinite Saturday, June 11, 2022 10:43 AM
Type-moon released a new TV commercial for the upcoming remaster of the Legendary Visual Novel Mahoutsukai no Yoru.
---
Siliconera Saturday, June 11, 2022 4:00 PM
Among the not-E3/Summer Game Fest 2022 announcements was the reveal of a Deadly Premonition 2 PC port. The game is now immediately available. It is $39.99 on Steam. However, a 30% launch discount is in effect until June 18, 2022. That brings the price down to $27.99. Previously, the Hidetaka "Swery" Suehiro was a Nintendo Switch exclusive.
As with the first game, Deadly Premonition 2 follows agent Francis Zach Morgan as he investigates a murder in Le Carre, Louisiana. As with the original game, things aren't exactly straightforward. There are supernatural elements that come into play as he attempts to find out what led to the murder of a teenager and learns more of the town's secrets.
The PC port of Deadly Premonition 2 comes almost two years after its Switch release. It initially suffered from issues at launch. However, a series of patches did things like address problems with a character's depiction and frame rate problems. The game also features a yearly event to honor people who died in Hurricane Katrina.
Deadly Premonition 2 is available for the Nintendo Switch and PC.
The post Deadly Premonition 2 PC Version Released appeared first on Siliconera.
---
Siliconera Saturday, June 11, 2022 3:00 PM
New tactical RPG Symphony of War shadowdropped on PC as part of IGN's Summer of Gaming Expo. We spoke to the creator of the game, Dancing Dragon Games' Phil Hamilton, about development, balance, and when to expect it on the Switch.
---
Graham Russell, Siliconera: Could you start by telling us a bit about you and the game?
Phil Hamilton, founder and lead developer, Dancing Dragon Games: We are on our fifth game now. We've been making JRPGs. We've always made some new system for our new game. Like Skyborn was our biggest release before, and it was a straight-up JRPG. Then the next one, Echoes of Aetheria, was a new system of formations, but it was still a JRPG, so there was one party but 15 slots that you could put your formations in. Again, we're doing another new system for this one, and hopefully we keep this one for a while and do some sequels on it. But this engine took six years to make, so we're super-excited to be able to be at the finish line here.
The main inspirations would be Ogre Battle and Fire Emblem. Two of my favorite series of all time. We knew going into this that we were going to be, fairly or unfairly, judged as a Fire Emblem clone. Because we're increasing the scope, with up to nine units in a squad and up to 20 squads, there's a lot more participants! But we've both dramatically scaled back the amount of depth per unit — for example, in Fire Emblem, you have a whole list of items that one person can have and a whole bunch of traits that one person can have — there's still a good amount of customization you can do per person, but I'd say the great majority of customization work that you do is on a squad-based level.
There's a lot of customization in Symphony of War. How much flexibility within optimal builds is there?
Hamilton: There's absolutely an effort to make any type of army work, whether you make a super-mixed army or specialize. I've personally played through the game with an entire army of light archer cavalry, so like a Mongolian-horde-style game. Which is so cool because you get a bonus to evasion on attack! So you just go in, pick off, run away and you're fine just like the Mongols did. Or you can go on a mage-heavy run, using the left [Academy of War] tech tree right away, and just don't worry about any armor. But we're working on the balance. We're going to babysit this game so hard after launch.
It seems like there's incentive to commit to something?
Hamilton: I think early game, yeah. You can unlock a whole tech tree and reach a tier-four ultimate upgrade for a generic troop you've been growing right around chapter maybe 20 to 22 out of 30. Early and mid-game, you'll have to kind of make those sacrifices. But late-game, you'll be able to do everything.
Are generic characters meant to be roughly as strong as the story characters, or should you really be using story characters and others are supplemental?
Hamilton: We think about balance a lot, and one of our design pillars is that imbalance can be fun. For example, Lysander is obviously out-of-the-box one of the best units in the game, so everybody's going to be using Lysander as a squad leader. But we can design around the fact that we know everybody's going to use Lysander's squad. We don't think there's an obligation to make generics at parity with story characters, though in effect, you can absolutely make generics way beyond a story character.
But we have some story characters that are literally gods. [laughs] So you probably won't surpass the gods, but pretty darn close.
I'm going to ask a question that might be a sore subject.
Hamilton: Bring it! [laughs]
You're still letterboxing the menus and that sort of thing. Was that a struggle? What was the choice behind that?
Hamilton: Well we started this in RPG Maker, which is hard-coded to be stuck in 640-by-480. Which is a tiny little resolution, which I don't think in itself is a terrible thing? You can have games that are exactly half the resolution of 1920-by-1080 and have it look totally fine. The problem with RPG Maker is that it was stuck in 3-by-2 [aspect ratio] instead of 16-by-9. We've actually worked with a developer who has developed something called MKXP, which is a set of DLLs and EXEs that you just slap on top of RPG Maker. It blows up the resolution to 16-by-9, and it also gets rid of lag and a lot of things that were endemic to RPG Maker.
The letterboxing, I hate the fact that we have those. We're kind of stuck with it, because we can do a whole UI redesign, but I'm sure you know how much time that takes. That would be a really big technical challenge in the scope of what we want to do with this game. That was a hard choice to decide we're not going to be able to fix this for this game. But it doesn't happen in the battles, on the tactical map or anything like that.
It's not a sore spot, it's just sort of a reality of indie development.
Roughly how long would a normal campaign map take? How long would you have to dedicate to get yourself through one?
Hamilton: I'd say about 30 minutes. We do have mid-map saves, you can quick-save and quick-load anytime you want. (Except for in Ironman Mode, an optional harder difficulty.) You're always going to be thinking about your moves, unless you're one of these crazy speedrunner guys and you have everything memorized. [laughs]
It's a tough one, because for whatever reason people don't automatically make the connect that you can save whenever you want and just come back later. It's kind of a hard sell, I don't know why.
For me personally, the mid-battle save is a contingency. I'm glad it's there! But when you think through your strategy, analyzing what's coming and from where... "I'm just gonna forget everything and try to pick it up again later!" [laughs] That's not ideal.
Hamilton: Right. Yep yep.
But of course, it would be helpful if you're looking toward portable systems later. Which makes me ask the question I'm required to ask every time: do you have plans for other platforms?
Hamilton: Yep! I think it would be a terrible crime if this didn't end up on the Switch at some point. Because of the history of Switch games and GBA games, it just seems like such a natural home for a game like this to be on. So absolutely.
Bryan Herren, Director of Marketing, Freedom Games: We're not simultaneously launching on any other platforms besides PC. Our hope is that we see a lot of success, a lot of excitement and people wanting this game, and that'll give us the confidence to start the process to swap it over. We've, as a publisher, done several Switch ports so far, and have a pretty good relationship with Nintendo, so we're pretty confident in our ability to get that turned around pretty quickly.
In terms of timing, you said you were going to babysit the game for a while after launch. So you'll get the game where you want it to be before starting the porting process.
Hamilton: Yeah, there would be a long period of post-launch patches to the PC version, and then I can tell you it is not an insignificant amount of development time to port to Switch. You know, earliest would probably be next summer.
...That's being conservative, it could be earlier than that.
Thanks to Phil (and Bryan) for talking to us! This interview has been edited for clarity. Symphony of War is out now on Steam. For more on the game, check out our review.
The post Interview: Symphony of War's Creator on Inspirations, Balance, and a Switch Port appeared first on Siliconera.
---
Siliconera Saturday, June 11, 2022 1:31 PM
The free Boyfriend Dungeon Secret Weapons DLC is on the way, and it adds three new characters. It showed up in the Glitch Future of Play June 11, 2022 presentation. In addition to Jonah and Leah, two love interests that were Kickstarter stretch goals, a third person will be added. Unseen Inc. Creative Director Ikumi Nakamura designed Dr. Holmes. It will be available in late Summer 2022.
The announcement went over some details about the expansion. Jonah is an axe. He initially appeared in the main game as a supporting cast member. Leah is a hammer. Dr. Holmes is a whip. The first two will be more typical love interests. Dr. Holmes, however, is the new dungeon's boss. They also will be played by Kathleen "Loserfruit" Belsten. There will also be new music in this add-on.
Here's a trailer for the Boyfriend Dungeon Secret Weapons DLC.

And here are a few screenshots showing off the new Boyfriend Dungeon characters folks will be able to date. It also shows what it will look like if someone uses an axe, hammer, or whip while fighting.
[gallery columns="6" ids="929813,929817,929812,929814,929816,929815" link="file"]
Boyfriend Dungeon is available for the Nintendo Switch, Xbox One, Xbox Series X, and PC, and its free Secret Weapons DLC will arrive in Summer 2022.
The post Free Boyfriend Dungeon Secret Weapons DLC Adds 3 Characters appeared first on Siliconera.
---
Siliconera Saturday, June 11, 2022 1:30 PM
The Wholesome Direct aired on June 11, 2022, and here's a recap going over the full list of games that appeared. As usual, the stream focused on titles that are designed to be more cozy, friendly, and lighthearted. They also are indie entries heading to both consoles and computers.
Here's the full games list for the Wholesome Direct 2022 recap. In some cases, exact platforms and release windows weren't mentioned.
30 Birds (consoles, PC) - TBA
Bilkins' Folly (PC) - TBA
Bloom (Playdate) - Available now
Bubblegum Galaxy (consoles, PC) - 2023
Calico Pawsome Update (Switch, PC) - Q3 2022
Chicken Journey (Switch, PC) - Q4 2022
Coffee Talk Episode 2 (consoles, PC) - 2023
The Courier (Switch, PS5, Xbox Series X, PC) - Q3 2022
Critter Crops (Switch, PC) - 2023
DokiToki: Time Slows Down When You're in Love (PC) - 2023
Dordogne (Switch, PS5, Xbox Series X, PC) - 2023
Fall of Porcupine (PC) - TBA
Feed all Monsters (PC) - 2022
Flore (TBA) - TBA
Freeride (Switch, PC) - 2023
Freshly Frosted (PC) - Available now
A Frogs Tale (PC) - 2023
Frogun (Switch, PS4, PS5, Xbox, PC) - 2022
Garden in (PC) - 2022
The Garden Path (Switch, PC) - Later in 2022
Garden Witch Life (consoles, PC) - TBA
Gaucho and the Grassland (consoles, PC) - Q4 2022
Hamster on Rails (consoles, PC) - TBA
Harmony's Odyssey (Switch, PC, TBA) - Q3 2022
Hello Goodboy (PC) - 2023
Here Comes Niko free DLC (Switch, PC) - 2022
How to Say Goodbye (PC) - Q3 2022
The Hundred Year Kingdom (Switch, PC) - Available now
Kaichu: The Kaiju Dating Sim (PC) - Q2 2022
Kitori Academy (consoles, PC) - TBA
Kity Builder (consoles, PC) - Q4 2022
Kokopa's Atlas (TBA) - 2023
Kulebra and the Souls of Limbo (Switch, PC) - 2024
The Last Clockwinder (PC, Quest 2) - Available now
Lemon Cake (consoles, PC) - Q4 2022
Lil Gator Game (Switch, PC) - 2022
Little Bear Chef (consoles, PC) - 2023
A Little to the Left (Switch, PC, mobile) - Q4 2022
Lonesome Village (Switch, Xbox, PC) - 2022
Lost Twins 2 (consoles, PC) - Q4 2022
Love, Ghostie (PC) - TBA
Lovebirb (PC) - Q4 2022
LumbearJack (Switch, Xbox, PC) - Available now, out on the Xbox systems on June 14, 2022
Mail Time (Switch, PC) - Q4 2022
Melatonin (Switch, PC) - September 16, 2022
Melodyssey (PC) - 2023
Mika and the Witch's Mountain (consoles, PC) - Q1 2023
Moonstone Island (consoles, PC) - 2023
Oddada (PC) - TBA
Olliefrog Toad Skater (TBA) - 2023
Ooblets (Switch, Xbox, PC) - Q3 2022
Ove Magica (consoles, PC) - 2023
Paper Animal RPG (Switch, PS4, PS5, Xbox, PC) - TBA
Paper Trail (Switch, PS4, PS5, Xbox, PC, mobile) - Q1 2023
PaperKlay (consoles, PC) - TBA
Paradise Marsh (Switch, Xbox, PC) - Q3 2022
Passpartout 2 (PC) - TBA
Pekoe (PC) - 2023
Petit Island (consoles, PC) - TBA
Pine Hearts (Switch, PC) - Q1 2023
Pixelshire (consoles, PC) - 2023
Potion Permit (Switch, PS4, PS5, Xbox, PC) - 2022
Potion Prodigy (PC) - Available now, demo out
Princess Farmer DLC (Switch, PS4, PS5, Xbox, PC) - TBA
Puffpals Island Skies (Switch, PC, mobile) - TBA
Puzzles for Clef (Switch, PC) - 2023
San Zoolin (consoles, PC) - 2024
Schim (consoles, PC) - TBA
Seal World (PC) - Available now
Skatebird new free content (Switch, Xbox, PC) - Available now
Skye Tales (Consoles) - 2022
Snacko (Switch, PS4, PS5, PC) - 2022
Snufkin: Melody of Moominvalley (consoles, PC) - 2023
Soulitaire (Switch, PC, mobile) - TBA
The Spirit and the Mouse (Switch, PC) - 2022
Spirit Swap: Lofi Beats to Match-3 to (PC) - 2023
Star Stuff (PC) - 2023
Super Mini Mart (consoles, PC) - 2023
Terra Nil (PC) - 2023
Tiny Witch (consoles, PC) - September 1, 2022
Togges (consoles, PC) - Q3 2022
Toroa (consoles) - TBA
Townseek (PC) - Q1 2023
Tracks of Thought (PC) - 2023
Usagi Shima (PC, mobile) - TBA
A Walk with Yiayia (Switch, PC) - August 20, 2022
The Wandering Village (Xbox Series X, PC) - Q3 2022
We are OFK (Switch, PS4, PS5, PC) - Q3 2022
Wholesome: Out and About (Switch, Xbox Series X, PC) - 2023
With You (PC) - Available now
The post Here is the Wholesome Direct 2022 Games List Recap appeared first on Siliconera.
---
Siliconera Saturday, June 11, 2022 12:00 PM
The Genshin Impact Almighty Arataki Great and Glorious Drumalong Festival event is about to begin. On June 13, 2022, a new rhythm game will be available in-game. As the (long-winded) title suggests, Itto is the character behind the new drumming activity. To help people prepare, HoYoVerse shared requirements to participate, discussed rewards, and went over everything the activity will entail.
First, people need to have caught up with a bit of the story. You can't take part in the Genshin Impact Almighty Arataki Great and Glorious Drumalong Festival unless you've unlocked Inazuma, started Archon Quest Chapter 2, Act 1, and finish the Ritou Escape Plan quest. If you've done that and are past Adventure Rank 30, then you can start drumming with Itto.
Unlike other Genshin Impact rhythm game activities, this one will feature customization elements. You'll be able to create your own songs. For the first week of the event, there will be one new song each day. Each one will have Normal, Hard, and Pro difficulty levels. Playing them will get you things like Primogems and unspecified weapon ascension materials.
After hitting a certain point. people also get a Note Editor. This lets people create their own songs, which will only be available until the event ends on July 4, 2022. If you are able to get a Discantus rank in the song you created, then you can share it in-game. As a reminder, in past Genshin Impact rhythm game events, Discantus is the highest rank and tends to mean a perfect score. (The other two ranks are Euphoria, the lowest, and Dulcem, which is the middle one.)
Genshin Impact is available for the PlayStation 4, PlayStation 5, PC, and mobile devices. A Nintendo Switch version is in development. The Almighty Arataki Great and Glorious Drumalong Festival event will run in Genshin Impact between June 13, 2022 and July 4, 2022.
The post Genshin Impact Almighty Arataki Great and Glorious Drumalong Festival Details Shared appeared first on Siliconera.
---
Siliconera Saturday, June 11, 2022 11:00 AM
Aquaplus announced the air date for the Utawarerumono: Mask of Truth anime adaptation. The anime will start airing on Japanese television starting July 2, 2022. The anime will consist of a total of 28 episodes, with the first two episodes airing on July 2. Additionally, Aquaplus has released a new teaser trailer as well as the anime's Japanese voice cast. [Thanks, ryokutya!]
Utawarerumono: Mask of Truth is an anime adaptation of the game of the same name. Aquaplus announced that the anime was in production back in November 2021, during the series' 20th anniversary live stream. Similarly, the announcement came with a teaser trailer, featuring several key characters that appeared in the previous Utawarerumono: Mask of Deception adaptation. The schedule indicates that episodes will air every Saturday night in Japan.
Notably, the new teaser trailer features the first use of the anime's opening theme, "Hitonanda," performed by the artist Suara. The Utawarerumono website now lists additional cast members, as well as their respective comments and character designs. These comments are only available to read in Japanese.
Below is a list of the newly announced cast members for Utawarerumono: Mask of Truth.
Kurou - Tsuyoshi Koyama
Benawi - Daisuke Namikawa
Oboro - Daisuke Kirii
Dori/Gura - Akeno Watanabe
Munto - Hiroshi Shirokuma
Aruru - Miyuki Sawashiro
Camyu - Rie Kugimiya
Ulthury - Sayaka Ohara
Karura - Atsuko Tanaka
Touka - Kaya Miyake
[gallery columns="4" link="file" ids="929824,929827,929825,929826"]
You can watch the new Utawarerumono: Mask of Truth anime teaser trailer announcing the air date below.
https://youtu.be/JxeG79nKXNU
The Utawarerumono: Mask of Truth anime will begin airing on Japanese television on July 2, 2022.
The post Utawarerumono Mask of Truth Anime Air Date Announced appeared first on Siliconera.
---
Siliconera Saturday, June 11, 2022 10:00 AM
HoYoVerse introduced another Zenless Zone Zero character, and her name is Soldier 11. Due to her past and nature, her "file" is corrupted. This means her age, faction, and real name are unknown. However, she's described as the "perfect soldier."
There's also an official Zenless Zone Zero infographic going over details about the character.

We also know who Soldier 11's voice actress will be in Zenless Zone Zero. She'll be played by Yukiyo Fujii. One of her most recent notable roles is Sailor Saturn in Sailor Moon Crystal and Sailor Moon Eternal. She's also played Hanajima in the Fruits Basket new anime series. You might also recognize her as multiple Fairy Tail characters, like Gemi, Katja, and Millianna.
Voice Actor Announcement

...My name? I gave it up long ago.
It's only a reminder of my past.
I don't care where you've been, but whatever the case, I await my orders.

CV: Fujii Yukiyo#zzzero #Soldier11 pic.twitter.com/rhB1hBTlQf

— Zenless Zone Zero (@ZZZ_EN) June 11, 2022
People had a chance to see a number of other Zenless Zone Zero characters recently. During Summer Game Fest 2022, a new trailer appeared. It showed off some of the folks people will use when they play the game.
Zenless Zone Zero is in development for PCs and mobile devices, and a closed beta is on the way.
The post Zenless Zone Zero Soldier 11 Introduced appeared first on Siliconera.
---
PC Invasion - FeedDDD Saturday, June 11, 2022 5:30 PM
The Future Games Show aired today and threw a ton of indies at us to sort through. One of those was the upcoming horror title Ill, which included a new trailer showing off some startlingly realistic monsters in creepy dark hallways. Anyone with a taste for gruesome gore and suspense is sure to enjoy the brief teaser. The game is in active development by Team Clout with no clear release date in mind. The developer has made enough progress to show off a few trailers aside from this latest clip though, and there's clearly some talented animators and artists working on it. The stuff of nightmares We can see writhing tentacles on malformed bodies of monsters that were perhaps once human. Previous trailers show traditional zombies in the games as well. It appears that Ill is about fighting these abominations, but there will also be emphasis on a narrative, perhaps about what created the infestations. It's clear there will be a fair share of jump scares in the game as well ...
---
PC Invasion - FeedDDD Saturday, June 11, 2022 4:30 PM
The Last Faith received a new gameplay trailer today during the Future Games Show. This new 2D gothic action-adventure game comes from publisher Playstack (which has published games like Mortal Shell) and developer Kumi Souls Games. The Last Faith is releasing on PC later this year. The game is described as a "dark, gothic alliance of Metroidvania and Soulslike." It was originally revealed as a Kickstarter project back in 2020, and will be the debut game of the London-based independent studio Kumi Souls Games. We'll update this post with a YouTube link for the gameplay trailer once it goes live. What is The Last Faith about? The Last Faith places us into the shoes of a character named Eric. In the game, Eric awakens in a dark and ravaged world without any recent memories. His mind is slowly deteriorating, and he must find a solution to this problem by going on a harrowing adventure that involves crossing paths with mysterious religious forces. The Last Fa...
---
PC Invasion - FeedDDD Saturday, June 11, 2022 4:30 PM
A new puzzle game inspired by Portal 2 is coming from indie developer Stubby Games. The Entropy Centre got a fresh trailer during The Future Games Show this afternoon. The game is a single-player, first-person puzzle adventure that challenges the player's perception of time and reality. Expect The Entropy Centre to hit the proverbial internet shelves before the end of the year. The trailer shows The Entropy Centre to be puzzling, challenging your mind to think in different ways to create solutions. Instead of a portal gun, you have a time gun that talks and provides… interesting quips throughout the game. Now to be published by Playstack, the game looks to be an interesting experience that should remind players of Portal — the snarky narrator, especially. The Entropy Centre trailer shows gameplay and characters The game is set on a giant space station, with players taking control of the main character, Alya. The Entropy Centre is about to collapse, and there is n...
---
PC Invasion - FeedDDD Saturday, June 11, 2022 4:09 PM
During the Day of the Devs event that aired after the Summer Game Fest, publisher Armor Games Studios had an announcement to make regarding its comfy management sim Bear & Breakfast. Announced back in 2020, Bear & Breakfast sees players taking control of a bear who aims to set up a bed and breakfast in the middle of the woods. Those enamored by its charming premise may wish to learn about its release date right away. Thankfully, Armor Games Studios chose to announce exactly this during the week. Specifically, Bear & Breakfast will see a release fairly soon on July 28, and players can enjoy a charming new trailer beforehand. According to a press release, Bear & Breakfast stars Ursa Major Hank, an entrepreneurial bear with big dreams and a big heart. One day, Hank and his friends come across a dilapidated shack in the woods, which prompts them to transform it into a cozy bed and breakfast for visitors to enjoy. As they build their new establishment, the mysteries su...
---
Level Up Saturday, June 11, 2022 1:31 PM
On a Saturday filled with indie game showcases, Wholes Games' hour-long presentation set itself apart…
---
Level Up Saturday, June 11, 2022 12:37 PM
Announced during Guerilla Collective's livestream, Shashingo is a new photography game with the aim of…
---
Level Up Saturday, June 11, 2022 10:57 AM
Guerilla Collective's Summer Game Fest-adjacent live stream revealed a slew of new and upcoming indie…