---
GamersHeroes Wednesday, March 30, 2022 10:48 AM
Tango Gameworks, which has previously worked on The Evil Within series, are paying a visit to Tokyo with the release of Ghostwire: Tokyo. In honor of this game, Gamers Heroes takes a look at a spot-on cosplay of The Evil Within's The Keeper.
The post Cosplay Wednesday – The Evil Within's The Keeper appeared first on GamersHeroes.
---
Kotaku Wednesday, March 30, 2022 3:30 PM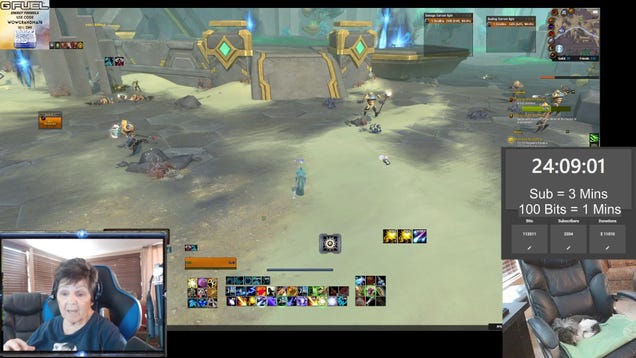 Twitch can often be a cesspit of awfulness. If it's not one streamer getting swatted or another streamer getting accused of misogyny, then it's potential litigation between big-name broadcasters (that ultimately fizzled into nothing). But there is some good on the platform, too. One such example is WowGrandma78, a…
---
Kotaku Wednesday, March 30, 2022 2:30 PM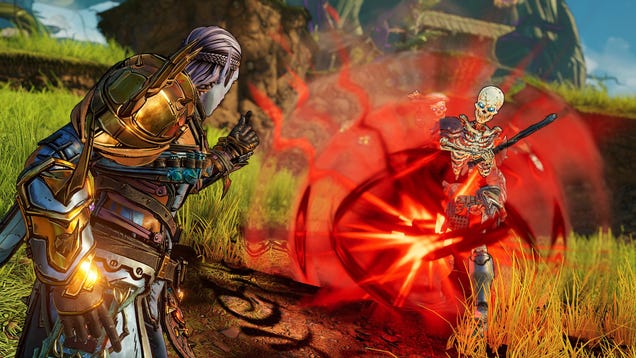 Borderlands games aren't exactly known for being challenging. Even if you turned up the heat, you wouldn't get a tougher game. You'd just get a more arduous one, the many bullet sponges simply becoming bullet-spongier. Tiny Tina's Wonderlands does away with all that by including an actually interesting wrinkle to its…
---
Kotaku Wednesday, March 30, 2022 2:15 PM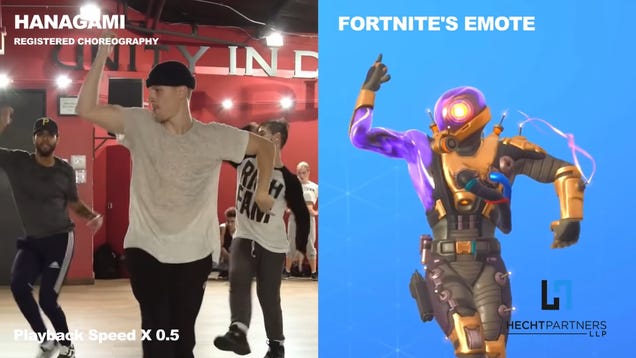 On March 29, lawyers representing choreographer Kyle Hanagami sued Epic Games for copyright infringement over the "It's Complicated" dance emote in Fortnite. The in-game emote begins with movements which Hanagami's lawyers allege are lifted from copyrighted dance moves created by the choreographer. The lawsuit was…
---
Kotaku Wednesday, March 30, 2022 2:04 PM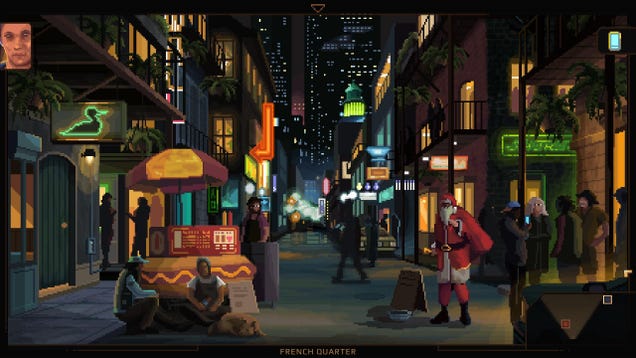 The unnerving tone of Geography Of Robot's Southern Gothic point-n-click adventure Norco fascinates me. Its conflation of a recognisable 21st-century Louisiana, and dystopian science fiction, creates an oppressive darkness that weighs on my mind as I click through the game's "mind-map" menu, where memories and ideas…
---
Kotaku Wednesday, March 30, 2022 12:25 PM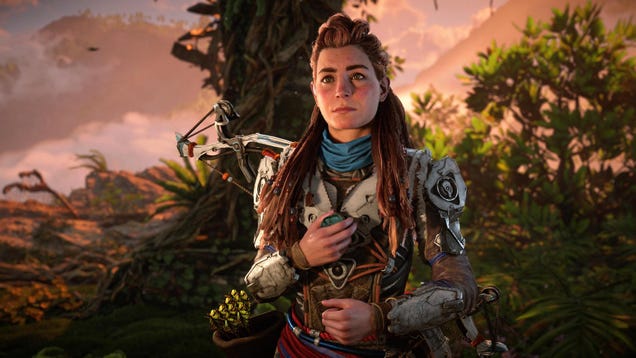 Developer Guerrilla Games has rolled out a massive patch for Horizon Forbidden West, purporting to fix more than a dozen quests, plus a litany of minor hiccups. It also aims to make the game less shimmery. Those who made it through the era of puddlegate unscathed should rejoice.

---
Kotaku Wednesday, March 30, 2022 11:55 AM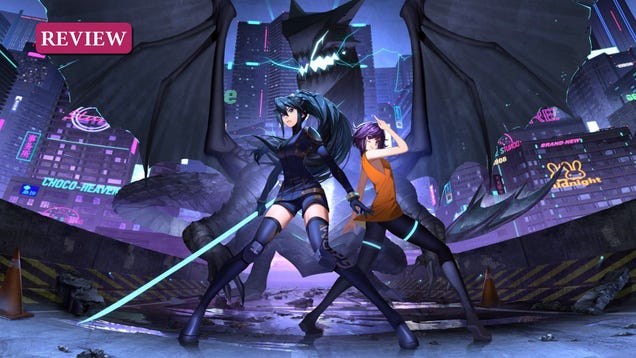 Anno: Mutationem is an overly ambitious love letter with one too many recipients. While the game has an interesting gumbo of ideas, its story buckles under the weight of living up to the very properties it attempts to pay tribute to. Ultimately, Mutationem's ending fails to deliver a satisfying or cohesive pursuit of…
---
Kotaku Wednesday, March 30, 2022 10:00 AM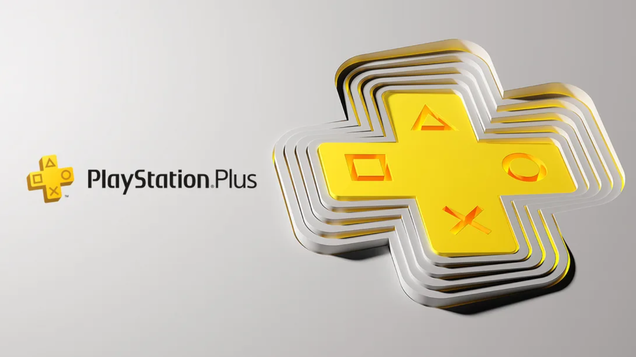 ---
Kotaku Wednesday, March 30, 2022 9:45 AM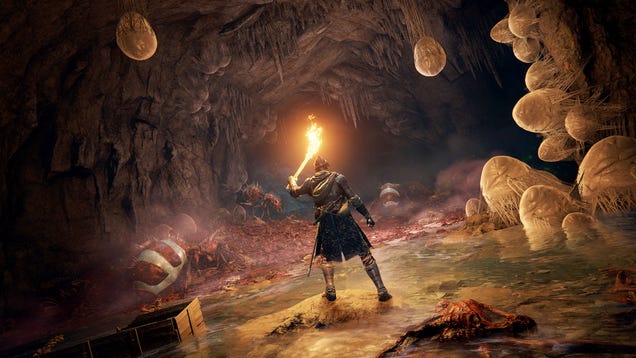 It feels like just yesterday FromSoftware fans were worried they were going to die before Elden Ring arrived, and now we're an entire month removed from its launch. In that time, dedicated players have eagerly explored every inch of this massive game, resulting in a lot of great coverage here on Kotaku dot com.

---
PCGamesN Wednesday, March 30, 2022 2:46 PM
Valve has published its regular blog on the top Steam releases of the previous month, and for February, it's an especially eclectic mix, including Elden Ring, a remastered retro game, and yes, some porn. Valve doesn't provide precise detail on how these releases rank, but the list does give us a pretty good idea of what's getting big on Steam.
These are the top 20 games released on Steam in February, ranked by the revenue they generated in the first two weeks after release. For games released late in the month, like Elden Ring, some March revenue will be counted, too - whatever fits into that two week sales window. With that in mind, it's little surprise to see big new releases like Elden Ring, Dying Light 2, Total War: Warhammer 3, and even the free-to-play Lost Ark bringing in big revenue.
Steam has certainly became a haven for sexual content over the years, and while I'm not out to yuck any yums, I cannot fathom digging into much porn on a platform that has a friends list. Still, the top 20 for February include Orc Massage, a game where you're an orc out to rub down some anime girls (and have sex), and Treasure of Nadia, a visual novel that sets you on a quest for booty (and sex).
Steam FAQ
,
Steam family sharing
,
Steam in-home streaming
---
PCGamesN Wednesday, March 30, 2022 1:36 PM
It's been quite the wait, but The Stanley Parable: Ultra Deluxe now has an official release date, and it's coming out soon. The expanded edition of the groundbreaking 2013 indie game will launch April 27 on Steam, and it'll be adding a wealth of new content to Stanley's introspective adventure.
The Stanley Parable is a game that in ages past was somewhat derisively called a 'walking simulator,' but it's a rather biting and stark look at the fundamental ideas of game design and the relationships players form with game worlds and mechanics. Playing the game involves interrogating your own inclination to either follow the directions the game provides or attempt to break the rules, and The Stanley Parable's dryly funny narrator remarks on each decision you make.
As we've reported, the 'Ultra Deluxe' edition of the Stanley Parable will include new content, meaning new adventures for Stanley and the long-suffering narrator, and new endings to discover. Originally scheduled for 2019, it was delayed to 2020 - but as we all know, that was a bit of a weird year for release dates.
---
PCGamesN Wednesday, March 30, 2022 1:24 PM
Steam Deck emulation is getting better thanks to a new RetroArch update introducing some important usability updates. There's now a more convenient way to manage your installed emulation cores on the Steam version of RetroArch, and the software now makes use of the Deck's on-screen keyboard.
"We came up with a SteamWorks shim that allows RetroArch Steam to interface with the Steamworks API," the devs explain in a blog post. "Mist, our middleware tool, runs in a separate process, runs concurrently with RetroArch Steam, and functions as a bridge between this separate process interfacing with Steamworks and the GPL application itself running in an entirely different process."
With that back-end tech enabled, you can now manage emulator cores directly from the RetroArch UI, even in the Steam version. Previously, due to limitations from Valve, you could only install or uninstall cores through the Steam DLC interface. You still have to acquire cores as (free) DLC on Steam, but once you've claimed them, you can now install or uninstall them directly within RetroArch.
---
PCGamesN Wednesday, March 30, 2022 1:08 PM
You can go and visit Emmanuel Macron's Minecraft server if you want to. That's an odd sentence to write, but here we are in 2022, where the sky's the limit, and Minecraft news can go from being about recreating Wordle one day, to a political campaign the next. You certainly can't argue that games aren't political when things like this happen.
The server was announced over on Twitter via @avecvous. Avec vous, which translates to "with you" in English, is part of Emmanuel Macron's campaign message, as the current president is aiming to be re-elected next month. It's a nice message, but we'll leave French politics to the French.
Instead, let's talk about the server itself. You spawn in a town square of sorts, often filled with Among Us characters, at least in our experience, and if you look around, you'll be able to see the Élysée Palace, which is where the president lives while in power. It's not the full building, because that thing is enormous, but more of a facsimile of it. As a result, while it's clear what it's meant to be, it somewhat detracts from the grandeur of the real-world building.
Minecraft console commands
,
Minecraft skins
,
Minecraft mods
---
PCGamesN Wednesday, March 30, 2022 12:37 PM
Intel has finally revealed its Arc Alchemist desktop GPU, and a limited edition variant of the graphics card is coming in Summer 2022. Unveiled at the end of the company's Arc Graphics YouTube event, the add-in card will accompany three newly launched discrete graphics options that aim to offer enhanced 1080p gameplay and features like XeSS upscaling.
Intel hasn't shared specs relating to its best graphics card contender, but a glimpse at its design reveals dual fans tucked beneath a stylised grille that proudly reiterates the product's "limited edition" status. The company has yet to clarify exactly what it means by limited, but it could be a reference to the AIC's subtle grey and dark silver design.
In terms of output options, a rotational view of the GPU reveals one HDMI output and three DisplayPorts. Weirdly, the graphics card doesn't appear to have a visible power connector, but this is presumably something Intel has chosen to omit from its teaser 3D model.
Arc Alchemist GPUs - everything we know
,
Raptor Lake CPUs - everything we know
,
Best gaming CPU
---
PCGamesN Wednesday, March 30, 2022 12:33 PM
Fans of freebies and Metroidvanias can rejoice as the latest piece of free Bloodstained DLC is due out tomorrow - and it's the long-teased crossover with another platform game. No, it's not anyone from the Castlevania series, it's actually Princess Aurora from Ubisoft's delightful Child of Light.
Way back in October last year, Bloodstained: Ritual of the Night developer Artplay teased an upcoming free content update that would include a new character "NOT from the world of Bloodstained". The action-adventure game was supposed to get this "special crossover content" way back in 2020, but it kept on being put back.
Now, finally, the free Bloodstained crossover DLC is getting released tomorrow – March 31 – and it will bring Aurora from 2014's Child of Light to the game. As stated on the website, Aurora is accompanied by her wisp friend Igniculus, who can slow enemies or heal the player. Aurora's main offensive power is Light Ray, an MP-using beam that damages enemies. To play as her, just open up a new game slot and select Aurora as the character you want to play.
Bloodstained release date
,
Bloodstained demo
---
PCGamesN Wednesday, March 30, 2022 12:31 PM
Riot Games is introducing more League of Legends Arcana skins into the mix. Now that LoL patch 12.6 is in the wild, the developer has taken to Twitter to tease what's coming to the MOBA's PBE over the next few weeks.
The flashy headline attraction is that Ahri, Xayah, Rakan, Ryze, and Hecarim are getting some lush Arcana skins. If you've been out of the loop, we got our first batch of Arcana skins last year. Tarot cards serve as the skin's inspiration, which gives LoL champions an arcane look with a warm red glow. Riot hasn't revealed when they'll come to the game, though the patch schedule says LoL patch 12.7 is coming out on April 13, 2022. Chances are it'll be then.
We haven't seen any champion changes on the PBE yet, though one developer has revealed that Riot is ramping up work on "mid-scope updates," with adjustments for Taliyah and Olaf being tinkered with currently. "These are larger sets of changes for champions that can take a couple of months to lock down," Riot August says. "The recent Ahri and Janna adjustments are examples of work in this space.
Best LoL Champions
,
League of Legends patch 12.4 notes
,
LoL tier list
---
PCGamesN Wednesday, March 30, 2022 12:30 PM
Wondering how to activate the mechanism in the Genshin Impact Chasm? The Genshin Impact 2.6 update has arrived, bringing with it plenty of new content, including Ayato, Ayaka's brother, a new Genshin Impact character on the current Genshin Impact banner - and a brand new area called the Chasm.
Down in these mysterious underground mines, there are a series of tasks you are asked to undertake as part of a world quest chain called 'The Chasm Delvers'. One of these quests, titled 'The Heavenly Stone's Debris', requires you to talk to Zhiqiong and then activate the mechanism in the Chasm. There are three mechanisms you must activate in order to progress further.
However, some players are having trouble activating these mechanisms due to the mysterious purple slime in the way. You can remove this slime using the Lumenstone Adjuvant gadget, but you must first upgrade the gadget to level two. Here's everything you need to know in order to activate the mechanism in the Chasm in Genshin Impact.
Play Genshin Impact for free
,
Genshin Impact character tier list
,
Genshin Impact leveling guide
---
PCGamesN Wednesday, March 30, 2022 12:28 PM
Since its release almost three years ago, Raid: Shadow Legends has become one of the most well-known freemium games around. If you've never played it, but always been tempted, we have good news: using our special promo code, you can start the game with the epic champion, Chonoru, along with 300,000 silver, and a chicken (because all the best adventures involve poultry).
If you haven't played Raids: Shadow Legends before, here's how it works: you and your band of Champions fight your way through a series of turn-based dungeon battles in a bid to defeat the Dark Lord Siroth. Strong Champions like Chonoru will help you find your feet in this world more quickly as you plough through the game's early challenges.
The chicken, meanwhile, might seem like a strange starter item, but it's actually a super helpful thing to have, as it can be fed to one of your Champions to help them level up. Meanwhile, you can use your new stash of silver to upgrade your artefacts (weapons), upgrade storage space, and buy other in-game items.
Play Raid: Shadow Legends for free
,
The best free PC games
,
Free MMORPGs
---
PCGamesN Wednesday, March 30, 2022 12:20 PM
Trying to unlock the Lost Valley domain in Genshin Impact? If you want to find the Vermillion Hereafter and Echoes of an Offering artifact sets, you're going to need to unlock this brand new domain. You can use the new Vermillion Hereafter set to increase your damage output with Xiao, and the Echoes of an Offering set provides a similar boost when paired with Yoimiya and Ayato.
The Genshin Impact Lost Valley domain is found in The Chasm, the newest area added to the anime game in the Genshin Impact 2.6 update. You can easily access The Chasm if you've cleared the Liyue region already - don't worry if you haven't, we've highlighted the area on a map to make it easy to travel there.
The new update also introduces plenty of Genshin Impact events, including Hues of the Violet Garden and Spices From the West. These events change as the weeks go by, so we recommend tackling them right away to unlock primogems, mora, and much more. Here's everything you need to unlock the Lost Valley domain in Genshin Impact.
Play Genshin Impact for free
,
Genshin Impact character tier list
,
Genshin Impact leveling guide
---
PCGamesN Wednesday, March 30, 2022 11:57 AM
We're always on the lookout for free PC games, and there's one you can grab right now if you're quick. It's Thea 2: The Shattering, and it's a 4X game by some ex-Witcher developers that blends elements of card-battlers like Gwent and old-school RPG games. You can pick up a free copy for the next 45 hours or so over on GOG.
Thea 2 is worth the trip, because it's a fascinating mix of genres. Set in a fantasy world inspired by the Slavic myths that underpin the world of the Witcher, it uses a 4X framework for a survival game where you'll have to fight in card-based battles in order to endure.
You play as a mythical deity and must guide your small band of followers to prosperity. You'll have to start from scratch, but once you get going, you'll have the option to build towns, engage in war or diplomacy, and of course, build lethal decks of cards that will determine what your options are once battles break out. You can also play in co-op multiplayer if you want to bring a friend along for the journey.
---
PCGamesN Wednesday, March 30, 2022 11:39 AM
Want to know more about the upcoming Genshin Impact events? A new version of Genshin Impact arrives every six weeks, complete with new characters, quests, and events. It's difficult to keep track of which events are currently running and if there are any new ones coming soon, so here's a schedule for all current and upcoming Genshin Impact events.
Genshin Impact has a number of events running simultaneously, and they aren't just in-game events. When a new Genshin Impact character joins the game, the devs launch a web event at the same time - players learn about the latest characters through an interactive story told through a web browser. The rewards for completing different events range from in-game items like primogems and mora, to real life prizes like mouse mats and plushies.
Just like the Genshin Impact banners, most events are only available for a limited time, so it's worth participating as soon as you can. New events are usually added to Genshin Impact after an update, but it's worth keeping an eye out on this page as the devs do like to surprise the community.
Play Genshin Impact for free
,
Genshin Impact character tier list
,
Genshin Impact leveling guide
---
PCGamesN Wednesday, March 30, 2022 11:11 AM
The Amazon Prime Gaming free games for April have been revealed, and include The Elder Scrolls IV: Oblivion, the latest Plants vs Zombies shooter, and arguably the best adventure game of all time. It also includes a surprise Doom Eternal DLC crossover with id Software's first gaming hero.
Members can head over to the Prime Gaming homepage now to claim all of these free games and DLC packs. The Elder Scrolls IV: Oblivion - Game of the Year Edition is obviously the highlight if you don't own it already. While Skyrim is the more popular RPG game these days, its predecessor helped set the template for the entire open-world game genre. The GOTY deluxe edition includes all the game's expansions and DLC - yes, it seems to include the infamous horse armour too.
Plants vs Zombies: Battle for Neighborville is the latest cartoony online shooter in EA's Garden Warfare series, and looks like the only Origin game on this month's list. Monkey Island 2: LeChuck's Revenge Special Edition is not only probably the best Monkey Island game, but it's also arguably the best point-and-click adventure ever made.
TES IV: Oblivion Requirements
---
PCGamesN Wednesday, March 30, 2022 10:59 AM
Want to know when the Monster Hunter Rise Sunbreak release date is? Announced during Tokyo Game Show last year, the upcoming expansion for Monster Hunter Rise adds a whole new region of monsters to hunt in one of the best co-op games available. If the DLC for Monster Hunter World is anything to go by, the Sunbreak expansion will have just as much stuff to do as the base game.
The best news is that while we PC owners were late to the party, the Monster Hunter Rise Sunbreak release date is at the same time as the Nintendo Switch version. This simultaneous release date means that, on PC, you can get the best-looking visuals and smoothest performance when hunting the dragon-like flagship monster Malzeno.
If you want the best performance, you should consult our Monster Hunter Rise system requirements guide and if you're still on the fence on whether you should get it, you can also read our Monster Hunter Rise review. For now, let's get into all of the juicy details we know already about Monster Hunter Rise Sunbreak, beginning with that all-important release date.
Upcoming PC Games
,
Best PC RPGs
---
PCGamesN Wednesday, March 30, 2022 10:56 AM
Solid state drive heatsinks are becoming a norm, but future SSD drives might require the same fan cooling setup as your graphics card. In a blog post, the Taiwanese electronics company Phison highlights the importance of keeping high-speed storage cool and how high temperatures can affect drive performance.
According to Phison's chief technical officer, Sebastien Jean, heatsinks should be enough to keep PCIe Gen5 SSDs cool, but says we'll eventually "need to have a fan that's pushing air right over the heatsink, too." The company has since removed Jean's comments from the blog, but it still says that proceeding generations of drives may require robust cooling mechanisms further down the line.
Jean also suggests that Gen5 could mark the end of the road for the M.2 PCIe connector standard, as bottlenecks hamper potential max SSD speeds. Adopting a new connection type might also mitigate the need for both a heatsink and a fan, as it'll allow for heat dissipation through motherboard conduction while boosting signal integrity.
Best SSD for gaming
,
How to build a gaming PC
,
Best gaming CPU
---
PCGamesN Wednesday, March 30, 2022 10:19 AM
Post-apocalyptic MMORPG game Fallout 76 is getting some creative help from the team behind Minecraft Dungeons. Developer Double Eleven confirms that it is working "to create new challenges" for Fallout 76 players, and dataminers believe they've already uncovered some of the studio's work for the upcoming Season 11.
More than three years after its release, Bethesda's online-only RPG game is still receiving regular content updates, with the recently revealed 2022 roadmap confirming an alien invasion, a return to Fallout 3's The Pitt, and finally, the lethal travelling roadshow "Nuka World on Tour".
At least one of these will get assistance from Double Eleven, as the developer confirmed this week. The studio, which developed Minecraft Dungeons along with Mojang, is working with Bethesda on "a host of exciting new content" for Fallout 76, "that will be enjoyed by this passionate community of fans later in 2022". This does suggest that either The Pitt or Nuka World on Tour - which are due out autumn and winter, respectively - will be the seasons Double Eleven is working on.
Fallout 76 Mutations
,
Fallout 76 Perk Cards
,
Buy Fallout 76
---
PCGamesN Wednesday, March 30, 2022 8:16 AM
League of Legends patch 12.7 notes are starting to make their way onto the PBE, folks. While LoL patch 12.6 has only just been released, Riot Games is wasting no time getting to work on what's next for the MOBA game.
The 12.6 update has plenty to keep you occupied while Riot works on the next patch. The fashion-conscious among us have some new LoL Anima Squad skins to check out, which may be good news if you're a fan of Vayne, Miss Fortune, or Jinx. Rengar has also got a pretty hefty rework, while Hecarim has got some much-needed nerfs to rein them in a tad.
While it's early days for patch 12.7, we've got a wee glimpse of what's coming our way. Riot has revealed that we're getting Arcane skins for Ahri, Xayah, Rakan, Ryze, and Hecarim, which essentially gives the LoL champions a warm red glow and some new duds. As is often the case this early into a new patch cycle, there are no champion, item, or rune balance changes on the PBE to eyeball just yet, but do keep checking back on these notes each day, as a bunch will likely appear soon. We'll be sure to post everything you need to know right here.
Best LoL Champions
,
League of Legends patch 12.4 notes
,
LoL tier list
---
PCGamesN Wednesday, March 30, 2022 10:40 AM
ASRock and AMD are selling a new crypto mining rig, but it apparently uses broken PS5 chips instead of the best graphics cards. Spotted by hardware leaker Komachi, the server is equipped with twelve AMD BC-250 APUs, and it'll set you back around $14,800 USD.
The system is currently listed as a "barebone" mining rig on the Slovenian site Bolha, and the page claims it's a "quality computer for cryptocurrency mining operations with a guarantee made by a recognized manufacturer ASRock." The machine's array of PCIe APUs are accompanied by 16GB RAM and two beefy 1,200W power supplies, but the listing skips on specific CPU specs.
In terms of crypto performance, ASRock's rig can allegedly churn out 610 MHps when mining Ethereum. For context, an unlocked Nvidia GeForce RTX 3090 GPU can reach up to 135 MHps while guzzling 300W. Naturally, this suggests you'll need approximately five high-end GPUs to match the ASRock server's abilities, meaning you could save a few pennies by opting for the former.
Zen 4 CPUs - everything we know
,
RDNA 3 GPUs - everything we know
,
Best gaming CPU
---
PCGamesN Wednesday, March 30, 2022 8:03 AM
Innersloth confirms that a new Among Us x Halo crossover is coming to its backstabbing multiplayer game, with a new crewmate outfit based on the Master Chief and a pet floating Monitor getting added at some point "very soon".
The popular social deduction game may not have the breadth of licenses to play with as Fortnite but indie game Among Us has had a few crossovers, including League of Legends Arcane and most recently Ghostface from Scream - although we can't imagine that anyone would trust a player wearing that.
Conversely, everyone trusts Master Chief John-117 from the Halo series, so it'll surprise a lot of players when the FPS game's iconic green Spartan turns out to be the Imposter all along. While Innersloth hasn't provided any specific details, the crossover seems to feature an armless Master Chief outfit alongside a floating A.I. Monitor pet - the blue light and shape suggest that it's a simplified version of Halo 1's 343 Guilty Spark. Presumably, the set will cost around $1.99 like most Among Us costumes.
---
PCGamesN Wednesday, March 30, 2022 9:29 AM
If you're a League of Legends fan, you'll know that the MOBA game regularly receives hefty patches full of new champion skins, balance changes, and more. These arrive roughly once every two weeks - usually mid-week - and get a good round of testing on League's public beta environment (PBE) over the fortnight or so leading up to their live debuts.
While they can vary in scale, with some patches ushering in significant new events and content while others focus more on a core set of adjustments to fine tune gameplay balancing, they're always a really important part of the game. As such, it's important for fans - veterans and newbies, alike - to get an idea of when each patch is coming, and what'll be in it when it drops. The good news is, we've got you covered.
Riot Games has now unveiled the League of Legends 2022 patch schedule, which kicks off with League of Legends patch 12.1 on Tuesday, January 4, 2022. Below, we've laid out all of the release dates for the League of Legends patches coming up in 2022 for season 12, and when our regular patch notes go up we'll link them below, too, so you've got all you need to know in one place.
Best LoL Champions
,
League of Legends patch 12.4 notes
,
LoL tier list
---
PCGamesN Wednesday, March 30, 2022 9:29 AM
What is the fastest car in GTA 5? Chances are you're wondering if any of the GTA cars in the Los Santos Tuners update are currently vying for the top spot as the quickest ride in the game. Who knows, the fastest car in the update could be an upcoming GTA Los Santos Tuners Prize Ride challenge reward. Whether just for the thrill of going at a breakneck pace, or to take on the GTA casino heist, you need the fastest car to fit the bill.
There is technically a fastest car in GTA, but there's more to think about if you're raring to go including the control and acceleration of each car. You are able to mess around with low grip tyres and stancing, but this is ill-advised outside of drag races. After all, there's no point in having the fastest car in GTA 5 if it spins out every time you approach a corner. The fastest cars tend to come with a pretty hefty price tag, but you can always keep an eye on the weekly podium car in GTA for the chance to win one in the Diamond Casino.
Of course, the fastest car in GTA can be determined by speed itself, but it also depends on what you're using it for. These are our recommendations if you're looking for the overall fastest car and fastest bike in GTA 5, including how to unlock them.
GTA 5 mods
,
GTA 6
,
Buy GTA V
---
PCGamesN Wednesday, March 30, 2022 12:05 PM
Wondering what the best Tiny Tina's Wonderlands builds are? As you fight your way through every monster in Tiny Tina's Bunkers and Badasses campaign, you'll gather some of the best Tiny Tina's Wonderlands weapons. In the right hands, Tiny Tina's Wonderlands legendary weapons can make you a mighty force to be reckoned with.
However, it's no good to have one devastatingly powerful weapon carry your Tiny Tina's Wonderlands build. You need to spend points on passive skills that take advantage of your weapons' unique traits, and then choose two classes that give you kick-ass class feats and action skills.
Your starting options offer a choice of no fewer than six classes with a handful of different backgrounds to choose from. Then, later on in the game, you'll unlock the ability to add a second class too. That's a lot of different things to juggle when trying to work out your perfect Wonderlands build, but fear not. We've been messing about with the game a lot and through hours of unsettling experimentation, we've come up with a list of six different Tiny Tina's Wonderlands builds for you to try out.
Tiny Tina's Wonderlands review
,
Tiny Tina's Wonderlands legendary weapons
,
Tiny Tina's Wonderlands best builds
---
Rock Paper Shotgun Latest Articles Feed Wednesday, March 30, 2022 1:00 PM
Several years later than planned, The Stanley Parable: Ultra Deluxe finally has a release date: April 27th. It's an "expanded re-imagining" of the surprising and funny and first-person explorer about an office worker who ends up on a surreal adventure probing strange depths and crashing through the fourth wall. Now, his adventure will be even bigger. The devs claim that "the script for the new content is longer than the script for the original game."
---
Rock Paper Shotgun Latest Articles Feed Wednesday, March 30, 2022 1:00 PM
It's a strange thing, returning to the world of Death Stranding after more than a year away. Having done that classic thing of rinsing almost every last delivery out of it before finally strapping myself in for its rollercoaster ending back in 2020, there hasn't been much reason to return to my precious, daft BB Boys in the intervening months - not even its Cyberpunk 2077 crossover was enough to tempt me back. At long last, though, I have cause to load up the BB train again. Death Stranding Director's Cut arrives on Steam and the Epic Games Store today, bringing with it new story missions, new delivery buddies, new weapons and... a Mario Kart-style race track? Yep, that sounds like a classic Kojima upgrade pack, if you ask me. Not quite as revolutionary as Metal Gear Solid 3: Subsistence, mind, but it's roughly in the same kind of ballpark.
It's been great fun revisiting the lush mountains of Death Stranding's definitely not Icelandic version of post-apocalyptic America. If anything, the weirdest thing is seeing that same world I know and love on a fresh server, bereft of all the distracting neon signs, yelps of "Keep on keeping on!" and one-upmanship bridge-building that made up the bulk of the original's asymmetric online multiplayer component. It's actually quite refreshing to see these virgin, unspoiled landscapes again, although I imagine this won't last long once returning players flock back to their well-worn delivery routes. As for the new new stuff, is it worth making a return trip? As with all expando games, the answer will very much depend on if and how much you played the first one.
---
Rock Paper Shotgun Latest Articles Feed Wednesday, March 30, 2022 12:00 PM
With Crusader Kings III finally having invaded the console market - presumably, as a result of a club-footed Belgian mystic spending months fabricating a claim to it - now seems a fine moment to step back and see how the game looks, eighteen months into its reign on PC. The answer, with almost embarrassing simplicity, is: "great".
---
Rock Paper Shotgun Latest Articles Feed Wednesday, March 30, 2022 10:14 AM
Hey, you, you like roguelikelike roleplaying 4X strategy doodads with card-based combat? You interested in a game we said was "An imperfect thing that I can't help but feel affectionate towards"? Of course you do, course you like knobbly weird games. So don't miss your chance to grab a copy of 2019's Thea 2: The Shattering free for keepsies as part of GOG's ongoing Spring Festival. You have two days to nab it.
---
Rock Paper Shotgun Latest Articles Feed Wednesday, March 30, 2022 9:13 AM
The first Intel Arc GPUs are finally here, and they are… for laptops. That might not please anyone hoping for relief from ongoing stock woes in the desktop graphics card market, but the mobile Arc A-Series chips are built for gaming all the same – and the first Arc laptops are launching today. That's all via the livestreamed launch event that finished mere minutes ago, and that you can find liveblogged below.
---
Twinfinite Wednesday, March 30, 2022 2:33 PM
Genshin Impact developer HoYoverse released new art and details introducing two new characters, Yelan and Kuki Shinobu.
---
Twinfinite Wednesday, March 30, 2022 2:28 PM
You heard right, folks, the very first prequel to Game of Thrones, titled House of the Dragon will premiere on HBO on August 21. The last big news regarding this spin-off was in October of 2021 when the teaser trailer was released. As you might be able to guess from the title, this spin-off will […]
---
Twinfinite Wednesday, March 30, 2022 2:27 PM
The Stanley Parable: Ultra Deluxe will finally be coming to PC and consoles with a set release date of April 27, 2022, developer Crows Crows Crows announced today. The game was originally announced for 2019, but had been delayed several times throughout the years. The new game is a remake and a re-imagining of the […]
---
Twinfinite Wednesday, March 30, 2022 1:23 PM
The 28th update for roguelike action game Dead Cells is out now for both PC and consoles, bringing a new biome and more to the 2018 game. The free Break the Bank update adds another biome called the Bank, where players will be able to increase their wallets more than the other areas. This optional […]
---
Twinfinite Wednesday, March 30, 2022 12:08 PM
Everyone's favorite terrifying clown is getting his own prequel series on HBO Max, as news broke earlier today that a brand new series titled Welcome to Derry is coming to the platform in the near future. According to Variety, the series will be set in the 1960s and will focus on the time leading up […]
---
Twinfinite Wednesday, March 30, 2022 11:53 AM
Sony Interactive Entertainment announced the games that will be granted to PlayStation Plus subscribers in April 2022 at no additional cost.
---
Twinfinite Wednesday, March 30, 2022 11:35 AM
Following the news that revealed Tales of Arise crossover items for Scarlet Nexus the collaboration is going both ways.
---
Twinfinite Wednesday, March 30, 2022 11:21 AM
If you love deep sea horror and have been looking to spice up your RPG campaign, then Alone in the Deep is just for you. Running on the Mothership RPG system, this brand new indie adventure takes players under the sea, tasking them with trying to save their remaining crewmates from a creepy catastrophe. Created […]
---
Twinfinite Wednesday, March 30, 2022 11:08 AM
With looter shooters, one of the biggest tasks is finding a great farm that both respects the time put it into and is easy to get back to when it is time to take a break. Due to this, in the Borderlands series, bosses have long since been the ideal farm targets. Everyone knows the […]
---
Twinfinite Wednesday, March 30, 2022 11:05 AM
Today, The Umbrella Academy revealed a brand new screenshot of Viktor Hargreeves, who is played by one of the show's stars, Elliot Page. The news came by way of a tweet by the actor, which was then retweeted by the show's official Twitter account. Back in 2020, the actor came out as transgendered, changing their […]
---
Twinfinite Wednesday, March 30, 2022 9:44 AM
Swedish publisher Kinda Brave is opening its doors, as the company revealed in an announcement earlier today that it would be working toward creating an environment that would incubate new studios, diversify the industry, and reduce carbon emissions. You can check out the official announcement trailer and core values statement below: PEOPLE: While People, Players and […]
---
Twinfinite Wednesday, March 30, 2022 9:00 AM
Last week, I reported on a data mine suggesting that Fortnite's 'No Build' modes were set to become a permanent feature. Or, at least, a semi-permanent feature in the form of a Limited-Time Mode (LTM). Today, Epic Games doubled down on the removal of the mechanic, officially announcing the no-build modes as Fortnite Zero Build. […]
---
Siliconera Wednesday, March 30, 2022 3:00 PM
Arcade1up has been around for a while now, making home arcade machines for those with the enthusiasm and floor space to give 'em a shot. In recent years, though, it seems like its reach has grown to allow it access to hard-to-license properties you can't play anywhere else. Among them? Konami's The Simpsons, a well-regarded 1991 beat-'em-up. The game made a brief appearance on Xbox 360 and PlayStation 3, but otherwise? It hasn't been available for people to play. So die-hard fans? Yeah, they may be ready for something like this. We put the machine through its paces.
Assembling an Arcade1up cabinet is certainly an undertaking, but it's not so bad. You generally need to set aside an evening for construction, but it's doable for normal folk like us. Arcade1up sent over the bundle with riser and stool, and all of it comes together fairly simply. There are a few elements we'd love to see improved, but they're relatively minor. Like the plastic screen covering getting stuck in the screws! But for the most part, the company's worked out most of the kinks in the process.
Arcade1up has been iterating on its cabinet designs in some smart ways. For one? It dropped the "let's put big logos on the front" thing in favor of decorative fake coin doors. That looks nicer in peoples' houses! Good on ya, Arcade1up. It also feels like trial and error has led to more comfortable button spacing. When we played earlier machines, things felt a lot more cramped.
The Simpsons Arcade Game, like other Konami brawlers of the era, is built for flashy multiplayer fun. You can play as Marge, Homer, Bart, and Lisa, with each receiving a dedicated set of controls. The Arcade1up version replicates this setup, and it feels like an important part of the experience. The second player controls are generally considered the most comfortable in terms of viewing angle. Homer, with his easy-to-use set of attacks, makes sense there. We have more fun with characters like Marge and Lisa, though!
Playing with all four players is ideal for the game, but you'll need at least two to check out all the moves. Combo attacks with each duo break up the monotony with which most games in the genre regularly struggle. Online play, a recent innovation in Arcade1up cabinets, is here too, in case you happen to have a friend who owns it too or want to find a match with a random teammate. Ultimately, though? The game's short. It's enough for a fun afternoon at the arcade, but as a permanent presence in your home, it may wear out before too long.
The second game included in the Arcade1up Simpsons cabinet may be less famous, but it's definitely here for good reason. The Simpsons Bowling is the other Konami-developed Simpsons game. It does what it says on the tin — bowling with Simpsons characters — and that's probably enough for some people. The early polygonal approach of Simpsons Bowling certainly ages less gracefully than pixels, though there's something endearing about it. The value here lies in this: it's a trackball game! Games with buttons and joysticks can be easily replicated on other platforms, but the arcade form factor is a particularly nice way to play a game with specialized control devices.
It feels like, after releasing the beat-'em-up, Konami got the feedback that there weren't enough show references and overcompensated in Simpsons Bowling. Which is fair, honestly? Without the constant voice clips and special animations, it plays like a traditional bowling title. There's some value in that, as non-fans can just play bowling with you with no problem and have a good time, but those wanting more of the IP can enjoy the window dressing.
We understand that Arcade1up's market size and affordable approach may not be able to support the full Digital Eclipse treatment. Still, we'd like to see the software become a more fully-featured, robust celebration of its games! A home arcade machine is a huge presence and a conversation piece, and it should show the same love for the IP in its code that an owner has shown for purchasing it. As it is, it's definitely playable, but there aren't a lot of bells and whistles. We'd love filters! We'd love more gameplay options! And most of all, anyone who loves the arcade form factor this much would probably like to see the marketing materials and ephemera from the titles' original release.
An arcade cabinet is a big investment! Even an affordable one is more of a commitment than most want to make. But the Arcade1up Simpsons Arcade Machine does a lot to make for a fun addition to a Simpsons fan's household. And hey, if you have the means and space? You could check out a lot of them.
The Arcade1up The Simpsons Arcade Machine contains The Simpsons and Simpsons Bowling arcade games, both originally developed and published by Konami. The Arcade1up re-release is available now for $699.99 through the company's official site, as well as in various configurations at other retailers.
The post Review: Arcade1up The Simpsons Arcade Machine Resurrects Two Konami Classics appeared first on Siliconera.
---
Siliconera Wednesday, March 30, 2022 2:30 PM
A Captain Tsubasa: Rise of New Champions update arrived and adds both a Hirado Middle School story chapter and Freestyle Match mode. But it isn't the only new content coming to the game. There will also be more paid DLC, starting with the Episode: Rising Stars Part 1 on March 31, 2022. They are part of the Character Mission Pack, which will include 9 characters total.
The paid DLC will kick off the new pass with three new characters. Hikaru Matsuyama, Karl Heinz Schneider, and Taro Misaki will all be added. The announcement confirmed there will be IF stories for these new players. Each one will have missions with rewards. If it follows the pattern set by the previous pass and DLC, it will be $2.99 per character or the whole pass for $24.99.
As for the free Captain Tsubasa: Rise of New Champions update's Hirado MS route and Freestyle Mode, there are also videos going over both. With the Hirado storyline, people will follow Hiroshi Jito and Mitsuru Sano. As for Freestyle, it allows people to use items as they play to turn the tide in a match.
Here's a trailer looking at the Hirado route and Matsuyama, Heinz Schneider, and Misaki.

This shows how a Freestyle Match will look.

Finally, Producer Katsuaki Tsuzuki appeared in a video talking about changes coming in the new patch. In addition to the updates, he talked about quality of life adjustments and other changes.

Captain Tsubasa: Rise of New Champions and its March 2022 update are available on the Nintendo Switch, PS4, and PC via Steam. The first three Character Mission Pack characters will arrive on March 31, 2022.
The post Captain Tsubasa: Rise of New Champions Update Adds Hirado Route appeared first on Siliconera.
---
Siliconera Wednesday, March 30, 2022 2:00 PM
Fire Emblem Heroes next Legendary unit will be Nanna from Genealogy of the Holy War and Thracia 776. This new version of the heroine will be a red sword-wielding cavalry unit. The banner will appear on April 1, 2022.
This marks the first time Nanna isn't a healer in Fire Emblem Heroes. In both Genealogy of the Holy War and Thracia 776, she appears initially as a troubadour who can heal, and her standard and Scions of the Twelve alt both use staves. She wields the Lands Sword here, which increases her attack by three, gives her an attack and speed buff if her health is above 25%, stops foe's follow-ups, prevents certain non-Special effects, and heals 7 HP after a fight.
In addition to Nanna, the following characters will also be focus units.
Ash: Retainer to Askr
Celica: Queen of Valentia
Chrom: Crowned Exalt
Lilina: Firelight Leader
Mila: Goddess of Love
Rennac: Rich "Merchant"
Seiros: Saint of Legend
Sigurd: Fated Holy Knight
Thrasir: Omnicidal Witch
Ullr: The Bowmaster
Wolf: Coyote's Loyal
Here's the trailer revealing Legendary Nanna and the other units on her banner.

Fire Emblem Heroes is available on Android and Apple iOS devices, and the Legendary banner with Nanna will run April 1-13, 2022.
The post Fire Emblem Heroes Legendary Nanna Announced appeared first on Siliconera.
---
Siliconera Wednesday, March 30, 2022 1:30 PM
Atlus' fighting game series Power Instinct will have its 30th anniversary in 2023. However, there will be no ports or re-releases during the timeframe. Keiko "Chuuko" Ijuu, the former representative director of Noise Factory and producer of the series, made the announcement on Twitter.
The first tweet revealed that Chuuko had sent petitions to the series' rights holder since November 2021. However, the holder rejected it because one of the series characters would have a high risk of triggering litigation related to political correctness.
After the first refusal, Chuuko suggested releasing the Power Instinct title by excluding the controversial character. The rights holder still refused the proposal, citing a change in trends of the era and the difficulty in re-releasing past games.
With game ports out of the question, Chuuko is now sending proposals for republications of non-game content, such as soundtrack and character background documents. She also expressed her intent to set up a one-person company to publish content related to Power Instinct.
The series' developer company Noise Factory went defunct in 2017. Although the website is no longer available, Chuuko is still actively managing the Twitter account. In early January 2022, she asked Power Instinct fans whether they would like to see ports of previous games ahead of the series' 30th anniversary in 2023.
Power Instinct is known in Japan as Gouketsuji Ichizoku (The Gouketsuji Clan). Atlus has been publishing the fighting game series since the first title was released in 1993. Only the first two titles received English releases. The company released further sequels exclusively in Japan.
The latest title in the Power Instinct series is Gouketsuji Ichizoku: Senzo Kuyou, available on arcades in Japan since 2009.
The post There Will Be No Power Instinct Re-Release on Its 30th Anniversary appeared first on Siliconera.
---
Siliconera Wednesday, March 30, 2022 1:00 PM
Sony confirmed the PlayStation Plus April 2022 titles. This time, only three titles will appear. People will be able to pick up the PS4 games SpongeBob SquarePants: Battle for Bikini Bottom Rehydrated and Slay the Spire. Hood: Outlaws & Legends will also appear for both PS4 and PS5 owners.
Sony confirmed the PlayStation Plus April 2022 titles. This time, only three titles will appear. People will be able to pick up the PS4 games SpongeBob SquarePants: Battle for Bikini Bottom Rehydrated and Slay the Spire. Hood: Outlaws & Legends will also appear for both PS4 and PS5 owners.
Hood: Outlaws & Legends first appeared on the PS4 and PS5 in May 2021. It normally costs $19.99. In it, eight people are divided into two teams of four. They then attempt to steal treasure in various maps to ensure their thieves do the best.
Slay the Spire showed up in May 2019. Someone would normally need to pay $24.99 for a copy. In this roguelike, people build up a deck of actions to take part in battles as they head through a dungeon and face its foes.
SpongeBob SquarePants: Battle for Bikini Bottom Rehydrated debuted on the PS4 in June 2020. Usually, people would need to pay $29.99 for it. It is the updated release of the GameCube, PS2, and Xbox platformer of the same name.
The PlayStation Plus March 2022 games can be claimed until April 4, 2022. They are Ark: Survival Evolved (PS4), Ghost of Tsushima: Legends (PS4, PS5), Ghostrunner (PS5), and Team Sonic Racing (PS4).
<< PlayStation Plus March 2022 Games
The post PlayStation Plus April 2022 Lineup Includes Slay the Spire appeared first on Siliconera.
---
Siliconera Wednesday, March 30, 2022 12:30 PM
The PS5 exclusive PlayStation Plus Collection library is about to get a bit smaller, as Persona 5 will be leaving it. Sony noted it will leave on May 11, 2022. No reason was offered for its upcoming removal.
The announcement did confirm that it follows standard PlayStation Plus protocol. If you claim Persona 5 before it leaves on May 11, 2022, then you maintain access to it. As long as you subscribe, even if you let the subscription lapse and resubscribe, it will be in your library.
Persona 5 is one of the third-party games in the PS5 PlayStation Plus Collection. Others include FFXV Royal Edition, Monster Hunter: World, and Resident Evil 7. At the moment, there's a fairly even split between third and first-party games like Bloodborne and The Last of Us Remastered. The total number of available games will go down to 19 once Persona 5 is removed.
Persona 5 is available for the PlayStation 3 and PlayStation 4.
The post Persona 5 Leaving PS5 PlayStation Plus Collection in May appeared first on Siliconera.
---
Siliconera Wednesday, March 30, 2022 12:00 PM
Square Enix talked more about the FFXIV housing lottery system the end of March 2022, and now it offered more details about what this means for free company housing. Most of the details involve exactly who can and can't enter the lottery for a plot and what happens when multiple people enter. However, Square Enix also noted how it will handle free companies dealing with world regrouping who want to enter the lottery, but wouldn't normally due to the new entry requirements.
Many of the initial questions dealt with additional information about the lottery system requirements. People must be a member of the free company for 30 days or more to participate, even if they a free company master. Also, if people add a fourth member now, they group can participate, but the fourth member can't yet. People can only apply to either get a free company plot or a private one for themselves, as they can't place bids for personal and group land during the same lottery. They must choose.
Square Enix also confirmed that multiple FFXIV free company members can apply for the one or multiple housing plots. However, this does mean people will need to make a choice if one member wins. If everyone applied for the same plot, then the people who didn't get it will get a 100% refund and there's no decision to make. If multiple people win multiple plots, you must pick one. The person whose plot wasn't picked will incur a 50% cancellation fee.
Finally, Square Enix said free companies that experienced relocation can apply to still take part in the first housing lottery when 6.1 arrives. This is because otherwise, they wouldn't meet the 30 day requirement. It noted the group's free company master will need to submit a request at the support desk. Square Enix will then look at server logs of people who changed their free company Home World, make sure it isn't a land resale situation, and then determine if an exemption will be allowed. People will need to contact the company before 6.1 maintenance begins in April 2022, however.
Final Fantasy XIV is available for the PS4, PS5, and PC. Patch 6.1 will add Ishgard Empyreum housing to FFXIV.
The post More FFXIV Free Company Housing Lottery System Details Offered appeared first on Siliconera.
---
Siliconera Wednesday, March 30, 2022 12:00 PM
To go along with the Chrono Cross: The Radical Dreamers Edition remaster, there is also a new song. Square Enix already shared snippets of "Dreams of the Past, Memories," which is performed in Irish by Aisling McGlynn and composed by Yasunori Mitsuda. Now there's a music video for the full track.
Here's the "Dreams of the Past, Memories" music video. There's no gameplay footage from Chrono Cross during the song. Rather, it focuses on McGlynn as she performs.

There's another way to hear Chrono Cross songs ahead of the remaster's release. Its soundtrack will appear on vinyl. To help promote its release, Square Enix shared a trailer with more tracks from the game. In addition to this new song, there are seven new arrangements of old tracks.
This is one of many teases to appear ahead of the game's launch. Square Enix shared details about new features, as well as screenshots and videos of characters like Serge and Harle. Some even included some big spoilers for important encounters in the game.
The Chrono Cross: The Radical Dreams Edition remaster will come to the Nintendo Switch, PS4, Xbox One, and PC on April 7, 2022. It also includes Radical Dreamers: Le Tresor Interdit.
The post New Chrono Cross Remaster Song Music Video Appears appeared first on Siliconera.
---
Siliconera Wednesday, March 30, 2022 11:30 AM
When the 2.6 Genshin Impact arrived, it added The Chasm to the map. Now, that location is showing up in another spot. MiHoYo confirmed the Genshin Impact interactive map now features the new place.
When people visit this Genshin Impact official site, they can now select The Chasm: Underground Mines from the drop down menu. (The exterior of the new location appears on the Teyvat Interactive Map proper.) Once there, they can see where waypoints, chests, Lumenspar, Lumenlamps, puzzles, enemies, materials, viewpoints, and world quests are. You can also see exactly where the Ruin Serpent, the new boss, waits. Other in-game pins can be added if you log in, as usual.
The Genshin Impact interactive map is about a year old now. It first appeared back in April 2021. Since its debut, miHoYo's added new areas as they appear. This even included updates for event-specific locations. For example, when the Three Realms Gateway Offering event kicked off, the interactive map updated to help people get through it.
Genshin Impact is available for the PS4, PS5, PC, and mobile devices. It will also head to the Nintendo Switch. When the 2.6 update launched on March 30, 2022, it added The Chasm to the Genshin Impact map.
The post Genshin Impact Interactive Map Now Includes The Chasm appeared first on Siliconera.
---
Siliconera Wednesday, March 30, 2022 10:30 AM
Bokeh Game Studios kicked off a new video series. In each installment, Founder Keiichiro Toyama will talk with a guest. In the first entry, Resident Evil Creator and Director Shinji Mikami appeared to discuss the game, how the earlier Capcom game Sweet Home influenced it, and zombies.
After talking about their pasts, Mikami began talking about Resident Evil zombies. He discussed the challenge and means of making them intimidating and scary, as well as providing ambiance. For example, he mentioned how they can suddenly rush up and attack. He also discussed the limited resources in the original. For example, he referenced the limited amount of ammunition.
From there, Mikami talked about how Sweet Home, a Famicom horror game from Capcom and fellow Resident Evil creator Tokuro Fujiwara, helped shape the Resident Evil series as a whole. He explained how the way it handled resources carried over. In Sweet Home, players' five characters each have one item and can pick up and use others along the way. To escape the mansion and its ghost, you have to use each of the items they arrived with and ones found in the house.
Here's everything Mikami had to say about his feelings for Sweet Home and its effect on Resident Evil.
That's right, I really loved Sweet Home. One of the first creators I had worked with at Capcom was Sweet Home's Director He was very talented and had this sensitivity to him. I could tell even if I was still a rookie. He would answer my questions.

Then, I remember [Tokuro] Fujiwara calling me for a meeting a few years later. He told me how Sweet Home's system was good, but that the game didn't perform well. We wanted to try again to push that game system onto a horror game. I truly enjoyed Sweet Home, so I completely agreed with him. I was honored I could work on that.

…It was a system that wouldn't make you think of the human. In that system, the various items you held allowed you to progress in the game. It assigned each item to a specific character. A lighter would go to one character, another could have a vacuum, and so on. So you needed your friends, who had your items, in order to clear the game so you had to take good care of them. The point was how to survive in an environment with limitations.

In the end, that's probably the main thing I took. The player has to make a series of choices with limited resources in order to survive. I kept that, then I made something completely different.
Here's the first Bokeh Game Studio Golden Hour episode.

Bokeh Game Studio is currently working on Slitterhead.
The post Shinji Mikami Explained How Sweet Home Influenced Resident Evil appeared first on Siliconera.
---
Siliconera Wednesday, March 30, 2022 10:00 AM
A new Grisaia game will appear on PC browsers in Japan. Frontwing and Exnoa have confirmed the launch date for Grisaia: Barcarolle of the Battlefield. It will appear on DMM Games on April 5, 2022.
The Japanese official website shows the browser game's features. Players will collect multiple characters—including different costume versions of the same character. Together with the heroines, they will fight against waves of enemies to win in-game rewards.
Barcarolle of the Battlefield will also have an extensive visual novel storyline spanning more than a million Japanese letters. Additionally, DMM Games confirmed that this game's story will take place after The Eden of Grisaia. It has published a Prologue trailer for the browser game on its YouTube channel.
[tnm_video layout="mnmd-post-media"]https://www.youtube.com/watch?v=rstNUrCiwUg[/tnm_video]
The Grisaia series comprises many visual novel titles. The original trilogy—Fruit, Labyrinth, and Eden—appeared on PCs in Japan from 2011 to 2013. Frontwing also released the Grisaia Phantom Trigger spinoff series between 2017 and 2022. It concluded with the final Volume 8 released in February 2022.
All main Grisaia titles to date are available with English text support on PC via Steam. The Nintendo Switch is also catching up with the visual novel collection. As of this writing, Grisaia Phantom Trigger Vol. 6 was the latest title released on the Switch in September 2021.
Grisaia: Barcarolle of the Battlefield will be available on PC via DMM Games on April 5, 2022.
The post Grisaia: Barcarolle of the Battlefield Will Appear in April 2022 appeared first on Siliconera.
---
Siliconera Wednesday, March 30, 2022 9:30 AM
The Tales of Arise and Scarlet Nexus crossover items are available in each respective game in Japan. This means they should appear worldwide on March 30, 2022 as well. Alongside the addition of cosmetic items and weapons, players will also have access to battle music. For example, Scarlet Nexus players will now have access to the battle music from Tales of Arise, and vice versa. [Thanks, 4Gamer and Gamer!]
The items Scarlet Nexus players can obtain include Alphen's fragmented Iron Mask and the Flaming Sword. Conversely, Tales of Arise players will have access to Yuito's Myoho Muramasa and a Baki Chan cosmetic item. However, Bandai Namco didn't mentioned the inclusion of battle music until the crossover items appeared.
You can watch the Scarlet Nexus Version 1.08 trailer below to get a look at the collaboration items.
[embed]https://youtu.be/IrGRDnYji1w[/embed]
Alongside the crossover items, there is a general Scarlet Nexus update. This added a "Very Easy" mode and the release of a "Story Demo." Players can carry over data from the demo into the full release of the game. Additionally, both bug and performance fixes appeared for both Tales of Arise and Scarlet Nexus in the new patches.
Scarlet Nexus is available for the PlayStation 4, PlayStation 5, Xbox One, Xbox Series X, and PC. Tales of Arise is also available for the PlayStation 4, PlayStation 5, Xbox One, Xbox Series X, and PC.
The post Tales of Arise Scarlet Nexus Crossover Items Now Available appeared first on Siliconera.
---
Siliconera Wednesday, March 30, 2022 9:00 AM
SuperGroupies revealed "Part 2" of its Berserk model merchandise collection. These SuperGroupies items continue to focus on the characters Guts and Griffith. This time, the Berserk merchandise includes a Guts backpack, a Griffith messenger bag, and two pairs of boots styled after Guts and Griffith, respectively. The new items are available to pre-order through April 17, 2022.
The Berserk Guts backpack uses brown synthetic leather to evoke the style of shoulder strap Guts wears. The backpack includes lots of little references to the character and the series, such as a metal plate that contains the quote, "If you see God, you tell him this… Leave me the hell alone!!!" Side pockets are embossed and studded to replicate Guts' shoulder pads, and an original lining design featuring the Beast of Darkness is hidden threateningly inside the bag. The Guts backpack is 18.11" in height and costs $148.
Meanwhile, the Berserk Griffith messenger bag uses an asymmetric flap and striking colors to evoke Griffith's grace as the Hawk of Light. A golden metal plate contains the quote, "I'll not... ...Betray my dream. That is all." The lining design inside the bag contains the Hill of Swords, representing a tragic sacrifice that occurred. The Griffith messenger bag is 11.81" and makes space for things like a 500 mL bottle and long wallet. The bag costs $148.
Finally, the Berserk boots for Guts and Griffith contain details that reflect each character. They also match with the backpack and messenger bag respectively. However, men with large feet may not be able to fit into these boots. They are available in U.S. men's sizes of 6.5, 7.5, 8.5, 9.5, and 10.5. Each pair of boots retails for $238.
[gallery columns="5" ids="922137,922136,922135,922134,922133,922132,922131,922130,922129,922128,922127,922126,922125,922124,922123,922122,922121,922120,922119,922118" link="file"]
Earlier in March 2022, SuperGroupies revealed the first part of its Berserk merchandise collection. It consists of two model watches styled after Guts and Griffith respectively. They are available to pre-order through April 3, 2022. Prime 1 Studio also just opened pre-orders for a Guts Berserker Armor Bloody Nightmare statue.
The SuperGroupies Berserk Guts backpack, Griffith messenger bag, and pairs of boots are available to pre-order through April 17, 2022. They will ship in early October 2022.
The post Berserk Guts Backpack, Griffith Messenger Bag, and Boots Revealed appeared first on Siliconera.
---
Destructoid Wednesday, March 30, 2022 3:00 PM
---
Destructoid Wednesday, March 30, 2022 2:00 PM
---
Destructoid Wednesday, March 30, 2022 1:30 PM
---
Destructoid Wednesday, March 30, 2022 1:00 PM
---
Destructoid Wednesday, March 30, 2022 11:40 AM
---
Destructoid Wednesday, March 30, 2022 11:30 AM
---
Destructoid Wednesday, March 30, 2022 10:45 AM
---
Destructoid Wednesday, March 30, 2022 9:30 AM
---
Destructoid Wednesday, March 30, 2022 9:00 AM
---
Gamer Empire Wednesday, March 30, 2022 12:14 PM
You'll acquire a ton of items throughout your journey in Lost Ark, most of which are quite obvious what to do with. But one of the items, which is far from obvious what is for, is the Tournament Champion's Plate you get after winning the tournament in Changhun on Anikka. Recommended Read: Lost Ark – […]
The post Lost Ark – What to Do With Tournament Champion's Plate appeared first on Gamer Empire. It was written by Tim Stadel Clausen.
---
Tabletop Gaming News Wednesday, March 30, 2022 3:00 PM
---
Tabletop Gaming News Wednesday, March 30, 2022 2:00 PM
---
Tabletop Gaming News Wednesday, March 30, 2022 1:00 PM
---
Tabletop Gaming News Wednesday, March 30, 2022 12:00 PM
---
Tabletop Gaming News Wednesday, March 30, 2022 11:00 AM
---
Tabletop Gaming News Wednesday, March 30, 2022 10:00 AM
---
Tabletop Gaming News Wednesday, March 30, 2022 9:00 AM
---
Player Assist | Game Guides & Walkthroughs Wednesday, March 30, 2022 3:00 PM
The Kam Urog Shrine, or The Trial of Passage, is one of the many shrines in The Legend of Zelda: Breath of the Wild. This shrine requires Link to climb up a large rotating circular room to reach the altar and claim the Spirit Orb. This shrine may seem quite complicated, but you will learn […]
---
Player Assist | Game Guides & Walkthroughs Wednesday, March 30, 2022 2:00 PM
Online play is the meat and potatoes of Assetto Corsa Competizione. While some lobbies are free of restrictions, others require a minimum amount of in-game achievement and stats to ensure that the lobby remains clean and fair. Here are a few tips to remember for newer sim racers when joining online lobbies to make sure […]
---
Player Assist | Game Guides & Walkthroughs Wednesday, March 30, 2022 1:00 PM
As its name implies, Barrier blocks are special blocks in Minecraft used as unbreakable barriers or barricades to block off a certain area in the game. Players can use these special blocks to create solid boundaries within the game and prevent any mob or player from accessing that specific area. Barrier blocks are red square-shaped […]
---
Player Assist | Game Guides & Walkthroughs Wednesday, March 30, 2022 12:00 PM
One of the Shrines in The Legend of Zelda: Breath of the Wild is the Rona Kachta Shrine, or the Rona Kachta's Blessing. The Shrine itself is no challenge at all. As you enter the Rona Kachta Shrine, you will find that Link can access the Shrine's chest, access the altar, and talk to the […]
---
MonsterVine Wednesday, March 30, 2022 9:00 AM
GhostWire: Tokyo is a great, if not slightly repetitive game that takes full advantage of its incredible setting and themes. I wish combat was a tad more varied, but otherwise, it's the first-person Dr. Strange/Jujutsu Kaisen game I've always wanted, all set in a brilliantly supernatural Japan. GhostWire: Tokyo Developer: Tango Gameworks Price: $60 Platform: […]
---
Level Up Wednesday, March 30, 2022 1:45 PM
Tales of Arise and Scarlet Nexus were two of the best JRPGs of 2021 (if…
---
Level Up Wednesday, March 30, 2022 12:25 PM
Update 3/30/22: Our original story stated the lineup as a rumor, but we can now confirm that…
---
Level Up Wednesday, March 30, 2022 12:00 PM
Unpacking became one of 2021's hidden gems when it launched on Xbox, Switch, and PC…
---
Level Up Wednesday, March 30, 2022 11:04 AM
Aurora, the tenacious main character from Ubisoft's Child of Light, will be available as a…