---
Kotaku Thursday, June 2, 2022 7:10 PM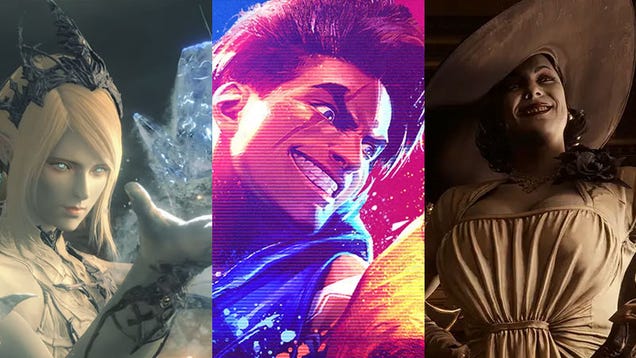 We may not have an E3 this year, but does that matter? Sony has been running these State of Play events for a while now, and tonight's instalment had everything from Final Fantasy to Resident Evil to Street Fighter to Spider-Man.

---
Kotaku Thursday, June 2, 2022 6:40 PM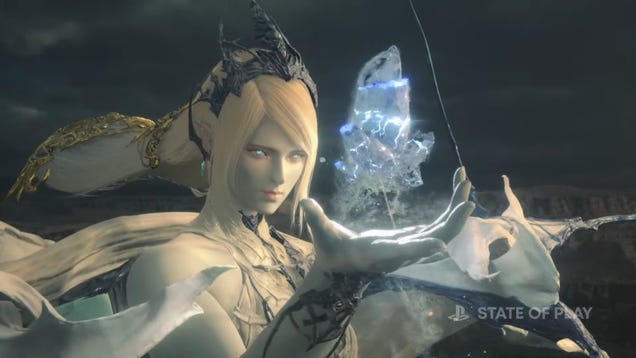 As a part of the PlayStation State of Play 2022, Square Enix showed off a gameplay trailer for the upcoming PS5 roleplaying game, Final Fantasy XVI. While the exact release date isn't set, the game is currently slated to come out sometime in the summer of 2023.

---
Kotaku Thursday, June 2, 2022 6:35 PM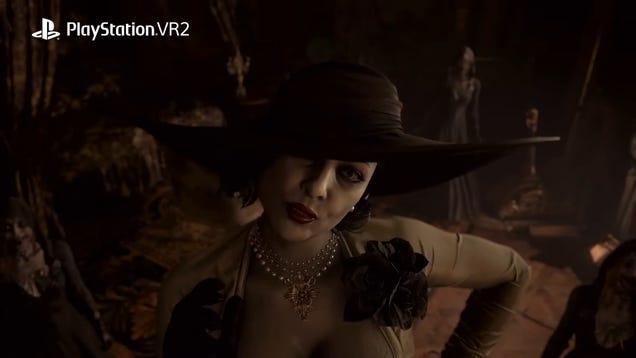 Who needs a real haunted house when you can put a fake haunted house on your face? If you own a PlayStation 5, stepping into a digital realm will be a lot easier soon. At today's State of Play showcase, Capcom revealed that its 2021 horror game Resident Evil Village will be available for PSVR2—y'know, when the…
---
Kotaku Thursday, June 2, 2022 6:25 PM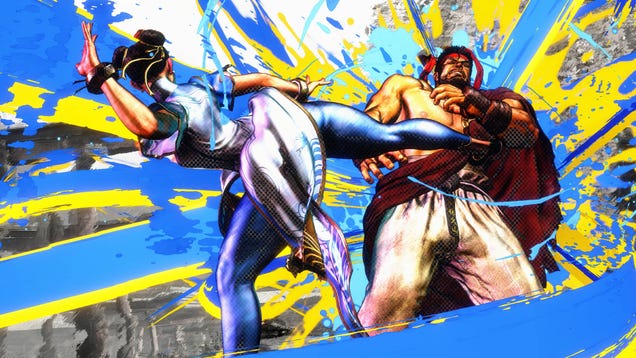 Following up on its previous promise of a summer reveal, Capcom joined PlayStation during today's State of Play to share more footage of Street Fighter 6, which launches next year.

---
Kotaku Thursday, June 2, 2022 6:24 PM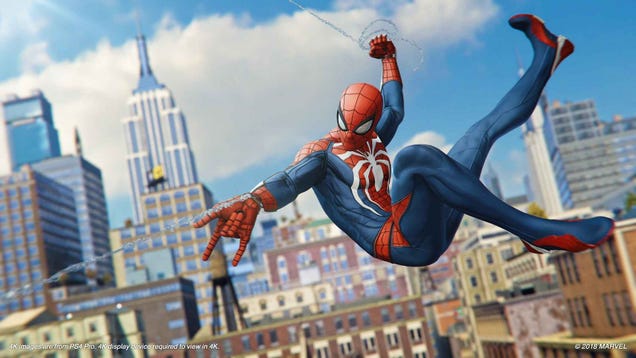 Today, Sony and Insomniac announced that the original Spider-Man game, first released on PS4 back in 2018, is heading to PC on August 12.
---
Kotaku Thursday, June 2, 2022 6:13 PM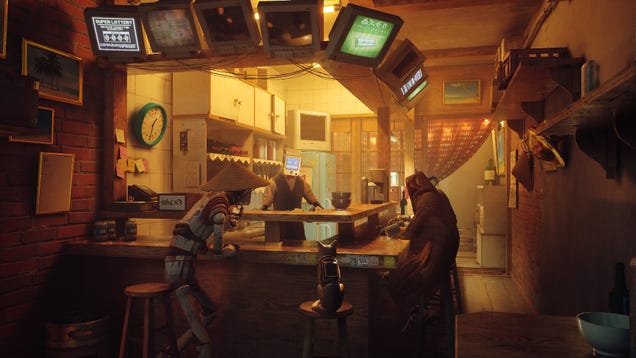 Stray, the game about being a cat in a world not meant for cats, finally has a release date. It's coming to PlayStation and PC on July 19, publisher Annapurna Interactive announced at Sony's State of Play showcase this evening.
---
Kotaku Thursday, June 2, 2022 6:00 PM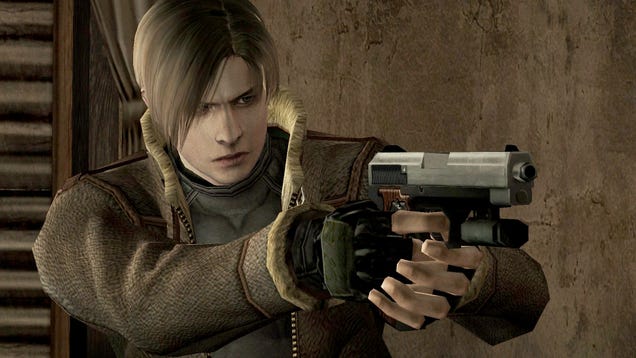 During today's State of Play stream, Capcom and PlayStation finally revealed Resident Evil 4 Remake. It's coming to PlayStation 5, Xbox Series X/S, and PC on March 24, 2023.

---
Kotaku Thursday, June 2, 2022 5:10 PM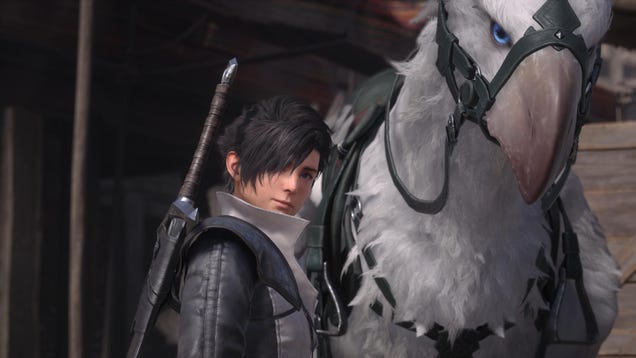 This year's not-E3-but-basically-E3 kicks off on Thursday with Sony's big summer State of Play showcase. PlayStation has already had a pretty banner year, thanks to a number of exclusives (Horizon Forbidden West, Gran Turismo 7, Ghostwire: Tokyo) and a forthcoming revamp of its subscription services. But there's a lot…
---
Kotaku Thursday, June 2, 2022 4:56 PM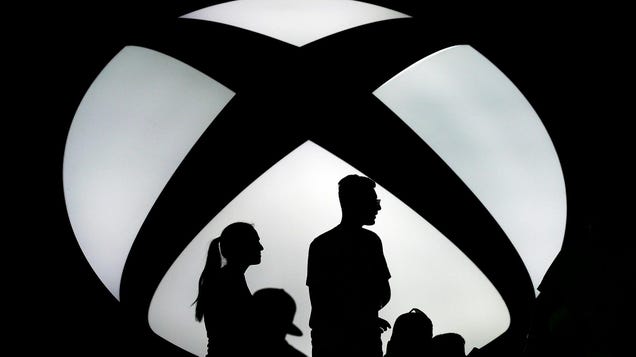 Microsoft is trying to strike a more conciliatory tone with organized labor as it looks to get its $69 billion mega video game merger with Activision Blizzard OK'd by the Federal Trade Commission. Vice chairman and president Brad Smith wrote that the company is "committed to creative and collaborative approaches with…
---
Kotaku Thursday, June 2, 2022 2:55 PM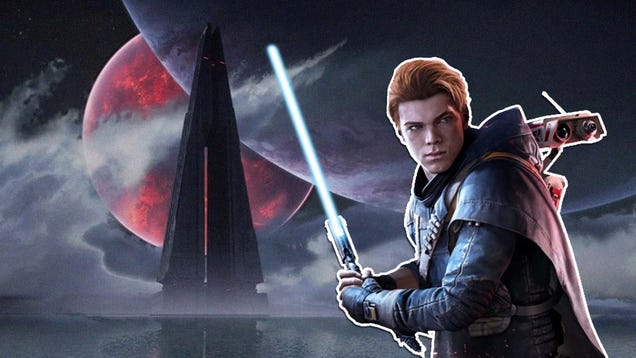 The third and most recent episode of the newest Disney Star Wars show, Obi-Wan Kenobi, featured a pretty big and wild appearance by a classic character. That moment probably distracted a lot of folks from a less big, but also cool reference to the Respawn-developed video game, Star Wars Jedi: Fallen Order.

---
Kotaku Thursday, June 2, 2022 2:40 PM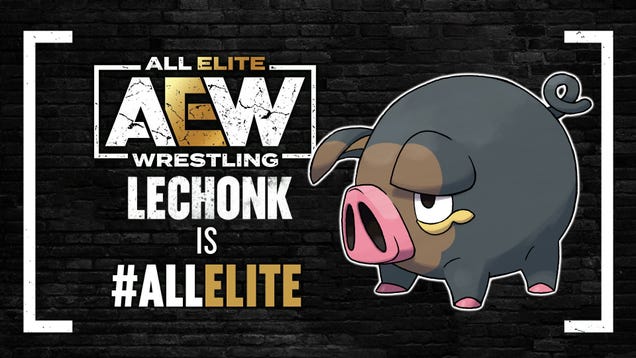 During the most recent episode of All Elite Wrestling's flagship program, AEW Dynamite, eagle-eyed viewers spotted someone in the crowd of thousands commemorating the day's latest Pokémon news.
---
Kotaku Thursday, June 2, 2022 2:20 PM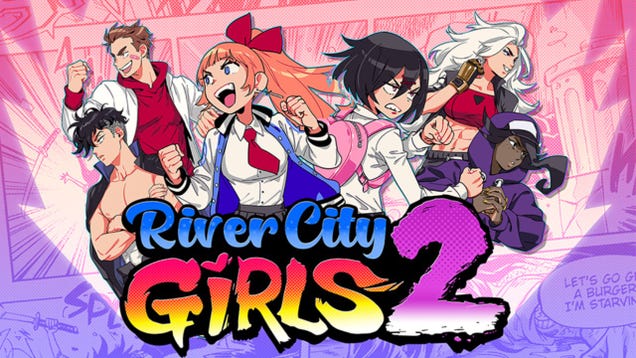 As an otaku, wrestling mark, and a gamer, my disparate interests rarely align neatly into one medium. While I've seen games, wrestlers, and anime cheekily reference one another, the overlap usually ends there without fully committing to crafting the perfect gumbo chock full of the high-octane action from anime, the…
---
Kotaku Thursday, June 2, 2022 2:10 PM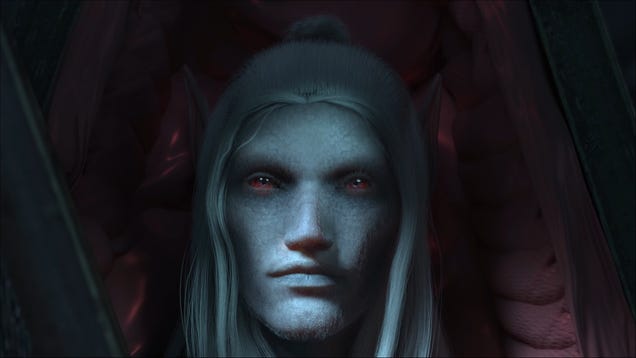 I'm playing an apex predator in V Rising, and I'm mere steps away from my fortified abode as the sun comes up. Just before I manage to open the gate door, a carnivorous plant shoots a mouthful of gunk at me, depleting my last sliver of health. [Record scratch. Freeze frame.] You're probably wondering how I got into…
---
Kotaku Thursday, June 2, 2022 1:55 PM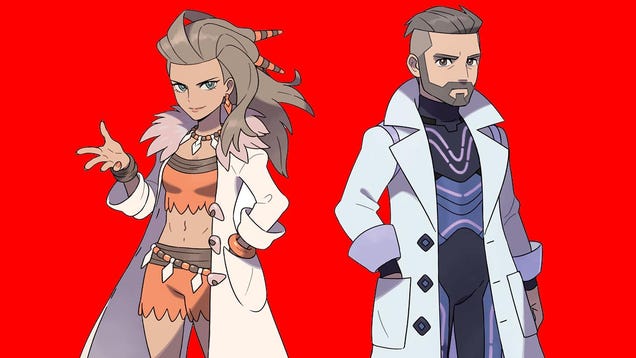 In the mainline Pokémon games, there's always a professor, and they're always a mentor. It's practically inviolable at this point. But some fans think the (hot) professors in this year's Pokémon Scarlet and Violet might actually be the villains. Yes, this is just a theory, but it's not as far-fetched as you'd think.

---
Kotaku Thursday, June 2, 2022 1:35 PM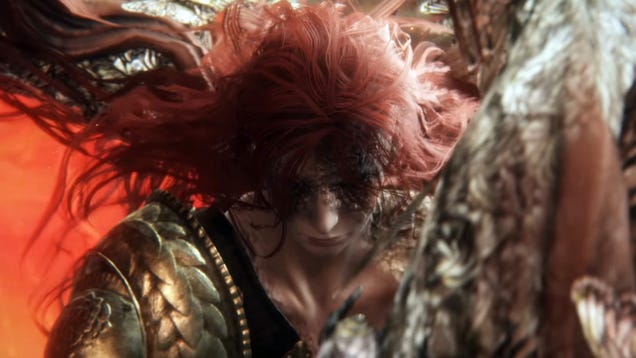 Elden Ring is gigantic. The Lands Between is full of stuff to see, like cut content that reveals entire quest lines or some of the best drip around. Yet still, a vocal set of players can't stop clamoring for a little bit of that delicious DLC. The subject of downloadable content regularly pops up in Elden Ring's…
---
Kotaku Thursday, June 2, 2022 1:20 PM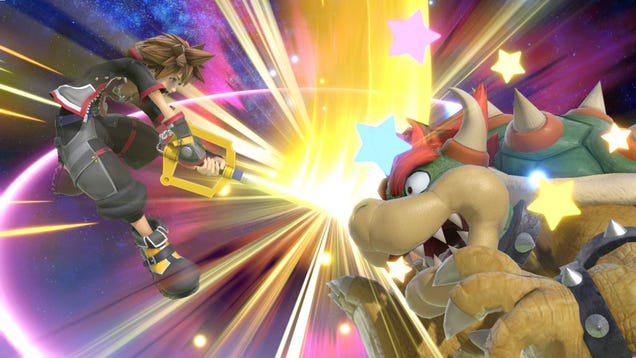 Super Smash Bros. Ultimate fans are obsessed with ranking the game's extensive, crossover cast of video game characters in tier lists. Tier lists constantly change to reflect alterations to the game's meta, caused by balance updates released by Nintendo, but also players finding new techniques. The Smash community…
---
Kotaku Thursday, June 2, 2022 1:10 PM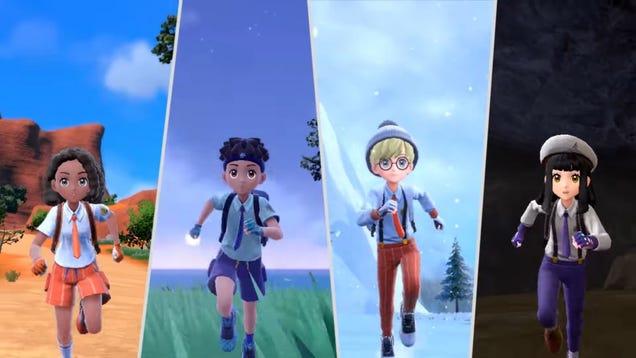 Of all the details revealed in yesterday's Pokémon Scarlet and Violet news, one of the more subtle highlights was revealed in fleeting glances. For the first time in the franchise, it looks like character customization might have begun to acknowledge a neglected section of its fanbase.

---
Kotaku Thursday, June 2, 2022 12:04 PM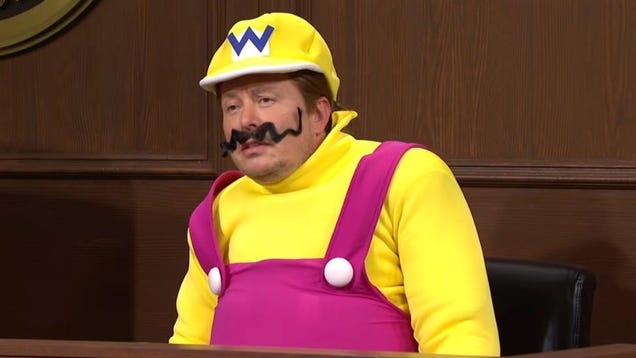 The Ls are stacking up for Elon Musk. Tesla's shitposter-in-chief got ratio'd over the weekend for trying to dunk on a satirical gaming site and is now taking heat for an incredibly aggro company email about how remote work is for lazy frauds. A lot of people in the tech world aren't having it, including some game…
---
PCGamesN Thursday, June 2, 2022 7:41 PM
What's the secret to Diablo Immortal leveling? Obviously, the name of the game is to soak up as much experience as quickly as you can in order to unlock more skills to do more damage and gain even more XP. But since Diablo Immortal is structured as a mobile game, there are some additional sources of experience you'll want to look out for regularly, especially as you make your first steps in the RPG game.
At its core, Diablo Immortal is similar to its predecessors in the way you develop your characters: killing monsters gives you experience, gold, and loot, and you'll use this to advance in levels and gain additional power.
Leveling up itself is a cinch: you'll gain a boost in power through some background stat gains automatically. The only thing you'll have to manage when you gain a level is your Diablo Immortal skills loadout. As you progress through the initial experience levels, you'll unlock new skills for your Diablo Immortal class, and these skills will in turn gain upgrades every few levels after that.
Diablo Immortal tier list
,
Diablo Immortal system requirements
,
Best games like Diablo on PC
---
PCGamesN Thursday, June 2, 2022 7:02 PM
Insomniac's web-slinging hero is coming to PC, Sony has announced during the June 2 State of Play, and you won't have to wait long to play it. The Spider-Man Remastered PC release date is set for August 12. Since this is the remastered version of Insomniac's spin on Spider-Man, you can likely expect the most recent graphical updates, including ray tracing, improved reflections, and the new face model for Peter Parker.
In a separate blog post, Insomniac also confirmed Spider-Man: Miles Morales will release on PC sometime in the fall.
While Sony announced the release date, the trailer made no mention of what platform we can expect the game to launch on. Given Sony's other PC ports have landed on Steam, though, it's a good bet to expect the same for Spider-Man Remastered. What kind of settings and other features Spider-Man Remastered may launch with remain to be seen.
Spider-Man Remastered sets you loose in the vast urban playground of New York City with Spider-Man's impressive arsenal of mobility skills at your disposal.
---
PCGamesN Thursday, June 2, 2022 6:55 PM
The Final Fantasy 16 release date has narrowed to summer 2023, according to PlayStation's most recent State of Play livestream. We also got to see an exciting new trailer for the RPG game, and it's clear that developer Square Enix is going big on duels between the series' famous summoned monsters.
The trailer, which you can view below, shows some of Final Fantasy's most enduring pocket monsters - called 'Eikons', this time round - facing each other in both cinematic sequences and new gameplay. In the latter, they sport health bars and the camera angle flits between side-on and dramatic third-person perspectives. At times it looks like something between a fighting game and a hack-'n'-slash action RPG, but with enormous, dramatic monsters. Ramuh, Ifrit, Phoenix, Shiva, Garuda, Odin, and Titan are all confirmed so far.
Scurrying around beneath the stomping boots of all these giants are the humans of the story, who get much less airtime by comparison, but it's clear there's going to be a "child of fate" and at least one callous emperor who cares nothing for collateral damage.
---
PCGamesN Thursday, June 2, 2022 7:14 PM
Street Fighter 6 has been officially revealed, and it's coming out next year to consoles and PC via Steam. The flashy new trailer shows off a vibrant new art style for Street Fighter, some of the fighters we'll see on the roster, some surprising open-world gameplay, as well as the release window of 2023.
The trailer kicks off with a shot in a Times Square-type intersection in Metro City, a place covered in massive digital billboards and bright colours. We cut to a gym, where Luke, a returning character from Street Fighter V, is practising on a heavy bag.
The trailer also features appearances by Chun-Li, Ryu, and Jamie, a new character to the long-running series of fighting games. According to the official site, Jamie is an expert dancer who has also taken on the role of peacekeeper in his neighborhood of Chinatown. Intriguingly, the trailer also includes a couple segments of what appears to be open-world gameplay, where a hooded fighter explores Metro City by climbing ladders and entering breakdancing contests.
---
PCGamesN Thursday, June 2, 2022 7:24 PM
The Resident Evil 4 remake now has an official release date. Sony and Capcom revealed that the remake of Resident Evil 4 will launch March 24, 2023, and they showed off a first official look at the horror game's gameplay during Sony's State of Play.
The trailer was, as is typical of the Resident Evil series, oozing with atmosphere, and included shots of Leon Kennedy walking along a trail toward the game's village, as well as a shot from his ride on the train. The game has been completely rebuilt, and the brief shots of gameplay show off some of the new tech Capcom will be bringing to bear in the remake.
We'd heard rumours about a coming reveal for the Resident Evil 4 last year ahead of Gamescom, but it seems Capcom needed a bit more time to get all of las plagas positioned correctly for maximum scares.
Best horror games on PC
---
PCGamesN Thursday, June 2, 2022 4:38 PM
The Solar Warlock is getting a significant overhaul, Bungie has announced in This Week At Bungie, and it might take some of the sting out of Rift matches in the Iron Banner. While the Destiny 2 developer acknowledges the community's discontent with the MMO game's Rift activity, it looks like the only changes on the horizon are meant for fixing the Iron Banner's reputation issues. Players reported on Reddit that they received minimal – or no – reputation increase after matches, but the next update lets you earn reputation bonuses for playing matches, winning, and wearing a five-piece set of Iron Banner armor.
The June 2 TWAB mentions no changes to the speed of Rift matches or even the bugs players say make the activity nearly unplayable at times. Instead, the team recommends playing the objective to get the most out of the activity.
What it does mention is a set of extensive changes planned for Solar subclasses, buffing healing abilities for Solar Warlocks and making Solar Titans more interesting in combat. "We'd much rather ship something a little too spicy than something bland that makes a bad first impression. I think with Solar 3.0, we landed somewhere in the middle, and the team feels very passionately that this is the wrong place to be," Kevin Yane, Bungie's Sandbox Discipline lead, says in the TWAB update.
Destiny 2: Beyond Light review
,
Destiny 2 exotics
,
Play Destiny 2
---
PCGamesN Thursday, June 2, 2022 2:49 PM
Popular MMORPG Lost Ark will add new advanced classes at a rate of one every two months for the rest of the year, Amazon Games has revealed in a new update. While the original Korean version of Lost Ark has had three years to add expansions and additional classes, the Western version has only been available for a few months, and that's prompted Amazon Games and original developer Smilegate RPG to do some thinking about how to bring the two versions to feature parity.
Lost Ark advanced classes are a hotly discussed topic for players, who are eager to get their hands on the abilities and kits available in the Korean version of the MMO. Amazon Games says it plans to release new advanced classes into the Western edition of Lost Ark alongside new content drops with which those classes make the most sense - that's why the Destroyer advanced class arrived alongside the Valtan Legion Raid, where it can put its handy stagger abilities to work.
Amazon Games also explains that it's trying to avoid launching new classes immediately ahead of major reworks, in order to prevent some frustration on the part of players trying to learn the new class as soon as it's available.
Best MMOS and MMORPGs on PC
,
Upcoming PC games
,
Best fantasy games on PC
---
PCGamesN Thursday, June 2, 2022 1:15 PM
BioWare has revealed the title of Dragon Age 4. The upcoming RPG game is officially titled Dragon Age: Dreadwolf, a reference to both the game's primary antagonist and the end of Dragon Age: Inquisition, the last entry in the venerable series.
So who is this 'Dread Wolf'? "Some say he might be an ancient elven god, but some say not. Others say a betrayer of his people…or a savior who now seeks to rescue them at the cost of your world," BioWare says in a post announcing the game's title. "His motives are inscrutable and his methods sometimes questionable, earning him a reputation as something of a trickster deity - a player of dark and dangerous games."
BioWare says you won't have to worry about knowing everything about the Dragon Age story so far to feel at home in Dreadwolf, but series veterans will no doubt be excited by the possibilities hinted at by this focus on Solas. "If you're new to Dragon Age, you have no need to worry about not having met our antagonist just yet," BioWare says reassuringly.
Dragon games
,
Dragon Age 4 characters
,
DND games
---
PCGamesN Thursday, June 2, 2022 12:38 PM
It might be a while until Halloween, but a new The Sims 4 expansion lets players live out all their full moon fantasies and become fully fledged werewolves. The life game's new game pack, appropriately titled 'Werewolves,' lets users create their own werewolf sims and immerse themselves in the lycanthropic lifestyle in the popular building game.
The Werewolves game pack launches on June 16, and players can choose whether they want to embrace the animalistic lifestyle and transform into a toothy troublemaker or try to avoid the temptations. The pack also includes a new map, Moonwood Mill, for your sims to live, work, and socialise in. This heavily forested rural area feels like the perfect location for your lycanthrope sims to frolic and flourish in all their furry fantasies.
Much like becoming a vampire in The Sims 4, being a werewolf comes with a variety of perils that your sims must keep track of. Of course, you'll have to keep a very close watch on when the full moon is due! If you choose to embrace it, however, you can prowl around in packs and have your run of town. On the other hand, sims who aren't looking to join the lycanthropic legions will have to be very cautious of who they're hanging out with when night falls.
Best Sims 4 mods
,
Best Sims 4 sex mods
,
Play The Sims 4
---
PCGamesN Thursday, June 2, 2022 12:03 PM
Beleaguered FPS game Battlefield 2042 is finally ready to enter its first season, with DICE detailing the Battlefield 2042 season 1 battle pass and Battlefield currency system. The developer is quick to state that, "it's important to us to keep the fight fair for everyone," saying that spending real-world money "won't give you any advantages on the battlefield" in the multiplayer game. However, some players are already upset with the ability to directly level up the pass with real money.
The Battlefield 2042 season 1 battle pass has a free tier and a premium tier, with the latter requiring the purchase of a premium battle pass or the year one pass that was provided to owners of the game's gold and ultimate editions. There are 100 tiers, which are reached by earning XP while playing the game. 30 rewards are included in the free tiers, while the premium pass features something for each of the 100 tiers. A note says that content missed in a season can still be unlocked "at a later stage," although there is no indication given as to when that might be.
While DICE emphasises that the premium tier is limited to cosmetics and items with no gameplay benefit, players on the game's subreddit have already pointed out that, because users can spend the premium currency to skip through the tiers without playing, there is an 'indirect pay-to-win' element. Players can spend 'Battlefield currency,' bought with real money or earned from the battle pass, to more rapidly reach the free tiers which award gameplay elements such as weapons and specialists.
Battlefield 2042 review
,
Best multiplayer games on PC
,
Best FPS games on PC
---
Rock Paper Shotgun Latest Articles Feed Thursday, June 2, 2022 12:01 PM
A very merry Pride month to all, and what better way to celebrate than by putting some money in queer developers' pockets and getting more than 500 games (and zines and other such goodies) in return? There's a bit of everything in here, from a bird-run grocery store to a meditation on the decay and connection both inherent to today's internet.
---
Twinfinite Thursday, June 2, 2022 7:35 PM
Scavengers Studios revealed its new trailer of Season: A letter to the future during Sony's PlayStation State of Play. The video showcases a mysterious character on a bicycle journey around the world. They are tasked with a mission to collect memories before a great cataclysm corrupts everything around them. You can watch the Season: A […]
---
Twinfinite Thursday, June 2, 2022 7:33 PM
Wondering when Resident Evil 4 comes out for PS5? Yes, you read that right, Sony is bringing one of its most beloved games to its next-generation console. Obviously, fans have a lot of questions regarding it, and thankfully we've got all the answers. Here is everything you need to know about the game's upcoming release. […]
---
Twinfinite Thursday, June 2, 2022 7:30 PM
BioWare's upcoming fantasy RPG Dragon Age: Dreadwolf is coming to PC and consoles, and will put a large focus on Solas, the Dread Wolf… as the name suggests. With it having been nearly eight years since the last entry in the series, it should come as no surprise that fans are wondering when does Dragon […]
---
Twinfinite Thursday, June 2, 2022 7:24 PM
One of the surprise indie titles that turned heads at Sony's State of Play today was Rollerdrome, which is coming digitally to PS4, PS5, and PC on Aug. 16, 2022. The game is a single-player third-person action shooter that blends pulling off fluid tricks and flips across a skating arena with adrenaline-pumping gunplay combat. Developed […]
---
Twinfinite Thursday, June 2, 2022 7:15 PM
Activision Blizzard's Diablo Immortal is a mobile and PC cross-play ARPG that puts cooperative multiplayer gameplay front and center. Whether players enlist friends into their guild-like Clans or rally up others for a Proximity Party, there are a few ways to break into the multiplayer space if you're having a tough time or looking for […]
---
Twinfinite Thursday, June 2, 2022 7:02 PM
It's a new day and that means there's a fresh Wordle answer to be resolved. With it being a Friday, chances are you're trying to solve the brainteaser while having a little coffee break during your work day. In this guide, we'll be giving you today's Wordle answer for June 3, 2022, so you can […]
---
Twinfinite Thursday, June 2, 2022 6:54 PM
Genshin Impact 2.7 brings a new Archon Quest called At Tunnel's End, Light, whose final part, "End of the Line," requires you to walk through an incredibly tough domain puzzle. The puzzle is all about playing with a Fantastic Compass in a certain pattern. Since many Genshin Impact players are having a hard time solving […]
---
Twinfinite Thursday, June 2, 2022 6:46 PM
Sony's looking to take over the PC platform by bringing all of their big titles to PC. During their State of Play, they announced that 2018's Marvel's Spider-Man is next in line swinging onto PC on August 12, 2022. Here's the official description of Marvel's Spider-Man Remastered: In Marvel's Spider-Man Remastered, the worlds of Peter […]
---
Twinfinite Thursday, June 2, 2022 6:45 PM
Today, during the latest State of Play broadcast, Square Enix revealed a brand new trailer of Final Fantasy XVI.
---
Twinfinite Thursday, June 2, 2022 6:44 PM
During today's Sony State of Play presentation, we learned that Tunic, the indie action-adventure game featuring an anthropomorphic fox, will be coming to the Playstation 4 and Playstation 5 later this year. Tunic, developed by Finji, was released on PC and Xbox earlier this year in March and was praised for its mysterious world, compelling […]
---
Twinfinite Thursday, June 2, 2022 6:34 PM
If you've been craving some stylish fighting, Street Fighter 6 has come along to quench that thirst. Not only that but there seems to be a hint of an open world with a so called "Battle Hub." You'll have to wait until 2023 to play it, but there's some colorful brawling to be found. You […]
---
Twinfinite Thursday, June 2, 2022 6:28 PM
During today's Sony State of Play presentation, we got a new look at Annapurna Interactive's upcoming game Stray with a trailer featuring gameplay as well as a release date. Stray will release next month on July 19. The trailer, which was approximately a minute and a half in length, mostly showed off gameplay. We got […]
---
Twinfinite Thursday, June 2, 2022 6:28 PM
The much-anticipated sequel to one of the PS4's best exclusives is finally here, and as you'd expect, it's bigger and better in (almost) every way. Certainly, there's a huge amount of content to get stuck into across a vast open-world that offers a huge amount of playtime. Still, for those who finish the game and […]
---
Twinfinite Thursday, June 2, 2022 6:25 PM
During Sony's PlayStation State of Play online showcase today, Hello Games' space-faring explore-'em-up, No Man's Sky, was announced to be coming to PSVR 2. Go ahead and feast your eyes on the new trailer down below: Originally released back in 2016, the highly-anticipated first-person experience boasted incredibly impressive procedural generation, featuring over 18 quintillion planets. […]
---
Twinfinite Thursday, June 2, 2022 6:22 PM
Today, Sony's State of Play event revealed an official release date for its upcoming horror game, The Callisto Protocol. The brand new trailer unveiled that the title will be headed to PlayStation consoles Dec. 2, 2022. You can check out an official trailer for the release date below. When Does Callisto Protocol Release for PS4 […]
---
Twinfinite Thursday, June 2, 2022 6:20 PM
Today, during the latest State of Play broadcast, Sony Interactive Entertainment had a new reveal to share about Horizon Call of The Mountain.
---
Twinfinite Thursday, June 2, 2022 6:13 PM
Announced during today's State of Play that The Walking Dead: Saints & Sinners – Chapter 2: Retribution will be headed to PSVR2. It's not the biggest surprise considering the game is hitting all the biggest VR platforms and was announced for Oculus back in January. There's plenty of French Quarter goodness in the reveal trailer […]
---
Twinfinite Thursday, June 2, 2022 6:13 PM
Today, Capcom officially announced that a Resident Evil 4 remake would be coming to consoles and PC on Mar. 24, 2023. Right after this announcement, it was also revealed that Resident Evil: Village would be making its way to PSVR2 in June 2022. You can check out the trailers for each of them below. This […]
---
Twinfinite Thursday, June 2, 2022 5:30 PM
Nihon Falcom released two new trailers of the upcoming PS5 version of its Trails JRPG The Legend of Heroes: Kuro no Kiseki.
---
Twinfinite Thursday, June 2, 2022 3:55 PM
Want to know if Call of Duty is coming back to Steam with the release of Modern Warfare 2? You certainly aren't alone in that question, and it looks like we've got a pretty good answer. Here is everything you need to know about the possibility of the series' return to the platform. Is Call […]
---
Siliconera Thursday, June 2, 2022 7:06 PM
The June 2022 PlayStation State of Play broadcast brought a new original game to the platform's 2023 release slate. Eternights is a new "dating action" game from Studio Sai and supported by the Kowloon Nights indie game development fund.
Check out the trailer below.
https://www.youtube.com/watch?v=YkN-2gUUmc8

The Eternights trailer opens with a 2D-animated scene of a teen losing his arm. He quickly restores the severed limb, using the now-glowing arm to wield a sword and take on otherworldly monsters. Other characters use powers to engage in combat, as well. Glimpses of 2D event art, as well as 3D in-engine cutscenes are shown.
The official website lays out the premise of Eternights, saying it will "blend a love story with adrenaline driven combat as you make the most out of life during the apocalypse."
Players will face the monsters (called Infected), and manage their time and activities on a daily schedule. They'll also build relationships with five "quirky and loveable characters," but will need to balance that out with doing tasks to ensure their survival. They'll also plumb dungeons alongside their confidants in a dangerous area known as The Wall. The game will have 2D animated cutscenes that change based on a player's choices about with whom to spend time.
A developer at Studio Sai stated in a Tweet that Eternights was inspired by the Persona series.
https://twitter.com/StudioSaiGames/status/1532487123915313154
Eternights is in development. It will arrive on PlayStation 4, PlayStation 5, and PC in early 2023.
The post Eternights Blends Dating and Action in Early 2023 appeared first on Siliconera.
---
Siliconera Thursday, June 2, 2022 7:00 PM
People will have a reason to return to Horizon Forbidden West today, thanks to a new update. During the June 2022 State of Play, Sony discussed the game. After showing off the PSVR 2 entry ,em>Horizon: Call of the Mountain, a new patch came up. Once people get it, they can access things like New Game Plus, an Ultra Hard difficulty level, and new Performance Mode features in Horizon Forbidden West.
The PlayStation Blog went over a few of these additions. In addition to Horizon Forbidden West New Game Plus and Ultra Hard, there will be a new trophy pack. That unlocks when you take on the new challenge. There will be a transmog feature to change how Aloy looks. People can also respec her to change her build. You can buy animal parts, instead of relying on finding them. Performance Mode's Temporal Anti-Aliasing changed. There will also be 40FPS and VRR support coming.
Here's the trailer going over all the Horizon series State of Play June 2022 announcements. It begins with new footage from the PSVR 2 title Horizon: Call of the Mountain. That is the new adventure starring Carja Ryas. Carja was a shadow. That footage shows someone swimming , scaling areas, and dealing with machines as you scale a mountain. At the 2:10 mark, the new Horizon Forbidden West update is shown off.

Horizon Forbidden West is available for the PlayStation 4 and PlayStation 5. Horizon: Call of the Mountain is in development for the PlayStation VR 2.
The post Horizon Forbidden West New Game Plus and Ultra Hard Update Arrives appeared first on Siliconera.
---
Siliconera Thursday, June 2, 2022 6:32 PM
Producer Naoki Yoshida said a new FFXVI trailer was on the way. Well, it turns out it debuted during the June 2, 2022 State of Play. It also ended up with a Summer 2023 launch window.
The new trailer begins with someone bringing up the "Dominance." It then brings up that the power people use "wears away" at them. Hints of another war appear.
From there, the trailer goes over the FFXVI combat system. It shows fights against various foes. Both humans and traditional summons we've seen for years show up. The trailer ends with a number of familiar summons mentioned before showing them in action. Phoenix, Titan, Garuda, Ramuh, Shiva, Ifrit, Odin, and Bahamut all show up.
Here's the newest look at the FFXVI State of Play June 2022 trailer.

We already knew a new FFXIV trailer and additional announcements were coming. In December 2021, a delay was confirmed and a Spring 2022 window was set for announcements. Then in April 2022, Yoshida said it was nearing the end of its development. Once the June 2022 State of Play was announced, many suspected FFXVI would appear.
This is one of the biggest reveals recently. The initial announcement trailer and teaser website both showed up in 2020.
Final Fantasy XVI is in development for the PlayStation 5 and will be out in Summer 2023.
The post New FFXVI Trailer Appears at June 2022 State of Play appeared first on Siliconera.
---
Siliconera Thursday, June 2, 2022 6:29 PM
It's happening: Capcom is giving Resident Evil 4 the remake treatment. Sony opened its June 2022 State of Play broadcast with a teaser for the remake, formally titled Resident Evil Re: 4. The game will arrive on March 24, 2023. It will also come to the Xbox Series X and PC. Like Resident Evil VII: Biohazard, the remake will elements that support VR play via PS VR2.
Check out the Resident Evil 4 Remake State of Play trailer below.
https://www.youtube.com/watch?v=-L1EuRo54pI

The trailer featured brief glimpses of protagonist Leon Kennedy as he infiltrates a mysterious rural hamlet in pursuit of Ashley Graham, the daughter of the U.S. President. The visuals have been redone in the style of the previous Resident Evil remakes.
Remakes of the Resident Evil series have been some of Capcom's biggest hits of the past few years. The remakes of Resident Evil 2 and Resident Evil 3: Nemesis both surpassed 5 million copies sold.
That being said, it remains to be seen just how much will change in Resident Evil Re: 4, given that the previous revisits essentially adapted the older style of RE series gameplay to one closer to that of the original Resident Evil 4. When it debuted on the Nintendo GameCube, RE4 was an early pioneer of what would become the default "over-the-shoulder" perspective of third-person action games. Its faster, more combat-oriented play also pushed the series in a more action-based direction for subsequent entries.
Resident Evil 4 remake is due out on the PlayStation 5, Xbox Series X, and PC on March 24, 2023.
The post Resident Evil 4 Remake Out March 2023, Will Support PS VR2 appeared first on Siliconera.
---
Siliconera Thursday, June 2, 2022 6:27 PM
Among the June 2022 State of Play announcements was Street Fighter 6. Luke appeared as a main character alongside Chun-Li and Ryu. It also confirmed this will be a PlayStation 4 and PlayStation 5 game. People will be able to get it in 2023.
Here's the full trailer. People can see Luke exploring a city. After that, people like Chun-Li and Ryu appeared with slightly different appearances. A character named Jamie appeared as well. At the end of the footage, a Battle Hub appeared. This appears to be an area people can explore when perhaps looking for new matches.
Capcom later showed a video detailing the game's "real-time commentary" feature. It shows how people from the fighting game community contributed clips to narrate folks' fights.
Introducing the Real Time Commentary Feature in #StreetFighter6!

We teamed up with FGC commentators and other well-known personalities to incorporate their voices to commentate your matches.

https://t.co/TeNl2pTAbd pic.twitter.com/KscYkkojO0

— Street Fighter (@StreetFighter) June 2, 2022
This new entry was announced back in February 2022. Capcom promised more news in Summer 2022 at the time. Before that, Luke was already confirmed as a major player in the new entry.
Street Fighter 6 will come to the PlayStation 4 and PlayStation 5 in 2023.
The post Street Fighter 6 Debuts at June 2022 State of Play appeared first on Siliconera.
---
Siliconera Thursday, June 2, 2022 6:19 PM
Insomniac's take on Spider-Man will be heading to a new home. During the June 2022 State of Play, Sony announced Marvel's Spider-Man Remastered will get a PC release. People will be able to get a copy on August 12, 2022. It will be followed by Marvel's Spider-Man: Miles Morales in Fall 2022.
The game features an older version of Peter Parker as he's doing research after college while still helping the people of Manhattan. It first showed up on the PlayStation 4. Two years later, it appeared on the PlayStation 5. The PS5 version also had some exclusive suits that eventually came to the PS4 version. Save data eventually was able to transfer over as well.
Here's the first trailer for the PC port.

Marvel's Spider-Man Remastered will come to the PC on August 12, 2022. The game is immediately available on the PlayStation 4 and PlayStation 5. A Marvel's Spider-Man: Miles Morales PC port will appear in Fall 2022.
The post Marvel's Spider-Man Remastered PC Debut Dated appeared first on Siliconera.
---
Siliconera Thursday, June 2, 2022 6:10 PM
At the June 2022 State of Play, Resident Evil Village 2 PSVR 2 compatibility was announced. The trailer showcasing it featured Ethan Winters in Lady Dimitrescu's home with her daughters.
Resident Evil Village would be the second recent installment to get PSVR support, as Resident Evil 7 offered it as well.

Resident Evil Village is available now on the PlayStation 5, PlayStation 4, Xbox Series X, Xbox One, and PC. Back in May 2022, Capcom announced its sales passed 6.1 million units worldwide. There's no release date for the PSVR 2 yet.
The post Resident Evil Village PSVR 2 Compatibility Announced appeared first on Siliconera.
---
Siliconera Thursday, June 2, 2022 3:00 PM
We're in a very unique situation! A Musou based on a niche game actually made it outside Japan. Koei Tecmo took a shot and localized Touken Ranbu Warriors. Now it is out worldwide on the Nintendo Switch and PC. To learn more about Touken Ranbu Warriors and its characters, SIliconera spoke with Ruby Party Producer Mei Erikawa and Omega Force Producer Tomohiko Sho about their experiences working on the game.
Jenni Lada, Siliconera: How did Touken Ranbu Warriors come to be? Also, how did the COVID-19 pandemic affect its
development?
Tomohiko Sho, Omega Force: Well, it began with Ruby Party approaching Nitroplus and DMM GAMES about releasing a home console adventure game for Touken Ranbu -ONLINE-. As discussions continued, Nitroplus made the suggestion that "if it's a console game, then what about a collaboration with the Warriors series?" And it just happened that around that time one of the game magazines in Japan held a reader survey asking what work they'd like to see collaborate with the Warriors series and Touken Ranbu -ONLINE- was the top pick, so that also encouraged the collaboration.
In terms of the COVID-19 pandemic, it was an issue faced not only for this title but for the entire company, so the shift to a hybrid workstyle had a big effect on development. But we figured out ways of working on development during the COVID-19 pandemic, and as a result we were able to overcome it without any incidents and were able to release the game.
Touken Ranbu isn't well known outside of Japan. How did you handle that when preparing Touken Ranbu Warriors' worldwide release?
Mei Erikawa, Ruby Party: We have put a lot of energy into making sure that that the allure of Touken Ranbu Warriors would be conveyed through its beautiful illustrations and impactful videos, and also made sure to showcase the gorgeous yet dynamic actions and the varied and rich story so that many new players can learn about the Touken Ranbu IP and this game and become interested in it.
Touken Ranbu Warriors has an entirely original story. How did it come together during development?
Sho: It started with the natural decision of setting it in the Sengoku era of Japan, which Koei Tecmo is an expert in, and we came up with a number of different plots and considered the content.
Usually when there is a collaboration with the Warriors series, a lot of the time the scenarios follow and are based on the original IP, but as we debated the many ideas numerous times, the idea of creating an original of a certain honmaru that was in a particular situation where it didn't have a Saniwa (master).
With Nitroplus, beginning with the backbone of the story of the situation this honmaru is faced with, we worked out the setting with them, ranging from why a particular Touken Danshi appears to very specific settings during the course of working on the game. Not everything is explained in the game, so I hope players will imagine the possibilities surrounding these aspects as they enjoy the game.
Touken Ranbu is essentially the "sword boys" game, so how did the team work on its roster to ensure there would be a diverse selection of characters and weapons represented?
Mei Erikawa: To begin with, we started with a list of the Touken Danshi that have a connection with the Sengoku era, as that is when the game is set, and then as we worked on the story and plot, characters that were a good match for it appeared. Also, we also thought about having a good balance of sword types appear, so we contemplated this many times before coming with the final roster.
Given how many characters appear in Touken Ranbu proper, what led to the team only including 15 playable ones here?
Erikawa: At first we thought about having many more characters appear in the game. But with a greater number of characters, it would become more difficult to build out each of their individual actions and stories. In some Warriors games, there are instances where several characters may have similar motions, but for Touken Ranbu Warriors we thought it is important to carefully create each character so we limited the number of characters appearing in the game. For the story as well, in order to show the appeal of each Touken Danshi on a deeper level, I think this is the best number of characters.
There is no multiplayer in Touken Ranbu Warriors. What led to this decision? Was there ever a point at which multiplayer was considered?
Sho: We thought that there would be many people playing an action game for the first time, so in order to not make it complex, we made the decision to focus on it being a really enjoyable single player game. Also, the original game Touken Ranbu -ONLINE- is also a single player game, so I think for the fans of the original game this would be a very familiar style of game to them.
Touken Ranbu Warriors is available for the Nintendo Switch and PC.
The post Interview: Preparing Touken Ranbu Warriors and Picking Its Characters appeared first on Siliconera.
---
Siliconera Thursday, June 2, 2022 1:15 PM
EA and BioWare offered an update on Dragon Age 4, which is officially known as Dragon Age: Dreadwolf. It also offered a first peek at the logo. The blog post announcing the title confirmed a returning character would appear as an antagonist. Finally, the announcement closed by saying additional details will come up at the end of 2022.
At The Game Awards 2018, a Dread Wolf rises teaser appeared. It offered a hint that a certain person would return. In Executive Producer Mark Darrah offered hints work was being done on Dragon Age 4 back in 2020. An additional update came at Gamescom 2020. However, it wasn't until The Game Awards 2020 that a better look at the game showed up.
Editor's Note: There will be Dragon Age Dread Wolf spoilers below that suggest elements that will appear in Dragon Age: Dreadwolf.
In Dragon Age, there is an elven god called the Dread Wolf Fen'Harel. In Dragon Age: Inquisition, people learn that one of players' party members, Solas, is that person. The game ends with a fateful encounter between Solas and another important, recurring character from past installments.
Dragon Age: Dreadwolf is in development for unspecified platforms. More news will come in 2022.
The post Dragon Age 4 is Dragon Age Dreadwolf appeared first on Siliconera.
---
Siliconera Thursday, June 2, 2022 1:00 PM
People won't need to head to a foreign Nintendo Switch eShop to get Key's visual novel Loopers. Now that the shop update is live, it is available both inside and outside Japan. People could pick it up, with English, Japanese, and Simplified Chinese localizations, immediately. It costs $24.99.
As the name suggests, Loopers is Key's visual novel about a Groundhog Day-like time loop. Written by 07th Expansion's Ryukishi07, who is behind the When They Cry series, it features a group of geohunting individuals who get stuck in a Temporal Spiral. Once inside, all the people reliving August 1st are Loopers attempting to break the cycle. As you go through it, you'll watch and see if people can solve the mystery and break free.
This is one of Key's kinetic visual novels. This means you don't make any choices as you go through it. You just read along with the story. Similar games from the company include Harmonia and Planetarian. (The latter is also available on the Switch worldwide.)
For a better idea of what to expect from the game and its art, here's an official Loopers Switch opening movie. It shows off some of the main characters and its theme song.

Loopers is now available on the Nintendo Switch.
The post Key's Loopers Visual Novel Debuts on Switch eShop Worldwide appeared first on Siliconera.
---
Siliconera Thursday, June 2, 2022 12:30 PM
Nintendo is closing in on the late-July release date of Xenoblade Chronicles 3, but there's more to be done before the game launches. For example, teaching potential players how to use the Arts system. A new edition of Nintendo's ongoing "Xenoblade 3 Notes" blog series explains Arts to the laymen in the audience.
As in previous entries in the series, Arts are basically the techniques and special attacks used by characters in battle. Typically characters will automatically attack the targeted enemy, but Arts forms the core of Xenoblade Chronicles 3 combat. They're assigned to the face buttons by default for easy access, though using an Arts technique will trigger a cooldown time that varies depending on the technique's power and complexity.
In Xenoblade Chronicles 3, a character's Arts are determined in part by their class. Each class specializes in a different combat style, and has 5 Arts to choose from. However, players can only slot 3 Arts at a time, making it important to choose the best tools for the enemy at hand. Each character, even within the role archetypes of Attacker, Defender, and Healer, has their own class assigned at first. Even distinctions between the character origins, such as a class being from Agnos or Keeves, can affect how their class operates. Characters can also change classes to master certain Arts and take them over to different classes. Using these cross-class Arts can result in combo effects from Arts Fusion.
https://www.youtube.com/watch?v=BbOB6F7yPJk
Here are the initial classes for the playable cast:
Noa (Attacker/Swordfighter) - Has balanced abilities and is well-suited to fighting bosses and unique monsters
Sena (Attacker/Crusher) - Devastates foes with a heavy war hammer. Her powerful attacks can break through an enemy's defense, but she attracts attention easily and needs defending.
Mio (Defender/Gale Master) - Toys with enemies through high mobility, countering with her twin rings. She can also keep nearby allies from taking enemy attacks by buffing their evasion or deflecting strikes away.
Lanz (Defender/Heavy Guard) - Wielding massive shields and large weapons, Lanz specializes in taunting Arts and taking hits meant for squishier party members.
Eunie (Healer/Medic Gunner) - Eunie's Arts create safe spaces that buff allies and heal them so long as they remain in the area of effect. These can attract enemy attention, though.
Taion (Healer/Tactician) - Taion dazzles enemies and supports allies with stratagems. He can put enemies to sleep, preventing them from harming the party.
Noa's Swordfighter class specializes at flanking an enemy, so his Sword Strike and Thrust Edge Arts deal more damage when executed on an enemy's side or back, respectively.
https://www.youtube.com/watch?v=0yI5_azeM7M
Meanwhile, Mio is a Gale Master, a Defender-type class. As a Xenoblade Chronicles 3 Defender, she has Arts that can draw in enemy attacks while keeping herself safe through her high mobility and evasive movements. Mio's Butterfly Edge forces enemies to target her , while the Air Fang does more damage to enemies targeting the user.
https://www.youtube.com/watch?v=QHNFyOxVdIQ
Besides regular Arts, Xenoblade Chronicles 3 characters have special Talent Arts, which are charged up by performing actions suited to one's party role. For example, an Attacker will charge their Talent Arts by landing flanking attacks, while a Defender will charge up by blocking or dodging enemy strikes.
The Swordfighter's Talent Arts is the Exceed Buster, a powerful blow that does even more damage if the enemy is stunned.
https://www.youtube.com/watch?v=7kTOWQ4DiTU
The Gale Master Talent Arts is the Gemini Strike, a strike that pulls in enemy targeting while boosting one's own evasion.
https://www.youtube.com/watch?v=vAhXh3Th3As
Xenoblade Chronicles 3 will release on July 29, 2022 on the Nintendo Switch.
The post Nintendo Explains Xenoblade Chronicles 3 Arts and Classes appeared first on Siliconera.
---
PC Invasion - FeedDDD Thursday, June 2, 2022 7:54 PM
Fresh off the heels of a commitment to getting more of its games on PC, Sony revealed that Spider-Man Remastered is next in the queue. The announcement came during the June 2022 State of Play event, and included a fresh new trailer to build some hype. The core experience of Spider-Man Remastered will release on August 12 via Steam and the Epic Games Store. Sony didn't mention pricing or recommended specs, but we can expect that in the months ahead. What did come as a nice surprise, however, was the reveal that the Miles Morales spinoff is also due this fall. Flashy graphics, flashy heroes Considering Spider-Man Remastered was designed for the PlayStation 4 originally, anyone with a decent gaming PC shouldn't run into any issues with the hardware requirements for this game. That will be a different story though when it comes to intense effects like ray tracing. Aside from some graphics upgrades and the exciting proposition of running the games at higher resolutions an...
---
PC Invasion - FeedDDD Thursday, June 2, 2022 7:51 PM
Square Enix came out swinging during the recent PlayStation: State of Play event with a new release date and trailer for Final Fantasy XVI — hyping up fans of the developer's most popular fantasy world. It's been some time since the last mainline Final Fantasy game was released back in 2016, and we finally got news of a release date and a new trailer as well (following something of a "will-they-won't-they actually release the trailer" experience). The trailer showcases some of the game's new story, as well as some stunning new graphics and gameplay. Stunning might be putting it lightly, with some extremely flashy graphics and an emphasis on the Devil May Cry-esque gameplay. Not to mention a glorious operatic soundtrack raising the hype levels of it all. It was a long wait This new trailer has been the first time we've received information about the game since 2020. Producer Naoki Yoshida even thanked fans for the long wait at the s...
---
PC Invasion - FeedDDD Thursday, June 2, 2022 7:21 PM
I can't say I've remembered many games where you get to physically play a cat, and certainly not one set in a vibrant cyberpunk world. Annapurrna Interactive is targeting my niche love for cute animals and dingy technological worlds, with a new game where you control a kitty trying to escape a dangerous situation. A trailer for the cat-tastic adventure, Stray, was released today during the PlayStation: State of Play event, with a release date revealing the game is just one quick catnap away. This ferocious feline you'll be playing as has been separated from its family. Lost and alone, this stray must solve an ancient mystery and escape a derelict, decaying cybercity. That's a lot to pin on just one cat, but you'll be able to interact with denizens of this cybernetic world and even befriend a flying drone known as B12. Stealthy cat action The release date announcement for Stray comes off the coals of a long development cycle, with the game announced...
---
PC Invasion - FeedDDD Thursday, June 2, 2022 7:08 PM
We finally got a real look at Glen Schofield's The Callisto Protocol with a trailer shown at the PlayStation: State of Play today. But that's not all, fans of spooky horror games. The Callisto Protocol has been confirmed for a December 2 release date, arguably the scariest time of the year. Wait, it isn't? Well, it'll make for a creepy Christmas season anyway. The Callisto Protocol won't offer too many surprises if you've already played Dead Space. Of course, that was somewhat expected considering it's being made by the Dead Space creator. It definitely has the making of a spiritual successor, with a behind-the-back camera angle, a futuristic sci-fi setting, and grotesque body horror. The enemies haunting protagonist Jacob Lee look quite similar to Necromorphs, but a bit more bloated and zombified. However, Lee is a prisoner on Callisto, not an engineer. Isaac Clarke's weaponry included the tools of his trade. In The Callisto Proto...
---
PC Invasion - FeedDDD Thursday, June 2, 2022 7:00 PM
After completing the Lightshaper puzzle, your Chasm group will have a long chat. Arataki Itto will even create a Dark Souls boss arena. I'm kidding, he'll just break open a passageway into another domain. Here's our Genshin Impact Fantastic Compass puzzle guide to help you with the Needle mechanic in the Perilous Trail event. Note: For more information about the game, check out our Genshin Impact guides and features hub. You may also take a look at our main guide for the Perilous Trail event. Genshin Impact Fantastic Compass puzzle guide (Perilous Trail event) When you first enter the domain, you'll control Yanfei and you'll be up against a bunch of Treasure Hoarders. If you haven't obtained her yet, now would be a good time to learn about Yanfei's capabilities. Once the hostiles have been defeated, take note of the large compass in the distance and the smaller one near you. You don't need to interact with the smaller one for now. ...
---
Tabletop Gaming News Thursday, June 2, 2022 6:00 PM
---
Tabletop Gaming News Thursday, June 2, 2022 5:00 PM
---
Tabletop Gaming News Thursday, June 2, 2022 4:00 PM
---
Tabletop Gaming News Thursday, June 2, 2022 3:00 PM
---
Tabletop Gaming News Thursday, June 2, 2022 2:00 PM
---
Tabletop Gaming News Thursday, June 2, 2022 1:00 PM
---
Player Assist | Game Guides & Walkthroughs Thursday, June 2, 2022 6:14 PM
These cars will make the Bravado Banshee look like a toy in comparison. Image Credits: gta5-mods (YCA-y97y) GTA 5 has always been about cars, so you'll find a ton of car-related content and activities spread out across the city of Los Santos. The vehicle collection in GTA 5 is nothing short of impressive, with over […]
---
Player Assist | Game Guides & Walkthroughs Thursday, June 2, 2022 5:00 PM
Throughout your journey to becoming Elden Lord, you must defeat many powerful Demigods who reside in The Lands Between, and none pose a greater threat than Malenia, Blade of Miquella. Malenia is an unforgivingly difficult boss who has left even the most experienced Soulsborne players yanking their hairs out from pure rage. Malenia consists of […]
---
Player Assist | Game Guides & Walkthroughs Thursday, June 2, 2022 4:00 PM
The Sha Gehma Shrine, or the Shift and Lock, is one of the many shrines in The Legend of Zelda: Breath of the Wild. This shrine requires Link to access a chest trapped under a huge metal cube to open the entryway to the altar. This is a very easy shrine to complete, and in […]
---
Player Assist | Game Guides & Walkthroughs Thursday, June 2, 2022 3:00 PM
Start a traffic ticket collection with the Pull Me Over Mod for GTA 5. We recently featured the Pull Me Over Mod back in our article about the 5 Must-have Realism Mods for GTA 5, which you can read here. The Pull Me Over adds a very interesting and fun dynamic to how traffic works […]
---
Player Assist | Game Guides & Walkthroughs Thursday, June 2, 2022 1:00 PM
Stardew Valley is a peaceful region abundant in crops, animal products, and forage items. These natural resources have a variety of uses, from giving them away to the townies to selling them for a quick buck. But perhaps the best way to utilize them is to turn them into Artisan Goods! We have listed all […]
---
Gaming Instincts – Next-Generation of Video Game Journalism Thursday, June 2, 2022 4:07 PM
---
Gaming Instincts – Next-Generation of Video Game Journalism Thursday, June 2, 2022 3:09 PM
---
Gaming Instincts – Next-Generation of Video Game Journalism Thursday, June 2, 2022 2:42 PM
---
Gaming Instincts – Next-Generation of Video Game Journalism Thursday, June 2, 2022 2:11 PM
---
Level Up Thursday, June 2, 2022 1:29 PM
No longer shall it be called <a href="https://www.gameinformer.com/2022/01/06/bioware-gm-discusses-state-of-the-studio-including-rebuilding-its-reputation-new-remote" target="_blank" rel="noopener">Dragon Age 4</a>, as developer BioWare…