---
Kotaku Friday, November 18, 2022 5:42 PM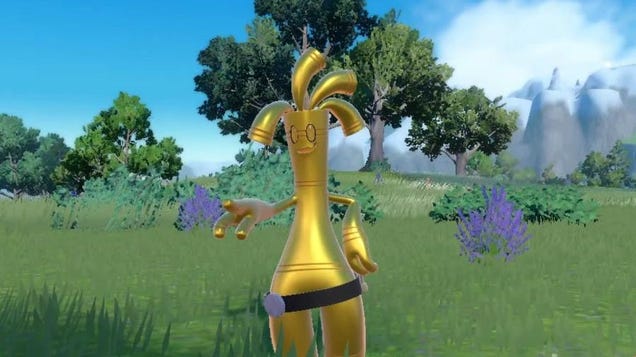 The mad lads at GameFreak have done it again. Pokémon Scarlet and Violet push the series' overall Pokédex into four figures, and the special 1,000th Pokémon turns out to be a gold coin surfing freak with a fanny pack called Gholdengo. Is it going to sell me crypto? Is it made of crypto?? I can't wait to find out.
---
Kotaku Friday, November 18, 2022 5:20 PM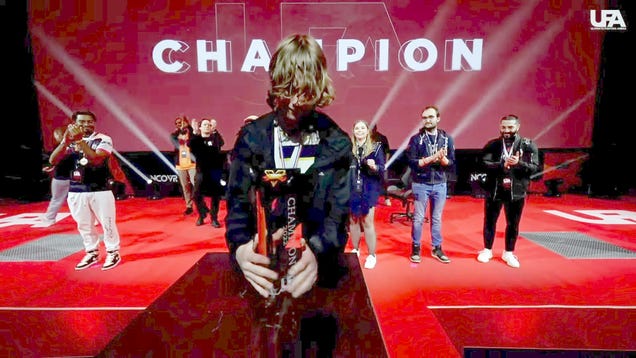 One of Europe's biggest fighting game tournaments, the Ultimate Fighting Arena (UFA), wrapped up on November 13. The three-day event in France was populated by big-name competitors like Goichi "GO1" Kishida and Victor "Punk" Woodley, but it was teenage mad lad EndingWalker who ended up making waves by not just taking…
---
Kotaku Friday, November 18, 2022 3:49 PM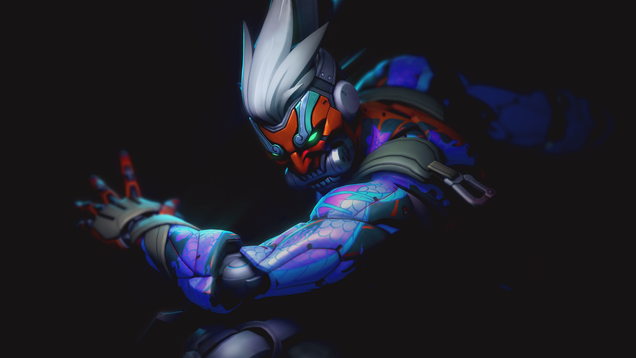 One of the most contentious things about Overwatch 2 has been the beloved hero shooter's shift from paid game to free-to-play download supported by grindy battle passes. Blizzard now says it wants to address those concerns moving forward, ironing out the game's progression in future seasons so that players feel "more…
---
Kotaku Friday, November 18, 2022 3:30 PM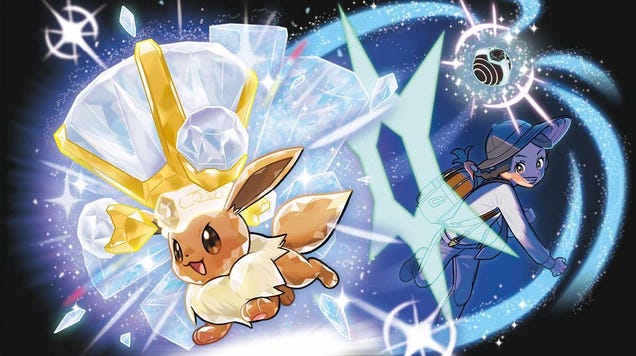 Pokémon Scarlet and Violet is something of a clipping, textureless aquarium, but it's finally out and arguably playable. If you will yourself to see beyond appearances, NPC apparitions, and Pokémon trapped behind walls, and try not to imagine all the high-performance McChickens you could have instead bought with $60,…
---
Kotaku Friday, November 18, 2022 2:30 PM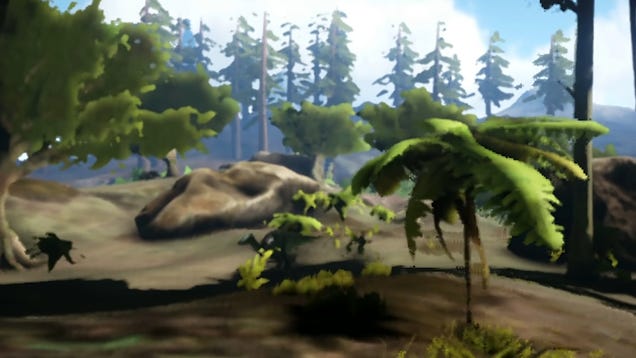 Back in 2018, the Switch received one of its worst and most unplayable ports in the console's history, a remarkable distinction given how many rough games are on the platform. You might know it, as it's a pretty popular first-person open-world survival simulator called Ark: Survival Evolved. Now four years after its…
---
Kotaku Friday, November 18, 2022 1:45 PM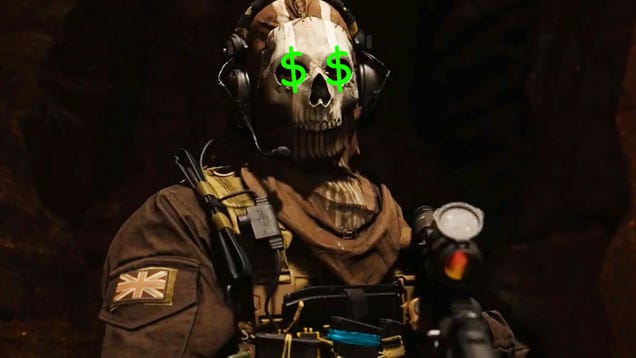 Warzone 2.0 has been out for a few days and it's a damn good time once you get past the most challenging part of the game: Navigating a UI that seems like it was coded in the fires of digital hell. Aside from being clunky, obtuse, glitchy, and not even remotely helpful for finding what you're looking for, Warzone 2…
---
Kotaku Friday, November 18, 2022 1:35 PM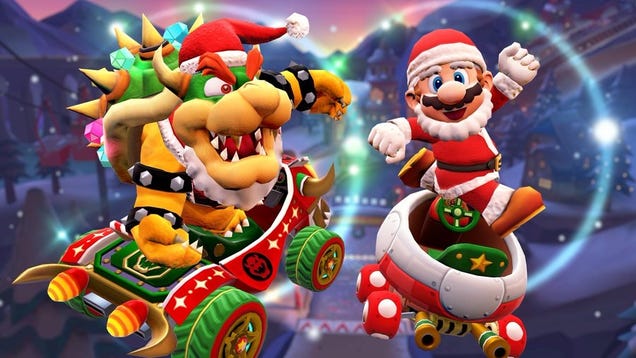 It's that time of year again. The pumpkins have all been smashed, the peppermint is in the mocha, and all Mariah Carey wants for Christmas is you (and her big fat royalty check from Columbia Records). The holiday pre-season is officially upon us, with deals and discounts on a ton of games, consoles, and accessories.…
---
Kotaku Friday, November 18, 2022 1:25 PM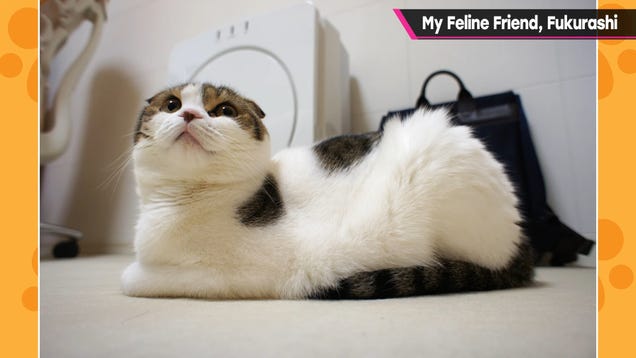 For the past three months, Super Smash Bros. and Kirby director Masahiro Sakurai has taken a break from being the most overworked man in gaming to becoming the most wholesome video game YouTuber. Though his cavalcade of gaming videos is an excellent watch, as of today the single most must-watch video on his channel is…
---
PCGamesN Friday, November 18, 2022 5:53 PM
If you've forgotten about Broforce, then A) you hate freedom and B) we kind of understand. It came out two entire presidential administrations ago, hitting Steam Early Access way back in 2014 with its ludicrous blend of bro puns, '80s movie references, and pixelated co-op game action. All has been quiet on the Broforce front for the past several years as developer Free Lives has gone onto make other indie hits like Genital Jousting and Gorn, but now the Bros are coming back for one last job called Broforce Forever.
---
PCGamesN Friday, November 18, 2022 4:26 PM
A free Destiny 2 emblem code in celebration of Transgender Awareness Week and honoring Transgender Remembrance Day is available to all players of the popular FPS game via a code available for redemption on Bungie's code redemption website.
Transgender Awareness Week began on November 13 and ends on November 19, leading to Transgender Day of Remembrance on November 20. Although the emblem was initially added to the game in 2021, the Trans@Bungie Inclusion Club used November 17's This Week at Bungie (TWAB) blog post to remind players that the emblem is still available and share the importance of recognizing and supporting transgender and gender nonconforming Guardians.
Destiny 2 classes
,
Destiny 2 exotics
,
Destiny 2 builds
---
PCGamesN Friday, November 18, 2022 4:01 PM
A DnD-style RPG set in the grimdark Warhammer 40,000 universe is on the way. The Warhammer 40K CRPG in question is called Rogue Trader, and it's being developed by Owlcat Games, the studio behind Pathfinder: Wrath of the Righteous. Bizarre as it is to think, this will be the first classic-style RPG game Warhammer 40K has ever seen.
The best Warhammer 40K games
,
The best RPG games
,
The best space games on PC
---
PCGamesN Friday, November 18, 2022 1:57 PM
The pre-launch beta phase for Darktide has begun, and players are running into difficulties beyond the forces of Chaos. Warhammer 40K: Darktide beta crash bugs, stability problems, and other issues have also been plaguing the brutal co-op game in this pre-release period, during which players who pre-ordered can jump in early. Developer Fatshark has released a list of known issues and possible workarounds, and players themselves have come up with some suggested solutions to common problems.
Darktide reveal trailer
,
Darktide release date
,
Warhammer: Darktide writer interview
---
Twinfinite Friday, November 18, 2022 4:15 PM
You can now spam Lechonk in Twitch chat to celebrate Pokemon Scarlet & Violet.
---
Twinfinite Friday, November 18, 2022 3:14 PM
Microsoft Flight Simulator is getting a ton of content in 2023, starting with New Zealand, the ATR, and more.
---
Twinfinite Friday, November 18, 2022 3:04 PM
Pokemon Scarlet and Violet are having some performance issues.
---
Twinfinite Friday, November 18, 2022 2:47 PM
Indy is back in a brand new setting.
---
Twinfinite Friday, November 18, 2022 1:49 PM
Solis looks to be a solid inclusion into the Rainbow Six Siege defenders.
---
Twinfinite Friday, November 18, 2022 1:30 PM
JoJo's Bizarre Adventure Stone Ocean is almost over.
---
Twinfinite Friday, November 18, 2022 1:08 PM
You can become a ghost or a skeleton by engaging in Sea of Thieves' new faction PvP in Season 8.
---
Siliconera Friday, November 18, 2022 4:00 PM
Developer Yostar announced an Atelier Ryza crossover event will be heading to Azur Lane. The limited time event will see character costumes and special ships appear from November 24, 2022 until December 8, 2022. A total of six crossover characters will appear in Azur Lane, including Reisalin "Ryza" Stout — the protagonist of the Atelier Ryza games. Yostar revealed this information through a special broadcast. [Thanks, Inside!]
The six characters that will appear in Azur Lane are:
Reisalin Stout - SSR
Klaudia Valentz - SSR
Patricia Abelheim - SSR
Kala Ideas - SR
Lila Decyrus - SR
Serri Glaus - SR
Each of these characters will also receive a special skin inspired by nightwear. Additionally, Elbing and Bremerton will also receive special themed skins during this period. Alongside this, the crossover event will feature special mechanics. Among them will be the use of the recipe and synthesis mechanics founds in the Atelier games. Players can obtain unique equipment through this system.
A short animated trailer for the crossover event was also shared. You can watch it below.
[embed]https://www.youtube.com/watch?v=XQHT5JgRpT8&ab_channel=%E3%82%A2%E3%82%BA%E3%83%BC%E3%83%AB%E3%83%AC%E3%83%BC%E3%83%B3[/embed]
Koei Tecmo and Gust shared artwork from Atelier Ryza 3. This included a look at characters that will be returning to this new entry in the series.
Azur Lane is immediately available for Android and iOS devices. The Atelier Ryza crossover event will be held from November 24 to December 8, 2022. Atelier Ryza 3: Alchemist of the End & the Secret Key will come out on the PS4, PS5, Nintendo Switch, and Windows PC via Steam on February 24, 2023 worldwide.
The post Atelier Ryza Crossover to Appear in Azur Lane appeared first on Siliconera.
---
Siliconera Friday, November 18, 2022 3:30 PM
Cygames shared its schedule for Granblue Fantasy FES 2022-2023, which will include the latest information about Granblue Fantasy: Relink and a playable demo at the event. The event will be held at the Tokyo Big Sight exhibition center in Tokyo, Japan. It will be held from January 20-22, 2022. Alongside information about Granblue Fantasy: Relink, new information about Granblue Fantasy Versus will also appear.
Information about both titles will appear on January 21, 2022. Information about them will appear during a one hour segment. However, further details have yet to be announced. That said, this will be the very first time Granblue Fantasy: Relink will be playable by the public through this trial. There is no indication that a demo will be made available outside of the event.
In June 2023, Cygames announced Granblue Fantasy: Relink would be delayed into 2023. The reason for the delay being that the developers are looking to create a more polished experience for players. Additionally, the developer stated that new information about the title would appear in December 2022. It is unclear if this has been pushed back, with new developments on the title to strictly appear at Granblue Fantasy FES 2022-2023.
Granblue Fantasy: Relink will release on PlayStation 4, PlayStation 5, and PC sometime in 2023.
The post Granblue Fantasy FES 2022-2023 to Have Relink Playable Demo appeared first on Siliconera.
---
Siliconera Friday, November 18, 2022 3:00 PM
Romance mechanics in games can be an opportunity to connect with characters you've spent a substantial amount of your life with. Even though they're virtual people, spending 30+ hours in a game might mean you start to care about them, in a way, and want to root for their happiness. Life sims, particularly ones with farming elements like Stardew Valley and Rune Factory, often incorporate that element. Harvestella is no exception, as it ensures there is an opportunity for romance with an array of love interests who both can and can't fight alongside you. How it tackles it, however, makes it stand out. While you do need to be patient and can't immediately start dating and marrying the characters you love, the approach does mean that it feels like your avatar and the other option actually have a history and are connecting when things happen.
Editor's Note: While there will be mention of how relationships with romance options in Harvestella work, there will be no spoilers for anyone's stories or screenshots with spoilers.
To start, getting together with people doesn't feel like it is a chore to check off a daily to-do list. Rather, it's something that develops as you play. In the case of Aria, progression is gated off by story progress. You get a new crystal filled in the chart with every major chapter completed. Here's a quick Harvestella guide to romance to help anyone wondering how to find love and a relationship in the game. Sit back and let it happen.
It really is that simple and, the joy of it is, it makes everything feel more natural. Wooing a love interest in Harvestella doesn't mean making a stockpile of mayonnaise and chucking one into their arms while screaming, "Romance!" (Though I mean, if that ain't love, then I don't know what love is.) Sure, some charater quests that open up as you advance the story can involve bringing some items to people. Heine could use some silver ores, for example, and Cres will ask for pink aloe. But these are never random requests. They make sense over the course of their character development.
Likewise, the way it is handled means you can't turn to a guide for Harvestella romance and immediately win a love interest over the course of a single season. Don't worry about forcing folks into your party if they don't fit your gameplay strategy. They aren't going to hate you if you bench them after recruiting them. There's no need to waste time talking to them every day. Just do their quests when they appear. Also, it can be physically impossible to get through certain storylines until you unlock certain locations or hit certain milestones. You can go through Asyl's story rather easily, establishing who he is, getting closer as you see what he's going through as he deals with a substantial loss. Even though you meet Istina in the same chapter, her storyline will remain grayed out and unable to be continued until you visit the Holy Capital Argene for the first time.
Not to mention these extra side stories honestly aren't going to be hot and heavy love affairs. Rather, you're getting to know who they are as people better. You're watching them deal with major life events and supporting them through it. Personally, I'm a little disappointed that both Asyl and Heine's involve grieving and coming to terms with losing someone else. (One backstory like that I can understand, but two?) Still, it feels like these extra side quests are designed to facilitate the player falling in love with them, while also providing evidence for why that Harvestella romance option would feel enough trust and affection to consider becoming your partner.
All this taking it slow also means that love doesn't come until you finish the whole "saving the world" thing. You'll be able to pick who your life partner will be. The mayor will give you a recipe to make a Promise Ring. Juno will talk with you and let you pick who you want to spend the rest of your virtual life with. If you don't put in the time to get to know someone and support them throughout their events, their name won't appear in the list of people you can propose to. Juno will send a letter off, and you'll get a scene where you ask them to be your life partner.
Your priorities are in order in Harvestella. You do what needs to be done to make the world a better place. Now, you can be together with a character who was by your side for the important moments. And, because of the way things are handled, you get to stand by them when they need you too.
Harvestella is available for the Nintendo Switch and PC.
The post Harvestella Romances Feel Like Falling in Love with Friends appeared first on Siliconera.
---
Siliconera Friday, November 18, 2022 3:00 PM
In December 2021, Good Smile Company announced it would work on a Shantae Nendoroid. Now, orders opened for the heroine. The Half-Genie Hero will show up in stores in 2023. She'll appear first in May 2023 in Japan. Then, in July 2023, she'll show up worldwide. She will cost ¥8,900/$56.99. That gets people the main Nendoroid and a smaller figure of her in her Monkey Form.
As is common for a Nendoroid, Shantae will have three face plates. In one she is smiling. The second features her winking. The third is an angrier appearance. She comes with two ponytail parts. One is a normal one, while the other has her using it as a whip to attack. She has extra hands, to recreate her dance. She has a fireball to hold too. Finally, there's the aforementioned purple monkey.
Here's a closer look at some potential poses.
[gallery columns="6" ids="940665,940666,940667,940668,940669,940670" link="file"]
There's also a trailer that compares the figure to Shantae's various incarnations.
From the series "Shantae" comes a Nendoroid of the Half-Genie girl Shantae! She comes with a fireball, a whipping ponytail part, a miniature figure of her Monkey Form and more! Make your wishes come true and preorder now!

Preorder: https://t.co/RcwM6heCX0#Shantae #goodsmile pic.twitter.com/VfTDcLN1LV

— GoodSmile_US @axchibi✨(Booth #305) (@GoodSmile_US) November 18, 2022
The Shantae Nendoroid will appear in Japan in May 2023 and in North America in July 2023. Pre-orders are open until January 6, 2023. The most recent Shantae game is Shantae and the Seven Sirens, which is available on the PS4, PS5, Switch, Xbox One, PC, and Apple Arcade.
The post Shantae Nendoroid Comes with Her Monkey Form appeared first on Siliconera.
---
Siliconera Friday, November 18, 2022 2:30 PM
Square Enix announced the concert at the NieR: Automata 2022 Fan Fest will be available to watch through a live stream. The NieR: Automata Fan Fest 2022 event will take place from November 25-26, 2022. Tickets for the stream are available to purchase for 5,000 yen or approximately $35. Those who purchase tickets will be able to access an archived version of the broadcast from November 27 to December 11, 2022. [Thanks, denfamicogamer!]
It will be available to watch through Japanese streaming website niconico, with viewers able to purchase tickets directly from its website. The NieR: Automata Fan Fest 2022 concert and live stream will be broadcast on November 26, 2022. Which is the second day of the two day event. Emi Evans and J'Nique Nicole will appear at the concert alongside KOCHO. With all three performers being present for both days of the event.
Other events will appear at the fan festival. This includes a developer stage talk, which will see NieR series creator Yoko Taro, and series composer, Keiichi Okabe appear. Additionally, voice actors from the NieR series will also be present, and give live performances and script readings.
NieR: Automata The End of YoRHa Edition is available now on the Nintendo Switch. Other editions of the game are also available for the PS4, Xbox One, and PC via Steam.
The post NieR: Automata 2022 Fan Fest Concert Will be Live Streamed appeared first on Siliconera.
---
Siliconera Friday, November 18, 2022 2:00 PM
From November 18 to December 16, 2022, Final Fantasy XIV players can take advantage of the Free Login Campaign. Naturally, there are some stipulations regarding eligibility, but if you meet these requirements you can access the MMORPG for up to four days entirely for free. Square Enix shared information on how returning players can receive this free game time.
The requirements are fairly simple if you already have an existing Final Fantasy XIV account. In order to access the Final Fantasy XIV Free Login Campaign, you will need to have had at least 30 days of inactivity on your account. This means that your account has gone without having a subscription for said period of time. Additionally, you must have purchased Final Fantasy XIV at any point in the past. This could either be the A Realm Reborn base game, or any pack and expansion.
Keep in mind, however, that once you log into the game the four day period of free game time will immediately begin to tick down. It also does not pause when you log out of the game. So if you want to make the most out of the Free Login Campaign, make sure to pick your days accordingly.
This isn't the first time Square Enix has offered free game time to players. Every so often, Square Enix brings the campaign back. For example, it reappeared in June 2022 and gave players up to 96 hours of free game time.
Final Fantasy XIV is available for the PlayStation 4, PlayStation 5, and PC.
The post Final Fantasy XIV Free Login Campaign Returns appeared first on Siliconera.
---
Siliconera Friday, November 18, 2022 1:30 PM
A new piece of Bravely Default merchandise is on the way, and it's a figure of hero Tiz Arrior. Good Smile Company announced he'll join the Pop Up Parade collection. He will cost ¥4,800/$30.99. People will start to see him in stores in April 2023 in Japan and June 2023 in North America.
Tiz first appeared in the original Bravely Default. He lived in Norende until its destruction. for the figure, he's wearing his standard Freelancer outfit. (That is the all-purpose job in the game.) As this is a non-standard figure size, he'll be about seven inches tall. There are no additional parts or pieces to go with him.
Here's a closer look at him from different angles.
[gallery ids="940650,940651,940652" link="file"]
Tiz has been a mainstay throughout the series. In addition to Bravely Default, he also showed up in Bravely Second. Most recently, he ended up being a playable character in the mobile game Bravely Default Brilliant Lights. He, along with other characters from the game like Agnes Oblige, showed up in the sorts of roles they were known for in the original title.
The Bravely Default Tiz Arrior Pop Up Parade figure will launch in Japan in April 2023 and North America in June 2023. Pre-orders are open through Good Smile Company until December 15, 2022. Bravely Default: Flying Fairy is available on the Nintendo 3DS.
The post Bravely Default Tiz Arrior Pop Up Parade Figure Appears appeared first on Siliconera.
---
PC Invasion - FeedDDD Friday, November 18, 2022 5:30 PM
I find it wild to believe that I'm practically half as old as the Microsoft Flight Simulator franchise. This series has been a staple in my life for about the last two decades. I've watched it grow from days of the crude, mid-2000s mod-heavy mishmash that was a typical FSX setup, to the meticulous visual sonata we have today with the 2020 release of the new-gen Microsoft Flight Simulator. I've spent countless hours flying its blue skies, but is the Microsoft Flight Simulator – 40th Anniversary Edition worth it? Microsoft and Asobo have put together a hefty update to celebrate the series' history, introducing a number of historical aircraft. Many of the said aircraft have been in past releases. The update also includes some of the various Missions of its predecessors. It's a fairly elaborate package, especially considering it's completely free. And, really, that's what makes this update significant, since it marks a trend in the saga of ...
---
PC Invasion - FeedDDD Friday, November 18, 2022 5:02 PM
Pokémon Scarlet and Violet have just come out on Switch, so fans can once again spend countless hours leveling up their favorite pocket monsters. But while you explore the new Paldea region and watch the game struggle to run properly, you may feel the urge at some point to change the appearance of your player character. After all, Pokémon Scarlet and Violet boast a wide variety of clothing items and other customization options with which to trick out your character, and you may grow tired of the appearance you chose at the start of the game. Fortunately, both games make the process of changing your appearance relatively easy. While out exploring, players can open up the clothing customization menu simply by hitting left on the D-pad. Here, you can select from your assortment of clothing items by pressing A. Save your new outfit by pressing B. If you wish to preview the clothing before trying it on, just hit Y. By pressing the + button while on the clothing menu, you can access a men...
---
PC Invasion - FeedDDD Friday, November 18, 2022 3:15 PM
Ever since the Pokémon series made its way to the Switch, fans have criticized the major installments for their slew of technical shortcomings. Game Freak, the series' main developer, has spent most of its history creating games for handheld systems, and its recent Switch outings demonstrate that the transition to HD game development hasn't always been smooth. Now that Pokémon Scarlet and Violet have finally dropped, it seems that the issues associated with this transition have become worse than ever. The Pokémon community has already made note of numerous performance issues, visual glitches, and other issues that have plagued Scarlet and Violet at launch. Needless to say, fans do not feel content with the games' current state. Various videos have shown the framerate stuttering and background objects suddenly loading and flickering out of existence during the Pokémon-catching animation. These issues carry over into the open world, albeit in a seemingly less sev...
---
PC Invasion - FeedDDD Friday, November 18, 2022 2:15 PM
Pinging is a powerful communication tool in any battle royale game. Rather than telling your squadmates an enemy is "over there" and leaving them confused, a simple ping will point them in the right direction. It's important to use pinging as often as possible. Here's our guide on how to ping in Warzone 2. Note: We'll have a Warzone 2.0 guides and features hub coming soon, so stay tuned. How to ping in Warzone 2 By default, the keybind to ping is set to the middle mouse button or Left ALT. You can tap the ping button twice to mark an area as dangerous to let your teammates know you are marking an enemy. You can change the ping keybind by heading over to the Keyboard and Mouse settings menu, selecting keybinds, and finally clicking Ping and then whatever keybind you prefer. If you are playing on a controller you can ping by pressing up on the D-pad. Much like keyboard and mouse, you can change this by going to controller settings, then Edit Button Layout, an...
---
PC Invasion - FeedDDD Friday, November 18, 2022 1:30 PM
In surprising news, it's been reported that the Tokyo District Public Prosecutors Office arrested famed Sonic the Hedgehog programmer Yuji Naka for engaging in insider trading. Japanese outlet Fuji News Network broke the story, which alleges that the arrest had to do with the 2020 mobile game Dragon Quest Tact. An English-language report conducted by the Asahi Shimbun newspaper went on to corroborate the story. According to the FNN's report, Naka heard about the development of Dragon Quest Tact back in January 2020 prior to the game's official announcement the month after. During this time, Naka was working with Dragon Quest publisher Square Enix to produce the poorly received 3D platformer Balan Wonderworld. Naka reportedly spent around 2.8 million yen, equal to about $28,000 USD, to purchase 10,000 shares in Dragon Quest Tact developer Aiming. Naka's purchase, seemingly done in the hopes that he would profit from a share price increase after the game'...
---
Tabletop Gaming News Friday, November 18, 2022 6:00 PM
---
Tabletop Gaming News Friday, November 18, 2022 5:00 PM
---
Tabletop Gaming News Friday, November 18, 2022 4:00 PM
---
Tabletop Gaming News Friday, November 18, 2022 3:00 PM
---
Tabletop Gaming News Friday, November 18, 2022 2:00 PM
---
Player Assist | Game Guides & Walkthroughs Friday, November 18, 2022 5:00 PM
Pokemon Legends: Arceus is set in olden times in the Pokemon world when it was rare to find harmony between people and Pokemon. Set in Hisui, modern-day Sinnoh, you will join the Galaxy Expedition Team (Galaxy Team for short) as a member of the Survey Corps stationed in Jubilife Village. You will be tasked to […]
---
Player Assist | Game Guides & Walkthroughs Friday, November 18, 2022 4:00 PM
Try out Roblox: Warrior Champions if you want to tap and click your way to becoming a fighter! You must slash your weapons in this game to earn strength, which you can then exchange for money. To make your swords more effective against adversaries of a higher level, use that cash. In order to obtain […]
---
Player Assist | Game Guides & Walkthroughs Friday, November 18, 2022 3:00 PM
We have a collection of all the Roblox Doodle World codes that are currently available. By entering these codes, you can obtain gems, tickets, badges, and other items. Your inquiry about whether or whether the platform offers a Pokemon-like game you may play has an answer: Roblox Doodle World! Enter the area and look about […]
---
Player Assist | Game Guides & Walkthroughs Friday, November 18, 2022 2:00 PM
Another tower defense game that has been released on the platform is Roblox Tower Defense Shinobi. To defend your base from attacks, you will need to gather a variety of units that are themed after your favorite Naruto character. As you go through the game's stages, you'll collect currency, which should let you buy better […]
---
Player Assist | Game Guides & Walkthroughs Friday, November 18, 2022 1:00 PM
Just in time for the holiday season. It is the season for giving again, making the arrival of the much-awaited gifting feature in Apex Legends much more timely. Fans have asked Respawn Entertainment to give players the ability to purchase and send in-game cosmetics to their friends and squadmates. The good news is that the […]
---
Gaming Instincts – Next-Generation of Video Game Journalism Friday, November 18, 2022 5:17 PM
---
Gaming Instincts – Next-Generation of Video Game Journalism Friday, November 18, 2022 4:37 PM
---
Gaming Instincts – Next-Generation of Video Game Journalism Friday, November 18, 2022 3:48 PM
---
Gaming Instincts – Next-Generation of Video Game Journalism Friday, November 18, 2022 3:00 PM