---
Kotaku Tuesday, December 20, 2022 7:40 PM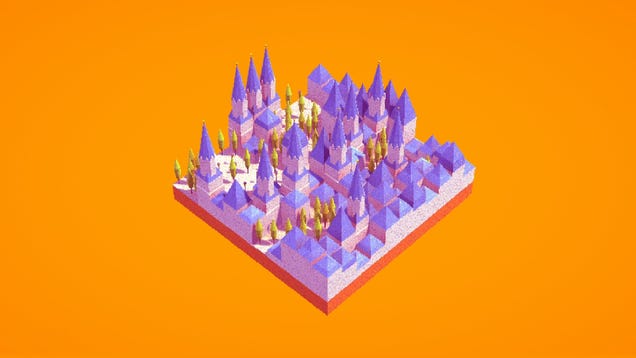 If 2022 is going to be the year of anything, it's been the year of the city-builder, a strategy sub-genre that has exploded in popularity recently, especially on the PC. While most efforts are focused on sprawling urban landscapes and Viking outposts, and others make city-builders with even more systems, The Block is…
---
Kotaku Tuesday, December 20, 2022 6:40 PM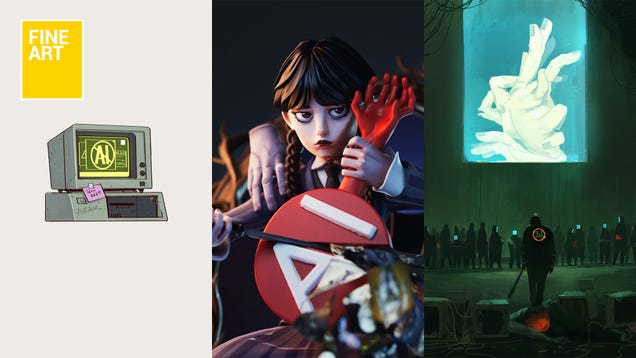 For the past week, ArtStation—the world's most popular portfolio site for professional (and amateur!) artists working in the entertainment business—has been rocked by protests from its users, after owners Epic Games refused to offer adequate protections against the growing threat of AI-generated imagery.

---
Kotaku Tuesday, December 20, 2022 6:10 PM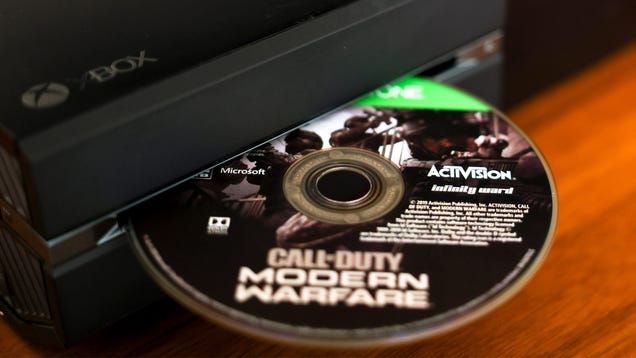 The Clayton Antitrust Act of 1914 gives Americans the right to sue companies over anticompetitive behavior, a fact which 10 self-described gamers are using to take Microsoft to court, aiming to halt the company's acquisition of Activision.
---
Kotaku Tuesday, December 20, 2022 5:55 PM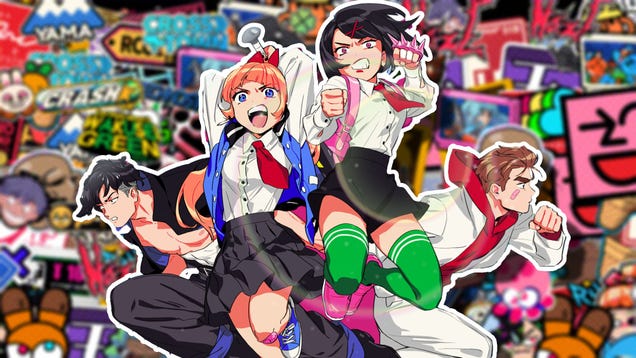 When the year began, there were only a handful of video games that piqued my interest, and chief among them was the spin-off to the classic beat 'em up series Kunio-Kun (or River City). River City Girls 2 finally arrived in the U.S. on December 15 after shifting release dates all year, and the game not only lived up…
---
Kotaku Tuesday, December 20, 2022 5:21 PM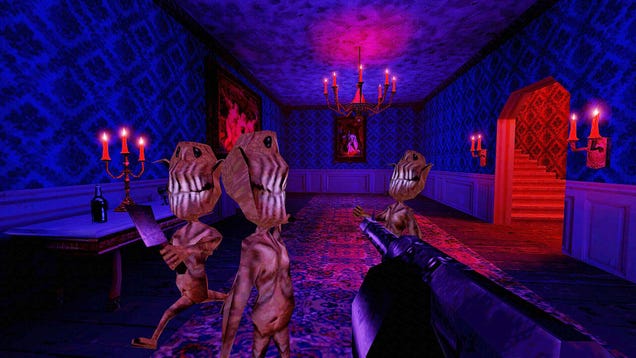 Are you feeling a bit tired of all the big games this year or all the online service games that seemingly never end? Looking for something weird, fun, and only about an hour long? Well, then stop reading this (Editor's note: Don't do that.) and go play the recently released Chop Goblins, one of the year's coolest…
---
Kotaku Tuesday, December 20, 2022 4:20 PM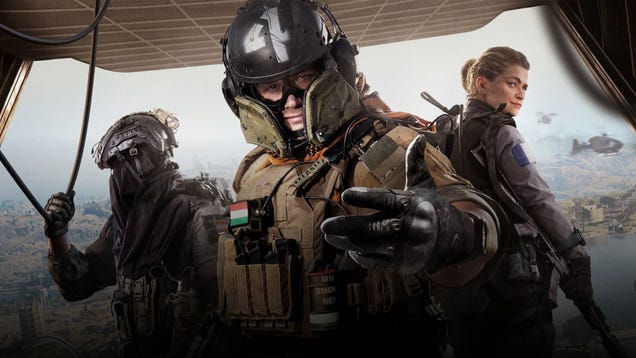 Warzone 2.0's been out for a little while now, but not everyone's been happy with some of the changes the battle royale received in its latest iteration. When, where, and how you access loadouts saw one such unpopular change. Raven Software, however, has recently announced that Buy Stations will once again grant you…
---
Kotaku Tuesday, December 20, 2022 4:20 PM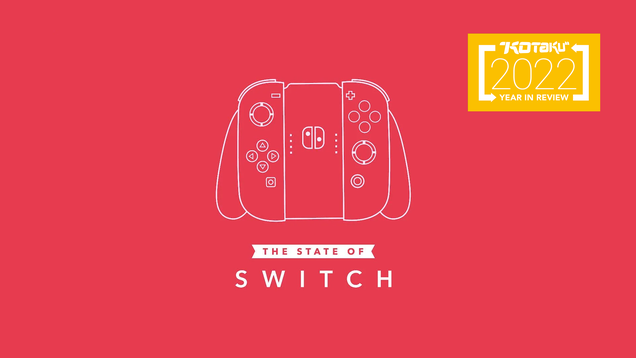 Pokémon saved the Switch in 2022, which was also the year that the console officially started to feel old.
---
PCGamesN Tuesday, December 20, 2022 5:55 PM
Destiny 2's Revision Zero exotic quest launched with this week's reset, granting players who own the FPS game's seasonal content access to a new exotic pulse rifle. However, this weapon appears to be related to another in-game mystery, though the community is still working to piece together the bigger puzzle.
The new exotic pulse rifle fires shield-piercing ammo, making it strong against Barrer Champions. It's also a relatively high-range weapon. Players need to complete one round of the Destiny 2 season 19 activity, Heist Battleground, to obtain the weapon quest, which is called Operation Seraph's Shield.
MORE FROM PCGAMESN:
Destiny 2 classes
,
Destiny 2 exotics
,
Destiny 2 builds
---
PCGamesN Tuesday, December 20, 2022 5:45 PM
Fancy a festive legendary skin for Overwatch standby Bastion? The new Overwatch 2 Gingerbreak Bastion legendary skin is available now, and the bundle can be had for the low, low price of one Overwatch coin. That works out to be about a penny if you buy packs, but you can earn a coin simply by playing Blizzard's competitive multiplayer game as you normally do.
MORE FROM PCGAMESN:
All Overwatch 2 characters
,
Best Overwatch 2 settings
,
Overwatch 2 tier list
---
PCGamesN Tuesday, December 20, 2022 4:40 PM
Season 1 Reloaded in Call of Duty Warzone DMZ arrived with a new playable area mysteriously titled Building 21. Once you've found the required keycards outside in Al Mazrah, you and some friends can choose to spawn inside Building 21. Or you could, until today. Modern Warfare 2 developer Infinity Ward says Building 21 has been shut down - but it'll be back in the multiplayer game in the next week or so.
Best Warzone 2 guns
,
Best Warzone 2 loadout
,
Warzone 2 map
---
Rock Paper Shotgun Latest Articles Feed Tuesday, December 20, 2022 5:13 PM
Underwater citybuilder Aquatico will submerge players on January 12th, 2023. This new release date comes a little more than a month after its release was set for January 19th, but I won't look a gift seahorse in the mouth. There's also a new trailer below which breaks down how you'll build your very own Rapture equivalent.
---
Rock Paper Shotgun Latest Articles Feed Tuesday, December 20, 2022 4:03 PM
The cat game reigned supreme in 2022, but there's a chance 2023 could be the year of the gecko game. That's how I feel after watching the trailer for The Gecko Gods, at least. It's an action adventure in which you control a cute little lizard who can crawl across walls and ceilings, and also solves puzzles, fights golems and pilots a boat.
---
Rock Paper Shotgun Latest Articles Feed Tuesday, December 20, 2022 3:36 PM
Wolfenstein: The New Order rebooted the classic FPS series back in 2014, turning it into a tonally incoherent, ultra-violent sometime-stealth 'em up about murdering robo-Nazis in an alternate 1960s. It was surprisingly great. It's also free to keep if you grab it from the Epic Games Store right now.
---
Rock Paper Shotgun Latest Articles Feed Tuesday, December 20, 2022 3:11 PM
Last month it was announced that the Risk Of Rain IP was now fully owned by Gearbox Publishing and that original developers Hopoo Games would not be working on future updates for Risk Of Rain 2. There was also the promise that Hopoo and Gearbox were working on one remaining Risk Of Rain project together, however.
It was announced today: Risk Of Rain Returns, a remaster of the 2013 2D roguelike with all new pixel art, new survivors and new everything else.
---
Twinfinite Tuesday, December 20, 2022 9:47 PM
Right hand on sequel.
---
Twinfinite Tuesday, December 20, 2022 7:37 PM
Watch the trailer for a new salacious horror movie.
---
Twinfinite Tuesday, December 20, 2022 6:26 PM
In space, no one can hear a cat knock things off the desk.
---
Twinfinite Tuesday, December 20, 2022 5:34 PM
The 5th installment to the 2002 Scorpion King series is making waves on streaming services.
---
Siliconera Tuesday, December 20, 2022 7:00 PM
The Pokemon Company International announced the release of a new line of toy figures featuring monsters from Pokemon Scarlet and Violet, the latest entries in the franchise. This line of figures is composed of fifteen Pokemon, including the appearance of new monsters faring from the Paldea Region and classic returning Pokemon. It will release in May 2023. [Thanks, GAMEWatch!]
It is part of fhe Pokémon Kids line of toys. Eight brand new Pokemon, unique to the Paldea region, and seven returning classic Pokemon make up thr total of fifteen figures included in this new collection of toys. Some of the new Pokemon figures include the Scarlet and Violet starters, Sprigatito, Fuecoco, and Quaxly, along with the legendaries of each entry, Koraidon and Miraidon.
You can read the full list of Pokemon included here.
Koraidon
Miraidon
Sprigatito
Fuecoco
Quaxly
Pawmi
Lechonk
Smoliv
Pikachu
Pichu
Meowth
Larvitar
Happiny
Swablu
Altaria
And here is a selection of pictures showing how each one will look.
[gallery link="file" ids="944375,944374,944373,944372,944371,944370"]
Each figure will be packaged in a mystery box along with a piece of soda flavored gum. Each individual mystery box will cost 220 yen (roughly $2). The figures will release in May 2023.
Pokemon Scarlet and Violet are available on the Nintendo Switch.
The post New Pokemon Scarlet & Violet Figures Heading to Japan appeared first on Siliconera.
---
Siliconera Tuesday, December 20, 2022 6:00 PM
Developer Nippon Ichi Software released a video featuring new gameplay mechanics in the upcoming Disgaea 7. The Dodeka MAX system allows players to turn one of their units into a giant.
The Dodeka MAX system allows players to transform one of their units into a gigantic version of itself. This unit fights against the enemy forces from outside the stage, granting them massive range and power. But players ought to be careful, as enemy units can also transform, allowing them to face your transformed unit. This system also introduces "Dobilities," passive abilities that benefit the entire party and can turn the tide of battle.
Dodeka MAX was introduced in "Disgaea Private School - Second Term," the second entry in a series of videos delving deeper into the upcoming Disgaea 7. The name of this mechanic originates from a double pun on the Japanese words for "ballista" (do) and "demon" (ma), mixed with the word "deka" and "max," terms utilized to describe gargantuan size.
You can watch the video here.
https://www.youtube.com/watch?v=rSQ6YpMwl-Y
Disgaea 7 releases in Japan on January 26, 2023 for the PlayStation 4, PlayStation 5, and the Nintendo Switch. We still don't know when Disgaea 7 is releasing outside of Japan. More information will appear in the future.
The post NIS Details a New Gigantic Gameplay Mechanic in Disgaea 7 appeared first on Siliconera.
---
Siliconera Tuesday, December 20, 2022 4:00 PM
Inti Creates announced a release date for its upcoming Grim Guardians: Demon Purge game. A new trailer also debuted alongside the announcement. The gothic horror-inspired game will come out digitally on February 23, 2023 and cost $24.99.
Here is the new Grim Guardians: Demon Purge release date trailer. It focuses on showing off the title's gameplay.
https://www.youtube.com/watch?v=o7uWrjl95k4
Additionally, Inti Creates has published numerous screenshots showcasing the game. You can check a few of them out below:
[gallery ids="944341,944342,944338,944343,944344,944346" link="file"]
Grim Guardians: Demon Purge is a 2D side-scrolling action game with a deep exploration element. It offers unique gameplay by allowing players to switch between its two main characters on the fly and without restrictions.
The game follows Shinobu and Maya Kamizono, a pair of demon-hunter sisters. After returning from a hunt one day, they find that their school has been transformed into a demonic castle. It's up to the siblings to find and put a stop to whatever caused the transformation, rescuing the school's missing students along the way.
Shinobu offers long-range attacks and higher HP, while Maya is able to deal large amounts of damage quickly but only at close-range. Each of the characters will have situations where they excel, making swapping between them essential.
The girls also have an ultimate technique called the Purge Cannon in which they work together to fire a powerful bullet that instantly destroys most demons. This attack can only be unleashed when the Purge Gauge is full. Filling the Purge Gauge happens naturally over time, and gets a boost when players pick up items.
Should either Shinobu or Maya run out of HP, the other can revive them. However, this process takes time and requires players to stand over the fallen sister, so rescuing them will take some planning. A Game Over only happens when both siblings go down.
Both characters will have several unlockable sub-weapons that are rewarded as players defeat bosses. These can be changed out at any time, though using them will require Weapon Points. Different sub-weapons will enable more bosses to be defeated and grant access to more areas.
Several features will be available to let players customize their Grim Guardians: Demon Purge experience. Options include 2 voiceover options (Japanese and English), 3 difficulty styles, and the ability to play cooperatively should a second controller be available.
The Grim Guardians: Demon Purge release date is February 23, 2023. It will appear for the Nintendo Switch, PS4, PS5, Xbox One, Xbox Series X|S, and PC via Steam digitally.
The post Grim Guardians: Demon Purge Release Date Unveiled appeared first on Siliconera.
---
Siliconera Tuesday, December 20, 2022 3:00 PM
Nintendo revealed more information about Citrinne, a royal knight from Brodia and retainer to Prince Alcryst in Fire Emblem Engage. Citrinne is also a cousins of princes Alcryst and Diamant. Her starting class is Mage.
https://twitter.com/FireEmblemJP/status/1605118080967147520
Citrinne is one of the royal knight of the Kindom of Brodia stationed at the capital. She is kind-hearted and caring to her friends. As a member of Brodian royalty, and relative to princes Alcryst and Diamant, she can sometimes take advantage of her wealth to spoil the people around her.
Citrinne practices magic restlessly to become stronger. She can sometimes be too hard on herself. Her cousin Alcryst admires her for it. Mages use tomes to cast spells and attack from a safe distance. They are especially good at taking down heavily armored units with high defenses.
https://twitter.com/FireEmblemJP/status/1605118521666859008
Ikumi Hasegawa voices Citrinne in the Japanese dub of Fire Emblem Engage. She has also voiced Vladilena Milizé in 86 -Eighty Six-, Xiao Yu in the anthology movie Flavors of Youth, and Arcueid Brunestud in Fate/Grand Order, Melty Blood: Type Lumina, and the remake of Tsukihime.
Fire Emblem Engage will come out worldwide on January 20, 2023 for the Nintendo Switch. You can preorder the game from the Nintendo eShop.
The post Meet Fire Emblem Engage's Magic Knight Citrinne appeared first on Siliconera.
---
PC Invasion - FeedDDD Tuesday, December 20, 2022 5:26 PM
Pokémon Scarlet and Violet have plenty of hidden-away secrets within the Paldea region's open world. This includes Watchtowers that are the home for Gimmighoul, the coin chest Pokémon. The Pokémon community has been speculating how many of these Watchtowers exist, where they are, and how they correlate to Gimmighoul. Well, we can help you out. Here are all the Pokémon Scarlet and Violet Watchtower locations. Note: For more information about the game, check out our Pokemon Scarlet and Violet guides and features hub. All Watchtower locations – Pokémon Scarlet and Violet Gimmighoul is a tiny little Pokémon that hides with a chest. They were introduced right before the release of Pokémon Scarlet and Violet as a catchable Pokémon in Pokémon Go. In Pokémon Scarlet and Violet, Gimmighoul is also catchable at any 14 Watchtowers. Once caught or defeated, the player will receive Gimmighoul coins, which are needed to evolve Gimmighoul into Gholdengo. All 14 watchtower l...
---
Player Assist | Game Guides & Walkthroughs Tuesday, December 20, 2022 3:00 PM
Earlier this year, Fear was introduced into Sims' daily lives, which brought about new exciting ways to manage a household in The Sims 4. Find out how fear affects your Sims, how they manifest, and how to get rid of them in this guide! Wants and Fears are new features that got added along with […]