---
Kotaku Friday, July 8, 2022 6:00 PM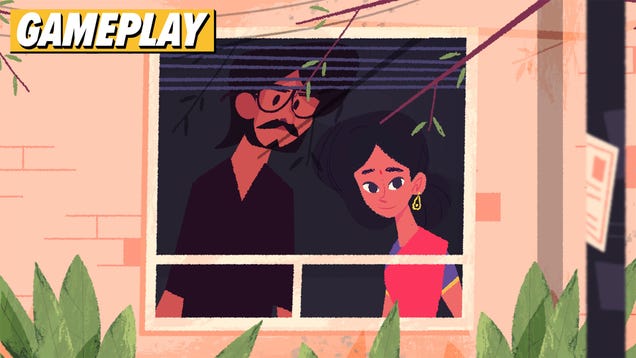 ---
Kotaku Friday, July 8, 2022 5:05 PM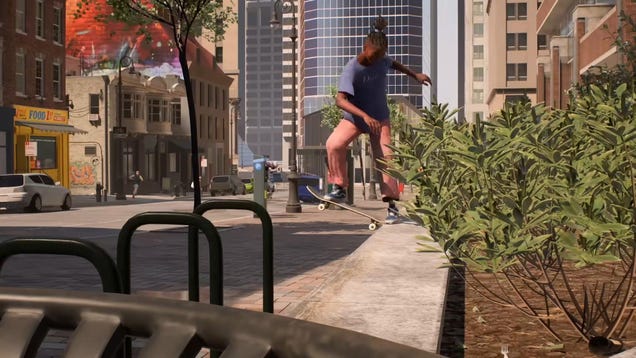 There's so much pre-release footage of Skate 4 out in the wild right now you'd think it's my kitchen sink! Yes, gameplay clips for the next entry in EA's skateboarding series, which does not have a release window, appear to have leaked yet again. So far, the game looks amazing—like, "Oh no, this is gonna eat all my…
---
Kotaku Friday, July 8, 2022 4:24 PM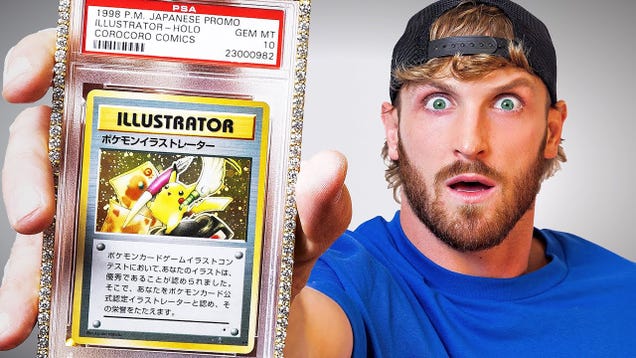 In a new video, YouTuber and professional wrestler Logan Paul shared how he purchased an exceedingly rare Pikachu Illustrator Pokémon card from 1998, which PSA grading company rated a minty ten and for which Paul paid a whopping $5,275,000. The video also reveals the harrowing truth: He's turning the precious Pikachu…
---
Kotaku Friday, July 8, 2022 3:25 PM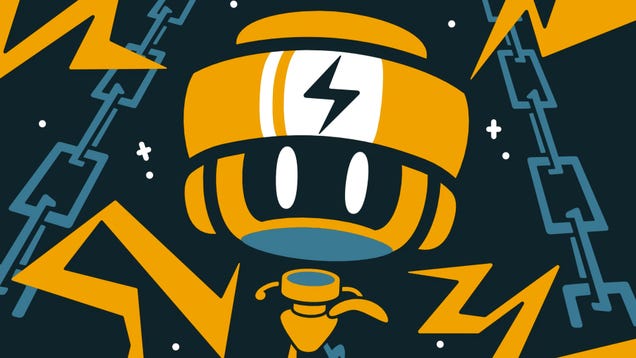 It's common for games to have multiple endings, usually classified as "good" or "bad" depending on their content and the consequences leading up to their conclusions. Elechead is a little different, if only because it turns that paradigm on its, well, head.
---
Kotaku Friday, July 8, 2022 2:53 PM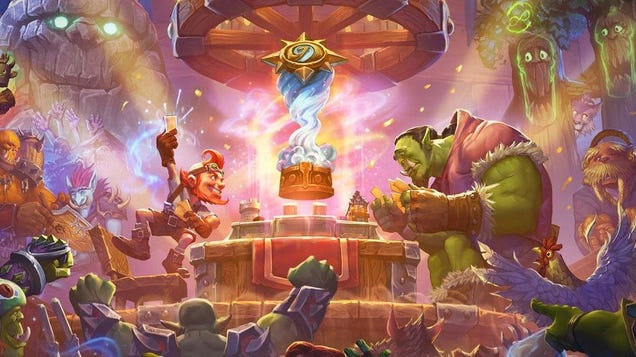 It's been a hot minute since I traded rungs in the middle of the Hearthstone seasonal ranked ladder. But some players who recently returned to Blizzard's take on Magic: The Gathering were greeted with a generous surprise: dozens of free card packs. Before you go getting your hopes up, however, the reward-spree was…
---
Kotaku Friday, July 8, 2022 2:10 PM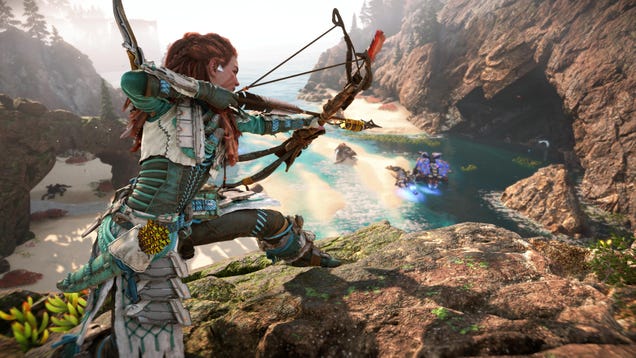 We're halfway through the year, and a throughline is clear: Despite a wave of delays and industry upheaval, 2022 has cemented its place as a damn good year for video games. By summer, we're usually bemoaning a lack of must-play games. But this year, so far, is the opposite: There are, somehow, almost too many games…
---
Kotaku Friday, July 8, 2022 1:40 PM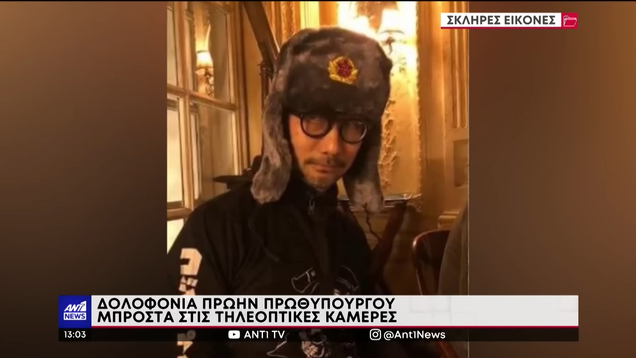 Earlier today, former Japanese Prime Minister Shinzo Abe was shockingly assassinated. Then the internet did its usual shitty thing of making bad jokes out of current events, and that eventually led to a news station in Greece misidentifying famous game developer Hideo Kojima as the assassin.
---
Kotaku Friday, July 8, 2022 1:30 PM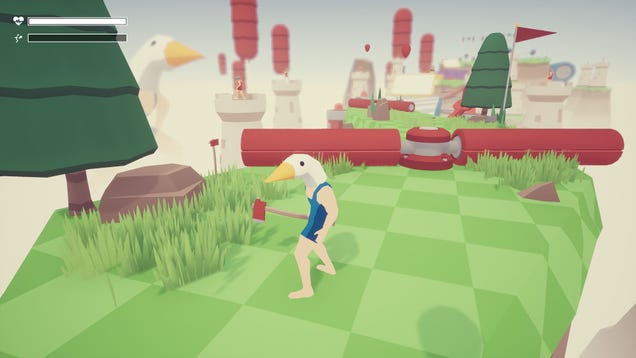 Soulslike games are generally about death and dying, but Pain Party, which is in Steam Early Access, understands that horror runs deeper than that. This Soulslike platformer, which you can play either solo or against other players, throws you into a bizarre hell where everything can kill you in one hit. At least you…
---
Kotaku Friday, July 8, 2022 12:35 PM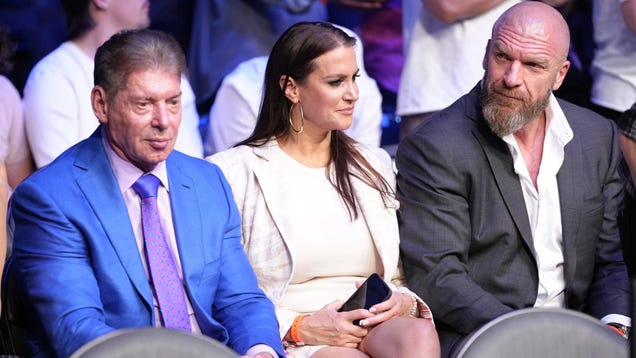 A new report from The Wall Street Journal found that former WWE CEO and chairperson Vince McMahon paid four women $12 million over the past 16 years. That includes the reported $3 million payout to a former WWE employee he had an alleged affair with previously unearthed by The Wall Street Journal.
---
Kotaku Friday, July 8, 2022 12:21 PM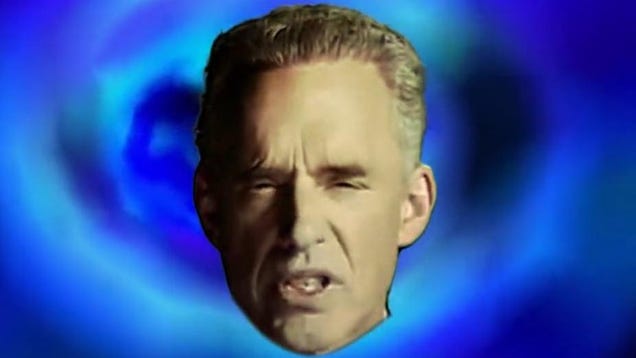 Previously named "Canada's most infamous intellectual" by Vice News and the "custodian of the patriarchy" by The New York Times, blubbering meat muppet Jordan Peterson has now been reduced to making long YouTube videos whining about being kicked off Twitter for doubling down on transphobic comments. Tragic news for…
---
PCGamesN Friday, July 8, 2022 7:19 PM
If you've seen and done everything The Lands Between has to offer, a new Elden Ring mod from Ghost8686 may help ease the pang of waiting for official DLC. Dubbed Elden Ring Augmented, the mod makes New Game Plus significantly less of a grind in the RPG by doubling your Runes and even letting you recover them from anywhere. It also turns Torrent invincible – though not quite the Gigachad-Torrent from another recent mod – and adds a Sekiro-inspired deflecting skill, if you manage to to get the timing right.
The best Elden Ring builds
,
Elden Ring bosses
,
The best Elden Ring classes
---
PCGamesN Friday, July 8, 2022 6:30 PM
Blizzard is doing a bit of shuffling around for World of Warcraft Dragonflight Hunter talents. It's all part of the developer's push to give you more control over how your chosen class grows and plays in the MMO game's upcoming expansion, and the biggest change is that Hunters are getting some previously rare, item-exclusive skills in their toybox this time.
Best MMORPGs on PC
,
The best WoW addons
,
WoW Classic leveling guide
---
PCGamesN Friday, July 8, 2022 4:50 PM
A new Stardew Valley mod finally lets you marry Susan, thanks to Bxrribub. And if your first reaction to that is "who the heck is Susan," you probably haven't played Stardew Valley Expanded, the massive mod project that's less a traditional mod and more like Stardew Valley 2.0, in place of an actual 2.0 update for the life sim. SV Expanded introduced Susan in its version 1.6, giving her a home at Emerald Farm and making her a sort of farmer-in-arms to the player, albeit a platonic one.
Stardew Valley multiplayer
,
Stardew Valley realism
,
The best Stardew Valley mods
---
PCGamesN Friday, July 8, 2022 2:08 PM
If you got a taste for Phasmophobia speedruns during Summer Games Done Quick, you're in luck. The all-women speedrunning group Frame Fatales is hosting their annual Flame Fatales marathon with Summer Games Done Quick from August 21 through August 27, and a Phasmophobia speedrun headlines the event. It's taking things a bit further than the SGDQ speedrun too. The Flame Fatales are promising an any% run – on Nightmare difficulty.
Best horror games on PC
,
Best VR games
,
Best ghost games
---
PCGamesN Friday, July 8, 2022 1:46 PM
Looking for the Destiny 2 Xur location? Xûr is Destiny 2's Exotic gear merchant. He appears every weekend to sell the game's most coveted items in exchange for Legendary shards, but if you're a casual player with limited shards to spend, it can be hard to know which items you should purchase from his inventory. That's where we come in.
Xûr provides random rolls and has done so since a change in 2020, so the Exotic merchant is providing plenty of excitement as he might arrive with a god roll. We'll update this Destiny 2 Xur location guide shortly after he arrives each week on Friday, so if you're reading this, you need only read on to learn where he is, and which are the best items he's selling this week.
While he jumps around from week to week, Xur's location has stuck to an established rotation for a while now, so it's easy to figure out where he is.
Destiny 2 classes
,
Destiny 2 exotics
,
Destiny 2 builds
---
PCGamesN Friday, July 8, 2022 1:28 PM
Looking for the Monster Hunter Rise Sunbreak weapon tier list? Since the dawn of this RPG game series, hunters have argued which weapons are the best. Some prefer the Insect Glaive's high mobility, while others such as the Great Sword, are attractive for their sheer power. Debuting in Monster Hunter Rise, the Wirebugs shook up the status quo with typically slow weapons receiving some much-needed agility.
Of course, if you're a veteran hunter used to any one of these types, a Monster Hunter Rise Sunbreak weapon tier list such as this may serve as nothing more than confirmation bias. In fact, there's always going to be a little bit of bias in every tier list. I love nothing more than becoming a whirling dervish with the Dual Blades, stacking status ailments onto even the toughest Monster Hunter Rise Sunbreak monsters with every hit. Is it actually the best, though? Probably not, but it's what I'm used to.
That said, perhaps you're a more adventurous hunter seeking to find that perfect weapon for speedruns, or you want to coordinate with teammates to make a perfectly balanced hunting party? If so, look below to see how the very best Monster Hunter Rise Sunbreak weapons rank when pitted against each other.
Monster Hunter Rise Sunbreak monsters
,
Monster Hunter Rise Sunbreak Awegite locations
,
Monster Hunter Rise Sunbreak prized pelt locations
---
PCGamesN Friday, July 8, 2022 1:00 PM
You'll likely need the best F1 22 Bahrain setup for your very first race, because the career modes mimic the real world schedule. With it being the first race on the calendar, you're unlikely to have any upgrades on your car (unless you're in a later season), so getting your setup correct is imperative to achieving a decent result.
The best F1 22 Bahrain setup will depend on your racing style, car performance, and the evening weather conditions in the warm climate. As a starting point, we've got the car settings you need in this best racing game entry. The track features three DRS zones and 15 corners and always takes place in the evening, one of only a few races lit up by the floodlights. Run as many practice laps as you can to get used to your car for the rest of the season.
F1 22 review
,
Best racing games
,
Simulation games
---
PCGamesN Friday, July 8, 2022 12:48 PM
If you're feeling a little lost in the world of Teyvat, a new Genshin Impact fan parody video invites you to join the lovable scoundrels of the Arataki Gang in a humorous recruitment video put together by community member genshashin. The video, based on the recent Kuki Shinobu hangout quest introduced in Genshin Impact 2.8, features gang leader Arataki Itto along with his sidekick Kuki Shinobu and several of the gang's other members.
The Arataki Gang Recruitment Video by genshashin is an incredible piece of editing - especially considering the limited tools available to create custom content around the anime game's world and characters. The video opens with narration from Kuki Shinobu, who describes the gang as "a legitimate international organisation" and discusses their various business portfolios in rather entertaining fashion.
Gang leader Arataki Itto himself, labelled as the 'Arataki Gang CEO,' also takes centre stage, showing off his fun-loving side with clips of him engaging in hide-and-seek and beetle fighting. Kuki says that as a relatively new organisation to the region, the gang has run into a "recurring issue" of people misinterpreting their intentions, so they decided to employ a marketing agency to help improve their image.
Genshin Impact 2.8 release date
,
Genshin Impact character tier list
,
Genshin Impact leveling guide
---
PCGamesN Friday, July 8, 2022 1:25 PM
Overwatch 2 players in the FPS game's second beta have been spending plenty of time getting used to the new tank hero Junker Queen. However, some of them are concerned that her character model doesn't fit her tank status, with one fan using some basic measurements to demonstrate why her size could be a problem for the multiplayer game's readability.
Reddit user WenisDongerAndAssocs posted to the Overwatch subreddit (spotted by GamesRadar+) explaining why they feel Junker Queen's current model isn't 'tank-like' enough. In their own words, "Junker Queen breaks the rules of proportions for a tank." They include an image demonstrating that every other tank in Overwatch is no more than twice as tall as they are wide, with the singular exception of Zarya who clocks in at a height 2.75x that of her width. By comparison, Junker Queen's model is approximately 3.5x as tall as it is wide.
Clocking in at seven feet tall (according to Bizzard senior art supervisor Kacey Helms), it's not that Junker Queen is even close to diminutive - but height can be deceptive, especially at distance. As WenisDonger notes, tanks in Overwatch are designed so that "their wide silhouettes communicate protection and stability." It's not just for aesthetics, though - it's about quickly recognising where certain hero types are located mid-fight, and many players in the reddit thread say they are misidentifying Junker Queen as a DPS hero at a glance.
Overwatch 2 heroes
,
Overwatch 2 release date
,
Overwatch 2 tier list
---
Rock Paper Shotgun Latest Articles Feed Friday, July 8, 2022 4:36 PM
I swear I saw the logo for Small Claims Court and just thought, yeah, that seems like an indie game. Turns out it wasn't, it was one of several pieces of "fake game art" created by Valve artist Claire Hummel as part of the Steam summer sale. Now that the sale is over, Hummel shared all of the made-up key art on Twitter, and it's all great.
---
Rock Paper Shotgun Latest Articles Feed Friday, July 8, 2022 4:11 PM
Developers making space games have a habit of trying to make every game, all at once. So it seems with Introversion's The Last Starship, which in its latest update video looks to be about shipbuilding, crew management, engineering, exploration, real-time combat and much more. More impressively, they all look like games I want to play.
---
Rock Paper Shotgun Latest Articles Feed Friday, July 8, 2022 3:01 PM
Head on over to the Epic Games Store this week and you'll find two free games and a feeling of deja vu. The games are Ancient Enemy and Killing Floor 2, and it's the latter that triggered the memory trip for me - because it was also free on Epic this week two years ago. But hey, if you missed it, the zombie shooter still one of the best co-op games, so grab it while you can.
---
Rock Paper Shotgun Latest Articles Feed Friday, July 8, 2022 2:30 PM
Come August, you'll no longer need a Facebook account in order to use the Meta Quest family of VR headsets. Instead, you'll be able to sign up for a new Meta account and then a Meta Horizon profile, with Facebook and Instagram accounts optional bolt-ons.
---
Rock Paper Shotgun Latest Articles Feed Friday, July 8, 2022 12:30 PM
Earlier this week, I had a real blast from the past moment. Apparently, my ancient LiveJournal turned 18 on Tuesday, a thing I haven't posted in or given a single thought to for at least ten years. Naturally, curiosity got the better of me, so I dipped my toe back in to see what teenage Katharine had been blogging about in the mid to late 00s. Aside from all my custom images having been eaten, probably with the closure of whatever photo upload service I used back in the day, everything else was pretty much in tact.
But man alive. Those OPINIONS. Just terrible. Bad, awful, narrow-minded. In some ways it's quite funny looking back at how angry I was about Nintendo putting trains in a Zelda game, for example (joke's on me, Spirit Tracks would go on to become one of my fav Zelda games of all time), but in many ways I'm just quite glad I've (hopefully) moved on as a person, if only because recent weeks have reminded me there are still plenty of people out there like late 00s Katharine who are in all likelihood the same age I am now. Yes, I'm talking about the backlash to Return Of Monkey Island.
---
Rock Paper Shotgun Latest Articles Feed Friday, July 8, 2022 12:04 PM
I thought I wanted a gardening game. The few I tried were fussy, though, and too much like the kind of cold scientific procedure that turns growing things into industry. With Lost Nova on my back burner I shrugged, and gave that a go, having frankly forgotten what it was.
It's a gathering game, so almost the reverse of gardening, or perhaps the end point of it. But its relaxed pace, warm tone, and fun dialogue were, it turns out, exactly what I needed. There's no pressure, and not too much to worry about. You can just wander about enjoying the vibe and digging things up with your gentle laser as you go.
---
Twinfinite Friday, July 8, 2022 7:23 PM
Provided is a direct and effective method to make sure you have a clean install of Discord and provide the program with the access it needs to function properly.
---
Twinfinite Friday, July 8, 2022 5:16 PM
This is a pretty cool way to celebrate Minecraft.
---
Twinfinite Friday, July 8, 2022 4:59 PM
The MCU Afterlife of Valhalla Explained
---
Twinfinite Friday, July 8, 2022 4:41 PM
The Necrosword is one of the most powerful weapons in the MCU, but who wields it in Thor: Love and Thunder and what are its abilities?
---
Twinfinite Friday, July 8, 2022 4:39 PM
Michael "shroud" Grzesiek has joined Sentinels ahead of North America's LCQ competition.
---
Twinfinite Friday, July 8, 2022 4:38 PM
Playing The Elder Scrolls V: Skyrim in multiplayer has always been a dream for many Bethesda fans, and today, that dream has become a reality.
---
Twinfinite Friday, July 8, 2022 4:09 PM
Find out if Loki is in Thor: Love & Thunder.
---
Twinfinite Friday, July 8, 2022 4:07 PM
Time to name all these wolves after Pokemon.
---
Twinfinite Friday, July 8, 2022 3:57 PM
The location of the Shadow Syndicate vendor in SWTOR.
---
Twinfinite Friday, July 8, 2022 3:42 PM
Live A Live is shaping up to be an easy favorite JRPG on the Nintendo Switch, offering something new and interesting in each of its scenarios.
---
Twinfinite Friday, July 8, 2022 3:34 PM
Gorr and Valkyrie are coming to Marvel Contest of Champions, but fans of the series will also be able to enter a Mjolnir giveaway.
---
Twinfinite Friday, July 8, 2022 3:30 PM
Believe it!
---
Twinfinite Friday, July 8, 2022 3:01 PM
Become your sim!
---
Twinfinite Friday, July 8, 2022 2:24 PM
Big news, waka wak!
---
Twinfinite Friday, July 8, 2022 2:10 PM
The Gods featured in Thor: Love and Thunder Explained
---
Twinfinite Friday, July 8, 2022 2:06 PM
Here is how to fix this annoying error.
---
Twinfinite Friday, July 8, 2022 1:00 PM
If you're among the many fans of Resident Evil Village's super-tall villainess Lady Dimitrescu, PureArts and Capcom have a treat for you.
---
Twinfinite Friday, July 8, 2022 12:06 PM
Microsoft released the beta of Microsoft Flight Simulator's Sim Update 10, which promises to be one of the biggest in the simulator's history.
---
Twinfinite Friday, July 8, 2022 12:03 PM
Minecraft Championship (MCC) 23 teams are set!
---
Siliconera Friday, July 8, 2022 3:00 PM
About a year after its original release on the Nintendo Switch, the localized version of Disgaea 6 Complete is now on the PS4, PS5, and Windows PC worldwide. I had the opportunity to play the PS4 version and, while this is almost everywhere now, it still feels like a handheld game.
The first thing I noticed about Disgaea 6 on the PS4 was that it felt very much like a Switch game. The 3D effect looked rather rough. Also, something about the font made it look quite retro. This combination made the game look a lot older than one released in 2021. At first, I actually thought that it was from the Nintendo 3DS! The 3D animations in combat when you use special attacks are rather lackluster when compared with other native Switch games that came out around the same time.
However, in saying that, the game definitely feels like a PS4 game. Everything was smooth, from moving the cursor to watching the characters move about on the maps. The graphics aren't breathtaking by any means, but it never felt laggy. Now, my PS4 is fairly old, and there are occasional hiccups with games such as Genshin Impact or 13 Sentinels: Aegis Rim. But no matter how many enemies were on the map in Disgaea 6, it made no impact on the performance.
The second thing I noticed about the game was that it felt geared towards series veterans. I spent a lot of time in the beginning wondering if I should recognize and know protagonist Zed. While the game does provide explanations for the systems such as Super Reincarnation, the Dark Assembly, and the Item World, they suddenly unlock in between story levels. The way Cerberus casually tells Zed that these functions are now available, with no particular fanfare, definitely feels like these are mechanics players should already be familiar with and itching to gain access to.
There are some aspects of Disgaea 6 that maybe may feel easier to deal with on the Switch than on the PS4. And this may be where my status as a Disgaea novice rears its head. The game is very grind-heavy and requires repeating maps a lot. This is honestly fine, due to the auto-battle and auto-repeat functions. (Why auto-battle keeps sending my squishiest characters out in the frontline and killing them, I don't understand, though!) In Disgaea 6 especially, the auto functions for grinding are a lifesaver considering the monstrous level cap.
But this part of the game feels like it works better on a portable console such as the Switch, since you could theoretically leave it running while you go and do something else. Manual grinding is a draw for the Disgaea series. After all, previous entries in the franchise were on consoles such as the PS2 or PS3. However, making it automatic begs the question of what the player should do while the characters zoom about. These days, it's not unheard of to play two games at the same time. But I usually consider the mobile game to be the one that you can leave idling. While the grinding itself is not an issue, something about being able to activate auto-battle and auto-repeat on a PS4 gave me an odd cognitive dissonance.
Disgaea 6: Complete is available on Microsoft Windows, PlayStation 4, and PlayStation 5. Disgaea 6: Defiance of Destiny is available on the Nintendo Switch.
The post Disgaea 6 Complete on PS4 Still Feels Like a Handheld Game appeared first on Siliconera.
---
Siliconera Friday, July 8, 2022 12:00 PM
The Square Enix blog is continuing its series of retrospectives on the development of Final Fantasy VII Remake. The latest installment covers FFVII Remake Chapter 4. While FFVII Remake is in large part a retelling of the original FFVII, it takes extra time to expand on Cloud and the party's adventure in Midgar. As a result, the game does feature a significant amount of new content that expands on moments in the first iteration of the story.
The blog delivers insights and comments on the chapter's development from Scenario Design Co-Director Motomu Toriyama, Game Design Co-Director Naoki Hamaguchi, Facial Directo Akira Iwasawa, Music Superviso Keiji Kawamori, Sound Director Makoto Ise, Battle Director Teruki Endo, and Senior Assistant Producer Yuma Watanabe.
Note: The blog entry contains spoilers for Chapter 4 of Final Fantasy VII Remake.
FFVII Remake Chapter 4 is titled "Mad Dash" and is notably all-original to Final Fantasy VII's story. It takes place the night before Avalanche is to destroy Shinra Mako Reactor 5. While Tifa and Barrett rest Cloud is approached by Jessie, who proposes a secret midnight outing to Jessie's parents' house in Midgar proper. Tagging along are Biggs and Wedge. The party gets into a running battle with Shinra's bike soldiers, as well as with Roche, a SOLDIER member.
According to Toriyama, FFVII Remake Chapter 4 was created with the objective of fleshing out the relationship between Cloud and Avalanche. In the original, Avalanche members besides Barrett didn't get much screen time or personality. In FFVII Remake, though, players get to see the characters "private relationships" and better empathize with them and the connection they've built. It also helps illustrate the connection between Barrett's Avalanche cell and the larger Avalanche organization.
Hamaguchi revealed that Roche was originally intended to be a generic Shinra SOLDIER operative that acted as a boss for the G-Bike section of the chapter. However, the team felt it would be fun to have the boss recur for the second major encounter of the chapter, at the 7-6 Annex facility. It was then that the team gave him a distinct personality, integrating him into the FFVII Remake Chapter 4 story. As a result, Roche became a breakout star of that moment, using his flamboyant G-Bike maneuvers and freewheeling personality to steal his scenes and act as a foil to Cloud's taciturn disposition.
The blog contains more detail, including insights regarding the music, summons, cute cats, and Wedge's cheeks. Final Fantasy VII Remake is available on PS4, and its upgraded Intergrade version is available on PS5 and PC. The next installment, Rebirth, is in development.
The post Developers Shed Light on FFVII Remake Chapter 4 Adventure appeared first on Siliconera.
---
PC Invasion - FeedDDD Friday, July 8, 2022 4:00 PM
Developer IO Interactive has unveiled its July roadmap for Year 2 of Hitman 3, and it promises to bring a substantial new feature to the game. This feature will come in the form of a new location called Ambrose Island, which actually serves as the game's first post-launch area. After more than a year of continuous post-launch updates, it comes as a bit of a surprise that Hitman 3 only received a new map now. But, considering the sheer amount of detail crammed into Hitman's maps, it only makes sense that the developers would take their time with this one. Those who already own Hitman 3 will receive the Ambrose Island map for free on July 26. According to IO Interactive's official website, this hidden tropical island houses a fearsome pirate syndicate that conducts its operations in the Andaman Sea. Additionally, the island contains many secrets to discover, but these have little to do with Agent 47's main goal, which is to "help an old friend rectify hi...
---
PC Invasion - FeedDDD Friday, July 8, 2022 3:00 PM
When The Quarry launched last month, it included a couch co-op mode for up to eight people. Supermassive Games has implemented some form of co-op in many of its horror titles, ranging from The Dark Pictures to The Quarry. However, a missing feature was the ability to play the mode online, which was delayed due to the servers getting moved out of Ukraine. Supermassive promised a patch, and yesterday it made good on the pledge. The latest patch for The Quarry adds a new online multiplayer mode, plus some '80s-themed outfits for the cast. So yes, The Quarry now has online multiplayer co-op — but not in the form you may expect. Fans of The Dark Pictures Anthology likely imagine some form of co-op, where two players control one character each while making their own decisions. The mode has proven to be a fun and often deadly addition, as you or your buddy could mess up and change which characters live or die. However, the multiplayer is more of a party mode. The new multip...
---
PC Invasion - FeedDDD Friday, July 8, 2022 1:30 PM
With Crisis Core: Final Fantasy VII Reunion on its way, there's plenty of speculation circulating around the internet. Final Fantasy VII Remake made massive changes to the original story, and with its prequel well on the way, fans aren't sure what to expect from Crisis Core Reunion's story. Whether the remaster would heavily change the storyline was up for debate. But now, thanks to a new IGN interview, we may know what to expect. IGN spoke to producers Mariko Sato and Yoshinori Kitase about Crisis Core: Final Fantasy VII Reunion. The interview touches on various aspects of the upcoming remaster. Additionally, it goes into how the remaster will improve on the original game. With that said, there are going to be fewer changes than some fans may expect. In fact, when it comes to the plot, Kitase says it won't "stray too far" from the original story. Sato doubles down on this and reiterates that there won't be any new elements. Crisis Core ...
---
PC Invasion - FeedDDD Friday, July 8, 2022 1:00 PM
Microsoft Flight Simulator will soon receive its next major update, Sim Update 10. While this update was originally meant to release this month, Asobo pushed it back to give the devs extra time to iron out any oddities and issues. Now, Asobo is asking the community to help with this endeavor by means of a new beta. As highlighted in the official announcement post, the objective of the community during the Sim Update 10 beta is to "verify stability and performance improvements", "ensure that the release notes are accurate", and to "identify regressions that may have taken place due to code changes." Asobo is looking for bugs both large and small. It encourages beta testers to "report any significant regression from the current live version." Pixel peeping Those who want to participate in the beta can do so through the Xbox Insider Hub app. Steam users are also able to participate. Asobo's forum post provides more exact instruc...
---
PC Invasion - FeedDDD Friday, July 8, 2022 12:30 PM
Call of Duty: Warzone Pacific Season 4 contained the biggest content drop the battle royale has seen in a while. The release of Fortune's Keep provided a fresh experience, and players got to try out the Marco 5 and UGM 8, and more. Raven Software continues to deploy regular updates in order to improve the state of the game, with the latest Warzone Pacific patch balancing weapons and squashing bugs. Let's begin with the weapon balancing adjustments. So far in season 4, the Warzone Pacific meta has heavily consisted of the NZ-41 assault rifle and the H4 Blixen submachine gun. Both weapons have been nerfed, with the NZ-41 receiving a 20% decrease to its recoil recovery. In addition, the 8mm Klauser 40 Round Magazine attachment's recoil control penalty has increased to -10%. Moving on to the H4 Blixen, the lower torso damage multiplier dealt by the weapon was slightly reduced from 1.1 to 1.0. Despite the adjustments, it is likely that both weapons will continue to be stro...
---
Tabletop Gaming News Friday, July 8, 2022 6:00 PM
---
Tabletop Gaming News Friday, July 8, 2022 5:00 PM
---
Tabletop Gaming News Friday, July 8, 2022 4:00 PM
---
Tabletop Gaming News Friday, July 8, 2022 3:00 PM
---
Tabletop Gaming News Friday, July 8, 2022 2:00 PM
---
Tabletop Gaming News Friday, July 8, 2022 1:00 PM
---
Player Assist | Game Guides & Walkthroughs Friday, July 8, 2022 4:00 PM
Feeling nostalgic about some of the missions in GTA 5? Grand Theft Auto 5 features up to 69 unique main story missions. As many as that number may seem, players can easily complete the game in less than 40 hours – a number considerably less than that of another Grand Theft Auto classic, GTA San […]
---
Player Assist | Game Guides & Walkthroughs Friday, July 8, 2022 3:01 PM
The bonus effects that Set Items provide in Diablo Immortal are anything but second-rate. Diablo Immortal is all about loot. And while Legendary Gems provide some of the most powerful status buffs in-game, players don't have to take out a loan to acquire those fabled gems and get decent power levels in-game just yet. Before […]
---
Player Assist | Game Guides & Walkthroughs Friday, July 8, 2022 2:00 PM
Ever since the recent Minecraft 1.19 update was released a few weeks back, tons of players worldwide eagerly downloaded and jumped into the game to explore and discover all the new features that were added to Minecraft. Even though it has been nearly a month since the game was updated, there are still a lot […]
---
Player Assist | Game Guides & Walkthroughs Friday, July 8, 2022 1:00 PM
The world of Stardew Valley is a place full of possibilities where players go to ease off and design the farm of their dreams. Developer ConcernedApe solely gave life to this beautiful indie game, and his creation is regarded as well-polished and nearly perfect. Still, some fans wish to change a few of its visual […]
---
Player Assist | Game Guides & Walkthroughs Friday, July 8, 2022 12:00 PM
Pokemon Legends: Arceus is set in olden times in the Pokemon world when it was rare to find harmony between people and Pokemon. Set in the Hisui region, modern-day Sinnoh, you will join the Galaxy Expedition Team (Galaxy Team for short) as a member of the Survey Corps stationed in Jubilife Village. You will be […]
---
Gaming Instincts – Next-Generation of Video Game Journalism Friday, July 8, 2022 6:20 PM
---
Gaming Instincts – Next-Generation of Video Game Journalism Friday, July 8, 2022 5:44 PM
---
Gaming Instincts – Next-Generation of Video Game Journalism Friday, July 8, 2022 5:11 PM
---
Gaming Instincts – Next-Generation of Video Game Journalism Friday, July 8, 2022 4:39 PM
---
Gaming Instincts – Next-Generation of Video Game Journalism Friday, July 8, 2022 3:51 PM