---
Kotaku Monday, December 26, 2022 3:00 PM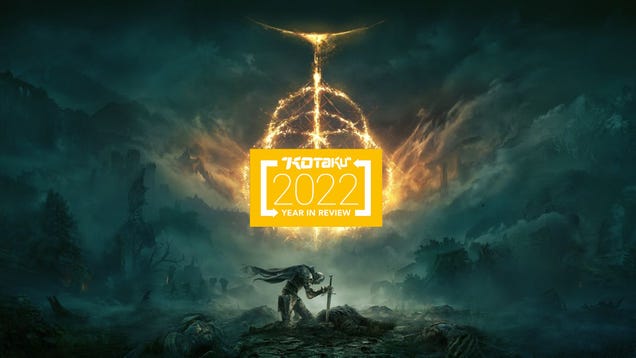 In recent years, it's become harder and harder for me to make the kinds of in-depth, year-end personal best lists that I once prided myself on. That newfound difficulty is for one reason: I'm not playing as many games. This year, there are so many games I either didn't play at all or didn't spend enough time with that…
---
Kotaku Monday, December 26, 2022 2:00 PM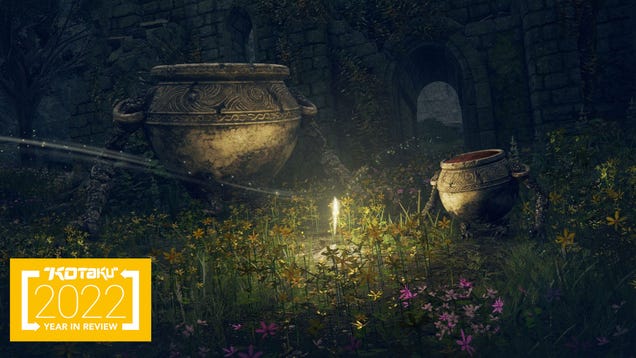 2022 was the year of Elden Ring, of Miyazaki, of Malenia. The highly anticipated FromSoftware title held the industry by its throat for months, dominating the conversation around difficulty, damage scaling, and player builds (including everyone's favorite nepo baby, Elon Musk). It took over streaming, it renamed every…
---
Kotaku Monday, December 26, 2022 1:00 PM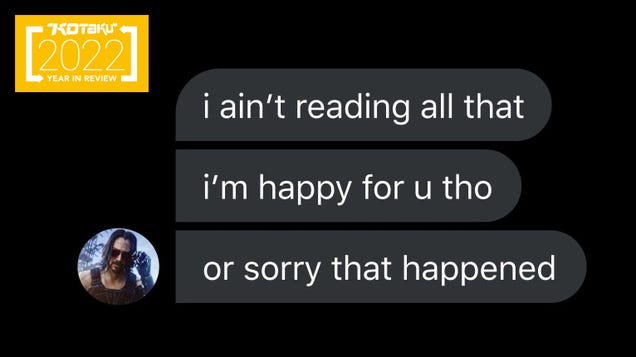 As always, video games had plenty to be sorry for this year. Big delays, busted launches, offensive remarks, you name it. None of us are perfect. Everyone's trying to do better. Except for Babylon's Fall. No second chances there.

---
Kotaku Monday, December 26, 2022 12:00 PM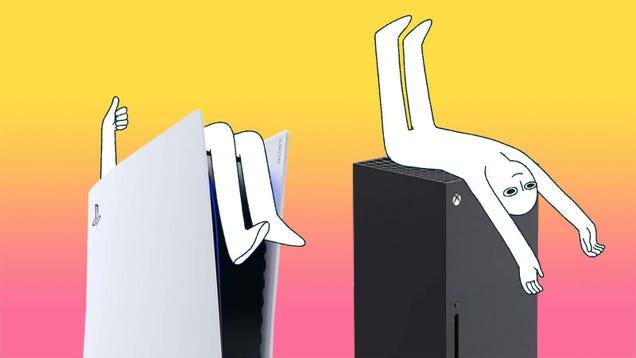 What did Kotaku readers click on this year? Once you see the list of 2022's top 10 posts below, the topics likely won't be too surprising. Things like Pokémon, hentai, and fast food are practically internet catnip. You might read about them even as you curse your curiosity about these subjects. That's how we get you!…
---
PCGamesN Monday, December 26, 2022 12:59 PM
I love arcade games. There's no feeling like going down to a seaside town, and hearing the loud and obnoxious classics with their speakers whacked on full. For some, it may be hell to play on machines everyone else has abused over the years, but for me, these are my childhood. About five years ago, I had the lofty goal of bringing these arcade classics to my gaming PC, but only if I could play them roughly as intended.
For on-rail FPS games, I need a light gun; for racing games, a wheel; and for fighting games, an arcade stick. Very early on in the project, I had three classic arcade games I wanted to set up the devices for. These were Street Fighter III: Third Strike, Sega Rally Championship, and any of The House of the Dead series. However, my scope has now expanded to four, with the other game being Time Crisis. The key challenge was that I wanted to use official ports made to run on my gaming PC or use officially re-released versions of the classic games before resorting to emulating the original arcade games.
MORE FROM PCGAMESN:
Best SSD for gaming
,
How to build a gaming PC
,
Best gaming CPU
---
Rock Paper Shotgun Latest Articles Feed Monday, December 26, 2022 12:00 PM
Guides work is a very strange beast, and one that we don't talk about as often as we maybe should. By its nature, we here in guidestown can feel a bit isolated from the rest of RPS. Our guides aren't very visible to our regular readers. No one hops onto a website like this and says to themselves, "Well now! I wonder what guides have been written today that I can spend my time reading through!". The vast majority of people who read our guides come straight from a Google search into something specific like "Can I romance Yennefer and Triss at the same time?" (spoiler alert: you can, but it may not end well for you).
Because we operate so much behind the scenes, it's easy to miss some of the amazing stuff that the team did in guidestown this year. It ain't easy, writing a walkthrough or how-to that's useful for the reader while simultaneously appeasing those nebulous and mercurial SEO gods. But 2022 has been a stonkingly good year for guides, and I'd love to take a little bit of time to shine a light on some of the things we're most proud of having achieved this year - and to toast what will hopefully be another smashing year for guides in 2023!
---
Siliconera Monday, December 26, 2022 5:00 PM
Japanese broadcaster NHK's yearly music show Kohaku Uta Gassen kicks off on New Year's Eve and will include a stacked lineup of performers belting out popular songs. NHK posted the full song list for the event on Thursday. Some of those songs announced will include numbers, performers, and even characters linked to anime series like Demon Slayer, One Piece Film Red, and Spy x Family.
The Kohaku Uta Gassen ("Red and White Song Battle"), also known as "Kohaku" is a yearly New Year's Eve entertainment program produced by NHK. First airing in 1951 over radio, the show has aired continuously, with this year's being the 73rd installment. Performers for Kohaku are invited by NHK from the most popular and successful singing acts in Japan's music industry. During Kohaku, the performers are divided into the Red (all-female and female-led acts) and White (all-male and male-led acts) teams, and "compete" by singing their respective songs. A panel of judges and audience entries then decide which group performed better. Despite declining ratings in recent years, Kohaku remains one of the most popular music shows in Japan.
The list of performers in this year's Kohaku Uta Gassen includes several on both teams singing songs tied to anime series. The Red team includes Aimer singing "Zankyo Sanka," the theme song to Demon Slayer's Entertainment District arc, and Ryoko Shinohara singing a new version of "Itoshisa to Setsunasa to Kokoro Tsuyosa to," a song long associated with the Street Fighter series. Singer Ado will also perform as Uta from One Piece Film: Red, singing "New Genesis".
The White team will feature Gen Hoshino singing "Kigeki," the first ending theme for Spy x Family. Band Snow Man will perform "Brother Beat," which was on the soundtrack to the live-action adaptation of Osomatsu-san. Finally, the "Special Corner" performances unlinked to specific teams will have Kiyoshi Hikawa performing "Genkai Toppa x Survivor", from Dragon Ball Super.
Other artists with anime credits like Milet and Official HIGE DANdism will perform, though not songs from anime specifically.
The 2022 Kohaku Uta Gassen airs on December 31, 2022 in Japan and internationally via NHK.
The post 2022 Kohaku Uta Gassen Includes One Piece, Demon Slayer Songs appeared first on Siliconera.
---
Siliconera Monday, December 26, 2022 3:00 PM
Genre-defining releases have been seen at something of a slower pace this console generation. In 2022, though, a few heavy hitters joined the lineup, giving players deeper, more polished experiences that truly feel new and modern. So what's our PlayStation Game of the Year 2022? Read on to find out.
These awards represent the consensus of the Siliconera staff. For more of the year's award selections, check out our Game of the Year 2022 archive.
PlayStation Game of the Year 2022: Elden Ring
You probably don't need us to tell you about Elden Ring, undoubtedly the most-talked-about game of the year. (At least any more than we already have!) It feeds the cravings that From Software instilled in players with its previous games, and its limitless ways to approach the world makes each play feel unique. Congratulations, Elden Ring!
Tactics Ogre Reborn
A game that's essentially the same as it was the last two times? How high we rate Reborn says a lot about just how well the original formula holds up. That said, this isn't the original formula, tweaking a few ingredients here and there to make for a refined and subtly different experience. It's still very much a classic sort of tactical RPG without a lot of modern conveniences, but it puts the best foot forward for its generation.
Horizon: Forbidden West
The sequel to early 2017's second-best open-world action-adventure game mostly about fighting rampant past tech? Yeah, it did a lot to polish its ideas and deliver a larger and more vibrant experience to PlayStation fans this year. It feels great to move around its world, and the narrative works well enough to keep you pushing westward.
What are your PlayStation Game of the Year 2022 selections? Let us know in the comments! And stay tuned for more of Siliconera's GotY 2022 awards.
The post Siliconera's PlayStation Game of the Year 2022 appeared first on Siliconera.
---
Siliconera Monday, December 26, 2022 1:00 PM
WayForward is often known for both its original IP and work on other titles. With the River City Girls series, it gets to take the existing property and make lesser known characters the stars. River City Girls 2 builds on the original in a big way, with new characters, a new story, and of course more callbacks. To learn more about the sequel, Siliconera spoke with Director Bannon Rudis about Misako and Kyoko's latest trip around the city to right wrongs and beat up baddies.
Jenni Lada, Siliconera: What kinds of challenges did WayForward face when trying to handle a near simultaneous release for River City Girls 2?
Bannon Rudis, WayForward: Launching across multiple platforms and languages definitely took some effort, especially given the different timelines and needs for the WayForward-published version and the Arc System Works Japanese/Asian version. Like every game ever released, you always hope you found every bug possible. You always see stuff that your entire QA team couldn't even find. Once brand-new players get their hands on your game, they accomplish things you never even thought of.
Was there any particular challenge in securing Provie as a playable character in River City Girls 2?
Rudis: Not really at all. I did direct River City Ransom Underground, so I hit up my old business partner on that project and asked Arc System Works, and both parties were super into the idea. To me, she absolutely had to be in this game. Her moveset was so special and I loved how well it worked in the RCG setup.

Two additional playable characters join River City Girls 2's cast. Were any other people who were considered during the development cycle and, if so, who?
Rudis: Marian and Provie were the only ones I really thought about. My backup plan was another Underground character named Chris. Chris's new design that shows up in RCG2 is cool. I love what Priscilla did with updating her.
How did the balancing process go, to ensure every River City Girls 2 character felt like they were on equal ground, but would still be unique?
Rudis: There was a lot of balancing. That usually came down to making sure that each move felt useful, but also not too spammable so the player didn't end up not using everything in their arsenal. The sequel really allows players to be creative on the fly with their combos. I also did go back to the original playable characters and gave them updated moves and adjusted their combat altogether.
River City Girls 2 features a number of callbacks to past Kunio games. Which one do you think people might have missed?
Rudis: Well, there is an area that pretty much slams them over the head with a lot of Technos references. It's basically a history lesson in the company and their games as a whole. For me to list all of the references, it would be an entire novel's worth of them. I guess one reference that is way more personal to me in the new game is my mom as a shopkeeper in the store "Suzy's."
With the original River City Girls, which platform proved most popular? What do the early results look like for River City Girls 2?
Rudis: I'm actually not sure. I do know it's doing great on Steam though.
River City Girls already expanded in such a way that there's a sequel and a past Kunio game was retroactively included in its "timeline." What would you ideally like to do next with the series? Would you want to go beyond video games?
Rudis: I would personally love to explore the Kunio sports titles. I'm not the biggest sports fan and I don't play sports games. But I love when a sports game takes something that's normally pretty simple like basketball and amps it up with special moves and ridiculous characters.
River City Girls 2 is available on the PS4, PS5, Xbox One, Xbox Series X|S, and PC.
The post Interview: Talking About River City Girls 2 Characters and Callbacks appeared first on Siliconera.
---
Player Assist | Game Guides & Walkthroughs Monday, December 26, 2022 11:00 AM
What better way to end the year than with free in-game items? 2022 was a great year for VALORANT thanks to a number of new Agents and Maps which gave VALORANT a fresh new feel and added exciting new gameplay characteristics compared to last year. Fans got to play a number of new Agents in […]
---
Gaming Instincts – Next-Generation of Video Game Journalism Monday, December 26, 2022 5:04 PM
---
Gaming Instincts – Next-Generation of Video Game Journalism Monday, December 26, 2022 4:40 PM
---
Gaming Instincts – Next-Generation of Video Game Journalism Monday, December 26, 2022 4:02 PM
---
Gaming Instincts – Next-Generation of Video Game Journalism Monday, December 26, 2022 3:13 PM
---
Gaming Instincts – Next-Generation of Video Game Journalism Monday, December 26, 2022 1:16 PM
---
Level Up Monday, December 26, 2022 12:36 PM
Nier: Automata is coming to the small screen. Beginning next month,&nbsp;<em>NieR:Automata Ver1.1a&nbsp;</em>will begin airing in…